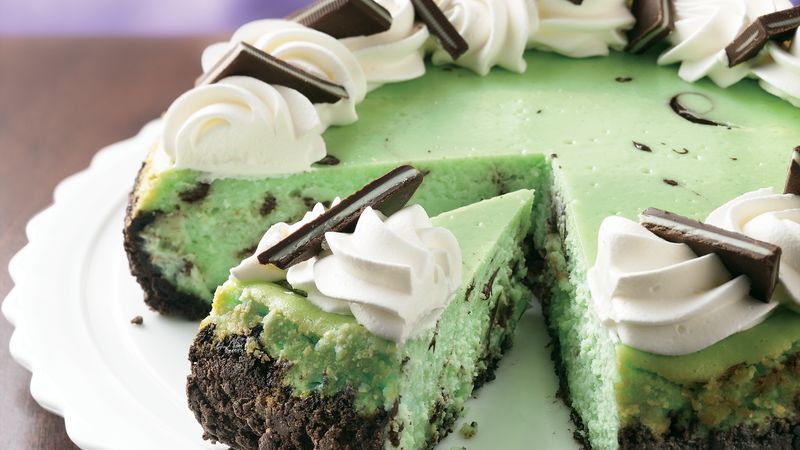 Ingredients
Crust:
30 fudge mint cookies, crushed (about 1 3/4 cups)
2 tablespoons butter or margarine, melted
Filling:
4 oz semisweet baking chocolate
3 packages (8 oz each) cream cheese, softened
1 cup sugar
4 eggs
1/3 cup green crème de menthe liqueur
Topping and Garnish, if desired:
Sweetened whipped cream
Crème de menthe thin rectangular candies for garnish, unwrapped, cut in half diagonally
Directions
Heat oven to 300F.
Wrap foil around bottom and side of ungreased 9-inch springform pan.
In large bowl, mix crust ingredients with fork until crumbly. Press in bottom and 1 inch up side of pan. Bake 12 minutes. Cool 30 minutes.
In small microwavable bowl, microwave chocolate on High 45 to 60 seconds, stirring once halfway through microwaving, until melted. If necessary, continue to microwave on High in 15-second increments, stirring until smooth. Set aside.
In large bowl, beat cream cheese and sugar with electric mixer on medium speed, scraping bowl frequently, until smooth and creamy. Add eggs, one at a time, beating until smooth after each addition. Stir in liqueur. Pour filling evenly over crust.
Drop 8 to 10 tablespoonfuls melted chocolate randomly onto filling, allowing chocolate to sink into filling. With table knife or small spatula, cut through chocolate and filling to swirl for marbled design.
Bake 1 hour 10 minutes to 1 hour 20 minutes or until set 2 inches from edge of pan.
Remove from oven; run knife around side of cheesecake to loosen. Return to oven; turn oven off and open door slightly.
Cool cheesecake in oven 1 hour.
Remove from oven to cooling rack; cool at room temperature 1 hour. Refrigerate 3 hours.
To serve, remove side of pan.
Spoon whipped cream into decorating bag with large star tip; squeeze bag to pipe cream around top edge of cheesecake. Garnish with candies.
—————————————–