Nov 5, 2017 The Yellow Pine Times – Valley County, Idaho
Note: There is still plenty of time to order your 2018 Yellow Pine Calendar (Deadline Nov 20th.) Please reply to the Calendar email or send me an email with number wanted, name and address, with "2018 Calendar" in the subject line. Price is the same as last year $25 with postage. These calendars are custom printed on thick card-stock (in the USA!) photos taken around Yellow Pine by Local Color Photography. Thanks for your support.
Village News:
Mail Days M-W-F
Starting November 1st, the mail is being delivered 3 days a week.
— — — —
Snow Storm & Power Outage Nov 2nd
We had about 3-4″ of heavy wet snow fall late Thursday night into Friday morning, then turned to rain. Power went out at 630am Friday. Idaho Power's 1030am report said they were searching for cause of outage. The 1230pm recording said they had located a downed tree in a remote area and had called in extra resources. The 430pm Idaho Power recording said the extra resources were on site, estimated restoration "late evening." The 830pm recording estimated restoration between 1030pm and 1230am. The 1030pm recording said the crews were finishing up repairs and estimated restoration by 1230am. Power back on at 1256am. (Rained and snowed all day Friday.) Total outage nearly 19.5 hours.
— — — —
YP Tavern B-day Party
"A power outage in Yellow Pine didn't keep us from celebrating Birthdays for Nicki and Allan. Also we were celebrating the end of Hunting Season with our Alaska friends who have now left for the winter."
photo gallery at the Yellow Pine Tavern
— — — —
The Corner
The Corner is closed for the season. Stop by if you need wood permits. We will reopen after we have the baby.
— — — —
Bear Aware
Bears are still around around and looking for food, recent reports of "something out there in the night". Keep garbage secured and pet food indoors, take down bird feeders until hibernation. Clean BBQ grills (bears love grills and outdoor fridges.) Good info on living with bears HERE (scroll down,)
— — — —
YPFD News:
There are YPFD T-shirts, as well as YPFD patches and stickers for sale at the Tavern now.
— — — —
VYPA News:
Next meeting June 2018
— — — —
Fall Rx Burns planned
BNF:
Cascade Ranger District: Slash piles will be ignited in the following locations: Warm Lake, Yellow pine, Landmark and Crawford. It will be pile burning for two days.
PNF:
The Krassel Ranger District plans to ignite 1,600 acres in the Fourmile drainage, and 2,000 acres in the Bald Hill project area.
— — — —
Follow The Yellow Pine Times on Facebook
———————–
Local Observations:
Monday (Oct 30) did not go below freezing overnight, overcast this morning. A few breaks in the clouds and chilly breeze before lunch. Bits of sunshine in the afternoon, partly cloudy and chilly breeze, high 52 degrees. Steller jay looking for handouts, a few nutcrackers calling from the trees. Chipmunk spotted scurrying around, pine squirrel calling from a tree. Light traffic and mostly quiet evening.
Tuesday (Oct 31) overnight low of 20 degrees, not much frost this morning (dry), and high thin hazy clouds. Thicker darker clouds by lunch time. Chipmunk dashing about, heard a nutcracker call in the distance. A few breaks in the clouds later in the afternoon, cooler temperatures, high 45 degrees. One pint-sized Trick-or-Treater – she was scary looking, dressed like "Chucky" with scars and a bloody knife (that Dad was carrying.) Dark overcast at sunset. Some cracks in the clouds after moonrise, enough to make the sky look rather 'spooky' for Halloween.
Wednesday (Nov 1) did not go below freezing overnight, gray overcast this morning, not much dew. Heard a clarks nutcracker calling to the north east. Quiet morning. Fire siren tested at noon. Cloudy cool afternoon, high of 46 degrees. Quiet evening, cloudy.
Thursday (Nov 2) overnight low of 27 degrees, overcast and a few flakes of snow falling late morning. Small flock of clarks nutcrackers visiting. Snow flakes changed over to list mist, then light sprinkles, then light rain over the course of the day, high of 37 degrees. Snow mixed with the rain just before dark. Quiet day, wildlife hunkered down. Snowed pretty good for a while, about an inch before midnight. Snowed a bunch during the night and the power was out by 630am.
Friday (Nov 3) (power out) overnight low of 32 degrees, 2.5″ new snow on ground (there was 3-4 inches before the rain started melting it). Rain turned to rain/snow mix all morning, then big fat flakes of heavy wet snow after lunch. Mail truck made it in by 1245pm. Could hear trees falling to the north east and north west around 130pm. Light rain/snow mix all afternoon. Saw a few starlings. By afternoon the clouds were so low it appeared foggy. Snowing big flakes and 1/2″ new snow on the ground by 530pm (3.5″ total on the ground), high 33 degrees. Snowed until after dark. Power on by 1am. More snow fell, another 1/2″ new during the night.
Saturday (Nov 4) overnight low of 25 degrees, 4″ total snow on the ground this morning and partly cloudy. Cool day, clouds came in, not much melting, high 34 degrees. Heard a clark's nutcracker after lunch, saw squirrel tracks in the snow. Chilly cloudy evening. Time Change!
Sunday (Nov 5) snowing by 9am (new time) overnight low of 25 degrees, 1/4″ new snow by 1030am, 4″ total snow on the ground. Light snow falling all day, not much above freezing, high 35 degrees. Very quiet day, no birds, critters or people around. Snowing pretty good after dark.
————————————
RIP:
Mona Peterson
1941-2017
October 27th our beloved mom and wife went to be with our Lord and Savior. She was born at home to Frank and Elsie Braddock in Reeder, ND, joining her brothers Cecil and Dale. At 18 she moved to Idaho and met the love of her life, Robert Peterson.
Married April 17, 1960, just before leaving for their honeymoon, her mom told her "wherever your husband's job takes him, you will go also". Taking this advice we moved to numerous areas in the summers to be with Dad while logging.
Tammy Lynn was born in 1961 and six years later Kari Ann arrived.
Mona was passionate about canning and making jelly, as well as creating afghans for family and friends. She was very involved with the Lutheran Church, Hospital Auxiliary and Idaho Women in Timber. She worked at Wheeler's Valley Pharmacy for 25 years. She adored her granddaughters Lauren and Marlee and her son-in-law Ed. Her two cats never left her side. Her kind, devoted husband would often bring one to visit while in the care center. We will all miss her joyful, giving heart.
A memorial service will be held at 2:00 pm on Saturday, November 4th, at the Shepherd of the Mountains Church in Cascade.
Published in Idaho Statesman on Nov. 1, 2017
source:
[h/t B]
— — — — — — — — — — — — — — — —
Rachel Melrose (Loomis) Stone
Rachel Melrose (Loomis) Stone, 93, loving Mother, Grandmother, and Great Grandmother, joined her Lord, husband, siblings and friends when she passed peacefully in her sleep on Oct. 3, 2017 in Spokane Valley, Wash.
Born Nov. 26, 1923 in Roseberry, Rachel was the daughter of the late George "Mervyn" and Nora Loomis of Donnelly.
While attending Boise Business College in 1942, she met her husband of 61 years, Col. James Sherman Stone. Their marriage on July 31, 1943 was the first wedding in the chapel at Mountain Home AFB.
Rachel was a giving person and active volunteer throughout her life. She belonged to the Officer's Wives Club at each AFB and the Beta Sigma Phi Sorority.
Professionally she worked as a secretary, in real estate sales, and as a Mary Kay consultant. As a proud convert to the Catholic Church she believed in the power of prayer, frequent attendance at Mass and recitation of the Rosary. Rachel gave back to her faith by teaching catechism and active involvement with the Catholic Church Altar Society.
Rachel was proud of her lifetime commitment to volunteerism. She was the first to support her children, grandchildren and/or community organizations with her personal time or financial donations.
She was instrumental in the establishment of "Meals on Wheels" in Buena Park, Calif., and was nominated as the Orange County Diocese "Woman of the Year" in honor of her faith and commitment.
Rachel's volunteer efforts also included Catholic Charities, Girl and Boy Scouts of America, Special Olympics, Wounded Soldiers, youth sports programs including Little Miss Softball, Buena Park High School Athletics and Fine Arts, Buena Park and Fullerton City Commissions and served on the Board of Directors of Fullerton Fountains.
Rachel took pride in her role as a wife and mother and frequently said "One of my most important goals as a parent was to get a college education for my children" and she was proud of her four children graduating with bachelor's and advanced degrees. She attended most high school and college graduations for her children and grandchildren with great pride.
Rachel enjoyed traveling even if just a road trip in the family car. She traveled to Rome, Italy with friends and enjoyed cruises to Jamaica and Mexico. She either lived in or visited all 50 States in the United States and most recently enjoyed checking social media to experience the travels and activities of her kids and grandkids.
Rachel is survived by her four children: son Don Stone of Lopez Island, Wash.; daughters Sharon Israel of California, Terry Mahoney of Spokane Valley, Wash., and Jeanie Marie Urban of Concord, Calif.; Son-in-law Brian Mahoney of Washington: 10 grandchildren: Nathan Stone of Wash., Shannon Miller of California, Zanna Grandinetti of Washington, Shaun Israel of California, Kevin Mahoney of Washington, Amanda Uy of California, Jessica Israel of California, Tessa Mahoney of Idaho, Danny Urban of California, and Kelly Urban of California; 14 great-grandchildren: Ellie and Sammy; Delaney, Graham, Aeden and Blakely; Kiersten, Brodie and Brooklyn; Tyler and Ethan; Annabelle, Isabelle and Samantha; plus numerous nieces and nephews.
Preceding Rachel in death were her husband, parents Nora and Mervyn Loomis, siblings Elton and Myron Loomis of Donnelly, Idaho, Hazel Loomis (Withers) Hackler of Cascade, son-in-law Cliff Israel of Calif., daughter-in-law Carole Stone of Wash. and great-grandson Anthony of California.
Recitation of the Holy Rosary will be held Nov. 3, 2017 at 7 p.m. at Heikkila-Carver Funeral Chapel in McCall, with viewing beginning at 5 p.m. until the conclusion of the Rosary at 8 p.m.. Mass of Christian Burial will be held on Saturday, Nov. 4, 2017, beginning at noon at Our Lady of the Lake Catholic Church in McCall with the Reverend Steve Rukavina and Deacon Floyd Loomis officiating.
Graveside services will follow at Holmes Cemetery southeast of Donnelly at approximately 1:30 p.m. Please join family and friends for a dessert reception immediately following the graveside service at Donnelly Bible Church, Donnelly.
Flowers are welcome. Please direct flower deliveries to Heikkila-Carver Funeral Chapel, McCall, Idaho by Friday, Nov. 3. If you desire to make a donation in Rachel's honor, please donate to the Roseberry Idaho Historical Society or any organization committed to helping others.
To leave a condolence or message for Rachel's family, please visit http://heikkilafuneralchapel.com.
Arrangements in care of Heikkila-Carver Funeral Home, McCall.
source The Star-News:
——————————-
Letter to Share:
Commissioner Cruickshank's October Newsletter
From the desk of Commissioner Cruickshank, 11/4/2017
Monday October 2nd
I attended the morning session of the Economic Summit in McCall.
This afternoon I attended a Name Clearing Hearing in front of a Hearing Officer on a former employee of Valley County.
This evening I sent an email to the Idaho Administrative Rules Committee on a proposed rule change that appears to impact counties when Public Hearings are utilized.
Tuesday October 3rd
I responded to some questions on activities I had mentioned in my September Newsletter. These topics were on Active Shooter presentations and the State and Local Tax Deduction being looked at in Federal Tax Reform.
Monday October 9th, Columbus Day
I received a call from staff in Congressman Labrador's Washington DC office to discuss the Forestry Bill being worked on by the House. He explained the concerns I had on how some of the lands would be managed as it appeared to take some discussion away from local governments on land management.
I sent emails to a group of elected officials who had attended the NACo Annual Conference in July to follow up with any questions they had after attending a NACo event for the first time.
Tuesday October 10th
Today I flew to La Jolla, California to attend a NACo Executive Board event.
This afternoon I participated in a NACo Transportation conference call to discuss legislative issues concerning transportation funding and discuss the need for the funding to be extended as the last authorization of Federal Funding was expiring.
Wednesday October 11th
Today was a networking event with sponsors of NACo. This evening I attended a dinner reception to thank the sponsors for their support of NACo.
Thursday October 12th
Today I attended the presentation by various panels on issues the NACo membership is experiencing to highlight where sponsors could possibly assist in various fields. Panels included Partnerships for Data-Driven Justice, Establishing Alliances to Fight the Opioid Epidemic, Joining Together for Better Individual Health Outcomes, Poverty and Early Childhood Development and Leveraging Transportation Solutions for Economic Resilience.
Late in the afternoon we broke into various groups to brainstorm potential areas for partnering with sponsors to assist with efforts on the topics presented by the panels.
We then listened to a NACo Business update on Priorities and Goals for 2018 by NACo.
We ended the evening with a dinner event.
Friday October 13th
I flew home from La Jolla.
Saturday October 14th
I sent Thank You emails to the sponsors I had connected with the last two days for attending this event and their assistance with NACo programs which help all counties.
Monday October 16th
Commissioner day today. Please find a record of the meeting minutes, once approved, on the Valley County website at Valley County, Idaho | Official Site Click on the Commissioner section and then click on Agendas and Minutes to find the day of the meeting you are interested in.
http://www.co.valley.id.us/
Tuesday October 17th
I started my day reviewing questions for Judge applicants. As Chairman of the Valley County Commissioners I sit on a Magistrate Commission to interview applicants for filling a vacancy in a Judge seat within the 4th District. The 4th District encompasses Ada, Boise, Elmore and Valley Counties. If any Judge seat becomes open in these areas we are tasked with selecting a replacement.
Valley County Recreation Director and myself then met with the Executive Director of the Winter Wildlands Alliance to discuss their recent filing of a lawsuit against the Payette National Forest Winter Travel Plan. The Executive Director explained their reasoning for filing the lawsuit. Of particular interest to Valley County is the potential impact of the winter recreation which recent studies have shown to be 30 plus million in economic benefit to Valley County.
Wednesday October 18th
I researched to see if Valley County had received funding from the Woody Bio-Mass Utilization Partnership (WBUP) organization who was to reimburse Valley County for a Bio-Mass Feedstock Supply study we conducted. We had received $2,500.00 of a $5,000.00 request.
Thursday October 19th
I attended the WBUP meeting in Cascade. Discussions were held on the Bio-Mass Campus potential, what markets might be available for Bio-Mass, an upcoming event in November to be held in Grangeville, Idaho on Bio-Mass and I learned that the $2,500.00 left owing Valley County would be coming in the near future.
Monday October 23rd
Commissioner day today. Please see the minutes once approved on the Valley County website.
http://www.co.valley.id.us/
Tuesday October 24th
I attended a meeting at the Payette National Forest Supervisors office with the American Forest Resource Commission (AFRC) to hear projected Timber Harvest sales on the Boise, Payette and Salmon Challis National Forests. Attendees included Adams County, Timber Industry, Idaho Loggers Association, Forest Service staff, AFRC and myself. Of interest in this meeting was the Forest Service hiring process to fill vacancies which takes several months as the approval has to be finalized by the Washington DC office. Quite often the applicant has found another job by the time the approval comes through. Difficult process for the Forest Service to fill needed positions.
This afternoon I participated in an Idaho Association of Counties Legislative Meeting via phone. Today Legislative Committee set our priority list on specific legislation proposed during the recent Annual Conference.
Wednesday October 25th
Today I met with a potential candidate who may run for the District 1 Congressional Seat which is being vacated by Congressman Labrador. The discussion was primarily to understand local government perspective on issues that impact counties.
I returned a phone call to a Kootenai County Commissioner who wanted to discuss an upcoming event on Climate Change to see if I was going to attend. Due to another conflict I explained I was not. The Commissioner said that he would attend the event then.
This afternoon I met with some folks who wanted to understand the workings of a commissioner in Valley County.
Thursday October 26th
I responded to a request concerning a grant extension with the Idaho Department of Lands for a Fire Wise grant.
I participated in a Cooperating Agency conference call to discuss documents to be reviewed on the Midas Gold proposed project.
I attended the mid morning session of the Big Creek/Yellow Pine collaborative group to review topics in the East Fork of the Salmon River concerning trails and access.
I returned a call from the Idaho Attorney Generals Office on finding a date for a Deposition from myself on a prior board I was involved with.
I returned a call to the State Tax Commission on a State Form that had not been submitted by a prior organization I had been involved with. I made several phone calls and found the correct person to provide the information needed by the State Tax Commission.
Monday October 30th
Commissioner day today. Please see the Valley County website for the minutes once approved.
http://www.co.valley.id.us/
I reviewed meeting materials for an upcoming Idaho Association of Counties (IAC) Board meeting and replied to IAC staff on some corrections that were needed.
Tuesday October 31st, Happy Halloween
Today I flew to Washington DC to attend the NACo Finance and Executive Board meetings the next few days. In between flights I worked on replying to emails.
Tonight I met with a representative of mining properties in Valley County to discuss their concerns on access to their mine sites and related work as it involves the Payette and Boise National Forests for access and potential work on their mine sites.
Well this wraps up another month for my activities. As always if something perks your interest please let me know and I will attempt to help understand from what I know.
Have a wonderful Thanksgiving and thank you for reading my newsletter.
Gordon
———————————-
Idaho News:
The Last Interview: Ray Arnold retires from backcountry mail route
Unusual profession spurred dozens of news stories
By Max Silverson for The Star-News November 2, 2017
After 42 years of delivering everything from daily junk mail to a duo of belligerent llamas to residents in the backcountry, Ray Arnold has retired from flying what is the last U.S. Postal Service air route into a wilderness area in the continental US.
Arnold, now 80, delivered mail from Cascade to far-flung stoops in and around the Frank Church-River of No Return Wilderness. Walt Smith, who has worked for Arnold Aviation for 15 years, is now flying the route that covers several hundred miles of territory.
Arnold's unusual delivery route has been reported dozens of times in publications ranging from the New York Times, to National Geographic and the CBS Evening News.
"It's unique in that it's the only route left like this in the lower 48 states," Arnold said. "But there's only so much you can write about."
Whether interviewers came from Boise or from the East Coast, Arnold made time for them – The Star-News included – to go over the same questions and found space in the plane for an extraordinary ride-along.
What is likely the last interview with Arnold appears in the November issue of Smithsonian Air & Space magazine.
Ray and ex-wife, Carol, who remains his business partner, are completely unimpressed with the media attention. They keep no scrapbook of famous articles or list of celebrity TV hosts who have covered their business.
continued:
— — — — — — — — — — — — — — — —
McCall fire to give away free metal ash buckets
The Star-News November 2, 2017
McCall Fire & EMS will hand out free metal ash buckets as a reminder of the need to properly remove and store ashes from wood-burning stoves and fireplaces this winter.
Other tips for safely removing fireplace ashes include treating all ashes as hot, waiting at least 24 hours after a fire before removing ashes, never adding live embers to the ash bucket and storing metal buckets with ashes in a well-ventilated location.
Residents can pick up a bucket at the McCall Fire & EMS station at 201 Deinhard Lane.
source:
— — — — — — — — — — — — — — — —
Changing of the Guard
Valley sheriff's office takes over patrols of Cascade
By Max Silverson for The Star-News November 2, 2017
Valley County Sheriff's Sgt. Kevin Copperi makes an effort to regularly stop by Cascade schools, a role that was previously carried out by the Cascade Police Department.
School visits are just one of the responsibilities assumed by the sheriff's office since taking over policing of Cascade on Oct. 1.
The Cascade City Council voted to disband the police department and contract policing services to the sheriff's office.
… Patrolling the city differs from patrolling rural areas in that officers have more time to stop and talk, Copperi said.
Under the contract, the sheriff's office is required to carry out 5,400 total hours of annual police coverage within the City of Cascade, which is roughly equivalent to the time of three deputies.
continued:
— — — — — — — — — — — — — — — —
100-foot cell tower disguised as tree proposed for Donnelly
P&Z to hold public hearing Monday night
By Phil Janquart for The Star-News November 2, 2017
A proposed 100-foot cell tower that would be disguised as a pine tree is the topic of a public hearing Monday before the Donnelly Planning and Zoning Commission.
The hearing is set to begin at 6 p.m. Monday, at the Donnelly Community Center.
Horizon Towers of Danville, Calif., has applied for a permit to build the wireless tower on city property located 550 feet west of Idaho 55 on N. J. Corbet St.
"The proposed tower will provide the city … better coverage, as well as create better coverage along Highway 55 north to McCall and south to Cascade," Horizon states in its application.
continued:
— — — — — — — — — — — — — — — —
Snowfall of 17 inches and counting at Tamarack Resort
by Sarah Jacobsen Friday, November 3rd 2017
Boise, Idaho (KBOI) — Tamarack Resort is a winter wonderland and the snow just keeps falling down.
Today around 9 a.m. they counted 17 inches mid-mountain, about six inches down at the base, and snow continues to fall.
Big, fluffy snowflakes creating a white wonderland up here in the mountains.
continued:
— — — — — — — — — — — — — — — —
Idaho man ordered to pay $1.7 million following wildfire
11/4/17 AP
Idaho Falls, Idaho — An eastern Idaho man who started a wildfire with illegal fireworks near the eastern Idaho city of Idaho Falls has been ordered to pay $1.7 million in restitution.
The Post Register reports that 21-year-old Kristian Lopez of Ammon didn't appear Friday at the restitution hearing in the Bonneville County Courthouse where Magistrate Judge Steven Gardner granted the default judgment.
Lopez was shooting bottle rockets on Aug. 21, 2016, when one ignited a wildfire that scorched 81 square miles (210 square kilometers) that included a wildlife refuge and farmland.
He told investigators he and his friends tried to extinguish the blaze but failed.
Lopez in September 2016 pleaded guilty to misdemeanor malicious injury to property and in December 2016 was sentenced to a suspended sentence of 180 days in jail.
source:
— — — — — — — — — — — — — — — —
Boise man dies in Owyhee County plane crash
KTVB November 03, 2017

(Photo: Owyhee County Sheriff's Office)
Owyhee County – A Boise pilot died Friday in a plane crash in Owyhee County, sheriff's officials said.
The Owyhee County Sheriff's Office said 56-year-old Dean Hilde was flying a personal aircraft in the Combination area of the county – southeast of the Jordan and Pleasant Valley area – when he apparently encountered tough, windy conditions.
The plane was forced into a hillside.
Hilde was pronounced dead at the scene. His passenger, 42-year-old Gerald Bublitz of Boise, suffered serious injuries and was transported to an area hospital by air ambulance.
The Federal Aviation Administration is investigating.
source:
— — — — — — — — — — — — — — — —
New plant species to be named after late Idaho governor
10/31/17 AP
Boise, Idaho — Researchers say that a newly discovered plant species will be named after the late Gov. Cecil Andrus after a group of his friends successfully helped raise $10,000 for their work.
KBSX-FM reports scientists from Boise State University and the College of Idaho discovered the new plant species in the Boise Foothills.
They offered to let someone name the yellow, flowering plant for a $10,000 donation.
Andrus' friends say they wanted to see the plant bear his name since he would often walk his dogs in the area where the plant was discovered.
They were able to reach their goal after a last-minute donation last Friday.
The researchers say the donation will be used to research the plant and others like it in southwest Idaho and southeast Oregon.
source:
— — — — — — — — — — — — — — — —
Phone scam in Idaho Falls area
Local News 8 – Oct 30, 2017
Bonneville County, Idaho (KIFI/KIDK) – The Bonneville County Sheriff's Office reports it has taken multiple calls lately about a reoccurring phone scam calling residents in the Idaho Falls area.
According to Sgt. Bryan Lovell, the scammer indicates they are with the Bonneville Sheriff's Department and tells the victim they have a warrant for their arrest for various reasons including missing a court hearing, unpaid fines and missing jury duty.
Lovell says this almost always an issue the victim didn't or couldn't have known about and are being told by the scammers in various ways they will be sent to jail unless they pay money.
continued:
— — — — — — — — — — — — — — — —
Original 'Big Idaho Potato' retires this year, set to become Airbnb destination
by Nathan Larsen Wednesday, November 1st 2017
Boise, Idaho (KBOI) — The Idaho Potato Commission's iconic 6-ton giant potato is getting a new home.
The potato has been on six national tours, which is incredible, considering it was only designed to go on one.
With 150,000 miles traveled on the bed of a semi-truck, it's time for an upgrade.
continued:
——————————
Mining News:
At least two people dead after mining accident east of Winnemucca
by News 4-Fox 11 Digital Staff Wednesday, November 1st 2017
Valmy, Nev. (News 4 & Fox 11) — At least two people were killed and others were injured following an accident reported at a gold mine east of Winnemucca, according to the Humboldt County sheriff and company that owns the mine.
Marigold Mine in Valmy issued a mayday call at about 2:15 p.m. Tuesday, Oct. 31, Sheriff Mike Allen confirmed to News 4-Fox 11.
The sheriff's office responded, along with Nevada Highway Patrol, firefighters and the Nevada's Division of Investigation, among other agencies in the region.
When they arrived, they determined there had been a mining accident, Allen said.
SSR Mining Inc., which owns Marigold Mine, released a statement Tuesday saying the accident "involved contact between a haul truck and a light vehicle within the open pit operations at the mine."
continued:
— — — — — — — — — — — — — — — —
US OKs 1st phase of contested mine in northwest Montana
11/4/17 AP
Kalispell, Mont. — The federal government has approved the first phase of a proposed copper and silver mine in northwestern Montana, But it won't consider approving full development of the operation until later.
The U.S. Forest Service plans to allow Hecla Mining Co., based in Coeur d'Alene, Idaho, to build an entrance for the Rock Creek Mine and conduct an environmental evaluation, the Flathead Beacon reported Friday.
The mine would be near Noxon, Montana, about 10 miles from the Idaho border. It would extend under the Cabinet Mountains Wilderness Area.
A coalition of conservation groups fighting the new mine said it could drain water from surface streams in the wilderness area, harming fish and wildlife.
continued:
———————————
Public Lands:
Region 4 smokejumpers 75 year reunion
Andrew Harris Oct 24, 2017
The 75 year reunion for the Region 4 Smokejumpers will take place in McCall, Idaho. June 22-24, 2018.

[h/t B Fogg]
— — — — — — — — — — — — — — — —
BLM Advisory Council to meet in November
Date: Nov. 3, 2017
Contact: Michael Williamson (208) 384-3393
Boise, Idaho – The Bureau of Land Management today announced it will hold a meeting of the Boise District Resource Advisory Council, demonstrating that partnerships and inclusion are vital to managing sustainable, working public lands. The public is welcome to attend the meeting which will occur on November 17, 2017 at 3948 Development Ave., Boise, ID, from 9 a.m. to 3 p.m.
Planned agenda items at the meeting include the Four Rivers Field Office Resource Management Plan, a review of the RAC's September Field Trip, updates on the Gateway West project and wild horses at the Boise Corrals, and project updates from the Field Offices.
"The RAC represents diverse public interests and provides invaluable input for managing our public lands," said District Manager Lara Douglas. "Their feedback helps us make more informed decisions, resulting in better projects on the ground."
A half-hour comment period, during which the public may address the RAC, will begin at 11 a.m. Depending on the number of people wishing to comment and time available, the amount of time for individual oral comments may be limited.
Resource Advisory Councils are critical in assisting the BLM in continuing to be a good neighbor in the communities we serve. The 15-member RAC provides advice and recommendations to the BLM on resource and land management issues within the BLM Boise District.
For more information about the upcoming RAC meeting, please contact Mike Williamson at (208) 384-3393 or mwilliamson@blm.gov
— — —
BLM Seeks Nominations to Resource Advisory Councils and other BLM Land Management Advisory Committees
Date: Nov. 3, 2017
Contact: Michael Williamson (208) 384-3393
The Bureau of Land Management today announced that it is seeking public nominations for open positions on 17 of its 36 Resource Advisory Councils (RACs). As published in a notice in the Federal Register, the BLM will consider nominations for 30 days.
The BLM's RACs, composed of citizens chosen for their expertise in natural resource issues, help the Bureau carry out its multiple-use mission and stewardship of 245 million acres of public lands. The Bureau, which manages more land than any other Federal agency, has 36 RACs across the West, where most BLM-managed land is located. Each RAC consists of 10 to 15 members with an interest or expertise in energy and mineral development, ranching, outdoor recreation, conservation, state and local government, tribal and cultural resources, and academia. The diverse membership of each RAC helps ensure that BLM land managers receive the varying perspectives they need to achieve their mission of managing the public lands for multiple uses.
"Restoring trust in the federal government and being a good land manager are two of my top priorities at Interior, and state and local input, particularly in communities surrounding public lands, is imperative to building trust," said U.S. Secretary of the Interior Ryan Zinke. "Nobody knows the land better than the people who live and work it. Council members provide a valuable service to the Department and offer a variety of perspectives that assist in solving land and resource use issues."
Individuals may nominate themselves or others to serve on an Advisory Council. Nominees, who must be residents of the state or states where the RAC has jurisdiction, will be reviewed on the basis of their training, education, and knowledge of the council's geographic area. Nominees should also demonstrate a commitment to consensus building and collaborative decision-making. All nominations must be accompanied by letters of reference from any represented interests or organizations, a completed RAC application, and any other information that speaks to the nominee's qualifications.
Further information about the BLM RAC application process and an electronic fillable nomination form, can be found on the BLM website at https://www.blm.gov/get-involved/resource-advisory-council/apply.
Each of the 17 RACs has different positions open in the following categories:
Category One – Public land ranchers and representatives of organizations associated with energy and mineral development, the timber industry, transportation or rights-of-way, off-highway vehicle use, and commercial recreation.
Category Two – Representatives of nationally or regionally recognized environmental organizations, archaeological and historical organizations, dispersed recreation activities, and wild horse and burro organizations.
Category Three – Representatives of State, county, or local elected office; representatives and employees of a state agency responsible for the management of natural resources; representatives of Indian tribes within or adjacent to the area for which the RAC is organized; representatives and employees of academic institutions who are involved in natural sciences; and the public-at-large.
For more information, please contact Mike Williamson at (208) 384-3393 or mwilliamson@blm.gov
— — — — — — — — — — — — — — — —
Federal officials ban snowmobiles in parts of Idaho forest
11/1/17 AP
Lewiston, Idaho — Federal officials have released a plan for a proposed wilderness area in a northern Idaho forest that includes banning snowmobiles.
Nez Perce-Clearwater National Forest Supervisor Cheryl Probert decided to maintain a ban on snowmobiles in the Great Burn recommended wilderness area, the Lewiston Tribune reported.
The Great Burn is located along the Idaho-Montana border and spans over 391 square miles (1013 sq. kilometers). It has no roads.
Motorcycles and all-terrain vehicles will continue to be permitted to travel to Fish Lake on a limited basis as part of the decision reached Tuesday.
continued:
— — — — — — — — — — — — — — — —
House Passes Bill to Improve Forest Health
Press Release November 1, 2017
Congressman Simpson votes to move forward conversation on fire borrowing and forest management
Washington, D.C. – Idaho Congressman Mike Simpson voted in favor of legislation that would advance effective forest management and address the issue of fire-borrowing. H.R. 2936, the Resilient Federal Forests Act would promote collaborative forest management, reduce frivolous litigation, and modernize the Secure Rural Schools and Community Self Determination Act. Included in the package is Congressman Simpson's bipartisan H.R. 1483, the Litigation Relief for Forest Management Projects Act which would reverse a disastrous court ruling that has created duplicative steps in projects intended for conservation and forest health. H.R. 2936 passed the House by a vote of 232-188.
"Idahoans know all too well about the devastating impacts of catastrophic wildfires," said Congressman Simpson. "The air quality in the summer, the evacuations from our communities, and the resources it takes to fight fires are all serious problems in Idaho. That is why Congress needs to act. I am pleased this legislation addresses the litigation issues that have halted far too many projects and promotes collaborative forest management provisions that seek to improve the health of our forests."
"We also need to fix fire-borrowing," said Simpson. "The rolling-ten year average, which is used to calculate the cost of wildfires, has decimated the Forest Service budget. Wildfire funding is anticipated to consume two-thirds of the total Forest Service budget by 2021 if we don't change the current budgeting process. The status quo leaves little room to fund programs that actually prevent wildfires and reduce overall costs. That is why I proposed a solution to fix this problem."
Congressman Simpson introduced H.R 2862, the Wildfire Disaster Funding Act (WDFA) which is bipartisan legislation that had 150 cosponsors in the 114th Congress. The bill would treat wildfires like other natural disasters and eliminate the need for fire-borrowing.
"I look forward to working with my colleagues to advance the needed reforms in both my Wildfire Disaster Funding Act and H.R. 2936 so we can curb the cost of wildfire suppression funding and protect our landscapes and communities from the catastrophic fires we have sadly grown accustomed to in the west."
[h/t Gordon C]
— — — — — — — — — — — — — — — —
USFS Regional Intermountain News
November 1
Archived Newsletters
———————————-
Letter to Share:
Pheasants
Idaho Gamebird Foundation 11/5
From the first spots on the edge the road was lined with pheasants, both hens and roosters. I would make a guess at 30 and better. As the sun was coming up I could hear pheasants cackling all over. I did get close to a couple. I will follow up in the morning and take my camera that I can zoom in with.
These pheasants are turned out ever Friday night for the next 6 weeks for youth hunting with an adult mentor. Be sure to call in the tag number to be entered into the drawing.
"Whiskers"
————————————–
Critter News:
Pet Talk – Testicular tumors in dogs
By Dr. Karsten Fostvedt Nov 3, 2017 – IME
In the intact (unneutered) male dog, tumors involving the testicles are the second most common form of cancer. Most of these tumors are benign and are not usually aggressive.
There are several types of cells in the testicles that can form tumors. These tumors are called sertoli cell tumors, seminomas and interstitial cell tumors. Sometimes the testicles stay in the abdomen and don't descend into the scrotum. This is called cryptorchidism. Crypt means hidden. Orchid is the Latin name for the testicle. Because of the increased body temperature in the abdomen versus the lower body temperature in the scrotum, these hidden testicles are especially prone to tumors.
Palpation (feeling the testicles within the scrotum) may reveal nodular enlargement or pain. Sertoli cell tumors will secrete estrogens, causing feminization. These dogs will produce enlarged breasts and can exude odors that make them attractive to other male dogs. Estrogen can also cause depression of the bone marrow and a resulting anemia (low red blood cell count). In rare cases, a tumor can be malignant and spread to other areas of the body, especially the prostate and spine.
Your vet can do a fine needle aspirate of the testicular tissue to determine how serious the tumor is.
continued:
— — — — — — — — — — — — — — — —
Learning to bugle in elk during the rut
Outdoor Idaho 9/24
Here's our story about a woman who wanted to talk to the animals. From our hour-long "My Excellent Adventure" show.
— — — — — — — — — — — — — — — —
Two hunters found dead in Elmore County camp due to carbon monoxide poisoning
by KBOI News Staff Wednesday, November 1st 2017
Atlanta, Idaho (KBOI) — An adult and a child were found dead over the weekend due to apparent carbon monoxide poisoning.
The Elmore County Sheriff's Office says deputies were contacted for some overdue hunters in the Atlanta and Middle Fork road area. When police arrived, they found an adult and a child dead.
No foul play is suspected. Police say they're not releasing the victim's names at this time.
source:
— — — — — — — — — — — — — — — —
Last year's tough winter affects hunting
Michaela Leung Local News 8 – Oct 30, 2017
Idaho Falls, Idaho – Hunting is very popular here in Idaho. Although it's for fun and for food. It plays an important role in managing the wildlife.
Overall hunting has been going well but the deer population was scarce in some areas.
"There were some spots where we expected it would be down a little bit because of the tough winter we had last year but overall folks that have gotten out and beat the bushes have been doing pretty well," says Gregg Losinski, Regional Conservation Educator, Idaho Department of Fish and Game.
He says they aren't having that same issue with elk.
"We have too many in some places. We really do need hunters to go out there and do the best jobs they can because if they don't do that for us now, come winter we have problems with elk coming down trying to get into hay and feed blocks," says Losinski.
continued:
— — — — — — — — — — — — — — — —
Falling tree kills North Carolina hunter in central Idaho
11/3/17 AP
Idaho Falls, Idaho — Authorities say a North Carolina man hunting in central Idaho was killed when a tree fell on top of him as he was sleeping.
The Post Register reports that authorities with the Custer County Sheriff's Office say 67-year-old Kenneth Lawrence Horton was hunting with family members in the Salmon-Challis National Forest when the dead tree fell, causing a chest injury on Wednesday.
The sheriff's office dispatched ambulances and a search and rescue unit to his location nearly 12 miles (19 kilometers) west of Challis. Air ambulance personnel reported Horton dead Wednesday afternoon, and he was taken to a funeral home in Challis.
source:
— — — — — — — — — — — — — — — —
Oregon hunter fatally shoots wolf; claims self-defense
By Steven Dubois – 11/2/17 AP
Portland, Ore. — An elk hunter killed a wolf in self-defense in northeastern Oregon, the first time that's happened since the predator began migrating to the state in the late 1990s, state police said Thursday.
The Union County district attorney accepted the hunter's explanation of the Oct. 27 shooting, and the 38-year-old man from Clackamas won't be prosecuted, Capt. Bill Fugate said. In Oregon, it's illegal to kill a wolf for sport.
The hunter told investigators he was alone when he saw three animals he believed to be coyotes, Fugate said. One of them ran toward him, forcing him to shoot. The animal died from a single shot, and the others ran away.
The hunter said he returned to camp and told fellow hunters what happened. He said he was unsure if he shot a coyote, so he returned to the scene and discovered it was a wolf.
continued:
— — — — — — — — — — — — — — — —
Wolf Education International
Nov 5 Newsletter
Close encounter of the wolf kind
Animal rights activists camp out to stop culling of wolf in Germany
Wolf pack makes 1st confirmed livestock kill
— — — — — — — — — — — — — — — —
Animal rights groups sue Minnesota fur farm over gray wolves
11/1/17 AP
Lakeville, Minn. — Two animal rights groups have filed a lawsuit alleging that a fur farm and petting zoo near Minneapolis is breeding, neglecting and killing gray wolves.
The Animal Legal Defense Fund and the Lockwood Animal Rescue Center filed the lawsuit on Sept. 29 against Teresa Petter, who owns Fur-Ever Wild in Lakeville, the Star Tribune reported.
They allege that Petter is breaking federal law by breeding gray wolf puppies as a petting zoo attraction and that she kills wolves that get too old and sells their fur.
Petter denied the accusations Tuesday, saying the allegations in the lawsuit "are absolutely whacked."
continued:
— — — — — — — — — — — — — — — —
Hunter, guide attacked by grizzly in Washakie Wilderness
AP Oct 31, 2017
Cody, Wyo. (AP) – A hunting guide and hunter are recovering in Wyoming hospitals after being attacked by a bear in the Washakie Wilderness.
The Cody Enterprise reports John Sheets said he was field dressing an elk Thursday night on a late-season cow hunt with a female hunter when she was attacked by a grizzly bear.
Sheets said he rushed in, grabbed the bear by the neck and stabbed it with his hunting knife, which caused the bear to retaliate.
Sheets said the rest of the encounter is fuzzy, but he remembers the bear dragging the hunter down a hill. He said the bear came back up and chewed on his ear and broke his leg.
He says they were able to escape on their horses.
Sheets said the last he heard the hunter was in stable condition.
source:
— — — — — — — — — — — — — — — —
Wildlife officers euthanize third bear in Steamboat Springs
10/31/17 AP
Steamboat Springs, Colo. — Wildlife officers say they have euthanized a third bear that was causing problems in the Steamboat Springs area.
The Steamboat Pilot & Today reports the bear had been breaking into garages, ripping into freezers and getting into food.
Colorado Parks and Wildlife Area Wildlife Manager Kris Middledorf says there have been multiple property damage reports over the past week.
continued:
— — — — — — — — — — — — — — — —
Bobcat in bathroom of Oklahoma newspaper startles publisher
10/30/17 AP
Sapulpa, Okla. — A small-town Oklahoma newspaper publisher found a startling front-page story practically in his newsroom: There was a hissing bobcat in the bathroom.
Sapulpa Herald publisher Darren Sumner says the wild animal jumped at him one recent morning as he was heading into the restroom at his office in Sapulpa, a Tulsa suburb.
Sumner shut the door and trapped the adult male cat inside until police and a game warden arrived. Wildlife control workers captured the bobcat in a cage and released it in nearby Pawnee County.
Neither Sumner nor the wild cat was injured in the confrontation.
source:
— — — — — — — — — — — — — — — —
2 states warn Trump against big changes in sage grouse plan
By Dan Elliott – 10/31/17 AP
Fort Collins, Colo. — Two Western governors on Tuesday warned the Trump administration against making big changes in a plan to protect a ground-dwelling bird across the West, saying it would send a message to states not to bother working together to save other imperiled species.
Colorado Democrat John Hickenlooper and Wyoming Republican Matt Mead said a 2015 conservation plan designed to save the greater sage grouse was the product of long negotiation among state and federal governments, conservation groups, industry and agriculture.
"If we go down a different road now with the sage grouse, what it says is, when you try to address other endangered species problems in this country, don't have a collaborative process, don't work together, because it's going to be changed," Mead said. "To me, that would be a very unfortunate circumstance."
Hickenlooper said, "We are both very concerned that the new administration is going to take away all the guide rails that allowed this collaboration to exist."
… Not all Western governors support the 2015 plan. Idaho Republican C. L. "Butch" Otter filed a lawsuit shortly after the plan was released, contending the Obama administration illegally imposed federal land-use restrictions. A federal judge dismissed the lawsuit in January, but Otter has appealed.
full story:
— — — — — — — — — — — — — — — —
Western governors want federal help in invasive mussel fight
By Keith Ridler – 11/3/17 AP
Boise, Idaho — Governors of 19 Western states are pressing the federal government to do more to prevent the spread of damage-causing invasive mussels from infected federally managed waterways.
The Western Governors' Association on Thursday sent a letter urging Interior Secretary Ryan Zinke to put in place by spring 2018 controls to prevent the spread of zebra and quagga mussels.
The governors are also asking that federal agencies conduct mandatory inspections and decontamination of boats leaving infected water bodies. The mussels can attach to boats and trailers and travel long distances, clogging water pipes, damaging boat motors and affecting other aquatic life.
continued:
— — — — — — — — — — — — — — — —
The Columbia Basin Bulletin
Weekly Fish and Wildlife News
http://www.cbbulletin.com
November 3, 2017
Issue No. 850
Table of Contents
* Federal Agencies Update Court On NEPA, EIS Process For Columbia/Snake Salmon, Steelhead
http://www.cbbulletin.com/439818.aspx
* Meteorologists At Winter Weather Conference Make Predictions For 2017-18 Winter
http://www.cbbulletin.com/439817.aspx
* Corps Says Culling Cormorants In Columbia River Estuary To Protect Salmonids Over For This Season
http://www.cbbulletin.com/439816.aspx
* Efforts Aimed At Better Understanding Of Juvenile Salmonids In Columbia River Estuary; Where They Go, What They Eat
http://www.cbbulletin.com/439815.aspx
* Study Details How Contaminated Highway Runoff Deadly To Coho, Loss Rates 60 To 90 Percent
http://www.cbbulletin.com/439814.aspx
* Conservation Groups Announce Intent To Sue Corps Over Willamette Chinook, Steelhead
http://www.cbbulletin.com/439813.aspx
* Study: Range Of Western Freshwater Mussels Declines By One-Fifth, Could Impact Stream Health
http://www.cbbulletin.com/439812.aspx
* No Chum Yet, But Annual Operations For Spawning Fish Slated To Begin Next Week
http://www.cbbulletin.com/439811.aspx
* Washington, Oregon Fishery Managers Seek Nominations For Columbia River Fishery Advisory Groups
http://www.cbbulletin.com/439810.aspx
* Bad Year For Steelhead But IDFG Hopes Enough To Trap At Hells Canyon For Fishing In Boise River
http://www.cbbulletin.com/439809.aspx
* Oregon Reports Wolf Killed By Elk Hunter In Self-Defense; A First Since Wolf Return To State In 1990s
http://www.cbbulletin.com/439808.aspx
* WDFW Commission Approves Purchase Of Wildlife Habitat Land East Of Cascades
http://www.cbbulletin.com/439807.aspx
* NOAA Report Details Economic Contribution Of Commercial, Recreational Fisheries In 2016, Dutch Harbor Again No. 1
http://www.cbbulletin.com/439806.aspx
———————————-
Fish & Game News:
Stocked pheasants provide opportunity for youth at Palouse River Access Yes property
By Jennifer Bruns, Regional Conservation Educator
Wednesday, November 1, 2017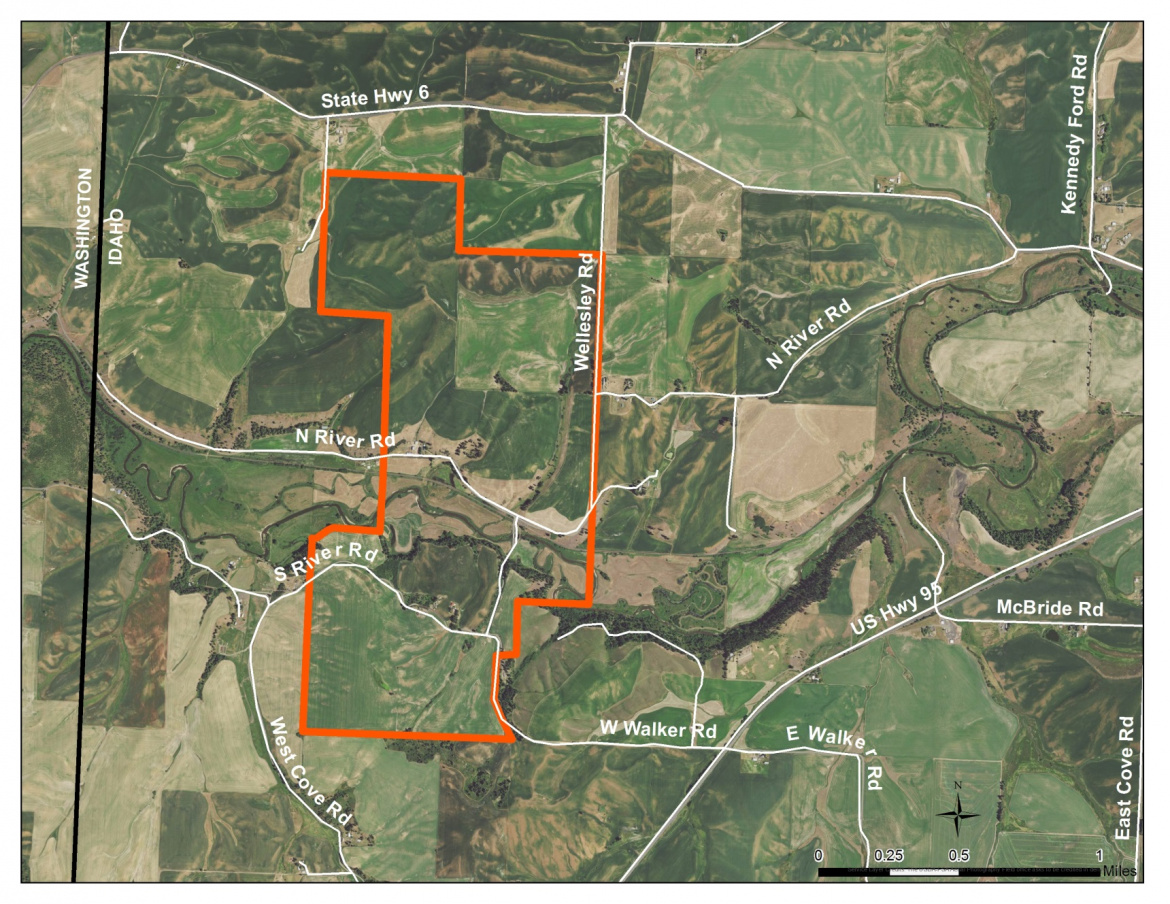 To provide a special opportunity for youth hunters, Idaho Fish and Game has partnered with an area landowner and the Game Bird Foundation and will stock pheasants each week to an area of private land near Potlatch Idaho.
Little Canyon Shooting Preserve is providing 25 roosters per week to the Palouse River Upland Game Bird Area, an 810 acre Access Yes! parcel, north of Potlatch Idaho.
Eligible youth must be 17 years or younger, possess a valid hunting license or passport, and be accompanied by an adult mentor (18 years or older who possesses a valid hunting license). The mentor may also hunt. The number of youth hunters is limited to five per day. Sign in at: http://www.signupgenius.com/go/5080444acae2aa4f94-palouse
Birds will be banded with individual numbers to evaluate hunter utilization. Fish and Game's phone number (208-799-5010) will be located on each band to allow hunters to report band numbers. Additionally, with each band number hunters report, they will be entered into a drawing for a prize. The drawing will be held at the end of the season. The effectiveness of this system will help determine future action.
To access the site, go 2.75 miles west of Potlatch Idaho on Highway 6 to Wellesley Road. Take a left and go 1.75 miles to South River Road. Turn left and cross the railroad tracks and the Palouse River Bridge. The parking lot and sign-in kiosk are on the left. Hunters are required to report their harvest on the mandatory report form located at the kiosk.
For more information, please call the Idaho Fish and Game office in Lewiston at 208-799-5010 or the Gamebird Foundation at 208-883-3423.
source:
— — — — — — — — — — — — — — — —
F&G News Releases
https://idfg.idaho.gov/press
———————————-
Fun Critter Stuff:
"We catch bad guys, not snakes."
Watch this squeamish cop try to catch a snake
By Marianna Kheyfets 9/29/2017 Circa
An online video shows a jittery police officer who's afraid of snakes using a trash can to try to catch one at the University of Central Florida.
Carl Metzger, the deputy chief of the university's police department, calls the video humorous. He added that the incident, which occurred earlier this month on the Orlando campus, is a result of ophidiophobia — the fear of snakes.
Metzger tells local news outlets everyone got a good laugh but it's "obvious that that particular officer is uncomfortable with snakes."
The video shows the officer jumping around, trash can in hand, trying to capture the elusive black snake.
Metzger says the officer, whose name wasn't released, did his best "and ultimately accomplished his mission" of getting the snake out of the building.
video:
— — — — — — — — — — — — — — — —

—————————-
Tips & Advice:
What to do before you light a fire in that wood burning stove
by Nathan Larsen Monday, October 30th 2017
Boise, Idaho (KBOI) — As the colder weather settles in and you decide you want cozy up next to a warm fire…there's something you should do before you set the logs ablaze, it's cleaning out the chimney flue, or your enjoyment could be short-lived.
"Most people, believe me, need cleanings," said Matthew Dehring, Chimney Sweeper.
Matt has been cleaning out chimney flues for 34 years.
In that time, there isn't much he hasn't seen.
Geese, owls, bats…you name it, we've found it! Plus, debris from trees, if they don't have a chimney cap on it, it can fill up with leaves," said Dehring.
continued:
—————————–
Trivia:
Daylight Saving Time has been ending later in recent years; here's why
Scripps National Desk Oct 30, 2017
Prior to 2007, those acknowledging Daylight Saving Time were typically setting their clocks back an hour in October.
This year, DST ends at 2 a.m. Sunday, Nov. 5. Why is it so much later on the calendar?
When George W. Bush was president, the government changed the timing of the end of DST to coincide with the Energy Policy Act of 2005. That added four extra weeks to DST and moved the end to the first week of November.
continued:
————————-
Seasonal Humor:
[h/t Bob Hartman]
—————————-