Nov 19, 2017 The Yellow Pine Times – Valley County, Idaho
Note: Last chance to order the 2018 Calendar, deadline Monday November 20th 1159pm. Send email with "2018 Calendar" in the subject line, please include name, address and number wanted. We can mail gifts for you! Thanks for your support.
————————————–
Village News:
Reports from last Sunday
"Reports of a small cougar around [upper] side of town; locals out for a walk came across about thirty elk close to town."
– LI
— — — —
Hunter's Missing Rope
Looking for a 5/8th inch climbing rope that is white with a green stripe that was stretched across the river from the Yellow Pine Campground by the concrete bridge to the other side. of the river. It was removed while we were hunting on the far side. If you or someone know of it's whereabouts, please leave it at the Yellow Pine Tavern for us. Thank You.
— — — —
Mail Days M-W-F
Starting November 1st, the mail is being delivered 3 days a week.
— — — —
The Corner
The Corner is closed for the season. Stop by if you need wood permits. We will reopen after we have the baby.
Thanksgiving potluck will be held at The Corner 4pm November 23rd. Please call Heather at the Corner 208 633-3325 for items to bring.
– H
— — — —
Yellow Pine Tavern
Winter hours currently will be: 9am to 8pm daily
Christmas potluck will be at the Tavern. Look for further updates on the time and what the Tavern will be providing.
– L
— — — —
Diamond (Kennedy) Fuel & Feed
208-382-4430
We will now be carrying wood pellets, so if you or someone you know up there burns pellets we will have some in stock by Thursday night. We will also order 1 ton pallets if there is an interest. No delivery to YP at this time, but folks can come pick up themselves.
Also, current price on the wood pellets are $5.99/ 50 lb. bag or $250 for a bulk order of 50 bags (1 ton). The brand is Purcell which is rated just as good if not better than the North Idaho Brand. It is made and sold by the same manufacture. Chris Gurney, the new owner here, said next summer he would be willing to deliver 1 ton bulk orders to YP if there are enough interested. Current prices may change by then of course.
— — — —
Bear Aware
It is probably safe to put bird feeders back out. Bears in our area usually hibernate by Halloween per our local F&G office.
— — — —
YPFD News:
There are YPFD T-shirts, as well as YPFD patches and stickers for sale at the Tavern now.
Training will resume in the spring.
— — — —
VYPA News:
Next meeting June 2018
— — — —
Fall Rx Burns planned
BNF:
Cascade Ranger District: Slash piles will be ignited in the following locations: Warm Lake, Yellow pine, Landmark and Crawford. It will be pile burning for two days.
PNF:
The Krassel Ranger District plans to ignite 1,600 acres in the Fourmile drainage, and 2,000 acres in the Bald Hill project area.
— — — —
Follow The Yellow Pine Times on Facebook
———————–
Local Observations:
Monday (Nov 13) overnight low of 25 degrees, frost melting with sunrise. About 2.5″ old snow on the ground, very hard and dense, patches of open ground under the trees. Heard a red-breasted nuthatch. Cloudy before lunch time. Cloudy and breezy early afternoon, "snow-eater" wind, high of 50 degrees. Started to sprinkle just before 5pm, showers on and off continued after dark. Raining pretty good around midnight.
Tuesday (Nov 14) skiff of snow fell early morning, overnight low of 32 degrees. Partly clear and light breeze this morning. Flock of pine-siskins showed up. Mostly cloudy during the day with outbreaks of sunshine once in a while, light chilly breeze, high of 42 degrees. A little bit of "human activity" today. Sky clearing just before dark and temperature dropping quickly.
Wednesday (Nov 15) overnight low of 20 degrees, high thin clouds. Mail truck made it in on time. Dark clouds came in from the south early afternoon and breezy, high of 46 degrees. Rain started just before 9pm and getting windy. Rain pounded down during the night and gusty wind.
Thursday (Nov 16) probably did not get below freezing overnight, rain melted a lot of the snow on the ground, patchy snow cover this morning and rain/snow mix falling for a while, then rain, sometimes snow, then rain, high of 35 degrees. Airplane flew over at 414pm in the storm. Misty drizzle at dark. Heavy snow during the night.
Friday (Nov 17) overnight low of 24 degrees, 4″ of new snow on the ground this morning, partly clear and light breeze. Trees dropping snow bombs out in the forest. Heard little birds calling (not sure if juncos or pine-siskins.) Internet and long distance phone out around 1115am, for less than 15 minutes. Couple of little snow flurries during the day, no accumulation, warm enough to melt some snow, high of 38 degrees. Clearing off at dark and temperature dropping, cold light breeze.
Saturday (Nov 18) overnight low of 14 degrees, 2″ of old snow on the ground this morning, high hazy clouds, filtered sun and slight cold breeze. Watched 2 stellar jays looking through old pine cones for seeds. Partly cloudy and warmed up enough to melt a little snow this afternoon, high of 40 degrees. Clear and temperature dropping fast just before dark.
Sunday (Nov 19) overnight low of 13 degrees, 1-2″ of old snow remaining with a few bare patches, nearly clear sky. Heard a stellar's jay calling. Sunshine and bright snow, frost starting to melt from the strength of the sun even tho it is still below freezing. Internet connection a little "iffy" around 1230pm. High hazy clouds early afternoon and a very noticeable chilly light breeze, high of 40 degrees. Overcast at dark, dropping below freezing.
———————————
RIP:
Jim Ed Biggers
Biggers, Jim Ed, 58, passed away Saturday, November 11, 2017 at a local hospital. Arrangements have been entrusted to All Valley Cremation, 1538 11th Avenue North in Nampa.
Published in Idaho Statesman on Nov. 14, 2017
[h/t L and B]
Note" "Little" Jimmy Biggers lived in Yellow Pine.
——————————–
Scam Alerts:
New Scam, Claiming to Be One of Our Deputies
The Valley County Sheriff's Office dispatch has received two calls today from McCall citizens, claiming that they are Lt. Jason Speer and there is a warrant out for their arrest for failing to report for jury duty. THIS IS A SCAM!! They then want you to go to the store and get a visa gift card to pay them money. We understand that most people will know it's a scam, unfortunately there are some that may fall prey to this type of call. It happens a lot.
PLEASE DO NOT SEND MONEY. Please contact the Valley County Sheriff's Office dispatch at 208-382-5160 if you have any questions.
source: The Valley County Sheriff's Office Facebook page
— — — — — — — — — — — — — — — —
Boise woman targeted by phone scam: 'I want to get this story out'
by Alexis Goree Tuesday, November 14th 2017
Boise, Idaho (KBOI) — Loretta Reed believed she was careful when answering calls from strange numbers. But last week she got a call from someone claiming to be her grandson, Evan, and she fell for it.
"As I go back and think about it I said, oh Evan what is wrong, and then out came this story"
He told her he was sick and asked a friend to drive him to get medicine when they got stopped by police and drugs were found in the car. A so-called Sergeant Clark from the Nampa Police Department said she needed $4,000 to bail him out.
"I followed this so-called Sergeant Clark's instructions to go to my bank, withdraw $4,000 and go to Target and buy eight $500 gift cards."
continued:
——————————–
Idaho News:
School bus slides off road south of Cascade
KTVB November 16, 2017

(Photo: Cascade Fire Protection District)
Cascade, Idaho — Several children suffered minor injuries when their school bus slid off the road Thursday morning.
The incident happened on Thunder City Road in a rural area south of Cascade.
According to the Cascade Fire Protection District, the bus driver drifted too far onto the soft shoulder of the dirt road, causing the bus to slide off into a ditch. It was left tilted at an precarious angle, but did not completely roll.
Twelve children were on board the bus at the time, ranging from elementary-aged students to junior high. No one was seriously hurt, although several students suffered scrapes, scratches or bruises, according to first responders.
The bus was driving slowly when the slide-off occurred, according to the Cascade Fire Protection District. The district sent out a second bus to bring the children to school.
source:
— — — — — — — — — — — — — — — —
Three-car crash on Idaho 55 injures California man
The Star-News November 16, 2017
A California man was injured last Thursday in a three-vehicle accident on Idaho 55 near Fairbrother Lane south of McCall, the Idaho State Police reported.
Richard Scott, 69, of Sacramento, Calif., was taken by ambulance to St. Luke's McCall after the accident, which happened about 8:09 p.m. last Thursday, the ISP reported. Scott's condition was not available.
Scott was driving north when he lost control of his pickup, crossed the center line, and went into a broad slide.
Kathryn Thier, 35, of McCall, was driving her car south and drove off the left shoulder and into a ditch to avoid colliding with Scott's vehicle.
Dean Neptune, 24, of Nampa, was driving a commercial box truck behind Thier and struck Scott's pickup. All occupants were wearing seat belts, the ISP reported.
The section of Idaho 55 where the accident occurred was closed for about two hours until the scene could be cleared. The crash remained under investigation this week.
source:
— — — — — — — — — — — — — — — —
Cascade Legion post to host free Thanksgiving Day dinner
The Star-News November 16, 2017
The Cascade American Legion Post 60 and Auxiliary will host a traditional Turkey Day feast on Thanksgiving, Thursday, Nov. 23, at 1 p.m.
American Legion members will provide the turkey and the trimmings for the free community event, and local churches and other volunteers will bring assorted pies and desserts.
The dinner will be held at the Cascade American Legion hall, 105 E. Mill St.
continued:
— — — — — — — — — — — — — — — —
2018 Winter Carnival theme: There's 'Snow' Place Like Home
The Star-News November 16, 2017
"There's 'Snow' Place Like Home" is the theme of the 2018 McCall Winter Carnival, the McCall Area Chamber of Commerce and Visitors Bureau announced.
"In deciding this year's theme we really wanted to capture what makes living in McCall so special," carnival Chair McKenzie Kraemer said.
"Home means so many things to so many different people and we are excited to see what this theme inspires," Kraemer said.
Plans for the 2018 carnival, to be held Jan. 26 through Feb. 4, include traditional events like fireworks, the Mardi Gras Parade and snow sculptures along with a few new events.
continued:
— — — — — — — — — — — — — — — —
$1,150 grant awarded for blinds at historic NM depot
The Star-News November 16, 2017
The Adams County Historical Society has been awarded a $1,150 matching grant from the Idaho State Historical Society.
The grant funds will be used to purchase UV protection blinds to be installed in the President's Room of the Pacific and Idaho Northern Railway Depot in New Meadows.
The blinds will help protect photos, documents and woodwork in the room from damaging sunlight while items are being documented cataloged and inventoried.
The same type of blind was previously installed in the Lobby, Ticket Agent's Office and Ladies Waiting Room for the same reasons. The historical society will match the grant with volunteer time by professionals.
source:
———————————-
Idaho History:
Idaho Pen Turkey Flock 1924
Source: Original 1924 Nature Magazine from JTR Collection
courtesy John T. Richards – Idaho History 1860s to 1960s
———————————
Public Lands:
National forests to start selling Christmas tree permits Saturday
The Star-News November 16, 2017
Boise and Payette National Forest vendors will begin selling Christmas tree permits on Saturday.
This year, fourth-graders can receive a free permit through the "Every Kid in a Park" program.
Fourth-graders will receive a voucher for one free Christmas tree permit when they register for the "Every Kid in a Park" initiative at http://EveryKidinaPark.gov.
The fourth-graders and a parent must redeem the voucher at a Forest Service office, as commercial vendors will not accept the vouchers. Free Christmas tree permits cannot be sent electronically or through the mail.
Permits for sale to the general public will be available at the Boise and Payette National Forest offices starting Monday. Cost is $10 and valid until Dec. 25.
Each permit allows one tree to be cut, and there is a limit of three per family. The maximum height of a permitted tree is 12 feet. Permits are valid for use on both forests and are for personal use only.
Christmas tree permits are available at these locations:
• New Meadows Ranger District Office, 3674 Highway 95, New Meadows. 208-347-0300.
• McCall Ranger District Office, 102 W. Lake St., McCall. 208-634-0400.
• Albertsons, 132 E. Lake St., McCall. 208-634-8166.
• C&M Lumber, 3625 Walker Lane, New Meadows. 208-347-3648.
• Cascade Ranger District, 540 N. Main St., Cascade. 208-382-7400.
source:
— — — — — — — — — — — — — — — —
Making A Break
Forest Service project near Lake Cascade would help separate wildfires, homes
By Max Silverson For The Star-News November 16, 2017
Wendy Green doesn't mind that the Forest Service is thinking about cutting trees and shrubs near her home. It would be a small price to pay to save her home in a wildfire.
Green was among those who recently toured an area on the west side of Lake Cascade where work is planned to slow down future wildfires.
The French-Hazard Wildland Urban Interface Project would take place on more than 6,000 acres of the Boise National Forest on the eastern slope of West Mountain between Hurd Creek and Moores Creek along West Mountain Road.
The project would also thin stands throughout the area that have become overgrown with brush and fast-growing fir species, Project Leader Jim Bishop of the Cascade Ranger District said.
The project contains 3,661 acres slated for commercial logging, 1,369 acres scheduled for thinning, 3,800 acres planned for controlled burns and 950 acres where equipment will chew up dense vegetation that could help a wildfire spread.
continued:
— — — — — — — — — — — — — — — —
BC YP SR Collaborative meeting December 14th
11/15/2017
The next meeting for the collaborative will be held on December 14th at the EOC 10:00 am to 3:00 pm.
Melissa B. Hamilton
U of I Valley County Extension Educator
Community Development / Agriculture
208-382-7190
— — — — — — — — — — — — — — — —
Pioneer Fire Recovery & Restoration Update
11/16/2017
After a busy summer field season on the Boise National Forest, work continues on the Pioneer Fire area to recover and restore the landscape.
Improving Aquatic Habitat for Bull trout
Two Aquatic Organism Passages (AOPs) have been placed on the Lowman Ranger District's Clear Creek Road (National Forest System road 582). These AOPs are replacing small culverts on Pole and Big Spruce Creek, opening up more than 3 miles of upstream habitat for bull trout and other aquatic species within the Clear Creek watershed.
Opening access to bull trout spawning habitat provides refuge for small fish to escape predators and protect them from being swept downstream from high flows and/or increased sediment from the burned landscape.
The AOPs, which look like large culverts, are multipurpose bottomless arches with two concrete footer walls sunk below the scour depth of the stream, engineered to replicate natural stream conditions. The structures are designed to safeguard the popular road from damaging debris flows blocking stream flows and minimize the risk from water overflowing on to the road bed.
These AOPs are vitally important for the Boise National Forest's long term recovery efforts which are part of the Pioneer Fire's Burned Area Emergency Response (BAER) assessment and supports the U.S. Fish and Wildlife's bull trout recovery plan. Learn more about AOPs by watching the video:
Salvage Timber and Roadside Hazard Sales Status
Twelve salvage timber sales sold to reduce hazard trees in heavily used recreation areas are in various stages of operation from beginning to completion.
* Whoopum up and Upper Rock Salvage and Sunset Ski Roadside Hazard sales: completed.
* Upper Rock Creek Salvage and Pikes Fork Roadside Hazard sales: are expect completion mid-November.
* Crooked and Kempner Salvage and Banner Roadside Hazard sales: expected completion this winter barring extreme weather conditions.
* Upper Beaver and Lamar Salvage sales: just started with completion expected in the summer and fall 2018, respectively.
* Clear Creek Roadside Hazard sale: expected to begin mid-November with completion expected in 2018.
Two additional sales were advertised for bid Nov. 3, 2017:
* 393 Roadside Hazard and the Gold Fork West Salvage sales bid openings were scheduled for Nov. 15.
* 393 Roadside Hazard had an oral auction and Gold Fork West had a sealed bid.
— — — — — — — — — — — — — — — —
Barber Flat Bridge Open to Full-Size Vehicles
Boise, Idaho, November 17, 2017 Boise National Forest News Release
The Barber Flat Bridge located on the Idaho City Ranger District, National Forest System (NFS) Road 327 is now open to full size vehicles but will have load restrictions.
Recent improvements to the bridge have mitigated concerns, allowing the Forest to open the bridge to full-size vehicles. Load restrictions are posted and may impact heavy loads including logging and gravel transporting vehicles. Brett Barry, Boise National Forest civil engineer said "The structural improvements completed and future instream structure work will ensure the bridge functions for years to come."
The Barber Flat bridge improvements have been classified into two phases. Phase one, which concluded this fall included new hardware, abutment improvements and additional monitoring. Phase two will begin during the fall of 2018, projected treatments include adding instream structures that divert channel flows which prevent future damage to abutments.
Recreationists are urged to use caution when traveling on NFS Road 376 from Alexander Flats to NFS Road 327. The road is a single lane road with turnouts that is maintained for high clearance vehicles. Winter weather may further impact road conditions in this area.
— — — — — — — — — — — — — — — —
2017 CuMo Exploration Project Supplemental Information Report is Now Available
11/17/2017
Dear Interested Party,
This email is to inform you that the recently completed CuMo Exploration Project Supplemental Information Report (SIR) is now available on the New 2018 CuMo Exploration Project webpage (https://www.fs.usda.gov/project/?project=52875) under the Assessment Tab.
The new 2018 CuMo Exploration Project webpage will replace the original CuMo webpage. Key documents from the original webpage are being relocated to the new webpage under the Supporting Tab. The original webpage is still available at https://www.fs.usda.gov/project/?project=21302 but due to this site being unstable most documents have been unpublished and are being relocated.
For additional information regarding the SIR, please contact Rick Wells, Forest Geologist, at 208-373-4136. For questions regarding the project webpages, please contact me directly. Thank you for your continued interest in this project.
Sincerely,
Melissa Yenko
Forest Environmental Coordinator
Boise National Forest
— — — — — — — — — — — — — — — —
Idaho Trails Association on a roll; seeks new members to keep momentum
Rich Landers The Spokesman-Review Nov 126, 2017
A statewide non-profit outdoor service group is looking for more members to achieve its simple goal of keeping Idaho's nonmotorized trails open and usable.
The Idaho Trails Association is looking for more members to join trail building and maintenance projects next season, said North Idaho resident and long-distance hiker Tom Dabrowski.
Founded in 2010, ITA volunteers have completed 21 projects in 12 parts of the state, he said. A total of 215 volunteers contributed more than 5,175 hours of field work time on 103 miles of trail, sawing more than 1,000 logs off the trails, fixing water bars, cutting back brush and repairing trail treads, he said.
The volunteers coordinate with government trails crews to spread out the work and cover more trails, he said.
continued:
— — — — — — — — — — — — — — — —
Last Chance to Comment on National Parks Massive Fee Increase
Western Slope No Fee Coalition 11/17/2017
In late October we alerted you to the National Park Service's proposal to move to "surge pricing" during the most popular season at 17 popular parks. At those parks, the entrance fee during the most desirable time of year will at least double and nearly triple at some, to $70 per vehicle for a single visit.
Public comments are being taken only until November 23. Before you sit down with your family to give thanks this year, show your support for National Parks that are accessible to everyone by adding your voice to those of your fellow citizens!
Details here.
— — — — — — — — — — — — — — — —
USFS Regional Intermountain News
November 16, 2017
link:
——————————
Critter News:
Pet Talk – Lipomas in Dogs
By Dr. Karsten Fostvedt Nov. 17, 2017 – IME
Lipomas are benign tumors that originate from fat cells. "Lip" in Latin stands for fat and "oma" stands for tumor. They are the most common tumor seen in dogs and are most common in overweight, middle-age to older dogs. The exact cause of the formation of these tumors is unknown. They are common in all breeds, but especially in Labrador retrievers.
Lipomas are well-defined, oval or round growths that exist and can be easily felt under the skin, or the subcutaneous area of the body. They usually feel soft and smooth, and can be easily moved around under the skin. Most occur on the trunk of the dog, especially under the chest. They can also occur on the legs and neck. They start off small, but can grow as large as an orange. Most lipomas do not cause any clinical signs. They are removed surgically for cosmetic reasons or if they occur in the joints of the dog and are causing gait abnormalities. In rare instances, lipomas can develop in the abdomen, chest or behind the eye. These lipomas can cause serious problems and must be removed surgically.
Lipomas can mimic other, more malignant tumors. Your vet will almost always want to stick a needle into the lipoma, aspirate a sample of cells and confirm that only fat cells are noted under the microscope. Biopsy of the tumor (taking a small sample of the tumor surgically) will also show that the tumor is benign.
continued:
— — — — — — — — — — — — — — — —
Want to live longer? Get a dog
Findings also suggest increased social well-being
Victoria Larned – CNN Nov 17, 2017
The benefits that come with owning a dog are clear– physical activity, support, companionship — but owning a dog could literally be saving your life
Dog ownership is associated with a reduced risk for cardiovascular disease and death, finds a new Swedish study published Friday in the journal Scientific Reports.
For people living alone, owning a dog can decrease their risk of death by 33% and their risk of cardiovascular related death by 36%, when compared to single individuals without a pet, according to the study. Chances of a heart attack were also found to be 11% lower.
continued:
— — — — — — — — — — — — — — — —
KWVR Oregon Wolf Education weekly Wolf Report
Second week of November 2017
— — — — — — — — — — — — — — — —
Environmental group sues for records of wolf killings
By Nicholas K. Geranios – 11/15/17 AP
Spokane, Wash. — An environmental group is suing the Washington Department of Fish and Wildlife over its failure to release some public records on wolf deaths in the state.
The Center for Biological Diversity is seeking records about the killing of a wolf from the Smackout Pack this summer and the killing of nearly the entire Profanity Peak pack in 2016.
The lawsuit was filed Tuesday in Thurston County Superior Court.
Bruce Botka, a spokesman for the WDFW in Olympia, says the agency does not comment on the filing of legal complaints and had not reviewed the lawsuit yet with attorneys.
Wolves are listed as endangered by the state in the eastern third of Washington, where they are relatively abundant. They have federal endangered species protection in the western two-thirds of the state.
source:
— —
Pro-wolf group from out-of-state hounds Washington with lawsuits
Rich Landers The Spokesman-Review Nov 16, 2017
An Arizona-based environmental group is suing the Washington Department of Fish and Wildlife for access to some public records on wolf deaths in the state.
The Center for Biological Diversity is seeking records about the killing of a wolf from the Smackout Pack this summer and the killing of several animals in the Profanity Peak pack in 2016.
Lethal removal of some wolves was authorized by the agency director in those cases after preventative measures didn't stop multiple wolf attacks on livestock. The attacks generally stopped after a few wolves were killed.
continued:
— — — — — — — — — — — — — — — —
Online quiz: Can you distinguish wolf from coyote?
Rich Landers The Spokesman-Review Nov 15, 2017
Oregon has posted an online quiz to help people – especially hunters – bone up on telling the difference between wolves and coyotes.
The quiz found at the Oregon Department of Fish and Wildlife website shows photos of the animals at various ages. As users are quizzed on their knowledge, the website offers tips on how to differentiate wolves from coyotes.
More than 16,000 people had taken the quiz in the first week after it was released this fall.
Wolves are still protected in both Oregon and Washington by state or federal rules. Coyotes are not protected and can be hunted.
source:
— — — — — — — — — — — — — — — —
Wyoming game managers take public comment on grizzly bears
11/17/17 AP
Jackson, Wyo. — A Wyoming Game and Fish Department public meeting on how to manage grizzly bears in the Greater Yellowstone Ecosystem drew comments and ideas from hunting guides who perceive there are too many grizzly bears and environmentalists insistent that Jackson Hole should remain a hunting-free sanctuary.
About 100 people attended the meeting Wednesday night when they were asked their thoughts on population monitoring, research, conflict management, information and education and grizzly bear hunting.
The comments and ideas voiced included prohibiting grizzly bear hunting until the Yellowstone region's bears are connected with the grizzly bear population in northwest Montana; requiring wildlife managers to tell the public where tracked grizzlies are in real time when the bears venture into well-used areas; and requiring that meat from a hunted grizzly bear can't be wasted, the Jackson Hole News & Guide reported.
continued:
— — — — — — — — — — — — — — — —
Landowner uses tractor to 'totally' disable elk poacher's pickup
Rich Landers The Spokesman-Review Nov 14, 2017

A landowner used a tractor to "disable" a pickup belonging to elk poachers trespassing on his property in Pierce County on Nov. 11, 2017. (Washington Department of Fish and Wildlife)
Public sentiment is clearly behind the landowner who used his tractor to, shall we say, immobilize the pickup of elk poachers who were trespassing.
Washington Department of Fish and Wildlife police are hesitant to say that's the proper way to respond. There could be consequences.
But for now, the WDFW report on Facebook is chalking up a lot of fans for the Pierce County man who went out into the night to make sure the poachers didn't get away.
continued:
— — — — — — — — — — — — — — — —
Spokane man, brother cited for trophy elk poaching in Montana
Rich Landers The Spokesman-Review Nov 16, 2017
A Spokane man and his twin brother have been charged with 16 crimes involved with the illegal killing of eight bull elk in what Montana Fish, Wildlife and Parks officials describe as years of poaching activity on a Fergus County ranch.
James Stephen Page, of Garneill, Mont., and William Thomas Page, of Spokane, Wash., both 32, are accused of illegally harvesting eight bull elk over several years on the 3 Bar Ranch, which is on the west side of the Snowy Mountains, southwest of Lewistown, agency spokesman Bruce Auchly reports today.
The case involves eight felony charges. If convicted, the brothers could lose for life their hunting and fishing privileges in Montana, and possibly other states, and face thousands of dollars in fines.
continued:
— — — — — — — — — — — — — — — —
Bald eagles' annual gathering begins at Lake Coeur d'Alene
Rich Landers The Spokesman-Review Nov 16, 2017

A bald eagle snatches a spawning kokanee from the Wolf Lodge Bay area of Lake Coeur d'Alene. (Jerry Rolwes)
Kokanee are spawning and dying in North Idaho's two largest lakes and bald eagles have begun congregating for the annual feast.
Dozens of eagles are congregating at Granite Creek and in the Bayview shoreline area to take advantage of revived kokanee fisheries in Lake Pend Oreille.
Lake Coeur d'Alene is more accessible and better known for the eagles that congregate from November into January to feast on the kokanee — land-locked sockeye salmon — spawning in Wolf Lodge Bay.
The number of eagles varies from year to year, with 31 adult (white-headed) eagles and 6 immatures counted today in the first weekly survey of the eagle season by Carrie Hugo, U.S. Bureau of Land Management wildlife biologist.
continued:
— — — — — — — — — — — — — — — —
Sage grouse policy moving back to square one as decade of collaboration questioned
Rich Landers The Spokesman-Review Nov 13, 2017
Federal scientists and land managers who've been crafting strategies to protect a ground-dwelling bird's habitat across the American West for nearly two decades are going back to the drawing board under a new Trump administration edict to reassess existing plans condemned by ranchers, miners and energy developers.
Here's more in a report from Associated Press reporter Scott Sonner, who's covered some of the public meetings related to the review.
continued:
— — — — — — — — — — — — — — — —
Idaho Man Lands Near-Record Fish And An Even Better Story From The Boise River
By James Dawson Nov 17, 2017 Boise State Public Radio
It's a near-miss lunker. Jason Waidelich had the catch of a lifetime on the Boise River this month when he hooked a rainbow trout that weighed a whopping 19.25 pounds.
"My adrenaline was pumping, I couldn't breathe. It was pure shock," Waidelich told KTVB. "The only time I've ever seen a trout that big is in the aquariums at Cabela's."
The 32-inch long monster was just shy of the state record held by Michelle Larsen-Williams, set in 2009. She hooked her 20-pound, 34.25-inch long rainbow on the Snake River in 2009.
Idaho Fish and Game biologist John Cassinelli agrees. "That's pretty insane from the Boise River."
continued:
— — — — — — — — — — — — — — — —
The Columbia Basin Bulletin
Weekly Fish and Wildlife News
http://www.cbbulletin.com
November 17, 2017
Issue No. 852
Table of Contents
* IDFG Making Progress On Fixing Water Chemistry Issues Impacting Snake River Sockeye Hatchery Smolt Survival
http://www.cbbulletin.com/439869.aspx
* Colder, Wetter, Snowier Now Forecasted For Upcoming Winter; La Nina Conditions May Hang Around Until April
http://www.cbbulletin.com/439868.aspx
* Council Hears Presentation On How California's Booming Renewables Affecting BPA Revenues
http://www.cbbulletin.com/439866.aspx
* Council Directs Cost Efficiency Savings To More Funds For Hatchery, Fish Diversion Improvements
http://www.cbbulletin.com/439866.aspx
* Corps Seeks Comment On Willamette Valley Reservoir Storage Reallocation Draft Study
http://www.cbbulletin.com/439865.aspx
* Corps Awards $6.2 Million Contract To ODFW To Operate Bonneville Fish Hatchery
http://www.cbbulletin.com/439864.aspx
* Western Governors Seek Clarification On Interior's Plans To Prevent Spread Of Invasive Mussels
http://www.cbbulletin.com/439863.aspx
* Montana Supreme Court Upholds Salish-Kootenai Tribes Water Rights Compact
http://www.cbbulletin.com/439861.aspx
* Federal Climate Science Report For U.S. Released, Projects Trends In Temperature, Precipitation, Sea-Level Rise
http://www.cbbulletin.com/439862.aspx
* Petty Nominated For Interior Assistant Secretary Overseeing Bureau Of Reclamation, USGS
http://www.cbbulletin.com/439858.aspx
————————————-
Fish & Game News:
Don't improperly dump your big game carcasses
By Phil Cooper, Wildlife Conservation Educator
Tuesday, November 14, 2017
Proper disposal keeps you out of trouble and eliminates problems for others
When you're done butchering a big-game animal, there's usually bones, hide and other inedible parts that should be double-bagged, securely tied, and put out with your household waste for garbage collection.
Hunters are required to remove and care for all of the edible meat from hindquarters as far down as the hock, the shoulders as far down as the knee, and meat along the backbone. There is also a lot of meat in the neck and covering the ribs that make good ground or stew meat.
When you take your harvested animal to a professional meat processor, you can deliver the clean carcass and your work is done. Perhaps the best part of paying a professional meat processor is the shop disposes of the bones for you.
When hunters do the processing themselves, there is a pile of bones, hide, and a head that need to be disposed of. If you're quartering the animal in the field and in a remote area, these will be cleaned up by scavengers in short order.
If you bring an animal out whole and need to dispose of the inedible remains, a transfer station will accept animal carcasses for no charge from residents who live within that county who pay the solid waste disposal fee.
When disposing of game animals, hunters should consider the consequences of their actions. It only takes one improperly dumped and highly visible carcass to generate strong negative reactions from the public.
Unwanted big game carcasses that end up on the side of the road or other visible areas become eyesores and public health issues. They can even be hazardous because they attract dogs and scavengers, which become dangers to drivers who swerve to avoid hitting them.
continued:
— — — — — — — — — — — — — — — —
Biologists think they've found answers to low survival of sockeye salmon
By Roger Phillips, Public Information Specialist
Thursday, November 16, 2017
Sockeye runs have improved since the 1990s, but biologists want better survival of young fish and more returning adults
Idaho Fish and Game's sockeye recovery program has overcome many challenges in preserving the species, and scientists are continuing to learn and improve as they transition from staving off extinction to growing Idaho's sockeye population.
Fish and Game's Assistant Fisheries Chief Paul Kline said F&G biologists think they've answered a nagging question about its relatively new sockeye hatchery in Springfield. The hatchery succeeded in raising lots of young sockeye, but the fish have survived poorly after being released to migrate to the Pacific.
Biologists found differences in water hardness between Springfield Hatchery in Southeast Idaho where the fish are raised from eggs and Redfish Lake Creek near Stanley where they're released. Differences in water chemistry between the two waters may be adding stress to fish that are already stressed from "smoltification" – a period when they migrate downstream and their bodies transition from freshwater to saltwater.
continued:
— — — — — — — — — — — — — — — —
International Effort Slows Invasive Bullfrogs
By Michael Lucid, Wildlife Regional Biologist
Wednesday, November 8, 2017
Northern leopard frog numbers have declined dramatically in the northern portion of their range to the point there is only a single known natural population left in all of British Columbia or northern Idaho.
An international team of biologists has been working hard to prevent the northward movement of invasive bullfrogs toward British Columbia's Creston Wildlife Management Area where that last leopard frog colony resides. Biologists on both sides of the border are using a promising new technique called 'electrofrogging' to remove, then euthanize, bullfrogs from small ponds.
Bullfrogs spread disease, outcompete native amphibians, and eat most anything in their path. Working together to slow the spread of bullfrogs is not only protecting the Creston leopard frog colony but helping prepare Idaho's Boundary-Smith Creek Wildlife Management Area for a major climate adaptation restoration project which will benefit six climate sensitive Species of Greatest Conservation Need.
continued w/video:
— — — — — — — — — — — — — — — —
Idaho agency denies sex discrimination lawsuit allegations
By Keith Ridler – 11/14/17 AP
Boise, Idaho — The Idaho Department of Fish and Game is asking that a federal sex discrimination lawsuit be dismissed and that any recordings made by the former employee not be allowed as evidence.
The 8-page document filed Monday also asks that Fish and Game receive attorney fees.
The lawsuit filed last month in U.S. District Court seeking $100,000 in damages includes an allegation that a male supervisor threatened to strangle the female employee with an extension cord.
Fish and Game denies that ever took place.
The lawsuit also says the woman made recordings to back up some of her claims.
Fish and Game contends those recordings are illegal and should not be allowed as evidence, and the woman's claim barred as a matter of public policy.
A ruling is pending.
source:
— — — — — — — — — — — — — — — —
F&G News Releases
https://idfg.idaho.gov/press
———————————-
Fun Critter Stuff:
Badger discovered asleep in cat bed in Linlithgow
BBC News Oct 19, 2017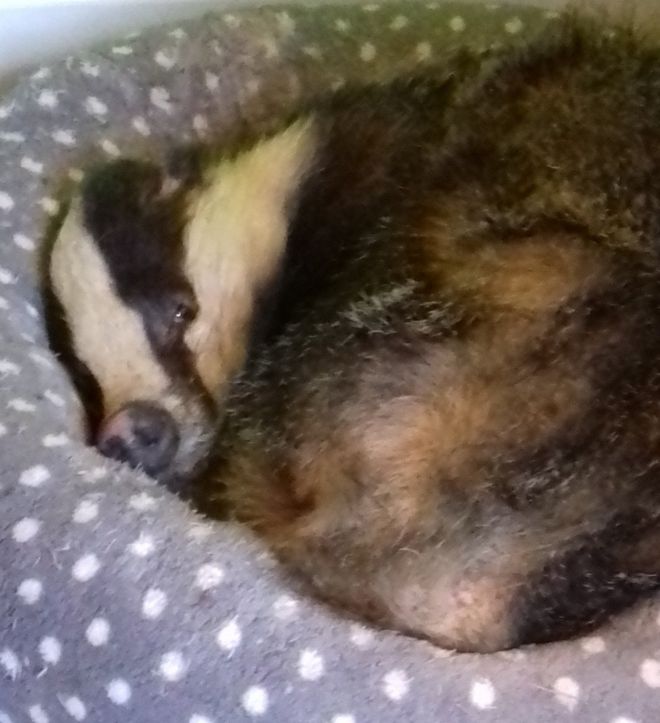 A sleepy badger was caught napping in a cat bed in a house in Linlithgow.
The badger entered the kitchen through a cat flap and filled up on cat food before going to sleep in the soft bed.
The Scottish SPCA was called to the house at Beecraigs Country Park on Wednesday and an officer was able to persuade the badger to leave of its own accord.
The charity said it was unusual behaviour for badgers, which are usually shy animals, to enter a home.
continued:
— — — — — — — — — — — — — — — —

———————————-
Seasonal Humor:

——————————-
Tips & Advice:
Space heater safety
Tristan Lewis Nov 03, 2017 Local News 8
Idaho Falls, Idaho – As temperatures begin to drop, many of us are starting to bring out our space heaters.
Home heating fires account for 16% of structure fires in America.
Space heaters are rated for indoor use and should only be operated according to the owner's manual, and be UL listed with tip-over shut off protection. Use of space heaters should only be temporary and are unsafe for prolonged periods.
All heat sources require at least 3 feet of clear space around them. Keep children, animals and any combustible materials away from heat sources.
continued:
—————————–