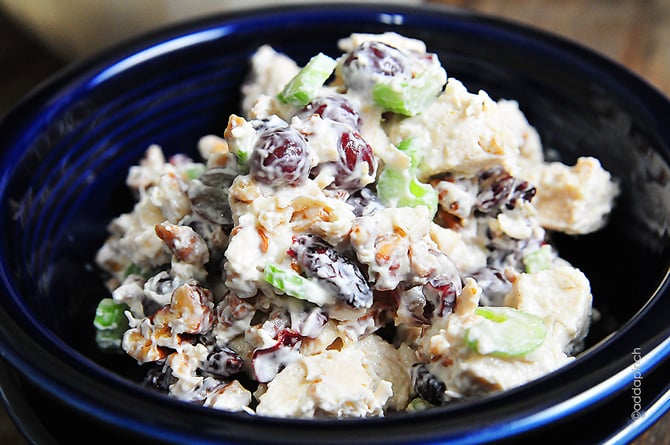 Serves four
Ingredients
2 medium chicken breasts, cooked and shredded or cubed
1-2 stalks celery, chopped
1/2 large apple, chopped (red or green apple, use what you like)
3/4-1 cup toasted walnuts, roughly chopped (or pecans, or other nuts or seeds)
1 cup grapes, halved (or dried cranberries, cherries, or other fruit)
1/4 cup plain greek yogurt*
1/4 cup mayonnaise*
1 TBSP apple cider vinegar (or tarragon vinegar, or white wine vinegar)
1 TBSP fresh tarragon, chopped (or basil, oregano, rosemary, or other herb)
Pinch of salt and pepper, to taste.
* Author's note: I like to use a combination of mayo and yogurt to make this classic salad a little lighter. Feel free to use whatever you like.
Directions
Shred or cube the chicken and place it in a bowl. Add the chopped celery, apple, and toasted walnuts.
In a separate bowl, stir together the yogurt, mayonnaise, vinegar, tarragon, and a pinch of salt and pepper, to taste. Add the dressing to the chicken mixture, and stir to combine.
Mix in the halved grapes last, to keep them from getting bruised. Taste and adjust seasoning if necessary. If the mixture is a little dry, add a bit more yogurt or mayonnaise.
Store in an airtight container in the fridge.
Author's Notes: Salad is best after a couple of hours, so the flavors have had a chance to mingle. Serve as is, in a wrap, on a sandwich, or however you like. You could even double the dressing and mix in some cooked penne for a pasta salad. I like mine simply with fresh lettuce and a bit of avocado.
————————————–