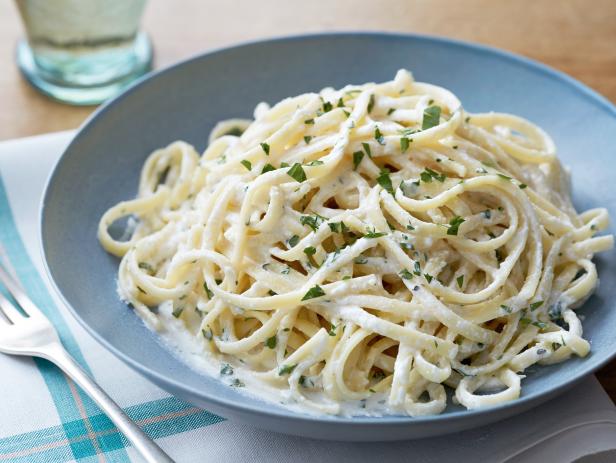 Servings: 4 to 6
Ingredients
1 lb linguine (1 package)
2 tbsp unsalted butter
1 garlic clove, minced
1/4 cup good chardonnay wine
1 1/2 cups half & half
3/4 cup finely grated Parmigiano
1/4 cup minced flat-leaf parsley + extra for garnish
Sea salt & freshly ground black pepper, to taste
Directions
Cook the pasta in a large pot of boiling salted water until al dente. Drain.
Heat the unsalted butter in a large saucepan over medium high heat. Sauté the garlic in the butter for 1 minute, until golden and fragrant. Deglaze the saucepan with the chardonnay, and cook off the liquid for a few minutes until it's almost dry.
Add the half-and-half, and reduce the heat to medium low. Stir often, making sure the half-and-half doesn't boil. If it looks like it's about to start boiling, take the pan off the heat for a few seconds and lower the temperature. Cook the half-and-half for about 5 minutes, until slightly thickened.
Add the Parmigiano, and stir until the cheese has completely melted. Cook for another 3 to 5 minutes, until the sauce is thick, creamy, and smooth. Again, be careful not to boil the sauce. Once the sauce is done, remove it from the heat, and add the minced parsley, sea salt, and freshly ground pepper. Mix and cover.
Toss the linguine with the alfredo sauce. Garnish with more minced parsley. Serve immediately.
———————————————