April 8, 2018 The Yellow Pine Times – Valley County, Idaho
Village News:
Spring!
First buttercup photo – LI
— — — —
Village Council Meeting
Saturday, April 7, 3pm at Community Hall, there was a meeting of the Council to discuss ditch work and funding.
— — — —
Long Island Iced Tea Party
Saturday, April 21st at 3pm, Filler's front yard. Join us as we celebrate 10 years in Yellow Pine! Everyone is invited. Snacks are welcome.
— — — —
Blow-down Update
The Cascade Ranger District (BNF) is responsible for burning the slash piles from the blow-down cleanup. Last word is they will be burning either this spring or late fall. Will update when more info becomes available.
— — — —
Yellow Pine Tavern
Watch all of your favorite sports on our Big Screen TV at the Yellow Pine Tavern. Open 9am to 8pm (or later on game nights.) Jukebox is up and going.
— — — —
The Corner
The Corner is open for Breakfast and Dinner with prior arrangements. Typically breakfast is served between 5 and 6 am with dinner between 6 and 7 pm. The Corner Store is open as well, just call for grocery needs, fresh produce, eggs, meat etc.
— — — —
Winter Water Advice
It may feel like spring but the ground is still frozen down deep. To help prevent frozen water, avoid parking over buried water lines, allow the natural snow cover to insulate the ground. Driving over the lines will also push the frost deeper and can result in frozen pipes. Also, don't plow the snow over where water lines are buried, and avoid covering up water shut off valves.
— — — —
Be Predator Aware
Bears are coming out of hibernation. No recent reports of coyotes, foxes, raccoons, bobcats or cougars hanging around. The elk are close to homes, so wolves might be around. Please don't leave pet food outdoors.
— — — —
2018 Fest
Next H-Fest Meeting April 19th
The 2018 festival T-shirt contest is now open! All entries must include the year (2018) and the festival name "Yellow Pine Festival" in the design Entries must be received by Friday, May 18th, 2018. The prize for the winning design is $100! Multiple designs by the same artist can be sent in.
Hint: these shirts are screen prints, simpler designs stand out better. Submit your entry by email to Marj Fields at fieldsmarjie @ yahoo.com
— — — —
YPFD News:
Fire Safety Tips for Winter/Spring
Keep your chimney clean to prevent flue fires, YPFD chimney brushes are available for local use, check with Cecil to borrow them. Make sure your smoke and carbon monoxide detector is working. Never leave a portable electric heater unattended. Fire extinguishers should be charged, visible and easily accessible.
There are YPFD T-shirts, as well as YPFD patches and stickers for sale at the Tavern now.
Training and fire siren testing will resume in the spring.
— — — —
VYPA News:
Next meeting June 2018
— — — —
Winter/Spring Propane Tips
Keep the snow cleared around propane lines and pipes leading from your tank to the house. The weight of snow sliding off roofs can cause leaks that can result in fire. Make sure you have a CO detector with working batteries.
Amerigas Phone: (208) 634-8181
Ed Staub & Sons Phone: (208) 634-3833
— — — —
Diamond Fuel & Feed (208) 382-4430
Our local birds love black oil sunflower seeds. Diamond has 40 pound bags of sunflower seeds for $22.59 (plus tax) and Arnold's charges 5 cents a pound to haul it to Yellow Pine.
— — — —
Follow The Yellow Pine Times on Facebook (updated more often than emails)
———————–
Local Observations:
Monday (Apr 2) nearly 1/2″ rain during the night and snow squall this morning, then clearing and breezy. Overnight low of 28 degrees, about 2″ of old snow (ranges from 0-6″), a lot of open ground. A small flock of juncos twittering around. Snow flurries on and off mid-day, cold strong breezes and not very warm, high of 35 degrees. A few red-breasted nuthatches and a couple of chickadees visited, the local pine squirrel was packing pine cones from one stash to another. Heard a clarks nutcracker out in the forest. Partly cloudy at sundown, cold breezes. Several elk in the neighbor's pasture right before dark.
Tuesday (Apr 3) overnight low of 12 degrees, thin overcast and chilly light breezes this morning, patchy snow in the yard (lots more in the shade) estimate 1″ average now. Birds galore this morning: chickadees, juncos, red-breasted nuthatches, stellar jay, red-shafted flicker and a robin calling. Later heard a clark's nutcracker out in the forest. Early afternoon filtered sunshine and high wispy hazy clouds, with gusty strong chilly breezes, high of 45 degrees. At sundown thicker overcast but calmer. Elk out on the golf course just before full dark.
Wednesday (Apr 4) overcast this morning with a few flakes of snow falling. Lots more open ground, patchy snow remains in the open, deeper snow in the shade. Local streets are mostly bare except in shady spots. Not many birds this morning, heard a clarks nutcracker and a steller jay, a few red-breasted nuthatches visiting. Cloudy mid-day and light breezes, high of 48 degrees. A few red-breasted nuthatches visiting and a pine squirrel sounding off in the neighborhood. Robins chirping at dusk. Cow elk out by hole #14 just at dark.
Thursday (Apr 5) overcast this morning, brief sprinkle of rain. Most of the yard is bare, piles of snow remain in the shade, estimate about 1″ of old snow, lots of bare ground. Robins calling this morning, also a few chickadees and a couple of nuthatches. After lunch a steller jay visited, also the local pine squirrel and half dozen juncos in the yard. Very light sprinkles of rain on and off early afternoon, not enough to get wet, high of 50 degrees. Later a white-breasted nuthatch visited. Local pine squirrel busy hiding pine cones that have melted out of the snow. Light sprinkles of rain late afternoon, barely enough to drip off the roof once in a while. Lots of robins calling at dusk, woodpecker drumming on the power pole and still sprinkling lightly. Probably sprinkled on and off until around midnight or so.
Friday (Apr 6) early morning showers, low clouds socked in the ridges this morning, overnight low of 37 degrees. Lots of robins and juncos this morning, raven, steller jay and red-shafted flicker calling, woodpecker drumming on the power pole, a few red-breasted nuthatches visiting. At lunch time 3 jays and a nutcracker were here, then a large hawk swooped in for an attack and all the birds (and chickens) fled. Warm mostly cloudy afternoon, high of 61 degrees. Partly cloudy at sundown, robins calling. Cloudy at midnight.
Saturday (Apr 7) light misty rain after dawn, overnight low of 38 degrees, overcast and a few drop of rain this morning. Can hear the river roaring, gauges on Johnson Creek and South Fork show a spike in the flow during the night. Robins and a chickadee calling, a few red-breasted nuthatches visiting. Light rain showers at noon. Male downy woodpecker, steller jays, nuthatches and chickadees visiting. After lunch time, breezy and blowing rain, dark and cloudy, top of VanMeter socked in. Rained on and off most of the early afternoon, high of 50 degrees. Hard rain and hail just before 8pm, then more showers into the night, finishing with snow before 7am (melted.)
Sunday (Apr 8) overnight low of 32 degrees, low misty clouds sitting down on the mountains this morning. Total of 0.79″ of rain (and melted snow) in the gauge. Patches and traces of old snow remain in the shade, river rising during the night, but still below spring run-off. Robins chirping and a flicker calling this morning, red-breasted nuthatches and chickadees visiting. Early afternoon sprinkle of rain, high of 45 degrees. First sighting of a golden mantel ground squirrel, and the pine squirrel was hauling pine cones across the street. Red-shafted northern flicker on the ant pile. Steady rain late afternoon then rain/snow mix before sundown (not sticking), clouds down to the valley floor.

—————————-
Letter to Share:
Commissioner Cruickshank's March Newsletter
April 5, 2018
From the desk of Commissioner Cruickshank
Thursday March 1st through Thursday March 7th I was attending the National Association of Counties (NACo) Legislative Conference in Washington D.C. Please see the attached document I created for the Idaho Association of Counties (IAC) of my activities while attending the conference.
Link:
https://drive.google.com/file/d/1KKwbZXme6_leXpetdnUlJmoqmKlboi2c/view
Friday March 9th
I reviewed Judge applications to fill a vacant position in the 4th Judicial District. This position is in Ada County.
Mid morning I participated in an IAC Legislative Committee conference call to be updated on the Idaho Legislative Session.
Sunday March 11th
I created the report of my activities of attending the NACo Legislative Conference.
Monday March 12th
Today was a regular commissioners meeting day. Please utilize the Valley County website at Valley County Idaho Official Site then click on the Commissioners section where you will find the minutes of our Commissioner meetings once they are approved.
http://www.co.valley.id.us/
This afternoon I created cover letters to send to the Cascade and McCall/Donnelly schools as we had received the Timber Dollar funding from harvest off the National Forest. This was only the actual timber harvest receipts of the 25% approved shortly after the National Forests were created.
Tuesday March 13th
I reviewed old records from the commissioners room that had been in boxes for several years. I discovered copied documents from the late 1800's to current issues the county is working on.
Yesterday the commissioners were told there was some unclaimed funding of small amounts at the State Treasurer's office. Today I signed the documents to release those funds to Valley County.
Wednesday March 14th
I registered for an upcoming Wildfire Workshop Valley County is assisting with.
I participated in a National Forest Counties and Schools Coalition (NFCSC) conference call to be updated on the efforts to reauthorized the Secure Rural Schools funding which has not been reauthorized by Congress.
I received a Biography of the new Forest Service Chief and sent it out to folks whom I thought were interested.
Thursday March 15th
I sent emails to NACo on Opioid Litigation efforts and to let the NACo staff know of the United States Department of Agriculture (USDA) State Directors requesting to attend the upcoming NACo Western Interstate Region Annual Conference being held in Blaine County (Sun Valley), Idaho this year.
I participated in a Cooperating Agency conference call on the Stibnite Mine Project. These calls are held with the Cooperating agencies to discuss reports and data in reviewing the Stibnite Mine Plan of Operations submittal to the Forest Service.
I received a call from a fellow Magistrate Commission member wanting to discuss a concern they had with the selection process used for interviewing Judge applicants.
I sent a thank you email to all the folks from Idaho who attended the NACo Legislative Conference.
This afternoon I participated in the 4th Magistrate Judicial District conference call to discuss the interview selection process and confirm our choices to be interviewed.
Friday March 16th
I worked on emails and sent replies concerning the upcoming WIR Annual Conference.
Saturday March 17th
I worked part of the day on emails and responding to some prior request for information.
Monday March 19th
Commissioner meeting day. Please check the Valley County website for the minutes of this meeting.
http://www.co.valley.id.us/
This afternoon I received a call from a Gem County Commissioner requesting information on Snow Grooming costs and how Valley County created the Warming Hut on West Mountain.
Tuesday March 20th
I visited with our Information Technology director on the installation of electronic door safety and employee access cards, time clocks and efficiency of the entire county with new technology.
Wednesday March 21st
I received a call from the Executive Director of NACo to discuss Secure Rural Schools and Payment in Lieu of Taxes funding hopefully included in the Omnibus spending bill being considered by Congress. NACo has done an outstanding job keeping the information needed to congressional offices along with the efforts of counties and school districts. All people working this issue helps explain the need of the funding and impacts if not funded.
I received a call from the Assessor to discuss some additional resources they are requesting for their office. This item will be placed on a future commissioners agenda for consideration by the full board as I alone can't make any decisions of this nature. The Assessor was just insuring I was aware of the request before it was presented to the board.
Thursday March 22nd
This morning I attended the Big Creek/Yellow Pine Collaborative meeting to discuss restoration concerns and solutions. One of the projects is a re-route of a section of the East Fork Road to eliminate the large slide section that has boulders sliding into the roadway blocking the road and creating sediment into the East Fork of the South Fork of the Salmon River.
This afternoon I attended a Big Payette Lake Water Quality meeting in McCall to listen to a presentation on the monitoring work by the Department of Environmental Quality (DEQ). Monitoring of the water quality will continue in the future.
I heard the SRS and PILT funding were included in the Omnibus Spending Package. Later today I had a confirmation that the SRS is funded for 2017 and 2018 however the 2016 payment will not be paid. The SRS funding will provide approximately 1 million in funds to help fill the gap of funds for the Road Department but still falls short of the revenue needs to sustain the road maintenance. The PILT payment is only approved for one year.
Also included in the Omnibus package was a Fire Fix to assist the Forest Service with Fire Funding instead of Fire Borrowing and an increase in the Forest Management by Federal Agencies.
Friday March 23rd
From the Big Ck/YP meeting I had some follow up calls to discuss the Smith Creek Road and related bridge installation needs to better understand what would be required to bring this route back to a full size vehicle width for safety, recreation and private property mine access.
Late morning I attended a meeting, with Lakeshore staff, Commissioners, an engineer and other interested folks, at the Valley County Lake Fork site to look at where and how a new Recycle Facility may fit into the Valley County Recycle program. Preliminary options will be coming in the next few months to review.
Monday March 26th
Commissioner meeting today. Please find the minutes on the Valley County website once approved.
http://www.co.valley.id.us/
Tuesday March 27th
I participated in a WIR Conference call to discuss the recent Omnibus Spending package and review the draft conference agenda for May in Blaine County, Idaho.
I sent out an explanation of the SRS funding as it is reduced each year by 5% of what we had received in prior payments.
Wednesday March 28th
I drove to Boise to attend the Judge Interviews tomorrow.
Thursday March 29th
I attended the Judge Interviews at the Ada County Courthouse. 5 applicants were interviewed and a selection was made from the interview process.
I drove home from Boise.
Well that completes another month of commissioner duties that I was involved with.
Thanks for taking the time to read my newsletter.
Gordon
———————————
Idaho News:
Several power outages after storm in SW Idaho
The outages are scattered from Weiser to western Elmore County.
KTVB April 7, 2018
Idaho Power crews were responding to several power outages in Ada, Boise, Canyon, Elmore, Gem, Valley, Payette and Washington counties Saturday evening.
… Two outages hit Valley County between 3:00 and 3:30 p.m. Saturday afternoon. Twenty-five customers in McCall lost power; estimated restoration time was 7:30 p.m.. Another 20 customers lost power just southwest of Lake Cascade. Idaho Power is expecting service there to be back on by 11:00 p.m.
full story:
[Note: We did not lose power in Yellow Pine, but we did have some wind, heavy rain and hail just before 8pm. Rain (and melted snow) 24 hour total 0.79″.]
— — —
Tornado warning and hail rocks Bonneville County
Apr 08, 2018 Local News 8
Bonneville, Idaho (KIFI/KIDK) – Some crazy weather Saturday, including a tornado warning earlier that night. A funnel cloud is what caused all the commotion in Bonneville County. That led to a tornado warning, then later a thunderstorm warning with some severe weather.
The storm caused quite a bit of chaos and damage Saturday night. The storm hit several geese who were flying; we have footage of the geese being shot by lightning and hitting the ground. There were about 50 dead geese near the KIFI/KIDK news station parking lot By 7:30 p.m., Idaho Fish and Game picked them up and cleaned the lot.
continued:
— — — — — — — — — — — — — — — —
Election forums scheduled in Cascade, McCall
The Star-News April 5, 2018
Election forums are scheduled this month in Cascade and McCall for voters to meet candidates running in the May 15 primary election.
The Cascade forum will begin at 6:30 p.m. Wednesday, April 18, at the Valley County Courthouse. All Republican candidates for Valley County office and seats from District 8 in the Idaho Legislature are invited to attend.
The forum will be held during the regular meeting of the Valley County Republican Central Committee, but the general public is welcome to attend.
The McCall forum will begin at 6:30 p.m. Monday, April 30, in the downstairs Community Room of Idaho First Bank, 475. E. Deinhard Lane. The forum is sponsored by The Star-News.
Candidates in contested races in the May 15 primary have been invited to attend, including Valley County commissioner, Valley County treasurer and the Idaho Senate seat from District 8.
Candidates will present remarks, and written questions will be accepted from the audience.
Representatives of the City of McCall also have been invited to present information and answer questions on the reauthorization of the city's 3 percent local-option tourism tax that will also be on the May 15 ballot in McCall.
source:
— — — — — — — — — — — — — — — —
First aid, CPR to be taught in Donnelly April 17-18
The Star-News April 5, 2018
The Donnelly Fire Station will be the site of CPR/AED and First Aid classes later this month.
The CPR/AED course will be on Tuesday, April 17, and the First Aid class will be on Wednesday, April 18. Both sessions will start at 6 p.m.
Cost is $20, and space is limited. To register, call 208-325-8619.
The Donnelly Fire Station is located at 244 W. Roseberry.
source:
— — — — — — — — — — — — — — — —
State approves $300,000 loan to repair Goose Lake Dam
The Star-News April 5, 2018
The Idaho Water Resource Board has approved a loan to the Goose Lake Reservoir Company for $300,000 over 20 years. The company operates the 4,600-acre-foot reservoir near Brundage Mountain and McCall.
Last July, the board approved a $20,000 loan to the company to complete a structural evaluation of the dam and spillway.
The study found that the spillway retaining walls have significant cracking and deterioration and recommended that they be replaced.
The stored water serves ranchers who irrigate about 4,600 acres in Meadows Valley. The dam was built in 1920 and was raised in 1951 and 1972 to increase reservoir capacity.
source:
— — — — — — — — — — — — — — — —
Black Canyon hydroelectric project on hold
Steve Bertel Apr 3, 2018 KIVI TV
Emmett, ID – Plans to construct a new third hydroelectric power plant at Black Canyon Diversion Dam along the Payette River near Emmett have been placed on hold — due to a new business case analysis that shows construction costs are greater than the benefits of additional power generation, U.S. Bureau of Reclamation officials said.
"Early indications were: this was a financially-feasible project that would boost power generation by upgrading an existing Reclamation facility," said Project Manager David Denton. "But using current energy prices, it's apparent that the project should be placed on hold until energy prices rebound."
Although the third hydroelectric unit project is on hold, some construction will still take place at the facility over the next few years. The Bureau of Reclamation plans to move forward with the design and relocation of a new power switchyard and upgrades to control systems at the dam.
"The switchyard and control systems are a top priority because they pose a clear safety risk to employees and facility equipment," said Snake River Area Office Manager Roland Springer.
Black Canyon Diversion Dam is a multi-purpose facility that provides water for irrigation, hydropower, and recreation. It was constructed by the Bureau of Reclamation back in 1924 as part of the Payette Division of the Boise Project.
source:
— — — — — — — — — — — — — — — —
Pipeline break spills diesel fuel in south-central Idaho
4/6/18 AP
Buhl, Idaho — A pipeline in south-central Idaho near Buhl ruptured and spilled diesel fuel that contaminated soil and a pond used for watering livestock.
San Antonio, Texas, based Andeavor in a statement Friday says about 160 barrels of diesel fuel spilled from its Northwest Products Pipeline.
The company tells The Times-News that it turned the 8-inch diameter pipeline off on Wednesday after a local resident reported a smell of diesel and it's working to clean up the area.
Company spokesman Brad Shafer says the company is trying to determine the cause of the leak. He says the pipeline is being repaired and will start operating after it receives approval from government regulators.
The fuel was being moved through the pipeline from Wyoming and Utah to Boise and Washington state.
source:
— — — — — — — — — — — — — — — —
Fines paid by US agency over nuke waste surpass $3.5M
By Keith Ridler – 4/5/18 AP
Boise, Idaho — Fines paid by the U.S. Department of Energy to Idaho for missing a deadline to get radioactive liquid waste out of underground storage tanks have surpassed $3.5 million and the money could be used for enhanced monitoring of a huge aquifer beneath the site, officials say.
The federal agency started paying the fines in 2015 for violating a 1992 agreement involving 900,000 gallons of waste sitting above the Eastern Snake Plain Aquifer at the department's isolated desert site in eastern Idaho that includes Idaho National Laboratory, the nation's top federal nuclear research lab.
Officials say contamination from the 890-square-mile (2,305-square-kilometer) site reached the aquifer through injection wells, unlined pits and accidental spills, mainly during the Cold War era before regulations to protect the environment were put in place.
The U.S. Geological Survey last year released a report saying monitoring of existing wells found the aquifer to be as free of radioactive contamination and other pollutants as it has been in more than six decades of monitoring.
Federal and state officials are currently discussing spending about $2.2 million of the money generated by fines for monitoring wells in the aquifer that's used by cities for drinking water and farmers for irrigation.
continued:
— — — — — — — — — — — — — — — —
Late-season flu resurgence adds to historic death toll
"In the last few weeks there have been eight flu-related deaths across the state of Idaho, seven of those happening in the Ada County region."
Joe Parris KTVB April 6, 2018
Boise — The Idaho Department of Health and Welfare says a string of late-season flu-related deaths has helped make this flu season one of the deadliest in decades.
Health and Welfare Influenza Surveillance Coordinator Randi Pederson said local residents should not panic, but do need to take the flu seriously.
continued:
— — — — — — — — — — — — — — — —
Small earthquake rattles eastern Idaho, no damage reported
by Associated Press Saturday, April 7th 2018
Soda Springs, Idaho (AP) – A small earthquake occurred in eastern Idaho but there are no reports of damage.
The U.S. Geological Survey says the 3.4-magnitude earthquake occurred at about 1:30 a.m. Saturday about 9 miles (14 kilometers) east of Soda Springs.
The Caribou County Sheriff's Office says there are no reports of damage.
source:
———————————-
Mining News:
Ask Midas: Can Midas Fix the East Fork of the South Fork of the Salmon River?
April 4
Midas Gold Idaho wants to keep the community informed about the work we are doing at the Stibnite Gold Project site. The Ask Midas blog series gives the experts in our company a chance to answer some of the community's most frequently asked questions and help clear up any misconceptions around the project.
The Stibnite Gold Project sits near the East Fork of the South Fork of the Salmon River. This river is in desperate need of repair and is one of our main focuses during restoration. When people hear about our project, they often ask me if mining can really be used to help the environment. The simple answer is yes. This week, I get to explain how our project will allow us to rehabilitate the river and other waterways on site.
Can Midas Gold Fix the East Fork of the South Fork of the Salmon River?
Yes, we have the right team and plan in place to fix the problems left behind by historical mining operations. Our Stibnite Gold Project was designed to use mining as a tool for restoration. Our plan will allow us to enhance almost 13-miles of the East Fork of the South Fork of the Salmon River and tributaries leading into it. We will be able to return historically significant Chinook salmon to their native spawning grounds for the first time in 80 years. We will reprocess tailings and reuse and properly store the spent ore that has been left in the area in order to prevent the leaching of any more metals from these rocks. And the best part is, many of these solutions will happen very early in the project's life.
Midas Gold is operating in a completely different regulatory environment from past operators. The United States has changed how mining takes place, mining companies cannot just walk away from projects and leave the land and water in disrepair. Once our project is successfully permitted, we will be required to set aside all the money needed for reclamation prior to the start of any mining or construction. This ensures that, even if the unexpected happens, the funds will be there so restoration can move forward and the issues facing the East Fork of the South Fork of the Salmon River can finally be addressed.
If you have a question you would like us to answer, please email us at community@midasgoldcorp.com
source:
—————————–
Public Lands:
Prescribe Fire: Promoting Fire-Adapted Communities and Creating Resilient Landscapes
April 2, 2018 Payette National Forest
McCall, ID – The Payette National Forest will be conducting multiple prescribed fires this spring. Depending on weather conditions burns could take place anytime from March to early June. These prescribed fires reduce surface fuels, increase height of the canopy, reduce small tree densities, and promote fire resilient trees, thereby improving our ability to protect communities from wildfire. Additionally, these fires improve wildlife habitat, promote long-term ecosystem integrity and sustainability by reducing the risk of high-severity wildland fire.
The Council Ranger District plans to apply fire to approximately 10,000 acres in Mill Creek (2 miles east of Council-from Fort Hall Ridge southward to Cottonwood Creek); 400 acres in the Cuprum Fuels reduction project, (30 miles northwest of Council); 800 acres on the Weiser river (8 miles north of Council and 1 mile south of Tamarack Mill on the eastside of Highway 95).
The New Meadows Ranger District plans to burn 1,600 acres in the Lost Creek-Boulder Creek project area (6 miles northwest of Lost Valley Reservoir); 500 acres in the Rapid River project area. (17 miles northwest of New Meadows); and 300 acres in the Meadows Slope project area. (4 miles northwest of McCall).
The McCall Ranger District plans to burn 200 acres in the Bear Basin area. (3 miles northwest of McCall).
The Krassel Ranger District plans to apply fire to approximately 2,000 acres within the Bald Hill project area (North of Yellow Pine); 2,200 acres in the Four Mile project area along the South Fork of the Salmon River near Reed Ranch (Approximately 18 miles east of McCall).
Trail heads and roads that lead into these areas will be posted with caution signs and a map of the prescribed burn locations. Fire personnel will work closely with the Idaho/Montana Airshed Group, the National Weather Service, and the Idaho Department of Environmental Quality to insure that smoke impacts are minimized. The decision to ignite on any given day will depend on favorable weather conditions and the need to reduce smoke effects as much as possible. Smoke from these prescribed fires will be much less than what would be expected from a wildfire. If smoke concentrations approach air quality standards fire ignition may be delayed until air quality improves. Residual smoke may be visible for up to 2 weeks following ignition, but most of the smoke from the fires is anticipated to dissipate 1-2 days after ignition.
Individuals may call Dustin Doane (McCall and New Meadows RDs; 347-0336), Justin Pappani (Krassel RD; 634-0623), or Dave LaChapelle (Council and Weiser RDs; 549-4228) with any concerns they may have about the planned prescribed fires. The public may also call the Weiser, Council, New Meadows, McCall or Krassel Ranger Districts for more information. Prescribed fire is an important component of natural resource management and part of the comprehensive fire management program on the Payette National Forest. Council RD: 253-0100; Krassel RD: 634-0974; McCall RD: 634-0400; New Meadows RD: 347-0300; Weiser RD: 549-4200.
For the most current information about prescribed burning projects please visit the Payette RX incident on inciweb at:
https://inciweb.nwcg.gov/incident/5709/
Brian Harris
Public Affairs Officer
Payette National Forest
— — — — — — — — — — — — — — — —
Boise National Forest SOPA Update
USDA Forest Service April 2, 2018
The Boise National Forest's "Schedule of Proposed Actions" (SOPA) for April 1, 2018 through June 30, 2018 is now available on the Boise National Forest Schedule of Proposed Actions webpage. The Forest Service produces the SOPA every three months to keep the public informed about projects that the Forest is currently working on or planning to analyze in the near future.
The SOPA has been standardized across all National Forests from a national database to track key project planning information. The reports for the Boise and all other National Forests are currently available at http://www.fs.fed.us/sopa or through the Boise National Forest website at
http://www.fs.fed.us/sopa/forest-level.php?110402.
The Forest Service automatically posts the SOPA four times a year in January, April, July, and October.
If you have questions about a specific project please contact the project leader listed in the SOPA. If you have general questions about the SOPA, please feel free contact me.
Sincerely,
Melissa Yenko
Forest Environmental Coordinator
Boise National Forest
— — — — — — — — — — — — — — — —
Payette National Forest April 2018 – June 2018 Schedule of Proposed Actions (SOPA)
USDA Forest Service April 5, 2018
You are subscribed to Payette National Forest SOPA for USDA Forest Service. This information has recently been updated, and is now available.
Here is the link to the Payette NF SOPA web page: Payette NF Schedule of Proposed Actions
https://www.fs.fed.us/sopa/forest-level.php?110412
sopa-110412-2018-04.pdf
— — — — — — — — — — — — — — — —
Agency expands Sawtooth Forest through ranch acquisition
4/6/18 AP
Ketchum, Idaho — The U.S. Forest Service has expanded the Sawtooth National Forest through the acquisition of a ranch in central Idaho.
The Idaho Mountain Express reports that 368 acres of the Goat Falls Ranch adjacent to the forest and southwest of the town of Stanley were acquired last month.
The federal agency also acquired water rights to a creek that provides habitat for Chinook salmon and steelhead trout.
Sawtooth Ranger Kirk Flannigan says the property is mostly pasture land, but it does contain some wetlands and lodgepole pine forest. He says the agency's land purchase will allow the property to remain undeveloped.
The agency says the property was acquired through a partnership with the Western Rivers Conservancy, which purchased the ranch in February 2017.
source:
— — — — — — — — — — — — — — — —
BLM begins targeted grazing effort to reduce cheatgrass along Owyhee Front
Date: April 2, 2018
Contact: Michael Williamson mwilliamson@blm.gov (208) 384-3393
Steve Stuebner (Idaho Rangeland Resource Commission) (208) 484-0295
Boise, Idaho – The Bureau of Land Management has begun implementing an experimental targeted grazing project aimed at reducing fuels and associated fire risk and protecting rehabilitation efforts within the Soda Fire zone. Participating local ranchers will be grazing livestock along 36 miles of Owyhee Front roadways from approximately Marsing to Murphy from now through June.
This targeted grazing effort is part of the larger Soda Fuel Breaks project designed to reduce fuels, specifically annual grasses such as cheatgrass. The purpose of this is to provide firefighters a better opportunity to prevent wildfires from burning a landscape that is still recovering three years after the 443-square-mile wildfire.
"We've made important gains in rehabilitating the area burned in the Soda Fire with the help of many partners," said BLM Boise District Manager Lara Douglas. "Targeted grazing allows us to experiment with a new tool to protect those gains, while at the same time supporting traditional land uses."
The Idaho Rangeland Resource Commission (IRRC) is partnering with the BLM to raise awareness of the targeted grazing efforts with both the local community and visiting recreational users who may see livestock on roads.
"We are pleased to see the targeted grazing project moving forward," said Gretchen Hyde, executive director of the Idaho Rangeland Resource Commission. "Ranchers are excited about helping the BLM achieve their objectives with the fuel breaks. We feel it makes sense to graze off the cheatgrass in a timely manner, when it's palatable to livestock and before it becomes a fire hazard."
IRRC officials have contacted off-road vehicle recreation groups to give them a heads-up that cattle will be grazing along the Owyhee Front this spring as part of the experimental project. The BLM has posted road signs in the project area to inform and educate recreation users and the general public about the project.
The goal of this targeted grazing project is to reduce vegetation to a height of 2 inches or less for 200 feet on both sides of the selected roads by late June, prior to peak fire season. Should a fire come through the area later, flame lengths will be greatly reduced, making fire suppression much safer and more effective.
"Fuel breaks are a tremendous asset for firefighting in the Owyhees," said Acting BLM Owyhee Field Manager Lance Okeson. "By creating a solid anchor point with an extensive fire break at the foot of the Owyhees, we go a long way toward protecting multiple-use sage-steppe habitat for wildlife, which we've worked so hard to restore after the Soda Fire."
For more information, contact Lance Okeson, Acting Owyhee Field Manager Lance Okeson at (208) 896-5913.
— — — — — — — — — — — — — — — —
BLM seeks volunteers for trash cleanup
Date: April 3, 2018
Contact: Michael Williamson mwilliamson@blm.gov (208) 384-3393
Boise, Idaho – The Bureau of Land Management is organizing a large-scale trash cleanup of the Morley Nelson Snake River Birds of Prey National Conservation Area (NCA), and is calling for volunteers who would like to help. The event, part of the NCA's 25th Anniversary celebration, will take place on April 21 from 8 a.m.- noon, beginning at the Boise Wild Horse Corrals located at 12466 Pleasant Valley Road, south of the Boise Airport.
"Unfortunately, trash and illegal dumping is a problem on our public lands and the National Conservation Area is no different," said NCA Manager Amanda Hoffman. "We are hoping to make this Idaho's largest cleanup event ever and make a significant dent in the amount of trash we see out there. We're strongly encouraged by the enthusiasm we've already received."
This effort is part of a shared conservation stewardship that includes partnerships with the Idaho Army National Guard, the Birds of Prey NCA Partnership and Idaho Power.
Volunteers will be broken into groups and directed to locations within the NCA, where they can expect to encounter trash that includes everything from simple litter to discarded appliances. Please consider the following:
• The event will take place, rain or shine.
• You will need to provide your own transportation.
• Wear appropriate outdoor work clothes including boots, long-sleeved shirts, long pants and work gloves.
• Bring water and any food you feel you may need.
• While this is a family-friendly activity, minors must be accompanied by an adult.
Those interested in participating are strongly encouraged to sign up by April 18 to help with logistical planning, though we encourage anybody to show up on the day of the event. Sign up at https://goo.gl/forms/OhR5l1F4bFpTxIdG2.
To find the Boise Wild Horse Corrals, turn south on to Pleasant Valley Road from its intersection with Gowen Road, just south of the Boise Airport. Drive 4.3 miles and there will be a BLM sign and entrance road on the west (right) side.
For more information, contact BLM Outdoor Recreation Planner Jared Fluckiger at (208) 384-3342.
— — — — — — — — — — — — — — — —
Interior backing away from steep fee hikes at national parks
by Matthew Daly, Associated Press Tuesday, April 3rd 2018
The Interior Department is backing down from a plan to impose steep fee increases at popular national parks in the face of widespread opposition from elected officials and the public.
The plan would nearly triple entrance fees at 17 of the nation's most popular parks, including the Grand Canyon, Yosemite, Yellowstone and Zion, forcing visitors to pay $70 per vehicle during the peak summer season.
While plans are still being finalized, a spokeswoman for Interior Secretary Ryan Zinke said officials have "taken the public's suggestions seriously and have amended the plan to reflect those" comments.
continued:
——————————-
Critter News:
Pet Talk – Spring flowers can poison your pets
By Dr. Karsten Fostvedt 4/6/2018 IME
Spring is here and many spring bulbs are ready to break through the ground. Many of these spring ornamental plants can be dangerous if ingested by our pets. As Easter approaches, all vets receive calls regarding cats ingesting lilies. Lilies are beautiful flowers, but are also highly toxic to cats. Ingestion of even small amounts of lilies may cause drooling, vomiting, poor appetite and potentially fatal kidney disease. All parts of the lily plant are toxic, even the water from the vase of water the lilies are in. If a cat does ingest lily stems, leaves, flowers, pollen or water, seek veterinary help immediately to avoid kidney damage to your cat. Unlike cats, dogs ingesting lilies only experience mild stomach upsets.
Asiatic lilies, wood lilies, Japanese show lilies, day lilies, tiger lilies, Easter lilies and star gazer lilies are all considered dangerous to cats.
Tulips and hyacinths contain toxins that are concentrated in their bulbs, so make sure your dog is not digging up the bulbs in your garden and chewing on them. The toxins in these bulbs cause severe irritation to the tissues of the mouth and esophagus. Typical signs include profuse drooling, vomiting and bloody diarrhea. Supportive care by your veterinarian is usually curative.
continued:
— — — — — — — — — — — — — — — —
KWVR Oregon Wolf Education weekly Wolf Report
March 28, 2018
— — — — — — — — — — — — — — — —
Keeping tabs on wild wolves
By Mike Koshmrl – 4/4/18 AP
Jackson, Wyo. — Ken Mills didn't seem fazed to have a deep-sleeping wolf riding shotgun.
The Wyoming Game and Fish Department biologist was on his 29th phone call since waking, and he relayed details of a record 11 wolves captured in a single day. The seat of his pickup was still wet from snow that melted off a sedated and dangerously cold young female lobo he trucked around much of the afternoon to warm up. Catching up with a Cody colleague, Mills was stoked on the day's success. The canine seatmate didn't warrant mention.
"It's been awesome this year," Mills said. "Everybody's killing it. I'm running out of collars."
It was Feb. 22, and Mills was on the tail end of a routine long week of running around the Greater Yellowstone Ecosystem to capture, collar and track as many wolves as possible. It was a whirlwind, with Mills waking at the Whiskey Mountain Conservation Camp and driving to Dubois, into the Buffalo Valley, then Bryan Flats and the Upper Hoback, before reversing course to Jackson. Wolves were yielded at every stop.
continued:
— — — — — — — — — — — — — — — —
Court orders US wildlife managers to revisit wolf rule
4/2/18 AP
Albuquerque, N.M. — U.S. wildlife managers will have to revisit a contentious rule that governs management of Mexican gray wolves roaming the American Southwest.
The revision was ordered Monday by a federal judge in Arizona who determined that the rule adopted in 2015 fails to further the conservation of the endangered predators.
The current rule will remain in effect until the U.S. Fish and Wildlife Service issues a revamped version or addresses deficiencies outlined in the court order.
The Fish and Wildlife Service is reviewing the order.
Environmentalists had argued the rule arbitrarily limited the population, banned the animals from suitable habitat and loosened provisions against killing them in the wild.
A survey done over the winter showed there were at least 114 wolves in the wild in Arizona and New Mexico.
source:
— — — — — — — — — — — — — — — —
Wolf Education International
4/5/2018
Teaching Children About Hands On Methods of Protecting Species
Meta-Analysis of Coyote Diet Reveals Differences by Geographical Region
All That is Protected Does Not Thrive
— — — — — — — — — — — — — — — —
Rexburg woman wins first place in Elk Calling Championship
By Michaela Leung Apr 02, 2018 Local News 8
Rexburg, Idaho (KIFI/KIDK) – There's a new champ in town. The Rocky Mountain Elk Foundation just named its first place winner in the women's division of the World Elk Calling Championship. She's from Rexburg, and she says she was surprised by her win.
"It was really exciting, it was a good time. What's wonderful is that there was a lot of support and a lot of people that were congratulating me and it was really just neat to be able to meet people that were there at the competition as well and be supported by everybody there and be cheered on," said Marisa Pagano.
She says she credits her win to her coach. Her husband won first place in the men's division this year. He says he's very proud of his wife.
continued:
— — — — — — — — — — — — — — — —
Moose stomps man's foot in Alaska after he kicks her
by The Associated Press Friday, April 6th 2018
Anchorage, Alaska (AP) — A man was injured north of Anchorage after a moose that he had just kicked stomped his foot in return, state officials said.
KTVA-TV reported the man escaped major injuries in the encounter Thursday with the moose and her calf.
"It sounds like the moose were on a trail and in this case, it sounds like the guy was trying to go through them," State Department of Fish and Game spokesman Ken Marsh said. "That's never a good idea."
The two moose left the area after the man had his foot stomped, said Alaska Troopers spokeswoman Megan Peters.
"I am not a biologist, but as a lifelong Alaskan I would advise people not to go around kicking moose," Peters said.
continued:
— — — — — — — — — — — — — — — —
Wyoming wildlife center finds itself caring for 19 baby owls
Apr 4, 2018 AP
Jackson, Wyo. (AP) – A Wyoming wildlife rehabilitation center may want to consider turning away any storks that show up for a while.
The Teton Raptor Center in Jackson Hole recently took in 19 owlets from the three separate clutches within 24 hours. All the baby owls were from Idaho.
The Jackson Hole News & Guide reports that the nonprofit center had never before housed more than 18 injured, orphaned or ill birds of prey at one time, and it suddenly had a total of 27 raptors on its hands.
All the baby owls came from neighboring Idaho.
Staff at the center plan to transplant the owlets into eight or nine other known barn owl nests in the region. Barn owls are a particularly good species for fostering parentless young.
source:
— — — — — — — — — — — — — — — —
Idaho men pull 'monster' sturgeon from Snake River
Steve Carroll – who also goes by nickname "Sturgeon Steve" – posted a video on YouTube showing the amazing encounter.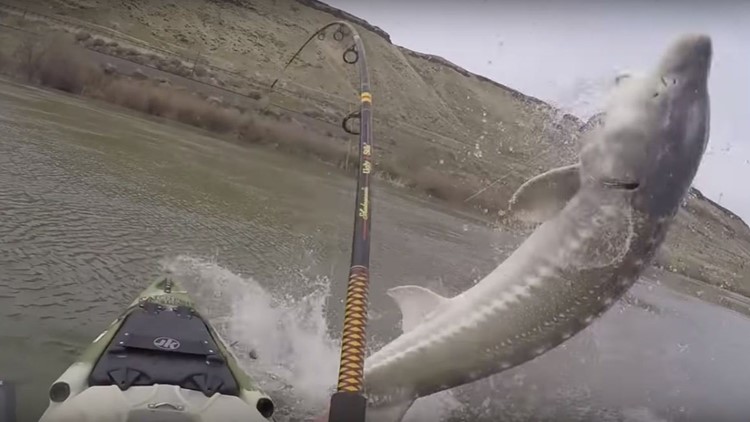 KTVB April 4, 2018
Two Idaho men have quite a fish tale to tell, after they pulled in an big sturgeon while kayak fishing on the Snake River.
Steve Carroll – who also goes by nickname "Sturgeon Steve" – posted a video on YouTube showing the amazing encounter.
Last Saturday, the Caldwell man and his fishing partner, Bryce Thompson of Twin Falls, were kayaking on the river about five miles downstream from Glenns Ferry when they spotted the big fish.
continued w/video:
— — — — — — — — — — — — — — — —
The Columbia Basin Bulletin
Weekly Fish and Wildlife News
http://www.cbbulletin.com
April 6, 2018
Issue No. 867
Table of Contents
* Appeals Court Rules In Favor Of More Spill For Juvenile Salmon, Steelhead At Columbia/Snake Dams
http://www.cbbulletin.com/440480.aspx
* New Court-Ordered Spill Regime Based On Dissolved Gas Caps Begins This Week
http://www.cbbulletin.com/440479.aspx
* Study: Extirpation Chances Remain High For ESA-Listed Bull Trout In Upper Columbia River Basin
http://www.cbbulletin.com/440478.aspx
* Surprising Parties, U.S. District Judge Dismisses US V. Oregon Case Guiding Basin Fisheries
http://www.cbbulletin.com/440477.aspx
* Scientists Review Basin Fish/Wildlife Program, Offer Recommendations For Improving
http://www.cbbulletin.com/440476.aspx
* NOAA Fisheries Model Estimates Cost Of 2017 Salmon Fisheries Closure; Millions In Lost Income, Hundreds Of Jobs
http://www.cbbulletin.com/440475.aspx
* PGE, Warm Springs Tribe Move To Dismiss Deschutes River Clean Water Case
http://www.cbbulletin.com/440474.aspx
* Shoshone-Bannock Tribes Side With Oregon On Issue Of Fish Passage At Hells Canyon Dams
http://www.cbbulletin.com/440473.aspx
* Basin Snowpack Showing A Line Dividing 'Haves' To The North, 'Have-Nots' To The South
http://www.cbbulletin.com/440472.aspx
* Council Sends 'State Of The Columbia River Basin' To Congress; Region Spent $621 Million On Fish/Wildlife In 2016
http://www.cbbulletin.com/440471.aspx
* IDFG Considering Changes To Payette Lake Management; Add More Kokanee Or Reduce Lake Trout?
http://www.cbbulletin.com/440470.aspx
* Dworshak Dam Outflows Rise To Meet Flood Control Management Requirements
http://www.cbbulletin.com/440469.aspx
* New Hydro Project On Hold At Idaho's Black Canyon Dam Due To Low Energy Prices
http://www.cbbulletin.com/440468.aspx
* Alaska Announces Reduced Harvest Limit For Struggling Southeast Alaska Chinook
http://www.cbbulletin.com/440467.aspx
* Long-Term Study Shows Cutthroat Trout Thrive With Logging That Follows Oregon Forest Practices Act
http://www.cbbulletin.com/440466.aspx
* Oregon Begins Cormorant Harassment On Oregon Coast To Protect Juvenile Salmon
http://www.cbbulletin.com/440465.aspx
——————————
Fish & Game News:
Trap Education Effort Partners with Rattlesnake Avoidance Training for Dogs
By Evin Oneale, Regional Conservation Educator
Monday, April 2, 2018
Hunters and other dog enthusiasts now have another reason to attend the 23rd annual Premier Rattlesnake Avoidance Training for Dogs event. Idaho Fish and Game officers will be holding a trap awareness seminar as part of the day's events.
To register or just learn more about the training day, visit http://www.snakeavoidance.org, or contact event organizer Heidi Funke at hfunke3dk@gmail.com or by phone at 208-463-2304.
The combined event will be held at Veterans' Memorial Park – State Street and Veterans' Parkway in Boise – on Sunday, June 10th from 10:00am to 2:00pm. While the cost of the rattlesnake avoidance training is $50 for pre-registered dogs, the trap awareness seminar is free, with no appointment required.
The trap awareness seminar is designed for anyone who regularly takes their dogs to the Boise foothills, other outlying areas and even the greenbelt. "Most dog owners are unfamiliar with traps of any kind," Fish and Game conservation officer Kurt Stieglitz noted. "This seminar will provide them with some very practical tools related to trapping, including the steps to take if a pet dog ever ends up in a trap."
continued:
— — — — — — — — — — — — — — — —
F&G News Releases
https://idfg.idaho.gov/press
———————————-
Fun Critter Stuff:
Goats rescued after daunting climb on Pennsylvania Turnpike bridge
by Chris White Thursday, April 5th 2018

Courtesy: Pennsylvania Turnpike / Facebook
New Castle, Pa. (WSYX/WTTE) — Road crews had to make an unusual rescue Tuesday after two goats wandered onto a Turnpike bridge in western Pennsylvania.
On Facebook, Pennsylvania Turnpike officials said the two goats wandered on to the Mahoning River Bridge from a local farm near New Castle.
Officials said state police, Pennsylvania Department of Transportation (PennDOT) workers and Turnpike employees worked together to help save the goats. Crews used a PennDOT crane to help get the goats back home.
"Thank you to all of the PennDOT and PA Turnpike employees who jumped into action to save the day," said Pennsylvania Turnpike officials after a successful rescue.
source w/more photos:
——————————–
Tips & Advice:
BBB: Be mindful of what you share on Facebook
KIVI TV Apr 2, 2018
In light of the Facebook Cambridge Analytica scandal, Better Business Bureau is reminding consumers to be mindful of what they share online. According to BBB's Veronica Craker, personality quizzes on the social media site could be gathering your personal information. While they may seem like innocent games, taking quizzes could reveal more about yourself than you intended to.
"These quizzes ask seemingly silly or useless questions, but hackers can use that information to penetrate your social accounts and gain access to your personal information or the information of your friends and family," Craker said.
So how can you tell which quizzes are harmless and which are phishing for personal information? Craker says it's best to only participate in online quizzes that are managed by a reputable company, someone you're aware of who is simply offering the quiz for fun.
"A couple of other red flags are quizzes that ask common bank security questions. If they are asking the month you were born or your high school mascot, that could be someone digging for personal information. And, be careful if a quiz is asking you to download anything or they are forcing you to click on blind links," Craker added.
To be sure your information is locked up from Facebook hackers, keep the following in mind:
continued:
— — — — — — — — — — — — — — — —
How do political campaigns obtain your info?
In Idaho, the state's voter registration system is public, which means names, addresses, phone numbers, and political affiliation can be obtained by anyone for political use.
Dean Johnson April 5, 2018 KTVB
Boise – Campaigns for Decision 2018 are ramping up with Election Day just a little over a month away. Campaigning is now taking many forms, it's not just signs in yards and TV and radio ads, but much more personal with text messages and phone calls.
One viewer, who reached out to KTVB and did not want to be identified, says he felt a little uncomfortable after receiving a political text message from state treasurer candidate Vicky McIntyre. It also got him wondering how the campaign received his information.
McIntyre's campaign manager Justin Collins says they obtained the man's information legally from absentee voter information from the elections office.
"Registered voters give up their information, their public information, like first and last name, physical address. Optional, they can provide a phone number. They can also mark if that phone number is a cell or a home phone," said Collins.
continued:
——————————-
Seasonal Humor:

— —

——————————