July 8, 2018 The Yellow Pine Times – Valley County, Idaho
Community Calendar:
May 10 Burn Permits required
May 15 Firewood Season Starts – permits at The Corner
July 14 at 2pm, Community Hall, Village of Yellow Pine Association meeting
July 19 Noxious Weed Day
July 21 10am CPR Class at the Fire Station
July 26 Festival planning meeting
July 28 Ride to Roosevelt
July 28 Big Creek Lodge Grand Opening party 8am to ?
August 3, 4, 5 Music and Harmonica Festival
August 11 at 2pm Community Hall, Village of Yellow Pine Association meeting
September 8 at 10am Community Hall YP Fire Budget Hearing
September 8 at 2pm Community Hall, Village of Yellow Pine Association meeting
(details below)
———-
Village News:
Lost Dogs
Lost on Johnson Creek July 7
If anyone finds a brown and white cattle dog, we lost one on the way out today. We took Landmark. Message me if anyone sees her.
Deborah Pogue FB link:
Still lost on the South Fork Salmon River
Howdy Yellow Piners, Levi Anderson called Tuesday (June 26) to report he lost his dog Chewie near the trailhead on the South Fork for 2-bit, 6-bit creek on Sunday. Chewie is a black mini Auzzie. If you find the dog, please call (208) 630-4894 or (208) 630-3596. As of July 1st the dog has not been found. Chewie's family is very concerned.
— — — —
Yellow Pine 4th of July Parade
Bell Ringer – Tom Harriman
Grand Marshall – Darwin DeBois
Miss Yellow Pine – Christy Petersen
link to FB photo album – lots of photos:
— — — —
Spring Summit Adventures
Elk Summit elevation nearly 9000 feet (open July 4)
A report on June 27 from the YP Tavern:
"Folks hoping to Travel the loop from Yellow Pine to Warren by way of Big Creek by motorcycle or UTV or car please wait a bit. These Boys went over yesterday, they met up with a previous group of 4 and it took 5 to haul their bikes over the snow drifts on a Vertical area." – LM
Meanwhile, "A Subaru tried going to Big Creek from Warren [via Elk Summit] and Avalanched into a tree, walked to Big Creek got a ride for 10 miles then continued walking over Profile into Yellow Pine last night and spent all morning trying to get a tow truck to go back there." – LM
Brown Towing reported July 28:
"He [Subaru driver] tried really hard to get out, he even cut down about a 5 inch tree with a tire iron, I was impressed," They got the car out (photo below.) "It was 11 hour round trip, he was glad to have towing insurance."
July 2nd report from The Corner:
"We have had a few motorcyclists make it over Elk Summit from Warren in the past few days so that may be sketchy but passable on motorbikes and ATV's." – MH
July 3rd report from The Corner:
"Had some folks in today that dug their way through Elk Summit and is now passable with a full size truck." – MH
—
Monumental Summit elevation 8590 feet (open as of June 23)
Last fall (November 12) "Three young men, out-of-state hunters from Bozeman, MT, drove almost to the trailhead at Roosevelt Lake to start their hunt. After cutting several downed trees they finally decided to just park on the road and hike the rest of the way. They hiked down past the pioneer cemetery several miles, spent several nights camping and finally got a nice buck. That night it really snowed. They got their deer and gear back to the truck to discover they were in serious trouble. They shoveled snow (it sounded like two days) then realized that wouldn't work as the snow was getting steadily deeper. They packed four days of rations (& the deer) and started taking turns breaking trail and working their way through waist deep snow. About eleven o'clock they heard a snowmobile…..Matt was breaking trail for the guide Al B. The three & packs were rescued by riding on snowmobile sled. They arranged for Matt to get the rest of their stuff, and waited a few days here in YP to ride out with Heather. We'll see them next summer when they come back to get their truck. Amazing that Matt arrived at the right place at the right time." LI
This spring (June 23)
(June 23) "Road is in good shape. Both sides of Monumental Summit are snow-free." "There is an abandoned vehicle halfway down the back side of Monumental Summit." SA
July 2nd report from The Corner:
"The guys that owned the truck in Monumental have retrieved it and are cleaning the rat's nests out of it by my shop. Unfortunately, someone decided that they needed their rifles and other hunting gear more than their owners did and stole them from the truck while it was out there. We did set up a trail camera on the truck and are working thru the footage to see who relieved them of their gear. Any information to help these guys get there gear back and not hurt the prospect of future hunters in the area would be greatly appreciated." MH
July 4th report from The Corner:
"Deputy Dave Putnam tracked [the guys with the recovered truck] down in Bear Valley today and returned their missing items. Some concerned citizen had relieved them of their high dollar items but decided not to tell them about it. Luckily it was returned after the search was on and they have their gear back." – MH
— — — —
July 4th High Temperatures in Yellow Pine:
2018 = 88
2017 = 92
2016 = 81
2015 = 97
2014 = 95
2013 = 89
2012 = 83
2011 = 90
2010 = 75
— — — —
Yellow Pine Transfer Station
Friday, June 29th, a report the dumpsters had been recently emptied. Also a report that the road is much better since it had been graded.
Please do not dump household appliances at our transfer station, it is for household trash only and must be placed in the dumpsters.
However, there is a burn pile for woody debris only. "Bring it, Don't Burn it."
— — — —
Pests
Lots of mosquitoes and no-see-ums this year, long-legged wasps are out. Remember to secure your trash, bears are hungry.
———-
Local Events:
July 19 (free) Noxious Weed Day
Steve has scheduled his visit to Yellow Pine for Thursday July 19th. The staging area will be the Fire Department. He will bring up the Chemicals and spray equipment. Backpack sprayers, pump up sprayers, ATV tanks and he needs to know how many of these we need. He will leave everything there for the weekend and pick it all up Monday. Please call Kathy Hall 208 633-6270 for forms and information.
link to form:
Steve Anderson from Valley County Weed Control
Office: (208)382-7199
e-mail: SAnderson @ co.valley.id.us
— — — —
Jul 28, 2018 Ride to Roosevelt
$20.00/vehicle
The ride will leave from the Yellow Pine Community Hall at 10 am. After leaving town, riders will head up Stibnite Road. Approximately 45 minutes later there will be a short pause at the "Glory Hole" in Stibnite; with information provided by Midas Gold Idaho. The ride continues up and over Monumental Summit (NF-375) – there is a monument at the summit with information about the area. Over Monumental Summit, the ride heads for the Roosevelt Trail Head. Lunch will be served at the trail head. The riders will return to Yellow Pine via the same route.
There are opportunities to see old mine sites (along the route); the town site of Roosevelt (after a short hike); side trails; and wildlife.
This out-and-back ride is expected to take about 6 hours.
https://www.ypescapade.org/atv-utv-events
— — — —
Big Creek Lodge announcement
It has taken 5 years and $1.2 million and the efforts of many, many volunteers and professionals — and now Big Creek Lodge is about ready to serve the public once again beginning August 1. In celebration of this milestone, the Idaho Aviation Foundation (IAF) is announcing a public Grand Opening party on Saturday July 28 from 8am-?, you can come and go whenever you like. The IAF is the non profit that rebuilt the lodge and will operate it as a non profit with a Special Use Permit from the Payette National Forest.
This is a unique project within our public lands. There are lodges that operate in National Forest; but we aren't aware of any with these circumstances and non-profit status. The IAF did it because we were concerned that some backcountry lodges were closing their doors to the public (let's face it, there are not many who get rich running a backcountry lodge), and IAF wanted to have a place for the PUBLIC to enjoy that was off the grid, had history and natural beauty, plus road and aircraft access. Big Creek Lodge is that place – and is a gift to you from the aviation community! So, come and enjoy it.
We invite Yellow Pine residents to make the drive over to have breakfast, hear and tell stories about the Lodge, enjoy the beautiful building and tour the site, participate in some of the activities, and just chill. Here's the low-down on food, drink and odds n ends for Sat Jul 28:
* Breakfast donation is $15 and will be served from 8-10am. It will include pancakes, sausage, eggs and juice/coffee;. Lunch and dinner are TBD but will be available
* Beer and wine will be available for sale along with soft drinks, tea, etc.
* If you wish to bring your own picnic for this event, no problem!
* We will have live music during the day for your enjoyment;
* If you want to bring your own alcohol, please enjoy it away from the lodge premises since we have our own permit and we don't want to lose it on our first weekend!
* Bring your own lawn chairs and/or blankets, bug spray, sunscreen and all that jazz
* Several Yellow Pine friends have donated money and/or their time to help in the project – we'll have Big Creek Community cards for people to fill out to explain what Big Creek means to you and what you did to help make it come to life. Those cards will be placed in a book for future visitors to enjoy and learn how so many people helped to make this happen.
* Wifi will not be available;
* We hope to have a fun nighttime activity such as star gazing; a bonfire if fires are allowed at that time; and/or movie night under the stars if we can get the right equipment by then;
* We appreciate your patience with us if we don't quite have everything running perfectly. Thanks!
Help Wanted:
* Want to get involved and have a full tummy too? We have an on-going program for volunteers: Simply provide 2 hours of help when help is needed and directed by the Caretakers, and get a free breakfast! This is available on the 28th and thereafter. Just check with the Caretakers (managers@bigcreeklodgeidaho.com) or on the volunteer chalkboard at the lodge to see if we need help that day!
* On the 28th, we could use help with set up, clean up, table prep, and happy people helping people.
* It might also be fun to have a few knowledgeable volunteers show some of the visitors around (short destinations like Smith Crk TH and the mining ruins on Big Creek, the Logan Crk cemetery, or show people around the lodge site (penstock, old pelton wheel, water tanks, etc). Interested? If you have knowledge and can take an hour or so to show folks around, email Colleen at marketing@bigcreeklodgeidaho.com
A Note on Overnight Accommodations for the 28th:
We anticipate most people staying for the day or part of the day, but a few may need to overnight. Lodging won't officially be available on the 28th. BUT, we do want to be flexible and try to accommodate people willing to donate if possible. We have the Kif Brown Yurt at Big Creek that sleeps 8, 2 small cabin rooms each with half baths, and 4 lodge rooms (each with full bath and room heat) that accommodate 2-3 adults each. If you need to overnight, come prepared to sleep in your own sleeping bag/tent for a small fee at the USFS campground BUT send us a request if you also wish to be 'under roof' and we will try to accommodate you. We still need funds for startup operations, and someone asked what donation was appropriate if we accommodate people in our buildings. Here's suggestions – these are less than our normal rates and don't include meals: Yurt ($20 per person), Cabin ($35 per person), or Lodge ($50 per person for a room, $25 for floor space) — if that doesn't work for you remember there are campsites available at the USFS campground. So, please send Colleen an email at marketing@bigcreeklodgeidaho.com if you want to be on the list for a place to stay at the lodge (not the campground; that is first come first served).
You can check our new website http://www.bigcreeklodgeidaho.com to learn what the lodge is all about.
See you soon,
Colleen Back
Idaho Aviation Foundation & Big Creek Lodge
———-
Local Groups:
YPWUA News:
There was a YPWUA Annual Shareholder's meeting Saturday July 7 at 3pm in the Community Hall.
Please remember, no outside watering on weekends or holidays.
— — — —
VYPA News:
VYPA Summer Meeting Schedule:
July 14, 2pm, Community Hall, Village of Yellow Pine Association meeting
August 11, 2pm, Community Hall, Village of Yellow Pine Association meeting
September 8, 2pm, Community Hall, Village of Yellow Pine Association meeting
— — — —
YPFD News:
CPR Training Class
CPR class coming to YP July 21st 10am at the Fire Station (includes AED). If interested please notify Jeff or Ann.
—
Bring it, Don't Burn it
For us in Yellow Pine, Jake Strohmeyer, Dist. Ranger with the Boise NF said we can use the area at our transfer station for yard debris and the FS will burn it once a year. Please no furniture, mattresses, construction debris, metal objects, tires or personnel junk. Please only woody yard debris. When using the pile please be mindful of where you place the debris as it should be contained to a manageable burnable area and kept as clean as possible. – JF
—
Burn Permits Needed After May 10
A reminder that May 10 is beginning of fire season where burning permits for open burning are required throughout most Fire Districts. Since the YPFD doesn't issue actual "Burn Permits" per say, notification of a large pile burn would be appreciated. The notification makes the fire officials aware of those who have a planned burn. Seeing smoke can easily raise concerns. When neighbors call in seeing smoke, we can reduce their anxiety by knowing that there was a notification by a property owner. This elevates the response to smoke investigations.
Contact Fire Chief Jeff at 633-1010 or email j4star1911@ gmail.com
—
Yellow Pine Fire Protection District Updates:
YP Fire Budget Hearing: September 8, 2018 – 10am Community Hall
Fire Department Training on Sunday's at 11:00 all are welcome
Special Use Permit for Fire Station and Helispot:
The Boise National Forest has granted a "Special Use Permit" to the Yellow Pine Fire Protection District for the Fire Station lot and the Helispot. The Helispot is a new addition and the Fire Station lot was a renewal. This permit will expire 12/31/2037 (20 years) and will need to be rewed again at that time. Thanks to Jake Strohmeyer, District Ranger and Chris (Kit) Woras, Special Use Permit Administrator of the Boise Forest for spending a lot of time and correspondence to get this permit completed.
Helispot / Life Flight:
The Helispot needs a lot of work and a base needs to be put down before officially being used. I'm currently in discussion with some folks to help with the ground prep and to put the base down. Life Flight and other agencies will need to do an inspection as well before using the helispot.
Anyone needing a Smoke/CO detector or fire extinguisher please let Jeff, Cecil or Dan know.
Jeff F.
There are YPFD T-shirts, as well as YPFD patches and stickers for sale at the Tavern now.
— — — —
2018 Festival:
The last planning meeting will be July 26
August 3, 4, 5 Music and Harmonica Festival
Please remember all state and forest laws and regulations apply while you are at the festival. Law enforcement will be present.
——–
Biz Listings:
Yellow Pine Lodge
Now open for summer (208) 633-3377
— — — —
Yellow Pine Tavern
Summer Hours: 8am to close 7 days a week.
Daily Menu: full Breakfast served also Burgers and Pizza for Afternoon and Evening. Good selection of Beer and Wine.
— — — —
The Corner 633-3325
Our hours for this week: Monday-Friday 4pm-8pm, Saturday and Sunday 11am-close
We will also be cooking most of the week for private events so if anyone wants something outside of those hours just call and we can usually accommodate.
The Corner Store is open as well, just call for grocery needs, fresh produce, eggs, meat etc.
— — — —
Local Propane Suppliers
Amerigas Phone: (208) 634-8181
Ed Staub & Sons Phone: (208) 634-3833
— — — —
Diamond Fuel & Feed (208) 382-4430
We have a great price on wild bird seed. $19.99 for a 50 lb bag. 12.99 for a 25 lb bag. We also sell suet blocks (peanut crunch, and cherry) for $1.99 per block. Niger Thistle seed $13.25 for 5 lbs. Also black oil sunflower seeds in 40# bags.
— — — —
Elkhorn Heating & Cooling (208) 906-4067 Middleton, Idaho
Will service Yellow Pine
— — — —
Follow The Yellow Pine Times on Facebook (updated more often than emails)
———————–
Local Observations:
Monday (July 2) overnight low of 41 degrees, clear sky this morning. Finches and pine siskins at the feeders. Sunny and clear all day, very nice, high of 76 degrees. Young pine squirrels chirping from the trees and playing on the fence art. Swallows swooping low, looks like they are finding plenty of bugs to feed their growing babies. Mosquitoes and gnats out during the evening. Robins calling after sundown.
Tuesday (July 3) overnight low of 36 degrees, mostly cloudy this morning. Finches, pine siskins, red-breasted nuthatches and jays at the feeders, hummingbirds active, young ground and pine squirrels running about. Increased air traffic. Mourning dove hanging out before lunch, hawk in the neighborhood scaring the birds and chickens. Mostly clear sunny cool day, high of 70 degrees. Female hairy woodpecker joined the wild birds at the feeders this afternoon. Juvenile pine squirrels yelling for peanuts this evening, swallows bringing big bugs to the nest to feed the growing chicks. Mourning dove and evening grosbeaks visited during the evening. Clear sky at sunset.
Wednesday (July 4) overnight low of 37 degrees, overcast this morning. Increasing air traffic buzzing the village. Finches, pine siskins, nuthatches and hummers visiting the feeders, swallows flying low catching bugs. Female hairy woodpecker and a jay joined the flock at the feeders after lunch. Parade up main street around 2pm. Cloudy warm day, some pretty gusty afternoon breezes, high of 88 degrees. More traffic late afternoon, dust hanging in the air. Intermittent firecrackers after 9pm, Village fireworks started at 10pm and lasted nearly 15 minutes. A few stray bottle rockets, then quiet by 11pm.
Thursday (July 5) overnight low of 47 degrees, clear sky this morning and dry, no dew. A few early airplanes. Heard a grosbeak calling. Finches, pine siskins, jays and nuthatches at the feeders. Swallow babies are really growing, the largest one has wings as long as its tail and can get up to the door hole to be fed. Adult swallows still taking feathers to the nests. Hot sunny and gusty winds after lunch, high of 96 degrees. Increased traffic and dust. Mail truck was running late today. Long-legged wasps are out. Still pretty hot this evening, 90 degrees at 7pm. Red smoky haze to the west at sundown, clear to the east. Mosquitoes out and hungry.
Friday (July 6) overnight low of 47 degrees, mostly clear sky this morning with some haze. Airplane traffic over the village. The usual wild birds at the feeders. Clouds coming in by lunch time, gusty warm breezes. Jays joined the finches and nuthatches at the feeders in the afternoon, a few hummingbirds buffeted by the gusty winds. Only 2 swallow babies left in the nest, the first one is on top of the box taking practice flights in the wind. Cloudy hot breezy afternoon, high of 89 degrees. Shooting to the west in the forest started after 630pm for about half an hour. Cloudy and cooler evening. Late night traffic after bar closing time.
Saturday (July 7) overnight low of 50 degrees, clear sky this morning and warming up quickly. A few finches and a pine squirrel visiting. Pine siskins, a white-breasted nuthatch and a female yellow-headed blackbird joined the regulars around lunch time. A few clouds, warm and gusty breezes after lunch. Pretty hot afternoon, mostly clear and light breezes, high of 88 degrees. Getting crunchy out in the forest, annual grasses have turned brown. Slow to cool down after sunset, robins calling and bright Jupiter high in the sky.
Sunday (July 8) overnight low of 46 degrees, partly cloudy sky this morning. A couple of extra loud planes around 840am with the morning air traffic. Increased OHV traffic raising dust. Finches, a few jays and pine siskins at the feeders. Clouds building up, hot and rather muggy early afternoon, high of 94 degrees. Second swallow chick left the nest today, leaving little #3 cheeping in the door hole. Quiet by early evening and still pretty warm outside. Shooting to the west after 8pm.
—————————
Idaho News:
Warren Wagon Road project to have 4-hour delays
Two-year project scheduled to start on Monday
By Tom Grote for The Star-News July 5, 2018
Warren Wagon Road will be closed up to eight hours per day in four-hour blocks when work starts next week to rebuild 5.5 miles of the road north of McCall.
The work zone will begin 2.2 miles north of McCall and extend to where Warren Wagon Road meets East Side Drive north of Payette Lake. The $9.9 million federally funded project is expected to be completed by the fall of 2019.
Warren Wagon Road will be closed from 8 a.m. to noon and from 1 p.m. to 5 p.m. Mondays through Fridays, said Cody Brown, a spokesperson for M.A. DeAtley Construction of Clarkston, Wash., the general contractor for the project.
No construction will be done on Saturdays or Sundays unless otherwise posted, Brown said.
The project will rebuild that section of the road and provide shoulders between three feet and four feet wide on either side of the road to accommodate bicycles.
continued:
— — — — — — — — — —
Upper access to Goose Creek Falls temporarily closed
The Star-News July 5, 2018
Goose Creek Falls Trail is closed on weekdays near the upper parking lot through Wednesday.
The closure is due to logging operations. The trail will be open on weekends and holidays. The lower access to the falls from Last Chance Campground remains open.
Tree felling and skidding will be occurring in the vicinity of the upper access resulting in falling trees, and rocks potentially landing in the trail.
Skidding of felled trees will also be occurring across the trail. Log trucks will be hauling out of the closed road adjacent to the trail head at the parking lot. Access to the parking lot will not be effected.
The logging is part of the Brundage Wildland Urban Interface/Bear Basin Restoration project. The project is designed to provide for community protection from wildfires by thinning over crowded stands of trees, provide timber and restore forest health, a news release said.
source:
— — — — — — — — — —
Memorial benefit held for mother, daughter killed in house fire
The 1SG Erin R. and Autumn McCall Family Foundation hosted their first fundraiser on Friday in Eagle.
Morgan Boydston July 6, 2018 KTVB
Eagle, Idaho — It's been one year since a tragic house fire in Donnelly took the lives of four people.
Two Idaho National Guard members and two children were killed when flames ripped through the cabin they were staying in near Tamarack Resort. In honor of two of the victims, loved ones created a foundation to help other military families. The 1SG Erin R. and Autumn McCall Family Foundation hosted their first fundraiser on Friday in Eagle.
continued:
— — — — — — — — — —
Central Idaho Historical Museum to open Tuesday for the summer
The Star-News July 5, 2018
The Central Idaho Historical Museum in McCall will open for the summer beginning Tuesday.
The museum is located at 1001 State St. across from St. Luke's McCall hospital and will be open from noon to 3 p.m. Tuesdays through Saturdays through Labor Day.
The exhibits will be monitored by volunteers of The Pump House, the used book store next to the museum that is operated by the Friends of the McCall Public Library. All tours will be self-guided as there will be no museum staff on site.
The museum occupies five acres that consists of log structures built by the Civilian Conservation Corps in 1937 for the Southern Idaho Timber Protective Association.
All eight buildings are listed on the National Register of Historic Places. The site is currently owned by the City of McCall.
Exhibits focus on local and regional subjects such as fire lookouts, logging, Smokey the Bear, forestry and area history.
Attractions include the Split Creek Aermotor Lookout Cab and "The Worker," a bronze statue commemorating the young men of the CCC.
Special open houses will be held July 19 and Aug. 16 to allow the public to tour the historic Fire Warden's House, an example of American Rustic Architecture combined with a Scandinavian influence.
The Finnish craftsman techniques include dovetail corners, hand-peeled varnished log interior walls, hand-fitted door casings and trim, and hand-made furnishings. For information, go to http://cihmuseum.org.
source:
— — — — — — — — — —
A recap of June's weather, 20th driest on record
by Nathan Larsen Tuesday, July 3rd 2018
Boise, Idaho (KBOI) — As we transition from spring to summer June typically is the month of the changeable temperatures. During the month, high temperatures ranged from the low 60's to the mid 90's with the overall trend being fairly close to average. June's average temperature was just one degree above normal with and average high of 81.9 degrees, our average low was 54.6 degrees. Also, we typically see 6 days where highs reach or exceed 90 degrees, which is exactly played out in June.
June is typically our 4th driest month with an average precipitation amount of 0.69″, we ended the month with just 0.25″ which makes us tied for 20th driest along with June 1957. The most precipitation that has ever fallen in June was in 1941, where 3.41″ fell.
Drier weather is likely in store for the next several months as July, August, and September are usually the months with the least amount of precipitation. July and August usually see around a 0.25″ of rainfall with September at just over half an inch.
source:
— —
Yellow Pine June Precipitation History:
Year: Rain / Snow
2018: 1.87″ / 0″
2017: 2.95″ / 0″
2016: 0.77″ / 0″
2015: 1.06″ / 0″
2014: 1.67″ / 0″
2013: 1.48″ / 0″
2012: 1.28″ / 0″
2011: 2.12″ / T
2010: 4.85″ / 0″
— — — — — — — — — —
VA warns veterans of qualifications for emergency care
Veterans are getting stuck with medical bills because they don't visit the VA often enough.
A.J. Lagoe & Katie Wilcox July 5, 2018 (KTVB)
The Department of Veterans Affairs has begun taking enhanced steps to warn veterans about what they need to do to qualify for emergency medical care.
The move comes in the wake of a yearlong KARE 11 investigation entitled "A Pattern of Denial." That reporting led members of Congress to call for a nationwide Inspector General Investigation of VA emergency room bill denials.
That federal investigation remains underway; however, the VA is already making changes.
continued:
——————————-
Fire Season:
Eagle Fire Department: believe 200 acre grass fire near Avimor started by roadside vehicle
Karen Lehr, Natasha Williams Jul 8, 2018
Fire crews in Ada County are on the scene of a grass fire burning in the Boise foothills near the Avimor subdivision that started Sunday afternoon.
The Eagle Fire Department believes a roadside vehicle caused a spark which ignited the fire. Eagle Fire says the grass fire started small, then spread to a little more than 200 acres.
… Highway 55 is still closed for travelers. …
continued:
— — — — — — — — — —
Crews respond to grass fire in Boise caused by fireworks
by Abigail Taylor and KBOI News Staff Tuesday, July 3rd 2018
Boise, Idaho (KBOI) — Fireworks are to blame for a grass fire Tuesday night in Boise.
It was just after 8 p.m. when Ada County Dispatch said the call came in about a fire in the 3600 block of North Jackie Place, which is north of the intersection of Maple Grove and Ustick roads.
… Two homes were threatened during the fire, but firefighters were able to extinguish it before any damage was done.
While cleaning up, firefighters say two men came up and admitted to police it was them who started the fire. They said they were setting off bottle rockets, which are illegal here, and a tree caught on fire.
full story:
— — — — — — — — — —
42-year-old Dietrich man charged with arson; accused of starting Blaine County fire
by KBOI News Staff Thursday, July 5th 2018
Hailey, Idaho (KBOI) — A 42-year-old Dietrich man is accused of starting a small fire July 4 that forced an evacuation of people attending an Independence Day event.
The Blaine County Sheriff's Office says Sean Michael Newman lit cotton seeding covering the ground on fire along the Bowe Bridge trail near Lyons Park.
continued:
— — — — — — — — — —
Fireworks spark multiple fires in Boise over Fourth of July
Independence Day kept Boise City firefighters busy, with more than a dozen fires and several rescues in the Boise River
KTVB July 6, 2018
Boise — Independence Day kept Boise City firefighters busy, with more than a dozen fires and several rescues in the Boise River
On July 3, Boise Fire responded to five fires, with three sparked by fireworks and two with unknown causes. Those numbers ramped up on the Fourth of July, will 13 total fires starting.
Five of the 13 were caused by fireworks, officials say, with the others either undetermined or sparked by something else. Three more fires started July 5, all caused by fireworks.
continued:
— — — — — — — — — —
BLM confiscates illegal fireworks
Katie Keleher Jul 06, 2018 Local News 8
Idaho Falls, Idaho (KIFI/KIDK) The Bureau of Land Management prevented possible wildfires with the seizure of fireworks.
BLM says they found hundreds of illegal fireworks on their public lands near the St. Anthony Sand Dunes. They issued fines to those who had the fireworks. BLM says they've increased the number of officers patrolling and looking for illegal fireworks. They want to remind everyone that possessing fireworks on public lands is illegal.
"Never bring any fireworks out to public lands," said Kelsey Griffee, public information officer for BLM. "You're lighting something on fire. We don't need anymore fireworks caused fires. And we do have our law enforcement out there and additional patrols from our county partners."
The BLM also asks people to be more aware when going target shooting because they've seen an increase in target shooting caused fires. They say people were setting up targets and shooting off fireworks while firefighters worked to put out the Cinder Fire near Menan yesterday afternoon. Firefighters were even getting shot at while putting out the fire. They are asking the public to pay better attention.
continued:
— — — — — — — — — —
Boise BLM responds to multiple wildfires
For Immediate Release: July 5, 2018
Contact: Boise District Fire Information Line (208) 384-3378
Twitter: @BLMIdahoFire
The Boise District BLM responded to six wildfires on Independence Day. Fire crews made great progress overnight and hope to have remaining active fires controlled in the next couple of days. The Boise BLM urges everyone to take all necessary fire safety precautions when recreating on public lands. Please check http://www.IdahoFireInfo.com for fire restrictions and wildfire prevention tips.
Charcoal Fire
* Located approximately 3 miles northeast of Lucky Peak Dam, ID
* Estimated at 60 acres
* Cause under investigation
* Fire resources –1 helicopter, 2 engines, 1 hand crew and 1 dozer
* Estimated contain – 7/5/18 at 1200, estimated control – 7/5/18 at 2000
Five Cent Fire
* Located approximately 3 miles southwest of Mountain Home Air Force Base, ID
* Estimated at 2,250+ acres
* Cause under investigation
* Fire resources – 2 dozers, 4 engines and 1 water tender
* No estimated contain or control time
Pump Fire
* Located approximately 15 miles south of Mountain Home, ID
* Approximately 52 acres
* Cause under investigation
* Fire resources – 1 engine and 1 water tender
* Contained – 7/4/18 at 2100, estimated control – 7/5/18 at 1500
Dewy Fire
* Located approximately 10 miles west of Emmett, ID
* Approximately 9 acres
* Cause under investigation
* Contained – 7/4/18 at 2000, Controlled – 7/4/18 at 2200
Nicolsen Fire
* Located approximately 10 miles southwest of Boise, ID
* Approximately 1 acre
* Cause under investigation
* Contained – 7/4/18 at 1830, Controlled – 7/4/18 at 2100
Cove Rec Fire
* Located approximately 8 miles northwest of Bruneau, ID
* Approximately 0.1 acre
* Cause under investigation
* Contained and Controlled – 7/4/18 at 2400
For More Information, Jared Jablonski, Fire Information and Prevention Office, 208 384-3210
Idaho Wildfires visit http://www.IdahoFireInfo.com
— — — — — — — — — —
Man-caused fire near Malad
Jul 08, 2018 Local News 8
Malad, Idaho (KIFI/KIDK) Eastern Idaho Interagency Fire crews are battling a human caused fire about one mile southeast of Malad on the Caribou-Targhee National Forest. The fire started about 8 p.m. Saturday east of Interstate 15 near milepost 13.
The Two-Mile fire was burning in steep country and growing uphill. It was initially estimated at 80 acres and growing.
continued:
— — — — — — — — — —
Wildfire risk increases for central Idaho in July
Many heavy fuels are still damp from wet spring
Peter Jensen July 6, 2018 IME
A large wildfire burning in a remote area of Northern California has already blanketed San Francisco in smoke and ash, and 144 large wildfires have been reported and are burning 63,000 acres throughout the U.S.
The wildfire season in Western states has begun, and while Idaho has not experienced any large wildfires, the risk level for the southern and central regions of the state has increased to above normal, according to the Boise-based National Interagency Fire Center.
The agency's most recent forecast on July 1 predicted above-normal wildland fire potential for Blaine County for July and August, and normal potential in September and October.
continued:
— — — — — — — — — —
USFS Regional Intermountain Wildfire
July 3, 2018
Regional Intermountain Newsletter Special Issue
link:
——————————
Public Lands:
Idaho gears up to boost logging, restoration on federal land
Idaho has more than doubled the number of workers assigned to logging and restoration projects on federal lands within the state with the goal of doubling timber harvest and restoration treatments on federal lands by 2025.
By Kieth Ridler, Associated Press July 5, 2018
Boise, Idaho (AP) – Idaho has more than doubled the number of workers assigned to logging and restoration projects on federal lands within the state with the goal of doubling timber harvest and restoration treatments on federal lands by 2025.
The Idaho Department of Lands starting this week is increasing from five to 13 the number of workers taking part in a federal-state partnership allowing state workers to manage timber sales on U.S. Forest Service land.
One of the eight new workers is for projects on U.S. Bureau of Land Management land. The state workers are paid from timber sales and federal funds.
The partnership is made possible under the Good Neighbor Authority passed by Congress more than a decade ago and expanded in the 2014 Farm Bill.
source:
— — — — — — — — — —
Payette National Forest July 2018 – September 2018 Schedule of Proposed Actions (SOPA)
July 2, 2018
Here is the link to the Payette NF SOPA web page: Payette NF Schedule of Proposed Actions
link:
— — — — — — — — — —
USDA Forest Service Boise National Forest SOPA Update
July 2, 2018
The Boise National Forest's "Schedule of Proposed Actions" (SOPA) for July 1, 2018 through September 30, 2018 is now available on the Boise National Forest Schedule of Proposed Actions webpage. The Forest Service produces the SOPA every three months to keep the public informed about projects that the Forest is currently working on or planning to analyze in the near future.
The SOPA has been standardized across all National Forests from a national database to track key project planning information. The SOPA reports for the all National Forests are available at http://www.fs.fed.us/sopa. The Forest Service automatically posts the SOPA four times a year in January, April, July, and October.
If you have questions about a specific project please contact the project leader listed in the SOPA. If you have general questions about the SOPA, please feel free to contact me.
link:
Sincerely,
Melissa Yenko
Forest Environmental Coordinator
Boise National Forest
1249 South Vinnell Way, Suite 200
Boise, ID 83709
Phone: 208-373-4245
Email: myenko @ fs.fed.us
————————
Letter to Share:
Gamebird Foundation Auction
… Hand carved, hand painted birds that were done and signed by Ralph Horn from Potlatch Idaho. This bird has been donated to the Gamebird Foundation. It will go up for silent auction very soon on our http://www.thegamebirdfoundation.org web and Facebook. This is a one of a kind and the only one like it. Ralph has quit carving and there will be no more. If you know have one of his carvings you know how valuable and how very hard they are to come by. Keep your eye here and take a look at the beautiful workmanship that Ralph does. 1 more to come later.
Jim Hagedorn
Executive Director
The Gamebird Foundation
thegamebirdfoundation.org
—————————-
Critter News:
Pet Talk – Bone tumors in dogs
By Dr. Karsten Fostvedt July 6, 2018 IME
Bone tumors are malignancies that either begin in bone or spread to bone from other parts of the body. They rarely occur in cats.
Primary bone tumors begin in the bones, and are the most common type. These are called osteosarcomas and chondrosarcomas. Secondary bone tumors, those that spread to bones from other tissues, are much more rare.
Seventy-five percent of primary bone tumors occur in leg bones, but they can also occur in ribs, the spine or the skull. Primary tumors commonly appear in only one location in one bone, whereas secondary tumors often occur in multiple sites in multiple bones.
The cause of bone tumors is unknown; however they can occur at previous fracture sites or sites of previous orthopedic procedures.
continued:
— — — — — — — — — —
Dog found covered in blood, urine and feces after fleeing fireworks
Dog severely injured after fleeing fireworks
Christina Hall, Detroit Free Press July 3, 2018
Lenka Perron let her two greyhounds out to use the bathroom Saturday night in her fenced yard at her Michigan home in what should have been an uneventful routine.
Instead, it quickly turned into a nightmare.
While the trio was outside about 10:30 p.m., Perron said, fireworks erupted nearby, illuminating her entire backyard and bringing noises "like a succession of cannons."
Within a split second, one of the dogs, Dwight, a 55-pound rescue, panicked, squeezed through a gate slat and tore off toward Jefferson Avenue.
Perron and her family ran after him, tracing his bloody paw prints on the cement in their attempt to find him. Dwight was running so hard and scared, all of the pads on his paws ripped off, Perron said.
continued:
— — — — — — — — — —
Wild bear that entered Idaho zoo is captured
A wild black bear made it past a perimeter fence and climbed a large tree.
Associated Press July 3, 2018
Pocatello – An eastern Idaho zoo reopened Tuesday after wildlife officials captured a wild black bear that somehow made it past a perimeter fence and climbed a large tree.
Officials with the city of Pocatello say wildlife officers with the Idaho Department of Fish and Game captured the bear and put on a collar and ear tag for tracking.
Zoo Idaho Director Peter Pruett says the bear climbed a Ponderosa tree and was about 50 feet off the ground at one point.
Pruett says the zoo already has two black bears and doesn't need another.
Officials say the bear is likely a young male looking for new territory.
source:
— — — — — — — — — —
Lions eat alleged poachers who snuck into South African game reserve
By Jessie Karangu July 05, 2018 Circa
Officials in South Africa say between two and three alleged poachers were killed at a South African game reserve by lions.
It is believed that the poachers were mauled to death. BBC reports a high profiled rifle, a silencer, wirecutters and an axe were found at the scene. CNN also reports three pairs of boots and gloves were discovered.
"We're almost 100% sure this is connected to rhino poaching," Sibuya Game Reserve owner Nick Fox told CNN.
continued:
— — — — — — — — — —
Mustang Mania show this weekend at the Ford Idaho Horse Park
Date: July 2, 2018
Contact: Heather Tiel-Nelson, 208-736-2352
Nampa, Idaho – The Mustang Mania Trainer Incentive Program (TIP) Challenge will return to Nampa on July 7-8, 2018, beginning at 7:30 a.m. at the Ford Idaho Horse Park (16200 N. Idaho Center Blvd). The Challenge is an in-hand competition featuring both youth and adult trainers who have worked with a wild mustang for 90 days and will now show off their progress in a series of classes, including Conditioning and Handling, In-Hand Trail and Freestyle.
On July 8, there will be an open mustang show with a full slate of classes including Halter, Showmanship, Western English, Specialty and Versatility. A saddle will be offered to the winner of the Versatility division, and a host of ribbons, buckles and prize money are available to the high point winners of both shows.
The TIP Challenge is a segment of the Mustang Heritage Foundation's Trainer Incentive Program. The mission of the Mustang Heritage Foundation is to increase the adoption of BLM-housed American mustangs and burros through innovative gentling (training) competitions and awareness programs. In keeping with this mission, the TIP Challenge was created to place these animals in adoptive homes. Youths 8-17 years old and adults 18 and up participate in the challenges by adopting and training the mustangs and burros. TIP Challenge participants also help promote the adoption of these national treasures by showcasing their value and trainability through in-hand competition.
TIP and Extreme Mustang Makeover trainers Matt and Stacie Zimmerman are hosting the Mustang Mania TIP Challenge. Matt and Stacie have helped well over 100 mustangs find good homes in the past five years alone. In 2016, they opened a storefront wild horse training business in partnership with the Mustang Heritage Foundation and the BLM to continue placing trained mustangs into private care. For more information about the Mustang Mania event, please contact Matt or Stacie Zimmerman at (541) 212-0035.
— — — — — — — — — —
Moose makes himself at home in Utah resident's living room
by Jennifer Weaver Thursday, July 5th 2018
Park City, Utah — (KUTV) — It's not every day that wildlife shows up in your living room unless its broadcast on the home TV, but that's what happened to Sheri and Matt Prucka of Park City when a moose invited himself into their Bald Eagle home.
According to KPCW, the Pruckas left their front door open to enjoy a breezy, summer afternoon, June 24, when a young male moose wandered inside their home on Hawk Court.
continued w/video:
—————————
Fish & Game News:
South Fork Salmon River to close for Chinook fishing July 5
Managers expect harvest share to be caught by ending of fishing hours on July 5
By Roger Phillips, Public Information Specialist
Tuesday, July 3, 2018
Based on harvest information and catch rates available as of July 3, Fish and Game Bureau of Fisheries and Regional fishery managers estimate that sport fishery harvest for Chinook Salmon on the South Fork Salmon River will meet objectives by the end of fishing hours on July 5, 2018, at which time the fishing season will close for the year.
Anglers have caught and kept 418 adult hatchery Chinook through July 2.
"We are now looking at a harvest share of likely less than 600," Fish and Game biologists Dale Allen said.
He added that there are fewer Chinook available than managers earlier anticipated.
"The fish have not shown up in the Snake River at an average rate, so we adjusted to conversions to what we are seeing between the Snake River dams," he said.
Other Chinook fisheries remain open, and to see what river sections are available, go to the Chinook seasons and rules page.
source:
— — — — — — — — — —
Upper Salmon River between Idaho 93 and Idaho 75 to close to Chinook fishing July 7
Chinook fishing remains open in other areas of the Salmon River
By Roger Phillips, Public Information Specialist
Tuesday, July 3, 2018
Based on information available as of July 3, Fish and Game fisheries managers estimate the sport fishery harvest for Chinook on a portion of the Upper Salmon River between the Highway 93 bridge located 0.3 miles south near Challis upstream to the posted boundary below Sawtooth hatchery will meet the harvest share by the end of fishing hours on July 7, so Chinook angling will close.
Anglers had some good fishing in that stretch and caught a lot of hatchery Chinook.
"We had the stars align this past week and weekend with perfect conditions," Regional Fisheries Manager Greg Schoby said. "We had a big batch of fish, great river conditions, relatively cool weather, and a fair amount of angler pressure and people catching fish most of the day, which racked up a bunch of our harvest share."
To see which areas remain open for Chinook fishing, go to the Season and Rules page.
source:
— — — — — — — — — —
2018 deer, elk, pronghorn, black bear, and turkey results now available
Controlled hunt applicants must log in to licensing system to get results
By Staff Writer
Friday, July 6, 2018
Hunters can now check to see if they drew controlled hunt tags for deer, elk, pronghorn, black bear, and turkey. Results are posted through Fish and Game's licensing system at https://idfg.idaho.gov/buy-online for those who have already have an account.
Those without an online license system account can get step-by-step instructions on the Controlled Hunt Results web page. Hunters who were successful in the drawing will receive a postcard in the mail.
source:
— — — — — — — — — —
F&G News Releases
https://idfg.idaho.gov/press
———————————-
Fun Critter Stuff:
Margarita-loving bear takes a dip in a California hot tub
by Alina Hartounian, Associated Press Tuesday, July 3rd 2018
Mark Hough had barely taken a sip of his Friday afternoon margarita when he heard twigs snapping and leaves rustling in his lush Altadena, California, backyard.
At first he brushed it off as the sounds of his neighbor pottering next door, but the noise grew louder.
"So I got up, looked over in the bushes and lo and behold there's a bear climbing up over my fence," Hough said Monday.
continued:
——————–
Tips & Advice:
Fireworks injuries are becoming common with America's birthday
Fourth of July is becoming as known for its injuries as it is for BBQs and fireworks displays.
Accidents are a commonplace with nation's birthday fireworks becoming more available to the public. Last year about 13,000 injuries were treated around the Independence Day holiday and there were eight deaths, according to the Consumer Product Safety Commission.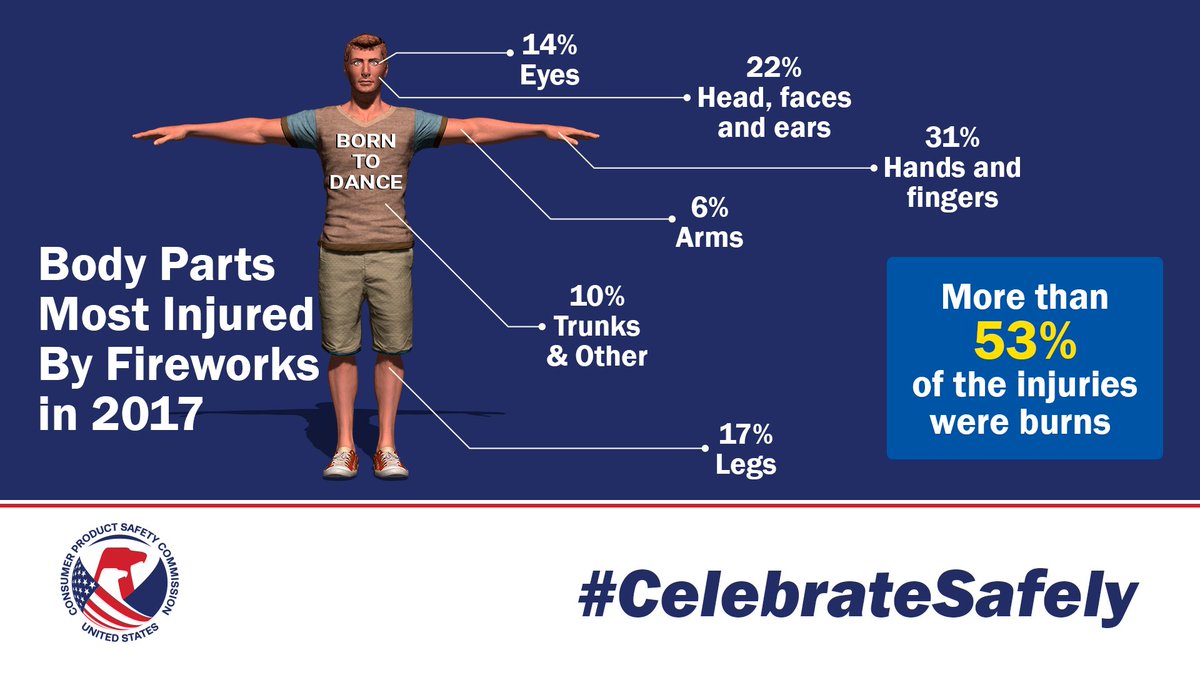 US Consumer Product Safety Commission
continued:
—————————-
Seasonal Humor:
Celestial Fireworks

NASA has released a fireworks-like image of a nebula in the constellation Carina.
NASA, ESA, R. O'Connell (University of Virginia), F. Paresce (National Institute for Astrophysics, Bologna, Italy), E. Young (Universities Space Research Association/Ames Research Center), the WFC3 Science Oversight Committee, and the Hubble Heritage Team

The giant nebula NGC 3603 contains thousands of young stars.
NASA, ESA, and the Hubble Heritage
————————–