July 15, 2018 The Yellow Pine Times – Valley County, Idaho
Community Calendar:
May 10 Burn Permits required
May 15 Firewood Season Starts – permits at The Corner
July 14 at 2pm, Community Hall, Village of Yellow Pine Association meeting
July 19 Noxious Weed Day
July 21 10am CPR Class at the Fire Station
July 26 Final Festival planning meeting 4pm Community Hall
July 28 Ride to Roosevelt
July 28 Big Creek Lodge Grand Opening party 8am to ?
August 3, 4, 5 Music and Harmonica Festival
August 11 at 2pm Community Hall, Village of Yellow Pine Association meeting
September 8 at 10am Community Hall YP Fire Budget Hearing
September 8 at 2pm Community Hall, Village of Yellow Pine Association meeting
(details below)
———-
Village News:
Lost Dogs
Lost in Yellow Pine July 4th
Has anyone seen a 15 year old pug in Yellow Pine? He is blind and deaf. Been missing since Tuesday the 4th.
Please contact Lindsay Mosqueda link:
—
Lost on Landmark/Johnson Creek July 7th
If anyone finds a brown and white cattle dog, we lost one on the way out today. We took Landmark. Message me if anyone sees her. The dog's name is Annabelle may have been spotted a mile or so from Wapiti Meadow Ranch on July 9th.
Please contact Deborah Pogue FB link:
—
Still lost on the South Fork Salmon River
Howdy Yellow Piners, Levi Anderson called Tuesday (June 26) to report he lost his dog Chewie near the trailhead on the South Fork for 2-bit, 6-bit creek on Sunday. Chewie is a black mini Auzzie. If you find the dog, please call (208) 630-4894 or (208) 630-3596. As of July 1st the dog has not been found. Chewie's family is very concerned.
— — — —
Yellow Pine Transfer Station
Please do not dump household appliances at our transfer station, it is for household trash only and must be placed in the dumpsters.
However, there is a burn pile for woody debris only. "Bring it, Don't Burn it."
— — — —
Pests
Lots of mosquitoes and no-see-ums this year, long-legged wasps are out. Remember to secure your trash, bears are hungry.
———-
Local Events:
July 19 (free) Noxious Weed Day
Steve has scheduled his visit to Yellow Pine for Thursday July 19th. The staging area will be the Fire Department. He will bring up the Chemicals and spray equipment. Backpack sprayers, pump up sprayers, ATV tanks and he needs to know how many of these we need. He will leave everything there for the weekend and pick it all up Monday.
Those folks who are interested in obtaining supplies and equipment, need to contact Jeff Forster, Ann Forster or Lorinne Munn for the procedure for getting your supply. Due to a family issue I will not be here. – Kathleen Hall
link to form:
Steve Anderson from Valley County Weed Control
Office: (208)382-7199
e-mail: SAnderson @ co.valley.id.us
— — — —
Jul 28, 2018 Ride to Roosevelt
$20.00/vehicle
The ride will leave from the Yellow Pine Community Hall at 10 am. After leaving town, riders will head up Stibnite Road. Approximately 45 minutes later there will be a short pause at the "Glory Hole" in Stibnite; with information provided by Midas Gold Idaho. The ride continues up and over Monumental Summit (NF-375) – there is a monument at the summit with information about the area. Over Monumental Summit, the ride heads for the Roosevelt Trail Head. Lunch will be served at the trail head. The riders will return to Yellow Pine via the same route.
There are opportunities to see old mine sites (along the route); the town site of Roosevelt (after a short hike); side trails; and wildlife.
This out-and-back ride is expected to take about 6 hours.
https://www.ypescapade.org/atv-utv-events
— — — —
Big Creek Lodge announcement
It has taken 5 years and $1.2 million and the efforts of many, many volunteers and professionals — and now Big Creek Lodge is about ready to serve the public once again beginning August 1. In celebration of this milestone, the Idaho Aviation Foundation (IAF) is announcing a public Grand Opening party on Saturday July 28 from 8am-?, you can come and go whenever you like. The IAF is the non profit that rebuilt the lodge and will operate it as a non profit with a Special Use Permit from the Payette National Forest.
This is a unique project within our public lands. There are lodges that operate in National Forest; but we aren't aware of any with these circumstances and non-profit status. The IAF did it because we were concerned that some backcountry lodges were closing their doors to the public (let's face it, there are not many who get rich running a backcountry lodge), and IAF wanted to have a place for the PUBLIC to enjoy that was off the grid, had history and natural beauty, plus road and aircraft access. Big Creek Lodge is that place – and is a gift to you from the aviation community! So, come and enjoy it.
We invite Yellow Pine residents to make the drive over to have breakfast, hear and tell stories about the Lodge, enjoy the beautiful building and tour the site, participate in some of the activities, and just chill. Here's the low-down on food, drink and odds n ends for Sat Jul 28:
* Breakfast donation is $15 and will be served from 8-10am. It will include pancakes, sausage, eggs and juice/coffee;. Lunch and dinner are TBD but will be available
* Beer and wine will be available for sale along with soft drinks, tea, etc.
* If you wish to bring your own picnic for this event, no problem!
* We will have live music during the day for your enjoyment;
* If you want to bring your own alcohol, please enjoy it away from the lodge premises since we have our own permit and we don't want to lose it on our first weekend!
* Bring your own lawn chairs and/or blankets, bug spray, sunscreen and all that jazz
* Several Yellow Pine friends have donated money and/or their time to help in the project – we'll have Big Creek Community cards for people to fill out to explain what Big Creek means to you and what you did to help make it come to life. Those cards will be placed in a book for future visitors to enjoy and learn how so many people helped to make this happen.
* Wifi will not be available;
* We hope to have a fun nighttime activity such as star gazing; a bonfire if fires are allowed at that time; and/or movie night under the stars if we can get the right equipment by then;
* We appreciate your patience with us if we don't quite have everything running perfectly. Thanks!
Help Wanted:
* Want to get involved and have a full tummy too? We have an on-going program for volunteers: Simply provide 2 hours of help when help is needed and directed by the Caretakers, and get a free breakfast! This is available on the 28th and thereafter. Just check with the Caretakers (managers@bigcreeklodgeidaho.com) or on the volunteer chalkboard at the lodge to see if we need help that day!
* On the 28th, we could use help with set up, clean up, table prep, and happy people helping people.
* It might also be fun to have a few knowledgeable volunteers show some of the visitors around (short destinations like Smith Crk TH and the mining ruins on Big Creek, the Logan Crk cemetery, or show people around the lodge site (penstock, old pelton wheel, water tanks, etc). Interested? If you have knowledge and can take an hour or so to show folks around, email Colleen at marketing@bigcreeklodgeidaho.com
A Note on Overnight Accommodations for the 28th:
We anticipate most people staying for the day or part of the day, but a few may need to overnight. Lodging won't officially be available on the 28th. BUT, we do want to be flexible and try to accommodate people willing to donate if possible. We have the Kif Brown Yurt at Big Creek that sleeps 8, 2 small cabin rooms each with half baths, and 4 lodge rooms (each with full bath and room heat) that accommodate 2-3 adults each. If you need to overnight, come prepared to sleep in your own sleeping bag/tent for a small fee at the USFS campground BUT send us a request if you also wish to be 'under roof' and we will try to accommodate you. We still need funds for startup operations, and someone asked what donation was appropriate if we accommodate people in our buildings. Here's suggestions – these are less than our normal rates and don't include meals: Yurt ($20 per person), Cabin ($35 per person), or Lodge ($50 per person for a room, $25 for floor space) — if that doesn't work for you remember there are campsites available at the USFS campground. So, please send Colleen an email at marketing @ bigcreeklodgeidaho.com if you want to be on the list for a place to stay at the lodge (not the campground; that is first come first served).
You can check our new website http://www.bigcreeklodgeidaho.com to learn what the lodge is all about.
See you soon,
Colleen Back
Idaho Aviation Foundation & Big Creek Lodge
———-
Local Groups:
YPWUA News:
Congrats Dave McClintock on your retirement. Please conserve water and remember – no outside watering on weekends or holidays.
— — — —
VYPA News:
Agenda Village of Yellow Pine Association Meeting July 14, 2018 2pm at the Community Hall
Call to Order
* Reading of the Minutes
* Treasurer's Report
* Cemetery Committee Report
* Community Hall Report
* Harmonica Festival Report
Old Business
This will be the vote on the motion to change the By Laws so the offices of Harmonica and Chairperson of the Village of Yellow Pine Association cannot be held concurrently by the same officer.
Report by the Ad Hoc Committee on the Dan Stiff Ditch Situation.
Report by Willie Sullivan on progress toward the Community Hall bathroom construction.
Nomination list for Officers for the Association to be presented by Ann Forster.
Election of Council Members Vice Chairman and Secretary.
Election of Cemetery Commissioner.
New Business
YPWUA meeting summary.
Discussion by Midas on the Proposed Alternative Routes around the Stibnite Gold Project and Final presentation of the Community Partnership Program and Midas Gold Foundation.
Submitted by Lorinne N. Munn, Secretary Yellow Pine Association
—
VYPA Summer Meeting Schedule:
July 14, 2pm, Community Hall, Village of Yellow Pine Association meeting
August 11, 2pm, Community Hall, Village of Yellow Pine Association meeting
September 8, 2pm, Community Hall, Village of Yellow Pine Association meeting
— — — —
YPFD News:
CPR Training Class
CPR class coming to YP July 21st 10am at the Fire Station (includes AED). If interested please notify Jeff or Ann.
—
Bring it, Don't Burn it
For us in Yellow Pine, Jake Strohmeyer, Dist. Ranger with the Boise NF said we can use the area at our transfer station for yard debris and the FS will burn it once a year. Please no furniture, mattresses, construction debris, metal objects, tires or personnel junk. Please only woody yard debris. When using the pile please be mindful of where you place the debris as it should be contained to a manageable burnable area and kept as clean as possible. – JF
—
Burn Permits Needed After May 10
A reminder that May 10 is beginning of fire season where burning permits for open burning are required throughout most Fire Districts. Since the YPFD doesn't issue actual "Burn Permits" per say, notification of a large pile burn would be appreciated. The notification makes the fire officials aware of those who have a planned burn. Seeing smoke can easily raise concerns. When neighbors call in seeing smoke, we can reduce their anxiety by knowing that there was a notification by a property owner. This elevates the response to smoke investigations.
Contact Fire Chief Jeff at 633-1010 or email j4star1911@ gmail.com
—
Yellow Pine Fire Protection District Updates:
YP Fire Budget Hearing: September 8, 2018 – 10am Community Hall
Fire Department Training on Sunday's at 11:00 all are welcome
Special Use Permit for Fire Station and Helispot:
The Boise National Forest has granted a "Special Use Permit" to the Yellow Pine Fire Protection District for the Fire Station lot and the Helispot. The Helispot is a new addition and the Fire Station lot was a renewal. This permit will expire 12/31/2037 (20 years) and will need to be rewed again at that time. Thanks to Jake Strohmeyer, District Ranger and Chris (Kit) Woras, Special Use Permit Administrator of the Boise Forest for spending a lot of time and correspondence to get this permit completed.
Helispot / Life Flight:
The Helispot needs a lot of work and a base needs to be put down before officially being used. I'm currently in discussion with some folks to help with the ground prep and to put the base down. Life Flight and other agencies will need to do an inspection as well before using the helispot.
Anyone needing a Smoke/CO detector or fire extinguisher please let Jeff, Cecil or Dan know.
Jeff F.
There are YPFD T-shirts, as well as YPFD patches and stickers for sale at the Tavern now.
— — — —
2018 Festival:
The last planning meeting will be July 26
August 3, 4, 5 Music and Harmonica Festival
Please remember all state and forest laws and regulations apply while you are at the festival. Law enforcement will be present.
——–
Biz Listings:
Yellow Pine Lodge
Now open for summer (208) 633-3377
— — — —
Yellow Pine Tavern
Summer Hours: 8am to close 7 days a week.
Daily Menu: full Breakfast served also Burgers and Pizza for Afternoon and Evening. Good selection of Beer and Wine.
— — — —
The Corner 633-3325
Our hours for this week: Monday-Friday 4pm-8pm, Saturday and Sunday 11am-close
We will also be cooking most of the week for private events so if anyone wants something outside of those hours just call and we can usually accommodate.
The Corner Store is open as well, just call for grocery needs, fresh produce, eggs, meat etc.
— — — —
Local Propane Suppliers
Amerigas Phone: (208) 634-8181
Ed Staub & Sons Phone: (208) 634-3833
— — — —
Diamond Fuel & Feed (208) 382-4430
We have a great price on wild bird seed. $19.99 for a 50 lb bag. 12.99 for a 25 lb bag. We also sell suet blocks (peanut crunch, and cherry) for $1.99 per block. Niger Thistle seed $13.25 for 5 lbs. Also black oil sunflower seeds in 40# bags.
— — — —
Elkhorn Heating & Cooling
(208) 906-4067 Middleton, Idaho. Will service Yellow Pine
— — — —
Follow The Yellow Pine Times on Facebook (updated more often than emails)
———————–
Local Observations:
Monday (July 9) overnight low of 46 degrees, clear sky this morning. Loud airplane at 725am. A white-breasted and a couple red-breasted nuthatches, a few jays, pine siskins and finches this morning. One swallow chick still in the nest, hatch-mates out flying with the adults. Some clouds coming in from the south and hot by early afternoon, nice breezes, high of 98 degrees. Young pine and ground squirrels running amuck. Slowly cooling off after sunset, clear and calmer. Robins calling at dusk, swallows flying low.
Tuesday (July 10) overnight low of 48 degrees, partly cloudy (little cotton balls) this morning. A 6-pack of porta potties parked near hole #17. A few finches at the feeder. Gusty breezes by lunch time and quite warm. More finches, a few pine siskins and hummingbirds after lunch time. Flickers whooping out in the forest, juvenile pine squirrels out exploring. Sunny, hot, breezy, dusty afternoon, high of 88 degrees. Female hairy woodpecker visited late afternoon. Hawk in the neighborhood early evening. Calm and cooling off after sundown. The last swallow chick is still in the nest. Shooting at dusk, sounds like it is down by the cement bridge. Night hawks "vooming" at dark.
Wednesday (July 11) overnight low of 45 degrees, clear sky with a slight haze of smoke this morning. A few finches and several pine siskins at the feeder, hairy woodpecker calling from the forest and a red-naped sapsucker drumming on the power pole. Flock of brown-headed cowbirds in the neighborhood and stellar jays, flickers calling from the trees. Sunny hot afternoon, light breezes, high of 88 degrees. Swallows flying low at dusk, robins hunting bugs. Getting rather breezy after 9pm.
Thursday (July 12) overnight low of 46 degrees, clear sky with a slight haze of smoke again this morning. Low water pressure all morning (better by evening.) Finches, pine siskins, white and red-breasted nuthatches and a pine squirrel at the feeders this morning. After lunch a juvenile steller jay (barely 3 feathers in its crest) found the feeders. A small flock of brown headed cowbirds visiting. The last swallow chick left the nest early afternoon. Hot sunny day, high of 91 degrees. Cooling off after sundown, mosquitoes out and hungry. Loud dirt bike brapping around the village about 9pm. Night hawk "vooming" just before full dark.
Friday (July 13) overnight low of 48 degrees, clear sky with a slight haze of smoke again this morning. Finches, pine siskins and cowbirds visiting, swallows swooping low, juveniles perched on top of the bird houses begging to be fed. Loud dirt bike revving and roaring around down by the cross roads before 11am. Hot and sunny by mid-day, very light breezes. Hot and dry afternoon, high of 96 degrees. Some high thin clouds moving in after sunset and a bit muggy. Not as many swallows around by late evening. Juvenile pine squirrel exploring the fence art. Robins quiet.
Saturday (July 14) overnight low of 49 degrees, clear sky with a light haze of smoke again this morning. Female rufous and calliope hummers at the feeders. Finches, pine-siskins and chipmunks visiting. Swallows are still here, feeding juveniles perched on bird houses. Clear sky, hot and breezy mid-day, high of 95 degrees. Juvenile steller jay was very entertaining late afternoon. Warm clear and calm evening, light haze of dust and smoke in the air. Night hawk "vooming" out in the forest at dark.
Sunday (July 15) overnight low of 48 degrees, clear sky this morning. Finches, pine siskins and few hummingbirds at the feeders. Flickers whooping it up out in the forest and tree swallows are still around. Hot dry and light breezes mid-day. A rough sounding airplane flying over a little after 1pm. Clouds came in before 4pm, high of 96 degrees. Overcast and warm early evening, light breezes.
————————–
Idaho News:
Big Creek Lodge to hold re-opening celebration July 28
The Star-News July 12, 2018
The historic, backcountry Big Creek Lodge will hold a grand re-opening celebration on Saturday, July 28, beginning at 8 a.m.
The event will include breakfast, lunch and dinner available for purchase as well as live bluegrass music in the afternoon and a meet and greet with some of the project's volunteers and workers.
The nonprofit Idaho Aviation Foundation spent five years and $1.2 million restoring the off-the-grid lodge, which had burned down in 2008. More than 100 volunteers and professionals helped with the project.
The foundation will operate the Big Creek Lodge as a nonprofit under a special use permit from and in cooperation with the Payette National Forest.
Volunteers are needed next week to help move furniture, set up beds and other similar work. Helpers are also needed the day of the event. For more information on volunteering, email info@bigcreeklodgeidaho.com.
For information, contact marketing @ bigcreeklodgeidaho.com To learn more about the lodge, visit http://bigcreeklodgeidaho.com
source:
— — — — — — — — — —
Summer Newsletter 2018 – UI Extension, Valley County
Thank you for joining us in 2018 for life long learning, leadership, and volunteering!
link to newsletter:
— — — — — — — — — —
Vandals cause extensive damage to Donnelly Elementary School
Officials say two youths, 13, admit to the crime
By Tom Grote for The Star-News July 12, 2018
Vandals caused extensive damage to Donnelly Elementary School last Friday, the Valley County Sheriff's Office said.
Two Donnelly youths, both age 13, were taken into custody and were being held at the Ada County Juvenile Detention Center in Boise this week, Sheriff's office spokesperson Lt. Jason Speer said.
The youths, both boys, admitted to dumping rubber cement and using spray paint in various areas of the school, Speer said. Their names were not released.
"Almost every room of the school is damaged in some way along with floors in the building," he said. "This is a very disturbing case."
continued:
— — — — — — — — — —
A Decent Act
McCall man finds, returns Boise man's wallet 20 years after being lost
By Drew Dodson for The Star-News July 12, 2018
Brian Harvey was happy to find a wallet when he urgently dug through a lounge chair in his living room, except there was a surprise. The wallet did not belong to Harvey and it had been in the overstuffed chair for 20 years.
Instead of finding his own ID so he could drive to work, the McCall resident found a wallet that belonged to Mike Fornander of Boise along with an array of expired bank cards, slips of paper and $115 in cash.
Last week, Harvey returned the wallet to Fornander, including the cash.
"This guy lost his wallet 20 years ago! This is insane," said Harvey, 44. "There's not a bill newer than 1998."
continued:
— — — — — — — — — —
Construction to begin on Idaho 55 between NM and McCall
The Star-News July 12, 2018
The Idaho Transportation Department will begin a project next week to resurface Idaho 55 between New Meadows and McCall and construct a new retaining wall.
From July to late August, crews will work between Zachary Road in McCall and Goose Lake Road.
Crews will work from noon Monday to noon Friday. All lanes will be open on weekends.
During the week, Idaho 55 will be reduced to one lane both day and night with a pilot car directing traffic. The speed limit will be reduced and 12-foot width restrictions will be in place.
"This will be a tight construction zone and we are asking for drivers' patience during the work week," said ITD Project Manager Jim Hoffecker.
Construction will move to the area between Goose Lake Road and Goose Creek Grade in late August. The project is expected to be completed this fall.
source:
— — — — — — — — — —
Warren Wagon Road closures to begin later in July
Southern roadblock to start at 'Simplot Point'
By Tom Grote for The Star-News July 12, 2018
Four-hour closures of Warren Wagon Road north of McCall will not begin until later this month, according to federal highway officials.
A story in The Star-News last week said the closures would start this week, but work will be limited to surveying, putting up signs, and other preliminary work through next week, said John Henderson, the lead engineer on the project for Western Federal Lands Highway Division of the Federal Highway Administration.
Also, The Star-News said last week that the closure would begin 2.2 miles north of McCall. The actual closure point on the south end of the project will be about four miles north of McCall beyond what is commonly called "Simplot Point," Henderson said.
When the closures begin, traffic will be stopped between 8 a.m. and noon and 1 p.m. and 5 p.m. Mondays through Fridays.
The closures will be lifted between noon and 1 p.m. Mondays through Fridays and between 5 p.m. and 8 a.m. on those days. There will be no closures on Saturdays or Sundays.
The road will need to be closed for "several days" after Labor Day to replace fish-passage culverts at Wagon Bay Creek and Sylvan Creek, Henderson said.
continued:
— — — — — — — — — —
Idaho 55 reopened after grass fire burns near Avimor
The fire broke out near the Avimor subdivision and quickly grew to more than 200 acres.
KTVB July 9, 2018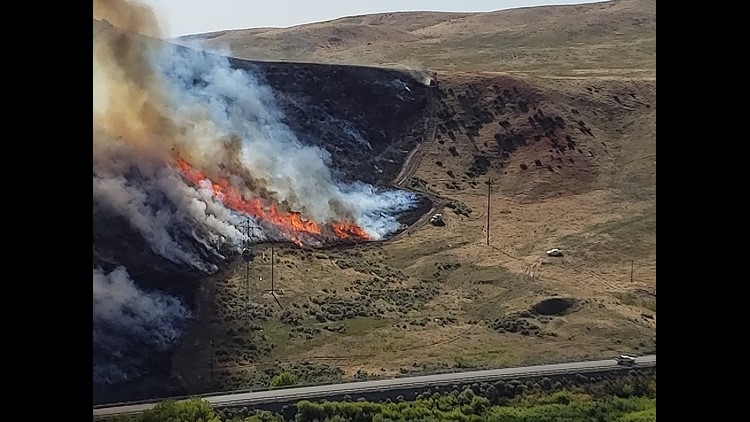 Eagle, Idaho – A grass fire forced the closure of a section of Idaho 55 for about nine hours on Sunday, one of the busiest travel days of the summer.
Both lanes were shut down shortly after 2 p.m., causing major backups on the highway.
According to the Idaho Transportation Department, the highway was blocked along a six-mile stretch between Floating Feather Road and Horseshoe Bend Hill Summit. The road was reopened at about 11 p.m.
continued:
— — — — — — — — — —
Idaho 21 reopens after crash north of Boise
Both lanes were closed for about three hours while crews worked to clear the crash.
KTVB July 8, 2018
Boise – A section of Idaho 21 north of Boise has reopened after a crash closed the busy highway for several hours on Sunday.
The crash happened just after 1:30 p.m. Sunday about 13 miles north of Boise, near Robie Creek Road.
Police say 56-year-old Michael Tetrick of Middleton had parked his Ford F-250 with a trailer on Mores Creek Rim and exited the vehicle. That's when the brakes on the truck failed, and it rolled down the road and off a cliff, before landing on a Chevrolet pickup that had been passing by on Highway 21.
The driver and passenger in the Chevrolet were both wearing seat belts and were not taken to the hospital, police said. There is no word on if they suffered any minor injuries.
Both lanes of Idaho 21 were closed for about three hours while crews worked to clear the crash. The road reopened shortly after 4 p.m.
source:
— — — — — — — — — —
Enforcing new trespassing law may be difficult for local law enforcement
Mike Price, East Idaho News.com Idaho Falls June 18, 2018
Anyone who has ever been in the backcountry knows there are fences everywhere. Amendments to Idaho's trespassing laws now make it harder to tell if it's private property on the other side of those fences, and crossing one could land you in court or jail.
Bonneville County Sheriff Paul Wilde and a group of local ranchers and farmers gathered at the Winther Ranch in Dehlin Thursday and discussed the implications of changes to the law.
The amendment, which goes into effect July 1, removes language from Idaho Code that required "No Trespassing" signs or fence posts painted bright orange every 660 feet. Signage is now only required at fence corners, gates, streams and roads entering the private property.
continued:
— — — — — — — — — —
Over 80K artifacts, specimens donated to Idaho Falls museum
AP July 12, 2018
Idaho Falls, Idaho – Private landowners have donated 80,000 artifacts and specimens that were found inside caves on their land to the Museum of Idaho.
The collection contains archaeologically significant elements up to 14,000 years old, such as Columbian mammoth, bison, and camel remains, as well as Folsom points and other goods used by some of the earliest humans in what is now East Idaho.
continued:
—————————
Mining News:
Ask Midas: Should Cyanide Be a Concern at the Stibnite Gold Project Site?
June 20
Midas Gold Idaho wants to keep the community informed about the work we are doing at the Stibnite Gold Project site. The Ask Midas blog series gives the experts in our company a chance to answer some of the community's most frequently asked questions and help clear up any misconceptions around the project.
Miners have relied on cyanide to extract gold and silver from ore for more than 100 years. Throughout this period of time, we've learned a lot about how to use this chemical in a way that is safe for both humans and the environment and we will implement these advances at the Stibnite Gold Project. Although cyanide can be toxic in high concentrations, we have a plan to use it safely and without any harm to the environment, wildlife or our employees, just as many operating mines across the U.S. currently do. Let me explain how.
Is It Safe to Use Cyanide at the Stibnite Gold Project Site?
Cyanide is a naturally occurring compound made up of carbon and nitrogen; elements that are common in nature and abundant in our own bodies. Like any compound or chemical, including salt, soap or ammonia, cyanide can be toxic at high concentrations. However, like other chemicals, low concentrations of cyanide are useful. Cyanide is present in many of the products we use each day and is found in the foods we eat. It is added as a stabilizer in table salt and occurs naturally in the pits of apples, plums and apricots. Cyanide is also incredibly helpful for processing gold.
At the Stibnite Gold Project, we will use a weak sodium cyanide solution to extract gold from the ore we mine. Cyanide has a natural tendency to bond with metals, even when they occur in microscopic amounts, such as gold and silver in ore. This method of gold recovery has been popular for over a century. Advances in technology have allowed companies to use less and less of cyanide to achieve similar results.
continued:
———————–
Fire Season:
Burn near Crouch now a wildfire, resources increased
July 14, 2018
Contact: Mike Williamson (208) 373-4105 Email: mcwilliamson@fs.fed.us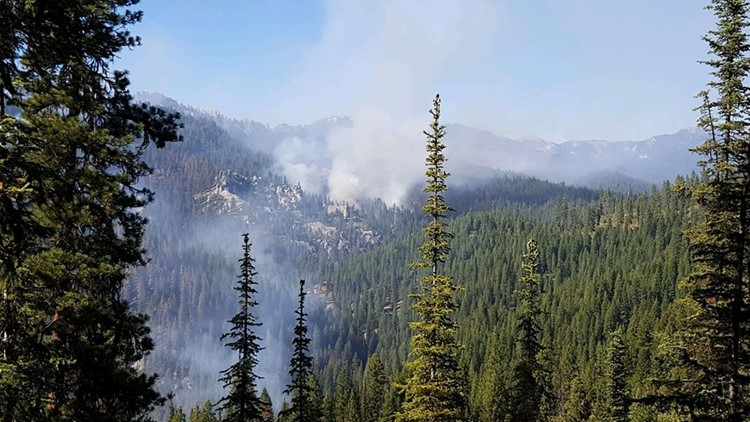 Emmett, Idaho, July 14, 2018 — The Boise National Forest has declared a prescribed burn, originally ignited April 24, as a wildfire in order to be more competitive for fire resources and allowing a wider variety of tactical options as they continue full suppression actions. Pockets of smoldering heat in heavy fuels, combined with recent warmer weather, have resulted in a creeping fire that is causing smoke to settle into nearby Crouch and threatening to grow outside the project boundary.
The Lodgepole Fire is now approximately 1,600 acres and 25 percent contained. It is located about 14 miles north of Crouch along National Forest System (NFS) road 671.
"We have been actively engaged in fighting this fire for about two weeks now with all of the resources at our disposal, but with the anticipated future weather, difficult terrain, and challenges obtaining additional fire-fighting resources, I have decided to declare this prescribed burn a wildfire," said Emmett District Ranger Richard Newton. "To date, the fire has remained within the original planning unit and we are doing our best to keep it there. Declaring this burn a wildfire will give us more tools to ensure the fire stays where it is supposed to be.
"We regret the smoke impacts that citizens of Crouch have had to deal with, it certainly was not our intent to have smoke lingering this long. And that is part of why we are moving forward and being more aggressive in putting it out."
There are approximately 113 firefighters on the ground and are receiving support from three helicopters. Their strategy is to use direct attack on hot spots within the project's interior and to construct and reinforce fireline to limit the fire's spread.
There are currently two temporary spur road closures in the vicinity of the fire. They are NFS road 671B1 and 671A, both of which are signed on the ground. An area closure will likely be placed in the near future, within the fire perimeter, for public and firefighter safety. The public is asked to be mindful of fire traffic on the 671 road to Silver Creek Plunge.
Silver Creek Plunge and campgrounds in the area remain open.
For more information, contact Mike Williamson (208) 373-4105.
Location Map


— — — — — — — — — —
Fire potential well above normal for the summer months in Idaho
McKenna King Jul 9, 2018 KIVI TV
Wildfire season is well under way in the western United States, and while Idaho is flying under the radar so far, the National Interagency Fire Center says the fire rise has increased to above normal.
We are just over one week into July, and the hot temperatures keep getting hotter, meaning the dry weather continues.
Right now, just Southern Idaho is seeing above average fire potential. As we move into August, however, almost the entire state has well above average fire potential. Those warnings are pertaining to Idaho's neighboring states as well.
continued:
— — — — — — — — — —
BLM urges shooters to be cautious
Local New 8 July 10, 2018
Idaho Falls, Idaho (KIFI/KIDK) – Bureau of Land Management investigators have determined the 181-acre Liberty Fire, 8-acre Lava Rock Fire and the 41-acre Cinder Fire were all caused by target shooting.
"When you have hot, windy conditions you only need a small spark to ignite dry grass," said Fire Management Officer Joel Gosswilller. "Shooting certain kinds of ammunition and exploding targets create an easy ignition source."
The BLM Fire Prevention Order, issued earlier this year, prohibits discharge of incendiary, steel core, tracer ammunition, and exploding targets on BLM lands from May 10th to October 20th.
Violation of the order is a misdemeanor and violators could also be held liable for the costs of fire suppression, rehabilitation, and property damage.
BLM is also asking shooters to be aware of other activities around them. During the Cinder Fire near Idaho Highway 33 in Jefferson County, people were still shooting around the perimeter while firefighters were working to put out the fire.
continued:
— — — — — — — — — —
Crews gaining on huge Nevada wildfire visible from space
by Scott Sonner, Associated Press Tuesday, July 10th 2018

This July 8, 2018 satellite image from NASA's Suomi NPP satellite shows a wildfire, shown in red, also known as the Martin Fire, in Nevada, and smoke reaching to Idaho. The NASA satellite captured infrared imaging of the fire that has burned nearly 700 square miles (1,813 sq. kilometers) of mostly sage brush, grasses and rangeland, an area almost half the size of the state of Rhode Island, according to the NASA/Goddard Space Flight Center. (NASA via AP)
Reno, Nev. (AP) — More than 600 firefighters slowed the progress Tuesday of a massive wildfire in a remote part of northern Nevada that is generating so much heat and smoke that it's now visible from space.
A NASA satellite captured infrared imaging of the fire that has burned nearly 700 square miles (1,813 sq. kilometers) of mostly sage brush, grasses and rangeland — an area almost half the size of the state of Rhode Island, according to the NASA/Goddard Space Flight Center.
Dubbed the Martin Fire, the National Interagency Fire Center said Tuesday it was the largest wild land fire burning in the United States.
continued:
— — —
Massive wildfire burning near Idaho-Nevada line human-caused
More than 600 firefighters continue to battle temperatures approaching triple-digits in difficult high-desert terrain about 20 miles south of the Idaho line.
Associated Press, KTVB July 11, 2018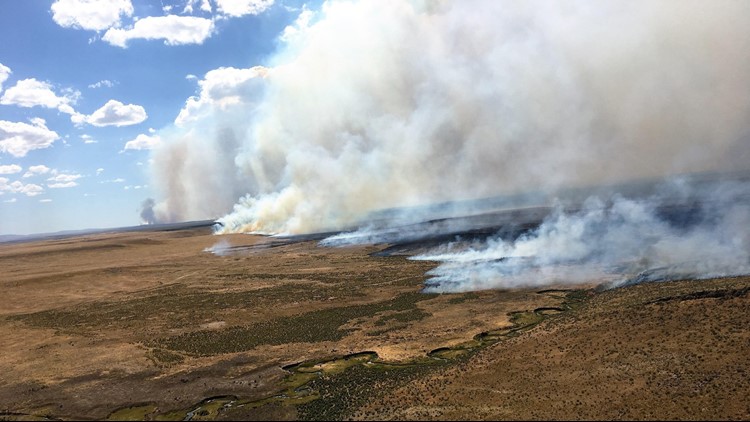 Boise — Fire officials have determined that humans started the massive wildfire that has burned nearly 700 square miles in a remote area of northern Nevada.
The National Fire Interagency Center in Boise confirmed Wednesday the Martin Fire is human-caused.
Investigators say they suspect that Fourth of July campers started the blaze that first was reported on July 5 near the rural town of Paradise Valley about 200 miles northeast of Reno. But the specific cause remains under investigation.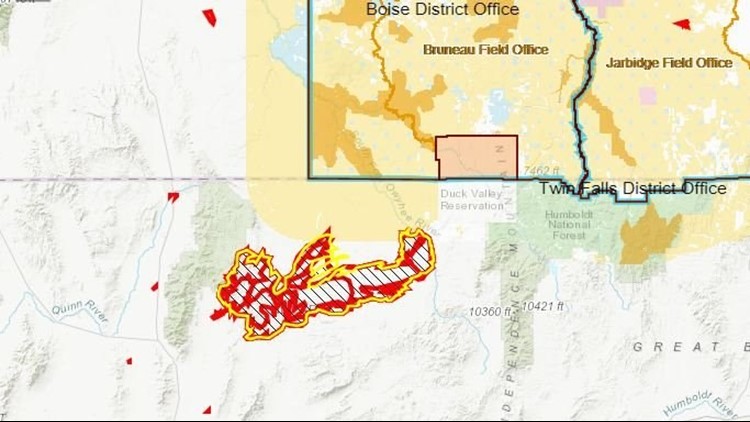 continued:
—————————–
Public Lands:
BC YP May 2018 draft meeting minutes
link:
— — —
BC YP SF June 28th Meeting Notes Draft
link:
— — —
Next Meeting – July 26th from 10:00 am to 3:00 pm at the E.O.C. in Cascade, ID
————————–
Letters to Share:
from Jim Hagedorn  July 14, 2018
Executive Director
The Gamebird Foundation
thegamebirdfoundation.org
Raising up a population
Game Bird Foundation director makes effort to populate Potlatch parcel with pheasants
By Garrett Cabeza, Moscow-Pullman Daily News Jul 11, 2018

William Weber holds a pheasant chick on Tuesday at Jim Hagedorn's house in Viola. Weber and his family will be raising 75 of the chicks until they are old enough to release into the wild. Geoff Crimmins /Daily News
The Idaho Department of Fish and Game partnered with a regional landowner and the Game Bird Foundation in 2016 to provide youth pheasant hunting opportunities on a 975-acre parcel on the Palouse River north of Potlatch.
One and a half years later, GBF Executive Director Jim Hagedorn said the foundation has received overwhelmingly positive feedback from those who have hunted the area.
"They can't wait until this year," Hagedorn said.
The 975-acre space was made possible by Access Yes! – a program designed to improve access to private land, or improve access through private land to public land, by compensating willing landowners who provide the access, according to the Idaho Department of Fish and Game.
[Note: if you have trouble accessing the link, let me know and I can email the PDF file.]
— — — — — — — — — —
Mystic Farm Raffle
7/14/2018
Get your raffle tickets and support the rescue! Remember, Mystic Farm operates 100% on donations and volunteers. By purchasing raffle tickets, you can help with the care and feeding of the orphaned and injured fawns. And who knows? You may even win!
Tickets are $5.00 each or 5 for $20.00
Purchase by mail:
Mystic Farm Wildlife Rescue, Inc.
710 Sanctuary Hills
Sagle, ID 83860
Purchase by PayPal:
mysticfarmrescue@yahoo.com
(state the payment is for tickets and include mailing address)
Thank you
Dory McIsaac
——————————
Critter News:
Pet talk – Intervertebral Disc Disease
By Dr. Karsten Fostvedt July 13, 2018 IME
Intervertebral disc disease is one of the most common spinal cord conditions in the dog. Cats sometimes have disc problems, but less frequently. The spine is composed of bones called vertebrae. The vertebrae form a canal that surrounds the spinal cord. Between adjacent vertebrae are discs that act as cushions between vertebrae and provide strength and flexibility to the spine.
Whenever a disc is displaced and protrudes into the spinal canal, the spinal cord becomes impinged. This causes pain to the back, and can cause paralysis if severe impingement occurs. This is called a herniation of the disc and secondary compression of the spinal cord.
There are many classifications of herniated disc disease in dogs. These classifications often need MRIs or CT scans to know exactly what impingement on the spinal cord is occurring.
Most common breeds affected by intervertebral disc disease are dogs with short legs and long backs, especially dachshunds, corgis, Lhasa apsos, shih-tzus and beagles. Older dogs can also have disc disease due to chronic wear and tear on the back because of excessive exercise and jumping. This commonly occurs in German shepherds, Labradors and other large breed dogs.
continued:
— — — — — — — — — —
Woman surrounded by wolves climbs tree to escape
A student surveying an area of Central Washington put her tree climbing skills to the test when she encountered a pack of wolves.
KREM July 13, 2018
Okanogan County, Wash. — A helicopter had to rescue a research student Thursday afternoon after a group of wolves surrounded her in Central Washington state.
Okanogan County dispatch received a call around 12:30 p.m. from the student who was surveying the area when she came across the wolves. Officials said she had climbed 30 feet up a tree and a pack of wolves was surrounding her.
Okanogan County deputies were told if they arrived on the scene and the wolves were still surrounding the woman they were to shoot the wolves on sight, authorities said.
The Department of Natural Resources was then notified, and they said they would be sending a helicopter to the woman's location. When the helicopter arrived, the wolves were still there, but the helicopter was able to land and rescue the student.
Okanogan County Sheriff Frank Rogers said he does not know if it was a den or a possible kill site, but his team is trying to find out if there is a possible threat or danger to those who use the recreational area. He said he is concerned that some may not be prepared for or even know of the possible encounters with wolves, which may result in the danger to human life.
source:
— — — — — — — — — —
Wolf News Roundup
By Cat Urbigkit, Pinedale Online! 7/8/2018
Wolf advocates are urging the U.S. Forest Service to revoke a New Mexico rancher's cattle grazing permit after the man pleaded guilty to killing a Mexican gray wolf, a criminal misdemeanor. A reporter in Oregon tackles the issue of living with wolves in his state. An Illinois man in stirring up media attention with his claim that he's got a pack of wolves on his property. The wolf population in France is experiencing a high growth rate, and plans are in place to keep boosting the population. The Alps are home to a population of about 600 wolves, and a cross-border coalition of alpine regions now argue that wolves no longer need special protected status…
link:
— — — — — — — — — —
Wyoming game commission OKs increased wolf hunting season
By Bob Moen – 7/11/18 AP
Cheyenne, Wyo. — The Wyoming Game and Fish Commission on Wednesday approved a wolf hunting season this fall that allows for hunters to take up to 58 wolves, which is up from the 44 wolves that were allowed to be hunted last year.
There are about 350 wolves roaming Wyoming, including about 210 in areas where the state manages their numbers with hunting.
State game managers who are tasked with trying to control the animals that can prey on domestic livestock want to see that 210 brought down to about 160.
continued:
— — — — — — — — — —
Wolf fatally shot, tied to weight and dumped in lake
Wolf fatally shot, tied to concrete weight and dumped in lake
Deutsche Welle July 12, 2018
An $8,100 reward has been offered for information that leads to the arrest of a wolf killer, the German Organization for the Protection of Wolves announced on Wednesday.
The reward is tied to the killing of a 1-year-old wolf in Saxony, whose body had been found on June 10 floating in a lake near the city of Bautzen.
continued:
— — — — — — — — — —
Wolf Education International
Newsletter 7/11/2018
France to let wolf population grow by 40% despite anger from farmers
Backlash after Italian councils allow bears and wolves to be shot
When Hunting's Gunfire Becomes a Dinner Bell
Habituation, Taming, Social Dominance Assertions, and "Freedom of the Woods"
— — — — — — — — — —
Budweiser Clydesdales appear in downtown Idaho Falls
By Katie Keleher July 11, 2018 Local News 8
Idaho Falls, Idaho (KIFI/KIDK) – Downtown Idaho Falls hosted many celebrities today, but not the human kind.
The Budweiser Clydesdales made an appearance. They delivered beer to several local bars before hanging out at the Alive After 5 events near the Civitan Plaza. They are in town for the 50th Annual Anheuser-Busch Grower Days. They honor Idaho barley farmers that supply the beer company.
"Barley is the main ingredient in our beer so having quality barley, you know, helps us make our quality beer," said Shelby Zarobinski, a Budweiser Clydesdale handler.
source:
— — — — — — — — — —
3 Simple steps for preventing the spread of aquatic invasive species to Idaho waters
by Sarah Jacobsen Wednesday, July 11th 2018
The Idaho State Department of Agriculture is reminding boaters to be cautious this summer when it comes to invasive species. they have some simple tips to keep invasive species… like quagga and zebra mussels out of Idaho.
"What we are concerned about is zebra mussel and quagga mussels which is a very small mussel, that attaches to boats," says ISDA Invasive Species Coordination and Outreach Section Leader Nic Zurfluh.
"Currently Idaho has no Zebra or Quagga infestations that we know of, so prevention efforts as boats come in is very effective."
continued:
— — — — — — — — — —
The Columbia Basin Bulletin
Weekly Fish and Wildlife News
http://www.cbbulletin.com
July 13, 2018
Issue No. 878
Table of Contents
* With Temperatures Rising, Corps Cools Snake River With Dworshak Water To Aid Endangered Snake River Sockeye
http://www.cbbulletin.com/441108.aspx
* Council Fish/Wildlife Committee Discusses Tribal Plans To Restore Pacific Lamprey To Historic Range
http://www.cbbulletin.com/441107.aspx
* Study Looks At Harbor Seal Predation, Wild Chinook Survival In Washington, British Columbia Waters
http://www.cbbulletin.com/441106.aspx
* Council Fish/Wildlife Committee Talks Policy About BPA Project Funding Cuts, Columbia Basin Fish Accords
http://www.cbbulletin.com/441105.aspx
* Council Briefed On Status, Funding Of Efforts To Halt Invasive Mussels With Watercraft Inspections
http://www.cbbulletin.com/441104.aspx
* Summer Chinook Angling Ends Upstream Of Bonneville Dam, Treaty Fishing Gets Three More Days
http://www.cbbulletin.com/441103.aspx
* U.S. Transboundary Commission Members Seek Data On Canada Mine Pollution Into Kootenai River Drainage
http://www.cbbulletin.com/441102.aspx
* New NOAA Fisheries Draft Plan Aims For Ecosystem-Based Management Principles On West Coast
http://www.cbbulletin.com/441101.aspx
——————————-
Fish & Game News:
Fish and Game moves grizzly bear that was repeatedly seen near campground
The grizzly spotted near Mill creek Campground in Island Park was relocated to remote forest
By James Brower, Regional Volunteer Coordinator
Thursday, July 12, 2018
Fish and Game personnel trapped a sub-adult male grizzly bear from the Mill Creek Campground in Island Park on July 11 after receiving multiple reports of a bear in, or close to, the campground and a nearby subdivision.
The bear appeared to have lost some of its natural fear of humans, which is referred to as "habituation," a condition that can be dangerous to humans and the bear.
After being captured, the grizzly was sedated, tagged, and fitted with a GPS collar. The bear was transported and released in a remote portion of the Caribou-Targhee National Forest near Snow Creek Butte.
Fish and Game officials say the stress of being captured and transported may cause the bear be more wary of humans in the future, and they will monitor the bear using data from its GPS collar, which allows department staff to pinpoint its location.
source:
— — — — — — — — — —
F&G News Releases
https://idfg.idaho.gov/press
———————————-
Fun Critter Stuff:
Fire Department nurses hummingbird back to health
by Stephen Pimpo Jr./ABC7 Monday, June 25th 2018

(Photo, Fairfax County Fire Department)
The Fairfax County Fire Department is generally "humming" with activity but that took on a very literal meaning when one of their stations got a special patient.
Crews at Station 31 in Fox Mill discovered a hummingbird inside the fire station they say looked "weak and lethargic." They then fed the bird sugar water with a syringe until it was well enough to fly away.
source:
——————————
Seasonal Humor:

————————
Tips & Advice:
Need to Know Bear Facts and Safety Tips
By Brian Dykstra, Scott Jackson, and Stephanie Coppeto, U.S. Forest Service
Be Bear Aware
Bears exist in and around a majority of our public lands across the United States and are native and natural members of the wildlife community. Seeing a bear can be an exciting experience, one that will form a lasting memory of your visit. By learning more about bears and their curious nature, you can better prepare for your visit to bear country and make it a positive experience for both you and the bears.
About Bears
Bears are curious and intelligent animals, capable of learning and modifying their behavior based on life experiences. Bears have an excellent sense of smell that can span miles and their eyesight is similar to a human's. The Native Americans have a poignant saying: "A pine needle fell. The eagle saw it. The deer heard it. The bear smelled it." Smell is a bear's most fundamental and important sense.
continued:
— — — — — — — — — —
Simple garden hose can save your A/C from disaster
by Scott Logan July 13th 2018
Boise, Idaho (KBOI) — With these soaring temperatures, experts say there are two basic things you can do to avoid making a repair call on your air conditioning unit and one of them is to make sure your outside condenser coil is clean.
A garden hose will do it.
Zac Barnes with Western Heating and Air Conditioning in Boise explains how the dirt and grime can cause issues with your A/C unit.
"What that does is causes restriction in air flow, causing all pressures of the unit to run higher amps," Barnes said, "It works a lot harder than it needs to, especially when you reach temperatures over 95 degrees, this needs to be cleaned off."
Barnes says washing off the condenser unit with a garden hose will do the trick.
continued:
——————————