Sept 30, 2018 The Yellow Pine Times – Valley County, Idaho
Community Calendar:
May 10 Burn Permits required
May 15 – Nov 30 Firewood Season – permits at The Corner
August 6 Ice Hole Campground Closed for the season
October 6 YPFD Commissioners Meeting 10am YP Community Center
(details below)
———-
Village News:
Yellow Pine Transfer Station
Dear Village of Yellow Pine Members:
I hope that everyone has read the message on the Yellow Pine Times regarding the WOODY DEBRIS pile from our Valley County Commissioner, Gordon Cruickshank. If you missed it here it is.
The Yellow Pine and Warm Lake Transfer sites are seeing other material deposited into the Woody Debris pile which violates our agreement with the Forest Service to have the Woody Debris allowed to be there. The Valley County Commission is requesting from the folks in Yellow Pine to help police the Transfer site. Valley County and/or Lakeshore employees are working to clean up the site this fall. To avoid losing the Woody Debris Transfer Site I am asking for your help. The Forest Service will continue to burn once the NON-Woody Debris is removed.
Other items being left on site is also not in our agreement. The bins provided by Lakeshore are for Household Waste. Furniture and appliances left require additional cost and is not in our agreement. Please clean up this issue. Thank you for attending to this matter.
– Gordon Cruickshank, Valley County Commissioner
Losing the Transfer Station would truly be an inconvenience to all of us. The Village Council received many great suggestions from residents for resolving this issue. So, the Village Council is working on putting these suggestions in place:
* Getting the current problem cleaned up (while the transfer stations outside the VYPA area of responsibility, the Council agrees it affects all residents.}
* In addition to cleaning up the current problem, the following is in the works:
– Better signage to give everyone clearer information on what goes where in the Transfer Station.
– Educational Material for all current and future residents.
– Prevention Strategies to keep the problem from happening in the future.
The Council is hopeful that all residents will help us keep our Transfer Station in good condition.
All questions and suggestions should be sent by email to the Village Council Members below:
Kathleen Hall 75hallker @ att.net
Ronda Rogers
Lynn Imel
Deb Filler fillerd2 @ live.com

—
Note to Share Re: Transfer Station
Sept 27, 2018
Today the transfer station was cleaned by some anonymous YP residents.
There is now a pile of cardboard boxes, a pile of construction wood and furniture wood, a pile of sofas and recliners, an area with appliances, and a pile of "yard debris". Lynn Imel is working on having the piles loaded and hauled out with the exception of the "yard debris".
Photos (courtesy Ann F):

Yellow Pine Transfer Station

Construction debris, furniture and appliances to be hauled out

Cardboard pile to be hauled out

Burn pile – Woody Debris ONLY!!
— — — —
The Cascade Ranger District has temporarily closed Ice Hole Campground
The Campground has been temporarily closed to provide for public safety during reconstruction. This order will be in effect from September 27, 2018 through July 2, 2019, unless rescinded earlier by the Forest Supervisor. (0402-04-80)
— — — —
Local Fall Rx Burns
* Lower Johnson Thinning (95 acres): Is a project designed to reduce hazardous fuels within the WUI. This project is located approximately 7 miles south of Yellow Pine along NFS road 413 and Johnson Creek.
* Yellow Pine Blowdown (40 acres): is located approximately 62 miles from Cascade, Idaho and is adjacent to the community of Yellow Pine. Hand Ignitions will be used to ignite machine piles along NFS roads 412, 413.
The Cascade RD is planning to burn both the Lower Johnson Thinning and Yellow Pine Blow Down units this fall, both of these projects will be pile burning only NO Broadcast Burning is planned.
The Lower Johnson Project (thinning & piling) was completed last summer, these handpiles are located along Johnson Creek road, Wapiti Ranch, Cox Ranch, Bryant Ranch/ Johnson Creek Airstrip.
Hand Ignition for Lower Johnson should take about a week to complete, once those piles have been completed, the crews will relocate to Yellow Pine to burn the logging slash piles.
If you have any addition questions please contact Tim Dulhanty tdulhanty@fs.fed.us (208-382-7400) or myself at 208-382-7400 or send me an email.
– Thanks
James Bishop
Fuels AFMO
Boise National Forest
— — — —
2018 Fuelwood permit cost reduced
Permits available May 15, 2018 through November 30, 2018 at The Corner.
Personal use fuelwood permits for the Payette, Sawtooth and Boise National Forests are changing to reflect new minimum permit requirements as well as a cost reduction.
Fuelwood permits have been reduced to $6.25 per cord with a 4-cord minimum and a 10-cord maximum per household.
Stay Out Of Riparian Areas!


— — — —
Pests
Bears have been roaming the Abstein orchard looking for apples (and any human/pet food they can find.) Please do not leave pet food outside and secure your trash. Long legged wasps are getting more numerous and invading sheds for shelter. Yellow Jackets are late this year, but really mean. Mosquito population dropped during the dry weather. Lots of gnats out now. Numerous grasshoppers clacking about. Colombian ground squirrels have gone into hibernation. Chipmunks had a population boom this summer. Pine squirrels are not as numerous as in past years.
Video Link Bear Visitor Aug 20, 2018
———-
Local Events:
The 5EV Memorial Run
Community Pig Roast potluck that was held yesterday afternoon in support of the 5EV Memorial and the Wildland Firefighters Foundation.
photo by Dick Filler
Event Info
Wildland Firefighter Foundation Fund Raiser and Yellow Pine Community BBQ September 29
Midas Gold Idaho and The Corner are proud to sponsor the 5EV Memorial Run.
This 3.6 mile trail run is a fund raiser for the 5EV Memorial Trail Fund and Wildland Firefighter Foundation. Donations are greatly appreciated. The race starts at 10:00 am at the Williams Peak Trailhead on the East Fork Rd. and ends at the summit of the trail; a 3021 ft. elevation change.
A Community BBQ will be held after the race at 4:00 pm, at The Corner in Yellow Pine, Idaho. The roasted pig is provided by Midas Gold Inc. with great food by The Corner and the volunteers of the Yellow Pine Community.
Proceeds from this event will be shared 50/50 between the 5EV Memorial Trail Fund and the Wildland Firefighters Foundation.
— — — —
Welch Labor Day Golf Tournament was Sept. 1st (No results by press time Sunday 9-23.)
———-
Local Groups:
YPWUA News:
September Yellow Pine water update excerpts
The good news is the second sand filter is online and operating well. We have refurbished and upgraded the chlorinator and purchased new chlorine monitoring tools that will help us more accurately adjust the amount of chlorine injected into the water. Additionally, we received the $10,000 grant from Midas. We are looking at all options but it seems that for 2018 we must raise user fees a minimum of a $150 per year.
link to: 2018 September Water Department Update.docx
—
There will be a YPWUA meeting in October.
There was a YPWUA Annual Shareholder's meeting Saturday July 7, no minutes yet.
— — — —
VYPA News:
Ditches
Attached is the ditch maintenance work that will be occurring during October 2018.
Residents can expect the work:
* along Abstein Rd. to happen during the first half of October;
* along Yellow Pine Ave. to happen in mid-October, and;
* along Profile & Riverside to happen during the last half of October.
Funds for this work are from the Road and Ditch Maintenance fund.
link to: 2018 October Ditch Maintenance Work.pdf
—
Yellow Pine Village Association
P.O. Box 10
Yellow Pine, ID 83677
Minutes: September 8, 2018 (updated with missing letters)
Officers present: Deb Filler, Chairman; Ronda Rogers, Vice Chairman; Lynnea Imel, Secretary; Kathy Hall, Member at Large. Absent: Joel Fields, Treasurer
The meeting opened at 2:00 by Deb Filler.
There being no objections or corrections, the minutes of the August 11, 2018, were accepted as posted on Facebook and community bulletin boards. Minutes and VYPA announcements will be e-mailed to property owners shown on the Secretary's list. You can opt out by notifying limel @ ruralnetwork.net They are also available on Facebook via yptimes2 @ ruralnetwork.net
Treasurer's Report Report submitted by Joel Fields, Treasurer (See attached) YP General Ledger printout, 7/8/2018 -8/31/2018;
link to: VYPA Financials – 8_10_2018.pdf
Cemetery Report was presented by Tim Rogers. The family of Chris Peterson will be placing a headstone. The Chris Peterson memorial gathering will be September 22nd in Yellow Pine. The committee plans to make fence repairs this Fall.
Lorinne Munn read a letter from the Welch and Sullivan families (see attached). In this letter the writers suggest that the Cemetery Fund transfer some money to the "Life Flight Landing Pad" project and the Restroom Fund to allow for moving these two projects forward. The Cemetery Committee has a copy of the letter and will respond.
Community Hall Report was presented by Kathy Hall, committee Chairman (see attached 9/8/2018 and General Ledger 7/8/18 – 8/31/18) Planned events next year:
* May 25th. Memorial Day ATV/UTV Fun run. See Kathy with your suggestions/ideas/help.
* Garage Sale the week of July 1-7. Bring donation to Community Hall after June 15, 2019
* July 13th ATV/UTV Ride to Big Creek, Smith Creek and back. See Kathy Hall.
The VYPA has title to a small camp trailer in back of the building. To be gifted free. Mike Amos has indicated an interest. The committee wishes to remove to outhouse in back of the Community Hall. Free. See Kathy Hall.
Several trees growing close to the building will be removed. A table and door outside should be removed. Flex Seal will be used in the basement to seal cracks. Picnic tables are to be moved and covered for winter. Lynn Imel has purchased new wheels for the piano; help is needed to install them. The kitchen floor is being reviewed, addressing cost/use/safety.
Thank You, Kathy Hall, for organizing work on the Community Hall this past year!
Harmonica & Music Festival Report by Lorinne Munn, committee Chairman. Some payments are still out-standing including one vendor fee from an un-authorized vendor. The event income is greater than the 2017 Festival. The breakfasts were particularly successful. All who volunteered are congratulated and thanked for their work. The committee works all year so there may be a meeting in November, but definitely starts with frequent meetings after February.
Old Business
Deb Filler has supplied maps of proposed ditch/culvert maintenance and repairs for this Fall and future projects. (see attached) The locations were identified by YP residents; there will be annual reviews to establish a priority list for maintenance and repairs to alleviate flooding and water damage to roads. A detailed work order form has been developed (see attached) so anyone wishing to work on a project/portion of a project can submit a proposal to the VYPA council. There are seven projects on the list to be done by October 31st. Copy and complete the form, mail it to Box 10 Yellow Pine, ID 83677 or give it to a Council member. VYPA Council will prioritize work and hire workers with full disclosure and publicizing. NOTE the deadline (9/20/18) and short time line for this year's ditches, culverts, silt traps.
link to: Water Run-off – October 2018 Tasks Map.pdf
link to: Work Order for Maintenance Work.pdf
The Labor Day golf tournament sponsors reported they raised: $700 for the fireworks fund; $225 to give to Cecil Dallman for snow plow work on local, un-maintained, roads; $225 to help develop the helicopter landing pad. (fireworks are not sponsored by VYPA; helicopter pad is not a part of VYPA; VYPA does hire snowplow work and dust abatement on main roads. The golf tournaments are privately organized and frequently donate money to various Yellow Pine projects of their own choosing. See attached letters.)
Midas Gold sent their representative, Belinda Provancher. Groups opposed to the Stibnite mine re-opening recently held a rally in McCall. Midas continues to work with Valley County towns to develop Community Agreements to cultivate open dialogue between citizens and the mining company. The community delegates are meeting September 21st to create a written agreement that will be proposed to all Valley County communities.
link to: 2018 Community Partnership Agreement.pdf
Midas recently donated $10,000 to Yellow Pine Water Users Assoc. Lynn Imel reminded the attendees that a former mining company gave the water company approximately $80,000 to build water infrastructure improvements; this Midas donation is not without precedence.
Yellow Pine Water Users' Assoc. submitted a written report to keep the community informed. (see attached) Residents need to be aware that there will be a considerable increase in the 2019 service fees. A Water Users' meeting is planned for October. The date has not yet been arranged. The company is separate from the VYPA and residents may purchase shares if they wish to vote and participate in the management. See Willie Sullivan.
link to: 2018 September Water Department Update.docx
Heli-spot landing pad Anne Forster reported that the pad should be ready for use this coming winter after Danny Saleen did considerable work with his tractor. Removing additional trees at the site would be helpful and would allow for landing two helicopters, but that can only be done by Boise National Forest. The site is on the East Fork road near the Yellow Pine/Johnson Creek intersection. Contact Cecil Dallman and Merle Saleen with questions. Yellow Pine Fire Protection District (YPFD) is actively involved in the project.
Yellow Pine Fire Protection Dist. Anne Forster reported that the YPFD has brush clearing and chimney cleaning equipment for residents to borrow. The trucks and other equipment are kept ready even during the winter, inside the building. The Fire Commissioners are investigating the purchase of a new truck to replace one currently used. Training occurs every Sunday during Summer months and everyone is encouraged to become involved. The Commissioners are talking with Big Creek/Edwardsburg residents to assist them in improving their fire protection. There are two "pumpkins", above ground collapsible water containers used for firefighting, available. Florescent paint and tape were recently applied to mark the fire hydrants. With current dangerous fire conditions, the local area is closely monitored by citizens.
New Business
Restroom construction at the Community Hall: Lorinne Munn read a letter from the Welch and Sullivan families (see attached). Please read this letter, and the letter regarding the Golf Tournaments, so everyone in the community understands this project and the funding.
link to: 20180902WelchSullivanletter1.pdf
link to: 20180902WelchSullivanletter2.pdf
VYPA Meeting Dates 2019 June 18th; July 20th; August 10th; September 14th. Note that the July 20th meeting is not on the second Saturday due to a conflict with a planned ATV rally involving many residents and visitors.
[Note: all letters have now been uploaded to the cloud, click the links to read.]
—
Midas Gold and Yellow Pine
August 28, 2018
Attached is the Community Partnership Agreement the Village of Yellow Pine signed with Midas Gold.
link to: 2018 Community Partnership Agreement.pdf
— — — —
YPFD News:
Next meeting: YPFD Commissioners Meeting October 6, 2018 10am YP Community Center
There was a YPFD Fire Commissioners Meeting June 9, no minutes yet.
There was a YPFD Fire Commissioners Meeting August 6, no minutes yet.
—
Yellow Pine Fire District Meeting Minutes
September 22, 2018
Attendees:
Cecil Dallman, Fire Commissioner District 1; Jeff Forster, Fire Chief; Dayle Bennett, Ann Forster, Nikki Saleen, Merrill Saleen, Steve Malm, Danny Saleen. Absent: Dan Stiff, District 2 Fire Commissioner; Tom Richter, District 3 Fire Commissioner
Discussion:
Nikki Saleen has been appointed Secretary/Treasurer for the Fire District. She has many years managing the wildland fire budget for the Payette National Forest and assisted with the national wildland fire budget for the Forest Service.
Cecil opened the meeting. He informed the group that Tom Richter; Fire Commissioner would not make the meeting today. However, Tom has verbally approved the budget. Dan Stiff, Fire Commissioner is not available. Cecil will obtain Tom Richter's signature to finalize budget approval.
Action Item: Cecil will get the required signatures to approve the budget.
Proposed 2018 – 2019 Budget:
Firefighting/Rescue: $8,132
Wages: $0
Advertising: $2,000 – This covers costs of posting notices in the Star News
Repairs/Maintenance.: $4,000
Utilities (Fixed Costs): $4,000 – includes $2,500 insurance
Total: $18,132
Questions:
Merrill: Can/do you include capital improvements in the budget? This would be a continuing, ongoing fund that you add money to each year and build up the account over time. The money would be used to replace large items such as engines, when needed. It has been discussed that the District could use a smaller quicker response engine. How do you deal with that kind of acquisition?
Cecil: We would like to get a Type 6 engine w/ foam injection in the future.
Jeff: We are not allowed by the County Assessor's Office to hold money without declaring what the expenditure is for. Apparatus is bundled into firefighting/rescue which is the fund we use to buy new equipment. We should not be carrying money over year to year, unless we identify a specific purpose for those expenditures. As we get more detailed with our budget, we can identify these large items that are needed in the future and work with the Assessors office on how to manage a large purchase with our future funding.
Merrill: The excess property program through the government usually requires expenditures of $5,000 to $10,000 to purchase used fire engines at a significant discount. We would need money available to purchase one in the future.
Jeff: It's not that difficult to get approval to save up for this kind of purchase. We would need to talk to the County Assessor to understand more of the process. We could seek out potential Grants to help – the process is somewhat complicated and we would need a Grant Writer to help us.
Cecil: We need to line out our priorities. This is how I see them:
* Need to complete the helipad.
* We would like a smaller Type 6 engine with foam injection capabilities and a storage area for our extrication equipment (the use of foam injection increase the effectiveness of water and extends the useful life of water when used on a fire).
* Would like to excess the army truck.
* Would like to increase our Emergency Medical Services budget.
* Would like to join the Idaho State Fire Commissioners Association (www.isfca.org/). Their mission is "Informing, educating, representing, leading, and serving fire districts of Idaho in the preservation and protection of life and property". Dues cost $50/year. The Association provides training, seminars, workshops, budget advice, and one hour of free legal advice. I would like to vote on us joining the ISFCA at our next meeting. Need the approval of one more Commissioner.
Jeff: The yearly budget is working for our current situation. Looking to the future – we will probably have bigger expenditures coming up with the need for better and more appropriate apparatus for our environment. I'm comfortable with the Yellow Pine Fire District as an organization if called upon – we can do something for the calling party or situation and do it as professionally as we can until backup comes, which can be 2 – 3 hours away. We just need to continue to get the right kind of equipment.
Nikki: What about getting reimbursements for search and rescue? Do we get any money back when we do a rescue? Will I need to do anything as treasurer?
Jeff: The State gives EMS/Rescue money and Valley County gets its portion. The County Commissioners has given $5,000 per year to Cascade Fire/EMS for Yellow Pine rescue/medical needs since the YP Ambulance has been placed into service. We work with Cascade Fire/EMS for any Rescue reimbursements; if YPFD is requested by the County to respond for a vehicle collision/rescue we would have the ability to receive reimbursement through the insurance carrier. We will work with you (Nikki) on that. As for EMS priorities, we will eventually need a newer ambulance that is designed for use in the backcountry.
Danny – Helipad update:
* We are looking into seeding the helipad area before winter. The Forest Service requires a specific seed mix. We may have to purchase the seed. Hydroseeding would be ideal if we could work with the Forest Service to get it done when they are in the area working on other projects that require Hydroseeding.
* We are in the process of acquiring "No Access – 24 hour Helispot" signs to post at the Helipad.
* Lifeflight gave us a windsock and frame. We will need one more windsock – costs around $300 to $400. Merrill mentioned that the Idaho Division of Aeronautics has made windsocks available to other airstrips/helibases in the past, maybe they would donate one.
Action Item: Cecil will contact Idaho Division of Aeronautics to see if they can provide another windsock.
Action Item: Jeff will coordinate with necessary parties on posting information on our next meeting.
Meeting adjourned. Next meeting will be at 10:00 am on October 6, 2018 at the Community Center.
—
Search & Rescue Training
Yesterday [9-29-2018] Valley County Search and Rescue (VCSAR) along with Yellow Pine Fire Protection District SAR members, and Cascade Fire & EMS – participated in a Search and Rescue training session near Herrick Reservoir.
It was an great day of training and many areas were addressed from – SAR set-up and orientation, GPS and map orientation, radio communication, rescue operations from incident command (IC) to field operations, EMS assessment of patient with field treatment – packaging – and transportation, as well as teamwork with SAR members and other agencies such as search dogs, pilots, law enforcement and others were addressed. After lunch there was a demonstration of rigging for rescue by YPFD team members.
Plans are underway to continue this working relationship and training in the future.

(courtesy Ann F.)
—
Bring it, Don't Burn it
For us in Yellow Pine, Jake Strohmeyer, Dist. Ranger with the Boise NF said we can use the area at our transfer station for yard debris and the FS will burn it once a year. Please no furniture, mattresses, construction debris, metal objects, tires or personnel junk. Please only woody yard debris. When using the pile please be mindful of where you place the debris as it should be contained to a manageable burnable area and kept as clean as possible. – JF
—
Burn Permits Needed After May 10
A reminder that May 10 is beginning of fire season where burning permits for open burning are required throughout most Fire Districts. Since the YPFD doesn't issue actual "Burn Permits" per say, notification of a large pile burn would be appreciated. The notification makes the fire officials aware of those who have a planned burn. Seeing smoke can easily raise concerns. When neighbors call in seeing smoke, we can reduce their anxiety by knowing that there was a notification by a property owner. This elevates the response to smoke investigations.
Contact Fire Chief Jeff at 633-1010 or email j4star1911 @ gmail.com
—
Yellow Pine Fire Protection District Updates:
Fire Department Training on Sunday's at 11:00 all are welcome
Special Use Permit for Fire Station and Helispot:
The Boise National Forest has granted a "Special Use Permit" to the Yellow Pine Fire Protection District for the Fire Station lot and the Helispot. The Helispot is a new addition and the Fire Station lot was a renewal. This permit will expire 12/31/2037 (20 years) and will need to be rewed again at that time. Thanks to Jake Strohmeyer, District Ranger and Chris (Kit) Woras, Special Use Permit Administrator of the Boise Forest for spending a lot of time and correspondence to get this permit completed.
Helispot / Life Flight:
A lot of progress has been made on the new Helipad near the crossroads.
Anyone needing a Smoke/CO detector or fire extinguisher please let Jeff, Cecil or Dan know.
– Fire Chief Jeff
There are YPFD T-shirts, as well as YPFD patches and stickers for sale at the Tavern now.
——–
Biz Listings:
Yellow Pine Lodge
Open for summer (208) 633-3377
— — — —
Yellow Pine Tavern 633-2233
Fall Hours: 8am to close 7 days a week.
Daily Menu: full Breakfast served also Burgers and Pizza for Afternoon and Evening. Good selection of Beer and Wine also sold by 6 and 12 pack. Fuel available 92 Octane. Wi Fi, Ice.
— — — —
The Corner 633-3325
We sell FS wood cutting permits.
Our hours for this week: Monday-Friday 4pm-8pm, Saturday and Sunday 11am-close
We will also be cooking most of the week for private events so if anyone wants something outside of those hours just call and we can usually accommodate.
The Corner Store is open as well, just call for grocery needs, fresh produce, eggs, meat etc.
— — — —
Buck Horn Outfitters LLC
Buck Horn Outfitters in Idaho's west Central Mountains in Units 25, 20 A, & 19 A. Providing Elk, Mule Deer, Black Bear, Mountain lion, & Wolf Hunts. We offer Guided Rifle or Archery Hunts & Drop Camps. We are not about Quantity we are about providing Quality Hunts. My husband and I have been in the back country all our lives, we offer Deluxe camps with great food & our Guides know hunting, the back country and Stock !!
Link to FB:
— — — —
Deadwood Outfitters
We're currently interviewing for winter caretakers. A remote location and snowmobile only access in winter.
Duty services include:
Guest cabin up keep
Preparing meals
Keeping porches shoveled
And enjoying lots of solitude.
For more info. deadwoodoutfit @ gmail.com
— — — —
Local Fuel Suppliers
Amerigas Phone: (208) 634-8181
Ed Staub & Sons Phone: (208) 634-3833
Diamond Fuel & Feed (208) 382-4430
— — — —
Elkhorn Heating & Cooling
(208) 906-4067 Middleton, Idaho, Will service Yellow Pine
— — — —
Follow The Yellow Pine Times on Facebook (updated more often than emails)
———————–
Local Observations:
Monday (Sept 24) overnight low of 27 degrees, mostly clear sky, frosty and smoky again. Rising sun painted the yellow leaves bright gold. Very quiet, a few finches flying and calling and a pine squirrel hunting cones. Rivers are below average for this time of year. Mostly cloudy at lunch time. A couple of finches visited in the afternoon, pine squirrel running down the fence. Cooler and partly cloudy in the afternoon, a little breezy at times, high of 62 degrees. Clear after sundown, calmer and fairly good air quality. Full Harvest Moon.
Tuesday (Sept 25) overnight low of 25 degrees, overcast, dry – very little frost or dew, and smoky haze. Power blipped off and back on at 1120am. Not many birds around today and one chipmunk. Mostly clear all day, haze of smoke, high of 68 degrees. Quiet evening.
Wednesday (Sept 26) overnight low of 26 degrees, mostly clear, dry – very little frost or dew and smoky haze. Pine squirrel and hairy woodpecker looking for snacks. Smoke was worse at lunch time, a few high thin clouds. Mid-afternoon mostly cloudy, a little breezy and better air quality, high of 75 degrees. Sounds like a helicopter flying around at 314pm. Late afternoon there was quite a bit of smoke way to the south in the Johnson Creek 'notch', might be from the Prospect Fire in the wilderness? Calm and cool at sunset, light haze of smoke.
Thursday (Sept 27) probably did not get below freezing overnight, very dry – no dew, appears to be mostly high thin clouds above eye burning smoke this morning. A few finches still around. Mostly clear before lunch time, haze of smoke. By mid-afternoon it was warm, mostly clear, light breezes, local haze of smoke and thicker smoke to the south, high of 80 degrees. Clear at sunset, somewhat better air quality, but smoke settled in after dark.
Friday (Sept 28) overnight low of 33 degrees, clear sky, dry – little bit of dew, and smelly haze of smoke. Clear, breezy and smoky at lunch time. Warm dry smoky afternoon, light breezes, high of 79 degrees. A northern flicker visited late afternoon. Clear, dry and smoky at sunset.
Saturday (Sept 29) overnight low of 33 degrees, mostly cloudy sky, dry – no dew, haze of smoke. A few critters this morning, 2 jays, a northern flicker, a pine squirrel and a chipmunk. Crunchy dry out in the forest. Local streets are very dusty. Pine martin crossing the road after lunch time. Overcast and quite smoky by early afternoon. Lots of long legged wasps. Increased traffic and dust. Warm, cloudy and smoky late afternoon and early evening, high of 77 degrees.
Sunday (Sept 30) did not get below freezing overnight, early morning rain 5am-6am, then after 7am to around 830am, then clouds breaking up and partly cloudy by 930am, better air quality, however there is still a slight haze of smoke in the air. Pine squirrel visiting at sunup. A couple of low flying airplanes around 1045am. Northern flicker visiting, hunting for bugs. Cloudy again before lunch time. Thunder and light sprinkle of rain just after 1pm. Strike map shows some hits near YP, on Johnson Creek across the river from Antimony camp, one up Profile Creek and another strike near the Missouri Ridge trail. More thunder than rain. Later afternoon rain showers for about an hour, high of 59 degrees. Clouds breaking up before sundown.
————————–
Idaho News:
2019 property tax collections to rise $621K in Valley County
Agencies request $29.3 million for government operation
By Max Silverson for The Star-News September 27, 2018
About $29.3.million in property tax revenue will be collected in Valley County in 2019, an increase of about $621,000 compared to the total raised this year, according to figures from the Valley County Clerk's Office.
Valley County will have 22 taxing districts requesting property taxes next year, one more than this year due to the creation of the Donnelly Public Library District.
McCall-Donnelly School District has requested the most money, at about $8 million, although that total is $90 less than the amount the district levied this year.
Valley County had the next largest balance to be levied with $6.9 million, followed by the City of McCall at $6 million.
Taxes for Valley County government will increase by a total of $331,000 next year and the City of McCall's dollar amount will increase by almost $500,000.
… Commissioners decided to use taxing authority set aside from previous years to hire more employees and increase the pay of volunteers.
… The smallest amount of property taxes requested next year is $18,132 for the Yellow Pine Fire District.
full story:
— — — — — — — — — —
Valley waits for applicants for business tax break
New ordinance gives 5-year discount to investment of $500,000 or more
By Max Silverson for The Star-News September 27, 2018
An ordinance that gives property-tax breaks to new businesses in Valley County has been on the books since June, but so far there have been no takers.
The new rules give tax relief for up to five years to new non-retail businesses that invest more than $500,000 in a plant or facility within Valley County.
If approved, a property tax exemption would be granted with businesses enjoying a 90 percent deduction for year one, 80 percent for year two, 60 percent for year three, 40 percent for year four, and 20 percent for year five before being taxed at 100 percent each year thereafter.
"Non-retail" is defined broadly, including housing developments or agricultural manufacturing, Valley County Planning and Zoning Administrator Cynda Herrick said.
No business has applied for the tax break this year, Herrick said.
continued:
— — — — — — — — — —
Adjust your paycheck withholding now to avoid a tax shock
Sep 12, 2018 Local News 8
Boise, Idaho (KIFI/KIDK) – The Idaho State Tax Commission is urging you review your federal Form W-4 now to ensure you're withholding enough from your paycheck for state and federal income taxes.
With significant changes to state and federal tax laws, you could be among many taxpayers who are having too little money withheld from your paychecks to cover the taxes you'll owe for 2018.
That's especially true if you have more than one job or both you and your spouse work.
continued:
— — — — — — — — — —
Idaho water organization gets workforce training grant
9/27/18 AP
Boise, Idaho — The Idaho Rural Water Association of Boise is getting a $1.4 million federal grant to build a workforce training center.
The grant was announced by the U.S. Department of Commerce on Thursday. The Idaho Rural Water Association of Boise estimates the project could help create or retain 550 jobs.
The center will be used to recruit and train members of the Idaho Water/Wastewater Agency Response Network to protect water and wastewater facilities during major flooding events. It will also be used to store special equipment that can be used in the event of a natural disaster.
The money comes from $600 million Congress appropriated for disaster relief and recovery as a result of wildfires and Hurricanes Harvey, Irma and Maria in 2017.
source:
—————————–
Scam Alerts:
Card skimmers placed on ATMs around Boise
"Thieves have the technology to hide skimmers in plain sight and the card user is none the wiser," said Boise Police Sgt. John Terry.
KTVB September 26, 2018
Boise — Thieves have been using credit card skimmers hidden inside ATMs around Boise to steal money from more than a dozen victims in the last month, according to Boise Police.
The culprits appear to have more than one skimming device, and investigators say the devices are likely being moved to different ATMs around town. Police are urging residents to check their bank statements for any unusual activity, and asking local businesses that use card readers to check their equipment.
"Boise Police have heard from over a dozen victims whose financial information has been compromised due to a card skimmer. Thieves have the technology to hide skimmers in plain sight and the card user is none the wiser," said Boise Police Sgt. John Terry. "The only way a citizen will know they've been victimized is to see a charge they didn't make on the statement from their bank or financial institution."
continued:
— — — — — — — — — —
Social Security and Medicare scam calls heating up: What to expect
New Social Security scam targeting your phone
Susan Tompor, Detroit Free Press September 30, 2018 (KTVB)
Hang up and keep hanging up. Or better yet, just don't answer.
Scammers are hitting mobile phones and landlines with all sorts of wacky pitches – including false claims about what you need to do to get a new Medicare card.
"The best thing you can do is not answer calls you are not familiar with," said Mark Fetterhoff, a senior program specialist with the AARP Foundation as part of a recent robocall town hall promoted by AARP and the Federal Communications Commission.
Even if it looks like a local call, it's probably not. Many times, scammers are engaging in "neighbor spoofing" to make the number look like it's local. Fraudsters can spoof phone numbers easily and change that spoofed number regularly. You're more likely to answer it if it's a new number, experts said.
continued:
—————————
Fire Season:
Boise National Forest plans fall prescribed burning
Contact: Stephaney Kerley
Phone: (208) 373-4105
Boise, Idaho. Sept. 26, 2018 – Boise National Forest fire managers anticipate favorable weather conditions for planned low-intensity prescribed burns this fall. Prescribed burns are designed to reduce hazardous vegetation (fuels), minimize wildfire potential near communities and improve wildlife habitat.
Weather and fuel conditions permitting, prescribed burns are scheduled to start in October and continue through November. Approximately 2,600 acres are planned for controlled ignitions in 13 project areas within the Forest.
Public and firefighter safety is always the first priority in all public land fire operations. Fire managers develop burn plans that consider: safety, specific fuel and weather prescriptions and smoke management. All prescribed burns are closely evaluated and are only approved when conditions are favorable.
Fire officials strongly advise forest visitors and homeowners to prepare and plan activities around the proposed dates and locations of burns. Prescribed burns may impact individual's that are sensitive to smoke. Recreationists should use extreme caution near prescribed fire areas and comply with closures.
Access to areas immediately within or adjacent to burning operations may be temporarily restricted for public health and safety. Specific information and signage will be posted in advance of ignitions and remain in place until operations are completed. Please be cautious of firefighters and additional equipment within these areas as visibility will be decreased with smoke.
The http://www.rxfire.com website is updated with information regarding southwest Idaho burns planned within Idaho Department of Lands, Bureau of Land Management, Payette National Forest and Boise National Forest.
The Boise National Forest prescribed burn hotline: (208)-373-4208.
Planned Boise National Forest fall prescribed burns include:
Idaho City Ranger District
* Alder Ridge (100 acres): located 1 mile north of Placerville, Idaho. This is a landscape burn (ground fire), using hand ignitions to reduce fuel in the Wildland Urban Interface (WUI).
* Amber (300 acres): located 2 miles east of Idaho City, Idaho. This is a modified tree well burn.
* Buckskin (200): located approximately 3 miles east of Idaho City, Idaho.
* Little Ophir (100 acres): located 4 miles west of Pioneerville, Idaho. A landscape burn using hand ignitions that will reduce fuel in the WUI.
* Mores South-Granite Creek (250 acres): located 3 miles east of Idaho City, Idaho. This is a landscape burn (ground fire) using hand ignitions to reduce fuels in the WUI.
Cascade Ranger District
* Horsethief (360 acres): located about 1 mile east/northeast of Horsethief Reservoir. This burn involves helicopter and hand ignitions to reduce fuels throughout the area and within the WUI.
* Westside Restoration Unit 39 (25 acres): This project is located on National Forest System (NFS) road 435 along West Mountain. It is approximately 10 miles west of Cascade, Idaho. This will be hand ignitions burn to reduce fuels within the WUI.
* Crawford (100 acres): located approximately 4 miles east of Cascade, Idaho adjacent to the Crawford Guard Station, located off of NFS road 22, northeast of Davis reservoir; within WUI area.
* Lower Johnson Thinning (95 acres): Is a project designed to reduce hazardous fuels within the WUI. This project is located approximately 7 miles south of Yellow Pine along NFS road 413 and Johnson Creek.
* Yellow Pine Blowdown (40 acres): is located approximately 62 miles from Cascade, Idaho and is adjacent to the community of Yellow Pine. Hand Ignitions will be used to ignite machine piles along NFS roads 412, 413.
* Rainbow Point (19 acres): This project is located approximately 25 miles northwest of Cascade, Idaho. Machine Piles located within the Rainbow Point campground will be ignited by hand to reduce fuel accumulations throughout the campground.
Mountain Home Ranger District
* Cottonwood II Rx (1000 acres): This project is located about 17 miles NE of Boise, Idaho along NFS roads 203 and 377 in the Cottonwood Creek drainage, north of Arrowrock Reservoir.
Emmett Ranger District
* Miscellaneous Administrative Piles (1-2 acres): At Garden Valley work center
—
Note from Cascade Ranger District:
The Cascade RD is planning to burn both the Lower Johnson Thinning and Yellow Pine Blow Down units this fall, both of these projects will be pile burning only NO Broadcast Burning is planned.
The Lower Johnson Project (thinning & piling) was completed last summer, these handpiles are located along Johnson Creek road, Wapiti Ranch, Cox Ranch, Bryant Ranch/ Johnson Creek Airstrip.
Hand Ignition for Lower Johnson should take about a week to complete, once those piles have been completed, the crews will relocate to Yellow Pine to burn the logging slash piles.
If you have any addition questions please contact Tim Dulhanty tdulhanty@fs.fed.us (208-382-7400) or myself at 208-382-7400 or send me an email.
– Thanks
James Bishop
Fuels AFMO
Boise National Forest
— — — — — — — — — —
Prescribed Burns planned for Fall 2018
Date Sept 19, 2018
The Krassel Ranger District, Payette National Forest is planning to implement prescribed burns in the Bald Hill and Four Mile project areas this fall. In the Bald Hill Project area we will be working in areas of Reegan Creek and Deadman Creek from the East Fork road up to Rainbow Ridge. In the Fourmile Project area we will be working on both sides of the South Fork, between Blackmare and Holdover Creeks on the west side of the river and in the Fourmile Creek drainage on the east side. See attached map for more specific areas. Ignitions will likely take place in September or October, dependent on weather and fuel conditions. Primary ignitions will take 1-3 days for each burn block, with residual smoke and flame present until the next significant rain. Please do not hesitate to give a call or email with questions, my contact information is lenelson@fs.fed.us or desk phone is 208-634-0622.
Thanks and have a nice day,
Laurel Ingram
Fuels Technician
Payette National Forest
Krassel Ranger District
The Payette National Forest, Krassel Ranger District, is planning on implementing a prescribed burn on the south facing aspect between Deadman Creek and Reegan Creek along the East Fork of the South Fork of the Salmon River this fall. The edge of burn block E is about 5 miles west of Yellow Pine. See map below. Ignitions could occur over a period of 1-3 days in September or October 2018.


(click here for larger image)
For more information please call Justin Pappani at 208-634-0623 or Laurel Ingram at 208-634-0622.
The Payette National Forest, Krassel Ranger District, is planning on implementing the Four Mile Prescribed fire project this fall. Ignitions may take place between Reed Ranch and Poverty Flat Camp Ground on both sides of the South Fork of the Salmon River. See map below. Ignitions could occur over a period of 2 or more days in September or October.


(click here for larger image)
For more information please call Justin Pappani at 208-634-0623 or Laurel Ingram at 208-634-0622
— — — — — — — — — —
Prospect Fire in Frank Church River of No Return Wilderness grows to more than 6,000 acres
The fire started Tuesday, and is burning in steep terrain. An emergency closure includes the Dagger Falls and Boundary Creek campgrounds as well as a section of Boundary Creek Road.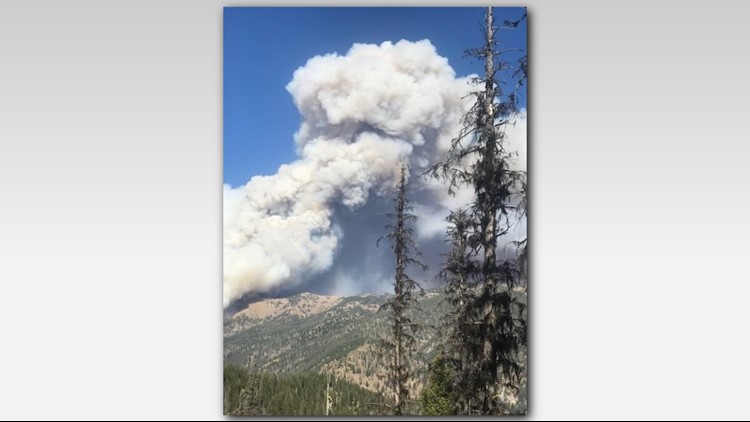 Photo: Salmon-Challis National Forest
KTVB September 29, 2018
Valley County — Emergency road and recreation site closures are in effect on part of the Salmon-Challis National Forest due to the Prospect Fire, burning east of Cascade in the Frank Church River of No Return Wilderness.
The fire has burned an estimated 6,247 acres of timber, brush, and tall grass. It is burning in steep, inaccessible terrain in the Prospect Creek and Morehead Creek drainages.
The fire had crossed to the east of the Middle Fork of the Salmon River toward Big Soldier Mountain on Friday. Activity moderated on Saturday with the cloud cover, according to a news release from the Salmon-Challis National Forest.
continued:
————————-
Mining News:
Midas Gold proposes foundation for community projects
Agreement could mean millions of dollars if fully funded
By Tom Grote for The Star-News September 27, 2018
Midas Gold has proposed forming a foundation that could contribute millions of dollars into local communities during the life of the project and beyond.
The Stibnite Foundation would offer grants to a board made up of members of each community.
Governing bodies of cities and counties in Valley, Adams and Idaho counties have been asked to sign what Midas Gold calls a "Community Agreement " that would be binding on both sides.
Midas would initially give the Stibnite Foundation $100,000 in cash and 1.5 million shares of Midas Gold Corp. stock, which was worth nearly a million dollars at the 66 cents per share stock price on Monday.
Midas Gold would add another $100,000 at the beginning of next year and at the beginning of 2020 regardless of the status of the project. Funding after this point becomes tied to the company's growth.
Another $100,000 would be given to the foundation if the Forest Service gives approval to the project, an action projected for early 2020.
An additional $100,000 and another 1.5 million shares of stock would be given to the foundation once Midas Gold receives all permits to allow construction to begin.
Once construction begins on the project, the company would give the foundation $250,000 each year during the projected three-year construction phase.
That would be a total of $1.15 million in cash and 3 million shares of stock before Midas would extract an ounce of gold from its proposed mining project near Yellow Pine.
Once the Stibnite mine begins producing gold, Midas Gold would give 1 percent of its net profits to the foundation over the expected 12-year life of the project.
That pledge would be at least $500,000 per year, Midas Gold Idaho President & CEO Laurel Sayer said.
The company would give the foundation a final payment of $1 million when mining has been completed and reclamation efforts begin.
The intent of the foundation is to develop a lasting endowment and enable the foundation to continue to exist after the mine is closed, Sayer said.
Only signers of the Community Agreement would be able to appoint members to the foundation board, but anyone would be eligible to apply for grants, the draft agreement said.
The foundation is intended to provide a structured forum for communities and groups who want Midas Gold to help pay for community improvements, Sayer said.
"We don't want to be the ones to judge the worthiness of a request," she said.
"We believe Idahoans understand the issues facing their communities better than anyone else," Sayer said. "We want to put local experts in control of community funding decisions."
Midas Gold would continue to make charitable contributions and fund sponsorships, which totaled $125,000 and 1,700 hours of employee time in 2017, Sayer said.
The agreement also would form a Stibnite Advisory Council composed of representatives of each government to "discuss topics of interest," including the proposed gold mine as well as jobs, housing, infrastructure and any other topic.
The agreement also would require each community to "take reasonable steps to be informed" about the project and make formal comments to the Forest Service about the project.
There is no requirement that the comments endorse the project, but the provision is intended to ask communities to "provide direct input on how we might make the project better" Sayer said in a Sept. 5 letter to the McCall City Council.
continued:
— — — — — — — — — —
McCall raises questions about proposed Midas Gold agreement
City to host lectures on Stibnite mine project
By Tom Grote for The Star-News September 27, 2018
Midas Gold has been working for the last two months to sign up communities for a proposed agreement that would see millions of dollars given for civic improvements.
But the process has been slowed by misunderstandings and questions about the agreement, especially by the McCall City Council, Midas Gold Idaho President & CEO Laurel Sayer said.
In July, Midas Gold representatives began meeting with city councils and county commissioners in Valley, Adams and Idaho counties to ask them for comment on the proposed Community Agreement.
The majority of the communities have provided comments but none of the governments have yet agreed to sign the agreement, which would form the Stibnite Foundation and the Stibnite Advisory Council.
Midas Gold would donate cash and company stock to the foundation, which would have an independent board of directors that would accept applications for community grants.
The advisory council would provide a forum for the communities in the area to stay abreast of the proposed gold mine near Yellow Pine as the project progresses.
Most communities have expressed support for the concept of the agreement but the most questions have been raised in front of the McCall City Council.
On July 26, a presentation by Midas and representatives from the West Central Mountain Community Partnership on the agreement was followed by several speakers, most of who expressed opposition to the mining project.
The protests led the council to schedule a series of meetings called the Stibnite Lecture Series. The first meeting will be held Oct. 9 with subsequent meetings scheduled for Oct. 23 and Nov. 13.
The McCall council will not make a decision to sign the agreement until after the lecture series.
Also, the Cascade City Council will hold a town hall meeting on Oct. 22 prior to its regular meeting to review the proposed agreement, Mayor Julie Crosby said.
The initial round of meetings has prompted some changes to the draft agreement to make the language more concise and clarify its intent, Sayer said.
A clarification letter was sent Sept. 5 to the McCall council by Sayer.
"We recognize we did not clearly communicate our intentions behind the Agreement and can understand why you and your constituents want to know more," the letter said.
The agreement would commit Midas Gold to contribute to the foundation regardless of changes in management of the company, Sayer said.
There has been misunderstanding about a provision of the agreement that requires each community that signs it to provide formal comments to the Forest Service, which is reviewing the project, Sayer said.
"The Agreement does not specify the content of such a letter, or whether it must be supportive, only that a letter must be submitted," she said.
Last Friday, Midas convened a meeting of representatives of several of the communities as a "working group" to review the draft agreement.
The meeting was held at the Midas Gold offices in Donnelly, but was limited to invited participants and was not open to the public.
Sayer said Monday that the meeting did not result in substantive changes in the agreement.
"Changes will be mostly style, consistency and clarity of terms and meaning," she said.
Midas remains confident that the Stibnite Foundation and the Stibnite Advisory Council will be formed before the end of the year, Sayer said.
"However we understand that each community needs to go through their own process of public review," she said.
continued:
— — — — — — — — — —
Restoring mined forest land with more mining?
Midas Gold says their new mine will improve land
Sep 26, 2018 KIVI TV
Stibnite, Idaho – For more than a century, prospectors and miners have been interested in the land upstream from Yellow Pine, Idaho in a place called Stibnite.
The area is rich with valuable minerals including gold and antimony. During World War Two and the Korean War, antimony used to make ammunition, was in high demand and the Stibnite Mine was booming.
But the mining here has scarred the land surrounding the East Fork of the South Fork of the Salmon River, prime habitat for endangered salmon and steelhead.
continued:
— — — — — — — — — —
Public comment opens on new open pit mine
Sep 28, 2018 Local News 8
Soda Springs, Idaho (KIFI/KIDK) – Plans for expanding the Smoky Canyon phosphate mine, east of Soda Springs, are now out for public review.
The Bureau of Land Management in Idaho Falls and the Caribou-Targhee National Forest released a draft environmental impact statement Friday analyzing different alternatives.
If approved, J.R. Simplot Company said the East Smoky Panel Mine Project would develop a single linear open pit in seven sequential phases. It would enable the use of waste rock to backfill previously mined portions of the pit. The company said that would reduce certain impacts associated with the mining process.
continued:
— — — — — — — — — —
Ninth Circuit Upholds Oregon Law Banning Motorized Gold Mining In Salmon Streams
9/28/2018 CBB
The Ninth Circuit Court of Appeals recently handed down a ruling affirming an Oregon law that bans motorized gold mining in salmon streams, with potential ramifications for other states that choose to adopt environmental regulations pertaining to mining.
The Sept. 12 ruling rejected a challenge to Oregon's 2017 Suction Dredge Reform Bill, also known as Senate Bill 3, that was filed by a coalition of Oregon miners and mining groups, such as the Galice Mining District, Millennium Diggers and the Willamette Valley Miners.
continued:
— — — — — — — — — —
Forest Service Recommendation To Withdraw 340,000 Acres In Methow Valley From Mining Applauded
9/28/2018 CBB
U.S. Sen. Maria Cantwell (D-WA), the top Democrat on the Senate Energy and Natural Resources Committee, U.S. Sen. Patty Murray (D-WA), and U.S. Rep. Dan Newhouse (R-WA, 4th District) applauded a recommendation made by the U.S. Forest Service to the Bureau of Land Management to withdraw 340,000 acres in the Methow Valley from consideration for mining for a 20 year period.
"From salmon to farming and outdoor recreation, the Methow Valley holds a special place in the Washington way of life," Cantwell said. "We can't afford to lose this area to copper mining. I am encouraged the Forest Service is taking this important step, and I will continue working with the Department of the Interior and the local community to move the process forward and protect the Methow Valley for generations to come."
continued:
————————
Letter to Share:
Youth Pheasant hunt
9/30/2018
Hi All, I finally got hold of IDFG to find out if we would have birds for the hunt for kids on the river? I finally caught some one yesterday and we will have birds next Friday Oct. 5th to release Friday evening for the morning of the Oct. 6th when youth hunting starts on the youth Access area on the Palouse river about 2 ½ miles below Potlatch Idaho of Wellesley Road. Hunt limited to 5 hunters at a time and those that hunt need to be registered and must sign up at the sign up area at the river bridge. I don't know if IDFG has their sign up ready or not. You can call me or email me and I will make sure you are registered. Your time when registering will be recorded and you will be given a time slot. The birds that we plant will have a leg tag. We need you to report the tag numbers to IDFG or call or email me and I will get them registered. For more information, give me a call or call IDFG. I hope to have a number to call Mondays morning Oct 1st. We had a great time last year and hope it will be better this year. We need volunteers to help release birds.
Jim Hagedorn
Executive Director
The Gamebird Foundation
thegamebirdfoundation.org
208-883-3423
Jhag1008 @ gmail.com
—
Youth 17 years old and younger can hunt with a licensed adult
Youth 17 years old and younger with an Idaho hunting license can participate in the youth pheasant hunt so long as they're accompanied by an Idaho licensed hunter age 18 years or older.
The youth hunt runs from Saturday, Oct. 6 through Oct. 12.
Pheasant hunting starts a half hour before sunrise, except on C.J. Strike, Cartier Slough, Fort Boise, Market Lake, Montour, Mud Lake, Niagara Springs, Payette River, and Sterling wildlife management areas where pheasants are stocked. Shooting hours begin at 10 a.m. at those locations.
The daily bag limit is three cocks, and the possession limit is nine, except on nine WMA's in southern Idaho where pheasants are stocked. On these WMA's, the daily limit is two cocks and six in possession.
Youth hunters do not need a WMA upland game bird permit, but they are required to wear hunter orange above the waist during the pheasant season while hunting on these WMA's. A hunter orange hat meets this requirement.
Young hunters who have never had a hunting license and have not taken hunter education can still participate in the hunt through Idaho's Hunting Passport Program.
https://idfg.idaho.gov/licenses/hunter-passport
For more details about pheasant hunting, see the Upland Game, Furbearer and Turkey Seasons and Rules, or get the printed brochure available at Fish and Game license vendors.
https://idfg.idaho.gov/hunt/rules/upland-furbearer-turkey
General pheasant hunts for all ages start Oct. 13 or Oct. 20, depending which part of the state you're in. There's map of pheasant zones on page 12 of the rules brochure. Really need to thank Rodger Phillips for getting the above on IDFG web site so we could know what is happening.
————————–
Critter News:
MCPAWS to host Tails on Trails, Oktoberfest on Oct. 6
The Star-News September 27, 2018
MCPAWS Regional Animal Shelter will host a race for canines and their human companions as well as a live music festival on Saturday, Oct. 6, to raise money for the animal shelter.
The activities will kick off with the dog-friendly Tails on Trails 5K fun run at 9 a.m. at Brundage Mountain Resort.
Registration is $35 for adults and $25 for youth under 21. The race fee includes a long-sleeved T-shirt, goodie bag and registration for Oktoberfest later that day.
Race registration is available at http://ultrasignup.com by searching for "Tails on Trails At Brundage".
The festivities will continue with Oktoberfest from noon to 6 p.m. at the Alpine Village. The event will feature live music by Bottom Line Band and the Treasure Valley Musik Meisters as well as a costume contest, raffle, craft goods, activities for children and food and drinks.
Entry fee is $10 and includes a free beer and event koozie. Raffle tickets are $5 and may be purchased at the event.
Alpine Village is located at 616 N. Third St. in McCall.
All proceeds will benefit the dogs and cats at the MCPAWS Regional Animal Shelter. For more information on the shelter and the day's activities, visit http://mcpaws.org
source:
— — — — — — — — — —
Pet Talk – Twisted stomachs in dogs
By Dr. Karsten Fostvedt Sept 28, 2018 IME
A twisted stomach is called a gastric dilatation-volvulus (GDV) and is always an acute and life-threatening emergency. Gastric dilation is the sudden accumulation of excessive air, food and fluid in the stomach, and is commonly called bloat. Volvulus is the twisting of a bloated stomach so that the openings into and out of the stomach are blocked. This twisting causes blood flow to the stomach to be compromised and secondary shock ensues.
Nobody knows the exact reason for stomach bloating. Older larger and giant-breed dogs with deep chests are at the highest risk. Many veterinarians feel there is a heredity risk, but most veterinarians feel it involves the feeding of large amounts of food, then exercise that includes the swallowing of air and causes a pendulum effect on the stomach and subsequent twisting.
Affected dogs will be restless and agitated, salivate excessively, retch and try to regurgitate. The abdomen is obviously distended and painful. These physical abnormalities will lead your veterinarian to suspect a torsion or block. X-rays of the abdomen let your veterinarian assess the position of the stomach and ascertain if there is a bloat or a twist. An electrocardiogram (ECG) is indicated as irregular heart rhythms are common. Other lab tests are performed to see if other organs have been affected.
continued:
— — — — — — — — — —
Hunters urged to keep noxious weed seeds from spreading
The Star-News September 27, 2018
Hunters and other outdoor enthusiasts are being asked to take caution to not spread noxious weed seeds with their vehicles, ATVs and pack animals. "This time of year hunters and recreationalists can unknowingly spread huge amounts of noxious weed seed from one area to another," said Roger Batt, the Idaho Weed Awareness Campaign's coordinator.
Noxious weeds can choke out native vegetation, which deprives deer, elk, big horn sheep, and other wildlife of their natural food sources, resulting in starvation or migration to other areas, Batt said.
Noxious weeds and seeds can easily become lodged in ATVs, off-road vehicles and trailers that have been used in the summer and carried to a new location when the rigs are used during hunting season, he said.
Pack animals, bird dogs, and hunting gear also can carry noxious weeds to other areas, Batt said.
"Hunters and outdoor recreationalists should keep their pickups, ATVs, and off-road vehicles only on designated roads and trails and away from weed-infested areas," he said.
Noxious weed seeds can be spread in the waste droppings of horses and pack animals. Preparation for hunting trips should include using feed certified as noxious weed free, Batt said.
A list of outlets selling certified weed free hay and forage is available at http://idahoweedawareness.com
source:
— — — — — — — — — —
KWVR Oregon Wolf Education weekly Wolf Report
Last week of September 2018
— — — — — — — — — —
Wolf attack kills guard dog in southern Oregon
by AP Thursday, September 27th 2018
Prospect, Ore. (AP) — State wildlife officials say a dog guarding cattle in southern Oregon has died after being attacked by a wolf.
The report released Wednesday says an examination of the Tibetan mastiff's body revealed 25 puncture wounds and scrape marks all over its body.
The Oregon Department of Fish and Wildlife says the attack early Monday occurred in an area frequented by a gray wolf known as OR-7 and his pack.
The incident happened southeast of Prospect.
The last confirmed attack by OR-7 and his pack was in January when two calves were killed two days apart near Butte Falls.
source:
— — — — — — — — — —
Wolf Education International
Newsletter 9/27/2018
Wolves Continue Killing Cattle In Northwest Minnesota
A Systematic Review of the Epidemiology of Echinococcosis in Domestic and Wild Animals
— — — — — — — — — —
Protections restored for grizzly bears; hunts blocked
By Matthew Brown – 9/25/18 AP
Billings, Mont. — A U.S. judge ordered federal protections restored for grizzly bears in the Northern Rocky Mountains on Monday, a move that blocks the first grizzly hunts planned in the Lower 48 states in almost three decades.
Wyoming and Idaho had been on the cusp of allowing hunters to kill up to 23 bears this fall. U.S. District Judge Dana Christensen had twice delayed the hunts, and the latest order blocking them was due to expire later this week. The hunts would have been the first in U.S. outside Alaska since 1991.
Christensen wrote in his ruling that the case was "not about the ethics of hunting." Rather, he said, it was about whether federal officials adequately considered threats to the species' long-term recovery when they lifted protections for more than 700 bears living around Yellowstone National Park.
continued:
— — —
Blocked US grizzly hunts fuel call for species law changes
By Matthew Brown – 9/26/18 AP
Billings, Mont. — A court ruling that blocked grizzly bear hunts in the U.S. West carries far wider political implications amid a push by Congress for sweeping changes to how imperiled species are managed.
The ruling restored protections for more than 700 grizzlies in and around Yellowstone National Park. It will likely force federal wildlife officials to reconsider their piecemeal approach to restoring bruins across the Northern Rockies.
As wildlife advocates celebrated the ruling, it was quickly seized upon by Republicans as the latest example of supposed flaws in the Endangered Species Act, a 1973 law meant to shield plants and animals from potential extinction.
continued:
— — — — — — — — — —
Idaho authorities euthanize cougar wandering near day care
9/25/18 AP
Coeur d'Alene, Idaho — Coeur d'Alene authorities say they euthanized a male cougar that was wandering across a parking lot near a day care center.
On Monday, Idaho Fish and Game officials and the Coeur d'Alene Police waited until the cougar settled in a tree to dart and euthanized the cougar.
Idaho Fish and Game Biologist Jim Hayden says the male cougar was likely looking for "a place to settle down."
continued:
— — — — — — — — — —
Cat in Nampa recovering after being shot by crossbow
by Haley Squiers Monday, September 24th 2018
Nampa, Idaho (CBS 2) — A cat was shot in its side by a crossbow in a Nampa area neighborhood Sunday afternoon.
The cat, Charlie, was first seen with the crossbow in his side when the owner's boyfriend went onto the porch and found the cat sitting on a lawn chair.
Keesha Boyum tells CBS 2 News her boyfriend then took the crossbow bolt out of the cat's side, before he took the cat to a nearby veterinarian clinic.
continued:
— — — — — — — — — —
Bald eagle with lead poisoning recovering at raptor center
By Brian Walker – 9/24/18 AP
Coeur d'Alene, Idaho — This wasn't how Janet Medley wanted to spot a bald eagle.
The Athol woman and her family were enjoying Lake Pend Oreille over Labor Day weekend when they found a helpless male eagle on the bank.
"He was wet and very sick and weak," Medley told the Coeur d'Alene Press . "It got our blood pumping because we wanted to do something."
The eagle was captured until the nonprofit Birds of Prey Northwest responded to care for it.
continued:
— — — — — — — — — —
The Columbia Basin Bulletin
Weekly Fish and Wildlife News
http://www.cbbulletin.com
September 28, 2018
Issue No. 886
Table of Contents
* New U.S.-Canada Pacific Salmon Treaty Would Reduce Alaska, British Columbia Harvests When Forecasts Low
http://www.cbbulletin.com/441565.aspx
* Commerce Department Declares West Coast Fishery Disaster, 2015-17; Warm Water Impacts
http://www.cbbulletin.com/441564.aspx
* Bureau Awards $76 Million For Juvenile Fish Passage Facilities At Cle Elum Dam In Upper Yakima Basin
http://www.cbbulletin.com/441563.aspx
* Yakama Nation, Chelan PUD Agree To 15-Year, $9.7 Million Program For Mid-Columbia Coho Reintroduction
http://www.cbbulletin.com/441562.aspx
* Orca Task Force Recommendations Include Focus On Salmon Runs; Change Non-Native Game Fish To 'Predatory'
http://www.cbbulletin.com/441561.aspx
* Research: Beaver Dams Create Habitat Complexity Benefiting Juvenile Steelhead In John Day Tributary
http://www.cbbulletin.com/441560.aspx
* Study: New Scientific Tool Uses Otolith Geochemistry To Identify Source Of Illegally Introduced Invasive Fish
http://www.cbbulletin.com/441559.aspx
* Council Draft Report 'Energy, Fish, Wildlife: the Columbia River Basin In Fiscal Year 2018' Out For Review
http://www.cbbulletin.com/441558.aspx
* Tribes Get More Fishing Days Above Bonneville; Steelhead Numbers Still A Concern
http://www.cbbulletin.com/441557.aspx
* Warm Ocean Temperatures Off NW Coast Forced Forage Fish To Eat Less Energy Rich Food
http://www.cbbulletin.com/441556.aspx
* NOAA Fisheries Says Updated Management Blueprint For Blue Mountains Prioritizes Habitat Restoration For Salmonids
http://www.cbbulletin.com/441555.aspx
* Ninth Circuit Upholds Oregon Law Banning Motorized Gold Mining In Salmon Streams
http://www.cbbulletin.com/441554.aspx
* Forest Service Recommendation To Withdraw 340,000 Acres In Methow Valley From Mining Applauded
http://www.cbbulletin.com/441553.aspx
* NOAA: A Warm, Dry Columbia Basin Will Continue That Way Through October, With El Nino Guiding Winter
http://www.cbbulletin.com/441552.aspx
* Corps Seeks Comments For Next Stage Of Draft Mid-Columbia Master Plan
http://www.cbbulletin.com/441551.aspx
* National Science Foundation Awards $220 Million For Ocean Observatories Initiative; Includes OSU, UW
http://www.cbbulletin.com/441550.aspx
————————–
Fish & Game News:
Getting ready to buy your hunting license? Consider a three-year license
Three-year license saves money and keeps you hunting
By Roger Phillips, Public Information Specialist
Thursday, September 27, 2018
Idaho hunters can buy a three-year hunting license or three-year hunting/fishing combo and not have to worry about buying another license until 2021.
The price for a three-year resident hunting license is $34.75 (plus vendor fees) and $97 (plus vendor fees) for a three-year combo license.
Benefits of a three-year license include:
continued:
— — — — — — — — — —
Trapper Instructor-led Course
Saturday, October 6, 2018 10:00am – 4:00pm
Located at:
IDFG Office
555 Deinhard Lane
McCall, ID 83638
Course Fee $9.75
This course includes trapping laws, ethics, avoiding non-target catch, trapping laws, basic trapping methods, and safety.
Trapper Education certification cards will be awarded to students upon successful completion of the course, which includes attending all class sessions, passing the field exercises and a written test.
Age Requirements:
* Minimum age is 9 unless accompanied by a parent or guardian.
* A parent must check in students under age 18.
registration link:
— — — — — — — — — —
More F&G News Releases
https://idfg.idaho.gov/press
———————————-
Fun Critter Stuff:
This moose has "Old Glory" stuck to his antlers
By Michael VanZetta 9/27/2018 Circa
Jackson Hole has tons of wildlife, but none are as patriotic as this moose.
Mary Jo Maher was with her husband, Roger, outside Jackson Hole, Wyoming when they saw the moose.
Maher took the video of it with "Old Glory" stuck to its antler. People cannot get enough of this once in a lifetime sighting.
There's no word on how the moose ended up in this patriotic predicament.
source with video:
————————–
Seasonal Humor:

————————