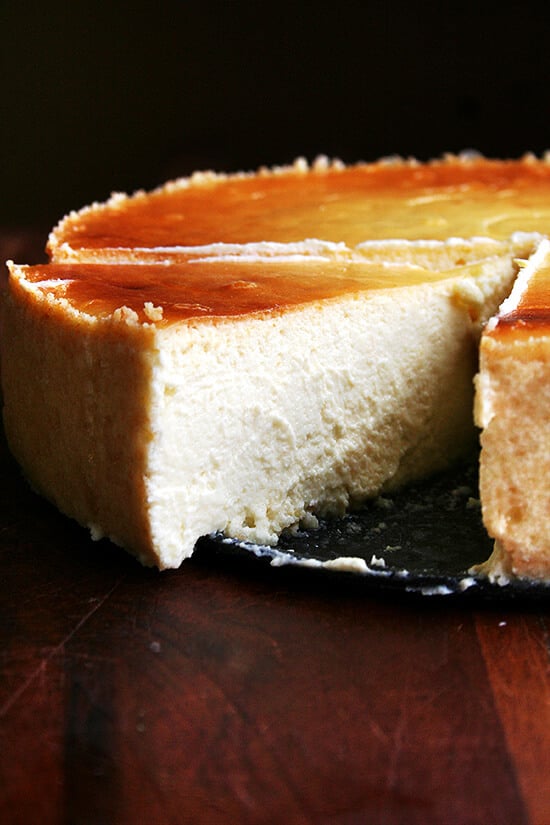 Ingredients
Crust:
1-1/2 cups crushed vanilla wafers (about 45 wafers)
1/4 cup butter, melted
1 teaspoon grated lemon zest
Filling:
2 pounds fresh, whole-milk ricotta cheese
2/3 cup white sugar
1/3 cup all-purpose flour
6 eggs
1/4 teaspoon ground cinnamon
2 teaspoons grated lemon zest
2 teaspoons vanilla extract
1/8 teaspoon salt
Directions
In a small bowl, combine wafer crumbs, butter and lemon peel. Press onto the bottom of a greased 9 1/2-in. spring-form pan. Bake at 325 F for 12-14 minutes or until lightly browned. Cool.
Meanwhile, in a large mixing bowl, stir ricotta with a rubber spatula until it reaches an extremely smooth consistency. Add the sugar and flour into the ricotta, mixing thoroughly.
Stir in the eggs 1 at a time. Next add in the vanilla, cinnamon, lemon zest, and salt. Mix well. Pour batter into crust.
Bake in the center of the oven for about 75 to 90 minutes at 300F, until the cake is a light golden color. When it's ready, the center should be fairly firm, and the point of a sharp knife inserted in the center will come out clean.
Cool cake on a wire rack. Cover, and chill till serving time.
——————————————-