Dec 9, 2018 The Yellow Pine Times – Valley County, Idaho
Community Calendar:
Ice Hole Campground Closed for the season
Firewood Season is Closed
December 21, Winter Solstice
December 25, Christmas
December 31, New Year's Eve
~ 2019 Events ~
May 25, 2019 ATV-UTV Scavenger Hunt Memorial Day Weekend
Jul 13, 2019 Ride to Big Creek
Sep 14, 2019 Ride to Cinnabar
(details below)
———-
Village News:
Midas Gold Holiday Celebration
There was a good turn out on Dec 8th, 12pm at the Yellow Pine Tavern. Dessert Social, update on the Community Agreement and celebration of 2018
— — — —
Lower Johnson Creek Plowing
Note: when traveling to the dump, please use the river side of the road for wheeled vehicles so the hill side can be for snowmobilers. Turnouts will be plowed.
– CD
— — — —
Christmas
"Santa's Yellow Pine Elves, it is time to think of Christmas Bags again!! Let me know if you want to help!!"
Contact Nicki
— — — —
Come Spring…
"To Yellow Pine residents. I will be making several trips next spring and summer hauling out metal, appliances, etc. . If you need anything hauled away please get on the list. Vehicles require a title. I will be hauling gravel back if anyone is interested."
Contact Mike Amos
— — — —
Yellow Pine US Mail
We are on 3-day a week mail delivery from Cascade. The Post Office in Yellow Pine is open six days a week: M-F 845am-245pm Saturday 9am-245pm. Be sure to buy your holiday stamps here.
— — — —
Yellow Pine Transfer Station
Please do not abuse our Transfer Station or we may lose it. Household trash must be placed in the bins, flattened cardboard boxes can also go into the bins. Do not stack trash in front of the doors. Woody yard debris only for the burn pile. No furniture, appliances, tires or construction debris allowed, those items must be hauled out to the Donnelly station by you.

— — — —
Ice Hole Campground Closed
The Campground has been temporarily closed to provide for public safety during reconstruction. This order will be in effect from September 27, 2018 through July 2, 2019, unless rescinded earlier by the Forest Supervisor. (0402-04-80)
— — — —
Predators
It should be safe to put bird feeders back out, bears are hibernating (according to Jon Hunter our F&G CO.) However, foxes are coming around and they do like bird seed.
Please remember to keep trash secured, it will draw foxes, coyotes and loose dogs.
———-
Local Events:
2019 Yellow Pine Escapades
The 2019 schedule for the Yellow Pine Escapades has been updated on the website!
Expect new escapades this coming year, including an ATV-UTV Photo Scavenger Hunt; two (yes, two) ATV-UTV rides, a golf tournament, and even a community yard sale. Other events will be added to the calendar as plans are finalized.
Join us for a great season of fun! The starting point for fun in Yellow Pine! The website includes information on the events hosted by the Yellow Pine Community Hall as well as the other "goings-on" in the village. Food, lodging and fuel are available in Yellow Pine.
https://www.ypescapade.org/atv-utv-events
———-
Local Groups:
YPWUA News:
There was a YPWUA Annual Shareholder's meeting Saturday July 7, no minutes yet.
link to: 2018 September Water Department Update.docx
https://drive.google.com/file/d/1IN-a1ltv9ismxIN2muRB_g7DdsJIs0qQ/view
There was be a YPWUA meeting in October. (?)
— — — —
VYPA News:
VYPA Meeting Dates 2019
June 18th; July 20th; August 10th; September 14th. Note that the July 20th meeting is not on the second Saturday due to a conflict with a planned ATV rally involving many residents and visitors.
— — — —
YPFD News:
The next meeting to be May 18th, 2019 at the Community Hall
There was a YPFD Fire Commissioners Meeting June 9, no minutes yet.
There was a YPFD Fire Commissioners Meeting August 6, no minutes yet.
Sept 22nd YPFD meeting minutes posted in the Sept. 30th Yellow Pine Times.
October 6 YPFD meeting minutes posted in the Oct 21st Yellow Pine Times.
—
Yellow Pine Fire Protection District Updates:
Fire Department Training on Sundays at 11am will resume in the Spring.
The YPFD has 2 Size Chimney Brushes with extension rods that were donated for use around YP. If you would like to borrow one, please contact Cecil or Jeff and we'll get them for you. The YPFD also has loanable mitigation tools, (Weed-Whacker, Hedge Trimmer, backpack blower and 16' pole saw). If you would like to borrow one or all, please contact Cecil or Jeff and we'll get them for you.
It's also time to check the Smoke Alarm batteries and Fire Extinguishers. Please test the alarm and replace Smoke Alarm Batteries every year, if you have the replaceable battery type. Fire Extinguishers should be checked as well and should be easily seen and reachable. A good location for the Fire Extinguishers would be the kitchen and near the wood stove and/or fireplace. The needle should be in the green.
If you need a Smoke Detector or Fire Extinguisher for your YP residence please contact Jeff F.
Cooking safety in the home:
——–
Biz Listings:
Yellow Pine Lodge (208) 633-3377
Closed for winter
— — — —
The Corner (208) 633-3325
Winter Hours (?)
— — — —
Yellow Pine Tavern (208) 633-2233
Fall Hours: 9am to 2pm and 4pm to 8pm 7 days a week.
Daily Menu: full Breakfast served also Burgers and Pizza for Afternoon and Evening. Good selection of Beer and Wine also sold by 6 and 12 pack. Fuel available 92 Octane. Wi Fi, Ice.
— — — —
Buck Horn Outfitters LLC
Buck Horn Outfitters in Idaho's west Central Mountains in Units 25, 20 A, & 19 A. Providing Elk, Mule Deer, Black Bear, Mountain lion, & Wolf Hunts. We offer Guided Rifle or Archery Hunts & Drop Camps. We are not about Quantity we are about providing Quality Hunts. My husband and I have been in the back country all our lives, we offer Deluxe camps with great food & our Guides know hunting, the back country and Stock.
Link to FB:
— — — —
Local Fuel Suppliers
Amerigas Phone: (208) 634-8181
Ed Staub & Sons Phone: (208) 634-3833
Diamond Fuel & Feed (208) 382-4430 – 50# bag of Polar Ice Melt available for $7.99. Breaks the Ice Barrier. Quick Melting action, even in heavy snow.
— — — —
Elkhorn Heating & Cooling
(208) 906-4067 Middleton, Idaho, Will service Yellow Pine
— — — —
Follow The Yellow Pine Times on Facebook (updated more often than emails)
———————–
Local Observations:
Monday (Dec 3) overnight low of 20 degrees, overcast and a few flakes of snow for 5-10 minutes, 1″ new snow and 4″ total snow on the ground. Fresh fox tracks, jays visiting, raven calling and flying over the village. A little more traffic than usual. Breaks in the clouds and scattered sunshine after lunch. Cool and mostly cloudy afternoon (broken clouds), high of 32 degrees. After sunset it was getting pretty cold but looked cloudy. Clearing during the night.
Tuesday (Dec 4) overnight low of 0 (zero!) degrees, clear sky this morning, very blue over the white snow covered trees. Stellar jay and hairy woodpecker visiting. Clear chilly afternoon, lots of sunshine, a few icicles dripping in the sun but below freezing, high of 30 degrees. Very little traffic, quiet day. Temps dropping with the sun, getting cold.
Wednesday (Dec 5) overnight low of -5 degrees, clear sky this morning and frosty. Fresh fox tracks. Still way below freezing at lunch time. Steller jay visiting. Mail truck was about half an hour late, driver reported no problems. Clear cold afternoon, the sun is making icicles drip even tho it is below freezing, high of 23 degrees. Single digits and dropping by sundown. Very cold night.
Thursday (Dec 6) overnight low of -7 degrees, clear sky, dry – little frost this morning. Fresh fox tracks and looks like a large deer or small elk wandered down the side of our road. Hairy woodpecker visiting early. Steller jays dropped by for lunch. Clear cold afternoon, just a hint of a breeze, high of 23 degrees. Light traffic. Clear sky and single digits by sundown. Lots of stars sparkling during the night.
Friday (Dec 7) overnight the low was probably around zero (-4F on the gizmo from the previous morning), it was 9 degrees at 1030am with clear sky and moderate frost. Steller jays, hairy woodpecker and a pine squirrel visiting for lunch. Clouds coming in after lunch time, mostly cloudy by early afternoon, high of 29 degrees. Gunfire started around 2pm, sounded like it was on this side of the river went on for quite some time. Overcast and "warm" late afternoon (warmer than it has been.) Days are getting shorter, nearly full dark by 545pm.
Saturday (Dec 8) overnight low was probably around 20 degrees (9F from yesterday morning was the low in the last 24 hours) it was 25 degrees at observation time and overcast. Jays and hairy woodpecker were early visitors. Light traffic this morning. Icicles dripping early afternoon even tho it was still below freezing and clouds blocked the sun, high of 30 degrees. Mostly clear at dusk but not as cold as previous evenings. Clear and stars sparkling at 10pm.
Sunday (Dec 9) overnight low of 8 degrees, mostly high thin wispy hazy clouds this morning, frosty and inversion building (smells like a city!) Heard some small birds twittering up on the hill. Moderate traffic today. Woodpecker visited at lunch time. Partly clear at noon, then overcast by early afternoon and icicles dripping, high of 38 degrees. Quiet late afternoon and evening. Looked overcast at dark.
————————
Tips & Advice:
Be Ember Aware! Tip Series
"Used with permission from University of Nevada Cooperative Extension and the Living With Fire program."
Be Ember Aware Tip #8 – Window Warnings
Typically, the weakest parts of the exterior walls of your home during a wildfire are windows. Radiant heat and direct contact by flames can break window glass. This happens because the window glass that you can see heats to a different temperature than the glass protected by the window frame. This difference in temperature causes the glass to crack. If the broken glass falls out during a wildfire, embers can enter your home and ignite it from the inside. An open, screen-less window, is the most vulnerable to ember attack. Our "Be Ember Aware" window tips include the following:
* Install windows that are least dual paned with tempered glass. It will resist greater fire intensities than single pane windows. The type of frame material used, such as vinyl, wood, or metal, is not as important as the type of glass.
* Remove wooden flowerboxes from under windows or construct them of fire resistant materials and use fire resistant plants. Do not use wood or bark mulches in the planter boxes.
* Do not place the firewood stack under windows.
* Prepare 1/2-inch plywood covers that are sized and labeled for your windows. If there is time, you can attach these covers before you evacuate. Shutters (instead of the plywood covers) can also be used.
* Decayed wood window sills should be replaced. Decayed wood is easier to ignite than wood in good condition.
* Move easily ignited materials, such as curtains and overstuffed furniture, away from the window. If the window glass breaks and falls away, embers could enter the house and ignite them.
Before evacuating, make sure all your windows are closed. These include basements, garage, and vehicle windows.
[h/t Fire Chief Jeff]
— — — — — — — — — —
Protect your home (and more) from winter's freeze
Presented by Wood River Insurance Nov 9, 2018
Freezing temperatures may be good for ice skating or building snowmen, but sub-freezing temperatures can be dangerous for the average person and his or her home.
Cold weather often leaves people scurrying to do whatever is necessary to safeguard themselves from the big chill. But it's important homeowners also protect their homes in cold weather.
continued:
— — — — — — — — — —
Idaho mail carriers look to customers to keep them safe
Clear snow and ice away from mailboxes to help.
Dec 7, 2018 KIVI TV
Idaho Post Offices are asking customers to help keep carriers safe by clearing snow and ice from around mailboxes and walkways as soon as possible after it snows. Many mail carriers are hurt every year from slipping on the ice near mailboxes.
"We want our carriers to return home healthy each night," said Boise Postmaster Dan Corral. "Keeping a path clear to your mailbox will go a long way toward keeping our carriers safe and ensuring mail delivery each day."
Idaho postal carriers, who each make an average of more than 600 deliveries daily, will continue to do their best to deliver the mail, according to Corral, however when mailboxes and approaches to mailboxes are buried in snow and ice it can make it difficult for carriers to make deliveries safely. Unsafe conditions such as icy sidewalks or large amounts of snow blocking mailboxes can prevent mail delivery.
continued:
—————————-
Idaho News:
Dec. 20 deadline noted for Valley, Adams property taxes
The Star-News December 6, 2018
The deadline for the first half of the year's property taxes for Valley and Adams counties will be Thursday, Dec. 20.
Payments will be accepted through 5 p.m. Dec. 20 at the county courthouses in Cascade and Council. The treasurer offices in both counties are staffed Monday through Friday, including the lunch hour.
Late charges begin on Friday, Dec. 21, and interest begins on Jan. 1, so mailed payments must be postmarked by Dec. 20.
Valley County property owners can also pay their taxes with credit cards at http://co.valley.id.us/departments/treasurer.
For more information, contact the treasurer's office at 208-382-7110 or treasurer@co.valley.id.us.
Online credit card payments are available in Adams County at http://co.adams.id.us. For questions, call 208-253-4263 extension 6 or write to christy.roach @ co.adams.id.us.
Payments also can be left in the payment drop box just outside the main courthouse entrance in Council.
source:
— — — — — — — — — —
Dec. 13 hearing set on 12% hike in Cascade fire district rates
By Max Silverson for The Star-News December 6, 2018
The Cascade Rural Fire Protection District will hold a public hearing next week on a proposed 12 percent increase in billing rates for services.
The hearing will begin at 5 p.m. next Thursday, Dec. 13, at the district's fire station at 109 E. Pine St, in Cascade.
The proposed rates would be charged to the insurance carrier of anyone receiving services for motor vehicle, hazardous materials, water and backcountry or special rescue incidents, said Pamela DeChambeau, who serves as the district's secretary and treasurer.
"No one is exempt from these charges, but if they don't have insurance, they are not charged," she said.
Current rates have been in place since 2016.
This proposed increase in rates will not increase the property taxes charged to district land owners, DeChambeau said.
continued:
— — — — — — — — — —
McCall bans shooting firearms within city limits
Change closes loophole discovered after deer shooting
By Tom Grote for The Star-News December 6, 2018
Shooting firearms in the City of McCall was banned last week by the McCall City Council.
The council split 4-1 to close a loophole in the current city code that was revealed when a deer was shot in October inside the city limits.
McCall Police Chief Justin Williams proposed the change following the Oct. 16 shooting of a deer near the corner of Lick Creek Road and Davis Avenue.
The police department asked the Valley County Prosecuting Attorney's Office to prosecute the shooter, a juvenile, under the previous city code.
No charges were brought because the previous code prohibited shooting air rifles and BB guns in the city limits, but did not mention firearms, Deputy Prosecuting Attorney Serhiy Stavynskyy told The Star-News.
Hunting inside city limits is not prohibited under state law unless it would violate a city law, such as disturbing the peace, Stavynskyy said.
The juvenile, who was from Boise and was accompanied by his parents, had a valid hunting license and a deer tag, Stavynskyy said.
continued:
— — — — — — — — — —
New Meadows passes update to city code on neighborhood clean-ups
By Drew Dodson for The Star-News December 6, 2018
The first major update in two decades to a clean-up ordinance in the City of New Meadows has been passed by the New Meadows City Council.
The ordinance requires violators to remove public nuisances like inoperable vehicles, furniture, waste and old appliances visible from the street or neighboring properties from their yards.
The intent of the update is to make the ordinance more enforceable and understandable to the public. Subjective language in the original 1998 ordinance hindered these efforts, according to city officials.
The updated ordinance avoids redundancy and confusion by relying more heavily on language in the state's code that already applies to cities.
Excessive weed growth is also more rigidly defined as any growth over eight inches tall that creates a public safety or health hazard.
continued:
— — — — — — — — — —
Sheriff fears trespass conflicts will result in death
IWF says it has proof gates are illegal
Dec 5, 2018 KIVI TV
Boise County, Idaho – People who love Idaho's outdoors are outraged about what some are calling the theft of tens of thousands of acres of public land.
Now the Idaho Wildlife Federation says they have proof that gates installed by the billionaire Wilks brothers are illegal… And one of Idaho's top sheriffs says he thinks the growing conflict will result in people being killed.
Since the Wilks brothers started purchasing Idaho forest land, no trespassing signs and orange gates dot the landscape.
… "The road by Horsethief Reservoir, the road to Fish Lake up by New Meadows, the road to Corral Creek Reservoir by Cascade, there are roads up in the Cabartan, there's roads over by Council, and these are just roads blocked by the Wilks's…. it's all over the place."
continued:
— — — — — — — — — —
US to shut down Idaho nuclear waste processing project
By Keith Ridler – 12/8/18
Boise, Idaho — Federal officials will shut down an Idaho nuclear waste treatment project after determining it would not be economically feasible to bring in radioactive waste from other states.
The U.S. Department of Energy in documents made public this week said the Advanced Mixed Waste Treatment Project that employs 650 workers will end next year.
Officials said workers are wrapping up processing 85,000 cubic yards (65,000 cubic meters) of radioactive waste at the department's 890-square-mile (2,300-square-kilometer) site that includes the Idaho National Laboratory.
continued:
————————-
Scam Alert:
Scammers posing as Boise Fire, Ada paramedics ask for 'donations'
Ada County Paramedics said the fraudulent calls appear to be part of a nationwide scam effort.
KTVB December 4, 2018
Boise — Scammers targeting people in the Treasure Valley have found a new tactic: Posing as local emergency responders seeking "donations."
Officials say the criminals are trying to take advantage of their victims' Christmastime charitable giving.
continued:
————————-
Mining News:
Midas Gold convenes advisory council without 3 agencies
Foundation will be formed with $820K start-up money
By Tom Grote for The Star-News December 6, 2018
Midas Gold has convened an advisory council of local governments, but three of the 10 prospective members have not yet decided if they will join.
A telephone conference was held on Friday with the initial members of the Stibnite Advisory Council, which will meet regularly with officials of Midas Gold to get updates on the planned gold and antimony mine near Yellow Pine.
The first in-person meeting of the council was scheduled to be held Wednesday at the Midas Gold office in Donnelly.
The cities of Cascade, Donnelly, New Meadows, Council and Riggins as well as Idaho County and the village of Yellow Pine all have agreed to sign the Community Agreement with the Vancouver, B.C., company. The agreement took effect last Friday.
Still to decide on joining are the City of McCall, Valley County and Adams County.
Valley County commissioners will hold a workshop at 1 p.m. Monday at the Valley County Courthouse in Cascade.
continued:
— — —
Valley commissioners set Monday workshop on Midas Gold agreement
The Star-News December 6, 2018
Valley County Commissioners have scheduled a public meeting on Monday to discuss the county's possible involvement in the Midas Gold Community Agreement.
The meeting is scheduled for 1 p.m. Monday at the Valley County Courthouse.
Public comment is encouraged at the meeting, which is on the commissioner's agenda as a two-hour workshop.
Under the agreement, each community that signs on would appoint an individual to serve on the Stibnite Advisory Council.
The council would meet regularly to get updates from Midas Gold on the Stibnite Gold Project.
Each of the communities would also appoint one person to serve on the Stibnite Foundation, a charitable community foundation to be established to support projects that benefit communities surrounding the project.
The signers also agree to submit letters to the Forest Service as part of an effort by Midas Gold to encourage community participation in the permitting process.
Under the proposed agreement, Midas Gold would give the Stibnite Foundation cash and company stocks at various stages of the permitting process, construction and operation of the mine. There would be no restrictions on how the money given to the foundation would be spent.
source:
— — — — — — — — — —
DEQ work crews work to fix second Triumph Mine tunnel collapse
Settlement reached in mine waste discharge case
Tony Evans Dec 7, 2018 IME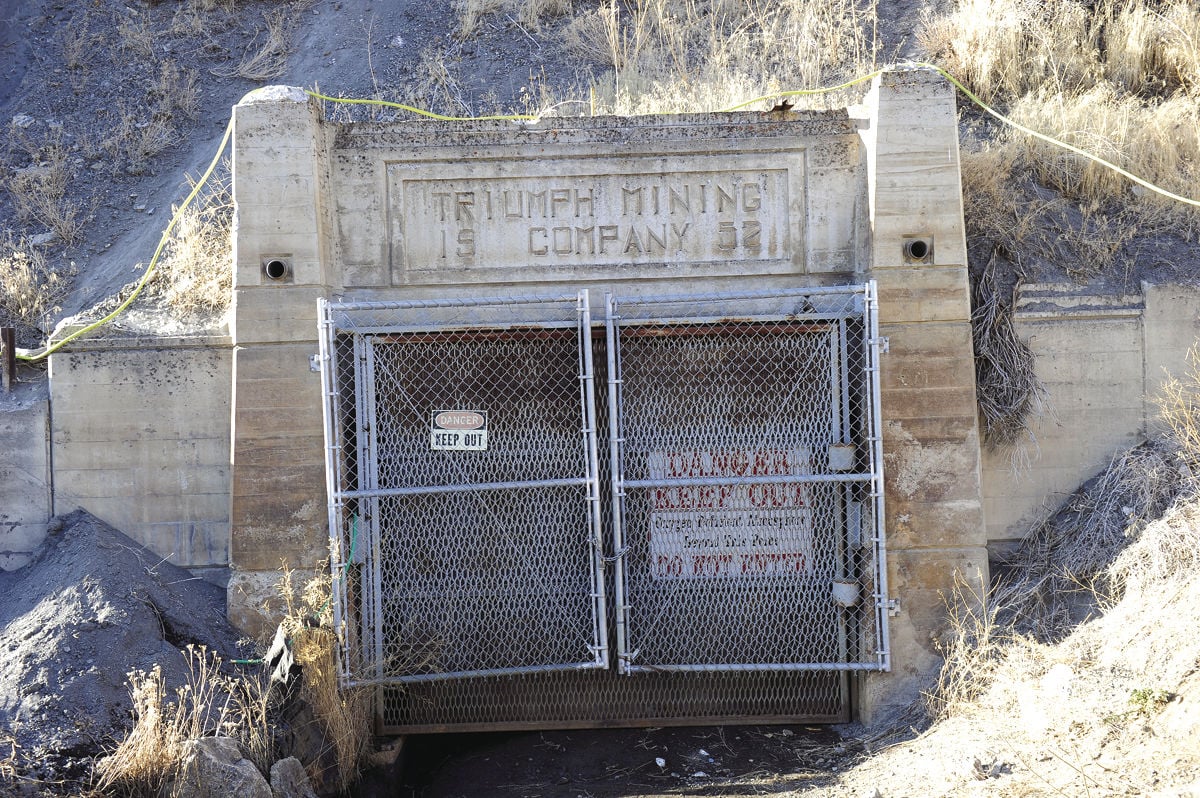 More than 200 million gallons of toxic water is backed up in tunnels behind plugs in the Triumph Mine. Express photo by Willy Cook
Department of Environmental Quality work crews have cleared a new tunnel collapse at the Triumph Mine in East Fork and released 30,000 gallons of toxic water into a surge pond reservoir.
It is the latest of efforts to secure 200 million gallons or more of toxic mine drainage in numerous tunnels in the abandoned mine.
A recent federal court case will ensure that more regular monitoring of mine waste discharge is undertaken by state agencies
From 1882 until 1957, the Triumph Mine—northeast of Hailey—produced silver, zinc and lead, and left tailings and water discharge from the mine tunnel contaminated with the heavy metals. In 1988, the DEQ found elevated levels of arsenic, zinc and manganese in nearby surface water.
continued:
— — — — — — — — — —
BLM releases Caldwell Canyon mine proposal
Dec 04, 2018 Local News 8
Soda Springs, Idaho (KIFI/KIDK) – The Idaho Falls District Bureau of Land Management (BLM) has slated two public meetings to discuss the proposed Caldwell Canyon Mine.
BLM has released a draft environmental impact statement analyzing a mine and reclamation plan from P4 Productions, LLC. P4 is a subsidiary of Bayer. The plan would develop several phosphate leases the company owns on Schmidt Ridge, about 13 miles east-northeast of Soda Springs.
If approved, the Caldwell Canyon Mine would sustain about 185 mining jobs and 585 plant jobs for an additional 40 years. BLM said it would aid the region by providing $49 million in annual payroll, taxes, royalties, purchases and sustaining support and service jobs.
continued:
— — — — — — — — — —
Montana judge nixes Idaho mining company's challenge to 'bad actor' label
The Idaho mining company's CEO was the former chief financial officer at Pegasus Mining, which went bankrupt in 1998 and saddled Montana with more than $35 million in pollution cleanup costs.
Associated Press December 8, 2018
Billings, Mont. — A Montana judge dismissed a lawsuit filed by an Idaho mining company seeking to overturn its designation as an industry "bad actor" because of pollution tied to its CEO.
District Judge Mike Menahan said Friday the complaint from Hecla Mining Co. was premature because the state's designation is not final.
Montana's bad actor law blocks individuals and companies who don't clean up their old mines from starting new ones.
continued:
—————————–
Public Lands:
Payette: Project would help prevent disastrous wildfires
Granite Meadows project would thin forests near McCall, NM
By Max Silverson for The Star-News December 6, 2018
Keith Lannom told an audience in McCall last week that the proposed Granite Meadows project was essential to protecting McCall and surrounding areas from devastation similar to the Camp Fire in California.
"That's the absolute worst case scenario," said Lannom, who is supervisor of the Payette National Forest. "That's the kind of stuff that makes me not sleep at night."
Lannom and other Payette personnel presented specifics on the proposed 83,000-acre Granite Meadows landscape restoration project at a public meeting at the supervisor's office in McCall.
The project is proposed for two large tracts of land north and west of McCall as well as north of New Meadows. This area includes Brundage Mountain Resort and Bear Basin.
… Public comments on the Granite Meadows project can be submitted until Dec. 15. Public comments will also be accepted following the draft environmental impact statement, which is expected to be completed in summer 2019. Comments can be submitted by mail, email at comments-intermtn-payette@fs.fed.us or through the project webpage at http://fs.usda.gov/goto/granitemeadows.
continued:
— — — — — — — — — —
Software developed at ISU aids wildfire response
12/3/18 AP
Pocatello, Idaho — Computer software that developed at Idaho State University to aid in post-wildfire recovery efforts is now being used by some fire managers during active fires.
The RECOVER software system takes 26 different types of data and layers them into one information map. The data includes topography like roadways, housing locations, soil types, water bodies and vegetation, and the program helps officials anticipate what might happen during or after a fire to make better management decisions.
Keith Weber is Idaho State University's geographic information system director. He told the Idaho State Journal that the software has helped emergency responders make decisions on 50 fires this season alone, including the massive Woolsey Fire that burned more than 600 structures in Malibu, California.
continued:
— — — — — — — — — —
BLM Idaho Releases Greater Sage-Grouse Final EIS and Proposed RMP Amendments
BLM Proposes Increased Flexibility and Access in Sage-Grouse Plans
Date: December 6, 2018
Contact: BLM_Press@blm.gov
Proposed amendments would align conservation efforts at state and federal levels
Boise, Idaho – In keeping with Secretary of the Interior Ryan Zinke's commitment to work closely with states to enhance conservation, the Bureau of Land Management (BLM) today announced the availability of the Final Environmental Impact Statement (EIS) and proposed plan amendments addressing Greater Sage-Grouse conservation on public land in Idaho.
The proposed plan amendments aim to better align BLM resource management plans with state plans for conserving sage-grouse populations, strike a regulatory balance and build greater trust among neighboring interests in Western communities. The proposed amendments and final EISs also addresses the issues remanded to the agency by a March 31, 2017, order by the U.S. District Court for the District of Nevada, which determined that the BLM had violated the National Environmental Policy Act when it finalized the 2015 Nevada plan.
"We have appreciated the opportunity to work with Governor Otter's team on a carefully crafted amendment to the 2015 plans," said Deputy Secretary of the Interior David Bernhardt. "We know the successful conservation of the Greater Sage-Grouse requires the shared stewardship vision of the states, private citizens, landowners and federal land management agencies including those within the Department of the Interior."
Bernhardt continued, "With today's action we have leaned forward to address the various states' issues, while appropriately ensuring that we will continue to be focused on meaningfully addressing the threats to the Greater Sage-Grouse and making efforts to improve its habitat."
The BLM developed the changes in collaboration with Idaho Gov. Butch Otter, state wildlife managers, and other concerned organizations and individuals, largely through the Western Governors Association's Sage-Grouse Task Force.
"It is refreshing to have a federal agency willing to listen to the people in Idaho on an issue so important to our state and the West," Gov. Otter said. "I appreciate Secretary Zinke's commitment to upholding our state-based conservation plan for sage-grouse. We worked hard to develop a plan that was based in science and appropriately tailored to address the primary threats in Idaho."
The proposed changes refine the previous management plans adopted in 2015. Under the 1976 Federal Land Policy and Management Act (FLPMA), the BLM is required by law to work cooperatively with states on land-use plans and amendments.
"This plan has garnered wide support from a variety of stakeholders, including private industry, state agencies, and non-profit organizations that recognize the importance of conserving Greater Sage-Grouse while sustaining the multiple uses on BLM lands that are critical to Idaho's economy," said Peter Ditton, Acting BLM Idaho State Director.
In Idaho, the proposed amendments would establish buffer distances corresponding to the state's three types of habitat management areas; remove the Sagebrush Focal Area designation from the 2015 plans; and adjust objectives for grazing allotments that contain or overlap with sagebrush-steppe habitat. The amendment process also offered an opportunity for the BLM to align its mitigation requirements under FLPMA with those established under Idaho law.
The BLM has also published Final EISs for lands it manages in Colorado, Oregon, Nevada/ northeastern California, Utah and Wyoming.
Publication of the Final EIS and proposed amendments in tomorrow's Federal Register initiates a 30-day protest period, which will run through January 8, 2019. The Idaho Governor also has 60 days to review the proposed amendments for consistency with state and local laws and regulations. The process will conclude with a Record of Decision (ROD) following resolution of any protests received during the 30-day review period.
Approval of BLM's Idaho Final EIS Proposed Plan Amendment would require amendments to 21 current BLM resource management plans: Bennett Hills/Timmerman Hills, Big Desert, Big Lost, Bruneau, Cascade, Cassia, Challis, Craters of the Moon National Monument, Jarbidge (1988 and 2015 Revision), Kuna, Lemhi, Little Lost-Birch Creek, Magic, Medicine Lodge, Monument, Owyhee, Pocatello, Snake River Birds of Prey National Conservation Area, Sun Valley and Twin Falls.
Anyone who participated in the process for the Idaho EIS and who has an interest that is or may be adversely affected by the proposed land use plan amendments in the Final EIS will have the opportunity to protest the proposed plan amendments.
The Final EIS is now available online at https://goo.gl/Jd8uVf. Instructions for filing a protest with the Director of the BLM regarding the Proposed RMPA/Final EIS are found online at https://www.blm.gov/programs/planning-and-nepa/public-participation/filing-a-plan-protest. All protests must be in writing and mailed to the appropriate address or submitted electronically through the BLM ePlanning project website. To submit a protest electronically, go to the ePlanning project webpage https://goo.gl/Jd8uVf and follow the instructions at the top of the home page.
If submitting a protest in hard copy, it must be mailed to one of the following addresses:
* U.S. Postal Service Mail: BLM Director (210), Attention: Protest Coordinator, WO-210, P.O Box 71383, Washington, D.C. 20024-1383
* Overnight Delivery: BLM Director (210), Attention: Protest Coordinator, WO-210, 20 M Street SE, Room 2134LM, Washington, D.C. 20003
Protests submitted electronically by any means other than the ePlanning project website will be invalid unless a protest is also submitted in hard copy. Protests submitted by fax will also be invalid unless also submitted either through ePlanning project website protest section or in hard copy.
Before including your address, phone number, email address, or other personally identifiable information in your comment, you should be aware that your entire comment – including your personally identifiable information – may be made publicly available at any time. While you can ask the BLM in your comment to withhold your personally identifiable information from public review, we cannot guarantee that we will be able to do so.
— — — — — — — — — —
USFS Regional Intermountain News
Volume 2 Issue 15 December 4, 2018
link:
————————-
Letter to Share:
Greetings Mystic Farm Followers!
I actually made a video of Hubcap choosing the two winning pork raffle tickets out of the big jug…unfortunately – try as I might – being a techno-weenie got the best of me and I couldn't figure out how to download the video from my phone to this email. So, you will have to take my word for it:
And the winners are: Kathleen Bradley and Brian Harvey!
Thank you to everyone that purchased tickets with hopes of winning a half of gourmet heritage processed pork…and the fawns thank you! Also, a HUGE thank you to Makers Long Acres for donating the hog and to Panhandle Custom Meats for doing the processing. Great local businesses both.
Mystic Farm has a new logo! Check it out below. Definitely has a lot of the 'cute factor' going on, doesn't it?
Finally, a reminder to get your Christmas orders in for Mystic Farm all natural candles, T-shirts, hoodies, hats and swag bags. Shipping is no problem!
Your continued support means more than you know. Couldn't do any of this without you.
Dory McIsaac
Mystic Farm Wildlife Rescue, Inc.
—————————
Critter News:
Valley County Magistrate Court
The Star-News December 6, 2018
Wayne LaRoy Fregien, 81, Yellow Pine, Idaho Department of Fish and Game – unlawful hunting and taking of game animals, birds or furbearers, $25 fine.
excerpted from:
— — — — — — — — — —
Freezing temps pose major risks to pets in winter
Brady Halbleib Dec 05, 2018 Local News 8
December marks the first month of the winter season. Snow and cold weather are beginning to become the norm around southeast Idaho. Keeping warm outside can be a challenge for many, but what about your pets? The cold weather poses a major threat to dogs during the winter.
Here are some tips to keep your animals safe during the winter months.
continued:
— — — — — — — — — —
Pet Talk – Bronchitis in dogs
By Dr. Karsten Fostvedt Dec 7, 2018 IME
Bronchitis is an onset of inflammation or irritation of the small airways (bronchioles) and medium-size airways (bronchi) in the lungs of the dog. It usually lasts seven to 10 days and is associated with coughing. Causes of bronchitis in dogs include bacterial and viral infections, inhaled foreign objects, the rare parasitic infection and irritation from dust, smoke or fumes. Allergies are also very common causes. Very rarely, tumors arise in the lungs that press on the bronchi and cause coughing and bronchitis.
Your veterinarian always classifies the cough as dry and hacking, or moist and producing phlegm and mucus. A dry, hacking cough is typical of a viral infection, whereas a moist-sounding cough is more common with a bacterial infection. Sometimes the dog is systematically ill, especially if the lungs are involved in the infection.
Diagnosis of bronchitis in dogs is based on a thorough physical exam, especially excellent auscultation of the heart and lungs by your veterinarian with his stethoscope. Occasionally, heart abnormalities can cause a cough and secondary bronchitis. If the heart is normal, then your vet listens to the quality and types of lung sounds-squeaks, whistles, rasps, gurgles, dry or moist. X-rays of the lungs will usually show patterns of bronchitis diseases, and also pneumonias and tumors. Blood tests often show elevated white blood cell counts in the cases of bacterial bronchitis.
continued:
— — — — — — — — — —
Meridian vet helps little dog recover after having close call with hawk
by CBS 2 News Staff Monday, December 3rd 2018
Meridian, Idaho (CBS2) — A little dog named Rocky had a close call with a hawk last week.
River City Veterinary Hospital helped Rocky recover after his owners heard a scuffle in the bushes and the hawk flew away.
Rocky didn't fly off with the hawk, but he had several wounds and punctures in his chest and sides. River City Veterinary Hospital also fixed up a deep laceration through his tongue.
continued:
— — — — — — — — — —
FDA approves drugs for dogs scared by loud noise; is it right for your pet?
Corey Rangel Dec 7, 2018 KIVI TV
For dog owners, it can be a helpless feeling to see their pet panic. A newly approved drug hopes to help pets left paralyzed by the sound of fireworks and other loud noises.
"We have all the way from very mild to very severe cases, where dogs are going through windows and escaping through crates during noise events," says Dr. Amy Pike, a veterinary behaviorist.
Dr. Pike is excited about a new drug, which was just approved by the Food and Drug Administration (FDA) to help dogs who get stressed out by loud noises.
continued:
— — — — — — — — — —
KWVR Oregon Wolf Education weekly Wolf Report
Last week of November 2018
— — — — — — — — — —
Boise wildlife project complete on Highway 21
by Scott Logan Thursday, December 6th 2018
Boise, Idaho (CBS 2) — It's that time of year again when snow drives wildlife from the high country.
"This time of year we get anything between 5,000 and 8,000 mule deer coming from as far away as Stanley into the Treasure Valley, especially the Boise Wildlife Management Area," said Krista Biorn, habitat biologist with the Idaho Department of Fish and Game. "And as many as 1,800 elk migrate down here to their winter range."
And this will be the first winter that the Idaho Fish and Game Department finds out how a new deer guard works to reduce collisions between deer and elk and people driving on Highway 21.
continued:
— — — — — — — — — —
Idaho to pay $260,000 in legal fees in dairy spying lawsuit
Animal rights activists, civil rights groups and media organizations sued the state over its 2014 law making it a crime to surreptitiously videotape agriculture operations.
Associated Pres December 4, 2018
Idaho will have to pay $260,000 to attorneys for animal rights groups after federal courts ruled Idaho's ban on spying at farms, dairies and slaughterhouses violated free speech rights.
U.S. District Court Chief Judge B. Lynn Winmill issued the order Friday as part of a settlement between Idaho Attorney General Lawrence Wasden and the Animal Legal Defense Fund and others.
continued:
— — — — — — — — — —
Grand Teton seeks to eliminate mountain goats to help bighorns
AP Dec 04, 2018
Moose, Wyo. (AP) – Spotting a mountain goat perched high on a cliff might thrill many visitors to a national park in Wyoming but park officials say the agile animals might need to go.
Grand Teton National Park officials say the park's 100 or so mountain goats threaten a herd of about 80 bighorn sheep.
The bighorn sheep herd had as many as 125 animals just a few years ago. The goats are thriving but spread disease and compete with the bighorns for food.
continued:
— — — — — — — — — —
Businesses brace for impact of suspended steelhead season
12/3/18 AP
Idaho businesses that rely on steelhead fishing are bracing for the financial impact of the fishing season's suspension.
Fishing outfitters and guides along the Salmon River already are seeing spring booking cancellations due to the unknown status of spring steelhead season, the Post Register reported .
"It's going to hurt the whole community, all of the communities along the Salmon River and the Clearwater," said Jess Baugh, owner of Mountain River Outfitters, a family-owned fishing outfitter based in Riggins.
continued:
— — —
Celebrations planned in Riggins as city reacts to reopening of Idaho steelhead fishing season
The community feared economic devastation from the shutdown, but now the steelhead season is reopened. "There is a huge weight lifted off of our community's shoulders," said Richard Friend, the owner of River Adventures Riggins. "We were facing economic disaster without our winter steelhead season."
Joe Parris December 7, 2018 KTVB
Riggins, Idaho — Update: The Idaho Fish and Game Commission made an agreement to reopen the steelhead fishing season. The community of Riggins is now planning to celebrate the decision.
continued:
————————–
Fish & Game News:
Steelhead fishing continues uninterrupted with two new area closures
By Roger Phillips, Public Information Supervisor
Friday, December 7, 2018
F&G Commission approved agreement with groups to continue steelhead fishing in Idaho with area closures
The Idaho Fish and Game Commission on Friday, Dec. 7 approved an agreement to keep most steelhead seasons open, but steelhead fishing in two areas will close effective 11:59 p.m. Dec. 7, 2018.
continued:
— — — — — — — — — —
More F&G News Releases
https://idfg.idaho.gov/press
———————————-
Fun Critter Stuff:
True horsepower: Equines pull semi tractor-trailer up icy hill
By Circa and Storyful Dec 7, 2018
A pair of hardy Belgian draft horses pulled a semitractor-trailer up Lizzie and Jacob Hershberger's steep and icy driveway in southern Minnesota on Wednesday after the owner of the truck, Craig Helgeson, got in a bit of trouble trying to make the journey.
Helgeson stepped out of the truck and let driver Josie Swartzentruber take over as the Hershbergers' team of equines helped get the truck up the hill.
go to link for 2 videos:
— — — — — — — — — —
We Hope Your Day Is As Great As This Snow-Loving Panda's
Bei Bei in the Snow
———————–
Seasonal Humor:
————————-