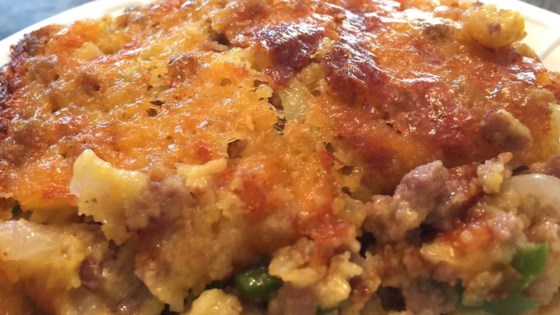 Ingredients
1 lb ground beef
1 medium to large onion
1/2 lb cheddar cheese
3-4 jalapeno peppers
1-2 Serrano peppers
1 can creamed corn
1 c milk
1 c cornmeal
2 eggs
1 tsp salt
1/2 tsp baking soda
1/4 c bacon drippings
Brown the ground beef, while that is cooking chop the onion and peppers (the peppers take some trial and error depending on how hot or not you like it. I use 3 jalapenos and 2 Serranos) Grate the cheese.
Mix the creamed corn, milk, eggs, cornmeal, salt, baking soda and bacon drippings together well.
Heat your skillet with just enough shortening or oil to coat the bottom and sides. Sprinkle a little cornmeal over the bottom and let it brown (you can see it browning in the thinner areas, but you don't want it to brown all the way thru.)
Ladle half the batter mixture in the skillet, the spread the ground beef, then onion, peppers and cheese. Top it off with the remaining batter and cook in the oven at 350 for about an hour. When it is a nice golden brown, it's done.
Let it sit a few minutes before serving.
————————–