Jan 27, 2019 The Yellow Pine Times – Valley County, Idaho
Community Calendar:
Feb 16 Pie Contest 2pm Yellow Pine Tavern
May 25 ATV-UTV Scavenger Hunt Memorial Day Weekend
Jul 13 Ride to Big Creek
Sep 14 Ride to Cinnabar
(details below)
———-
Local Events:
Annual Pie Contest
Saturday February 16th at 2pm at the Yellow Pine Tavern.
— — — —
2019 Yellow Pine Escapades
The 2019 schedule for the Yellow Pine Escapades has been updated on the website!
Expect new escapades this coming year, including an ATV-UTV Photo Scavenger Hunt; two (yes, two) ATV-UTV rides, a golf tournament, and even a community yard sale. Other events will be added to the calendar as plans are finalized.
Join us for a great season of fun! The starting point for fun in Yellow Pine! The website includes information on the events hosted by the Yellow Pine Community Hall as well as the other "goings-on" in the village. Food, lodging and fuel are available in Yellow Pine.
link:
———-
Village News:
History of the log cabin at the Cemetery
The Cemetery Committee is interested in any information on the cabin that is located by the cemetery. We know that it had been on the property that was known as "Mary's Cabins". It was moved by Tom Richter while the Filler's were building their house. Donna Valdez said that the people who ran the cafe and bar slept there, before the Tavern was built.
Do people have pictures or any information they can share? We'd love to put a plaque up on the cabin while we repair it.
– Marj Fields
— — — —
Stibnite Road
Midas Gold is keeping the road open to Stibnite. Posted on FB 1/22/2019: "This past weekend Stibnite received 10-14" of snow and our team spent long days clearing roads. This new snow, combined with recent rain and warmer temperatures left multiple trees down and small avalanches."

— — — —
Lower Johnson Creek Plowing
Note: when traveling to the dump, please use the river side of the road for wheeled vehicles so the hill side can be for snowmobilers. Turnouts will be plowed.
– CD
— — — —
Come Spring…
"To Yellow Pine residents. I will be making several trips next spring and summer hauling out metal, appliances, etc. . If you need anything hauled away please get on the list. Vehicles require a title. I will be hauling gravel back if anyone is interested."
Contact Mike Amos
— — — —
Yellow Pine US Mail
We are on 3-day a week mail delivery from Cascade. The Post Office in Yellow Pine is open six days a week: M-F 845am-245pm Saturday 9am-245pm. Be sure to buy your holiday stamps here.
Stamps are set to increase beginning Jan. 27. Forever Stamp: 55 cents
— — — —
Yellow Pine Transfer Station
Report the dump is pretty full. Report that Lakeshore will try and get in this coming week.
Please do not abuse our Transfer Station or we may lose it. Household trash must be placed in the bins, flattened cardboard boxes can also go into the bins. Do not stack trash in front of the doors. Woody yard debris only for the burn pile. No furniture, appliances, tires or construction debris allowed, those items must be hauled out to the Donnelly station by you.

— — — —
Ice Hole Campground Closed
The Campground has been temporarily closed to provide for public safety during reconstruction. This order will be in effect from September 27, 2018 through July 2, 2019, unless rescinded earlier by the Forest Supervisor. (0402-04-80)
———-
Local Groups:
YPWUA News:
The 2018 water bill is due Feb 15, 2019
Notice: Over the last month [December] there have been complaints of low water pressure. Nicki and Warren have been investigating and found out that the water usage is extremely high. We know there are leaks in the system but those leaks have been there for several years. We know that people leave a small stream of water running so their lines do not freeze but that is done every winter. If anyone notices any abnormal loss of water, please let me know.
– Steve Holloway 208-697-7343
Winter Water Advice
To help prevent frozen water, avoid parking over buried water lines, allow the natural snow cover to insulate the ground. Driving over the lines will also push the frost deeper and can result in frozen pipes. Also, don't plow the snow over where water lines are buried, and avoid covering up water shut off valves.
link to: 2018 September Water Department Update.docx
— — — —
VYPA News:
VYPA Meeting Dates 2019
June 8th; July 20th; August 10th; September 14th.
Note that the July 20th meeting is not on the second Saturday due to a conflict with a planned ATV rally involving many residents and visitors.
— — — —
YPFD News:
The next meeting to be May 18th, 2019 at the Community Hall
Yellow Pine Fire Protection District Updates:
Fire Department Training on Sundays at 11am will resume in the Spring.
The YPFD has 2 Size Chimney Brushes with extension rods that were donated for use around YP. If you would like to borrow one, please contact Cecil or Jeff and we'll get them for you. The YPFD also has loanable mitigation tools, (Weed-Whacker, Hedge Trimmer, backpack blower and 16' pole saw). If you would like to borrow one or all, please contact Cecil or Jeff and we'll get them for you.
It's also time to check the Smoke Alarm batteries and Fire Extinguishers. Please test the alarm and replace Smoke Alarm Batteries every year, if you have the replaceable battery type. Fire Extinguishers should be checked as well and should be easily seen and reachable. A good location for the Fire Extinguishers would be the kitchen and near the wood stove and/or fireplace. The needle should be in the green.
If you need a Smoke Detector or Fire Extinguisher for your YP residence please contact Jeff F.
——–
Biz Listings:
Yellow Pine Lodge (208) 633-3377
Closed for winter
— — — —
The Corner (208) 633-3325
Closed for winter
— — — —
Yellow Pine Tavern (208) 633-2233
Winter Hours at the Tavern: 9am-2pm and 4-8pm Mon, Wed, Fri, Sat and 9am-2pm Sun. Or call 208 633-2233 the phone rings into the house.
— — — —
Buck Horn Outfitters LLC
Link to FB page:
—
Deadwood Outfitters
Link to website:
— — — —
Local Fuel Suppliers
Amerigas Phone: (208) 634-8181
Ed Staub & Sons Phone: (208) 634-3833
Diamond Fuel & Feed (208) 382-4430
suet blocks (peanut crunch, and cherry) for $1.99 per block
50# bag of Polar Ice Melt available for $7.99.
— — — —
Outside Biz that will service Yellow Pine:
Elkhorn Heating & Cooling
(208) 906-4067 Middleton, Idaho, Will service Yellow Pine
B&T Safety Solutions LLC
Cleaning chimneys and stoves
307-258-8951 – We're moving from Idaho City to Donnelly in a few months and service all over Idaho, including Yellow Pine.
— — — —
Follow The Yellow Pine Times on Facebook (updated more often than emails)
———————–
Local Observations:
Monday (Jan 21) early morning snow (1/4″) then mostly clear and breezy by sunrise, measured 14″ old snow on the ground (the surface of the snow is very wavy, like a rumpled unmade bed.) Gusty winds and increasing clouds mid-day, high of 34 degrees. Jay birds, flicker and the local pine squirrel visited at lunch time. Below freezing and blustery mid-afternoon, partly clear. Calmer towards evening, ice freezing out of the air after dark. Bright moon and stars, cold night.
Tuesday (Jan 22) overnight low of 5 degrees, mostly hazy sky this morning. Jays, flicker and pine squirrel visited. Solid overcast by mid-day, cold – no drips, high of 28 degrees. Mid-afternoon slight chilly breeze, overcast and cold. Quiet afternoon. Overcast and cold breeze at dusk. Windy around 9pm. Snow fell early morning.
Wednesday (Jan 23) snowing early this morning, by 1030am 1.5″ new and 26 degrees, measured 15″ snow on the ground and still snowing. Jays, flicker, red-breasted nuthatch and hairy woodpecker visiting. Overcast and light snow falling mid-day, high of 35 degrees. By mid-afternoon about 1/2″ new snow, misty rain mixed with snow and clouds sitting down on the peaks. Below freezing and misting at dusk. Partly clear and a few stars after 10pm, and after midnight it was cloudy.
Thursday (Jan 24) overnight low of 19 degrees, measured 1/2″ new snow from yesterday and an average of 15″ snow on the ground (the snow is "pillowy" and ranges from 14-16″.) Jays bouncing around the trees and a raven calling, female hairy woodpecker, flicker, clarks nutcracker and local pine squirrel visiting. Broken clouds and icicles dripping mid-day, high of 43 degrees. By mid-afternoon it was partly clear, scattered sunshine, icicles dripping and chilly breezes. Partly clear after sundown, calmer. Lots of stars out after dark, then cloudy after midnight.
Friday (Jan 25) overnight low of 10 degrees, high thin hazy clouds this morning, no new precipitation, average snow depth 15″. Raven calling, jays and 2 hairy woodpeckers visiting. Thinner clouds and filtered sunshine at lunch time. Mid-afternoon partly clear, high of 38 degrees. Partly cloudy to mostly clear at dusk, temps dropping. Hazy sky and no stars by midnight, then clearing by dawn.
Saturday (Jan 26) overnight low of 14 degrees, mostly clear sky this morning, still have 15″ of snow on the ground. Jays calling all over the neighborhood. Pine squirrel, clarks nutcracker, jays and hairy woodpecker stopped by for lunch. Mostly clear sky and strong sun mid-day, high of 44 degrees. Mid-afternoon some high haze and wispy clouds, icicles dripping. At dusk there was a very thin high haze, almost clear. Hazy sky and a few fuzzy stars before midnight.
Sunday (Jan 27) 21 degrees and clear blue sky this morning, measured 15″ of old snow on the flat. Jays, red-breasted nuthatches and hairy woodpecker visiting, later the local pine squirrel stopped by. Warming up and icicles dripping mid-day, high of 51 degrees! Mid-afternoon partly cloudy, snow sliding off flatter roofs, standing water on ice in some places. Mostly clear at dusk and above freezing.
————————-
RIP:
John B. Eiguren
December 24, 1942 ~ January 21, 2019 (Age 76)
John Eiguren died Monday, January 21, 2019 at St. Al's Hospital, surrounded family.
John was born in Washington, D.C. December 24, 1942 to Julio Eiguren and Annestelle Cancelmo Eiguren. Following the WW2, the family returned to Idaho and lived briefly in Boise and Caldwell before moving to Emmett, to be near family. The family moved to Stibnite in 1948, where his parents ran the recreation hall and later bought the store. In 1956 they returned to Boise briefly before finally settling in Emmett.
John attended Emmett schools and graduated in 1961. While there he played football briefly and participated in shot put in track. He had many jobs, including driving a truck and picking up milk for Osborn's, working in the orchard for his grandfather, John Gamage, and Radke Furniture.
Following high school, he attended Idaho State University briefly before marrying Sandra Vahlberg in 1962. Two days after getting married, John joined the Air Force, where he worked in aircraft maintenance. He was first stationed at Amarillo Air Force Base before transferring to Mt. Home Air Force Base. He was a bomber crew chief and served time in Guam, supporting the Vietnam conflict. He and Sandra had two children, Tamie and Jeff, before divorcing and leaving the military.
John married Carla Arnold, and they moved to Australia. They divorced shortly after, and John remained in Australia. He then met Julie Gerken Eagles, who had a young daughter, Katherine. While in Australia, they had a son, Julio. After moving to New Zealand, they had two more children, Rachel and Riley. John had a successful leather craft business, where he created shoes and belts.
In about 1978, John returned to Idaho, where he began T & J Painting with his brother, Terry Eiguren. Shortly after, they dissolved the partnership and John continued on painting independently until retiring. Then the rest of the family moved to Idaho. Julie later returned to Australia with Katherine and Riley. His son, Julio, took over the business & changed the name to J & J Painting.
John had a colorful personality. He enjoyed working on and collecting cars, attending car shows, mining for gold, firing his cannons, collecting many model ships, the Eiguren Ranch in Yellow Pine, his dogs, and spending time with his many friends.
John is preceded in death by his parents, Julio and Annestelle Eiguren, son Jeff Schell, and cousin Pete Eiguren. He is survived by his brothers Tom (Barbara), and Terry (Trudy) Eiguren, his children, Tamie Schell, Julio (Angela), Rachael and Riley Eiguren, and grandchildren Amaya Schell and Josh Nett, and numerous nieces & nephews.
The family would like to say a special thanks to Trini Tompkins, and the staffs at St. Al's and the VA.
A memorial service will be conducted at the Potter Funeral Chapel in Emmett at 5:00 p.m. on Friday, January 25, 2019.
———————–
Midas News:
Valley commissioners get an earful on Midas Gold pact
Board defers decision on signing Community Agreement
By Max Silverson for The Star-News January 24, 2019
Valley County commissioners did not make a decision on whether to sign the Midas Gold Community Agreement after hearing public comment at Donnelly Elementary School last week.
Commission Chair Gordon Cruickshank began the meeting, held Jan. 16, by saying that commissioners would consider holding more public meetings on the proposed agreement.
Commissioners have not said when they would make a decision.
Public opposition to signing the agreement was stiff and far outweighed comments by those in favor.
With about 160 people in the audience, 51 spoke in opposition and 14 in support of signing. Of those in favor, five stated that they worked for Midas Gold and two have been named to the Stibnite Advisory Council.
Signing would mean that Valley County would participate in the council, which meets regularly with Midas Gold officials.
Signers also get to put a representative on the board of a forthcoming charitable foundation funded by Midas Gold.
The cities of Cascade, Donnelly, New Meadows, Council and Riggins as well as Idaho and Adams counties and the village of Yellow Pine all have agreed to sign the Community Agreement with the company. The agreement took effect Nov. 30.
The McCall City Council voted on Jan. 7 not to sign the agreement but will seek a separate agreement with Midas Gold later.
Several speakers on Wednesday noted that the commissioners are the only potential signatory to the agreement with jurisdiction over the mine.
"The perception that these jurisdictional duties may be influenced by signing a representative to the foundation board whose endowments directly correlate to the permitting approval and financial success of the company, quite frankly, is not good public policy," Fred Coriell of McCall said.
Opponents to signing the agreement also echoed concerns stated in previous meetings, including perceived conflicts of interest and the concerns that the funding of a foundation constitutes a form of bribery.
Opponents also said that many would perceive signing the agreement as a support for the mine, as the agreement and the project are inextricably linked.
"Signing this agreement signals an implicit, but clear support of this project," Amy Rush of McCall said.
Many also echoed the desire to postpone any decision until after the Payette National Forest releases a draft environmental study expected in May.
The question of what would be gained by Valley County signing on was also raised repeatedly with opponents noting that there are already clear paths of communication between the county and Midas Gold.
"Advisory council, I want to address that name, one group advises Midas, the National Forest Service, that is the law," Rickey Minder, who lives in Boise and whose family owns property in Valley County said. "This council doesn't give any of us a voice that we don't already have."
Midas Gold Vice President of Public Affairs Mckinsey Lyon portrayed the company and the agreement as misunderstood and good intentioned.
"I would challenge anyone who has the opportunity to work with us, to meet our people or see our actions to say that we are anything but good corporate citizens, well intentioned and most importantly kind," she said. "Community members made this plan, is it perfect? Probably not, but our intentions are."
Sherry Maupin of McCall also spoke in support of signing the agreement.
"I have been at the table the last 18 months and there is a lot of misinformation about what this agreement is," McCall said.
"We built this agreement around the ABC (America's Best Communities) strategic plan for our community that won national awards for strategic planning," Maupin said.
"You can take Midas Gold's name off this community agreement and put on Tamarack, put on XYZ manufacturing, and this is an agreement that we all built together as how we will address businesses as they come join our community," she said.
Many opponents acknowledged that Midas Gold Idaho may have a local presence but expressed fears that Toronto-based Barrick Gold, which owns nearly 20 percent of Midas Gold, could take over entirely.
Midas Gold predicts it will employ 400 people during a two-to-three-year construction period, increasing to 500 employees over the 12-year life of the mine.
The company's probable mineral reserves include more than 4.5 million ounces of gold, or 154 tons, and 100 million pounds of antimony from the Stibnite deposits.
From Carla Miller of McCall:
When I read the agreement, I found no words that guaranteed any kind of tangible power to any of the parties, these people who are going to be at the table.
We keep talking about a seat at the table, and to me it sounds like the kids table while the adults are over making decisions. I don't find any words that say that those people at the table will have a voice that is listened to, or any kind of vote.
I've looked at the words, the words do not indicate that there is any power behind having a seat at this table.
We now are not just the kids at the table, we're out in the yard playing and arguing over what we're going to do with all our toys and who gets how much while the adults are remodeling the house we grew up in.
source:
————————–
Idaho News:
First responder 'superheroes' to be honored as Mardi Gras Parade Grand Marshals
The Star-News January 24, 2019
The men and women who put themselves in harm's way to aid the community will be honored as grand marshals of Saturday's Mardi Gras Parade during the 2019 McCall Winter Carnival.
Local police and fire agencies as well as ski patrol groups were asked by the sponsoring McCall Area Chamber of Commerce and Visitors Bureau to select a member to represent their agency.
Those selected will be honored as "superheroes" in keeping with this year's Winter Carnival theme of "Legends, Myths and Superheroes."
The parade will begin at noon Saturday and head north along Idaho 55 (North Third Street) starting at Stibnite Street, bend west through downtown and turn south on First Street.
continued:
— — — — — — — — — —
Midas Gold to host warming station at Art Roberts Park
The Star-News January 24, 2019
Staffers from Midas Gold will host a warming booth for hot chocolate and a space to warm up during the McCall Winter Carnival.
The warming tent will be in Art Roberts Park, located across from Manchester Ice and Event Center.
The tent will be open at noon Friday, 10 a.m. Saturday and 11 a.m. Sunday. The tent will also be open at noon Friday, Feb. 1, and 10 a.m. Saturday, Feb. 2.
source:
— — — — — — — — — —
Payette forest employee to host snowman building area
The Star-News January 24, 2019
Employees of the Payette National Forest will host a "Build Your Own Snowman" area during the McCall Winter Carnival.
Payette employees traditionally have built a snow sculpture at the McCall Ranger District office located at Mission Street and East Lake Street (Idaho 55).
However, employees will not have access to needed equipment due to the partial shutdown of the federal government that started Dec. 22, according to the Facebook page of the Payette Employee Association.
Instead, an area near the McCall Ranger District office will be designated for snowman building from 10 a.m. to 4 p.m. this Saturday and Sunday and again on Sunday, Feb. 3.
"The idea is that visiting kids don't have many chances to build a snowman," the PEA Facebook posting said. "We will provide charcoal for eyes, carrots for noses and sticks for arms."
source:
— — — — — — — — — —
2019 Sculpture Winners announced
The Star-News January 25, 2019
1st Place: Ruby's Kitchen
2nd Place: Payette Lakes Ski Patrol at Brundage Mountain Resort
3rd Place: Best Western PLUS
4th Place: Holiday Inn Express
5th Place: Krahn's Home Furnishings
6th Place: The Mill
7th Place: Albertsons
8th Place: The Pancake House
9th Place: Lardos Grill and Saloon
10th Place: Café 6 Three 4
source:
— —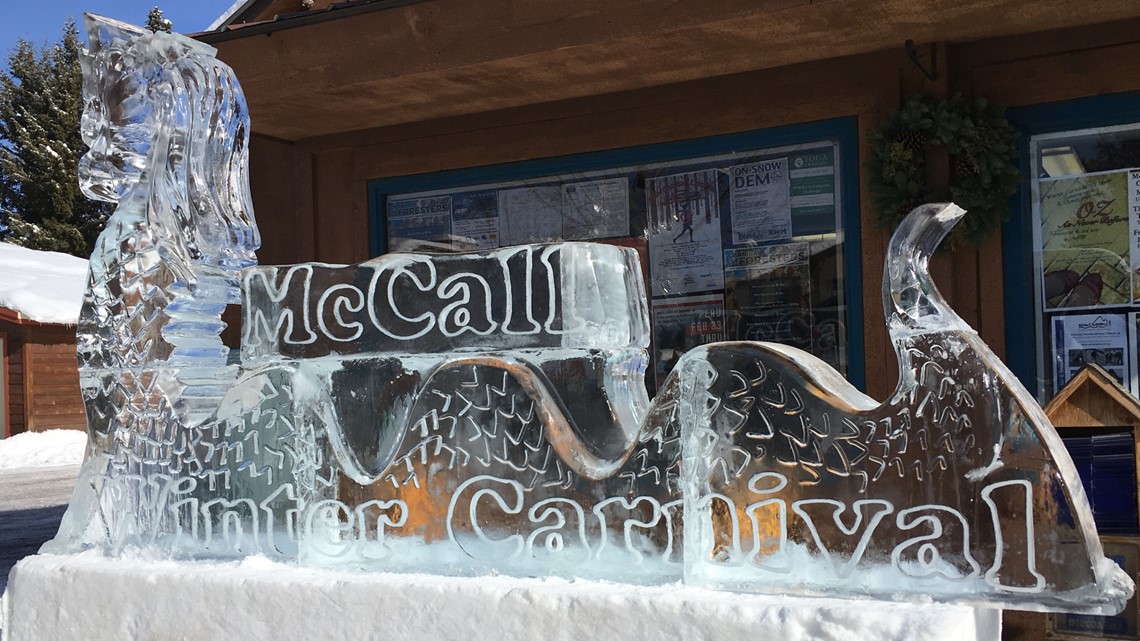 photo from KTVB
— — — — — — — — — —
Valley Home Companions to stage three shows Feb. 8-10
The Star-News January 24, 2019
Valley Home Companion will bring "Whee Haw" to the stage during three performances of its old-time "live radio" show beginning Friday, Feb. 8, at 7 p.m. at The Roxy in Cascade.
The live community show will also be staged on Saturday, Feb. 9, at 7 p.m. and Sunday, Feb. 10, at 2 p.m. Doors will open 30 minutes before showtime with pre-show entertainment.
Cost is $6 plus a canned food item. Proceeds will benefit local organizations.
Tickets will be available at the door. There will also be fresh-baked biscuits and other concessions for sale at the event.
For more information, contact Shauna Arnold at 208-634-6906 or ShaunaArnold@hughes.net
source:
—————————–
Letter to Share:
Board meeting Feb. 5th 2019. First Tuesday of each month
All invited, we would enjoy all that can make it to come join us. We would like to start having meetings around the Clearwater Region. We raise and release Pheasants in the region from baby chicks to adults. 2018 we raised and released about 8,000 pheasants. This year we would like to double that amount. The Foundation can help with feed and the purchase of the chicks. We build and loan out brooders or you can own your own for just the cost of the material. We can help and give you all the information to raise them. We do have a minimum of 25 chicks To start. We have folks raising chicks almost every location in the Clearwater Region. If you are interested give me a call and we will get you started. Visit our Facebook, see what we do.
Gamebird Foundation board meeting first Tuesday in February the 5th. Meeting will start 5 PM. Public is invited and welcome. Meeting held in the New Viola Community Center. Viola Idaho. Coffee and chocolate chip cookies. Handicap accessible. See ya there.
Jim Hagedorn
Executive Director
The Gamebird Foundation
thegamebirdfoundation.org
—————————–
Critter News:
It's dogs vs. nature at Idaho Sled Dog Challenge
The Star-News January 24, 2019
The 2019 Idaho Sled Dog Challenge will see teams of sled dogs and their mushers tackle miles of rugged terrain with the hopes of qualifying for two iconic races.
The race will see 14 sled-dog teams and their mushers cover either 150 or 300 miles along the west side of Long Valley between McCall, New Meadows, Council, Donnelly and Cascade.
This year's races are qualifiers for both the Iditarod and the Yukon Quest, two iconic 1,000-mile races.
A ceremonial start will be held at 2 p.m. Tuesday at Ponderosa State Park.
The public will have a chance to meet the mushers starting at 5:30 p.m. Tuesday at the lower level of the Idaho First Bank building at 475 E. Deinhard Lane in McCall.
The official start of the 300-mile race will be at 11 a.m. Wednesday at Bear Creek Lodge, 3492 Hwy 55 west of McCall.
The official start of the 150-mile race will be at 11 a.m. Thursday, Jan. 31, also at Bear Creek Lodge.
source:
— — — — — — — — — —
How To Be The Lead Dog
Sled dogs undergo rigorous training to prepare for races of hundreds of miles
By Max Silverson The Star-News January 24, 2019
Gabe Dunham's sled dogs each need to eat between 10,000 and 20,000 calories per day during the peak of race season – the equivalent of 50 to 100 Big Macs.
Dunham, of Darby, Mont., will race the 300-mile distance in the Idaho Sled Dog Challenge that starts Tuesday in McCall.
Mushers entered in next week's race said they must prepare their dogs for big races months in advance.
"When we start training in July we start with two or three mile runs, and gradually you'll go up to racing 300-mile races to prepare," said Jenn Campeau, of Rocky Mountain House, Alberta, who is one of 14 mushers entered in the McCall event.
"They're a lot like people runners," musher Rex Mumford from Huntsville, Utah, said. "You don't start off and decide you're going to do a 5k or 10k or half marathon; you start off running to the end of the driveway and you build up."
Training to be a sled dog starts when they're just puppies, Dunham said.
"You start off at about six months old, and start them in a harness, it's all about just having fun," she said.
continued:
— — — — — — — — — —
Search and Rescue seeks donations to help with K9 training
The Star-News January 24, 2019
Valley County Search and Rescue's new K9 team is looking for volunteer "victims" to help with human-scent training for the dogs.
The K9 unit is new to the area and will perform general area search, avalanche victim recovery, human trailing and cadaver search.
Volunteers are needed to play a lost subject or avalanche victim for outdoor training exercises. Volunteers can also donate their surgical remains as scent materials for cadaver training.
For more information, call or text the Valley County Search and Rescue K9 Unit at 406-396-8500 or email huey133@icloud.com
source:
— — — — — — — — — —
Pet Talk – Colitis in Dogs
Dr. Karsten Fostvedt Jan 25, 2019 IME
Colitis is an inflammation of the colon. Acute colitis typically develops rapidly. The most common cause of acute colitis in dogs is dietary indiscretion, which is eating something that does not agree with the dog. Bacterial infection from eating spoiled foods is also common. Some parasites of the gastro-intestinal tract and certain drugs also cause colitis. Stress, such as airplane travel, or being placed in a kennel, can also cause colitis.
Because the colon is the last part of the intestinal tract before the rectum and anus, the major clinical sign is diarrhea. There is an increased urgency to defecate, with your dog asking to go outdoors frequently. Oftentimes, accidents occur in the home. When trying to have a bowel movement, severe straining often occurs. This is often confused with constipation. When a bowel movement is passed, it is often soft, small in volume, commonly mucoid and sometimes bloody.
A stool sample is usually tested for parasites. If the dog is dehydrated, blood tests are performed to check for kidney function and liver disease. X-rays are recommended if a foreign body, like a bone, is possibly caught in the colon, or there is severe constipation. There is no specific laboratory test for colitis. The diagnosis is made from clinical signs, X-rays and blood tests. Although the disease can be confirmed via colonoscopy and biopsies, this is rarely done because the colitis usually resolves quickly with appropriate therapy.
continued:
— — — — — — — — — —
Star officers save lost German Shepherd
KTVB Jan 25, 2019
Star, Idaho — Two Star police officers are being credited with saving an injured dog they spotted in a ditch while out on patrol.
According to the Ada County Sheriff's Office, Officer Alan Speakes and Officer Sean Dalrymple were driving on Idaho 44 near Idaho 16 Tuesday morning when they spotted the motionless animal on the roadside. Sheriff's office spokesman Patrick Orr said that at first, the pair thought the dog was a coyote.
But when they stopped to check it out, they realized it was a male German Shepherd. Speakes and Dalrymple loaded the dog up and drove him to the Star Veterinary Clinic on State Street.
continued:
— — — — — — — — — —
Kuna, Boise firefighters rescue pooch that fell 50 feet off Swan Falls overlook
by CBS 2 News Staff Friday, January 25th 2019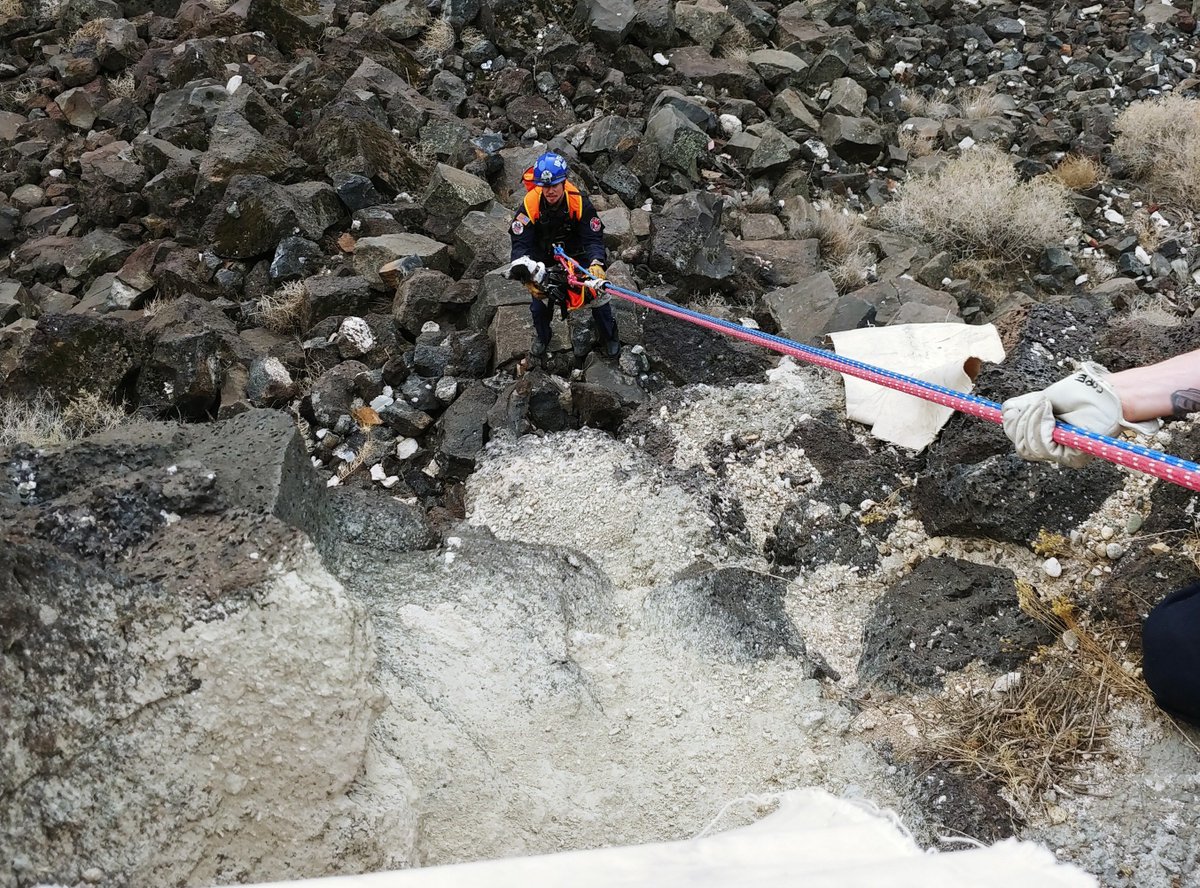 Kuna , Idaho (CBS 2) — One local pooch is getting some extra snuggles.
Earlier this week, Kuna and Boise Fire helped rescue a dog that had fallen off the Swan Falls overlook roughly 50 feet below.
The rescue went off without a hitch, Boise Fire says "making for one happy pup and a happy owner."
source:
— — — — — — — — — —
New Idaho wolf trap rules intended to protect dogs on walks
by Keith Ridler, Associated Press Monday, January 21st 2019
Boise, Idaho (AP) — Lawmakers made an initial step Monday in approving rules changes requested by the Idaho Department of Fish and Game that require wolf and other trappers to set traps farther from paths to avoid catching dogs out on walks with their owners.
The House Resources and Conservation Committee approved the rules after Fish and Game officials told lawmakers that trappers worked with the agency on the new rules.
Trappers "recognize that things are changing in Idaho and there are more people out recreating, and they just want to be good citizens, and good members of their community," Fish and Game Director Ed Schriever said after the committee meeting.
continued:
— — — — — — — — — —
KWVR Oregon Wolf Education weekly Wolf Report
3rd week Jan 2019
— — — — — — — — — —
Oregon rancher uses inflatable dancer to shoo wolves
by Associated Press Tuesday, January 22nd 2019
Medford, Ore. (AP) — A rancher in Jackson County who has had gray wolves eat his livestock is now using a lime-green inflatable dancing man to keep the predators at bay.
Ted Birdseye began using the contraption Saturday in his pasture after the pack killed another calf in the same field where the wolves have already eaten five calves and one guard dog, The Mail Tribune reported Tuesday.
The device is the same as those commonly seen a used car lots and is powered by a generator that blows air into the balloon so it jumps and wiggles in the air.
continued:
— — — — — — — — — —
Wyoming records 32 Yellowstone-area grizzly bear removals
by Associated Press Friday, January 25th 2019
Jackson, Wyo. (AP) — A Wyoming report shows 59 Yellowstone-area grizzly bears were captured and 32 were euthanized last year, marking the state's deadliest year on recent record for the animal.
The Jackson Hole News and Guide reports the Wyoming Game and Fish Department report published last week indicates last year had the second-highest number of captures on record, trailing 65 trappings in 2010.
Brian DeBolt, the department's large carnivore conflict coordinator, says one reason for the high number of bear deaths is because the population is drifting away from the Yellowstone region's core.
Of the 32 bears killed, 17 were captured outside the demographic monitoring area. One grizzly bear family was caught in Bighorn County, the farthest east the bears have been documented in recent years in the state.
continued:
— — — — — — — — — —
Lake Cascade Ice Update
The Star-News January 24, 2019
The following update was issued on Tuesday by Paul Janssen, McCall Regional Fishery Biologist for the Idaho Department of Fish and Game:
Ice, snow and slush conditions on Lake Cascade have changed since the heavy rains last weekend. Ice thickness is fine but there is no snow on the lake now and it is a sheet of bare ice!
Traction devices are suggested on both feet and motorized vehicles. Have reports of snowmobiles doing 360s on the bare ice. Also snowmobiling on bare ice is a good way of overheating the machine and melting the track hyfax. Edges of the ice along shore may be flooded and thin.
Conditions of the access road to Sugarloaf Island and boat ramp area are unknown but most folks have been parking on the turnoff and snowmobiling down the road. Parking is very limited there so plan on using other access sites.
We're getting reports of slow to good fishing on the lake for large perch and trout. Just depends on the day, area, and finding fish that are actively feeding.
As always be careful when going out on the ice as thickness can vary greatly in a given area, so drill holes and check for yourself. Use caution when traversing ice pressure ridges.
Ice can be very thin along these cracks as the ice sheet expands and contracts. Don't go alone. Check out the Ice safety article under Ice Fishing on the IDFG home page under the Fishing tab.
source:
————————
Fish & Game News:
Southwest Region will host four meetings in February to take input on big game seasons
By Evin Oneale, Regional Communications Manager
Friday, January 18, 2019
Provide your input to help shape 2019 big game seasons
The 2019 big game hunting season in Idaho's southwest region is the focus of a series of open house meetings where hunters and other wildlife enthusiasts will have a chance to review and discuss big game season proposals with Fish and Game staff.
A complete list of statewide deer, elk, pronghorn, black bear, mountain lion and wolf hunt proposals will be available on the Fish and Game website (https://idfg.idaho.gov/rules/big-game/19-20-proposals) in late January and at both the McCall and Nampa regional offices.
Four public open house meetings are scheduled for February. Plan now to attend the open house in your area.
continued:
— — — — — — — — — —
More F&G News Releases
https://idfg.idaho.gov/press
———————————-
Trivia:
Winter Precipitation Types
Do you remember the difference between different types of winter precipitation? Here's a review.
Snow is small white ice crystals formed when supercooled cloud droplets freeze. Snow crystals can have different shapes usually dictated by the temperature at which they form.
Snow pellets, also called graupel, are white, opaque ice particles round or conical in shape. They form when supercooled water collects on ice crystals or snowflakes. They typically bounce when they fall on a hard surface and often break apart.
Snow grains are very small, white opaque particles of ice, more flattened and elongated than snow pellets. Snow grains can be thought of as the solid equivalent of drizzle, or as I like to call it, "snizzle".
Ice pellets, or sleet, are small balls of ice. They form from the freezing of raindrops or the refreezing of melting snowflakes when falling through a below-freezing layer of air near the earth's surface.
Freezing rain occurs when rain occurs and the surface temperatures is below freezing. The raindrops become supercooled as they fall through the layer of cold air near the surface and freeze upon impact with surfaces below freezing.
Thanks to Illinois CoCoRaHS state coordinator, Steve Hilberg for this message.
———————–
Fun Critter Stuff:
Video captures moose chasing skiers at Colorado resort
by Associated Press Monday, January 21st 2019
Breckenridge, Colo. (AP) — A woman, in an effort to warn others of the dangers of moose, posted a video on social media of a moose charging skiers and snowboarders at a ski resort.
The Summit Daily News reports Lauren Drogsvold captured the video Saturday at Breckenridge Ski Resort.
The video shows a large bull moose approach and then charge a crowd of people. There were no reports of injuries.
story link (w/video):
——————–
Seasonal Humor:

———————-
page updated Feb 10, 2019