Feb 3, 2019 The Yellow Pine Times – Valley County, Idaho
Community Calendar:
Feb 16 Pie Contest 2pm Yellow Pine Tavern
May 25 ATV-UTV Scavenger Hunt Memorial Day Weekend
Jul 13 Ride to Big Creek
Sep 14 Ride to Cinnabar
(details below)
———-
Local Events:
Annual Pie Contest
Saturday February 16th at 2pm at the Yellow Pine Tavern.
— — — —
2019 Yellow Pine Escapades
The 2019 schedule for the Yellow Pine Escapades has been updated on the website!
Expect new escapades this coming year, including an ATV-UTV Photo Scavenger Hunt; two (yes, two) ATV-UTV rides, a golf tournament, and even a community yard sale. Other events will be added to the calendar as plans are finalized.
Join us for a great season of fun! The starting point for fun in Yellow Pine! The website includes information on the events hosted by the Yellow Pine Community Hall as well as the other "goings-on" in the village. Food, lodging and fuel are available in Yellow Pine.
link:
———-
Village News:
History of the log cabin at the Cemetery
The Cemetery Committee is interested in any information on the cabin that is located by the cemetery. We know that it had been on the property that was known as "Mary's Cabins". It was moved by Tom Richter while the Filler's were building their house. Donna Valdez said that the people who ran the cafe and bar slept there, before the Tavern was built.
Do people have pictures or any information they can share? We'd love to put a plaque up on the cabin while we repair it.
– Marj Fields
— — — —
Lower Johnson Creek Plowing
Note: when traveling to the dump, please use the river side of the road for wheeled vehicles so the hill side can be for snowmobilers. Turnouts will be plowed.
– CD
— — — —
Come Spring…
"To Yellow Pine residents. I will be making several trips next spring and summer hauling out metal, appliances, etc. . If you need anything hauled away please get on the list. Vehicles require a title. I will be hauling gravel back if anyone is interested."
Contact Mike Amos
— — — —
Yellow Pine US Mail
We are on 3-day a week mail delivery from Cascade. The Post Office in Yellow Pine is open six days a week: M-F 845am-245pm Saturday 9am-245pm. Be sure to buy your holiday stamps here.
Stamps are set to increase beginning Jan. 27. Forever Stamp: 55 cents
— — — —
Yellow Pine Transfer Station
Report Thursday (Dec 20) the road to the dump is icy, 3 of the 4 dumpsters were full.
Please do not abuse our Transfer Station or we may lose it. Household trash must be placed in the bins, flattened cardboard boxes can also go into the bins. Do not stack trash in front of the doors. Woody yard debris only for the burn pile. No furniture, appliances, tires or construction debris allowed, those items must be hauled out to the Donnelly station by you.

— — — —
Predators
Please do not leave pet food outdoors and remember to keep trash secured, it will draw foxes, coyotes and loose dogs.
— — — —
Ice Hole Campground Closed
The Campground has been temporarily closed to provide for public safety during reconstruction. This order will be in effect from September 27, 2018 through July 2, 2019, unless rescinded earlier by the Forest Supervisor. (0402-04-80)
———-
Local Groups:
YPWUA News:
The 2018 water bill is due Feb 15, 2019
Notice: Over the last month [December] there have been complaints of low water pressure. Nicki and Warren have been investigating and found out that the water usage is extremely high. We know there are leaks in the system but those leaks have been there for several years. We know that people leave a small stream of water running so their lines do not freeze but that is done every winter. If anyone notices any abnormal loss of water, please let me know.
– Steve Holloway 208-697-7343
Winter Water Advice
To help prevent frozen water, avoid parking over buried water lines, allow the natural snow cover to insulate the ground. Driving over the lines will also push the frost deeper and can result in frozen pipes. Also, don't plow the snow over where water lines are buried, and avoid covering up water shut off valves.
link to: 2018 September Water Department Update.docx
— — — —
VYPA News:
VYPA Meeting Dates 2019
June 8th; July 20th; August 10th; September 14th.
Note that the July 20th meeting is not on the second Saturday due to a conflict with a planned ATV rally involving many residents and visitors.
— — — —
YPFD News:
The next meeting to be May 18th, 2019 at the Community Hall
Yellow Pine Fire Protection District Updates:
Fire Department Training on Sundays at 11am will resume in the Spring.
The YPFD has 2 Size Chimney Brushes with extension rods that were donated for use around YP. If you would like to borrow one, please contact Cecil or Jeff and we'll get them for you. The YPFD also has loanable mitigation tools, (Weed-Whacker, Hedge Trimmer, backpack blower and 16' pole saw). If you would like to borrow one or all, please contact Cecil or Jeff and we'll get them for you.
It's also time to check the Smoke Alarm batteries and Fire Extinguishers. Please test the alarm and replace Smoke Alarm Batteries every year, if you have the replaceable battery type. Fire Extinguishers should be checked as well and should be easily seen and reachable. A good location for the Fire Extinguishers would be the kitchen and near the wood stove and/or fireplace. The needle should be in the green.
If you need a Smoke Detector or Fire Extinguisher for your YP residence please contact Jeff F.
——–
Biz Listings:
Yellow Pine Lodge (208) 633-3377
Closed for winter
— — — —
The Corner (208) 633-3325
Closed for winter
— — — —
Yellow Pine Tavern (208) 633-2233
Winter Hours at the Tavern: 9am-2pm and 4-8pm Mon, Wed, Fri, Sat and 9am-2pm Sun.
— — — —
Buck Horn Outfitters LLC
Link to FB page:
Deadwood Outfitters
Link to website:
— — — —
Local Fuel Suppliers
Amerigas Phone: (208) 634-8181
Ed Staub & Sons Phone: (208) 634-3833
Diamond Fuel & Feed (208) 382-4430
suet blocks (peanut crunch, and cherry) for $1.99 per block
50# bag of Polar Ice Melt available for $7.99.
— — — —
Outside Biz that will service Yellow Pine:
Elkhorn Heating & Cooling
(208) 906-4067 Middleton, Idaho, Will service Yellow Pine
B&T Safety Solutions LLC
Cleaning chimneys and stoves
307-258-8951 – We're moving from Idaho City to Donnelly in a few months and service all over Idaho, including Yellow Pine.
— — — —
Follow The Yellow Pine Times on Facebook (updated more often than emails)
———————–
Local Observations:
Monday (Jan 28) overnight low of 9 degrees, almost clear sky this morning (thin haze towards the south) heavy frost and slight breeze. Jays, northern flicker and a female hairy woodpecker first to visit, followed by the local pine squirrel. Mostly sunny mid-day, icicles dripping, high of 40 degrees. By late afternoon more of the sky had high haze and temps dropping. Cloudy after dark, no stars.
Tuesday (Jan 29) very clear and very blue sky this morning, measured 14″ of snow on the ground and it was 14 degrees at 1030am. Hairy woodpecker and jays visiting. Strong sun and clear sky mid-day, high of 40 degrees. Icicles still dripping a little mid-afternoon under a clear blue sky. Jays calling from the trees (imitating hawks.) Clear cold night.
Wednesday (Jan 30) overnight low of 3 degrees, mostly high thin haze and frosty, measured 14″ snow on the ground. Jays and woodpeckers calling. Northern flicker visited. Hazy skies mid-day, slick paths, high of 38 degrees. By mid-afternoon it was mostly clear, very little dripping. At dusk it was mostly clear. Lots of stars out before midnight.
Thursday (Jan 31) partly cloudy this morning with large patch of blue sky overhead, it was 21 degrees at 1030am and measured 14″ old snow on the ground, the snow had "feathers" of hoar frost. Raven calling, jays and northern flicker visiting. Later both hairy and downy woodpeckers visited. Mostly clear by mid-day, icicles dripping, high of 46 degrees. Still above freezing mid-afternoon and mostly clear. Mostly clear at dusk. Clear and cold at midnight.
Friday (Feb 1) overnight low of 14 degrees, gray overcast and 14″ of old snow on the ground. Jays and flicker visiting. Overcast and icicles dripping mid-day, high of 49 degrees. Quiet day. Still overcast and dripping mid-afternoon. Still above freezing at dark, cloudy and breezy, feels like rain coming. Overcast and no rain by midnight.
Saturday (Feb 2) trace of rain fell early morning, (probably did not freeze during the night) overcast and 35 degrees at 10am, down to an average of 13″ of old snow. Paths very slick, water on top of ice. Solitary jay calling this morning. Later 2 jays, a white-breasted nuthatch, a northern flicker and 2 female hairy woodpecker visited. Drips and drops of rain on and off after lunch time, overcast, high of 40 degrees. Above freezing at dusk, overcast and a few little drops of mist. Steady rain after dark, hard rain around 10pm. Turned to snow around midnight. Must have turned back to rain during the night.
Sunday (Feb 3) overnight low of 32 degrees, rain/snow mix falling this morning, 1/2″ new "slush" (over 1/2″ rain and melted snow water) and 13″ snow on the ground, overcast – socked in to the valley floor. Very wet, up to 2″ of water and slush on the paths. Pine squirrel, hairy woodpecker and 2 jays visiting. Rain/snow mix still falling mid-day, low clouds, high of 35 degrees. Northern flicker and hairy woodpecker visiting. Occasional flakes/mist mid-afternoon, tops of ridges and peaks foggy. Overcast, breezy and starting to snow at dusk.
————————
Letter to Share:
Commissioner Cruickshank January 2019 Newsletter
2/1/2019
From the desk of Commissioner Cruickshank,
Wednesday January 2nd
I worked on reviewing emails and responding to several. I received a call concerning snow removal where a groomed trail exists.
I wrote the December newsletter and sent it out.
Friday January 4th
Reviewing emails today. Received a call on a Snow Removal Agreement was signed by the homeowner and received such via email.
Sunday January 6th
I sent an email to the Southwest Region Director of Fish and Game on some access issues we had discussed during a meeting in December.
Monday January 7th
Commissioner meeting today. Please find the minutes of the meeting on the Valley County website at Valley County Idaho Official Site . Once at the website click on the Commissioner section and look for the minutes portion. Minutes will be posted once approved in a future commissioner meeting.
http://www.co.valley.id.us/
Tuesday January 8th
I sent out a reminder to the National Association of Counties (NACo) West Region folks to remind them of a West Region Conference call to be held on Thursday.
I booked my flights for an upcoming NACo Legislative Conference in Washington DC in March.
Wednesday January 9th
I attended the Winter Rec Meeting in Lakefork and participated in a Conference Call with the National Forest Counties Schools Coalition to discuss advocacy for continued Secure Rural Schools payments for County Road Maintenance and School funding.
I returned phone calls and reviewed State Statues concerning Over Snow Vehicle permitting by counties.
Thursday January 10th
I received a call from Lakeshore Disposal staff inquiring about data from the Valley County Transfer Site to better understand the volume of Solid Waste brought in by the Public.
I hosted the NACo West Region Conference call where we heard about the proposed changes to the Waters of the United States.
Friday January 11th
I participated in a NACo Executive Board conference call to listen to updates on staffing, financial reports, legislative issues and reports from the NACo Officers and Regional Representatives.
Monday January 14th
Today we had the Swearing in of the new elected officials and the reelected officials during our regular scheduled Commissioners meeting. Please find the minutes of this meeting on the Valley County website once they are approved.
http://www.co.valley.id.us/
Tuesday January 15th
I reviewed emails all morning from citizens providing comments on the Midas Gold Community Agreement.
I sent out a 2015 Wolf Management map I had received from the Idaho Fish and Game to other commissioners in Idaho. I also had a phone conversation with Fish and Wildlife Services concerning the wolf depredations to see if I could gather more information on how wolves are impacting livestock and wildlife in our region.
Wednesday January 16th
I started my morning again by reviewing emails on the Midas Gold Community Agreement.
I returned a phone call concerning an easement that Valley County has that may or may not be needed within the City of McCall Impact area where a subdivision now exists.
I received a call to look for a time for the new Tamarack Resort owners to come visit with the Commissioners.
I returned calls on the topic of Over Snow Vehicles on groomed trails.
I had a call to inform me that RFD TV was doing a program on Wolves for Colorado. Colorado is being asked to have 500 wolves placed in their state. A Valley County landowner who has dealt with Wolf Depredation on his ranch will be one of the speakers.
I returned a call to the Auditor who requested being able to speak to me on the financial/budget of Valley County.
Tonight the Commissioners held a Special Meeting in Donnelly to hear from citizens on the proposed Midas Gold Community Agreement the county is being asked to participate in. The small gymnasium at the Elementary School was full of interested citizens who spoke or were there to listen.
Thursday January 17th
This morning I met with some citizens to discuss Public Access on National Forest Lands and how the process is being looked at.
Friday January 18th
I received a call from a staff person with Midas Gold to discuss the Community Agreement process and the meeting we held in Donnelly on Wednesday evening.
Sunday January 20th
I sent out emails to help remind folks of the Wolf Program on RFD TV which would air on Monday evening.
Monday January 21st
I watched the program on wolf concerns on impacts to livestock and wildlife as seen by those who are already dealing with wolves. One item of special interest is the disease the wolves provide that spreads to other animals and humans.
Tuesday January 22nd
Commissioner day today. Please see the minutes on the website once approved.
http://www.co.valley.id.us/
I received another call from a Midas official wanting to further discuss the Community Agreement.
I received a call from a citizen wanting to better understand when a large parcel is divided in Valley County without having to go through a Conditional Use Permit process after attending the Commissioner meeting on today on the Public Hearing for The Retreat.
I received a call to discuss snow grooming activities in Valley County.
Wednesday January 23rd
I visited with our new Treasurer to help him better understand the information I needed from the Treasurer's office for Solid Waste invoicing and administration of the Solid Waste program which the Treasurer's office assists with.
I attended a Board of Community Guardians meeting in McCall.
I emailed our Veterans Service Officer on checking about a Veteran who may need the assistance to insure they were getting all the services they qualified for.
After receiving data on Solid Waste I sent this information on to Lakeshore Disposal staff.
Thursday January 24th
I replied to the reporter with Star News on questions concerning the Midas Gold Community Agreement.
I reviewed more emails from citizens concerning the Community Agreement.
Friday January 25th
I received a call from staff at Midas Gold telling me that Midas was going to rescind their request to have Valley County be a participant in the Community Agreement and a letter would be sent via email to me.
I met with the City Manager in McCall to discuss issues that concern both agencies.
I participated in the NACo Executive Board Conference Call today. A lot of today was on the Government Shutdown, finances, legislative and future conference sites along with reports from NACo Officers and Regional Representatives.
Monday January 28th
Commissioner meeting today. Please see the website once the minutes are approved.
http://www.co.valley.id.us/
Tuesday January 29th
Spent time today reviewing emails. With receiving anywhere from 20 to 50 emails a day when topics of concern are being considered this is quite common to spend quite some time reviewing and at times replying to the sender.
Wednesday January 30th
I reviewed some preliminary designs for a new recycle facility in Lake Fork and sent them to my fellow commissioners for review and to consider them for a future decision of recycle in Valley County.
I met with a citizen to discuss topics they felt were of interest as the county grows in population and what the future could be for Valley County. I really enjoy when a citizen wants to know more about how the county process works.
Thursday January 31st
I reviewed more information and emails concerning The Retreat on Boulder Lake Road to help understand if this fits within the Ordinances and Regulations of Valley County.
I reviewed multiple emails concerning the Waterways Ordinance that Valley County is attempting to update. After multiple workshops we have asked our Prosecuting Attorney to create a Draft Ordinance to review in the coming months.
Well that wraps up another month for me. Amazing what we as commissioners work on in just one month as Part Time Commissioners.
I hope all are staying warm during the cooler weather however the Clear Blue Skies are great to see.
Thanks for reading the newsletter and staying informed.
Gordon
——————————–
Midas News:
Midas Gold withdraws offer to Valley County on agreement
Mining company cites opposition, 'further reflection' for decision
By Tom Grote for The Star-News Jan 31, 2019
Midas Gold last week withdrew its request to Valley County to sign an agreement between the mining company and local governments.
The letter sent to Valley County commissioners last Friday from Midas Gold Idaho President and CEO Laurel Sayer said the company was withdrawing its request, "upon further reflection, and listening to feedback from some members of the community."
The Community Agreement, already signed by eight local governing bodies, is designed to guarantee citizens the ability to communicate directly with Midas Gold throughout the life of the Stibnite Gold Project, the name of the proposed gold and antimony mine near Yellow Pine, Sayer said.
"As a company, we wanted to formalize the open and transparent engagement process we have undertaken for many years," Sayer said.
It became apparent the approach was "not the norm and people need time to become comfortable with new concepts," she said.
Another factor in the decision was the fact Valley County will need to issue building permits, road permits and development permits if the project moves forward, Sayer said.
The letter came 10 days after county commissioners hosted a public forum at Donnelly Elementary School on the proposed agreement. About 160 people attended with 51 speakers in opposition and 14 in support.
Commission Chair Gordon Cruickshank told The Star-News he had not made up his mind about signing the agreement when the letter arrived.
"There is a lot of information gathered and we continue to gather regarding this topic," Cruickshank said.
Commissioner Elt Hasbrouck said he was leaning against signing the agreement.
"I always felt that signing . . . would automatically bias myself as commissioner and put future commissioners in an awkward position," Hasbrouck said.
Commissioner Dave Bingaman, who joined the commission this month, did not say which way he was leaning, but noted the process was "to listen to our constituents."
"It was apparent the majority of the participants were against the mine and the agreement," Bingaman said of the Donnelly forum.
Signing the agreement would have allowed Valley County to appoint a member to the Stibnite Advisory Council, which has been meeting in private since December to get briefings from Midas Gold representatives.
There are currently eight signers to the agreement. They are the cities of Cascade, Donnelly, New Meadows, Council and Riggins, the community of Yellow Pine and Idaho County and Adams County.
The McCall City Council on Jan. 7 voted not to sign the agreement, but will seek a separate agreement with Midas Gold later.
Signers to the agreement also get to appoint members to the board of The Stibnite Foundation, to be established later this year. The foundation would be funded with stock and cash from Midas Gold in order to make grants for community projects.
The signers also are required to make comments to the Payette National Forest on the proposed mine, but there is no requirement the signers express support for the project.
Midas Gold spokesperson Mckinsey Lyon said it would be up to members of the Stibnite Advisory Council to invite Valley County to attend their meetings without having signed the agreement.
"We will also make ourselves available to anyone who has questions about our project or company," Lyon said.
Advisory council chair Julie Good, who represents the city of New Meadows, told The Star-News that Sayer's letter will be on the agenda of the group's next meeting on Feb. 14.
"There is the opportunity for the chair to invite individuals" to the council's meetings, Good said. "At some point, this could include someone from Valley County."
Hasbrouck said he would oppose the county joining the council since it would bias future decisions by the commissioners on the Stibnite Gold Project.
Cruickshank said joining the advisory council was unnecessary.
"I believe Valley County has a table that Midas needs to come to when asked on specific issues that arise," he said.
Link to Midas Gold Letter: 2019-01-25 MG-VC Commissioners Ltr_FINAL.pdf
source:
— — — — — — — — — —
Attorney general raises questions on Midas Gold agreement
Letter to Valley County not disclosed before public meeting
By Tom Grote for The Star-News Jan 31, 2019
The agreement between Midas Gold and eight governing bodies "raises some questions," an opinion from the Idaho Attorney General's office said.
The opinion was written on Jan. 3 to Valley County Prosecuting Attorney Carol Brockmann from Assistant Chief Deputy Brian Kane.
The opinion has not been discussed at any public meeting of Valley County commissioners, including a Jan. 16 public forum held at Donnelly Elementary School on the proposed agreement.
The opinion was obtained by The Star-News through a public records request.
Kane was asked by Bockmann and Adams County Prosecuting Attorney Chris Boyd to review the Community Agreement, which entitles the signers to have a seat on the Stibnite Advisory Council and on a future Stibnite Foundation that would fund community grants with cash and stock from Midas Gold.
The signers also are required to make comments to the Payette National Forest on the proposed mine, but there is no requirement the signers express support for the project.
Kane wrote that the agreement "seems as if it is legally defensible/permissible – but it raises some questions with regard to appearances and perhaps biases favoring certain outcomes."
Kane questioned whether it was appropriate for local governments to have a seat on the board of the foundation, which is scheduled to receive about 3 million shares of Midas Gold stock.
"A question arises whether this is a permissible situation to be in for a county or city where it has a vested financial stake in the profitability of a company," Kane wrote in his opinion.
Kane also noted the agreement calls for the foundation to be funded in the future with a share of profits if the proposed gold and antimony mine near Yellow Pine is built.
"This places the cities and counties in a possible conflict situation since they are the beneficiaries of the foundation and thus have financial incentive to see the project be successful," Kane wrote.
"Whether it is legal or not, it has a possible appearance of impropriety," the opinion said.
The Stibnite Advisory Council also could pose a problem if the group formulates policies on behalf of the local governments, he said.
"It may be an improper dilution of the sovereignty of each entity," Kane wrote.
There are currently eight signers to the agreement. They are the cities of Cascade, Donnelly, New Meadows, Council and Riggins, the community of Yellow Pine and Idaho County and Adams County.
The McCall City Council on Jan. 7 voted not to sign the agreement, but will seek a separate agreement with Midas Gold later.
Valley County commissioners were considering the agreement but ended the process when Midas Gold last week withdrew its offer to sign the pact.
Midas Gold is "confident" in the Community Agreement, company spokesperson Natalie Podgorski said.
"The Stibnite Advisory Council does not have any decision making authority over the Stibnite Gold Project," Podgorski said.
The Stibnite Foundation will allow Midas Gold to share profits when the are generated, she said.
"There is no impropriety in being a good corporate citizen by creating an endowment for the future," Podgorski said.
Valley County Commissioner Dave Bingaman said the commissioners did not receive Kane's opinion until Jan. 15, the day before the Donnelly meeting.
"As I read the AG statement, I did not perceive a clear directive one way or another," Bingaman said. "His statement voiced concerns that were raised in the meetings and I personally was already considering."
Commission Chair Gordon Cruickshank said Kane's opinion "made no firm clarification if it is right or wrong to be involved."
"I wanted to hear from the citizens as they saw the Community Agreement document," Cruickshank said.
Link to AG Letter: 20190103AG'sOpinion.jpg
source:
— — — — — — — — — —
State & Federal Agencies Update Permitting Schedule for Midas Gold's Stibnite Gold Project
Record of Decision for Proposed Stibnite Gold Project Expected in Q3 2020
January 29, 2019
Vancouver, British Columbia – Midas Gold Corp. today announced that it has been advised that the United States Forest Service ("USFS") anticipates issuing a Draft Environmental Impact Statement ("DEIS") for public comment in Q3 2019, with a Final EIS and Draft Record of Decision ("ROD") anticipated in Q2 2020 for the Stibnite Gold Project ("Project"). This schedule would put the Final ROD for the Project in Q3 2020. The USFS, in cooperation with the six other federal, state and local agencies responsible for the permitting schedule, provided the updated timeline as part of its quarterly update on the Project, which is located in Valley County, 39 miles east of McCall and 14 miles from Yellow Pine, Idaho.
"The quarterly schedule released by the USFS extends the timeframe to complete permitting in order to accommodate agency requests for additional information and analysis, including modelling of alternatives," said Stephen Quin, President & CEO of Midas Gold Corp. "While the extended timeframe is disappointing, we believe that this additional time safeguards the successful completion of the permitting process and ensures the best plan moves forward towards a robust, defensible decision." This extension recognizes all parties' commitment to ensuring the analysis required under the National Environmental Policy Act ("NEPA") is comprehensive, thoroughly considers all alternatives, and is complete before the Draft EIS is published and shared with the public later in 2019. The partial shutdown of the US Federal Government also affected the permitting schedule.
continued:
— — — — — — — — — —
Stibnite Gold Project Timeline Status Following Needed Delay & Partial Government Shutdown
McCall, Id., February 1, 2019 – With the Federal Government resuming operations, the Payette National Forest is engaged in Start Up operations that will bring the Forest back up to speed regarding development of the Draft Environmental Impact Statement (DEIS) for the Stibnite Gold Project.
Forest Service officials are evaluating the effects to the schedule, and will develop a revised project timeline. Deadlines that were established prior to the partial government shutdown will be pushed out approximately 1 month, but it is too early yet to determine how the shutdown will impact the overall project milestones.
Prior to the partial government shutdown, the estimated DEIS publication date was changed from May 2019 to August 2019. This timeline change was due to Midas Gold Idaho needing additional time to prepare and deliver hydrological modeling results.
These modeling results are part of the information required by the Federal and State permitting agencies responsible for evaluating the environmental impact of the proposed project.
The date change would have been announced when the Payette National Forest published the online January 2019 Schedule of Proposed Actions (SOPA) on Jan. 2, 2019. However, the January 2019 SOPA was not published on time due to the partial government shutdown.
The updated SOPA was published on January 29, 2019 and is available on the Payette National Forest website at
https://www.fs.fed.us/sopa/forest-level.php?110412
The next update to the SOPA will be April 1, 2019, which will account for any delays caused by the shutdown.
Brian D. Harris
Public Affairs Officer
Payette National Forest
———————-
Idaho News:
Valley Home Companion to stage three shows Feb. 8-10
The Star-News Jan 31, 2019
Valley Home Companion will bring "Whee Haw" to the stage during three performances of its old-time "live radio" show beginning Friday, Feb. 8, at 7 p.m. at The Roxy in Cascade.
The live community show will also be staged on Saturday, Feb. 9, at 7 p.m. and Sunday, Feb. 10, at 2 p.m. Doors will open 30 minutes before showtime with pre-show entertainment.
Cost is $6 plus a canned food item. Proceeds will benefit local organizations.
Tickets will be available at the door. There will also be fresh-baked biscuits and other concessions for sale at the event.
For more information, contact Shauna Arnold at 208-634-6906 or ShaunaArnold @ hughes.net
source:
— — — — — — — — — —
Search and Rescue seeks donations to help with K9 training
The Star-News Jan 31, 2019
Valley County Search and Rescue's new K9 team is looking for volunteer "victims" to help with human-scent training for the dogs.
The K9 unit is new to the area and will perform general area search, avalanche victim recovery, human trailing and cadaver search.
Volunteers are needed to play a lost subject or avalanche victim for outdoor training exercises. Volunteers can also donate their surgical remains as scent materials for cadaver training.
For more information, call or text the Valley County Search and Rescue K9 Unit at 406-396-8500 or email huey133@icloud.com
source:
— — — — — — — — — —
Police warn of fake $100 bills circulating in Boise area
Some of the bills have Chinese writing and words highlighted in yellow that read, "FOR MOTION PICTURE USE ONLY."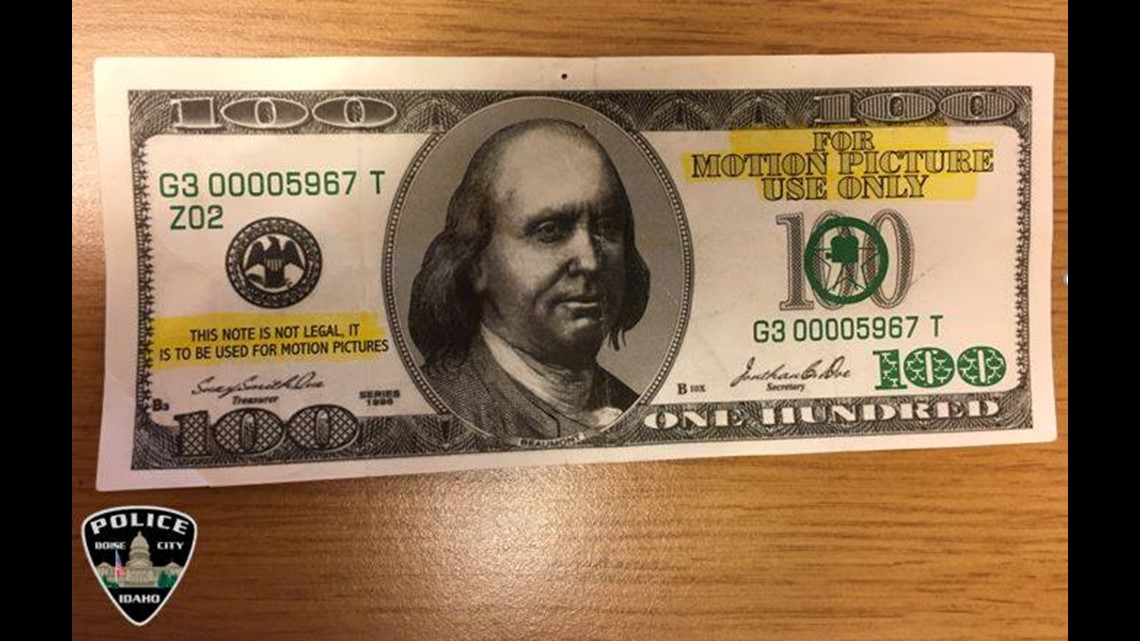 KTVB January 28, 2019
Boise, Idaho — Police are asking the public to keep an eye out for counterfeit currency, including fake $100 bills, that are circulating around the area.
The Boise Police Department said in a Facebook post that some victims received bills with Chinese writing on them, matching serial numbers and no watermarks.
continued:
— — — — — — — — — —
Idaho counties say state mandates are a financial burden
AP Jan 31, 2019
Boise, Idaho (AP) – A new report shows Idaho counties are struggling to deal with the financial burden created by state mandates that make county government responsible for things like covering the cost of public defenders and funding jails.
The report from state auditors with the Office of Performance Evaluations was presented to the Joint Legislative Oversight Committee on Wednesday. Report co-author Amanda Bartlett says 80 percent of the county commissioners surveyed for the report said their biggest challenge is not having enough revenue to meet the state's mandates.
One example is the state's new public defense standards. Counties paid $32 million to provide public defenders in 2017, and the state provided $4.2 million in grants to help cover those costs.
The study found that 29 of Idaho's 44 counties faced state-imposed revenue constraints in 2018, either because of the 3 percent overall cap on property tax revenue increases or to caps on individual levy rates.
source:
———————–
Tips & Advice:
Backcountry Survival Guide: What to bring with you on a winter excursion in Idaho
You're lost, cold, thirsty and hungry. Are you prepared to survive a winter night in the Idaho backcountry?
Tyson Miller January 31, 2019 KTVB
Boise, Idaho — A trip into Idaho's backcountry during the winter can be an exhilarating experience – a chance to see some of the most beautiful wilderness in the nation.
No matter your mode of transportation – snowmobile, skis, snowshoes, or car – the possibilities are endless for winter excursions.
But things don't always go as planned. So what do you do when your fun day trip into the mountains suddenly goes sideways, and you find yourself injured, lost or stranded? Are you prepared for what could possibly be a days-long wait until you're rescued?
continued:
————————–
Scam Alert:
Numerous people targeted by scams in Rexburg
Jan 31, 2019 Local News 8
Rexburg, Idaho (KIFI/KIDK) – Rexburg residents were the targets of numerous telephone scams with varying degrees of success Wednesday.
Of those reported, Rexburg Police Chief Shane Turman said one resident lost $7,700 after maxing out credit cards and other accounts to take care of what the caller threatened was a warrant for his arrest. There was no warrant.
Another victim bought $2,000 in Chrome gift cards to avoid trouble from the IRS, before thinking better of it and calling the Police Department for advice. There was no threat.
Police also handled reports from people asked to come up with advance fees to claim $2.3 million from the Publisher's Clearing House, another phony threat about back taxes, and another person who was told his social security number was tied to a drug trafficking operation.
continued:
——————————-
Public Lands:
National Interagency Fire Center gets back to work following the government shutdown
Jan 29, 2019 By Steve Dent KIVI
Boise — The 35-day government shutdown temporarily ended allowing some federal employees to get back to work, one of those agencies in Boise, the National Interagency Fire Center is now trying to make up for lost time.
Normally, NIFC uses the winter months to get their gear ready and perform training, but it is also an important time because that's when they also try to hire wildland firefighters for the upcoming season.
"The shutdown has caused some hiring delays," said Jessica Gardetto of NIFC. "Thankfully we have had human resources staff working even the last two weeks of the shutdown to make sure that we have all of our wildland firefighters hired and ready for the spring."
continued:
— — — — — — — — — —
Seeding planned on fire scarred BLM land
Jan 30, 2019 Local News 8
Idaho Falls, Idaho (KIFI/KIDK) – The Bureau of Land Management is gearing up to conduct aerial seeding on burn scars left after the 2017 and 2018 fire seasons.
The planned, two-week project by the Upper Snake Field Office will broadcast seed over approximately 52,000 acres of BLM-administered land. The seeding will use both fixed and rotor-wing aircraft.
"When the smoke clears there is still work to do," said Jeremy Casterson, BLM Upper Snake Field Office Manager. "Rehabilitating the land after a wildfire helps restore habitat and ward off invasive plants."
continued:
————————–
Critter News:
New Hours for Cascade Vet Clinic & Garden Valley Clinic
(via Facebook)
Cascade Vet Clinic
Monday 9-5 Lunch 12-1
Tuesday 9-12 No doctor available
Wednesday 9-5 Lunch 12-1
Thursday 9-5 Lunch 12-1
Friday 9-5 Lunch 12-1
Garden Valley Clinic
Monday 9-12 No doctor available
Tuesday 9-5 Lunch 12-1
Wednesday 9-5 Lunch 12-1
Thursday 9-5 Lunch 12-1
Friday 9-12 No doctor available
— — — — — — — — — —
Pooch Power: Monster Dog Pull entrants offer mixed reactions
By Drew Dodson for The Star-News Jan 31, 2019
John Corcoran cheered as Yogi, his 7-year-old border collie lab mix, raced down the track, jerking the weighted sled forward and kicking snow behind him every step of the way.
"Let's go, let's go," shouted Corcoran, of McCall, as Yogi dashed across the finish line of the Monster Dog Pull at Alpine Village.
Yogi was one of nearly 100 dogs that participated in the event sponsored each year since 2007 by MCPAWS Regional Animal Shelter.
Each dog was harnessed to a children's sled containing weighted bags ranging from 10 to 125 pounds depending on which of the six weight classes into which the dog fit.
Then, with encouragement from owners, each dog had its chance to show how fast it could pull the sled from one end of the 30-foot track to the other.
With every pooch that crossed the finish line, the crowd of more than 100 gathered around the small track erupted in cheers and applause.
continued:
— — — — — — — — — —
Dog Sled Challenge in McCall draws racers from around the nation to compete for a shot at the Iditarod
Thirteen teams from around the world came up to McCall for the second annual dog sled challenge.
KTVB Misty Inglet January 30, 2019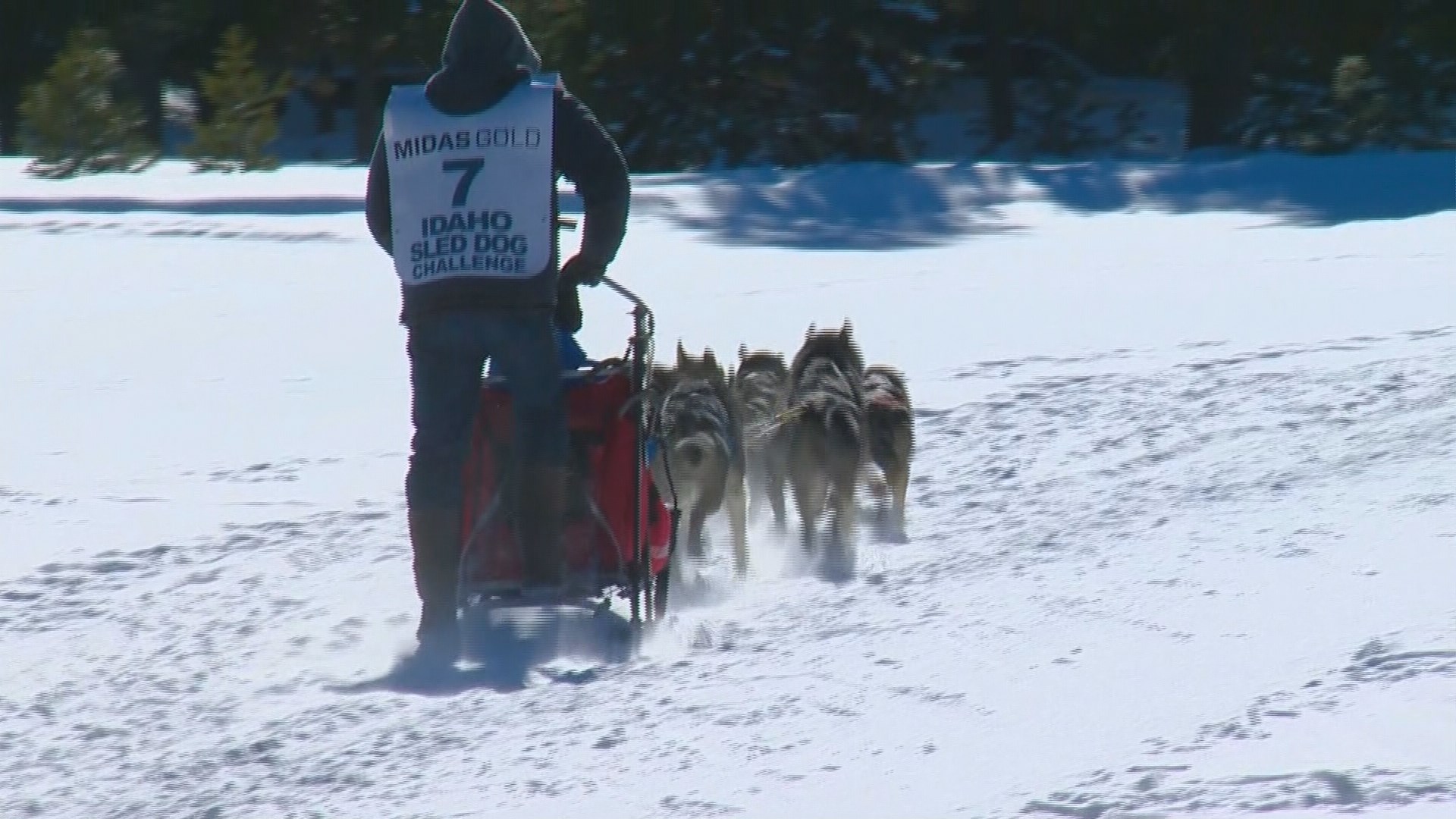 McCall, Idaho — The road to the world's biggest and most prestigious dog sledding race is going through Idaho.
For the second year, McCall is hosting the Idaho Dog Sled Challenge race, which is the only race in the lower 48 states that is a qualifier for both the Iditarod and Yukon Quest races – two of the biggest in the world.
This year's race features 13 teams from all over the country, including Oregon, Utah, Washington, Montana, Michigan, Alaska and even teams from Nova Scotia in Canada.
continued:
— — — — — — — — — —
Pet Talk – Electrical cord injuries in pets
By Dr. Karsten Fostvedt Feb 1, 2019 IME
Puppies and kittens love to play with strings, and electrical cords make especially attractive play items. Electrical energy is transformed into heat when exposed wires that are bit touch tissues, so a local burn results. The severity of injury is proportioned to the intensity and duration of the electrical current.
Exposed electrical cords are the most common source of injury. These cords are usually associated with space heaters, fans, outdoor tools and Christmas lights.
When electrical cords are bitten, pale yellow or gray burns will present on the lips and the tongue. Systemic effects of the electrical current include muscle spasms and seizures, abnormal heartbeats and respiratory distress. Filling of the lungs with fluid occurs with electrical cord injury, which can cause coughing for 36 hours.
continued:
— — — — — — — — — —
Mountain lion killed by Idaho Fish and Game after it fatally attacked dog in Ketchum
by CBS 2 News Staff Wednesday, January 30th 2019
Ketchum, Idaho (CBS 2) — A mountain lion was killed by Idaho Fish Game over the weekend after it attacked and killed a dog.
Fish and Game says the cougar, estimated to be 6 or 7 years old, was spotted in a Ketchum subdivision and was later dispatched for safety reasons, Fish and Game says.
"We euthanized the lion safely, quickly and humanely, in accordance with our protocol for lions that show habituation to humans or pets in residential areas," said Craig White, Fish and Game's Magic Valley region supervisor.
continued:
— — — — — — — — — —
Idaho wolf control board seeks approval to keep operating
by Keith Ridler, Associated Press Monday, January 28th 2019
Boise, Idaho (AP) — Lawmakers have advanced legislation to keep operating an Idaho board that manages money to pay a federal and state agency to kill wolves that attack livestock and big game.
The Senate Resources and Environment Committee on Monday voted to introduce legislation to repeal a section of Idaho law that would end the Idaho Wolf Depredation Control Board.
Gov. Brad Little as part of the budget process has already asked the Legislature to approve $200,000 to keep the board operating.
continued:
— — — — — — — — — —
KWVR Oregon Wolf Education weekly Wolf Report
Last week of January 2019
— — — — — — — — — —
Researcher says wolf population likely larger than estimates
by Nicholas K. Geranios The Associated Press Saturday, February 2nd 2019
Spokane, Wash. — The number of wolves in Washington state is likely much higher than previously thought, according to a University of Washington researcher who spent two years studying the animals using scat-sniffing dogs.
Samuel Wasser said his dogs detected 95 wolves in one area of Stevens and Pend Oreille counties, in the rural northeast corner of the state, during the 2016-17 season. That approached the total number of wolves wildlife officials estimated for the entire state.
The state Department of Fish and Wildlife a year ago estimated Washington had a minimum of 122 wolves, grouped in at least 22 packs, and 14 successful breeding pairs.
Wasser told a state Senate committee last week that it's possible the population of wolves is closer to 200 animals.
continued:
— — — — — — — — — —
Judge upholds protection for gray wolves in California
By Christopher Weber – 1/28/19 AP
Los Angeles — A California judge on Monday upheld protection for gray wolves under the state's Endangered Species Act, rejecting a legal challenge from ranchers and farmers who fear the predators will threaten their livestock.
The judge in San Diego ruled that California was right to list the wolves as endangered in 2014. A lawsuit on behalf of the California Farm Bureau Federation and the California Cattlemen's Association argued the listing was arbitrary because there are so few wolves in the state.
The suit was filed to give ranchers "more flexibility in co-existing with wolves," said Jim Houston, the farm bureau's manager of legal and governmental affairs.
continued:
— — — — — — — — — —
Idaho fisheries forecast poor for Chinook salmon season
by Associated Press Sunday, January 27th 2019
Lewiston, Idaho (AP) — An early forecast by Idaho fisheries managers suggests a poor outlook for the upcoming Chinook salmon season.
The Lewiston Tribune reports a group of federal, state and tribal fisheries managers predicts just over 48,000 spring Chinook will return to the mouth of the Snake River.
Last year's forecast had expected a return of 107,400 Chinook, but just 67,595 showed up.
continued:
— — — — — — — — — —
The Columbia Basin Bulletin
Weekly Fish and Wildlife News
http://www.cbbulletin.com
February 1, 2019
Issue No. 896
Table of Contents
* For 2019 Columbia/Snake Spring Chinook, Sockeye Returns Forecasted To Be Well Below Average
http://www.cbbulletin.com/442083.aspx
* Pinniped Predation Report: ESA Winter Steelhead Impacted By Prolonged Steller Sea Lion Presence At Bonneville Dam
http://www.cbbulletin.com/442082.aspx
* Washington's 2018 State Of Salmon Report: Six Columbia/Snake ESA Listed Stocks Not Making Progress
http://www.cbbulletin.com/442081.aspx
* Study Looks At How Pink Salmon Biennial Abundance Years May Be Connected To Orca Births, Deaths
http://www.cbbulletin.com/442080.aspx
* Oregon, Washington Commissions Continue Joint Discussions On Columbia River Salmon Management
http://www.cbbulletin.com/442079.aspx
* Washington Ecology's Draft EIS Raises Gas Cap To Allow More Spill For Fish At Columbia/Snake Dams
http://www.cbbulletin.com/442078.aspx
* If $16 Million Funding Survives, Wallowa Lake Dam Reconstruction With Fish Passage Could Be Completed By 2021
http://www.cbbulletin.com/442077.aspx
* Oregon Watershed Board Selects Clackamas Partnership For $3.4 Million Grant For Fish Habitat Restoration
http://www.cbbulletin.com/442076.aspx
* Research Shows PNW Trout, Salamanders Can Bounce Back From Drought Conditions In A Few Years
http://www.cbbulletin.com/442075.aspx
* Ocean Warming, Disease Devastates Sunflower Sea Star Populations Along Near-Shore West Coast; Threatens Kelp Forests, Biodiversity
http://www.cbbulletin.com/442074.aspx
* WSU Study Looks At Trends For Public Support In Environmental Spending 1973-2014
http://www.cbbulletin.com/442073.aspx
—————–
Tips & Advice:
If you see a Mountain lion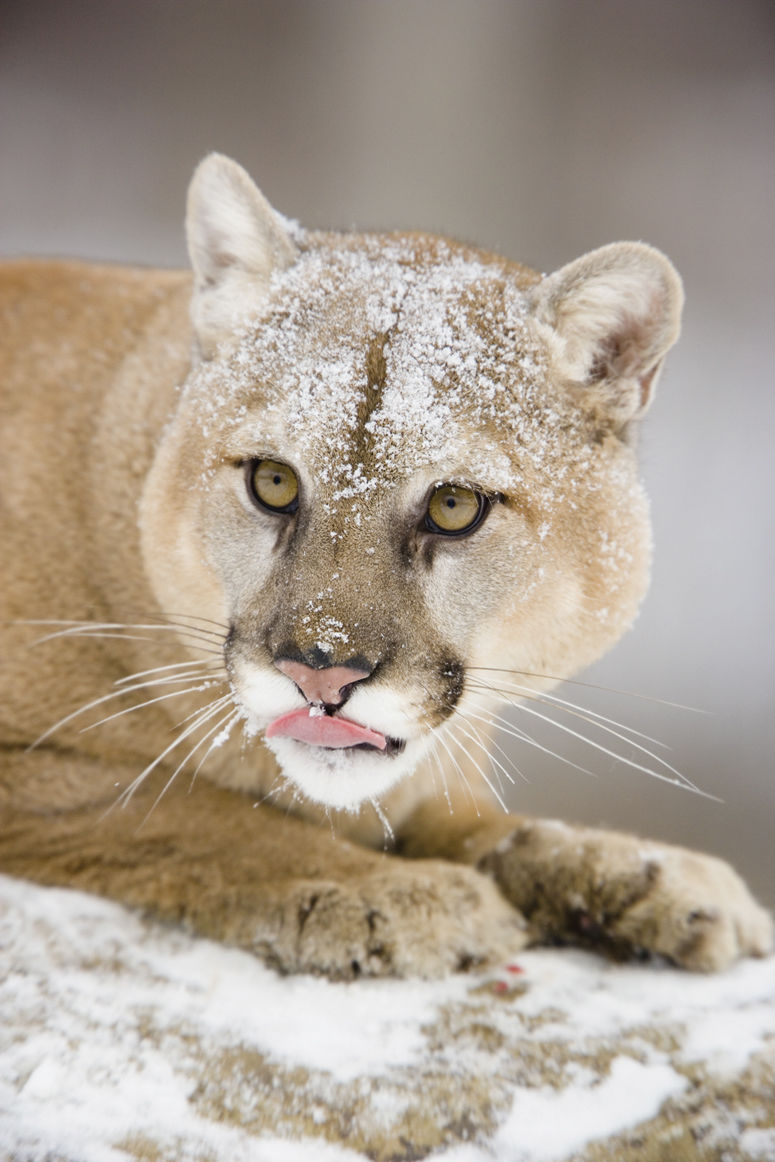 The Department of Fish and Game provided tips for people who might encounter a mountain lion:
* Do not run.
* If you are with children, pick them up without bending over.
* Do not turn your back on the lion, crouch down or try to hide.
* Remain facing the lion and slowly back away. Leave the animal an escape route.
* Try to appear as large as possible—stand on a rock or stump, hold up your arms, stand next to others.
* Shout, wave your arms and throw objects if the lion does not leave the area.
* Fight back if a mountain lion attacks. Stay on your feet and use sticks, rocks, backpack, hands to fight back. Use bear spray if you have it.
* Never approach a mountain lion or offer it food.
source: IME
———————
Fish & Game News:
F&G Commission sets 2019-20 moose, bighorn sheep and mountain goats seasons and rules
By Brian Pearson, Conservation Public Information Specialist
Tuesday, January 29, 2019
Hunters can apply for tags April 1 through April 30
During their annual meeting on Jan. 24, the Idaho Fish and Game Commission adopted new rules for moose, bighorn sheep, and mountain goat for the 2019-2020 hunting seasons. Statewide, the new rules included a reduction in the number of moose tags available to hunters, an increase of two big horn sheep tags, and decrease of four mountain goat tags.
The new rules booklets will be out in mid March and online prior to that. The application period for moose, bighorn sheep, and mountain goat controlled hunts runs from April 1-30. The earliest controlled moose hunt seasons begin at the end of August, as do the majority of those for bighorn sheep and all of those for mountain goat.
continued:
— — — — — — — — — —
Hunters can review and comment on updated management plan for mountain goats
By Brian Pearson, Conservation Public Information Specialist
Wednesday, January 30, 2019
Proposed plan will guide statewide management through 2024
Hunters have until the end of the day on Feb. 17 to offer their input on Fish and Game's newly proposed draft of its Mountain Goat Management Plan for 2019-24
The Mountain Goat Management Plan is a six-year document that guides the department in managing mountain goat populations and habitat statewide, and establishes specific strategies for each of Idaho's 19 distinct populations of mountain goats.
continued:
— — — — — — — — — —
More F&G News Releases
https://idfg.idaho.gov/press
———————————-
Fun Critter Stuff:
Dentist gives cheetah a root canal: 'Be sure not to eat anything real crunchy for a while'
by KVAL/KPIC Friday, February 1st 2019
Winston, Ore. — Dr. Ron Tribble is an Oregon dentist who usually works on people.
But on Thursday, he performed a root canal on a 7-year-old cheetah named Mchumba at the Wildlife Safari in Winston.
"The instruments that we would use – other than the files that we actually use to clean out the inside of the tooth – are exactly the same as we would use for human dentistry," he said.
continued:
————————-
Seasonal Humor:
Happy Groundhog Day
— — — — —
Winter in Austria

———————–