Feb 10, 2019 The Yellow Pine Times – Valley County, Idaho
Community Calendar:
Feb 16 Pie Contest 2pm Yellow Pine Tavern
May 25 ATV-UTV Scavenger Hunt Memorial Day Weekend
July 6 – Golf Tournament & Breakfast
Jul 13 Ride to Big Creek
Sep 14 Ride to Cinnabar
(details below)
———-
Local Events:
Annual Pie Contest
Saturday February 16th at 2pm at the Yellow Pine Tavern.
— — — —
Golf Tournament
It's time to plan for the annual 4th of July Yellow Pine Golf Tournament. This year the proceeds will support the Community Hall and road repair.
The event will begin July 6th at 11am at the golf course, where the fairways aren't fair and the greens aren't green. The cost will remain the same at $50 per couple for sponsoring a hole with a sign displayed. $20 for individuals, each person playing will get a ticket for beer, additional tickets can be purchased for $3. Soda and water are free. Checks can be written to VYPA (Village of Yellow Pine Association)
There will be prizes for first, second and third places for men's women's and mixed. Also, there will be a prizes for closest to the pin. Spots go quickly, so be one of the first!
There will be a hearty breakfast at the museum from 8-10. The cost is $6 and all proceeds benefit the upkeep of the museum.
— — — —
2019 Yellow Pine Escapades
The 2019 schedule for the Yellow Pine Escapades has been updated on the website!
Expect new escapades this coming year, including an ATV-UTV Photo Scavenger Hunt; two (yes, two) ATV-UTV rides, a golf tournament, and even a community yard sale. Other events will be added to the calendar as plans are finalized.
Join us for a great season of fun! The starting point for fun in Yellow Pine! The website includes information on the events hosted by the Yellow Pine Community Hall as well as the other "goings-on" in the village. Food, lodging and fuel are available in Yellow Pine.
link:
———-
Village News:
Snow Plowing
Local streets were plowed this weekend.
Report from Midas on the Stibnite Road 2/4/2019: Warmer weather and rain this [last] weekend caused instability in the snow and small avalanches. With more snow in the forecast, travel safe and be aware of road conditions. The picture was taken around mile 7 of Yellow Pine/Stibnite road and Tamarack Creek.

— — — —
Scam Alert
If you receive an email that looks like it is from MTE Communications with the subject "check email update" – Delete the email!
It is a "phishing" scam trying to get your ID and password. I talked to Stacy at MTE and the email is not from them.
— — — —
Notice of Public Hearing March 14 – Valley County Quarry Yellow Pine
The Valley County Planning and Zoning Commission will hold a public hearing at the Valley County Courthouse in Cascade, Idaho, on March 14, 2019, to review the application.
Please direct questions and comments to Cynda Herrick at the P&Z office. Comments must be received at least seven days prior to the public hearing.
Phone: 208-382-7115
Fax: 208-382-7119
cherrick@co.valley.id.us
CUP 19-01 Valley County Quarry Yellow Pine: Valley County Road & Bridge Department is requesting approval of an expansion of the existing CUP 10-3 Valdez Quarry. The expansion would be south onto approximately 5 acres of the USFS Boise NF. Rock material extracted from this quarry would be used as cover material for road maintenance. Upon completion of the quarry activities, both portions would be reclaimed, re-contoured, and re-vegetated. Access would be via a private drive off Murphs Ave.
link to: 20190208ValdezQuarryExpansion.pdf
— — — —
History of the log cabin at the Cemetery
The Cemetery Committee is interested in any information on the cabin that is located by the cemetery. We know that it had been on the property that was known as "Mary's Cabins". It was moved by Tom Richter while the Filler's were building their house. Donna Valdez said that the people who ran the cafe and bar slept there, before the Tavern was built.
Do people have pictures or any information they can share? We'd love to put a plaque up on the cabin while we repair it.
– Marj Fields
— — — —
Lower Johnson Creek Plowing
Note: when traveling to the dump, please use the river side of the road for wheeled vehicles so the hill side can be for snowmobilers. Turnouts will be plowed.
– CD
— — — —
Come Spring…
"To Yellow Pine residents. I will be making several trips next spring and summer hauling out metal, appliances, etc. . If you need anything hauled away please get on the list. Vehicles require a title. I will be hauling gravel back if anyone is interested."
Contact Mike Amos
— — — —
Yellow Pine US Mail
We are on 3-day a week mail delivery from Cascade. The Post Office in Yellow Pine is open six days a week: M-F 845am-245pm Saturday 9am-245pm. Be sure to buy your holiday stamps here.
Forever Stamp: 55 cents
— — — —
Yellow Pine Transfer Station
Please do not abuse our Transfer Station or we may lose it. Household trash must be placed in the bins, flattened cardboard boxes can also go into the bins. Do not stack trash in front of the doors. Woody yard debris only for the burn pile. No furniture, appliances, tires or construction debris allowed, those items must be hauled out to the Donnelly station by you.

— — — —
Predators
Please do not leave pet food outdoors and remember to keep trash secured, it will draw foxes, coyotes and loose dogs. Reports of Mountain Lion sightings out by McCall.
— — — —
Ice Hole Campground Closed
The Campground has been temporarily closed to provide for public safety during reconstruction. This order will be in effect from September 27, 2018 through July 2, 2019, unless rescinded earlier by the Forest Supervisor. (0402-04-80)
———-
Local Groups:
YPWUA News:
The 2018 water bill is due Feb 15, 2019
Winter Water Advice
To help prevent frozen water, avoid parking over buried water lines, allow the natural snow cover to insulate the ground. Driving over the lines will also push the frost deeper and can result in frozen pipes. Also, don't plow the snow over where water lines are buried, and avoid covering up water shut off valves.
link to: 2018 September Water Department Update.docx
— — — —
VYPA News:
VYPA Meeting Dates 2019
June 8th; July 20th; August 10th; September 14th.
Note that the July 20th meeting is not on the second Saturday due to a conflict with a planned ATV rally involving many residents and visitors.
— — — —
YPFD News:
The next meeting to be May 18th, 2019 at the Community Hall
Yellow Pine Fire Protection District Updates:
Fire Department Training on Sundays at 11am will resume in the Spring.
The YPFD has 2 Size Chimney Brushes with extension rods that were donated for use around YP. If you would like to borrow one, please contact Cecil or Jeff and we'll get them for you. The YPFD also has loanable mitigation tools, (Weed-Whacker, Hedge Trimmer, backpack blower and 16' pole saw). If you would like to borrow one or all, please contact Cecil or Jeff and we'll get them for you.
It's also time to check the Smoke Alarm batteries and Fire Extinguishers. Please test the alarm and replace Smoke Alarm Batteries every year, if you have the replaceable battery type. Fire Extinguishers should be checked as well and should be easily seen and reachable. A good location for the Fire Extinguishers would be the kitchen and near the wood stove and/or fireplace. The needle should be in the green.
If you need a Smoke Detector or Fire Extinguisher for your YP residence please contact Jeff F.
——–
Biz Listings:
Yellow Pine Lodge (208) 633-3377
Closed for winter
— — — —
The Corner (208) 633-3325
Closed for winter
— — — —
Yellow Pine Tavern (208) 633-2233
Winter Hours at the Tavern: 9am-2pm and 4-8pm Mon, Wed, Fri, Sat and 9am-2pm Sun. Or call 208 633-2233 the phone rings into the house.
— — — —
Buck Horn Outfitters LLC
Link to FB page:
Deadwood Outfitters
Link to website:
— — — —
Local Fuel Suppliers
Amerigas Phone: (208) 634-8181
Ed Staub & Sons Phone: (208) 634-3833
Diamond Fuel & Feed (208) 382-4430, Suet blocks (peanut crunch, and cherry) for $1.99 per block. 50# bag of Polar Ice Melt available for $7.99.
— — — —
Outside Biz that will service Yellow Pine:
Elkhorn Heating & Cooling
(208) 906-4067 Middleton, Idaho, Will service Yellow Pine
B&T Safety Solutions LLC
Cleaning chimneys and stoves. 208-271-1600 – Based out of Donnelly, we do cabin staining/chinking as well.
— — — —
Follow The Yellow Pine Times on Facebook (updated more often than emails)
———————–
Local Observations:
Monday (Feb 4) heavy snow during the night, overnight low of 30 degrees, 3″ new heavy wet snow and 16″ total snow on the ground, cloud cover breaking up and patches of blue peeking thru. Red-breasted nuthatches visiting. Overcast at lunch time, high of 36 degrees. Snowing just after 2pm and breezy. Snowed all afternoon, by 6pm over 2 inches of heavy wet snow and still snowing, just a hair below freezing. By 9pm it had quit snowing. Clearing and stars shining by 1030pm. Cloudy/foggy by 530am.
Tuesday (Feb 5) overnight low of 20 degrees, 3 1/4″ new heavy wet snow, 18″ total snow on the ground. Overcast and starting to snow lightly at 10am and 25 degrees. Hairy woodpecker, red-breasted nuthatches, northern flicker, jays and a clarks nutcracker visiting. Snowed until a little after lunch time (trace), low clouds, high of 31 degrees. Light snow flurries and breezy mid-afternoon. Cloudy and chilly breezes at dusk. Cloudy night, no new snow.
Wednesday (Feb 6) overnight low of 19 degrees, a trace of new snow from yesterday's flurries, total snow on the ground now 17″ (settled not melted.) Jays and red-breasted nuthatches visiting. Chilly and overcast mid-day, light breezes, high of 24 degrees. Dark blue helicopter coming in low at 1232pm. Pine squirrel, northern flicker and hairy woodpecker visited. Occasional flakes of snow mid-afternoon, chilly light breeze. Overcast at dusk, temps dropping into the teens. Partly clear by 10pm, some stars out. Cold night.
Thursday (Feb 7) overnight low of -4 degrees, clear sky this morning, measured 17″ of snow on the ground. Jays and hairy woodpecker visiting. Clear and cold mid-day, no drips, high of 27 degrees. Clarks nutcracker, northern flicker and a pine squirrel visited after lunch time. Mid-afternoon a few drips from icicles in the sun, but still below freezing, clear sky and cold light breezes. At dusk it was 10 degrees and clear. Clear cold night.
Friday (Feb 8) overnight low around zero degrees, overcast this morning, chilly light breeze, 17″ old frozen snow on the ground. Hairy woodpecker and red-breasted nuthatches visiting. Cloudy and light chilly breezes mid-day, high of 28 degrees. Jays were late to show up. Mid-afternoon cloudy and cold light breezes. At dusk, some stronger gusty breezes, trees dumping snow, and the flags at the monument were flapping. No snow yet as of midnight and breezy. Trace of snow fell before morning.
Saturday (Feb 9) trace of new snow this morning, estimate 17″ of old snow on the ground, 21 degrees, overcast and slight breeze at 10am. Raven calling and flying over the village. Jays active and noisy. Icicles dripping mid-day, high of 33 degrees. By mid-afternoon it was just starting to snow very lightly, just below freezing, overcast and light breezes. Barely a trace from the afternoon snow, and another short flurry around 10pm. Snowed an inch between 6am and 7am.
Sunday (Feb 10) overnight low of 19 degrees, 1″ new snow and 18″ total snow, gusty winds and overcast. Jays and hairy woodpecker visited. Short snow flurry before lunch, then clouds breaking to the south and gusty winds blowing snow out of the trees at noon, a few drips from icicles, high of 30 degrees. Three female hairy woodpeckers visiting together after lunch time. Partly clear and windy mid-afternoon. Windy, cloudy and light snow flurries on and off late afternoon to early evening (trace). Very light snow and calmer at dusk.
———————-
Midas News:
Release of Midas Gold study pushed back to August
Federal shutdown may result in further delay
By Tom Grote for The Star-News Feb 7, 2019
The federal study that is key to the Midas Gold mine near Yellow Pine moving forward will not be issued until August at the earliest, the Payette National Forest announced last week.
The study had been expected to be issued in May but the delay was due to a request by Midas Gold for more time to submit studies on water quality of the aquifers and streams at the mine site before, during and after the project, Payette Public Affairs Officer Brian Harris said.
"The mining operation will use a large amount of water," Harris said. "(We want to know) what is the quality and quantity of that water when it is returned to the river system."
The release of the draft study likely will be pushed back even further due to the 35-day federal shutdown, the Payette news release said. The extent of that additional delay will be known by April 1.
"While the extended timeframe is disappointing, we believe that this additional time safeguards the successful completion of the permitting process and ensures the best plan moves forward," said Stephen Quin, president and CEO of Midas Gold Corp., a Canadian company with headquarters in Vancouver, B.C.
The delay in the release of the draft study means the soonest the Payette could issue the go-ahead for the project would be July 1, 2020, according to a Midas Gold release.
The water quality studies were among 115 requests for additional information from regulators to Midas Gold since the review of the project started in 2017, the Midas Gold release said.
Seven federal, state and local agencies are reviewing the plan of operation and restoration submitted by Midas Gold in December 2016.
Federal law does not allow the Payette to stop Midas Gold from mining, but the National Environmental Policy Act of 1969 requires federal agencies to consider the effects of projects like the mine on people and the environment.
The draft study will include a range of alternatives that include requirements by the regulators on Midas Gold.
The public will get to comment on the various alternatives, and those comments will be taken into account in the drafting of a final study, after which a decision will be issued on which alternative to impose.
Midas Gold predicts it will employ 400 people during a two-to-three-year construction period, increasing to 500 employees over the 12-year life of the mine.
The company's probable mineral reserves include more than 4.5 million ounces of gold, or 154 tons, and 100 million pounds of antimony, which is used as a flame retardant.
source:
————————
Idaho News:
[Last] Sunday snow storm cuts power, causes wrecks
M-D schools invoke late-start policy for first time
The Star-News Feb 7, 2019
A severe snow storm on Sunday [Feb 3] caused wrecks on Idaho 55, power outages in McCall and the first use of a delayed-start system by the McCall-Donnelly School District.
The Valley County Sheriff's Office responded to four crashes, three of which included two cars, plus 10 slide-offs and two cars that became stuck in the road, sheriff's Capt. Jason Speer said.
One incident saw a tree land on a car on Idaho 55 between Smiths Ferry and Banks, Speer said.
"The branches went through the roof and then through the car to the pavement," Speer said. "It was a very narrow miss from hitting the driver."
Idaho State Police took the report on the incident, but details were not available as of Wednesday.
Idaho Power Co. crews responded to a variety of power outages on Sunday in and around McCall, Cascade and Donnelly, Communications Specialist Maria Willacy said.
About 6,700 customers were without power at the peak of the outages on Sunday, Willacy said.
"Power was restored to most of these customers by late Sunday evening," she said. "By Monday, a new set of multiple outages had cropped up, mostly in the McCall area."
Most of the outages were caused by snow-laden trees being weighed down and making contact with or falling on power lines, Willacy said.
About 800 customers remained without power as of 1:30 p.m. Monday, and that number had been reduced to about 117 customers as of 10:45 a.m. Tuesday, she said.
continued:
— — — — — — — — — —
Valley County receives $2,920 for food programs
The Star-News Feb 7, 2019
Valley County has been awarded $2,920 to supplement emergency food and shelter programs in the county.
The funds were made available through the department of Homeland Security/Federal Emergency Management Agency under the Emergency Food and Shelter National Board Program.
Local agencies chosen to receive funds must be private voluntary nonprofits or units of government, be eligible to receive federal funds and have an accounting system
Recipients also must practice nondiscrimination, have demonstrated the capability to deliver emergency food or shelter programs, and have a voluntary board if they are a private voluntary organization.
Recipients of previous grants have included the Western Idaho Community Action Partnership, Rose Advocates and Donnelly Food Bank.
Qualifying agencies may apply by contacting Local Board Chair Marilyn Arp at 208-634-5833 or marilynarp@gmail.com. The deadline for applications is Feb. 14.
source:
— — — — — — — — — —
Cascade Medical Center adds ultrasound to services
By Max Silverson for The Star-News Feb 7, 2019
Carefully examining the screen projecting an ultrasound reading, sonographer Heather Gibson checks the arteries in a patient's leg for potentially life threatening blockages.
It's a procedure that the Cascade Medical Center could not have performed before the addition of a new ultrasound machine in November.
Gibson is a specialist brought in to run the new machine that expands medical services at the hospital.
The ultrasound can help detect blood around the heart and in the abdomen of trauma patients, as well as detect blood clots and examine internal organs and arteries, CEO Tom Reinhardt said.
Gibson provides scheduled outpatient ultrasound exams every Tuesday.
continued:
— — — — — — — — — —
Following pushback, IDL plans to review, change process for leasing state endowment land
by Deni Hawkins Thursday, February 7th 2019 CBS 2
The Idaho Department of Lands says it will review and change some of its processes for leasing land in the state, following criticism over a lease that was approved on Payette Lake last year.
In a letter, director Dustin Miller wrote in response to concerned neighbors and community members who had previously spoken out in protest of a 28-acre commercial recreation lease that would allow for the development of an events center on the lakefront called 'The Lookout on the Lake.'
Those neighbors, who live less than 1/4 mile from the proposed development in the Tamarack Bay Condominiums, were concerned about the impacts this lease would have on the environment, traffic, safety, and public access in the area, among other things. Those same neighbors and others in the community also expressed frustration with the lack of public notification given about the proposed development. Currently, the department of lands is not required to notify adjacent neighbors or the city when these types of leases are received. Instead, all new lease applications are listed on the Idaho Department of Land's website, where the lease is advertised for 30 days. During that time, if conflicting offers are made for the use of that land, the process can ultimately lead to a public auction, but IDL says that didn't happen in this case.
continued:
— — — — — — — — — —
Taking a drive into Idaho's backcountry? Don't rely on GPS to get you there
"It's not the way to go."
by Tami Tremblay February 6, 2019 KTVB
Boise County, Idaho — We have all been led astray using GPS. If you're using it to reach a backcountry destination, going down the wrong road could result in an unexpected survival story.
"We have so many routes," Boise County Sheriff Jim Kaczmarek said. "[Grimes Creek Road] is one of hundreds of routes that is on a GPS but it isn't passable by a vehicle in the winter."
Kaczmarek took us down Grimes Creek Road along with his dog, Lucille. We stopped the truck before the road got difficult.
continued:
— — — — — — — — — —
Idaho water rights legislation bill headed to governor's desk
Feb 05, 2019 By Associated Press
Boise — Legislation to end years of litigation and help finalize an agreement involving water rights in heavily populated southwestern Idaho is headed to the Governor Little's desk.
The Senate voted 35-0 Tuesday to send to Little the bill that involves water rights in the Boise River system.
The lawsuits involved canal companies, irrigation districts and the state of Idaho, and concerned the storage of water in three Boise River system reservoirs during flood control operations.
continued:
— — — — — — — — — —
NRCS releases Idaho water supply outlook report
Feb 07, 2019 By Steve Bertel KIVI TV
Boise — The Natural Resources Conservation Service in Idaho has released the February Water Supply Outlook Report for the 2019 water year.
January's weather varied across the state and that was reflected in changes in Idaho's snowpack. Warm temperatures in mid-January brought rain in the valleys and mid-elevations and snow to the higher elevations, according to the NRCS.
In regard to precipitation overall, the highest accumulation relative to normal was in the Little Wood Basin, which received 109% of its average January precipitation, officials said. Conversely, the Clearwood Basin received only 57% of its average precipitation for the first month of the year.
continued:
————————-
Public Lands:
BLM issues land patent to City of Caldwell for Mallard Park
February 5, 2019
Michael Williamson mwilliamson@blm.gov (208) 384-3393
Boise, Idaho – The Bureau of Land Management (BLM) permanently transferred management authority for Mallard Park to the City of Caldwell on Feb. 4. The approximately 30-acre tract of BLM land has been under a renewable lease for the purpose of constructing the park since 2007. The transfer took place during a meeting of the Caldwell City Council.
Located 5 miles south of Caldwell on 10th Avenue, the popular park offers walking paths, picnic shelters, an accessible playground, restrooms, views of Lake Lowell, an 18-hole disk golf course and a nearly-completed amphitheater.
"This project is a great example of the BLM being good neighbors and working with city partners by taking a small, isolated tract of land that was difficult for us to manage and turning it into a recreational asset for the community," said BLM Four Rivers Field Manager Brent Ralston.
"We are grateful for the partnership with the Bureau of Land Management, which has allowed the City of Caldwell to create this outstanding open space amenity for the residents of our community and Canyon County," said Caldwell Mayor Garret Nancolas. "Mallard Park is a well-utilized and significant gathering place and will be used by families and individuals for years to come."
The City of Caldwell had been leasing the BLM land under a Recreation and Public Purposes lease, which requires renewal every three to five years. In transferring management of the land to the city, Caldwell will hold it in perpetuity for a nominal cost, as long as the land use remains within the original agreed-upon purpose of development of a municipal park.
For more information, contact Michael Williamson at (208) 384-3393.
——————-
Tips & Advice:
Carbon monoxide is a threat in the backcountry too
You don't have to be in your home to get carbon monoxide poisoning.
Tami Tremblay February 7, 2019 KTVB
Boise, Idaho — Carbon monoxide can be life threatening – not only in your home, but in the backcountry as well.
The gas is colorless and odorless so there's no way to know it's there unless you have a carbon monoxide detector.
Deputy Chief Romeo Gervais with the Boise Fire Department showed us how a simple camp stove could have deadly consequences if it's not used properly.
"The fuel source is compressed gas," Gervais explained. "Well, just like your gas stove at home, this burner creates gas and can produce carbon monoxide. So whether you're dealing with a home or a tent or a cabin or you're out backpacking you're still producing carbon monoxide when you're burning things."
continued:
—————————–
Critter News:
Dogged Determination: Montana musher crosses finish line first at Idaho Sled Dog Challenge
By Max Silverson for The Star-News Feb 7, 2019
At 8:15 p.m. on Friday, Brett Bruggeman and his team of Alaskan huskies appeared out of the pitch dark at the finish line at Bear Creek Lodge near McCall to the cheers of about 70 spectators.
Bruggeman, of Great Falls, Mont., crossed the finish line 2 days, 9 hours, 15 minutes and 311 miles after he started to win the 2019 Idaho Sled Dog Challenge.
"This is the most people I've ever seen at the finish line of one of these races – more than there were at the Iditarod finish line in Nome (Alaska) last year," Bruggeman's wife Suzette said at the finish line, where she was waiting with their son Spencer.
Spencer placed third in the 150-mile distance earlier that afternoon.
continued:
— — — — — — — — — —
Star officers rescue pooch that ended up in storm drain
by CBS 2 News Staff Wednesday, February 6th 2019
Star, Idaho (CBS 2) — Two Star Police officers are doggy heroes after a pair of four-legged rescues.
The Ada County Sheriff's Office says officers Sean Dalrymple and Alan Speakes recently helped rescue a pooch that ended up in a storm drain near Star Elementary. The two went headfirst down a manhole and spotted the dog's glowing eyes.
With the help of some dog biscuits, they were able to lure the pooch to safety.
source w/more photos:
— — — — — — — — — —
Eagle Police investigating attempted dog poisoning with pill-stuffed hot dog bun
The woman says she found a hot bun in her backyard, stuffed with pills and peanut butter.
by Shirah Matsuzawa February 10, 2019 KTVB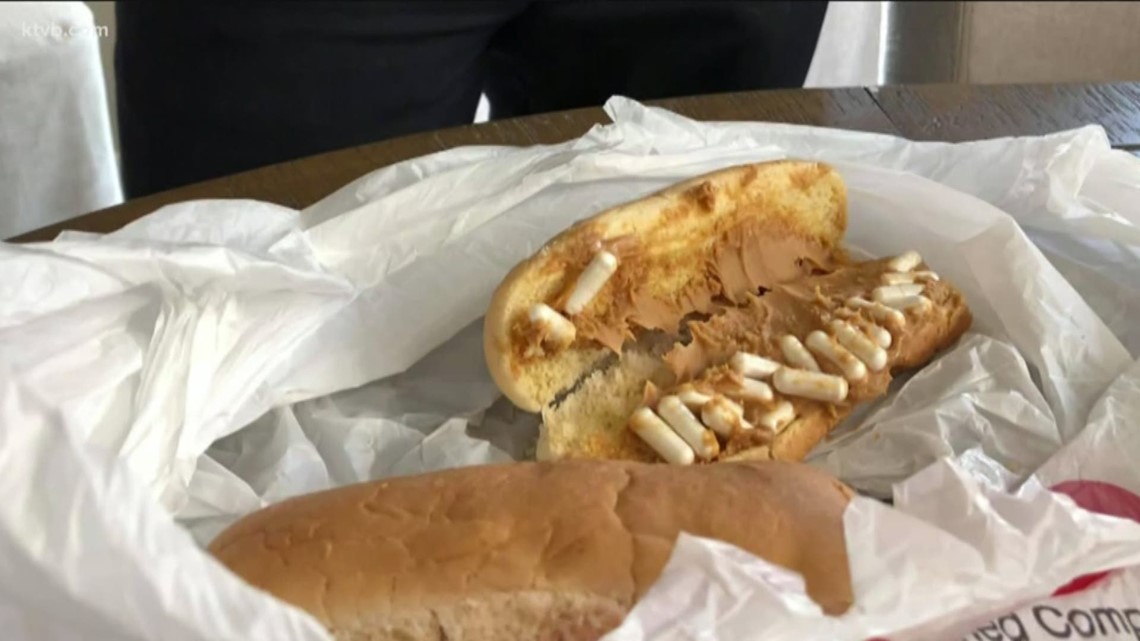 Eagle, Idaho — Eagle Police are trying to find out who and why someone tried to a poison a woman's dog earlier this week.
On Thursday morning, Jacque Gilliam found a hot dog bun stuffed with pills and peanut butter in her backyard when she and her dog were outside.
She noticed something white in the grass and realized it was the laced hot dog bun.
Thankfully, her dog didn't seem interested in the poisonous treat.
continued:
— — — — — — — — — —
Register your dog, it's the law
Feb 05, 2019 By Frankie Katafias KIVI TV
Boise, Idaho — Registering your animal is a simple and depending on where you live, inexpensive process. Many Idahoans are unaware that failing to register your dog in the city you reside is illegal and can result in a citation, monetary fines or court fees.
In the City of Boise, the law states in Section 6-07-17 under DOGS, SPECIAL PROVISIONS A. LICENSES; APPLICATION; FEES, "All dog licenses are valid for twelve (12) months and shall expire one (1) year from date of sale. The owner, or person having charge, of any dog over the age of sixteen (16) weeks within the City shall make application to the City Clerk, the Humane Shelter director, or other designated agent in the amount established by the Boise City Council and listed on the most current City Clerk License Fee Schedule. (No dog will be licensed as spayed or neutered without proof that such surgery was performed. Dog owners may choose to prepay licenses for one, two, or three years.)"
continued:
— — — — — — — — — —
Idaho woman breaking up 'dog fight' grabs young mountain lion
Associated Press February 5, 2019
Mackay, Idaho — Idaho wildlife officials say a woman who thought she was breaking up a dog fight quickly realized she'd grabbed hold of a young mountain lion.
The Idaho Department of Fish and Game wrote in a prepared statement Monday that the woman thought her dog was fighting with another dog outside their home in Mackay on Jan. 30 when she started pulling the animals apart.
Despite her surprise she managed to restrain both the 35-pound male cougar and her dog while she yelled for her husband, who was still inside, to come out with his gun. He arrived and shot the wild animal while she held on to it.
continued:
— — — — — — — — — —
Idaho mountain lion sightings and attacks prompt safety advice for pets
by Abigail Taylor Thursday, February 7th 2019
Boise, Idaho (CBS 2) — In Idaho, this time of year, mountain lion sightings typically peak.
Idaho Fish and Game told CBS 2 News that during the winter mountain lions come down from the snowy remote areas in the mountains, following after deer and elk, and travel to where it's warmer — sometimes among people.
The good news is mountain lion attacks on humans are extremely rare. However, Idaho Fish and Game said our pets can make for easy prey.
Just in the past month, two dogs have been killed in mountain lion attacks.
continued:
— — — — — — — — — —
Runner fights off, kills mountain lion in northern Colorado
By AP Feb 05, 2019
Fort Collins, Colo. (AP) – A man is recovering after he fought off and killed a mountain lion that attacked him during a trail run in northern Colorado.
Rebecca Ferrell, a spokeswoman for Colorado Parks and Wildlife, tells The Coloradoan the man was running alone at Horsetooth Mountain Open Space near Fort Collins when he was attacked from behind Monday afternoon. The runner, whose name has not been released, fought off the cougar, hiked out of the area and drove himself to a hospital.
continued:
— — — — — — — — — —
Idaho wolf control board moves closer to staying in business
by Keith Ridler, Associated Press Monday, February 4th 2019
Boise, Idaho (AP) — An Idaho board that pays a federal agency to kill wolves that attack livestock and elk is a step closer to becoming permanent following a Senate panel's split vote on Monday.
The Senate Resources and Environment Committee voted to send legislation to the full Senate repealing a section of Idaho law that would end the five-year-run of the Idaho Wolf Depredation Control Board.
The seven Republicans on the committee voted in favor of the legislation, and two Democrats voted against it.
continued:
— — — — — — — — — —
Wolves RFD-TV Big Game Forever Colorado
(This is the video Commissioner Cruickshank recommended last month, so in case you missed it on TV, it is now on Vimeo.)
"On the program … is Phil Davis a former Valley County, Idaho Commissioner and Rancher who has had to deal with wolves impacting his livestock over the years." GC
— — — — — — — — — —
2 convicted for illegally taking a wolf from Grand Teton National Park
Feb 06, 2019 Local News 8
Moose, Wyo. (KIFI/KIDK) – Grand Teton National Park rangers recently conducted an investigation into an illegal taking of a gray wolf within the park boundary that resulted in a conviction.
Two individuals from Wyoming, a male 56 years of age and a female 55 years of age, were charged with illegal take of wildlife within the park, and both recently appeared in Federal court.
The man pleaded guilty and received a $5,040 financial penalty, one year of unsupervised probation and a one-year loss of wolf hunting privileges.
continued:
— — — — — — — — — —
Wolf Education International
Newsletter 2/4/2019
Researcher says Washington's wolf population likely larger than estimates
Wolves Still a Hot-Button Issue at Local Meeting
Wolf payout bill draws ethics challenge
'Large-bodied' Canadian wolves to help keep U.S. moose population in check
Gray Wolf Listing Under California Endangered Species Act Upheld in California Superior Court
— — — — — — — — — —
Herd of elk raising concern near Rexburg
Feb 05, 2019 Local News 8
Rexburg, Idaho (KIFI/KIDK) – Idaho Department of Fish and Game officials report a herd of about 100 elk wandered into a rural area between Sugar City and Rexburg Monday.
Officials say the elk have been sighted from both Highway 20 and Highway 33 and are a cause for concern to passing motorists.
Madison County Sheriff's office and Idaho Fish and Game are aware of the situation and are monitoring the herd closely.
continued:
— — — — — — — — — —
The Columbia Basin Bulletin
Weekly Fish and Wildlife News
http://www.cbbulletin.com
February 8, 2019
Issue No. 897
Table of Contents
* EPA Withdraws Draft Water Quality Permits Sought From Washington Ecology For Columbia/Snake Dams
http://www.cbbulletin.com/442118.aspx
* Juvenile Sturgeon Below Bonneville Dam Still Show Reduced Abundance, Legal-Size Fish Numbers Down In 2018
http://www.cbbulletin.com/442117.aspx
* Judge Says No To Expedited Hearing But Lawsuit Over Willamette Basin Dams Moves Forward
http://www.cbbulletin.com/442116.aspx
* Idaho Meetings Set For Anglers To Discuss Upcoming Chinook Fishing Season
http://www.cbbulletin.com/442115.aspx
*Streamflow, Snowpack Forecasts Dropping Across The Basin; Water Supply 83 Percent Normal At Dalles Dam
http://www.cbbulletin.com/442114.aspx
* Final EIS Issued On New Facility At Nez Perce Hatchery To 'Recondition' Steelhead (Spawned) Kelts
http://www.cbbulletin.com/442113.aspx
* 2018 Comparative Survival Report Offers Latest Numbers On Smolt-To-Adult Returns For Columbia/Snake Salmonids
http://www.cbbulletin.com/442112.aspx
* NOAA Report: 2018 Fourth Warmest Year With Nine Of 10 Warmest Years Coming Since 2005
http://www.cbbulletin.com/442111.aspx
* Idaho Fish And Game Designs Innovative Way To Survey Wildlife Using Remote Cameras
http://www.cbbulletin.com/442110.aspx
* Research On Northwest Forest Plan Shows Bird Species Struggling 25 Years Later
http://www.cbbulletin.com/442109.aspx
* Climate Modeling Details Coming Significant Vegetation Type Shifts In Coastal Forests
http://www.cbbulletin.com/442108.aspx
* Climate Change Will Shift Color Of Surface Ocean By End Of Century
http://www.cbbulletin.com/442107.aspx
—————————
Fish & Game News:
Idaho's 2019 & 2020 big game season proposals available online
By Mike Demick, Staff Biologist
Tuesday, February 5, 2019
Comments also accepted at open houses in Salmon and Challis
Idaho Fish and Game's proposed changes for the 2019 & 2020 big game hunting seasons are now available online for public review and comment.
The proposals for deer, elk, pronghorn, black bear, mountain lion and gray wolf are listed by region and are available at: https://idfg.idaho.gov/rules/big-game/19-20-proposals. Only those seasons and hunts for which changes are proposed are listed. All others will remain the same as they were during the 2017 & 2018 hunting seasons.
The deadline for submitting comments goes through midnight February 24.
continued:
— — — — — — — — — —
Game cameras provide new methods for counting and managing wildlife
By Brian Pearson, Conservation Public Information Specialist
Wednesday, February 6, 2019
Idaho Fish and Game biologists designed unique ways to survey wildlife using remote cameras
An innovative approach using trail cameras to capture wildlife will allow Idaho Fish and Game biologists to estimate deer and elk populations in a safer, less-invasive, and less-expensive way than the traditional method of biologists flying in aircraft and counting them.
During November, biologists deployed a network of trail cameras on winter range of mule deer in Eastern Idaho, as well as elk range in the St. Joe River and the South Fork of the Clearwater River. In each location, cameras were deployed at randomly selected GPS points across the animals' winter range.
continued:
— — — — — — — — — —
More F&G News Releases
https://idfg.idaho.gov/press
———————————-
Fun Critter Stuff:
Idaho hunter's decoy deer baffles hungry mountain lion
By Ben Hooper UPI Jan. 10, 2018
Jan. 10 (UPI) — An Idaho hunter captured video of a befuddled mountain lion stalking a decoy deer until discovering that its intended prey is a fake.
The video shows the hunter, perched above ground, filming the mountain lion as it stalks the decoy deer he was attempting to use to draw some real deer out into the open.
The cougar quietly sneaks up on the faux deer and prepares to pounce, but stops short when it realizes the deer is not all that it seems to be.
The befuddled mountain lion then sniffs at the plastic deer in confusion, but ultimately decides it doesn't appear too tasty.
source:
———————-
Seasonal Humor:

————————