Feb 24, 2019 The Yellow Pine Times – Valley County, Idaho
Community Calendar:
March 10 – Daylight Savings begins at 2am
May 25 – ATV-UTV Scavenger Hunt Memorial Day Weekend
July 6 – Golf Tournament & Breakfast
Jul 13 – Ride to Big Creek
Sep 14 – Ride to Cinnabar
(details below)
———-
Local Events:
Golf Tournament
It's time to plan for the annual 4th of July Yellow Pine Golf Tournament. This year the proceeds will support the Community Hall and road repair.
The event will begin July 6th at 11am at the golf course, where the fairways aren't fair and the greens aren't green. The cost will remain the same at $50 per couple for sponsoring a hole with a sign displayed. $20 for individuals, each person playing will get a ticket for beer, additional tickets can be purchased for $3. Soda and water are free. Checks can be written to VYPA (Village of Yellow Pine Association)
There will be prizes for first, second and third places for men's women's and mixed. Also, there will be a prizes for closest to the pin. Spots go quickly, so be one of the first!
There will be a hearty breakfast at the museum from 8-10. The cost is $6 and all proceeds benefit the upkeep of the museum.
— — — —
2019 Yellow Pine Escapades
The 2019 schedule for the Yellow Pine Escapades has been updated on the website!
Expect new escapades this coming year, including an ATV-UTV Photo Scavenger Hunt; two (yes, two) ATV-UTV rides, a golf tournament, and even a community yard sale. Other events will be added to the calendar as plans are finalized.
Join us for a great season of fun! The starting point for fun in Yellow Pine! The website includes information on the events hosted by the Yellow Pine Community Hall as well as the other "goings-on" in the village. Food, lodging and fuel are available in Yellow Pine. link:
———-
Village News:
Sunday Snow Day
Feb 24, 2019 10am
The Weather Station in Yellow Pine. As of 10am this morning measured 26 1/2″ snow on the ground, snowed an additional 3″ by dusk.
— — — —
President's Day 2019
Yellow Pine from Golden Gate Hill by Scott Amos
— — — —
RIP:
Dolly has gone to join Sarge across the Rainbow Bridge
– JM
— — — —
Roads
Ziva, Road Boss of Yellow Pine
Lower Johnson Creek Plowing
Note: when traveling to the dump, please use the river side of the road for wheeled vehicles so the hill side can be for snowmobilers. Turnouts will be plowed.
– CD
— — — —
Notice of Public Hearing March 14 – Valley County Quarry Yellow Pine
The Valley County Planning and Zoning Commission will hold a public hearing at the Valley County Courthouse in Cascade, Idaho, on March 14, 2019, to review the application.
Please direct questions and comments to Cynda Herrick at the P&Z office. Comments must be received at least seven days prior to the public hearing.
Phone: 208-382-7115
Fax: 208-382-7119
cherrick@co.valley.id.us
CUP 19-01 Valley County Quarry Yellow Pine: Valley County Road & Bridge Department is requesting approval of an expansion of the existing CUP 10-3 Valdez Quarry. The expansion would be south onto approximately 5 acres of the USFS Boise NF. Rock material extracted from this quarry would be used as cover material for road maintenance. Upon completion of the quarry activities, both portions would be reclaimed, re-contoured, and re-vegetated. Access would be via a private drive off Murphs Ave.
link to: 20190208ValdezQuarryExpansion.pdf
— — — —
History of the log cabin at the Cemetery
The Cemetery Committee is interested in any information on the cabin that is located by the cemetery. We know that it had been on the property that was known as "Mary's Cabins". It was moved by Tom Richter while the Filler's were building their house. Donna Valdez said that the people who ran the cafe and bar slept there, before the Tavern was built.
Do people have pictures or any information they can share? We'd love to put a plaque up on the cabin while we repair it.
– Marj Fields
— — — —
Come Spring…
"To Yellow Pine residents. I will be making several trips next spring and summer hauling out metal, appliances, etc. . If you need anything hauled away please get on the list. Vehicles require a title. I will be hauling gravel back if anyone is interested."
Contact Mike Amos
— — — —
Yellow Pine US Mail
We are on 3-day a week mail delivery from Cascade. The Post Office in Yellow Pine is open six days a week: M-F 845am-245pm Saturday 9am-245pm. Be sure to buy your holiday stamps here.
Forever Stamp: 55 cents
— — — —
Yellow Pine Transfer Station
Please do not abuse our Transfer Station or we may lose it. Household trash must be placed in the bins, flattened cardboard boxes can also go into the bins. Do not stack trash in front of the doors. Woody yard debris only for the burn pile. No furniture, appliances, tires or construction debris allowed, those items must be hauled out to the Donnelly station by you.

— — — —
Predators
Fox tracks seen in Yellow Pine this week. Mountain lions sightings in the McCall area. Please do not leave pet food outdoors and remember to keep trash secured, it will draw foxes, coyotes and loose dogs.
— — — —
Ice Hole Campground Closed
The Campground has been temporarily closed to provide for public safety during reconstruction. This order will be in effect from September 27, 2018 through July 2, 2019, unless rescinded earlier by the Forest Supervisor. (0402-04-80)
———-
Local Groups:
YPWUA News:
Winter Water Advice
To help prevent frozen water, avoid parking over buried water lines, allow the natural snow cover to insulate the ground. Driving over the lines will also push the frost deeper and can result in frozen pipes. Also, don't plow the snow over where water lines are buried, and avoid covering up water shut off valves.
link to: 2018 September Water Department Update.docx
— — — —
VYPA News:
VYPA Meeting Dates 2019
June 8th; July 20th; August 10th; September 14th.
Note that the July 20th meeting is not on the second Saturday due to a conflict with a planned ATV rally involving many residents and visitors.
— — — —
YPFD News:
The next meeting to be May 18th, 2019 at the Community Hall
Yellow Pine Fire Protection District Updates:
Fire Department Training on Sundays at 11am will resume in the Spring.
The YPFD has 2 Size Chimney Brushes with extension rods that were donated for use around YP. If you would like to borrow one, please contact Cecil or Jeff and we'll get them for you. The YPFD also has loanable mitigation tools, (Weed-Whacker, Hedge Trimmer, backpack blower and 16' pole saw). If you would like to borrow one or all, please contact Cecil or Jeff and we'll get them for you.
It's also time to check the Smoke Alarm batteries and Fire Extinguishers. Please test the alarm and replace Smoke Alarm Batteries every year, if you have the replaceable battery type. Fire Extinguishers should be checked as well and should be easily seen and reachable. A good location for the Fire Extinguishers would be the kitchen and near the wood stove and/or fireplace. The needle should be in the green.
If you need a Smoke Detector or Fire Extinguisher for your YP residence please contact Jeff F.
Smoke Alarm Info:
——–
Biz Listings:
Yellow Pine Lodge (208) 633-3377
Closed for winter
— — — —
The Corner (208) 633-3325
Closed for winter
— — — —
Yellow Pine Tavern (208) 633-2233
Winter Hours at the Tavern: 9am-2pm and 4-8pm Mon, Wed, Fri, Sat and 9am-2pm Sun. Or call 208 633-2233 the phone rings into the house.
— — — —
Buck Horn Outfitters LLC
Link to FB page:
Deadwood Outfitters
Link to website:
— — — —
Local Fuel Suppliers
Amerigas Phone: (208) 634-8181
Ed Staub & Sons Phone: (208) 634-3833
Diamond Fuel & Feed (208) 382-4430, Suet blocks (peanut crunch, and cherry) for $1.99 per block. 50# bag of Polar Ice Melt available for $7.99.
— — — —
Outside Biz that will service Yellow Pine:
Elkhorn Heating & Cooling
(208) 906-4067 Middleton, Idaho, Will service Yellow Pine
B&T Safety Solutions LLC
Cleaning chimneys and stoves
208-271-1600 – Based out of Donnelly, we do cabin staining/chinking as well
— — — —
Follow The Yellow Pine Times on Facebook (updated more often than emails)
———————–
Local Observations:
Monday (Feb 18) overnight low of 14 degrees, a light dusting of snow this morning, mostly cloudy and a few flakes falling, breezy at times, measured 21″ of snow on the ground. Lots of birds early, jays, white and red-breasted nuthatches, dark-eyed juncos, hairy woodpecker and a clarks nutcracker. A few icicles dripping mid-day, below freezing, breezy at times, scattered sunshine, high of 28 degrees. Neighbor with back-hoe moving snow. Mid-afternoon partly clear to partly cloudy and breezy. Partly cloudy and breezy at dusk. Broken clouds and halo around the moon at 10pm and breezy.
Tuesday (Feb 19) fine light snow falling this morning before sunrise, overnight low of 9 degrees, a little trace of snow by 10am, overcast and very light snowfall, a bit of a breeze. Jays, juncos, red-breasted nuthatches and a northern flicker visiting this morning. Very light snow falling mid-day, no drips, high of 24 degrees. Mid-afternoon snowing lightly, about 1/4″ and overcast, top of VanMeter socked in, chilly light breeze. Nuthatches and juncos visiting. Overcast at dusk. Full moon was hiding behind thick clouds at 10pm. Light snowfall after 1am. Snow ended before 6am.
Wednesday (Feb 20) overnight low of 9 degrees, mostly cloudy this morning, 3/4″ new snow, 21″ total snow (some tree wells are almost bare.) Nuthatches, hairy woodpecker, juncos and jays visiting. Mail truck driver made it in on time. Mid-day cloudy and breezy at times, high of 34 degrees. Hairy woodpecker, juncos and nuthatches visiting. Mid-afternoon a few small patches of blue sky and breezy at times. Late afternoon passing snow storm. At dusk low clouds, socked in and steady snow long enough to put down a trace. Steady light snow before midnight (about 1/2″) still snowing lightly at 1am.
Thursday (Feb 21) overnight low of 5 degrees, mostly cloudy this morning, 3/4″ new snow, 22″ total snow on the ground. Jays, red-breasted nuthatches, hairy woodpecker and clarks nutcracker visited this morning. Mid-day bits of sunshine, a few icicles dripping, high of 36 degrees. Mid-afternoon breezy, snowing pretty hard and socked in right to the valley floor. At dusk it was starting to clear off, less than 1/2″ new snow from the afternoon storm.
Friday (Feb 22) overnight low of -4 degrees, high thin overcast and cold light breeze this morning, snow had settled to 1/4″ and total snow on the ground 22″. Jays, nutcracker, nuthatches, juncos, hairy woodpecker and pine squirrel this morning. Mid-day broken clouds and filtered sunshine, a few dripping icicles, high of 34 degrees. Mid-afternoon mostly clear, cold light breezes, and more icicles dripping. Partly clear at dusk and cold breezes. Cloudy at 10pm and breezy. Calmer and cloudy at midnight. Started snowing around 330am.
Saturday (Feb 23) overnight low probably around 20 degrees, started snowing early morning, low overcast and still snowing at observation time, measured 2″ new light fluffy snow and 24″ total snow on the ground. Jays, juncos, nuthatches, flicker and 2 hairy woodpeckers visiting this morning. Snow tapering off mid-day, high of 32 degrees. By mid-afternoon icicles dripping, a few flakes of snow falling and breezy (trace). Cloudy and calmer at dusk. Trace of snow fell before midnight, then probably snowed all night.
Sunday (Feb 24) overnight low probably around 24 degrees, snowed most of the night, low clouds and steady snow this morning, measured 4 1/4″ new light fluffy snow and 26 1/2″ total snow on the ground. Flicker, jays, juncos, nuthatches and hairy woodpeckers visiting this morning. Still snowing mid-day and breezy at times, high of 32 degrees. Still snowing mid-afternoon (about 1″ new since morning) breezy and low clouds. Still snowing at dusk, low clouds, breezy at times (about 3″ new snow since this morning.)
————————
Midas News:
Advisory Council Summary for 2/21/2019 Meeting
The Stibnite Advisory Council is composed of representatives from Adams County, Idaho County, Riggins, Council, New Meadows, Donnelly, Cascade, and Yellow Pine. If you have questions or concerns regarding Midas Gold Idaho's mine, plan we encourage you to contact a representative or alternate. The Council has created several committees that will be gathering information and sharing it with the entire Council so all communities will be kept current as the plan progresses. All topics are open for consideration and will be researched. Lynn Imel is representing Yellow Pine and Ronda Rogers is the alternate. By asking questions and voicing concerns we can get accurate information about the proposed operation and provide input and opinion.
– Lynn Imel
Stibnite Advisory Council February 21, 2019 Special Meeting Summary
Attendance:
Lynn Imel – Yellow Pine
Ronda Rogers – Yellow Pine Alternate
Gene Tyler – Donnelly
Julie Good – New Meadows
Darla Webber – New Meadows Alternate
Glenna Young – Cascade
Bob Crump – Riggins
Tami Testa – Council
Denis Duman – Idaho County
Joe Iveson – Adams County
Anne Labelle – Midas Gold Corp.
Laurel Sayer – Midas Gold Idaho
Summary approved by the Chair
Distributed on February 21, 2019 to Advisory Council
* In response to the public interest in transparency the Stibnite Advisory council will open the meetings to the public for observation. Meetings will be held at Midas Gold the second Thursday of each month from 10:00 am to 12:00 pm.
* Initial Working Groups
Workforce
Transportation
Environmental Effects
Supporting Industry Opportunities
——————-
Idaho News:
Wilks Brothers list more Idaho properties for sale
"Boise Ridge Mountain Ranch" still for sale
Feb 21, 2019 By Steve Liebenthal KIVI TV
The billionaire Wilks brothers from Texas are listing more Idaho properties for sale. Wilks Ranch Brokers is advertising a 128 acre "private mountain retreat" in Valley County for $281,000, and the 411 acre "Timbered Valley Ranch" in Boise County for $472,000.
The Wilks' company, D-F Development, came under scrutiny last year when they installed gates on a Forest Service road near Bogus Basin. That road runs through their property that is also for sale. Country Homes of America lists the "Boise Ridge Mountain Ranch" as "over ten thousand deeded acres, with private access to an additional 640 acres of state land."
But Brian Brooks of the Idaho Wildlife Federation says the so-called private access is not private at all. He showed 6 On Your Side documents that he says prove the road, commonly known as Boise Ridge Road, should be open to the public forever.
Last week Brooks introduced legislation that would allow private citizens to sue landowners who illegally block access to public land. The Senate Resources and Environment Committee voted unanimously to move Senate bill 1089 forward.
source:
— — — — — — — — — —
Land board hears complaints about Payette Lake lease
Governor orders study of objections by neighbors
By Drew Dodson for The Star-News Feb 21, 2019
The top elected official in the state on Tuesday heard complaints over a state lease for an event center granted on Payette Lake.
The state land board, chaired by Gov. Brad Little, invited the public to comment on the leases granted by the Idaho Department of Lands on the center, called Lookout on the Lake.
"I'm going to ask the department and our legal counsel to address some of the issues that came up in testimony," Little told the crowd of about 100 gathered in the Maryanne Jordan Council Chambers at Boise City Hall
The land board will discuss the lease again at a special meeting or at its next regular meeting on March 19
Meanwhile, a separate meeting on the planned event center will be held by the lessee, Travis Leonard of McCall, next Thursday, Feb. 28 at the Holiday Inn Express in McCall at 7 p.m. in the conference room.
The lease includes 28 acres of lakefront land on Eastside Drive north of the Tamarack Bay Condominiums, including the northern six acres of Shellworth Island.
continued:
— — — — — — — — — —
Cascade to try again to pass dark sky ordinance
New draft to be heard Monday by P&Z commission
By Max Silverson for The Star-News Feb 21, 2019
An ordinance that would put restrictions on outdoor lighting to enhance the night sky in the City of Cascade will be presented at a public hearing on Tuesday at Cascade City Hall.
The hearing will begin at 6:15 p.m. Tuesday before the Cascade Planning and Zoning Commission.
The ordinance, called a "dark sky" law, is being proposed to protect Cascade from light pollution, officials said.
The new rules are an updated draft of a similar ordinance that was brought before the Cascade City Council in February 2017.
continued:
— — — — — — — — — —
Local Girl Scout troops to sell cookies at Albertsons, Ridley's
The Star-News Feb 21, 2019
Members of seven local Girl Scout troops will sell Girl Scout Cookies in McCall starting this weekend.
The scouts will sell cookies at Albertsons and Ridley's Family Market in McCall from 3 p.m. to 9 p.m. on Friday and from 9 a.m. to 6 p.m. on Saturday and Sunday.
Cookies also will be sold at both supermarkets the weekend of March 1-3 and on Friday, March 8.
Cookies will be sold at Albertsons only on Friday, March 15, and at Ridley's only on Saturday, March 16.
Proceeds from the cookie sales fund troop projects and experiences, as well as programming such as outdoor adventure and science, technology, engineering, and math.
The Silver Sage Girl Scout Council serves more than 3,800 girls throughout southern Idaho and in parts of Northern Nevada and Eastern Oregon with assistance from 2,200 local volunteers.
source:
— — — — — — — — — —
Cretser named program manager for Historic Roseberry
The Star-News Feb 21, 2019
Michele Cretser has been named as the new programs manager for the Valley County Museum, Roseberry and the Long Valley Preservation Society.
Cretser is a six-year resident of McCall and a winter employee for Brundage Mountain Co. as the manager of The Activity Barn.
She will be taking on the part-time responsibility of programs manager from Lucy Chronic, who will be stepping down from the position and taking on a volunteer position as secretary for Long Valley Preservation Society.
The programs manager oversees a variety of programs and events that support the Valley County Museum and the activities at Roseberry, located one mile east of Donnelly.
Cretser will oversee the volunteer program, coordinating school group visits, as well as running several annual functions and fundraisers.
Among the two dozen historic buildings on the site include the Roseberry General Store, the Nell Tobias Research Center, The Barn performance and event center and the Valley County Museum, which is open May through September on Fridays, Saturdays and Sundays.
Historic Roseberry is the site of the Cowboy Trade Days in June, an arts and crafts fair over the Fourth of July weekend, the Summer Music Festival at Roseberry in July, the Pioneer Picnic in August and the Ice Cream Social over Labor Day weekend.
For more information about events, go to http://historicroseberry.com, write to info@historicroseberry.com or call 208-315-4629.
source:
— — — — — — — — — —
Idaho City Snow
link to photo gallery: Photos by Axel Quartarone
— — — — — — — — — —
Avalanche slams into Lake Creek house
Homeowner says timing likely saved her life
by Greg Moore Feb 20, 2019 IME
On Friday about 1 p.m., a large slab of snow broke loose from a hillside above Lake Creek Road, north of Ketchum. The avalanche ran to the ground and slammed into a house at the base of the hill.
It broke three windows and part of the exterior wall of a bedroom, ran through the bedroom and poured through a double doorway into the living room. The homeowner, Jan Aronson, said she was sitting in the living room talking on the phone when the slide occurred.
"I heard a huge explosion and saw a massive amount of glass shards and wood shards coming right at me," Aronson said.
continued:
— — — — — — — — — —
Proclamation remembers Idaho internment camp prisoners
Feb 18, 2019 Associated Press
Boise — Idaho Governor Brad Little issued a proclamation Monday to recognize and remember the people of Japanese ancestry imprisoned at the Minidoka prison camp in southcentral Idaho during WWII.
… Starting in 1942, when the U.S. was at war with Japan, some 120,000 people of Japanese ancestry were ordered by the U.S. government into prison camps around the country.
The camp in Idaho is now a national historic site managed by the National Park Service.
full story:
— — — — — — — — — —
House defeats bill to eliminate daylight saving time in Idaho
The final vote was 55 to 15 against House Bill 85.
John Masters February 22, 2019 KTVB
Boise, Idaho — A bill that would have eliminated daylight saving time in Idaho has been defeated in the Idaho House. The vote on House Bill 85 was 15-55. Every member voted.
The bill's sponsor, Rep. Christy Zito, R-Hammett, said it would have meant that Idahoans no longer would have to spring ahead or fall back during the year.
However, there was lots of opposition. Most of it came from lawmakers who said it would have a negative impact on recreation in the evenings during the summertime.
continued:
———————
Tips & Advice:
Being prepared for the Idaho back country
Feb 22, 2019 by Anna Silver KIVI TV
Snow in the forecast won't stop many outdoor enthusiasts from enjoying all the gem state has to offer. The Idaho Backcountry is full of beautiful untouched wilderness for us to enjoy.
If you're not prepared, it could be less than enjoyable.
"A lot of the time our searchers start with my husband, my son, my brother, whoever went to the Idaho City area. Well it's 2000 square miles of wilderness here so the Idaho City area doesn't work. They could be anywhere. They could be anywhere from the high bridge on Highway 21 to Stanley," said Jim Kaczmarek, Boise County Sheriff.
He suggests taking a GPS spot device with you that can send out signals and a way to connect with people back home.
continued:
— — — — — — — — — —
Recognizing hazards in avalanche terrain : 'Awareness is unmeasurable'
by Alexis Goree Saturday, February 23rd 2019
Pine, Idaho (CBS2) — Snowmobiling in the back country becomes real popular at this time of year but the hazards of mother nature can be unpredictable and dangerous.
In Idaho, the number one cause of death of snowmobilers is avalanches. So, it's important to take a class, learn and practice with the three most important pieces of equipment. A probe, beacon and shovel.
"Awareness is unmeasurable. Being able to recognize mother nature's signs and get out of harms way serves each of these people immensely through their level of safety in the back country," Gummersall said.
continued:
— — —
Payette Avalanche Center
link:
—————————
Mining News:
Updates to Idaho mining law advances despite some concerns
Feb 21, 2019 AP
Boise, Idaho (AP) – Legislation rewriting portions of Idaho's mining law has passed a House committee despite concerns from two conservation groups that it could leave taxpayers with cleanup bills if a company declares bankruptcy.
The House Resources and Conservation Committee on Thursday unanimously approved the legislation that the conservation groups also say has good parts that update the nearly 50-year-old law.
Republican Rep. Jim Addis brought forward the bill on behalf of the Idaho Mining Association and says it will promote mining while protecting Idaho residents.
continued:
— — — — — — — — — —
Former Idaho Gov. Butch Otter joins cobalt mining company
Feb 22, 2019 AP
Boise, Idaho (AP) – Roughly seven weeks after leaving office, former Idaho Gov. C.L. "Butch" Otter has joined the board of a Canadian mining company that is expanding into Idaho.
The Idaho Statesman reports Otter will be on the board of directors for First Cobalt, a Toronto-based company with a cobalt project southwest of Salmon, Idaho, called Iron Creek. The area, known as the Idaho cobalt belt, is one of the most cobalt-rich areas in North America.
The metal is a key component of lithium-ion batteries used in electric vehicles and electronic devices.
In a prepared statement Otter says Idaho's Cobalt Belt is strategically important so America can reduce reliance on foreign sources of critical minerals.
source:
—————————-
Public Lands:
30-Day Comment Period-NFSR 474/427
2/19/2019
The Forest Service has prepared an Environmental Assessment (EA) for the National Forest System (NFS) 427/474 Roads Project and the Communications Upgrade of Telephone Facilities within the footprint of NFS 427 Road (NFS 427/474 Roads Project) and is seeking public comment on this EA during the 30-day notice and comment period.
The project areas are located approximately 0.9 miles west of Warm Lake on the Cascade Ranger District, T15N R06E S11 in Valley County, Idaho.
The complete EA can be downloaded from the project website located at: http://www.fs.usda.gov/project/?project=53839. If you would prefer a hard copy of the EA, please contact Terre Pearson-Ramirez, Team Leader, at tramirez@fs.fed.us or by phone at 208-382-7400.
Project Description
During the winter of 2017, excessive snowpack, rainfall, and/or saturated soil conditions on and adjacent to NFSR 474 induced several hillslope failures, which removed a significant portion of the road, fill in four locations. These landslides occurred over a one-mile stretch of the road. Currently the road is not drivable.
Approximately 1.05 miles of NFSR 474 would be decommissioned. Starting from the south gate near Forest Highway 22, approximately 0.90 miles of road would be decommissioned (obliterated); the next 0.15 miles would be decommissioned and converted to a trail to retain recreational access and preserve a trail loop.
NFSR 427 is an unpaved roadway in the Warm Lake Area, which links the Warm Lake Highway (Highway 22) with permitted recreation residences, developed and dispersed recreation areas, special use permittees, and the Stolle Meadows Guard Station. Traffic studies show that the average daily traffic (ADT) in the Warm Lake Area of the project is steadily increasing and has nearly doubled in the last 20 years.
This proposal includes widening the NFSR 427 to a two-lane roadway The widening would increase the roadway width from an existing typical 14-16 ft. to 20 ft. Two high-use miles of the roadway would be paved with hot mix asphalt. The remainder of the NFSR 427 road would be surfaced with six inches of crushed aggregate. To facilitate and improve drainage, the roadway would be raised with general borrow material and culverts upgraded where needed.
Midvale Telephone Company, dba MTE Communications, would like to upgrade its existing telephone facilities in the Warm Lake area to better serve its customers. The proposed location for the new buried lines is within the road prism of the section of NFSR 427 proposed for reconstruction. To minimize impacts to the road, the proposal is to install the conduit for the fiber optic lines prior to the road reconstruction.
How to Comment
The Forest Service is contacting interested persons, groups, and agencies to make them aware of the project and to gather pertinent feedback. To be most useful, please make your comments as specific as possible. Your comments will help us identify and address issues.
Electronic, written, hand-delivered, and facsimile comments concerning this project will be accepted. Comments may be submitted through the NFS 427/474 Roads Project webpage http://www.fs.usda.gov/project/?project=53839. To submit comments using the web form select "Comment on Project" under "Get Connected" on the right panel of the project's webpage.
Email comments must be submitted in a format such as an email message, plain text (.txt), rich text format (.rtf), Adobe (.pdf) and Word (.doc) to: comments-intermtn-boise-cascade@fs.fed.us. Please put "NFS 427/474 Roads Project" in the subject line of e-mail comments. Comments must have an identifiable name attached or verification of identity will be required. A scanned signature may serve as verification on electronic comments.
Written comments must be submitted to: Boise National Forest, Cascade Ranger District, Attention: Terre Pearson-Ramirez, P.O. Box 696, Cascade, ID 83611 or by fax at 208-382-7480. The office hours for those submitting hand-delivered comments are: 8 a.m. to 4:30 p.m. Monday through Friday, excluding holidays. Comments received in response to this request will be available for public inspection in the "Public Comment Reading Room" on the project webpage and will be released in their entirety, if requested, pursuant to the Freedom of Information Act.
When to Comment and Eligibility to Object under 36 CFR 218
Individuals and organizations wishing to be eligible to object must meet the information requirements of 36 CFR 218 Subparts A and B. It is the responsibility of persons providing comments to submit them by the close of the comment period. Only those who submit timely and specific written comments regarding the proposed project during a public comment period established by the responsible official are eligible to file an objection under §218.
Written, facsimile, hand-delivered, and electronic comments concerning this action will be accepted for 30 calendar days following the publication of the legal notice in the Star News, the newspaper of record. The publication date of the legal notice in the newspaper of record is the exclusive means for calculating the comment period. Those wishing to comment should not rely upon dates or timeframe information provided by any other source. The regulations prohibit extending the length of the comment period.
Only those who subscribe to the mailing list, submit comments, or notify the Forest that they would like to remain on the mailing list for this project will receive future correspondences on this project. Comments submitted anonymously will be accepted and considered; however, without an associated name and address, receiving further correspondences concerning this project will not be possible.
The Responsible Official for this project is the Cascade District Ranger, Jake Strohmeyer. For further information on the project, please contact Terre Pearson-Ramirez, Team Leader, at tramirez@fs.fed.us or by phone at 208-382-7400.
Sincerely,
Terre Pearson-Ramirez
540 North Main Street Cascade, ID 83611
Phone: 208-382-7400
—————————–
Critter News:
Pet Talk – An unusual spinal-cord disease in dogs
Dr. Karsten Fostvedt Feb 22, 2019 IME
Degenerative myelopathy is a spinal-cord condition that results in progressive hind-leg weakness and incoordination. The spinal cord is composed of nerve cells and fibers called axons. Nerve impulses are transmitted along the axons of the spinal cord from the brain to the limbs, and vice versa. When portions of the spinal cord degenerate, nerve impulses are not properly transmitted in both directions. Consequently, the legs become weaker, and eventually the dog cannot move them voluntarily. Feeling in the rear leg is also affected.
The exact reason that degenerative myelopathy develops is not well understood. An inherited (genetic) basis is suspected. German shepherds are the most commonly affected breed. Other breeds commonly affected include boxers and Pembroke Welsh corgis. The myelopathy typically occurs in older dogs (older than 10 years).
Degenerative myelopathy causes chronic, progressive nonpainful hind-leg weakness. Affected animals shuffle on their rear legs, scruff their knuckles and toes of the rear paws and have difficulty rising from a down position. Late in the disease progression, rear limb paralysis occurs, and the dog drags its rear legs. Fecal and urinary incontinence also can occur.
Currently, there is no definitive test for degenerative myelopathy. A presumptive diagnosis can be made when advanced imaging studies reveal no abnormalities of the spinal cord or vertebral canal. In other words, if advanced imaging, such as CT scans, MRIs and spinal dye studies, is performed and shows no sign of disease, then degenerative myelopathy is assumed.
source:
— — — — — — — — — —
Report says gazing into your dog's eyes improves bond
by Hunter Geisel Saturday, February 16th 2019 KUTV
Gazing into your dog's eyes could increase your bond with your furry friend, according to a Japanese scientific study.
According to a 2015 Japanese report published in Science Magazine, mutual gazing between a dog and its owner increases the bond between animal and human.
"Humans bond emotionally as we gaze into each other's eyes—a process mediated by the hormone oxytocin," stated the report. "Nagasawa [and her team] show that such gaze-mediated bonding also exists between us and our closest animal companions, dogs."
continued:
— — — — — — — — — —
Mountain Humane opens new facility with tours, treats and thanks
Shelter features splash park and cat café
by Alejandra Buitrago Feb 20, 2019 IME
Mountain Humane opened its doors to the public Monday for the grand opening of its new animal shelter, welcoming more than 1,000 people and celebrating the community that made the $16 million facility possible.
"We're just so fortunate to have a community that made this happen," Community Campaign Coordinator Kelly Odell said while giving a tour.
The 30,000-square-foot, state-of-the-art facility was built on 20 acres of anonymously donated land on Croy Creek Road, west of Hailey, and was funded by private donations. The new building sits across the road from the former facility, which was "being held together with zip-ties and duct tape," Odell said. The new facility has 58 kennels, with space to build more.
continued:
— — — — — — — — — —
Snowdon sanctuary to celebrate World Wildlife Day March 2
The Star-News Feb 21, 2019
Snowdon Wildlife Sanctuary near McCall will host a celebration of World Wildlife Day on Saturday, March 2, from 6 p.m. to 8:30 p.m. at Ruby's Kitchen.
Snowdon will unite with others around the world to raise awareness of the planet's wild animals during the United Nations' World Wildlife Day.
The McCall event will include wine tasting, appetizers, silent auction, raffle and wildlife trivia contest with prizes.
Cost is $25 a person, and seating is limited. Tickets are available in advance at Ruby's Kitchen, 324 W. Lake St.
All proceeds will benefit Snowdon's rescue and care of orphaned and injured wild animals.
For more information, call 208-634-8050 or visit Facebook page
source:
— — — — — — — — — —
Bill to keep Idaho wolf control board headed to governor
By AP Feb 18, 2019
Boise, Idaho (AP) – Legislation to keep operating an Idaho board that pays a federal agency to kill wolves that attack livestock and elk is on its way to Gov. Brad Little.
The House on Monday voted 51-19 to approve the bill to repeal a section of Idaho law that would end the five-year-run of the Idaho Wolf Depredation Control Board.
The legislation requested by the board has already passed the Senate.
continued:
— — — — — — — — — —
KWVR Oregon Wolf Education weekly Wolf Report
Third Week of Feb, 2019
— — — — — — — — — —
Wild Wolves Thrive in Germany's Military Areas
posted by martyb on Sunday February 24, 2019
Wolves are an impressive success story for wildlife recovery in central Europe, bouncing back from near extermination in the 20th century to a population of several thousand today. And in Germany, where populations have been growing by 36% per year, military bases have played a surprisingly central role in helping the animals reclaim habitat, a new analysis finds.
[…] The population growth "is quite impressive," says Ilka Reinhardt, a biologist with Lupus, the German Institute for Wolf Monitoring and Research in Spreewitz, who has been involved in efforts to study the wolves since they returned to Germany. The latest data suggest the country has 73 packs and 30 pairs of wolves. "Twenty years ago, no one would have expected this," she adds, noting Germany's fragmented habitat and the prevalence of roads and humans. "It shows how adaptable wolves are."
continued:
[h/t CG]
— — — — — — — — — —
Wolf Education International
Newsletter Feb 24, 2019
Proposed law would support full recovery of gray wolves
Why wolves have become a political football in Germany
Idaho trappers targeting wolves get partially reimbursed
Study Shows Wolves Directly Impact Minnesota Moose Numbers
Idaho to continue funding board responsible for killing wolves
— — — — — — — — — —
Wyoming Grizzlies Shipped to California Signed Into Law
Gov. Mark Gordon Signed Bill Into Law
By EHUNTR – February 20, 2019
Wyoming Governor Mark Gordon signed several bills into law late last week. One particular bill would allow grizzly hunts to take place if the state feels that its needed.
"The grizzly bear population in the greater Yellowstone ecosystem has recovered by all measurable recovery criteria, since at least 2003, with approximately seven hundred (700) grizzly bears currently living in the ecosystem;" Bill SF0093
Another part of the bill includes the relocation of problems bears to states that have a below average number of bears. In particular, the state of California!
continued:
[h/t CG]
— — — — — — — — — —
Saving deer and elk
Fences, underpass and draw-down save wildlife
Feb 20, 2019 By Steve Liebenthal KIVI TV
Lucky Peak Reservoir, Idaho — It was a scene that was upsetting to nearly anyone who saw it. A catastrophe for deer and elk traveling a migration route the herds had likely been using for hundreds if not thousands of years.
"In 2004 as you probably know, we had about ninety elk and twenty-five mule deer go through the ice down just above the high bridge at Mores Creek and drown," said IDFG Senior Wildlife Technician Peter Ott. "And we had about five hundred elk that were attempting to cross at that same location."
In a collaborative effort to avoid a repeat of that scene and reduce the number of deer and elk killed by cars, wildlife managers and water managers took action.
continued:
— — — — — — — — — —
Wildlife in the winter and farmers
By Brady Halbleib Feb 23, 2019 Local News 8
The winter season is tough on all of us, including our wildlife. The weather is frigid and food is limited in the mountains. Elk, deer and even antelope will often come down and feed on farmer's crops and haystacks. This causes a lot of issues for farmers and even the wildlife themselves.
It can be extremely frustrating for farmers to see their haystack being eaten away by elk and deer. They're not only a nuisance to farmers but it can also be extremely costly for them as well.
Fish and Game has been dealing with this for years and they will occasionally give out kill permits, but that's their very last resort.
continued:
— — — — — — — — — —
Moose dies in rescue from window well
Female yearling moose was trapped in Lane Ranch on Thursday
Joshua Murdock Feb 22, 2019 IME
A female yearling moose died after being rescued from a basement window well it had fallen into at a home in Lane Ranch subdivision in Sun Valley on Thursday afternoon.
Rescuers from Idaho Fish and Game, Sun Valley Fire Department and Sun Valley Police Department successfully plucked the tranquilized moose, estimated to weigh about 500 pounds, from the window well, but the animal was unable to self-regulate its body temperature in outside air temperatures that dropped into the single digits, Fahrenheit. The moose died as Fish and Game officers attempted to reverse the tranquilizer.
Personnel on scene said that the moose fell into the window well around mid-afternoon on Thursday, and that a property manager at the home reported the trapped animal. Had the man not spotted the moose, they said, it likely would have starved. Fish and Game Regional Supervisor Craig White, who led rescue efforts, said the window well was about 8 feet deep.
continued:
— — — — — — — — — —
The Columbia Basin Bulletin
Weekly Fish and Wildlife News
http://www.cbbulletin.com
February 22, 2019
Issue No. 899
Table of Contents
* Very Low Spring Chinook Forecasted Return Prompts Limits On Recreational Fishing; 50 Percent Of 10-Year Average
http://www.cbbulletin.com/442201.aspx
* Study Looks At Non-Harvest Mortality Of Lower Columbia Adult Spring Chinook; Correlates With Sea Lion Abundance
http://www.cbbulletin.com/442200.aspx
* WDFW Seeking Public Participation in Setting Salmon Fishing Seasons For 2019, Orcas A Factor
http://www.cbbulletin.com/442199.aspx
* Council Staff Organizing, Summarizing Recommendations For Amending Columbia Basin Fish And Wildlife Program
http://www.cbbulletin.com/442198.aspx
* Cold, Snowy February Delivers Boost To Mountain Snowpacks, More Of The Same Expected
http://www.cbbulletin.com/442197.aspx
* Researchers Synthesize Dam Removal Studies; Suggest Ecosystem Effects Can Be Predicted
http://www.cbbulletin.com/442196.aspx
* Coeur d'Alene Restoration Partnership Soliciting Project Ideas For Restoring Resources Damaged By Mine Waste
http://www.cbbulletin.com/442195.aspx
* NOAA Fisheries Scientists On Board International Voyage Investigating Salmon Survival In North Pacific
http://www.cbbulletin.com/442194.aspx
* NOAA: January 2019 Third Warmest January On Record Dating Back To 1880
http://www.cbbulletin.com/442193.aspx
* NOAA Fisheries Issues BiOp Addressing Passage For Protected Salmon At Green River Dam; Will Help Orcas
http://www.cbbulletin.com/442192.aspx
* Study Says Earth May Be 140 Years Away From Carbon Levels Not Seen Since Dinosaur Extinction (56 Million Years Ago)
http://www.cbbulletin.com/442191.aspx
———————–
Letter to Share:
Meeting yesterday with IDFG
2/24/2019
The gamebird foundation met with IDFG to come up with some ideas to help develop more public land to release pheasants on. This was some of the results of the meeting. Give us input. Please.
Hi all, Here is a summary of what I gained from yesterday's meeting. I am sending this to the board members since some of you could not make it and wanted to know what we accomplished.
The meeting was with IDFG's Don Jenkins & Nicole Alonso, and IDFG Commissioner Dan Blanco. All are from the Clearwater Region. Members from the Gamebird Foundation in attendance included Jerry Lee, Dale Rose, Dale Gottchalk, Jim Hagedorn, and Blaine McMahan on the speaker phone. Refreshments were cinnamon rolls, donuts, and popcorn. The meeting started with folks showing up at 9:00 AM and IDFG around 9:45 AM. This was a discussion meeting only. Nicole brought some new Access Yes program brochures that are very great. We worked from there. We discussed some of the programs that are available through NRCS and IDFG for landowners. The SAFE program is one that we need to work more on with Nicole and Don to really understand. This is a great program for Upland Birds – $100.00 per acre up front with the option of an additional CRP payment contract for a number of future years. Another good program encourages leaving stubble stand, 12 inches high or more, for up to 100 feet wide around good draws, creeks, and other good habitat over the winter that is worth $20.00 per acre.
A lot of discussion was had about landowners and sportsmen having more input into decisions, and we need more education so when we talk to landowners we will know what we are talking about with regards to the different programs. A suggestion was made that committees be formed to help and provide information to the Department. It was decided that we meet with Nicole and Don and put a plan together that we can present to landowners and sportsmen.
We have reserved the viola community center in Viola Idaho for Saturday march 30th for the day to help landowners and sportsmen and those watching wildlife.
You are all invited to this meeting. There will be more on the time of day at a later date. As of now we will have pizza until it is all gone. There will be more added to this news as we move forward. If anyone attending the meeting has more to add, hop on.
Jim Hagedorn
Executive Director
The Gamebird Foundation
thegamebirdfoundation.org
208-883-3423
————————
Fish & Game News:
UPDATE: F&G adds three proposals to 2019-20 big game hunts
By Roger Phillips, Public Information Supervisor
Friday, February 15, 2019
New information prompts new proposals; hunters have until Feb. 24 to comment
Idaho Fish and Game is adding three proposals for the 2019-20 big game hunting season for eastern Idaho mule deer hunts and elk hunts in the Weiser and Brownlee zones in response to new information.
Wildlife managers simultaneously propose changes to big game hunts for the upcoming season while also doing winter surveys and gauging big game populations and herd compositions. As new information becomes available, it's necessary to alter hunting season proposals.
continued:
— — — — — — — — — —
Upper Salmon River steelhead fishing report
By Brent Beller, Fisheries Technician
Tuesday, February 19, 2019
Here's the latest information about steelhead fishing in the Upper Salmon
Feb. 19: Steelhead angler effort on the upper Salmon River over the past week was light with most anglers only fishing for an hour or two during the afternoons. The majority of anglers were observed fishing near Salmon in location codes 16 and 17.
Anglers interviewed downstream of the Lemhi River in location code 16 averaged eight hours per steelhead caught, and anglers interviewed upstream of the Lemhi River in location code 17 averaged five hours per steelhead caught. No interviewed anglers reported harvesting a steelhead.
continued:
— — — — — — — — — —
More F&G News Releases
https://idfg.idaho.gov/press
———————————-
Fun Critter Stuff:
Wisconsin farmer's 'Moo Muffs' go viral
by FOX 11 News Friday, February 22nd 2019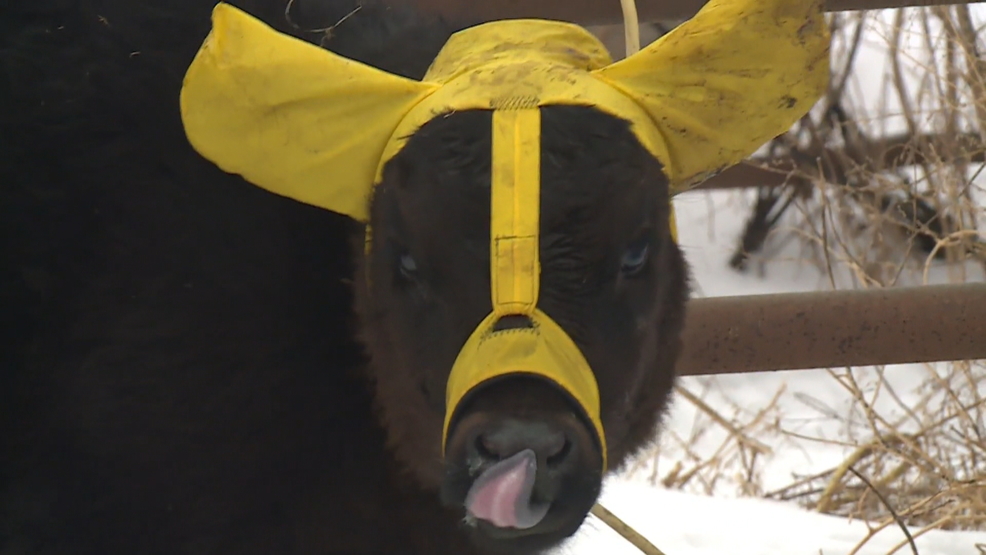 A cow on Triple P Farm in Lone Rock, WI sports "Moo Muffs," a creation by Holly Poad and her aunt, Kim Ewers, to keep newborn calves warm during cold weather. (WMTV)
LONE ROCK, Wis. (WLUK) — When temperatures dropped, a small southern Wisconsin farm got creative to keep their calves warm.
WMTV reports the idea of "Moo Muffs" came after Holly Poad, owner of Triple P Farm in Lone Rock, lost her barn in a fire and had to find a way to avoid frostbite on newborn calves.
In addition to calf jackets, Poad and her aunt Kim Ewers, who owns an embroidery business, got together to come up with the perfect design and material for calf earmuffs.
continued:
—————————
Seasonal Humor:
Any one else sick of winter?

————————