Mar 31, 2019 The Yellow Pine Times – Valley County, Idaho
Community Calendar:
April 21 – 2pm Easter pot luck at the YP Tavern
May 5 – 3pm Taco Feed at the Community Hall
May 20 – Deadline 2019 Festival T-Shirt Contest
May 25 – ATV-UTV Scavenger Hunt Memorial Day Weekend
June 11 – Vet Day Yellow Pine
July 6 – Golf Tournament & Breakfast
July 13 – Ride to Big Creek
July 18 – (tentative) Noxious Weed Spray day
Sep 14 – Ride to Cinnabar
(details below)
———-
Local Events:
April 21 2pm Easter pot luck at the YP Tavern
Fried Chicken and Potato Salad provided by the Tavern
— — — —
May 5, 2019, 3pm, Taco Feed at the Community Hall
In thanks for the great support of the community, the Community Hall Committee is giving back.
A Taco Feed will be held at the Community Hall on May 5th at 3pm. The Community Hall is providing the fixin's.
Please join us for good food and to check out the progress that has been made in the Community Hall.
Thanks again for all your support.
Kathy Hall
Community Hall Chairman
— — — —
2019 Festival T-Shirt Contest – Deadline May 20
The contest for the 30th Annual Yellow Pine Music Festival T-shirt logo is open!
This year's theme is "Then and Now".
The winner receives $100!
Your one-color design* must include the following:
* 30th Annual
* 2019
* Yellow Pine Music Festival
* musical instruments incorporated into the design
Designs must be submitted electronically to yellowpinefestival@gmail.com or by snail-mail to Yellow Pine Festival, PO Box 10, Yellow Pine, ID 83677
All submissions must be received by 5:00 p.m., Monday, May 20, 2019.
Submissions become the property of the Village of Yellow Pine Association.
*Note: We have learned that simple designs show and sell better.
— — — —
June 11 – Vet Day
On Tuesday June 11th the Cascade Vet clinic will be coming to Yellow Pine. Please call (208) 382-4590 to get on the list.
— — — —
Golf Tournament
It's time to plan for the annual 4th of July Yellow Pine Golf Tournament. This year the proceeds will support the Community Hall and road repair.
The event will begin July 6th at 11am at the golf course, where the fairways aren't fair and the greens aren't green. The cost will remain the same at $50 per couple for sponsoring a hole with a sign displayed. $20 for individuals, each person playing will get a ticket for beer, additional tickets can be purchased for $3. Soda and water are free. Checks can be written to VYPA (Village of Yellow Pine Association)
There will be prizes for first, second and third places for men's women's and mixed. Also, there will be a prizes for closest to the pin. Spots go quickly, so be one of the first!
There will be a hearty breakfast at the museum from 8-10. The cost is $6 and all proceeds benefit the upkeep of the museum.
— — — —
Noxious Weed Spray day July 18
Hello Yellow Pine,
I'm beginning my transition from snow plowing to noxious weed control. Yellow Pine is 1st on my list to start talking about dates to schedule our 2nd annual noxious weed Homeowners assistance spray day. Last year we got together on Thursday, July 19, 2018. I tentatively have Thursday, July 18, 2019 marked on my calendar.
We had really good participation last year but we can do better, lets start talking now and get more people involved as it is "Everyone's responsibility to control Noxious and Invasive plants". I think last years event went very well, we will try and be a little more organized this year, if we missed someone put them on top of the priority list. I will bring my entire crew, all of our equipment, PPE, and mixed herbicide, you provide the volunteers, we're here to help you not do it for you.
I misplaced 1-backpack sprayer last year, please keep your eyes peeled in case we laid it down someplace or forgot to pick it up.
Spread the word, save the date. I look forward to hearing from you. The best way to contact me this time of year is through e-mail, I will be in and out of the office until May, I check my e-mails daily but I can't always respond until I get back into the office.
Thank you,
Steve Anderson
Valley County Weed and Pest Control
SAnderson@co.valley.id.us
— — — —
2019 Yellow Pine Escapades
The 2019 schedule for the Yellow Pine Escapades has been updated on the website!
Expect new escapades this coming year, including an ATV-UTV Photo Scavenger Hunt; two (yes, two) ATV-UTV rides, a golf tournament, and even a community yard sale. Other events will be added to the calendar as plans are finalized.
Join us for a great season of fun! The starting point for fun in Yellow Pine! The website includes information on the events hosted by the Yellow Pine Community Hall as well as the other "goings-on" in the village. Food, lodging and fuel are available in Yellow Pine.
link:
———-
Village News:
Missing US Flag
A report that the US Flag at the Kiosk on main street went missing. If you have any info, please contact the YP Tavern. A temporary flag will be hoisted until a replacement flag arrives.
— — — —
History of the log cabin at the Cemetery
The Cemetery Committee is interested in any information on the cabin that is located by the cemetery. We know that it had been on the property that was known as "Mary's Cabins". It was moved by Tom Richter while the Filler's were building their house. Donna Valdez said that the people who ran the cafe and bar slept there, before the Tavern was built.
Do people have pictures or any information they can share? We'd love to put a plaque up on the cabin while we repair it.
– Marj Fields
— — — —
Roads
It is Spring Rock Migration Season
A report of a rather large slide on the South Fork road late this week, south of Krassel around MM26. The local plow went out and cleared the slide before the weekend. The local plow also went out and kicked rocks off the EFSF before this weekend, watch for fresh rock fall.
Lower Johnson Creek Plowing
Note: when traveling to the dump, please use the river side of the road for wheeled vehicles so the hill side can be for snowmobilers. Turnouts will be plowed. – CD
— — — —
Yellow Pine Transfer Station
A report March 14 that the transfer station was emptied. A report March 15 that the dumpsters are empty, but there is trash strewn between and behind the bins. Road report March 17 that the ice floor is starting to break up, slushy during warm afternoons.
Please do not abuse our Transfer Station or we may lose it. Household trash must be placed in the bins, flattened cardboard boxes can also go into the bins. Do not stack trash in front of the doors. Woody yard debris only for the burn pile. No furniture, appliances, tires or construction debris allowed, those items must be hauled out to the Donnelly station by you.

— — — —
Come Spring…
"To Yellow Pine residents. I will be making several trips next spring and summer hauling out metal, appliances, etc. . If you need anything hauled away please get on the list. Vehicles require a title. I will be hauling gravel back if anyone is interested."
Contact Mike Amos
— — — —
Yellow Pine US Mail
We are on 3-day a week mail delivery from Cascade. The Post Office in Yellow Pine is open six days a week: M-F 845am-245pm Saturday 9am-245pm. Forever Stamp: 55 cents
— — — —
Predators
Bears are due to come out of hibernation soon. Please do not leave pet food outdoors and remember to keep trash secured, it will draw bears, foxes, coyotes and loose dogs.
— — — —
Ice Hole Campground Closed
The Campground has been temporarily closed to provide for public safety during reconstruction. This order will be in effect from September 27, 2018 through July 2, 2019, unless rescinded earlier by the Forest Supervisor. (0402-04-80)
———-
Local Groups:
YPWUA News:
Please conserve water, a report that the village is using over 50,000 gallons per day!
Winter Water Advice
To help prevent frozen water, avoid parking over buried water lines, allow the natural snow cover to insulate the ground. Driving over the lines will also push the frost deeper and can result in frozen pipes. Also, don't plow the snow over where water lines are buried, and avoid covering up water shut off valves.
link to: 2018 September Water Department Update.docx
— — — —
VYPA News:
VYPA Meeting Dates 2019
June 8th; July 20th; August 10th; September 14th.
Note that the July 20th meeting is not on the second Saturday due to a conflict with a planned ATV rally involving many residents and visitors.
Yellow Pine Harmonica Meetings 2019:
March 30, 2019 Saturday 2pm at the Tavern
April 23, 2019 Tuesday 2pm at the Tavern
May 23, 2019 Thursday 2pm at the Community Hall
June 20, 2019 Thursday 2pm at the Community Hall
July 27, 2019 Saturday 2pm at the Community Hall
— — — —
YPFD News:
The next meeting to be May 18th, 2019 at the Community Hall
Yellow Pine Fire Protection District Updates:
Fire Department Training on Sundays at 11am will resume in the Spring.
The YPFD has 2 Size Chimney Brushes with extension rods that were donated for use around YP. If you would like to borrow one, please contact Cecil or Jeff and we'll get them for you. The YPFD also has loanable mitigation tools, (Weed-Whacker, Hedge Trimmer, backpack blower and 16' pole saw). If you would like to borrow one or all, please contact Cecil or Jeff and we'll get them for you.
It's also time to check the Smoke Alarm batteries and Fire Extinguishers. Please test the alarm and replace Smoke Alarm Batteries every year, if you have the replaceable battery type. Fire Extinguishers should be checked as well and should be easily seen and reachable. A good location for the Fire Extinguishers would be the kitchen and near the wood stove and/or fireplace. The needle should be in the green.
If you need a Smoke Detector or Fire Extinguisher for your YP residence please contact Jeff F.
Smoke Alarm Info:
——–
Biz Listings:
Yellow Pine Lodge (208) 633-3377
Closed for winter
— — — —
The Corner (208) 633-3325
Closed for winter
— — — —
Yellow Pine Tavern (208) 633-2233
Winter Hours at the Tavern: 9am-2pm and 4-8pm Mon, Wed, Fri, Sat and 9am-2pm Sun. Or call 208 633-2233 the phone rings into the house.
— — — —
Buck Horn Outfitters LLC
Link to FB page:
Deadwood Outfitters
Link to website:
— — — —
Local Fuel Suppliers
Amerigas Phone: (208) 634-8181
Ed Staub & Sons Phone: (208) 634-3833
Diamond Fuel & Feed (208) 382-4430, Suet blocks. 50# bag of Polar Ice Melt available for $7.99.
— — — —
Outside Biz that will service Yellow Pine:
Elkhorn Heating & Cooling
(208) 906-4067 Middleton, Idaho, Will service Yellow Pine
B&T Safety Solutions LLC
208-271-1600 Based out of Donnelly
Snow removal, cleaning chimneys and stoves, we do cabin staining/chinking as well
— — — —
Follow The Yellow Pine Times on Facebook (updated more often than emails)
———————–
Local Observations:
Monday (March 25) overnight low of 25 degrees, thinning overcast and breezy this morning, average of 16″ old snow on the ground. Northern flicker, cassins finches and jays visiting. Thicker clouds mid-day and breezy. Quiet day, hardly any traffic. Mid-afternoon overcast and lighter breezes, snow melting and soaking in, high of 56 degrees. At dusk it was cloudy and light breezes, a robin chirping.
Tuesday (March 26) overnight low of 31 degrees, solid dark overcast and sprinkled from 1030am to 11am, measured an average of 15″ old snow. Northern flicker calling to the north east, cassins finches at the feeders. Sprinkles on and off mid-day. Northern flicker and red-breasted nuthatches joined the cassins finches at the feeders. Steady rain mid-afternoon, dark overcast and rather breezy, high of 45 degrees. Break in the showers early evening, but sprinkling again at dusk and mountain peaks and ridges fogged in.
Wednesday (March 27) overnight low of 32 degrees, overcast and sprinkling, estimate 15″ old snow, it is getting softer. Robin calling in the neighborhood. Still sprinkling mid-day, low dark clouds. Finches visiting after lunch and not raining. Mid-afternoon dark and cloudy, slight breeze and not raining, high of 47 degrees. Hard shower late afternoon, then drizzles and drips. Another blast of rain late evening, moderate rain at dusk. Trace of snow fell sometime during the night/early morning.
Thursday (March 28) overnight low of 30 degrees, overcast this morning, measured an average of 14″ old snow on the ground. Raven and robin calling, jays, finches and pine squirrel visiting. Breaks in the clouds mid-day, a little bit of sun early afternoon. Red-breasted nuthatches, flickers and hairy woodpecker visited. Mid-afternoon sleet storm, little snowballs mixed with rain, then huge flakes of snow for about 10-15 minutes, tapering off to rain/snow mix then broken clouds, high of 46 degrees. It was mostly clear at dusk, getting foggy up Johnson Creek. Overcast before midnight.
Friday (March 29) trace of snow fell before 730am, overnight low of 28 degrees, overcast and occasional flakes of snow this morning, measured 13″ old snow. Raven and robin calling, finches, red-breasted nuthatch and jays visiting. Breaks in the clouds mid-day. Finches and a jay visited. Cloudy mid-afternoon and a little breezy, high of 46 degrees. Broken cloud cover at dusk and light breezes. Cloudy at midnight.
Saturday (March 30) overnight low of 25 degrees, clear sky and light breeze, average of 12″ old snow on the flat (bare ground under trees growing, south facing hills getting bare spots.) Robin, flicker and finches calling this morning, finches at the feeders. Mostly cloudy by mid-day. Jays joined the finches at the feeders. Mid-afternoon had mostly cloudy skies and variable breezes, high of 49 degrees. Quiet afternoon, very little traffic. Broken cloud cover at dusk. Looked cloudy at midnight.
Sunday (March 31) overnight low of 21 degrees, mostly clear sky, average of 12″ old snow on the flat in the open (bare ground on the south side of buildings.) Lots of finches calling this morning, 3 ravens calling and flying over the forest, pine squirrel scolding from the fence, and 2 tree swallows on the power line. Clouds building up mid-day and breezy. Hairy woodpecker, white-breasted nuthatch, finches and jays visiting. Partly clear and warm by mid-afternoon, light breezes, high of 53 degrees. Elk spotted out on the golf course. Partly cloudy at dusk and almost calm, a couple of robins calling.
———————–
RIP:
Linda Elaine (Murphy) Kildow
November 10, 1952 ~ March 16, 2019 (Age 66)
Linda Elaine Vipperman-Kildow age 66 of Nampa, Idaho, passed away on Saturday, March 16, 2019 at home with her loving husband Teddy by her side. She was born November 10, 1952 in Gooding, Idaho to her parents Charles and Lillie Vipperman.
Linda attended elementary school in Gooding, Idaho. Graduating from Mountain Home High School. Her love for learning continued as she attended the University of Idaho and Boise State University earning a Bachelor's degree in English and several endorsements which allowed her to teach all subjects K-12. Her teaching career lasted for 29 years.
While learning and teaching was her passion, the real love of her life was family and friends. She was blessed with two sons, two daughters and four grandchildren. She married the love of her life Teddy on March 21, 2005. Together they enjoyed traveling, camping, fishing and just doing things together. She especially enjoyed their trips to Yuma, Arizona with flea markets as her main attraction.
Linda loved to read. When she wasn't taking care of her family, it was not unusual to see her with a book in her hand. Being well informed and educated about many things was important in her life.
Linda is survived by her husband Teddy, her mother Lillie, two sons, Aaron and Dillon, two daughters Sasha and Sheena and four grandchildren, Cameron, Savaya, Shaela and Sloane. One brother Charlie two sisters Jeanne and Marilyn and a number of other loving relatives and close friends. She is preceded in death by her father Charles.
A celebration of life will be held at Dakan Funeral Chapel in Caldwell, Idaho on Saturday, April 6, 2019 at 10:30 a.m.
source:
[h/t IW & SMc]
[Note: Linda was the last teacher at the Yellow Pine School.]
——————-
Idaho News:
Snow-caused propane leaks disaster waiting to happen
McCall Fire responds to seven gas leaks in two weeks
By Drew Dodson for The Star-News March 28, 2019
Garrett de Jong's gas detector screamed as he swept it back and forth on Thursday night at a home on Majestic View Drive in McCall.
"We had an explosive level of gas in the whole home," said de Jong, acting fire chief for McCall Fire & EMS.
Had the gas ignited, the home could have been destroyed in the same way as a house on Fairway Drive in was obliterated in an explosion on March 17.
The fire department has responded to seven propane leak calls in the last two weeks, most recently a report of a propane gas smell at a vacant commercial building at 319 N. Third St. about 8:37 a.m. Tuesday.
This year's heavy snowfall has de Jong worried about snow and ice falling from roofs and damaging pipes and regulators on propane tanks located near buildings.
A gas leak from similar damage is being investigated as the cause of the Fairway Drive blast that killed Johnathan "Rob" Field, 69, and critically injured his granddaughter, Bella Field, 15.
De Jong wants McCall area residents to call McCall Fire to help them prevent a similar tragedy at their home or business.
continued:
— — —
Propane regulators should be cleared of snow
Mar 29, 2019 Local News 8
Ashton, Idaho (KIFI/KIDK) – Fall River Propane is advising property owners who use propane fuel to clear snow away from regulators.
The company says the large amount of high-country snow this year has created a significant number of damaged propane regulators. That damage can cause a propane leak that could result in an explosion.
Fall River's photo (above) shows a green-colored regulator. It had so much snow on it that the weight ripped the regulator off the foundation of the home at the brass connection. The company said that damage could have easily resulted in a gas leak.
source:
— — — — — — — — — —
Nez Perce Tribe buys Zims Hot Springs near New Meadows
Area was used for ceremonial, spiritual purposes
By Tom Grote for The Star-News March 28, 2019
Zims Hot Springs north of New Meadows has been purchased by the Nez Perce Tribe.
The tribe purchased the property from long-time owners Al and Linda Dixon last Friday, a news release from the tribe said. The purchase price was not disclosed.
The property includes two pools fed by natural mineral water from an artesian well and cooled by the waters of the Little Salmon River.
continued:
— — — — — — — — — —
Snow will start melting at higher elevations after warmer than average March
Water managers anticipate spring runoff
Mar 29, 2019 By Steve Dent KIVI TV
Idaho City — Mores Creek Summit north of Idaho City lost 30 inches of snow during the March, however, there is still 92 inches in the snow pack at the summit which is 16 more inches than average.
We went up for the NRCS snow survey with Ron Abramovich and it did look a lot different than it did a month ago following a historic snowfall that put several basins over the 100 percent clip for the entire season.
"The highest is Weiser at 148 percent, the Owyhee Basin is at about 130 and the Boise Basin is at 122 percent for the season," said Abramovich.
… "The rivers are going to get really interesting in the next few weeks," said Abramovich. "If it is melting an inch a day our rivers can absorb most of that and let it run off, but if you start pushing an inch and a half or two inches that's when we know the streams will be rocking and rolling."
full story:
— — — — — — — — — —
Be aware of noxious weeds as warmer weather approaches
Mar 29, 2019 By Katie Kloppenburg KIVI TV
With the warmer and wet weather over the week, seeds are sprouting and the plants are growing. But we do not want all plants to grow and thrive here in the Gem State.
Noxious weeds are not native to the state and are invasive. Ada County Weed Control says a mild winter means an early start for weeds this year.
If you want to learn more about how to deal with the weeds, you can get a free, detail-packed booklet here.
source:
— — — — — — — — — —
Landowner liability bill signed into law by Idaho governor
by Associated Press Wednesday, March 27th 2019
Boise, Idaho (AP) – Legislation to protect private landowners who allow the public on their land from liability under Idaho's recreational immunity statute has been signed into law.
Idaho Gov. Brad Little late last week signed the legislation that clarifies that the state's recreational immunity statute applies to private landowners.
Some state programs allow landowners to receive money to offset costs associated with opening their private property to the public.
State officials say that an Idaho Supreme Court ruling and a 2018 law mean government entities entering into agreements with nominal fees to the public are protected from liability under the recreational immunity statute.
source:
— — — — — — — — — —
ITD crews working to clear Highway 95 mudslide
Mar 27, 2019 By Steve Bertel KIVI TV
Weiser — Idaho Transportation Department crews are working to clean up a mudslide along U.S. Highway 95, north of Weiser.
The slide happened late Monday afternoon, according to ITD spokesman Jake Melder.
"This is a natural occurrence. Water from melting snow seeps into cracks along the hillside. With low temperatures, the water freezes and expands, widening the cracks, causing the landslide. It's very common," he explained.
The mud and boulders have not blocked the highway and have remained on the shoulder. North-south traffic on Highway 95 has not been impacted.
continued:
— — — — — — — — — —
Avalanche closes section of Highway 21
by CBS 2 News Staff Thursday, March 28th 2019
Grandjean, Idaho (CBS 2) — An avalanche has closed a 12-mile stretch of Highway 21.
Idaho Transportation officials say the closure is between Warm Springs Creek Airport Road and the Custer/Boise county line.
ITD says the highway will remain closed until further notice, but crews will assess conditions at about 3 p.m. on today (Thursday).
source:
— — —
Avalanche traps some Stanley residents on south side of Highway 21
by CBS 2 News Staff Sunday, March 31st 2019
Boise, Idaho (CBS 2) — An avalanche on Highway 21, at mile marker 100, trapped some Stanley residents on the south side of the snow, Saturday.
A social media post by Boise County Emergency Management reported that no injuries had been reported.
According to the post, snow in the middle of the road is estimated to be at eight feet.
They added that the trapped residents were staying at the Sourdough Lodge, in the mean time.
source:
— — — — — — — — — —
Avalanche blocks road north of Ketchum
Forecasters warn of 'considerable' danger in Wood River Valley
Mark Dee 3/282019 IME
A small avalanche partially blocked state Highway 75 and caused delays near Lake Creek Drive north of Ketchum Wednesday afternoon, according to the Blaine County Sheriff's Office.
No injuries were reported, and crews from the Idaho Department of Transportation cleared the road in about an hour, according to Blaine County Patrol Captain Curtis Miller.
The slide was about 30 feet long and up to three-and-a-half-feet deep, Miller said.
continued:
———————-
Mining News:
Legislature OKs law changing bonding for miners
Midas Gold, ICL disagree whether bill would ensure reclamation
By Drew Dodson for The Star-News March 28, 2019
A bill backed by Midas Gold that would change reclamation bonding for mining companies in Idaho only needs Gov. Brad Little's approval before it is signed into law.
Representatives of the mining industry called the bill an assurance mined area would be restored, but an Idaho Conservation League spokesperson said its provisions could backfire.
The bill, known as House Bill 141, would give mining companies more flexibility for bonding reclamation costs by allowing the use of corporate guarantees, trust funds, letters of credit and certificates of deposit.
The bill passed the Idaho House of Representatives by vote of 59-11 on Feb. 28 and passed the Senate on a vote of 29-3 on March 19.
Among the bill's sponsors was Rep. Dorothy Moon, R-Stanley. Moon represents District 8, which includes Valley County, where Midas Gold has proposed the Stibnite Gold Project near Yellow Pine.
continued:
— — — — — — — — — —
Midas Gold begins process to raise $200M to build Stibnite Mine
By Drew Dodson for The Star-News March 28, 2019
Midas Gold Corp. has begun the process to raise up to $200 million to build its proposed Stibnite Gold Project in Valley County.
Midas Gold recently filed documents enabling it to raise the money over two years using a variety of investment offerings.
Midas Gold would use the fund for costs of permitting, pre-construction engineering, equipment and initial construction for the Stibnite Gold Project, said Mckinsey Lyon, vice president of external affairs for Midas Gold Idaho.
The $200 million could be raised anytime in the next two years, enabling the company to use the funds as the Stibnite project nears final approval, which could come as early as the fall of 2020.
The amount is intended to exceed what the company might raise, but the documents do not require the Vancouver, B.C., company to raise any of the money if it does not want to, Lyon said.
How the money is used would be detailed in a final document issued by Midas Gold Corp. after any financing is completed, she said.
continued:
— — — — — — — — — —
Phosphate mine deal creates conservation fund
Mar 29, 2019 Local News 8
Pocatello, Idaho (KIFI/KIDK) – As part of a mining lease agreement, a new conservation fund has been established in eastern Idaho.
The U.S. Bureau of Land Management approved the Rasmussen Valley phosphate mine. In exchange, the fertilizer company, Itafos Conda LLC, provided $1.2 million to form the Southeast Idaho Wildlife Mitigation Fund.
Funds will be awarded to successful applicants by a Habitat Improvement Team comprised of natural resource, land management, and Tribal trustees. They will use a public forum to consider and evaluate proposed habitat protection and enhancement projects.
continued:
————————
Public Lands:
Notice – Public Hearings – Proposed Waterways Ordinance
Date: March 20, 2019
RE: Proposed Valley County Waterways Ordinance 19-OS
The Valley County Board of Commissioners will hold public hearings on the proposed Valley County Waterways Ordinance 19-05. This ordinance would repeal Title 4 Chapter 5 Motorboat Noise; Chapter 6 Powerboating on Warm Lake; Chapter 7 No Wake Zone, Certain Waters; and, Chapter 8 Big Payette Lake Watershed Regulations. It would implement standards for all Valley County Waterways. Specific standards are listed and include age of operators, living aboard vessels, swimmers outside a no-wake area, and that a boat creating a wake larger than 24 inches must be 1,000 feet from the shoreline. It also includes specifics standards for Payette Lake, Upper Payette Lake, Little Payette Lake, Granite Lake, Warm Lake, Deadwood Reservoir, and Lake Cascade
A copy of the proposed ordinance is available from the Valley County Clerk's Office or from the website: [link below]
Our office would appreciate your comments as a potentially affected agency or interested party regarding the proposed amendment. You may comment in person or by mail, fax, email or phone call. Written comments should be submitted at least seven days prior to the public hearing.
Further information can be reviewed at the Valley County Courthouse located at 219 North Main Street, Cascade, Idaho.
Doug Miller
Valley County Clerk
link to notice and draft ordinance:
— — — — — — — — — —
Bill to ban exploding targets on state lands fails in House
by Associated Press Tuesday, March 26th 2019
Boise, Idaho (AP) — Legislation to ban exploding targets on state lands in Idaho during wildfire season has failed in the House.
Lawmakers voted 35-33 Tuesday to reject the bill to prohibit target shooters from using the exploding devices that have caused wildfires.
Backers say it would have brought state lands into alignment with laws on federal lands prohibiting exploding targets from early May to mid-October.
continued:
— — — — — — — — — —
Bureau of Land Management seeks 2019 Artist-in-Residence in Morley Nelson Snake River Birds of Prey National Conservation Area
Date: March 27, 2019
Contact: Michael Williamson mwilliamson@blm.gov 208-384-3393
Boise, Idaho – The Bureau of Land Management is pleased to announce an opportunity to be the next Artist-in-Residence in the Morley Nelson Snake River Birds of Prey National Conservation Area. The program offers professional artists the opportunity to pursue their art, inspired by the majesty of Idaho public lands.
The selected artist will visit this scenic area guided by BLM staff for one week in May or June. The residency is open to all professional artists over 18 years of age who are United States citizens. Applications will be accepted until April 26, 2019.
All disciplines of artists will be considered including photographers, painters, sculptors, videographers, writers, poets, musicians and composers. Final selections are based on the merit and professionalism of the artist and the proposal presented in the application. Selected works from the artist will be showcased to the public in a venue to be announced and will be included in future BLM exhibits and publications.
Interested applicants must submit a cover letter detailing their interest in the program, proposed project, a professional resume and a minimum of five artwork samples in electronic format. A panel of professional artists and Bureau of Land Management staff will review the applications to select the artist.
Artist-In-Residence Program
The Artist-in-Residence program seeks to share the scenic beauty and unique stories of the landscapes and resources managed by the Bureau of Land Management through the world of art. It also provides an opportunity for learning and dialogue about the value of preserving these special places.
Morley Nelson Snake River Birds of Prey National Conservation Area
The deep canyon of the Snake River, with its crags, crevices and thermal updrafts, is home to the greatest concentration of nesting birds of prey in North America, if not the world. The BLM's mission at the Morley Nelson Snake River Birds of Prey National Conservation Area (NCA) is to preserve this remarkable wildlife habitat, while providing for other compatible uses of the land. Some 800 pairs of hawks, owls, eagles and falcons come each spring to mate and raise their young. The NCA is "nature in the rough," with few public facilities. However, the birds and their unique environment offer rich rewards to those willing to experience the NCA on its own terms and who have patience to fit into the natural rhythms of life in this special place.
For more information, please contact Cory Coffman at ccoffman@blm.gov 208-384-3485. To apply or to learn additional information about the program, please visit the BLM's website at https://www.blm.gov/get-involved/artist-in-residence
——————
Critter News:
Pet Talk – Macadamia-nut toxicosis in dogs
By Dr. Karsten Fostvedt 3/29/2019 IME
Macadamia nuts are harvested from Hawaiian macadamia trees. They are commonly eaten roasted and used in baked goods and candies. The nut is 75 percent oil.
The mechanism of the toxin is not well understood, but ingestion of nuts can result in temporary weakness and tremors of the rear legs in dogs. As little as 2 tablespoons of nuts ingested by a 25-pound dog may result in toxicity.
Signs are usually seen within 12 hours. Dogs may vomit, act lethargic, be shaky or weak, seem lame, or be unable to rise. Usually, the rear legs are affected more than the front legs. Often, a fever is present. Pancreatitis may arise because of the high fat content of the nuts.
continued:
— — — — — — — — — —
Man warns pet owners after his dog got caught in trap during hike in Ada County
Brad Dubach's dog has been caught in two animal traps in five years.
Shirah Matsuzawa March 29, 2019 KTVB
Boise, Idaho — As the weather gets warmer, a lot of pet owners will be hitting the trails with their dogs.
But beware, there are a lot of animal traps out there.
Brad Dubach has been walking his dogs on different trails around Boise for 25 years. On Monday, that walk became a little more dangerous. During a hike near Blacks Creek Reservoir, his dog, Rose, got caught in a trap that was intended for a different type of animal, likely coyotes.
continued:
— —
How to recognize and avoid wildlife traps while walking your dog
How to release your dog from a trap
— — — — — — — — — —
Ada County horse tests positive for equine herpes virus
The illness forced high school rodeo organizers to cancel this weekend's rodeo events in Homedale.
Associated Press & KTVB March 29, 2019
Boise, Idaho — Idaho agriculture officials confirmed that a horse in Ada County has tested positive for an equine herpes virus.
The Idaho State Department of Agriculture say the horse traveled from Arizona to Idaho in February and then was transported to the Salty Dash Futurity in South Jordan, Utah, from March 15-17.
The horse is now under quarantine and receiving veterinary care at a private facility in the Treasure Valley.
continued:
— — — — — — — — — —
KWVR Oregon Wolf Education weekly Wolf Report
Fourth week of March 2019
— — — — — — — — — —
Government-funded study says red wolves are distinct species
By Jonathan Drew and Matthew Brown – 3/28/19 AP
Durham, N.C. — A panel of top scientists concluded Thursday that the endangered red wolf of the southeastern U.S. is a species unto itself, giving the beleaguered canine a scientific and political boost as its numbers plummet in the wild.
The government-funded study by the National Academy of Sciences also found that the Mexican gray wolf of New Mexico and Arizona is a subspecies, which advocates say should support conservation efforts.
Another wolf species, the Western gray wolf, is thriving in the Northern Rockies and Great Lakes and could lose federal protections under a proposal released earlier this month.
For red wolves, the affirmation of their genetic uniqueness comes after some North Carolina officials and a small but vocal group of landowners pushed the government to abandon recovery efforts, arguing the animal is a coyote hybrid.
continued:
— — — — — — — — — —
Wolf Education International
3/28/2019 Newsletter
Arizona: Wolves Enter Barn, Kill Young Girls Horse
Wolves make a comeback in Madrid 70 years after their disappearance
Wolves target rancher's animals again
— — — — — — — — — —
Idaho man charged with illegal guiding
Indictment related to Alaska grizzly hunts
Mar 28, 2019 By Steve Liebenthal KIVI TV
US attorneys have charged Paul Silvas of Nampa, Idaho, in a four-count indictment with multiple felony Lacey Act violations.
According to the indictment, Silvas violated the Lacey Act by illegally guiding and filing false state of Alaska Department of Fish and Game hunt records in order to conceal the illegal take of brown bears and to conceal illegally guided hunts, along with transporting illegally taken game across state lines.
The indictment alleges that, on September 5 and September 12, 2014, as well as September 25, 2013, Silvas knowingly guided illegal hunts within the Noatak National Preserve for other residents of Idaho that did not possess the appropriate permits.
continued:
— — — — — — — — — —
Hunting for shed antlers could disrupt wildlife
Mar 28, 2019 By Anna Silver KIVI TV
Idaho — While the Treasure Valley is enjoying warmer temperatures, wildlife in the area are not out of the woods yet.
While it is not illegal to hunt for shed antlers in Idaho, it can disrupt the wildlife.
"They're at their last fat reserves," said Krista Biourn, Wildlife Biologist, Boise River Wildlife Habitat District.
"Because you're pushing them around. You're using that energy that they might need to survive," said Biourn.
continued:
— — — — — — — — — —
Birds of Prey honored with national award
Mar 29, 2019 By Katie Kloppenburg KIVI TV
If you have been out to the Birds of Prey you know how special a place it is for southwest Idaho. Now, their conservation efforts have been recognized nationally.
The Bureau of Land Management's Morley Nelson Snake River Birds of Prey National Conservation Area (NCA) and Birds of Prey NCA Partnership (BOPP), a Boise based non-profit organization, were recently honored with a 2019 Public Lands Partner Award. NCA and BOPP received the award in honor of their work to protect and conserve public lands and enhance visitor experience at the NCA.
continued:
— — — — — — — — — —
Photos: 60,000 snow geese flock to Parma area
Flocks of snow geese in Parma
Up to 60,000 snow geese are migrating through the Treasure Valley at the end of March. They make a stop near Parma at the Fort Boise Wildlife Management Area. Some will fly all the way to Siberia. (Photos by Axel Quartarone)
photo gallery:
— —
Idaho Fish & Game photo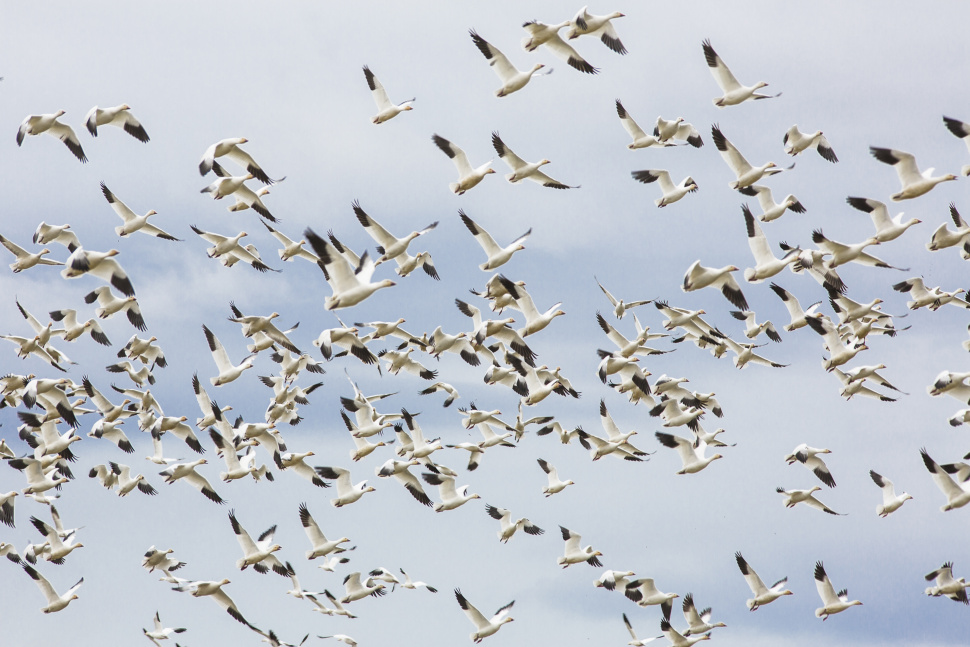 — — — — — — — — — —
F&G to open Chinook fishing season April 27
The Star-News March 28, 2019
The Idaho Fish and Game Commission has approved spring Chinook fishing on the Salmon and Little Salmon rivers starting on April 27.
Fishing will open with a four-day-a-week season on the Salmon and Little Salmon rivers and will run until sport anglers' shares of the harvest are met or Aug. 11, whichever comes sooner.
Fishing will be open Thursdays through Sundays with a limit of four total fish, only two of which may be adults.
… The Fish and Game Commission is scheduled to decide on summer Chinook salmon fisheries on the South Fork Salmon River and upper Salmon River at its May meeting, the news release said.
full story:
— — — — — — — — — —
The Columbia Basin Bulletin
Weekly Fish and Wildlife News
http://www.cbbulletin.com
March 26, 2019
Issue No. 902
Table of Contents
* Corps Selects New Fish Count Contractor At Columbia/Snake Dams; Data Release Delays At Some Dams Until Transition Complete
http://www.cbbulletin.com/442357.aspx
* NOAA Approves Idaho's Steelhead Fishery Management Plan, Allows 'Take' With Protections
http://www.cbbulletin.com/442356.aspx
* Draft Report: Watercraft Inspections For Invasive Mussels Increased By 23 Percent Last Year; 16 Percent More Contaminated Vessels
http://www.cbbulletin.com/442358.aspx
* Council Letter Requests More Federal Funds For Watercraft Inspections In 2020; Competition From Other States Could Be Coming
http://www.cbbulletin.com/442355.aspx
* NOAA Opens Consultation On Offshore Fisheries To Take A Look At Impacts On Orcas
http://www.cbbulletin.com/442354.aspx
* Snake River Runoff Allows River Managers To Maintain Flows For Salmon Redds Below Bonneville Dam
http://www.cbbulletin.com/442353.aspx
* Due To Low Numbers Fishery Managers Say No Smelt Dipping This Year
http://www.cbbulletin.com/442352.aspx
* WDOE To Raise Osoyoos Lake On Washington/B.C. Border A Month Earlier To Avoid Water Shortages, Low Flows
http://www.cbbulletin.com/442351.aspx
* Idaho Fish And Game To Host Lake Pend Oreille State Of The Lake Meeting; Updates On Status Of Fish Stocks
http://www.cbbulletin.com/442350.aspx
* Research: Rising Global Shipping Traffic Could Lead To Surge In Invasive Species Over Next 30 Years
http://www.cbbulletin.com/442349.aspx
* First Large Scale Analysis Of Gas Emissions Off Washington Coast: Contributes To Productive Fishing Grounds
http://www.cbbulletin.com/442348.aspx
* Study: Climate Change Having Profound Negative Impacts On Waterbirds In American West
http://www.cbbulletin.com/442347.aspx
————————–
Fish & Game News:
Spring bear seasons open April 1 in some units, many others open April 15
By Brian Pearson, Conservation Public Information Specialist
Friday, March 29, 2019
General hunts are available in most parts of the state
The state's spring black bear season opens on April 1 in a number of units in the state, providing Idaho hunters with a chance to hunt big game in the spring.
The balance of units with spring black bear hunts are set to open on April 15.
continued:
— — — — — — — — — —
Public's help sought in bull elk poaching case in the Tower Creek area near Salmon
By Mike Demick, Staff Biologist
Friday, March 29, 2019
Citizens Against Poaching (CAP) is offering a reward for information in the case
The remains of an illegally killed bull elk were discovered recently in the Salmon area and Fish and Game is asking the public for information to bring the poacher to justice.
Citizens Against Poaching (CAP) is offering a reward for information in the case and callers can remain anonymous. Contact CAP at 1-800-632-5999 twenty four hours a day.
continued:
— — — — — — — — — —
More F&G News Releases
https://idfg.idaho.gov/press
———————————-
Fun Critter Stuff:
Watch how this happy-go-lucky rescue dog hilariously fails his agility course
It's one of the cutest dog routine fails in dog show history.
———————-
Seasonal Humor:

———————-