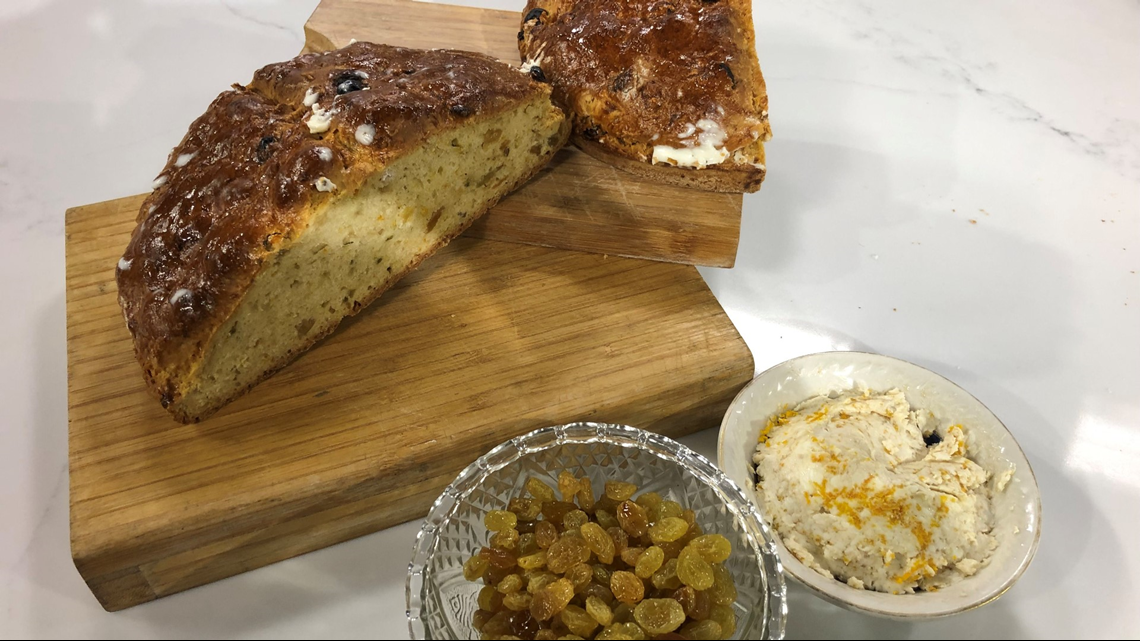 Ingredients
1 cup of golden raisins
1/3 cup Irish whiskey
4 tablespoons unsalted butter, cubed,
4 cups flour, plus more for table kneading
1/4 cup sugar
2 teaspoon baking soda
1-1/2 teaspoons kosher salt
1- 3/4 cup buttermilk (shake up the carton and then measure), plus more for brushing
1 egg, lightly beaten
1 teaspoon orange zest
1 tablespoon fennel seeds
Butter, for greasing the cast iron skillet
Flour for dusting the skillet
Preparation
Place raisins in a bowl with the Irish whiskey, and let sit for at least 1 hour, stirring occasionally. Grease a 10-inch cast iron skillet with butter, and then dust flour.
Preheat oven to 375 degrees.
In a large bowl, whip the 4 cups flour, sugar, baking soda and kosher salt. Using your fingers, work 4 tablespoons cubed butter into the dry ingredients until the mixture resembles coarse crumbs. In another bowl, mix together the buttermilk, egg and orange zest. Pour wet ingredients into the dry ingredients, and mix just until combined. Don't over mix! Stir in the raisin whiskey mixture and fennel seeds.
Lay dough out onto a floured work surface. The dough should be a little wet. Sprinkle dough with flour and knead a couple times to make a round loaf, adding more flour as needed if the dough sticks to the surface.
Place the dough in the greased skillet, then score the top of the dough with a knife, about an inch deep in an "X" shape. Brush the top of the loaf with buttermilk egg mixture.
Bake until the top of the bread is golden brown, about 45 minutes.
Transfer the loaf to a cooling rack. Rest for 10-15 minutes before serving.
———————-