Adjusted for high altitudes above 3,500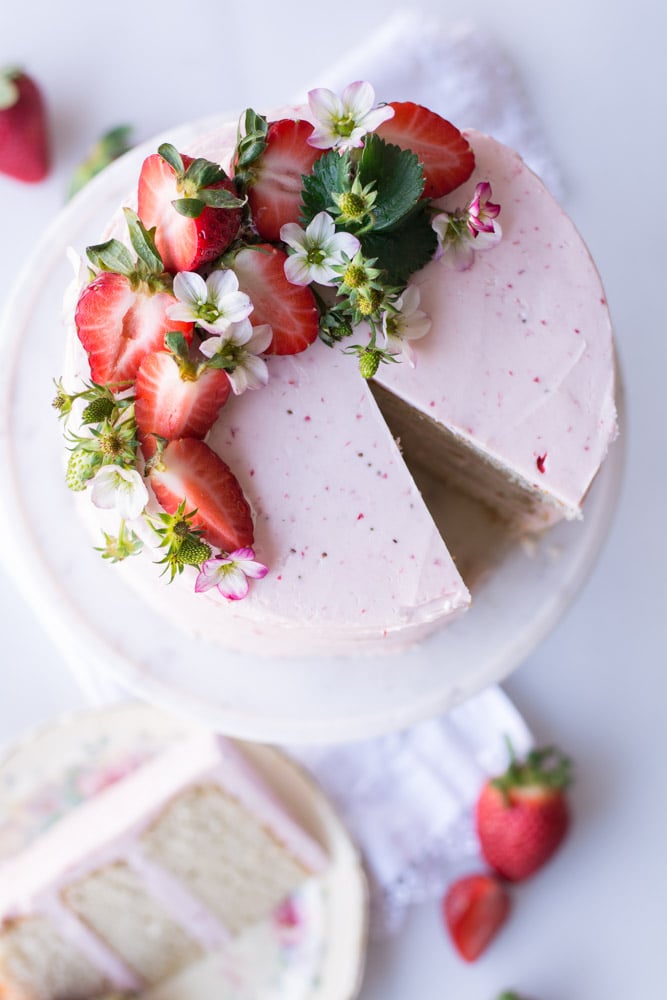 Ingredients
Cake
2 cups + 2 Tbl all-purpose flour
1 teaspoon salt
1/2 teaspoon baking soda
1 1/2 teaspoons baking powder
1 1/3 cup minus 2 tablespoons sugar
1 vanilla bean or 1 teaspoon vanilla bean paste
1/4 cup unsalted butter
1/4 cup oil
2 eggs room temperature
1 teaspoon vanilla
1 cup full-fat yogurt
1/2 cup boiling water
Strawberry Rose Swiss Meringue Buttercream
2/3 cup egg whites
1 1/4 cups sugar
1 1/2 cups or 3 cubes unsalted butter cut into 1 tbl. cubes or slices
pinch of salt
2 teaspoons vanilla
1/2 cup strawberry puree
1/8- 1/4 teaspoon rose water extract
Instructions
To make the cake:
Preheat oven to 350F degrees. Generously coat 3 6-inch round baking pans. Set aside .
Sift flour, salt, baking soda, and baking powder. Set aside.
Slice vanilla bean in half, with the back of a knife scrape seeds from the pod. Mix into the sugar.
In the bowl of an electric mixer or other mixing bowl, add vanilla sugar and butter. Cream together.
Slowly mix in oil. Beat for 1-2 minutes or until light and fluffy.
Add eggs one at a time. Mix until light yellow in color.
Add the flour alternately with yogurt beginning and ending with flour.
Beat in boiling water.
Pour into prepared pans. Bake for 30-35 minutes or until lightly browned and cake springs back when touched.
Remove from oven. Allow cakes to cool in pan for 5 minutes. Turn cake out onto a cooling rack. Cook completely. Cakes may be wrapped and frozen for up to 2 weeks.
To make Swiss Meringue Buttercream:
In a very clean bowl of an electric mixer, add egg whites and sugar. Place over a simmering pot of water, stirring constantly until temperature reaches 160 degrees F. Rub a small amount of the mixture between two fingers to make sure the sugar is dissolved. Remove from heat.
Using the whisk attachment, beat until the mixture is a thick meringue and the bottom of the bowl is cool to the touch. The bowl must be cool before adding the butter.
Replace the whisk with the paddle attachment. With the mixture on medium-low speed add butter once slice at a time until all of the butter has been incorporated. The mixture should be silky smooth and thick. The mixture may begin to look curdled, keep mixing until it is smooth. This can take 10 minutes or so. Mix in salt and vanilla. Add strawberry puree and rose water extract. Once puree is added keep mixing until mixture is silky again.
Recipe Notes
If you live at lower elevation levels, make the following adjustments. Delete 2 tablespoons flour and Add 2 tablespoons extra sugar, increase baking soda to 2 teaspoons.
———————————