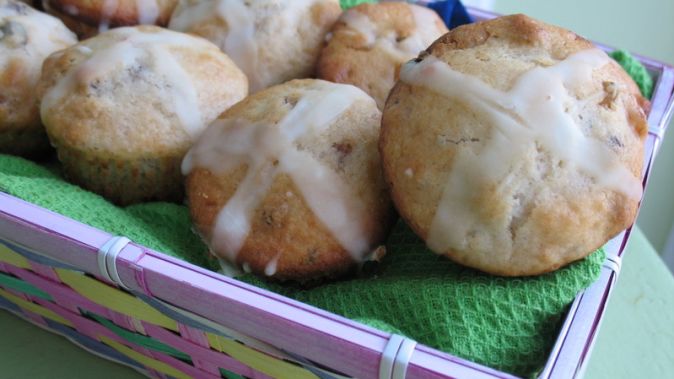 Ingredients
1/2 cup raisins
2 tablespoons orange juice
1 3/4 cups all-purpose flour
2/3 cup granulated sugar
1 tablespoon baking powder
1 teaspoon ground cinnamon
1 teaspoon allspice
1/2 teaspoon salt
1/4 teaspoon clove (optional)
1/2 cup candied peel
1/2 cup chopped dried apricot
1 egg
1 cup low-fat milk
1/4 cup vegetable oil
2 tablespoons butter, melted
1 teaspoon vanilla
Glaze
1 1/4 cups sifted icing sugar
4 teaspoons orange juice
Directions
Preheat oven to 350F Place raisins in a small bowl. Pour juice over top. Microwave, covered, until hot, 1 minute Set aside. Lightly coat or spray a 12-cup muffin tin or 9×5 inch loaf pan with oil. In a large bowl, using a fork, stir flour with sugar, baking powder, cinnamon, allspice, salt and cloves. Stir in raisin mixture, candied peel and apricots.
In a medium-size bowl, whisk egg. Whisk in milk, oil, butter and vanilla. Pour over flour mixture. Stir just until mixed. Batter will be lumpy. Divide between muffin cups or scrape into loaf pan and smooth top.
Bake in center of preheated oven until a cake tester inserted into center of muffins or loaf comes out clean, 20 to 25 minute for muffins, 1 hour for loaf. Remove pan to a cooling rack. After 5 minutes, remove from pan and cool completely on rack. Store muffins or loaf in an airtight container and store at room temperature up to 3 days or freeze up to 2 months.
Glaze:
Stir sifted icing sugar with orange juice until smooth. Drizzle over cooled muffins in a criss-cross pattern to mimic hot cross buns or spoon over loaf, if you wish.
———————-