Apr 21, 2019 The Yellow Pine Times – Valley County, Idaho
Community Calendar:
April 2 – Boil water order issued
April 21 – 2pm Easter pot luck at the YP Tavern
May 5 – 3pm Taco Feed at the Community Hall
May 15 – Firewood Season opens
May 20 – Deadline 2019 Festival T-Shirt Contest
May 25 – ATV-UTV Scavenger Hunt Memorial Day Weekend
June 11 – Vet Day Yellow Pine
June 29 – Highland Games
July 6 – Golf Tournament & Breakfast
July 13 – Ride to Big Creek
July 18 – (tentative) Noxious Weed Spray day
Sep 14 – Ride to Cinnabar
(details below)
———-
Local Events:
April 21 Easter pot luck at the YP Tavern
Easter at the Tavern started off as an egg hunt then Easter dinner with Fried Chicken, Ham, Smoked Turkey, Salads, Cakes and Pies. Thanks to all the great cooks of Yellow Pine. There is just a hint of Spring to come.
link to photo gallery YP Tavern:
— — — —
May 5, 2019, 3pm Taco Feed at the Community Hall
In thanks for the great support of the community, the Community Hall Committee is giving back.
A Taco Feed will be held at the Community Hall on May 5th at 3pm. The Community Hall is providing the fixin's.
Please join us for good food and to check out the progress that has been made in the Community Hall.
Thanks again for all your support.
Kathy Hall
Community Hall Chairman
— — — —
2019 Festival T-Shirt Contest – Deadline May 20
The contest for the 30th Annual Yellow Pine Music Festival T-shirt logo is open!
This year's theme is "Then and Now".
The winner receives $100!
Your one-color design* must include the following:
* 30th Annual
* 2019
* Yellow Pine Music Festival
* musical instruments incorporated into the design
Designs must be submitted electronically to yellowpinefestival@gmail.com or by snail-mail to Yellow Pine Festival, PO Box 10, Yellow Pine, ID 83677
All submissions must be received by 5:00 p.m., Monday, May 20, 2019.
Submissions become the property of the Village of Yellow Pine Association.
*Note: We have learned that simple designs show and sell better.
— — — —
June 11 – Vet Day
On Tuesday June 11th the Cascade Vet clinic will be coming to Yellow Pine. Please call (208) 382-4590 to get on the list.
— — — —
June 29 – Highland Games
For the second year, Bald Mountain Knuckle Draggers will bring the Highland Games to Yellow Pine on June 29th. Last year they donated over $2,600 to the Helipad and this year money will be raised for the water department. Come see these fantastic athletes and support the water department.
— — — —
Golf Tournament
It's time to plan for the annual 4th of July Yellow Pine Golf Tournament. This year the proceeds will support the Community Hall and road repair.
The event will begin July 6th at 11am at the golf course, where the fairways aren't fair and the greens aren't green. The cost will remain the same at $50 per couple for sponsoring a hole with a sign displayed. $20 for individuals, each person playing will get a ticket for beer, additional tickets can be purchased for $3. Soda and water are free. Checks can be written to VYPA (Village of Yellow Pine Association)
There will be prizes for first, second and third places for men's women's and mixed. Also, there will be a prizes for closest to the pin. Spots go quickly, so be one of the first!
There will be a hearty breakfast at the museum from 8-10. The cost is $6 and all proceeds benefit the upkeep of the museum.
— — — —
Noxious Weed Spray day July 18
Hello Yellow Pine,
I'm beginning my transition from snow plowing to noxious weed control. Yellow Pine is 1st on my list to start talking about dates to schedule our 2nd annual noxious weed Homeowners assistance spray day. Last year we got together on Thursday, July 19, 2018. I tentatively have Thursday, July 18, 2019 marked on my calendar.
We had really good participation last year but we can do better, lets start talking now and get more people involved as it is "Everyone's responsibility to control Noxious and Invasive plants". I think last years event went very well, we will try and be a little more organized this year, if we missed someone put them on top of the priority list. I will bring my entire crew, all of our equipment, PPE, and mixed herbicide, you provide the volunteers, we're here to help you not do it for you.
I misplaced 1-backpack sprayer last year, please keep your eyes peeled in case we laid it down someplace or forgot to pick it up.
Spread the word, save the date. I look forward to hearing from you. The best way to contact me this time of year is through e-mail, I will be in and out of the office until May, I check my e-mails daily but I can't always respond until I get back into the office.
Thank you,
Steve Anderson
Valley County Weed and Pest Control
SAnderson@co.valley.id.us
— — — —
2019 Yellow Pine Escapades
The 2019 schedule for the Yellow Pine Escapades has been updated on the website!
Expect new escapades this coming year, including an ATV-UTV Photo Scavenger Hunt; two (yes, two) ATV-UTV rides, a golf tournament, and even a community yard sale. Other events will be added to the calendar as plans are finalized.
Join us for a great season of fun! The starting point for fun in Yellow Pine! The website includes information on the events hosted by the Yellow Pine Community Hall as well as the other "goings-on" in the village. Food, lodging and fuel are available in Yellow Pine.
link:
https://www.ypescapade.org/atv-utv-events
———-
Village News:
Power Outages
We had 2 quick off/on outages this last week, both on Saturday, at 245pm and again at 256pm.
— — — —
Stibnite Road Update
From Midas April 16, 2019
On Monday, April 8 an overnight avalanche and subsequent disturbance along Stibnite Road (Forest Highway 48 – FS Road #50412) between the Village of Yellow Pine and the historical Stibnite mining district caused extensive damage and forced the closure of the road.
The main slide, which is estimated at 100 feet high, pushed snow, timber, and debris across the East Fork of the South Fork of the Salmon River, and Stibnite Road. Over a half-mile stretch of road is impassable.
Some sections have been washed away near Tamarack Creek, while other sections of the road are piled high with debris. At the time of the slide, Midas Gold had two team members on site at Stibnite and additional staff in Yellow Pine. Since then, our team established a safe path to traverse around the slide on foot and maintain access to the site.
We are working closely with state and federal officials to assess the situation, stabilize the area and determine the appropriate steps to take to repair the river and road once conditions are safe. Valley County, which has maintenance jurisdiction over the road, issued a local emergency declaration and will lead the work once final approval is received from coordinating agencies.
We anticipate the first phase of work to stabilize the area will begin soon.
Please be aware of road conditions throughout the region and travel safely!
source: FB
— — — —
Yellow Pine water system on boil order until further notice
The Department of Environmental Quality (DEQ) has placed the Yellow Pine Water Users Association Public Water System on a boil order until further notice.
The water system has had perpetual issues this winter with meeting water treatment requirements of produced water and with maintaining enough volume in the storage tanks. The problem could most likely be solved by reducing water system usage. Until that occurs:
* Not flushing the water to waste for 24 hours or until turbidity returns to pre-scrape levels after a sand scraping event, is cause for a boil order.
* Opening the orifice plate on the sand filter(s) to let more water through allows the water to pass through the sand too fast, and is cause for a boil order.
* Not maintaining a certain minimum water level in the storage tanks reduces the "contact time" to below engineered timeframes, and is cause for a boil order.
* Using more water than the water system can produce will cause depressurization events within the water system, and is cause for a boil order.
Yellow Pine's water system has not been able to maintain all of these requirements on a consistent basis and none of the contingency efforts have proven to be successful.
Your Drinking Water Operator, Warren Drake, will provide you with the public notification, and with a Certification Form. The Public Notification needs to be posted within 24 hours, and the filled out Certification form and a copy of that notice must be sent to me within 10 days. The water system will receive a violation if a Certification Form is not received by DEQ.
If you have any questions, please call me at (208) 373-0457.
Thank you,
Richard Lee Drinking Water Analyst
Idaho Department of Environmental Quality
see attachments:
PWS #ID4430059 -Yellow Pine – CT Ratio Disinfection Violation Public Notification January 2019.pdf
#4430059 Yellow Pine Water Users Boil Water Notification 4-2-19.pdf
— — — —
Tick Season
It is official, ticks are out.

— — — —
Missing US Flag
A report that the US Flag at the Kiosk on main street went missing. If you have any info, please contact the YP Tavern. A temporary flag will be hoisted until a replacement flag arrives.
— — — —
History of the log cabin at the Cemetery
The Cemetery Committee is interested in any information on the cabin that is located by the cemetery. We know that it had been on the property that was known as "Mary's Cabins". It was moved by Tom Richter while the Filler's were building their house. Donna Valdez said that the people who ran the cafe and bar slept there, before the Tavern was built.
Do people have pictures or any information they can share? We'd love to put a plaque up on the cabin while we repair it.
– Marj Fields
— — — —
Roads
Please share road reports, if you see a slide or rocks down, please take a photo so it can be shared with the plow driver.
— — — —
Yellow Pine Transfer Station
Transfer station was last emptied March 14. Report April 19 that the dumpsters are about half full, and there is still a mess between and behind the dumpsters, nothing outside of the building. Road report April 18 to watch for a big rock in the road, April 19 the rock has been moved a little and you can get around it.
Please do not abuse our Transfer Station or we may lose it. Household trash must be placed in the bins, flattened cardboard boxes can also go into the bins. Do not stack trash in front of the doors. Woody yard debris only for the burn pile. No furniture, appliances, tires or construction debris allowed, those items must be hauled out to the Donnelly station by you.

— — — —
Come Spring…
"To Yellow Pine residents. I will be making several trips next spring and summer hauling out metal, appliances, etc. . If you need anything hauled away please get on the list. Vehicles require a title. I will be hauling gravel back if anyone is interested."
Contact Mike Amos
— — — —
Yellow Pine US Mail
We are on 3-day a week mail delivery from Cascade. The Post Office in Yellow Pine is open six days a week: M-F 845am-245pm Saturday 9am-245pm. Forever Stamp: 55 cents
— — — —
Predators
Bears are out of hibernation and hungry. Please do not leave pet food outdoors and remember to keep trash secured, it will draw bears, foxes, coyotes and loose dogs.
— — — —
Ice Hole Campground Closed
The Campground has been temporarily closed to provide for public safety during reconstruction. This order will be in effect from September 27, 2018 through July 2, 2019, unless rescinded earlier by the Forest Supervisor. (0402-04-80)
———-
Local Groups:
YPWUA News:
Boil order issued April 2, 2019
Winter Water Advice
To help prevent frozen water, avoid parking over buried water lines, allow the natural snow cover to insulate the ground. Driving over the lines will also push the frost deeper and can result in frozen pipes. Also, don't plow the snow over where water lines are buried, and avoid covering up water shut off valves.
link to: 2018 September Water Department Update.docx
— — — —
VYPA News:
VYPA Meeting Dates 2019
June 8th; July 20th; August 10th; September 14th.
Note that the July 20th meeting is not on the second Saturday due to a conflict with a planned ATV rally involving many residents and visitors.
Yellow Pine Harmonica Meetings 2019:
March 30, 2019 Saturday 2pm at the Tavern
April 23, 2019 Tuesday 2pm at the Tavern
May 23, 2019 Thursday 2pm at the Community Hall
June 20, 2019 Thursday 2pm at the Community Hall
July 27, 2019 Saturday 2pm at the Community Hall
— — — —
YPFD News:
The next meeting to be May 18th, 2019 at the Community Hall
Yellow Pine Fire Protection District Updates:
Fire Department Training on Sundays at 11am will resume in the Spring.
The YPFD has 2 Size Chimney Brushes with extension rods that were donated for use around YP. If you would like to borrow one, please contact Cecil or Jeff and we'll get them for you. The YPFD also has loanable mitigation tools, (Weed-Whacker, Hedge Trimmer, backpack blower and 16' pole saw). If you would like to borrow one or all, please contact Cecil or Jeff and we'll get them for you.
It's also time to check the Smoke Alarm batteries and Fire Extinguishers. Please test the alarm and replace Smoke Alarm Batteries every year, if you have the replaceable battery type. Fire Extinguishers should be checked as well and should be easily seen and reachable. A good location for the Fire Extinguishers would be the kitchen and near the wood stove and/or fireplace. The needle should be in the green.
If you need a Smoke Detector or Fire Extinguisher for your YP residence please contact Jeff F.
Cooking safety in the home:
——–
Biz Listings:
Yellow Pine Lodge (208) 633-3377
Closed for winter
— — — —
The Corner (208) 633-3325
Closed for winter
— — — —
Yellow Pine Tavern (208) 633-2233
Winter Hours at the Tavern: 9am-2pm and 4-8pm Mon, Wed, Fri, Sat and 9am-2pm Sun. Or call 208 633-2233 the phone rings into the house.
— — — —
Buck Horn Outfitters LLC
Link to FB page:
Deadwood Outfitters
Link to website:
— — — —
Local Fuel Suppliers
Amerigas Phone: (208) 634-8181
Ed Staub & Sons Phone: (208) 634-3833
Diamond Fuel & Feed (208) 382-4430 – Wild Bird Seed 50LB Bag for $25.58
— — — —
Outside Biz that will service Yellow Pine:
Elkhorn Heating & Cooling
(208) 906-4067 Middleton, Idaho, Will service Yellow Pine
B&T Safety Solutions LLC
208-271-1600 Based out of Donnelly
Snow removal, cleaning chimneys and stoves, we do cabin staining/chinking as well
— — — —
Follow The Yellow Pine Times on Facebook (updated more often than emails)
———————–
Local Observations:
Monday (Apr 15) overnight low of 31 degrees and overcast this morning, a trace of old snow/ice remains. Finches and robins calling. Cloudy and a little breeze mid-day, high of 48 degrees. Hairy woodpecker and finches visiting. Blustery and breaks in the cloud cover mid-afternoon. Cloudy and calmer at dusk, a "freckle" of rain drops drying on the roof, lots of happy robins chirping. Rain some time after midnight.
Tuesday (Apr 16) overnight low of 34 degrees and mostly cloudy this morning, foggy peaks and ridge tops, just a trace of old snow/ice left on the flat. Robins, finches, flicker and jays calling. Socked in low and rained for about an hour mid-day, high of 50 degrees. Finches visiting, woodpecker drumming on the power pole. Overcast and little showers on and off mid-afternoon. Broken clouds late afternoon, elk on the golf course. About a dozen elk on Dave's Lane at dusk, broken clouds and fat moon peeking out, robins calling. Broken clouds after midnight. Trace of snow fell during the night.
Wednesday (Apr 17) overnight low of 29 degrees, overcast this morning, tiny trace of new snow melting, still a few patches of old snow. Flickers calling from either side of the neighborhood, robins and finches calling. Mail truck made it in on time. Patches of blue sky mid-day, high of 58 degrees. Finches visiting. Breezy and patchy sunshine mid-afternoon. Hairy woodpecker visiting with the finches. Mostly clear by evening and breezy. Robins calling at dusk. Bright moon shine last night.
Thursday (Apr 18) overnight low of 26 degrees, mostly clear and light breeze this morning, a couple of old patches of snow still melting. Tree swallows have arrived and checking out birdhouses, finches and jays calling. Filtered sunshine and thin high haze mid-day, high of 69 degrees. Finches, hairy woodpecker and starling visiting. Mostly cloudy and quite warm mid to late afternoon. Warm evening, clear or mostly clear sky at dusk, the last patches of snow melted. Robins calling and elk wandering through the neighborhood. Bright moon rising over Golden Gate peak around 1030pm.
Friday (Apr 19) overnight low of 31 degrees, clear sky and strong sunshine this morning. Lots of swallows swooping and calling and finches singing. Increasing clouds mid-day and blustery, high of 72 degrees. Finches visiting and tree swallows checking out bird houses. Mostly cloudy, very warm and gusty winds mid-afternoon. Mostly cloudy at dusk, warm and light breeze, robins calling. Breezy and rain after dark, then a windy rain storm in the middle of the night.
Saturday (Apr 20) overnight low of 41 degrees, low overcast sitting down on the peaks. Swallows flying low and calling, lots of finches and a pine squirrel visiting. Dark clouds and raining mid-day, high of 55 degrees. Stopped raining early afternoon. Power off and on at 245pm and again at 256pm. Finches visiting and flickers calling. Cloudy and light breezes mid-afternoon. Hard rain shower late afternoon, then misty sprinkles on and off early evening. Steady rain at dusk, robins calling. Probably rained until around 4am.
Sunday (Apr 21) overnight low of 39 degrees, mostly cloudy this morning. Moss turning brighter green, male brewers blackbird, finches and pine squirrel visiting. Broken clouds and scattered sunshine mid-day, high of 57 degrees. Female brewers blackbird joined the male under the feeders. A little breezy mid-afternoon and mostly cloudy (larger patches of blue sky.)
————————-
Letter to Share:
Thank You
Thank you all for your kind words, prayers, calls, mental hugs, cards, gifts and efforts.
Your support has eased the burden of this time.
My soul sings knowing you, my dear friends, have been there for me.
I am so thankful to count you as part of my family.
Hugs,
Deb
———————————-
RIP:
Wilbur Wiles
Wiles, Wilbur V. (103) from Big Creek, Idaho passed away Wednesday, April 17, 2019 at VA Medical Center. Life Celebration pending in Big Creek at a later date. Arrangements are under the direction and care of Summers Funeral Home, Boise Chapel.
source: Idaho Statesman April 18, 2019
— —
Wilbur Wiles (1916 – 2019)
Wilbur Vernon Wiles died peacefully at the Veterans Administration's Willow Hospice in Boise, Idaho on April 17, 2019. He was 103.
He was predeceased by his wife, Katie Thrall Wiles; his parents, Roscoe and Flora Schuldt Wiles; his sister, Eunice Wiles Rounds; and his brothers, Oliver Wiles and Billy Wiles. He is survived by his sister, Geraldine Wiles Rippel of Des Moines, Iowa, and by several nieces and nephews.
Wilbur was born in Goodell, Iowa on January 19, 1916, the second of five children. He grew up on the farm homesteaded by his grandfather, Roscoe Sr. Wilbur hiked the woods, trapped and hunted, and dreamed of the West.
As Wilbur was beginning high school in 1931, way out in Idaho the Forest Service was in the process of placing special protections on a vast and wild landscape of canyons and forests, rivers, mountains and high basins, designating it the Idaho Primitive Area. Young Wilbur Wiles did not know it then, of course, but this area would become his home for 80 years.
By the time he graduated from Goodell High School in 1934, Wilbur had made enough from selling mink and muskrat pelts to buy a Model T Ford, in which he immediately lit out for the West. For the next few years Wilbur worked construction and logging jobs in Wyoming, Idaho, and other parts of the Northwest, exploring as far as Alaska and Mexico. In 1938 he discovered the tiny settlement of Big Creek, Idaho, consisting mainly of a ranger station and a rustic hunting lodge on the western edge of the Primitive Area, about 20 miles and a high mountain pass east of Yellow Pine. He moved into an abandoned miner's cabin on lower Monumental Creek, a place even deeper inside that wilderness. Later he built a cabin in the area adjacent to Big Creek known as Edwardsburg. He obtained a pack horse and hounds, and established trap lines covering at least 120 miles in several directions. He became proficient in mining and prospecting, and worked at the Snowshoe Mine, Stibnite, and a tungsten mine he developed on Elk Creek Summit. And he hunted cougars, for which, at the time, the state paid a handsome bounty. When he was in his 60s, he discovered and later patented a small opal mine that still exists in the upper Monumental Creek drainage.
In the spring of 1941 Wilbur snowshoed over Profile Summit to Yellow Pine, caught the mail car to Cascade, and volunteered for the United States Army. Eight months later, he found himself in the wartime Army, which is what he anticipated and why he enlisted in the first place. After a couple of years as an instructor on the small arms firing range, he was sent to England to prepare for the epic invasion of Europe. Wilbur went ashore on Omaha Beach on June 9, 1944. Attaining the rank of sergeant, he participated in the breakout near St. Lo, endured the Battle of the Bulge in the Ardennes Forest, and fought through to the Elbe River where Soviet and American forces linked up in April 1945. He helped liberate two concentration camps. In his later years, incredulous to learn about the existence of Holocaust deniers, he said, "Well, they don't know what they're talking about. I know the Holocaust happened because I saw it. I saw what the Nazis did." The Army awarded Wilbur Wiles the Bronze Star for bravery. Honorably discharged in October 1945, he made straight for Big Creek.
In the summer of 1964, Wilbur opened his cabin door to the knock of Maurice Hornocker, who also was raised in Iowa and had roamed those Iowa hills, but had come west to study under John Craighead at the University of Montana. After twelve years in Montana, Hornocker was pursuing his PhD in wildlife biology at the University of British Columbia. He doubtless captured Wilbur's interest that summer day when he described the audacious doctoral project he had devised: tracking and marking cougars in the Idaho Primitive Area to determine their population densities, territories and interactions with their prey base. Hornocker had no experience capturing cougars, and little with the extended periods of self-supported back country travel that would be required in such rugged country, much of it in winter. He didn't know the territory. His inquiries about who he could hire to track, tranquilize, collar, measure, and release the big cats led him directly to Wilbur Wiles. Their ten-year effort together pioneered new techniques and understandings in wildlife management; it resulted in a PhD dissertation and several scientific papers, a 1969 National Geographic story, and a career for Dr. Hornocker as a world-renowned expert on large predators. And Maurice and Wilbur became best friends for life, a fact probably more significant to them than the scientific discoveries they made. Dr. Hornocker refers to Wilbur as his mentor, and credits him with the success of the cat study. Maurice, now 88, was at Wilbur's side the day he died.
Later in life, Wilbur married Kathryn Thrall, a widow with her own back country roots. Wilbur was devoted to Katie, and acceded to her need to spend winters someplace with milder winters than Big Creek. For a number of years in the 80s and 90s they lived part-time in Boise and later in Arizona. Wilbur continued to keep a fifth-wheel trailer in Arizona after Katie died in 1997, and drove himself from Big Creek to Arizona every October, back north again in May, until he was 101. He never looked as old as his age in years, always staying fit, walking the mountains and working his Big Creek garden. Young friends witnessed him, at 85, walking 26 miles in one day on the Big Creek trail. And this despite the fact that, eleven months before, he had broken both ankles—and had been hospitalized for the first time in his life—due to a fall from his cabin roof. The photo here is Wilbur at 95.
Wilbur Wiles was a straightforward and quiet man of natural-born integrity. Although he is the subject of a Forest Service biography and has been featured on Idaho Public Television's "Outdoor Idaho" and Boise's KTVB News, he never sought any kind of notoriety. He never was a big talker about anything. He seemed surprised when asked how he wanted to be remembered, saying simply, "Why, just as I am!"
A celebration of Wilbur's life is being planned for late summer 2019 at his cabin in Big Creek, the date to be announced. Wilbur's friends thank the staff at the Veterans Administration's Willow Hospice in Boise for the outstanding, truly excellent care they gave Wilbur in his final months. Contributions in Wilbur's memory can be made to Idaho Public Television.
source: Published in Idaho Statesman on Apr. 21, 2019
[h/t B]
— —
Outdoor Idaho Segment on the late Wilbur Wiles on Big Creek for "Where the Road Ends"
FB link:
— —
link to 1969 National Geographic Wilbur Wiles
(10 meg file, article starts on page 4)
— —
link to Wilbur Wiles history and letters
— —
Wilbur Wiles' cabin in Big Creek / Edwardsburg


photo shared by Marcia Franklin courtesy Jim Collord
— —
Letters to Share for Wilbur:
Boy, talk about the passing of a generation and time . . . A man who actually lived not just in the woods, but in the remote Idaho backcountry most of his life, living off the land – hunting, trapping, mining, and later working indirectly for National Geo. His mentors, friends, and acquaintances were authentic Thunder Mountain miners, original backcountry forest rangers, homesteaders, and the most recognized figures of the backcountry. Of course he did not like himself to be placed in the latter category. He served his country in WWII, not because he had to, but because he wanted to, and always down played his participation in D-Day and later the liberation of camps. He never entered the computer age, rarely used a telephone, and when I last visited with him at his home in Big Creek (August 2017) he preferred to get his news on the am radio. And best of all, he was a man of great integrity who valued the intangible things in life, such as friendship and nature, above anything else – it always appeared to me he wanted for nothing and his life was completely fulfilled. It is certainly rare anymore to meet people who simply judge and accept a fellow human being based on his or her word. He will be well remembered and missed!
– From pilot/author Richard Holm on the passing of Wilbur Wiles
— —
Wilbur Wiles passed away at 2 a.m. this morning. He was an icon of the backcountry who moved to Idaho in the 1930s.
A WWII Vet, he said he was at Normandy and the Battle of the Bulge. He told me he walked over Elk Summit to Warren in January of 1942, to answer a draft letter from the Army. He worked in mines at Thunder Mountain, Big Creek and possibly other foreign countries.
He loved working at his opal mine in the Frank Church Wilderness. A fifteen mile hike he did well into his senior years. The opal from his mine is so unique, it is called "Wilbur Wiles opal".
The family is having a private service for Wilbur, but a memorial may be planned for this summer in Big Creek….Wilbur's chosen final resting place.
– Scott Amos
———————-
Idaho News:
Slide damages one-half mile of road to Stibnite mine
By Tom Grote for The Star-News April 18, 2019
An avalanche last week covered the road between Yellow Pine and the Stibnite mining district where Midas Gold plans mining operations.
The April 8 slide sent snow, timber and debris across the East Fork of the South Fork of the Salmon River and Stibnite Road about seven miles east of Yellow Pine, said Mckinsey Lyon, vice president of external affairs for Midas Gold in Boise.
The main slide is estimated to be 100 feet tall, Lyon said.
"Some sections of the road have been washed away near Tamarack Creek, while other sections of the road are piled high with debris," she said.
Two full-time employees of Midas Gold who were performing general maintenance at the Stibnite site were stranded briefly, she said.
Other Midas Gold employees used hand tools to carve a trail around the slide and installed a safety rope, Lyon said.
About one-half mile of the road likely will need to be rebuilt, she said.
Early estimates say that work could cost about $800,000, Valley County Commissioner Gordon Cruickshank told The Star-News. Valley County has maintenance jurisdiction over the road, which is the only road into the historic mining area.
The Idaho Office of Emergency Management so far has not pledged any state funds to help with repairs because no homes were threatened, Cruickshank said.
The county will first try to stabilize areas of the road to reduce further damage before the spring melt, after which a plan will be developed to repair the road, Lyon said.
Midas Gold is evaluating other ways to get to the site to keep its activities on track, she said. Meanwhile, the company has canceled all public tours until at least July.
The tendency for slides along The Stibnite Road is one reason Midas Gold is proposing to build a new primary access road into the Stibnite area, Lyon said.
The company has proposed renovating and extending Burntlog Road between Landmark near Warm Lake and the project site.
The Payette National Forest is currently conducting a study of the plans by Midas Gold to extract gold and antimony from the site. Construction would take three years mining would last at least 12 years.
That draft study is expected to be released by Christmas, with final approval of the mine's plans expected a year later.
source:
— — — — — — — — — —
Landslide blocking Idaho 55 between Banks, Smiths Ferry
The Idaho Transportation Department estimates the road will be closed overnight.
KTVB April 16, 2019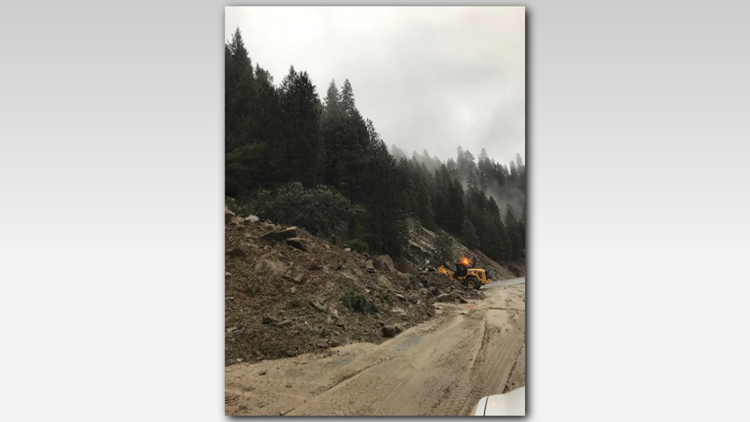 Banks, Idaho — A landslide over Idaho 55 is blocking the highway in both directions Tuesday morning.
The slide happened before 7 a.m. about 13 miles north of Horseshoe Bend. The closed area stretches from Banks to Smiths Ferry.
continued:
— —
Landslide cleared, Idaho Transportation Department reopens Highway 55
The highway was closed Tuesday morning by a landslide estimated to be around 15-feet deep in some places.
John Masters April 17, 2019 KTVB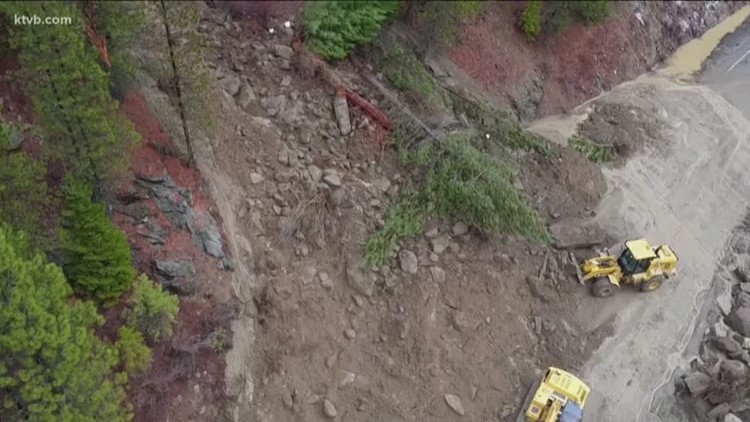 A massive landslide that blocked both lanes of Idaho 55 since Tuesday morning has been cleared and the road is back open to traffic again.
Idaho Transportation Department spokesman Jake Melder says crews hauled away around 300 truckloads of mud, rocks and debris in the last 34 hours.
continued:
— — — — — — — — — —
New Meadows evaluates damage, seeks aid, after flooding
By Drew Dodson for The Star-News April 18, 2019
Floodwaters receded late last week in New Meadows, but the city remained in a state of emergency, the New Meadows City Council confirmed during an emergency meeting on Monday.
"There's still more potential damage," New Meadows City Clerk Mac Qualls said. "That's the part that's scary."
The city, which initially declared an emergency on April 9, will operate under emergency conditions for several months until the full effects of the flood is realized, Qualls said.
Gov. Brad Little signed a state disaster declaration for Adams County on April 10, freeing up state funds to reimburse the city for up to 50 percent of the cost of damage caused by the flood.
continued:
— — — — — — — — — —
Valley commissioners schedule road funding vote in November
Binding vote needed after state said advisory vote not enough
By Max Silverson for The Star-News April 18, 2019
Valley County commissioners on Monday placed a measure on the November ballot to ask voters to permanently raise property taxes to fund construction and maintenance of county roads.
The measure would need at least 66.6 percent in favor and would raise about $3.4 million per year.
The decision to ask for a binding vote came after the Idaho State Tax Commission told commissioners that an advisory vote on raising property taxes that passed last November was not sufficient authorization.
Voters approved the advisory ballot by 69 percent, which commissioners thought gave a vote of confidence to raise taxes on their own under state law.
But the tax commission said a separate section of state law says budgets cannot be raised by more than 3 percent under any conditions without a binding vote. Commissioners cited miscommunication with the state before the advisory vote was offered.
The county had hoped to get new property taxes in place by next year to get to work on a backlog of maintenance and construction projects. If approved, tax revenue from this November's vote would not arrive in road department coffers until 2021.
continued:
— — — — — — — — — —
McCall residents react to proposed ordinance affecting wake limitations on the lake
by CBS 2 News Staff Thursday, April 18th 2019
McCall, Idaho (CBS2) — A new proposed ordinance in Valley County is trying to create a standard for every lake in the county and it is causing controversy.
The most heated of debates, over the proposal that any boat creating a wake larger than two feet, would now be moved to at least 1,000 feet off shore.
People in McCall are questioning the ordinance as the weather heats up and boat activity is only a few months away.
Payette Lake, a lake that would be under the proposed ordinance, is one of many gems for recreation in Valley County.
continued:
— — — — — — — — — —
Prescription Drug Take Back day to be held April 27
The Star-News April 18, 2019
Unwanted and expired medications will be taken, no questions asked, during the Prescription Drug Take Back event on Saturday, April 27, from 10 a.m. to 2 p.m.
Residents can bring their pills or patches to either the McCall Police Department, 550 Deinhard Lane, or Cascade Legion Hall, 105 E. Mill St. Officers at drop-off sites cannot accept liquids, needles or sharps.
The service is free and is part of the national Take Back initiative. Last April, Americans turned in 949,046 pounds of prescription drugs during the Drug Enforcement Agency's National Drug Take-Back event.
The initiative addresses a vital public health and safety issue, as medicines that languish in home cabinets are susceptible to misuse, abuse and theft, a news release said
Previous medicine discard methods, such as flushing them down the toilet or throwing them away, pose potential safety and health hazards, the news release said.
Residents can drop off their unwanted or expired prescription medications at the Valley County Jail, 107 W. Spring St. in Cascade, at any time, or at the McCall Police Department Mondays through Fridays from 8 a.m. to 5 p.m.
For more information visit http://DEATakeBack.com
source:
— — — — — — — — — —
Land board rescinds Payette Lake event center lease
Attorney general says 'mistakes were made' by state
By Drew Dodson for The Star-News April 18, 2019
The State Land Board struck down a lease for an event center on Payette Lake on Tuesday, saying the Idaho Department of Lands failed to follow proper leasing procedures.
"In our review of this, I believe that we have to acknowledge there were some mistakes made in the processes employed," said Attorney General Lawrence Wasden, who sits on the land board.
The 28-acre lake front parcel will instead be leased to the highest bidder in a public auction at a time to be determined, lands department Public Information Officer Sharla Arledge said.
continued:
— — — — — — — — — —
Idaho, Forest Service partner to plant trees on private land
19,500 Douglas fir seedlings to be planted
Apr 19, 2019 Associated Press
Orofino, Idaho — Money generated from an Idaho partnership with the U.S. Forest Service involving timber sales on federal land is being used for the first time on private land for wildfire restoration work.
The Idaho Department of Lands and the Forest Service in a news release this week say 19,500 Douglas fir seedlings will be planted on 65 acres (26 hectares) in the Lolo Creek drainage in northern Idaho near Orofino.
Catastrophic wildfires scorched the region in 2015.
continued:
— — — — — — — — — —
Idaho Power customers could see price decrease
Apr 16, 2019 Local News 8
Boise, Idaho (KIFI/KIDK) – Idaho Power Company is asking the Idaho Public Utilities Commission to lower its rates.
The company's spring cost adjustment (PCA) would lower rates by $50 million across all customer classes.
If approved, IPC said the adjustment would lower a typical residential customer's bill by about $3.35 per month, beginning June 1.
continued:
——————–
Public Lands:
USDA Forest Service South Fork Restoration and Access Management Plan Update
April 17, 2019
Dear Interested Party,
The US Forest Service has prepared an Environmental Assessment for the South Fork Restoration and Access Management Plan. The project includes numerous actions relating to watershed restoration, motorized and non-motorized access, and improvements of recreation facilities within the South Fork Salmon River (SFSR) watershed within a 329,000 acre project area. The project alternatives include up to three project-level amendments.
These actions are proposed to be implemented on the Krassel and McCall Ranger Districts of the Payette National Forest and the Cascade Ranger District of the Boise National Forest. The Responsible Official is Keith Lannom, Forest Supervisor, Payette National Forest. The proposed project is an activity implementing a land management plan and is subject to pre-decisional objection process at 36 CFR 218 Subparts A and B.
The environmental assessment and other information are available for review at the project webpage at https://www.fs.usda.gov/project/?project=51257 and at the Krassel Ranger District 500 North Mission Street, Bldg 1, McCall, ID 83638. Hardcopy documents may be made available to interested parties upon request by calling 208-634-0600.
The opportunity to comment ends 30 days following the date of publication of the legal notice in the Idaho Statesman newspaper, the official newspaper of record for a Forest Supervisor decision. A courtesy copy of the legal notice will also be provided to the McCall Star-News.
Only those who submit timely and specific written comments §218.2 regarding the proposed project or activity during a public comment period established by the responsible official are eligible to file an objection §218.24(b)(6). For issues to be raised in objections, they must be based on previously submitted specific written comments regarding the proposed project or activity and attributed to the objector. The publication date of the legal notice in the newspaper of record is the exclusive means for calculating the time to submit written comments on a proposed project or activity. The time period for the opportunity to comment on a proposed project or activity to be documented with an environmental assessment shall not be extended. It is the responsibility of all individuals and organizations to ensure that their comments are received in a timely manner.
Comment submissions via the project webpage are preferred, simply click on "comment/object to project" on the right side of the page and fill out the webform with your comments. Alternatively, written comments can be submitted to: Keith Lannom, Forest Supervisor, Payette National Forest, 500 North Mission, Building 2 McCall, ID 83638. The office business hours for those submitting hand-delivered comments are: 8:00 am to 4:30 pm Monday through Friday, excluding holidays. For objection eligibility, each individual or representative from each entity submitting timely and specific written comments regarding the proposed project or activity must either sign the comments or verify identity upon request §218.24(b)(8).
We appreciate your interest in the Payette National Forest and this project. If you have any questions regarding this project or comment period, please contact Anthony Botello, Krassel District Ranger at 208-634 0601.
Sincerely,
Keith B. Lannom
Forest Supervisor
Link to: South Fork Salmon River Restoration and Access Management Plan Environmental Assessment
— — — — — — — — — —
Personal Use Mushroom Season on the Payette National Forest
McCall, ID., April 16, 2019 – The Payette National Forest is announcing the following guidelines for wild mushroom picking this year on the Forest. Following last summer's wildfires, morel (more-ELL) mushrooms are anticipated to appear in burned areas of the forests. Use caution in recently burned areas due to stump holes, snags, and loose soil or rocks.
Personal Use: Permits are not required. Harvesters may gather up to 5 gallons of morels or other mushrooms per day for personal use without a permit. There is no age limit on personal use mushroom pickers. Personal use mushrooms may not be sold or bartered to another party.
Commercial Use: Commercial Mushroom permits will not be available this year. Due to the limited size of fires in 2018, and access limitations, the Forest is not issuing commercial permits, nor buying permits – buying stations will not be permitted to operate on Forest land.
Best Practices: Be sure to know where you are! Always check to be sure you are on public lands where mushroom picking is authorized. If you intend to pick mushrooms on private lands, always ask the land owners for permission ahead of time.
Know your mushrooms! Each year interest grows in harvesting wild mushrooms from National Forests. Proper identification and determination of whether a mushroom is edible is the responsibility of the picker.
* At least one-third of the mushroom caps (in the collection area) should be left intact to release spores for future mushroom growth.
* Minimize the impacts to the actual fungus by not disturbing the ground habitat.
* Raking or other ground disturbance is prohibited. Use a knife to cut the mushroom to minimize the impact to the fungus.
* Do not collect mushrooms from previously harvested areas; leave the rest for spores and food for wildlife.
* Recommend using net or paper bags which allows air and keeps mushrooms fresher.
For additional information, please stop one of our offices, or contact an office by telephone: Council Ranger District – 208-253-0100; Krassel Ranger District – 208-634-0600; McCall Ranger District – 208-634-0400, New Meadows Ranger District – 208-347-0300, Weiser Ranger District – 208-549-4200.
Brian Harris
Public Affairs Officer
Payette National Forest
— — —
2019 Boise NF Mushroom Gathering
Mushroom picking in 2019 will be for personal use only. No permit required.
There will be no commercial permits sold in 2019.
Personal use harvesting – applies:
Pursuant to 36 CFR 261.50 (e), the following persons are exempt from this order: (0402-00-50):
* Persons may personal harvest up to 5 gallons of morel mushrooms per person and possess up to 10 gallons per person per day.
* The mushrooms are used for non-commercial purposes.
* Mushrooms are not to be sold for profit.
continued:
— — — — — — — — — —
Fuelwood Permits Available May 15 for Southwest Idaho National Forests
Date: April 19, 2019
Contact: Brian Harris (208) 634-0784 cell: (208) 634-6945
McCall, Idaho – Personal use fuelwood permits for the Payette, Sawtooth and Boise National Forests will be available beginning May 15, through November 30, 2019.
Permits will be available at USDA Forest Service Ranger District offices, and private vendors (see attached list). Please recall that we can no longer can sell permits of only 2 cords. If you want all ten cords, permit purchases will need to be purchased 5 cords and 5 cords, or 4 cords and 6 cord, or all 10 cords at once.
Recall fuelwood permits were reduced in 2018 from $12.50 to $6.25 per cord with a 4-cord minimum and a 10-cord maximum per household. The two reasons that drove the change were: aligning the overall price of the fuelwood to be closer with other Idaho National Forests; and, to help remove the fuel load since woodcutting is limited to dead trees.
The Payette National Forest has two free-use areas, which are located in the Steamboat Summit/Warren Summit area and the Big Creek area. A free-use permit is required for these areas and can be obtained at the McCall Ranger District office and the Big Creek Work Center, long with specific location information and permit use requirements. Free-use fuelwood counts as personal use toward the 10-cord maximum per household.
Cutting fuelwood within a closure area is prohibited. Check on the Alerts & Notices pages of Forest websites for closure information.
Check this year's fuelwood brochure, fuelwood map, and the current Motor Vehicle Use Maps to make sure you are cutting in an area open to fuelwood gathering, and pay special attention to closed areas and roads with restoration activities. Regulations prohibit the cutting of dead or living Whitebark pine trees due to that species decline, and they are critically important to several wildlife species.
Fuelwood permits are valid within the Boise, Payette and Sawtooth Forests. All motorized travel related to fuelwood gathering must be in full accordance with Forest Service travel regulations for the area as shown in the Motor Vehicle Use Map (MVUM), unless specifically exempted in the fuelwood permit.
Permit holders are encouraged to cut fuelwood early in the year because fire restrictions may impact the cutting season later in the summer. Early season fuelwood cutters are asked to use caution to avoid wet muddy roads, where travel may cause resource damage. Fuelwood cutting is not allowed within riparian areas (adjacent to creeks and rivers).
Regulations are available when permits are issued. Visit this link to view the Payette Fuelwood Cutting Map… https://origin-fs.fs.usda.gov/Internet/FSE_DOCUMENTS/fseprd622767.pdf
For additional information, contact the local Ranger District offices, or Forest websites. Check with forest vendors for weekend hours.
Payette National Forest Vendors:
Jay's Sinclair, Cambridge 208-257-5000
Ridley's Food & Drug, Weiser 208-549-1332
Farmer's Supply Co-Op, Weiser 208-549-0654
Farmer's Supply Co-op, Council 208-253-4266
C & M Lumber, New Meadows 208-347-3648
Albertsons, McCall 208-634-8166
The Corner, Yellow Pine 208-633-3325
Payette NF Ranger District Offices:
Weiser RD 208-549-4200
Council RD 208-253-0100
McCall RD 208-634-0400
New Meadows RD 208-347-0300
Brian Harris
Public Affairs Officer
Payette National Forest
— — —
Fuelwood Permits available beginning May 15 for southwest Idaho National Forests
Boise National Forest
Boise, Idaho, April 19, 2019 — Personal use fuelwood permits for the Boise, Payette, and Sawtooth National Forests will be available beginning May 15, through Nov. 30, 2019.
… The Sage Hen area within the Emmett Ranger District of the Boise NF continues to be infested with Tussock Moth. Be aware that the caterpillars shed tiny hairs that can cause significant skin irritation. While the trees may look dead because the caterpillars feed on the needles, they are not, and should not be cut for fuelwood. If trees have any green needles, please do not cut.
Please note: The Emmett Ranger District will not open for fuelwood sales or any other type of sales until they have completed moving into their new building, at 1857 Highway 16 Suite A, Emmett, ID 83637.
Boise National Forest Vendors:
Seasons, Idaho City 208-392-9777
Donna's Place, Placerville 208-392-9666
Idaho City Grocery, Idaho City 208-392-4426
Tom's Service/Sinclair, Idaho City 208-392-4900
B&W Fuels, Emmett 208-392-4900
Valley View Chevron 208-793-4321
Ray's Corner Market, Horseshoe Bend 208-793-2391
East Cleveland Beverage, Caldwell 208-459-6442
Garden Valley Chevron, Garden Valley 208-462-3869
D & B Supply, Emmett 208 365-2955
Boise NF Ranger District Offices:
Interagency Visitor Center 208-373-4007
Mountain Home RD 208-587-7961
Idaho City RD 208-392-6681
Cascade RD 208-382-7400
Lowman RD 208-259-3361
Emmett RD (coming soon)
Emmett RD/ Garden Valley Work Center 208-462-3241
Sawtooth National Forest Vendors:
Rock Creek General Store, Hansen 208-423-5659
Hansen Quick Stop & Go, Hansen 208-423-9900
Camas Creek Country Store, Fairfield 208-764-2211
Sawtooth Wood Products, Bellevue 208-788-4705
Idaho Lumber, Hailey 208-788-3333
Jerrys Country Store 208-774-3566
Sawtooth NF Ranger District Offices:
Minidoka RD 208-678-0430
Ketchum RD 208-622-5371
Fairfield RD 208-764-3202
Sawtooth National Recreation Area 208-727-5013
Stanley RD 208-774-3000
Sawtooth Supervisor's Office 208-423-7500
— — — — — — — — — —
Prescribed Fire: Promoting Fire-Adapted Communities and Creating Resilient Landscapes
Date: April 19, 2019
Contacts: Brian Harris, Public Affairs Officer, 208-634-0784 office, 208-634-6945 cell.
McCall, ID – While the Payette National Forest will be conducting multiple prescribed fires this spring, an on-line map is available for the public to see details of all burns throughout Southwest Idaho. For many years, land management agencies have been producing a hard copy of planned prescribed fires for the public, but this year information is available on line at: http://bit.ly/RxFireSWIdaho
As with all prescribed fires, depending on weather conditions, burns could take place anytime from April to early July. These prescribed fires reduce surface fuels, increase height of the canopy, reduce small tree densities, and promote fire resilient trees, thereby improving our ability to protect communities from wildfire as well as conserve current and future timber values. Additionally, these fires improve wildlife habitat, promote long-term ecosystem integrity and sustainability by reducing the risk of high-severity wildland fire.
The Council Ranger District plans to apply fire to approximately 1,500 acres in Mill Creek-Council Mountain project area. (8 miles northeast of Council); 5,000 acres in the Weasel Fuels reduction project, (15 miles northwest of Council); 15 acres on the Northern Idaho Ground Squirrel study project (20 miles northwest of Council).
The New Meadows Ranger District plans to burn approximately 3,500 acres in the Warm Springs project area (9 miles southwest of New Meadows); 103 acres in the Muddy Squirrel project area (9 miles northwest of New Meadows); and 2,059 acres in the Meadows Slope project area (4 miles northwest of McCall).
The Krassel Ranger District plans to apply fire to approximately 2,000 acres within the Bald Hill project area (North of Yellow Pine); 1,000 acres in the Four Mile project area along the South Fork of the Salmon River near Reed Ranch (approximately 18 miles east of McCall).
Trail heads and roads that lead into these areas will be posted with caution signs and a map of the prescribed burn locations. Fire personnel will work closely with the Idaho/Montana Airshed Group, the National Weather Service, and the Idaho Department of Environmental Quality to ensure that smoke impacts are minimized. The decision to ignite on any given day will depend on favorable weather conditions and the need to reduce smoke effects as much as possible. Smoke from these prescribed fires will be much less than what would be expected from a wildfire. If smoke concentrations approach air quality standards, fire ignition may be delayed until air quality improves. Residual smoke may be visible for up to 2 weeks following ignition, but most of the smoke is anticipated to dissipate 1-2 days after ignition.
Individuals may call Dustin Doane (McCall and New Meadows RDs; 347-0336), Laurel Ingram (Krassel RD; 634-0622), or Dave LaChapelle (Council and Weiser RDs; 549-4228) with any concerns they may have about the planned prescribed fires. The public may also call the Weiser, Council, New Meadows, McCall or Krassel Ranger Districts for more information. Prescribed fire is an important component of natural resource management and part of the comprehensive fire management program on the Payette National Forest. Council RD: 253-0100; Krassel RD: 634-0974; McCall RD: 634-0400; New Meadows RD: 347-0300; Weiser RD: 549-4200.
For the most current information about prescribed burning projects, please visit the Payette RX incident on inciweb at: https://inciweb.nwcg.gov/incident/6290/
Brian Harris
Public Affairs Officer
Payette National Forest
— — — — — — — — — —
In forest, more noxious weed control
Plan for Sawtooth focuses on herbicide use
Greg Moore Apr 17, 2019 IME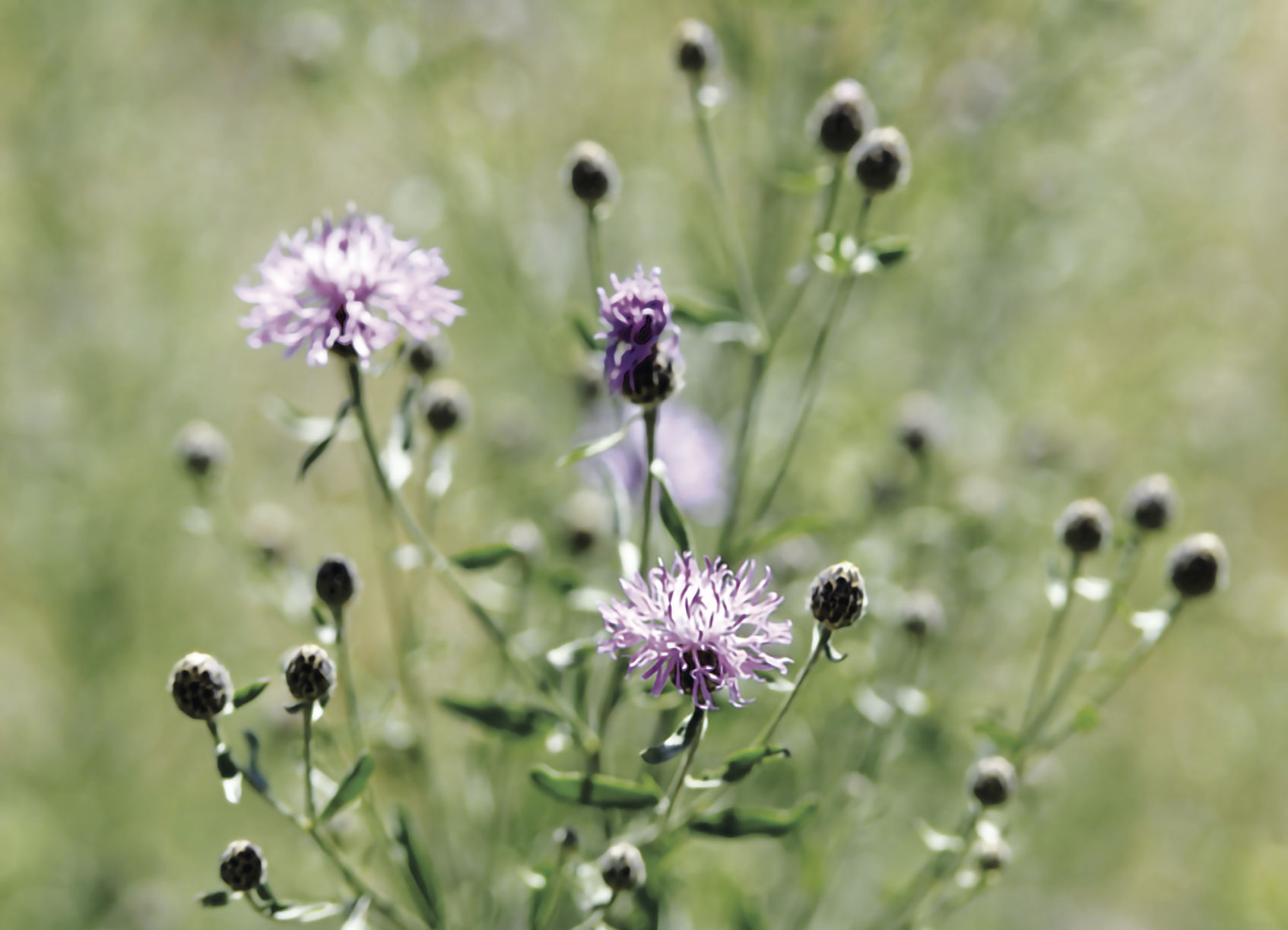 Spotted knapweed is the second most extensive noxious weed on the Boise and Sawtooth national forests, covering 26,000 acres total. The most widespread is rush skeletonweed, which covers 53,000 acres. Express file photo
If budgets permit, the U.S. Forest Service will undertake an aggressive campaign to control noxious weeds on the Sawtooth National Forest, greatly increasing the acreage now being treated.
The effort would primarily involve ground-based and aerial spraying of herbicides, along with some biological control agents and manual clearing of infested areas. The herbicides planned for use include some that have become controversial due to having damaged croplands or allegedly caused cancer.
In a decision issued March 14, Sawtooth National Forest Supervisor Jim DeMaagd chose a plan of expanded "integrated weed management" over continuing the current limited effort or implementing a plan without the use of herbicides.
The decision is part of a plan to treat invasive plants on both the Sawtooth and Boise national forests, including within the Sawtooth, Hemingway-Boulders and Cecil D. Andrus-White Clouds wilderness areas, though not in the Frank Church-River of No Return Wilderness.
continued:
————————
Letter to Share:
The Gamebird Foundation
We have done it again!! I have witnessed again the great smiles and grins on a great bunch of boys and girls. They showed up in pickup loads with mom's, dad's and grandpa and grandma's. It was a great sight for these old eyes. You just feel the excitement in the air. First thing the young hunters done when they arrived was to sign in and get a name tag, along with the name tag the young hunter and his mentor received the best darn tee shirt from little Canyon Shooting sports with the name of the sponsors on the back. As soon as they had a group of 4 hunters away they went to the trap shoot range. When each hunter got to shoot at 15 clay pigeons back down to the ranch and then it was up to the fields where the rooster pheasants were located. Each kid got to shoot at or try to shoot at over some of the best working dogs you ever wanted to witness. Each hunter had the dog handler and a mentor with him at all times. When the group was done back down they came, I might add there was more than one field that had dog's, dog handlers and mentors that the young hunters went to. I might add that when the hunters finished the trap shoot there was a brown tag put on the name tag, when they finished the bird hunt there was a green tag on the name tag so we knew that each young hunter had completed the course. What a great sight to see young hunters come down from the hill carrying 1,2 roosters with a grin a mile wide from ear to ear. When they were through with that they could go to the cleaning facility so they could receive a demo and help with cleaning there birds.
There was so much to do, the archery range was open where young folks could shoot at life sized targets from different range. There was the small bore rifle range where the young folks could shoot at targets with animals on them that I have never seen. The Chief started serving food around 10:30 and you couldn't miss the wonderful aroma no matter where you went. Hamburger's, Cheeseburger's, hotdogs with all the trimmings. If you went out and worked up another appetite you just went back for seconds and thirds, the food and drinks never ran out.
One of the great things was Sonny taking groups for a tour of the hatchery and the chick raising facilities. The young and old were shown where the baby pheasants were hatched and what they looked like when they came from the egg. How the chicks are put into incubators and raised till they go into larger pens. What a great place to just spend the day.
This was a FREE day for kids and all that arrived. We at the Gamebird Foundation want to thank all that help sponsor this gig. I don't dare start naming names as I would miss or forget some of the great folks that helped put this on.
We really want to thank Sonny, Andy and their families, also the great employees and the many volunteers that showed up to help with this great event. God Bless every one of you and thank you again.
—————————–
Critter News:
Parvo outbreak in puppies leads to dog breeder ban at popular spot outside Cabela's in Boise
The Cabela's parking lot at Milwaukee and Franklin roads has been a popular destination for dog breeders to set up shop but now breeders are banned after one puppy died from parvo.
Gretchen Parsons April 15, 2019 KTVB
Boise, Idaho — Following a parvo outbreak, dog breeders are now banned from setting up shop at the Cabela's parking lot at Milwaukee and Franklin road intersection in Boise.
The parking lot has been a popular spot for dog breeders to set up shop on the weekends to sell puppies.
Parvo is a deadly virus that affects a dog's gastrointestinal tract, basically making the dog vomit and have diarrhea until the dog becomes so dehydrated that they die.
continued:
— — — — — — — — — —
Wolf population declining in Yellowstone National Park
April 19, 2019 AP
Powell, Wyo. (AP) – Officials say Yellowstone National Park's gray wolf population has dropped to about 80 wolves – less than half of the highest population mark in the park.
The Powell Tribune reported on Thursday while park officials won't have an accurate count until the fall after surviving pups are visible, the park's top biologist, Doug Smith, doesn't expect the numbers to rise dramatically after litters are included in population estimates.
… Smith largely blames outbreaks of disease – including distemper, mange and the parvovirus – and packs moving out of the park for the decline.
full story:
— — — — — — — — — —
Wolf Education International
Newsletter 4/16/2019
Finland to continue wolf culls despite NGO uproar
Wolves to the slaughter: France approves cull to save sheep
Wild wolves in crosshairs of German politics
Trump Administration Wants More Wolves off Endangered Species List
Newsletter 4/17/2019
RMEF Warns of Colorado Wolf Reintroduction Ballot Initiative
Plan has new rules on killing wolves that prey on livestock
Gray wolves in Central Oregon? Maybe someday soon, experts say
Eastern Oregon man justified in wolf shooting
— — — — — — — — — —
Howdy's Fishing Derby to be held May 4-5
The Star-News April 18, 2019
Anglers of all ages can throw in their poles in search of the big one during the 25th annual Fishing Derby on Saturday and Sunday, May 4-5, on Lake Cascade.
There will be $900 in cash prizes and lots of giveaways. The final weigh-in will be Sunday, May 5, at 3 p.m.
For more information or to register, call 208-382-6712 or visit Howdy's in Cascade.
source:
— — — — — — — — — —
The Columbia Basin Bulletin
Weekly Fish and Wildlife News
http://www.cbbulletin.com
April 19, 2019
Issue No. 904
Table of Contents
* Columbia River Springer Fishing Allowed This Weekend; Passage Numbers Low At Bonneville Dam But Improving
http://www.cbbulletin.com/442478.aspx
* Biologists Detail Health Of White Sturgeon Populations In Columbia/Lower Snake River; A Mixed Bag
http://www.cbbulletin.com/442477.aspx
* Limiting Factors For Columbia River Smelt? Climate Change, Ocean By-Catch, Smaller Ocean Plume, Water Quality
http://www.cbbulletin.com/442469.aspx
* Salmon Fishing Seasons Set: Good Opportunities For Coho, Fisheries Restricted To Protect Low Chinook Returns
http://www.cbbulletin.com/442460.aspx
* PacificCorp Commits $20 Million In Lewis River (SW Washington) Salmon, Steelhead Improvements
http://www.cbbulletin.com/442461.aspx
* Montana Intercepts, Decontaminates Boat From Great Lakes Carrying Invasive Mussels; Oregon Opens Inspection Stations
http://www.cbbulletin.com/442462.aspx
* ODFW Releases Third Edition Of Draft Wolf Management Plan, Commission To Vote June 7
http://www.cbbulletin.com/442470.aspx
* Study Shows How Heavy Tropical Rains In Southeast Asia Contribute To California Heat Waves
http://www.cbbulletin.com/442471.aspx
* Bonneville Power Administration Says ESA-Listed Oregon Spotted Frog Finding 'Refuge' Under Transmission Lines
http://www.cbbulletin.com/442472.aspx
———————-
Fish & Game News:
Wolf hunting season remains open in several local units
By Mike Demick, Staff Biologist
Monday, April 15, 2019
Due to changes in wolf hunting seasons, some wolf hunts for spring 2019 were extended last year and are not reflected in the 2017-2018 big game rules booklet.
In the Salmon area, wolf hunting seasons were extended in the following units and will run through:
June 30, 2019 in Big Game Management Units 21 and 28
April 30, 2019 in Big Game Management Units 21A, 29, 30, 30A, 36, 36A, 36B, 37, and 37A
continued:
— — — — — — — — — —
April 15: Upper Salmon River Steelhead fishing report
By Mike Demick, Staff Biologist
Monday, April 15, 2019
Over the week of April 8th, the majority of steelhead angler effort on the upper Salmon River was located upstream of the East Fork Salmon River in location code 19. Angler effort in areas downstream of the East Fork was low.
Anglers interviewed downstream of the Pahsimeroi River in location code 17 averaged 18 hours per steelhead caught, and anglers interviewed upstream of the Pahsimeroi River in location code 18 averaged 20 hours per steelhead caught. Upstream of the East Fork in location code 19, interviewed anglers averaged 4 hours per steelhead caught.
continued:
— — — — — — — — — —
More F&G News Releases
https://idfg.idaho.gov/press
———————————-
Fun Critter Stuff:
World's smallest baby monkeys enjoy adorable Easter celebration
by Storyful Friday, April 19th 2019
Helensburgh, Australia — Pymgy Marmoset babies Ariana and Dominigo at the Symbio Wildlife Park in Helensburgh, Australia, were celebrating Easter early this year, enjoying treats including hand-decorated quail and chicken eggs.
continued w/video:
————————
Seasonal Humor:
Happy Easter


[h/t AHGP]
——————-