May 19, 2019 The Yellow Pine Times – Valley County, Idaho
Community Calendar:
April 2 – Boil water order issued
Every Sunday – 11am Fire Training
May 10 – Burn "permits" required
May 15 – Firewood Season opens
May 23 – Festival meeting 2pm at the Community Hall
Memorial Weekend – The Corner opens
May 25 – ATV-UTV Scavenger Hunt Memorial Day Weekend
May 25 – Willie and the Single Wides at The Corner
May 26 – Celebration of Life 2pm-5pm YP Tavern
June 8 – VYPA meeting 2pm Community Hall
June 11 – Yellow Pine Vet Clinic
June 15 – 10am YPFD meeting at the Fire Hall
June 20 – Festival meeting Thursday 2pm at the Community Hall
June 27 – (confirmed) Noxious Weed Spray day
June 29 – Highland Games
July 2 – Ice Hole Campground opens
July 6 – Golf Tournament & Breakfast
July 13 – 10am YPFD meeting at the Fire Hall
July 13 – Ride to Big Creek
July 20 – VYPA meeting 2pm Community Hall
July 27 – Festival meeting Saturday 2pm at the Community Hall
July 27 – Memorial and potluck for Wilbur Wiles (Big Creek/Edwardsburg)
Aug 10 – VYPA meeting 2pm Community Hall
Sept 14 – 10am YPFD meeting at the Fire Hall budget meeting
Sep 14 – Ride to Cinnabar
Sept 21 – VYPA meeting 2pm Community Hall
(details below)
———-
Local Events:
Memorial Weekend
May 25 – ATV-UTV Scavenger Hunt Memorial Day Weekend
The Corner will be opening up on Memorial Day Weekend with Willie and The Singlewides playing Saturday, 5/25.
May 26 – Celebration of Life 2pm-5pm Yellow Pine Tavern
— — — —
June 11 – Vet Day
On Tuesday June 11th the Cascade Vet clinic will be coming to Yellow Pine. Please call (208) 382-4590 to get on the list.
— — — —
June 29 – Highland Games
For the second year, Bald Mountain Knuckle Draggers will bring the Highland Games to Yellow Pine on June 29th. Last year they donated over $2,600 to the Helipad and this year money will be raised for the water department. Come see these fantastic athletes and support the water department.
— — — —
Golf Tournament July 6
It's time to plan for the annual 4th of July Yellow Pine Golf Tournament. This year the proceeds will support the Community Hall and road repair.
The event will begin July 6th at 11am at the golf course, where the fairways aren't fair and the greens aren't green. The cost will remain the same at $50 per couple for sponsoring a hole with a sign displayed. $20 for individuals, each person playing will get a ticket for beer, additional tickets can be purchased for $3. Soda and water are free. Checks can be written to VYPA (Village of Yellow Pine Association)
There will be prizes for first, second and third places for men's women's and mixed. Also, there will be a prizes for closest to the pin. Spots go quickly, so be one of the first!
There will be a hearty breakfast at the museum from 8-10. The cost is $6 and all proceeds benefit the upkeep of the museum.
— — — —
Noxious Weed Spray day June 27
We have a confirmed date of Thursday, June 27th for the Yellow Pine Noxious weed spray day. Mark your calendars, hope to see you there.
Hello Yellow Pine,
I'm beginning my transition from snow plowing to noxious weed control. Yellow Pine is 1st on my list to start talking about dates to schedule our 2nd annual noxious weed Homeowners assistance spray day. Last year we got together on Thursday, July 19, 2018. I have June 27, 2019 marked on my calendar.
We had really good participation last year but we can do better, lets start talking now and get more people involved as it is "Everyone's responsibility to control Noxious and Invasive plants". I think last years event went very well, we will try and be a little more organized this year, if we missed someone put them on top of the priority list. I will bring my entire crew, all of our equipment, PPE, and mixed herbicide, you provide the volunteers, we're here to help you not do it for you.
I misplaced 1-backpack sprayer last year, please keep your eyes peeled in case we laid it down someplace or forgot to pick it up.
Spread the word, save the date. I look forward to hearing from you. The best way to contact me this time of year is through e-mail, I will be in and out of the office until May, I check my e-mails daily but I can't always respond until I get back into the office.
Thank you,
Steve Anderson
Valley County Weed and Pest Control
SAnderson@co.valley.id.us
— — — —
Celebration of Life – Wilbur Wiles
Potluck celebration of life at his cabin 27 July.
— — — —
2019 Yellow Pine Escapades
The 2019 schedule for the Yellow Pine Escapades has been updated on the website!
Expect new escapades this coming year, including an ATV-UTV Photo Scavenger Hunt; two (yes, two) ATV-UTV rides, a golf tournament, and even a community yard sale. Other events will be added to the calendar as plans are finalized.
Join us for a great season of fun! The starting point for fun in Yellow Pine! The website includes information on the events hosted by the Yellow Pine Community Hall as well as the other "goings-on" in the village. Food, lodging and fuel are available in Yellow Pine.
link:
———-
Village News:
Dust Abatement
I am in process of obtaining cost and date information. Please let me know if you are interested in dust abatement this year.
Deb Filler, fillerd2@live.com, 208.633.6945
— — — —
Firewood Permits May 15
The Corner has firewood permits in stock now. 4 cord minimum at $6.25 per cord. Please call to make sure I'm around before Memorial Day, bring drivers license and cash is preferred, no CC.
— — — —
Spring Fuel Delivery
Diamond Fuel & Feed will be going to the back country soon. They are waiting for Johnson Creek to open up and dry out enough for their truck to travel on. If you would like to be put on the schedule for fuel delivery please call the office at 208-382-4430 and let them know.
Thanks, Megan 5/15/2019
— — — —
The Corner
The Corner will be open Friday, May 24. For the opening weekend special, we will have smoked brisket with our sweet bourbon sauce and grilled onions served on a toasted bun with fries. On the lighter side a smoked chicken salad with black bean corn salsa. The Corner Store will also be open with snacks, groceries, fresh produce, soda, ice and packaged beer. If you know you will be coming in over the summer and need special grocery orders, let me know and I will order it in for you while you are here, 2 deliveries a week. The best way to get a hold of me is to call or stop by and say hello.
Matt, The Corner
208-633-3325
— — — —
Yellow Pine Transfer Station
Received a report on May 17 that the Transfer Station was emptied last week. We have started having an issue with the burn pile already. READ the SIGNS!
Please do not abuse our Transfer Station or we may lose it. Household trash must be placed in the bins, flattened cardboard boxes can also go into the bins. Do not stack trash in front of the doors. Woody yard debris only for the burn pile. No furniture, appliances, tires or construction debris allowed, those items must be hauled out to the Donnelly station by you.
Yellow Pine Transfer Station (aka, the dump)
The Yellow Pine Transfer Station is located approximately 3 miles south on Johnson Creek Road.
The TRANSFER STATION is for household trash and yard waste:
* Household trash must be put inside (and fit) the dumpster;
* Yard waste (limbs, pine needles, brush, et.) goes in the burn pile on the south end of the turn-around;
* Cardboard boxes should be flattened before putting the in the dumpster,
The DUMPSTERS are NOT for:
* Furniture (take to Donnelly Transfer Station);
* Appliances (take to Donnelly Transfer Station).
The BURN PILE is NOT for:
* Cardboard boxes (flatten and put in dumpster);
* Furniture and appliances (take to Donnelly Transfer Station);
* Drywall and building material (take to Donnelly Transfer Station);
* Wire or fencing (take to Donnelly Transfer Station);
* Foam Rubber (take to Donnelly Transfer Station);
* Wood with metal (like nails) attached (take to Donnelly Transfer Station.)
When closing the DOORS on the front of the dumpsters:
* Make sure the "U" brackets at the top and bottom of the door are engaged;
* The retaining bar at the middle of the door is slid into the pipe;
* And the "L" bars at the bottom of the doors dropped into place.
The Yellow Pine Transfer Station is Valley County responsibility. If it is not kept tidy, use of the Transfer Station may be revoked. That would result in residents having to take all household trash and yard waste to the Donnelly Transfer Station.
If Dumpsters Are Full, Contact Lake Shore Disposal at: 208/634-7176
— — — —
Update on Bald Hill Prescribed Fire
I received reports of smoke in Yellow Pine over the [last] weekend attributed to the Bald Hill Prescribed fire project and would like to provide an update. The area that we treated in Reegan Creek is continuing to burn heavy fuels inside the planned burn area and producing moderate amounts of smoke intermittently. We are continuing to monitor the fire and its effects, either on the ground or from aerial observations. It is meeting our objectives and progressing as planned. There is a good chance of rain and much cooler weather in the forecast at least through the weekend, this should significantly decrease or eliminate any smoke impacts to Yellow Pine. Thanks for the continued observations and feel free to contact Laurel Ingram at 208-634-0622 or District Ranger Anthony Botello at 208-634-0601 with any questions or concerns.
Thanks, Laurel Ingram 5/15/2019
Fuels Technician
Payette National Forest
— — — —
Roads
Johnson Creek Road
I rode Johnson Creek last night [5/14] to Halfway and was blocked by snow there, county road graders are working on this end cleaning ditches. No major slides or sluffs between YP and Halfway. – Matt
Stibnite Road Update
Update: May 17, 2019 from Mckinsey Lyon
Unfortunately, vehicle travel along Stibnite Road is likely still a few weeks out. However, we are encouraged by the progress the contractor for Valley County, OK Gravel, has made in clearing about 75% of the avalanche. Melt conditions have also been favorable and most of the snow has melted from the avalanche. Once crews are able to clear the slide entirely, they will begin re-building the road base back up. Timing for road surfacing is contingent upon when Valley County can start crushing material from the Yellow Pine quarry this summer and we anticipate a final gravel cap will be added to the road in mid-to-late summer.
The following photos, taken from the same location over the last few weeks, show the progress.
This slideshow requires JavaScript.
Photo credit Midas Gold. Photo 1: slide on April 17. Photo 2: April 25 melting out, foot trail well established. Photo 3: May 17 County contractor about 75% completed cleared avalanche debris and re-establishing road corridor. Will need a few more weeks to build road base back up above river.
link to more info:
— — — —
Tick Season
Please check your pets (and kids) for ticks, a tick bite paralysed a local dog recently, removal of the tick led to full recovery.

— — — —
History of the log cabin at the Cemetery
The Cemetery Committee is interested in any information on the cabin that is located by the cemetery. We know that it had been on the property that was known as "Mary's Cabins". It was moved by Tom Richter while the Filler's were building their house. Donna Valdez said that the people who ran the cafe and bar slept there, before the Tavern was built.
Do people have pictures or any information they can share? We'd love to put a plaque up on the cabin while we repair it.
– Marj Fields
— — — —
Come Spring…
"To Yellow Pine residents. I will be making several trips next spring and summer hauling out metal, appliances, etc. . If you need anything hauled away please get on the list. Vehicles require a title. I will be hauling gravel back if anyone is interested."
Contact Mike Amos
— — — —
Yellow Pine US Mail
We are still on 3-day a week mail delivery from Cascade. Staring in June we will have 6-day a week delivery. The Post Office in Yellow Pine is open six days a week: M-F 845am-245pm Saturday 9am-245pm. Forever Stamp: 55 cents
— — — —
Predators
Watch for mean mamma does this time of year – they will stomp your dogs!
Bears are out of hibernation and hungry. Please do not leave pet food outdoors and remember to keep trash secured, it will draw bears, foxes, coyotes and loose dogs.
Bald Eagle attacked a duck decoy near Westside Ave on May 17th.
photo by Ann F.
— — — —
Ice Hole Campground Will open July 2nd
The Campground has been temporarily closed to provide for public safety during reconstruction. This order will be in effect from September 27, 2018 through July 2, 2019, unless rescinded earlier by the Forest Supervisor. (0402-04-80)
———-
Local Groups:
YPWUA News:
Water Update May 19th
The refurbished and rebuilt altitude valve and control valve were successfully reinstalled today restoring automatic control of the level in the water storage tanks. There is plenty of water available, there should be no supply concern for the holiday weekend. As of today, water plant output capacity exceeds 60,000 gallons per day.
The boil water advisory will need to remain in effect due to continued high water demand. Non-approved filter maintenance continues to be required to keep water flowing at such a high rate. Water demand is estimated at more than 30,000 gallons per day. The ongoing concern is reducing water usage due to leaks. Clearly citizens are not using that much water day to day. The water is going somewhere, the best explanation is additional leaks in the system.
– Warren Drake
link to: #4430059 Yellow Pine Water Users Boil Water Notification 4-2-19.pdf
link to: 2018 September Water Department Update.docx
— — — —
VYPA News:
Village of Yellow Pine Association Meeting Agenda
June 8, 2019; 2pm; at the Community Hall
1 Call to Order
2 Approval of the prior meeting minutes
3 Treasurer's Report
4 Annual Community Hall Committee Written Report
5 Cemetery Committee Oral Report
6 Harmonica Festival Committee Oral Report
7 Nominations Committee Selection (Chairman, Treasurer, Member-At-Large)
8 Old Business:
– a. Transfer Station signage
– b. Update from Midas Gold
– c. Update on Community Hall Toilet Progress
– d. Update from YP Water Assn (if representative is available)
– e. Update from YPFD/Heli-spot (if representative is available)
9 New Business:
– a. Dust Abatement
– b. Discussion – Options for 2019 Midas Gold Community Agreement Payment – (Suggestions received so far: Give to Heli-Spot; Repair Abstein Road as identified in 2014; Resurfacing & Fixing holes in Village roads; Survey of Village property lines; Dust Abate all village roads; Install a permanent outhouse downtown to reduce impact on businesses; Give to Water Users Association for replacing water lines; Give to Community Hall Toilet committee; Purchase road-sized canopy to provide shade to audience during festival; build a playground for kids)
10 Adjournment
—
VYPA Meeting Dates 2019
June 8th; July 20th; August 10th; September 14th – 2pm at the Community Hall.
Note that the July 20th meeting is not on the second Saturday due to a conflict with a planned ATV rally involving many residents and visitors.
Yellow Pine Harmonica Meetings 2019:
March 30, 2019 Saturday 2pm at the Tavern
April 23, 2019 Tuesday 2pm at the Tavern *Cancelled*
May 23, 2019 Thursday 2pm at the Community Hall
June 20, 2019 Thursday 2pm at the Community Hall
July 27, 2019 Saturday 2pm at the Community Hall
— — — —
YPFD News:
Fire Training May 19th
YPFD training today was well attended! Thanks to all for participating as Jeff staged a traumatic injury scenario needing all levels of service.
There was a YPFD meeting on May 18th at the Fire Hall
Meetings will be held at the fire station at 10:00am and everyone is welcome to attend. June 15th; July 13th; and Sept 14th (which will also be the budget meeting as well).
Every Sunday 11am – Training
May 10th Burn Permits – contact the YPFD
Pile burning: Dress appropriately, have enough help on hand (people, water and tools) and make a firebreak before you start. Call your local fire protection district chief to let them know you'll be conducting a debris burn. This saves them from sending emergency responders to your property if they are not needed.
Bring it, Don't Burn it
For us in Yellow Pine, Jake Strohmeyer, Dist. Ranger with the Boise NF said we can use the area at our transfer station for yard debris and the FS will burn it once a year. Please no furniture, mattresses, construction debris, metal objects, tires or personnel junk. Please only woody yard debris. When using the pile please be mindful of where you place the debris as it should be contained to a manageable burnable area and kept as clean as possible. – JF


—
Training: Sunday Fire/EMS training has begun. Sundays at 11:00 AM unless otherwise posted. If Jeff F is in town the trainings will be held. All are welcome.
Safety Message: The best place to be during an avalanche, rock fall or a tree fall due to the wind is not there, please use extreme caution and common sense when conditions exist for these scenarios.
"If you are an Adventurist, please do not go out alone in steep areas. The spring thaw is an extremely dangerous time for Avalanches. The freezing and thawing create layers that break away from each other with the slightest disturbance. Scree fields are especially dangerous this time of year because of hidden ice that makes them even more unstable. Please be careful out there."
YP Helispot: We are working with Valley County Road Department and the Boise National Forest for the rock base for the road leading into the Helispot and the actual Helispot itself. We are also receiving rock for the Fire Hydrants, water tank foundations, etc. The rock will come from the Valdez pit and will be less expensive than having it trucked in from Cascade.
Stop the Bleed Course: This course was well attended in the Fall and Jeff F and Ann F will be presenting another course when the new instructor material comes out. There are "Stop The Bleed" kits at the Tavern in an emergency.
Siren Testing: The YPFD siren will be tested only once this year on the first of May at noon. 3 blasts of the siren is a test, more than 3 is an Emergency.
-JF
—
Fire/Rescue Polaris Ranger
The YPFD purchased a basic Polaris Ranger 4×4 from Donnelly Fire Department in mid 2018
The Polaris has been transformed into a Quick Emergency Response Unit, capable of fighting fire, EMS and Over-the-Side Rescue responses.
The onboard equipment is all professional grade and certified to the highest Fire/Rescue standards:
* 75 gallons of water with pump
* 5 gallons of firefighting foam auto mixed with the pump
* Drafting capable with 12' suction hose
* Hose Real with 75 foot of 1" hose with auto rewind
* 500' of additional 1" hose
* Can Support 1.5" discharge hose as well
* 300" of ¾ inch hose
* Thermal Imaging Camera
* Firefighting Rake, Pulaski and McCloud
* Fire Extinguisher
* Drip Torch
* Chain Saw
* Full size Rigid Rescue Litter
* SKED Rescue Litter/Sled
* Rescue Harness
* 150' Rescue Rope with assorted anchor and rescue gear
* Paramedic level Medical/Trauma equipment
* Oxygen
* Portable Repeater for back country communications with Valley County 9-1-1 Dispatcher and/or other emergency responders and Medical/Rescue Helicopters
* Winch
* Light Bar
* Cab Heater
* Custom Built suspension by Walker/Evans Racing
——–
Biz Listings:
Yellow Pine Lodge (208) 633-3377
Maybe open by Memorial weekend
— — — —
The Corner (208) 633-3325
Opening Memorial Weekend, Firewood Permits available
— — — —
Yellow Pine Tavern (208) 633-2233
Winter Hours at the Tavern: 9am-2pm and 4-8pm Mon, Wed, Fri, Sat and 9am-2pm Sun. Or call 208 633-2233 the phone rings into the house.
— — — —
Buck Horn Outfitters LLC 208-633-3614
Tom & Sarah Lanham
156 Yellow Pine Ave, Yellow Pine Id 83677
Website:
Link to FB page:
Wapiti Meadow Ranch – Johnson Creek (208) 633-3217
208-315-3554 cabin rentals
website:
Deadwood Outfitters
Link to website:
— — — —
Local Fuel Suppliers
Amerigas Phone: (208) 634-8181
Ed Staub & Sons Phone: (208) 634-3833
Diamond Fuel & Feed (208) 382-4430 – Wild Bird Seed 50LB Bag for $25.58
— — — —
Outside Biz that will service Yellow Pine:
Elkhorn Heating & Cooling
(208) 906-4067 Middleton, Idaho, Will service Yellow Pine
B&T Safety Solutions LLC
208-271-1600 Based out of Donnelly
Snow removal, cleaning chimneys and stoves, we do cabin staining/chinking as well
— — — —
Follow The Yellow Pine Times on Facebook (updated more often than emails)
———————–
Local Observations:
Monday (May 13) overnight low of 36 degrees, clear sky this morning. Beautiful bird chorus – swallows, finches, robins and a raven. Partly cloudy mid-day, light breezes. Dandelions are starting to bloom. Hummingbirds very active. Stronger breezes and more hazy clouds mid-afternoon, river sounds louder, high of 80 degrees. Hummingbirds active. Male goldfinch visited the hummingbird feeder. Nearly overcast and breezy early evening. Lots of hummingbirds this evening, a few robins chirping. Mostly cloudy at dusk and calmer. Hazy, some stars and filtered moonlight before midnight.
Tuesday (May 14) overnight low of 38 degrees, clear sky this morning. Swallows, finches and a raven calling. Pretty warm mid-day, light breezes, gusting at times, increasing clouds. Raven, finches and hummingbirds visiting, a red-naped sapsucker was drumming on the power pole. Partly cloudy and gusty breezes mid-afternoon, river sounds loud, high of 78 degrees. Fat golden mantel squirrel visited. Windy and overcast by early evening. Fat sleek doe in the neighborhood, hungry hummingbirds draining the feeders and a pine squirrel sounding off. At dusk it was mostly cloudy, breezy but not windy, fuzzy faint waxing moon high in the sky. Hummingbirds still active just before dark.
Wednesday (May 15) overnight low of 44 degrees, the sky is overcast this morning. Swallows flying high and a few finches and hummingbirds. Several colombian ground squirrels and 2 chipmunks running around. The red-naped sapsucker is back drumming on the power pole. Mail truck made good time. A few drops of rain before noon, dark clouds and a little breezy. Finches, hummingbirds and red-breasted nuthatches visiting. Little sprinkles on and off mid-afternoon, dark clouds and variable breezes, high of 60 degrees. Black-headed grosbeak and American goldfinch sighting. Shower mid-evening. Elk on the eastern edge of the golf course grazing undisturbed for quite a while. Shower after dark. Partly starry after midnight.
Thursday (May 16) overnight low of 38 degrees, mostly hazy sky this morning. Swallows, finches and hummingbirds active, so are the ground squirrels. Mostly cloudy mid-day, mild breezes. Finches, ground squirrels, pine squirrel and chipmunks active. Mostly cloudy (thicker haze and clouds) mid-afternoon and warm, very light breezes, high of 70 degrees. Robins calling late evening. Overcast and breezy at dusk. Rain after midnight, probably rained all night.
Friday (May 17) overnight low of 40 degrees, overcast and light rain this morning. Lots of finches, male and female evening grosbeaks, male and female black-headed grosbeaks and hummingbirds, pine squirrel gathering seeds in the rain. Light sprinkles mid-day and overcast. Pinesiskins have arrived. Sprinkles on and off after lunch, then steady light rain and a little breezy mid-afternoon, cooler, high of 48 degrees. Shooting stars are blooming in the undisturbed areas of the golf course. Large flock of brown-headed cowbirds visited late afternoon. Still raining at dusk, low misty clouds. Robins calling.
Saturday (May 18) overnight low of 38 degrees, mostly cloudy and light breezes this morning. Swallows, finches and robins calling, hummingbirds, black-headed grosbeaks and steller jay visiting. Overcast by mid-day. Lots of finches visiting. Still overcast mid-afternoon and almost calm, high of 55 degrees. Golden mantel and ground squirrels running about. Breaks in the clouds and breezy early evening. Mostly cloudy and short little sprinkle at dusk. Robins calling, doe out on the golf course. Cloudy at moon rise.
Sunday (May 19) overnight low of 36 degrees, mostly cloudy sky this morning. Lots of tree swallows flying and finches calling, ground squirrels 'eeeping'. Overcast and a little breezy mid-day. Black-headed grosbeaks, hummingbirds and finches visiting. Blustery and spatters of rain mid-afternoon, high of 61 degrees. Overcast just before dusk. Robins calling. Doe on the golf course at dusk.
—————————-
Idaho News:
Repaving causes delays on Highway 55 near Smiths Ferry
by Scott Logan Tuesday, May 14th 2019
Smiths Ferry, Idaho (CBS 2) — Work started in earnest this week on repaving a several mile stretch of Highway 55 from milepost 91 to milepost 97 near Smiths Ferry, a stretch that's in pretty rough shape.
In fact, the section of Highway 55 was deteriorating so quickly, the Idaho Transportation Department (ITD)moved the project up from 2021 when it was originally scheduled to be done.
"We've definitely heard from the travelling public that the conditions on that road are not great," said ITD spokesman Jake Melder. "We see it ourselves, our maintenance guys have been out there since last fall making repairs."
continued:
— — — — — — — — — —
US 95 to close for overnight bridge construction between New Meadows, Council
by CBS 2 Staff Tuesday, May 14th 2019
New Meadows, Idaho (CBS 2) – Ongoing bridge construction over the Weiser River will require a series of nighttime closures of US-95 between Council and New Meadows near milepost 146 throughout the summer and fall.
During overnight closures on US-95, no official detour will be available.
Motorists needing to travel at night should find an alternate route.
continued:
— — — — — — — — — —
Voters to cast ballots Tuesday on McCall-area rec district
The Star-News May 16, 2019
Voters in and around Donnelly will get to decide on Tuesday whether to create the Northern Valley Recreation District.
Polling places are the Donnelly Bible Church and the basement of Idaho First Bank on Deinhard Lane in McCall from 8 a.m. to 8 p.m.
A majority plus one vote is required to create the district.
The district would have the same boundaries as the McCall-Donnelly School District, which extends from north of McCall to south of Donnelly. The recreation district would not be affiliated with the school district.
If approved, the new district would be a separate government agency with an independent board of directors.
… The district would collect about $1 million per year in property taxes, or about half of the maximum amount allowed, Steering Committee Chair Sherry Maupin of McCall said.
The $1 million levy amount was determined after gathering community comment, Maupin said.
A tax of $30 per $100,000 of taxable value on real estate would be levied by the district.
full story:
— — — — — — — — — —
'The idea is to make things accessible to everyone': Study recommends 70 miles of trails in Valley County
The year-long feasibility study found that the county needs more than 70 miles of pathways to connect communities for non-motorized travel.
Joey Prechtl May 16, 2019 KTVB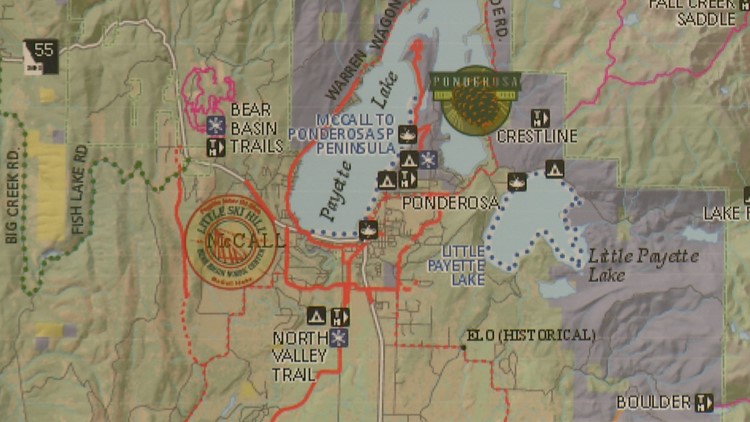 Valley County, Idaho — Two Valley County groups are trying to connect communities with singletrack sidewalks. A singletrack sidewalk is a dirt trail that runs parallel with a road. These would allow walkers, runners, and cyclists a safe route to and from communities.
A year-long feasibility study conducted by the International Mountain Biking Association recommends more than 70 miles of those sidewalks for Valley County.
continued:
— — — — — — — — — —
Firefighters douse two controlled burns whipped by winds
The Star-News May 16, 2019
McCall Fire & EMS responded to two brush fires in the McCall area last weekend after winds caused controlled burns to ignite nearby dead grass.
Firefighters were able to quickly douse flames on the two fires on Elo Road and Rio Vista Boulevard before any damage to structures or injuries were incurred, Chief Garrett de Jong said.
Lingering snow piles do not signal safe burning conditions, and smoldering ash piles should be extinguished with water and "cool to the touch," de Jong said.
"People need to be very thoughtful when they decide to burn and need to take into account the fuels that they are burning, the time of day, and how the wind can affect their fire," he said.
source:
— — — — — — — — — —
Archaeologist to discuss Valley County culture May 28
The Star-News May 16, 2019
A Boise National Forest archaeologist will discuss the history of ancient cultures in Valley County during an Outdoor Conversations event on Tuesday, May 28, from 6:30 to 8 p.m. at Barn Owl Books.
Archaeologist Lucy Harris will also talk about efforts to prevent destruction of these historical sites from erosion and people.
"The western margin of Cascade Reservoir … contains an impressive archaeological record that documents a human history of the valley that spans 11,000 years," Harris said. "These sites represent an invaluable and irreplaceable archaeological record."
Displays will include informative maps of the area and samples of stone tools recovered from sites. The discussion will be the final Outdoor Conversation event of the season sponsored by the Selway-Bitterroot Frank Church Foundation.
Barn Owl Books and Gifts is located at 616 N. Third St., Suite 110, in McCall.
source:
— — — — — — — — — —
New Roseberry exhibit depicts early residents in their own words
By Max Silverson for The Star-News May 16, 2019
During the Great Depression, Gold Fork resident Charlie Pratt went into the local bank, laid his revolver on the counter and did something he'd never done before – he requested a $10 line of credit to buy groceries.
"I gave him the 10 dollars," said Blair Armstrong, the man behind the counter that day.
The not-so-subtle "request" for credit is one of many stories from Valley County's history now on display at the Methodist-Episcopal Church at Historic Roseberry east of Donnelly.
From photos of hearty homesteaders building log homes by hand to scenes of the McCall sawmill engulfed in flames, the exhibit, called "Voices," chronicles the life and times of early Valley County residents.
The exhibit will be open this Sunday and May 26 from 1-5 p.m. and then be open 1 p.m. to 5 p.m. Fridays through Sundays during the summer.
The exhibit includes stories, quotes and context partnered with photos, often depicting the surprisingly difficult conditions that came with life in the mountains.
continued:
— — — — — — — — — —
MV students to dedicate Packer John's Cabin Park signs Tuesday
The Star-News May 16, 2019
Meadows Valley students are inviting the public to celebrate the dedication of their historical interpretive signs on Tuesday at Packer John's Cabin park east of New Meadows.
The ceremony will begin at 1 p.m. Tuesday with speeches from the students and will wrap up with a meet-and-greet with the 15 students from Sue Weber's fifth-grade class that crafted the signs.
Students spent about a year researching, designing and installing their own 24-by-18-inch sign detailing the history of Meadows Valley at each campsite in the park.
The Adams County Commissioners were convinced by students to grant a budget of up to $14,000 to create the signs.
The Adams County Historical Society and the McCall Outdoor Science School also assisted students throughout the process.
Efforts were made by students last spring to clean the park up in anticipation of installing the signs.
source:
— — — — — — — — — —
WICAP plans annual yard sale May 23-25 in Cascade
The Star-News May 16, 2019
The Western Idaho Community Action Partnership will host its annual Yard Sale Fundraiser Thursday through Saturday, May 23-25, at the Valley County Fairgrounds in Cascade.
The event will take place from 9 a.m. to 5 p.m. daily at the first red barn at the fairgrounds. Donations will be accepted starting on noon next Tuesday.
Items for sale will include clothing, furniture, housewares and appliances. Featured this year will be "Dale's Corner," featuring artwork, jewelry, silver, crystal, old china odds and ends.
WICAP is nonprofit corporation established in 1965 to promote the power and self-sufficiency of people experiencing economic and related problems.
Services include assistance with heating costs and USDA Commodity Foods to qualifying individuals or those experiencing hardships.
WICAP also has a back-to-school fund which provides low-income students with a backpack, shoes for physical education, and school supplies.
The group offers chimney cleaning for low-income seniors and disabled people as well as other types of assistance such as job search assistance and budgeting.
source:
——————–
Letter to Share:
NWS Boise needs enhanced spotter reports May 27 – Jun 14
Spotters,
To ensure that the National Weather Service Doppler Radar in Boise lasts for many more years to come, we need to do some significant refurbishment of physical parts in the radar, such as gears, bearings, etc. To do that, we need to take the radar offline for about three weeks, from May 27 through June 14. This process will be taking place at all radars across the country over the next few years, and this is our scheduled time to go through the refurbishment.
During that radar downtime, we will only have very limited radar coverage from neighboring office radars. We will be more dependent than ever on reports of significant weather from our network of trained weather spotters – that's you! We have other tools, like Satellite, and lightning detection equipment – but nothing really compared to getting reports from spotters like you – with what you are experiencing on the ground in your area.
During those weeks (May 27 – June 14), please be "extra aware" of significant weather in your area (thunderstorms, strong winds, hail, etc.) and call us on the usual spotter hotline number (1-800-882-1428) with your reports. We really appreciate your help!
Here is a link to a nice video with information about the radar refurbishment project:
Thanks so much,
Your National Weather Service Team
——————–
Trivia:
Memorial Day: A Brief History
by Suzanne G May 1, 2019
This Memorial Day, AmeriGas is proud to play a big part in cookouts across the nation. But more importantly, it's a time to remember the brave men and women who made the ultimate sacrifice while serving in our armed forces.
Did you know that Memorial Day didn't start out the way we celebrate it today? Do you know when, where, or how Memorial Day even began? Read on to learn more…
* It started over 150 years ago. On May 5, 1866 in Waterloo, NY, a ceremony honored local veterans who fought in the Civil War (which had just ended a year earlier). Businesses closed and residents flew flags at half-staff.
* Two years later, it gets a name. On May 5, 1868, the head of the Grand Army of the Republic (an organization of Union veterans) created Decoration Day, a day for Americans to decorate the graves of the war dead with flowers.
* Flower power influences the date. It's believed that Maj. Gen. John A. Logan declared Decoration Day to be May 30 because flowers would be in bloom all over the country.
* It wasn't always for all fallen soldiers. It was only after World War I that Memorial Day expanded to honor those who died in all American wars.
* LBJ makes the birthplace official. In 1966, President Lyndon Johnson, with the support of Congress, declares Waterloo the birthplace of Memorial Day.
* No longer a date, but a day. In 1971, Congress declared Memorial Day a federal holiday and that it would no longer take place on May 30, but rather the last Monday in May.
* A new millennium brings a new moment. In 2000, President Bill Clinton signs an act which asks Americans to observe a Moment of Remembrance on Memorial Day at 3:00 p.m. Many organizations observe this moment, including Amtrak (who blasts their train whistles), Major League Baseball, and NASCAR.
On behalf of the AmeriGas family, we honor the U.S. service men and women this Memorial Day who gave their lives for our country and our freedom.
source: AmeriGas newsletter
————————
Scam Alert:
Social Security Scam
From Gem County Sheriff's Office via FB
Fraudsters have long been calling Social Security benefit recipients and telling them their Social Security number is being suspended for criminal or fraudulent activity — and that the government is taking action against them. The action ranges from an arrest warrant to an active lawsuit.
To end this supposed action, victims are told to call another number. When they do, folks running the scam will ask them to pay a fine (often through gift cards). They will also be asked personal information, such as their bank account numbers, date of birth, and so on. If they supply it, fraudsters can utilize it to take money from their accounts.
With a Social Security number and a date of birth, it's even possible to sign up for benefits (if the rightful Social Security account holder hasn't yet) or, if they have, to divert benefits to another address and bank account. Scam artists can simply contact the Social Security Administration (SSA) and ask to change the address or bank account. The first indication the rightful recipient would have is the failure of their benefits to arrive.
A new spin
But a new wrinkle in this venerable scam was recently reported. In this one, recipients of a call are told that their Social Security number has been suspended due not to their own actions but to more general "suspicious activity."
Instead of being given another number to call, the victims are told to simply press 1, and they'll be connected with a Social Security agent. Instead, they are connected to a fraudulent agent, who may ask them to verify their Social Security number. Once they verify it, the fraudster has it. Fines and bank account numbers are part of this one, too.
Senior citizens are targets
Unfortunately, Social Security fraud is all too frequently perpetrated against senior citizens. Most senior citizens rely on Social Security for at least part of their income, and many rely on it for a sizable percentage of it. They may be very frightened of a possible suspension of the number and hence the benefit.
Senior citizens also often don't realize how easy it is to imitate even an agency of the U.S. government. In the past, scam artists have set up phone numbers with 202 area codes (the one used in Washington, D.C.) and email accounts with ssa.gov as part of the address — which is part of the actual online address of the SSA. They have set up fake SSA websites that look very convincing.
This time of year, there may be a third wrinkle. Tax returns, refunds, and the Internal Revenue Service (IRS), another federal agency, are in the minds, computers, and mailboxes of many people. Senior citizens and the rest of the population might be more likely to believe that someone from the U.S. government is actually contacting them about suspicious activity during this period than any other.
Take precautions if you're contacted
It's important not to react if someone contacts you saying they're from the SSA by phone or email. Instead, take three precautions.
1. Know the SSA's policies
In general, the SSA and its agents will not suddenly call or email someone. The SSA, like the IRS, communicates by letter. It may at times call or email to follow up on an issue, but the original contact will come by letter.
2. Don't give out any information
Once you know that the real SSA is not going to make such a serious charge as fraud or suspicious activity over the telephone, the next step is easy.
Don't engage with the caller. Don't give out any information of any kind. Don't fall for one of their favorite tricks — verifying a Social Security or bank account number they already have part of. They can use it once they have it.
It's a good idea, in fact, to hang up on the call. Some fraudsters record and use the victim's voice, particularly saying "yes." They can then use the recording to verify and authorize transfers from bank and other accounts.
3. Report the incident
If this scam happens to you, report it to the SSA. The SSA maintains a Fraud Hotline at 1-800-269-0271. If you're hearing impaired, call 1-866-501-2101 (TTY). The government alerts people to these scams based partly on the number of reports. It's important to public safety to keep the public aware.
—————————-
Mining News:
Stibnite Foundation Established, Ethical Quandary Persists
By Monica Gokey May 15, 2019 Boise State Public Radio
The Stibnite Foundation was recently established with nearly $1 million from Midas Gold, the company hoping to reopen the Stibnite mine in west-central Idaho. But there's an ethical quandary over whether or not the foundation ties local cities and counties too closely to the mine's success or failure.
Each of the eight regional communities that signed Midas Gold's community agreement got to place a member on the board of the foundation, which was formally established in mid-April.
Midas Gold provided the Stibnite Foundation with $100,000 cash, nearly $900,000 in company shares.
continued:
— — — — — — — — — —
USDA Forest Service Dewey Mine Sediment Stabilization Update
May 13, 2019
The Forest Service is seeking scoping comments for the proposed Dewey Mine Sediment Stabilization Project on the Krassel Ranger District of the Payette National Forest. The scoping document provides more detailed information about the project and is available on the project's webpage at
http://www.fs.usda.gov/project/?project=55927
The Forest Service is contacting interested individuals, groups, and agencies to make them aware of the project and to gather pertinent feedback. To be most helpful, please submit your scoping comments by June 12, 2019 and make your comments as specific as possible.
The project webpage provides you tools to engage this process as you wish. From "Get Connected" on the right hand side of the page, click on "Subscribe to Email Updates" if you wish to receive electronic communication about this project. Use the "Comment/Object on project" link to access a simple webform to submit your comments on this project. The "Public Comment/Objection Reading Room" are the published comments received on this project.
Webform submission through the project webpage is preferred but written, comments concerning these projects will be accepted. Comments for the project may be submitted to the Krassel District Office 500 North Mission Street Building 1 McCall, Idaho 83638. Hand delivered comment letters may be delivered during regular business hours of 8 a.m. to 4:30 p.m. Monday-Friday, excluding holidays.
Comments received in response to this request will be available for public inspection and will be released in their entirety if requested pursuant to the Freedom of Information Act. Comments received in response to this request will also be available for public inspection on the "Public Comment Reading Room" on the project webpage.
For further information on this project, please contact Andrew Stonebreaker, Hydrologic Technician, at (208)-634-0806.
Sincerely,
Anthony B. Botello
Krassel District Ranger
Payette National Forest
— —
Payette seeks comment on Dewey Mine sediment project
The Star-News May 16, 2019
The Payette National Forest is seeking comments on a sediment stabilization project for the Dewey Mine about 17 miles east of Yellow Pine.
Proposed work on the mine includes installing dams in a gully and excavating a drainage route to direct runoff from the mine around a breached settling pond.
Work would improving drainage, road access and reinforce the closure of the mine.
The goal of the project is to reduce the amount of sediment flowing into Mule Creek, according to the proposal.
The gold mine, located within the Krassel Ranger District, is abandoned.
Contact Hydrologic Technician Andrew Stonebreaker at 208-634-0806 for questions.
Comments can be submitted by June 12 to the Krassel District Office at 500 Mission Street in McCall, or through project webpage at
http://fs.usda.gov/project/?project=55927
source:
— — — — — — — — — —
Impact Statement for Proposed Caldwell Canyon Phosphate Mine Available for Review
BLM Identifies Mining Alternative One as its Preferred Alternative
Soda Springs, Idaho – Today the Bureau of Land Management (BLM) Idaho Falls District released a Final Environmental Impact Statement (FEIS) analyzing a mine and reclamation plan (M&RP) submitted by P4 Production, LLC for the proposed Caldwell Canyon Mine. P4 Production, a subsidiary of Bayer, would like to develop several phosphate leases they hold located on Schmidt Ridge about 13 miles east northeast of Soda Springs, Idaho. The BLM seeks public review prior to releasing a Record of Decision on the proposal later this summer. BLM has identified its preferred alternative as Alternative 1 in the FEIS.
In keeping with the Administration's priorities, the preferred alternative would find a balance between responsible resource extraction and conservation, while providing opportunities for high paying jobs in the local community. If approved, the Caldwell Canyon Mine would sustain approximately 185 mining jobs and support 585 plant jobs for an additional 40 years, and would aid the region by providing $122 million annually for payroll, taxes, royalties, purchases, as well as sustaining support and service jobs.
continued:
————————-
Public Lands:
Memorial Day weekend campground openings planned
Contact: Boise National Forest Venetia Gempler (208) 373-4105
Boise, Idaho, May 17, 2019 — Boise National Forest visitors headed to the Forest in celebration of Memorial Day can expect cool temperatures with a chance of rain. Temperatures in higher elevations are much cooler and conditions can change very quickly. Please call the District for updates. Many campgrounds and roads in the higher elevations are closed due the remaining snow pack including Deadwood Reservoir, Bull Trout Campground and Trinity Recreation area. Forest managers ask everyone to be extremely careful near waterways because of spring run-off conditions. River banks may be unstable and roads are easily damaged in muddy conditions.
District list of anticipated campground openings – weather and conditions permitting.
Check the Alerts & Notices site for road and area closures:
https://www.fs.usda.gov/alerts/boise/alerts-notices
Please call the Districts for further information. All cabins are reservation only.
Visit: https://www.recreation.gov/ for reservations. 1-877-444-6777
Emmett Ranger District – Please note: The RD has moved and due to events outside the District's control, phones may not be operational until late June or early July.
Recreation Area Tentative Opening / Closing dates
Hot Springs Campground May 3 – Oct. 14
Tie Creek Campground May 3 – Oct. 14
Rattlesnake Campground May 10 – Oct. 14
Peace Valley Campground May 24 – Oct. 14
Hardscrabble Campground Closed until Aug. 1, 2019 (renovations)
Trail Creek Campground May 10 – Oct. 14
Boiling Springs Campground May 24 – Oct. 14
Boiling Springs Cabin May 24 – Oct. 14 – reserve only
Big Eddy Campground May 24 – Sept. 9
Swinging Bridge Campground May 24 – Sept. 9
Canyon Creek Campground May 24 – Sept. 9
Emmett Ranger District
Tentative Opening / Closing dates
Cold Springs Campground May 24 – Sept. 9
Third Fork Cabin May 13 – Oct. 27 – reserve only
Deadwood Lookout Cabin June 21 – Oct. 6 – reserve only
Silver Creek Campground May 24 – Nov. 1
Sage Hen Area (managed by Emmett Ranger District)
Reminder: Tussock Moth Outbreak ongoing, hairs from caterpillars may cause irritating rash.
Recreation Area Tentative Opening / Closing dates
Sage Hen Picnic Campground May 17 – Sept. 9
Cartwright Campground May 17 – Oct. 14
Antelope Campground May 17 – Oct. 14
Antelope Annex Campground May 17 – Oct. 14
Sage Hen Creek Campground May 17 – Oct. 14
Hollywood Campground May 17 – Sept. 9
Eastside Campground May 17 – Sept. 9
Big Eddy Campground May 17 – Sept. 9
Cascade Ranger District 208-382-7400
Recreation Area Tentative Opening / Closing dates
*All Cascade District campgrounds are scheduled to open May 23 through Sept. 13.
Ponderosa State Park and the State Parks along Cascade Reservoir are open for Memorial weekend.
Ice Hole Campground – Closed until July 2, 2019, for renovations.
The gate on Snowbank Road #446 with access to Blue Lake opens June 1 and remains open through September or until closed by snow.
Idaho City Ranger District 208-392-6681
Recreation Area Tentative Opening / Closing dates
Bad Bear Campground May 24 – Sept. 25
Hayfork Campground May 24 – Sept. 25
Ten Mile Campground May 24 – Sept. 25
Black Rock Campground May 24 – Sept. 25
Deer Park Cabin May 24 – Sept. 25 – reserve only
Barber Flat Campground May 22 – Sept. 25
Idaho City Ranger District 208-392-6681
Recreation Area Tentative Opening / Closing dates
Beaver Creek Cabin – reservation only Remains open all year
Grayback Campground May 18 – Sept. 25
Grayback Campground Group Site May 18 – Sept. 25
Edna Creek Campground May 24 – Sept. 25
Whoop Um Up Campground and Trails May 24 – Sept. 25
Jenny Lake Trail From 384 road onto the trail – may need snowshoes to access lake area.
Atlanta Cabin May 24 – Sept. 25 – reserve only
Graham Cabin – reserve only Fly in ONLY. ( July 1 – Sept. 18)
Crooked River Trail May 15 – Sept. 30 (or closed by snow)
Riverside Campground May 24 – Sept. 25
Power Plant Campground May 24 – Sept. 25
Lowman Ranger District 208-259-3361
Recreation Area Tentative Opening / Closing dates
Pine Flats Campground May 23 – Sept. 5 (may extend through Sept.)
Little Deadwood Campground May 23 – Sept. 5 (may extend through Sept.)
Mountain View Campground May 23 – Sept. 5 (may extend through Sept.)
Park Creek Campground May 23 – Sept. 5 (may extend through Sept.)
Kirkham Hot Springs Campground May 23 – Sept. 5 (may extend through Sept.)
Helende Campground May 23 – Sept. 5 (may extend through Sept.)
Warm Springs Rental Cabin Open year-round
Bonneville Campground May 23 – Sept. 5 (may extend through Sept.)
There is no road access to Deadwood Reservoir this Memorial Weekend. Campgrounds are scheduled to open June 28
Bull Trout / Martin Lake June 28 – Sept. 5 (may extend through Sept.)
Deer Flats Campground June 28 – Sept. 5 (may extend through Sept.)
Bear Valley Campground June 28 – Sept. 5 (may extend through Sept.)
Elk Creek Guard Station Nov. 1 – April 30
Fir Creek Campground June 28 – Sept. 5 (may extend through Sept.)
Deadwood Reservoir Campgrounds including Barney's, Cozy Cove, Hower's and Riverside June 28 – Sept. 5 (may extend through Sept.)
Lowman Ranger Trailheads Tentative Opening / Closing dates
All major trailheads Memorial Day – Labor Day
Mountain Home Ranger District 208-587-7961
Anderson Ranch Area Tentative Opening / Closing dates
Most campgrounds open May 15 – Oct. 1
Dog Creek Campground is anticipated to be open June 1 – Oct. 1
Trailheads – Lower Lava, Pine Gulch and Camp Creek – open May 15 – Oct. 1
Trailheads – Elk Creek, Cross Cut and Devil's Creek – open June 1 – Oct. 1
Anderson Ranch and Arrowrock Reservoirs concrete ramps are available. Please use caution as floating debris has been spotted in the reservoirs. Water levels on Anderson Ranch and Arrowrock Reservoirs are controlled by the Bureau of Reclamation. View image and more information about reservoir water levels at:
http://www.usbr.gov/pn/hydromet/ramps/anderson/anderson.html
https://www.usbr.gov/pn/hydromet/ramps/arrowrock/arrowrock.html
https://www.usbr.gov/pn/hydromet/boipaytea.html
Idaho Fish & Game – Stocking
https://idfg.idaho.gov/fish/magic-valley/stocking
South Fork Boise River Area Tentative Opening / Closing dates
Floatboat access ramps along South Fork Boise River are open May 15 – Oct. 1
Blacks Creek (Danskin Trail Area) Tentative Opening / Closing dates
Danskin Trail system is normally open April 11 – Jan. 1
Middle Fork Boise River Area
Tentative Opening / Closing dates
Campgrounds and Trailheads in Mid. Fork Boise River area open May 15 – Oct. 1
William Pogue NRT Trail 122 -There is a closure on a portion of this trail system – reference Order # 0402-01-059 https://www.fs.usda.gov/alerts/boise/alerts-notices
Wilson Creek Trail system is anticipated to be open in spring of 2019
Lower Roaring River trail 045 – There is a closure on a portion on this trail system – reference Order # 0402-01-059 https://www.fs.usda.gov/alerts/boise/alerts-notices
Shafer Butte and Trinity Mountain Recreation Areas Tentative Opening / Closing dates
These high elevations areas are currently closed due to snow. Shafer Butte Campground opens June 15 and Trinity area opens July 15 – Oct. 1 (or when closed by snow) Call the District for updates.
— — — — — — — — — —
S. Idaho grazing plan that destroyed sagebrush is rejected
May 17, 2019 AP
Boise, Idaho (AP) – A federal administrative law judge has rejected a plan for public land grazing allotments in south-central Idaho that would have destroyed re-emerging sagebrush in favor of non-native plants to increase forage for cattle and sheep.
The ruling last week directs the U.S. Bureau of Land Management to set aside its final grazing decisions for about 80 square miles of allotments in Twin Falls County.
The administrative law judge in the Interior Department's Office of Hearings and Appeals concluded that destroying sagebrush and rabbitbrush to increase livestock forage on public lands couldn't be justified.
continued:
— — — — — — — — — —
USFS Regional Intermountain Wildfire
May 15, 2019 Newsletter
The Right Kind of Fire in the Right Place at the Right Time
Almost 95% of all fires are stopped in the initial attack phase of firefighting. Firefighters are very good at stopping fires in the early stages. After 100 years of fire suppression activities, with every fire put out as quickly and safely as possible, we are faced with new challenges. Restoring natures balance by incorporating the important role and value fire has on ecosystem health is essential for land managers.
Fire is necessary. It is better if we determine the right kind of fire, in the right place, at the right time. Conducting a prescribed burn requires following a prescription meaning everything has to be up to standards to move forward. Fire burning at lower intensity has shorter impacts to air quality, achieves the desired effect of reducing vegetation, revitalizes habitats for wildlife and creates landscapes that can better withstand wildfire and provide for a safer more effective wildfire response.
continued:
—————————-
Critter News:
Pet Talk – Achilles tendon injuries in dogs
Dr. Karsten Fostvedt May 17, 2019 IME
Achilles tendon injuries are extremely common in people but are also common in our athletic dogs. The Achilles tendon is also known as the calcaneal tendon. It is formed by the termination of several muscles and attaches to the heel, or calcaneus. The Achilles tendon is critical for normal walking.
The cause of Achilles tendon rupture is usually a traumatic event, such as a fall from a height or laceration of the tendon. Chronic degeneration of the tendon can occur in excessively sporting breeds of dogs.
Rupture of the tendon causes the ankle to drop toward or almost touch the ground. The ankle, or "hock," may be swollen and painful. When trauma is the cause, usually only one leg is affected. In chronic forms of tendon degeneration, both rear legs may be affected.
continued:
— — — — — — — — — —
Bonneville K9 deputy memorialized in Meridian
May 16, 2019 Local News 8
Meridian, Idaho (KIFI/KIDK) – As part of the Police Officers Memorial observation in Meridian last night, a contingent of Bonneville County Deputies took part in the unveiling of a new K-9 Officers Memorial.
The story of each K9 on the memorial was recited. Bonneville County Sheriff Paul Wilde told the story of K9 Deputy Rik. Wilde said that on June 5, 2002, Rik was shot by a suspect who was intent on killing deputies.
He said Rik saved the lives of human deputies that day and helped stop the suspect.
continued:
— — — — — — — — — —
Idaho Chukar Foundation teaches dogs and owners how to avoid snakes
May 18, 2019 By Steve Dent KIVI TV
Boise — The Idaho Chukar Foundation held a training session at Julia Davis Park to help dogs and their owners avoid dangerous animals.
The class taught dogs to not go up to snakes and smell them, the course featured five stations and live bull snakes that even struck at some of the dogs who were in the class.
During the training the dogs were taught to run after discovering a snake, they used a shock collar to reinforce that snakes are bad, it was the owners job to run with the dog and then comfort their animal after they made it a safe distance away.
continued:
— — — — — — — — — —
KWVR Oregon Wolf Education weekly Wolf Report
Second week of May 2019
— — — — — — — — — —
Rift exposed among Oregon leaders on wolf protections
Slapping down a stance taken by the director of Oregon's wildlife department, Gov. Kate Brown declared Wednesday that the state and its agencies oppose the federal government's proposal to take the gray wolf off the endangered species list.
Associated Press By Andrew Selesky May 16, 2019
Salem, Ore – Slapping down a stance taken by the director of Oregon's wildlife department, Gov. Kate Brown declared Wednesday that the state and its agencies oppose the federal government's proposal to take the gray wolf off the endangered species list.
Oregon Department of Fish and Wildlife Director Curtis Melcher had written on May 9 to a federal agency in support of the proposal, saying that in the Lower 48 states and Mexico, the gray wolf no longer meets the definition of an endangered or threatened species under the federal Endangered Species Act.
Conservation groups and an Oregon congressman blasted Melcher's position after the letter, which had not been publicly announced, came to light this week. Then Brown herself weighed in on Wednesday in a letter to U.S. Interior Secretary David Bernhardt, saying she wanted to "clarify and correct" Melcher.
continued:
— — — — — — — — — —
Wolf's comeback in US triggers debate on protection levels
by Andrew Selsky Associated Press Friday, May 17th 2019
Salem, Ore. (AP) – The gray wolf is on track for a remarkable comeback after being almost exterminated in the contiguous United States, but a Trump administration proposal to take the iconic symbol of the wild off the endangered species list has exposed divisions among states.
California says it opposes delisting the wolf, while Washington state said it agrees. The federal proposal also exposed a rift among top officials in Oregon – one of several states where wolves have established breeding packs after wandering across state lines.
The debate highlights clashing interests and differing philosophies, with ranchers fearing more livestock will fall prey to wolves and conservationists worrying that wider hunting of the predators might be around the corner. Hunting and trapping wolves is already allowed in Montana and Idaho.
continued:
— — — — — — — — — —
Wolf Education International
Newsletter May 13, 2019
Letter: Wolf recovery process 'off the rails'
— — — — — — — — — —
Tribal groups seek permanent ban on grizzly bear hunting
May 15, 2019 AP
Billings, Mont. (AP) – Native American groups are pressing for permanent protections for grizzly bears, a species some tribes consider sacred but that has been proposed for hunting in Wyoming and Idaho.
Tribal representatives were scheduled to appear Wednesday before Congress in support of legislation to block grizzly hunting in the Lower 48 states, regardless of the species' population size.
continued:
— — — — — — — — — —
Don't Become a Fawn Napper
May 22, 2018 Bonner County Daily Bee

If you see a fawn in the wild, leave it alone. In almost all case, the doe is nearby and the fawn is not orphaned. Every year, Mystic Farm Wildlife Rescue receives numerous phone calls about "abandoned" fawns or takes in fawns that were "rescued" by well-meaning folks.
Every year, fawns are reported by the caring public as being orphaned or abandoned.
Sometimes it is a case of death of the doe, leaving the fawn obviously orphaned. Sometimes it is a case of an injured fawn, causing the doe to abandon her baby. But, unfortunately, it is often a case of not being orphaned at all, but rather the mother just being out of sight, said Dory McIsaac of Mystic Farm Wildlife Rescue in Sagle.
"Nothing pleases my heart more than knowing a fawn is back with its mom," McIsaac said. "Each season Mystic Farm receives phone calls regarding 'abandoned' fawns. Our pat response — if no blatant death of a doe is observed — is to please put the fawn back where you found it."
They advise callers that it doesn't matter if they touched it but, if it makes them feel better, rub some grass on it, put the fawn down, and leave the area.
"I can almost guarantee that if you go back and check in 24 hours, the fawn will be gone," McIsaac said. "Nearly every situation ends with the 'fawn napper' calling Mystic Farm back the next day to let us know the mama came back to get the fawn. That is truly the desired happy ending of wildlife rehabilitation."
Some facts to know:
• Mother deer will leave their fawn for hours while they go off to feed nearby. The mother does this so predators will not see a vulnerable fawn when they see her. She can be gone many hours, leaving the camouflaged and scent free fawn motionless, avoiding detection by predators.
• Is it injured? If a fawn is seen lying upright, eyes wide open, but flattened to the ground, do not touch it. This is a fawn's camouflage position to blend in with its surroundings. When the fawn is picked up, it will allow its body to become limp and dangle in your hands. The legs are not broken. Put the baby down, walk away, and leave the area.
• If a fawn is obviously ill or injured — lying on its side, kicking and crying, bleeding, etc. — gently pick it up and place in a safe, quiet place. A light cloth placed over the eyes will often calm it. Keep the fawn away from pets and other human activity. Touch, odors, and the sound of the human voice will only add to the stress of the situation and may cause additional harm. Keep the fawn free from cold drafts or keep it cool if the weather is warm. Please do not feed the fawn. Call Mystic Farm immediately.
• The fawn is on the road. Mystic Farm receives many calls regarding fawns in the middle of the road. Why are they there? Because the mom is nearby. If the fawn is in danger of being hit by cars, gently pick it up and place it about 20 feet off the side of the road and leave the area.
• Is it too late to return to the mother if the fawn has been handled by humans? Will she then reject it? No, that is an "old wives tale." The mother doesn't care — she just wants her baby back. She is around human scent all the time. Her maternal instinct is much stronger than her ability to rationalize human scent on her baby.
• What happens to the fawn if a rescue is warranted? After arrival at Mystic Farm, the fawn is evaluated and checked for any injuries, dehydration, etc. Wounds are treated either on the premises or through the services of local veterinarians. The fawn is put on an appropriate diet and feeding schedule. Once the fawns gain strength and can nurse from a bottle on their own, the 'blind feeding method' is utilized using "hands off" bottle racks. Human contact is kept to a minimum. The fawns are kept in an isolated area — free from predators and forming their own little "herd." They are free to browse and live in a large, safe, enclosure. Over the course of the season, the fawns are slowly introduced back into the wild.
Information: Mystic Farm Wildlife Rescue, Inc., 208-241-7081
source:
— — — — — — — — — —
BLM to release wild horses in Hardtrigger Herd Management Area
Release marks return of final group of wild horses to their home range in the Owyhees
Contact: Heather Tiel-Nelson, (208) 736-2352 May 16, 2019
Boise, Idaho – The Bureau of Land Management (BLM) will disperse 45 wild horses (24 studs, 21 mares) in three different locations within the Hardtrigger Herd Management Area (HMA) south of Marsing at the end of May. The BLM Owyhee Field Office invites members of the public interested in watching one of the releases to meet at the I-O-N Truck Plaza, 5644 Buntrock Rd., Marsing, at 10 a.m. on May 29 to caravan to the release location.
Just two trailer loads containing 12 horses will be released at this location within the HMA, which is the most accessible area to accommodate members of the public while providing the best viewing opportunity. This release marks one of the final groups of wild horses to return to their home range in the Owyhees.
The entire Hardtrigger HMA was burned by the 279,144-acre Soda Fire in 2015. The BLM gathered 279 wild horses from all three HMAs (Black Mountain, Hardtrigger and Sands Basin) in the Owyhees directly following the fire, placing over 80 into private care through adoption. As the 69,910-acre Hardtrigger HMA is the largest of the three, the wild horses will be released in multiple locations to disperse the horses throughout the HMA. The horses destined to return to the range were cared for at both the Boise Wild Horse Corrals and Bruneau Off-Range Corrals while the rangeland recovered from the burn.
"We were glad to offer people the opportunity to watch the release of wild horses to the Sands Basin HMA last year," said Lara Douglas, BLM Boise District Manager. "We recognize how important it is to maintain viable wild horse herds on healthy public rangelands, and are pleased to see these wild horses return to Hardtrigger."
Visitors will need to provide their own transportation. As the roads to the viewing area are narrow, rough and dusty, it is recommended that vehicles be high clearance, 4-wheel drive, and contain a spare tire. Additionally, it will be most helpful if visitors carpool to limit the number of vehicles at the release location. The BLM encourages those interested in attending the release to RSVP by May 28 to Ruby Kyle at 208-473-9868.
For more information about the release, please contact Heather Tiel-Nelson, (208) 736-2352.
— — — — — — — — — —
War of Will has crossed the finish line first in the Preakness Stakes
by The Associated Press Saturday, May 18th 2019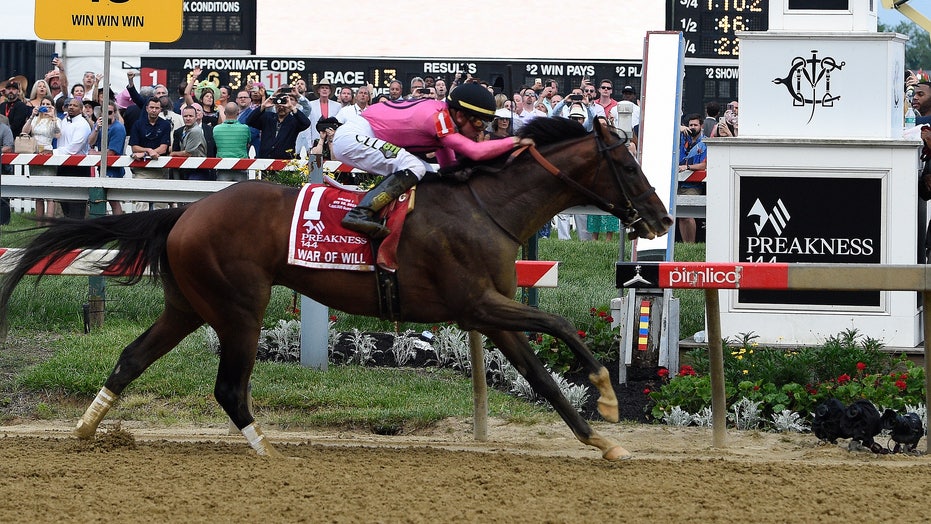 Baltimore (AP) — War of Will has won the 144th Preakness.
After finishing well out of the money in the Kentucky Derby from the No. 1 post, War of Will charged to victory after again starting from the rail on Saturday.
Everfast finished second and Owendale took third.
continued:
— — — — — — — — — —
World Migratory Bird Day – May 25, 2018 at Ponderosa State Park
Contact: Brian Harris (208) 634-0784 cell: (208) 634-6945
May 17, 2019
McCall, Idaho – "Protect Birds: Be The Solution To Plastic Pollution" is the theme for this year's World Migratory Bird Day (WMBD), an international celebration of the hundreds of bird species that migrate between their nesting habitats in North America and wintering grounds in Latin America, Mexico, and the Caribbean. Every year we unify our voices for bird conservation and share ways to protect birds 365 days of the year.
The accumulation of plastic and plastic pollution has become a world-wide epidemic and a primary threat to birds across all environments. Twelve bird species that represent diverse groups, habitats and foraging behaviors have been selected for WMBD 2019. All selected species, along with many others world-wide, are being impacted by plastic pollution.
There are many actions people can take to help birds throughout the year, and across habitats. Everyone can help by participating in habitat restoration activities, such as trash clean ups, supporting local recycling and living an ecofriendly life style.
We will explore some of these ideas with fun, interactive events, including a scavenger hunt, on our local Bird Day, May 25, hosted by Ponderosa State Park in cooperation with the Payette National Forest and Idaho Department of Fish and Game.
Join us for the following activities:
* 8:00 a.m. to 10:00 a.m.: Meet at the Lily Marsh Trail head for bird walk / scavenger hunt / trash pick-up hikes lead by local wildlife biologists and master naturalists. Supplies for our 'solution to plastic pollution' trash pick-up will be provided.
* 10:30a.m. to 1:00p.m. Meet at the Activity Center for a variety of activities, this will be the Junior Ranger program for the day.
All participants are reminded to wear appropriate clothing for hiking and/or outdoor activities. There is a $5.00 Motor Vehicle Entrance Fee to the park, unless you have a valid Idaho Passport or Idaho Annual Pass attached to your vehicle.
For more information visit Ponderosa State Park, Payette National Forest, and IDFG Region 3 Facebook pages.
Brian Harris
Public Affairs Officer
Payette National Forest
— — — — — — — — — —
Idaho inspectors intercept 14 boats with invasive mussels
Officials found 50 boats with mussels of the nearly 110,500 vessels inspected last year.
Associated Press May 14, 2019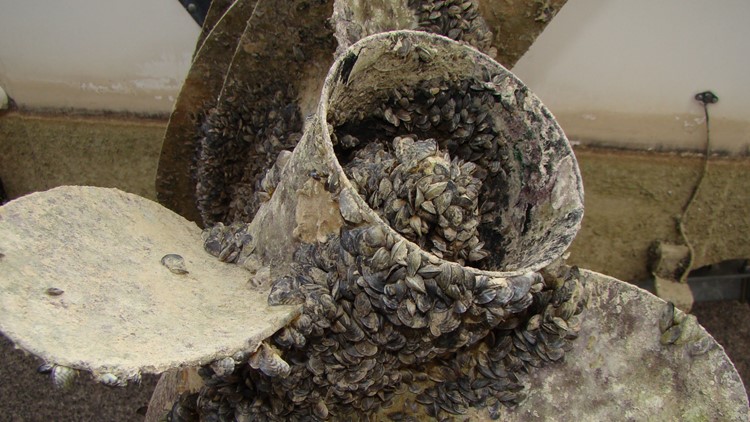 Coeur d'Alene, Idaho — Idaho officials say inspectors have already intercepted 14 boats carrying invasive mussels into the state nearly a month into inspection season.
The Coeur d'Alene Press reported Tuesday that the state has inspected more than 7,000 watercraft so far this year.
continued:
— — — — — — — — — —
Bonneville Power Struggles as salmon runs decline
Economists say Snake River Dams are losing money
May 15, 2019 By: Steve Liebenthal KIVI TV
Columbia River Basin — Salmon seasons have been open in Idaho since April, but you wouldn't know it. Not a single spring Chinook has been caught according to Fish and Game records, and Tuesday the Idaho Fish and Game Commission voted to close the season on all rivers in the Clearwater Basin. Fisheries managers are projecting that the number of spring Chinook returning to hatcheries in the Clearwater Basin will not meet brood stock needs.
The closure comes in the midst of a salmon crisis for Idaho Anglers, and a financial crisis for The Bonneville Power Administration
BPA has thirty-one power-generating projects in the Columbia Basin. The dams on the Columbia and Lower Snake Rivers are major suppliers of carbon-free energy to the northwest, especially Oregon and Washington.
continued:
———————
Fish & Game News:
Some Horsethief Reservoir Campgrounds Now Closed
By Evin Oneale, Regional Communications Manager
Friday, May 17, 2019
West side campgrounds remain open
Only days after opening, the east side campgrounds at Horsethief Reservoir are closed until further notice, following the abrupt resignation of the camp host. A contractual agreement between the department and the YMCA requires that a camp host be on site while the campground is open.
Campers can still find that special campsite on the west side of Horsethief, where Ospreys Bay, Easters Cove, Timber Bay and Bear Knob campgrounds all remain open.
continued:
— — — — — — — — — —
Hunters will soon get a look at new deer management plans
By Roger Phillips, Public Information Supervisor
Wednesday, May 15, 2019
Wildlife managers will host open houses in each region to talk with hunters about the deer plans
The statewide management plans for mule deer and white-tailed deer are being revised, and hunters will want to take note of upcoming opportunities to review and comment on the plans and talk to wildlife managers about them.
Fish and Game officials will present drafts of the management plans to the Fish and Game Commission during its May 16-17 meeting in Grangeville.
continued:
— — — — — — — — — —
Here's your fishing guide for Memorial Day weekend and beyond
By Roger Phillips, Public Information Supervisor
Thursday, May 16, 2019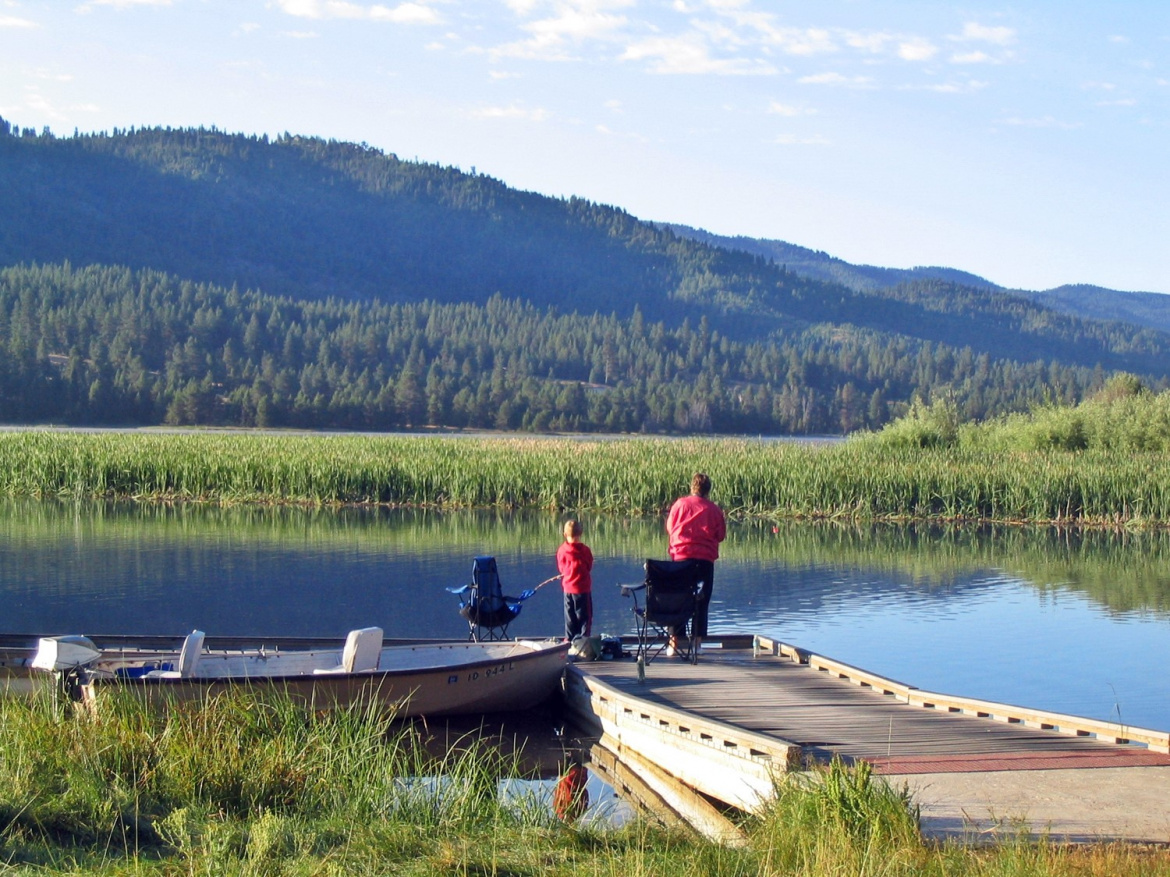 These spots offer plenty of fish, many are stocked for the weekend, and most have camping nearby
Summer is almost here, and Memorial Day weekend for many Idahoans is the unofficial kick off to the summer camping and fishing season. If you're doing the first and not the latter, you're missing out on a fantastic opportunity. May is among the best months for Idaho's ponds, lakes and reservoirs, and some rivers will also be good for fishing, although many will be running high and cold with snow-melt run off.
continued:
— — — — — — — — — —
Avoid high water this Memorial Day by fishing a local pond or lake
By Mike Demick, Staff Biologist
Friday, May 17, 2019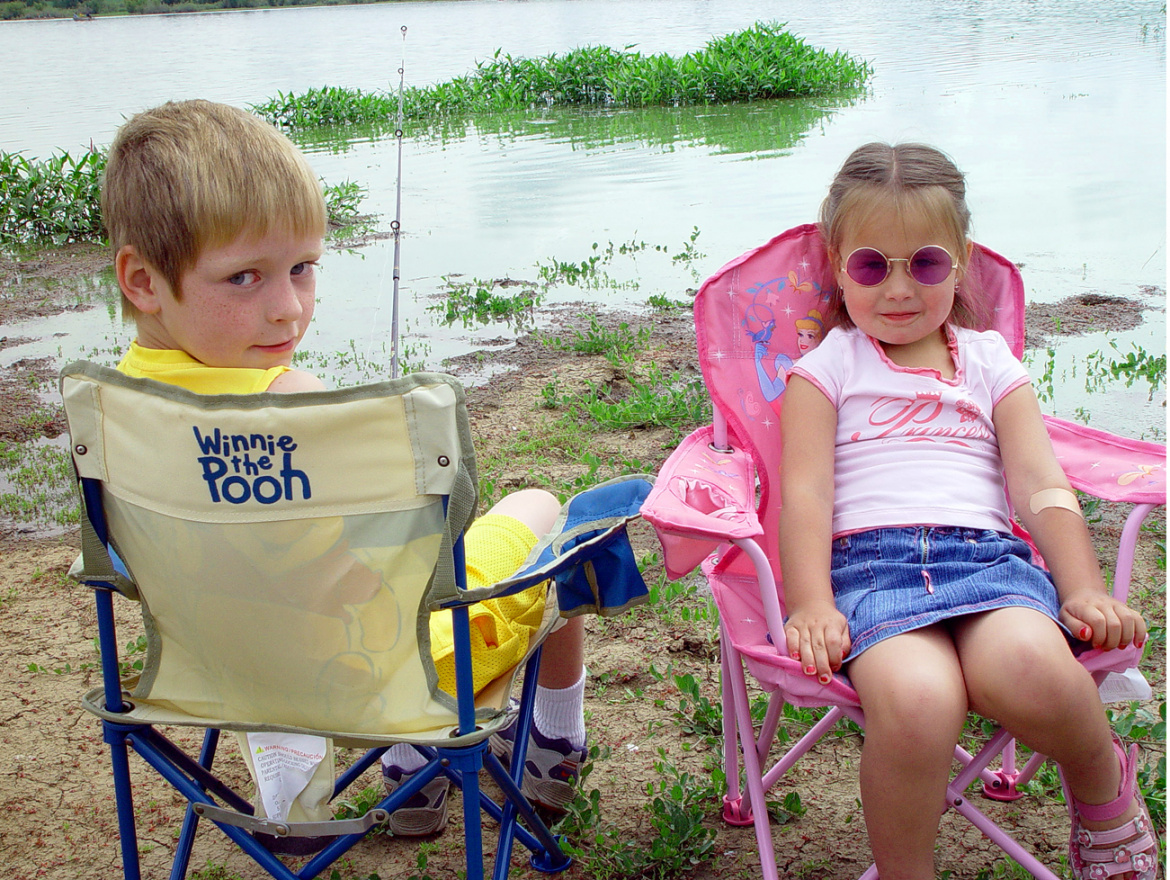 Ponds and lakes provide a safe bet for catching fish
High water this Memorial Day weekend will likely put a temporary damper on fishing many local rivers and streams, but fortunately, local ponds and lakes are a good bet for anxious anglers.
continued:
— — — — — — — — — —
Chinook salmon fishing in the Clearwater River basin is closed until further evaluation
By Joe DuPont, Fisheries Regional Manager
Tuesday, May 14, 2019
Biologists will reassess the fishery later in May and decide whether to reopen fishing
Chinook salmon fishing in the Clearwater River basin will remain closed May 18-19 due to lower than expected returns of adult Chinook, which includes the following rivers: Clearwater River, North Fork Clearwater River, Middle Fork Clearwater River, and South Fork Clearwater River. If more fish return, the fishing season may reopen later in May.
continued:
— — — — — — — — — —
More F&G News Releases
https://idfg.idaho.gov/press
———————————-
Fun Critter Stuff:
Bear bribes 'guard dog' with deer bones so it can go through man's trash
A rogue bear has bribed a Northern Ontario man's dog with deer bones three times in order to go through his trash.
Suzanne Nuyen, TEGNA May 12, 2019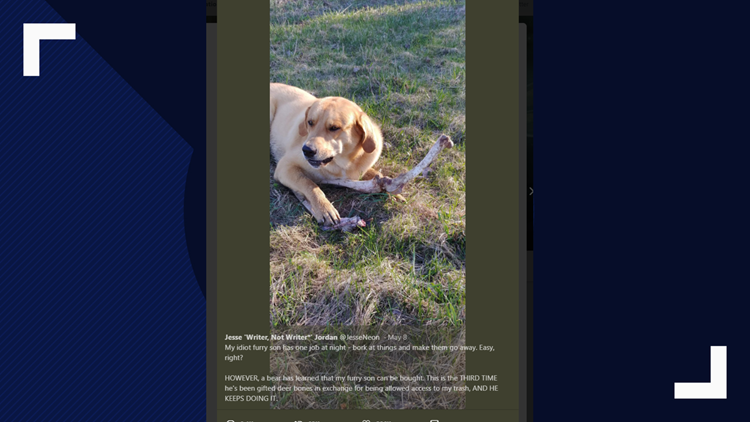 This Canadian man's guard dog has not been a good boy.
In a series of tweets, Jesse Jordan revealed that his "idiot furry son" Brickleberry has been slacking off on the job. Jordan raised the mastiff/hound/beagle mutt by hand after his mother died shortly after giving birth to him. After Brickleberry, or Brick for short, grew up, Jordan was hoping he could keep away unwanted visitors at night.
Unfortunately, one clever bear has found a way to bribe Brick. The bear, according to Jordan, has been giving Brick deer bones in exchange for access to Jordan's trash. According to Jordan, this has happened three times already, but it's unclear whether or not its the same bear or multiple bears bribing his dog.
continued:
————————-
Seasonal Humor:

———————