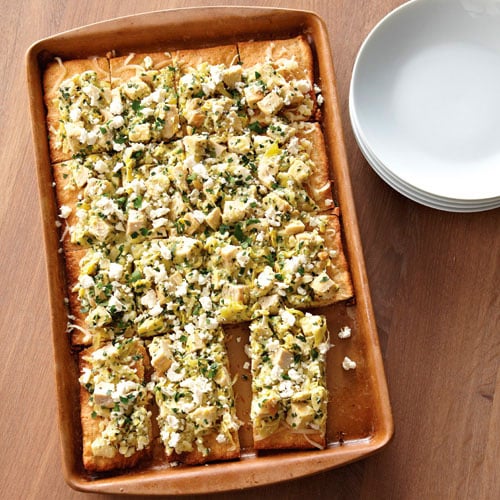 Ingredients
1 pkg (11 oz) refrigerated thin crust pizza crust
1 1/2 cups fresh parsley leaves, divided
2 garlic cloves, peeled
1 lemon
1 jar (12 oz) marinated artichokes (about 1 1/4 cups), drained
1 tbsp olive oil
1/4 tsp each salt and black pepper
4 oz feta cheese, divided
8 oz mozzarella cheese
2 cups diced cooked chicken breast
Directions
Preheat oven to 400F (200C). Brush Large Bar Pan with oil. Unroll pizza crust onto pan and press to edges. Bake on lowest rack of oven 17-20 minutes or until top is golden brown.
Meanwhile, coarsely process 1/2 cup of the parsley in Manual Food Processor; remove and set aside for garnish. Add remaining parsley and garlic to processor; process until finely chopped.
Zest lemon using Microplane Zester to measure 1 tsp. Add zest, artichokes, olive oil, salt, pepper and half of the feta to processor; process until coarsely chopped.
Grate mozzarella using Microplane Adjustable Coarse Grater. Combine half of the mozzarella, artichoke mixture and chicken in Classic Batter Bowl; mix well. Microwave, uncovered, on HIGH 1-2 minutes or until hot, stirring once.
Remove pan from oven to Stackable Cooling Rack. Sprinkle crust with remaining mozzarella. Top with chicken mixture; spread to edges.
Cut flatbread into 16 squares using Pizza Cutter. Crumble remaining feta over top and sprinkle with reserved parsley. Serve with Mini-Serving Spatula.
Yield: 8 servings of 2 squares
———————————–