June 9, 2019 The Yellow Pine Times – Valley County, Idaho
Note: Boil Water order still in effect. Stibnite road is still closed at Tamarack Creek and Profile road has snow at the summit and now a big tree down on this end. See road reports.
Community Calendar:
April 2 – Boil water order issued
Every Sunday – 11am Fire Training
May 10 – Burn "permits" required
May 15 – Firewood Season opens
June 11 – Yellow Pine Vet Clinic
June 15 – 10am YPFD meeting at the Fire Hall
June 20 – Festival meeting Thursday 2pm at the Community Hall
June 27 – Noxious Weed Spray day
June 29 – Highland Games
July 2 – Ice Hole Campground opens
July 6 – Golf Tournament & Breakfast
July 7 – Annual YPWUA Meeting 10am Community Center
July 13 – 10am YPFD meeting at the Fire Hall
July 13 – Ride to Big Creek
July 20 – VYPA meeting 2pm Community Hall
July 27 – Festival meeting Saturday 2pm at the Community Hall
July 27 – Memorial and potluck for Wilbur Wiles (Big Creek/Edwardsburg)
Aug 10 – VYPA meeting 2pm Community Hall
Sept 14 – 10am YPFD meeting at the Fire Hall budget meeting
Sept 14 – Ride to Cinnabar
Sept 21 – VYPA meeting 2pm Community Hall
(details below)
———-
Local Events:
June 11 – Vet Day
Last chance to get on the list. On Tuesday June 11th the Cascade Vet clinic will be coming to Yellow Pine. Please call (208) 382-4590 to get on the list. If you have questions, contact rrSue via email.
— — — —
June 29 – Highland Games
For the second year, Bald Mountain Knuckle Draggers will bring the Highland Games to Yellow Pine on June 29th. Last year they donated over $2,600 to the Helipad and this year money will be raised for the water department. Come see these fantastic athletes and support the water department.
— — — —
Ice Hole Campground will open July 2nd
The Campground has been temporarily closed to provide for public safety during reconstruction. This order will be in effect from September 27, 2018 through July 2, 2019, unless rescinded earlier by the Forest Supervisor. (0402-04-80)
— — — —
Noxious Weed Spray day June 27
We have a confirmed date of Thursday, June 27th for the Yellow Pine Noxious weed spray day. Mark your calendars, hope to see you there.
Hello Yellow Pine,
I'm beginning my transition from snow plowing to noxious weed control. Yellow Pine is 1st on my list to start talking about dates to schedule our 2nd annual noxious weed Homeowners assistance spray day. Last year we got together on Thursday, July 19, 2018. I have June 27, 2019 marked on my calendar.
We had really good participation last year but we can do better, lets start talking now and get more people involved as it is "Everyone's responsibility to control Noxious and Invasive plants". I think last years event went very well, we will try and be a little more organized this year, if we missed someone put them on top of the priority list. I will bring my entire crew, all of our equipment, PPE, and mixed herbicide, you provide the volunteers, we're here to help you not do it for you.
I misplaced 1-backpack sprayer last year, please keep your eyes peeled in case we laid it down someplace or forgot to pick it up.
Spread the word, save the date. I look forward to hearing from you. The best way to contact me this time of year is through e-mail, I will be in and out of the office until May, I check my e-mails daily but I can't always respond until I get back into the office.
Thank you,
Steve Anderson
Valley County Weed and Pest Control
SAnderson@co.valley.id.us
— — — —
Golf Tournament July 6
It's time to plan for the annual 4th of July Yellow Pine Golf Tournament. This year the proceeds will support the Community Hall and road repair.
The event will begin July 6th at 11am at the golf course, where the fairways aren't fair and the greens aren't green. The cost will remain the same at $50 per couple for sponsoring a hole with a sign displayed. $20 for individuals, each person playing will get a ticket for beer, additional tickets can be purchased for $3. Soda and water are free. Checks can be written to VYPA (Village of Yellow Pine Association)
There will be prizes for first, second and third places for men's women's and mixed. Also, there will be a prizes for closest to the pin. Spots go quickly, so be one of the first!
There will be a hearty breakfast at the museum from 8-10. The cost is $6 and all proceeds benefit the upkeep of the museum.
— — — —
Celebration of Life – Wilbur Wiles
Potluck celebration of life at his cabin 27 July.
— — — —
2019 Yellow Pine Escapades
The 2019 schedule for the Yellow Pine Escapades has been updated on the website!
Expect new escapades this coming year, including an ATV-UTV Photo Scavenger Hunt; two (yes, two) ATV-UTV rides, a golf tournament, and even a community yard sale. Other events will be added to the calendar as plans are finalized.
Join us for a great season of fun! The starting point for fun in Yellow Pine! The website includes information on the events hosted by the Yellow Pine Community Hall as well as the other "goings-on" in the village. Food, lodging and fuel are available in Yellow Pine.  link:
———-
Village News:
First Fire June 6th
A report of a small fire across the river from Golden Gate Camp ground on Thursday. Forest Service sent crews.
— — — —
Power Outages
June 6th the power blipped off and back on around 545pm. Then the power went out just before midnight for about 2 hours. Cause unknown, however, a report that the fire and the power outage may have been related.
— — — —
Dust Abatement
I am in process of obtaining cost and date information. Please let me know if you are interested in dust abatement this year.
Deb Filler, fillerd2 @ live.com, 208.633.6945
— — — —
Spring Fuel Delivery
Diamond Fuel & Feed will be going to the back country soon. They are waiting for Johnson Creek to open up and dry out enough for their truck to travel on. If you would like to be put on the schedule for fuel delivery please call the office at 208-382-4430 and let them know.
Thanks, Megan 5/15/2019
— — — —
Yellow Pine Transfer Station
A report on May 30 that the Transfer Station bins were empty. Reports of issues with the burn pile already. READ the SIGNS!
Please do not abuse our Transfer Station or we may lose it. Household trash must be placed in the bins, flattened cardboard boxes can also go into the bins. Do not stack trash in front of the doors. Woody yard debris only for the burn pile. No furniture, appliances, tires or construction debris allowed, those items must be hauled out to the Donnelly station by you.
Yellow Pine Transfer Station (aka, the dump)
The Yellow Pine Transfer Station is located approximately 3 miles south on Johnson Creek Road.
The TRANSFER STATION is for household trash and yard waste:
* Household trash must be put inside (and fit) the dumpster;
* Yard waste (limbs, pine needles, brush, et.) goes in the burn pile on the south end of the turn-around;
* Cardboard boxes should be flattened before putting the in the dumpster,
The DUMPSTERS are NOT for:
* Furniture (take to Donnelly Transfer Station);
* Appliances (take to Donnelly Transfer Station).
The BURN PILE is NOT for:
* Cardboard boxes (flatten and put in dumpster);
* Furniture and appliances (take to Donnelly Transfer Station);
* Drywall and building material (take to Donnelly Transfer Station);
* Wire or fencing (take to Donnelly Transfer Station);
* Foam Rubber (take to Donnelly Transfer Station);
* Wood with metal (like nails) attached (take to Donnelly Transfer Station.)
When closing the DOORS on the front of the dumpsters:
* Make sure the "U" brackets at the top and bottom of the door are engaged;
* The retaining bar at the middle of the door is slid into the pipe;
* And the "L" bars at the bottom of the doors dropped into place.
The Yellow Pine Transfer Station is Valley County responsibility. If it is not kept tidy, use of the Transfer Station may be revoked. That would result in residents having to take all household trash and yard waste to the Donnelly Transfer Station.
If Dumpsters Are Full, Contact Lake Shore Disposal at: 208/634-7176
— — — —
Roads
Profile Creek Road
A report this afternoon (June 9) that there is a big tree down across Profile Creek Road, about a mile up from the turnoff from the EFSF road. It was described to be as big around as our 500 gallon propane tank.
Johnson Creek Road
June 1st: some folks made it in via Landmark, some trees down. Not "officially" open yet, travel at your own risk. Road to the dump is bumpy.
Stibnite Road Update June 7 (from Midas Gold):
Work continues to fully reopen Stibnite Road. OK Gravel will be back in Yellow Pine early next week to complete the stretch of road where work has been authorized. Valley County is still waiting to receive permission from the U.S. Army Corps of Engineers to move forward on repairing the final section of Stibnite Road impacted by the avalanche. Once Valley County receives its new permit, it will take at least another week of clearing and construction to make the road passable. Everyone on the project remains committed to opening the road as safely and quickly as possible.
The storms that passed through the Yellow Pine area late this week caused some trees to fall on Stibnite Road. Midas Gold employees are working to remove the fallen trees and debris from the road.
link to Midas Gold FB gallery:
Stibnite Road Update June 9 (from Midas Gold)
Late Friday, the Valley County Road Superintendent received the final permit needed from the U.S. Army Corps of Engineers to start work on the last section of the washed out road. Work will start on Monday.
— — — —
Tick Season
Lots of ticks this year. Please check your pets (and kids) for ticks. Tick bite paralysis affected a local dog recently, removal of the tick led to full recovery.

— — — —
History of the log cabin at the Cemetery
The Cemetery Committee is interested in any information on the cabin that is located by the cemetery. We know that it had been on the property that was known as "Mary's Cabins". It was moved by Tom Richter while the Filler's were building their house. Donna Valdez said that the people who ran the cafe and bar slept there, before the Tavern was built.
Do people have pictures or any information they can share? We'd love to put a plaque up on the cabin while we repair it.
– Marj Fields
— — — —
Come Spring…
"To Yellow Pine residents. I will be making several trips next spring and summer hauling out metal, appliances, etc. . If you need anything hauled away please get on the list. Vehicles require a title. I will be hauling gravel back if anyone is interested."
Contact Mike Amos
— — — —
Yellow Pine US Mail
June 1st started 6-day a week mail delivery. The Post Office in Yellow Pine is open six days a week: M-F 845am-245pm Saturday 9am-245pm. Forever Stamp: 55 cents
— — — —
Predators
It is denning season for wolves and coyotes and they will be very aggressive towards dogs.
Watch for mean mamma does this time of year – they will stomp your dogs! A while back an eagle was attacking duck decoys on the edge of the village, sharp shinned hawks are around.
Bears are out of hibernation and hungry. Please do not leave pet food outdoors and remember to keep trash secured, it will draw bears, foxes, coyotes and loose dogs.
Reminder for people living in bear country:
* Garbage should be stored inside the house or in a secure garage or storage building.
* If garbage cannot be stored in a secure location, a bear-resistant container approved by the Interagency Bear Committee is recommended.
* Avoid using bird feeders from March through November. Birds do not need supplemental feeding this time of year.
* Pet food should not be left outside.
* BBQ grills or anything with a strong odor should not be left out at night.
* Protect gardens, beehives, and compost piles with electric fencing.
* Never intentionally feed bears. A food-conditioned bear may pose a threat to human safety and usually results in the removal of the bear.
———-
Local Groups:
YPWUA News:
Water Update June 7
1. The "boil order" is still in effect.
2. There is still large water leaks in the system. We continue to look.
3. A grant for $39,000 was approved for improvements to the system.
3. Work is currently being done on the new contact tank.
4. Please, no lawn watering until we find and repair the major leaks.
– Steve Holloway
link to: #4430059 Yellow Pine Water Users Boil Water Notification 4-2-19.pdf
link to: 2018 September Water Department Update.docx
—
2019 YPWUA Yearly Meeting
Sunday July 7th 10am Community Center
1. Financial Report – Willie
A. Current Account
B. Budget
C. Future rate increases
D. New Procedure Actions for Non-Payment
2. Operations Report – Steve
A. Current Operations
B. Chlorine levels
C. Grant and work necessary
D. Boil Order Notification
E. Future Grants
F. Summer lawn watering
3. Election of Board Members
A. Dawn Brown and Stu Edwards, both are automatically nominated
Only shareholders can run and vote
4. Questions
— — — —
VYPA News:
There was a Village of Yellow Pine Association Meeting June 8, 2019
Minutes will be posted when received.
—
VYPA Meeting Dates 2019
June 8th; July 20th; August 10th; September 14th – 2pm at the Community Hall.
Note that the July 20th meeting is not on the second Saturday due to a conflict with a planned ATV rally involving many residents and visitors.
Yellow Pine Harmonica Meetings 2019:
March 30, 2019 Saturday 2pm at the Tavern
April 23, 2019 Tuesday 2pm at the Tavern *Cancelled*
May 23, 2019 Thursday 2pm at the Community Hall
June 20, 2019 Thursday 2pm at the Community Hall
July 27, 2019 Saturday 2pm at the Community Hall
— — — —
YPFD News:
There was a YPFD meeting on May 18th at the Fire Hall. Minutes will be posted when received.
—
Meetings will be held at the fire station at 10:00am and everyone is welcome to attend. June 15th; July 13th; and Sept 14th (which will also be the budget meeting as well).
Every Sunday 11am – Training
May 10th Burn Permits – contact the YPFD
Pile burning: Dress appropriately, have enough help on hand (people, water and tools) and make a firebreak before you start. Call your local fire protection district chief to let them know you'll be conducting a debris burn. This saves them from sending emergency responders to your property if they are not needed.
Bring it, Don't Burn it
For us in Yellow Pine, Jake Strohmeyer, Dist. Ranger with the Boise NF said we can use the area at our transfer station for yard debris and the FS will burn it once a year. Please no furniture, mattresses, construction debris, metal objects, tires or personnel junk. Please only woody yard debris. When using the pile please be mindful of where you place the debris as it should be contained to a manageable burnable area and kept as clean as possible. – JF


—
Training: Sunday Fire/EMS training has begun. Sundays at 11:00 AM unless otherwise posted. If Jeff F is in town the trainings will be held. All are welcome.
Safety Message: The best place to be during an avalanche, rock fall or a tree fall due to the wind is not there, please use extreme caution and common sense when conditions exist for these scenarios.
"If you are an Adventurist, please do not go out alone in steep areas. The spring thaw is an extremely dangerous time for Avalanches. The freezing and thawing create layers that break away from each other with the slightest disturbance. Scree fields are especially dangerous this time of year because of hidden ice that makes them even more unstable. Please be careful out there."
YP Helispot: We are working with Valley County Road Department and the Boise National Forest for the rock base for the road leading into the Helispot and the actual Helispot itself. We are also receiving rock for the Fire Hydrants, water tank foundations, etc. The rock will come from the Valdez pit and will be less expensive than having it trucked in from Cascade.
Stop the Bleed Course: This course was well attended in the Fall and Jeff F and Ann F will be presenting another course when the new instructor material comes out. There are "Stop The Bleed" kits at the Tavern in an emergency.
Siren Testing: The YPFD siren will be tested only once this year on the first of May at noon. 3 blasts of the siren is a test, more than 3 is an Emergency.
-JF
——–
Biz Listings:
Yellow Pine Lodge (208) 633-3377
Call for reservations
— — — —
The Corner (208) 633-3325
The Corner has firewood permits in stock now. 4 cord minimum at $6.25 per cord. Please call to make sure I'm around before Memorial Day, bring drivers license and cash is preferred, no CC.
The Corner Store will also be open with snacks, groceries, fresh produce, soda, ice and packaged beer. If you know you will be coming in over the summer and need special grocery orders, let me know and I will order it in for you while you are here, 2 deliveries a week. The best way to get a hold of me is to call or stop by and say hello.
Karaoke is back at The Corner! Choose your favorite songs from our online music library and entertain your friends up on stage through our professional sound system.
— — — —
Yellow Pine Tavern (208) 633-2233
Summer Hours Daily 8AM to Close
— — — —
Buck Horn Outfitters LLC 208-633-3614
Tom & Sarah Lanham
156 Yellow Pine Ave, Yellow Pine Id 83677
Website:
Link to FB page:
Wapiti Meadow Ranch – Johnson Creek (208) 633-3217
208-315-3554 cabin rentals
website:
Deadwood Outfitters
website:
— — — —
Local Fuel Suppliers
Amerigas Phone: (208) 634-8181 Note: Summer deliveries have started, call if you need propane.
Ed Staub & Sons Phone: (208) 634-3833
Diamond Fuel & Feed (208) 382-4430 – If you would like to be put on the schedule for fuel delivery please call the office at 208-382-4430 and let them know. Wild Bird Seed 50LB Bag for $25.58
— — — —
Outside Biz that will service Yellow Pine:
Elkhorn Heating & Cooling
(208) 906-4067 Middleton, Idaho, Will service Yellow Pine
B&T Safety Solutions LLC
208-271-1600 Based out of Donnelly
Snow removal, cleaning chimneys and stoves, we do cabin staining/chinking as well
— — — —
Follow The Yellow Pine Times on Facebook (updated more often than emails)
———————–
Local Observations:
Monday (June 3) overnight low of 44 degrees, mostly clear this morning – some high haze. Finches, swallows calling and ground squirrels chirping. Lilac in full bloom. Clouds building up during the morning and a little breezy. Mostly cloudy mid-day, warm and light breezes. Dump trucks going up the main road, streets are drying out and getting dusty. Ground squirrels active. Partly cloudy and quite warm mid-afternoon and light breezes, high of 80 degrees. Skeeters are out and hungry! Cooling off some by late evening and mostly clear. Partly hazy before midnight.
Tuesday (June 4) overnight low of 41 degrees, clear sky this morning, light breeze and roofs wet with dew. Finches and swallows calling. Shot fired on the golf course 1141am. A few clouds, warm and light breezes mid-day. Wonky sounding airplane around 315pm (looks like a fly-in on the web-cam.) Pretty warm by mid-afternoon, mostly clear sky and light breezes, high of 79 degrees. Warm evening, mostly clear at dusk, swallows flying around and skeeters out. Robins calling at dusk.
Wednesday (June 5) overnight low of 38 degrees, clear sky this morning and moderate dew. Morning air traffic. Swallows and finches calling. Tiger swallowtail butterfly on the lilac bush. Mail truck made it in on time, now coming in via Johnson Creek. A couple little clouds mid-day, light breeze and warm. Amerigas came in and will be back probably next week, call if you need propane. A few small clouds by mid-afternoon, warm and breezy, high of 81 degrees. Streets are dusty. Some high wispy clouds by evening, warm and light breeze. Cloudy at dusk. Calm before midnight.
Thursday (June 6) overnight low of 42 degrees, mostly cloudy sky this morning. Finches and swallows calling, ground squirrels active. Mostly cloudy and gusty breezes before noon. Strong wind gusts early afternoon. A few finches and a raven calling, not as many swallows flying. Overcast and blustery mid-afternoon, high of 76 degrees. Pine squirrel "complaining" and finches twittering from the trees. Power blipped off and back on around 545pm. Wind, hail and rain for a short time before 7pm, then light steady rain after 8pm. Robins calling in the rain at dusk. Power out just before midnight – lasted for about 2 hours. (Got a report that there was a lightning strike fire across the river from Golden Gate campground, power outage was probably related.)
Friday (June 7) overnight low of 39 degrees, mostly cloudy and breezy this morning. Finches, pinesiskins, robins and swallows calling, pine squirrel visiting, ground squirrels active. Cool, cloudy and breezy mid-day. Rufus hummingbird visiting. Sprinkles of rain on and off in the afternoon, overcast and breezy, high of 53 degrees. Stellar jay, finches, grosbeaks and pinesiskins visiting. Rain and a little bit of snow late afternoon to early evening, cloudy, cool and breezy. Mourning dove visiting. Low clouds and light rain at dusk. Rain quit way before midnight, still breezy. Calm after midnight.
Saturday (June 8) overnight low of 31 degrees, partly clear sky and light breezes this morning. A few swallows and a mourning dove flying, robins and finches calling. Ground and pine squirrels active. Overcast before noon and chilly breezes. Dark threatening clouds most of the day. Sprinkled a little bit mid-afternoon, cool and breezy, then breaks in the clouds to the north and dark clouds to the south, high of 57 degrees. Mourning dove, cassins finches, pinesiskins and jays visiting. Partly clear sky by late afternoon. Doe boinging around on the golf course before dusk. Thinner patchy clouds and cooling off quickly at dusk. Lots of stars out before midnight.
Sunday (June 9) overnight low of 28 degrees, clear sky this morning. Early air and ground traffic. Swallows, finches and pinesiskins calling. A few tiny clouds by mid-day and light breezes. Jays and evening grosbeaks joined the finches, a trio of hummingbirds visiting, pine and ground squirrels active. Increased traffic. Very pleasant mid-afternoon, some high haze and light breezes, high of 70 degrees. More evening grosbeaks, jays and a couple of hummingbirds visiting. Overcast by evening, calmer and not cooling off too quickly. Quiet.
———————
Idaho News:
Volunteers improve trail to 2006 helicopter crash memorial
By Tom Grote for The Star-News June 6, 2019
Volunteers spent several days last month making improvements to a trail near Yellow Pine that goes to a memorial for the victims of a 2006 helicopter crash.
The work was done on the trail to the memorial for four people who died Aug. 13, 2006, when the helicopter hit a tree, crashed and burned while on a routine mission.
Payette National Forest employees from the Krassel Ranger District spent several days hauling gravel, moving rocks and improving the trail, which starts on the East Fork South Fork Salmon River Road about 11 miles west of Yellow Pine.
The memorial was originally built in 2009, and the improvements allow easier access to the memorial site and provide a more comfortable area to sit and reflect.
The work was funded by more than $2,300 collected in a fundraiser held last September by the owners of The Corner in Yellow Pine, Midas Gold and the Wildland Firefighter Foundation.
A pig feed and trail run to the Williams Peak Lookout purchased supplies for the trail work, Matt Huber of The Corner said.
The money also will be used to buy plaques at the site for the firefighters who died, Huber said.
Raising support and awareness for the wildland fire community is important, especially in Yellow Pine, which is a fire-prone community, Huber said.
… Plans are underway to hold another fundraiser this September, Huber said. For information, contact Huber at matt@ypcorner.com or 208-633-3325.
full story:
— — — — — — — — — —
Cruickshank speaks at Boise rally for federal funding bill
By Tom Grote for The Star-News June 6, 2019
Valley County Commissioner Gordon Cruickshank was among the speakers at a rally in Boise last week supporting legislation in Congress to provide federal funding for rural counties.
The rally on the steps of the Idaho State Capitol was attended by Idaho senators Jim Risch and Mike Crapo, both Republicans, and Oregon Democratic Sen. Ron Wyden.
The senators announced reintroduction of the Forest Management for Rural Stability Act, which the sponsors said would create a long-term solution for rural forest counties.
The act would replace the Secure Rural Schools and Community Self-Determination Act of 2000, which was passed to make up for depleted payments once generated by timber receipts on federal lands.
continued:
— — — — — — — — — —
Valley County property values increase $500 million
South end of Lake Cascade sees largest growth
By Max Silverson for The Star-News June 6, 2019
Valley County property values increased by more than $500 million from last year's assessment, according to a report presented on Monday to Valley County commissioners.
Total 2019 assessed value throughout the county came to about $4.53 billion, up from $4.03 billion in 2018, Valley County Assessor June Fullmer told commissioners meeting at the Valley County Courthouse.
Assessment notices for Valley County property owners were mailed this week.
… Values countywide increased by about 11%. Values in McCall increased by 11%, values in Donnelly increased by about 16% and Cascade saw a 7% increase, the commissioners were told. All the percentages cited were averages.
… A 5% decrease in value was seen in backcountry properties such as Yellow Pine.
full story:
— — — — — — — — — —
June 20 deadline noted to pay Adams, Valley property taxes
The Star-News June 6, 2019
June 20 at 5 p.m. is the deadline for property owners in Adams and Valley counties to pay the second half of their yearly property taxes.
Late charges and interest will begin on June 21, with interest retroactive from Jan. 1, 2019, so mailed payments should be correctly stamped by date.
The treasurers' offices in both counties are open during the lunch hour Mondays through Fridays.
Valley County accepts credit card payments at http://co.valley.id.us or by calling 208-382-7110.
In Adams County, payments can be placed in the drop box at the main courthouse entrance in Council.
The office has credit card, debit card or echeck payment options online at http://co.adams.id.us or by calling 208- 253-4263 Ext. 6 for questions.
source:
— — — — — — — — — —
No More Explosions
Fire districts, propane providers draft rules for safer installations
By Drew Dodson for The Star-News June 6, 2019
Garrett de Jong does not want a repeat of the horrific scene that he viewed on March 17 when a propane explosion obliterated a house in McCall.
That is why de Jong has recruited local propane providers to form a coalition that wants to make law on propane installations among the most restrictive in the nation.
De Jong has signed up the Cascade and Donnelly fire districts and five suppliers of propane to Valley County to draft an ordinance that would standardize rules for installing propane service to endure the rigors of winter weather.
National fire codes only suggest precautions to keep snow from breaking propane lines and snapping off regulators, but the proposed ordinance would state specific requirements.
"We need to build systems that are capable of withstanding the winter months in Valley County without maintenance," de Jong said. "There are way too many second homes that do not get maintained, shoveled, etc."
The current draft being circulated would require second stage regulators to be placed on the gable end of roofs or a location approved by the local building officials.
Second-stage regulators are installed along the edge of homes and manage propane flows to appliances.
'The placement would help reduce the risk of snow shedding from roofs and damaging the regulators.
Snow shields would be required over all regulators and piping to protect them from breaks caused by sliding snow or the pressure of built-up snow.
Flexible pipe also would be required to allow pipes to move under the weight of snow or other forces instead of shearing off.
The new rules would apply only to new construction, while existing installations could not be required to be upgraded, de Jong said.
continued:
— — —

photo by Drew Dodson/The Star-News
AmeriGas Operations Supervisor Les Topliff explains the importance of installing snow shields over second stage regulators to help prevent propane leaks caused by shedding snow from roofs smashing into the equipment.
source: The Star-News June 6, 2019
— — — —
see also:
'The intent of this is to keep homes safe': McCall fire chief looks for safer installs on propane regulators
Following an explosion, the McCall fire protection district is looking to enact stricter regulations when it comes to propane gas regulators on homes.
Joey Prechtl June 7, 2019 KTVB
McCall, Idaho — A push in Valley County is attempting place in stricter regulations around propane regulators on residences. This follows a house explosion in McCall in March and amid increased calls across the board for propane leaks. The McCall Fire District is trying to make changes to protect homes in the future.
continued:
— —
[Note: Amerigas is starting spring deliveries to Yellow Pine, contact them to check for leaks.]
— — — — — — — — — —
Woman unhurt after tree topples onto pickup in McCall
A driver escaped serious injury Sunday night when a tree fell onto her pickup truck in McCall, smashing the vehicle.
KTVB June 6, 2019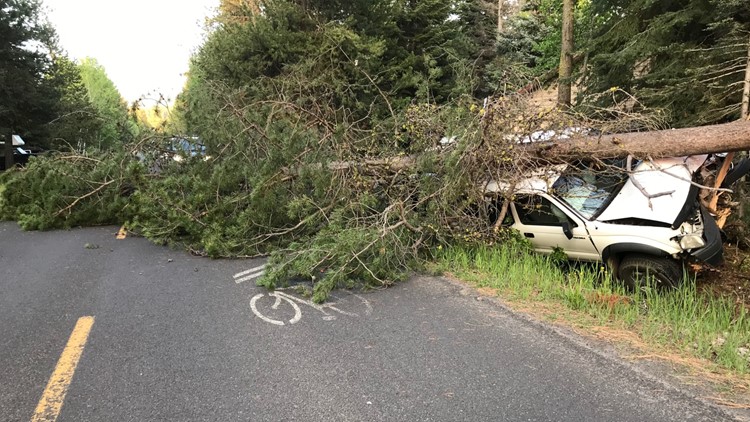 McCall, Idaho — A driver escaped serious injury Sunday evening when a tree fell onto her pickup truck in McCall, smashing the vehicle.
According to McCall Fire and EMS, the woman was driving on Lick Creek Road when the incident happened. She veered off the roadway and crashed into the tree, breaking it off. The tree then toppled across the road, landing on the cab of her pickup.
The driver was able to crawl out of the wreckage before paramedics arrived. Fire officials say she was taken to the hospital as a precaution but had only very minor injuries.
source:
— — — — — — — — — —
Mudslide traps people near Sawtooth Lodge in Grandjean
Boise County Emergency Management says everyone is accounted for and no one is in danger.
KTVB June 3, 2019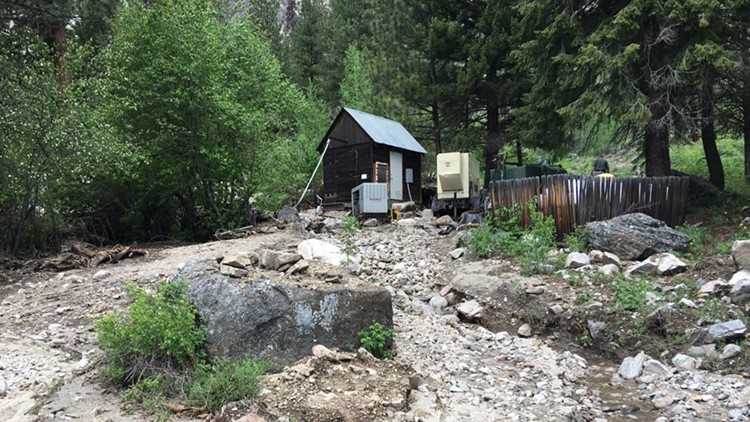 Grandjean, Idaho — A mudslide has trapped people near the Sawtooth Lodge.
It happened around 8 o'clock last night.
Boise County Emergency Management says those who are trapped are all accounted for and are not in danger. But travel to the lodge is restricted to four-wheel drive vehicles.
continued w/more photos:
— — — — — — — — — —
Higher elevations still hold 70% of winter snow
Jun 07, 2019 Local News 8
Boise, Idaho (KIFI/KIDK) – After tallying up the month's precipitation totals, the Natural Resources Conservation Service (NRCS) has released its June Water Supply Outlook for the 2019 water year.
According to the service, May precipitation was above normal in the southern half of the state, especially south of the Snake River basin, while the Idaho Panhandle received less than normal moisture.
In the upper Snake Basin, sites north of Jackson were drier than normal during May, while southeast Idaho and other sites in southwest Wyoming were especially wet. Regional snowpack remains above normal at higher elevations, some still holding 70% or more of this season's snow.
continued:
— — — — — — — — — —
Kroger recalls frozen berries over possible hepatitis A contamination
The recalled frozen berries were sold across the country at grocery stores owned by Kroger.
Associated Press June 8, 2019
Grocery stores owned by Kroger across the country are recalling store-label frozen berries because they might be contaminated with hepatitis A.
There have been no reported illnesses.
The stores include Kroger, Ralphs, Fry's, Fred Meyer and other chains . The recalled fruit are branded "Private Selection" and include "Frozen Triple Berry Medley" in the 16-oz. and 48-oz. sizes and "Frozen Blackberries" in a 16-oz package.
continued:
———————
Mining News:
State to host meeting in McCall June 19 on new mine law
The Star-News June 6, 2019
A public meeting will be held in McCall on June 19 on writing rules to implement a new state law on mining in Idaho.
The meeting will be hosted by the Idaho Department of Lands starting at 1 p.m. June 19 at Idaho First Bank, 475 E. Deinhard Ln. in McCall.
The meeting and others around the state will discuss rules to implement House Bill 141 passed by the 2019 Idaho Legislature to change the state's Surface Mining Act.
The law changed the requirements for funding mine reclamation and remediation and requires that all reclamation tasks be completed and covered by financial assurance.
The financial assurance could use such methods as corporate guarantees and trusts.
The new law was endorsed by the Idaho Mining Association, of which Midas Gold is a member.
Midas Gold is seeking permission from the Payette National Forest to operate a gold and antimony mine near Yellow Pine in Valley County.
source:
— — — — — — — — — —
Nez Perce Tribe provides Notice of Intent to sue Midas Gold
Indian Country Today June 6, 2019 News Release Nez Perce Tribe
Yesterday, the Nez Perce Tribe issued a 60-Day Notice of Intent to sue Midas Gold Corporation ("Midas Gold"), a Canadian mining company, under the federal Clean Water Act ("CWA") for illegally discharging arsenic and other harmful pollutants at the proposed Stibnite Gold Project ("Project") site. The Project is located at the headwaters of the East Fork of the South Fork of the Salmon River ("EFSFSR") on the Payette National Forest in central Idaho. Additionally, the Project is located within the Tribe's aboriginal territory and is subject to the Tribe's fishing, hunting, gathering, and pasturing rights reserved in the 1855 Treaty with the United States.
The Nez Perce people, or Nimiipuu, continue to exercise their Treaty-reserved rights across their vast aboriginal territory and at their traditional places, including areas within and surrounding, and in waters directly downstream of the proposed Project site. The federal public lands — on which the Project is partially located — provide irreplaceable habitat for iconic, culturally-significant resources including spring/summer Chinook salmon, steelhead, bull trout, elk, moose, and bighorn sheep.
"Midas Gold's unlawful discharge of pollutants into waters within and below their proposed Stibnite Gold Mine threatens Nez Perce Treaty rights," stated Nez Perce Tribal Executive Committee Chairman Shannon F. Wheeler. "Midas Gold portrays itself as a socially-responsible mining company committed to environmental restoration of the area. Contrary to their public promises, the data clearly show that Midas Gold is harming the environment."
continued:
— — — — — — — — — —
Midas Gold's Plan to Address Previous Water Contamination in Stibnite Mining District
June 6 – Midas Gold
Midas Gold has been advised the Nez Perce Tribe intends to initiate legal action against the company and its subsidiaries over water quality impacts related to historical mining activity undertaken prior to Midas Gold's involvement in the site.
Water quality in the historical Stibnite Mining District has been impacted by more than a century of mining activity, most of which took place before modern environmental regulations existed. In 2016, Midas Gold Idaho, Inc., an Idaho-based mining company that has never operated in the district, submitted a Plan of Restoration and Operations to improve water quality and fix the long-standing environmental issues facing the site as part of its proposed Stibnite Gold Project. Despite this proposal, the Nez Perce Tribe recently announced its intent to sue Midas Gold over its concerns of high concentrations of arsenic and other contaminants in the water at the site.
"We have long shared the Nez Perce Tribe's concerns over water quality in the Stibnite Mining District and we are well aware of the site's historically degraded water quality," said Laurel Sayer, CEO of Midas Gold Idaho. "Filing a lawsuit will not fix the problem. Instead, the site needs to be cleaned up, a point on which we are certain the Tribe can agree with."
continued:
—————————
Public Lands:
Boise Basin Experimental Forest Project DRAFT Decision Notice – Opportunity to Object
6/6/2019
Dear Interested Party,
The Boise National Forest, Idaho City Ranger District has completed the Environmental Assessment / Finding of No Significant Impact (EA/FONSI) and the Draft Decision Notice (DN) for the Boise Basin Experimental Forest Project (BBEF Project). The EA/FONSI and Draft DN is available on the project website at https://www.fs.usda.gov/project/?project=49262.
Forest Supervisor Cecilia Seesholtz is the Responsible Official for this project. The project area is located in multiple places approximately ½ mile northwest, ½ mile south, and one mile east of Idaho City, Idaho, in Boise County, Idaho.
The Forest Supervisor has selected to implement the Proposed Action as identified in the Draft DN. The Proposed Action implements vegetation management treatments (commercial timber harvest, submerchantable [non-commercial] thinning, and prescribed burning) and associated road management activities on approximately 9,942 acres. All treatments with commercial product removal will be followed by submerchantable thinning and activity fuel abatement treatments. Transportation management activities will include constructing 4.6 miles of new National Forest System roads. These roads will be classified as Maintenance Level 2 roads (open to administrative use only). Additional transportation management activities include constructing 7.4 miles of temporary roads that will be decommissioned after project activities and will not be added to the National Forest Transportation System. To facilitate commercial sawlog removal, 91 miles of road maintenance activities will be conducted. The Project will make no changes to the Motor Vehicle Use Map. An estimated 43,509 CCF of wood products will be provided to local/regional processing facilities.
Eligibility to File Objection
This project is subject to objection pursuant to 36 CFR 218, subparts A and B. Objections will be accepted only from those who have previously submitted specific written comments regarding the proposed project either during scoping or other designated opportunity for public comment in accordance with § 218.5(a). Issues raised in objections must be based on previously submitted timely, specific, written comments regarding the proposed project unless they are based on new information arising after designated opportunities.
Individual members of organizations must have submitted their own comments to meet the requirements of eligibility as an individual. Objections received on behalf of an organization are considered as those of the organization only. If an objection is submitted on behalf of a number of individuals or organizations, each individual or organization listed must meet the eligibility requirement of having previously submitted comments on the project (§ 218.7). Names and addresses of objectors will become part of the public record.
Content of an Objection
Incorporation of documents by reference in the objection is permitted only as provided for at § 218.8(b). Minimum content requirements of an objection identified at § 218.8(d) include:
* Objector's name and address with a telephone number if available, with signature or other verification of authorship supplied upon request;
* Identification of the lead objector when multiple names are listed, along with verification upon request;
* Name of project, name and title of the responsible official, national forest/ranger district where project is located;
* Sufficient narrative description of those aspects of the proposed project objected to, specific issues related to the project, how environmental law, regulation, or policy would be violated, and suggested remedies, which would resolve the objection; and
* Statement demonstrating the connection between prior specific written comments on this project and the content of the objection, unless the objection issue arose after the designated opportunities for comment.
Filing an Objection
The Objection Reviewing Officer is the Intermountain (R4) Regional Forester. Written, facsimile, hand delivered, and electronic objections will be accepted.
Send written objections, including any attachments, to: Objection Reviewing Officer, Intermountain Region USFS, 324 25th Street, Ogden, Utah 84401; or fax to 801-625-5277; or by email to: objections-intermtn-regional-office@fs.fed.us, within 45 days following the publication date of this legal notice in the newspaper of record (Idaho Statesman, June 6, 2019). The Ogden, Utah office's business hours for those submitting hand-delivered objections are: 8:00 a.m.–4:30 p.m., Monday through Friday, excluding holidays. Email objections must be submitted in a format such as an email message, pdf, plain text (.txt), rich text format (.rtf), and Word (.doc or .docx). It is the responsibility of Objectors to ensure their objection is received in a timely manner (§ 218.9). Objections may also be submitted through a web form on the Boise Basin Experimental Forest Project webpage (https://www.fs.usda.gov/project/?project=49262). To submit an objection using the web form, select "Comment/Object on Project" under "Get Connected" on the right panel of the project's webpage.
Objections received in response to this request will be available for public inspection in the "Public Comment/Objection Reading Room" on the Project webpage. An objection, including attachments, must be submitted or postmarked with the reviewing officer within 45 days of the publication of this legal notice. The publication date of this legal notice is the exclusive means for calculating the time to file an objection to this project. The legal notice and project documents are available at https://www.fs.usda.gov/project/?project=49262. Those wishing to object to this proposed project should not rely upon dates or timeframe information provided by any other source. Additional information about this project may be obtained from Brian Lawatch, Team Leader, at brian.lawatch@usda.gov or by phone at 208-590-3345.
— — — — — — — — — —
Trail Break
Flooding topples trestle along Weiser River Trail
By Max Silverson for The Star-News June 6, 2019
Pat Trainor peered over the splintered edge where a trestle once bridged the Weiser River. The span was engineered to hold the weight of a fully loaded train, but rushing April floodwaters brought the small section of the Weiser River Trail crashing down.
Repairs to the trail are expected to cost upwards of $65,000, said Trainor, who is the president of the nonprofit group, Friends of the Weiser River Trail.
Hardest hit was the Lortz Trestle, which crosses the Weiser River about 17 miles south of the trail's north most point at the Wye Campground.
The trestle was 154 feet long and about 20 feet above the water level, but a logjam put force on the middle support, eventually causing it to wash away. A 60-foot steel girder then fell into the river.
Timber and decking were washed away, but the girder came to rest on the riverbed below.
continued:
— — — — — — — — — —
Idaho's had its first lightning-caused forest fire already this season
by CBS 2 News Staff Monday, June 3rd 2019
Salmon, Idaho (CBS 2) — Wildfire season in Idaho is apparently off and running in the Gem State.
The Salmon-Challis National Forest on Monday said that it saw the first lightning-caused fire of the season. The Next Gen fire was reported Thursday morning about eight and a half miles southwest of Salmon.
The fire only grew to one-tenth of an acre and was out later that day.
source:
— — — — — — — — — —
Smoke from Washington wildfire impacts North Idaho, Spokane area air quality
Hazy skies are covering the Inland Northwest as winds push wildfire smoke into the region.
KREM June 5, 2019
Spokane, Wash. — Air quality remains a concern in the Inland Northwest as a wildfire continues to burn more than 5,000 acres in central Washington.
Authorities say the Highway 243 Fire sparked near Royal City at about 9 p.m. on Monday. It has since prompted Level 1, 2 and 3 evacuations in the surrounding area.
The fire is threatening homes, crops and infrastructure, authorities said.
continued:
— — — — — — — — — —
Study: US West forest fires release less carbon than thought
by Keith Ridler Associated Press Tuesday, June 4th 2019
Boise, Idaho (AP) – Researchers at the University of Idaho say the amount of carbon dioxide being released into the atmosphere from forest fires in the U.S. West is being greatly overestimated, possibly leading to poor land management decisions.
Researchers in the study published last week in the journal Global Change Biology say many estimates are 59% to 83% higher than what is found based on field observations.
… The researchers say it's important to correct overestimates of carbon released during forest fires because federal and local governments use such estimates when making land management decisions for activities such as logging.
source:
— — — — — — — — — —
Fish Habitat Restoration Work Resumes in the Yankee Fork Watershed
Amy Baumer Salmon Challis NF Jun 6, 2019
With winter snows melting, project managers are resuming work on the Bonanza Stream Restoration Project. The project, which is located near the historic Bonanza town site in the Yankee Fork drainage, will restore nearly a mile of the Yankee Fork that was impacted by dredge mining to a more natural condition. Among other benefits, the project will substantially improve the ability of the Yankee Fork to support Chinook salmon, steelhead, and bull trout, all of which are listed as threatened species under the Endangered Species Act. Chuck Mark, Forest Supervisor for the Salmon-Challis National Forest, said, "This aquatics restoration work is another essential component of the greater region-wide effort to recover these listed fish species."
continued:
— — — — — — — — — —
BLM to host public meetings on draft resource management plan for southwestern Idaho
Date: June 3, 2019
Contact: Mike Williamson mwilliamson@blm.gov 208-384-3393
Boise, Idaho – The Bureau of Land Management (BLM) will host four meetings to inform the public and allow for comments on the recently released Draft Resource Management Plan (RMP)/Environmental Impact Statement (EIS) for the BLM Four Rivers Field Office.
All meetings will be in an open house format with technical specialists and managers available to answer questions.
June 18, 2019
4 p.m. – 7 p.m.
BLM Boise District Office
3948 Development Ave, Boise, ID 83705
June 25, 2019
4 p.m. – 7 p.m.
Weiser High School
690 W Indianhead Rd, Weiser, ID 83672
June 26, 2019
4 p.m. – 7 p.m.
Emmett Junior High School
301 E 4th St, Emmett, ID 83617
June 27, 2019
4 p.m. – 7 p.m.
Mountain Home Junior High School
1600 E 6th S St, Mountain Home, ID 83647
The BLM Four Rivers Field Office covers approximately 783,000 acres of public lands stretching from Glenns Ferry northwest to Weiser and north to McCall. This Draft RMP/EIS is currently open for public comments through Aug. 22, 2019.
The purpose of publishing this Draft RMP/EIS is to inform the public about potential management options and to allow for comments on the range of alternatives being considered. The BLM will then use comments to revise the Draft RMP/EIS in preparation for the finalized document—expected in fall 2019—which will guide management decisions into the future. Issues addressed in the alternatives include mineral development, recreational uses of and access to public lands, livestock grazing, fire management, wildlife habitat and others.
Copies of the Draft RMP/EIS are available for review at the Boise District Office and on the web at: http://go.usa.gov/xnsn6. The URL is case sensitive.
The BLM encourages the public to provide comments, particularly those concerning the adequacy and accuracy of the proposed alternatives, the analysis of their respective management decisions, and any new information that would help development of the plan. Comments can be submitted through the following means:
Website: http://go.usa.gov/xnsn6
Email: Four_Rivers_RMP@blm.gov
Fax: 208-384-3326
Postal: Four Rivers Field Office
Attn: Brent Ralston
3948 Development Ave.
Boise, ID 83705
Please note that before including their personal identifying information (address, email, phone number), commenters should be aware that their entire comment – including their personal identifying information – may be made publicly available at any time. While those commenting can ask in their comments to withhold this information from public review, the BLM cannot guarantee that they will be able to do so.
For more information contact Brent Ralston, Field Manager, at 208-384-3300.
— — — — — — — — — —
Boise foothills 8th Street gate now open for the season
Date: June 6, 2019
Contact: Mike Williamson mwilliamson@blm.gov 208-949-0030
Boise, Idaho – The Bureau of Land Management (BLM) has opened the 8th Street gate in the Boise Foothills to allow all motorized vehicle use on the 8th Street extension.
The extension, also known as Sunset Peak Road, provides motorized access to the upper roads and trails in the Boise foothills. The gate, located 2.8 miles up the road from the Jim Hall Foothills Learning Center, limits access during the winter to motorcycles, mountain bikes and other non-motorized use.
"The purpose of the annual seasonal closure is to prevent road damage from full-sized vehicles when the road bed is typically wet and easily rutted," said Dave Draheim, BLM Outdoor Recreation Planner. "With the arrival of warmer and drier weather, the upper road is better able to sustain heavier use."
The road will remain open to full-sized motor vehicles through Dec. 1.
For more information, contact the Boise District Office at (208) 384-3300.
— — — — — — — — — —
USFS Regional Intermountain News
Volume 3 Issue 3 June 5, 2019
link:
—————–
Critter News:
Warming weather poses hazards for pets
The Idaho Humane Society is again cautioning people not to leave dogs or other animals inside vehicles as the weather continues to warm up.
KTVB June 3, 2019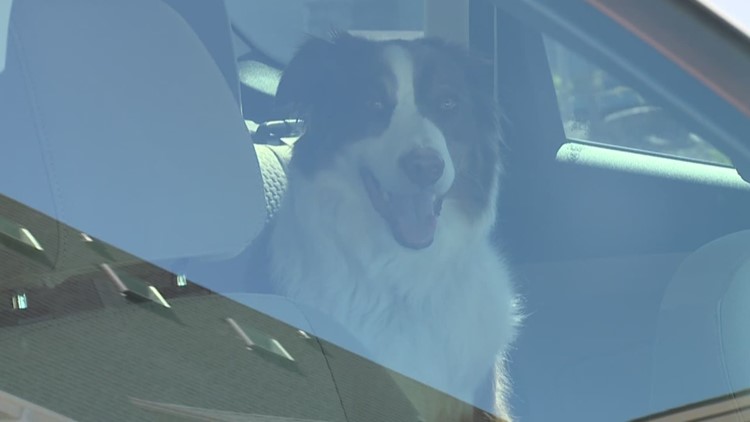 Boise, Idaho — The Idaho Humane Society is again cautioning people not to leave dogs or other animals inside vehicles as the weather continues to warm up.
Aminal Control officers have already responded to multiple calls about pets in hot cars in the past week. Even temperatures that don't seem too warm can quickly climb inside an enclosed space, leaving animals at risk of heatstroke or even death.
"It is far too hot to leave your pets in the car, even with the windows cracked, for any amount of time," IHS posted.
continued:
— — — — — — — — — —
Pet Talk – Vertigo in Dogs
By Dr. Karsten Fostvedt Jun 7, 2019 IME
Vertigo is a disorder of the central and external ear canal, where the vestibular apparatus exists; the vestibular apparatus exists in the inner ear. The vestibular system regulates balance, proper head position and normal eye movements. Dogs with acute onset of vertigo are usually older and don't have previous evidence of brain disease.
Idiopathic vestibular disease occurs in dogs older than 7. Sometimes the disease is referred to as old-age vestibular disease. The term "idiopathic" indicates that the cause of the disease is unknown. Often, blood tests, urinalysis and X-rays of the spine are done. Those are commonly not definitive for the cause of severe vertigo. Onset of clinical signs is sudden, and severity can vary from mild to severe. The head is tilted to one side, making it look as if the animal is listening to the ground. Affected animals may have abnormal eye movements in which the eyes move rapidly side to side. This is called nystagmus. The animal may stumble, fall or circle to the same side as the head tilt. Walking and gait may be uncoordinated.
Balance is abnormal. Severely affected animals may continually roll over and be unable to walk. Some animals may be nauseated, and refuse to eat. Importantly, all other evidence of neurological disease is absent. This is strictly a disease of the inner ear, the vestibular system.
continued:
— — — — — — — — — —
Puppy Scams in Idaho: 'Make sure that puppy does actually exist'
by Kristen McPeek Wednesday, June 5th 2019
Boise, Idaho (CBS2) — Puppy scams are targeting people all around the nation, and even right here in Idaho the Better Business Bureau (BBB) says.
The BBB says that scammers are posing as dog breeders and create websites to lure people into buying puppies by using stock photos of adorable dogs.
These are typically sites that are promoted to the top of Google searches by paying to be an ad, Rebecca Barr with the BBB says.
continued:
— — — — — — — — — —
Idaho Humane Society hosting first Cat Sale of the year this week
Idaho Humane Society hosting Cat Sale this week
Jun 05, 2019 KIVI TV
Boise, Ida. — If you're looking for a new feline friend, the Idaho Humane Society likely has your next pet ready to go home now.
IHS is hosting its first Cat Sale of the year right now. The shelter's cattery is full with more cats coming in each day. In May alone, IHS took in 391 stray cats and 72 owner surrenders.
Cats aged 17 weeks to four years are available for $25, ages five to seven years are $15 and cats over eight years old are available for a $5 donation. Kittens are regularly priced at $75. All come fully vetted, with shots and spays or neuters. IHS is also in need of donations because of the large number of feline intakes. Needed items include kitten food, particularly pate style wet food.
continued:
— — — — — — — — — —
Wolf News Roundup 5/30/2019
by Cat Urbigkit, Pinedale Online! May 30, 2019
Unforeseen Impacts
The Idaho Falls Post Register is running a five-part series on living with wolves. The current installment focuses on the unforeseen impacts of wolves. Examples include range cattle spooked by wolves attacking herding dogs, weight loss in livestock, reduced conception rates, and other behavioral issues, including elk movement onto private property to escape wolves.
Wolf-dog hybridization
A new paper tackles the issue of wolf-dog hybridization in Europe. Some scientists recommend removal of these hybrids in order to preserve the genetic integrity of wolves, but others suggest that hybrids be managed for their ecological function, or for increased evolutionary potential. The European paper (linked below) captures the debate among various members of the scientific community involved with wolf management.
continued:
— — — — — — — — — —
Scientists find flaws in plan to lift US wolf protections
By Matthew Brown and John Flesher – 6/3/19 AP
Billings, Mont. — Scientists tasked with reviewing government plans to lift protections for gray wolves across most of the U.S. said in a report released Friday that the proposal has numerous factual errors and other problems.
The five-member scientific panel's conclusions were detailed in a 245-page report delivered to the U.S. Fish and Wildlife Service.
One reviewer said the U.S. Fish and Wildlife Service appeared to have come to a pre-determined conclusion, not supported by its own science, that wolves should come off the endangered species list.
continued:
— — — — — — — — — —
Elk foundation backs gray wolf de-listing
Jun 05, 2019 Local News 8
Missoula, Mont. (KIFI/KIDK) – The Rocky Mountain Elk Foundation (RMEF) is formally endorsing a U.S. Fish and Wildlife Service proposal to remove the gray wolf from the list of endangered and threatened wildlife in most of the United States. The opinion comes as part of the organization's formal comment on the agency's rule-making proposal.
"Gray wolves have exceeded recovery goals in many states, including Idaho, Montana, Wyoming and the western Great Lakes region," Blake Henning, RMEF chief conservation officer, wrote in a public comment submitted to the USFWS. "RMEF maintains that where wolves exist, they should be managed by state wildlife agencies just as they manage elk, bears, deer, mountain lions and other wildlife."
continued:
— — — — — — — — — —
Grizzly bear in northern Idaho euthanized after killing seven sheep
by CBS 2 News Staff Monday, June 3rd 2019
Boise, Idaho (CBS 2) — A grizzly bear in northern Idaho was euthanized over the weekend after it killed several sheep.
Idaho Fish and Game says officers euthanized the 240-pound male bear near the small town of Copeland on Saturday.
The grizzly was the same bear captured in Garwood last summer that was relocated to the Cabinet Mountains near the Idaho/Montana border. The bear had a history of harassing livestock and raiding orchards prior to the sheep depredations.
Fish and Game says about 70-80 grizzly bears live in northern Boundary County.
source:
— — — — — — — — — —
Groups seek ban on bear baiting in Idaho, Wyoming forests
by Associated Press Thursday, June 6th 2019
Boise, Idaho (AP) – Three conservation groups say hunting black bears in national forests in Idaho and Wyoming using bait should be banned because hunters have killed federally protected grizzly bears attracted to the food.
Western Watersheds Project, WildEarth Guardians and Wilderness Watch filed the lawsuit Wednesday in U.S. District Court challenging the U.S. Forest Service and U.S. Fish and Wildlife Service.
continued:
— — — — — — — — — —
Potentially-deadly horse virus confirmed in Idaho
The illness, which is typically spread by biting insects, was recently diagnosed in a horse in Canyon County.
KTVB June 4, 2019
Canyon County, Idaho — The Idaho State Department of Agriculture is warning of an infectious illness that affects horses after a horse in the Treasure Valley tested positive for the disease.
The virus, known as equine infectious anemia or EIA, was diagnosed in a horse that had recently been transported from Washington to its home in Canyon County. The illness is typically spread by biting insects, but used needles or other equipment contaminated with the blood of an infected horse can also pass the infection from one horse to another.
EIA can be fatal, and causes symptoms including low-grade fever, lethargy, weight loss, yellowing of body tissues, anemia, swelling in limbs, and weakness. Signs of the disease can be subtle, and sometimes go unnoticed, according to the ISDA.
continued:
— — — — — — — — — —
Sir Winston takes Belmont
by The Associated Press Saturday, June 8th 2019

Sir Winston (7), with jockey Joel Rosario, crosses the finish line to win the 151st running of the Belmont Stakes horse race, Saturday, June 8, 2019, in Elmont, N.Y. (AP Photo/Mary Altaffer)
Sir Winston provided a perfect finish to a crazy Triple Crown.
After a disqualification in the Kentucky Derby and a runaway horse in the Preakness, of course the Belmont Stakes goes to a 10-1 long shot.
Sir Winston captured the $1.5 million race Saturday, holding off favored Tacitus by a length.
continued:
— — — — — — — — — —
Chinook season ends on Lower Salmon, Little Salmon rivers
Jun 04, 2019 By Katie Kloppenburg KIVI TV
Chinook salmon fishing in the Lower Salmon and Little Salmon rivers has met harvest objectives and Idaho Fish and Game is closing the season on June 4.
Anglers caught the available sport harvest share during the last four-day opener, which was completed on Sunday, June 2.
The closure ends a brief spring Chinook fishing season. Biologists are currently watching the return of summer Chinook and are seeing signs there may be enough returning to allow for a fishing season on the South Fork of the Salmon River.
source:
——————–
Fish & Game News:
Striking a balance with Deadwood Reservoir kokanee
By Brian Pearson, Conservation Public Information Specialist
Friday, June 7, 2019
Limit changes for 2019-21 seasons help managers meet hatchery needs, provide quality kokanee and trophy Chinook and trout fishing
With June here and lots of sunny days ahead, it is a good time to begin planning extended fishing trips to your favorite summer fishing destinations. One backcountry destination that has grown popular in recent years, particularly with kokanee salmon anglers, is Deadwood Reservoir in Central Idaho southeast of Cascade.
If anglers are planning on taking a trip to Deadwood to chase kokanee this summer, they are reminded when the 2019-21 Idaho Fishing Seasons and Rules were adopted in Nov. 2018, the bag limit was reduced to 15, and the possession limit was reduced to 45.
continued:
— — — — — — — — — —
Comment period open for negotiated rule proposals for hunting, trapping and big game importation
By Roger Phillips, Public Information Supervisor
Friday, June 7, 2019
Proposals could affect youth turkey hunters, pheasant hunters, deer and elk hunters and wolf trappers
Idaho Fish and Game is proposing new rules and rule changes to be considered by the Fish and Game commission, and people have until June 26 to comment. Proposals could affect youth turkey hunting, use of WMA permits where pheasants are stocked, certain deer and elk tags, wolf trapping equipment, and importation of wildlife.
continued:
— — — — — — — — — —
Video: Learn more about draft mule deer plan with mule deer biologist Matt Pieron
By James Brower, Regional Communications Manager
Friday, June 7, 2019
Mule Deer Biologist Matt Pieron explains the new statewide Mule Deer Plan and how to provide input
source:
— — — — — — — — — —
Idaho Fish and Game Commission approves three land deals
Could open more [than] 1,700 acres
Jun 04, 2019 By Katie Kloppenburg KIVI TV
The Idaho Fish and Game Commission approved three land deals in May. The deals will expand two wildlife management areas near Boise and Idaho Falls, as well as provide habitat for numerous species. The deals will also provide additional land for hunting.
During the quarterly meeting in Grangeville, commissioners approved the purchase of a total of 1,552 acres of land about 20 miles east of Idaho Falls, which will be added to the Tex Creek Wildlife Area. The two properties have a relatively natural habitat of sagebrush, riparian areas, forested slopes and aspen stands.
Habitat found on the properties benefits numerous game and non-game species. Elk, mule deer and moose all use the property. In late fall, elk transition through the property to winter habitats, and some elk also winter on the properties. Aspen stands also provide quality fawning habitat for mule deer.
continued:
— — — — — — — — — —
More F&G News Releases
link:
———————————-
Fun Critter Stuff:
Rare albino fawn found, rescued by trucker in California
by Associated Press Monday, June 3rd 2019
Loomis, Calif. (AP) — A rare, all-white fawn has been found and rescued in Northern California by a truck driver who delivered the animal to a rescue center.
The Sacramento Bee reported Sunday that the small albino deer with a pink nose and large pinkish ears was discovered sitting in the middle of a road in Woodland, near Sacramento.
continued w/more photos:
————————
Seasonal Humor:

—————————-