June 16, 2019 The Yellow Pine Times – Valley County, Idaho
Community Calendar:
April 2 – Boil water order issued
Every Sunday – 11am Fire Training
May 10 – Burn "permits" required
May 15 – Firewood Season opens
June 20 – Festival meeting Thursday 2pm at the Community Hall
June 27 – Noxious Weed Spray day
June 28-29 – 9am – noon, Community Yard Sale at Community Hall
June 29 – Highland Games
July 2 – Ice Hole Campground opens
July 3 – 9am – noon, Community Yard Sale at Community Hall
July 4 – 2pm, parade, fireworks at dusk
July 6 – Golf Tournament & Breakfast
July 7 – Annual YPWUA Meeting 10am Community Center
July 13 – 10am YPFD meeting at the Fire Hall
July 13 – Ride to Big Creek
July 20 – VYPA meeting 2pm Community Hall
July 27 – Festival meeting Saturday 2pm at the Community Hall
July 27 – Memorial and potluck for Wilbur Wiles (Big Creek/Edwardsburg)
Aug 10 – VYPA meeting 2pm Community Hall
Sept 14 – 10am YPFD meeting at the Fire Hall budget meeting
Sept 14 – Ride to Cinnabar
Sept 21 – VYPA meeting 2pm Community Hall
(details below)
———-
Local Events:
Community Yard Sale at Community Hall
June 28, June 29, July 3; 9am – noon, Community Yard Sale at Community Hall. Won't be in at those dates/times? Contact Deb (6336945) or Ronda (6332005) and we'll make arrangements for you to browse.
Do you have items you are willing to donate to the Community Yard Sale? You can leave them inside the Community Hall through June 25th. Thank you for your support!
— — — —
Noxious Weed Spray day June 27
Hi Yellow Pine Residents,
It's that time again to get a handle on those Noxious Weeds on your property with the Valley County Cost Share Noxious Weed Control Program. Steve Anderson's crew will be in Yellow Pine in the Fire Department Parking Lot on June 27th. They will have on hand the chemicals, and sprayers for us to use. The specific herbicide is Milestone and is free for our use. Usually more than one year of treatment is needed and we took advantage of the program last year. I found great results on a Kudzu type plant in my yard in just one year. The Thistles will need another treatment. We either need you to spray or appoint one of our crew to help you with the application. Please email Steve Anderson of the Valley County Weed Control Program that you wish your property to be treated at SAnderson@co.valley.id.us phone number is 208 382-7199. I also have forms at the Yellow Pine Tavern if you wish to fill a form out there.
Thank You
Lorinne N. Munn
—
We have a confirmed date of Thursday, June 27th for the Yellow Pine Noxious weed spray day. Mark your calendars, hope to see you there.
Hello Yellow Pine,
I'm beginning my transition from snow plowing to noxious weed control. Yellow Pine is 1st on my list to start talking about dates to schedule our 2nd annual noxious weed Homeowners assistance spray day. Last year we got together on Thursday, July 19, 2018. I have June 27, 2019 marked on my calendar.
We had really good participation last year but we can do better, lets start talking now and get more people involved as it is "Everyone's responsibility to control Noxious and Invasive plants". I think last years event went very well, we will try and be a little more organized this year, if we missed someone put them on top of the priority list. I will bring my entire crew, all of our equipment, PPE, and mixed herbicide, you provide the volunteers, we're here to help you not do it for you.
I misplaced 1-backpack sprayer last year, please keep your eyes peeled in case we laid it down someplace or forgot to pick it up.
Spread the word, save the date. I look forward to hearing from you. The best way to contact me this time of year is through e-mail, I will be in and out of the office until May, I check my e-mails daily but I can't always respond until I get back into the office.
Thank you,
Steve Anderson
Valley County Weed and Pest Control
SAnderson@co.valley.id.us
— — — —
June 29 – Highland Games
For the second year, Bald Mountain Knuckle Draggers will bring the Highland Games to Yellow Pine on June 29th. Last year they donated over $2,600 to the Helipad and this year money will be raised for the water department. Come see these fantastic athletes and support the water department.


— — — —
Ice Hole Campground will open July 2nd
The Campground has been temporarily closed to provide for public safety during reconstruction. This order will be in effect from September 27, 2018 through July 2, 2019, unless rescinded earlier by the Forest Supervisor. (0402-04-80)
— — — —
Independence Day Celebrations
July 4th
Parade at 2pm, Fireworks at dusk
Golf Tournament July 6
It's time to plan for the annual 4th of July Yellow Pine Golf Tournament. This year the proceeds will support the Community Hall and road repair.
The event will begin July 6th at 11am at the golf course, where the fairways aren't fair and the greens aren't green. The cost will remain the same at $50 per couple for sponsoring a hole with a sign displayed. $20 for individuals, each person playing will get a ticket for beer, additional tickets can be purchased for $3. Soda and water are free. Checks can be written to VYPA (Village of Yellow Pine Association)
There will be prizes for first, second and third places for men's women's and mixed. Also, there will be a prizes for closest to the pin. Spots go quickly, so be one of the first!
There will be a hearty breakfast at the museum from 8-10. The cost is $6 and all proceeds benefit the upkeep of the museum.
— — — —
Celebration of Life – Wilbur Wiles
Potluck celebration of life at his cabin 27 July.
— — — —
2019 Yellow Pine Escapades
The 2019 schedule for the Yellow Pine Escapades has been updated on the website!
Expect new escapades this coming year, including an ATV-UTV Photo Scavenger Hunt; two (yes, two) ATV-UTV rides, a golf tournament, and even a community yard sale. Other events will be added to the calendar as plans are finalized.
Join us for a great season of fun! The starting point for fun in Yellow Pine! The website includes information on the events hosted by the Yellow Pine Community Hall as well as the other "goings-on" in the village. Food, lodging and fuel are available in Yellow Pine.  link:
———-
Village News:
First Fire June 6th
There was a fire caused by a downed power line across the river from Golden Gate CG. A tree fell across the line during the storm. Crew 6 from Krassel and Engine 441 from Cascade responded but they were delayed in reaching the scene by numerous trees that had fallen across both the East Fork and Johnson Creek roads. The crews did not reach the fire until after dark and because of the downed powerline and numerous snags in the area, they didn't engage the fire until the next morning. The fire was approximately 1/4 acre in size and was declared out by 1400 on June 7th.
– Jake Strohmeyer, Cascade Ranger 6/11/2019
Note: This affected the power in Yellow Pine, power blipped off and back on around 545pm. Then the power went out just before midnight for about 2 hours.
— — — —
June 6th Blow Down
Stibnite Road
Not only did the wind knock down a power line, starting a fire, several roads had trees down. The South Fork and East Fork roads were probably cut out by the Fire Crews. The road from Yellow Pine to Stibnite was blocked (see Midas Gold report below.) Also there are a lot of trees down on Profile Creek road, starting about a mile up from the turn off (see report below.)
Posted June 7th
"Last evenings thunderstorms blew down many large trees across Stibnite road. Our team is currently working on removing the trees."


link to more photos on FB:
Profile Creek Road
report by Miri G. June 8-10
A bunch of medium and large trees down about a mile up from the mouth of Profile. You can drive to the big camp area, but not much further.
Cut up what I could and Cecil, with a backhoe was able to push half of it out of the way. See picture 6-8-19. After I took off hiking, Scott Amos (I am giving him credit as I challenged him to do it) was able to clear enough to get a 4 wheeler through. See picture 6-10-19.
Up a little further, more trees. Not as big, but still more trees. Another large tree rolled down the rocks, but broke into 3 movable pieces, see picture. The downed trees thin out as you go up. Another dozen along the slide area just before Missouri Ridge. A couple more after that and one large one just above Spring Creek (where they built the fire line straight up the hill, just north of Missouri Ridge.)
My definition of large tree today = at least 2 ft diameter, or about a 55 gallon barrel size. Also, too big to hug or step over.
On the Big Creek side, there are a lot of small and medium size trees, but all cut out for at least a 4 wheeler.
Snow on top is still 2-3 ft deep on the road at the sign, but the big drifts are still a lot deeper. If you could drive up the road you could get to the switchback at Red Metal Mine.
Photos:
— — — —
June 11 – Yellow Pine Vet Day
On Tuesday, June 11th, the Cascade Vet clinic came to Yellow Pine. They had a full day here, seeing 9 cats, 7 dogs and 10 horses. Lots of vaccinations, great advice and equine dentals performed.

(L to R) Mickey Weimer, Dr. Merik Metos, Dr. Keith Ruble, Ginnie Blackner
Photos from rrSue and Buck Horn Outfitters – Equine Dental
— — — —
Life Flight
On June 14th our local Yellow Pine advanced life support team responded to a call for help down at the Old East Fork Campground. The team was called at 757am, ambulance en-route by 805am, arriving at patients side at 810am. Patient was stabilized and transported via the YP ambulance to the new Helispot. Life Flight landed 58 minutes after lift off from Ontario. Lift off to the Boise Hospital from Yellow Pine 15 minutes after arrival. An impressive response time for a small village, great work by a coordinated team.

photo courtesy CB
— — — —
Dust Abatement
I am in process of obtaining cost and date information. Please let me know if you are interested in dust abatement this year.
Deb Filler, fillerd2@live.com, 208.633.6945
— — — —
Spring Fuel Delivery
Nathan, from Diamond Fuel and Feed to deliver Wednesday, June 12th.
— — — —
Yellow Pine Transfer Station
A report on May 30 that the Transfer Station bins were empty. Reports of issues with the burn pile already. READ the SIGNS!
Please do not abuse our Transfer Station or we may lose it. Household trash must be placed in the bins, flattened cardboard boxes can also go into the bins. Do not stack trash in front of the doors. Woody yard debris only for the burn pile. No furniture, appliances, tires or construction debris allowed, those items must be hauled out to the Donnelly station by you.
Yellow Pine Transfer Station (aka, the dump)
The Yellow Pine Transfer Station is located approximately 3 miles south on Johnson Creek Road.
The TRANSFER STATION is for household trash and yard waste:
* Household trash must be put inside (and fit) the dumpster;
* Yard waste (limbs, pine needles, brush, et.) goes in the burn pile on the south end of the turn-around;
* Cardboard boxes should be flattened before putting the in the dumpster,
The DUMPSTERS are NOT for:
* Furniture (take to Donnelly Transfer Station);
* Appliances (take to Donnelly Transfer Station).
The BURN PILE is NOT for:
* Cardboard boxes (flatten and put in dumpster);
* Furniture and appliances (take to Donnelly Transfer Station);
* Drywall and building material (take to Donnelly Transfer Station);
* Wire or fencing (take to Donnelly Transfer Station);
* Foam Rubber (take to Donnelly Transfer Station);
* Wood with metal (like nails) attached (take to Donnelly Transfer Station.)
When closing the DOORS on the front of the dumpsters:
* Make sure the "U" brackets at the top and bottom of the door are engaged;
* The retaining bar at the middle of the door is slid into the pipe;
* And the "L" bars at the bottom of the doors dropped into place.
The Yellow Pine Transfer Station is Valley County responsibility. If it is not kept tidy, use of the Transfer Station may be revoked. That would result in residents having to take all household trash and yard waste to the Donnelly Transfer Station.
If Dumpsters Are Full, Contact Lake Shore Disposal at: 208/634-7176
— — — —
Roads
Johnson Creek Road is open.
Stibnite Road is closed to the public
Photo from Midas Gold June 11:


photo courtesy Midas gold
Stibnite Road Update June 14 (from Midas Gold)
OK Gravel is continuing its work to repair the final sections of Stibnite Road. Crews have been able to clear debris off of the road, so it is once again wide enough for vehicles. OK Gravel still must reestablish the grade of the road and clear debris that still remains on the road. To keep everyone safe, Stibnite Road will remain closed to the public while construction wraps up. OK Gravel, Midas Gold and the Valley County Road Superintendent maintain committed to opening the road as soon as possible.
Valley County wants to make sure everyone stays safe and during construction, they just didn't feel like it would be a wise idea to open up the road.
Profile Creek Road is still closed.
(see photos under Blowdown news)
Lick Creek Road is still closed. (as far as I know.)
— — — —
Tick Season
Lots of ticks this year. Please check your pets (and kids) for ticks, a tick bite paralysed a local dog recently, removal of the tick led to full recovery.

— — — —
History of the log cabin at the Cemetery
The Cemetery Committee is interested in any information on the cabin that is located by the cemetery. We know that it had been on the property that was known as "Mary's Cabins". It was moved by Tom Richter while the Filler's were building their house. Donna Valdez said that the people who ran the cafe and bar slept there, before the Tavern was built.
Do people have pictures or any information they can share? We'd love to put a plaque up on the cabin while we repair it.
– Marj Fields
— — — —
Yellow Pine US Mail
June 1st started 6-day a week mail delivery. The Post Office in Yellow Pine is open six days a week: M-F 845am-245pm Saturday 9am-245pm. Forever Stamp: 55 cents
— — — —
Predators
It is denning season for wolves and coyotes and they will be very aggressive towards dogs.
Watch for mean mamma does this time of year – they will stomp your dogs! A while back an eagle was attacking duck decoys on the edge of the village, sharp shinned hawks are around.
Bears are around, no recent reports. Please do not leave pet food outdoors and remember to keep trash secured, it will draw bears, foxes, coyotes and loose dogs.
Reminder for people living in bear country:
* Garbage should be stored inside the house or in a secure garage or storage building.
* If garbage cannot be stored in a secure location, a bear-resistant container approved by the Interagency Bear Committee is recommended.
* Avoid using bird feeders from March through November. Birds do not need supplemental feeding this time of year.
* Pet food should not be left outside.
* BBQ grills or anything with a strong odor should not be left out at night.
* Protect gardens, beehives, and compost piles with electric fencing.
* Never intentionally feed bears. A food-conditioned bear may pose a threat to human safety and usually results in the removal of the bear.
———-
Local Groups:
YPWUA News:
Last Water Update June 7
1. The "boil order" is still in effect.
2. There is still large water leaks in the system. We continue to look.
3. A grant for $39,000 was approved for improvements to the system.
3. Work is currently being done on the new contact tank.
4. Please, no lawn watering until we find and repair the major leaks.
– Steve Holloway
link to: #4430059 Yellow Pine Water Users Boil Water Notification 4-2-19.pdf
link to: 2018 September Water Department Update.docx
—
2019 YPWUA Yearly Meeting Agenda
Sunday July 7th 10am Community Center
1. Financial Report – Willie
A. Current Account
B. Budget
C. Future rate increases
D. New Procedure Actions for Non-Payment
2. Operations Report – Steve
A. Current Operations
B. Chlorine levels
C. Grant and work necessary
D. Boil Order Notification
E. Future Grants
F. Summer lawn watering
3. Election of Board Members
A. Dawn Brown and Stu Edwards, both are automatically nominated
Only shareholders can run and vote
4. Questions
— — — —
VYPA News:
There was a Village of Yellow Pine Association Meeting June 8, 2019
Minutes will be posted when received.
—
VYPA Meeting Dates 2019
June 8th; July 20th; August 10th; September 14th – 2pm at the Community Hall.
Note that the July 20th meeting is not on the second Saturday due to a conflict with a planned ATV rally involving many residents and visitors.
Yellow Pine Harmonica Meetings 2019:
March 30, 2019 Saturday 2pm at the Tavern
April 23, 2019 Tuesday 2pm at the Tavern *Cancelled*
May 23, 2019 Thursday 2pm at the Community Hall
June 20, 2019 Thursday 2pm at the Community Hall
July 27, 2019 Saturday 2pm at the Community Hall
— — — —
YPFD News:
YPFD May 18, 2019 Meeting minutes
link to: 20190518 YP Commissioners Meeting Notes FINAL.docx
—
Meetings will be held at the fire station at 10am and everyone is welcome to attend. June 15th; July 13th; and Sept 14th (which will also be the budget meeting as well).
Every Sunday 11am – Training
May 10th Burn Permits – contact the YPFD
Pile burning: Dress appropriately, have enough help on hand (people, water and tools) and make a firebreak before you start. Call your local fire protection district chief to let them know you'll be conducting a debris burn. This saves them from sending emergency responders to your property if they are not needed.
Bring it, Don't Burn it
For us in Yellow Pine, Jake Strohmeyer, Dist. Ranger with the Boise NF said we can use the area at our transfer station for yard debris and the FS will burn it once a year. Please no furniture, mattresses, construction debris, metal objects, tires or personnel junk. Please only woody yard debris. When using the pile please be mindful of where you place the debris as it should be contained to a manageable burnable area and kept as clean as possible. – JF


—
Training: Sunday Fire/EMS training has begun. Sundays at 11:00 AM unless otherwise posted. If Jeff F is in town the trainings will be held. All are welcome.
Safety Message: The best place to be during an avalanche, rock fall or a tree fall due to the wind is not there, please use extreme caution and common sense when conditions exist for these scenarios.
"If you are an Adventurist, please do not go out alone in steep areas. The spring thaw is an extremely dangerous time for Avalanches. The freezing and thawing create layers that break away from each other with the slightest disturbance. Scree fields are especially dangerous this time of year because of hidden ice that makes them even more unstable. Please be careful out there."
YP Helispot: We are working with Valley County Road Department and the Boise National Forest for the rock base for the road leading into the Helispot and the actual Helispot itself. We are also receiving rock for the Fire Hydrants, water tank foundations, etc. The rock will come from the Valdez pit and will be less expensive than having it trucked in from Cascade.
Stop the Bleed Course: This course was well attended in the Fall and Jeff F and Ann F will be presenting another course when the new instructor material comes out. There are "Stop The Bleed" kits at the Tavern in an emergency.
Siren Testing: The YPFD siren will be tested only once this year on the first of May at noon. 3 blasts of the siren is a test, more than 3 is an Emergency.
-JF
——–
Biz Listings:
Yellow Pine Lodge (208) 633-3377
Call for reservations
— — — —
The Corner (208) 633-3325
The Corner has firewood permits in stock now. 4 cord minimum at $6.25 per cord. Please call to make sure I'm around before Memorial Day, bring drivers license and cash is preferred, no CC.
The Corner Store will also be open with snacks, groceries, fresh produce, soda, ice and packaged beer. If you know you will be coming in over the summer and need special grocery orders, let me know and I will order it in for you while you are here, 2 deliveries a week. The best way to get a hold of me is to call or stop by and say hello.
Karaoke is back at The Corner! Choose your favorite songs from our online music library and entertain your friends up on stage through our professional sound system.
— — — —
Yellow Pine Tavern (208) 633-2233
Summer Hours Daily 8AM to Close
— — — —
Buck Horn Outfitters LLC 208-633-3614
Tom & Sarah Lanham
156 Yellow Pine Ave, Yellow Pine Id 83677
Website:
Link to FB page:
Wapiti Meadow Ranch – Johnson Creek (208) 633-3217
208-315-3554 cabin rentals
website:
Deadwood Outfitters
Link to website:
— — — —
Local Fuel Suppliers
Amerigas Phone: (208) 634-8181 Note: Summer deliveries have started, call if you need propane.
Ed Staub & Sons Phone: (208) 634-3833
Diamond Fuel & Feed (208) 382-4430 – Wild Bird Seed 50LB Bag for $25.58
— — — —
Outside Biz that will service Yellow Pine:
Elkhorn Heating & Cooling
(208) 906-4067 Middleton, Idaho, Will service Yellow Pine
B&T Safety Solutions LLC
208-271-1600 Based out of Donnelly
Snow removal, cleaning chimneys and stoves, we do cabin staining/chinking as well
— — — —
Follow The Yellow Pine Times on Facebook (updated more often than emails)
———————–
Local Observations:
Monday (June 10) overnight low of 39 degrees, mostly hazy sky this morning. Tree swallows taking feathers to nests, a few finches and jays. Pine and ground squirrels active. Airplane traffic. Overcast and light breezes mid-day. Flock of evening grosbeaks showed up, pinesiskins and finches on the feeders, one or two hummingbirds visiting. Mostly hazy mid-afternoon, warm but not so hot and some gusty breezes, high of 76 degrees. Quiet evening and calmer at dusk. Stars out before midnight.
Tuesday (June 11) overnight low of 39 degrees, mostly clear sky this morning, a little haze. Tree swallows, robins and finches calling, pinesiskins and nuthatch visiting, pine and ground squirrels active. Vet Clinic today, good turn out. Very nice weather mid-day, sunny but not too warm. A couple of hummingbirds visiting. Pretty warm by mid-afternoon, lots of sunshine, high of 82 degrees. Warm evening, temperatures finally dropping a little after sundown and mostly clear sky. Lots of stars out before midnight.
Wednesday (June 12) overnight low of 43 degrees, clear sky and warming up fast this morning. Airplane traffic. Lots of grosbeaks and finches calling, pinesiskins visiting and tree swallows flying high. Mostly clear and warm mid-day. Pine and ground squirrels active. Pretty warm by mid-afternoon thunderheads building up and light breezes, high of 86 degrees. Overcast by late afternoon. Warm overcast evening, feels a bit muggy. Thinner clouds at dusk, faint fuzzy moon high in the sky, robins calling. Power blipped off and on at 1128pm, again at 1141pm, and again at 1143pm.
Thursday (June 13) overnight low of 52 degrees, mostly hazy thin clouds this morning, warm and a little muggy. Airplane traffic. Swallows, finches, pinesiskins and robins calling. Chunky clouds mid-day, light breezes. White-breasted nuthatch visiting with the finches and couple of hummingbirds. Paintbrush and little purple penstemons blooming. About a 20 minute rain shower early afternoon, mostly cloudy, muggy and light breezes, high of 82 degrees. Ground and pine squirrels active, finches and pinesiskins visiting. Summer sounds of 4 wheelers and a lawn mower in the air. Warm and mostly cloudy evening, light breezes. Thin clouds at dusk, fuzzy fat moon. Small herd of elk near the Veteran's Memorial before midnight, chirping and calling.
Friday (June 14) overnight low of 45 degrees, mostly high thin clouds this morning. 911 service was out. Early airplane traffic. Pine pollen speckled cars and roofs. Grosbeaks, finches and swallows calling. Life Flight landed at the new helipad and took out a patient. Mostly chunky clouds mid-day and getting pretty warm. More pinesiskins visiting than finches and swallows flying high. Partly cloudy, pretty warm and light breezes mid-afternoon, high of 82 degrees. Pine, golden mantle and ground squirrels active. Increased vehicle traffic, streets are dusty. Partly cloudy evening, cooling off after sunset. Lots of hungry skeeters out. Bright waxing moon before midnight.
Saturday (June 15) overnight low of 42 degrees, clear sky this morning. Lots of early morning airplane traffic. Swallows taking feathers to nests. Mama pine squirrel and jays visiting. Local streets are dusty. A few clouds building up mid-day and warm. Light breezes and nice in the shade mid-afternoon, pretty warm out in the sun, high of 85 degrees. No-see-ums and lots of skeeters are out. Mostly clear by evening, cooling off after sunset. Partly cloudy at dusk, swallows flying low. Bright waxing moon before midnight.
Sunday (June 16) overnight low of 44 degrees, mostly clear sky this morning. Swallows, pinesiskins and finches calling, ground and pine squirrels active. Mostly clear and pretty warm mid-day. A few grosbeaks with the finches and pinesiskins. Thunder heads building up to the southwest mid-afternoon, partly clear and plenty warm, high of 85 degrees. Lilacs are done and old blooms turning brown. Quiet evening. Swallow nest cam hooked up – she is setting on 6 eggs.
———————–
Idaho News:
Hospital spokesman says pilot in plane crash in serious condition
Leslie Thompson The Argus Observer Jun 11, 2019

This photo shows how close the plane was to clearing the fence. Malheur County Sheriff's Office
Ontario [OR] — "Another fifty to sixty yards and he would have made it, that's how close he was," said Malheur County Sheriff Brian Wolfe this morning about a plane that ran out of fuel just before it reached the Ontario Municipal Airport on Monday.
The crash happened at about 12:57 p.m.
The pilot, 88-year-old Jack Walker, of Yellow Pine, Idaho, was able to clear the power lines on Southwest 18th Avenue, according to the sheriff, before crashing down into some farm equipment, then into a fence that borders the airport.
Walker hit the windshield, suffering some facial injuries and ended up being transported to Saint Alphonsus Medical Center – Ontario.
Dan Beaubien, manager, Ontario Municipal Airport, said "Every time another pilot goes down the rest of us are like, 'Is he OK?'"
According to a hospital spokesman, he was then transported to Boise, where he is listed as in serious condition.
"Serious means vital signs may be unstable and indicators are questionable," the spokesman said. "It's not critical, which is good."
Wolfe said that Walker, who also has a residence here in Vale, was operating a Cessna 180, which is a single-engine aircraft with two seats.
The Sheriff's Office was assisted by Oregon State Police and Treasure Valley Paramedics.
Wolfe said there was no indication of impairment, and that the FAA and National Transportation Safety Board have both been notified of the crash.
source: (pay wall)
— — — — — — — — — —
New rules for Valley Co. waterways: Failure to pass ordinance causes default to state law
by Sarah Jacobsen Saturday, June 15th 2019 (CBS 2)
"When Valley County sent out our draft ordinance, we felt we had done a decent job trying to separate the uses section that everyone has a place to recreate," says Valley County Commissioner Gordon Cruickshank.
It's back to the drawing board for commissioners, after outcry over a proposal that would have put environmental and water craft operating restrictions on Valley County's waterways.
"Unfortunately after hearing the comments in the public hearing when we talked about the 1,000 ft that we would like to see the big wake boats and waves stay away from the beach for damage and erosion," Cruickshank says. "People looked at that as we were asking for a 1,000 foot no wake zone and I think the public misinterpreted what we were trying to do.
continued:
— — — — — — — — — —
The best kayakers in the world arrive in Idaho for the North Fork Championship
Jun 12, 2019 By Steve Dent KIVI TV
Banks, ID — Several of the best kayakers in the world have already arrived in Idaho to prepare for the North Fork Championship, it's the AWP's World Championship of Extreme Kayaking and it's happening right in our own backyard.
This week paddlers will test themselves on an expert section on the North Fork of the Payette River to see who has the fastest blades in the world.
"It's the best continuous class five whitewater that you will find in the world," said Adriene Levknecht from South Carolina. "It's super fun and it is super rad to have people from all over the world to crash down these rapids and have some good lines."
continued:
— —
'Idaho is a great place to host this': World kayaking championships hit the Payette River
Kayakers from more than 18 countries are competing in this year's race.
Misty Inglet June 13, 2019 KTVB
Banks, Idaho — It's considered one of the most extreme kayak races in the world and it's happening in Idaho this weekend.
The North Fork Championships take place on the Payette River every year. But this year, the 8th annual NFC will also be the home of the world kayaking championships.
continued:
— — — — — — — — — —
Nez Perce Tribe to host cultural event in McCall June 21
The Star-News June 13, 2019
The Nez Perce Tribe will host a cultural event at Legacy and Depot parks in downtown McCall from 11 a.m. to 4 p.m. on Friday, June 21. The event, titled Capáaya Qéelewit, meaning "soon reunion, a coming together of people", will include a salmon bake, singing, dancing and a raffle for a "Weekend in McCall" package.
There is no fee to attend the event, but donations will be accepted for the meal. All the donations and proceeds from the meal and raffle will go to Snowdon Wildlife Sanctuary, a non-profit 35-acre sanctuary located near McCall.
There will be vendors on site selling authentic handmade Nez Perce items. The tribe will also have informational booths for the various tribal departments and programs, explaining the work they do throughout the region.
"This is an area treasured by many, including the Nez Perce people. The region is part of the aboriginal homeland of the Nez Perce people where Tribal members regularly exercise their Treaty-reserved rights through hunting, fishing, and gathering," said Shannon F. Wheeler, Chairman of the Nez Perce Tribal Executive Committee.
"The Tribe is excited to host what we hope will be an annual event so that we may come together to enjoy and share what we have in common with each other," Wheeler said.
The tribe recently purchased Zims Hot Springs north of New Meadows and also operates offices for its fisheries program south of McCall.
source:
— — — — — — — — — —
Another road closure reported on billionaire Wilks brothers' Idaho land
by Savannah Cardon – Idaho Press Wednesday, June 12th 2019
Boise, ID — Another road closure in connection to Texas billionaire brothers Dan and Farris Wilks has been reported north of Boise.
What's in question is whether that road had been maintained using public tax dollars, which led the Idaho Wildlife Federation to dig into the newly discovered closure, according to Brian Brooks, the federation's executive director. A video about the closure posted to the federation's Facebook page has been circulating on social media, receiving more than 5,000 shares since last week.
The road, known as National Forest Road 645, cuts through what's listed as DF Development LLC private property, a company owned by the Wilks brothers. Their company has purchased thousands of acres of Idaho land and has put up gates on popular U.S. Forest Services road outside of Boise over the last several years, the Associated Press reported.
Idaho's outdoor enthusiasts — particularly those in Valley County — could be affected by the closure. The road, just west of Smiths Ferry, is a popular recreation route for hunters and ATV riders, according to Brooks.
continued:
— — — — — — — — — —
This H20's For You: Anheuser-Busch donates 52 cases of water to local fire districts
By Drew Dodson for The Star-News June 13, 2019
Two pallets of emergency drinking water were delivered by beer giant Anheuser-Busch to the Donnelly Rural Fire Protection District last week in preparation for wildfire season.
The 1,248 12-ounce cans, or 52 cases, will be divided evenly between fire districts in Donnelly, McCall and Cascade, Donnelly Chief Juan Bonilla said.
The water will save the Donnelly district about $300 on keeping its 11 apparatus stocked with water this summer, Bonilla said.
"All of our vehicles have water, so we'll distribute it through our whole fleet," he said, noting the canned water is easier to stow in vehicles.
Firefighters and paramedics also distribute the water to patients, police officers and other emergency personnel when responding to calls.
continued:
— — — — — — — — — —
Valley County ponders ending recycling of plastics
Recycling centers will not accept 'contaminated' bales
By Max Silverson for The Star-News June 13, 2019
Valley County commissioners said Monday they are considering no longer accepting plastic at the county's recycling drop-off stations in McCall, Donnelly and Cascade.
Commissioners were told that the county's plastic recycling is contaminated with garbage and unrecyclable plastics to the point that recycling centers are no longer accepting it.
The plastic is currently being sent to landfills in either Adams County or Payette County with the county's garbage, said Scott Carnes, site manager for Lake Shore Disposal.
"By collecting it at the recycling centers, paying to have it hauled, paying to have it bailed, and just taking it up and put it in the waste stream, we're doing a disservice to citizens of our county by adding cost to collection of that," Commissioner Gordon Cruickshank said.
continued:
— — — — — — — — — —
ITD to install flood-control culvert in NM
2014 culverts blamed for making April flooding worse
By Drew Dodson for The Star-News June 13, 2019
An additional culvert to help prevent spring flood waters from backing up into the City of New Meadows will be installed along and under U.S. 95 later this year by the Idaho Transportation Department.
"ITD is moving forward with construction of an additional pipe because it addresses a concern raised by a valued partner, the City of New Meadows," ITD spokesperson Jake Melder said.
The culvert will be located between Hubbard Road and South End Road on U.S. 95 and will serve as a "relief valve" for two existing culverts at South End Road, Melder said.
continued:
— — — — — — — — — —
Disaster declaration over April flooding in north-central Idaho
Jun 12, 2019 By Natasha Williams KIVI TV
President Donald Trump has approved a request from Idaho Governor Brad Little for a federal disaster declaration for north-central Idaho after major flooding caused by massive rainfall during April this year.
Senators Mike Crapo and Jim Risch, and Representative Russ Fulcher applauded the president for quick action on the declaration.
Disastrous flooding in Adams, Idaho, Latah, Lewis and Valley Counties caused significant damage to the area, as well as to the Nez Perce Reservation.
source:
——————-
Mining News:
Stibnite Advisory Council May 9, 2019 Meeting Summary
Attendance:
Lynn Imel – Yellow Pine
Ronda Rogers – Yellow Pine Alternate
Gene Tyler – Donnelly
Julie Good – New Meadows
Glenna Young – Cascade
Bob Crump – Riggins
Anne Labelle – Midas Gold Corp.
Laurel Sayer – Midas Gold Idaho
Excused:
Joe Iveson – Adams County
Denis Duman – Idaho County
Distributed on May 9, 2019 to Advisory Council
Stibnite Advisory Council will schedule regional public open house/informational events each year.
Stibnite Advisory Council will develop a resource document providing answers to questions from the communities.
At the request of the Stibnite Advisory Council, Midas Gold presented the fish tunnel design. The Council requested that the June presentation be on the Tailings Storage Facility.
The following working groups provided updates:
Workforce
Environmental
Supporting Industry
Transportation
Community representatives provided updates.
Stibnite Advisory Council tour of Stibnite project site has been rescheduled to September 12th. Meeting will be held from 1:30 – 2:30 @ The Corner restaurant in Yellow Pine (instead of the regularly scheduled meeting in Donnelly).
The Stibnite Advisory Council is creating a website as a community resource.
— — — — — — — — — —
State to host meeting in McCall Wed. on new mine law
The Star-News June 13, 2019
A public meeting will be held in McCall on Wednesday on writing rules to implement a new state law on mining in Idaho.
The meeting will be hosted by the Idaho Department of Lands starting at 1 p.m. Wednesday at Idaho First Bank, 475 E. Deinhard Ln. in McCall.
The meeting and others around the state will discuss rules to implement House Bill 141 passed by the 2019 Idaho Legislature to change the state's Surface Mining Act.
The law changed the requirements for funding mine reclamation and remediation and requires that all reclamation tasks be completed and covered by financial assurance.
The financial assurance could use such methods as corporate guarantees and trusts.
The new law was endorsed by the Idaho Mining Association, of which Midas Gold is a member.
Midas Gold is seeking permission from the Payette National Forest to operate a gold and antimony mine near Yellow Pine in Valley County.
source:
——————————–
Public Lands:
Fire chief urges people to stay away from logjam on the Payette River: 'It's an extremely high-risk rescue if at all possible'
Crews are waiting on a logging company to remove the blockage.
Shirah Matsuzawa June 11, 2019 KTVB
Boise County, Idaho — Despite the best efforts of fire crews, a logjam on the Payette River is still creating hazardous conditions for rafters and kayakers.
The logjam is located near mile marker 4 on Banks-Lowman Road, on the south fork of the Payette. Last month, crews set the logjam on fire to burn off as much of it as possible. Since then, multiple agencies, including Garden Valley Fire, have put together a plan to remove it.
"We were working with a logging company out of Horseshoe Bend to see if they could get in there and pull the logs back across the river and up to the roadway to get rid of them," Garden Valley Fire Chief Jon Delvalle said.
continued:
— — — — — — — — — —
Idaho fire season delayed but approaching, according to NIFC
Jun 10, 2019 By Jessica Taylor KIVI TV
Boise — 2019 has been a historically wet spring, which means fire year is having a later start. At this point last year, there was already quite a bit of fire activity, but just because we're not experiencing it right now doesn't mean it's not coming.
The Bureau of Land Management says there aren't any specific areas of concern, but the southern portion of Idaho is where they've seen a lot of grass growth due to the wet spring. Officials say that area could experience fire activity as early as the end of this month if we get hot and dry temperatures. That's not the case for the higher elevations.
continued:
— — — — — — — — — —
Stack Rock Trail connection under construction; Public asked to avoid use until it is complete
Boise, Idaho, June 10, 2019 — The Mountain Home Ranger District and City of Boise are working to complete construction of a new trail connection from the Stack Rock Trailhead into the Ridge to Rivers Trail system.
Construction of the new trail connection to Stack Rock Trail began May 22, 2019, and is expected to be completed by late summer barring any unforeseen circumstances. The public is asked to refrain from using the parking lot and to stay off the trail while it is under construction for safety concerns.
"I know people are very excited to use the parking lot and trail, but we need to allow the contractor the time and space to complete the construction," said Mountain Home District Ranger Stephaney Kerley. "If the contractor has to navigate around the public, it will not only delay the completion of the project but it could put someone at risk." As soon as the work is complete and open for use, the public will be notified.
The trailhead and parking area were completed in the fall of 2018 by the Ada County Highway District using grants received through the Federal Lands Access Program. The timing of construction for the trailhead coincided with Ada County's Bogus Basin road safety improvements project, however the new connecting trail had not yet been approved and therefore construction had to be delayed.
For more information, contact the Mountain Home Ranger District at 208-587-7961 and visit us on the web at: http://www.fs.usda.gov/boise
— — — — — — — — — —
USDA proposes changes to environmental policy
June 13, 2019 Local News 8
Washington D..C. (KIFI/KIDK) – The USDA Forest Service released a proposed rule Thursday that would change how the agency complies with the National Environmental Policy Act. (You can review the proposal here.)
USDA claims the changes would give the Forest Service tools and flexibility to manage public lands.
"We are committed to doing the work to protect people and infrastructure from catastrophic wildfire. With millions of acres in need of treatment, years of costly analysis and delays are not an acceptable solution – especially when data and experience show us we can get this work done with strong environmental protection standards as well as protect communities, livelihoods and resources," said USDA Secretary Sonny Perdue.
continued:
— — — — — — — — — —
USFS Regional Intermountain Wildfire Newsletter Special Issue
June 12, 2019 Forest Service Intermountain Region
Contents:
Please, don't fly your drone near a wildfire!
Drones are Dangerous Near Wildfires
Smokey's 75th Birthday!!
Fire and Forest Health
Intermountain Region Wildfire Activity Map
Great Basin Fire Potential Outlook for June 12, 2019
Fire Potential Outlook for June 2019
and more…
link:

——————————
Letter to Share:
Mystic Farm Wildlife Rescue, Inc.
Greetings from Mystic Farm.
The fawns are coming in! Of the five babes so far (four boys/one girl), all but one have been warranted rescues, i.e., doe killed by car or predator. The last one, unfortunately, was picked up needlessly and kept for four days before Mystic Farm was called. That always makes me both sad and angry. Public education is the key! Remember, if you come across a fawn, DO NOT TOUCH! Mom is more than likely close by. Like I say…"DON'T BE A FAWN NAPPER." I have walked people through what to do if you find a fawn – (or if you have already "rescued" a fawn) – numerous times over the last few days. I always answer my phone…so if any doubts, call me!
On a happier note: How cute are these little guys already learning to take their bottles from the bottle rack?
Thank you for your continued support. Couldn't do any of this without all of you…
Gratitude,
Dory and all
Mystic Farm Wildlife Rescue, Inc.
208 241-7081
Sagle, ID
— — — — — — — — — —
Snowdon Wildlife Sanctuary
McCall
link:
————————–
Critter News:
Hot Asphalt Awareness For Dogs
As the summer gets hotter, so does the pavement. You might not realize because you're wearing shoes, but the asphalt soaks up heat all day and can severely burn your dogs paws. At 125 degrees Fahrenheit, skin destruction can happen in just 60 seconds.
An easy way to test the temperature of a surface is to put the back of your hand to the ground for 7 seconds, if it's too hot to leave your hand against the surface then it's too hot for your pups pads. Many surfaces can heat up quickly throughout the day, if you are walking your dog on sand, cement, or asphalt on a warm day be sure to test it first.
While these temperature correlations represent extreme conditions they demonstrate the possibility of the ground becoming way too hot for your dogs paws. Just like leaving your dog in the car when it's hot out can quickly be fatal, taking your dog out can be just as detrimental.
If your dog must be out and about when it's hot, pick up some dog shoes to help protect those precious paws.
Be smart, check before you walk.
source:
— — — — — — — — — —
Pet Talk – What is 'cherry eye' in dogs?
By Dr. Karsten Fostvedt June 14, 2019 IME
A small gland is on the back side of the third eyelid, the side that lies against the eyeball. The third eye is called the nictitating membrane. It is the eyelid that owls use to slide over their eye. Normally the gland of the third eyelid is not seen. Only when the gland gets infected does it enlarge and protrude from the third eyelid.
A small ligament that holds the gland in place stretches or breaks for unknown reasons. When the gland suddenly breaks free of its attachment, it protrudes over the third eyelid and looks like a small cherry, thus "cherry eye." The gland produces about 35 percent of the watery tears, and the longer it stays out and exposed, the less functional it becomes. If the gland becomes nonfunctional, then tear production diminishes to the point that a "dry eye" occurs, which causes chronic infection and even blindness.
A smooth round, pink mass is visible in the corner of the eye nearest the nose. The mass looks like a cherry pit, thus "cherry eye." The condition is not usually painful. A thorough ocular exam is always performed, especially a test to measure tear productions and using stains to make sure that the cornea has not been damaged.
continued:
— — — — — — — — — —
Authorities and owners still searching for answers after 5 animals are shot
By Max Cohan June 13, 2019 Local News 8
Hatch, Idaho (KIFI/KIDK) – It's been more than two weeks since five animals were discovered shot on a remote piece of private land in the Chesterfield area, leaving authorities and the animals' owner searching for answers.
"I think it was a senseless, random act of violence," rancher Grant Simons said.
Simons and his wife own a ranch with more than 800 cows and bulls, spread out over thousands of acres of land in Southeastern Idaho.
continued:
— — — — — — — — — —
Rabid bat found in Bingham County
Jun 12, 2019 Local News 8
Bingham County, Idaho (KIFI/KIDK) – Southeastern Idaho Public Health (SIPH) has confirmed a bat has tested positive for rabies in Bingham County.
This is the first bat to test positive for rabies in Idaho this year.
Last year, 12 bats tested positive for rabies in Idaho.
continued:
— — — — — — — — — —
Salmonella cases in Idaho linked to backyard chickens
So far, 279 people in 41 states – including Idaho – have been infected with the outbreak Salmonella strain this year.
KTVB June 14, 2019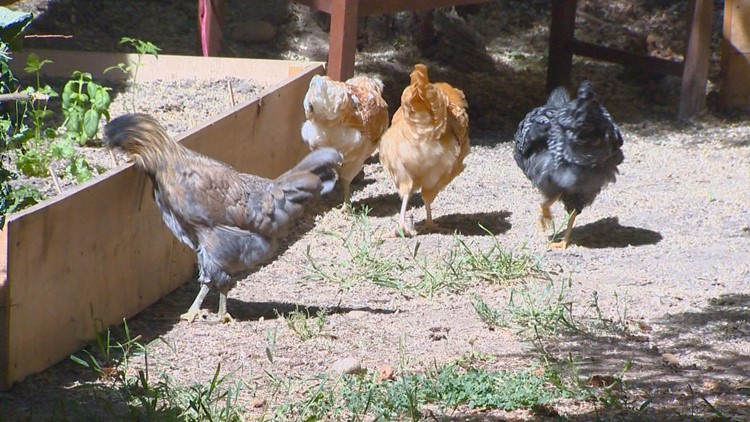 Boise, Idaho — The Center for Disease Control says a multi-state salmonella outbreak that has sickened hundreds of people nationwide is linked to contact with backyard poultry.
So far, 279 people in 41 states – including Idaho – have been infected with the outbreak Salmonella strain this year. According to the CDC, four of those cases were in Idaho.
… Those who have or handle backyard poultry should always wash their hands with soap and water immediately after touching the birds or anything in their area, including coops and equipment. In addition, people should not let chickens come inside the house, and should stay outdoors when cleaning cages, feeders, water dispensers or other equipment.
full story:
— — — — — — — — — —
Mosquito season creeps in as weather warms up
Jun 13, 2019 KIVI
Boise, Idaho — As the heat of summer moves into the Treasure Valley, so will the mosquitoes.
Canyon County began mosquito abatement mid-March and reported typical spring-like conditions for the pests.
While West Nile wasn't reported in Ada County until early August last year, the virus typically shows up in mid-June.
Horses, pets and livestock can all get the virus.
In order to keep the bugs at bay, remove stagnant water around your property and wear repellent.
Note: Lots of Skeeters are out around Yellow Pine now.
———————–
Fish & Game News:
Mother Nature knows best; leave young wildlife alone
By Jennifer Bruns, Regional Communications Manager
Thursday, June 13, 2019
June is the peak fawning and calving season for Idaho's deer, elk and antelope herds. With camping and the outdoors season well underway, well-meaning citizens often find baby animals that seem to be abandoned. Idaho Department of Fish and Game is asking people to leave them alone. If a female deer returns to find people milling around their young they will often leave the area and come back when the people are gone. By then it is sometimes too late.
Unlike humans, white-tailed deer mothers do not spend much time with their fawns for the first few weeks after giving birth. Deer fawns are nearly scentless at birth; however the doe has scent. Mothers will keep their distance from their young to avoid leading predators to them.
"Our office gets several calls and folks bring baby animals to the office every year," says Clay Hickey, Fish and Game Regional Wildlife Manager. "Even though their intentions are good, it isn't the best thing for the animals."
continued:
— — — — — — — — — —
Tuesday session in Cascade to advise on feeding game
The Star-News June 13, 2019
A session on Tuesday in Cascade will advise local residents about feeding deer and other game in town.
Idaho Department of Fish and Game Regional Wildlife Manager Regan Berkley will host an open hose between 5:30 p.m. and 6:30 p.m. Tuesday at Cascade City Hall. A presentation will begin at 5:45 p.m.
Berkley will point out the pitfalls of feeding big game by people who wants too see deer up close.
"The best advise to avoid feeding big game; it tends to have more downside than upside, she said.
source:
— — — — — — — — — —
Fish and Game releases winter survival rates for elk, deer
More than half of the radio-collared mule deer fawns they were monitoring died in the freezing weather, biologists say.
KTVB June 11, 2019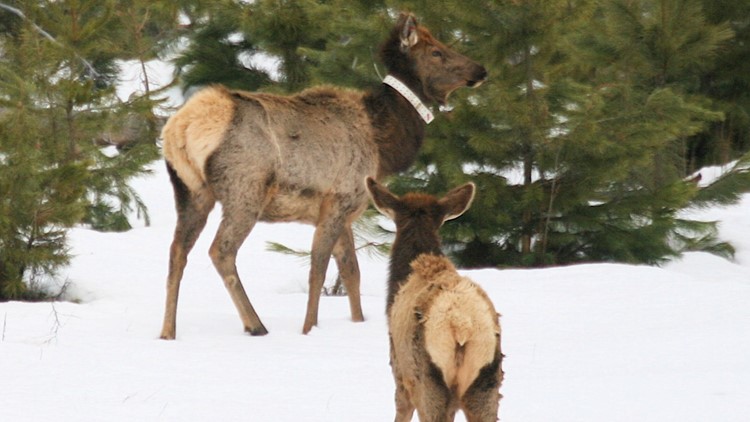 Boise, Idaho — More young mule deer perished during Idaho's freezing winter months than monitors expected, but elk fared better, according to the Idaho Department of Fish and Game.
In all, just 42 percent of radio-collared mule deer fawns made it through the winter, well below the average survival rate of 58 percent. Fish and Game officers say February's significant snowstorms, followed by a cool and wet spring, contributed to the number of deaths.
continued:
— — — — — — — — — —
F&G Commission opens Chinook fishing season on the Middle Fork of the Clearwater River
By Roger Phillips, Public Information Supervisor
Thursday, June 13, 2019 –
Fishing will be on hatchery fish destined for the Selway River that are usually caught in the Lower Clearwater
Fish and Game Commissioners on June 13 opened Chinook salmon fishing effective immediately on the Middle Fork of the Clearwater River to allow anglers the opportunity to harvest hatchery fish bound for the Selway River that are normally caught in the Lower Clearwater River, which did not have a Chinook season during spring.
… Fisheries managers did not propose a fishing season on the South Fork of the Salmon River because the run appears to be too small to support fishing, but managers will continue to monitor fish counts over the dams and may still open a fishery there if the run can support it.
full story:
— — — — — — — — — —
More F&G News Releases
link:
———————————-
Fun Critter Stuff:
Meet a cuddly baby dugong named Marium
June 14, 2019 Associated Press
A baby dugong that has developed an attachment to humans after getting lost in the ocean off southern Thailand is being nurtured by marine experts in hopes that she can one day fend for herself.
————————–
Seasonal Humor:

————————-