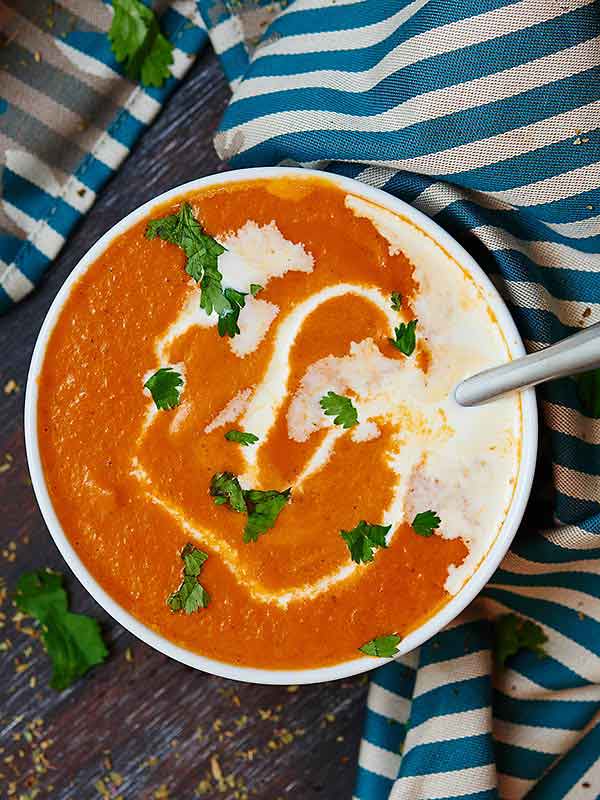 Servings: 4 people
Ingredients
1 (28 oz) can whole peeled tomatoes drained, but save the juice!
1 yellow onion sliced
4-6 cloves garlic peeled, but kept whole
1/4 cup olive oil
1/2 teaspoon brown sugar
2 tablespoons butter omit or sub with vegan butter if vegan
1/2 tablespoon dried basil
1 bay leaf
1 1/2 cup stock chicken or vegetable
Heavy cream optional for topping
Sour cream optional for topping
Instructions
Preheat oven to 375 degrees F.
Drain the tomatoes, reserving the juices, and cut them in half.
Slice the onion and peel the cloves of garlic.
Toss the tomatoes, onion, and garlic in olive oil, salt, and brown sugar.
Roast on an unlined baking pan for 30 mins, stirring half way through.
Pour the roasted vegetables, butter, dried basil, bay leaf, reserved tomato juices, and chicken stock into a medium sized sauce pan.
Bring to boil over medium high heat. Then reduce heat and let simmer for 5 minutes.
Remove bay leaf
Blend until smooth.
Serve with optional ad-ins and a grilled cheese sandwich.
—————————–