July 7, 2019 The Yellow Pine Times – Valley County, Idaho
Note: Boil Water Order still in effect, please conserve water, no outside watering.
Community Calendar:
April 2 – Boil water order issued
Every Sunday – 11am Fire Training
May 10 – Burn "permits" required
May 15 – Firewood Season opens
July 11 – Dust Abatement (tentative)
July 13 – 10am YPFD meeting at the Fire Hall
July 13 – Ride to Big Creek
July 13 – Willie and the Singlewides playing at The Corner
July 20 – VYPA meeting 2pm Community Hall
July 27 – Festival meeting Saturday 2pm at the Community Hall
July 27 – Memorial and potluck for Wilbur Wiles (Big Creek/Edwardsburg)
Aug 10 – VYPA meeting 2pm Community Hall
Sept 14 – 10am YPFD meeting at the Fire Hall budget meeting
Sept 14 – Ride to Cinnabar
Sept 21 – VYPA meeting 2pm Community Hall
(details below)
———-
Local Events:
Dust Abatement July 11
At this time, Yellow Pine is on the schedule for dust abatement on July 11th.
Please plan accordingly to avoid driving on the fresh surface.
— — — —
Live Music July 13
Willie and the Singlewides will be playing at The Corner.
— — — —
Celebration of Life – Wilbur Wiles July 27
Potluck celebration of life at his cabin July 27th.
— — — —
2019 Yellow Pine Escapades
The 2019 schedule for the Yellow Pine Escapades has been updated on the website!
Expect new escapades this coming year, including an ATV-UTV Photo Scavenger Hunt; two (yes, two) ATV-UTV rides, a golf tournament, and even a community yard sale. Other events will be added to the calendar as plans are finalized.
Join us for a great season of fun! The starting point for fun in Yellow Pine! The website includes information on the events hosted by the Yellow Pine Community Hall as well as the other "goings-on" in the village. Food, lodging and fuel are available in Yellow Pine. link:
———-
Village News:
July 7 YPWUA Yearly Meeting

(photo by Jeff)
Meeting Agenda
1. Financial Report – Willie
A. Current Account
B. Budget
C. Future rate increases
D. New Procedure Actions for Non-Payment
2. Operations Report – Steve
A. Current Operations
B. Chlorine levels
C. Grant and work necessary
D. Boil Order Notification
E. Future Grants
F. Summer lawn watering
3. Election of Board Members
A. Dawn Brown and Stu Edwards, both are automatically nominated
Only shareholders can run and vote
4. Questions
— — — —
Busy Weekend for YPFD & EMS
We had a very busy weekend with the YPFD and EMS Systems here in Yellow Pine. We are also grateful for our volunteers in town, as well as outside supporting agencies.
July 5th


Search and Rescue rappeler descending from a Two Bear Air helicopter on the steep mountain between Secesh River and Zena Creek.
July 6th


Location East Fork of the South Fork of the Salmon River, about 3.5 miles West of Yellow Pine
(photos by Jeff)
— — — —
Independence Holiday Celebrations
Big Thank You!
The YPFD did some training the morning of July 4th with the tanker truck and watered the dusty local streets before the parade. Kudos to Tim Rogers, Cecil, and of course Ziva.
4th of July Parade
Perfect weather for a parade, 72 degrees with passing clouds providing moving shade and light pleasant breezes.
The parade started at 2pm with the ringing of the town bell by Tina Frank, followed by a color guard with 2 American flags. Side-by-sides pulled decorated trailers with Grand Marshal Lorinne Munn, and another with Miss Yellow Pine Christy Petersen. A surprise entrance of an OK Gravel dump-truck sounding the air horn. Lots of youngsters participated, either walking or riding little motorcycles. The YPFD was out in full force, the Ambulance sounding the siren was followed by the mini-fire/rescue UTV and the big yellow fire truck. Then almost half a dozen riding horses with coats gleaming in the sun. Last in line was parade organizer Deb Filler with a bucket and shovel doing road apple cleanup.
Root beer and orange floats were sold after the parade (and before the fireworks) to benefit the Community Hall.
4th of July Fireworks
People started heading uptown after sundown. The fireworks started at 953pm and lasted 10 minutes. It was a "Safer and Saner" 4th this year, only a few illegal fireworks.

(courtesy Adam Pellegrini)
July 4-5 Live Music at The Corner
Folk Family Revival played at The Corner on Thursday and Friday, July 4-5, with Karaoke on Saturday, July 6.
July 6 Breakfast and Golf Tournament
Folks headed to the Yellow Pine Museum at the University of Yellow Pine for breakfast between 8am and 10am. The cost was $6 and all proceeds benefit the upkeep of the museum.
A cannon shot rang out to start the golf tournament at 1114am. Looks like a good turn out, shouts of "Hoo-ray" and "Fore" were hear throughout the forest.
This year the proceeds from the golf tournament will support the Community Hall and road repair.
[

(photo courtesy Joel Fields)
Here are the results of the tourney:
Women's division
Sidney & Kylee first place
Sarah and Shelly second place
Anna & Kinsey third place
Mixed division
Ryan & Megan & Dayle Bennet & Connie Auth tied for first place
Larry & Connie Shanks second place
John and Cindy Schriener third place
Men's Division
Andrew and Ken tied with Mark and Jack for first place
Tom Troutman and Ben Steele tied with Dan Stiff and Jeff for second place
Stu Edwards and Ed third place
Closest to #1 pin was Ken H at 16 feet 3 inches
64 players signed up to play.
The weather was good and everyone had a great time! Thank you to all the volunteers at the golf tournament. Sam at closest to the pin, Cecil Dahlman, Ron Frank, Ronda Rogers, Alex Pellegrini, Nicki Saleen, Terri Norell, and the Payne family. It helped us so much!
Joel and Marjie Fields
— — — —
Community Yard Sale July 3
Donated items were sold during the Community Yard Sale to benefit the Community Hall.
— — — —
Siren Sounded July 2
Just before 425pm the Fire Hall siren sounded and the village responded. An OK Gravel truck went off the Stibnite road above the village just before the bad curve. Within 5 minutes of getting a call, there was a responder on site of the accident.
"Thankfully the driver was not injured and was able to self extricate himself from the cab. The truck was loaded when it went off the side and was purchased on a stump and a dead tree keeping it from rolling down a steep embankment. The truck was not near the river and no hazardous material was displaced from the truck."
(photos provided by Jeff F)
— — — —
Ice Hole Campground
The Forest Service fixed the road, upgraded the camping sites and opened the campground to the public on July 2.

— — — —
Highland Games were held June 29
A little more than a year ago I was presented with an opportunity to put on another highland games. The problem I feared was the location! How could I convince you all to go way up into the sticks where there's little to no cell service, no big restaurants or fast food, and would the accommodations be good enough for some? I didn't have really anything but throwing the heavy "shhtuff" to get you there! While for most that's plenty! But how to make it a successful event and fundraiser? And just exactly how was I supposed to bring a bunch of people together that normally only spend a day at a time together let alone spend a couple days together? And how do I entertain them? So based on my preaching of how we are family I was hoping calling it a "Highland Family reunion" would maybe get a few more interested.
Let's just say you people amaze me! Nobody cares about cellphones for a few days! The restaurants don't have matching tables or chairs but they do have 5-star food and service! And who needs entertainment! A fire pit, plenty of decks covered with tables and chairs, a horseshoe pit, and endless conversations about just about anything is in my eyes just about perfect!
Let's not forget the little community! Talk about an incredible welcome and overwhelming support for our gathering!
I'm constantly told "thank you" for putting on these events. PEOPLE! Do you not understand without you I'm a kilt'd bearded bald guy who talks way to much! None of these events would ever be as spectacular as they are without you! So "THANK YOU" for sharing your awesomeness with me and our love of our sport!
To the people of Yellow Pine, words are not enough! Matt and crew at the Corner bar? You guys ROCK! Lorinne at Yellow Pine tavern it may not seem like it but without you I would have been in trouble in many ways! Thank you to the Haindel family for blowing up the novice class! Steve and Susan Holloway your generosity is infectious! You are the reason this gathering is possible and for that I'm forever grateful!
Thank you all who made this years Yellow Pine highland family reunion so spectacular!
– Bald Mountain Knuckle Draggers
Root beer floats were sold to benefit the Community Hall.
— — — —
Yellow Pine Transfer Station
Report Saturday (June 29): The dumpsters were not quite half full. Road to dump "not bad".
Please do not abuse our Transfer Station or we may lose it. Household trash must be placed in the bins, flattened cardboard boxes can also go into the bins. Do not stack trash in front of the doors. Woody yard debris only for the burn pile. No furniture, appliances, tires or construction debris allowed, those items must be hauled out to the Donnelly station by you.
Yellow Pine Transfer Station (aka, the dump)
The Yellow Pine Transfer Station is located approximately 3 miles south on Johnson Creek Road.
The TRANSFER STATION is for household trash and yard waste:
* Household trash must be put inside (and fit) the dumpster;
* Yard waste (limbs, pine needles, brush, et.) goes in the burn pile on the south end of the turn-around;
* Cardboard boxes should be flattened before putting the in the dumpster,
The DUMPSTERS are NOT for:
* Furniture (take to Donnelly Transfer Station);
* Appliances (take to Donnelly Transfer Station).
The BURN PILE is NOT for:
* Cardboard boxes (flatten and put in dumpster);
* Furniture and appliances (take to Donnelly Transfer Station);
* Drywall and building material (take to Donnelly Transfer Station);
* Wire or fencing (take to Donnelly Transfer Station);
* Foam Rubber (take to Donnelly Transfer Station);
* Wood with metal (like nails) attached (take to Donnelly Transfer Station.)
When closing the DOORS on the front of the dumpsters:
* Make sure the "U" brackets at the top and bottom of the door are engaged;
* The retaining bar at the middle of the door is slid into the pipe;
* And the "L" bars at the bottom of the doors dropped into place.
The Yellow Pine Transfer Station is Valley County responsibility. If it is not kept tidy, use of the Transfer Station may be revoked. That would result in residents having to take all household trash and yard waste to the Donnelly Transfer Station.
If Dumpsters Are Full, Contact Lake Shore Disposal at: 208/634-7176
— — — —
Roads
Johnson Creek, Lick Creek and Profile Gap Roads are open.
Stibnite Road will be open to the public on Weekends
Update from Midas June 21, 2019
OK Gravel is continuing the last bit of work to fully repair Stibnite Road. During construction, the Valley County Road and Bridge Department will continue to keep Stibnite Road closed to facilitate a faster construction process. When crews are not working on the road, it will be open for public access.
This means the road will be open for public travel on the weekends. The road will open beginning Thursday evenings at 6:00 p.m. and remain open until 7:00 a.m. Monday mornings.
At this time, the road will remain closed during the week from 7:00 a.m. Monday until Thursday evening at 6:00 p.m. in order to complete repairs on the road.
— — — —
Yellow Pine US Mail
June 1st started the 6-day a week mail delivery. The Post Office in Yellow Pine is open six days a week: M-F 845am-245pm Saturday 9am-245pm. Forever Stamp: 55 cents
— — — —
Tick Season
Lots of ticks this year. Please check your pets (and kids) for ticks. Tick bites can paralyze a child or dog, and spread diseases. Mosquitoes and no-see-ums are thick this year. So far the wasps and yellowjackets have not been too bad – yet.

— — — —
Reminder for people living in bear country:
* Garbage should be stored inside the house or in a secure garage or storage building.
* If garbage cannot be stored in a secure location, a bear-resistant container approved by the Interagency Bear Committee is recommended.
* Avoid using bird feeders from March through November. Birds do not need supplemental feeding this time of year.
* Pet food should not be left outside.
* BBQ grills or anything with a strong odor should not be left out at night.
* Protect gardens, beehives, and compost piles with electric fencing.
* Never intentionally feed bears. A food-conditioned bear may pose a threat to human safety and usually results in the removal of the bear.
———-
Local Groups:
YPWUA News:
Annual Meeting held July 7th in the Community Hall
Water Update July 5:
Idaho Rural Water water will be in on the 19th to look for leaks. Water usage in town is in excess of 57,000 gallons per day. Some have been reminded of the No Lawn Watering request. If we get too much above the 60,000 gallons per day, the town is running the risk of draining the tanks and being out of water.
The Boil Order is still in effect.
The yearly Yellow Pine Water Users Shareholders meeting is Sunday July 7th at 10 am in the community hall. The agenda has been posted.
Water Update June 7:
1. The "boil order" is still in effect.
2. There is still large water leaks in the system. We continue to look.
3. A grant for $39,000 was approved for improvements to the system. (See story in Idaho News)
3. Work is currently being done on the new contact tank.
4. Please, no lawn watering until we find and repair the major leaks.
– Steve Holloway
link to: #4430059 Yellow Pine Water Users Boil Water Notification 4-2-19.pdf
link to: 2018 September Water Department Update.docx
— — — —
VYPA News:
Next meeting August 10th 2pm at the Community Hall
Village of Yellow Pine Association Meeting Minutes for June 8, 2019
link to: 20190608 Village of Yellow Pine Association.rtf
—
VYPA Meeting Dates 2019
June 8th; July 20th; August 10th; September 14th – 2pm at the Community Hall.
Note that the July 20th meeting is not on the second Saturday due to a conflict with a planned ATV rally involving many residents and visitors.
Yellow Pine Harmonica Meetings 2019:
March 30, 2019 Saturday 2pm at the Tavern
April 23, 2019 Tuesday 2pm at the Tavern *Cancelled*
May 23, 2019 Thursday 2pm at the Community Hall
June 20, 2019 Thursday 2pm at the Community Hall
July 27, 2019 Saturday 2pm at the Community Hall
— — — —
YPFD News:
Next Meeting July 13th at 10am YPFD meeting in the Fire Hall
YPFD May 18, 2019 Meeting minutes
link to: 20190518 YP Commissioners Meeting Notes FINAL.docx
—
Meetings will be held at the fire station at 10am and everyone is welcome to attend. June 15th; July 13th; and Sept 14th (which will also be the budget meeting as well).
Every Sunday 11am – Training
May 10th Burn Permits – contact the YPFD
Pile burning: Dress appropriately, have enough help on hand (people, water and tools) and make a firebreak before you start. Call your local fire protection district chief to let them know you'll be conducting a debris burn. This saves them from sending emergency responders to your property if they are not needed.
Bring it, Don't Burn it
For us in Yellow Pine, Jake Strohmeyer, Dist. Ranger with the Boise NF said we can use the area at our transfer station for yard debris and the FS will burn it once a year. Please no furniture, mattresses, construction debris, metal objects, tires or personnel junk. Please only woody yard debris. When using the pile please be mindful of where you place the debris as it should be contained to a manageable burnable area and kept as clean as possible. – JF


—
Training: Sunday Fire/EMS training has begun. Sundays at 11:00 AM unless otherwise posted. If Jeff F is in town the trainings will be held. All are welcome.
Safety Message: The best place to be during an avalanche, rock fall or a tree fall due to the wind is not there, please use extreme caution and common sense when conditions exist for these scenarios.
"If you are an Adventurist, please do not go out alone in steep areas. The spring thaw is an extremely dangerous time for Avalanches. The freezing and thawing create layers that break away from each other with the slightest disturbance. Scree fields are especially dangerous this time of year because of hidden ice that makes them even more unstable. Please be careful out there."
YP Helispot: We are working with Valley County Road Department and the Boise National Forest for the rock base for the road leading into the Helispot and the actual Helispot itself. We are also receiving rock for the Fire Hydrants, water tank foundations, etc. The rock will come from the Valdez pit and will be less expensive than having it trucked in from Cascade.
Stop the Bleed Course: This course was well attended in the Fall and Jeff F and Ann F will be presenting another course when the new instructor material comes out. There are "Stop The Bleed" kits at the Tavern in an emergency.
Siren Testing: The YPFD siren will be tested only once this year on the first of May at noon. 3 blasts of the siren is a test, more than 3 is an Emergency.
-JF
——–
Biz Listings:
Yellow Pine Lodge (208) 633-3377
Call for reservations
— — — —
The Corner (208) 633-3325
Our hours will be 11-8 every day, except closed on Tuesdays. We are open for breakfast by request and always have good coffee starting at 6am.
Willie and the Singlewides will be playing July 13.
The Corner has firewood permits in stock now. 4 cord minimum at $6.25 per cord. Please call to make sure I'm around before Memorial Day, bring drivers license and cash is preferred, no CC.
The Corner Store will also be open with snacks, groceries, fresh produce, soda, ice and packaged beer. If you know you will be coming in over the summer and need special grocery orders, let me know and I will order it in for you while you are here, 2 deliveries a week. The best way to get a hold of me is to call or stop by and say hello.
Karaoke is back at The Corner! Choose your favorite songs from our online music library and entertain your friends up on stage through our professional sound system.
— — — —
Yellow Pine Tavern (208) 633-2233
Summer Hours Daily 8am to Close
— — — —
Buck Horn Outfitters LLC 208-633-3614
Tom & Sarah Lanham
156 Yellow Pine Ave, Yellow Pine Id 83677
Website:
Link to FB page:
—
Wapiti Meadow Ranch – Johnson Creek (208) 633-3217
208-315-3554 cabin rentals
website:
—
Deadwood Outfitters
Link to website:
— — — —
Local Fuel Suppliers
Amerigas Phone: (208) 634-8181 Note: Summer deliveries have started, call if you need propane.
Ed Staub & Sons Phone: (208) 634-3833
Diamond Fuel & Feed Phone: (208) 382-4430 – Wild Bird Seed 50LB Bag for $25.58
— — — —
Outside Biz that will service Yellow Pine:
Rocky Mountain Mechanical – Plumbing – Heating – Airconditioning
(208) 365-PIPE (7473), Emmett, will service Yellow Pine
Elkhorn Heating & Cooling
(208) 906-4067 Middleton, Idaho, will service Yellow Pine
B&T Safety Solutions LLC
208-271-1600 Based out of Donnelly
Snow removal, cleaning chimneys and stoves, we do cabin staining/chinking as well
— — — —
Follow The Yellow Pine Times on Facebook (updated more often than emails)
———————–
Local Observations:
Monday (July 1) overnight low of 43 degrees, mostly high thin clouds this morning. Early morning airplane traffic, dump trucks going up main street (dusty!) Robins and swallows hunting bugs to feed growing nestlings, finches, pinesiskins and a female hairy woodpecker visiting the feeders. Mostly cloudy and warm mid-day. 4-wheeler driving cross country on the golf course early afternoon. Mostly cloudy mid-afternoon, slight breeze, warm and muggy, high of 85 degrees. Shots fired to the west before 7pm. Partly cloudy and warm breezy evening. Young robin fledgling hopping around followed closely by mother.
Tuesday (July 2) overnight low of 43 degrees, clear sky this morning. Light air traffic. Finches, robins and swallows calling. Pine and ground squirrels active. Rufus and calliope (M&F) visiting feeders. Clouds building up by lunch time. Extra street traffic today, getting a little dusty. By mid-afternoon mostly cloudy and breezy, high of 80 degrees. Very brief hail shower just after 3pm, pea sized and some larger and few large drops of rain. Emergency Fire siren sounded just before 425pm (see village news.) Muggy, mostly cloudy and lighter breezes late afternoon. Mostly clear by evening, breezes dying down and skeeters coming out.
Wednesday (July 3) overnight low of 41 degrees, partly cloudy sky this morning. Early air traffic (loud one short-cutting over the village at 905am). Swallows busy feeding babies, a few finches and pinesiskins visiting. Mostly cloudy, warm and a bit muggy mid-day. Mail truck had a huge load today, 1000 pounds of ice! Extra traffic and dust. Hummingbirds, finches and pinesiskins visiting. Baby swallows growing little feathers. Low water pressure for a little while after 3pm. Folks working on water lines near the main road. Mostly cloudy and mild mid-afternoon, light breezes, high of 76 degrees. Lots of human activity late afternoon. Partly cloudy by evening and calmer, skeeters out and hungry. Rose colored clouds at dusk.
Thursday (July 4) overnight low of 41 degrees, mostly clear sky (1 cloud) and light breeze this morning. Morning air traffic and street traffic (dusty!) Rufus and calliope hummingbirds visiting, swallows swooping and finches calling. YPFD Tanker truck (training) wetting down the dusty streets at 1120am. Gunshots or firecrackers at noon. Female hairy woodpecker and finches visiting feeders. Ground squirrels active. Clouds building up by early afternoon. Parade at 2pm. The nest box spy-cam reveals both parents bringing bugs to the young swallows non-stop. Mostly cloudy mid-afternoon, high of 80 degrees. Quite a bit of OHV traffic in the afternoon and early evening, streets getting a little dusty again. High thin clouds after sunset, temperature dropped 10 degrees, with poor air quality (dust and smoky haze in the air and out in the forest.) Village fireworks started at 953pm (not quite dark.) Thick smoke and calm air at 10pm. Illegal fireworks at 1023pm. Rain shower before midnight and better air quality.
Friday (July 5) overnight low of 42 degrees, clear sky this morning. A few early airplanes. Hummingbirds, finches, pinesiskins, jays and swallows active. Rain last night settled the dust and cleared the air. Increasing clouds (and traffic) before noon. Mostly cloudy and warm mid-day, light breezes. Less traffic and pretty quiet afternoon. Mostly cloudy and light breeze mid-afternoon, high of 84 degrees. Tree swallow chicks opening their eyes, growing little wing and tail feathers. Mostly clear by mid-evening, light breezes and warm. A couple of ATV riders zooming around cross-country on the golf course stirring up a lot of dust around 730pm. Clear at dusk, increasing traffic and dust. Jupiter rising to the south east after dark.
Saturday (July 6) overnight low of 43 degrees, mostly clear sky this morning. Early loud air traffic. Tree swallows swooping and playing with chicken feathers, hummingbirds, female hairy woodpecker and finches visiting. Traffic heading to museum for breakfast raising dust. Wonky sounding airplane circling over the village at 1026am. Cannon shot at 1114am to start the golf tourney. Clouds building up by lunch time and breezy, extra traffic and dusty. Hot by early afternoon, mostly cloudy and windy, high of 91 degrees. Still pretty warm by early evening, mostly cloudy and breezy. Almost overcast after sunset, lighter breezes. Emergency response folks went by in a big hurry at 814pm. At dusk a thin crescent moon low to the west shining through high haze and framed by lower altitude pink clouds.
Sunday (July 7) overnight low of 51 degrees, trace of rain fell around 6am, mostly cloudy sky this morning. Light air and ground traffic. Swallows and finches calling. ATV rider racing up and down Westside Ave around lunch time, huge clouds of dust. Mostly cloudy, warm and a bit muggy mid-day. Warm, cloudy and muggy mid-afternoon, light breezes, high of 83 degrees. Extra traffic during the afternoon dusting the neighborhood. Thinner clouds and nice breeze before sunset, and cooling off. Hummingbirds and finches visiting, pine and ground squirrels active.
————————-
Letter to Share:
Commissioner Cruickshank's June Newsletter
From the desk of Commissioner Cruickshank, July 6, 2019
Sunday June 2nd
I created the May newsletter and sent it out.
Monday June 3rd
Commissioner meeting today. Please find the minutes of the meeting on the Valley County Website at Valley County Idaho Official Site under the commissioners section. The minutes are posted to the website once approved generally at the next meeting of the commissioners.
Friday June 7th
I spoke with a citizen on the type of flags being flown at a flea market.
I spoke with a citizen on Septic Permits for private residences taking more time than in prior years. I reported this to my fellow commissioner who sits on the Central District Health Board so he could look into the issue.
Monday June 10th
Commissioner day today. Please find the minutes of the meeting once approved on our website.
Wednesday June 12th
I sent out a reminder to the National Association of Counties (NACo) West Region of the conference call being held tomorrow.
I participated in a NACo Public Lands Conference Call where we heard an update on legislation that had been introduced. Including permanent funding for Secure Rural Schools (SRS) program which funds a portion of County Road Maintenance and School needs. Also we learned of a bill to permanently fund the Payment in Lieu of Taxes (PILT) which are paid to counties with Public Lands to help offset counties not having the ability to tax on Public Lands. Currently both programs have to wait for congressional approval before they are funded. Other topics within the 2020 Appropriations Bill recently passed were discussed.
I received a call from a citizen concerned about their Market Value of their business increasing. I explained the process to appeal the value and directed them to the Assessor's office.
I received a call asking for costs to pave a county road. I sent this request to the Road Department for a breakdown of costs for the road asked about.
I sent out an invite for folks who might be interested in serving on a Resource Advisory Committee that reviews projects for grant funding from the SRS program.
Thursday June 13th
I hosted the NACo West Region Conference Call to discuss what it takes to be the West Region Representative as the vote to be the Representative will happen during the NACo Annual Conference next month.
I was interviewed by a local TV station concerning a recent Waterways Ordinance that did not get approved.
I received a call from our Solid Waste Contractor to discuss issues with the Recycle program and possible solutions.
Friday June 14th
I sent emails to individuals who might be interested in attending a Living With Fire workshop that will happen in Valley County in July so people could attend.
Monday June 17th
Commissioner Day today. Please find the minutes once approved on the website.
Tuesday June 18th
I received a call on using Valley County property in Lake Fork for a Park and Ride area for the local Transit Bus.
I received a call from our Clerk to discuss a Sheriff budget item that was presented yesterday at the commissioner meeting.
I received a call from Congressman Fulcher's staff inquiring about the Warren Wagon Road Construction as their office was receiving calls.
I sent out the notes I created from the NACo West Region call last week.
Wednesday June 19th
I received a call from our Recreation Director asking for more information on Forest Roads and Trails Act easements to better understand the process used by the Forest Service.
Thursday June 20th
I reviewed emails and replied to some. I reviewed documents being presented at next Monday's Commissioner meeting.
Friday June 21st
More documents reviewed for the Monday Commission meeting.
I received a call from the Transit Company looking for the other commissioners contact numbers.
I sent out some information on the NACo West Region vacancy.
I emailed examples of the Forest Roads and Trails Act easements to the Recreation staff.
Monday June 24th
Commissioner meeting today. Please find the minutes once approved on the website.
Tuesday June 25th
I returned phone calls from yesterday and had to leave messages. Interesting that the calls returned have not had a return call received back.
I received a call asking for an agenda for the NACo West Region meeting being held at the NACo Annual.
I replied to an email asking for more information on the SRS endowment language pertaining to the financial oversight. I sent this request to Senator Crapo's staff and received an answer which I forwarded on.
Wednesday June 26th
Today the commissioner met as the Valley County Board of Equalization to hear appeals brought to the Assessors office on Market Value Assessments. All the appeals today were presented by Assessor staff who had worked on the values with the property owner and either made corrections of found differences in how the property or home was assessed. Some changes were made where appropriate.
Thursday June 27th
Another day of Board of Equalization meeting to review appeals of Market Value Assessments. Today we heard from Assessor staff on some and had Personal appearances from some property owners to explain their concerns on the value assessed on the property or home.
I received a phone call to follow up on if the speed limit can be reduced through Lake Fork. I had sent an email to Idaho Transportation Department (ITD) however had not heard back as of this day. Of note the request has been provided to the correct area of ITD for review.
I provided some contact information at NACo to the West Central Mountains Economic Development Executive Director as he is working on the Broadband issue in Valley County and NACo is working on Broadband speeds nationwide.
Well that completes the month of June.
Thanks for reading the newsletter.
Gordon
—————————–
Idaho News:
Valley residents reminded of mandatory address numbers
The Star-News July 3, 2019
Valley County residents are urged to make sure their address numbers are clearly posted and visible from the road as required by law, the Valley County Planning and Zoning Department said.
"If you call for help, you want emergency services (ambulance, fire trucks and Sheriff vehicles) to show up as quick as possible," planning and zoning technician Lori Hunter said. "Properly marking your house helps that to happen and keeps people from driving up the wrong driveway."
In addition, packages from carriers are delivered much easier if the driver can find the address, Hunter said.
The address numbers of all residences should be plainly visible and legible from the road fronting the property.
County ordinance in all areas of Valley County not within city limits of McCall, Donnelly or Cascade requires that the numbers contrast with their background, be visible in the daytime and nighttime from the road and be at least 3.5 inches tall.
If the home is not visible from the road, then the address number needs to be posted on the home and at the driveway entrance in a spot where it is visible year-round and not hidden by snow or plants.
Numbers and plaques are available from the Valley County Building Department or can be purchased at local stores or online.
Residents who have questions about their physical address can contact Valley County Planning and Zoning at 208-382-7115.
source:
— — — — — — — — — —
One dead, four hurt after accident on Payette River
by Rachel Bjornestad, Kristen McPeek Thursday, July 4th 2019
Emmett, Idaho (CBS 2) — One person is dead and four others are hurt after an "accident" on the Payette River.
Gem County dispatch says it happened between Plaza Road and the Washington Bridge, just outside of Emmett. The call first came in around 3:12 Thursday afternoon.
Dispatchers could not say exactly what happened, but say five females were involved. One female is dead, another was air-lifted to a hospital. Three others were taken to the hospital by ambulance.
source:
— — — — — — — — — —
Smoldering fireworks cause Nampa house fire, blaze reignites the next morning
A steel door in the garage kept the fire from spreading to the rest of the house.
KTVB July 5, 2019
Nampa, Idaho — Fire damaged a home in Nampa late Thursday night. Then Friday morning, the fire rekindled.
Nampa Fire investigators say the fire was caused by fireworks that were thrown away in a trashcan, then left in the garage. The fire smoldered and quickly engulfed the entire front of the home.
continued:
— — — — — — — — — —
Fourth of July fireworks cause an increase in police department calls around the Treasure Valley
Jul 05, 2019 By Benjamin Harris KIVI TV
Boise, Idaho — While many people enjoyed the Fourth of July holiday, local police departments heard plenty of illegal firework complaints overnight.
Nampa Police Department received 87 illegal firework calls from noon on Thursday into the early morning hours of Friday, July 5.
Since Sunday, June 28, there have been 169 fireworks complaints in Nampa.
… Over the past few days, Boise Fire was called out to three separate fires related to fireworks, along with 11 other fires that could possibly be related to fireworks.
full story:
— — —
Treasure Valley first responders keep busy on Fourth of July with dozens of fires
Boise Fire alone responded to 18 fires, 11 of which were suspected of being started by fireworks.
Chase Biefeldt July 5, 2019 KTVB
Boise, Idaho — While people across the Treasure Valley enjoyed the Fourth of July holiday by lighting fireworks, fire departments in the area had to keep pace with dozens of fires that were started throughout the holiday.
In Boise, Meridian, and Nampa, there were 15 confirmed fires that were started by fireworks and ten more that were suspected of being related to fireworks.
Nampa Fire responded to 12 fires, three of those were structure fires. Fire officials say most of those fires were caused by fireworks.
continued:
— — — — — — — — — —
New laws take effect in Idaho
Jul 02, 2019 By Steve Bertel KIVI TV
Boise — A law lowering from 21 to 18 the age limit for carrying a concealed handgun within city limits in Idaho without a permit or training has gone into effect.
The law passed by Idaho lawmakers and signed by Republican Gov. Brad Little taking effect Monday aligns gun laws in urban areas with rural areas where those 18 and older can already carry a concealed handgun.
That's one of more than 300 new or amended laws passed by lawmakers earlier this year.
continued:
— — — — — — — — — —
University of Idaho program aims to fill Idaho's rural doctor shortage
"We have a lot fewer doctors available in a community like this as to compared to an urban setting such as Meridian, Eagle, and Boise," Dr. Hubele said.
Gretchen Parsons July 2, 2019 KTVB
Weiser, Idaho — Finding a physician in one of Idaho's small towns can be a challenge, so the Rural Underserved Opportunities Program, or RUOP, is trying to fill that void.
The program is part of a partnership between the University of Washington School of Medicine and the University of Idaho known as WWAMI.
continued:
————————
Fire Season:
Boise fire crews: How to protect homes and public lands during fire season
"Nobody wants to be the one that started a fire that may have hurt someone."
Misty Inglet July 2, 2019 KTVB
Boise, Idaho — Across the U.S., wildfires destroy hundreds of homes each year.
With the Treasure Valley experiencing a wet May but a dry and hot June, vegetation and other conditions are ripe for wildfires to spark.
Both the Boise Fire Department and the Boise District Bureau of Land Management have already responded to a few small wildfires so far this season.
… "Look at cleaning out gutters from pine needle debris and leaf debris," McAdams said. "Anything that's right up against your foundation that is flammable, remove it away from your foundation and create a fuel-free area."
full story:
— — — — — — — — — —
Corner Prescribed Fire still smokes north of Placerville
Idaho City, Idaho, July 1, 2019 — The Forest Service's Corner prescribed fire, approximately 2 miles north of Placerville along National Forest System (NFS) road 615, continues to burn and is causing smoke that at times is visible in the Placerville and Alder Ridge areas.
Recent warmer weather has resulted in needle litter and heavier fuels slowly drying out. Smoke observed is the result of small pockets of fuel igniting within the 150 acre designated project area. Firefighters are monitoring the fire daily and will conduct suppression action on any flames found in heavy fuels or threatening to spread outside the control lines.
There are currently no closures in effect. The public is asked to be mindful of fire traffic along the NFS road 615.
The prescribed burn took place June 5 and 6, 2019 and was approximately 150 acres in size, with the objectives of improving forest vegetation and wildlife habitat conditions while also reducing the threat of a wildfire impacting the communities of Placerville and Garden Valley.
For more information, contact the Idaho City Ranger District: (208) 392-6681.

— — — — — — — — — —
Fire season is here: multiple fires burn in Idaho
by CBS 2 News Staff Tuesday, July 2nd 2019
Idaho (CBS 2) — A brush fire in Jefferson County and a wildland fire at Table Butte are being contained by Idaho firefighters Tuesday.
"The Table Butte fire is 10 miles south of Dubois, northwest of Table Butte, approximately 100-acre containment is established," BLM Idaho Fire says.
continued:
— — —
Bureau of Land Management battles multiple fires started by lightning across eastern Idaho
Lightning strikes started two fires that have burned over 5,000 acres.
KTVB July 6, 2019
Twin Falls, Idaho — The Bureau of Land Management is battling multiple wildfires across eastern Idaho, the biggest of which has burned over 4,000 acres.
The largest ongoing fire is the Horse Butte Fire has burned over 4,000 acres and is 17 miles northwest of Aberdeen. It started at about 5:30 p.m. by a lightning strike and is currently zero percent contained.
continued:
— — — — — — — — — —
Twin Falls District BLM Fire Update
Saturday, July 6, 2019
Twin Falls District BLM Fire Management, along with our rural fire department partners, are responding to multiple starts throughout the district. Fires listed below are confirmed fires, with resources responding and/or on scene. New fires will be posted to social media accounts, then included on later fact sheets.
link:
— — — — — — — — — —
10-acre fire doused south of Pocatello
Jul 02, 2019 Local News 8
Pocatello, Idaho (KIFI/KIDK) – Firefighters made short work of the first significant fire around the 4th of July weekend.
Reported at around 4:30 p.m. Monday, the "Douglas" fire burned about 10 acres on private land about 10 miles south of Pocatello and south of the Mink Creek area.
The fire, which was smoldering and creeping through grass and brush, was contained around 7 p.m. It did not threaten any structures.
Four Forest Service and BLM fire crews responded to fight the fire. The cause was undetermined.
source:
— — — — — — — — — —
USFS Regional Intermountain Wildfire Special Bulletin
July 3, 2019
Wildland Firefighter Week of Remembrance
Utah Fires
Idaho Fires
Nevada Fires
Wyoming Fires
(and more)
link:
——————————-
Public Lands:
Campgrounds in the Boise National Forest to see improvements, increasing capacity
by Alexis Goree Tuesday, July 2nd 2019
Garden Valley, Idaho (CBS2) — As people flock up the mountains to camp this summer. You may see new features to campgrounds along the Middle Fork of the Payette River.
Nowadays, campgrounds see people of all demographics. But most sites were constructed in the 1960's.
So, the Forest Service has been spending the last 10 years making them more accessible for all.
continued:
— — — — — — — — — —
Federal-state program to tackle Idaho forest projects
Gov. Little set a July 1 deadline to find shared stewardship activities that could ultimately become templates for other states
Keith Ridler Associated Press July 2, 2019
Boise, Idaho — State and federal officials have identified 6,700 square miles (17,000 square kilometers) in Idaho to test a plan that allows state participation in federal timber sales to pay for restoration work on private, state and federal lands.
Idaho Gov. Brad Little on Monday announced that the U.S. Forest Service and state officials had identified landscape-scale projects in northern and west-central Idaho as part of a federal-state agreement called Shared Stewardship.
The agreement is intended to improve forest health and decrease the risk of disease and catastrophic fires.
… The area in west-central Idaho includes parts of Adams, Washington, Valley and Idaho counties and covers small communities and where rangelands transition into forests.
full story:
— — — — — — — — — —
USFS Regional Intermountain News
Volume 3 Issue 4 July 3, 2019
In this issue:
Fireworks Are Never Allowed on Public Lands
Smokey Bear at the Smithsonian Museum
Forest News
Forest Service Offices Closed for the 4th of July
link:
—————————
Letter to Share:
Mystic Farm Wildlife Rescue, Inc. Intern Position
7/4/2019
Volunteer Position/Internship
Mystic Farm Wildlife Rescue, Inc. has a position available for the following:
Onsite/On premises volunteer. Sweet little mountain apartment provided. Small weekly stipend (remember, I do all this as a volunteer myself). Applicant should possess the following skills and requirements:
Experience and/or education in wildlife management/rescue and/or a willingness to learn. No children or pets. No party animals. Willingness to work hard, care, smile, and possibly gain the experience of a lifetime. Start up would be immediately and go thru fawn season/release. Possible earned college credit if qualified student.
Please contact me via email or phone for further information and application.
Dory
Mystic Farm Wildlife Rescue, Inc.
208 241-7081
————————-
Critter News:
More dogs are lost on the 4th of July than any other day of the year
By Jilliana Colina Jul 05, 2019 Local News 8
Idaho Falls, Idaho (KIFI/KIDK) – Fireworks aren't the only thing that 'goes off' on the 4th of July, it's also the number one day of the year that dogs run away and get lost.
"Before we open we usually have a line of people here to reclaim their animals, which is good, we definitely want to get them out, the sooner the better. That way we can get some kennels that get emptied out and stuff like that," said Idaho Falls Animal Shelter's, Angelica Vargas.
Most of them don't run away intentionally. What tends to happen is that fences will be left open during barbeque's, or fireworks will scare dogs kept in backyards so bad that they'll hop fences and leave trying to find some peace and quiet and before they know it, they're lost.
continued:
— — — — — — — — — —
Idaho woman gets diabetic alert dog after two years, $25,000 of saving
Erickson is a brittle type 1 diabetic and had become used to checking her blood sugar levels. But her situation became worse two years ago.
Shayna Waltower July 6, 2019 KTVB
Pinehurst, Idaho – Brenda Erickson welcomed a new member of her family into her home from Alabama.
Her service dog, Kendrick, became the partner attached to her side.
Erickson is a brittle type 1 diabetic and had become used to checking her blood sugar levels. But her situation became worse two years ago.
continued:
— — — — — — — — — —
Pet Talk – Collapsing trachea and dogs
By Dr. Karsten Fostvedt July 5, 2019 IME
The cartilaginous rings of the windpipe, or the trachea, are shaped like the letter C lying on its back. A small membrane covers the top of the ring. In many small breeds of dogs, the tracheal cartilage loses its rigidity if the membrane stretches. The rings can collapse and the windpipe flattens, causing mild to severe obstruction of the trachea. Common breeds affected are the miniature poodle, Pomeranian, Yorkshire terrier and Chihuahua. Some dogs can start showing signs of tracheal collapse at a relatively young age, but it is usually a disease of older dogs. The cause is not well understood; the proposed series include genetic factors and degeneration of the tracheal cartilages.
Major clinical signs are abnormal respiratory noises, difficult breathing, exercise intolerance and a harsh, dry cough. This is usually an intermittent goose-honking cough that has a sudden onset, especially when the dog is stressed. Applying pressure to the trachea or windpipe often induces this cough. Chest X-rays demonstrate tracheal collapse and affected dogs. The definitive diagnostic method is endoscopy, which involves passage of a scope into the trachea and viewing the collapse. Endoscopy also allows collection of samples of the trachea for bacterial culture, as many dogs have secondary infections.
continued:
— — — — — — — — — —
Salmonella outbreak could be caused by pig ear dog treats, CDC says
45 people infected across 13 states
BLeah Asmelash and Brian Ries Jul 05, 2019 Local News 8
Could the treats you're feeding your dog be making you or your family sick? The US Centers for Disease Control and Prevention says yes.
The CDC reported Wednesday that it and the Food and Drug Administration are investigating an outbreak of salmonella across 13 states — and it's been linked to contact with pig ear dog treats.
… The CDC recommends that people always wash hands when handling pet food or treats, store pet food away from human food, and never let pets lick mouths, faces or open wounds.
full story:
— — — — — — — — — —
Mustang trainers showcase skills in Mustang Mania
Jul 06, 2019 By Natasha Williams KIVI TV
Nampa, Idaho — An incentive-based program out of Nampa is bringing a new purpose to wild mustangs from across the west.
This weekend's "Mustang Mania" at the Ford Idaho Horse Park is challenging their trainers who have spend the last three months training their once-wild horses.
The mission of the Mustang Heritage Foundation is to increase the adoption of the BLM-housed American mustangs and burros through innovative training competitions and awareness programs.
continued:
— — — — — — — — — —
Domestic sheep trailing to take place in bear basin area July 10-12
The Star-News July 3, 2019
As many as 4,000 sheep plus lambs will make their way across the Bear Basin area near McCall. Wednesday through Friday, July 10-12, according to the Payette National Forest.
The bands of sheep will be escorted by several guard and herding dogs, as well as herders leading pack strings as they make their way to higher elevations.
Signs will be installed at trailheads and trail junctions alerting the public to the presence of guard dogs and sheep.
Forest users are advised to use caution if walking their dogs in the area during this time due to the potential presence of guard dogs. Bicyclists are cautioned to dismount their bikes and to move slowly around guard dogs.
Motorcyclists on area roads passing by sheep bands are also encouraged to travel at slow speeds while passing the bands.
Anyone who encounters domestic sheep or cattle while on national forest lands should make the animals aware of their presence and pass by without startling them, a news release said.
Some popular trailheads have signs to alert visitors to the presence of livestock.
Forest users should not attempt to pet a stock or guard dog, as they are working dogs and their first duty is to protect their livestock from predators, which includes human beings and other dogs.
Popular recreation areas where livestock may be present include the Lick Creek Road corridor, Boulder Lake, and the Warren Wagon Road corridor.
For questions call the McCall Ranger District office at 208-634-0400.
source:
— — — — — — — — — —
'Porcupines are like the biggest excitement': Hundreds gather for Council's annual Porcupine races
It's one of the more unusual Fourth of July traditions in Idaho.
Joey Prechtl July 5, 2019 KTVB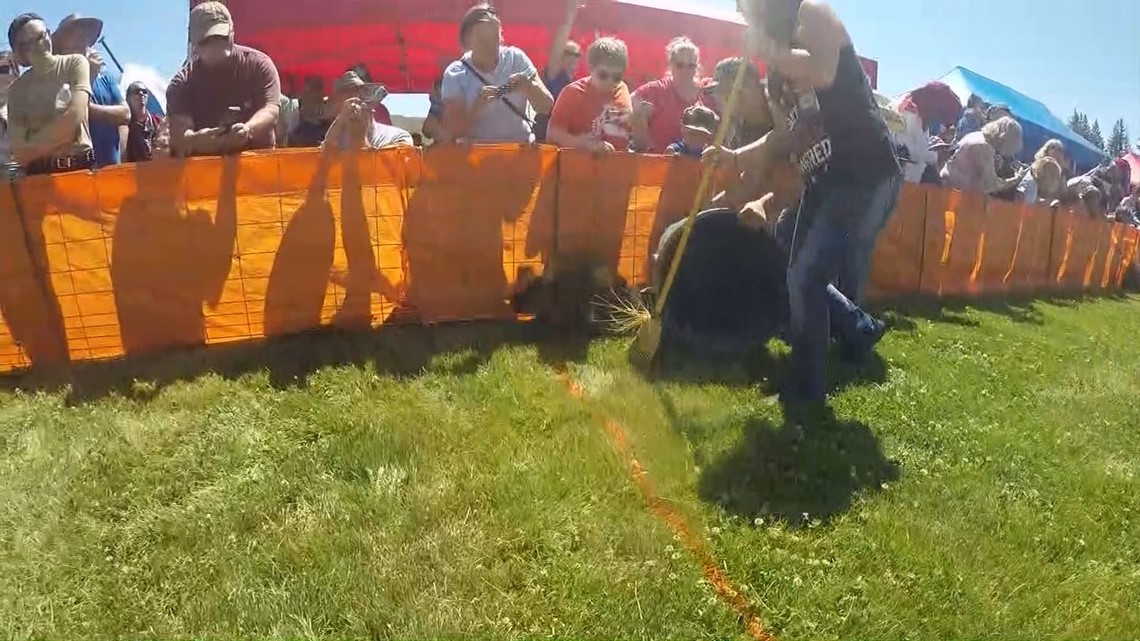 Council, Idaho — From parades and barbeques to fireworks and concerts, there many traditional ways families across the country – and throughout Idaho – celebrate on the Fourth of July.
There is one event though in Western Idaho that is completely unique, and pretty prickly. People in the small town of Council come to the football field for the can't-miss porcupine races.
"No one else does this kind of stuff so might as well just go out and do it," Caleb Corse said. He is one of the contestants this year.
continued:
— — — — — — — — — —
Plan revised for saving Kootenai River white sturgeon
by Keith Ridler Associated Press Wednesday, July 3rd 2019
Boise, Idaho (AP) – Federal officials are revising a 1999 plan as part of a strategy to recover endangered white sturgeon in the Kootenai River in northern Idaho and western Montana.
The U.S. Fish and Wildlife Service is taking public comments through July 29 on the draft recovery plan revisions released last week.
The document reflects advancements in understanding of white sturgeon and changes that have taken place over the last two decades to help the fish rebound.
continued:
— — — — — — — — — —
West Nile Virus found in mosquitoes in Elmore County
by CBS 2 News Staff Monday, July 1st 2019
Glenns Ferry, Idaho (CBS 2) — A single pool of West Nile Virus positive mosquitoes was found near Glenns Ferry in Elmore County. The Elmore County Mosquito Abatement District will treat the area Monday night.
"This time of year, mosquito traps are set and samples are collected weekly for testing throughout the country," said the Central District Health Department.
Elmore County is part of the growing list of Idaho counties reporting mosquitoes testing positive for WNV. Two other Idaho counties, including Canyon and Twin Falls, have also reported WNV-positive mosquitoes this season.
continued:
— — —
More mosquitoes trapped near Parma test positive for West Nile virus
Fogging to take place across the area Tuesday
Jul 02, 2019 KIVI TV
Canyon County, Ida. — The Canyon County Mosquito Abatement District says more mosquitoes have tested positive for West Nile virus.
The Culex species mosquitoes were found in two traps collected June 26 near Parma. One trap was located just north of Parma, off Apple Valley Road. Another trap was south of Parma, just off Sand Road.
Both traps were tested by the Mosquito Abatement District and registered a high virus reading. The results were later confirmed by the Idaho Bureau of Laboratories.
continued:
———————–
Fish & Game News:
How to camp safely in bear country and avoid unwanted encounters
By Terry Thompson, Regional Communications Manager
Tuesday, July 2, 2019
Bears and campers are a bad mix that usually leads to a dead bear
Summer is upon us, leading many to escape to the mountains to relax and camp. Before you head to the hills, Fish and Game wildlife biologists remind everyone to be mindful of wildlife, especially bears, when camping over the Fourth of July holiday and beyond.
Food storage when camping is especially important, as evidenced by a recent report in the Magic Valley of a black bear getting into a tent where food was being stored. Bears are quick learners and have an excellent sense of smell. When food is improperly stored, it can attract bears that can easily get to the food. When this happens, it never turns out favorably for the bear.
Unfortunately, a bear conditioned to food accidentally supplied by people leaves Fish and Game officials with no other choice but put the bear down to ensure public safety.
continued:
— — — — — — — — — —
Wildlife workshops for educators available in Boise and Harriman State Park in July
By Roger Phillips, Public Information Supervisor
Wednesday, July 3, 2019
Workshops are designed for educators and others who want to learn and teach about wildlife
Project WILD is offering workshops in July for adults who want to share the wonders of Idaho's natural resources with the next generation. These wildlife-focused conservation education program for K-12 educators, scout leaders, parents, day care providers, or anyone interested in sharing nature with children.
"Anyone looking for ways to incorporate nature and wildlife in the lives of young children should take part in these workshops," said Lori Adams, Project WILD Coordinator for Idaho Fish and Game.
continued:
— — — — — — — — — —
Idaho joins others Western states to conserve monarch butterflies
By Roger Phillips, Public Information Supervisor
Tuesday, July 2, 2019
The Western Association of Fish and Wildlife Agencies has adopted a conservation plan for monarch butterflies that range across seven western states, including Idaho. The newly adopted Western Monarch Butterfly Conservation Plan establishes population size and habitat conservation goals, strategies, and actions for the monarch butterflies that overwinter along the California coast and range primarily across California, Arizona, Nevada, Washington, Oregon, Idaho and Utah.
To learn more about the efforts, see this press release from WAFWA.
source:
— — — — — — — — — —
More F&G News Releases
link:
———————————-
Fun Critter Stuff:
PETA sends letter to Mayor of Caldwell asking to change name of road
Urges Caldwell to recognize chickens as "individuals, not 'dinner'"
Jul 03, 2019 By Natasha Williams KIVI TV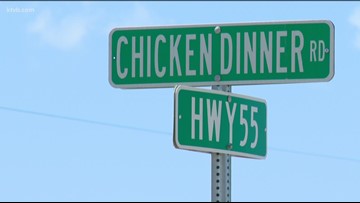 Caldwell, Idaho — PETA sent a letter to the Mayor of Caldwell, Garret Nancolas, asking him to change the name of Chicken Dinner Road to "Chicken Road."
In the letter, PETA reasoned that their suggested name would be "kinder, simpler" and implored the City of Caldwell to recognize the birds as individuals.
"Just like dogs, cats, and human beings, chickens feel pain and fear and value their own lives," says PETA Executive Vice President Tracy Reiman. "PETA is asking Mayor Nancolas to change this road's name to one that celebrates chickens as individuals, not as beings to kill, chop up, and label as 'dinner.'"
You can read the full letter below:
continued:
— — —
Chicken Dinner Road
by Rick Just 11/6/2018
Chicken dinner. Yum. It was yummy enough to get a road paved once in Canyon County.
The story about how Chicken Dinner Road got its name appeared in the Idaho Press Tribune in about 1992, and was reprinted in 2008. It seems that Morris and Laura Lamb were friends of Governor C. Ben Ross and his wife Edna. They had eaten dinner together many times at the Lamb home.
One day, in the 1930s, Mrs. Lamb, who was noted for her chicken, rolls, and apple pie meals, was in Boise. She invited the governor to come to dinner. During the same conversation, she complained to Ross about the pitiful condition of the road in front of their place, which was dirt pocked with potholes. Ross was purported to say something like, "Laura, if you get that road graded and graveled, I'll see to it it's oiled."
Mrs. Lamb approached the Canyon County Commissioners who saw that opportunity as a fine one. They graded and graveled the road. As soon as that was done, she was on the phone to the governor reminding him of his promise. The next day – this part seems unlikely, but it's Mrs. Lamb's story – the next day the road was oiled.
The story got around and local hooligans thought it would be droll to put up a big hand-scrawled sign in front of the Lamb house in the dark of night. It read "Lamb's Chicken Dinner Avenue." Mrs. Lamb was not amused. Still, the name stuck as Chicken Dinner Road.
source:
— — —
The true story of Chicken Dinner Road
Ida Chatter May 6, 2008 Idaho Press
link:
——————————-
Seasonal Humor:

————————-