July 14, 2019 The Yellow Pine Times – Valley County, Idaho
Note: Heads up Johnson Creek travelers – watch for heavy truck traffic – OK Gravel will be hauling in parts for the crusher this week on Johnson Creek road, Monday July 15 thru Friday July 19th. Also dust abatement will be applied on Johnson Creek road on Wednesday July 24 from Wapiti Meadow Ranch to Yellow Pine.
Ads have been removed from the website – apologies for the offensive ads that WordPress placed without my consent! The first year of ad free content sponsored by Local Color Photography.
Community Calendar:
April 2 – Boil water order issued
Every Sunday – 11am Fire Training
May 10 – Burn "permits" required
May 15 – Firewood Season opens
July 20 – VYPA meeting 2pm Community Hall
July 27 – Festival meeting Saturday 2pm at the Community Hall
July 27 – Memorial and potluck for Wilbur Wiles (Big Creek/Edwardsburg)
Aug 10 – VYPA meeting 2pm Community Hall
Sept 14 – 10am YPFD meeting at the Fire Hall budget meeting
Sept 14 – Ride to Cinnabar
Sept 21 – VYPA meeting 2pm Community Hall
(details below)
———-
Local Events:
Celebration of Life – Wilbur Wiles July 27
Potluck celebration of life at his cabin July 27th.
— — — —
2019 Yellow Pine Escapades
The 2019 schedule for the Yellow Pine Escapades has been updated on the website!
Expect new escapades this coming year, including an ATV-UTV Photo Scavenger Hunt; two (yes, two) ATV-UTV rides, a golf tournament, and even a community yard sale. Other events will be added to the calendar as plans are finalized.
Join us for a great season of fun! The starting point for fun in Yellow Pine! The website includes information on the events hosted by the Yellow Pine Community Hall as well as the other "goings-on" in the village. Food, lodging and fuel are available in Yellow Pine. link:
———-
Village News:
Power Outage
The power went off at 417pm July 14 and came back on at 917am July 15 – a total of 17 hours. Outage cause unknown, but it had been windy on and off.
— — — —
July 13 Live Music
Willie and the Singlewides played at The Corner Saturday night.
— — — —
4th of July Parade photos
Grand Marshal Lorinne Munn

Miss Yellow Pine Christy Petersen

photos by Marc Auth
50+ photos posted to a gallery on Facebook.
— — — —
July 6 Yellow Pine golf tournament raises $1,500 for improvements
Golfers turned out for breakfast and a tournament at the Yellow Pine fundraiser last Saturday.
Attendees raised around $1,500 for road repair, the Community Hall and the upkeep of the village museum. A total of 64 golfers signed up for the tournament.
source of info: The Star-News
— — — —
Dust Abatement July 11
Tanker truck was applying dust abatement in Yellow Pine around 11am on Thursday July 11th. Not everyone could afford the application, so please drive slow in the neighborhoods to keep the dust down.
— — — —
Yellow Pine Transfer Station
Report Saturday (June 29): The dumpsters were not quite half full. Road to dump "not bad".
Please do not abuse our Transfer Station or we may lose it. Household trash must be placed in the bins, flattened cardboard boxes can also go into the bins. Do not stack trash in front of the doors. Woody yard debris only for the burn pile. No furniture, appliances, tires or construction debris allowed, those items must be hauled out to the Donnelly station by you.
Yellow Pine Transfer Station (aka, the dump)
The Yellow Pine Transfer Station is located approximately 3 miles south on Johnson Creek Road.
The TRANSFER STATION is for household trash and yard waste:
* Household trash must be put inside (and fit) the dumpster;
* Yard waste (limbs, pine needles, brush, et.) goes in the burn pile on the south end of the turn-around;
* Cardboard boxes should be flattened before putting the in the dumpster,
The DUMPSTERS are NOT for:
* Furniture (take to Donnelly Transfer Station);
* Appliances (take to Donnelly Transfer Station).
The BURN PILE is NOT for:
* Cardboard boxes (flatten and put in dumpster);
* Furniture and appliances (take to Donnelly Transfer Station);
* Drywall and building material (take to Donnelly Transfer Station);
* Wire or fencing (take to Donnelly Transfer Station);
* Foam Rubber (take to Donnelly Transfer Station);
* Wood with metal (like nails) attached (take to Donnelly Transfer Station.)
When closing the DOORS on the front of the dumpsters:
* Make sure the "U" brackets at the top and bottom of the door are engaged;
* The retaining bar at the middle of the door is slid into the pipe;
* And the "L" bars at the bottom of the doors dropped into place.
The Yellow Pine Transfer Station is Valley County responsibility. If it is not kept tidy, use of the Transfer Station may be revoked. That would result in residents having to take all household trash and yard waste to the Donnelly Transfer Station.
If Dumpsters Are Full, Contact Lake Shore Disposal at: 208/634-7176
— — — —
Roads
South Fork road will have day time closures during the week and open on weekends during road repairs. Will have more info later this week.
Heads up Johnson Creek travelers! Watch for heavy truck traffic starting July 15th thru July 19th, OK Gravel will be hauling in a crusher via Johnson Creek road. Then on July 24th dust abatement will be applied to Johnson Creek from Wapiti Meadow Ranch to Yellow Pine.
Folks in ATVs made it over Elk summit this weekend, not advisable for vehicle traffic quite yet. (See photo in the July 14th road report.)
Stibnite Road will be open to the public on weekends. Monumental Summit is also open, but only on weekends due to the Stibnite Slide work.
Update from Midas July 9, 2019: construction will continue at least through the end of next week so the Monday through Thursday closure would still be in place.
— — — —
Yellow Pine US Mail
June 1st started the 6-day a week mail delivery. The Post Office in Yellow Pine is open six days a week: M-F 845am-245pm Saturday 9am-245pm. Forever Stamp: 55 cents
— — — —
Reminder for people living in bear country:
* Garbage should be stored inside the house or in a secure garage or storage building.
* If garbage cannot be stored in a secure location, a bear-resistant container approved by the Interagency Bear Committee is recommended.
* Avoid using bird feeders from March through November. Birds do not need supplemental feeding this time of year.
* Pet food should not be left outside.
* BBQ grills or anything with a strong odor should not be left out at night.
* Protect gardens, beehives, and compost piles with electric fencing.
* Never intentionally feed bears. A food-conditioned bear may pose a threat to human safety and usually results in the removal of the bear.
———-
Local Groups:
YPWUA News:
Water Update July 5:
Idaho Rural Water water will be in on the 19th to look for leaks. Water usage in town is in excess of 57,000 gallons per day. Some have been reminded of the No Lawn Watering request. If we get too much above the 60,000 gallons per day, the town is running the risk of draining the tanks and being out of water.
The Boil Order is still in effect.
The annual Yellow Pine Water Users Shareholders meeting was Sunday July 7th at 10 am in the community hall.
Water Update June 7:
1. The "boil order" is still in effect.
2. There is still large water leaks in the system. We continue to look.
3. A grant for $39,000 was approved for improvements to the system. (See story in Idaho News)
3. Work is currently being done on the new contact tank.
4. Please, no lawn watering until we find and repair the major leaks.
– Steve Holloway
link to: #4430059 Yellow Pine Water Users Boil Water Notification 4-2-19.pdf
link to: 2018 September Water Department Update.docx
— — — —
VYPA News:
Next meeting July 20th, 2pm at the Community Hall
Village of Yellow Pine Association Meeting Minutes for June 8, 2019
link to: 20190608 Village of Yellow Pine Association.rtf
VYPA Meeting Dates 2019
June 8th; July 20th; August 10th; September 14th – 2pm at the Community Hall.
Note that the July 20th meeting is not on the second Saturday due to a conflict with a planned ATV rally involving many residents and visitors.
Yellow Pine Harmonica Meetings 2019:
July 27, 2019 Saturday 2pm at the Community Hall
— — — —
YPFD News:
Next Meeting Sept 14 at 10am YPFD meeting in the Fire Hall
YPFD June 16, 2019 Meeting minutes posted (July minutes coming soon)
link to: 20190615 YPFD Meeting Notes_Final.docx
Meetings will be held at the fire station at 10am and everyone is welcome to attend. June 15th; July 13th; and Sept 14th (which will also be the budget meeting as well).
Every Sunday 11am – Training
May 10th Burn Permits – contact the YPFD
Pile burning: Dress appropriately, have enough help on hand (people, water and tools) and make a firebreak before you start. Call your local fire protection district chief to let them know you'll be conducting a debris burn. This saves them from sending emergency responders to your property if they are not needed.
Bring it, Don't Burn it
For us in Yellow Pine, Jake Strohmeyer, Dist. Ranger with the Boise NF said we can use the area at our transfer station for yard debris and the FS will burn it once a year. Please no furniture, mattresses, construction debris, metal objects, tires or personnel junk. Please only woody yard debris. When using the pile please be mindful of where you place the debris as it should be contained to a manageable burnable area and kept as clean as possible. – JF

Training: Sunday Fire/EMS training has begun. Sundays at 11:00 AM unless otherwise posted. If Jeff F is in town the trainings will be held. All are welcome.
Safety Message: The best place to be during an avalanche, rock fall or a tree fall due to the wind is not there, please use extreme caution and common sense when conditions exist for these scenarios.
"If you are an Adventurist, please do not go out alone in steep areas. The spring thaw is an extremely dangerous time for Avalanches. The freezing and thawing create layers that break away from each other with the slightest disturbance. Scree fields are especially dangerous this time of year because of hidden ice that makes them even more unstable. Please be careful out there."
YP Helispot: We are working with Valley County Road Department and the Boise National Forest for the rock base for the road leading into the Helispot and the actual Helispot itself. We are also receiving rock for the Fire Hydrants, water tank foundations, etc. The rock will come from the Valdez pit and will be less expensive than having it trucked in from Cascade.
Stop the Bleed Course: This course was well attended in the Fall and Jeff F and Ann F will be presenting another course when the new instructor material comes out. There are "Stop The Bleed" kits at the Tavern in an emergency.
Siren Testing: The YPFD siren will be tested only once this year on the first of May at noon. 3 blasts of the siren is a test, more than 3 is an Emergency.
-JF
——–
Biz Listings:
Yellow Pine Lodge (208) 633-3377
Call for reservations
— — — —
The Corner (208) 633-3325
Our hours will be 11-8 every day, except closed on Tuesdays. We are open for breakfast by request and always have good coffee starting at 6am.
The Corner has firewood permits in stock now. 4 cord minimum at $6.25 per cord. Please call to make sure I'm around before Memorial Day, bring drivers license and cash is preferred, no CC.
The Corner Store will also be open with snacks, groceries, fresh produce, soda, ice and packaged beer. If you know you will be coming in over the summer and need special grocery orders, let me know and I will order it in for you while you are here, 2 deliveries a week. The best way to get a hold of me is to call or stop by and say hello.
Karaoke is back at The Corner! Choose your favorite songs from our online music library and entertain your friends up on stage through our professional sound system.
— — — —
Yellow Pine Tavern (208) 633-2233
Summer Hours Daily 8am to Close
— — — —
Buck Horn Outfitters LLC 208-633-3614
Tom & Sarah Lanham
156 Yellow Pine Ave, Yellow Pine Id 83677
Website:
Link to FB page:
It's official starting June 2020 We will be doing trail rides out of Yellow Pine along with summer pack / camping trips to high mountain lakes in the area!
—
Wapiti Meadow Ranch – Johnson Creek (208) 633-3217
208-315-3554 cabin rentals
website:
—
Deadwood Outfitters
Link to website:
— — — —
Local Fuel Suppliers
Amerigas Phone: (208) 634-8181
Ed Staub & Sons Phone: (208) 634-3833
Diamond Fuel & Feed Phone: (208) 382-4430 – Wild Bird Seed 50LB Bag for $25.58
— — — —
Outside Biz that will service Yellow Pine:
Rocky Mountain Mechanical – Plumbing – Heating – Air conditioning
(208) 365-PIPE (7473), Emmett, will service Yellow Pine
Elkhorn Heating & Cooling
(208) 906-4067 Middleton, Idaho, will service Yellow Pine
B&T Safety Solutions LLC
208-271-1600 Based out of Donnelly
Snow removal, cleaning chimneys and stoves, we do cabin staining/chinking as well
— — — —
Follow The Yellow Pine Times on Facebook (updated more often than emails)
———————–
Local Observations:
Monday (July 8) overnight low of 41 degrees, high thin overcast sky this morning. A few early loud airplanes. Finches, pine siskins, swallows, hummingbirds and ground squirrels active. Gusty breezes kicking up, wonky sounding airplane at 1234pm. Darker clouds and breezy early afternoon, about a 20 minute rain shower followed by thunder on and off the rest of the afternoon, high of 72 degrees. A couple of lightning strikes south of the airstrip, a few more at the confluence of EFSF and So Fk, most of the strikes were in the Thunder Mtn area. Young swallows practicing with their wings in the nest box. Windy by early evening, thunder and about 25 minute rain shower. Breaks in the clouds before sunset and calmer. Mostly cloudy at dusk, with a clear spot overhead framing a fat waxing crescent moon.
Tuesday (July 9) overnight low of 39 degrees, mostly clear sky this morning, some haze building up to the south. Finches and swallows calling. At 1204pm a large helicopter came from the direction of the airstrip and turned west. A few clouds mid-day, getting rather warm. Mostly clear mid-afternoon, warm and light breezes, high of 83 degrees. Finches, pine siskins, jays and hummingbirds visiting, pine and ground squirrels active. Quiet evening after a busy afternoon. Mostly cloudy by early evening, slight breeze.
Wednesday (July 10) overnight low of 50 degrees, overcast and calm this morning. Early air traffic. Finches, robins, jays and swallows calling. Cloudy and a bit muggy mid-day. Light traffic (streets are dusty!) Hot and muggy mid-afternoon, overcast and very light breezes, high of 89 degrees. Finches and pine siskins visiting, ground and pine squirrels very active. Wind gusts late afternoon, hot and mostly cloudy. Warm evening, mostly cloudy and calmer. Cooling off and robins calling at dusk. A couple stars out and filtered moonlight before midnight.
Thursday (July 11) overnight low of 46 degrees, clear sky this morning. Light air traffic (couple of loud ones right over the village.) Finches, robins and swallows calling. Chainsaw going out on the golf course. Dust abatement tanker truck spraying streets around 11am. Mostly clear and hot mid-day. Tree swallow babies are practicing with their wings inside the next box. Some fatter clouds building up mid-afternoon, hot and light breeze, high of 92 degrees. Still pretty warm mid-evening, big chunky clouds and an occasional wind gust. Increasing traffic. Almost clear after sundown, very slow to cool off. Clear after dark, rainbow ring around the bright half moon. Mostly cloudy before midnight.
Friday (July 12) overnight low of 48 degrees, clear sky this morning. Light air traffic (some very loud going right over the village.) Tree swallows active and vocal, pine siskins, finches and 2 female hairy woodpeckers visiting. Increasing traffic. A few clouds and pretty warm mid-day. Calliope hummingbirds visiting. The young swallows are crowding the door hole of the bird house, their wing feathers are getting longer, later in the day 3 of them left the nest. Pretty hot mid-afternoon, about half clear/cloudy and not much of a breeze, high of 94 degrees. Hot (90 degrees) before sunset and mostly clear. After dark a fat waxing moon and bright planet paired to the south east.
Saturday (July 13) overnight low of 50 degrees, partly cloudy sky this morning. Increased air traffic. Calliope hummingbirds visiting. Two swallow chicks still in the nest. Increasing street traffic. Mostly cloudy, hot and windy mid-day, high of 93 degrees. Water pressure a bit low this afternoon. Lighter breezes and partly cloudy early evening but still plenty hot. Mostly clear at dusk, a little cooler and very light breezes. Mostly cloudy at dark, bright waxing moon peeking between clouds. Wind and rain after 1am. Early morning loud thunderstorm and rain.
Sunday (July 14) overnight low of 57 degrees, partly cloudy sky this morning. Lots of airplanes early this morning (wonky sounding engine just after 830am.) Early morning thunderstorm and rain settled the dust. Hummingbirds visiting, swallows circling. Warming up fast and starting to dry out late morning. Clouds building up early afternoon, warm and light breezes. Last swallow chick has left the nest. Hot by mid-afternoon, high of 88 degrees. Power out at 417pm. Mostly clear by evening. A western tanager visited, young tree swallows perched on power lines calling to the adults flying around. Clouds getting thicker at dusk. Juvenile pine squirrels visiting. Quiet except for the sounds of generators up in the village. Windy after midnight, couple of short sprinkles of rain (not enough to settle the dust.) Power still out, recording says it is affecting 150 customers, cause unknown.
——————————
RIP:
Ron "The Sugar Mountain Strangler" Erickson
June 22, 1948 – July 13, 2019

Picture of Ron when he lived in Yellow Pine.

Ron Erickson 2018
It is with a sad heart that I report that Ron Erickson came to the end of his road at 11pm, July 13th. He was not in pain. He was not afraid. He died peacefully with his daughter Valerie, his grandson Adam, and me, his sister [Connie], at his bedside. Ron had some significant physical ailments that limited his mobility and ability to do every day tasks. He never complained about it or blamed anyone for his difficulties. He never asked for help because he was as independent as he was stubborn. He never lost his sense of humor.
He said a few days ago his life was a good long road and he was grateful for the life he lived and the people in it. To his family, friends, and military family, know that he loved you. And he knew he was loved by you all. He was so happy to get to talk to several of his army buds this week. It was important for him to hear your voices one more time and for him to tell you how much he cared for you.
Ron said to me this week he wished he could go back to Yellow Pine one more time. It was the best time of his life when he lived there. He will get his wish. Ron will be cremated and his ashes scattered in the mountains of Yellow Pine, Idaho. No date has been set yet but I will let you know.
Thank you for your prayers and support during the past few weeks.
— — — — — — — — — —
Celebration for John Lance in Yellow Pine
John F. Lance, 78, of McCall, died February 15, 2019. Plans to scatter John's ashes August 3rd in Yellow Pine.
————————
Idaho News:
Valley Dispatch calls 911
Understaffed center asks Adams County dispatchers to fill in
By Max Silverson and Drew Dodson for The Star-News July 11, 2019
Valley County will pay Adams County 911 dispatchers to drive from Council to Cascade to work in the understaffed Valley County dispatch center, Valley County commissioners said Monday.
Adams County dispatchers will be given the option to work extra shifts at Valley County dispatch for an extra $2 per hour on top of their normal wages, plus mileage expenses for the 67-mile drive.
It was not known on Monday if any of the six Adams County dispatchers will be interested in the extra shifts.
The drive from Council to Cascade typically takes about 90 minutes not counting delays for road construction.
Valley County dispatch needs eight full-time employees to be fully staffed, but is down to four full-time and one part-time employee, Valley County Sheriff's Patti Bolen said.
One of the full-time employees will be leaving at the end of the month, Bolen said.
Valley County and Adams County officials met in Council last week to discuss the staffing crisis.
During the meeting, Bolen suggested the idea of Adams County taking over dispatch for both counties.
Adams County Sheriff Ryan Zollman said that Adams County could not handle the added call volume on a regular basis.
"I think it's too much to take on full consolidated (dispatch) to move everything here; that's a risk I don't want to go into," Zollman said.
continued:
— — — — — — — — — —
Nampa man dies after wreck near Donnelly
The 28-year-old driver was airlifted to Saint Alphonsus Regional Medical Center in Boise.
KTVB July 8, 2019
Donnelly, Idaho — A Nampa man died from his injuries after crashing his pickup into a tree in Valley County Monday morning.
The wreck happened just before 6 a.m. on West Mountain Road west of Donnelly.
According to Idaho State Police, 28-year-old Homero Delosreyes Jr. was driving south in a GMC Sierra when he veered off the road. The pickup plummeted down an embankment and hit a tree.
continued:
— — — — — — — — — —
One dead in rafting accident on South Fork of the Payette River
The Boise County Sheriff's Office said three people in a raft went into the water. One of them died.
KTVB July 11, 2019
Boise County, Idaho — One person is dead after a raft trip turned tragic on the South Fork of the Payette River Thursday afternoon.
Sergeant David Anthony with the Boise County Sheriff's Office said that someone called 911 at about 2:30 p.m. to report that rafters had gone into the river at Big Falls Rapid — about ten miles east of Garden Valley on a section known for Class III and Class IV rapids.
continued:
— — — — — — — — — —
Valley committee to take another stab at lake rules
Drew Dodson for The Star-News July 11, 2019
The Valley County Waterways Advisory Committee on Tuesday began the work to draft boating rules on Payette Lake and Lake Cascade that will pass muster where a previous version it drafted did not.
The task was returned to the committee in April after Valley County commissioners decided not to adopt the previous proposed rules following public opposition.
The committee hopes to approve a new ordinance at its August meeting, which would then send the rules to the commissioners for consideration and public comment.
continued:
— — — — — — — — — —
Valley County approves property-tax break for EnergySEAL
Drew Dodson for The Star-News July 11, 2019
A waiver from property taxes for a new building housing EnergySEAL near McCall was approved by Valley County commissioners on Monday.
The exemption provides tax relief to non-retail businesses that invest $500,000 or more in a plant or facility in the county.
The ordinance under which EnergySEAL applied for the tax relief was adopted a year ago and is intended to encourage business development in the county by offering five years of tax relief.
EnergySEAL will receive a 90 percent reduction the first year, an 80 percent reduction for the second year, 60 percent for the third year, 40 percent for the fourth year, and 20 percent for the fifth year, before being taxed at the full rate for each subsequent year.
continued:
— — — — — — — — — —
Tamarack Resort plans to finish construction by winter, unveils condos for sale
Visitors to the resort are greeted by scaffolding, dirt, and equipment, but by this winter there will be retail shops, restaurants, and 129 fully furnished condos.
Shirah Matsuzawa July 13, 2019 KTVB
Donnelly, Idaho — Tamarack Resort's Village Project has been in the works for over a decade now, but the president of the ski resort says construction on the massive project will be completed in time for the 2019 ski season.
About 90 people are trying to turn the unfinished Village from barren building and dirt into a ski resort that will compete with some of the best resorts from around the country.
continued:
— — — — — — — — — —
New Meadows depot to open Packer John exhibit Wednesday
The Star-News July 11, 2019
The Pacific & Idaho Northern Railway Depot in New Meadows will open its free exhibit on Wednesday.
The exhibit will be open every Wednesday and Saturday from 10 a.m. to 3 p.m. through Labor Day weekend.
The exhibit features Packer John Welch, his famous cabin, and details about the life and needs of a packer.
Visitors will learn what kind of items a packer would commonly pack, maps showing the Boise Trail, information about important political meetings held at the cabin, and the journey to save the cabin.
Also on display will be a Packer John's Cabin model created in 2013 by Meadows Valley School seventh and eighth grade shop class students along with an explanation of how the students built the model.
The exhibit was created to give additional information about the Packer John site and to compliment the newly installed interpretive signs installed at the Packer John's Cabin Park this spring by the Meadows Valley School fifth-grade class and volunteers.
For more information, visit http://historicpindepot.com
source:
— — — — — — — — — —
Closures announced for US Highway 95 between Council and New Meadows
Jul 12, 2019 By Steve Bertel KIVI TV
U.S. Highway 95 between Council and New Meadows will close overnight from 10 p.m. Sunday, July 14 to 6 a.m. Monday, July 15 as construction continues on the Weiser River Bridge.
Several overnight-only closures will be scheduled throughout the summer to accommodate bridge construction.
During those closures, a detour route will be available for vehicles, according to the Idaho Transportation Department.
continued:
— — — — — — — — — —
More than half of Idaho's job service offices to close
Associated Press July 9, 2019
Boise, Idaho — The Idaho Department of Labor plans to eliminate more than half of its job service offices in the state, officials said.
Fourteen of the 25 offices will close by September, the Idaho Press reported Monday.
In the last 10 years, the department saw a 47% drop in federal funding for services at local offices, department director Jani Revier said.
… Offices in Blackfoot, Bonners Ferry, Emmett, Grangeville, Hailey, Kellogg, McCall, Meridian, Mountain Home, Payette, Rexburg, St. Maries and Soda Springs will also close.
full story:
— — — — — — — — — —
National Weather Service looking for more weather spotters
By Max Cohan Jul 08, 2019 Local News 8
The National Weather Service is hosting training for storm spotters in Southeastern Idaho. There are already more than 500 in the area, but the service is super dependent on them and looking for more.
Part of the SKYWARN program that includes more than 350,000 volunteers nationwide, the only thing people need to help report storms is the willingness to participate and the ability to communicate.
Groups like the National Weather Service use radar to track storm systems every day, but they also use spotters to show them the things that radar doesn't.
continued:
————————
Mining News:
Nez Perce: Stibnite mine plan just 'glittery promises'
Video doubts Midas Gold's plans to clean up toxic waste
Drew Dodson for The Star-News July 11, 2019
The Nez Perce Tribe has released a video saying Midas Gold's proposed Stibnite Gold Project as "polished and glittery promises based on pure speculation, not hard science."
The video details the tribe's opposition to the project and a 2013 study of 27 active gold mines that found all experienced at least one accidental spill or release of toxic material.
The study also found that 20 of those mines had toxic waste from tailings, or spent ore, seeping through liners in tailings storage facilities. The tribe is worried the same could happen to Midas Gold's proposed 413-acre facility that would hold about 100 million tons of spent ore.
"As we all know, liners leak and over time they'll rip and they'll tear," said Emmit Taylor, director of the Nez Perce Tribal Fisheries Watershed Division.
"Who knows what kind of environmental disaster we'd be setting up for our kids, our grandkids, generations and generations down the line," Taylor said in the video.
Midas Gold should be evaluated on its proposed design and track record of more than seven years of exploration activities at Stibnite without a reportable spill, Midas Gold Vice President of External Affairs Mckinsey Lyon said.
video link:

———————-
Fire Season:
Wildfire workshop for landowners to be held July 18 in McCall
The Star-News July 11, 2019
The National Cohesive Wildland Fire Management Strategy Team will host a wildfire workshop for Valley County landowners on Thursday, July 18, from 9 a.m. to 4 p.m. at the McCall-Donnelly High School commons.
The event, "Can McCall Become Another Paradise," continues the conservation that began with last year's workshop.
Topics will include lessons learned from 2018 fires, risk assessment for Valley County, progress since last year and an optional field trip to a recent hazard fuel removal project.
The event is free, and lunch will be provided. Space is limited.
For more information, contact Stephanie Nelson of Valley County Firewise at 208-630-4201 or VCFirewise@gmail.com
source:
— — — — — — — — — —
Firefighters begin suppression and mop up operations on Corner Prescribed Fire north of Placerville
Idaho City, Idaho, July 10, 2019 — The Forest Service has started suppression and mop up operations on the Corner Prescribed Fire, approximately 2 miles north of Placerville along National Forest System (NFS) road 615.
Warmer weather is drying fuels and has caused an increase in fire activity within the burn. Yesterday, firefighters began constructing interior handlines to stop the fire spread inside the unit and began mopping up hotspots to remove the remaining heat inside the unit.
Fire managers anticipate most of the fire activity will be contained by the end of the week. While all fire activity is within established control lines and meeting resource objectives, the decision to suppress the fire's activity is precautionary; to prevent the risk of escape or undesired effects as summer progresses.
Currently, there are no closures in place. The public is asked to be mindful of fire traffic along NFS roads 615 and 395 south of Alder Summit.
The prescribed burn took place June 5 and 6, 2019 and remains approximately 150 acres. The burn was conducted to meet the Forest's objectives of improving forest vegetation and wildlife habitat while also reducing the threat of a wildfire impacting the communities of Placerville and Garden Valley.
For more information, contact the Idaho City Ranger District: (208) 392-6681.
— — — — — — — — — —
Salmon-Challis monitoring two lightning fires
Jul 09, 2019 Local News 8
Salmon, Idaho (KIFI/KIDK) – The Salmon-Challis National Forest is keeping a close eye on two lightning caused fires.
The "Trapper" fire was reported early Monday afternoon, about one mile east of Highway 93 in the Trapper Gulch area on the North Fork Ranger District. The fire is about .10 acre in a stand of lodgepole, spruce, and fir. Four firefighters are staffing that fire.
Fire crews are also monitoring the 200-acre "Waterfall" fire. It was spotted at around 8:30 a.m. Sunday on the east side of the Middle Fork of the Salmon River, about a mile southeast of the confluence of the Middle Fork and Big Creek on the North Fork Ranger District in the Frank Church River of No Return Wilderness.
The Waterfall fire is in monitor status and being allowed to play its ecological role.
source:
— — —
The Waterfall Fire, reported on July 7, located on the east side of the Middle Fork Salmon River, approximately one (1) mile southeast of the confluence of the Middle Fork Salmon River and Big Creek on the North Fork Ranger District in the Frank Church River of No Return Wilderness, in steep, inaccessible terrain. The fire continues to show little activity and is holding at approximately 300 acres along the Middle Fork Trail and on and below the ridge between Bobtail Creek and the Fox Creek Draw. The Middle Fork Trail, the Waterfall Creek Trail, and campsites along the Middle Fork Salmon River remain open. The fire is currently in monitor status and is being allowed to play, as nearly as possible, its natural ecological role in the environment while providing for firefighter and public safety. The Forest will provide updates and information as significant changes occur.
posted July 11, 2019 to Salmon-Challis NF FB
— — —
Shady Fire
InciWeb link:
— — — — — — — — — —
Lightning ignites regional fires
July 11, 2019 Local News 8
Salmon, Idaho (KIFI/KIDK) – Lightning ignited several small fires in southeast Idaho this week.
On Salmon-Challis National Forest, the "Shady" fire was reported Wednesday night about 2 miles east of Seafoam Guard Station in the Frank Church River of No Return Wilderness on the Middle Fork Ranger District. Two engines and a wildland fire module will be assigned to the fire today. Because of snags, heavy fuel, and fire behavior, no action was possible Wednesday night.
Fire crews were dispatched to three small fires on the Caribou-Targhee National Forest.
continued:
— — — — — — — — — —
Boise District BLM Fire – Evening Update 7/14/2019
Boise BLM crews continue to fight multiple lightning sparked wildfires across the district, including two new lighting fires, the Heart and Alkie fires, in the Weiser area. Boise BLM crews also responded to a suspected human caused fire, the Pen fire, above the Diversion Dam outside of Boise. The cause of the Penn fire is still under investigation.
Canmay Fire
Location: approximately eight miles north of Mountain Home, Id near the intersection of Canyon Creek and Mayfield roads
Size: mapped at 1,010 acres
Containment: 7/13 at 11:59 p.m.
Control: estimated 7/15 at 6 p.m.
Resources: four Boise BLM engines, one Boise BLM dozer and one Boise BLM water tender
Fire behavior: smoldering
Structures threatened: none
Cause: lightning
Heart Fire
Location: approximately fifteen miles southeast of Weiser, Id near Heart Gulch
Size: estimated at 1500 acres
Containment: to be determined
Control: to be determined
Resources: two Boise BLM engines, two Vale BLM engines, two Boise BLM dozers, SEAT planes, rural fire department resources include Payette County, Gem County Two, Weiser, Sand Hollow, Ontario, Middleton, Parma, New Plymouth and the Black Canyon Rural Fire Protection Association.
Fire behavior: running
Structures threatened: none
Cause: lightning
Alkie Fire
Location: approximately 20 miles southeast of Weiser, Id near Dry Creek
Size: estimated at 86 acres
Containment: to be determined
Control: to be determined
Resources: three Boise BLM engines
Fire behavior: creeping
Structures threatened: none
Cause: lightning
Pen Fire
Location: approximately four miles southeast of Boise, Id above the Diversion Dam
Size: mapped at 17.5 acres
Containment: 7/14 at 2:27 p.m.
Control: 7/14 at 9 p.m.
Cause: under investigation
Lock Fire
Location: approximately five miles northwest of Mountain Home, Id near Lockman Butte
Size: mapped at 165.8 acres
Containment: 7/14 at 12:28 a.m.
Control: 7/14 at 6:04 p.m.
Cause: lightning
Lydle Fire
Location: approximately ten miles southeast of Boise, Id near Bonneville Point
Size: mapped at 32 acres
Containment: 7/14 at 3:03 a.m.
Control: estimated 7/15 at 12 noon
Resources: one Boise BLM engine, SRV-19 hand crew and one BLM water tender
Fire behavior: smoldering
Structures threatened: none
Cause: lightning
Bonneville Fire
Location: approximately 11 miles southeast of Boise, Id near Blacks Creek Road
Size: mapped at 7.7 acres
Contained 7/13 at 3:03 a.m.
Control: estimated 7/15 at 12 noon
Resources: one Boise BLM engine
Fire behavior: smoldering
Structures threatened: none
Cause: lightning
For More Information,
Jared Jablonski, Fire Information and Prevention Officer, jjablonski@blm.gov 208 384-3378
Idaho Wildfires visit http://www.IdahoFireInfo.com
— — — — — — — — — —
National Interagency Fire Center uses drones to help fight wildfires, keep firefighters safe
Jul 08, 2019 By McKenna King KIVI TV
Boise — The 2019 fire season has been a mild one for much of the U.S., so far at least. But that doesn't stop the National Interagency Fire Center from working on new tactics.
Just within the last few years, the National Interagency Fire Center has just started using drones to not only help fight wildfires, but to also scan wildfire areas to keep firefighters safe.
"Instead of putting a firefighter on the fire line, we can put a drone up there to scout an active fire line," said Jessica Gardetto, Spokesperson for NIFC.
continued:
— — — — — — — — — —
National Interagency Fire Center implements GPS trackers for fire vehicles
Jul 10, 2019 By McKenna King KIVI TV
Boise — The National Interagency Fire Center is rolling out a new tracking system to help them keep tabs on wildland firefighters.
It's called the location based services program and it's being implemented in all Bureau of Land Management fire vehicles by the end of fiscal year 2020. It hasn't made its way to Idaho quite yet, but it's being used in many of our neighboring states.
"All of these GPS tracking units are going to be in all of our fire vehicles," said Jessica Gardetto, Spokesperson for NIFC.
continued:
— — — — — — — — — —
'Doing nothing is not an option': BLM hopes to slow down wildfires across the West with more fuel breaks
The Bureau of Land Management held the first of 12 public hearings in Boise on Tuesday.
Shirah Matsuzawa July 9, 2019 KTVB
Boise, Idaho — The Bureau of Land Management is hoping to slow down wildfires with a proposal that would place more fuel breaks across a large portion of the western United States, known as the Great Basin.
The Draft Programmatic Environmental Impact Statement for fuel breaks will analyze a system of up to 11,000 miles of strategically-placed fuel breaks to control wildfires within a 223 million-acre area. That area includes portions of Idaho, Oregon, Washington, California, Nevada and Utah.
On Tuesday, BLM-Idaho held a public hearing at the Red Lion Boise Hotel on Fairview.
continued:
— — — — — — — — — —
National Interagency Fire Center
National Preparedness Level 2
July 11, 2019
Nationally, two new large fires were reported and one contained. The majority of the fire activity continues in Alaska. A total of 56 large fires have burned nearly 895,000 acres.
Idaho

Fires: 5

Acres: 2,822

New: 3

Contained: 2

* Heart
Boise District
BLM
500
0
15 miles southeast of Weiser
* Pioneer
Twin Falls District
BLM
422
80
3 miles west of Bliss
Ridgeline
Twin Falls District
BLM
600
98
5 miles northeast of Albion
Shady
Salmon-Challis National Forest
FS
375
0
21 miles north of Stanley
Waterfall
Salmon-Challis National Forest
FS
300
0
37 miles west of Salmon
Canmay
Boise District
BLM
1,010
100
* Smith
Twin Falls District
BLM
1,350
100
link:
— — — — — — — — — —
USFS Regional Intermountain Wildfire
Regional Intermountain Newsletter Special Issue July 10, 2019
Slow Start to Fire Season in the Intermountain Region
August 9, 2019- Celebrate Smokey's 75th
Intermountain Region Wildfire Activity Map
(and more)
link:
————————
Public Lands:
Forest Service wants public's help to extinguish campfires
Boise, Idaho, July 12, 2019, — Fire managers want to urge forest visitors to completely extinguish campfires before they pack up and leave the woods. With higher temperatures, fuel conditions are expected to dry out, increasing the risk of wildfire ignitions. Over the 4th of July holiday, Boise National Forest employees discovered multiple abandoned campfires.
"We are at that turning point where temperatures are rising and forest vegetation is drying out; add unattended campfires to the equation and the risk of a human-caused wildfire increases significantly," said Steve Baran, Assistant Forest Fire Management Officer. "We are asking the public to help us by ensuring their campfire is out and cold to the touch whenever they leave camp. Otherwise, someone should stay at the site if the campfire is burning or holding heat."
While fire season has been a slow start in Southwest Idaho, Boise National Forest fire crews have already suppressed a number of lightning caused fires.
Last year within the Boise National Forest, firefighters responded to 18 human-caused wildfires which burned more than 6,000 acres compared to the 13 lightning caused fires which burned about 152 acres.
— — — — — — — — — —
Boise National Forest-Schedule of Proposed Actions (SOPA)
July 10, 2019
The Boise National Forest's published "Schedule of Proposed Actions" (SOPA) report for July 1, 2019 through September 31, 2019 is now available on the Boise National Forest Schedule of Proposed Actions webpage. The Forest Service produces the published SOPA report every three months to keep the public informed about projects that the Forest is currently working on or planning to analyze in the near future. Link:
The SOPA has been standardized across all National Forests from a national database to track key project planning information. The SOPA reports for the all National Forests are available at http://www.fs.fed.us/sopa. The Forest Service automatically posts the SOPA four times a year in January, April, July, and October.
If you have questions about a specific project, please contact the project leader listed in the SOPA. If you have general questions about the SOPA, please feel free to contact me.
Sincerely,
Terre Pearson-Ramirez
North Zone NEPA Planner
Boise National Forest
1249 South Vinnell Way, Suite 200
Boise, ID 83709
Phone: 208-382-7457
Email: terre.pearsonramirez@usda.gov
— — — — — — — — — —
Lawsuit seeks to stop juniper-removal project in Eastern Idaho
Groups say it would allow for invasive species
Jul 09, 2019 Associated Press
Boise, Ida. — Environmental groups say a U.S. Forest Service plan to improve wildlife habitat in eastern Idaho will do the opposite and takes an illegal shortcut around environmental laws.
Alliance for the Wild Rockies and two other groups filed a lawsuit in federal court last week seeking to halt the Rowley Canyon Wildlife Enhancement Project in Bannock County. The Forest Service in June approved the project that would remove more than half of the juniper trees on about 1,300 acres (525 hectares) and remove shrubs on another 400 acres (160 hectares).
continued:
—————————-
Critter News:
'It's almost like being in a microwave': Animal control warns people not to leave pets in hot cars
KTVB went on a ride along with animal control as they responded to calls about dogs left in hot cars on Wednesday.
Shirah Matsuzawa July 10, 2019 KTVB
Boise, Idaho — Every year, dozens of dogs across the nation die because their owner left them in a hot car. It's a problem that also happens in Idaho during the summer months.
According to the Idaho Office of Emergency Management, even if the temperature outside is only 70 degrees, the inside of your car may be as much as 20 degrees hotter. That can be deadly for anyone, let alone your pet.
… "Dogs have fur coats, they can't cool down, they only cool down by panting and they're continually breathing in the hot air and so they panic and pace and they start scratching the windows trying to get out," Freutel said. "So, it can go from good to bad really quick."
full story:
— — — — — — — — — —
Idaho Humane Society's Look Before You Lock campaign begins today
IHS partnered with Boise Police, St. Luke's
Jul 11, 2019 By Katie Kloppenburg KIVI TV
Boise, Idaho — The Idaho Humane Society has partnered with Boise Police and St. Luke's for the Look Before You Lock Campaign aimed at preventing death and injury from animals and children being left in vehicles in hot temperatures.
As part of the Idaho Humane Society's Humane Education initiative, they will spend today teaching children about how quickly temperatures rise in vehicles. Children attending the camp will be baking dog treats on the dashboards of cars and taking internal car temperatures from 10 a.m. to 2 p.m.
The humane society will show how quickly the dog treats will be cooked simply by leaving the dough in vehicles parked both in the sun and in the shade.
The Boise Police Department will have a police officer and a K9 on scene over the course of the day.
source:
— — — — — — — — — —
Summer weather brings higher risk for 'foxtails'
By Brady Halbleib Jul 11, 2019 Local News 8
Pocatello, Idaho (KIFI/KIDK) – Summer is here, and the heat is drying out the wild grass. As hikers hit the trails with their dogs, they need to be aware of dangerous foxtails.
… Foxtails are among several types of grass that have barbed-like seeds. Like an arrowhead, they only move in one direction when they penetrate the skin of a dog. They're not only extremely painful but in some cases, they can be deadly.
During the summer, veterinarians remove foxtails daily and say they are a lot more common than most people think.
"They can get up their noses, they can get in their mouth, they can work through soft tissue and penetrate their lungs, they can get into their abdominal cavity. They can be dangerous," said Dr. Kelly Knight, a veterinarian for Alpine Animal Hospital.
full story:
— — — — — — — — — —
Dog owners beware: Popular sweetener may be deadly, FDA warns
Dogs have been known to die of xylitol poisoning in as little as one hour. Here's what you need to know.
Travis Pittman July 11, 2019 KTVB
The Food and Drug Administration has posted an updated warning to dog owners about the dangers of letting their pets consume a sweetener that is popular in items like sugarless chewing gum: xylitol.
It comes after a report of a Bay Area dog ending up in a veterinary hospital after being given skinny vanilla ice cream with xylitol in it. The dog survived, but many others in recent years have died after consuming foods with xylitol. Some of those deaths have occurred in as little as one hour.
Here's why it's not dangerous for humans but is for dogs: The FDA says xylitol does not stimulate the release of insulin from the human pancreas, but it can lead to a "potent" release of insulin in dogs because it is absorbed into the bloodstream more quickly. That can lead to hypoglycemia.
continued:
— — — — — — — — — —
Water Intoxication: Too Much of a Good Thing
By Dr. Becker
Responsible dog owners understand the importance of making sure their canine companion always has fresh, clean water to drink. But what a surprising number of pet owners don't realize is that it's actually possible for a dog to ingest too much water.
Water intoxication, which results in life threatening hyponatremia (excessively low sodium levels), is a relatively rare but frequently fatal condition in dogs. At highest risk are dogs that enjoying playing in the water for long stretches. But believe it or not, even a lawn sprinkler or hose can pose a hazard for pets that love to snap at or "catch" spraying water.
Hyponatremia occurs when more water enters the body than it can process. The presence of so much water dilutes bodily fluids, creating a potentially dangerous shift in electrolyte balance. The excess water depletes sodium levels in extracellular fluid (fluid outside of cells). Sodium maintains blood pressure and nerve and muscle function.
continued:
— — — — — — — — — —
Wyoming warns livestock owners to watch for spreading virus
July 11, 2019 AP
Wyoming is warning livestock owners in the state to be on the lookout for an animal virus spreading in other states.
The Wyoming Tribune Eagle reports the Vesicular Stomatitis Indiana serotype has recently been found in horses in Texas, New Mexico and Colorado.
Wyoming State Veterinarian Jim Logan has implemented a 72-hour health certificate requirement on susceptible livestock.
The requirement is effective immediately and covers animals imported from any county where VSV has been diagnosed in the previous 30 days.
continued:
— — — — — — — — — —
West Nile virus confirmed in Canyon County
Jul 11, 2019 By Jessica Taylor KIVI TV
Canyon County — Neighbors in the north end of Canyon County near Market Road noticed mosquitoes near their property and put in a service request with the mosquito abatement district. It wasn't long before inspection teams found positive West Nile.
"Our larvacide crews did find the area, just a small 10×10 area in a field that had some tire tracks in it that the water collected in and that's where it was found," said district director of Canyon County Mosquito Abatement District Ed Burnett.
West Nile is only carried by a few species of mosquitoes, so when crews find those breeds, they know they pose a risk. These samples sent to the bureau of laboratories in Boise confirmed the mosquitoes were positive for West Nile.
continued:
—————————–
Fish & Game News:
Midway through the run, very few sockeye are returning to Idaho
By Roger Phillips, Public Information Supervisor
Monday, July 8, 2019
Typically, about half the run crosses Lower Granite Dam by mid July
Fish and Game biologists expected few sockeye to return to Idaho this year, and midway through the run, the number of fish crossing the dams is lower than expected, but the exact number of Idaho fish returning is difficult to determine because few of the fish have electronic PIT tags that help biologists monitor the run.
"With most of the returning Snake River sockeye currently making their way through the Columbia River to Idaho, over the next couple of weeks, we should get a better idea of whether our Snake River sockeye salmon were affected by the same processes that led to the downgrade in the Columbia River-wide sockeye forecast at the end of June," John Powell, Fish and Game fisheries research biologist.
"Through July 8, we have observed a single PIT tagged fish pass Bonneville Dam," Powell said. "With only one PIT tag, we are unable to make a precise estimate of the number of Snake River sockeye salmon that are currently in the Columbia River."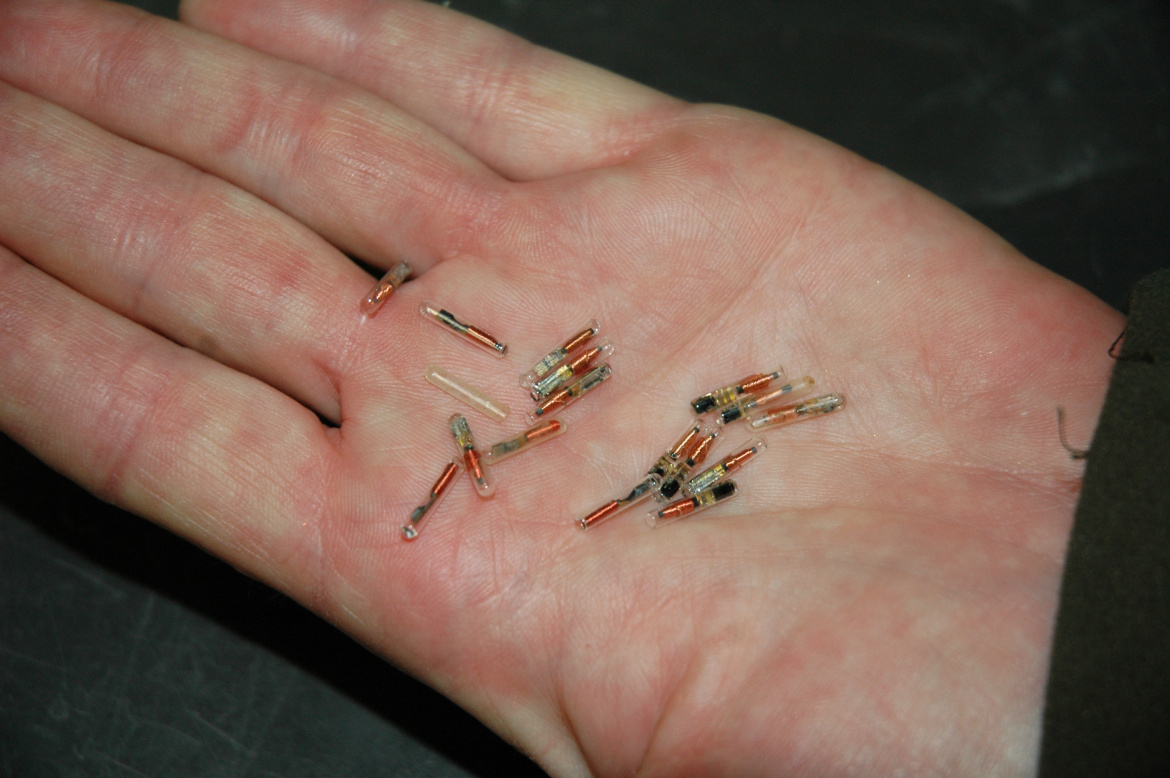 IDFG – pit tags used in sockeye salmon research at the Eagle Island Hatchery August 29, 2013
continued:
— — — — — — — — — —
Four remnant South Hills bighorn sheep removed to prevent disease spread
By Terry Thompson, Regional Communications Manager
Wednesday, July 10, 2019
Fish and Game officials lethally removed the sheep from the Big Cottonwood Wildlife Management Area
Idaho Fish and Game officials lethally removed four bighorn sheep from the Big Cottonwood Wildlife Management Area. The two ewes and two young rams are believed to be the last remaining sheep from the South Hills population in Game Management Unit 54. They were euthanized to prevent spreading disease into nearby herds.
Fish and Game policy is to maintain separation between bighorn sheep and domestic sheep and goats. Domestic sheep and goats carry respiratory pathogens that are lethal to bighorn sheep. These pathogens cause all-age die-offs due to bacterial pneumonia and persistent low lamb recruitment or survival, sometimes lasting for decades after the initial die-off.
continued:
— — — — — — — — — —
Fish and Game gets girls ready for hunting season
New course offered to general public
By Emma Iannacone Jul 09, 2019 Local News 8
Pocatello, Idaho (KIFI/KIDK) – Idaho Fish and Game is teaching its annual Ladies and Girls Hunter Education Class at the southeast region's office in Pocatello.
Tessa Atwood, the instructor, says the course is designed to help girls of all ages overcome an intimidating classroom setting.
continued:
— — — — — — — — — —
More F&G News Releases
link:
———————————-
Funny Kids and Critter Stuff:
Family's fish photo goes viral
by Elizabeth Tyree, WSET Staff Tuesday, July 9th 2019

Photo Courtesy: Marika Daniels
Brookings, S.D. (WSET) — They say every photo tells a story and that's definitely true for one family whose photo of their catch of the day went viral.
… She said she wanted to take a photo of her kids and their new rubber fish they got at the museum.
It wasn't until after she took the photo that she realized what her youngest, 18-month-old Landon, had done.
full story:
———————–
Seasonal Humor:

————————-