Aug 18, 2019 The Yellow Pine Times – Valley County, Idaho
Note: The Village water will be shut off at 9am, Monday August 26th to look for leaks. The boil water order and water restrictions are still in effect.
Community Calendar:
April 2 – Boil water order issued
Every Sunday – 11am Fire Training
May 10 – Burn "permits" required
May 15 – Firewood Season opens
July 22 – Daytime closures on So. Fk road begin
Aug 26 – 9am Village Water Shut Down
Sept 14 – 10am YPFD meeting at the Fire Hall budget meeting
Sept 14 – Ride to Cinnabar
Sept 21 – VYPA meeting 2pm Community Hall
(details below)
———-
Local Events:
2019 Yellow Pine Escapades Sept 14 – Ride to Cinnabar
The 2019 schedule for the Yellow Pine Escapades has been updated on the website!
Expect new escapades this coming year, including an ATV-UTV Photo Scavenger Hunt; two (yes, two) ATV-UTV rides, a golf tournament, and even a community yard sale. Other events will be added to the calendar as plans are finalized.
Join us for a great season of fun! The starting point for fun in Yellow Pine! The website includes information on the events hosted by the Yellow Pine Community Hall as well as the other "goings-on" in the village. Food, lodging and fuel are available in Yellow Pine. link:
———-
Village News:
Yellow Pine Transfer Station
Please do not abuse our Transfer Station or we may lose it. Household trash must be placed in the bins, flattened cardboard boxes can also go into the bins. Do not stack trash in front of the doors. Woody yard debris only for the burn pile. No furniture, appliances, tires or construction debris allowed, those items must be hauled out to the Donnelly station by you.
Yellow Pine Transfer Station (aka, the dump)
The Yellow Pine Transfer Station is located approximately 3 miles south on Johnson Creek Road.
The TRANSFER STATION is for household trash and yard waste:
* Household trash must be put inside (and fit) the dumpster;
* Yard waste (limbs, pine needles, brush, et.) goes in the burn pile on the south end of the turn-around;
* Cardboard boxes should be flattened before putting the in the dumpster,
The DUMPSTERS are NOT for:
* Furniture (take to Donnelly Transfer Station);
* Appliances (take to Donnelly Transfer Station).
The BURN PILE is NOT for:
* Cardboard boxes (flatten and put in dumpster);
* Furniture and appliances (take to Donnelly Transfer Station);
* Drywall and building material (take to Donnelly Transfer Station);
* Wire or fencing (take to Donnelly Transfer Station);
* Foam Rubber (take to Donnelly Transfer Station);
* Wood with metal (like nails) attached (take to Donnelly Transfer Station.)
When closing the DOORS on the front of the dumpsters:
* Make sure the "U" brackets at the top and bottom of the door are engaged;
* The retaining bar at the middle of the door is slid into the pipe;
* And the "L" bars at the bottom of the doors dropped into place.
The Yellow Pine Transfer Station is Valley County responsibility. If it is not kept tidy, use of the Transfer Station may be revoked. That would result in residents having to take all household trash and yard waste to the Donnelly Transfer Station.
If Dumpsters Are Full, Contact Lake Shore Disposal at: 208/634-7176
— — — —
Roads
South Fork
Starting July 22 the South Fork road will be closed Monday through Friday from 7am to 4pm on weekdays, with no closures over the weekends.
More info:
Map w/info for August 12 through August 16:
YP to Stibnite Road
Update from Valley County Road Dept. Aug 13: Open with cautions – expect delays in the work area. "we strongly advise people need to be very cautious of a few dump trucks working between Stibnite and Yellow Pine. The contractor will begin laying a crushed rock surface on the repairs probably next week."
— — — —
Yellow Pine US Mail
Note: August 10th was Dean's last day of driving the mail truck for Arnold Aviation. Many thanks for your deliveries of mail, freight and groceries through all kinds of weather and hazardous road conditions.
June 1st started the 6-day a week mail delivery. The Post Office in Yellow Pine is open six days a week: M-F 845am-245pm Saturday 9am-245pm. Forever Stamp: 55 cents
— — — —
Wasp Season
Long legged wasps are out, invading sheds and seeking to come indoors. A LOT of yellowjackets around, watch for nests.

— — — —
Reminder for people living in bear country:
* Garbage should be stored inside the house or in a secure garage or storage building.
* If garbage cannot be stored in a secure location, a bear-resistant container approved by the Interagency Bear Committee is recommended.
* Avoid using bird feeders from March through November. Birds do not need supplemental feeding this time of year.
* Pet food should not be left outside.
* BBQ grills or anything with a strong odor should not be left out at night.
* Protect gardens, beehives, and compost piles with electric fencing.
* Never intentionally feed bears. A food-conditioned bear may pose a threat to human safety and usually results in the removal of the bear.
———-
Local Groups:
YPWUA News:
Update Aug 18:
Unfortunately the leak that Idaho Rural thought they found turned up no leak.
On Monday August 26th, the water will be shut down for a few hours beginning at 9am. I am going to try to isolate the leak.
– Thanks for your patience Steve
Update Aug 9:
We are currently trying to coordinate a date that works to shut the town water supply down to repair the leak. When that date is set, everyone will be notified.
– Steve Holloway
Update Aug 7:
Donations to the Water Department
We have received two donations to the water department totaling $1,750.
First one came from Tom Keffer of the Bald Mountain Knuckle Draggers. They donated $1,150. Tom and the Bald Mountain Knuckle Draggers brought in the Highland Games to Yellow Pine. Last year they raised money for the Helipad. The Highland Games will be coming back to Yellow Pine next June 27th. Thank you Tom and the highland family.
The second one was from Keith and Delta Holloway. They raised $600 from the sales of corn dogs during this year's Harmonica Festival. Thank you Mom and Dad for your continued support of Yellow Pine.
– Steve Holloway
Water Update July 25:
On July 19th a crew from Idaho rural water came in and found a substantial leak on the east side of the east fork bridge. We are still on a boil order due to the large capacity of water lost and low chlorine contact time. We still request that everyone conserves water by not watering lawns because we are borderline to running the town out of water.
– Steve H YPWUA
Water Update June 7:
1. The "boil order" is still in effect.
2. There is still large water leaks in the system. We continue to look.
3. A grant for $39,000 was approved for improvements to the system.
3. Work is currently being done on the new contact tank.
4. Please, no lawn watering until we find and repair the major leaks.
– Steve Holloway
The yearly Yellow Pine Water Users Shareholders meeting was Sunday July 7th in the community hall. (no minutes yet)
link to: #4430059 Yellow Pine Water Users Boil Water Notification 4-2-19
link to: 2018 September Water Department Update
— — — —
VYPA News:
If you have interest in being the chairman of the Music and Harmonica committee, please contact one of the VYPA council members. The 2020 chairman will be selected by August 30th.
Next meeting September 14th – 2pm at the Community Hall.
Village of Yellow Pine Association Meeting Minutes August 10, 2019.
link to: 20190810 YPVA Minutes
Village of Yellow Pine Association Meeting Minutes July 20, 2019
link to: 20190720 Yellow Pine Village Association Minutes
Village of Yellow Pine Association Meeting Minutes for June 8, 2019
link to: 20190608 Village of Yellow Pine Association
VYPA Meeting Dates 2019
June 8th; July 20th; August 10th; September 14th – 2pm at the Community Hall.
— — — —
YPFD News:
Yellow Pine Fire Protection District Community Service Notice
The purpose of this letter is to show how you as a Yellow Pine Resident can help protect your structure against a wildland fire by being "Fire Wise."
Link to: 20190724 Yellow Pine Fire Protection mitigation
Next Meeting Sept 14 at 10am YPFD meeting in the Fire Hall
Last meeting July 13 – minutes forthcoming.
YPFD June 16, 2019 Meeting minutes
link to: 20190615 YPFD Meeting Notes_Final
Meetings will be held at the fire station at 10am and everyone is welcome to attend. June 15th; July 13th; and Sept 14th (which will also be the budget meeting as well).
Every Sunday 11am – Training
May 10th Burn Permits – contact the YPFD
Pile burning: Dress appropriately, have enough help on hand (people, water and tools) and make a firebreak before you start. Call your local fire protection district chief to let them know you'll be conducting a debris burn. This saves them from sending emergency responders to your property if they are not needed.
Bring it, Don't Burn it
For us in Yellow Pine, Jake Strohmeyer, Dist. Ranger with the Boise NF said we can use the area at our transfer station for yard debris and the FS will burn it once a year. Please no furniture, mattresses, construction debris, metal objects, tires or personnel junk. Please only woody yard debris. When using the pile please be mindful of where you place the debris as it should be contained to a manageable burnable area and kept as clean as possible. – JF

Training: Sunday Fire/EMS training has begun. Sundays at 11:00 AM unless otherwise posted. If Jeff F is in town the trainings will be held. All are welcome.
YP Helispot: We are working with Valley County Road Department and the Boise National Forest for the rock base for the road leading into the Helispot and the actual Helispot itself. We are also receiving rock for the Fire Hydrants, water tank foundations, etc. The rock will come from the Valdez pit and will be less expensive than having it trucked in from Cascade.
Stop the Bleed Course: This course was well attended in the Fall and Jeff F and Ann F will be presenting another course when the new instructor material comes out. There are "Stop The Bleed" kits at the Tavern in an emergency.
Siren Testing: The YPFD siren will be tested only once this year on the first of May at noon. 3 blasts of the siren is a test, more than 3 is an Emergency.
-JF
——–
Biz Listings:
Yellow Pine Lodge (208) 633-3377
Call for reservations
— — — —
The Corner (208) 633-3325
Our hours will be 11-8 every day, except closed on Tuesdays. We are open for breakfast by request and always have good coffee starting at 6am.
The Corner has firewood permits in stock now. 4 cord minimum at $6.25 per cord. Please bring drivers license and cash is preferred, no CC.
The Corner Store will also be open with snacks, groceries, fresh produce, soda, ice and packaged beer. If you know you will be coming in over the summer and need special grocery orders, let me know and I will order it in for you while you are here, 2 deliveries a week. The best way to get a hold of me is to call or stop by and say hello.
Karaoke is back at The Corner! Choose your favorite songs from our online music library and entertain your friends up on stage through our professional sound system.
— — — —
Yellow Pine Tavern (208) 633-2233
Summer Hours Daily 8am to Close
— — — —
Buck Horn Outfitters LLC 208-633-3614
Tom & Sarah Lanham
156 Yellow Pine Ave, Yellow Pine Id 83677
Website:
FB page:
It's official starting June 2020 We will be doing trail rides out of Yellow Pine along with summer pack / camping trips to high mountain lakes in the area!
—
Wapiti Meadow Ranch – Johnson Creek (208) 633-3217
or 208-315-3554 – cabin rentals
website:
—
Deadwood Outfitters
website:
— — — —
Local Fuel Suppliers
Amerigas Phone: (208) 634-8181
Ed Staub & Sons Phone: (208) 634-3833
Diamond Fuel & Feed Phone: (208) 382-4430
— — — —
Outside Biz that will service Yellow Pine:
The Star-News
subscribe:
A reminder that those who live in other states can subscribe to the online edition only since the mail can take days for hard copy to reach them.
Rocky Mountain Mechanical – Plumbing – Heating – Air conditioning
(208) 365-PIPE (7473), Emmett, will service Yellow Pine
Elkhorn Heating & Cooling
(208) 906-4067 Middleton, Idaho, will service Yellow Pine
B&T Safety Solutions LLC
208-271-1600 Based out of Donnelly
Snow removal, cleaning chimneys and stoves, we do cabin staining/chinking as well
— — — —
Follow The Yellow Pine Times on Facebook (updated more often than emails)
———————–
Local Observations:
Monday (Aug 12) overnight low of 40 degrees, mostly clear sky and heavy dew this morning. Internet connection spotty. Crusher clanging and belching dust. Hairy woodpecker and red-breasted nuthatches visiting. Mostly sunny and mild mid-day. Nate from MTE was in town. Partly cloudy and very pleasant mid-afternoon, high of 79 degrees. Streets are drying out and getting dusty again. Clear and cooling off at sundown. Doe wandering through the neighborhood. High hazy clouds obscured the Perseid meteor shower.
Tuesday (Aug 13) overnight low of 40 degrees, clear sky this morning. Two early loud airplanes. Water shut off on south end of village for local water repairs. Diamond Fuel truck delivering. Crusher putting up clouds of dust. Mostly sunny and warm mid-day. Warm mid-afternoon and mostly cloudy, high of 87 degrees. Red-breasted nuthatches, calliope hummingbirds and finches visiting. Clearing off by evening and quiet. At dusk it was clear, calm and cooling off. High haze and bright moon before midnight.
Wednesday (Aug 14) overnight low of 42 degrees, almost clear sky this morning. Huge clouds of dust rising from the crusher. Pine siskins, finches and several calliope hummingbirds visiting. Columbian ground squirrels are mostly staying underground, lots of chipmunks and a few pine squirrels. Mail truck made it in on time. Warming up by lunch time and partly cloudy. Light traffic early afternoon, crusher belching dust. Mostly cloudy, warm and breezy by mid-afternoon, high of 89 degrees. Gray overcast, warm and light breezes before sunset. Hawk in the neighborhood. High thin rosy clouds at dusk.
Thursday (Aug 15) overnight low of 44 degrees, clear sky this morning. Very large cloud of dust hanging over the east side of the village from the crusher. A few evening grosbeaks are back. Also heard a flicker and some finches, red-breasted nuthatches and pine siskins visiting. No ground squirrels around but lots of chipmunks. Warm and hazy mid-day, high of 86 degrees. Light traffic, dusty streets. Mostly cloudy and warm mid-afternoon and breezy. Still mostly cloudy before sundown, slight haze in the lower air. Quiet evening. Mostly clear at dusk, a few rosy clouds.
Friday (Aug 16) overnight low of 44 degrees, clear sky this morning. Haze of dust to the east from the noisy crusher. Hawk in the neighborhood, then finches and jays came back, flicker calling from the trees. Lots of chipmunks but no ground squirrels out. Partly cloudy mid-day. Light traffic. Warm, partly cloudy and breezy mid-afternoon, high of 85 degrees. Quiet afternoon. Mostly clear and mild before sundown. Light traffic kicking up dust. High thin clouds before midnight.
Saturday (Aug 17) overnight low of 43 degrees, pretty much overcast with thin spots showing a little blue this morning. Hardly any birds around except a couple of finches and a juvenile jay. Mostly cloudy and breezy mid-day. Increasing street traffic and dust. Mostly cloudy, not too hot and breezy mid-afternoon, high of 82 degrees. Lots of chipmunks, a few pine squirrels, a couple of golden mantels but no ground squirrels around. Fairly low helicopter about 650pm, then a wonky sounding airplane at 658pm. High thin overcast and light breezes before sunset. High thin clouds at dusk.
Sunday (Aug 18) overnight low of 41 degrees, clear sky this morning. A few early (loud) airplanes. Finches, pine siskins and chipmunks visiting. No tree swallows or columbian ground squirrels. Mostly clear and warm mid-day. Increased traffic, neighborhood streets are really dusty. Warm, partly cloudy and breezy mid-afternoon, high of 88 degrees. Clear before sunset and light breezes.
—————————
Idaho News:
Stibnite Reunion No. 67 August 4th
Picture of those who came to the reunion this last Sunday.
Left to Right Front Row
Laural Sayers Midas Gold Pres., Joyce Hillman, Not sure of the next four, Marline Bailey, Joe Icenhower, Lorie McRae Icenhower, Linda Demoss, Elie Anderson, Lynn Colman, Claudia Clarkson King, Mike Hoobler, Hooblers Wife.
Back Row Left to Right
Chris Dahl Midas Gold, Kyle Fend Midas Gold, Sandy Sanders grandson, Sandy McRae, Sandy Sanders, David Shaw, Craig Demoss, Not sure, Jim Colman, Curt Clarkson
It was a good get together. Midas had geologists and their president in attendance as well.
– Sandy McRae
— — — — — — — — — —
New Tamarack Resort owner pays $686K in past-due taxes
By Tom Grote for The Star-News Aug 15, 2019
The new owners of Tamarack Resort have paid more than $686,000 in past due property taxes to Valley County, Valley County Treasurer Gabe Stayton said.
The payment made Aug. 2 by Tamarack Resort Holdings brings the new owners of the four-season resort southwest of Donnelly up to date on nearly all of its past-due taxes, Stayton said.
The payment included $344,000 due on 174 parcels that would have been seized by the county if not paid by Monday.
… A total of 156 of the 174 parcels are located in Village Plaza, the multi-building complex that has sat idle since the resort's original developers went bankrupt in 2008.
The past-due amounts were accumulated by previous owners of the parcels and not by Tamarack's new owners.
… The $686,208.79 that was paid is the amount that was certified by Valley County, Stayton said.
The county has since found several miscellaneous parcels associated with Tamarack Resort that were previously missed and are also past-due on property taxes, Stayton said.
Once the county has completed its review of those parcels, it will submit the additional amount owed to the new owners, he said.
full story:
— — — — — — — — — —
New owners take the bait at Tackle Tom's
KTVB August 14, 2019
Cascade, Idaho — A beloved tackle shop in Cascade is under new leadership for the first time in decades.
John and Tina Christoffersen officially took over Tackle Tom's Aug. 5 from longtime owner Tom McGlashen. McGlashen told KTVB back in May that he planned to retire and sell the place after 31 years slinging lures and licenses.
John Christoffersen has been a customer of Tackle Tom's since he was a boy. He spotted the "For Sale" sign posted outside the shop this summer, and knew it was meant to be.
continued:
— — — — — — — — — —
Household hazardous wastes to be accepted on Aug. 24
The Star-News Aug 15, 2019
Valley County residents can bring their household hazardous waste to the Valley County Shop Building in Lake Fork on Saturday, Aug. 24, from 10 a.m. to 4 p.m. for proper collection and disposal.
The event is for household waste only. No waste generated by businesses will be accepted.
Common items that are acceptable include household cleaners, pesticides, poisons, paints, solvents, herbicides, automotive products, fuels, mercury bulbs, batteries and antifreeze.
Items that are usually not acceptable include biological and radiological waste, ammunition, explosives and prescription drugs.
Residents should take care to safely transport all waste items. There will be people to help safely unload the waste at the dump site.
Items should be delivered in original manufacturer's containers if possible. For more information, call 208-634-7712.
The Valley County Shop Building is located at 50 E. Lake Fork Road.
source:
— — — — — — — — — —
A message from the U.S. Forest Service in regards to the 579 FS RD, Landmark to Stanley Road.
courtesy Valley County Sheriff's Office Aug 14, via FB
Forest road 579 temporary closure planned from September 16th – Sept. 29th for maintenance.
Lowman, Idaho, August 14, 2019 – The Boise National Forest wants to let visitors know that Forest road 579 is scheduled to have a temporary closure from Sept. 16 – Sept. 29 to replacing an existing culvert with a larger one called an Aquatic Organism Passage (AOP) structure. The planned AOP will accommodate post fire flows or runoff as a result of the Bearskin Fire. When awarded, the work will be managed by Valley County and a local contractor.
"We want to give the public, particularly archery hunters, enough notice since some may have plans to hunt in this area of unit 34 (Sawtooth Zone) during construction," said John Kidd, Lowman District Ranger. "They need to plan accordingly because a section of Forest road 579 is expected to be closed and impassable for a short time. Once the project is awarded we will send out another notice closer to implementation."
A detour around the road closure will be via Forest roads 555, 591, 510, 582 and 563. Forest users should also travel cautiously since they may encounter logging traffic along the detour route.
The Bearskin Fire Burned Area Emergency Report completed in 2017 recommended this treatment to avoid impacts to water quality and riparian areas. The existing culvert is a migration barrier and upgrading this culvert to an AOP structure will open up about 0.6 miles of stream habitat to bull trout colonization within the Deer Creek drainage as well as reduce sediment delivery to critical bull trout habitat.
The work will also reduce the risk of culvert failure which could damage the popular NFS road which is used by summer recreationists and winter snowmobilers.
Once the closure is in place it will be posted here:
— — — — — — — — — —
Boise boy, 10, drowns in kayaking accident on Payette River
KTVB August 15, 2019
Boise, Idaho — A 10-year-old boy was pronounced dead at a Boise hospital Wednesday night, after a kayaking accident on the South Fork of the Payette River near Lowman.
Ada County Coroner Dotti Owens identified the boy as Maximus Samuel Hansen, of Boise. The cause of death is listed as freshwater drowning due to a kayaking accident.
According to the Boise County Sheriff's Office, the boy and his family were all wearing life jackets when the accident happened.
continued:
— — — — — — — — — —
Missing Idaho man found, treated for injuries from ATV crash
Aug 12, 2019 Local News 8
Athol, Idaho (AP) – A northern Idaho man who was missing since Thursday night was found Sunday afternoon, pinned by an all-terrain vehicle that had crashed.
The Coeur d'Alene Press reports 66-year-old Howard Coates of Athol was taken to a nearby hospital, where he was being treated for injuries that were not life-threatening.
A family riding dirt bikes on Sunday found Coates in northern Kootenai County. Sheriff's deputies said he was pinned against a tree by an ATV that had crashed off the roadway and out of sight. He had been pinned there since Thursday night.
Coates' family filed a missing person report when he didn't return on Thursday, and search and rescue teams and volunteers had been searching for him.
source:
— — — — — — — — — —
Small plane crash in north-central Idaho kills 2
Aug 13, 2019 Local News 8
Grangeville, Idaho (AP) – The Federal Aviation Administration is investigating after a small plane crash in north-central Idaho killed two people.
The Lewiston Tribune reported Tuesday Carl and Joelle Lindros, both 83 and believed to be from Santa Barbara, California, were in the Lancair IV aircraft when it crashed near Kooskia, Idaho late Sunday morning. Officials think the couple was traveling from Montana to Sacramento at the time.
Idaho County Sheriff Doug Giddings says it's not yet known why the plane crashed, but it apparently burst into flames and was destroyed on impact. Giddings says the wreckage has made it hard for authorities to tell if there were any other people on board.
Giddings says officials are working with the couple's son in California to learn more. Both the FAA and the National Transportation Safety Board are investigating the crash.
source:
— — — — — — — — — —
Idaho experiences a major increase in Hepatitis A cases
Gretchen Parsons August 12, 2019 KTVB
Boise, Idaho — The number of people sickened by Hepatitis A in Idaho has increased by 550% between 2018 and 2019.
In 2019, there have been 44 Hepatitis A cases, 26 of those in Ada, Boise, Elmore, and Valley counties, also referred to as the central district. In 2018 there were only eight cases.
In the central district of Idaho, which includes Ada, Boise, Elmore, and Valley counties, there have been two people with Hepatitis A who work in the foodservice industry – one sick person worked at the Red Robin off Parkcenter in Boise and the other worked at Saint Lawrence Gridiron in downtown Boise.
continued:
— — — — — — — — — —
First human cases of West Nile virus confirmed in Washington County
The Idaho Department of Health and Welfare says two people have tested positive for the virus.
KTVB August 16, 2019
Boise, Idaho — For the first time this year in Idaho, West Nile has spread to humans.
Two people in Washington County have tested positive for the virus.
That's according to the Idaho Department of Health and Welfare.
continued:
——————————
Scam Alert:
Social Security scams prompt warnings
Aug 15, 2019 Local News 8
Boise, Idaho (KIFI/KIDK) – An increase in consumer complaints has prompted Idaho Attorney General Lawrence Wasden to renew warnings about a Social Security imposter scam sweeping the state.
Wasden said overall complaints have increased over the summer, spiking in the past week. As a result, some Idahoans have revealed sensitive information like Social Security numbers and dates of birth. Some have even mailed gift cards after falling victim to the scammers.
… The Social Security Administration will never call and ask for your Social Security number or ask you to pay a fee. It won't call to threaten your benefits, either.
full story:
————————
Fire Season:
link to: Fire Updates Aug 18, 2019
————————
Tips & Advice:
Protect Your Pets from Wildfire Smoke
Your pets can be affected by wildfire smoke. If you feel the effects of smoke, they probably do, too! Smoke can irritate your pet's eyes and respiratory tract. Animals with heart or lung disease and older pets are especially at risk from smoke and should be closely watched during all periods of poor air quality.
continued:
— —
Protect Your Large Animals and Livestock from Wildfire Smoke
Your animals can be affected by wildfire smoke. If you feel the effects of smoke, they probably do too! High levels of smoke are harmful. Long exposure to lower levels of smoke can also irritate animals' eyes and respiratory tract and make it hard for them to breathe. Reduce your animals' exposure to smoke the same way you reduce your own: spend less time in smoky areas and limit physical activity. Animals with heart or lung disease and older animals are especially at risk from smoke and should be closely watched during all periods of poor air quality. Take the following actions to protect your large animals and livestock against wildfire smoke.
continued:
— — — — — — — — — —
Heat Safety Tips and Resources
Heat Cramps, Exhaustion, Stroke
During extremely hot and humid weather, your body's ability to cool itself is challenged. When the body heats too rapidly to cool itself properly, or when too much fluid or salt is lost through dehydration or sweating, body temperature rises and you or someone you care about may experience a heat-related illness. It is important to know the symptoms of excessive heat exposure and the appropriate responses.

———————-
Mining News:
Payette: Stibnite Gold traffic could go on Johnson Creek Road
Midas Gold wants to improve Burntlog Road to the east
By Drew Dodson for The Star-News Aug 15, 2019
Johnson Creek Road could be the main access to the proposed Midas Gold mine near Yellow Pine, according to a Payette National Forest proposal.
The use of Johnson Creek Road is one of the alternatives being considered by the Payette forest as it reviews the proposed operating plan of the company.
Midas Gold does not want to use Johnson Creek Road but wants to rebuild and extend the Burntlog Road further to the east, Midas Gold Permitting Manager Dale Kerner said.
Kerner has been provided with documentation about the Payette alternative, which he presented last month to the Stibnite Advisory Council, the citizens panel that receives monthly briefings on the project.
The Payette forest has not released the alternative plan and will not discuss it until a draft study of the Midas Gold plan is released at the end of the year, Payette Public Affairs Officer Brian Harris said.
"All alternatives are in a draft form, subject to change and will be finalized for public review and comment," Harris said.
The Payette is required to generate alternatives for the mine according to the federal review process, he said.
Kerner told The Star-News that Payette officials have not stated a reason for revisiting the Johnson Creek Road route, which was first considered by Midas Gold in the plan of operations it submitted in 2016.
Midas Gold opposes using the Johnson Creek Road because it means mining traffic would share the road with recreational traffic, he said.
Using the road also would see mine traffic running through Yellow Pine on the way to Stibnite, Kerner said.
"Using the current roads would mean about 50 trucks per day through Yellow Pine for 12 years, or even longer than that with construction," he said.
From Cascade, the Johnson Creek route would be about 75 miles long and would require significant improvements along about 40 miles of unpaved, single-lane roads.
Work would include blasting slopes to accommodate 20-foot-wide travel lanes and 3-foot-wide shoulders, leveling steep sections where possible and paving existing dirt roads.
Using the route would increase risks for potential fuel and chemical spills as well as sedimentation of Johnson Creek and the East Fork South Fork Salmon River during construction, Kerner said.
Widening the road would also result in the road encroaching on several miles of habitat along the banks of multiple waterways, he said.
"It's going to take an additional couple of years just to build, and that would push our project out for a couple years," Kerner said.
Slopes adjacent to the Stibnite Road put it at heightened risk for avalanches and landslides that could cut road access to the mine for weeks or months, he said.
"It would impact our operations, but more importantly, what if we need to do a mass evacuation for whatever reason?" Kerner said.
Four avalanches occurred along Stibnite Road last winter, stranding Midas Gold employees at the site and causing the East Fork South Fork Salmon River to wash the road away. It took months to clear and repair the road.
source: (used with permission) © Copyright 2009 Central Idaho Publishing Inc.
— — —
Map hosted by City of McCall

— — —
Midas Gold proposes reducing size of waste rock storage at Stibnite
Change would mean 73 fewer acres would be covered at mine site
(Note: This is the first is a series of stories detailing changes proposed by Midas Gold to its Stibnite Gold Project. Next Week: Public Access).
By Drew Dodson for The Star-News Aug 15, 2019
Seventy-three fewer acres of the Stibnite mining district near Yellow Pine would be covered with waste rock under changes proposed by Midas Gold.
The change was one of several changes proposed by Midas Gold to the operating plan submitted to the Payette National Forest in 2016.
The changes were made in response to analysis of the original proposal by the Payette and a contractor hired to review the proposal.
The Payette forest is now reviewing the proposal and is expected to issue a draft study by the end of the year.
The proposed changes to waste rock storage would cost Midas Gold more money to implement, but would benefit water quality and reduce environmental impacts, Midas Gold officials said.
Waste rock, also known as development rock, contains little or no gold, silver or other valuable metals. The waste rock is removed in order to reach the ore to be processes.
Unlike tailings, waste rock is never exposed to chemicals used to separate valuable metals from rock during ore processing.
Waste rock would be dumped directly back into unlined storage areas after it is excavated, while tailings must be treated after ore processing to reduce levels of dangerous chemicals.
West End Facility
The modified plan proposes adjusting the mining sequence of two existing open pits at Stibnite to satisfy the Payette's desire to reduce the depth of the Hangar Flats pit.
The new sequence would eliminate the need for what Midas Gold calls the West End waste rock storage area and associated roads, reducing the project's footprint by about 73 acres.
Eliminating the West End storage area would improve water quality and fish habitat at Stibnite, according to the modified plan.
Studies predicted the waste rock could leak toxic metals like arsenic into West End Creek, which flows into the East Fork South Fork Salmon River.
Instead, about 20 million tons of waste rock from the West End pit would be used to reduce the depth of the Hangar Flats pit lake from about 600 feet to about 140 feet.
Placing waste rock underwater prevents the rock from generating acid through oxidation by reducing its exposure to oxygen.
Another five million tons of waste rock would be used to completely backfill the existing Midnight pit, eliminating a pit lake that would have filled about 10 years after the end of mining.
Water would have drained from the pit lake into Midnight Creek, but studies predict that the lake water would harm downstream water quality and fish.
Groundwater
The modified plan would also install synthetic covers over waste rock to reduce the risk of rainwater seeping through the piles and leaching contaminants into streams and the ground.
The liner would be beneath about a foot of soil and planted with grass and shrubs to help restore natural habitat and stabilize the ground.
Under Midas Gold's original plan, a liner would not be included and water draining through the waste rock pile could be contaminated by trace amounts of metal.
In the 2016 proposal, streams and run-off water flowing through the pits would have been routed into open channels during mining operations.
But studies showed that water temperatures would increase during low-flows, negatively affecting downstream fish habitat.
The modified proposal would pipe run-off water in the shade beneath the channels during low flows to keep water temperatures similar to those downstream.
source: (used with permission) © Copyright 2009 Central Idaho Publishing Inc.
— — —
Midas Gold, Payette did not announce proposed changes in Stibnite plan
By Drew Dodson for The Star-News Aug 15, 2019
Documents detailing several changes to Midas Gold's proposed Stibnite Gold Project were submitted to the Payette National Forest in May, but neither Midas Gold or the Payette deemed the modified proposal worth announcing to the public.
Instead, both felt a public review of the modified plan should wait until a draft environmental study on the proposed mine is released, an action expected for late December.
"We did not issue a press release because…the release of the (study) is the official opportunity for public review and comment," said Mckinsey Lyon, vice president of external affairs for Midas Gold Idaho.
The changes were made public during the July meeting of the Stibnite Advisory Council, a citizens group representing local governments that meets with Midas Gold officials monthly.
Publicly announcing the proposed changes would have been "premature" since they are not guaranteed to be included in the draft environmental study as presented by Midas Gold, Lyon said.
Payette Public Affairs Officer Brian Harris confirmed that the changes are now being considered as a viable alternative to the original proposal.
However, the Payette will likely propose changes to parts of the modified proposal, Harris said.
Prematurely releasing information about proposed alternatives to the project is not "part of the standard review process," he said.
"We would be doing a disservice to the interested public if these drafts never make it to the (study)," he said.
The Stibnite Gold Project site is located 39 miles east of McCall and 14 miles from Yellow Pine.
continued: (used with permission) © Copyright 2009 Central Idaho Publishing Inc.
— — —
Nez Perce Tribe sues Midas Gold over pollution at Stibnite
Tribe says company should clean up toxic discharges
By Drew Dodson for The Star-News Aug 15, 2019
The Nez Perce Tribe has filed a lawsuit against Midas Gold Corp. claiming the company is illegally discharging pollutants like arsenic and cyanide into waterways near the company's proposed mine near Yellow Pine.
The lawsuit accuses Midas Gold of violating the federal Clean Water Act by not removing contaminants on site.
A news release issued by Midas Gold called the lawsuit "unwarranted" and "misguided."
The lawsuit was filed last week in U.S. District Court in Boise. A trial date has not been set.
The tribe hopes a federal judge will order Midas Gold to stop pollutants from entering waterways and pay fines for previous violations of water quality standards.
Sugar Creek, the East Fork of the South Fork of the Salmon River, Meadow Creek and adjacent wetlands are all affected by the pollutants, according to the lawsuit.
… Water contamination that currently exists at Stibnite is the result of other past mining operations that were not subject to modern regulations, Midas Gold Idaho CEO Laurel Sayer said in a response from the company.
"While we agree the site needs immediate attention to clean up the damage of the past, make no mistake – the problems outlined in this lawsuit were not caused by Midas Gold," Sayer said.
Midas Gold claims that it is not responsible for contaminants left by previous mining companies under the federal laws that regulate hazardous waste sites.
Note: if you want to read the full stories, subscribe to The Star-News. See link for more info:
— — — — — — — — — —
Caldwell Canyon mine project wins approval
Aug 15, 2019 Local News 8
Idaho Falls, Idaho (KIFI/KIDK) – A Record of Decision released by the Idaho Falls District Bureau of Land Management Thursday clears the path for the Caldwell Canyon Mine Project.
The open pit phosphate mine is located in Caribou County.
P4, a subsidiary of Bayer, would develop three phosphate leases on Schmidt Ridge, about 13 miles east-northeast of Soda Springs. The leases grant exclusive rights to the lease owner to develop phosphate minerals in accordance with an approved mine plan.
continued:
— — —
Open-pit phosphate mines approved in Idaho with safeguards
By Keith Ridler – 8/16/19 AP
Boise, Idaho — Federal officials have approved two open-pit phosphate mines in eastern Idaho that include environmental protections intended to prevent the type of pollution caused by past phosphate mining in the area.
The U.S. Bureau of Land Management said Thursday it approved the Caldwell Canyon Mine project in Caribou County about 13 miles (21 kilometers) northeast of Soda Springs.
Bayer subsidiary P4 Production will develop the mines on three phosphate leases. Bayer acquired agricultural giant Monsanto, which previously mined the area, for $63 billion last year.
continued:
——————————–
Public Lands:
Public Scoping Period Open for the Rapid River Ecosystem Maintenance Burn Project – Closes September 16, 2019
New Meadows, ID, August 16, 2019 – The Payette National and Nez Perce-Clearwater National Forests are seeking public comment on a prescribed burning project known as the Rapid River Ecosystem Maintenance Burn Project on the Payette and Nez Perce-Clearwater National Forests in Idaho. The project area is located on both the New Meadows and Salmon River Ranger Districts. Interested parties should submit issues pertinent to this proposal in writing by September 16, 2019. Comments will help inform the environmental analysis and decision making process.
The purpose of the project is to restore wildlife habitat and improve ecosystem health in the Rapid River watershed and portions of Lost Creek, Boulder Creek, and Squaw Creek subwatersheds. While much of the project area has received prescribed burning treatments and/or experienced wildfire, there is a need for a more holistic, landscape scale approach to the existing conditions and desired conditions, including looking across National Forest boundary lines and private property.
Under the Wyden Authority, treatments on private property are possible and would be contingent upon approval from the private land owner and would also require entering into a formal agreement prior to implementation. Use of federal dollars on private property is made possible through the Wyden Authority.
The entire project area (including the Inventoried Roadless Area, and excluding the Pony Creek Research Natural Area) would be available to treatment over the next 25 years. Approximately 500 to 10,000 acres of fire would be applied annually. Prescribed burning operations would occur any time of year when conditions permit, typically in spring and fall.
A mosaic-like application of prescribed fire would re-introduce fire to approximately 75 percent of stands with historically high fire frequencies and lower severities, and 50 percent of stands with historically moderate to longer fire frequency and mixed to high severities.
Maintenance burning (burning after initial application of fire) would occur as necessary as often as every 5-15 years in fire regimes with historically frequent fire return intervals to maintain desired conditions. Approximately 500 to 10,000 acres of fire would be applied annually.
The New Meadows Ranger District and Salmon River Ranger District have made a preliminary assessment for the project proposal and have determined that it falls within a category of action that are excluded from documentation in an Environmental Assessment (EA) or an Environmental Impact Statement (EIS). This assessment found that no extraordinary circumstances exist that would preclude the use of a categorical exclusion.
How to Comment
To be most helpful, please make your comments as specific as possible. Comments may pertain to the nature and scope of the environmental, social, and economic issues, and possible modifications to the proposed action. Your comments will help us refine the proposal and identify preliminary issues, interested and affected persons, and possible alternatives. Comments received in response to this request will become part of the project record and will be available for public inspection on the "Public Comment/Objection Reading Room" on the project web site:
Written, facsimile, hand-delivered, and electronic comments concerning this project will be accepted. Send written comments to Erin Phelps, New Meadows District Ranger, Payette National Forest, PO Box J, 3674 Highway 95, New Meadows, Idaho 83654. Comments may also be sent via facsimile to 208-347-0309. The office hours for those submitting hand-delivered comments are 8:00 a.m. to 4:30 p.m. Monday through Friday, excluding holidays. Oral comments may also be provided at the New Meadows Ranger District Office during normal business hours via telephone 208- 347-0300 or in person. Comments may also be submitted through the RREMB Project web page at
To submit comments using the web form select "Comment on Project" under "Get Connected" on the right panel of the project's web page.
— — — — — — — — — —
BLM extends public comment deadline for Draft Resource Management Plan
Aug 14, 2019
Boise, Idaho – The Bureau of Land Management (BLM) has extended the deadline for public comment on the Draft Four Rivers Field Office Resource Management Plan/Environmental Impact Statement.
The deadline has been extended to Sept. 23, 2019, to allow additional time for public input.
Project information can be found on the BLM ePlanning page through the following link:
The BLM encourages the public to provide comments, particularly those concerning the adequacy and accuracy of the proposed alternatives, the analysis of the impacts of their respective management decisions, and any new information that would help the development of the plan. Comments can be submitted through the following means:
Website:
Email: Four_Rivers_RMP@blm.gov
Fax: 208-384-3326
Postal: Four Rivers Field Office
Attn: Brent Ralston
3948 Development Ave.
Boise, ID 83705
For more information contact Brent Ralston, Field Manager, at 208-384-3300.
— — — — — — — — — —
History: Birth of the "Air Tanker"
Payette NF Aug 12, 2019
The use of Aircraft on the Nethker Fire were critical to suppression operations. Here is the history of the birth of the "Air Tanker".
The first "air drop" was made on the Mendenhall Fire, August 12, 1955, on the Mendocino National Forest. The first operational airtanker was developed in Willows, by the Willows Flying Service in 1955, at the request of the Fire Control Officer for the Mendocino National Forest. A Boeing Stearman 75 "Caydet" Agricultural Aircraft was modified with a 170 gallon tank at the Willows airport. This Aircraft, N75081, became the first registered free fall airtanker in the history of aviation.
In 1956, seven agricultural aircraft were modified and formed the first operational airtanker squadron in the United States. Piloted by local aviators, this squadron operated out of the Willows Airport fighting wildfires throughout California. Initially, plain water was used as the fire suppressant. However, it was soon discovered that most of the water evaporated before reaching the fire, so the practice was adopted of adding chemicals to the water to inhibit evaporation. Borate was one of the first chemicals used, hence the derivation of the term "borate bomber."
In 1959, heavy airtankers, capable of carrying 2,000 gallons of fire retardant, were providing an effective tool in controlling wildfires. Today, the use of SEATs (Single Engine Airtankers) and Large Airtankers have become a staple for wildland fire suppression.
This Day in History is dedicated to the first Airtanker pilots: Vance Nolta, Floyd (Speed) Nolta, Harold Henderson, Dale Nolta, Ray Varney, Frank Prentice, L.H. McCurley, Warren Bullock; Fire Control Officer Joe Ely, and the first Air Attack Lee Sherwood. A commemorative plaque to the "Birth of the Airtanker Program" can be found at the Willows Airport.
source: Payette NF FB
————————-
Critter News:
Protecting yourself and your dogs from harmful algae found in some Idaho reservoirs
According to the Idaho Department of Environmental Quality, seven local reservoirs have tested positive for some form of cyanobacteria toxin this summer.
Misty Inglet August 15, 2019 KTVB
Ada County, Idaho — Recently, several dogs around the nation have died after being exposed to toxic algae in ponds or other waterways.
On Monday, three dogs in North Carolina died the same day because of the toxins.
Toxic algae is a form of cyanobacteria, which seven reservoirs in and around Southwest and Central Idaho have tested positive for.
continued:
— — — — — — — — — —
Pet Talk – Tumors of the spleen in dogs
By Dr. Karsten Fostvedt Aug 16, 2019 IME
Tumors of the spleen are called hemangiosarcomas or hemangiomas. Eighty percent of all splenic tumors are malignant, or hemangiosarcomas. Twenty percent are hemangiomas, which are benign. Hemangiosarcomas are highly malignant tumors of the blood vessels in the spleen.
The spleen is an organ in the abdomen that stores red blood cells. It is also involved in producing cells that assist in our immune system. Growth of a mass on the spleen may go undetected until it becomes quite large or ruptures, which may result in life-threatening bleeding into the abdomen. Hemangiosarcomas have a high propensity to metastasize quickly to other organs such as the heart, lungs and liver. Dogs at risk include middle-age to older large-breed dogs, especially Labrador retrievers, golden retrievers, and German shepherd dogs, though all breeds are susceptible.
The reason this tumor develops is unknown. Hemangiosarcomas can develop in any tissue that contains blood vessels. The most common sites include the skin, spleen and heart.
continued:
— — — — — — — — — —
The evolution of puppy dog eyes
University of Portsmouth
Dogs have evolved new muscles around the eyes to better communicate with humans. New research comparing the anatomy and behavior of dogs and wolves suggests dogs' facial anatomy has changed over thousands of years specifically to allow them to better communicate with humans.
continued:
— — — — — — — — — —
EPA reverses approval for poison traps used by ranchers
8/15/19 AP
Washington — The Environmental Protection Agency on Thursday reversed its preliminary decision allowing continued use of deadly sodium cyanide traps, blamed for injuring people and pets as well as their intended targets of coyotes and other predators.
EPA head Andrew Wheeler said in a statement he had decided the agency needed to do more analysis and consulting regarding the so-called M-44 traps, devices embedded in the ground that look like lawn sprinklers but spray cyanide when triggered by animals attracted by bait.
"I look forward to continuing this dialogue to ensure U.S. livestock remain well-protected from dangerous predators while simultaneously minimizing off-target impacts on both humans and non-predatory animals," Wheeler said.
continued:
— — — — — — — — — —
Campers encouraged to be "Bear Aware"
Boise, Idaho, August 8, 2019 – August 12, 2019 – The Boise National Forest is reminding visitors to be extra cautious this summer when storing their food to avoid attracting black bears.
Bears possess an extremely keen sense of smell, and can find food from great distances. Once a bear finds food near humans, it is likely to come back. The result is a dangerous situation for both the bear and for people. Bears that repeatedly come into conflict with campers have to be trapped and euthanized.
Campers can protect themselves and others from unwelcome nighttime visitors by storing their food properly. In developed campgrounds, campers should store all food in their vehicle, trailer or camper with windows tightly closed. Stoves, cooking utensils, personal items such as toothpaste, and pet or livestock feed should be protected in the same manner. Garbage should be disposed of in the trash containers in campgrounds and never left out unattended. If a trash container is full, please pack your garbage out.
In the backcountry, food and garbage should be kept out of bears' reach by hanging it in a tree, at least 100 yards from the sleeping area. Food bags should ideally be 10 feet above ground and 4 feet out from tree trunks. Food can also be stored in an approved bear-proof container. Backcountry campers should attempt to reduce or eliminate food odors on themselves, their clothes and near their sleeping area. Do not store food in tents.
For the safety of the public (and the bears) we urge Forest users to be "Bear Aware" and use common sense when camping in bear country. link:
For more information visit:
— — — — — — — — — —
Family attacked by wolf while they were asleep in tent
First time wolf attack reported in national park
By Leah Asmelash, CNN Aug 14, 2019 Local News 8
A New Jersey family was fast asleep in their tent on a camping trip when the unthinkable happened: They were attacked by a wolf.
"It was like something out of a horror movie," mother Elisa Rispoli recounted on Facebook.
The family was in Banff National Park in Alberta when the incident occurred about 1 a.m. Friday, according to a report by the federal agency Parks Canada. Elisa wrote that her husband, Matthew, threw himself in front of her and their two boys while the wolf tore through the tent and clamped onto Matthew's arms.
continued:
— — — — — — — — — —
Idaho roadkill study begins along wildlife migration route
by Associated Press Monday, August 12th 2019
Boise, Idaho (AP) – The U.S. Forest Service says $25,000 is being used for a federal-state project in eastern Idaho to identify road-killed animals in a major wildlife migration corridor to determine collision hotspots and potential locations for wildlife crossing structures.
The agency says 75% of historical migration routes for elk, bison, and pronghorn have been lost in the Greater Yellowstone Ecosystem. Freemont County in Idaho has many of the remaining migration routes but a high rate of wildlife-vehicle collisions.
continued:
— — — — — — — — — —
Boise man, 70, becomes oldest horseman to win the Mongol Derby
A world away from home, Idaho's Bob Long did the unthinkable.
Joe Parris August 14, 2019 KTVB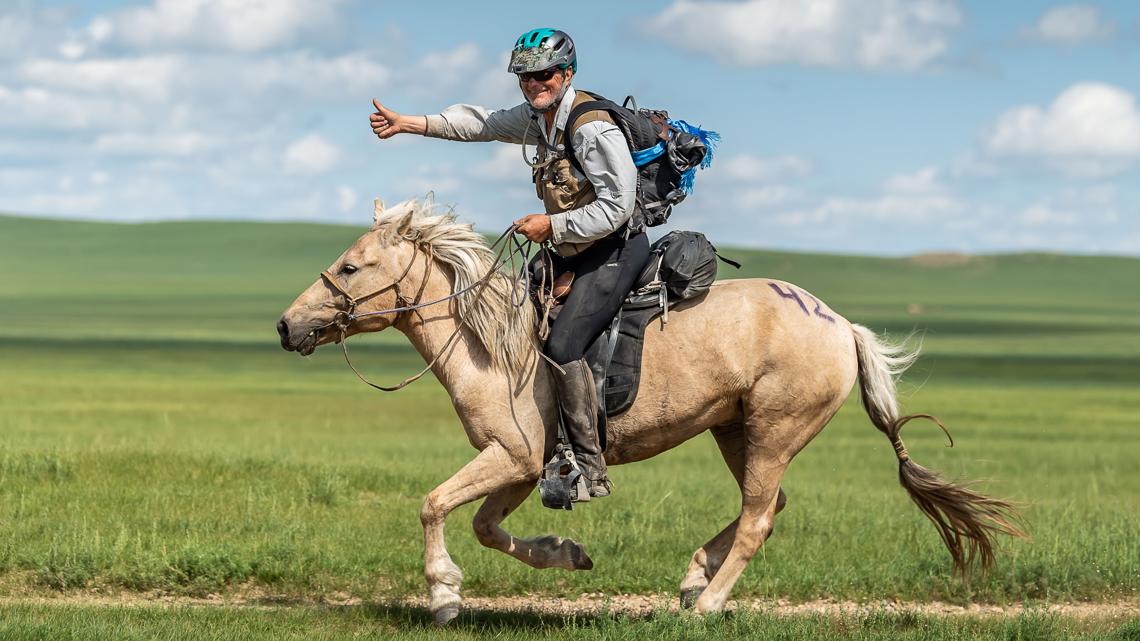 Boise, Idaho — A world away from home, Idaho's Bob Long did the unthinkable.
"It's nothing, you just ride 650 miles on a death march," he explained with a laugh.
Early Wednesday morning, Long crossed over the finish line of the Mongol Derby, a 1,000-kilometer horse race that pits riders against each other and against Mongolia's torrential rain, burning temperatures, and harsh terrain.
continued:
— — — — — — — — — —
Bat found in Meridian backyard tests positive for rabies
KTVB August 15, 2019
Meridian, Idaho — A bat found in the backyard of a Meridian home has tested positive for rabies, according to Central District Health.
The discovery marks the sixth rabid bat found in Idaho this season, and the first so far in the Treasure Valley.
Health officials say no humans touched the sick bat, but a dog may have had contact with it. The dog was given a rabies booster shot as a precaution.
continued:
— — — — — — — — — —
Sage grouse numbers continue to drop in Idaho
August 12, 2019 AP
Boise, Idaho (AP) – Idaho's sage-grouse numbers have dropped 52% since the federal government decided not to list the birds as an endangered species in the fall of 2015.
It's not yet clear whether the three-year decline is part of a cyclical pattern or indicative of a more serious issue, but the Idaho Statesman reports the trend could force state and federal wildlife and land managers to take a closer look at how sage grouse are faring in Idaho and other western states.
Under Idaho's sage grouse management plan, wildlife managers must work to determine the cause of population declines and come up with an appropriate response any time numbers drop below a certain level. Idaho Fish and Game biologist Ann Moser says it looks populations are low enough in several parts of Idaho to trigger the plan.
The U.S. Fish and Wildlife Services estimates that there are between 200,000 and 500,000 sage grouse, most of them in Idaho, Nevada, Wyoming, Montana, Oregon, Utah and Colorado.
source:
— — — — — — — — — —
Project aims to remove invasive trees, protect sage grouse habitat in Southwest Idaho
The spread of junipers in Owyhee County are having negative impact on sage grouse populations, officials say.
KTVB August 15, 2019
Owyhee County, Idaho — The sage grouse is one of Idaho's most important species. The large chicken-like birds are an indicator species that provide essential information about the health of sagebrush landscapes across the West.
But in recent years, their numbers have dramatically declined – 52% since 2015. Currently, about 200,000 to 500,000 sage grouse remain in 11 western states.
Wildlife management officials are looking into the possible reasons for the three-year decline.
continued:
— — — — — — — — — —
Idaho officials reviewing Endangered Species Act changes
by Associated Press Wednesday, August 14th 2019
Boise, Idaho (AP) – Idaho officials say they're looking into how the Trump administration's move to weaken how it applies the Endangered Species Act could affect federally protected species in Idaho.
Idaho Office of Species Conservation Administrator Scott Pugrud tells the Idaho Press that his office is reviewing the regulatory changes announced Monday.
Idaho is home to six endangered and 13 threatened species.
The endangered species include sockeye salmon and Kootenai River white sturgeon. Threatened species include Canada lynx and grizzly bears.
source:
——————————
Fish & Game News:
Salmon River No Barrier to Wandering Wolverine
By Diane Evans Mack, Regional Wildlife Biologist
Wednesday, August 7, 2019
With all the trail cameras in the woods these days, it's hard for even a rare animal to go unnoticed. And if you're a wolverine sporting white feet instead of brown, you can bet you'll get attention. A biologist with the Idaho Department of Fish and Game discovered a very distinctive-looking wolverine on a series of pictures from a remote camera put out last winter as part of a survey for fisher. This wolverine had 2 white paws and a white foreleg, markings not typically seen in west-central Idaho wolverines. Soon after, another biologist was going through pictures from a different part of the state and found the same wolverine!
Piecing the story together from the dates on the photographs, the wolverine, nicknamed 'Whitefoot', was along the Magruder Corridor in the Clearwater Region in mid January, then headed south, crossed the Main Salmon River, likely also crossed the South Fork Salmon River, and arrived north of McCall 15 days later.
continued:
— — — — — — — — — —
Mule deer killed with pellet gun in Pocatello
By Jennifer Jackson, Regional Communications Manager
Friday, August 16, 2019
The Idaho Department of Fish and Game is seeking information regarding the illegal killing of a mule deer doe in Pocatello.
At approximately 9:00 am on August 1, Idaho Fish and Game received a call about an injured deer in a south Pocatello neighborhood. The deer was reported to be lying in a backyard of a residence located on Fruitwood Lane off of Bannock Highway, motionless with labored breathing. The deer died before Fish and Game arrived at the scene.
After an examination of the carcass, Fish and Game determined the cause of death to be the result of a pellet piercing both lungs. The projectile removed from the lung tissue was the type fired from a pellet gun. The deer had otherwise been in good physical condition before its death.
continued:
— — — — — — — — — —
Commission approves proposals for nonresident fees, wolf trapping and permits for stocked pheasants
By Roger Phillips, Public Information Supervisor
Monday, August 12, 2019
The legislative proposals and rule must be approved by the 2020 Legislature to become effective
The Idaho Fish and Game Commission on Monday, Aug. 12, approved two legislative proposals to advance for Governor's Office review: a) increasing nonresident license and tag fees and b) establishing Commission authority to designate locations other than WMAs to stock pheasants and require an Upland Game Bird Permit to hunt them. The commission also adopted new rules that change gear requirements for wolf trapping. The legislative proposals and rule must be approved by the 2020 Legislature to become effective.
continued:
— — — — — — — — — —
Hunters: nonresident/second elk tags are sold out for 2019
By Brian Pearson, Conservation Public Information Specialist
Friday, August 16, 2019
Non resident deer tags still available, but are also expected to sell out
Nonresident hunters who plan to buy a deer tag, or resident hunters interested in buying a second tag, should do so quickly. Of the 15,500 nonresident deer tags available this year, less than 4,000 remained on Aug. 12.
continued:
— — — — — — — — — —
More F&G News Releases
link:
———————————-
Fun Critter Stuff:
'Bat Dog' brings water to umpire at minor league baseball game
by Storyful Friday, April 26th 2019
Las Vegas, Nevada – The Las Vegas Aviators' resident 'bat dog' proved on April 25 that he's more than capable of carrying other large objects.
Footage shared on Finn the Bat Dog's Twitter account shows the pooch bringing a cooler of water to one of the umpires during a game between the Aviators and the El Paso Chihuahuas. "Bringing the umpire some water. They work hard," the tweet said.
Finn gathers bats left behind by the players during Las Vegas Aviators games at Las Vegas Park, and has become a beloved staple at the minor league games.
source w/videos:
———————–
Seasonal Humor:

———————-