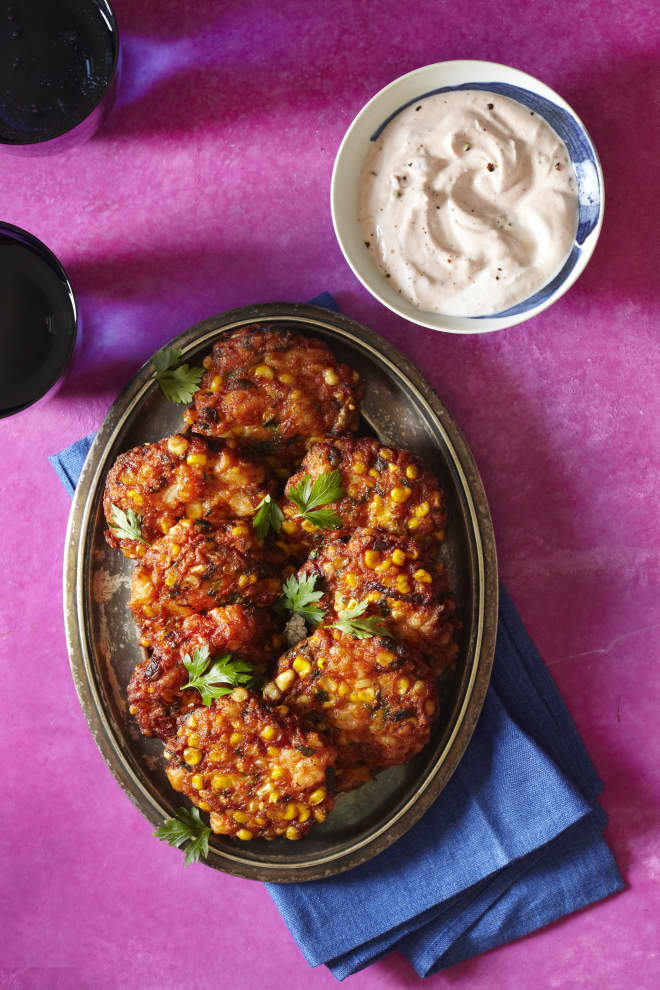 Ingredients
1 pound uncooked peeled, deveined medium shrimp, thawed if frozen
2 cups fresh corn kernels (from about 4 ears)
2 scallions, thinly sliced
2 tablespoons coarsely chopped fresh Italian parsley leaves
2 teaspoons smoked paprika
1 teaspoon kosher salt
1/2 cup vegetable oil
Lemon wedges, for serving
Instructions
Place 2/3 of the shrimp in a food processor fitted with the blade attachment and pulse into a smooth paste.
Transfer the shrimp paste to a large bowl. Coarsely chop the remaining shrimp and add it to the bowl. Add the corn, scallions, parsley, smoked paprika, and salt and stir to combine.
Form the mixture into 8 (2 1/2-inch-wide) patties and place on a large plate. Cover and chill up to overnight.
Heat the oil in a large skillet over medium-high heat until shimmering. Add 4 of the patties and cook until golden-brown on the bottom, 2 to 3 minutes. Flip the patties and cook until the shrimp is opaque and the fritters are crisp, 1 to 2 minutes more.
Transfer the fritters to a clean plate and repeat with frying the remaining patties. Serve immediately with lemon wedges.
Recipe Notes: Storage: Fritters are best enjoyed immediately, but leftovers can be stored in an airtight container in the refrigerator for up to 3 days.
—————————