Sept 29, 2019 The Yellow Pine Times – Valley County, Idaho
Note: The boil order and water restrictions are still in effect.
Community Calendar:
April 2 – Boil water order issued
Every Sunday – 11am Fire/SAR Training
May 10 to Oct 10 – Burn "permits" required
May 15 – Firewood Season opens
July 22 – Daytime closures on So. Fk road begin
Oct 5 – 8pm Dave Nudo playing at the YP Tavern
Oct 9 – Diamond Fuel delivery
(details below)
———-
Local Events:
Saturday October 5th YP Tavern
Coming back to the Tavern for the 4th year Dave Nudo. Catch him Saturday October 5th at 8pm. Always a good time!
— — — — —
Fuel Delivery Oct 9
Diamond Fuel (and Feed) will be delivering fuel to Yellow Pine on Oct 9th. Please check your tanks and give them a call (208) 382-4430.
———-
Village News:
Smoke Sep 25 from Rx burn

photo courtesy Eye n the Sky Yellow Pine cam
Prescribed Burning in Bald Hill and Four Mile Projects September 25 and 26
— — — —
Fish Fry at the Yellow Pine Tavern Sept 28

photo courtesy YP Tavern
There was a good turnout for our annual fish fry. About 50 people showed up in spite of the rain. We estimate this is our 15th year for this event. Thanks to Stu for his donation of the fish, Jeff, Willie and Steve for frying the fish, Ann for the set up and take down, Nicki for bar tending, Sue for the cleanup and all of the folks who brought desserts and other dishes.
– Yellow Pine Tavern
link to FB photo gallery:
— — — —
Get Ready for Winter Heating
* Inspect and clean the chimney. Contact the YPFD to borrow chimney brushes.
* Inspect and clean wood stoves, make sure dampers work properly and check for leaks.
* Check your carbon monoxide and smoke detectors – install fresh batteries.
* Check your fire extinguisher and make sure it is handy. Manually rotate them around, tip upside down and lightly shake them, thus keeping the fire fighting agent loose, and check that the needle is still in the green. If you need a new one please call, your fire commissioner or Jeff F.
* If you have an oil-powered furnace, replace your filter and nozzle and check the tank level.
* Check your propane tank levels (early morning when it is cool in case there is a wasp nest!)
* Test the igniter switch. On an old system, you might have to relight the pilot. Newer systems have electronic igniters.
* Lubricate and clean the blower motor. First check the owner's manual to see if your motor is the kind that needs lubricating. If it does, turn off the power, open the cover and clean the caps covering the bearings. Then remove the caps and lubricate the bearings.
* Inspect the blower belt for cracks. Turn off the power to the furnace at the main circuit breaker. Use a screwdriver to remove the steel cover of the air handler. The blower belt is the largest rubber belt that you see. Replace the belt if it is cracked.
* Inspect the exhaust flue outdoors to ensure it is free of obstructions such as branches or animal nests.
* Keep the area around your furnace unit free of debris and clutter.
* Change the air filters. Clean your air vents and ducts. Remove the vent covers with a screwdriver. Use the extension hose of your vacuum to remove the dust.
* Open all your air vents. Remove furniture, boxes and clutter that get in the way of air flowing from the vents.
Local Fuel Suppliers
Propane
Amerigas Phone: (208) 634-8181
Ed Staub & Sons Phone: (208) 634-3833
Heating fuel
Diamond Fuel & Feed Phone: (208) 382-4430
Furnace Service
Rocky Mountain Mechanical (208) 365-PIPE (7473), Emmett
— — — —
Yellow Pine Transfer Station
Report Sept 19th: Road to the dump is good. The bins were empty Thursday afternoon.
Please do not abuse our Transfer Station or we may lose it. Household trash must be placed in the bins, flattened cardboard boxes can also go into the bins. Do not stack trash in front of the doors. Woody yard debris only for the burn pile. No furniture, appliances, tires or construction debris allowed, those items must be hauled out to the Donnelly station by you.
Yellow Pine Transfer Station (aka, the dump)
The Yellow Pine Transfer Station is located approximately 3 miles south on Johnson Creek Road.
The TRANSFER STATION is for household trash and yard waste:
* Household trash must be put inside (and fit) the dumpster;
* Yard waste (limbs, pine needles, brush, et.) goes in the burn pile on the south end of the turn-around;
* Cardboard boxes should be flattened before putting the in the dumpster,
The DUMPSTERS are NOT for:
* Furniture (take to Donnelly Transfer Station);
* Appliances (take to Donnelly Transfer Station).
The BURN PILE is NOT for:
* Cardboard boxes (flatten and put in dumpster);
* Furniture and appliances (take to Donnelly Transfer Station);
* Drywall and building material (take to Donnelly Transfer Station);
* Wire or fencing (take to Donnelly Transfer Station);
* Foam Rubber (take to Donnelly Transfer Station);
* Wood with metal (like nails) attached (take to Donnelly Transfer Station.)
When closing the DOORS on the front of the dumpsters:
* Make sure the "U" brackets at the top and bottom of the door are engaged;
* The retaining bar at the middle of the door is slid into the pipe;
* And the "L" bars at the bottom of the doors dropped into place.
The Yellow Pine Transfer Station is Valley County responsibility. If it is not kept tidy, use of the Transfer Station may be revoked. That would result in residents having to take all household trash and yard waste to the Donnelly Transfer Station.
If Dumpsters Are Full, Contact Lake Shore Disposal at: 208/634-7176
— — — —
Roads
Snow in the high country
Photo of snow Profile Gap Saturday Sep 28th (courtesy Scott A)

Photo of snow Warm Lake summit Saturday Sep 28th (courtesy Dave P)

Photo of snow at Stibnite Sunday Sep 29th (courtesy Midas Gold)

South Fork Road: Note: It is possible they may be done with the paving, if so, then the road closures will end for the season. Waiting on confirmation from the FS.
More info:
YP to Stibnite Road
Update from Valley Co. Road Dept Sept 25: Work is complete on the Stibnite road. I believe the contractor is still going to blade the road from Yellow Pine to Stibnite.
— — — —
Yellow Pine US Mail
The 6-day a week mail delivery started June 1st. The Post Office in Yellow Pine is open six days a week year around: M-F 845am-245pm Saturday 9am-245pm. Forever Stamp: 55 cents
— — — —
Reminder for people living in bear country:
* Garbage should be stored inside the house or in a secure garage or storage building.
* If garbage cannot be stored in a secure location, a bear-resistant container approved by the Interagency Bear Committee is recommended.
* Avoid using bird feeders from March through November. Birds do not need supplemental feeding this time of year.
* Pet food should not be left outside.
* BBQ grills or anything with a strong odor should not be left out at night.
* Protect gardens, beehives, and compost piles with electric fencing.
* Never intentionally feed bears. A food-conditioned bear may pose a threat to human safety and usually results in the removal of the bear.
———-
Local Groups:
YPWUA News:
The yearly Yellow Pine Water Users Shareholders meeting was Sunday July 7th in the community hall. (No minutes yet)
Water Update Sept 21 (excerpted from VYPA 9/21 meeting notes):
Tests were conducted by Idaho Rural Water [July 19th] in an effort to locate the source of the major leak in the system. They will return October 3rd to continue the search for leaks. The line between Alpine Village and the Saleen property, which includes the bridge across the East Fork river is the line most suspected to be leaking. Cecil Dallman will stand by with a backhoe to dig in locations found. More digging work is needed at the tanks and pipes near the water facility. A second engineer is being consulted. Getting contractors to come to YP and replace seals is difficult. The previous grant money is tied to a timeline so some specified work must be done this fall.
The possibility for a large amount of grant money is very slim because we would have to take out a loan and use the borrowed money for the required matching money, and then there would be the loan payments. Money on hand must be used on required repairs to the contact tank. Because some water users do not have voting rights YPWUA does not qualify for some grants.
There are 56 shares available for purchase at $100/share. Each piece of land is entitled to own one share. Share holders are entitled to vote; water users that do not own a share may not vote, but do have access to water. The owners of the 56 lots are encouraged to purchase shares. Ownership of a share is shown on your annual water bill.
Anyone wanting to arrange a payment plan should contact Willie Sullivan.
– Steve Holloway/Willie Sullivan
Water Update Sept 8:
Still looking for the leak. Water restrictions and boil order still in effect.
Water Update June 7:
1. The "boil order" is still in effect.
2. There is still large water leaks in the system. We continue to look.
3. A grant for $39,000 was approved for improvements to the system.
3. Work is currently being done on the new contact tank.
4. Please, no lawn watering until we find and repair the major leaks.
– Steve Holloway
link to: #4430059 Yellow Pine Water Users Boil Water Notification 4-2-19
link to: 2018 September Water Department Update
— — — —
VYPA News:
Village of Yellow Pine Association Meeting Minutes for September 21, 2019
link to: 20190921 Village of Yellow Pine Association Meeting
Village of Yellow Pine Association Meeting Minutes for August 10, 2019
link to: 20190810 VYPA Minutes
Village of Yellow Pine Association Meeting Minutes for July 20, 2019
link to: 20190720 Yellow Pine Village Association Minutes
Village of Yellow Pine Association Meeting Minutes for June 8, 2019
link to: 20190608 Village of Yellow Pine Association
VYPA Meeting Dates 2019
June 8th; July 20th; August 10th; September 14th – 2pm at the Community Hall.
— — — —
YPFD News:
Yellow Pine Fire Protection District Community Service Notice
The purpose of this letter is to show how you as a Yellow Pine Resident can help protect your structure against a wildland fire by being "Fire Wise."
link to: 20190724 Yellow Pine Fire Protection mitigation
Meeting minutes for Sept 14, 2019
link to: 2019-09-14 YPFD Meeting_final
Meeting minutes for July 13, 2019
link to: 20190713 YPFD Meeting Notes_final
Meeting minutes for June 16, 2019
link to: 20190615 YPFD Meeting Notes_Final
May 10th to Oct 10th Burn Permits – contact the YPFD
Pile burning: Dress appropriately, have enough help on hand (people, water and tools) and make a firebreak before you start. Call your local fire protection district chief to let them know you'll be conducting a debris burn. This saves them from sending emergency responders to your property if they are not needed.
Bring it, Don't Burn it
For us in Yellow Pine, Jake Strohmeyer, Dist. Ranger with the Boise NF said we can use the area at our transfer station for yard debris and the FS will burn it once a year. Please no furniture, mattresses, construction debris, metal objects, tires or personnel junk. Please only woody yard debris. When using the pile please be mindful of where you place the debris as it should be contained to a manageable burnable area and kept as clean as possible. – JF

Training: Sunday Fire/EMS training at 11am unless otherwise posted. All are welcome.
YP Helispot: We are working with Valley County Road Department and the Boise National Forest for the rock base for the road leading into the Helispot and the actual Helispot itself. We are also receiving rock for the Fire Hydrants, water tank foundations, etc. The rock will come from the Valdez pit and will be less expensive than having it trucked in from Cascade.
link to Cooking safety in the home:
link to Smoke Alarm Info:
-JF
——–
Biz Listings:
Yellow Pine Lodge (208) 633-3377
Call for reservations
— — — —
The Corner (208) 633-3325
Our hours will be 11-8 every day, except closed on Tuesdays. We are open for breakfast by request and always have good coffee starting at 6am.
The Corner has firewood permits in stock now. 4 cord minimum at $6.25 per cord. Please bring drivers license and cash is preferred, no CC.
The Corner Store will also be open with snacks, groceries, fresh produce, soda, ice and packaged beer. If you know you will be coming in over the summer and need special grocery orders, let me know and I will order it in for you while you are here, 2 deliveries a week. The best way to get a hold of me is to call or stop by and say hello.
Karaoke is back at The Corner! Choose your favorite songs from our online music library and entertain your friends up on stage through our professional sound system.
— — — —
Yellow Pine Tavern (208) 633-2233
Fall hours open 8AM to close
Full breakfast served starting at 8am with special arrangement for earlier breakfast as needed. 92 Octane non ethanol gas available, cubed ice, beer, pop and water sold by the 6 and 12 pack, snacks, ice cream and many supplies available. Burgers and Pizza, Beer and Wine on the evening menu. Football and other sports available on our TV. Wi Fi, Verizon phone service and information available.
— — — —
Buck Horn Outfitters LLC 208-633-3614
Tom & Sarah Lanham
156 Yellow Pine Ave, Yellow Pine Id 83677
website:
FB page:
It's official starting June 2020 We will be doing trail rides out of Yellow Pine along with summer pack / camping trips to high mountain lakes in the area!
—
Wapiti Meadow Ranch – Johnson Creek (208) 633-3217
or 208-315-3554 – cabin rentals
website:
—
Deadwood Outfitters
website:
— — — —
Local Fuel Suppliers
Amerigas Phone: (208) 634-8181
Ed Staub & Sons Phone: (208) 634-3833
Diamond Fuel & Feed Phone: (208) 382-4430
— — — —
Outside Biz that will service Yellow Pine:
The Star-News


subscribe:
A reminder that those who live in other states can subscribe to the online edition only since the mail can take days for hard copy to reach them.
Rocky Mountain Mechanical – Plumbing – Heating – Air conditioning
(208) 365-PIPE (7473), Emmett, will service Yellow Pine
Elkhorn Heating & Cooling
(208) 906-4067 Middleton, Idaho, will service Yellow Pine
B&T Safety Solutions LLC
208-271-1600 Based out of Donnelly
Snow removal, cleaning chimneys and stoves, we do cabin staining/chinking as well
— — — —
Follow The Yellow Pine Times on Facebook (updated more often than emails)
———————–
Local Observations:
Monday (Sep 23) our 24 hour low of 34 degrees was from Sunday morning, it was 39 degrees at sunrise, almost clear sky this morning – one cloud peeking over VanMeter to the north. Red-breasted nuthatches, jays, a pine skiskin and a couple of finches (and chipmunks) visiting. Partly cloudy before lunch time. Partly cloudy and mild breezes mid-afternoon, high of 71 degrees. Partly clear at sunset and just a slight breeze. Fall Equinox: sunrise just after 9am and sunset before 730pm. Absence of mosquitoes noted. Cloudy before midnight.
Tuesday (Sep 24) overnight low of 39 degrees, mostly dark clouds and nearly calm this morning. Crusher is running, small haze of dust. Herd of low loud airplanes flew over around 940am. Red-breasted nuthatches visiting. Bigger breaks in the clouds before lunch time and breezy. Warm, mostly clear and breezy mid-afternoon, high of 74 degrees. Female hairy woodpecker visiting. Mostly cloudy after sunset. Smell of burning garbage in the air. Cloudy before midnight.
Wednesday (Sep 25) overnight low of 36 degrees, mostly clear sky (high haze) and heavy dew. Crusher making high pitched whine, small haze of dust. Red-breasted nuthatches and steller jays visiting. A few clouds and breezy mid-day. Mail truck made it in on time. Small flock of finches flying around. Heavy smoke coming in from the west (Rx burn) mid-afternoon, breezy and no clouds in the sky, high of 71 degrees. By sunset the sun was a scarlet jewel in the west and the sky was orange, thick smoke almost obscured the hills. At dusk it was very smoky, unable to see the sky. A few hazy stars before midnight.
Thursday (Sep 26) overnight low of 33 degrees, mostly cloudy sky, dewy, light breeze and smoky air this morning. Noisy crusher running putting up small cloud of dust, traffic kicking up street dust as well. Red-breasted nuthatches visiting, raven flying and calling. A few noisy airplanes. Overcast and light breezes at lunch time, better air quality. Several chipmunks, a few finches and a pine squirrel visiting. A little extra traffic early afternoon. Dark overcast and light breezes mid-afternoon, high of 72 degrees. Started raining late afternoon, still raining lightly after sunset and cloudy.
Friday (Sep 27) overnight low of 36 degrees, mostly cloudy – peaks and ridges socked in. Nuthatches, hairy woodpecker and jays visiting. Clouds lifting and thinning by lunch time, light breeze. Light traffic, no dust. Partly cloudy and slight breeze mid-afternoon, high of 66 degrees. Power off/on at 540pm. Smoke settling in before sunset. Doe and 2 fat fawns munching around the neighborhood. At dusk it was mostly cloudy and smell of smoke in the air. Partly clear in the middle of the night.
Saturday (Sep 28) overnight low of 33 degrees, mostly cloudy and chilly light breeze this morning. Lots of nice tree color in the neighborhood. Evening grosbeaks are back! Hairy woodpecker, several nuthatches and a few jays also visiting. Pine squirrels and chipmunks are busy. Gusty breezes and rain shower right after lunch time. Extra traffic. Cool, cloudy and steady rain mid-afternoon, high of 46 degrees. Rained until late afternoon. Low foggy clouds just before sunset. Light misty sprinkle at dusk, very low clouds. Drizzles on and off until after midnight.
Sunday (Sep 29) overnight low of 34 degrees, low overcast and socked in this morning. Snow line looks below 6000 feet. Heard one grosbeak tweet, red-breasted nuthatches and jays busy at the feeders, dark-eyed juncos sheltering in the lilac bushes. Higher darker cloud cover at lunch time, high of 44 degrees. Flock of grosbeaks visiting and small flock of juncos out back. Gusty breezes and "grauple" (little snowballs) falling 3pm – enough to cover the ground in 15 minutes before melting, then large quarter sized flakes for about 10 minutes, then lighter snowfall which ended around 350pm. Breaks in the cloud cover before sunset. Partly clear at dusk and still above freezing.
———————–
Photo to Share:
Wilbur's grave marker, Idaho Veterans Cemetery, Boise, Idaho
courtesy Sandy McRae
————————–
Idaho News:
Proposed [Valley County] law would protect propane tanks from leaks
Snow slide blamed for March blast that killed McCall man
By Drew Dodson for The Star-News Sep 26, 2019
An ordinance aimed at preventing propane explosions like one that killed a McCall man and critically injured his granddaughter in March will be heard by Valley County commissioners on Monday.
A public hearing on the ordinance will be held at 2 p.m. in the Valley County Courthouse in Cascade.
The ordinance would require all propane systems in Valley County to be built with protective equipment that helps prevent leaks stemming from falling snow cracking outdoor propane pipes.
"The intent of the whole thing is to just build propane systems that are safe and maintenance-free for secondary homeowners and the like," McCall Fire & EMS Chief Garrett de Jong said.
The ordinance, which was drafted by the McCall, Donnelly and Cascade fire districts and propane providers, is also expected to go before city councils in McCall, Donnelly and Cascade this fall, de Jong said.
The current draft would require second stage regulators to be placed on the gable end of roofs or a location approved by the local fire districts.
Second-stage regulators are installed along the edge of homes and manage propane flows to appliances.
The placement would help reduce the risk of snow shedding from roofs and damaging the regulators, de Jong said.
Snow shields would also be required over all regulators and piping to protect them from breaks caused by snow sliding or being shoveled off roofs and the pressure of built-up snow on the ground.
Instead of a solid metal regulator pipe, a flexible pipe would be required to allow the pipe to move under the weight of snow or other forces instead of shearing off.
Under the new ordinance, all new propane systems would be inspected and approved by the local fire district with jurisdiction over the property.
The new rules would apply only to new construction, while existing installations would not be required to be upgraded until a propane tank is replaced, according to the ordinance.
However, if the ordinance is adopted, de Jong anticipates many local propane providers would refuse to fill tanks without the safety equipment.
continued:
— — — — — — — — — —
Free woody debris collection to be held Oct. 4-16 at four sites
The Star-News Sep 26, 2019
Valley County residents can bring their woody debris to one of four free collection sites from Friday, Oct. 4, through Wednesday, Oct. 16, during the "Bring It, Don't Burn It" event.
No construction waste or plastic bags will be accepted. Branches, needles, leaves and other organic materials will be accepted at the following collection sites:
• McCall Fire Station, 201 Deinhard Lane.
• Donnelly Fire Station, 244 W. Roseberry Road.
• Cascade Fire Station, 109 E. Pine St.
• Valley County Transfer Station, Spink Lane off Farm-to-Market Road in Donnelly.
The Valley County Transfer Station will accept debris until Saturday, Oct. 19.
Note: The Yellow Pine woody debris pile is at the Transfer Station, please follow the rules listed in Village News.
— — — — — — — — — —
McCall Police crack down on city-wide TP'ing spree
by Ryan L Morrison Thursday, September 26th 2019
McCall, Idaho (CBS 2) — The McCall Police Department (MPD) is cracking down on a city-wide TP'ing spree as of Thursday.
What sounds like harmless pranks between students in the community, have now become an issue in what local authorities are calling a "city-wide free for all."
"Businesses, streets, and entire blocks including, homes without kids, have all become the targets of both TP, eggs, and select produce items," according to MPD.
continued:
— — — — — — — — — —
CPR, First Aid classes set for Donnelly on Oct. 16-17
The Star-News Sep 26, 2019
CPR/AED and First Aid classes will be offered on Wednesday and Thursday, Oct. 16-17, at 6 p.m. at the Donnelly Fire Station.
The CPR/AED portion will be held Wednesday, Oct. 16, and the First Aid portion will be held Thursday, Oct. 17.
Cost is $25, and space is limited. To register, call 208-325-8619.
The Donnelly Fire Station is located at 244 W. Roseberry Road.
source:
— — — — — — — — — —
GOP interviews two to replace Cruickshank
Governor will appoint new member to Valley commission
By Drew Dodson for The Star-News Sep 26, 2019
Two candidates for Valley County commissioner were interviewed by the Valley County Republican Central Committee last week.
The interviews at the Valley County Courthouse were with candidates to replace current commissioner Gordon Cruickshank, who plans to step down next week.
Sherry Maupin of McCall and Furel Dummar of Lake Fork were interviewed for Cruickshank's seat, which must be filled by another Republican under state law.
The committee will meet again on Wednesday in a closed session to rank the two candidates and make a recommendation to Gov. Brad Little, who must appoint a new commissioner within 15 days.
continued:
— — — — — — — — — —
ITD holds community meeting to discuss Banks Lowman Road intersection
by Haley Squiers Friday, September 27th 2019
Chances are, if you're headed to Idaho's backcountry during the summer, you've likely run into the long lines along the Payette River.
Highway 55's intersection with Banks Lowman Road is often packed with cars, boats, campers, kayakers and rafters.
Idaho Transportation Officials are hoping to ease some of that congestion.
"They're solutions, but it's just trying to find the right one, that benefits everyone," said Idaho Transportation Department employee, Caleb Lakey.
continued:
— — — — — — — — — —
Little 'dubious' about proposal to tap counties to pay for Medicaid expansion
Little told the counties group that there are still many unknowns, including how many people will sign up for Idaho's expanded Medicaid program.
Betsy Z. Russell, Idaho Press September 24, 2019
Boise, Idaho — Idaho Gov. Brad Little said Monday that he's "dubious" about a legislative proposal to make counties kick in up to $10 million to help fund Medicaid expansion next year.
"Our budget request will basically harvest the savings that we have in corrections, that we have in Health and Welfare, we have in the other areas, to fund the state's 10% of that Medicaid match," Little told more than 200 county officials gathered in Boise for the annual conference of the Idaho Association of Counties. "That's going to be embedded into my budget, and that's what we're going to need to do."
Medicaid expansion already is funded for its first six months, from Jan. 1 to July 1, 2020, at no cost to the state general fund, through a combination of savings and $10 million from the state's Millennium Fund, a tobacco settlement fund. The discussion now is about how to fund the state's 10% share — the federal government will pay 90% of the cost — for the fiscal year that starts July 1, 2020. That'll be an estimated $41.9 million.
continued:
————————-
Mining News:
Judge says Idaho mining company violates federal water rules
U.S. District Judge Mikel Williams in 2012 ordered Atlanta Gold to pay $2 million for repeated violations of the Clean Water Act.
Associated Press September 22, 2019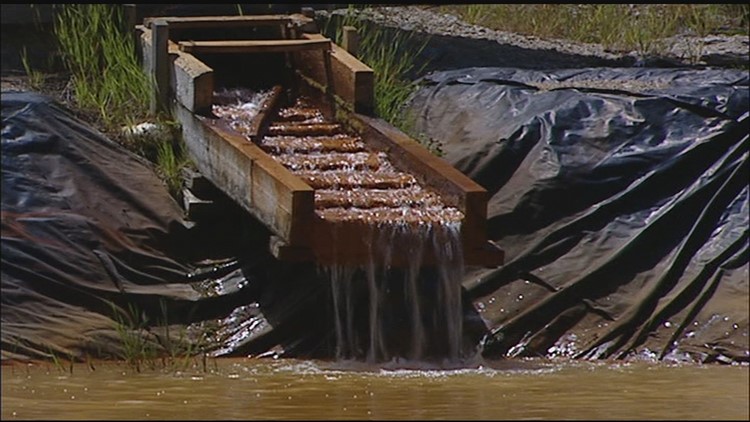 Boise, Idaho — An Idaho mining company has not complied with court orders and continues to violate clean water rules, according to a ruling by a federal judge.
U.S. Chief Magistrate Judge Ronald Bush of Boise in an order Thursday determined that Atlanta Gold had not achieved substantial compliance at its Montezuma Creek site above Atlanta in Elmore County, the Idaho Statesman reported.
Montezuma Creek is a tributary of the Middle Fork of the Boise River, a source of drinking, irrigation and recreational water for Boise and other Treasure Valley communities.
continued:
— — — — — — — — — —
Pollution found in US river downstream of Canada mines
By Matthew Brown – 9/23/19 AP
Billings, Mont. — U.S. government scientists found high levels of pollution that can be toxic to fish, aquatic insects and the birds that feed on them in a river that flows into Montana and Idaho from a coal mining region of Canada, officials said Monday.
Elevated levels of selenium were found in fish and fish eggs from the Kootenai River downstream of Lake Koocanusa.
The lake straddles the Canada border in northwestern Montana and southern British Columbia, and feeds into the Kootenai before the water flows downstream to Idaho.
continued:
———————–
Public Lands:
IDL reminds Idaho hunters about fire season and public land
by CBS 2 News Staff Wednesday, September 25th 2019
Boise, Idaho (CBS 2) — Hunting season has started in Idaho has started, however, fire season is still going.
The Idaho Department of Lands wants to remind hunters that fire season will go through the end of October and that people cause most fires.
"Most wildfires today are not naturally occurring," according to IDL. "People – not lightning – were responsible for more than half the fires this year, accounting for 98% of the acres burned on lands protected by the Idaho Department of Lands."
If campfires are allowed where you plan to hunt, make sure your campfire is cool to the touch before leaving it so you do not unintentionally start a wildfire.
continued:
— — — — — — — — — —
Idaho agencies say state land agreement is a good deal
Sep 26, 2019 AP
Boise, Idaho (AP) – Idaho officials at two state agencies say an agreement a little over a year ago formalizing public access to state-owned lands has been a good deal for the agencies as well as a benefit to hunters, anglers and recreationists.
The Idaho Department of Lands and Idaho Department of Fish and Game said Thursday both sides are benefiting from the 2018 agreement.
Fish and Game is paying the Lands Department $580,000 annually, with about a fourth of that in law enforcement.
continued:
— — — — — — — — — —
Comments sought on 3,000-acre project to combat tussock moths
The Star-News Sep 26, 2019
A proposed 3,000-acre project designed to battle an infestation of tussock moths in trees is proposed for the New Meadows Ranger District of the Payette National Forest.
The Little Red Goose Forest Resiliency Project is located inside 8,000-acres in Upper Goose Creek, Sixmile Creek and Lower Goose Creek between New Meadows and McCall.
The Forest Service will also host a public meeting on the Little Red Goose project on Wednesday, Oct. 9, at 6:30 p.m. Details on the meeting, including location, will be posted on the project webpage.
Moths, in combination with other blights, are threatening the health of trees in the area with a high risk that additional trees could be killed if no actions are taken, New Meadows District Ranger Erin Phelps said.
The project includes logging, firewood removal, slash pile burning and other controlled fire burns, the project proposal said.
"We recognized a need to focus our efforts and do what we can to give the area a chance to bounce back from the high stressors related to insects and disease," Phelps said.
The Little Red Goose project area is within the larger Granite Meadows project, which is an approximately 80,000-acre Collaborative Forest Landscape Restoration project that will have additional restoration work completed in the future.
"Adequately responding to this insect issue is important enough that we need to move quickly and efficiently," Phelps said. Comments are requested through Monday, Oct. 21 on the project webpage.
source:
— — — — — — — — — —
Local citizen rewarded for helping with illegal dumping case on BLM land
Sep 27, 2019 By Steve Dent KIVI TV
Boise, Idaho — Illegal dumping on public lands continues to be a problem in Idaho, but recently a local citizen was rewarded $500 for helping authorities solve a case.
The Boise BLM District stretches for four million acres, but there are only four rangers patrolling the district.
"The public is truly our eyes and ears out there, without them we can't get timely reports or have successful investigations," said Ranger Jay Brown with the Bureau of Land Management.
continued:
————————
Tips and Advice:
Be bear aware
* Camping in Bear Country
* Do not feed bears or other wildlife.
* Visit or call the local Forest Service office to learn about special requirements or guidelines for properly storing food while camping in the area.
* Keep a clean camp site.
* Do not store food or any scented items in a tent, including clothing with food residues.
* Do not leave food unattended at a campsite or in your vehicle.
* Use bear-resistant food lockers and dumpsters where provided or bring your own.
* Clean utensils and food prep area thoroughly after cooking.
* Do not store garbage at camp site. Use a designated dumpster.
* At an undeveloped camping location, cook and store food away from sleeping area.
Remember: You are responsible for your own safety and for the safety of those around you.
source:
—————————–
Critter News:
MCPAWS to move Oktoberfest to The Activity Barn Oct. 5
The Star-News Sep 26, 2019
MCPAWS Regional Animal Shelter will celebrate fall with its family friendly Oktoberfest on Saturday, Oct. 5, from noon to 6 p.m. at a new location at The Activity Barn near McCall.
The event will include horse-drawn hayrides, a costume contest, live music by Bottom Line Band and Bob Kasnik, craft vendors, dancing, local brews, traditional Oktoberfest games and a raffle.
Cost is $10 per person and includes one free beer ticket and an Oktoberfest koozie.
Raffle tickets are $5 each and will be available at the event. Prizes include a fat-tire mountain bike and a mini fridge filled with beer.
Proceeds from the registration and raffle will benefit the cats and dogs at MCPAWS.
There will be a free shuttle running from 11:30 a.m. to 6:30 p.m. from the McCall Post Office, 495 Deinhard Lane.
The Activity Barn is located at 141 Moonridge Dr. For more information, visit
source:
— — — — — — — — — —
FDA cautions against feeding your dog this food
Sample shows salmonella
By Madeline Holcombe, CNN Sep 29, 2019 Local News 8
The United States Food and Drug Administration is warning pet owners to stay away from Performance Dog frozen raw pet food produced on or after July 22, 2019, after a sample tested positive for Salmonella and Listeria monocytogenes.
Two samples of raw pet food — one of Performance Dog and the other of a beef variety — were taken by the FDA as a part of a routine inspection in the Bravo Packing, Inc. manufacturing facility in Carneys Point, New Jersey, the statement said.
The beef pet food tested positive for Salmonella and the Performance Dog tested positive for Salmonella and Listeria monocytogenes.
continued:
— — — — — — — — — —
Animal shelter says housing woes mean more pets surrendered
Sep 26, 2019 AP
Boise, Idaho (AP) – Idaho's increasing cost of living is putting pressure on people and their pets.
Idaho Humane Society officials say they're seeing an increase in the number of people surrendering their pets because of housing issues.
Kristine Schellhaas with the Idaho Humane Society tells KBOI television in Boise some owners can't afford pet insurance or the higher rental rates they must pay with pets. So far this year the shelter has taken in more than 1,500 owner-surrendered cats and dogs.
continued:
— — — — — — — — — —
Washington authorizes killing of some wolves in Grouse Flats pack
Sep 24, 2019 AP
Spokane, Wash. (AP) – The state of Washington has authorized the killing of some wolves in the Grouse Flats pack in an effort to stop the pack from preying on cattle.
Kelly Susewind, director of the Washington Department of Fish and Wildlife, on Tuesday authorized the incremental killing of members of the pack located in southeastern Washington.
The agency says the Grouse Flats pack has been involved in two cattle depredations in the past 30 days, and four in the past 10 months.
continued:
— — — — — — — — — —
Man who shot wolf in Grand Teton given conditional license
Sep 23, 2019 AP
Jackson, Wyo. (AP) – A big game hunting guide who illegally killed a wolf in a Wyoming national park has been granted a probationary license.
The Jackson Hole News & Guide reported the Wyoming State Board of Outfitters and Professional Guides granted Brian Taylor a one-year, conditional outfitters license last month.
The board voted to approve the penalty proposed by a three-person investigative committee after members who participated in the investigation recused themselves.
continued:
— — — — — — — — — —
9/15/19: Wyoming Wolf Hunt
(By Cat Urbigkit) With the Sept. 1 opening of the wolf hunting season in many of western Wyoming's trophy wolf hunt areas, here is an update of harvests as of Sept. 13… (Click this link for the complete story.)
— — — — — — — — — —
9/3/19: Wolf News Roundup, 9/3/19
(By Cat Urbigkit) Back in the 1960s, Alaska wildlife officials decided that Coronation Island with its high density of deer should have a wolf population, so four wolves were transplanted. What came next is a story of the wolves causing the decline of the deer population, and when the wolf population declined and was eventually eliminated, the deer population once again increased. The Capital Press reports that wolves killed a record number of livestock in Idaho in the last fiscal year, with 175 confirmed depredations – a 25 percent increase from the year prior. Washington Department of Fish & Wildlife officials have cancelled a series of wolf recovery planning open houses because of the volatility of public discourse… (Click on this link for the complete story.)
— — — — — — — — — —
8/22/19: WA removes OPT wolf pack
(By Washington Department of Fish & Wildlife) On the morning of Aug. 16, the Washington Department of Fish and Wildlife (WDFW) lethally removed the four known remaining members of the OPT wolf pack. A series of WDFW investigations had shown the pack responsible for 29 depredation incidents on federal grazing lands in the Kettle River range of Ferry County. In April 2019, the department reported 27 wolf packs in Washington….. (Click on this link for the complete story.)
— — — — — — — — — —
8/15/19: Wolf News Roundup: 8/15/19
(By Cat Urbigkit, Pinedale Online!) A wolf attacked a man who was sleeping in tent (one of four family members in the tent) at a busy campground in Canada's Banff National Park. The injured man was hospitalized with serious injuries, and nearby campers helped to scare away the wolf. A new paper in the Journal of Wildlife Management examines the effects on wolf pack size and winter conditions on elk mortality, as well as the influence of mountain lion predation on elk. The Duluth News-Tribune has an article about the wolves of Voyageurs National Park, including details about the life of wolves in this unique environment – from prey encounters to social interactions….. (Click on this link for the complete story.)
— — — — — — — — — —
Male grizzly captured near Cody and moved
Sep 23, 2019 Local News 8
Jackson, Wyo. (KIFI/KIDK) – Wyoming Game and Fish personnel captured and relocated an adult male grizzly bear Saturday, September 21.
It was captured on private lands northwest of Cody, Wyoming for livestock depredation on private lands. The bear was relocated to Blackrock Creek drainage, about 20 miles east of Moran Junction.
Carnivore biologists said the relocation will minimize conflicts with humans.
continued:
— — — — — — — — — —
Another hunter attacked by grizzly in Montana
Sep 25, 2019 AP
Billings, Mont. (AP) – For the fourth time in just over a week a hunter has been attacked by a grizzly bear in the Gravelly Mountains in southwestern Montana.
Fish, Wildlife and Parks spokesman Morgan Jacobsen tells The Billings Gazette the victim of Tuesday's attack was being treated in Sheridan.
continued:
— — —
Montana wardens can't located injured bear after mauling
Sep 26, 2019 AP
Bozeman, Mont. (AP) – Montana wildlife officials have been unable to locate a grizzly bear that mauled an Ohio hunter in southwestern Montana.
Fish, Wildlife and Parks wardens began investigating Tuesday, shortly after the attack was reported in the Gravelly Mountains.
FWP spokesman Morgan Jacobsen said Thursday the hunter reported he was walking through blown-down timber when he was attacked by a bear at close range. The hunter said he fired several shots at the bear until it left.
continued:
— — — — — — — — — —
Humans can get tuberculosis from deer, the CDC says
Disease carried in dead animal's organs
By Scottie Andrew, CNN Sep 29, 2019 Local News 8
The Centers for Disease Control and Prevention has found another unusual way animals can get humans sick. Luckily, this one doesn't involve kisses from your pet.
After two decades of hunting, a 77-year-old Michigan man came down in 2017 with a case of tuberculosis. The carrier, according to a new CDC report, was an infected deer.
The unnamed patient had hunted deer in the same area where two other hunters were infected more than 15 years earlier.
In his case, he likely inhaled infectious pathogens of bovine tuberculosis, a mycobacterium that can sicken humans, while removing a dead deer's infected organs, the CDC said.
continued:
———————–
Letter to Share:
Calling All Youth Bird Hunters!
The Game Bird Foundation and Idaho Fish and Game invite youth hunters 17 and under to the Palouse River Upland Game Area starting October 5, 2019 for special youth-only pheasant hunting. The Game Bird Foundation and IDFG will be releasing banded pheasants each week throughout the season on this special Access Yes property to make hunting even more exciting. Report any banded birds you bag to the IDFG to have your name entered to win a prize!
Youth hunters must be accompanied by an adult mentor and registration is required to hunt. You can register online at (link) or call the IDFG Lewiston office at 208-799-5010 to register over the phone. Good luck hunters!! We can't wait to see photos of your hunt!
– The Game Bird Foundation (via FB 9/29/2019)
——————————
Fish & Game News:
Idaho Fish and Game proposes new out of state hunting management plan
Sep 22, 2019 By Steve Dent KIVI TV
Boise, Idaho — Idaho hunters have spoken up and the Idaho Department of Fish and Game listened to concerns about non-Idaho residents overcrowding the hunting landscape in the Gem State.
Idaho has already sold out their out-of-state tags for deer and elk in the controlled hunt, but Idaho is one of five western states that allows a general big game hunt for both in-state and out-of-state hunters.
Wyoming and Montana recently put and end to their out of state general hunt and now Idaho Fish and Game has a proposal in the works that would help them manage where non-residents hunt.
continued:
— — — — — — — — — —
Idaho F&G: Know the trespassing laws when hunting and fishing
by Ryan L Morrison Monday, September 23rd 2019
Boise, Idaho (CBS 2) — The Idaho Department of Fish and Game (IDFG) wants Idaho fishers and hunters to remember one thing: you need permission to be on private lands.
Last year Idaho's trespassing laws changed to include permission to hunt and fish on private property.
"No person shall enter or remain on private land to shoot any weapon or hunt, fish, trap or retrieve game without written permission or other lawful permission," – IDFG website.
continued:
— — — — — — — — — —
Someone poached a moose in central Idaho and left it to waste
by CBS 2 News Staff Tuesday, September 24th 2019
Mackay, Idaho (CBS 2) — A moose was poached in central Idaho near the small town of Mackay.
It was left to waste about 70 yards away from a nearby campground.
The antlers and a small amount of meat had been removed with the majority of the edible meat left to waste. Idaho Fish and Game says the moose was found near the Park Creek Campground.
continued:
— — — — — — — — — —
Idaho F&G uses decoys to catch roadside poachers
by Ryan L Morrison Thursday, September 26th 2019
Boise, Idaho (CBS 2) — The Idaho Fish and Game (IDFG) is warning people to not shoot at animals from the road.
"That buck or bull standing next to the road might be a tempting target, but it might not be what you think it is, and it could be a very costly mistake," said IDFG.
IDFG uses ASAs, or artificial simulated animals, in places well known for trespassing, spotlighting and road hunting to catch law-breaking hunters.
continued:
— — — — — — — — — —
Fish and Game Property Vandalized – Public's Help Sought
By Evin Oneale, Regional Communications Manager
Tuesday, September 24, 2019

Payette County Sheriff's Office
Fish and Game is asking the public for information regarding the recent vandalism of an access gate at the Birding Island North segment of the Payette River Wildlife Management Area (WMA). The segment is located about three miles north of New Plymouth, Idaho.
Citizens Against Poaching (CAP) is offering a reward for information in the case and callers can remain anonymous. Contact CAP at 1-800-632-5999 twenty four hours a day.
Deputies from the Payette County Sheriff's Office discovered the badly damaged gate on Sunday, September 22nd and relayed their discovery to Fish and Game district conservation officer Mark Sands.
continued:
— — — — — — — — — —
More F&G News Releases
link:
———————————-
Fun Critter Stuff:
Deer in McCall finds itself tangled in Christmas lights
by CBS 2 News Staff Wednesday, September 25th 2019
McCall, Idaho (CBS 2) — Well, file this under "Something You Don't See Every Day."
A deer has been roaming around Payette Lake with Christmas lights stuck in its antlers. Idaho Fish and Game told CBS 2 that it started receiving reports of the jolly ol' deer Sept. 19 in the Warren Wagon Road area west of Payette Lake.
"It looks like it's healthy," Fish and Game said. "The deer is fine — other than the lights."
So what's the plan?
continued:
————————–
Seasonal Humor:

———————-