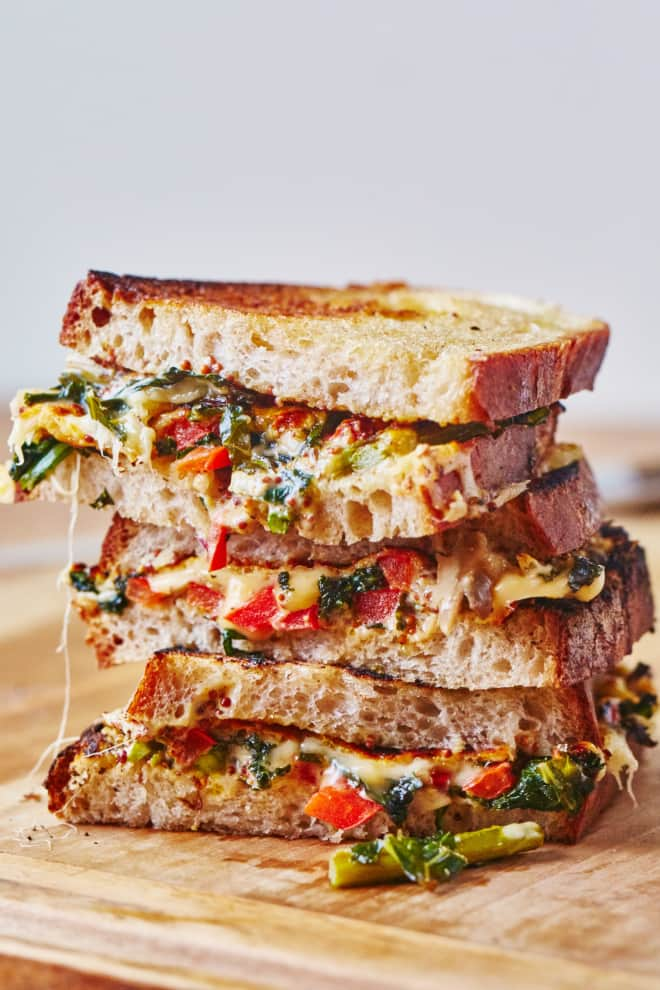 Ingredients
1/4 cup mayonnaise
3 tablespoons whole-grain mustard
2 tablespoons olive oil
1/2 small onion, diced
8 ounces asparagus, ends trimmed and cut into 2-inch pieces
8 ounces fresh mushrooms, stems removed and thinly sliced
1 medium red bell pepper, cored, seeded, and cut into 1/2-inch-wide strips
1/2 teaspoon kosher salt
1/4 teaspoon freshly ground black pepper
3 cups shredded kale leaves (about 6 ounces)
1 clove garlic, minced
2 tablespoons unsalted butter, at room temperature
8 (1/2-inch-thick) slices sourdough bread (from a 9-inch round boule)
1 1/2 cups grated Gouda cheese
Instructions
Arrange a rack in the middle of the oven, place a baking sheet on the rack, and heat to 450F.
Stir together the mayonnaise and mustard in a small bowl; set aside.
Heat the oil in a large skillet over medium heat until shimmering. Add the onion and cook, stirring occasionally, until softened, 3 to 4 minutes. Add the asparagus, mushrooms, and bell pepper, season with the salt and pepper, and cook, stirring occasionally, until the vegetables start to become tender, about 5 minutes. Stir in the kale and garlic, and cook until the kale is wilted, 2 to 3 minutes. Remove the pan from the heat.
Spread the butter evenly on one side of each of the bread slices, then spread the Dijonaise on the other side.
Carefully remove the hot baking sheet from the oven. Place all the bread slices, butter-side down, on the baking sheet. Evenly distribute the sautéed vegetables over 4 of the slices, then evenly sprinkle the cheese over the vegetables. Four slices of the bread will be without toppings
Return the baking sheet to the oven and bake until the cheese is melted and bubbling, about 5 minutes.
Transfer the bread slices with the vegetables to a cutting board. Top with the remaining bread slices, Dijonaise-side down. Cut each sandwich in half and serve.
Recipe Notes:
Make ahead: The Dijonaise spread can be made 1 day in advance and stored in a covered container in the refrigerator. The vegetables can be sautéed up to 1 day in advance and stored in a covered container in the refrigerator. Bring to room temperature or reheat on the stovetop before assembling the melts.
—————————-