Nov 10, 2019 The Yellow Pine Times – Valley County, Idaho
Note: The boil order and water restrictions are still in effect.
Community Calendar:
April 2 – Boil water order issued
Every Sunday – 11am Fire/SAR Training
May 15 – Nov 30 Firewood Season
Nov 23 – Xmas tree permits
Nov 28 – Thanksgiving potluck 2pm at the Tavern
(details below)
———-
Local Events:
Xmas Tree Permits Nov 23
The Boise and Payette National Forest (NF) vendors will begin selling Christmas tree permits Saturday, Nov. 23.
— — — —
Yellow Pine Thanksgiving
Thursday, November 28, 2019 at 2pm Potluck at the Yellow Pine Tavern – Turkey and bread stuffing provided by the Tavern.
———-
Village News:
Nov 6th – Amerigas propane delivery
Dan Henrikson with Amerigas was in Yellow Pine all day Wednesday, November 6th, doing safety checks and topping off propane tanks for the winter.


— — — —
Boil Water Order Still in Effect
Bring all water to a boil, let it boil for one minute, and let it cool before using, or use bottled water. Boiled or bottled water should be used for drinking, making ice, brushing teeth, washing dishes, and food preparation until further notice. Boiling kills bacteria and other organisms in the water.
— — — —
Get Ready for Winter Heating
* Inspect and clean the chimney. Contact the YPFD to borrow chimney brushes.
* Inspect and clean wood stoves, make sure dampers work properly and check for leaks.
* Check your carbon monoxide and smoke detectors – install fresh batteries.
* Check your fire extinguisher and make sure it is handy. Manually rotate them around, tip upside down and lightly shake them, thus keeping the fire fighting agent loose, and check that the needle is still in the green. If you need a new one please call, your fire commissioner or Jeff F.
* If you have an oil-powered furnace, replace your filter and nozzle and check the tank level.
* Check your propane tank levels. Check to make sure snow falling from the roof cannot impact your pipes!
* Test the igniter switch. On an old system, you might have to relight the pilot. Newer systems have electronic igniters.
* Lubricate and clean the blower motor. First check the owner's manual to see if your motor is the kind that needs lubricating. If it does, turn off the power, open the cover and clean the caps covering the bearings. Then remove the caps and lubricate the bearings.
* Inspect the blower belt for cracks. Turn off the power to the furnace at the main circuit breaker. Use a screwdriver to remove the steel cover of the air handler. The blower belt is the largest rubber belt that you see. Replace the belt if it is cracked.
* Inspect the exhaust flue outdoors to ensure it is free of obstructions such as branches or animal nests.
* Keep the area around your furnace unit free of debris and clutter.
* Change the air filters. Clean your air vents and ducts. Remove the vent covers with a screwdriver. Use the extension hose of your vacuum to remove the dust.
* Open all your air vents. Remove furniture, boxes and clutter that get in the way of air flowing from the vents.
Local Fuel Suppliers
Propane
Amerigas Phone: (208) 634-8181
Ed Staub & Sons Phone: (208) 634-3833
Heating fuel
Diamond Fuel & Feed Phone: (208) 382-4430
Furnace Service
Rocky Mountain Mechanical (208) 365-PIPE (7473), Emmett
— — — —
Yellow Pine Transfer Station
Dump Report Nov 6th: The dumpsters were about half full and the road has pot holes.
Please do not abuse our Transfer Station or we may lose it. Household trash must be placed in the bins, flattened cardboard boxes can also go into the bins. Do not stack trash in front of the doors. Woody yard debris only for the burn pile. No furniture, appliances, tires or construction debris allowed, those items must be hauled out to the Donnelly station by you.
Yellow Pine Transfer Station (aka, the dump)
The Yellow Pine Transfer Station is located approximately 3 miles south on Johnson Creek Road.
The TRANSFER STATION is for household trash and yard waste:
* Household trash must be put inside (and fit) the dumpster;
* Yard waste (limbs, pine needles, brush, et.) goes in the burn pile on the south end of the turn-around;
* Cardboard boxes should be flattened before putting the in the dumpster,
The DUMPSTERS are NOT for:
* Furniture (take to Donnelly Transfer Station);
* Appliances (take to Donnelly Transfer Station).
The BURN PILE is NOT for:
* Cardboard boxes (flatten and put in dumpster);
* Furniture and appliances (take to Donnelly Transfer Station);
* Drywall and building material (take to Donnelly Transfer Station);
* Wire or fencing (take to Donnelly Transfer Station);
* Foam Rubber (take to Donnelly Transfer Station);
* Wood with metal (like nails) attached (take to Donnelly Transfer Station.)
When closing the DOORS on the front of the dumpsters:
* Make sure the "U" brackets at the top and bottom of the door are engaged;
* The retaining bar at the middle of the door is slid into the pipe;
* And the "L" bars at the bottom of the doors dropped into place.
The Yellow Pine Transfer Station is Valley County responsibility. If it is not kept tidy, use of the Transfer Station may be revoked. That would result in residents having to take all household trash and yard waste to the Donnelly Transfer Station.
If Dumpsters Are Full, Contact Lake Shore Disposal at: 208/634-7176
— — — —
Yellow Pine US Mail
The 3-day a week mail delivery started Nov 1st. The Post Office in Yellow Pine is open six days a week year around: M-F 845am-245pm Saturday 9am-245pm. Forever Stamp: 55 cents Support our local post office and purchase your holiday stamps here.
— — — —
Reminder for people living in bear country:
* Garbage should be stored inside the house or in a secure garage or storage building.
* If garbage cannot be stored in a secure location, a bear-resistant container approved by the Interagency Bear Committee is recommended.
* Avoid using bird feeders from March through November. Birds do not need supplemental feeding this time of year.
* Pet food should not be left outside.
* BBQ grills or anything with a strong odor should not be left out at night.
* Protect gardens, beehives, and compost piles with electric fencing.
* Never intentionally feed bears. A food-conditioned bear may pose a threat to human safety and usually results in the removal of the bear.
———-
Local Groups:
YPWUA News:
The 2019 Yellow Pine Water Users Shareholders meeting was Sunday July 7th in the community hall. (No minutes yet)
Yellow Pine Water Use 2019

(link to larger size)
[h/t Dave P]
—
Water Update Oct 23:
October 22nd – The crew from Rocky Mountain Mechanical repaired the main water line leak up near the orchard.
Water Update Oct 15th:
A major leak was found and a temporary fix was made until parts can be obtained. Once parts and people are available, that will be fixed. Fixing that leak doesn't mean we will be off the boil order. The boil order was issued by the DEQ. They will not lift that order until the chlorine contact time meets the standard.
– Steve Holloway
Water Update Sept 21 (excerpted from VYPA 9/21 meeting notes):
Tests were conducted by Idaho Rural Water [July 19th] in an effort to locate the source of the major leak in the system. They will return October 3rd to continue the search for leaks. The line between Alpine Village and the Saleen property, which includes the bridge across the East Fork river is the line most suspected to be leaking. Cecil Dallman will stand by with a backhoe to dig in locations found. More digging work is needed at the tanks and pipes near the water facility. A second engineer is being consulted. Getting contractors to come to YP and replace seals is difficult. The previous grant money is tied to a timeline so some specified work must be done this fall.
The possibility for a large amount of grant money is very slim because we would have to take out a loan and use the borrowed money for the required matching money, and then there would be the loan payments. Money on hand must be used on required repairs to the contact tank. Because some water users do not have voting rights YPWUA does not qualify for some grants.
There are 56 shares available for purchase at $100/share. Each piece of land is entitled to own one share. Share holders are entitled to vote; water users that do not own a share may not vote, but do have access to water. The owners of the 56 lots are encouraged to purchase shares. Ownership of a share is shown on your annual water bill.
Anyone wanting to arrange a payment plan should contact Willie Sullivan.
– Steve Holloway/Willie Sullivan
May 1st: Leak in alley repaired
link to: #4430059 Yellow Pine Water Users Boil Water Notification 4-2-19
link to: 2018 September Water Department Update
— — — —
VYPA News:
Cemetery – Tim Rogers: Marge Fields is researching the history of the log cabin now located at the cemetery, but formerly was in the center of the Yellow Pine village. A plaque will be placed at the cabin.
The previous information sign showing names and locations of deceased buried in the cemetery will be repaired this winter and placed next year.
Road & Ditch Committee has been created. Clayton Egbert, Chairman. Tim Rogers and Tom Lanham have volunteered. This group and will need more volunteers.
Village of Yellow Pine Association Meeting Minutes for September 21, 2019
link to: 20190921 Village of Yellow Pine Association Meeting
— — — —
YPFD News:
YP Fire Commissioners:
Sue Holloway District 1
Dan Stiff, District 2
Merrill Saleen, District 3
Fire Chief: Jeff Forster
—
Yellow Pine Fire Protection District Community Service Notice
The purpose of this letter is to show how you as a Yellow Pine Resident can help protect your structure against a wildland fire by being "Fire Wise."
link to: 20190724 Yellow Pine Fire Protection mitigation
—
Stop the Bleed Class: We will do another class this spring/summer [2020] depending on interest.
Training update 10/24: "FD training is done for the year except for anyone wanting a one-on-one orientation session with the fire station and fire engine operations/pumping. Those that are interested can call me and I'll make it happen." – Fire Chief Jeff
YP Helispot update 10/24: "The Helispot is on it's final stages of completion. The sidewalk to the pad needs to be concreted but everything else is complete. The gate and signs are up and Valley County Dispatch has the GPS coordinates. (44.95968 -115.49531) It's listed as Yellow Pine Helispot. The gate is unlocked and will remain that way. There is a snow shovel there if needed. I'm asking that NO VEHICLES go beyond the gate. We already had a muddy ATV'er ride all over the pad and over the new paint with muddy tires marking up the pad. We're planning on a dedication ceremony on the Wednesday or Thursday prior to the 2020 Harmonica Festival. More on that next year."
YP Helispot update 10/26: "The concrete walkway to the Helispot was completed today 10/26/2019. Thanks to all who worked in the cold, rain and snow to accomplish this needed project. The stretcher can be rolled smoothly to the helicopter making it safer for the the patient and medical personnel making it more comfortable for the patient and safer for everyone. Job well done." JF – AF

-Fire Chief Jeff
——–
Biz Listings:
Yellow Pine Lodge (208) 633-3377
Call for reservations. Open until the end of hunting season.
— — — —
The Corner (208) 633-3325
The Corner is closed for the winter, opening again next spring so that I can spend the winter with the family. I can be reached at matt @ ypcorner.com or at 970-379-5155. Thanks, have a great winter!
— — — —
Yellow Pine Tavern (208) 633-2233
Fall hours open 8am to close
Full breakfast served starting at 8am with special arrangement for earlier breakfast as needed. 92 Octane non ethanol gas available, cubed ice, beer, pop and water sold by the 6 and 12 pack, snacks, ice cream and many supplies available. Burgers and Pizza, Beer and Wine on the evening menu. Football and other sports available on our TV. Wi Fi, Verizon phone service and information available.
— — — —
Buck Horn Outfitters LLC 208-633-3614
Tom & Sarah Lanham
156 Yellow Pine Ave, Yellow Pine Id 83677
website:
FB page:
Starting June 2020 We will be doing trail rides out of Yellow Pine along with summer pack / camping trips to high mountain lakes in the area!
—
Wapiti Meadow Ranch – Johnson Creek (208) 633-3217
or 208-315-3554 – cabin rentals
website:
—
Deadwood Outfitters
website:
— — — —
Local Fuel Suppliers
Amerigas Phone: (208) 634-8181
Ed Staub & Sons Phone: (208) 634-3833
Diamond Fuel & Feed Phone: (208) 382-4430
— — — —
Outside Biz that will service Yellow Pine:
The Star-News


subscribe:
A reminder that those who live in other states can subscribe to the online edition only since the mail can take days for hard copy to reach them.
Rocky Mountain Mechanical – Plumbing – Heating – Air conditioning
(208) 365-PIPE (7473), Emmett, will service Yellow Pine
Elkhorn Heating & Cooling
(208) 906-4067 Middleton, Idaho, will service Yellow Pine
B&T Safety Solutions LLC
208-271-1600 Based out of Donnelly
Snow removal, cleaning chimneys and stoves, we do cabin staining/chinking as well
— — — —
Follow The Yellow Pine Times on Facebook (updated more often than emails)
———————–
Local Observations:
Monday (Nov 4) overnight low of 23 degrees, mostly high thin haze in the sky this morning. Clark's nutcracker, steller jays and red-breasted nuthatches visiting. Partly hazy at lunch time. A little extra street traffic today. Partly hazy and mild mid-afternoon, high of 55 degrees. Colorful sunset, deep red to light pink. Stars out before midnight.
Tuesday (Nov 5) overnight low of 21 degrees, clear sky this morning, light frost melting in the sun, patches of old snow in the shade. Jays, clark's nutcrackers and nuthatches visiting. Sunny and mild at lunch time. A couple of chipmunks and a pine squirrel stopped by. Clear and almost warm by mid-afternoon, high of 61 degrees. Fat waxing moon up above Antimony ridge at dusk. Lots of stars out before midnight.
Wednesday (Nov 6) overnight low of 20 degrees, almost clear sky this morning – one small patch of thin clouds – slight breeze and patchy old snow in the shade. Clark's nutcracker, several jays, white and red-breasted nuthatches and a hairy woodpecker visiting, raven flying over the village calling. Heavy truck traffic on the back Stibnite road. Clear and warming up at lunch time. Amerigas was in inspecting and topping off propane tanks. Mail truck made it in on time. Clear and mild mid-afternoon, high of 57 degrees. Lots of jays bopping around. Looked clear at dusk and calm. Lots of stars out before midnight.
Thursday (Nov 7) overnight low of 19 degrees, almost clear sky – patch of haze to the south east, slight breeze this morning and patches of old snow in the shade. We have a bit of an inversion developing, the air quality is slightly poor and we had the same low temp as Stibnite. Jays, nutcrackers, nuthatches, a hairy woodpecker, chipmunks and a pine squirrel visiting. High haze at lunch time and fairly calm. Mild and thin overcast by mid-afternoon and calm, high of 54 degrees. It appeared to be only partly hazy at dusk, not much color in the west. A little haze before midnight.
Friday (Nov 8) overnight low of 20 degrees, clear sky and light frost. The slight inversion continues, it was a little warmer last night at Stibnite than in YP, and woodstove smoke hanging low. Nutcrackers, jays, red and white-breasted nuthatches and a hairy woodpecker visiting. Partly hazy at lunch time, filtered sunshine. Extra traffic on main street during the day. High thin overcast and calm mid-afternoon, high of 58 degrees. Scarlet colored sunset. Fuzzy moon up over the ridge after dark. Some stars out but mostly hazy at before midnight.
Saturday (Nov 9) overnight low of 23 degrees, mostly high thin clouds and light frost this morning. It was warmer at Stibnite again this morning than in YP. Jays, Clark's nutcrackers, hairy woodpecker and red-breasted nuthatches visiting. High haze over most of the sky by lunch time. Hardly any traffic today. Low airplane circling over the village around 340pm. Mostly cloudy and calm mid-afternoon, high of 61 degrees. Mostly cloudy at dusk, quiet and calm. Cloudy before midnight.
Sunday (Nov 10) overnight low was probably above freezing, mostly cloudy and low 40s at sunrise, a tiny trace of old snow in the shade. Jays, nutcracker, a hairy woodpecker, a pine siskin, several red-breasted nuthatches and a chipmunk visiting. Mostly cloudy at lunch time. Getting breezy by mid-afternoon, mild temps and mostly cloudy, high of 57 degrees. A few more pine siskins, a male evening grosbeak and a pine squirrel joined the birds at the feeders. Partly cloudy and breezy at dusk. Big cloud to the east reflecting the light of the moon that was still below the horizon, and flag flapping breezes.
————————–
Idaho News:
'Our hands are tied:' Services expected to be cut after roads levy fails in Valley County
Snowplowing and road maintenance will likely be slashed in half amid a major funding shortfall.
KTVB November 6, 2019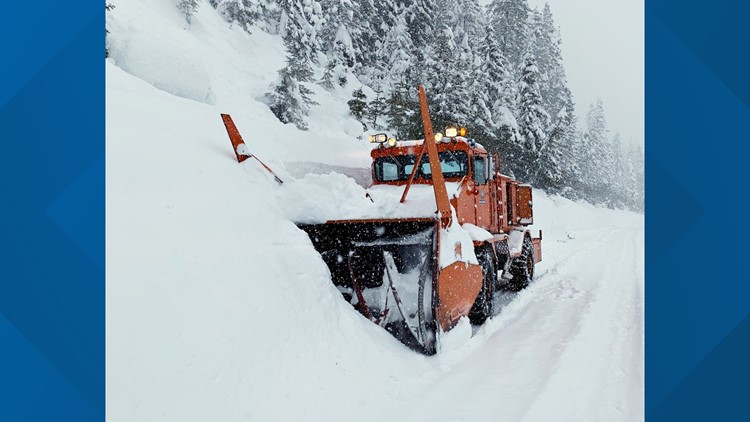 Cascade, Idaho — Snow plowing and road maintenance in Valley County will likely be slashed by half after voters declined to raise their own property taxes to help officials grapple with a federal funding shortfall.
Fifty-one percent of those who turned out at the polls backed the Valley County roads override levy, but it fell far short of the two-thirds majority needed to pass. A total of 1,194 people backed the levy, while 1,159 opposed it.
The levy's failure leaves the county staring down a looming funding crisis.
According to county commissioners, the federal government used to give Valley County $3 million a year for road maintenance, but are no longer providing funding for rural roads. The Idaho Transportation Department will continue to maintain and plow Idaho 55, but the county roads department is facing a major shortfall.
continued:
— — — — — — — — — —
Cascade voters reject local option tax
The measure failed 123 to 111.
KTVB November 6, 2019
Cascade, Idaho — Cascade residents voted down a proposed 1 percent local sales tax officials say would have brought in money to the city.
The tax would have applied to purchases under $1,000, with some exceptions, and would have been in place for two years. The measure failed 123 to 111.
The funds raised through the new tax would have gone towards streets, sidewalks, paths and crosswalks, as well as the maintenance and development of city parks.
source:
— — — — — — — — — —
Cascade Legion post to hold Veterans Day observances
The Star-News Nov 7, 2019
American Legion Post 60 will honor Veterans Day on Monday with observances at Legion Hall at 11 a.m. and at the Cascade School gym at 12:45 p.m.
The Post 60 veterans will also perform a flag retirement ceremony at 1:30 p.m. at the American Legion Hall, 105 E. Mill St. in Cascade.
source:
— — — — — — — — — —
Valley County to stop accepting plastics at recycling stations
Plastics have been taken to landfills for the past year
By Max Silverson for The Star-News Nov 7, 2019
Valley County commissioners on Monday voted to stop collecting plastic recycling at all three of the county's recycling depots effective Dec. 2.
Commissioners put into motion plans to consolidate all the county's recycling at a single, manned site in Lake Fork but no decision has been made if plastics will be accepted at the new location.
Plastic recycling bins will be removed from recycling stations in McCall, Donnelly and Cascade on Dec. 2.
For the past year, plastic has been accepted at the recycling stations but has been taken to landfills in Council and Payette after recycling companies said the plastics were too contaminated with other materials to accept.
"Right now, we can't control the contamination factor," Commissioner Dave Bingaman said.
continued:
— — — — — — — — — —
Valley County recycling
There have been changes made to the types of materials accepted for recycling in Valley County.
Lori Hunter, P&Z Technician
Valley County Planning & Zoning Dept.
Recycling Guidelines November 2019
* There is no garbage collection at the recycling locations.
* Do not leave garbage, "Free" items or other non-recyclable items.
* Do not place bags containing recyclables in the bins. Remove the items from the bags.
Items Accepted for Recycle
– Cardboard – Flattened/broken down cardboard only. No plastics, Styrofoam or other packing materials.
– Mixed Paper – Includes printer paper, newspaper and packing paper. We cannot accept neon paper or shredded paper.
– Aluminum Cans – Only aluminum cans are accepted in the aluminum bins. Do not place other forms of aluminum or tin in the aluminum bins. Remove the cans from bags.
– Tin – Clean tin cans only in tin compartment. No aluminum. No bags.
* Valley County will temporarily cease collecting all plastic at the 3 recycling collections centers in Cascade, Donnelly, and McCall beginning December 2, 2019. A reevaluation of the ability to accept plastic will take place in the spring of 2020.
* Contaminated bins will be disposed of as garbage. Please be aware of these guidelines and what you are placing in the bins to prevent this from happening. Your cooperation is appreciated and will contribute to the continuation of the recycling program in Valley County.
— — — — — — — — — —
St. Alphonsus ski and mountain trauma conference helps first responders in Sun Valley
Nov 08, 2019 By Steve Dent KIVI TV
Sun Valley, Idaho — The 14th annual St. Alphonsus ski and mountain trauma conference was back in Sun Valley this week to help first responders prepare for difficult rescues.
First responders, military personnel, ski patrollers and people interested in learning how to save lives in the back country came from all over the country for this conference.
The training features both seminar style learning, but also hands-on training that forces people to work as a team in order to help a patient in a number of different scenarios.
Note: Yellow Pine EMS members affiliated with Cascade EMS once again attended the annual Ski and Mountain Trauma Conference.

(photo courtesy Ann F)
———————
Scam Alert:
Veterans Day scams to watch for this year
Nov 04, 2019 KIVI TV
Boise, Idaho — With Veterans Day just around the corner, many people will look for ways to honor those who served but, unfortunately, that can open the door for scammers.
Better Business Bureau has reported seeing Veterans Day schemes involving people posing as a phony charity, often with a legitimate name. People receive a call from someone soliciting donations. The caller may claim to represent a veteran's organization and request cash, settle for credit card information, or try to get you to buy a prepaid card or send a wire transfer.
If you receive a call, email or find an advertisement soliciting donations, take your time to research. Verify contact information and that the charity is legitimate, keeping in mind bad guys will make their phony charities sound similar to real ones. In some cases, they may just impersonate the real deal so it's worth verifying with the real charity before donating.
continued w/more info:
———————–
Mining News:
Gold, antimony ore would go through the mill – literally
Rocks would be crushed, ground before processing
(Note: This is the third part in a series detailing Midas Gold Idaho's operating plan for its proposed gold and antimony mine near Yellow Pine. Next week: Flotation)
By Drew Dodson for The Star-News Nov 7, 2019
Blasted chunks of ore slightly larger than semi-truck tires would be whittled down to particles the size of sand granules before gold could be extracted by Midas Gold.
Crushing and grinding ore down into individual particles would allow precious metals to be separated from rock containing them, according to the proposed operating plan for the Stibnite Gold Project.
The process would begin with as much as 25,000 tons of ore per day from the company's three open pit mines passing through a jaw crusher, which is a series of steel mechanical jaws that function like a human mouth.
One jaw would remain fixed, while the other would swing back and forth, crushing ore until it is about the size of a volleyball.
The jaw crusher would operate about 18 hours each day to allow for routine maintenance, including the replacement of steel jaw liners that would prevent the actual jaws from wearing out.
Most of the crusher, which is about the size of an RV tipped vertically, would be located inside the ore processing building. Only the mouth of the jaws where ore is fed into would be outside of the building.
Misters and a dust collection system would reduce dust emissions from the jaw crusher, according to Midas Gold's operating plan.
Once small enough to pass through an opening at the bottom of the jaw crusher, ore would then be funneled into a SAG mill via conveyor belts for the first phase of grinding.
The SAG mill, which stands for semi-autogenous grinding mill, would be a large, enclosed cylindrical tube that functions like a clothes washer and would be 30 feet wide and 16 feet long.
Ore would tumble in the mill for up to eight minutes, breaking the rocks apart with the assistance of steel grinding balls about five inches in diameter and weighing seven to 14 pounds.
After being ground down to about the size of a coarse grain of salt, the ore would then move onto the ball mill, the final phase of crushing and grinding.
Like the SAG mill, the ball mill would tumble the ore with steel balls to further reduce the size of the grains or ore
But the steel balls in the ball mill would be only about 3 inches in diameter and would weigh between one and three pounds, which enables them to generate finer ore than the SAG mill.
Ore would spend up to 15 minutes tumbling in the ball mill, which would be about 26-feet-wide and 44-feet-long, or nearly the size of a double-wide trailer.
If the ore is not broken down to suitable size, it would be re-routed back to the appropriate mill for another round of grinding before advancing to the part of the plant where precious metals are extracted.
Like the jaw crusher, the SAG mill and ball mill would include replaceable heavy-duty liners that would protect the steel interior from being damaged during grinding.
The amount of ore cycled through the grinding mills per day would vary depending on the ore's durability. At capacity, they could process about 1,225 tons per hour, or 29,400 tons per day.
Midas Gold expects to operate the grinding mills for about 22 hours per day throughout the 12-year to 15-year life of the mine.
Both grinding mills would be contained within the 18,000-square-foot grinding building, which would be one of several buildings making up the ore processing facility.
Buying and building the infrastructure for the jaw crusher, SAG mill and ball mill would cost Midas Gold about $140 million, plus another $35,000 per day in electricity to operate it.
source: © Copyright 2009-2018 Central Idaho Publishing Inc.
————————-
Public Lands:
Lost Creek-Boulder Creek Landscape Restoration Project Record of Decision signed
Forest Supervisor signs record of decision for the Lost Creek-Boulder Creek Landscape Restoration Project on the Payette National Forest
On Nov 1, 2019 – Tawnya Brummett, the Acting Forest Supervisor for the Payette National Forest, signed the record of decision today for the Lost Creek-Boulder Creek Landscape Restoration Project on the New Meadows Ranger District.
This record of decision follows the 9th District Court of Appeals' ruling to vacate the original 2014 decision in a lawsuit brought by entities that opposed the project.
Subsequent to the court order, the Forest Service re-examined the 2014 final environmental impact statement (FEIS) and determined that the effects analysis and alternatives were sound, but additional clarification was warranted in the form of an errata to the final environmental impact statement. The FEIS and errata, along with a draft record of decision, were made available to the public in June 2019.
The selected alternative includes vegetation management, watershed restoration treatments, road management, and recreation management activities. Implementation of the decision can begin immediately.
The project files are posted on the Payette National Forest project web site at: (link)
For additional information, please contact Erin Phelps, New Meadows District Ranger at 208-347-0301.
— — — — — — — — — —
Lawsuit planned after giant forest project OK'd in Idaho
by Keith Ridler Associated Press Tuesday, November 5th 2019
Boise, Idaho (AP) – A giant forest project in Idaho rejected by the 9th U.S. Circuit Court of Appeals is on again, and an environmental group says it violates the court's orders and will stop it with another lawsuit.
The U.S. Forest Service on Friday approved the 125-square-mile (325-square-kilometer) project on the Payette National Forest, with work expected to start this week.
The Forest Service and the Alliance for the Wild Rockies agree the project is precisely the same as the one halted by the 9th Circuit Court's ruling against the Forest Service in August 2018.
But the Forest Service says changes in wording in an environmental review remove problems that caused the court to stop the project, and the Forest Service's new approval decision Friday allows work to begin immediately.
source:
— — — — — — — — — —
Lost Horse Project – Scoping/Comment Period
The Forest Service is seeking public input (scoping comments) for the proposed Lost Horse Project on the Cascade Ranger District in Valley County as part of the National Environmental Policy Act (NEPA) review.
Project Description
The project would implement a variety of vegetation management activities (mechanical thinning, noncommercial thinning, prescribed burning, machine piling, and aspen and meadow enhancement), along with associated road management activities (temporary road construction and road decommissioning). The objective is to restore species composition and stand structure, while reducing undesirable tree densities and favoring the retention of the larger diameter, more fire-resistant trees to benefit wildlife habitat and water quality throughout the project area. The proposed project is an activity implementing a land management plan and is subject to the pre-decisional objection process at 36 CFR 218 Subparts A and B.
For a more detailed description of the proposed project, please review the proposed action report (PAR) on the Project webpage:
How to Comment
The Forest Service is contacting interested persons, groups, and agencies to make them aware of the project and to gather pertinent feedback for the environmental assessment. Your comments will help us identify and address issues. Comments may be submitted in the following ways:
* Through the Lost Horse Project webpage (link above). Select "Comment on Project" under "Get Connected" on the right panel. If uploading a file with comments, comments must be in the form of plain text (.txt), Word (.doc, .docx) or PDF (.pdf).
* Mail to Cascade Ranger District, PO Box 696, Cascade, ID 83611.
* Hand deliver to Boise National Forest, Cascade District, 540 North Main Street, Cascade, ID 83611. Office hours for submitting hand-delivered comments are 8:00 a.m. to 4:30 p.m. Monday through Friday, excluding holidays.
* By fax at 208-382-7480.
If submitting comments by mail or fax, be sure to include "Lost Horse" in the subject line.
Comments received will be included in the project record and may be released in their entirety, if requested, pursuant to the Freedom of Information Act (FOIA).
Comment Period & Pre-decisional Objection Process
The opportunity to comment ends 30 days following the date of publication of the legal notice in the Idaho Statesman. Only those who submit timely and specific written comments (36 CFR §218.2) regarding the proposed project or activity during a public comment period established by the responsible official are eligible to file an objection (36 CFR §218.24(b)(6)). For issues to be raised in objections, they must be based on previously submitted specific written comments regarding the proposed project or activity and attributed to the objector. For objection eligibility, each individual or representative from each entity submitting timely and specific written comments must either sign the comment or verify identity upon request. The publication date of the legal notice in the newspaper of record is the exclusive means for calculating the time to submit written comments on a proposed project or activity. The time period for the opportunity to comment on a proposed project or activity to be documented with an environmental assessment shall not be extended. It is the responsibility of all individuals and organizations to ensure that their comments are received in a timely manner.
For further information on the project, please contact Jim Bishop, Team Leader, at 208-382-7400.
— — — — — — — — — —
Idaho's Frank Church-River of No Return Wilderness displayed on new U.S. quarter
by CBS 2 News Staff Wednesday, November 6th 2019

Courtesy the United States Mint Connecting America through Coins website
Boise, Idaho (CBS 2) — Idaho's Frank Church-River of No Return Wilderness is now on one of the new U.S. quarters.
This quarter is a part of the U.S. Mint's 2019 America the Beautiful Quarters Program.
This coin is the fifth in 2019 and 50th overall in the program, and it shows a piloted drift boat on the rushing river surrounded by trees and rocks found in the wilderness.
continued:
————————
Critter News:
Pet Talk – Lung tumors in cats and dogs
By Dr. Karsten Fostvedt Nov 8, 2019 IME
Lung tumors that arise from lung tissue are called primary tumors. If lung tumors have spread to the lungs from a tumor arising in another organ, they are called secondary tumors. Most tumors of the lungs are secondary. Lung tumors can occur as single or multiple masses, and they can involve one or several lobes. Older animals are most commonly affected. Most tumors are malignant, and carcinoma is the most common type. Benign tumors are rare. It is possible that passive cigarette smoke and genetic factors influence the development of lung tumors.
About 25 percent of dogs with lung tumors have no clinical signs. Coughing and panting, with or without some degree of respiratory distress, are common. Exercise intolerance may be observed. Dogs with advanced disease will have a decreased appetite and weight loss.
Lung masses may be found incidentally when X-rays of the chest are taken for some other reason. Routine chest X-rays usually reveal masses in the chest if they are of a significant size. If a lung tumor is suspected, three views of the chest are often necessary to identify and confirm the locations of the masses.
continued:
— — — — — — — — — —
What can you learn from a flying beaver?
Land managers improve habitat by mimicking beavers
Nov 06, 2019 By Steve Liebenthal KIVI TV
Bruneau, Idaho — Chris Black knows a lot about ranching. And he knows a little bit about wildlife habitat. That's why he has been wanting to attract beavers to his ranch in Bruneau.
"I've wanted to get beaver in here for years," said Black.
The idea of using beavers to improve habitat for other animals is nothing new. Seventy years ago, Fish and Game came up with a very creative way to put beavers in the Idaho wilderness where over-trapping had decimated their population, resulting in habitat degradation.
continued w/video:
— —
[Re-posting from Aug 24, 2014 Yellow Pine Times]
When Beavers Flew
Forest Service transplanted beavers in 1948 with parachute drops
By Kyla Sawyer for The Star-News August 21, 2014
Beavers that cut trees and build dams where they are not wanted are considered a nuisance. But in 1948, they were given airplane rides.
Photo courtesy of Idaho Department of Fish & Game archives & Payette National Forest
Photo caption: A brave beaver arrives safely in its new home on the Idaho National Forest in a photo taken around 1948.
Rather than kill the nuisance beavers, the post-World War II Forest Service decided to transplant them into the Chamberlain Basin area of what is now the Frank Church River of No Return Wilderness northeast of McCall.
It was thought the beavers could benefit the back country by building dams to create wetlands. And, it was decided to drop them by parachute.
"This is stuff you can't make up," Payette National Forest Archaeologist Erik Whiteman said. "Sometimes we hear these anecdotal stories and think honestly, 'that's crazy' and then find out its true."
The Idaho Department of Fish and Game worked with the Forest Service to transplant about 76 captured beavers.
The problem was, no one had ever dropped a beaver by parachute. So testing was done on various designs of wooden boxes intended to open when they hit the ground.
One beaver, nicknamed "Geronimo," became the test beaver for the drop boxes.
"Geronimo was dropped again and again on the field," F&G officer Elmo W. Heter wrote in his article, "Transplanting Beavers by Airplane and Parachute" in The Journal of Wildlife Management in April 1950.
"Each time he (Geronimo) scrambled out of the box someone was on hand to pick him up," Heter wrote.
"Poor fellow! He finally became resigned and as soon as we approached him would crawl back into his box ready to go aloft," he wrote.
Geronimo was rewarded by being on board the first plane into the wilderness along with three young female beavers.
"His colony was later reported as very well established," Heter wrote.
Surplus Parachutes
Heter didn't say exactly how he and his colleagues came up with the idea to use parachutes and boxes to transplant the beavers.
Using war surplus parachutes from what was then called the Idaho Forest Service, the beavers were placed in 30-inch long boxes that were 16-inches wide and 12-inches deep.
Holes were drilled in the boxes for air and sling ropes that kept the box shut when airborne, but safely opened once it rested on the ground.
However the right release mechanism for the boxes took some additional research, Heter wrote.
"The first box tried had ends made of woven willow," he wrote. "It was thought that, since willows were a beaver's natural food, the animal would gnaw his way to freedom."
This method was discarded when it was discovered that beavers might chew their way out of these boxes while still airborne, Heter wrote.
Instead a tension-banded box was used that cinched tight from its own weight in the air, but snapped open to let the beavers out once the box reached the ground.
Thanks to Geronimo's efforts, conservation officers found that 500 to 800 feet was the ideal beaver-dropping altitude.
The estimated cost was about $30 to transplant four beavers. That included $2 for two boxes, $16 for two cargo parachutes and $12 flying time for one plane.
Ranchers, Forest Service employees and packers helped to collect the parachutes, Heter wrote.
— —
Parachuting beavers featured in 'Fur For the Future,' 1950s-era film
Note: Very old film and poor quality in places
— — — — — — — — — —
Idaho photographer wins first place in National Wildlife contest
by Ryan L Morrison Friday, November 8th 2019

Kirk Geisler's first-place "Birds" photo in National Wildlife contest
Boise, Idaho (CBS 2) — An Idaho photographer won first place with this photo in the National Wildlife's 2019 photography contest.
Kirk Geisler said he was hiking in the Camas Wildlife Refuge when he took this picture three or four years back.
Geisler told me he'd been up there to shoot white-tailed deer. When he got up there, all of these short-eared owls were flying everywhere, so he abandoned his original plan.
continued:
— — — — — — — — — —
Young angler breaks Idaho state record with 36.5-inch rainbow trout
The 8-year-old caught the giant-sized Gerrard rainbow trout while fishing in Lake Pend Oreille last month.
KTVB November 4, 2019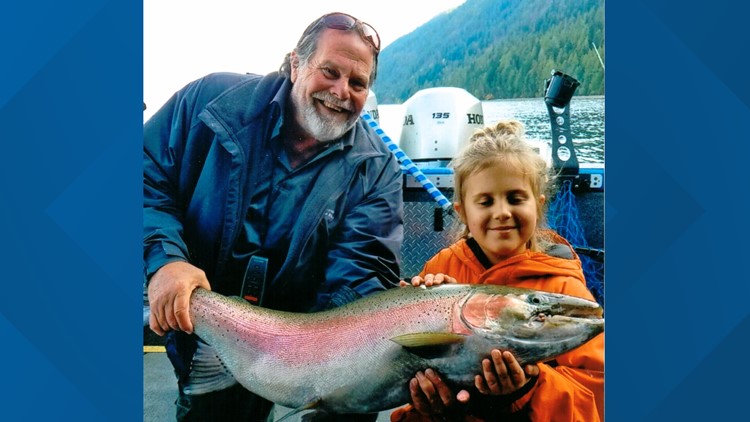 Boise, Idaho — An 8-year-old Idaho girl has quite the fish story to tell.
The Idaho Department of Fish and Game confirmed that Sophie Egizi set a new state record by catching a 36.5-inch Gerrard rainbow trout last month.
She wrangled up the monster fish while trolling flies on Lake Pend Oreille in early October.
continued:
— — — — — — — — — —
Kelt program aims to rehabilitate repeat steelhead spawners
by Associated Press Saturday, November 9th 2019
Illia, Washington (AP) — The Nez Perce Tribe and Columbia River Inter-Tribal Fish Commission released 37 wild steelhead into the Snake River below Lower Granite Dam this week in hopes of boosting the number of spawning steelhead.
The Lewiston Tribune reports the fish, known as kelts, were previously captured at the dam as they tried to return to the ocean after spawning in their natal streams. They were held for one or two years at the Dworshak National Fish Hatchery to allow them to regain strength, and they were released Tuesday, ready to spawn once again.
Steelhead are unique among anadromous fish – fish that migrate from the sea to reproduce – in that they don't necessarily die after spawning. Still, it's rare for female steelhead to make it as far as the Lower Granite Dam to spawn an second time.
source:
————————
Tips & Advice:
Wildlife Vehicle Collisions
Wildlife-vehicle collisions tend to peak this time of year as big game animals are on the move and cross many of Idaho's highways and roads. Take the following precautions to reduce your chances of an animal collision:
* Big-game animals are especially active at dawn, dusk and at night. Motorists should drive extra cautious during these times.
* Slow down. Driving more slowly increases reaction time and reduces the chance of a collision.
* Always wear your seat belt. This won't prevent a collision, but it can save your life depending upon the severity of the accident.
* Scan ahead and watch for movement, especially near the fog line and side of the road. When driving at night, watch for shining eyes in headlights.
* If you see one animal cross the road, slow down immediately and look for more to follow.
* Pay extra attention in areas posted with wildlife crossing signs. They are there for good reason.
* Using high beams can help you spot wildlife, but be considerate of other drivers when using them.
* Don't Tailgate. Always keep a safe distance between you and the car in front of you to avoid any unnecessary accidents. If that driver brakes suddenly for an animal in the road, you won't be able to react in enough time.
* Don't swerve and risk losing control of your vehicle. Try to brake as much as possible and stay on the roadway. The most serious crashes occur when drivers lose control of their vehicles trying to avoid an animal. It is usually safer to strike the animal than another object such as a tree or another vehicle.
source: Idaho Fish & Game Facebook page
————————
Fish & Game News:
Moose's head found near Idaho City, Idaho Fish and Game investigating
The head of a young cow moose was found a short distance from Highway 21.
KTVB November 6, 2019
Boise, Idaho — The Idaho Department of Fish and Game is asking for the public's help in solving what appears to be a moose poaching case.
Fish and Game posted on its Facebook page Tuesday that a conservation officer found only the head of a young cow moose on Rocky Ridge Yurt Road. That's north of Idaho City just a short distance from Highway 21.
There is no moose hunting season in this area. The officer believes it was either a case of mistaken identity, perhaps the hunter thought it was a cow elk, or this is poaching.
Fish and Game needs the public's help to solve this case.
Anyone with information is urged to call the Citizens Against Poaching hotline at (1-800-632-5999) or the Fish and Game regional office in Nampa at (208-465-8465).
source:
— — — — — — — — — —
Mature bull elk shot and left on private property in Swan Valley
By James Brower, Regional Communications Manager
Thursday, November 7, 2019
Officers seeking information from the public to solve the case
Fish and Game Officers are seeking information pertaining to a bull elk that was shot and left on private property in the Swan Valley area. The mature bull elk was shot on the evening of November 6 along the Pine Creek Bench in Unit 67. Currently, only antlerless elk hunts are going on in the area.
Anyone with information is asked to call the Citizen's Against Poaching hotline at 1-800-632-5999. Callers may remain anonymous and a reward is being offered for information that leads to a citation in this case.
continued:
— — — — — — — — — —
Antlers removed from whitetail buck left to waste near Salmon
By Mike Demick, Staff Biologist
Tuesday, November 5, 2019
Citizens Against Poaching (CAP) is offering a reward for information
Fish and Game is investigating a buck white-tailed deer that was shot and left to waste near Kenney Creek, south of Salmon.
The buck was discovered October 20th on private property, and officers believe it was likely shot from the Lemhi Backroad. The antlers were removed and no meat was taken.
continued:
— — — — — — — — — —
More F&G News Releases
link:
———————————-
Fun Critter Stuff:
Cyclist Meets Family of Skunks
posted Aug 24, 2016
While biking along the roads of Pointe-Taillon National Park, this cyclist came across a family of skunks. All of them rushed towards him and sniffed him before running back into the wild. [Sound on!]
—————————
Seasonal Humor:

————————