Nov 17, 2019 The Yellow Pine Times – Valley County, Idaho
Note: The deadline to order calendars has been moved up to Nov 25th. If you have not ordered your 2020 Yellow Pine Calendar, send (rrSue) an email with "calendar" in the subject line and your mailing info.
The boil order and water restrictions are still in effect.
Community Calendar:
April 2 – Boil water order issued
May 15 – Nov 30 Firewood Season
Nov 23 – Xmas tree permits
Nov 25 – Deadline to order 2020 YP Calendar
Nov 28 – Thanksgiving potluck 2pm at the Tavern
Dec 25 – Christmas dinner at the Community Hall 2pm
(details below)
———-
Local Events:
Xmas Tree Permits Nov 23
The Boise and Payette National Forest (NF) vendors will begin selling Christmas tree permits Saturday, Nov. 23. No local vendor this year.
— — — —
Nov 28 – Yellow Pine Thanksgiving
Thursday, November 28, 2019 at 2pm Potluck at the Yellow Pine Tavern – Turkey and bread stuffing provided by the Tavern. Also prime rib, pumpkin pie, and deviled eggs promised
— — — —
Dec 25 – Christmas dinner at the Community Hall 2pm
Potluck with turkey provided. We may have a Bingo game afterward.
———-
Village News:
Road Levy Failure will affect Yellow Pine Snowplowing
The Valley County Commissioners and Road Department are still working out the plan for Yellow Pine, they will have a report from the road department at the commissioner meeting on Monday, Nov 18th at 2pm, along with a public workshop.
Valley County Commissioner Elt Hasbrouck wrote on Wednesday Nov 13th, "The South Fork [road] will still be plowed but it may end up being a day or 2 later before we can get to it." Elt also said, "I'm working on having Lakeshore place 2 bear proof containers on the southwest corner of the Johnson Creek intersection so that we won't have to plow Johnson Creek."
We will have info after the meeting to share next week.
— — — —
South Fork Slide Off
Sunday Nov 10 – report of a vehicle slide-off on the South Fork road. A pickup went off the road and crashed into the river around mile post 15. Nobody was hurt and our local SAR team was not dispatched.
The first tow truck called to the scene also slid off trying to pull the pickup out of the river. A second tow truck came and the rescue efforts blocked the road for some time and traffic was delayed. Some travelers came back to Yellow Pine as they didn't want to take a chance on either the Johnson Creek or Lick Creek routes and waited here for word on the opening of the road late in the day.

photo courtesy Nancy Bellman
Folks need to be aware of dangerous road conditions in that area of the South Fork. Reports that water has been running down the middle of the road, eroding the pavement and freezing into a thick layer of ice right up to the edge along the river side. Last report that low clearance cars may have trouble with the deep rut.
[h/t to locals that sent reports]
— — — —
Boil Water Order Still in Effect
Bring all water to a boil, let it boil for one minute, and let it cool before using, or use bottled water. Boiled or bottled water should be used for drinking, making ice, brushing teeth, washing dishes, and food preparation until further notice. Boiling kills bacteria and other organisms in the water.
— — — —
Yellow Pine US Mail
The 3-day a week mail delivery started Nov 1st. The Post Office in Yellow Pine is open six days a week year around: M-F 845am-245pm Saturday 9am-245pm. Forever Stamp: 55 cents Support our local post office and purchase your holiday stamps here.
— — — —
Yellow Pine Transfer Station
Please do not abuse our Transfer Station or we may lose it. Household trash must be placed in the bins, flattened cardboard boxes can also go into the bins. Do not stack trash in front of the doors. Woody yard debris only for the burn pile. No furniture, appliances, tires or construction debris allowed, those items must be hauled out to the Donnelly station by you.
Yellow Pine Transfer Station (aka, the dump)
The Yellow Pine Transfer Station is located approximately 3 miles south on Johnson Creek Road.
The TRANSFER STATION is for household trash and yard waste:
* Household trash must be put inside (and fit) the dumpster;
* Yard waste (limbs, pine needles, brush, et.) goes in the burn pile on the south end of the turn-around;
* Cardboard boxes should be flattened before putting the in the dumpster,
The DUMPSTERS are NOT for:
* Furniture (take to Donnelly Transfer Station);
* Appliances (take to Donnelly Transfer Station).
The BURN PILE is NOT for:
* Cardboard boxes (flatten and put in dumpster);
* Furniture and appliances (take to Donnelly Transfer Station);
* Drywall and building material (take to Donnelly Transfer Station);
* Wire or fencing (take to Donnelly Transfer Station);
* Foam Rubber (take to Donnelly Transfer Station);
* Wood with metal (like nails) attached (take to Donnelly Transfer Station.)
When closing the DOORS on the front of the dumpsters:
* Make sure the "U" brackets at the top and bottom of the door are engaged;
* The retaining bar at the middle of the door is slid into the pipe;
* And the "L" bars at the bottom of the doors dropped into place.
The Yellow Pine Transfer Station is Valley County responsibility. If it is not kept tidy, use of the Transfer Station may be revoked. That would result in residents having to take all household trash and yard waste to the Donnelly Transfer Station.
If Dumpsters Are Full, Contact Lake Shore Disposal at: 208/634-7176
———-
Local Groups:
YPWUA News:
The 2019 Yellow Pine Water Users Shareholders meeting was Sunday July 7th in the community hall.
Link to: 20190707YPWUAminutes.rtf
2019 YPWUA Yearly Meeting Sunday July 7th 10am Community Center
1. Financial Report – Willie
A. Current Account $27,510.17
B. Total revenue if everyone pays – $33,850.00
B. Budget Expenses – $32,010.00
C. Future rate increases – fall meeting a decision made on future rates
D. New Procedure Actions for Non-Payment – one water user stated that she was not going to pay her bill until her valve was repaired.
E. There are 55 shares held by 50 individuals, 112 services in Yellow Pine
F. It is requested that property owners that do not own a share, please buy one. $100 per share allows the property owner to vote on issues.
2. Operations Report – Steve
A. Current Operations We have obtained a grant to fix and get operational our new chlorine contact tank. We are currently using up to 50,000 gallons of water per day. We have spent many hours looking for leaks but have not found any major leak.
B. Chlorine levels through the boil order we will continue to keep the chlorine levels in an acceptable level.
C. Grant and work necessary
D. Boil Order Notification – Warren will be the one that orders and removes boil orders
E. Future Grants – we continue to investigate options for additional grants but nothing the works more than the grant to repair the chlorine contact tank.
F. Summer lawn watering – because of our boil order, we are requesting "no lawn watering the summer".
G. Idaho rural water gave us a report that was given to the Water department several years ago.
H. Warren gave a very good explanation on our water system and what needs to happen to improve our system.
3. Election of Board Members
A. Dawn Brown and Stu Edwards, both are automatically nominated and without any other nominations, they will serve another 3 years on the board
B. Only shareholders can run for office and vote
—
Water Update Nov 11: The major leak has been repaired and has reduced our water usage to a level that our sand filters can keep up. We are still on a boil order until the sand filters can be cleaned and the turbidity levels settle. Warren will let us know when he feels comfortable with lifting the order.
– Steve H
Water Update Oct 23: October 22nd – The crew from Rocky Mountain Mechanical repaired the main water line leak up near the orchard.
Water Update Oct 15th: A major leak was found and a temporary fix was made until parts can be obtained. Once parts and people are available, that will be fixed. Fixing that leak doesn't mean we will be off the boil order. The boil order was issued by the DEQ. They will not lift that order until the chlorine contact time meets the standard.
– Steve Holloway
Water Update Sept 21 (excerpted from VYPA 9/21 meeting notes):
Tests were conducted by Idaho Rural Water [July 19th] in an effort to locate the source of the major leak in the system. They will return October 3rd to continue the search for leaks. The line between Alpine Village and the Saleen property, which includes the bridge across the East Fork river is the line most suspected to be leaking. Cecil Dallman will stand by with a backhoe to dig in locations found. More digging work is needed at the tanks and pipes near the water facility. A second engineer is being consulted. Getting contractors to come to YP and replace seals is difficult. The previous grant money is tied to a timeline so some specified work must be done this fall.
The possibility for a large amount of grant money is very slim because we would have to take out a loan and use the borrowed money for the required matching money, and then there would be the loan payments. Money on hand must be used on required repairs to the contact tank. Because some water users do not have voting rights YPWUA does not qualify for some grants.
There are 56 shares available for purchase at $100/share. Each piece of land is entitled to own one share. Share holders are entitled to vote; water users that do not own a share may not vote, but do have access to water. The owners of the 56 lots are encouraged to purchase shares. Ownership of a share is shown on your annual water bill.
Anyone wanting to arrange a payment plan should contact Willie Sullivan.
– Steve Holloway/Willie Sullivan
May 1st: Leak in alley repaired
link to: #4430059 Yellow Pine Water Users Boil Water Notification 4-2-19
— — — —
VYPA News:
Cemetery – Tim Rogers: Marge Fields is researching the history of the log cabin now located at the cemetery, but formerly was in the center of the Yellow Pine village. A plaque will be placed at the cabin. The previous information sign showing names and locations of deceased buried in the cemetery will be repaired this winter and placed next year.
Road & Ditch Committee has been created. Clayton Egbert, Chairman. Tim Rogers and Tom Lanham have volunteered. This group and will need more volunteers.
Village of Yellow Pine Association Meeting Minutes for September 21, 2019
link to: 20190921 Village of Yellow Pine Association Meeting
— — — —
YPFD News:
YP Fire Commissioners:
Sue Holloway District 1
Dan Stiff, District 2
Merrill Saleen, District 3
Fire Chief: Jeff Forster
—
Yellow Pine Fire Protection District Community Service Notice
The purpose of this letter is to show how you as a Yellow Pine Resident can help protect your structure against a wildland fire by being "Fire Wise."
link to: 20190724 Yellow Pine Fire Protection mitigation
Stop the Bleed Class: We will do another class this spring/summer [2020] depending on interest.
Training update 10/24: "FD training is done for the year except for anyone wanting a one-on-one orientation session with the fire station and fire engine operations/pumping. Those that are interested can call me and I'll make it happen." – Fire Chief Jeff
YP Helispot update 10/24: "The Helispot is on it's final stages of completion. The sidewalk to the pad needs to be concreted but everything else is complete. The gate and signs are up and Valley County Dispatch has the GPS coordinates. (44.95968 -115.49531) It's listed as Yellow Pine Helispot. The gate is unlocked and will remain that way. There is a snow shovel there if needed. I'm asking that NO VEHICLES go beyond the gate. We already had a muddy ATV'er ride all over the pad and over the new paint with muddy tires marking up the pad. We're planning on a dedication ceremony on the Wednesday or Thursday prior to the 2020 Harmonica Festival. More on that next year."
YP Helispot update 10/26: "The concrete walkway to the Helispot was completed today 10/26/2019. Thanks to all who worked in the cold, rain and snow to accomplish this needed project. The stretcher can be rolled smoothly to the helicopter making it safer for the the patient and medical personnel making it more comfortable for the patient and safer for everyone. Job well done." JF – AF
——–
Biz Listings:
Yellow Pine Lodge (208) 633-3377
Closed for Winter.
— — — —
The Corner (208) 633-3325
The Corner is closed for the winter, opening again next spring. I can be reached at matt @ ypcorner.com or at 970-379-5155. Thanks, have a great winter!
— — — —
Yellow Pine Tavern (208) 633-2233
Fall hours open 8am to close
Full breakfast served starting at 8am with special arrangement for earlier breakfast as needed. 92 Octane non ethanol gas available, cubed ice, beer, pop and water sold by the 6 and 12 pack, snacks, ice cream and many supplies available. Burgers and Pizza, Beer and Wine on the evening menu. Football and other sports available on our TV. Wi Fi, Verizon phone service and information available.
— — — —
Buck Horn Outfitters LLC 208-633-3614
Tom & Sarah Lanham
156 Yellow Pine Ave, Yellow Pine Id 83677
website:
Facebook:
It's official starting June 2020 We will be doing trail rides out of Yellow Pine along with summer pack / camping trips to high mountain lakes in the area!
—
Wapiti Meadow Ranch – Johnson Creek (208) 633-3217
or 208-315-3554 – cabin rentals
website:
—
Deadwood Outfitters
website:
— — — —
Local Fuel Suppliers
Amerigas Phone: (208) 634-8181
Ed Staub & Sons Phone: (208) 634-3833
Diamond Fuel & Feed Phone: (208) 382-4430
— — — —
Outside Biz that will service Yellow Pine:
The Star-News


subscribe:
A reminder that those who live in other states can subscribe to the online edition only since the mail can take days for hard copy to reach them.
Rocky Mountain Mechanical – Plumbing – Heating – Air conditioning
(208) 365-PIPE (7473), Emmett, will service Yellow Pine
Elkhorn Heating & Cooling
(208) 906-4067 Middleton, Idaho, will service Yellow Pine
B&T Safety Solutions LLC
208-271-1600 Based out of Donnelly
Snow removal, cleaning chimneys and stoves, we do cabin staining/chinking as well
— — — —
Follow The Yellow Pine Times on Facebook (updated more often than emails)
———————–
Local Observations:
Monday (Nov 11) overnight low of 20 degrees, almost clear sky this morning and frosty. A few summer birds showed up, pine siskin, goldfinch and evening grosbeaks; resident jays, nuthatches, hairy woodpecker plus the clark's nutcracker. High thin haze by lunch time. Overcast by mid-afternoon, cooler and very light breezes, high of 51 degrees. It appeared to be mostly clear at dusk, temps dropping, river sounds up. A little haze before midnight giving the moon a small halo.
Tuesday (Nov 12) overnight low of 20 degrees, overcast sky and breezy this morning. Jays, nutcracker and red-breasted nuthatches visiting. Thicker clouds at lunch time. A couple of starlings in the neighborhood. Darker thicker clouds and calmer by mid-afternoon, high of 46 degrees. Overcast at dusk, river sounds up. Cloudy before midnight.
Wednesday (Nov 13) overnight low of 27 degrees, partly clear sky (high thin clouds) and almost calm this morning. Jays, red-breasted nuthatches and a couple of clark's nutcrackers visiting. Partly cloudy and nice at lunch time. Mail truck made it in on time. Partly cloudy mid-afternoon and nearly calm, high of 56 degrees. It appeared to be partly cloudy to mostly clear at dusk. Mostly clear before midnight and very bright moon.
Thursday (Nov 14) overnight low of 21 degrees, mostly clear sky this morning. The sun came over the ridge just after 10am. Jays, nuthatches and nutcrackers visiting. Partly cloudy at lunch time and calm. Pine squirrel and chipmunk visiting early afternoon and partly cloudy. Mostly cloudy by mid-afternoon and more clouds moving in, high of 56 degrees. Pretty much overcast at dark. Pale moonlight behind high clouds before midnight.
Friday (Nov 15) probably did not get below freezing last night, no frost and mostly cloudy sky this morning. Jays and red-breasted nuthatches visiting. Gray overcast and light breeze at lunch time. Mountain chickadee stopped by, first sighting in a very long time. Quiet day. Overcast and cool light breezes mid-afternoon, high of 53 degrees. Overcast and calm at dusk. Cloudy at midnight.
Saturday (Nov 16) overnight low of 29 degrees, dewy but no frost and partly clear sky this morning. A mountain chickadee and pine siskin joined the regulars at the feeders. Partly cloudy and light breezes at lunch time. Female hairy woodpecker and a female cassins finch visiting. Mild and mostly clear mid-afternoon, high of 52 degrees. Dark-eyed junco visited late afternoon. The sun is down behind the hill before 430pm now. Mostly cloudy at dusk and calmer. Moon rise behind clouds.
Sunday (Nov 17) overnight low of 31 degrees, overcast sky and a few sprinkles this morning (first precipitation so far in the month of November.) Jays, nuthatches, nutcracker and hairy woodpecker visiting. Light sprinkle of rain at lunch time and dark clouds. Damp, overcast and cool mid-afternoon, high of 44 degrees. Pine squirrel visited. Sprinkling and overcast at dark.
———————
Idaho News:
Snowplow cuts on the table
Valley County seeks to save money after levy failure
By Max Silverson for The Star-News Nov 14, 2019
Valley County commissioners will hold a workshop on Monday to determine which county roads might no longer be plowed due to a lack of funding and the failure of the road levy vote on Nov. 5.
The workshop is scheduled for 2 p.m. Monday during the commissioners' regular meeting at the Valley County Courthouse in Cascade.
The session is not a public hearing, but the workshop will be open to the public.
During its meeting on Tuesday, commissioners instructed road superintendent Jeff McFadden to compile a list of roads that could be cut from the snowplowing routes as well as figures on how much the county would save by cutting those routes.
"It is important to have community involvement in setting priorities on which roads will be affected by the lack of funds for snowplowing and maintenance," said Commissioner Sherry Maupin.
County roads are broken into the categories of major roads, minor roads, local collectors and private roads, McFadden said.
McFadden gave the example of Coho Lane, about one mile north of Donnelly, as one collector that could be plowed, but the subdivision it serves might not be plowed.
The county would consider plowing Coho Lane to where it meets the subdivision at Kokanee Lane and then turn around, he said.
The election on Nov. 5 saw voters reject a property tax that would have funded the county's road department at about $4 million per year.
Without that revenue, commissioners have said the department would likely have to cut back on snowplowing and cease all road projects aside from basic maintenance.
The county may be forced to discontinue about half of its snowplowing routes depending on how severe the snowfall is over the winter, commissioners said.
Valley County Clerk Douglas Miller estimated that the county road department would be running a deficit by 2023 if no additional funding source can be found.
"It's not a scare tactic, it's just being honest with people that we can't keep doing it this way," Commission Chair Elt Hasbrouck said.
"We're going to burn out our road department; those guys are going to quit because we're working them too damn hard," Hasbrouck said.
At Tuesday's meeting, commissioners acknowledged more information needs to be presented on how road levy taxes would be spent.
"We have to inform the public a little bit more on what they are spending their tax dollars on, because right now, they don't get it," Maupin said.
"We're asking them for their money and we have to show them how we're going to spend it," she said.
Commissioners plan to hold town hall meetings to discuss the budget for the road department and possible funding solutions.
"I believe we will hold meetings in Cascade, Donnelly and McCall as work sessions to listen to public input on the priorities they see," Maupin said.
source: © Copyright 2009-2018 Central Idaho Publishing Inc.
— — — — — — — — — —
Nevermind!
Valley County to continue to accept plastic for recycling
By Max Silverson for The Star-News Nov 14, 2019
Valley County Commissioners on Tuesday reversed course from last week and decided not to stop accepting plastics at the county's three recycling depots.
Commissioners voted last week to remove plastic recycling containers starting Dec. 2 because bins were too contaminated and resulted in the plastics being hauled to landfills.
The county will now accept all types of plastics at the McCall, Donnelly and Cascade depots and send them to a facility owned by the multinational firm Geocycle in Devil's Slide, Utah, to be used in commercial concrete production.
Geocycle will accept plastic as long as it is free of garbage, metal and large pieces of PVC pipe, Scott Carnes, site manager for Lake Shore Disposal, told commissioners.
continued:
— — — — — — — — — —
Contamination stalls New Meadows water line completion
By Drew Dodson for The Star-News Nov 14, 2019
Bacteria contaminating newly installed water lines along U.S. 95 in downtown New Meadows will delay completion of the project until spring at the earliest, according to the Idaho Transportation Department.
Repeated failed water quality tests over the last two months have stymied Knife River Corporation of Boise, the general contractor for the project hired by the ITD, which is funding most of the $2.4 million project.
"It is not certain what will be required to achieve passing tests," said Jennifer Gonzalez, a spokesperson for ITD.
"The contractor has been dousing the line with chlorine, has mechanically scrubbed it and has flushed it multiple times," Gonzalez said.
The delays are costing the city more money than the $239,000 it expected to pay for the new water line, the only portion of the work funded by the city, New Meadows City Clerk Mac Qualls said.
City water customers will not have their service affected by the faulty water line. Instead, the old line that the new line was built to replace will continue to be used, Qualls said.
continued:
— — — — — — — — — —
'I was really blessed to not be dead': North Idaho man injured by stray bullet
On Oct. 30, the Boundary County resident was talking with a friend on his cellphone when a stray bullet ripped through a bay window in his home.
Taylor Viydo November 15, 2019 KTVB
Looking back at what happened at his home in late October, Carl Hunter realizes he was inches away from having his life be drastically different.
…A responding Boundary County Sheriff's deputy later located a deformed rifle bullet near the bay window among shattered glass and blood.
Undersheriff Richard Stevens told KREM that the incident appears to be the aftermath of a hunting accident. The department said that based on the bullet's deformities, the bullet likely struck a tree or the ground before crashing through Hunter's window.
… Both Hunter and Stevens emphasized the importance of area shooters and hunters shooting responsibly and knowing what lies beyond their targets. Although Hunter's home is located in a semi-rural area, both men noted the close proximity of other homes and a church in the area.
full story:
— — — — — — — — — —
New law requires Idaho drivers to provide proof of insurance to DMV or risk registration suspension
Nov 13, 2019 Local News 8
Vehicle owners will need to provide proof of insurance for two consecutive months or risk having their registration suspended beginning in 2020.
The law (Idaho Code Section 49-1234) was passed during the 2019 Idaho legislative session and goes into effect in January. It requires the Idaho Transportation Department's Division of Motor Vehicles to determine monthly whether the owner of a vehicle has insurance. The law applies only to non-commercial vehicles and excludes trailers and off-highway vehicles.
A notification letter will be sent to affected vehicle owners to alert them of the law change.
Owners without insurance coverage for two consecutive months will receive a warning and be given 30 days to provide proof of insurance or obtain an exemption before their registration is suspended.
continued:
— — — — — — — — — —
Census Bureau in search of Idaho-based employees
Rachel Spacek, Idaho Press November 14, 2019
Boise, Idaho — Idaho is in need of roughly 9,000 employees to work for the U.S. Census Bureau as census takers.
Nationwide, the U.S. Census Bureau needs about 2.7 million workers, said Michael Hall, assistant regional census manager through the Los Angeles Regional Census Center. Hall met with the Idaho State Complete Count Committee Wednesday to discuss job recruitment and hard-to-count groups, according to the Idaho Press.
The Census Bureau will be recruiting employees through February. Hall said the Boise Census office hopes more than 13,000 people apply for census jobs but expects to hire only around 9,000.
"We try to hire local people who are familiar with their areas, to go in and work there," Hall said.
continued:
———————–
Mining News:
Chemical bubble bath would extract gold from Stibnite ore
Minerals from froth would move to next step of processing
(Note: This is the fourth part in a series detailing Midas Gold Idaho's operating plan for its proposed gold and antimony mine near Yellow Pine. Next week: Oxidation)
By Drew Dodson for The Star-News Nov 14, 2019
Billowing metallic bubbles laced with gold, silver and antimony would spill out of water tanks the size of small swimming pools as Midas Gold begins the process of separating precious metals from rock.
After crushing and grinding, finely ground ore the size of sand granules would be continuously fed into the flotation circuit at a rate of about 22,000 tons per day, according to Midas Gold's proposed operating plan for the Stibnite area near Yellow Pine.
Flotation consists of a series of chemical reactions in large water tanks to isolate pyrite and stibnite, which are the two minerals that contain gold, silver and antimony.
The circuit would include about eight water tanks that would vary in size from 13-foot cubes with a capacity of 15,000 gallons to 26-foot cubes with a capacity of 100,000 gallons.
Once in the tanks, Midas Gold would add specific chemicals to the water to help either pyrite or stibnite rise to the surface while other minerals remain at the bottom, according to the company's plan.
Like jets on a hot tub, the tanks would have air pumped into them and circulated to agitate the water and generate bubbles for stibnite and pyrite minerals to latch onto.
Another chemical would be added to promote stronger, frothy bubbles capable of supporting the added weight of minerals attached to them.
Bubbles at the surface of the tank would then spill over into a collection trough, where the precious metal-laden bubbles would be directed to another two stages of flotation to further isolate pyrite and stibnite from other rock.
For antimony, the process would take about 20 minutes from the time the ore enters the tanks to when it exits in concentrate form.
For gold and silver, it would take about an hour and a half because more care would be taken to isolate all pyrite minerals, which also require more effort to float than stibnite minerals.
The leftover slurry of rock at the bottom of tanks would be designated as tailings and neutralized before being pumped to the company's planned 100-million-ton lined tailings storage area.
Not all gold and silver would be harvested from the tailings, so Midas Gold would monitor and occasionally reprocess the tailings slurry to extract lingering gold and silver.
Ore with two or more pounds of antimony per ton would go through the flotation process to remove antimony before going undergoing gold and silver flotation.
During antimony flotation, a chemical would be added to ensure pyrite minerals remain at the bottom of the tank while stibnite minerals are drawn to the surface.
At the end of the flotation circuit, metallic antimony-laden bubbles would be gathered in a liquid slurry form. Water would then be drained from the slurry to create a dry antimony powder.
The powder would only be about 60% antimony by weight. Traces of gold, silver, mercury and rock would make up the rest of the concentrate, which would be hauled away for further refining in one-ton to two-ton truckloads up to twice daily.
It would be uneconomic to extract antimony from ore containing two pounds or less per ton, so that ore would skip antimony flotation and go straight to gold and silver flotation tanks.
Concentrations of gold and silver collected from flotation bubbles would continue through the on-site ore processing facility, with the next step being oxidation, which would free gold and silver from the pyrite containing it.
Lime, which would be used to control acidity in the flotation tanks, would be the most used chemical in the flotation process at up to 187 tons per day.
Midas Gold plans to mine and process lime on site from a large limestone deposit in the existing West End pit.
Midas Gold would need to use about six to seven pounds of other chemicals in the flotation circuit per ton of ore processed, or about 70 tons per day at a cost of about $2.1 million per year.
source: © Copyright 2009-2018 Central Idaho Publishing Inc.
— — — — — — — — — —
Simplot proposing 5 open-pit phosphate mines in E. Idaho
by Keith Ridler Associated Press Monday, November 11th 2019
Boise, Idaho (AP) – Federal officials have released a final plan for five open-pit phosphate mines and reclamation work in eastern Idaho proposed by Idaho-based J.R. Simplot Company.
The U.S. Bureau of Land Management and U.S. Forest Service released the jointly-prepared final environmental impact statement Friday for the Dairy Syncline Mine Project about 14 miles (23 miles) east of Soda Springs.
The five mines, disposal areas, tailing ponds and other mine workings would cover about 4.3 square miles (11 square kilometers).
The two federal agencies are taking comments before making decisions.
continued:
————————-
Public Lands:
Boise forest plans thinning of trees in Clear Creek drainage
By Max Silverson for The Star-News Nov 14, 2019
The Boise National Forest is seeking comments on the 11,000-acre Lost Horse project in the Cascade Ranger District. The project is located about 21 miles east of Cascade in the Clear Creek drainage.
The goal of the project is to change the concentration and species of trees in the project area to reduce fire danger and improve animal habitats, a news release said.
Trees in the area are mostly densely populated fir species. An overgrowth of these trees has kept larger species like ponderosa pine from growing and crowded out animal habitats.
The densely packed fir stands have also been affected by a tussock moth outbreak, with several large patches of trees dying off, the release said.
Trees would be thinned throughout the project area and prescribed burns carried out to clear brush and smaller trees. About 5,900 acres would receive prescribed burns.
continued:
— — — — — — — — — —
Payette and Boise National Forests Begin Christmas Tree Permit Sales Nov. 23
McCall, ID, November 14, 2019 – The Payette and Boise National Forest vendors will begin selling Christmas tree permits Saturday, Nov. 23. On Monday, Nov. 25, permits will be available at Forest Service offices. All tree permits are valid to Dec. 25.
Each permit allows one tree to be cut, with a limit of three permits per family. For both Forests, the cost of a permit for one tree is $10, and the maximum height of a permitted tree is 12 feet. Permits are valid on both the Payette and Boise National Forest – one permit works for both Forests.
All purchasers are provided with information about where a Christmas tree may be harvested, restrictions and helpful tips. A Christmas Tree Permit is for personal use only, and use of permits for commercial purposes is prohibited. Permits are non-refundable and the purchaser must be at least 18 years in age.
In coordination with the "Every Kid in a Park" program, fourth-graders who are participating in the Every Kid in a Park program can receive a free Christmas tree Permit. The U.S. Forest Service is among several federal agencies that support the Every Kid in a Park initiative which is a nationwide call to action to build the next generation of outdoor enthusiasts. The initiative provides a free pass to all fourth-grade students who first go to (link) and complete the application/voucher process, print it and bring it to a Forest Service office.
To receive a free Christmas tree permit, the fourth-grader and a parent must go to a Forest Service office in person with the "voucher" they received from the online website at: (link)
Commercial vendors will not be issuing a free Christmas tree permit to participants of the Every Kid in a Park program, and free Christmas tree permits cannot be sent through the mail or electronically. Participation in the Every Kid in a Park program also offers benefits at National Parks and on other public lands and facilities across the United States.
Harvesting a Christmas tree is a fun adventure and often a traditional family event. Please review the Christmas tree brochure and map for optimal areas and be fully prepared for winter travel.
If an unusually heavy snowfall occurs in southwest Idaho, and forest roads become a safety concern for the public, some areas may be closed early to Christmas tree gathering. Forest roads are not plowed. Call ahead and check websites for road conditions before heading out. Please do not block private or county roadways at any time.
To provide for family safety, officials advise a few simple guidelines:
* Use the brochure with instructions provided.
* Practice winter survival and driving techniques.
* Bring the right tools, such as a saw and a shovel, so the tree can be cut to within 6" of the ground's surface.
* Take along emergency equipment, plenty of food and water, and try to use a 4-wheel drive vehicle if you are planning to travel in snow country.
* Always inform neighbors and family friends of the route you intend to take, include a map of your destination, and the time that you plan to be gone.
* Be prepared for the possibility of a long hike or snowmobile ride while searching for the perfect tree.
* According to Idaho state law, any vehicle carrying a load that extends more than 4 feet past the tailgate, must display a red or florescent orange flag tied on the end of the load to caution other drivers.
Where to get a Christmas Tree Permit
Payette National Forest Offices (link)
All Payette National Forest offices are open Monday through Friday, 8am to 4:30pm Vendors and offices closed on Thanksgiving.
McCall Forest Supervisor's Office
500 North Mission Street, McCall, ID
208-634-0700
Council Ranger District Office
2092 Highway 95, Council, ID
208-253-0100
New Meadows Ranger District Office
3674 Highway 95, New Meadows, ID
208-347-0300
Weiser Ranger District Office
851 E Ninth St., Weiser, ID
208-549-4200
McCall Ranger District Office
102 West Lake St., McCall, ID
208-634-0400
Payette National Forest Vendors
Weiser: Ridley's Food and Drug (208) 549-1332
652 E First St., Weiser, ID
Open: Everyday 7am – 11pm
Cambridge: Jay's Sinclair (208) 257-5000
Corner of Hwy 95 and Hwy 71, Cambridge, ID
Open: Everyday 7am – 8pm
Council: Farmer's Supply Cooperative (208) 253-4266
2030 N. Highway 95, Council, ID
Open: Everyday 6am – 10pm
McCall: Albertsons (208) 634-8166
132 E. Lake Street, McCall, ID
Open: Everyday 6:30am -11pm
New Meadows: C & M Lumber (208) 347-3648
3625 Walker Ln, New Meadows, ID
Open: Mon – Sat 8am – 6pm
—————————–
Critter News:
Pet Talk – Allergic bronchitis and cats
By Dr. Karsten Fostvedt Nov 15, 2019 IME
Feline allergic bronchitis is inflammation of the lower airways, especially the bronchi. The inflammation is often complicated by narrowing of the airways, which is called bronco constriction. This can greatly reduce the intake of oxygen. Allergic bronchitis has two forms. The acute form is associated with reversible inflammatory changes and is also referred to as feline asthma. The chronic form is associated with irreversible airway damage. It can eventually lead to emphysema, a debilitating disease that results from enlargement and dysfunction of the smallest airways and the lungs.
The acute form is usually triggered by a hyperactive immune response to environmental irritants. In most cases, the specific inciting cause is never identified. Most cats are young to middle-age when they're first affected. The cat usually appears healthy and has no systemic signs of illness. Wheezing and coughing are common signs. If signs are mild and intermittent, the cat may be normal between episodes. Occasionally, episodes of breathing difficulty may progress to become severe and life-threatening. The cat may sit hunched over with the neck extended, trying to take in air.
A tentative diagnosis may be made from the history and physical examination findings. X-rays may or may not reveal changes compatible with allergic bronchitis, but help to rule out other causes of coughing.
continued:
— — — — — — — — — —
Off-leash dog fines could triple in Meridian if new ordinance passes
Nov 14, 2019 By Natasha Williams KIVI TV
Meridian, Idaho — Walking the dog without a leash in Meridian could soon be a very expensive proposition.
The Meridian City Council is thinking about more than tripling the fines for dog owners who let their pets off leash. Right now, the fines for having a dog loose is $25 for the first offense, $50 for the second, and $100 for the third.
If the council approves the plan, fees could jump to $100 for the first offense, $200 for the second, and $300 for the third.
Councilwoman Genesis Milam introduce the ordinance, saying in was in response to the enormous number of complaints she's getting regarding people being chased or bitten by dogs. Meridian City Attorney, Bill Nary, says owners need to be more aware.
continued:
— — — — — — — — — —
Fish and Game warn of more wildlife on the roads
By Heatherann Wagner Nov 13, 2019 Local News 8
Idaho Fish and Game is reminding drivers to be aware in the roads. It's the time of year when big game animals start to migrate. The most active times tend to be dawn and dusk. They ask that drivers slow down, buckle up, and scan the roads.
source:
— — — — — — — — — —
Bobcat spotted near Parkcenter Boulevard
by CBS 2 News Staff Friday, November 15th 2019

Bobcat near Parkcenter. (Courtesy photo)
Boise, Idaho (CBS 2) — A rather large kitty has been making the rounds in the Parkcenter Boulevard area.
A CBS2 viewer shared with us a photo taken last week of a bobcat hanging out, perhaps looking for its next meal.
Bobcats are not uncommon to Idaho and even the Treasure Valley, but it does appear they like the Boise River area. In 2016, another bobcat was spotted near the Greenbelt.
source:
— — — — — — — — — —
Northwest Montana grizzly deaths spur pushback
Nov 13, 2019 AP
The mortality rate of grizzly bears in northwestern Montana has prompted a group of bear researchers to challenge whether the grizzly should be removed from federal protection.
This month a grizzly bear was shot by a hunter east of Eureka and state wildlife managers killed another bear near Libby after it broke into a garage to eat a harvested elk.
The Missoulian reports the number of known grizzly deaths in the Northern Continental Divide Ecosystem recovery zone this year has reached 48.
continued:
— — — — — — — — — —
Texas A&M is now home for Elliott the Elk
Elliott is planting his hooves at A&M's Wildlife Center to be raised in captivity for veterinary students to study his species.
Gabriela Garcia November 15, 2019 KTVB
College Station, Texas — From football players to various alumni, Texas A&M has been home to a few big names.
Lately, there's a pretty big star that's living on campus, Elliott the Elk.
He has planted his hooves at A&M's Winnie Carter Wildlife Center, coming from Idaho.
continued:
https://www.ktvb.com/article/life/animals/elliotttheelktamuvetschoolwildlifecenter/277-18a1e193-9d44-4954-af24-bceba7bb2dd9
— — — — — — — — — —
Nearly 300 wild horses captured in central Idaho
Associated Press November 12, 2019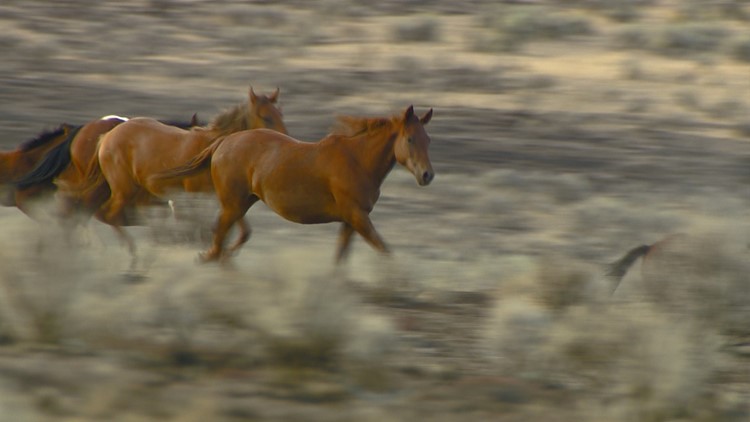 Challis, Idaho — Nearly 300 wild horses have been captured in central Idaho as part of a plan by federal land managers to reduce the number of wild horses roaming the area to about 185.
The U.S. Bureau of Land Management says that 295 wild horses were rounded up over seven days ending Monday in the Challis Herd Management Area near the town of Challis.
Aerial census flights are planned this week to determine the number of wild horses remaining in the area.
continued:
— — — — — — — — — —
Northwest Wyoming deer test positive for chronic wasting
Nov 11, 2019 AP
Cheyenne, Wyo. (AP) – Wildlife biologists have confirmed a disease deadly to deer, elk and moose in several deer in a new area of northwest Wyoming, near the Montana line.
The Wyoming Game and Fish Department says the deer came from the Clark area. Tests for chronic wasting disease came back positive for mule deer and white-tailed deer killed by hunters and for mule deer killed by vehicles.
The deer were killed in early November.
continued:
— — — — — — — — — —
Craft Fair Aids Trio of Nonprofits
November 12, 2019 By Mary Malone Bonner County Daily Bee
Sandpoint, [Idaho] — The third annual Ponderay Arts and Crafts Festival is coming up just in time for the holiday season.
With 42 vendors made up of local artists, crafters and others, there will be plenty of gift ideas for everyone at the festival.
"There is a lot of excellent stuff," said Dory McIsaac from Mystic Farm Wildlife Rescue, the featured nonprofit for the event.
… McIsaac will be selling her handmade Mystic Farm candles, which come in a variety of scents. She has also been busy making antler art to sell this year, she said, such as wind chimes, candle holders, keychains and other items. There will be T-shirts and hats for sale to support the wildlife rescue as well.
continued:
— — — — — — — — — —
Largemouth bass earns angler new Idaho catch and release record at 25 inches, 9.7 lbs
by CBS 2 News Staff Thursday, November 14th 2019

25-inch, 9.7-pound bass earns angler new Idaho catch and release record. (Idaho Department of Fish)
Boise, Idaho (CBS 2) — A 25-inch, 9.7-pound bass just earned an angler the new Idaho catch and release record for largemouth bass.
J.J. Schillinger, of Post Falls, hooked this monster during the Panhandle Bass Anglers Fall Open tournament in October. He caught the bass in Cave Lake, one of a dozen chain lakes along the Coeur d'Alene River.
… J.J.'s new record bass beat the previous record of 23.75 inches set by Dale Stratton at Sawyers Pond near Emmett in May of 2017.
full story:
———————-
Fish & Game News:
Oh deer! Peak season for hitting wildlife on the road is here
By Mike Demick, Staff Biologist
Wednesday, November 13, 2019
Motorists are urged to slow down and be extra careful.
With big game animals on the move for mating and migration, wildlife-vehicle collisions tend to peak this time of year. Motorists are urged to slow down and be extra careful.
The deer mating season occurs in November, and they tend to be active all day and become inattentive at times. And with increased snow in the higher elevations, Idaho's big game herds are migrating to lower elevation winter ranges, crossing many highways and roads.
"While you can't predict when wildlife will cross the road, being extra alert, slowing down, and avoiding driving under low light conditions if possible is your best defense," said Greg Painter, Idaho Fish and Game wildlife manager based in Salmon.
continued:
— — — — — — — — — —
Two moose illegally killed near Isabella Road east of Elk River on Nov. 2
By Jennifer Bruns, Regional Communications Manager
Tuesday, November 12, 2019
Idaho Fish and Game officers are investigating an incident that occurred on Saturday, November 2 near Isabella Road east of Elk River, Idaho. Officers are asking for help locating a red Chevy pickup truck that was seen leaving the area where two moose were killed. The pickup was described as a 2007-2014 model red Chevrolet pickup with newer bedside wood racks approximately cab height. Witnesses reported seeing a black lab in the bed of the truck and said that the vehicle left the area traveling at a high rate of speed. Both moose were taken from the scene.
If anyone has information regarding this incident, call Sr. Conservation Officer, Brian Perkes at 208-969-1605 or contact the Citizens Against Poaching hotline at 1-800-632-5999. Callers can remain anonymous.
source:
— — — — — — — — — —
Three whitetailed deer found shot and left to waste near Keuterville/Ferdinand on Nov. 2
By Jennifer Bruns, Regional Communications Manager
Tuesday, November 12, 2019
On Saturday, November 2, 2019 two deer were found shot and left to waste in agricultural fields in the Keuterville/Ferdinand area.
The first deer, a white tail doe, was found off Agnew Rd, near the intersection of Keuterville Rd. She had been gut shot and left to waste in a stubble field. She appears to have been shot late night on Friday, November 1 or early morning Saturday, November 2. The meat was salvaged and donated to a local family.
The second deer, a 4×4 white tail buck, was found off Rolling Hills Rd, about 3 miles outside Ferdinand. He was also gut shot and left to waste in a stubble field. He appears to have been shot in the same time frame as the doe.
continued:
— — — — — — — — — —
More F&G News Releases
link:
———————————-
Fun Critter Stuff:
Deer breaks into home, refuses to leave bathtub
by WSMH/WEYI Staff Friday, September 27th 2019
Fenton, Mich (WSMH/WEYI) – Fenton Police responded to a bizarre breaking and entering on Wednesday, September 25th.
Police believe a deer may have been hit by a car and then crashed through the window of a home.
Once inside the home, police say the deer went into the bathtub and would not leave.
continued:
——————————–
Seasonal Humor:

————————-