Nov 24, 2019 The Yellow Pine Times – Valley County, Idaho
Community Calendar:
Boil water order lifted Nov 22
May 15 – Nov 30 Firewood Season
Nov 25 – deadline to order 2020 YP calendar
Nov 28 – Thanksgiving potluck 2pm at the Tavern
Dec 25 – Christmas dinner at the Community Hall 2pm
(details below)
———-
Local Events:
Nov 28 – Yellow Pine Thanksgiving Dinner
Thursday, November 28, 2019 at 2pm Potluck at the Yellow Pine Tavern – Turkey and bread stuffing provided by the Tavern. Also prime rib, pumpkin pie, and deviled eggs promised
— — — —
Dec 25 – Christmas dinner at the Community Hall 2pm
Potluck with turkey provided. We may have a Bingo game afterward.
———-
Village News:
Boil Water Advisory Lifted Nov 22
Good news! We have received a noticed that the boil order has been lifted. (More info under YPWUA News below.)
— — — —
South Fork Ice Flow
Folks need to be aware of dangerous road conditions about half way out the South Fork. Water has been running down the middle of the road this fall, eroding the pavement and freezing into a thick layer of ice right up to the edge along the river side. Folks have said that low clearance cars may have trouble with the deep rut and ice.
There have been 2 slide-offs and a few near wrecks reported this month.


photo courtesy Nancy Bellman – November 10th
Kelly Collins posted on FB around 1130pm Nov 17th in response to the photo above: I [saw] this pickup when it was upside down in the river. There is a thick stretch of ice right there, it kinda sneaks up on you. I also pulled two guys from Washington with a Dodge 1-ton with a cargo trailer out from that same spot about 4 days ago.
— — — —
Valley County Road Meeting Notes
by Teri Norell
On Nov. 18 I attended the road workshop in Cascade offered by our County Commissioners.
Doug Miller (county clerk) opened the workshop by presenting information on present monies available and projected financial revenue and expenses.
In general the road department has @ $6 million dollars as to date and expenses $3-4 million per year for just basic maintenance. $4.2 million dollars have been appropriated for this year. A large portion of these expenses are for snow removal. Revenue for road maintenance is primarily obtained from user fees (gas tax and vehicle registration) which is @ $2 million/ year. There is potential revenue from federal SRS funds.These funds rely on Congressionally approval. Last years funds from SRS was $1.7 million. As of this year no SRS monies have been allotted. Senator Risch and Representative Crapo are hoping to introduce legislation to obtain these monies in the near future, but no promises. Obviously road maintenance expenditures are greater then income.
While there are funds to cover this years snow removal /road maintenance, following years would run into deficits.
Jeff McFadden presented information on all that is involved with maintaining road system in Valley County. There are approximately 731 miles of roads. These roads are classified as to their importance ie: bus route, main corridor etc. Priority for maintenance is related to that classification.
Following Jeff's presentation, the workshop was open to questions and comments. The discussions centered around how to increase funding, what roads would be cut from snow removal when funds run low / out and how to improve public awareness on road concerns and up coming meetings etc.
Some of the ideas presented for funding: get recently failed road levy back on the ballot possibly as early as this coming May. This time doing a better job of informing the public as to its importance. At this time Valley county does not receive revenue for road maintenance from property taxes. Change the state gas tax calculation so as to be more favorable for those counties that have a road systems that encompass a large portion of public lands. Grants are another area of income discussed. It was mentioned that a part time grant writer had just been hired.
Ideas for improving Public knowledge of road concerns, meetings etc. include: A pamphlet having relevant county contact information will be coming out with upcoming property tax bills, Face Book site (to be set up as I understood) and county web site etc.
— — — —
Yellow Pine US Mail
The 3-day a week mail delivery started Nov 1st. The Post Office in Yellow Pine is open six days a week year around: M-F 845am-245pm Saturday 9am-245pm. Forever Stamp: 55 cents Support our local post office and purchase your holiday stamps here.
— — — —
Yellow Pine Transfer Station
Report Saturday (Nov 23) the dump is very full. Others have reported the road is developing some pot holes to dodge.
Please do not abuse our Transfer Station or we may lose it. Household trash must be placed in the bins, flattened cardboard boxes can also go into the bins. Do not stack trash in front of the doors. Woody yard debris only for the burn pile. No furniture, appliances, tires or construction debris allowed, those items must be hauled out to the Donnelly station by you.
Yellow Pine Transfer Station (aka, the dump)
The Yellow Pine Transfer Station is located approximately 3 miles south on Johnson Creek Road.
The TRANSFER STATION is for household trash and yard waste:
* Household trash must be put inside (and fit) the dumpster;
* Yard waste (limbs, pine needles, brush, et.) goes in the burn pile on the south end of the turn-around;
* Cardboard boxes should be flattened before putting the in the dumpster,
The DUMPSTERS are NOT for:
* Furniture (take to Donnelly Transfer Station);
* Appliances (take to Donnelly Transfer Station).
The BURN PILE is NOT for:
* Cardboard boxes (flatten and put in dumpster);
* Furniture and appliances (take to Donnelly Transfer Station);
* Drywall and building material (take to Donnelly Transfer Station);
* Wire or fencing (take to Donnelly Transfer Station);
* Foam Rubber (take to Donnelly Transfer Station);
* Wood with metal (like nails) attached (take to Donnelly Transfer Station.)
When closing the DOORS on the front of the dumpsters:
* Make sure the "U" brackets at the top and bottom of the door are engaged;
* The retaining bar at the middle of the door is slid into the pipe;
* And the "L" bars at the bottom of the doors dropped into place.
The Yellow Pine Transfer Station is Valley County responsibility. If it is not kept tidy, use of the Transfer Station may be revoked. That would result in residents having to take all household trash and yard waste to the Donnelly Transfer Station.
If Dumpsters Are Full, Contact Lake Shore Disposal at: 208/634-7176
———-
Local Groups:
YPWUA News:
Boil Water Advisory Lifted November 22, 2019
With the sharp reduction in water demand due to the repair of the large pipeline leak and the successful cleaning of Filter #1, water production now exceeds demand. The flow restriction orifices are installed in each filter as is required, and both turbidity and chlorine residual values remain acceptable.
The combination of all of these factors has resulted in the restoration of sufficient treatment and as a result the Boil Advisory can now be lifted.
A few things to note:
1. As Boulder Creek water temperatures drop with winter conditions, chlorine dosing has to increase to maintain proper ratios. As usual, I will regularly provide a chlorine residual "target" value that corresponds with changes in water temperature. Maintaining the correct residual will be critical in order to avoid "Treatment Technique" violations with DEQ and the resulting required public notification.
2. Upon my last visit I observed the flow meter malfunctioning. It's operation was intermittent and replacement of the meter should be considered.
3. A new Micro Switch for control of the chlorine dosing pump has been ordered and I plan to install it on the next regular visit.
4. Modification of the filter output piping and valving is planned for January. I will create and submit a drawing to DEQ for approval and once approved, the work can be completed. This modification will allow for "filter to waste" operation as is required after filter cleaning or maintenance. Currently no provision for filter to waste exists. Cost for fittings and valves is estimated at $350
5. Filter #2 should be cleaned and I've schedule that cleaning for mid January after filter to waste plumbing work is completed
6. Securement of the Boulder Creek "overflow culvert" needs to be completed. Please advise as to availability of the donated cable and clamps. Work needs to be completed before winter conditions set in so that the culvert is in place and secure for spring runoff.
– Warren Drake
The 2019 Yellow Pine Water Users Shareholders meeting was Sunday July 7th in the Community Hall.
Link to: 20190707YPWUAminutes.rtf
— — — —
VYPA News:
Cemetery – Tim Rogers: Marge Fields is researching the history of the log cabin now located at the cemetery, but formerly was in the center of the Yellow Pine village. A plaque will be placed at the cabin. The previous information sign showing names and locations of deceased buried in the cemetery will be repaired this winter and placed next year.
Road & Ditch Committee has been created. Clayton Egbert, Chairman. Tim Rogers and Tom Lanham have volunteered. This group and will need more volunteers.
Village of Yellow Pine Association Meeting Minutes for September 21, 2019
link to: 20190921 Village of Yellow Pine Association Meeting
— — — —
YPFD News:
YP Fire Commissioners:
Sue Holloway – District 1
Dan Stiff – District 2
Merrill Saleen – District 3
Fire Chief – Jeff Forster
—
Yellow Pine Fire Protection District Community Service Notice
The purpose of this letter is to show how you as a Yellow Pine Resident can help protect your structure against a wildland fire by being "Fire Wise."
link to: 20190724 Yellow Pine Fire Protection mitigation
Stop the Bleed Class: We will do another class this spring/summer [2020] depending on interest.
Training update 11/18: Training will resume in the spring.
-Fire Chief Jeff
——–
Biz Listings:
Yellow Pine Lodge (208) 633-3377
Closed for Winter.
— — — —
The Corner (208) 633-3325
The Corner is closed for the winter, opening again next spring. I can be reached at matt @ ypcorner.com or at 970-379-5155. Thanks, have a great winter!
— — — —
Yellow Pine Tavern (208) 633-2233
Fall hours open 8am to close
Full breakfast served starting at 8am with special arrangement for earlier breakfast as needed. 92 Octane non ethanol gas available, cubed ice, beer, pop and water sold by the 6 and 12 pack, snacks, ice cream and many supplies available. Burgers and Pizza, Beer and Wine on the evening menu. Football and other sports available on our TV. Wi Fi, Verizon phone service and information available.
— — — —
Buck Horn Outfitters LLC 208-633-3614
Tom & Sarah Lanham
156 Yellow Pine Ave, Yellow Pine Id 83677
website:
Facebook:
It's official starting June 2020 We will be doing trail rides out of Yellow Pine along with summer pack / camping trips to high mountain lakes in the area!
—
Wapiti Meadow Ranch – Johnson Creek (208) 633-3217
or 208-315-3554 – cabin rentals
website:
—
Deadwood Outfitters
website:
— — — —
Local Fuel Suppliers
Amerigas Phone: (208) 634-8181
Ed Staub & Sons Phone: (208) 634-3833
Diamond Fuel & Feed Phone: (208) 382-4430
— — — —
Outside Biz that will service Yellow Pine:
The Star-News


subscribe:
A reminder that those who live in other states can subscribe to the online edition only since the mail can take days for hard copy to reach them.
Rocky Mountain Mechanical – Plumbing – Heating – Air conditioning
(208) 365-PIPE (7473), Emmett, will service Yellow Pine
Elkhorn Heating & Cooling
(208) 906-4067 Middleton, Idaho, will service Yellow Pine
B&T Safety Solutions LLC
208-271-1600 Based out of Donnelly
Snow removal, cleaning chimneys and stoves, we do cabin staining/chinking as well
— — — —
Follow The Yellow Pine Times on Facebook (updated more often than emails)
———————–
Local Observations:
Monday (Nov 18) overnight low of 27 degrees, mostly cloudy sky and light breeze this morning. First measurable precipitation in November on Sunday = 0.02″. Jays, nuthatches and nutcracker visiting, chickadee calling from the trees. Overcast by lunch time, light breezes. Not many birds around today. Thicker clouds, mild and light breezes mid-afternoon, high of 51 degrees. Golfers out enjoying a nice day at the Yellow Pine Country Club. Overcast at dusk and calmer. A few stars out before midnight. Rain shower before 5am, more rain before 9am.
Tuesday (Nov 19) probably didn't get below freezing last night, low dark clouds and steady rain this morning. A few jays and nuthatches visiting. Rain/snow mix, then back to rain at lunch time, stopped before 1pm then breaks in the clouds letting in a little sunshine. Partly clear/cloudy mid-afternoon, cool and a light chilly breeze, high of 43 degrees. Patches of new snow on the very top of Golden Gate, low cloud on VanMeter Hill hiding new snow up there. Almost full dark by 530pm now, looked partly clear. A few stars out before midnight.
Wednesday (Nov 20) overnight low of 27 degrees, mostly cloudy sky and bit of sunshine, light breeze and wet with dew and melting frost after sunrise. Jays and red-breasted nuthatches visiting. Almost overcast at lunch time, thicker darker clouds and rather chilly. Mail truck was nearly on time. Gusty breezes kicking up early afternoon. Partly clear to partly cloudy mid-afternoon, gusty chilly breezes, high of 45 degrees. Breezy at dusk and flat sky. High haze and a few stars out before midnight.
Thursday (Nov 21) overnight low of 16 degrees, almost clear sky this morning – a few little wispies and frosty. In addition to the jays and nuthatches a female cassins finch visited at lunch time. Strong sunshine at noon, but chilly. Clark's nutcracker joined the jays and nuthatches at the feeders along with a resident pine squirrel. Partly cloudy (high wispies) and chilly breeze mid-afternoon, there is still frost on the ground in the shade, high of 41 degrees. Looked like some high haze at dusk. Lots of stars out before midnight.
Friday (Nov 22) overnight low of 16 degrees, mostly clear sky this morning – a handful of 'popcorn' clouds in the sky, slight chilly breeze and frosty. The female cassins finch is back along with half a dozen red-breasted nuthatches, noisy jays and nutcrackers. Sunny, clear and chilly at lunch time. A lone chipmunk visited. Clear and slight chilly breeze mid-afternoon, high of 45 degrees, sun is down behind the ridge by 345pm. The western sky was blushing pink at dusk, otherwise clear and calm. Lots of stars out before midnight.
Saturday (Nov 23) overnight low of 16 degrees, overcast sky and frosty this morning. A female cassins finch is still here (should have gone south by now), nuthatches, jays and nutcracker also visiting. Clearing off and sunny by lunch time, but cool. Mostly clear mid-afternoon, just a tiny cold breeze, high of 47 degrees. The frost on the ground on the north side has not melted in the last few days, it has built up and now looks like snow. Looked mostly clear at dusk. Dropped below freezing after dark.
Sunday (Nov 24) overnight low was just under freezing, a bit of frost and snow pellets on the ground, overcast and a very light breeze this morning. Jays, red-breasted nuthatches and clark's nutcrackers visiting. Cloudy and cool at lunch time. Quiet day so far. Cracks in the clouds and cold light breeze mid-afternoon, high of 42 degrees. A few starlings have invaded. Big patches of clear sky late afternoon. Partly cloudy just before dark.
————————-
RIP:
Jerome "Jerry" Schwarzhoff
Schwarzhoff, Jerome "Jerry", 103, of Boise, died on November 21, 2019. A memorial service will be held at 2 p.m. on Tuesday, November 26, 2019 at Wright Community Congregational Church, 4821 W Franklin Rd, Boise, ID 83705.
Published in Idaho Statesman on Nov. 23, 2019
————————
Idaho News:
Valley, public ponder how to plow
Levy defeat puts winter of 2020-21 in doubt
By Max Silverson for The Star-News Nov 21, 2019
Valley County commissioners and the public on Monday swapped ideas on future funding and projects like snow plowing for the winter of 2020-21 in light of the defeat of the recent roads levy.
Monday's workshop focused on changes that would affect services next winter, as the budget for the coming winter is already set.
County residents should not see a significant reduction in services this winter, Superintendent Jeff McFadden said at the meeting held at the Valley County Courthouse in Cascade.
County voters on Nov. 5 failed to pass a property tax levy to fund county roads. The measure received 50.7% "yes" votes, but 66.7% was needed for passage.
Without the levy, the road department will have a deficit of about $4 million by 2023 if no other funding sources are found, Valley County Clerk Douglas Miller said.
The county looked at what roads could be cut from plow routes, which are classified as major and minor collectors, local roads and private roads, commission Chair Elt Hasbrouck said.
Private and local roads would be the last priority for plowing, Hasbrouck told about 60 people who attended the meeting.
"If we have to go a mile or a mile and a half to get to one residence versus a mile and a half to get to 20 residences then we're going to have to prioritize which road we're going to do, and I think that's a pretty easy decision," he said.
Roads serving year-round residents would be prioritized over second homes.
The county averages about 21 storms per year, with 10 days of snow cleanup needed on over 235 miles of road, McFadden said.
It costs about $1.58 per minute to operate a snowplow, and $2.25 per minute for a road grader. Every time it snows, eight to 18 pieces of equipment are out for up to 12 hours a day, McFadden said.
Straight stretches take less time and money to plow, where roads with intersections, curves and cul-de-sacs are more time consuming and expensive to plow, he said.
Not plowing seven roads would save about $20,000 per year, he said.
One member of the audience asked if a member of the public could plow a county road, to which McFadden said they could with an agreement with the county.
Other audience members said they were worried about emergency access to homes if they're not plowed.
Others wanted to know how to alert second homeowners of the reduction in services and what happens if there is another month with heavy snowfall like this past February.
Hasbrouck said that there is no law requiring the county to plow any roads at all, but the county plows several roads specifically to maintain access for residents with medical needs.
Several funding sources were suggested by audience members, including toll booths, lobbying the state and federal legislatures for funding and using deferred property taxes.
Toll booths would need state approval and were unlikely, commissioners said.
The county cannot depend on state and federal funding, and deferred property taxes estimated at $1.1 million per year need to be saved for emergencies, they said.
"The past commissioners for the last hundred years have been running this road department without any property taxes and it's finally come down to where we're out of luck; now we've got to start paying our own bill," Hasbrouck said.
Those attending and commissioners agreed the best way to move forward was to continue to educate the public on why a road tax is needed and try again to pass a similar levy.
Another road levy could be on the ballot in May 2020 or November 2020 but would require more effective public communication in order to pass, commissioners said.
source: © Copyright 2009-2018 Central Idaho Publishing Inc.
— — — — — — — — — —
Free Thanksgiving dinners set for McCall, Cascade, NM
The Star-News Nov 21, 2019
McCall
Quaker Hill Camp will host its 10th annual free community Thanksgiving Dinner with turkey and all the trimmings on Monday from 5 p.m. to 7 p.m. Reservations are helpful but are not required.
Cascade
The American Legion Auxiliary of Cascade will host its annual free Community Thanksgiving Dinner from 1 p.m. to 3 p.m.
New Meadows
A free Thanksgiving dinner will begin at 1 p.m. Thanksgiving Day at New Meadows United Methodist Church Education Building located at 201 N. Heigho St. in New Meadows.
Note: Thanksgiving pot-luck in Yellow Pine will be at 2pm at the Yellow Pine Tavern.
— — — — — — — — — —
CPR, First Aid classes to be offered Dec. 3-4 in Donnelly
The Star-News Nov 21, 2019
CPR/AED and First Aid classes will be held at the Donnelly Fire Station on Tuesday and Wednesday, Dec. 3-4, at 6 p.m.
The CPR/AED portion will be Tuesday, Dec. 3, and the First Aid portion on Wednesday, Dec. 4.
Cost is $25, and space is limited. For more information or to register, call 208-325-8619.
The Donnelly Fire Station is located at 244 W. Roseberry Road.
source:
— — — — — — — — — —
Police in McCall seek public's help finding graffiti vandal
Several incidents have been reported to police in the past two weeks.
KTVB November 19, 2019
McCall, Idaho — Someone has been defacing public property in McCall.
The McCall Police Department posted three photos of the damage on their Facebook page and put out a call for help in finding the responsible parties.
The photos show two utility boxes and a Big Payette Lake sign that have been tagged with graffiti.
continued:
— — — — — — — — — —
Highway 55 back open after semi truck carrying logs overturns
The road reopened in both directions by 2:43pm Friday.
Nyla Gennaoui November 22, 2019 KTVB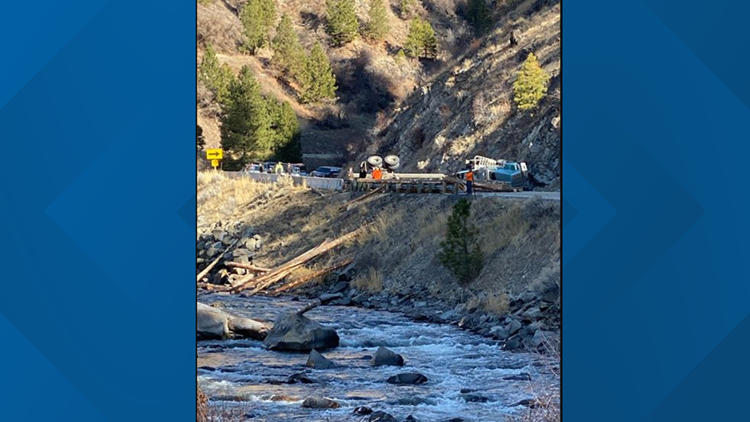 Banks, Idaho — Highway 55 was blocked in both directions for several hours Friday after a semi-truck carrying logs overturned near a sharp bend in the road north of Horseshoe Bend.
The accident happened around 11:30am.
continued:
——————–
Tips & Advice:
Reduce your risk of catching the cold and flu
Nov 20, 2019 KIVI Staff
Boise, Idaho — It's official: cold and flu season is underway across the U.S. The CDC says flu season is getting an early start with 30 states already reporting cases.
Dr. Adam Saperston serves as Medical Director for Blue Cross of Idaho. He says there are ways to tell the difference between a cold and the flu. First, they're caused by different viruses. Second, the flu makes people sicker through a higher fever, making someone feel more weak, and other symptoms. The flu can also continue to become worse, causing someone to develop pneumonia and can be fatal.
Dr. Saperston says the number one way to avoid catching the flu remains getting your flu vaccine.
continued:
—————————–
Scam Alert:
Police: Avoid scams, don't take Facebook quizzes
Nov 18, 2019 By WTMJ Staff (KIVI TV)
Facebook quizzes help identity thieves learn personal information, increasing people's risk of being scammed, according to Prevention.com.
Some quizzes ask questions that are similar to security questions when setting up an account, such as where you were born, the name of the street you lived on, your favorite pet and more. When you answer these questions on the quizzes, you could be giving scammers the answers to hack your accounts.
Additionally, some posts mean well, but prompt people to comment or post information. For example, the following post is likely intended to simply be a fun holiday game, but scammers can use the information you provide, combined with the information on your profile, to scam you.
continued: (h/t Valley County Sheriff's office)
———————–
Mining News:
Pressure cooker would squeeze gold, silver from Stibnite slurry
(Note: This is the fifth part in a series detailing Midas Gold Idaho's operating plan for its proposed gold and antimony mine near Yellow Pine. Next week: Cyanide Leaching)
By Drew Dodson for The Star-News Nov 21, 2019
Particles of gold and silver would be freed from other minerals like tender meat falls off the bone of a pressure-cooked pot roast, according to Midas Gold's operating plan for the Stibnite Gold Project.
A massive pressure cooker for minerals, called an autoclave would be used to speed up the natural process of oxidation, or the weathering of rocks due to water, oxygen and pressure.
Most of the gold and silver at Stibnite is contained within the crystal structure of other minerals like pyrite.
Freeing the gold would require applying extreme pressure and heat to about 3,000 tons of ore per day in the autoclave, which would be about 16 feet wide and as long as a basketball court.
A slurry of gold and silver-bearing minerals generated during the flotation process would be pumped into the autoclave, where a chemical reaction would be induced by adding liquid oxygen into the chamber. The chemical reaction would result in the slurry being heated to about 430 degrees Fahrenheit and subjected to pressure equivalent to that of being about 1,000 feet beneath the ocean's surface.
The force of water, pressure and heat bearing down on the slurry would cause gold-bearing pyrite minerals to break down and free gold in individual particles.
After an hour in the autoclave, a slurry of individual particles of gold, silver and pyrite would be cooled and neutralized using lime and ground limestone.
This process, called pressure oxidation, is the most commonly used modern method for freeing gold and silver from within ore, according to Midas Gold's operating plan.
Pressure oxidation can take hundreds or even thousands of years in nature because without extreme forces, gold particles remain locked within other minerals until the surrounding material is slowly eroded away.
The autoclave would be housed in a steel building capable of containing 10% more than the capacity of the autoclave in case of a spill. The outer shell of the autoclave would be made from steel and lined with at least two layers of brick to help it withstand the extreme heat.
Bricks would be inspected and replaced as needed annually, according to Midas Gold. Building the oxidation circuit would cost Midas Gold about $70 million
source: © Copyright 2009-2018 Central Idaho Publishing Inc.
— — — — — — — — — —
Sho-Ban Tribes win FMC lawsuit
November 18, 2019 Local News 8
The 9th Circuit Court of Appeals has affirmed a district court judgment which affirmed a Shoshone Bannock Tribal Court of Appeals decision regarding a long-running dispute with the FMC Corporation.
In it, the court ruled FMC must pay an annual use permit fee for storage of hazardous waste on fee lands within the Shoshone Bannock Fort Hall Reservation. The requirement was laid out in a consent decree settling a prior suit brought against FMC by the Environmental Protection Agency.
The Circuit Court concluded the FMC's storage of millions of tons of hazardous waste on the Reservation "threatens or has some direct effect on the political integrity, economic security, or the 'health and welfare' of the Tribes.."
continued:
————————
Public Lands:
USDA Forest Service Taylor Outfitting LLC. DBA McCall Angler Special Use Permit Reissuance Update
November 21, 2019
The Forest Service is seeking scoping comments for the proposed renewal of the special use authorization for Taylor Outfitting on the McCall and New Meadows Ranger Districts of the Payette National Forest. The enclosed scoping document provides more detailed information about the project. The scoping document is also available on the project's webpage at (link)
The Forest Service is contacting interested individuals, groups, and agencies to make them aware of the project and to gather pertinent feedback. To be most helpful, please submit your scoping comments by December 19, 2019, and make your comments as specific as possible.
The project webpage provides you tools to engage this process as you wish. From "Get Connected" on the right hand side of the page, click on "Subscribe to Email Updates" if you wish to receive electronic communication about this project. Use the "Comment/Object on Project" link to access a simple webform to submit your comments on this project. The "Public Comment/Objection Reading Room" are the published comments received on this project.
Webform submission is preferred but written comments concerning this project will be accepted by mailing to the McCall Ranger District 102 West Lake Street McCall, ID 83638. Hand delivered comment letters may be delivered during regular business hours of 8 a.m. to 4:30 p.m. Monday-Friday, excluding holidays. Electronic comments may be submitted electronically through the project web page listed above.
Comments received in response to this request will be available for public inspection and will be released in their entirety if requested pursuant to the Freedom of Information Act. Comments received in response to this request will also be available for public inspection on the "Public Comment Reading Room" on the project webpage.
For further information on this project, please contact acting Recreation Program Manager (detail), Emily Simpson at 208-634-0415, or emily.simpson@usda.gov
Sincerely,
Ann Hadlow
Acting McCall District Ranger
— — — — — — — — — —
Forest Supervisor signs decision memo for the Little Red Goose Forest Resilience Project on the Payette National Forest
McCall, Id., November 19, 2019 Payette National Forest
Tawnya Brummett, the Acting Forest Supervisor for the Payette National Forest, signed the decision memo today for the Little Red Goose Forest Resilience Project on the New Meadows Ranger District.
This project area is roughly 8,800 acres in the Little Salmon River subbasin in Upper Goose Creek, Sixmile Creek, and Lower Goose Creek between McCall and New Meadows, and is visible from Highway 55, Highway 95 and Brundage Ski Resort. The area has been heavily impacted by Douglas fir tussock moth as evidenced by the large areas of red needled trees this summer and fall.
According to a recent USDA Forest Health and Protection report, this area is also being impacted by the western spruce budworm, Balsam woolly adelgid, mistletoe, and root and butt rots which is compounding the effect on trees in the area.

Dwarf Mistletoe – William Jacobi, Colorado State University

Western spruce budworm larva – USDA Forest Service
This decision authorizes treatments on up to 3,000 acres identified within the larger 8,800-acre area, and includes commercial thinning, non-commercial thinning, commercial firewood removal, slash treatments (lop and scatter or pile burning), and broadcast prescribed burning. Hazard tree removal in Last Chance Campground as well as commercial treatments west of FSR 453 could begin as early as January 2020.
"[Little Red Goose] is an excellent example of how we can quickly respond to our changing forest conditions, and the importance of engaging with our communities and local officials to address insect and disease issues that have the potential to affect a much larger area," says Brummett in her decision. "Much like wildfire, insects and disease do not recognize jurisdictional boundaries, and managing the National Forest to increase its resiliency to such disturbances is critical to being good stewards of the land and responsible neighbors."
The project is categorically excluded from documentation in an EA or EIS because it fits within the Insect and Disease Infestation category authorized by the Healthy Forest Restoration Act, specifically section 603 (16 U.S.C6591b)(FSH1909.15, 32.3(3)). This project adheres to the specifications of that authority.
More information about the project can be found on the Little Red Goose project webpage at: (link) or you can contact Erin Phelps, New Meadows District Ranger at 208-347-0301.
— — — — — — — — — —
Lawsuit filed to stop big US Forest Service project in Idaho
Nov 20, 2019 Associated Press
Boise, Idaho — The U.S. Forest Service is ignoring a 9th U.S. Circuit Court of Appeals ruling by restarting a giant forest project in Idaho, say environmental groups that have filed another lawsuit seeking to stop the project a second time.
The Alliance for the Wild Rockies and the other groups filed the lawsuit Monday in U.S. District Court in Idaho challenging the 125-square-mile (325-square-kilometer) project on the Payette National Forest.
The Forest Service and environmental groups agree the Lost Creek-Boulder Creek Landscape Restoration Project that includes logging, habitat restoration and recreational improvements is precisely the same as the one halted by the 9th Circuit Court's ruling against the Forest Service in August 2018.
continued:
— — — — — — — — — —
Forest Service to review water diversions in Sawtooth Valley
by Associated Press Saturday, November 23rd 2019
Boise, Idaho (AP) — The U.S. Forest Service has agreed to complete environmental reviews of 20 water diversions in central Idaho that a conservation group says could be harming imperiled salmon.
A U.S. District Court judge on Thursday signed off on the agreement between the Forest Service and Idaho Conservation League involving the water diversions in the Sawtooth Valley.
continued:
— — — — — — — — — —
BLM to conduct fall, winter timber pile burning
Date: November 20, 2019
Contact: (Jared Jablonski) (jjablonski@blm.gov) (208-384-3210)
Boise, Idaho – The Bureau of Land Management (BLM) Boise District will conduct three prescribed timber pile burns on projects within Boise, Valley and Adams Counties between Nov. 27 and Feb. 1, depending on weather, fuel and ground conditions. The main objective of these burns is to reduce 245 acres of slash accumulated during past timber treatments, reducing hazardous fuels and the potential for harmful fire behavior.
K-Round Pile Burning – The K-Round Prescribed Pile Burn is located in Valley County, approximately 17 miles northeast of Banks. Prescribed fire managers will be targeting 21 machine piles located on 145 acres of BLM land.
Mile Marker 73 Pile Burning – The Mile Marker 73 Prescribed Pile Burn is located in Boise County, approximately 9 miles northeast of Horseshoe Bend. Prescribed fire managers will be targeting six machine piles located on 28 acres of BLM land.
Fort Hall Pile Burning –The Fort Hall Prescribed Pile Burn is located in Adams County, approximately 1.5 miles east of Fruitvale. Prescribed fire managers will be targeting 15 machine piles located on 72 acres of BLM land.
Fire managers will be waiting for adequate moisture levels in project areas before initiating ignition operations in order to ensure minimal fire spread outside of designated piles. Once initiated, prescribed burning operations are expected to last up to one week in each area. Personnel and equipment will be in the project areas for the duration of the burning operations. Smoke from the burns has the potential to be visible from long distances due to location, fuel type and burning conditions.
For more information, contact the Boise District Fire Information Line at (208) 384-3378.
— — — — — — — — — —
BLM to conduct prescribed burning in southwest Idaho
Date: November 20, 2019
Contact: (Jared Jablonski) (jjablonski@blm.gov) (208-384-3210)
Boise, Idaho – The Bureau of Land Management (BLM) will be conducting the Trout Springs Jackpot Prescribed Burn in Owyhee County between late November and January depending on weather, fuel and ground conditions. The Trout Springs Jackpot Prescribed Burn is located on Juniper Mountain, 36 miles southeast of Jordan Valley, Oregon. The planned prescribed fire will target 137 acres of downed juniper trees remaining from past cutting treatments.
The fire is part of a larger project intended to move pastures toward meeting rangeland health standards. Fire managers will be targeting weather and fuel conditions that minimize fire spread such as snow, high fuel moistures, and new grass growth. Containing the fire spread to individual tree debris zones reduces the risk of live vegetation mortality and allows for faster vegetation recovery.
Fire managers will perform ignitions over a multiday period, with subsequent mop-up and patrol of the prescribed fire occurring for several days. The public can expect to see smoke from the vicinity of Juniper Mountain during ignitions and for several days afterward.
This burn is a separate entry in the Trout Springs project and is adjacent to, not within, the 21-square-mile Trout Springs Prescribed Burn that took place in September 2019.
For more information, contact the BLM Boise District Fire Information Line at (208) 384-3378.
——————-
Critter News:
Santa Paws to take photo with pets Dec. 7 at Barn Owl
The Star-News Nov 21, 2019
Santa Paws is coming to town to take pictures with local pets and their human friends on Saturday, Dec. 7, from 11 a.m. to 3 p.m. at Barn Owl Books and Gifts.
Pets must be secured in a carrier or on a leash. Furry friends may pose alone or with their family.
Cost is $5. Proceeds from the event will benefit the dogs and cats at MCPAWS Regional Animal Shelter.
For more information, call 208-634-3647. Barn Owl Books and Gifts is located at 616 N. Third St., Suite 110, in McCall.
source:
— — — — — — — — — —
Pet owners should be aware of traps and snares in Idaho
by CBS 2 News Staff Wednesday, November 20th 2019
Boise, Idaho (CBS 2) — Pet owners should be aware of traps and snares in Idaho.
Idaho Fish and Game says most fur trapping seasons are open during late fall and winter, but some go year-round.
Owners should be careful letting pets run off-leash and unsupervised. They run the risk of having their pet's toes pinched or worse – trapped by snares intended for large wildlife.
Know that one trap usually means there are more in the area. If you find one trap, avoid the rest of the area.
continued:
— — — — — — — — — —
Forest Service opposes bear-baiting ban in Idaho, Wyoming
Keith Ridler Associated Press November 18, 2019
Boise, Idaho — Federal authorities say a lawsuit seeking to ban black bear hunting using bait in national forests in Idaho and Wyoming to protect grizzly bears should be dismissed.
The U.S. Forest Service and U.S. Fish and Wildlife Service in documents filed Friday say the decision to allow using bait to attract bears should continue to be made by the states in which the national forests are located.
Western Watersheds Project, WildEarth Guardians and Wilderness Watch filed the lawsuit in June, contending the federal agencies are violating environmental laws because black bear hunters using bait have killed at least eight threatened grizzly bears since 1995 in national forests.
continued:
— — — — — — — — — —
Another moose poached near Idaho City
The young bull was illegally killed and left to rot on the Cottonwood Creek/Thorn Creek divide.
KTVB November 19, 2019
Idaho City, Idaho — Idaho Department of Fish and Game officers are searching for answers after a bull moose was illegally killed and left to rot near Idaho City.
The remains of the young moose were found over the weekend on the Cottonwood Creek/Thorn Creek divide, although investigators believe it was shot sometime in early November.
The discovery marks the second moose poaching incident near Idaho City this month, and the eighth total in three years. The head of a young cow moose was found on Rocky Ridge Yurt Road earlier in November.
continued: [WARNING – sad photo]
— — — — — — — — — —
Study: Yellowstone bison mow, fertilize their own grass
"It's almost like the bison become this giant fleet of lawnmowers moving back and forth across the landscape."
Associated November 21, 2019
A study of grazing in Yellowstone National Park found that bison essentially mow and fertilize their own food, allowing them to graze in one area for two to three months during the spring and summer while other ungulates have to keep migrating to higher elevations to follow new plant growth.
Hundreds of bison grazing in an area stimulates the growth of nutritious grasses, in part because their waste acts as a fertilizer, according to research published this week in the Proceedings of the National Academy of Sciences.
continued:
— — — — — — — — — —
Boise Fire: Chicken coop fires rise with colder weather
by Haley Squiers Friday, November 22nd 2019
Boise, Idaho (CBS 2) — Just like house fires, Boise firefighters say they see an increase in chicken coop fires when it gets cold.
Backyard chicken owners want to keep their flock warm, but firefighters say that can be dangerous.
The issue is heat lamps falling where they're not supposed to.
"It's very easy for those heat lamps, they're hot enough, they produce enough heat, that they could ignite that straw or hay and then burn down your chicken coop," said Boise's Deputy Chief Romeo Gervais.
continued:
— — — — — — — — — —
Over 150 waterfowl dumped and left to waste along Highway 46
by CBS 2 News Staff Tuesday, November 19th 2019
Boise, Idaho (CBS 2) — Over 150 geese and ducks were dumped Friday along Highway 46 north of Gooding and left to rot.
Idaho Fish and Game officers are seeking information on the dumping of 154 snow and Canada geese and mallard ducks along Highway 46 on Nov. 15. All of the birds were left to rot, with no attempt to remove any meat.
"The birds were dumped prior to November 15th. This is an egregious situation of wasting waterfowl," said Trevor Meadows, conservation officer. "If anyone witnessed a vehicle in the pull-off just north of the Camas and Gooding county line, please let us know a description of the vehicle or the occupants."
continued:
—————————
Fish & Game News:
Traps, snares and pets can be a bad combination, and here's how to avoid a problem
By Roger Phillips, Public Information Supervisor
Wednesday, November 20, 2019
Pet owners should know the basic functions of traps so they can release their pets if they're caught
Pet owners are reminded fur trapping seasons are open during late fall and winter, and pets running off leash unsupervised could risk having their toes pinched – or worse – by traps and snares intended for wildlife.
While traps and snares are rarely encountered by bird hunters or hikers, pets can be attracted to them and become trapped, and people who allow their dogs to roam should be prepared to act quickly if it occurs.
continued:
— — — — — — — — — —
Releasing your Dog from a Trap
link to video:
— — — — — — — — — —
New wild turkey hunts slated to begin in Southwest Idaho
By Evin Oneale, Regional Communications Manager
Thursday, November 21, 2019
December hunts are intended to relieve property owners from turkey damage
Four new wild turkey Landowner Permission hunts (LPH) are now on the books and slated to begin December 1 in areas with chronic turkey depredations. The hunts will give landowners, hunters and Fish and Game staff another tool to deal more effectively with private property damage caused by wild turkeys.
Approved by the Fish and Game Commission in August, these four new hunts are designed to alleviate depredation issues and increase social tolerance for wild turkey populations on private land.
continued:
— — — — — — — — — —
More F&G News Releases
link:
———————————-
Fun Critter Stuff:
Pardoning the Thanksgiving Turkey

President John F. Kennedy pardoned a turkey on November 19, 1963, stating "Let's Keep him going." John F. Kennedy Presidential Library/NARA
The official "pardoning" of White House turkeys is an interesting White House tradition that has captured the imagination of the public in recent years. It is often stated that to a turkey recorded in an 1865 dispatch by White House reporter Noah Brooks was the origin for the pardoning ceremony.
Reports of turkeys as gifts to American presidents can be traced to the 1870s, when began sending well fed birds to the White House. The First Families did not always feast upon Vose's turkeys, but the yearly offering gained his farm widespread publicity and became a veritable institution at the White House. At Thanksgiving 1913, a turkey-come-lately from Kentucky shared a few minutes of fame with the fine-feathered Rhode Islander. Soon after, in December, Horace Vose died, thus ending an era.
By 1914, the opportunity to give a turkey to a President was open to everyone, and poultry gifts were frequently touched with patriotism, partisanship, and glee. In 1921, an American Legion post furnished bunting for the crate of a gobbler en route from Mississippi to Washington, while a Harding Girls Club in Chicago outfitted a turkey as a flying ace, complete with goggles. First Lady Grace Coolidge accepted a turkey from a Vermont Girl Scout in 1925. The turkey gifts had become established as a national symbol of good cheer.
continued:
———————
Seasonal Humor:
Thanksgiving Showdown – Farmer vs. Turkey

———————–