Dec 8, 2019 The Yellow Pine Times – Valley County, Idaho
Community Calendar:
Dec 7 thru Feb 21 Yellow Pine Tavern Holiday Closure
Dec 25 – Christmas dinner at the Community Hall 2pm
(details below)
———-
Local Events:
Dec 25 – Christmas dinner at the Community Hall 2pm
Christmas potluck will be at the community Hall on the 25th at 2pm. stay after dinner and play bingo!
———-
Village News:
Yellow Pine Tavern Holiday Closure
The Tavern will be closed from Saturday December 7th to Friday February 21st. UPS packages will be dropped off at Deb's porch and she will also have gasoline for emergency situations. I will be available at my cell number for any questions or situations 208 739-7086
Thanks, Lorinne N. Munn
— — — —
Christmas Bags
Christmas bags will be available for 'stuffing' inside the community hall starting on the 10th.
-DF
— — — —
South Fork Ice Flow
Folks need to be aware of dangerous road conditions about half way out the South Fork. Water has been running down the middle of the road this fall, eroding the pavement and freezing into a thick layer of ice right up to the edge along the river side. Folks have said that low clearance cars may have trouble with the deep rut and ice.
There have been 2 slide-offs and a few near wrecks reported in November and a small crash recently on the upper end.


photo courtesy Nancy Bellman – November 10th
Kelly Collins posted on FB around 1130pm Nov 17th in response to the photo above: I [saw] this pickup when it was upside down in the river. There is a thick stretch of ice right there, it kinda sneaks up on you. I also pulled two guys from Washington with a Dodge 1-ton with a cargo trailer out from that same spot about 4 days ago.
— — — —
Yellow Pine US Mail
The 3-day a week mail delivery started Nov 1st. The Post Office in Yellow Pine is open six days a week year around: M-F 845am-245pm Saturday 9am-245pm. Forever Stamp: 55 cents. Support our local post office and purchase your holiday stamps here.
— — — —
Yellow Pine Transfer Station
Please do not abuse our Transfer Station or we may lose it. Household trash must be placed in the bins, flattened cardboard boxes can also go into the bins. Do not stack trash in front of the doors. Woody yard debris only for the burn pile. No furniture, appliances, tires or construction debris allowed, those items must be hauled out to the Donnelly station by you.
Yellow Pine Transfer Station (aka, the dump)
The Yellow Pine Transfer Station is located approximately 3 miles south on Johnson Creek Road.
The TRANSFER STATION is for household trash and yard waste:
* Household trash must be put inside (and fit) the dumpster;
* Yard waste (limbs, pine needles, brush, et.) goes in the burn pile on the south end of the turn-around;
* Cardboard boxes should be flattened before putting the in the dumpster,
The DUMPSTERS are NOT for:
* Furniture (take to Donnelly Transfer Station);
* Appliances (take to Donnelly Transfer Station).
The BURN PILE is NOT for:
* Cardboard boxes (flatten and put in dumpster);
* Furniture and appliances (take to Donnelly Transfer Station);
* Drywall and building material (take to Donnelly Transfer Station);
* Wire or fencing (take to Donnelly Transfer Station);
* Foam Rubber (take to Donnelly Transfer Station);
* Wood with metal (like nails) attached (take to Donnelly Transfer Station.)
When closing the DOORS on the front of the dumpsters:
* Make sure the "U" brackets at the top and bottom of the door are engaged;
* The retaining bar at the middle of the door is slid into the pipe;
* And the "L" bars at the bottom of the doors dropped into place.
The Yellow Pine Transfer Station is Valley County responsibility. If it is not kept tidy, use of the Transfer Station may be revoked. That would result in residents having to take all household trash and yard waste to the Donnelly Transfer Station.
If Dumpsters Are Full, Contact Lake Shore Disposal at: 208/634-7176
———-
Local Groups:
YPWUA News:
Boil Water Advisory Lifted November 22, 2019
The 2019 Yellow Pine Water Users Shareholders meeting was Sunday July 7th in the Community Hall.
link: 20190707YPWUAminutes
— — — —
VYPA News:
Christmas bags will be available for 'stuffing' inside the community hall starting on the 10th.
The community hall committee's goal is to have adequate heating installed in the main hall before the June VYPA meeting.
If folks have items for the community yard sale, please place them by the north wall in the community hall. If you see items you would like to purchase, you can pay Deb, Ronda, or Lynn. All funds support the community hall.
VYPA meetings for 2020 – June 13, 2pm; July 11, 2pm; August 8, 2pm; September 12, 2pm.
Village of Yellow Pine Association Meeting Minutes for September 21, 2019
link: 20190921 Village of Yellow Pine Association Meeting
— — — —
YPFD News:
YP Fire Commissioners:
Sue Holloway – District 1
Dan Stiff – District 2
Merrill Saleen – District 3
Fire Chief – Jeff Forster
Yellow Pine Fire Protection District Community Service Notice
The purpose of this letter is to show how you as a Yellow Pine Resident can help protect your structure against a wildland fire by being "Fire Wise."
link: 20190724 Yellow Pine Fire Protection mitigation
Stop the Bleed Class: We will do another class this spring/summer [2020] depending on interest.
Training will resume in the spring.
-Fire Chief Jeff
——–
Biz Listings:
Yellow Pine Lodge (208) 633-3377
Closed for Winter.
— — — —
The Corner (208) 633-3325
The Corner is closed for the winter, opening again next spring. I can be reached at matt @ ypcorner.com or at 970-379-5155. Thanks, have a great winter!
— — — —
Yellow Pine Tavern (208) 633-2233
Closed Dec 7 thru Feb 21.
— — — —
Buck Horn Outfitters LLC 208-633-3614
Tom & Sarah Lanham
156 Yellow Pine Ave, Yellow Pine Id 83677
website:
Facebook:
Starting June 2020 We will be doing trail rides out of Yellow Pine along with summer pack / camping trips to high mountain lakes in the area!
—
Wapiti Meadow Ranch – Johnson Creek (208) 633-3217
or 208-315-3554 – cabin rentals
website:
—
Deadwood Outfitters
website:
— — — —
Local Fuel Suppliers
Amerigas Phone: (208) 634-8181
Ed Staub & Sons Phone: (208) 634-3833
Diamond Fuel & Feed Phone: (208) 382-4430
— — — —
Outside Biz that will service Yellow Pine:
The Star-News


subscribe:
A reminder that those who live in other states can subscribe to the online edition only since the mail can take days for hard copy to reach them.
Rocky Mountain Mechanical – Plumbing – Heating – Air conditioning
(208) 365-PIPE (7473), Emmett, will service Yellow Pine
Elkhorn Heating & Cooling
(208) 906-4067 Middleton, Idaho, will service Yellow Pine
B&T Safety Solutions LLC
208-271-1600 Based out of Donnelly
Snow removal, cleaning chimneys and stoves, we do cabin staining/chinking as well
— — — —
Follow The Yellow Pine Times on Facebook (updated more often than emails)
———————–
Local Observations:
Monday (Dec 2) overnight low around 26 degrees, warmed up to 31 by sunrise this morning, overcast sky and 3″ of snow on the ground. Jays, nuthatches and a nutcracker visiting. First snowmobile traffic of the season, otherwise very quiet. Overcast and dripping at lunch time. Both male and female hairy woodpeckers visited after lunch. Warmed up enough to melt a little snow and drip off the roof by mid-afternoon, broken cloud cover, and high of 37 degrees. Cloudy and calm at dark. Cloudy before midnight.
Tuesday (Dec 3) overnight low of 29 degrees, cloudy sky and calm this morning. A few red-breasted nuthatches visiting. Cloudy and calm at lunch time. Not many birds visiting today. Cloudy, calm and dripping mid-afternoon, high of 38 degrees. Some clearing spots in the cloud cover at dusk. Looked cloudy before midnight.
Wednesday (Dec 4) overnight low of 27 degrees, cloudy and light breeze. Snow depth between 1-2″ this morning. Not many birds around, clark's nutcracker and red-breasted nuthatches. Broken cloud cover at lunch time. Mail truck made it in on time. Quiet day. Partly clear to mostly cloudy late afternoon, high of 41 degrees. Appeared to be mostly clear at dusk, half full waxing moon above Antimony Ridge. High thin clouds moving in before midnight.
Thursday (Dec 5) overnight low of 15 degrees, almost clear sky this morning, very little frost, measured 1″ old snow. Red-breasted nuthatches, steller jays, clark's nutcrackers and a female hairy woodpecker visiting (male hairy came later). Mostly sunny at lunch time, roofs dripping. Sun behind the ridge before 335pm. Quiet day. Mostly cloudy late afternoon and calm, high of 39 degrees. Some high haze at dusk – fuzzy moon over Golden Gate hill. Partly clear before midnight.
Friday (Dec 6) overnight low of 15 degrees, mostly high thin haze, frosty and chilly light breezes, measured 1″ old crusty frozen snow. Nuthatches, chickadee, nutcracker and jays visiting. Thinner haze after sunrise. Overcast after lunch. Both male and female hairy woodpeckers visited. Quiet day. Cloudy and chilly light breeze late afternoon, feels like the humidity is up, high of 39 degrees. Appeared cloudy at dark. Fuzzy moon rising over the tip of Golden Gate Hill mid-evening. Partly clear before midnight, patches of stars.
Saturday (Dec 7) overnight low was below freezing (reading of 19F was from yesterday morning) overcast – top of VanMeter socked in, steady rain then rain/snow mix by sunrise. A few nuthatches braving the storm. Snow, then snow/rain mix, then rain until after lunch time. Clark's nutcracker and male hairy woodpecker stopped by. The ground is frozen so the rain is freezing and getting slick by mid-afternoon, high of 38 degrees. Almost full dark by 530pm and cloudy. Started raining some time after dark, getting very slick on the paths. Probably rained all night.
Sunday (Dec 8) overnight low of 32 degrees, low clouds and socked in, light rain/snow mix falling, 1″ of old snow on the board, ground is frozen and paths are icy. Raven calling to the south, red-breasted nuthatches visiting. Rain and rain/snow mix ended a little after lunch time. Broken clouds and bits of sun early afternoon, wispy fog draped low on the mountains. Late afternoon broken cloud cover and calm, high of 37 degrees. Mostly cloudy at dark, light breeze and bright fat moon above the saddle north of Golden Gate peak.
———————
RIP:
Budd Lynn Kehne
April 17, 1923 ~ November 25, 2019 (age 96)
Tribute
Budd Lynn Kehne, 96, of Eagle, died Monday, November 25, 2019 at home of natural causes.
Budd Kehne was born April 17, 1923 to Gustave and Laura Kehne in St. Paul, Minnesota. He attended schools in St. Paul and graduated from Murray High School in 1941, later graduating from Dunwoody College of Technology with a degree in electronics.
Budd and Peggy Handford were married and had three children, Craig Handford, Rolf Michael and Karen Lynn.
One year and one day after Pearl Harbor, Budd enlisted in the army and served as a radio operator in the Philippines and New Guinea. Budd related that as luck would have it, he just happened to be on the beach to observe MacArthur's return to the Philippines.
After the war Budd had a number of jobs which included selling Kirby Vacuum Cleaners door to door, as well as radiator enclosures.
Later, Budd was a district salesman for Gould National Battery Company. Many of his battery accounts were farm and ranch stores and Budd decided that he would like to be in that business, but in the west and near mountains. As a young boy, Budd made a trip to Idaho with his grandmother and he always remembered the mountains and wanted to return.
When asked, "Just what do you know about farming or ranching?" Budd would reply, "Well, I know that on a tractor, the big wheels go on the back and the little wheels go on the front."
And thus, having much to learn, Budd and his young family moved to Caldwell and in 1959 the first D&B opened its doors for business. Budd and his partner would eventually have four stores before they retired.
Budd enjoyed travel, archaeology, history and especially the back country – Yellow Pine and the Owyhees. Kona, Hawaii was also a special place for Budd and his family.
Budd also loved flying and was a private pilot for many years. His love of flying may have been sparked when, as a toddler his father made an airplane, complete with propeller, out of an orange crate. Budd spent many happy hours "flying" in his imagination on the front porch.
Budd was a member of El Korah Shrine for fifty years, an Elk in Caldwell for 59 years, a Mason and a longtime member of the Owyhee County Historical Society.
Budd and Jerralyn were married in 1993 and were inseparable for twenty-six years. His parents; his wife Peggy; his two brothers, Pete and Myron; and his son Craig predeceased Budd.
Budd is survived by his wife, Jerralyn; two children, Rolf (Kate) Kehne of Boise and Karen (Gregg) Landrey of Marsing; two Granddaughters, Sarah Kehne and Maggie Landrey. He is also survived by a beloved sister-in-law, Janet Kehne; nieces and nephews and their families; and cousins with whom he shared his youth and adventures.
Budd's family would like to express their gratitude to St. Luke's Heart Failure Clinic, Heart and Home Hospice and many others for their compassionate care. Heartfelt thanks to you all!
A celebration of Budd's life will be held at 11:00 a.m. Wednesday, December 18, 2019 at Dakan Funeral Chapel, 504 S. Kimball Ave., Caldwell. A reception will follow at the C.V. Peckham Community Center, located adjacent to the chapel. Please send your memories and condolences to Budd's family at (link)
The family suggests that memorials be made to Shriner's Hospitals for Children, or St. Jude Children's Research Hospital.
source: Dakan Funeral Chapel
[h/t B]
—————————–
Idaho News:
Tamarack Resort begins shuttle bus from the Treasure Valley
by CBS2 News Staff Thursday, December 5th 2019
Donnelly, Idaho (CBS2) — Tamarack Ski Resort is beginning a round-trip bus shuttle for eager skiers and borders this season.
The mountain announced on Thursday that for $20, skiers can be transported from Eagle Promenade (near State Street and Highway 55) to Tamarack Village.
The 56-passenger bus will operate every Saturday from Dec. 28 through Feb. 29. The bus features reclining seats, an on-board restroom, wi-fi and storage space for gear. The bus will leave at 7 a.m. and will return by 7 p.m.
source:
— — — — — — — — — —
Idaho Post Offices prepare for holiday cards and packages
Dec 04, 2019 KIVI
Idaho — Only Santa will be busier. The busiest mailing and delivery weeks of the year are here and Idaho Post Offices are prepared for the avalanche of holiday cards and packages.
"We prepare all year for the holidays. It's our season, and we're ready to deliver for our customers," said USPS District Manager Laura Hubrich, who shared some of the preparations Idaho Post Offices have made to deliver the holidays.
… Domestic Shipping Deadlines
· Dec. 14 – USPS Retail Ground
· Dec. 20 – First-Class Mail and packages
· Dec. 21 – Priority Mail
· Dec. 23 – Priority Mail Express
full story:
— — — — — — — — — —
Winter flu season is here early, could be intense
Douglas Jones, TEGNA December 8, 2019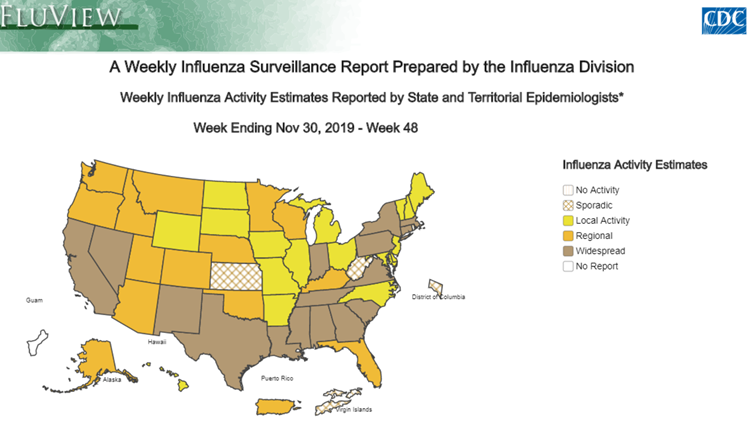 Citing health officials, the Associated Press is reporting that the winter flu season in the U.S. is starting at its earliest point in over 15 years. Officials say there is a chance this flu season could peak much earlier than usual. According to health experts, the last flu season that started this early was from 2003-2004, and it was bad.
CDC official Scott Epperson told the AP, "It really depends on what viruses are circulating. There's not a predictable trend as far as if it's early it's going to be more severe, or later, less severe."
Officials are saying that the type of virus that is causing most of the illnesses right now is a surprise version that doesn't usually have this sort of intensity until much later in the season.
continued:
— — — — — — — — — —
Idaho becomes least regulated state in the U.S.
Idaho has eliminated more than 1,800 pages of administrative code since Gov. Little took office.
Joey Prechtl December 5, 2019 KTVB
Boise, Idaho — Idaho is now the least regulated state in the entire country, passing South Dakota.
Idaho Gov. Brad Little said on Wednesday when he took office there were 736 chapters of regulations and 82,000 pages.
The cuts reduced or eliminated 75% of those chapters and reduced the page number by over 1,800. Little said that some of the cuts were silly rules that didn't make sense anymore.
continued:
————————
Tips & Advice:
Wellness Wednesday: avoiding common winter injuries
Dec 04, 2019 By KIVI Staff
Boise, Idaho — Winter is just around the corner, bringing plenty of holiday cheer–and a higher risk of injuries–with it.
Some of the most common winter injuries include slipping on ice. Up to 40,000 cases of people injured from slipping on ice are reported each year. Another common injury comes from shoveling snow with up to 11,000 cases per year. Skiing, snowboarding and other winter sports activities also lead to 50,000 to 80,000 injury cases each year. Children and seniors are most likely to be injured during the season, but people of all ages can be hurt in winter, especially athletes.
Injuries that lead to a deformity in an extremity or severe pain, numbness or tingling down your back and legs are all signs you need to get to an emergency room. Other common things that send you to the ER: symptoms of frostbite like tingling or numbness or waxy or grayish-yellow colored skin. A person who has frostbite may not know it until someone else points it out because the frozen parts of their body are numb.
continued:
————————-
Mining News:
Washing, baking would free gold, silver at Stibnite Mine
25-pound bricks would be shipped out for refining
(Note: This is the seventh part in a series detailing Midas Gold's operating plan for its proposed gold and antimony mine near Yellow Pine. Next week: Fish Passage Tunnel)
By Drew Dodson for The Star-News Dec 5, 2019
Photo courtesy Midas Gold. Photo shows an electrical furnace similar to one proposed by Midas Gold at the Stibnite Gold Project where molten gold and silver mixture is poured into molds to be cooled into bars called dore.
Molten gold and silver would be poured like chocolate fondue into brick-sized casts that would each weigh about 25 pounds upon cooling, according to Midas Gold's operating plan for its proposed Stibnite Gold Project near Yellow Pine.
The final step of ore processing would involve stripping gold and silver particles off of grains of pure carbon and melting them down into large bars called doré.
That process would begin by washing gold and silver-loaded carbon from the cyanide leaching circuit with water and nitric acid in sealed tanks before stripping it from the carbon in pressurized tanks at about 190 degrees with a weak cyanide solution.
Gold and silver freed from the carbon would exit the tanks in a sludge about as thick as melted ice cream.
Unloaded carbon would then be recycled by burning off lingering impurities in a 1,300-degree kiln, which would free up pores for the carbon to once again absorb gold and silver particles in the vat leaching circuit.
The gold and silver-laden sludge would be pumped into 4,000-gallon tanks outfitted with steel wool for a process called electrowinning.
Electrical currents would zap the tanks, prompting gold and silver particles to isolate from the sludge and stick to the steel wool.
Various types of acid would then be poured over the steel wool, consuming it and leaving behind only a metallic golden sludge.
Before being melted down, the sludge would have flux, or minerals like quartz, mixed in with it to help the gold and silver separate more easily from impurities when molten.
The sludge would be heated to about 2,000 degrees, or the melting point of gold and silver, for about one to two hours in an induction furnace about the size of a five-gallon bucket.
Like oil and vinegar salad dressings, doré bars would be layered based on the density of metals within. Each bar would be about the size of a brick and weigh as much as three gallons of milk.
The bottom 70% of each bar would be mostly gold, with another 20% above it consisting of mostly silver. The remaining 10% at the top would contain other metals likes steel and copper.
Once cooled, the doré bars would be prepared for shipment to refining companies, marking the end of a roughly 24-hour journey through the on-site ore processing circuit.
About 11,000 tons of ore would need to be processed to form one doré bar, which would earn Midas Gold about $345,000 for the gold, plus another $2,500 for the silver.
Over the life of the Stibnite Gold Project, Midas Gold expects to generate about 16,000 doré bars worth a total of $5.4 billion, most of which would be paid out by the refining companies.
Doré bars would be shipped in small amounts several times per week. Private security companies would use armored trucks, helicopters, planes or other methods to transport the bars.
The bars would be shipped to refineries in either the United States, Canada or overseas based on a bidding process.
Antimony concentrate would be shipped out in powder form in heavy duty two-ton sacks.
Antimony would be sent to Mexico or overseas for roasting, but then could return to the United States for final refining and the production of materials like battery metal and flame retardant.
Correction: A story last week in The Star-News incorrectly stated that the solution in Midas Gold's proposed vat leaching circuits would contain 0.3% cyanide. The solution would actually contain about 0.03% cyanide, or 300 parts per million.
source: © Copyright 2009-2018 Central Idaho Publishing Inc.
————————
Public Lands:
USDA Forest Service Big Creek Hazardous Fuel Reduction Update
The Forest Service, Payette National Forest, Krassel Ranger District, is accepting comments on an Environmental Assessment for the Big Creek Hazardous Fuels Reduction project. The proposed fuels treatments are in direct proximity to the Edwardsburg-Big Creek communities, private lands, USFS Administrative sites and along Forest Roads (FR) 50340 (Warren-Profile Gap), FS Road 50343 (Logan Creek), Government Creek FS Road 50344 and FS Road 50371 (Big Creek-Smith Creek) and associated spur roads. These treatments are designed to reduce the risk of effects to private homes, structures, other private property, and National Forest resources, from wildland fires and would increase the effectiveness of fire suppression efforts, as well as improve ingress/egress of public and emergency responders.
The environmental assessment as well as other project information is provided on the project's webpage at (link) and at the Krassel District Office at 500 North Mission, Building 2, McCall, Idaho 83638. Hardcopy documents may be made available to interested parties upon request by calling 208-634-0602. A public meeting during the comment period is being considered in the Big Creek/Edwardsburg area, additional details will be announced on the project website.
The project webpage provides you tools to engage this process as you wish. From "Get Connected" on the right-hand side of the page, click on "Subscribe to Email Updates" if you wish to receive electronic communication about this project. Use the "Comment/Object on project" link to access a simple webform to submit your comments on this project. The "Public Comment/Objection Reading Room" are the published comments received on this project.
The opportunity to comment ends 30 days following the date of publication of the legal notice in the McCall Star-News, the official newspaper for record for Krassel District Ranger decision. Only those who submit timely and specific written comments §218.2 regarding the proposed project or activity during a public comment period established by the responsible official are eligible to file an objection §218.24(b)(6). For issues to be raised in objections, they must be based on previously submitted specific written comments regarding the proposed project or activity and attributed to the objector. The publication date of the legal notice in the newspaper of record is the exclusive means for calculating the time to submit written comments on a proposed project or activity. The time period for the opportunity to comment on a proposed project or activity to be documented with an environmental assessment shall not be extended. It is the responsibility of all individuals and organizations to ensure that their comments are received in a timely manner.
Webform submission through the project webpage is preferred but written comments concerning this project will be accepted. Comments for the project may be mailed to 500 North Mission Street, Building 2, McCall, ID 83638. Hand delivered comment letters may be delivered during regular business hours of 8 a.m. to 4:30 p.m. Monday-Friday, excluding holidays. For objection eligibility, each individual or representative from each entity submitting timely and specific written comments regarding the proposed project or activity must either sign the comments or verify identity upon request §218.24(b)(8).
We appreciate your interest in the Payette National Forest and this project. If you have any questions regarding this project or comment period, please contact Patrick Schon at 208-634-0623.
Sincerely,
Anthony B. Botello
Krassel District Ranger
— — — — — — — — — —
Payette OKs logging near McCall to rid forest of tussock moths
The Star-News Dec 5, 2019
The Payette National Forest has approved a 3,000-acre project designed to battle an infestation of tussock moths in the New Meadows Ranger District.
The Little Red Goose Forest Resiliency Project is located inside 8,000 acres in Upper Goose Creek, Sixmile Creek and Lower Goose Creek between New Meadows and McCall.
The project includes logging, firewood removal, slash pile burning and other controlled fire burns, a news release from the Payette said. Work on the project could begin as early as January.
Moths, in combination with other blights, threaten the health of trees in the area with a high risk that additional trees could be killed if no actions were taken, New Meadows District Ranger Erin Phelps said.
The Little Red Goose project area is within the larger Granite Meadows project, which is an 80,000-acre Collaborative Forest Landscape Restoration project that will have additional restoration work completed in the future.
More information about the project can be found on the Little Red Goose project webpage at: (link) or by contacting Erin Phelps at 208-347-0301.
source:
— — — — — — — — — —
Payette National Forest Welcomes New Forest Supervisor
McCall, ID, December 3, 2019 – U.S. Forest Service Regional Forester Nora Rasure has announced the selection of Linda Jackson as the new Forest Supervisor of the Payette National Forest. Jackson replaces Keith Lannom, who accepted a position in the Northern Rockies Region in Missoula as a Deputy Regional Forester in August.
In welcoming Linda to the Payette, Rasure said, "We are excited to welcome Linda to our team as her vast experience and knowledge will serve the Forest and community well." Jackson reports to the Payette on January 19, 2020.
Jackson comes to the Payette from her previous position as Forest Supervisor on the Ottawa National Forest in northwestern Michigan. She has also served as a District Ranger in Arizona, Utah and Nevada, the Acting Forest Supervisor of the Alleghany National Forest, and the Acting Deputy Forest Supervisor of the Apache-Sitgreaves National Forest. Jackson began her Forest Service career in Utah in 1993 working in public affairs and National Environmental Policy Act compliance.
"I am excited to be coming to the Payette and for being given the opportunity to serve as the Forest Supervisor," said Jackson. "I look forward to getting to know and working with the employees, the local communities, and valued partners of the Forest."
Jackson received bachelor degrees in natural science and geology from Lewis and Clark College and Portland State University in Portland, Oregon. She worked for several years as a coal mining geologist in Oregon and Wyoming.
She was born and raised in Portland, Oregon. Linda and her husband Mike Leonard have five children and three grandsons. Linda has a son in Kamiah, and a daughter in northern California; and her husband, a former Forest Service employee, has daughters in Spokane and Portland, and a son in Flagstaff. Both of their sons also work for the Forest Service.
In the interim prior to Jackson reporting to the Payette, Tawnya Brummett and Belle Craig will continue to serve in leadership roles on the Forest, and Jenni Blake who is assigned to the McCall Ranger District will assist as the Acting Deputy Forest Supervisor.
— — — — — — — — — —
Emmett Ranger District of the Boise National Forest Intends to Submit Grant Proposal to Idaho Department Of Parks and Recreation
Emmett, Idaho, December 6, 2019– The Emmett Ranger District of the Boise National Forest is applying for grant funding from the Idaho Department of Parks and Recreation to help with trailhead improvements.
The application will request funding through the Department's Off-Road Motor Vehicle (ORMV) fund. ORMV funds will improve visitor experience by installing kiosks, maps, and site signs at Joe's Creek and West Mountain South trailheads near Sage Hen Reservoir.
This will also help sustain the capital investment of the trailheads. If received, implementation of the grant would begin in the fall of 2020.
Comments or requests for more information should be submitted to Kate Hermanns, Emmett Ranger District, 1857 Highway 16, Emmett, ID 83617, or by calling 208-365-7000.
— — — — — — — — — —
BLM resource advisory council to meet in January
Date: December 6, 2019
Contact: Caleb Ashby, cashby@blm.gov, 208-384-3393
Boise, Idaho – The Bureau of Land Management (BLM) announced today it will hold a meeting of the Boise District Resource Advisory Council (RAC). The public is welcome to attend the meeting, which will occur on Jan. 9, 2020, at 3948 S. Development Ave., Boise, from 9 a.m. to 5 p.m.
Resource Advisory Councils provide advice and recommendations to the BLM on issues regarding public land and natural resources the agency manages. The Bureau of Land Management maintains 38 chartered advisory committees located in the West. Each citizen-based council consists of 10 to 15 members from diverse interests in local communities, and they assist in the development of committee recommendations that address public land and natural resource management issues.
Planned agenda items will include discussions of Four Rivers, Bruneau and Owyhee Field Office grazing, recreation and fuels projects. The meeting will also include a discussion about forming a subcommittee dedicated to recreational shooting issues on public lands and a presentation by Idaho Department of Fish and Game on Sage-grouse population status in southwest Idaho.
"The RAC's feedback helps us make more informed decisions, resulting in better projects on the ground," said BLM Boise District Manager Lara Douglas. "The members represent diverse public interests and provide important input for managing our public lands."
A 30-minute comment period, during which the public may address the RAC, will begin at noon. Depending on the number of people wishing to comment and time available, the amount of time for individual oral comments may be limited. For more information about the upcoming RAC meeting, please contact Caleb Ashby at (208) 384-3393 or cashby@blm.gov
————————
Critter News:
Pet Talk – Conjunctivitis in dogs and cats, also called 'pinkeye'
By Dr. Karsten Fostvedt Dec 6, 2019 IME
Conjunctivitis is inflammation of the tissues lining or covering the eyelids and eyeballs. Numerous factors can lead to conjunctivitis, including infection by bacteria or viruses, irritants and trauma. Certain forms of conjunctivitis may develop with allergies. Conjunctivitis often occurs in eyes that have insufficient tear production, which is called "dry eye." It can occur in association with many systemic or generalized illnesses, such as upper respiratory tract infections and generalized viral or bacterial infections. Tumors of ocular tissue can also cause conjunctivitis.
Redness of the conjunctiva is a common sign. Ocular discharge often develops and may be watery or purulent. Swelling of the conjunctiva may occur in some cases. With widespread or severe conjunctivitis, inflammation of the eyelids or of the cornea may also occur. Most eyes with mild conjunctivitis are not painful. Eyes with conjunctivitis associated with trauma, chemical burns, corneal ulcerations or foreign bodies may be painful, and this is indicated by squinting and pawing at the eye.
Conjunctivitis must be differentiated from other causes of a red eye, including glaucoma, corneal ulceration and uveitis, which is inflammation inside the eye. A thorough eye exam with a tear test, fluorescein staining for a corneal ulcer and glaucoma testing are always performed to rule out some of those other conditions.
continued:
— — — — — — — — — —
Yellowstone wolf oddities
by Cat Urbigkit, Pinedale Online! October 20, 2019
Yellowstone National Park has released its wolf project annual report for 2018, reporting that there were at least 80 wolves in 9 packs (7 breeding pairs) living primarily in the park at the end of December 2018.
For all the details, download the report at the link below.
continued:
— — — — — — — — — —
Attracting song birds to your back yard
Annual sale makes getting started less expensive
Dec 04, 2019 By Steve Liebenthal KIVI
Boise, Idaho — Alan Crockett has been attracting song birds to his back yard for decades. He says creating an oasis for multiple species is pretty simple.
To get song birds you like to have some habitat, meaning a bunch of trees around, or shrubbery, some water, and then food," said Crockett. "And they'll be there."
On any given day, he can glance out his window and see a variety of birds taking advantage of his back yard set up. But the readily available food also attracts unwanted guests.
continued:
— — — — — — — — — —
Sockeye are endangered. Here's what Idaho Fish and Game is doing to save them.
by Bryan Levin Thursday, December 5th 2019
Eagle, Idaho (CBS2) — There's a brewery named after them.
One of the most picturesque places in Idaho is also named after them.
We're talking about a fish for goodness' sake.
"Sockeye are really an iconic species in Idaho," said Idaho Fish and Game biologist John Powell. "Redfish Lake is named after sockeye who would return and spawn on the beaches."
But the sockeye needs help. And Fish and Game has a team dedicated to doing just that.
continued:
— — — — — — — — — —
Outfitters discuss solutions to declining steelhead fishing in Idaho
by Associated Press Wednesday, December 4th 2019
Lewiston, Idaho (AP) – Steelhead outfitters and guides at an Idaho forum talked about solutions to the declining fish population that is hurting their businesses.
Those who work the Clearwater River met at an Idaho Outfitters and Guides Association forum Tuesday near Lewiston to explore their potential role in reversing fish numbers that have been shrinking over the past four years, The Lewiston Tribune reported.
"The goal was ultimately to reengage the conversation about how the outfitting and guiding industry in Idaho can have agency in determining the future of salmon and steelhead that businesses in rural communities rely on, and to reaffirm our motivation to meaningfully do that," association director Aaron Lieberman said.
continued:
————————
Fish & Game News:
Time to shop for 2020 hunting and fishing license deals
By Emily Palmer, Marketing Analyst
Monday, December 2, 2019
You can save a few bucks on licenses, and they make good gifts
With Black Friday, Cyber Monday and holiday shopping deals going on, here are some Idaho Fish and Game "hacks" you may not be aware of that can save you money and increase your opportunities.
continued:
— — — — — — — — — —
Cow elk found left to waste and domestic cow shot near Leadore
By Mike Demick, Staff Biologist
Monday, December 2, 2019
Anyone with information is encouraged to call Citizens Against Poaching 1-800-632-5999
Idaho Department of Fish and Game is asking the public's help regarding a cow elk that was shot and left to waste on private property west of Leadore in hunt unit 29. A domestic cow was also found shot in the area, which was later euthanized due to its injuries.
While evidence was collected at both scenes, Fish and Game Conservation Officer Chad Wippermann hopes to learn more from an eyewitness or others who have knowledge of these crimes.
continued:
— — — — — — — — — —
Public's Help Sought in Elk Poaching Case
By Evin Oneale, Regional Communications Manager
Monday, December 2, 2019
Fish and Game is asking the public for information regarding the recent poaching of two elk in hunt unit 40, just off the Mud Flat Road near Pole Creek in Owyhee County. The cow/calf pair was shot on or about November 22, and no meat was taken from either carcass. The cow elk was radio collared as part of a monitoring study conducted by Idaho Fish and Game.
Citizens Against Poaching (CAP) is offering a reward for information in the case and callers can remain anonymous. Contact CAP at 1-800-632-5999 twenty four hours a day.
continued:
— — — — — — — — — —
More F&G News Releases
link:
———————————-
Fun Critter Stuff:
On Thanksgiving, elk with love of apples gets tangled up in North Carolina man's hammock
By Frank Miles Fox News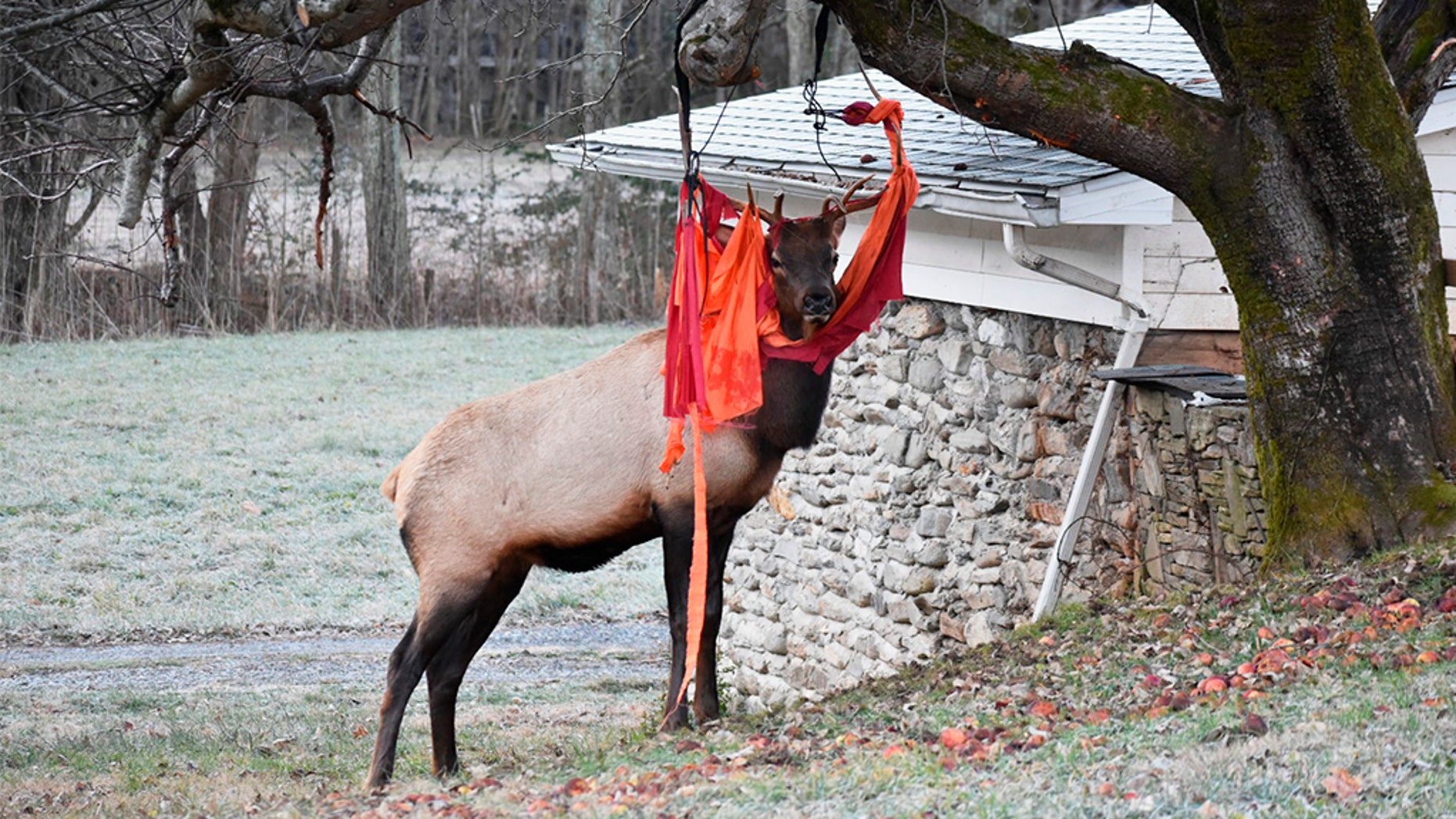 In this Nov. 28, 2019, photo provided by Jim Beaver, an elk stands stuck with a hammock in Beaver's yard in Maggie Valley, N.C. on Thanksgiving. (Jim Beaver via AP)
An elk in western North Carolina caused quite the commotion on Thanksgiving.
Jim Beaver says he gets visitors often, mainly elks who eat apples in his yard and play with his red hammock.
"They can be really quiet; we often will be sitting on the porch and look up and see 4-6 of them having quietly wandered in the yard to eat apples," Beaver told WLOS-TV.
This time, a visitor came and couldn't quite leave.
continued:
—————————
Seasonal Humor:
for the Snowbirds…

caption: "We arrived here four months ago… intending to stay just overnight… but…"
by Clyde Lamb, July 22, 1950 Saturday Evening Post
[h/t Sandy McRae]
———————–