Dec 15, 2019 The Yellow Pine Times – Valley County, Idaho
Community Calendar:
Dec 7 thru Feb 21 Yellow Pine Tavern Holiday Closure
Dec 25 – Christmas dinner at the Community Hall 2pm
(details below)
———-
Local Events:
Dec 25 – Christmas dinner at the Community Hall 2pm
Christmas potluck will be at the community Hall on the 25th at 2pm. stay after dinner and play bingo!
———-
Village News:
Yellow Pine Tavern Holiday Closure
The Tavern will be closed from Saturday December 7th to Friday February 21st. UPS packages will be dropped off at Deb's porch and she will also have gasoline for emergency situations. I will be available at my cell number for any questions or situations 208 739-7086
Thanks, Lorinne N. Munn
— — — —
Christmas Bags
Christmas bags will be available for 'stuffing' inside the community hall starting on the 10th.
-DF
— — — —
South Fork Ice Flow
Folks need to be aware of dangerous road conditions about half way out the South Fork. Water has been running down the middle of the road this fall, eroding the pavement and freezing into a thick layer of ice right up to the edge along the river side. Folks have said that low clearance cars may have trouble with the deep rut and ice.
There have been 2 slide-offs and a few near wrecks reported this month.


photo courtesy Nancy Bellman – November 10th
Kelly Collins posted on FB around 1130pm Nov 17th in response to the photo above: I [saw] this pickup when it was upside down in the river. There is a thick stretch of ice right there, it kinda sneaks up on you. I also pulled two guys from Washington with a Dodge 1-ton with a cargo trailer out from that same spot about 4 days ago.
— — — —
Yellow Pine US Mail
The 3-day a week mail delivery started Nov 1st. The Post Office in Yellow Pine is open six days a week year around: M-F 845am-245pm Saturday 9am-245pm. Forever Stamp: 55 cents. Support our local post office and purchase your holiday stamps here.
— — — —
Yellow Pine Transfer Station
All 4 bins at the transfer station were emptied on Friday, December 13th.
Please do not abuse our Transfer Station or we may lose it. Household trash must be placed in the bins, flattened cardboard boxes can also go into the bins. Do not stack trash in front of the doors. Woody yard debris only for the burn pile. No furniture, appliances, tires or construction debris allowed, those items must be hauled out to the Donnelly station by you.
Yellow Pine Transfer Station (aka, the dump)
The Yellow Pine Transfer Station is located approximately 3 miles south on Johnson Creek Road.
The TRANSFER STATION is for household trash and yard waste:
* Household trash must be put inside (and fit) the dumpster;
* Yard waste (limbs, pine needles, brush, et.) goes in the burn pile on the south end of the turn-around;
* Cardboard boxes should be flattened before putting the in the dumpster,
The DUMPSTERS are NOT for:
* Furniture (take to Donnelly Transfer Station);
* Appliances (take to Donnelly Transfer Station).
The BURN PILE is NOT for:
* Cardboard boxes (flatten and put in dumpster);
* Furniture and appliances (take to Donnelly Transfer Station);
* Drywall and building material (take to Donnelly Transfer Station);
* Wire or fencing (take to Donnelly Transfer Station);
* Foam Rubber (take to Donnelly Transfer Station);
* Wood with metal (like nails) attached (take to Donnelly Transfer Station.)
When closing the DOORS on the front of the dumpsters:
* Make sure the "U" brackets at the top and bottom of the door are engaged;
* The retaining bar at the middle of the door is slid into the pipe;
* And the "L" bars at the bottom of the doors dropped into place.
The Yellow Pine Transfer Station is Valley County responsibility. If it is not kept tidy, use of the Transfer Station may be revoked. That would result in residents having to take all household trash and yard waste to the Donnelly Transfer Station.
If Dumpsters Are Full, Contact Lake Shore Disposal at: 208/634-7176
———-
Local Groups:
YPWUA News:
Boil Water Advisory Lifted November 22, 2019
The 2019 Yellow Pine Water Users Shareholders meeting was Sunday July 7th in the Community Hall.
link: 20190707YPWUAminutes
— — — —
VYPA News:
Christmas bags will be available for 'stuffing' inside the community hall starting on the 10th.
The community hall committee's goal is to have adequate heating installed in the main hall before the June VYPA meeting.
If folks have items for the community yard sale, please place them by the north wall in the community hall. If you see items you would like to purchase, you can pay Deb, Ronda, or Lynn. All funds support the community hall.
VYPA meetings for 2020 – June 13, 2pm; July 11, 2pm; August 8, 2pm; September 12, 2pm.
Village of Yellow Pine Association Meeting Minutes for September 21, 2019
link: 20190921 Village of Yellow Pine Association Meeting
— — — —
YPFD News:
YP Fire Commissioners:
Sue Holloway – District 1
Dan Stiff – District 2
Merrill Saleen – District 3
Fire Chief – Jeff Forster
Yellow Pine Fire Protection District Community Service Notice
The purpose of this letter is to show how you as a Yellow Pine Resident can help protect your structure against a wildland fire by being "Fire Wise."
link: 20190724 Yellow Pine Fire Protection mitigation
Stop the Bleed Class: We will do another class this spring/summer [2020] depending on interest.
Training will resume in the spring.
-Fire Chief Jeff
——–
Biz Listings:
Yellow Pine Lodge (208) 633-3377
Closed for Winter.
— — — —
The Corner (208) 633-3325
The Corner is closed for the winter, opening again next spring. I can be reached at matt @ ypcorner.com or at 970-379-5155. Thanks, have a great winter!
— — — —
Yellow Pine Tavern (208) 633-2233
Closed Dec 7 thru Feb 21.
— — — —
Buck Horn Outfitters LLC 208-633-3614
Tom & Sarah Lanham
156 Yellow Pine Ave, Yellow Pine Id 83677
website:
Facebook:
Starting June 2020 We will be doing trail rides out of Yellow Pine along with summer pack / camping trips to high mountain lakes in the area!
Wapiti Meadow Ranch – Johnson Creek (208) 633-3217
or 208-315-3554 – cabin rentals
website:
Deadwood Outfitters
website:
— — — —
Local Fuel Suppliers
Amerigas Phone: (208) 634-8181
Ed Staub & Sons Phone: (208) 634-3833
Diamond Fuel & Feed Phone: (208) 382-4430
— — — —
Outside Biz that will service Yellow Pine:
The Star-News


subscribe:
A reminder that those who live in other states can subscribe to the online edition only since the mail can take days for hard copy to reach them.
Rocky Mountain Mechanical – Plumbing – Heating – Air conditioning
(208) 365-PIPE (7473), Emmett, will service Yellow Pine
Elkhorn Heating & Cooling
(208) 906-4067 Middleton, Idaho, will service Yellow Pine
B&T Safety Solutions LLC
208-271-1600 Based out of Donnelly
Snow removal, cleaning chimneys and stoves, we do cabin staining/chinking as well
— — — —
Follow The Yellow Pine Times on Facebook (updated more often than emails)
———————–
Local Observations:
Monday (Dec 9) overnight low of 17 degrees, clear sky this morning, about 1/2″ old snow on the ground. Mtn. chickadee and a white-breasted nuthatch joined the red-breasted nuthatches at the feeder this morning, raven flying and calling, clark's nutcracker stopped by. Bright sun at lunch time. Steller jay made a short visit. Overcast and below freezing by late afternoon, high of 36 degrees. Elk sighting by the crossroads. Fuzzy moon up over the ridge lighting up the cloud cover and below freezing at dark. Partly clear before midnight.
Tuesday (Dec 10) overnight low of 11 degrees, mostly cloudy (high streaks), about 1/2″ old snow remains this morning. Mtn. chickadee and red-breasted nuthatches visiting. Mostly clear and sunny at lunch time. Clark's nutcracker stopped by. High thin clouds building up by mid-afternoon, high of 38 degrees. Fuzzy large moon in a hazy sky rising way north of Golden Gate peak after full dark. Hazy sky before midnight.
Wednesday (Dec 11) light snow fell this morning before daylight, the low of 15 on the gizmo was from yesterday morning, overcast and occasional flakes of snow at 10am and 27 degrees. Several red-breasted nuthatches visiting. Sounds of a chainsaw out on the golf course this morning. Mail truck was about 20 minutes late, no problems coming in. Clark's nutcracker stopped by. Overcast, below freezing and still lightly flaking after lunch time. Overcast and not snowing late afternoon, high of 35 degrees. Snowing after dark and probably snowed most of the night.
Thursday (Dec 12) overnight low probably just below freezing, 2″ of new wet heavy snow (2.5″ total on the ground) and weird banks of fog rolling over the village – repeatedly. A few red-breasted nuthatches visiting. Shooting started around 1130am. Mostly cloudy mid-day and dripping. Clark's nutcracker stopped by. Mostly cloudy and snow melting mid-afternoon, high of 40 degrees. At dark clouds sitting down on the ridges and misting rain. Rain changed to light snow after dropping below freezing, light dusting by 830pm. Still snowing before midnight and probably snowed most of the night.
Friday (Dec 13) overnight low of 28 degrees, 1″ new snow and 3″ total snow, snowfall ended a little after 10am. Chickadees and a jay calling from the forest, red-breasted nuthatches visiting. Cloudy and calm at lunch time. Mail truck made it in on time. Overcast and flaking snow for a short while mid-afternoon, high of 35 degrees. Cloudy just before full dark and not snowing. The moon wasn't up yet before midnight, lighting up the bulky clouds. Light dusting of snow fell during the night.
Saturday (Dec 14) overnight low of 19 degrees, mostly cloudy, trace of new snow and 3″ old snow (with 2 crusty layers.) Jays, red-breasted nuthatches and chickadees visiting, raven calling and flying over. Overcast after lunch time. Breaks in the clouds and a bit of sunshine early afternoon and a few drips off the roof. Mostly cloudy mid-afternoon and a high of 33 degrees. Late afternoon snow storm for about 20 minutes, clouds down nearly to the valley floor. Next round of snow started just before dark, less than 1/2″. Breaks in the clouds before midnight, mostly clear after midnight.
Sunday (Dec 15) overnight low of 7 degrees, mostly cloudy and short light snow flurry this morning, 3/8″ new snow and about 3″ total snow. Chickadee, nuthatches, jays and a female hairy woodpecker visiting. Broken clouds and open patches of blue sky at lunch time. Quiet day. Nearly overcast at sunset and a small patch of broken clouds to the south, high of 27 degrees. Low clouds and snowing at dusk.
———————
Letter to Share:
Cascade Vet Clinic News
Cascade Veterinary Clinic would like to thank Dr. Merik Metos for her time with us this year; December 17th will be her last day. Her help was imperative to allowing Dr. Keith to recover from his back surgery. We cannot thank her enough for all her hard work and for being so wonderful to the clients, their pets, the staff and the community. We will miss you but wish you the best of luck in your new employment. Visit often and God bless.
– Cascade Veterinary Clinic December 11, 2019
——————-
Idaho News:
Dec. 20 deadline noted for Valley, Adams property taxes
The Star-News Dec 12, 2019
The deadline for the first half of the year's property taxes for Valley and Adams counties will be Friday, Dec. 20.
Payments will be accepted through 5 p.m. Dec. 20 at the county courthouses in Cascade and Council. The treasurer offices in both counties are staffed Monday through Friday, including the lunch hour.
Late charges begin on Saturday, Dec. 21, and interest begins on Jan. 1, so mailed payments must be postmarked by Dec. 20.
Valley County property owners can also pay their taxes with credit cards at (link)
For more information, contact the treasurer's office at 208-382-7110 or treasurer@co.valley.id.us.
Online credit card payments are available in Adams County at (link). For questions, call 208-253-4263 extension 6 or write to christy.roach@co.adams.id.us.
Payments also can be left in the payment drop box just outside the main courthouse entrance in Council.
source:
— — — — — — — — — —
Valley County property tax collections to rise $1.6 million
$33.3 million in total taxes to be paid for 2020
By Max Silverson for The Star-News Dec 12, 2019
About $33.3 million in property taxes will be collected to operate Valley County governments in 2020, an increase of about $1.6 million from this year, the Valley County Clerk's Office said.
Valley County has 22 taxing districts and three irrigation districts, most of which have already started their 2020 budget year.
The McCall-Donnelly School District has requested the most money, at about $8 million, about $39,000 more than last year.
Valley County had the next largest balance to be levied with about $7.2 million, followed by the City of McCall at about $6.3 million.
Taxes for Valley County government will increase by a total of $298,000 next year and the City of McCall's dollar amount will increase by $276,000.
Valley County Emergency Medical Services and the Donnelly Rural Fire District had the next largest increases with the total balance to be levied increasing by about $196,000 and $164,000 respectively.
Taxes for the McCall Fire Protection District increased by about $81,000.
The increase for the emergency services and fire districts includes the value of new construction, the maximum increase of 3% per year allowed under state law and about $100,000 in taxing authority set aside from previous years.
The Cascade School District also had an increase of $150,000 per year in its property tax collections. The increase was from the district's $650,000, two-year supplemental levy that was approved by voters in March.
The McCall Memorial Hospital District will levy about $406,385 less in the next year for a total of about $729,000.
The smallest amount of property taxes requested next year is $18,177 for the Yellow Pine Fire District.
continued:
— — — — — — — — — —
Brundage, Tamarack to begin full-time operations on Friday
KTVB December 11, 2019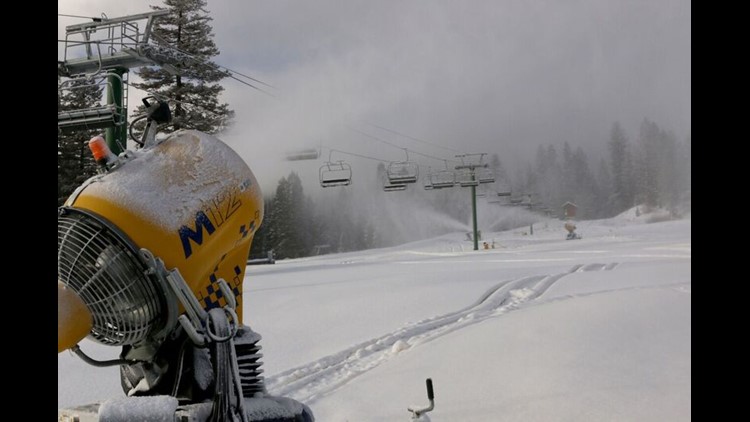 Snowmaking at Tamarack Resort. KTVB
Boise, Idaho — Brundage Mountain and Tamarack Resort announced that they will be open on a full-time basis starting this Friday.
Nearly a foot of new snow has fallen at Brundage in the past week and another storm bringing more snow is expected in the mountains Wednesday evening through Friday morning.
Most of the mountain's primary runs will be groomed from top to bottom.
continued:
— — — — — — — — — —
Popular Idaho City sledding hill closed
The Steamboat Gulch sled hill was shut down after visitors left trash behind, shot at trees and damaged the area by driving onto it.
KTVB December 10, 2019
Idaho City, Idaho — The Idaho Department of Lands has shut down a popular sledding spot near Idaho City after visitors repeatedly threw trash on the ground and damaged the area.
The Steamboat Gulch sled hill, located off of Idaho 21, used to be operated by the Mores Creek Recreational Foundation, which had a permit from the IDL to oversee the site. But the foundation ran out of money last year, and was unable to continue operating the hill.
The sledding hill was allowed to remain open without an official operator last winter, according to the Department of Lands. But visitors to the sledding hill did not hold up their end of the bargain: With no oversight of the area, the sledding area was damaged by people who left garbage behind, drove vehicles on the hill, and fired guns at the trees.
continued:
— — — — — — — — — —
Western governors form council to target invasive species
By Keith Ridler – 12/10/19 AP
Boise, Idaho — States need to work together to stop the spread of invasive species, Western governors say.
The Western Governors' Association on Friday launched the Western Invasive Species Council and named representatives from 13 states and the Commonwealth of the Northern Mariana Islands.
Invasive species are costing the U.S. $120 billion every year, the governors said, and pose a significant threat to range lands in the West and water systems infrastructure such as hydroelectric dams. Those threats include feral swine, invasive annual grasses such as fire-prone cheatgrass, and aquatic quagga and zebra mussels.
continued:
—————————
Mining News:
East Fork fish would take a ride through Stibnite tunnel
Mile-long diversion would allow excavation of Yellow Pine pit
(Note: This is the eighth part in a series detailing Midas Gold's operating plan for its proposed gold and antimony mine near Yellow Pine. Next week: Yellow Pine Pit)
By Drew Dodson for The Star-News Dec 12, 2019
Salmon and trout would swim through a mile-long tunnel and into the upper reaches of the East Fork South Fork Salmon River for the first time since Franklin Delano Roosevelt was president under Midas Gold's operating plan for its proposed gold mine near Yellow Pine.
Before mining begins, the company would re-route the river to the west of the Yellow Pine Pit beneath up to 450 feet of earth through a mile-long tunnel that would be 15 feet wide and 15 feet tall.
About 80,000 tons of rock would be blasted and removed from the tunnel using front-end loaders and haul trucks.
Large bolts would then be used to help secure the ground above the tunnel, while shotcrete would be sprayed throughout the interior of the tunnel to coat the rock and prevent collapses.
Midas Gold estimates the tunnel would take at least 16 months to build and would cost at least $24 million, plus more than $100,000 per year in routine maintenance.
That maintenance would include solidifying the tunnel with more shotcrete and rock bolts, cleaning debris and sediment screens and maintaining fish monitoring technology.
The tunnel would have a five-foot-tall partition dividing it into two sides, the larger of which would be about nine feet wide and would function as a maintenance road through the tunnel.
The road would also act as an overflow corridor for Midas Gold to redirect water during high flows, which would keep flows in the fish passageway amenable for upstream travel by fish.
The smaller fish passage side of the tunnel would be five feet wide and would contain about 2.5 feet of water during base flows.
A series of concrete weirs, or small dams that allow water to cascade over them, would create water depths and velocities that are ideal for fish passage over a wide range of river flows.
The passageway would also be designed to include natural pools that fish could use to rest when fatigued from swimming against the current.
The weirs would be staggered by either 22 feet or 66 feet, depending on the slope of the fish passageway, which would range in slope from 1.5% to 4.5% due to the bedrock above the tunnel.
In natural streams, salmon and some trout can only swim up slopes of about 6%, but artificial fish passageways provide deep enough water for them to scale much steeper slopes, according to the Midas Gold operating plan.
Screens staged at the upstream entrance of the tunnel would prevent most sediment and debris from entering the tunnel and altering flows which could prevent fish passage.
Lighting would also be installed throughout the tunnel to minimize sudden light changes at each entrance which could disorient fish and deter them from using the tunnel.
Video cameras would be installed at both ends of the tunnel to monitor fish passage and enable Midas Gold to tweak conditions in the tunnel as needed.
The tunnel is expected to provide access to at least six miles of streams beyond the current blockage, plus another 25 miles of smaller streams accessible to juvenile fish.
Chinook salmon, bull trout and steelhead salmon would be able to swim up the tunnel, with juveniles of each species able to descend safely, according to water studies.
If fish do not use the tunnel as expected, Midas Gold would trap salmon and trout to manually transport them to and from each end of the tunnel.
Once mining operations end after about 12 to 15 years, the East Fork would be re-established in its natural configuration prior to 1938 to allow fish passage.
The tunnel would be capped at both ends and covered with rock to match the surrounding area.
The interior of the tunnel would remain hollow, but the prevalence of granite above the tunnel would make any collapses unlikely, according to Midas Gold.
Fish passage has been blocked since 1938 when Bradley Mining Company first excavated the Yellow Pine pit, which can be seen from Stibnite Road when entering the site. East Fork cascades into the Yellow Pine Pit lake over at a 25% grade that prevents fish from swimming any further up the river.
Midas Gold based its proposed fish passage tunnel on simulations, studies and a review of more than a dozen other fish passage tunnels currently in use around the world.
source: © Copyright 2009-2018 Central Idaho Publishing Inc.
— — — — — — — — — —
Documents: Mining company writing own environmental report
by Keith Ridler Associated Press Friday, December 13th 2019

This Sept. 19, 2018 photo shows the last standing building above the Yellow Pine Pit open-pit gold mine in the Stibnite Mining District in central Idaho, where a company hopes to start mining again. Documents show the Trump administration intervening in a U.S. Forest Service decision so that a Canadian company could write a key environmental report on its proposed open-pit gold mines in central Idaho. (Riley Bunch/Idaho Press-Tribune via AP
Boise, Idaho (AP) – Documents show the U.S. Forest Service allowing a Canadian company to write a key environmental report on its proposed open-pit gold mines in central Idaho after the Trump administration became involved.
The documents obtained by conservation group Earthworks show British Columbia-based Midas Gold's lobbying efforts after initial rebuffs from the Forest Service.
The report, called a biological assessment, would typically be written by the Forest Service or an independent contractor. Its purpose is to examine the potential effect the open-pit mines would have on salmon, steelhead and bull trout protected under the Endangered Species Act.
continued:
—————————
Public Lands:
Cascade Ranger District of the Boise National Forest intends to submit grant proposal to Idaho Department of Parks and Recreation
Cascade, Idaho, December 12, 2019 — The Cascade Ranger District of the Boise National Forest is applying for grant funding from the Idaho Department of Parks and Recreation to help with buoy replacements at the very popular Warm Lake.
The application will request funding through the Department's Waterways Improvement Fund, (WIF). WIF funds will be used to install a replacement buoy line on two small sections of the southern end of Warm Lake. The buoy line separates the lake to give small motorized and non-motorized lake users a section of the lake with "no to minimum wake zone." The buoy line also protects vegetation in the shallow southern end of the lake.
This grant proposal will improve recreationists experience, protect vegetation and minimize public health and safety hazards. If received, implementation will begin fall of 2020.
Comments or requests for more information should be submitted to Will Smith, Cascade Ranger District, P.O. Box 696 Cascade, ID 83611, or by calling 208-382-7400.
— — — — — — — — — —
Illegal dumping, trash litters Indian Creek Reservoir near Boise
by Trevor Fay Wednesday, December 11th 2019
Boise, Idaho (CBS2) — Trash is being found in some of Idaho's most beautiful areas. And Wednesday, the Idaho Department of Fish and Game (IDFG) called for action.
One access site is Indian Creek Reservoir by the Boise Stage Stop.
Everything from dresser drawers and Styrofoam to bottles are dumped there. And it's more than just an eyesore, it's illegal.
There's not much out there but Mother Nature herself, and that's how the IDFG wants to keep it. But people have been bringing a very unwanted addition to the place: garbage.
continued:
——————–
Tips & Advice:
Prevent Hypothermia & Frostbite
Hypothermia (abnormally low body temperature) and frostbite are both dangerous conditions that can happen when a person is exposed to extremely cold temperatures. Stay safe this winter by learning more about hypothermia and frostbite, including who is most at risk, signs and symptoms, and what to do if someone develops hypothermia or frostbite.
continued:
— — — — — — — — — —
Are poinsettias poisonous?
Dec 11, 2019 IME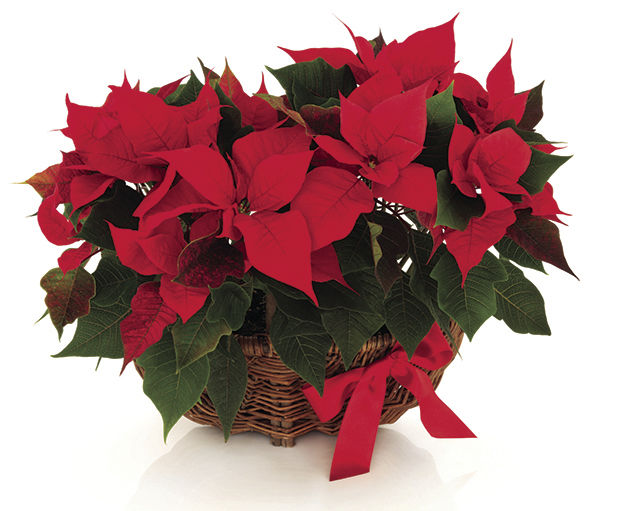 Christmas trees, Santa Claus, menorahs, and glittering lighting displays are just a few of the many prominent symbols of the holiday season. And while mistletoe might garner more attention and inspire more displays of affection, poinsettias are another prominent sign that the holiday season has arrived.
Thanks to its bright red and green colors, the poinsettia is perhaps the ideal holiday plant. But as much as it suits holiday decor and seems tailor-made for that special time of year between Thanksgiving and the first of January, the poinsettia has a reputation that few plants would want.
First discovered in Mexico and brought to the United States by Dr. Joel Poinsett, the poinsettia has long been rumored to be poisonous. However, the National Capital Poison Center notes that poinsettias are not deadly. In fact, the NCPC notes that the rumor that poinsettias are deadly may have been around for more than a century, tracing its origins all the way back to a child who was found dead lying next to a poinsettia plant. The plant was blamed for the child's death, and even though that blame was misplaced, the stigma stuck. WebMD notes that others trace the false rumors surrounding poinsettias to 1919, when parents blamed the death of their daughter, who they thought had eaten poinsettia leaves, on this ubiquitous holiday plant.
Even today, when researchers have long since proven that poinsettias are not deadly, many people still believe they can be fatal if consumed.
continued:
———————–
Critter News:
Idaho Humane Society reminding families to think before adopting a pet for Christmas
Dec 11, 2019 By KIVI Staff
Boise, Idaho — Adding a furry friend to your family this Christmas may seem like the perfect present, but the Idaho Humane Society is asking everyone to think twice before surprising loved ones.
Bringing an adoptable pet home for the holidays can be a good idea, but you want to make sure the recipient is ready for everything a new pet entails. From time to feeding to grooming and more, pets can be a lot for one person or even an entire family. IHS says they see an uptick in returns in January after pets are adopted during the holiday season. Remember, it's a lifetime commitment when you adopt a pet.
As the temperatures drop, IHS is also reminding pet owners to check their pet's paws as snow melt can damage their paw pads. Animals with shorter hair will likely need a sweater before they go outside. It's also recommended to bring your animals inside if it's very cold or make sure they have a well-insulated area to stay out of the wind if they're outside. Make sure outside animals also have access to fresh water that isn't frozen over.
continued:
— — — — — — — — — —
Pet Talk – Uterine infections in dogs
By Dr. Karsten Fostvedt Dec 13, 2019 IME
Uterine infections are very common in dogs that have not had an ovariohysterectomy, often called a "spay." Pyometra is a term used to describe a pus-filled uterus. The severity of this disease is influenced by whether the cervix is open and draining pus, or closed. Most affected dogs are 6 years or older and still have both her ovaries and uterus. The hormone progesterone normally causes the lining of the uterus to produce a fluid-like secretion. When the uterus is idle for a long time, such as between the periods of heat, this fluid may accumulate in the lining of the uterus and become thickened. If inflammation and bacterial contamination occur, commonly the secretions become infected. If the cervix is closed and the infected material cannot drain to the outside, the uterus may become very distended and infection may spread to other parts of the body, causing the animal to be seriously ill.
continued:
— — — — — — — — — —
Washington agency to look at other wolf management tools
The Washington Department of Fish and Wildlife has told Gov. Jay Inslee it will try "previously unused tools" to protect cattle and avoid shooting wolves.
Associated Press December 9, 2019
Salem, Oregon — The Washington Department of Fish and Wildlife has told Gov. Jay Inslee it will try "previously unused tools" to protect cattle and avoid shooting wolves in the Kettle River Range, though it did not specify any new tactics.
The department responded to Inslee's complaint that recurrent culling of wolves in the northeast Washington mountain range is unacceptable, Capital Press reported.
The department, which describes the region as "saturated" with wolf packs, has defended killing as a last resort when non-lethal measures failed to keep cattle losses from mounting.
continued:
— — — — — — — — — — —
Colorado initiative would OK reintroducing the gray wolf
By Associated Press December 10, 2019
Denver (AP) – Wildlife activists want Colorado voters to decide next year if the endangered gray wolf should be reintroduced in the state decades after it was hunted to near-extinction.
Backers of a ballot initiative delivered thousands of voter signatures on Tuesday to the secretary of state's office in hopes of getting their proposal on the 2020 ballot.
Officials have 30 days to determine if enough signatures are valid to qualify the initiative.
continued:
— — — — — — — — — —
Confiscated bear cub recovering at Snowdon
"Chewy" likely to be released next spring
Dec 11, 2019 By Steve Liebenthal KIVI
McCall, Idaho — A few miles outside of McCall, up the icy Lick Creek Road, is a sanctuary where four black bear cubs are waiting for spring, including one you may recognize. Two months ago, Charles Erickson found him lying in the snow, nearly lifeless.
"It barely could move because it was starved half to death," Erickson told us in October. "I noticed that its gums where pure white and its tongue was pure white, so it was obviously dehydrated."
So Erickson took the bear to Boise, where he gave it cat food, water and even bottle fed it. And he and his kids also gave the sickly cub a name.
continued:
— — — — — — — — — —
US wildlife officials agree to grizzly bear review
by Matthew Brown Associated Press Monday, December 9th 2019
U.S. officials will review whether grizzly bears have enough protections across the Lower 48 states after advocates sued the government in a bid to restore the fearsome animals to more areas, according to court documents filed Monday.
The review must be completed by March 31, 2021, under a settlement approved by U.S. District Judge Dana Christensen.
Grizzly bears are protected as a threatened species outside Alaska. An estimated 1,900 bears live in portions of Wyoming, Montana, Idaho and Washington state.
continued:
———————
Fish & Game News:
Deer Poached in Boise's Baggley Park
By Evin Oneale, Regional Communications Manager
Friday, December 13, 2019
Fish and Game is asking for the public's help in solving an apparent mule deer poaching case in Boise's Baggley Park.
Citizens Against Poaching (CAP) is offering a reward for information in the case and callers can remain anonymous. Contact CAP at 1-800-632-5999 twenty four hours a day.
Fish and Game conservation officer Joey Ishida responded to a report of the apparent poaching and found a large pool of blood next to the tennis courts in East Boise's Baggley Park, just off Parkcenter Boulevard. A drag trail led northeast out of the park and terminated in a cul-de-sac at the end of South Crosscreek Lane. Based on this evidence, Ishida believes that the deer was poached between 1:00am and 3:00am Tuesday morning, dragged across the park to the cul-de-sac and loaded into a vehicle.
continued:
— — — — — — — — — —
Hunters invited to comment on proposed moose management plan
By Brian Pearson, Conservation Public Information Specialist
Thursday, December 12, 2019
Deadline to comment is Jan. 12
Hunters and other interested members of the public have until Jan. 12 to offer their input on Fish and Game's newly proposed Moose Management Plan for 2020-25. The Moose Management Plan is a six-year document that guides the department in protecting and managing moose populations in Idaho, as well as developing season setting recommendations.
The draft plan and a comment form are available on Fish and Game's Moose Management Plan page. The final draft, which will factor in public comments, will be presented to the Fish and Game Commission for its consideration at its March 19-20, 2020 meeting in Boise.
continued:
— — — — — — — — — —
Male mountain lion seasons close in five southeast Idaho units
By Jennifer Jackson, Regional Communications Manager
Thursday, December 12, 2019
The take season for male mountain lions has closed in Game Management Units 66A, 75, 76, 77, and 78 in southeast Idaho effective December 9, 2019. Please note the following in relation to mountain lion hunting in these same five units:
continued:
— — — — — — — — — —
F&G asks for public's help to combat illegal dumping at access sites
By Brian Pearson, Conservation Public Information Specialist
Monday, December 9, 2019
Dumping is illegal and costs hunters' and anglers' money to clean up
Littering is a serious problem on many Idaho Fish and Game properties, and Fish and Game staff has noticed an uptick in people dumping trash at access sites around the state. The department is asking people to report anyone who is dumping or damaging access sites by calling any local law enforcement agency as soon as possible. Write down a vehicle license plate number, physical description of the violator and their vehicle, and note the location, day and time of the activity.
These access sites are maintained for public use and paid for with funding from hunters and anglers, so not only are the sites degraded, it costs money that could be better spent on other things.
continued:
— — — — — — — — — —
More F&G News Releases
link:
———————————-
Fun Critter Stuff:
After hitting a dog with his car, a Canadian man drove it to safety. Turns out it was a coyote
By Ryan Prior, CNN December 3, 2019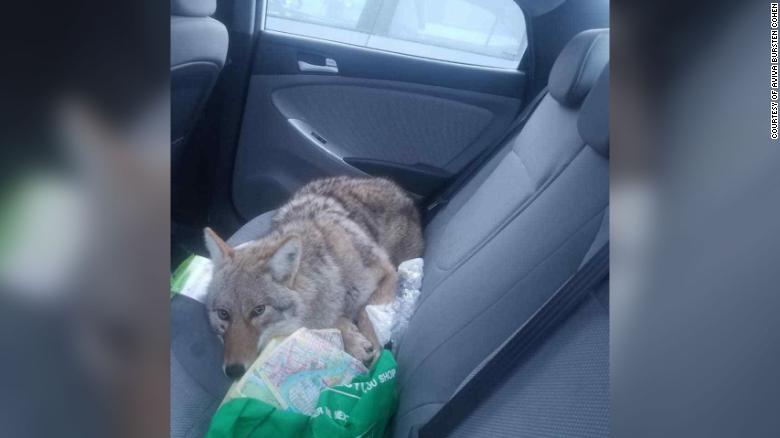 Eli Boroditsky was driving to his night shift last week on a narrow rural road in Manitoba, Canada, when his car hit what he thought was a dog streaking across the dark road.
After he clipped the animal, it flew into the ditch on the shoulder. He parked and used a small flashlight to get a look.
"I thought it was a German shepherd or a husky," he told CNN news partner CBC. "I didn't think it was a wild animal."
continued:
———————–
Seasonal Humor:

———————
Seasonal Trivia:
How Dr. Seuss Stole Christmas
The making of the classic Grinch holiday cartoon.
Brian Jay Jones The Saturday Evening Post
In early 1964, Theodor "Dr. Seuss" Geisel received a note from an old friend who wanted to discuss adapting a Dr. Seuss book into an animated cartoon. It wasn't the first time such an entreaty had been made. "Everybody wanted to make a series," said Geisel, but he was skeptical: most television producers, he said, wanted to "bat 'em out fast and use up my whole life's work in a year." But this plea was different from the others. It came from someone Ted Geisel knew and respected — someone he'd worked with during World War II, and who knew exactly what he was doing. "Maybe you don't think I can draw your character," said the note, under which was a nearly perfect rendering of the Cat in the Hat to prove otherwise. And underneath that was the author's crabbed signature: Chuck Jones.
Jones, then 51, had recently been let go from Warner Bros. after more than 30 years of turning out one iconic cartoon for the studio after another. Now he was in charge of MGM Animation, where he was revamping the shopworn Tom and Jerry series. Knowing Geisel as he did — and well aware of his penchant for perfection — Jones knew it was going to be a tough sell and decided to take on the task in person. "Unsurprisingly, Dr. Seuss was not eager to have more of his books made into film," Jones said later. Jones drove from Los Angeles to Ted's home in La Jolla, and as he came up the winding road, Ted was standing at the end of their long driveway to greet him. Jones, who hadn't seen Geisel since 1946, thought his old friend looked "not very different. He didn't change a lot."
[h/t Sandy McRae]
———————–