Dec 22, 2019 The Yellow Pine Times – Valley County, Idaho
Community Calendar:
Dec 7 thru Feb 21 Yellow Pine Tavern Holiday Closure
Dec 25 – Christmas dinner at the Community Hall 2pm
(details below)
———-
Local Events:
Dec 25 – Christmas dinner at the Community Hall 2pm
Christmas potluck will be at the community Hall on the 25th at 2pm. stay after dinner and play bingo!
———-
Village News:
Winter Solstice Sunrise

December 21, 2019 about 1045am. – rrS
— — — —
Community Hall has been Decked
On Friday December 20th A gathering of locals worked in the community hall decorating for Christmas dinner.
— — — —
Christmas Bags
Christmas bags will be available for 'stuffing' inside the community hall starting on the 10th.
-DF
— — — —
Yellow Pine Tavern Holiday Closure
The Tavern will be closed from Saturday December 7th to Friday February 21st. UPS packages will be dropped off at Deb's porch and she will also have gasoline for emergency situations. I will be available at my cell number for any questions or situations 208 739-7086
Thanks, Lorinne N. Munn
— — — —
Yellow Pine US Mail
The 3-day a week mail delivery started Nov 1st. The Post Office in Yellow Pine is open six days a week year around: M-F 845am-245pm Saturday 9am-245pm. Forever Stamp: 55 cents. Support our local post office and purchase your holiday stamps here.
— — — —
Yellow Pine Transfer Station
Report December 20 that the transfer station is clean and the bins are still fairly empty. Also the snow has improved the road, filling in the pot holes.
Please do not abuse our Transfer Station or we may lose it. Household trash must be placed in the bins, flattened cardboard boxes can also go into the bins. Do not stack trash in front of the doors. Woody yard debris only for the burn pile. No furniture, appliances, tires or construction debris allowed, those items must be hauled out to the Donnelly station by you.
Yellow Pine Transfer Station (aka, the dump)
The Yellow Pine Transfer Station is located approximately 3 miles south on Johnson Creek Road.
The TRANSFER STATION is for household trash and yard waste:
* Household trash must be put inside (and fit) the dumpster;
* Yard waste (limbs, pine needles, brush, et.) goes in the burn pile on the south end of the turn-around;
* Cardboard boxes should be flattened before putting the in the dumpster,
The DUMPSTERS are NOT for:
* Furniture (take to Donnelly Transfer Station);
* Appliances (take to Donnelly Transfer Station).
The BURN PILE is NOT for:
* Cardboard boxes (flatten and put in dumpster);
* Furniture and appliances (take to Donnelly Transfer Station);
* Drywall and building material (take to Donnelly Transfer Station);
* Wire or fencing (take to Donnelly Transfer Station);
* Foam Rubber (take to Donnelly Transfer Station);
* Wood with metal (like nails) attached (take to Donnelly Transfer Station.)
When closing the DOORS on the front of the dumpsters:
* Make sure the "U" brackets at the top and bottom of the door are engaged;
* The retaining bar at the middle of the door is slid into the pipe;
* And the "L" bars at the bottom of the doors dropped into place.
The Yellow Pine Transfer Station is Valley County responsibility. If it is not kept tidy, use of the Transfer Station may be revoked. That would result in residents having to take all household trash and yard waste to the Donnelly Transfer Station.
If Dumpsters Are Full, Contact Lake Shore Disposal at: 208/634-7176
———-
Local Groups:
YPWUA News:
Boil Water Advisory Lifted November 22, 2019
The 2019 Yellow Pine Water Users Shareholders meeting was Sunday July 7th in the Community Hall.
link: 20190707YPWUAminutes
— — — —
VYPA News:
Christmas bags will be available for 'stuffing' inside the community hall starting on the 10th.
The community hall committee's goal is to have adequate heating installed in the main hall before the June VYPA meeting.
If folks have items for the community yard sale, please place them by the north wall in the community hall. If you see items you would like to purchase, you can pay Deb, Ronda, or Lynn. All funds support the community hall.
VYPA meetings for 2020 – June 13, 2pm; July 11, 2pm; August 8, 2pm; September 12, 2pm.
Village of Yellow Pine Association Meeting Minutes for September 21, 2019
link: 20190921 Village of Yellow Pine Association Meeting
— — — —
YPFD News:
YP Fire Commissioners:
Sue Holloway – District 1
Dan Stiff – District 2
Merrill Saleen – District 3
Fire Chief – Jeff Forster
Yellow Pine Fire Protection District Community Service Notice
The purpose of this letter is to show how you as a Yellow Pine Resident can help protect your structure against a wildland fire by being "Fire Wise."
link: 20190724 Yellow Pine Fire Protection mitigation
Stop the Bleed Class: We will do another class this spring/summer [2020] depending on interest.
Training will resume in the spring.
-Fire Chief Jeff
——–
Biz Listings:
Yellow Pine Lodge (208) 633-3377
Closed for Winter.
— — — —
The Corner (208) 633-3325
The Corner is closed for the winter, opening again next spring. I can be reached at matt @ ypcorner.com or at 970-379-5155. Thanks, have a great winter!
— — — —
Yellow Pine Tavern (208) 633-2233
Closed Dec 7 thru Feb 21.
— — — —
Buck Horn Outfitters LLC 208-633-3614
Tom & Sarah Lanham
156 Yellow Pine Ave, Yellow Pine Id 83677
website:
Facebook:
Starting June 2020 We will be doing trail rides out of Yellow Pine along with summer pack / camping trips to high mountain lakes in the area!
Wapiti Meadow Ranch – Johnson Creek (208) 633-3217
or 208-315-3554 – cabin rentals
website:
Deadwood Outfitters
website:
— — — —
Local Fuel Suppliers
Amerigas Phone: (208) 634-8181
Ed Staub & Sons Phone: (208) 634-3833
Diamond Fuel & Feed Phone: (208) 382-4430
— — — —
Outside Biz that will service Yellow Pine:
The Star-News


subscribe:
A reminder that those who live in other states can subscribe to the online edition only since the mail can take days for hard copy to reach them.
Rocky Mountain Mechanical – Plumbing – Heating – Air conditioning
(208) 365-PIPE (7473), Emmett, will service Yellow Pine
Elkhorn Heating & Cooling
(208) 906-4067 Middleton, Idaho, will service Yellow Pine
B&T Safety Solutions LLC
208-271-1600 Based out of Donnelly
Snow removal, cleaning chimneys and stoves, we do cabin staining/chinking as well
— — — —
Follow The Yellow Pine Times on Facebook (updated more often than emails)
———————–
Local Observations:
Monday (Dec 16) overnight low of 1 degree, clear sky this morning, trace of new snow from last evening and 3″ of snow on the ground. Mountain chickadees and red-breasted nuthatches visiting. Sunny and well below freezing at lunch time, high of 26 degrees. Female hairy woodpecker stopped by. Still way below freezing mid-afternoon, sunny clear sky. Temperatures dropped quickly after sundown into the teens under a clear sky. Single digits by 930pm. Stars out and cold before midnight.
Tuesday (Dec 17) overnight low of -1 degree, high thin overcast this morning, about 3″ old snow on the ground. Nuthatches and chickadees visiting. Thicker overcast by lunch time and chilly, high of 26 degrees. Clark's nutcracker stopped by. Still below freezing and overcast mid-afternoon. Cloudy and chilly at dark, temperatures in the teens.
Wednesday (Dec 18) at 6am it was 9 degrees (probably the low for the night) overcast sky this morning and a little warmer. Mountain chickadees and red-breasted nuthatches visiting. Mostly cloudy at lunch time, high of 35 degrees. Mail truck (Elaine) was a little early today. Clouds breaking up early afternoon and bits of sunshine. Partly cloudy and below freezing by late afternoon. Appears to be mostly cloudy just before dark. Overcast before midnight. Snow falling early morning.
Thursday (Dec 19) warming up and snowing early this morning, at 10am it was 29 degrees, low overcast and half inch new snow (3″ on the ground.) Chickadees and nuthatches visiting. Thinner clouds and filtered sun (and a few flakes of snow) after lunch time, high of 37 degrees. A break from snow flakes, above freezing and dripping early afternoon. Breezy, overcast and flaking snow again mid-afternoon (just before sunset.) Breezy after dark and probably not snowing. Calmer before midnight. Rain early morning.
Friday (Dec 20) warmed up and rained early this morning, at 10am it was 34 degrees overcast and breezy, roofs dripping. A few nuthatches visiting, later a few mountain chickadees and a jay. Cloudy warm and melting snow dripping off roofs at lunch time, high of 44 degrees. Still above freezing by mid-afternoon, dark clouds and a little breezy. Cloudy and calmer at dark. Windy after midnight, flags flapping and overcast. Hard gusts of wind before sunrise.
Saturday (Dec 21) overnight low of 27 degrees, warmed up and windy this morning under overcast sky, about 3″ old snow still on the ground but roofs are mostly bare. Red-breasted nuthatches and mountain chickadees visiting. Overcast, warm and breezy at lunch time, high of 49 degrees. Really blustery early afternoon. Lighter breezes and overcast at sundown. Overcast, above freezing and almost calm at dark. Hit the freezing mark by 10pm and getting really slick on the streets and paths. Cloudy and calm before midnight.
Sunday (Dec 22) overnight low of 27 degrees, mostly high thin clouds this morning and almost calm, measured 2″ old crusty icy snow on the ground. Chickadees and nuthatches visiting. Mostly clear and a little breezy at lunch time, high of 48 degrees. Quiet day. Clear and breezy right after sundown. Cloudy and breezy at dark.
————————
RIP:
Milton Howard Gillihan
August 12, 1952 – December 4, 2019
Milton Howard Gillihan, a former Yellow Pine resident, passed away on December 4, 2019, in Centralia, WA. He was born on August 12, 1952, in Boise, Idaho to John and Elsie Gillihan. Milton's father was an Outfitter and Guide in the Frank Church Wilderness of Idaho. His family moved to Yellow Pine, Idaho in 1963. Milton attended school in there from 1963 to 1967, moved to Emmett to complete the last four years of school, and graduated from Emmett High School in 1970. Shortly after graduation, he married his High School sweetheart, Linda Walker, and they had three children – Russell, Lani and Marc. He and Linda eventually parted ways, and Milton moved to Washington state for a truck driving position. He married Jeanne Clark of Silver Creek, WA on July 30, 2005.

Growing up, Milton spent summers helping his father in the hunting business. He learned to guide hunting and fishing parties in the Yellow Pine and Big Creek areas. They leased the Neal Ranch in Big Creek every summer, and it was Milton's favorite place to be. His days were spent wrangling and riding horses, fishing, hiking and hunting. He loved being in the mountains and connecting with nature. During his lifetime Milton worked in Idaho, Washington, Nevada and California in various occupations including wilderness guide, sawmill & mining work, construction, and long haul & local truck driving.
Milton is survived by his wife Jeanne, his children Russell (Beth) Gillihan, Lanigan Vitaceae, and Marc (Jana) Gillihan. His siblings: Bob Gillihan (Cathy); George Gillihan (Veda); Ray Gillihan, Roy Gillihan (Renette), Anna May Wyman (Chuck); Kristy Scaraglino (Rick) and Pat Gillihan. He was preceded in death by his parents, John & Elsie Gillihan, his brothers Jack Gillihan and Harold Gillihan, and nephews Kevin and Kelly Gillihan. He was blessed with nine grandchildren and 31 nieces and nephews.
(courtesy Kristy Gillihan Scaraglino)
———————
Valley County Snowmobile News:
Valley County Board of County Commissioners Invites You to a Public Hearing
Public Hearing January 21, 2020 1:00 p.m.
Courthouse Building, 2nd Floor
219 North Main Street Cascade, ID
You are welcome to attend the public hearing and/or comment on this proposal. Our office would appreciate your comments in person or by mail, fax, email, or phone call. Written comments must be received at least seven days prior to the public hearing. You may also speak during the public hearing. If you do not submit a comment, we will assume you have no objections to the application.
Direct questions and comments to:
Cynda Herrick, AICP, CFM
Planning & Zoning Administrator
PO Box 1350
Cascade, ID 83611
208-382-7115
cherrick@co.valley.id.us
Ordinance Amendment "Snowmobiles"
This proposal would amend Valley County Code Title 5 Chapter 5 Snowmobiles and Chapter 7 Rights of Way
Changes include:
• Specific groomed snowmobile trails would be closed to Wheeled Vehicles during certain times of the year, including Warren Wagon RD, No Business RD, Anderson Creek RD, High Valley RD (USFS 626), Clear Creek Road, and "Green Gate RD".
• Tracked vehicles may be permitted by the Valley County Parks & Recreation Director for home owners beyond groomed trail heads after consideration by the Board of County Commissioners.
• It shall be unlawful to leave wheeled vehicles or trailers parked in a place or manner which will impede snow removal equipment or impede the flow of orderly traffic, except in designated areas. Vehicles may be towed at owner's expense.
• Overnight parking of wheeled vehicles and trailers, or between the hours of midnight and 6:00 a.m. is only allowed in designated areas. Vehicles may be towed at owner's expense.
• If a wheeled vehicle gets stuck on a groomed trail or closed road, the operator is responsible for the removal of the vehicle to an open road and costs of the removal and repair of the groomed trail.
• A right of way permit shall be issued for any work done in the Valley County right-of-way, including road construction, utility installation, boring for utilities, snow removal, etc.
Draft ordinance can be read at: (link)
Visit the P&Z GIS map at: (link)
———————
Idaho News:
Idaho 55 blocked for an hour when snowplow hits car
The Star-News December 19, 2019
Idaho 55 west of McCall was blocked for about an hour last Thursday when a snowplow backed into a car, Idaho State Police reported.
The accident happened about 9 a.m. last Thursday about a mile west of the Brundage Mountain Resort turn-off, the ISP said.
An Idaho Transportation Department snowplow driven by Brad W. Steiner of New Meadows was working to clear the roadway around a stuck vehicle when it backed into a car driven by Robert R. Picken of Hayden. There were no injuries but Picken's car had to be towed from the scene, the ISP said.
source:
— — — — — — — — — —
Historic Roseberry gets $7,000 grant for new general store roof
The Star-News December 19, 2019
A $7,000 grant to put a new roof on the general store at Historic Roseberry has been awarded by the Idaho Heritage Trust.
The grant to the Long Valley Preservation Society is dependent on the society raising $7,000 in matching funds, board member Dean Jones said.
"The roof is rusted, has holes in it, allows birds and bats inside," Jones said. "Bat droppings as well as water are degrading the vintage, original wall paper upstairs."
The Roseberry General Store was built in 1905 and was acquired by the society in 2015. It is one of nearly two dozen buildings owned and maintained by the society at the historic townsite located one mile east of Donnelly.
The general store is open May through September Fridays through Sundays and sells throwback candy such as horehound sticks, collectible tin toys, water and soft drinks.
The townsite is also the location of The Barn, a popular wedding and reunion venue, and the site of the Summer Music Festival at Roseberry each July.
The townsite also hosts an arts and crafts fair during the Independence Day holiday and the annual Ice Cream Social each Labor Day weekend.
The Long Valley Preservation Society was established in 1973 with the goal to collect, preserve, interpret and display Valley County history at the Roseberry complex.
Contact Jones at rattlesnake4873@gmail.com for information on making a donation toward the match for the Roseberry General Store roof. Go to (link)  for information on the townsite.
source:
— — — — — — — — — —
With new operator, Steamboat Gulch sled hill will open by Christmas
The area was shut down earlier this month after visitors damaged it by leaving trash, damaging trees and driving on the hill.
KTVB December 20, 2019
Idaho City, Idaho — A popular sledding spot near Idaho City will be open to the public after all, just weeks after officials said they were forced to shut it down.
A new operator has stepped up to manage and oversee Steamboat Gulch sled hill, meaning the area will reopen to sledders in time for Christmas.
continued:
— — — — — — — — — —
New Idaho law suspends uninsured drivers' car registration after three months, goes into effect January 1
Joe Parris KTVB December 17, 2019
Boise, Idaho — In a few weeks we bring in the new year, 2020 – and some new laws go into effect in Idaho.
Starting Jan. 1, 2020, Idaho drivers who do not have insurance for three consecutive months could have their car registration suspended.
Vince Trimboli, a spokesman for the Idaho Transportation Department, says there are around 150,000 cars that don't have insurance attached to them in Idaho.
continued:
———————
Seasonal Tips & Advice:
Dry Christmas trees cause house fires
By Emma Iannacone December 19, 2019 KDIK
About 160 Christmas trees catch fire every year, according to the National Fire Protection Association.
… Tree fires cause about $10 million in damage each year, according to the NFPA.
To avoid a tree fire, Farnsworth said to keep the tree watered daily and don't set it up by heat sources.
"Heating devices, that's one of the most common ones, to have heating devices near the Christmas trees," Farnsworth said.
Double check your light set up for frays or breaks in the string. Don't use outdoor specific lights on your tree because they can get too hot for the branches.
Keep candles away from the tree. Get rid of your tree after Christmas to avoid it drying out too much, but don't leave it in the garage or up against the house.
full story:
— — —
Christmas Tree Fire: Watered Tree vs. Dry Tree
According to the National Fire Protection Association (NFPA), more than 200 home fires each year start with a Christmas tree. In this video, NIST fire researchers demonstrate what could happen if a fire starts in a watered Christmas tree vs. a dry Christmas tree.
[Turn Sound Down]
————————
Letter to Share:
Fact Check: Biological Assessment
Midas Gold Blog December 16, 2019
A recent article published by the AP around our project did not include all the facts on an aspect of the permitting process and only told one side of the narrative. We want to make sure Idahoans have the full story.
Here is what you need to know.
Midas Gold is working through the permitting process exactly as it was intended and following all of the rules outlined by federal agencies. We are committed to a permitting process based on objective scientific review that encourages a collaborative process that brings all stakeholders around the same table to share information and input to help guide the project.
The article discusses the process of preparing an environmental report called a Biological Assessment, which is part of Section 7 of the Endangered Species Act and an important part of the permitting process, and our role being designated as a "non-federal representative."
link: briefing paper
link: Associated Press story
——————–
Mining News:
Midas Gold plans to fill up the Glory Hole
Yellow Pine pit would go away under proposed plan
(Note: This is the ninth part in a series detailing Midas Gold's operating plan for its proposed gold and antimony mine near Yellow Pine. Next week: Workforce Housing)
By Drew Dodson for The Star-News December 19, 2019
The existing pit lake seen from Stibnite Road would be drained and dug hundreds of feet deeper before the scar is removed from the land, according to Midas Gold's operating plan for its gold mine near Yellow Pine.
The Yellow Pine pit, also known as the Glory Hole, has blocked salmon and trout from traveling further up the East Fork South Fork Salmon River since the pit was first excavated in 1938 by Bradley Mining Company.
Midas Gold plans to restore the river to its pre-1938 condition after extracting about 2.5 million ounces of gold, 4 million ounces of silver and 86 million pounds of antimony from the pit.
In order to do that, about 30 million gallons of water would be pumped out of the lake, while year-round pumps would prevent the pit from re-filling with groundwater.
The pit is now 125 feet deep but would be dug down to 640 feet below the surface during extraction operations, the operation plan said.
About 110 million tons of waste rock from the nearby West End pit would be used to fill the pit starting in year seven of mining.
By year 11, the pit would be completely filled and grading work to sculpt the river corridor back to its original configuration would begin.
The re-established river would consist of a main channel about 25 to 30 feet wide and five feet deep. Resting pools and small cascades would be built into it to mimic natural riverbeds and assist salmon and trout in swimming upstream.
Alongside the channel would be between 170 feet and 350 feet of floodplain with high-flow channels, which would provide additional wildlife habitat and room for the river to change courses naturally over time, according to the plan.
A liner would be needed to prevent the river from drying up while groundwater levels replenish in the former Yellow Pine pit, a process expected to take about two years.
The liner would be placed several feet beneath the ground to prevent erosion and would extend at least 100 feet out on each side of the main channel into the floodplain.
Native grasses, shrubs and trees planted in the restored river corridor would take several decades to fully mature and meet Midas Gold's final vision for the restored East Fork corridor.
Until work to re-establish the East Fork is complete about 15 years after mining begins, it would flow through Midas Gold's proposed fish passage tunnel to the west of the Yellow Pine pit.
The mile-long tunnel would remain open for about two years after the East Fork is re-established in case it is needed to divert high flows that could wash away newly planted vegetation.
Currently, the Yellow Pine pit lake is about 35 feet deep because about 90 feet of sediment from upriver has collected in it over the last 80 years.
Large, coarse sediment that is ideal for salmon spawning habitat sinks to the bottom of the lake, while finer sediment passes through and continues down the East Fork.
The finer sediment can fill and muck up existing salmon spawning grounds, which must be coarse gravel beds.
If the pit lake continues filling with sediment, eventually the sediment would spill downstream into the East Fork and overload existing salmon spawning grounds with sediment, according to Midas Gold.
Much of the fine sediment filling the lake stems from a 1965 dam failure that Midas Gold also proposes to clean up as part of its plan.
Exposed rock in the old pit walls beneath the surface of the water are also believed to be leaching arsenic and antimony into the water. Currently, water at Stibnite does not meet federal standards for drinking water or aquatic life.
source: © Copyright 2009-2018 Central Idaho Publishing Inc.
— — — — — — — — — —
Judge rejects Midas Gold request to dismiss lawsuit
Tribe says miners have not stopped water pollution at Stibnite
By Drew Dodson for The Star-News December 19, 2019
A federal judge on Monday denied Midas Gold's request to dismiss a lawsuit filed by the Nez Perce Tribe against the company for discharging pollutants into waters at Stibnite.
The ruling handed down by U.S. District Judge Lynn Winmill in Boise means that the lawsuit will advance toward a trial, though no date has been set yet.
The tribe accuses Midas Gold of violating the Clean Water Act, a federal law regulating pollutant discharges into waterways, by not stopping existing sources of pollutants from entering waterways.
"As the tribe has repeatedly stated, Midas Gold's failure to address unlawful pollution discharges at the site is harming the tribe and the people of Idaho," Nez Perce Tribal Executive Committee Chairman Shannon Wheeler said in a statement following the hearing.
Sugar Creek, the East Fork South Fork Salmon River, Meadow Creek and adjacent wetlands are all affected by the pollutants, according to the lawsuit.
Wheeler added that he is "troubled" by Midas Gold's efforts to "evade ownership responsibility" of the proposed gold mine site near Yellow Pine by seeking a dismissal of the case.
But a Midas Gold spokesperson said the company cannot legally clean up contaminants left by previous mining companies under a federal law regulating hazardous waste sites that could endanger the environment and the public.
"A lawsuit will not clean up the site," said Mckinsey Lyon, vice president of external affairs for Midas Gold.
"Midas Gold needs permission from regulators to do work on the ground to see true improvements in water quality at Stibnite," Lyon said. "That process is underway and has been for quite a while."
Winmill did not rule on a separate motion to suspend the lawsuit for 180 days while Midas Gold continues to work through the permitting process.
Midas Gold would be able to clean up existing pollutants just as the tribe seeks if the process is completed, Lyon said.
The tribe insists that the clean-up begin immediately to avoid further damage to aquatic ecosystems from the pollutants.
"The tribe remains committed to serving as the voice of these resources and to ensuring a full cleanup happens without further delay," Wheeler said in the release.
Midas Gold's proposed Stibnite Gold Project lies on lands subject to a federal treaty from 1855 that protects the tribe's rights to fishing, hunting, gathering and pasturing on the land.
In early June, the tribe filed documents notifying Midas Gold of its plans to sue if the company did not comply with federal water quality standards within 60 days. The lawsuit was then formally filed in August.
Midas Gold for nearly a decade has regularly submitted water sampling data to the Payette National Forest, the lead permitting agency on the mine, as part of its commitment to cleaning up Stibnite and improving water quality, Midas Gold officials said.
A recent sample taken from near the East Fork South Fork Salmon River showed arsenic levels 700 times higher than federal drinking water standards allow.
Last October, the Nez Perce Tribe, which is based in Lapwai, formally announced its opposition to the Vancouver, B.C., company's proposed gold and antimony mine near Yellow Pine.
source: © Copyright 2009-2018 Central Idaho Publishing Inc.
— — — — — — — — — —
Lawsuit puts forest gold exploration on hold
Dec 19, 2019 Local News 8
Boise, Idaho (KIFI/KIDK)-U.S. District Judge B. Lynn Winmill ruled Wednesday that the U.S. Forest Service failed to adequately consider the potential water quality impacts of an eastern Idaho mining permit.
Otis Gold plans to construct over 10 miles of temporary road, clear up to 140 drill pads, and drill up to 420 exploratory holes in a search for gold about 50 miles west of Yellowstone National Park in the Greater Yellowstone Ecosystem. The project covers 20 square miles adjacent the popular Steel Creek Campground.
… The lawsuit was filed in November 2018, challenging an August 2018 decision to grant a five-year permit to Otis Gold Corp. of Canada for low grade gold in a wildlife migration corridor and farming region in the Centennial Mountains near Kilgore, Idaho.
full story:
— — — — — — — — — —
Union members from Idaho mine reject agreement with company
Dec 18, 2019 By Associated Press
Members of a union representing workers at an Idaho mine have rejected a tentative agreement that could have ended a two-and-half year strike.
The Spokesman-Review reported Monday that United Steelworkers Local 5114 and Hecla Mining Company announced a tentative agreement in November that required ratification by a majority of union members.
Union officials say a third party counted ballots Monday finding that the majority voted against the proposed contract. Officials say the union represents about 200 workers at the Lucky Friday Mine near Mullan, Idaho.
Hecla Mining was not immediately available for comment.
source:
—————————
Public Lands:
USDA Forest Service South Fork Restoration and Access Management Plan Update
December 17, 2019
The US Forest Service has prepared a revised Environmental Assessment and Draft Decision Notice for the South Fork Restoration and Access Management Plan. The project includes numerous actions relating to watershed restoration, motorized and non-motorized access, and improvements of recreation facilities within the South Fork Salmon River (SFSR) watershed within a 329,000 acre project area. The selected alternative is a hybrid of the alternatives presented in the Environmental Assessment, hereafter referred to as the Selected Alternative. The selected alternative includes one project-level amendment limited to the scope and scale of this project related to the designation of existing routes as system roads for administrative purposes in the Krassel Work Center and Reed Ranch Airstrip area. It also includes the decision to issue a Federal Roads and Trails Act easement to Valley County for 30.3 miles of the South Fork Salmon River Road (Forest Road 474/674).
The project would be implemented on the Krassel and McCall Ranger Districts of the Payette National Forest and the Cascade Ranger District of the Boise National Forest. The Responsible Official is the Forest Supervisor, Payette National Forest. The proposed project is an activity implementing existing land management plans and is subject to pre-decisional objection process at 36 CFR 218 Subparts A and B.
The revised Environmental Assessment, Draft Decision Notice, and other project information are available for review at the project webpage at (link) and at the Krassel Ranger District 500 North Mission Street, Bldg 1, McCall, ID 83638. Hardcopy documents may be made available to interested parties upon request by calling 208-634-0600.
This project is subject to the objection process pursuant to 36 CFR 218 Subpart B. This project is not related to the Hazardous Fuels Reduction Act. The Intermountain Regional Forester is the reviewing officer. The objection filing period is expected to be December 19, 2019 through February 3, 2020.
Objections will be accepted only from those who have previously submitted specific written comments regarding the proposed project either during scoping or other designated opportunity for public comment in accordance with § 218.5(a). Issues raised in objections must be based on previously submitted timely, specific, written comments regarding the proposed project unless based on new information arising after designated opportunities. Individual members of organizations must have submitted their own comments to meet the requirements of eligibility as an individual. Objections received on behalf of an organization are considered as those of the organization only. If an objection is submitted on behalf of a number of individuals or organizations, each individual or organization listed must meet the eligibility requirement of having previously submitted comments on the project (§ 218.7). Names and addresses of objectors will become part of the public record.
Incorporation of documents by reference in the objection is permitted only as provided for at § 218.8(b). Minimum content requirements of an objection are identified in § 218.8(d) include: Objector's name and address with a telephone number if available; with signature or other verification of authorship supplied upon request; identification of the lead objector when multiple names are listed, along with verification upon request; name of project, name and title of the responsible official, national forest/ranger district where project is located, and sufficient narrative description of those aspects of the proposed project objected to, specific issues related to the project, how environmental law, regulation, or policy would be violated, and suggested remedies which would resolve the objection. The objection must include a statement demonstrating the connection between prior specific written comments on this project and the content of the objection, unless the objection issue arose after the designated opportunities for comment.
Written objections, including any attachments, must be submitted within 45 days following the publication date of the legal notice in the newspaper of record. It is the responsibility of Objectors to ensure their objection is received in a timely manner (§ 218.9). The publication date in the Idaho Statesman, newspaper of record, is the exclusive means for calculating the time to file an objection to this project. Those wishing to object to this proposed project should not rely upon dates or timeframe information provided by any other source. We anticipate the legal notice will be published on December 18, 2019 and the official comment period would open the following day.
The Reviewing Officer is the Regional Forester. Send objections to the project website using the link in the right corner to "comment/object to project" or send to Objection Reviewing Officer, Intermountain Region USFS, 324 25th Street, Ogden, Utah 84401; or fax to 801-625-5277; or by email to: objections-intermtn-regional-office@fs.fed.us. Reference the project name "SFRAMP" in the subject line. It is the responsibility of Objectors to ensure their objection is received in a timely manner (§ 218.9).
We appreciate your interest in the Payette National Forest and this project. If you have any questions regarding this project or objection period, please contact Anthony Botello, Krassel District Ranger at 208-634-0601.
— — — — — — — — — —
Idaho City District of the Boise National Forest Intends to Submit Grant Proposal to Idaho Department of Parks and Recreation
Idaho City, Idaho, December 20, 2019 — The Idaho City Ranger District of the Boise National Forest is applying for grant funding from the Idaho Department of Parks and Recreation to help trail and developed campsite improvements and maintenance.
The different applications will request funding through the Department's Off-Road Motor Vehicle (ORMV), and Recreational Vehicle (RV) programs.
* ORMV funds would provide necessary equipment and crew time to assist in the heavy trail maintenance and signing of approximately 16 miles of motorized trails # 289, 291 and 292.
* RV funds would be concentrated on improving Edna Creek Campground. The grant will fund the replacement of campground furniture and tent pads.
All grant proposals will improve visitor experiences. If received, implementation of the trails grant would begin in late summer and the RV grant would be implemented in the fall.
Comments or requests for more information should be submitted to Everardo Santillan, Idaho City Ranger District, and P.O. Box 129, Idaho City, ID or by calling 208-392-6681.
— — — — — — — — — —
More access to public land blocked
Crouch residents upset about gates
Dec 18, 2019 By Steve Liebenthal KIVI
Crouch, Idaho — Ryan McFarland is an Idaho native who has been wandering the mountains near Crouch his entire life. Nine years ago he bought a second home here, and this year he was disappointed to find a gate blocking a road that provides access to large parcels of state and federal public land.
"I called the Boise National Forest and asked them what was going on and why they allowed gates to go up over a Forest Service road," said McFarland. "They told me it was not a Forest Service road."
McFarland made that call based on a map the Forest Service published in 2018. In 2019 the Forest Service issued a new map with an interesting revision. On the new map this road doesn't exist.
continued:
————————–
Critter News:
Pet Talk – Dogs and chocolate do not mix
By Dr. Karsten Fostvedt Dec 20, 2019 IME
In December, dogs are more than twice as likely to scarf down a toxic dose of chocolate than at any other time of the year. This is probably because their human companions have stocked up on candies, cocoa and baking chocolate for gifts and treats. The harmful substances in chocolate are theobromine and caffeine. Cocoa powder contains the highest amount of caffeine and theobromine, followed by unsweetened baker's chocolate, sweet chocolate and milk chocolate. White chocolate contains negligible amounts of methylxanthines and caffeine.
The most common clinical signs of chocolate toxicity are restlessness, hyperactivity, vomiting, diarrhea, increased drinking and urination, and a rapid heart rate. Animals may begin pacing and are unable to sit still. They may pant and appear anxious. Hyperactivity may progress to tremors and seizures if large amounts of chocolate are ingested.
… For a dog, a deadly dose is about 100-200 milligrams per kilogram of body weight. That means that a 20-pound dog needs only 14 ounces of milk chocolate to kill it. About 3.5 ounces of semi-sweet or bittersweet chocolate could kill a 20-pound dog, and as little as one ounce of baker's chocolate could end its life.
full story:
— — — — — — — — — —
USPS reports close calls between dogs, carriers
Dec 20, 2019 KIVI
Idaho — Southern Idaho Postal Carriers are reporting an increasing number of dog bites and close encounters with dogs as they deliver a growing number of packages to doors and porches this holiday season.
The injurious scenario is often the same; Postal carrier walks up to a house to deliver a package, customer opens the door, dog runs out the door and bites the carrier.
According to USPS District Manager Laura Hubrich, these dog attacks are preventable.
"If a carrier delivers a package or a certified letter to your front door, place your dog into a separate room and close the door before opening the front door," said Hubrich. "Dogs have been known to burst through screen doors or plate-glass windows to get at strangers."
continued:
— — — — — — — — — —
One dog killed, another injured in mountain lion attacks in Blaine County
by CBS2 News Staff Tuesday, December 17th 2019
Ketchum, Idaho (CBS2) — A dog was killed over the weekend by a mountain lion in Blaine County.
Another was injured in a separate and unrelated attack.
Idaho Fish and Game says a lion was in a fenced backyard in the small town of Gimlet on Sunday when the cougar killed the homeowner's dog, a German shorthair. Conservation officers will try and trap and remove the mountain lion from the area.
continued:
— — — — — — — — — —
Cougar shot near Warm Springs Road
Lion involved in incident near Gimlet remains at large
Greg Moore Dec 20, 2019 IME
An Idaho Department of Fish and Game officer shot a mountain lion near Warm Springs Road on Wednesday morning after two residents reported that their dogs had been killed.
The attacks followed an attack by a cougar on a dog in southwest Ketchum on Saturday night, in which the dog survived but lost an eye, and a fatal attack on a dog Sunday night at a home near Gimlet Road south of Ketchum.
Fish and Game spokesman Terry Thompson said the department received a call Wednesday about 7 a.m. that a lion had just killed a dog that was behind a 6-foot solid fence in a yard on Bald Mountain Road. Thompson said the caller reported that another dog that had been in the yard had not been attacked. He said the caller said the lion had been seen jumping over the fence to leave the yard.
continued:
— — — — — — — — — —
2 Yellowstone wolf pups fatally hit by a vehicle
Mammoth Hot Springs, Wyo. (KIFI/KIDK) – Two wolves from the Junction Butte Pack were fatally hit around sunset on the road between Tower Junction and the Northeast Entrance on Nov. 19 Yellowstone National Park announced in a release Wednesday.
A necropsy confirmed the black male and female pups died from a vehicle strike.
Yellowstone law enforcement officers are investigating the incident.
continued:
— — — — — — — — — —
Zoo Boise welcomes Henry the maned wolf
KTVB December 18, 2019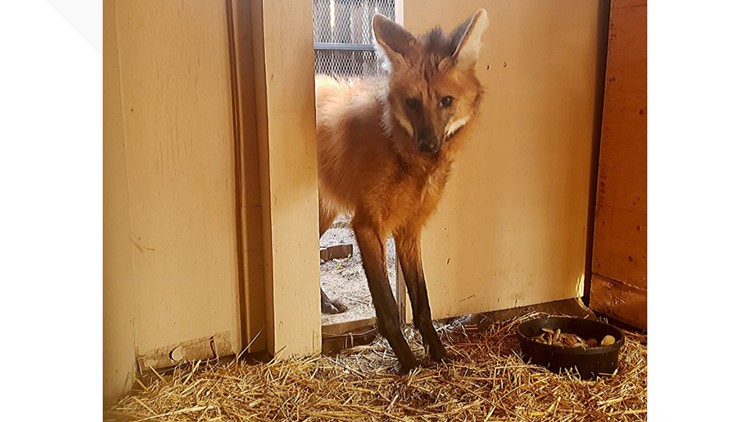 Boise, Idaho — Zoo Boise is celebrating their newest addition to the zoo: a male maned wolf named Henry.
The 6-year-old wolf was selected as a mate for Zoo Boise's female maned wolf, Jamie. Henry was brought to Zoo Boise from the Pueblo Zoo in Colorado through the Maned Wolf Species Survival Program.
The conservation program is aimed at maintaining a healthy population of endangered or threatened species.
Maned wolves are native to South America, and bark or roar rather than howling like a gray wolf. They are omnivores, eating fruit and vegetables along with small mammals and insects.
source:
— — — — — — — — — —
Annual land closure to begin in east Idaho to protect deer, elk and moose herds
by Ryan L Morrison Tuesday, December 17th 2019
… BLM closes the Egin-Hamer Area (in eastern Idaho) every year for the protection of wintering deer, elk and moose herds. The area's temporary annual closure's been in place for more than 20 years.
It designates nearly 500 square miles of land off-limits to human entry to allow herds to spend more time down on the desert outside of Rexburg – time during crucial portions of the late winter and early spring.
… "Occasionally, powered parachutes, helicopters and small planes have been sighted flying low over the closure area. While the air space over the seasonal closure is not restricted, pilots of all types are cautioned to not disturb wintering wildlife. If the machines are flying low enough to cause the wildlife to move away, then they are flying too low."
full story:
— — — — — — — — — —
Wally the Moose tours Idaho to help with hunter education
by Ryan L Morrison Thursday, December 19th 2019

Wally the Moose tours Idaho to help with hunter education. (Courtesy IDFG)
Boise, Idaho (CBS2) — Wally the Decoy Moose is touring Idaho to help Idaho Fish and Game educate hunters in certain areas.
A "whole bunch" of moose have been killed in the Idaho City-area lately, according to IDFG. At least seven in the last three years.
IDFG said all of these were mistaken identity cases and all seven cases were solved. Unfortunately, another moose died this fall, but the case is still open.
Eight dead moose in that short of time is unacceptable in a population that is already struggling. That's where Wally comes in handy.
continued:
— — — — — — — — — —
Interior Department, states appeal sage grouse ruling
Idaho and Wyoming are appealing a ruling that halted a Trump administration plan.
Keith Ridler Associated Press December 18, 2019
Boise, Idaho — The Interior Department, Idaho and Wyoming are appealing a court ruling that halted a Trump administration plan to ease land-use restrictions in seven Western states that protect struggling sage grouse.
The notices filed Monday say the agency and states will seek a review by the 9th U.S. Circuit Court of Appeals of an October ruling temporarily preventing the U.S. Bureau of Land Management from carrying out the plan.
continued:
————————-
Fish & Game News:
Mountain lion attacks and kills two dogs in Warm Springs area of Ketchum
By Terry Thompson, Regional Communications Manager
Wednesday, December 18, 2019
Two dogs were killed in separate mountain lion attacks in the Warm Springs area of Ketchum.
Fish and Game officers in the Wood River Valley received two reports of separate fatal mountain lion attacks on dogs early Wednesday morning, Dec. 18. These were the third and fourth mountain lion attacks on dogs in the area over a period of five days, two of which took place over the prior weekend.
Upon investigation, officers found that a mountain lion attacked a dog in its fenced backyard where it received significant injuries from the attack. The dog survived, but had to be euthanized by a local veterinarian.
Shortly after the first report, Fish and Game officers were notified of a second dog that had been killed as a result of a mountain lion attack within blocks of the first incident.
continued:
— — — — — — — — — —
Here's where Idaho's ducks come from
By Brian Pearson, Conservation Public Information Specialist
Monday, December 16, 2019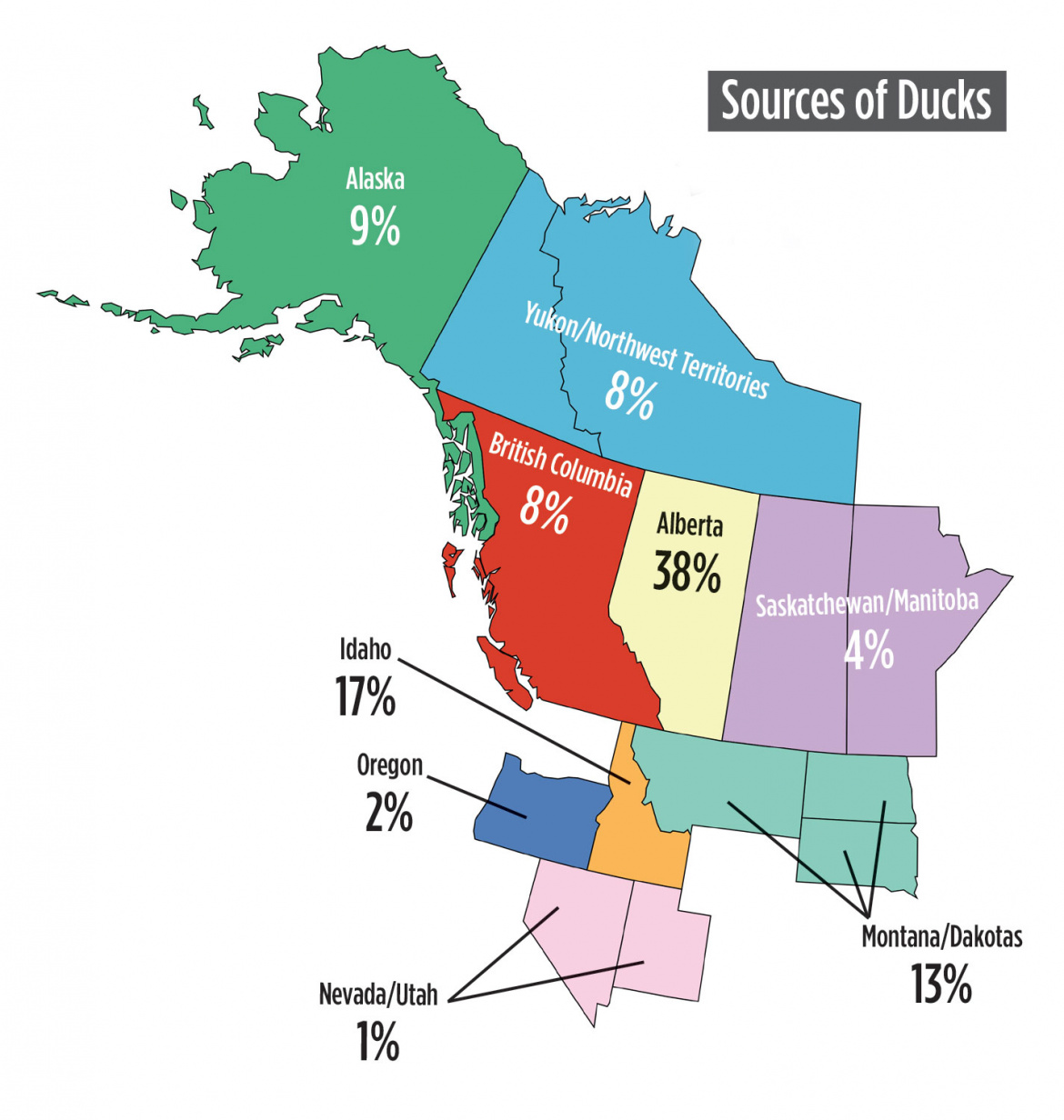 Study identifies origins of dabbling ducks harvested in Pacific Flyway states
When temperatures fall in December and January, duck hunting in Idaho — particularly in the southwest part of the state — often heats up with the arrival of "northern birds." But exactly where in the north are these birds coming from? Generally speaking, the likeliest answer for Idaho hunters is Alberta.
In a 2017 study, researchers at the University of Minnesota and the California Department of Water Resources shed some additional light on where dabbling ducks harvested in the Pacific Flyway originated. Using abundance, banding and harvest data from throughout the Pacific Flyway, as well as other important source areas in the neighboring Central Flyway, researchers were able to estimate where ducks came from and where they were harvested over the course of about 50 years, from 1966 to 2013.
continued:
— — — — — — — — — —
F&G Commission expands 2020 spring steelhead fishing season starting Jan. 1
By Brian Pearson, Conservation Public Information Specialist
Wednesday, December 18, 2019
Fishing will reopen on the Clearwater and lower Snake rivers
Meeting by conference call on Wednesday, Dec. 18, the Idaho Fish and Game Commission reopened steelhead fishing in the Clearwater River and lower Snake River downstream of Couse Creek Boat Ramp, beginning on Jan. 1. Daily bag limit in those sections is limited to one adipose-clipped steelhead per day, none over 28 inches in length.
Anglers should note that the North Fork Clearwater River will be closed to steelhead fishing during the 2020 spring season. The South Fork of the Clearwater River will also reopen on Jan. 1, and all other season dates remain the same as what is printed 2019-21 Idaho Fishing Seasons and Rules brochure.
continued:
— — — — — — — — — —
More F&G News Releases
link:
———————————-
Fun Critter Stuff:
Video: Police dog hoards holiday toys
by Gary Detman Friday, December 20th 2019
Franklin, Mass. (CBS12) — Police officers in Massachusetts discovered that the case of the missing holiday toys turned out to be an inside job.
The department collected a classroom full of toys for the Santa Foundation.
Some of them mysteriously vanished.
But the mystery unraveled after officers spotted Ben Franklin, the department's therapy dog, walking out of the classroom with a baby doll in its mouth.
continued w/video:
— — — — — — — — — —
Decorating the Christmas tree was a real hoot for this Georgia family
by Leandra Bernstein Thursday, December 19th 2019
Newnan, GA. (Sinclair Broadcast Group) — An unusual-looking ornament caught the attention of a family in Georgia when they realized there was a live owl living in their Christmas tree.
Katie McBride Newman posted to Facebook that she and her two children, India and Jack, found a live owl "roosting" in their Christmas tree.
… The family isn't sure how long the creature was living in their Christmas tree. They bought the tree from a store two days after Thanksgiving, according to CNN. They discovered the owl almost two weeks later Dec. 12.
full story w/more photos:
—————————
Seasonal Humor:

——————-