January
2019 Yellow Pine Winter Census
24 Residents
2 Chinchilla
14 Cats
17 Dogs
28 Chickens
2 Other birds
18 Horses
(Does not include weekenders/extras)
[h/t N]
— — — —
Chili Contest Jan 19
Winners of the 2019 Yellow Pine Chili Cook-off:
1st Place – Sarah Lanham
2nd Place – Nikki Harnar
3rd Place – Michelle Asdell


A report of: "at least 22 hungry people and later three wet snowmobiles showed up."
The Cross Country Ski Race was called off as there were no participants. So a giant snowman was built instead.


(photo by Dick Filler Photography)
— — — —
RIP: John B. Eiguren
December 24, 1942 ~ January 21, 2019 (Age 76)
John Eiguren died Monday, January 21, 2019 at St. Al's Hospital, surrounded family.


— — — —
Stibnite Road
Midas Gold is keeping the road open to Stibnite. Posted on FB 1/22/2019: "This past weekend Stibnite received 10-14" of snow and our team spent long days clearing roads. This new snow, combined with recent rain and warmer temperatures left multiple trees down and small avalanches."


— — — — — — — — — —
February
Feb 4 Midas Road Update
Report from Midas on the Stibnite Road 2/4/2019: Warmer weather and rain this [last] weekend caused instability in the snow and small avalanches. With more snow in the forecast, travel safe and be aware of road conditions. The picture was taken around mile 7 of Yellow Pine/Stibnite road and Tamarack Creek.


— — — —
RIP: John F. Lance
died February 15, 2019
John lost his courageous battle with cancer on Feb. 15, 2019. He will be missed by many and was loved by all.


Ashes to be scattered in Yellow Pine August 4, 2019
— — — —
RIP: Dolly


Dolly has gone to join Sarge across the Rainbow Bridge
— — — —
Yellow Pine Road Crew


Ziva, Road Boss of Yellow Pine
— — — —
Annual Pie Contest
Saturday February 16th at 2pm at the Yellow Pine Tavern.


The winners were Rhonda first place for razzle dazzle berry, Lorinne second for grandma Ople apple, Roxie and Kat tied third for blackberry and apple respectively. Judges Dick,Tom and Bill had a a difficult but delicious job choosing the winners.
— — — —
President's Day Feb 17, 2019


Yellow Pine from Golden Gate Hill by Scott Amos
— — — —
Sunday Snow Day
Feb 24, 2019 10am


The Weather Station in Yellow Pine. As of 10am this morning measured 26 1/2″ snow on the ground, snowed an additional 3″ by dusk.
— — — –
Winter Storms Last week of Feb
We had 13″ of snow fall over 4 days last weekend, by Monday morning we had 31.5″ of snow on the flat. A report that a slide came down on the highway on Big Creek summit blocking traffic for several hours Monday afternoon/evening.


Monday Feb 25, 2019 (YP School/Museum)
By Wednesday morning we had received an additional 4″ of new heavy wet snow, then it rained for several hours. A report of white-out conditions on Warm Lake Highway, and the mail truck was unable to make it in.
Thursday and Friday we picked up an additional inch of snow. The snow out on the flat by the school/museum is getting "pillowy" and ranges from 25-28″ deep. The mail truck made it in on Friday with a very large load of mail and freight for the village.
Photo of Winter in YP


Dick Filler Photo
— — — — — — — — — —
March
Yellow Pine Tavern March 7, 2019
We still have a lot of snow in Yellow Pine.


— — — —
RIP: Warren T. Harris
May 11th, 1977 – March 11th, 2019


Warren T. Harris, 41, of Everett, WA, formerly of Emmett, ID, passed away on Monday, March 11, 2019. Services are under the care of Flahiff Funeral Chapel, Caldwell. 208-459-0833
[Warren worked at the Stibnite Mine for a while.]
— — — —
RIP: Linda Elaine (Murphy) Kildow
November 10, 1952 ~ March 16, 2019 (Age 66)


Linda Elaine Kildow passed away March 16 peacefully in her home. Linda Kildow taught school in Yellow Pine from 1992 till 2001 when the school closed. Some of you may remember her as Linda Murphy or Vipperman.
— — — —
St Patrick's Celebration
There was a pot-luck at the Yellow Pine Tavern March 16th. Corned Beef and Cabbage provided by the Tavern.
— — — —
March 17, 2019 Snow in Yellow Pine
22″ of snow on the flat by the school.


— — — —
It is Spring Rock Migration Season
March 21, 2019 EFSF Road "Bowling Alley" photo by Chris Eaton. The rocks were plowed off the road on Friday March 22nd, however there will be more coming down.


— — — —
Missing US Flag
A report that the US Flag at the Kiosk on main street went missing. If you have any info, please contact the YP Tavern. A temporary flag will be hoisted until a replacement flag arrives.
— — — — — — — — — —
April
Boil Water order issued April 2, 2019
Yellow Pine water system on boil order until further notice
The Department of Environmental Quality (DEQ) has placed the Yellow Pine Water Users Association Public Water System on a boil order until further notice.
— — — —
Spring Rock Migration Season
Rain on snow events had the roads closed on and off from Sunday night thru Tuesday afternoon. Below are photos and updates.
Sunday Night – A report of a large rock blocking the South Fork Road, no location given.
Monday – Reports that large rocks were blocking the East Fork of the South Fork road just upstream from Caton Creek Monday morning April 8th.


Photo courtesy of John Byrne
Crews from Cascade and Yellow Pine cleared both roads before noon Monday, but trees and rocks were still coming down. The mail truck made it in OK. Early afternoon a new slide on the South Fork blocked the road in the Poverty Flats area. Crew from V. County road dept. cleared it enough for the mail truck to get out later in the afternoon.
Monday afternoon avalanche, location across the EFSF river from the Eiguren Ranch


photo by John Byrne
Photo of the avalanche log jam in the East Fork of the South Fork river Monday afternoon – and reports of more mud, rocks and trees coming down on the roads.


photo by Chris Eaton
Tuesday April 9, EFSF river


photo by Chris Eaton
A report that the log jam on the EFSF is breaking up on its own and headed down river. The river is really "ripping" and running chocolate brown. Johnson Creek is running clear and no problems so far.
As of noon Tuesday the roads from Yellow Pine out to Cascade are open.
Tuesday – from Midas Gold (this is about halfway between Yellow Pine and Stibnite.)


An overnight slide is currently blocking a section of Stibnite Road and the East Fork of the South Fork of the Salmon River. Right now, a half mile stretch of the road is blocked near Tamarack Creek and, in places, the river is running up onto the road. Our team is developing a plan to safely clear the slide and we will start work as soon as possible. We are closely coordinating all of our efforts with our state and federal partners.
Wednesday – roads were back to "normal" Spring travel, the mail truck only had to stop 3 times to move rocks on the South Fork road.
— — — —
Stibnite Road Update From Midas April 16, 2019
On Monday, April 8 an overnight avalanche and subsequent disturbance along Stibnite Road (Forest Highway 48 – FS Road #50412) between the Village of Yellow Pine and the historical Stibnite mining district caused extensive damage and forced the closure of the road.


The main slide, which is estimated at 100 feet high, pushed snow, timber, and debris across the East Fork of the South Fork of the Salmon River, and Stibnite Road. Over a half-mile stretch of road is impassable.
Some sections have been washed away near Tamarack Creek, while other sections of the road are piled high with debris. At the time of the slide, Midas Gold had two team members on site at Stibnite and additional staff in Yellow Pine. Since then, our team established a safe path to traverse around the slide on foot and maintain access to the site.
We are working closely with state and federal officials to assess the situation, stabilize the area and determine the appropriate steps to take to repair the river and road once conditions are safe. Valley County, which has maintenance jurisdiction over the road, issued a local emergency declaration and will lead the work once final approval is received from coordinating agencies.
We anticipate the first phase of work to stabilize the area will begin soon.
Please be aware of road conditions throughout the region and travel safely!
— — — —
RIP: Richard Henry Filler
June 9, 1945 – April 9, 2019
Richard Henry Filler, 73, a resident of Yellow Pine, passed away April 9, 2019 in Boise.


— — — —
RIP: Wilbur Wiles
(1916 – 2019)


Wiles, Wilbur V. (103) from Big Creek, Idaho passed away Wednesday, April 17, 2019 at VA Medical Center. Life Celebration pending in Big Creek at a later date. Arrangements are under the direction and care of Summers Funeral Home, Boise Chapel.
Wilbur's grave marker, Idaho Veterans Cemetery, Boise, Idaho, courtesy Sandy McRae


— — — —
Landslide cleared, Idaho Transportation Department reopens Highway 55
John Masters April 17, 2019 KTVB
A massive landslide that blocked both lanes of Idaho 55 since Tuesday morning has been cleared and the road is back open to traffic again.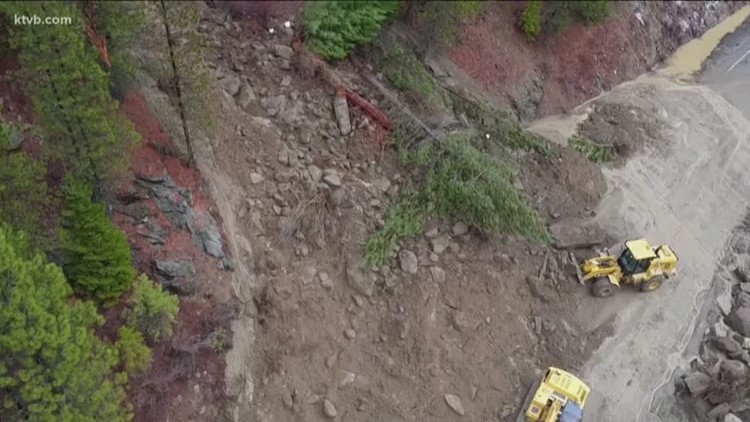 — — — —
April 21 Easter pot luck at the YP Tavern
Easter at the Tavern started off as an egg hunt then Easter dinner with Fried Chicken, Ham, Smoked Turkey, Salads, Cakes and Pies. Thanks to all the great cooks of Yellow Pine. There is just a hint of Spring to come.


— — — —
Power Outage April 27
Probably due to winds, our power went off at 707pm Saturday evening (Apr 27) for over 7 hours.
— — — —
EFSF Road update April 27
A report on Saturday (Apr 27) that the "bowling alley" on the EFSF road has been cleaned up and the road is good in that area. The avalanche across the river from the Eiguren Ranch is still melting and contains a lot of large trees. The log jam in the river broke up, there are individual trees hung up on the rocks downstream.
— — — —
Stibnite Road Update From Midas April 27, 2019
(via email Mckinsey Lyon)
Repair work is underway after multiple landslides hit the East Fork of the South Fork of the Salmon River and Stibnite Road in early April. Local contractor, OK Gravel is currently addressing high priority areas to limit further damage that may occur from spring runoff conditions. This work includes repairing two main areas of Stibnite Road directly above and below Tamarack Creek. The current work is overseen and funded by Valley County in coordination with state and federal officials.
This immediate action does not address the 1/2 mile stretch of the Stibnite Road currently washed away and sitting underneath snow, timber and other debris left by the largest of the four avalanches. As OK Gravel works their way up from the lower section of the road between the slide and Yellow Pine, Midas Gold will begin addressing portions of the slide closest to the Stibnite Gold Project location.
While progress is being made, it is likely that the road will remain undriveable and closed through the spring. Everyone's top priority is to stabilize the area and then reestablish safe passage along Stibnite Road in a safe and environmentally responsible manner.
With access currently closed, Midas Gold staff still makes regular visiting to Stibnite to perform maintenance and other tasks as needed. This requires hiking around the current disturbance. Once we begin making repairs on the upper section of the road, we anticipate staff will be up daily.


— — — —
YPFD Training April 28
We had training today and Midas employees in attendance.


photo courtesy AF
— — — — — — — — — —
May
Water Update May 1 – large leak repaired
The leak was found in the back alley behind the Community Hall. Water service was restored around 4pm.


— — — —
An Important Update on Stibnite Road May 3, 2019 Midas Gold
In early April, an overnight avalanche, followed by multiple landslides, caused extensive damage to Stibnite Road and forced its temporary closure. The slide pushed snow, timber and other debris into the East Fork of the South Fork of the Salmon River and up unto Stibnite Road. In places, the slide was close to 100 feet high.
Almost a month later, over a half mile stretch of the road is still impassable but repair work is underway. We want the community to know you have our full commitment to help get the road open as soon as possible.
Local contractor, OK Gravel is currently addressing high priority sections of the road to limit further damage that may occur from spring runoff conditions. This work includes repairing two main areas of Stibnite Road directly above and below Tamarack Creek, where some sections of the road have been washed away. They have already made great progress. They have stabilized two sections of the road to prevent further damage and below the main slide they created a berm to prevent the river from flowing onto the road. Next, OK Gravel will start to work on filling in the section of the road that was washed away by the river in the area leading up to the main avalanche.


— — — —
Rx Burning Season
On Sunday May 5th the PNF conducted Rx burns on both the north (Profile Creek area) and south (Reegan Creek area) ends of the Bald Hill blocks. Smoke was visible from Yellow Pine.
— — — —
Taco Feed at the Community Hall May 5


photo by Terry Hall
— — — —
Fire Training May 5, 2019


— — — —
Stibnite Road Update From Midas May 5, 2019
(via email Mckinsey Lyon)
OK Gravel made excellent progress this week roughing in repairs at two locations on either side of the slide and installing rip-rap. They also pushed up a berm below the main slide to prevent the river from flowing back onto the road as spring melt conditions continue to progress.
The pictures here show approximately the same section of road before and after repairs …


— — — —
Snow Report May 4-5
Here are some photos from last weekend (May 4-5) of the high country between Profile Gap and Monumental Summit. Still plenty of snow above 7,000 feet. They were only able to drive about 2 miles up the Profile road before being stopped by snow.
Belvidere


North Side Pinnacles


Belvidere Jacobs Ladder Divide


photos courtesy A. Botello, PNF
— — — —
May 6 Stibnite Road Photos
(between Yellow Pine and Stibnite in the Tamarack Creek area.)
Brian Kennedy took these photos on last Saturday.


photos courtesy Chris S.
— — — —
Power Outage
Power blipped off and on at 645pm Monday May 6th.
— — — —
RIP: James A. Earl
May 10, 2019
James A. Earl of Yellow Pine passed away this morning peacefully in his sleep.


— — — —
Johnson Creek Road
5/14 I rode Johnson Creek last night to Halfway and was blocked by snow there, county road graders are working on this end cleaning ditches. No major slides or sluffs between YP and Halfway. – Matt
— — — —
Stibnite Road Update May 17, 2019
from Mckinsey Lyon
Unfortunately, vehicle travel along Stibnite Road is likely still a few weeks out. However, we are encouraged by the progress the contractor for Valley County, OK Gravel, has made in clearing about 75% of the avalanche. Melt conditions have also been favorable and most of the snow has melted from the avalanche. Once crews are able to clear the slide entirely, they will begin re-building the road base back up. Timing for road surfacing is contingent upon when Valley County can start crushing material from the Yellow Pine quarry this summer and we anticipate a final gravel cap will be added to the road in mid-to-late summer.
The following photos, taken from the same location over the last few weeks, show the progress. Photo credit Midas Gold.


Photo 1: slide on April 17.


Photo 2: April 25 melting out, foot trail well established.


Photo 3: May 17 County contractor about 75% completed cleared avalanche debris and re-establishing road corridor. Will need a few more weeks to build road base back up above river.
— — — —
Wildlife
Bald Eagle attacked a duck decoy near Westside Ave on May 17th.


photo by Ann F.
— — — —
YPFD meeting May 18th at the Fire Hall


Fire/Rescue Polaris Ranger
The YPFD purchased a basic Polaris Ranger 4×4 from Donnelly Fire Department in mid 2018
The Polaris has been transformed into a Quick Emergency Response Unit, capable of fighting fire, EMS and Over-the-Side Rescue responses.


— — — —
Water Update May 19
The refurbished and rebuilt altitude valve and control valve were successfully reinstalled today restoring automatic control of the level in the water storage tanks. There is plenty of water available, there should be no supply concern for the holiday weekend. As of today, water plant output capacity exceeds 60,000 gallons per day.
— — — —
Fire Training May 19
YPFD training today was well attended! Thanks to all for participating as Jeff staged a traumatic injury scenario needing all levels of service.


— — — —
RIP: Bud Tracy
Buddy Bruce Tracy, 77, of Reno, Nevada, formerly of Yellow Pine, passed away May 18, 2019 in Reno. A Memorial Graveside Service will be held at 10:30 a.m. on Wednesday, July 24, 2019 at the Emmett Cemetery.
— — — —
Stibnite Road Update
5/24 – work stopped this week for agencies to evaluate the situation.
— — — —
Memorial Weekend
May 25 – ATV-UTV Scavenger Hunt Memorial Day Weekend
The Corner will be opening up on Memorial Day Weekend with Willie and The Singlewides playing Saturday, 5/25.
— — — —
Celebration of Life Yellow Pine Tavern on May 26
Our Memorial Wall of those of ours who have passed this last year. We have lost 19. – Yellow Pine Tavern


— — — —
Wildland Firefighter Memorial Project
Last week the Forest Service began using the funds that we raised last fall to make trail improvements at the 5EV crash site. The funds were partially used to purchase landscaping stones for the trail. We are working now on finding a supplier for the individual plaques for each firefighter with the remaining funds and what we expect to raise again this year. Thank you all for the help and support for the project. Attached find the pictures of the improvements made to the trail.
– Matt Huber – The Corner


— — — — — — — — — —
June
Johnson Creek Road
June 1st: some folks made it in via Landmark, some trees down. Not "officially" open yet, travel at your own risk. Road to the dump is bumpy.
— — — —
First Fire June 6
There was a fire caused by a downed power line across the river from Golden Gate CG. A tree fell across the line during the storm. Crew 6 from Krassel and Engine 441 from Cascade responded but they were delayed in reaching the scene by numerous trees that had fallen across both the East Fork and Johnson Creek roads. The crews did not reach the fire until after dark and because of the downed powerline and numerous snags in the area, they didn't engage the fire until the next morning. The fire was approximately 1/4 acre in size and was declared out by 1400 on June 7th.
– Jake Strohmeyer, Cascade Ranger 6/11/2019
Note: This affected the power in Yellow Pine, power blipped off and back on around 545pm. Then the power went out just before midnight for about 2 hours.
— — — —
June 6 Blow Down
Stibnite Road
Not only did the wind knock down a power line, starting a fire, several roads had trees down. The South Fork and East Fork roads were probably cut out by the Fire Crews. The road from Yellow Pine to Stibnite was blocked (see Midas Gold report below.) Also there are a lot of trees down on Profile Creek road, starting about a mile up from the turn off (see report below.)
Posted June 7th
"Last evenings thunderstorms blew down many large trees across Stibnite road. Our team is currently working on removing the trees."


Profile Creek Road
report by Miri G. June 8th-10th
A bunch of medium and large trees down about a mile up from the mouth of Profile. You can drive to the big camp area, but not much further. …
Snow on top is still 2-3 ft deep on the road at the sign, but the big drifts are still a lot deeper. If you could drive up the road you could get to the switchback at Red Metal Mine.


— — — —
Profile Creek Road
A report this afternoon (June 9) that there is a big tree down across Profile Creek Road, about a mile up from the turnoff from the EFSF road. It was described to be as big around as a 500 gallon propane tank.
— — — —
Stibnite Road Update June 9
(from Midas Gold)
Late Friday, the Valley County Road Superintendent received the final permit needed from the U.S. Army Corps of Engineers to start work on the last section of the washed out road. Work will start on Monday.
— — — —
June 11 – Yellow Pine Vet Day
On Tuesday, June 11th, the Cascade Vet clinic came to Yellow Pine. They had a full day here, seeing 9 cats, 7 dogs and 10 horses. Lots of vaccinations, great advice and equine dentals performed.


(L to R) Mickey Weimer, Dr. Merik Metos, Dr. Keith Ruble, Ginnie Blackner
— — — —
YP to Stibnite Road
Photo from Midas Gold June 11


— — — —
June 11 Jack Walker Plane Crash
The pilot, 88-year-old Jack Walker, of Yellow Pine, Idaho, was able to clear the power lines on Southwest 18th Avenue, according to the sheriff, before crashing down into some farm equipment, then into a fence that borders the airport.


— — — —
Spring Fuel Delivery
Nathan, from Diamond Fuel and Feed to deliver Wednesday, June 12th.
— — — —
Life Flight
On June 14th our local Yellow Pine advanced life support team responded to a call for help down at the Old East Fork Campground. The team was called at 757am, ambulance en-route by 805am, arriving at patients side at 810am. Patient was stabilized and transported via the YP ambulance to the new Helispot. Life Flight landed 58 minutes after lift off from Ontario. Lift off to the Boise Hospital from Yellow Pine 15 minutes after arrival. An impressive response time for a small village, great work by a coordinated team.


— — — —
Tree Swallow Nest Monday June 17
6 eggs in the nest


— — — —
Snow in June
Several reports of snow in Big Creek, Stibnite and Deadwood on June 20th.


(photo Big Creek Lodge June 20th from webcam)
— — — —
Grant to fix leak in Yellow Pine water tank, build new lines
By Max Silverson for The Star-News June 20, 2019
The Village of Yellow Pine was awarded a $39,385 grant from the Idaho Department of Commerce to fix a community water tank, which was found to be leaking.
The Idaho Gem Grant was awarded to Yellow Pine in partnership with Valley County and the West Central Mountains Economic Development Council.
— — — —
Road Update from Midas June 21, 2019
OK Gravel is continuing the last bit of work to fully repair Stibnite Road. During construction, the Valley County Road and Bridge Department will continue to keep Stibnite Road closed to facilitate a faster construction process. When crews are not working on the road, it will be open for public access.
This means the road will be open for public travel on the weekends. The road will open beginning Thursday evenings at 6:00 p.m. and remain open until 7:00 a.m. Monday mornings.
At this time, the road will remain closed during the week from 7:00 a.m. Monday until Thursday evening at 6:00 p.m. in order to complete repairs on the road.
— — — —
Water Update June 23
Water use continues to be extremely high, averaging in the 35,000 gallon per day range. As stated before, the system cannot treat that much water properly and as a result the boil order remains in place.
— — — —
RIP: Keith Stiff
February 20, 1929 – June 24, 2019
Orville "Keith" Stiff, a long-time resident of Cottage Grove, Oregon who resided in Springfield for the last four years, died on June 24 at the age of 90.


— — — —
Noxious Weed Spray Day was June 27
Steve Anderson and crew with Valley County Weed Department brought herbicide and sprayers to Yellow Pine.


— — — —
Highland Games were held June 29


For the second year, the Bald Mountain Knuckle Draggers brought the Highland Games to Yellow Pine on June 29th. Last year they donated over $2,600 to the Helipad and this year money will be raised for the water department. The games started at 10am Saturday morning.
A huge thanks to Bald Mountain Knuckle Draggers for making the Highland Games in Yellow Pine so much fun! Thanks also to everyone who spectated.
And a special thanks to the 13 folks who participated in the Novice class – the largest class in 2 years! What a fun day in Yellow Pine!
Root beer floats were sold to benefit the Community Hall.
— — — — — — — — — —
July
Siren Sounded July 2
Just before 425pm the Fire Hall siren sounded and the village responded. An OK Gravel truck went off the Stibnite road above the village just before the bad curve. Within 5 minutes of getting a call, there was a responder on site of the accident.
"Thankfully the driver was not injured and was able to self extricate himself from the cab. The truck was loaded when it went off the side and was purchased on a stump and a dead tree keeping it from rolling down a steep embankment. The truck was not near the river and no hazardous material was displaced from the truck."


— — — —
Ice Hole Campground
The Forest Service fixed the road, upgraded the camping sites and opened the campground to the public on July 2.


— — — —
Community Yard Sale July 3
Donated items were sold during the Community Yard Sale to benefit the Community Hall.
— — — — —
4th of July Parade
Perfect weather for a parade, 72 degrees with passing clouds providing moving shade and light pleasant breezes.
The parade started at 2pm with the ringing of the town bell by Tina Frank, followed by a color guard with 2 American flags. Side-by-sides pulled decorated trailers with Grand Marshal Lorinne Munn, and another with Miss Yellow Pine Christy Petersen. A surprise entrance of an OK Gravel dump-truck sounding the air horn. Lots of youngsters participated, either walking or riding little motorcycles. The YPFD was out in full force, the Ambulance sounding the siren was followed by the mini-fire/rescue UTV and the big yellow fire truck. Then almost half a dozen riding horses with coats gleaming in the sun. Last in line was parade organizer Deb Filler with a bucket and shovel doing road apple cleanup.
Root beer and orange floats were sold after the parade (and before the fireworks) to benefit the Community Hall.
4th of July Parade photos
Grand Marshal Lorinne Munn


Miss Yellow Pine Christy Petersen


photos by Marc Auth
The YPFD did some training the morning of July 4th with the tanker truck and watered the dusty local streets before the parade. Kudos to Tim Rogers, Cecil, and of course Ziva.
4th of July Fireworks
People started heading uptown after sundown. The fireworks started at 953pm and lasted 10 minutes. It was a "Safer and Saner" 4th this year, only a few illegal fireworks.


— — — —
July 4-5 Live Music at The Corner
Folk Family Revival played at The Corner on Thursday and Friday, July 4-5, with Karaoke on Saturday, July 6.
— — — —
July 6 Breakfast and Golf Tournament
Folks headed to the Yellow Pine Museum at the University of Yellow Pine for breakfast between 8am and 10am. The cost was $6 and all proceeds benefit the upkeep of the museum.
A cannon shot rang out to start the golf tournament at 1114am. Looks like a good turn out, shouts of "Hoo-ray" and "Fore" were hear throughout the forest.


photo courtesy Joel Fields
Women's division
Sidney & Kylee first place
Sarah and Shelly second place
Anna & Kinsey third place
Mixed division
Ryan & Megan & Dayle Bennet & Connie Auth tied for first place
Larry & Connie Shanks second place
John and Cindy Schriener third place
Men's Division
Andrew and Ken tied with Mark and Jack for first place
Tom Troutman and Ben Steele tied with Dan Stiff and Jeff for second place
Stu Edwards and Ed third place
Closest to #1 pin was Ken H at 16 feet 3 inches
64 players signed up to play.
The weather was good and everyone had a great time! Thank you to all the volunteers at the golf tournament. Sam at closest to the pin, Cecil Dahlman, Ron Frank, Ronda Rogers, Alex Pellegrini, Nicki Saleen, Terri Norell, and the Payne family. It helped us so much!
July 6 Yellow Pine golf tournament raises $1,500 for improvements
Golfers turned out for breakfast and a tournament at the Yellow Pine fundraiser last Saturday.
Attendees raised around $1,500 for road repair, the Community Hall and the upkeep of the village museum. A total of 64 golfers signed up for the tournament.
— — — —
Busy Weekend for YPFD & EMS
We had a very busy weekend with the YPFD and EMS Systems here in Yellow Pine. We are also grateful for our volunteers in town, as well as outside supporting agencies.
July 5th Search and Rescue rappeler descending from a Two Bear Air helicopter on the steep mountain between Secesh River and Zena Creek.


July 6th Location East Fork of the South Fork of the Salmon River, about 3.5 miles West of Yellow Pine.


— — — —
Water Update July 5
Idaho Rural Water water will be in on the 19th to look for leaks. Water usage in town is in excess of 57,000 gallons per day. Some have been reminded of the No Lawn Watering request. If we get too much above the 60,000 gallons per day, the town is running the risk of draining the tanks and being out of water.
— — — —
July 7 YPWUA Yearly Meeting


— — — —
RIP: Don Caward
December 23, 1940 ~ July 10, 2019
Donald Caward 78, of Cambridge, ID (formerly of Yellow Pine) passed away July 10, 2019. Cremation under the direction of Cremation Society of Idaho.
— — — —
Dust Abatement July 11
Tanker truck was applying dust abatement in Yellow Pine around 11am on Thursday July 11th. Not everyone could afford the application, so please drive slow in the neighborhoods to keep the dust down.
— — — —
July 13 Live Music
Willie and the Singlewides played at The Corner Saturday night.
— — — —
RIP: Ron "The Sugar Mountain Strangler" Erickson
June 22, 1948 – July 13, 2019


— — — —
Heads up Johnson Creek travelers
Watch for heavy truck traffic – OK Gravel will be hauling in parts for the crusher this week on Johnson Creek road, Monday July 15 thru Friday July 19th.
— — — —
Power Outages
The power went off at 417pm July 14, back on at 917am July 15 – off a total of 17 hours. Then power went off again at 243pm July 15 until 617pm – a total of 3 hours and 31 minutes. Wednesday (July 17) power blipped off and on some time before 250pm.
Idaho Power planned a maintenance outage on Thursday, July 25th, the power was off from 805am to 1230pm.
— — — —
Progress at the Heli-Pad
Building a cement landing pad for Life Flight.


— — — —
Water Update July 19
On July 19th a crew from Idaho rural water came in and found a substantial leak on the east side of the east fork bridge.
— — — —
YP to Stibnite Road
Update from Midas July 18: The road is still closed Monday through Thursday and open Friday, Saturday and Sunday. Good progress is being made, but it is likely that we still have a few weeks of work ahead.
— — — —
Wally and Roberta Cory
Wally and Roberta celebrated their 60th Wedding Anniversary at the YP Tavern July 22nd


— — — —
South Fork Road Closure
Starting July 22 the South Fork road will be closed Monday through Friday from 7am to 4pm on weekdays, with no closures over the weekends.
— — — —
Johnson Creek
July 24th dust abatement will be applied to Johnson Creek from Wapiti Meadow Ranch to Yellow Pine.
— — — —
Wilbur Wiles Remembered
There was large turnout for the celebration of life for Wilbur Wiles at the Big Creek Lodge on July 27th. Lunch catered by The Corner.


— — — — — — — — — —
August
Harmonica Festival – Boil Water Advisory
In anticipation of the Harmonica Festival, I thought it appropriate to make sure everyone was on the same page regarding the Boil Water Advisory. Since its unfortunately still in place, efforts must be made to assure that everyone who might drink water from the system is advised of the circumstances. Posting notifications at places where the public will be using water is necessary and required by DEQ rule.
— — — —
Lightning starts fires on the Boise National Forest
August 2, 2019 – The Boise National Forest has detected three lightning caused fires about 3 p.m. Two fires are east of Lowman, Idaho, in Eight Mile Creek and the third in southwest of Yellow Pine, Idaho, in Porcupine Creek. Crews are working to suppress the fires and establish hand line along the perimeter to prevent further growth.
Porcupine Fire: One fire prevention patrol and 1 helicopter are assigned to the Porcupine Fire. The Porcupine Fire is burning in timber and brush and it is currently about 0.25 acres. Yellow Pine residents and forest visitors attending the Harmonica Festival may see fire crews and aircraft in the area but it should not affect weekend festivities.
— — — —
Nethker Fire
Payette National Forest
Evacuations of campgrounds, closing of Burgdorf Hot Springs and Burgdorf-French Creek Road is closed to through traffic. Wildfire started at 2:20pm near Burgdorf – cause is unknown at this time. 150+ acres and actively growing. Air tankers, helicopters and ground based firefighters are actively suppressing the fire.


— — — —
Stibnite Reunion No. 67 August 4
Picture of those who came to the reunion this last Sunday.


— — — — —
The foundation for the helispot


— — — — —
YP to Stibnite Road Aug 13
Update from Valley Co. Road Dept Aug 13: Open with cautions – expect delays in the work area. "we strongly advise people need to be very cautious of a few dump trucks working between Stibnite and Yellow Pine. The contractor will begin laying a crushed rock surface on the repairs probably next week."
— — — —
Water Update Aug 18
Unfortunately the leak that Idaho Rural thought they found turned up no leak.
— — — —
Water Update Aug 27
Yesterday [Aug 26th] we shut down the water in town and up by Merle place. Conclusion, our main water leak is somewhere between Alpine Village and Merle's place.
Next plan of action is to dig up and check the pipe on the west side of the East Fork bridge. I know there has been a spring there for years but the amount of water we are seeing [at the] surface seems too high for this time of year.
— — — —
YP to Stibnite Road Aug 28
Update from Valley Co. Road Dept Aug 28: "They are hauling crush aggregate on it this week and should be done next week sometime."
— — — —
Welch Memorial Golf Tournament
Saturday August 31, 2019 – tourney delayed due to the BSU game. Cannon shot went off around 330pm.
— — — — — — — — — —
September
YP to Stibnite Road Sept 4
Update from Valley Co. Road Dept Sept 4: "Last Thursday the crew was fixing the damage at Profile Creek intersection. They should be done with that this week. I took the road closed sign down going towards Stibnite. As soon as they are done with the riprap at Profile Creek they will start laying the crush material on the repairs. Sam, from Midas, said the crews will also be getting started blading the road from Yellow Pine to Stibnite shortly. Midas will also be applying road stabilizer from Yellow Pine to Stibnite as soon as it is bladed."
— — — —
Yellow Pine Tavern
It has been an awesome late summer with all of the great folks riding their bikes on the Back Country Discovery Route (I've noticed even some trucks and Jeeps are trying it). Also many folks are returning to Yellow Pine in side by sides and by car to continue to explore the area.


— — — —
YPFD Sunday Training
We've had 3 Sunday training days with Valley County Search & Rescue (VCSAR) and their K-9 Team.
It has been great working together on anything from training with their team including VCSAR's K-9 members. This has included: repelling to repelling over the side, to an actual staged search and rescue with a medical scenario.
Three of our Yellow Pine residents who are members of VCSAR, along with three other YP residents, one playing the part of the patient, participated in these events. Four members of VCSAR made the trip to YP for the trainings along with two K 9 members.


— — — —
Stop the Bleed Course
On September 14th a total of 8 YP residents were Certified in a "Stop the Bleed" course. 4 attended the course while 4 others took the course online. Thanks to everyone for participating and helping the The American College of Surgeons Committee on Trauma in trying to educate and empower the 300+million citizens in the United States.


— — — —
Annual Community Pig Roast was Sept 14 at The Corner


photo courtesy Midas Gold
5EV Memorial Run Wildland Firefighter Foundation Fund Raiser and Yellow Pine Escapades Ride to Cinnabar also on Sept 14th.
— — — —
Wildlife Sightings
Several reports in the last couple of weeks of a bear wandering around the upper part of the village. So far no reports of problems, the bear seems to want to avoid people. Update: recent report a bear was killed up by the apple orchard.
Sandhill Crane flying around the village on Friday afternoon Sep 20th. Reports from the Cox Ranch of 3 cranes hanging out there this summer.


Photo by Ann F
Peregrine Falcon chasing Steller Jays down here by the school for several hours on Saturday and again on Sunday (Sep 21-22.)
— — — —
Smoke Sep 25 from Rx burn
Prescribed Burning in Bald Hill and Four Mile Projects September 25 and 26.


— — — —
YP to Stibnite Road
Update from Valley Co. Road Dept Sept 25: Work is complete on the Stibnite road. I believe the contractor is still going to blade the road from Yellow Pine to Stibnite.
— — — —
Fish Fry at the Yellow Pine Tavern Sept 28
There was a good turnout for our annual fish fry. About 50 people showed up in spite of the rain. We estimate this is our 15th year for this event. Thanks to Stu for his donation of the fish, Jeff, Willie and Steve for frying the fish, Ann for the set up and take down, Nicki for bar tending, Sue for the cleanup and all of the folks who brought desserts and other dishes.


— — — —
Snow in the high country Sept 28
Photo of snow Profile Gap Saturday Sep 28th (courtesy Scott A)


Photo of snow at Stibnite Sunday Sep 29th (courtesy Midas Gold)


— — — —
Helispot Update Sept 29
Progress on the helispot continues despite the weather.


— — — — — — — — — —
October
Water Update Oct 3
YPWUA found the leaks today (above the orchard) and will be repairing them tomorrow. The water will be off from 10am till repairs and testing completed.
— — — —
Water Update Oct 4
Today (10/4) YPWUA worked on the section of pipe that had a number of leaks. Unfortunately we were unable to complete the repairs due to having a couple of incorrect parts. We will order the parts as soon as possible and complete the repairs. We had to do some creative Engineering today but cut 10 leaks to 2 small ones. Thank you to Jeff Forster and Dayle Bennett for working in the muck and water for two days without complaint, to Cecil Dallman for excellent excavation work, to Dave McClintock for parts and advice, to Layne Bennett, Ginny Bartholomew and Ann Forster for their support. Thanks to the community for your patience.


— — — —
Saturday Night at the Yellow Pine Tavern
Dave Nudo played at the Yellow Pine Tavern on Saturday October 5th at 8pm. Always a good time!
— — — —
District 1 Fire Commissioner
Per the Postings on the opening for Yellow Pine District 1 Fire Commissioner, Sue Holloway came forward to volunteer her time to represent YP Fire District 1. The Fire Commissioners have unanimously agreed to accept Sue as a Fire Commissioner representing the residents of District One, (The center of Yellow Pine Ave. West). This position will run for 4 years.
— — — —
Snow in the High County Oct 10


— — — —
Water Update Oct 15
A major leak was found and a temporary fix was made until parts can be obtained. Once parts and people are available, that will be fixed. Fixing that leak doesn't mean we will be off the boil order. The boil order was issued by the DEQ. They will not lift that order until the chlorine contact time meets the standard.
— — — —
Snow in the High Country Oct 20
Heads up to Travelers and Hunters: Received a report this afternoon of 1 to 2 Feet of snow on the road above 6500 feet at Landmark. There is probably at least that much at Profile Gap and Lick Creek summits – and even more on Monumental and Elk summits.


Photo from Landmark courtesy S. Amos
— — — —
Salmon Feed
There was a salmon feed at the Yellow Pine Tavern last Monday evening, October 21st.
— — — —
RIP: Karen Westfall
1-19-1956 to 10-21-2019
— — — —
Water Update Oct 23
October 22nd – The crew from Rocky Mountain Mechanical, Keaton Hess and Levi Kurta, repaired the main water line leak up near the orchard.


— — — —
Yellow Pine Water Use 2019


— — — —
Oct 22 "Bring It – Don't Burn It" Pile Burned
Tim Dulhanty, Fuels Technician for the Cascade Ranger District, Boise National Forest reports they burned our woody debris pile at the Transfer station Oct 22nd at 2pm. He said it went well, "it was pretty clean, the signs really helped this year, thanks." -TD
"Kudos to all that brought their woody debris to the transfer station. Cecil really worked the pile with his backhoe, he spent a lot of his time and energy to keep the pile looking good and free of non-burnables. Thanks to all the community members for helping to keep the pile as woody debris only and not furniture, building supplies, insulation, etc." – JF
— — — —
Last Fall Heating Fuel Delivery
Chris Gurney of Diamond Fuel and Feed came to Yellow Pine early Friday morning, Oct 25th, to top off fuel tanks for winter heating.


— — — —
YP Helispot update Oct 26
"The concrete walkway to the Helispot was completed today 10/26/2019. Thanks to all who worked in the cold, rain and snow to accomplish this needed project. The stretcher can be rolled smoothly to the helicopter making it safer for the the patient and medical personnel making it more comfortable for the patient and safer for everyone. Job well done." JF – AF


— — — —
Holiday History Photo
Halloween at Stibnite in 1950


— — — — — — — — — —
November
Rx Burn Nov 1-2
The Krassel Ranger District conducted a prescribed burn November 1-2 in the Bald Hill project area north of the East Fork Rd, east of Quartz Creek to Profile Rd. Crews focused on the lower elevations and smaller blacklining operations to prep units for next year.
— — — —
Halloween-End Of Hunting Season Party Nov 2
The Halloween-End Of Hunting Season Party was held at the Yellow Pine Tavern Nov 2nd at 8pm, Chili Dogs were provided by the Tavern.
Halloween at the Tavern thanks to our cooks for the great food! Another great get together, late enough to include our hunters who have been out working so hard.


— — — —
Monument Flag Pole
On Saturday Nov 2nd it was noted that the State flag pole by the Veterans Monument next to the Community Hall was leaning about 15 degrees to the south, broken at the base. A local took it down so it wouldn't fall on someone. It was accidentally hit and the responsible party will work with the Veterans' Monument committee on putting it back up – this time it will be placed outside of the road right-of-way.
— — — —
Nov 6 – Amerigas propane delivery
Dan Henrikson with Amerigas was in Yellow Pine all day Wednesday, November 6th, doing safety checks and topping off propane tanks for the winter.
— — — —
Road Levy Failure will affect Yellow Pine Snowplowing
The Valley County Commissioners and Road Department are still working out the plan for Yellow Pine, they will have a report from the road department at the commissioner meeting on Monday, Nov 18th at 2pm, along with a public workshop.
— — — —
South Fork Slide Off
Sunday Nov 10 – report of a vehicle slide-off on the South Fork road. A pickup went off the road and crashed into the river around mile post 15. Nobody was hurt and our local SAR team was not dispatched.
The first tow truck called to the scene also slid off trying to pull the pickup out of the river. A second tow truck came and the rescue efforts blocked the road for some time and traffic was delayed. Some travelers came back to Yellow Pine as they didn't want to take a chance on either the Johnson Creek or Lick Creek routes and waited here for word on the opening of the road late in the day.


photo courtesy Nancy Bellman – November 10th
— — — —
Boil Water Advisory Lifted Nov 22
Good news! We have received a noticed that the boil order has been lifted.
— — — —
RIP: Budd Lynn Kehne
April 17, 1923 ~ November 25, 2019 (age 96)


— — — —
Yellow Pine Thanksgiving Dinner
Thanksgiving at the Tavern. A special treat this year Prime Rib provided by Cory and Annie. As well as our Turkey provided by the Tavern. Pies and side dishes by our usual great Yellow Pine cooks.


— — — — — — — — — —
December
RIP: Milton Howard Gillihan
August 12, 1952 – December 4, 2019


— — — —
Dec 21 Winter Solstice Sunrise


— — — —
Dec 25 – Christmas dinner at the Community Hall
The community hall was warm and it didn't start to cool off until everybody was done eating. We had a nice dinner with turkey, ham and prime rib. Hot cider, lots of pies, salads and side dishes. As usual way too much food. I think there probably were more than 25 people; there were two big, long tables full. Rhonda and Ronda and Deb decorated & had Christmas music. We enjoyed having having several "flat landers": Ray Gillihan, Tom's Lanham's mother, Colleen, Deb's sister, Vicky and her husband Jim, Marne and her friend. Dan Westfall was a nice surprise…. and he brought along a banana cream pie. We had a fun time and give our hostesses two thumbs up! Oh, and everyone went home with our annual Christmas "treats-in-a-bag". (Bring your bag back to Nikki so it can be refilled next year.) – LI


photos courtesy Marnie
— — — —
Cougar in Yellow Pine
There has been a small cougar hanging out in the village for almost 2 weeks. Tracks up at the post office and also around residences near main street. Keep an eye on your pets.


photo courtesy Nik
— — — — — — — — — —