Jan 26, 2020 The Yellow Pine Times – Valley County, Idaho
Community Calendar:
Jan 28 – comments due on power line relocation
Dec 7 thru Feb 21 Yellow Pine Tavern Holiday Closure
Feb 22 – Pie Contest 2pm at the Yellow Pine Tavern
(details below)
———-
Local Events:
Feb 22 – Pie Contest
2pm at the Yellow Pine Tavern, $1 per plate to taste the pies, money goes to the winners.
———-
Village News:
Ski Race Jan 18
Two intrepid skiers (Deb and Ronda) entered the cross country ski race, but after half a lap around the airstrip, the race was called due to the snow conditions (2 feet deep!) A great time was had by all.
— — — —
Chili Contest Results from Jan 18
The chili contest was fun and about thirteen gathered and sat around to talk.
Winners
Sarah 1st
Kat 2nd
Cecil 3rd


(photos courtesy Ray L)
— — — —
IPC Warm lake Feeder Line Relocation [Yellow Pine]
"Please submit your scoping comments by January 28, 2020"
(received Jan 13, 2020) Boise National Forest
Project Description
Idaho Power Company (IPC) has identified a need relocate a segment of line that is currently west of Johnson Creek. This segment of line is only accessible by a deteriorated light-duty bridge that cannot handle the weight of the large equipment required to maintain the line, thus creating a safety issue. Also, the segment of line where it crosses back over to the east side of Johnson Creek and continues into the community of Yellow Pine is at risk to rock slides and there has been repeated rock slide related outages and emergency repairs over the last several years. The proposed underground alignment would improve access, reduce customer outages, improve service and reliability, and ensure the electrical energy source to Yellow Pine residences is maintained.
Proposed Action:
IPC proposes to reroute approximately 2.49 miles of a portion of the existing overhead Warm Lake (WMLK 011) 7.2-kilovolt (kV) distribution line with approximately 2.74 miles of single-phase underground line.
The proposed underground line would be along the easterly ROW (66 feet) of Johnson Creek Road and the associated vaults and sectors would be located outside of the existing road prism and would not interfere with the free flow of traffic, disrupt communication services, or impair the full use and safety of the road.
The proposed project would involve plowing/trenching conduit, installing conductor, excavating and installing vaults/sectors, installing two new single poles (where the line transitions from overhead to underground), and backfilling the trench.
Once the underground distribution line is installed, the overhead line would be removed and the ROW for the portion of the overhead line would be relinquished. All project related disturbance would be repaired as soon as weather, ground, and scheduling conditions permit.
Approximately 0.27 miles of the existing overhead line (including four single-pole wood pole) would remain to continue to provide service to a private mining claim on the west side of Johnson Creek.
Project Location:
The proposed project is in Township 18 North, Range 08 East, Section 04, and Township 19 North, Range 08 East, Sections 28, 29, 32, & 33, Boise Meridian, Valley County, Idaho.
How to Comment
The Forest Service is contacting interested persons, groups, and agencies to make them aware of the project and to gather pertinent feedback. Your comments will help us identify and address issues. Comments may be submitted in the following ways:
* Through the project webpage (link). Select "Comment on Project" under "Get Connected" on the right panel. If uploading a file with comments, comments must be in the form of plain text (.txt), Word (.doc, .docx) or PDF (.pdf).
* Mail to Cascade Ranger District, PO Box 696, Cascade, ID 83611.
* Hand deliver to Boise National Forest, Cascade District, 540 North Main Street, Cascade, ID 83611. Office hours for submitting hand-delivered comments are 8:00 a.m. to 4:30 p.m. Monday through Friday, excluding holidays.
* By fax at 208-382-7480. If submitting comments by mail or fax, be sure to include "WMLK-11" in the subject line.
Comments received will be included in the project record and may be released in their entirety, if requested, pursuant to the Freedom of Information Act (FOIA).
When to Comment
To be most helpful, please submit your scoping comments by January 28, 2020. For further information on the project, please contact Terre Pearson-Ramirez, Team Leader, at 208-382-7400.
— — — —
January Snow
As of Sunday morning (Jan 26) Yellow Pine has 15 1/2″ of snow on the ground. We received 34″ of snowfall so far in January, average depth 15″. Average high 35 degrees, average low 18 degrees. Total water (rain + melted snow) = 2.57″. The warmer weather and rain this week has been absorbed by the snow pack, which is saturated and quite heavy. A report of a couple of avalanches on the upper South Fork closed the road for a while Friday night until the local plow driver could get out and clear a path on Saturday. Travel takes concentration this time of year.
— — — —
Biz Closures
The Corner is closed for the winter, opening again next spring. I can be reached at matt @ ypcorner.com or at 970-379-5155. Thanks, have a great winter!
– Matt
The Tavern will be closed from Saturday December 7th to Friday February 21st. UPS packages will be dropped off at Deb's porch and she will also have gasoline for emergency situations. I will be available at my cell number for any questions or situations 208 739-7086
Thanks, Lorinne N. Munn
The Yellow Pine Lodge is closed for the winter.
— — — —
Yellow Pine US Mail
The 3-day a week mail delivery started Nov 1st. The Post Office in Yellow Pine is open six days a week year around: M-F 845am-245pm Saturday 9am-245pm. Forever Stamp: 55 cents. Support our local post office and purchase your holiday stamps here.
— — — —
Yellow Pine Transfer Station
Report Saturday (Jan 25) the transfer station was plowed this week and the bins are about half full.
Please do not abuse our Transfer Station or we may lose it. Household trash must be placed in the bins, flattened cardboard boxes can also go into the bins. Do not stack trash in front of the doors. Woody yard debris only for the burn pile. No furniture, appliances, tires or construction debris allowed, those items must be hauled out to the Donnelly station by you.
Yellow Pine Transfer Station (aka, the dump)
The Yellow Pine Transfer Station is located approximately 3 miles south on Johnson Creek Road.
The TRANSFER STATION is for household trash and yard waste:
* Household trash must be put inside (and fit) the dumpster;
* Yard waste (limbs, pine needles, brush, et.) goes in the burn pile on the south end of the turn-around;
* Cardboard boxes should be flattened before putting the in the dumpster,
The DUMPSTERS are NOT for:
* Furniture (take to Donnelly Transfer Station);
* Appliances (take to Donnelly Transfer Station).
The BURN PILE is NOT for:
* Cardboard boxes (flatten and put in dumpster);
* Furniture and appliances (take to Donnelly Transfer Station);
* Drywall and building material (take to Donnelly Transfer Station);
* Wire or fencing (take to Donnelly Transfer Station);
* Foam Rubber (take to Donnelly Transfer Station);
* Wood with metal (like nails) attached (take to Donnelly Transfer Station.)
When closing the DOORS on the front of the dumpsters:
* Make sure the "U" brackets at the top and bottom of the door are engaged;
* The retaining bar at the middle of the door is slid into the pipe;
* And the "L" bars at the bottom of the doors dropped into place.
The Yellow Pine Transfer Station is Valley County responsibility. If it is not kept tidy, use of the Transfer Station may be revoked. That would result in residents having to take all household trash and yard waste to the Donnelly Transfer Station.
If Dumpsters Are Full, Contact Lake Shore Disposal at: 208/634-7176
———-
Local Groups:
YPWUA News:
Water rates have been increased, the 2019 fee is $400. Payment is due by Feb 15, 2020, or you can pay half and the other half is due June 15, 2020.
Boil Water Advisory Lifted November 22, 2019
The 2019 Yellow Pine Water Users Shareholders meeting was Sunday July 7th in the Community Hall.
link: 20190707YPWUAminutes
— — — —
VYPA News:
The community hall committee's goal is to have adequate heating installed in the main hall before the June VYPA meeting.
If folks have items for the community yard sale, please place them by the north wall in the community hall. If you see items you would like to purchase, you can pay Deb, Ronda, or Lynn. All funds support the community hall.
VYPA meetings for 2020 – June 13, 2pm; July 11, 2pm; August 8, 2pm; September 12, 2pm.
Village of Yellow Pine Association Meeting Minutes for September 21, 2019
link: 20190921 Village of Yellow Pine Association Meeting
— — — —
YPFD News:
YP Fire Commissioners:
Sue Holloway – District 1
Dan Stiff – District 2
Merrill Saleen – District 3
Fire Chief – Jeff Forster
Yellow Pine Fire Protection District Community Service Notice
The purpose of this letter is to show how you as a Yellow Pine Resident can help protect your structure against a wildland fire by being "Fire Wise." Click the link: to view 20190724 Yellow Pine Fire Protection mitigation
We will do another class this spring/summer [2020] depending on interest. Training will resume in the spring. -Fire Chief Jeff
——–
Biz Listings:
The Corner (208) 633-3325
Closed for the winter.
— — — —
Yellow Pine Tavern (208) 633-2233
Closed Dec 7 thru Feb 21.
— — — —
Yellow Pine Lodge (208) 633-3377
Closed for Winter.
— — — —
Buck Horn Outfitters LLC 208-633-3614
Tom & Sarah Lanham
156 Yellow Pine Ave, Yellow Pine Id 83677
website:
Facebook:
Starting June 2020 We will be doing trail rides out of Yellow Pine along with summer pack / camping trips to high mountain lakes in the area!
Wapiti Meadow Ranch – Johnson Creek (208) 633-3217
or 208-315-3554 – cabin rentals
website:
Deadwood Outfitters
website:
— — — —
Local Fuel Suppliers
Amerigas Phone: (208) 634-8181
Ed Staub & Sons Phone: (208) 634-3833
Diamond Fuel & Feed Phone: (208) 382-4430
— — — —
Outside Biz that will service Yellow Pine:
The Star-News


subscribe:
A reminder that those who live in other states can subscribe to the online edition only since the mail can take days for hard copy to reach them.
Rocky Mountain Mechanical – Plumbing – Heating – Air conditioning
(208) 365-PIPE (7473), Emmett, will service Yellow Pine
Elkhorn Heating & Cooling
(208) 906-4067 Middleton, Idaho, will service Yellow Pine
B&T Safety Solutions LLC
208-271-1600 Based out of Donnelly
Snow removal, cleaning chimneys and stoves, we do cabin staining/chinking as well
— — — —
Follow The Yellow Pine Times on Facebook (updated more often than emails)
———————–
Local Observations:
Monday (Jan 20) overnight low of 16 degrees, overcast sky, no new precipitation and measured 17″ of snow on the ground. A few nuthatches visited, a jay calling across the street. Overcast at lunch time and light breezes, high of 40 degrees. Chickadees stopped by. Overcast at sundown and fairly calm. No rain yet and overcast just before dark. Cloudy before midnight. Looks like it rained a little during the night, roofs starting to dry by morning.
Tuesday (Jan 21) 24 hour low of 23 degrees from Monday morning, at 10am it was 32 degrees and dark overcast, measured 17″ snow on the ground. Steeper roofs have slid and moderate pitches have long snow curls oozing off roofs. Red-breasted nuthatches, hairy woodpecker and mountain chickadees visiting. At lunch time a thinner place in the clouds and filtered sun for a short while, high of 39 degrees. Gusty breezes and a few drops of rain mid-afternoon. Breezy and light sprinkles with low foggy clouds at dusk. Still sprinkling early evening, temperature right at freezing and slick paths. Mid-evening it was snowing hard and stacking up, then back to rain again by late evening. Breaks in the clouds and stars out around 1030pm. Cloudy after midnight.
Wednesday (Jan 22) overnight low of 18 degrees, measured 1/4″ of frozen slush and 16 1/2″ total snow on the ground. Crusty slush improved traction on paths. Hairy woodpecker, red-breasted nuthatches, mountain chickadees, jays and a clark's nutcracker visiting. Mail truck made it in a little early today. At lunch time it was still below freezing and overcast. A few breaks in the clouds early afternoon, then back to overcast sky before sundown, high of 36 degrees. Broken cloud cover, light breeze and just above freezing at dark. Cloudy night. Light snow falling before sunrise.
Thursday (Jan 23) 24 hour low of 23 degrees from Wed morning, overcast and fine light snow falling this morning, 1/4″ new snow and 16″ total snow on the ground. Clark's nutcracker, jays, hairy woodpecker, mountain chickadees, a while-breasted and the usual bunch of red-breasted nuthatches visiting. Overcast and snow melting, dripping at lunch time, high of 37 degrees. Misted a little rain mid-afternoon. Above freezing and overcast just before sundown. Top of VanMeter hill fogged in since morning, cloudy at dark. Cloudy before midnight. Rain early morning, probably after 6am. Do not think it got below freezing during the night.
Friday (Jan 24) 24 hour low of 30 degrees from Thurs morning, overcast and raining lightly before sunrise, measured 15 1/2″ total snow on the ground, steep roofs are bare and flatter roofs are sliding. Raven calling and flying over the village, red-breasted nuthatches and chickadees visiting. Cloudy and drippy at lunch time, high of 41 degrees. Above freezing and melting snow early afternoon. Still above freezing at sundown. Patches of clear sky and above freezing at dark. Cloudy before midnight. Snowing before sunrise.
Saturday (Jan 25) overnight low of 27 degrees, low clouds – ridges fogged in, steady light snow falling (about 1/8″ by 10am) measured 15″ total snow on the ground. Woodpecker drumming, jays, chickadees and nuthatches visiting. Short light snow flurry after lunch, high of 38 degrees. Cloudy afternoon and above freezing. More bare roofs in the neighborhood, less steep ones are shedding some of their snow loads too. Overcast, humid and above freezing at dark. Some stars out before midnight. Snowing before 7am.
Sunday (Jan 26) overnight low of 25 degrees, measured 1/2″ new snow and 15 1/2″ total snow on the ground, low overcast (top of Van Meter in the clouds) and still snowing (good snowball snow.) Nuthatches and chickadees visiting. Stopped snowing just before lunch, above freezing and roofs dripping, low foggy overcast, high of 37 degrees. Rain/snow mix then all snow mid-afternoon, low foggy clouds to the valley floor. Slushfest. Still snowing at dark (3/4″ measured) and right at freezing. Slushy wet heavy snow.
———————
Idaho News:
Valley delays decision on new snowmobile rules
Problems found with Anderson Creek, car ban date
By Max Silverson for The Star-News Jan 23, 2020
Valley County commissioners on Tuesday said questions remain about proposed new rules for use of snowmobile trails and parking lots in the county.
No date was set for the commissions to take up the topic again.
Chief among the questions was a proposal to ban wheeled vehicles during the winter on Anderson Creek Road on the west side of Lake Cascade.
The owner of land along the road told commissioners that he is developing a subdivision along Anderson Creek Road and the ban would hinder access.
Commissioners told the owner, Ed Priddy of Eagle, that they wanted to find a solution and made plans to hold a meeting between Priddy and representatives from snowmobile groups. The Valley County Snowmobile Advisory Committee also was told to begin drafting rules for parking in the Francis Wallace Parking Lot on Warren Wagon Road north of McCall.
At the public hearing, three people spoke in favor of the ordinance and six people spoke against the rules as drafted.
continued:
— — — — — — — — — —
Valley Search & Rescue nominated for Idaho's Brightest Star
The Star-News Jan 23, 2020
Valley County Search and Rescue was among 17 nominees in the Non-Profit/Civic Organization category in the 2020 Idaho's Brightest Star Awards program.
The Idaho's Brightest Star Awards program celebrates outstanding dedication and accomplishments of Idaho's volunteers. Honorees are nominated by fellow Idahoans for their civic contributions and volunteer spirit.
The 2020 awards ceremony was held last week at Boise State University's Student Union Building.
continued:
— — — — — — — — — —
Event Guide: McCall Winter Carnival 2020
Thousands of people will converge on the small Idaho mountain community for the annual event. Here's a guide to all the activities happening at this year's carnival.
KTVB January 22, 2020
McCall, Idaho — The popular McCall Winter Carnival returns for its 55th year. Festivities will bring plenty of fun and excitement for all the kids and family. This year's carnival runs from Friday, Jan. 24 to Sunday, Feb. 2.
The carnival attracts thousands of people across the globe to enjoy live events, fireworks over Payette Lake and the famous snow and ice sculptures.
This year's theme is "It's a kids world!"
Visitors will be able to enjoy snow sculpture viewings, live music and events each day.
continued:
— — — — — — — — — —
Historical group seeks images of McCall from 1940 to 1980
The Star-News Jan 23, 2020
The McCall Historic Preservation Commission is seeking photos, home movies and other historical accounts of McCall and the surrounding areas taken from the 1940s through the 1980s.
The commission will use the media to create a video documenting McCall's transition from a town centered on industry to one centered on recreation and tourism.
The organization is also seeking candidates to provide oral histories in interviews that will be featured in the video.
The new production will be a follow-up to the 2018 History of McCall video, which describes the early years of McCall. To view the 2018 production, visit (link)
Historic videos and images can be uploaded online at (link)
For more information or to email the media, contact the Historic Preservation Commission at McCallTransitions@gmail.com
source:
— — —
The History of McCall Idaho
(34 minute video) City of McCall A journey through the history of McCall Idaho. Sponsored by the Historical Preservation Commission. Copyright 2017
— — — — — — — — — —
Warm, rainy weather causes rockfalls along Highway 95, seriously damaging one car
If you're driving on Highway 95 near Riggins, make sure to use extra caution and look out for rockfalls.
January 24, 2020 KTVB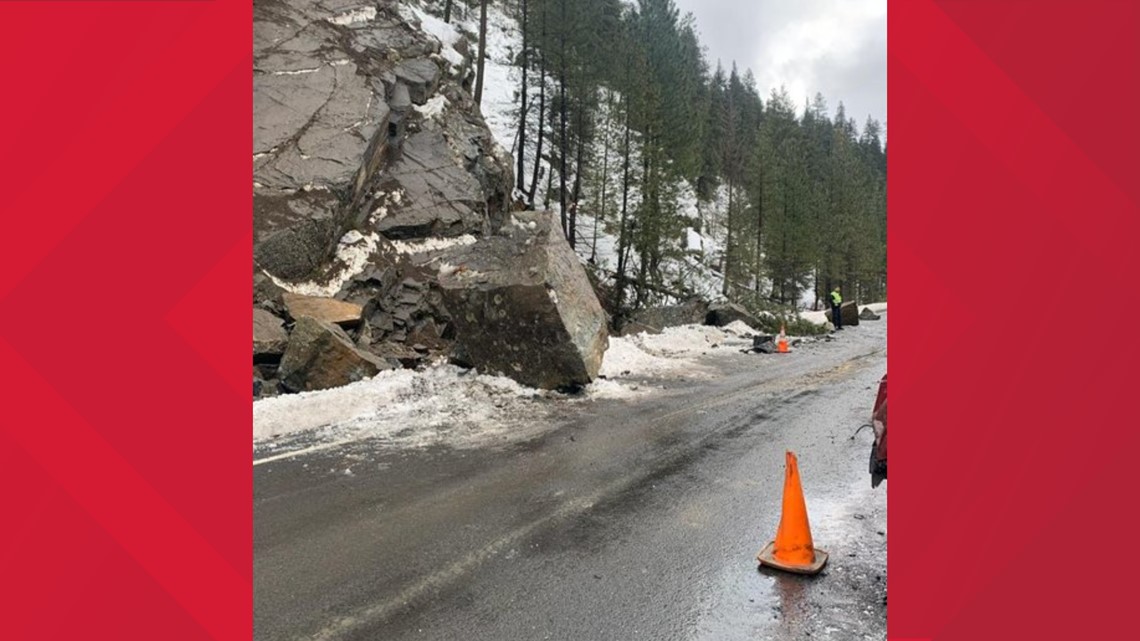 Boise, Idaho — Thanks to warm and rainy weather throughout Idaho, the Idaho Transportation Department is urging drivers to use extra caution and look out for rockfalls when driving on Highway 95 near Riggins.
On Friday, a rock fell onto Highway 95 south of Riggins and a car crashed into it, folding up the car's front-end like paper. Officials at the Idaho Transportation Department said no one seriously injured in the crash.
continued:
— — — — — — — — — —
Firewise Grant Program accepts applications through Feb. 28
The Star-News Jan 23, 2020
The Idaho Firewise Grant Program is accepting applications from fire departments and other community organizations seeking to increase wildland fire awareness through education.
The program has awarded more than $96,941 to fund projects throughout Idaho over the past six years.
For more information on the program, contact Stephanie Nelson at 208-630-4201 or (link).
For more information on Idaho Firewise grant requirements or to submit a grant proposal, visit (link) The deadline for submitting proposals is Friday, Feb. 28.
source:
———————–
Mining News:
Stibnite Gold Project opponents form nonprofit corporation
The Star-News Jan 23, 2020
A citizens group that is opposed to the Stibnite Gold Project proposed by Midas Gold Corp. has incorporated as a nonprofit conservation organization.
Save the South Fork Salmon is dedicated to protecting the natural, cultural, and economic values of the South Fork of the Salmon River watershed and the people and economies that depend on it," said Fred Coriell of McCall, the group's president and a member of its board of directors.
"We decided that incorporating as a non-profit conservation organization would be the best way to maximize our effectiveness," Coriell said. "As a corporation, we will have far better access to technical and legal expertise."
Prior to incorporation, members and supporters worked as a loosely organized community of volunteers.
Its most visible recent project was a protest rally in October in downtown McCall that drew about 300 people.
… For more information, go to (link).
full story:
— — — — — — — — — —
Bemetals Further Extends Down Plunge DMEA Zone Mineralization at the High-Grade, Polymetallic, South Mountain Project in Idaho, U.S.A.
Jan 20, 2020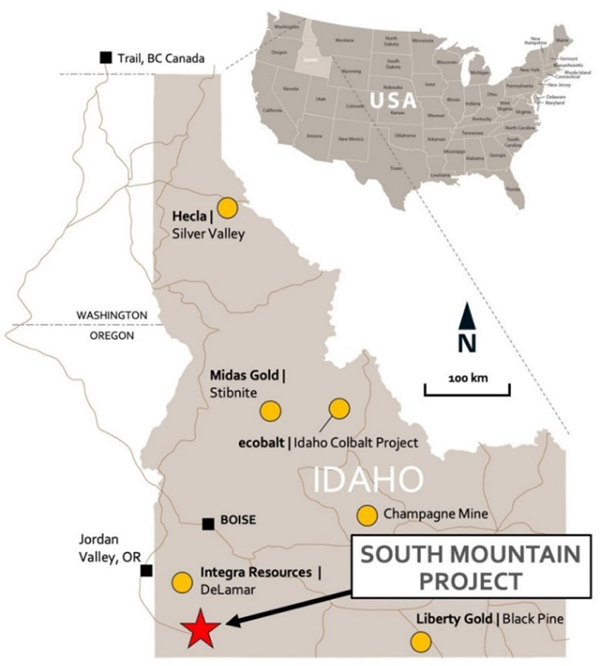 Vancouver, Canada – BeMetals Corp. ("BeMetals" or the "Company") (TSXV: BMET and OTCQB: BMTLF) is pleased to announce the remaining analytical results from its Phase 1 underground drilling campaign, including holes SM19-016, SM19-017 and SM19-018 from the Company's high-grade South Mountain Base and Precious Metal Project ("South Mountain" or the "Project") in southwestern Idaho, U.S.A. Most importantly, drill hole SM19-016 has further increased the down plunge extent of the DMEA zone by approximately 75 metres and the zone remains open at depth (See Figures 1 & 2). The Company has also recently agreed upon revised terms with Copper Cross Zambia Limited at the Pangeni Copper Exploration Project in Zambia, to extend the due date for money-in-the-ground exploration investment until the end of 2020. This allows for a full field season of exploration activities this year. (See Pangeni section of this news release for more details).
From this batch of recent analytical results, hole SM19-016 has identified multiple zones of dominant gold and silver mineralization in the projected extension of the polymetallic DMEA zone (See Figure 1 & Table 2). The geological logging and interpretation of SM19-016 suggests this drill hole intersected the margins of the DMEA zone based on an increase in the observed ratio of skarn to massive sulphide styles of mineralization. Future drilling will test areas in close proximity to SM19-016 where more massive sulphide mineralization is likely to be discovered.
continued:
————————–
Public Lands:
Last Chance Road Closed for Good Neighbor Authority Project
New Meadows, ID, January 24, 2020 – Last Chance Road (FS Road 453) on the New Meadows Ranger District is closed to motorized public access for the implementation of the Duck Duck Goose Hazardous Tree Removal Project at Last Chance Campground.
While the road is typically left open for over-snow traffic, it is not usually plowed in the winter. This year, the road has been plowed open for logging equipment access to the site, and motorized public use of the roadway is not allowed due to concerns for public and contractor safety.
The Duck Duck Goose Hazardous Tree Removal Project is a Good Neighbor Authority project in partnership with the Idaho Department of Lands, and a part of the larger Little Red Goose Forest Resilience Project in the Goose Creek and Sixmile drainages. These drainages have been hit hard in recent years by insect and disease infestation, and the Little Red Goose Project is focused on the removal of insect and disease killed trees to promote forest health and resiliency in the project area.
The road closure is expected to last through early April 2020, or the end of tree removal operations. Road closure signs have been posted to inform members of the public of this closure.
Brian Harris
Public Affairs Officer
Payette National Forest
————————–
Critter News:
Search and rescue teams rely on canines
By Heatherann Wagner January 23, 2020 Local News 8
Teton County, Idaho (KIFI/KIDK)- It's the time of year when we hear more and more about avalanche safety. The Teton County Search and Rescue team helps respond to our local mountains when needed. Dogs are often used with teams to quickly locate people.
Jason O'Neill- Director of the group says, "For the search work in general, whether it's avalanche or area search the K-9s really effective for time. Especially in avalanche they can be really fast compared to and keep team members at safe distances while the K-9's go in and work. So you can instead of having a 10 person pro blind walking across the avalanche site, you can have a single dog work that site. And they're fast, they can find people in a couple of minutes." The dogs go through years of training that continues through the dogs lives.
For volunteers, they meet and train at a facility in Driggs that houses their equipment. The group O'Neill is in charge of is around 30 people from all walks of life. The biggest requirement is having ability and skill in the mountains.
continued:
— — — — — — — — — —
Lawmaker proposes wolf-free zones in southern Idaho
by Keith Ridler Associated Press Thursday, January 23rd 2020
Boise, Idaho (AP) – Some areas in Idaho would be declared wolf-free zones, and other areas where the animals have killed livestock would have increased wolf-killing opportunities under legislation proposed Wednesday.
The Senate Resources and Environment Committee voted to clear the way for a hearing on the measure put forward by Republican Sen. Bert Brackett, a rancher in the area designated for wolf-free zones.
"Wolf numbers have continued to increase, livestock depredation remains unacceptably high," he said. "More needs to be done. Ranchers' livelihood is being threatened by wolves."
Federal officials say there were 175 wolf attacks on livestock in Idaho in fiscal year 2019, which ended on June 30.
continued:
— — — — — — — — — —
Idaho wolf population is estimated at 1,000 animals
by Keith Ridler Associated Press Thursday, January 23rd 2020

In this Feb. 2, 2010, file photo, a wolf track, imprinted in the snow, was left near the carcass of an elk in Avery, Idaho. (Kathy Plonka/The Spokesman-Review via AP, File)
Boise, Idaho (AP) – The director of the Idaho Department of Fish and Game on Thursday said there are an estimated 1,000 wolves in Idaho.
Ed Schriever told the House Resources and Conservation Committee that the estimate made public for the first time is the first wolf population estimate in Idaho since 2015.
"We will be making that estimate every year, and we will know from this point forward if the population is going up, as some people speculate, if it's been level, or if it's decreasing," Shriever told lawmakers.
Shriever said the wolf population peaked early in the summer of 2019 at about 1,500 following the birth of pups. He said subtracting hunting and trapping kills along with other deaths puts the population now closer to 1,000.
continued:
— — — — — — — — — —
Nampa man fined, banned for guiding illegal Alaska hunts
by Associated Press Thursday, January 23rd 2020
Anchorage, Alaska (AP) – An Idaho man who illegally guided bear and moose hunts in Alaska was fined $20,000 and ordered never to hunt in the state again.
U.S. District Court Judge Sharon Gleason on Wednesday also ordered Paul Silvis, 52, of Nampa, to serve six months of home confinement, to be followed by five years of supervised release, federal prosecutors announced Wednesday.
Silvis in October pleaded guilty to two felony violations of the Lacey Act, the law that bans illegal wildlife trafficking, U.S. Attorney Bryan Schroder said in the announcement.
continued:
— — — — — — — — — —
Fighting rams stop traffic on Idaho highway
The two male bighorn sheep were caught butting heads on a road near Riggins over the weekend.
KTVB January 20, 2020
Lisa and Fred Taylor were on a winding road near Riggins over the weekend when they came upon two bighorn sheep.
The rams were engaged in a battle, putting on quite a display of headbutting alongside the roadway.
Shortly, after bashing heads, one of the rams turns toward the vehicle and gives a look of disgust at the people watching, then returns to the fight.
video:

— — — — — — — — — —
Fish and Game works to reduce Magic Valley elk population
Jan 22, 2020 By Steve Liebenthal KIVI
Twin Falls, Idaho — These elk, grazing just north of Mountain Home are part of a population that Fish and Game managers say has grown too large.
"We're talking almost three thousand elk above our top-end objective," said State Wildlife Manager Jon Rachel.
So why is that a problem? Depredation. The growing population has created problems, mostly for farmers.
And when deer, pronghorn antelope or elk damage crops, hunters and anglers pay the price. In 1990, the Idaho Legislature mandated that Fish and Game compensate farmers for damage, and two summers ago, that compensation went through the roof.
continued:
— — — — — — — — — —
Ice fishing tourney Feb. 1 to raise funds for firefighters group
The Star-News Jan 23, 2020
The second annual "Deep Freeze for Firefighters" ice fishing fundraiser tournament with prizes, raffles and an auction will be Saturday, Feb. 1, beginning at 7:30 a.m. at Lake Cascade.
Prizes will be awarded for largest trout as well as first, second and third place winners for total weight of three best perches.
Check-in and registration will be from 7:30 a.m. to 9:30 a.m. at Cascade Reservoir's Poison Creek Campground boat ramp. Parking is $5 for those who do not have the Idaho Parks Pass.
Weigh-in will be at 3 p.m. at Perch 55, 256 N. Main St. in downtown Donnelly. The raffles and benefit auction will follow the weigh-in.
The entry fee is $25. Proceeds will benefit the Wildland Firefighter Foundation, whose mission is to help families of wildland firefighters who were killed or injured in the line of duty.
source:
———————
Fish & Game News:
Camera surveys provide new statewide wolf population estimate
By Roger Phillips, Public Information Supervisor
Friday, January 24, 2020
Game cameras took 11 million photos to help researchers count wolves
Idaho Fish and Game has a new estimate of the statewide wolf population through its new survey method using game cameras and mathematical modeling, which will be repeated annually and fine-tuned during the next few years.
At the Fish and Game Commission meeting on Jan. 23 in Boise, staff reported there were an estimated 1,541 wolves in the state during summer 2019. The estimate represents the peak population shortly after pups were born.
continued:
— — — — — — — — — —
F&G collaring mule deer bucks to get a better look at long-term survival
By Brian Pearson, Conservation Public Information Specialist
Tuesday, January 21, 2020

Roger Phillips/Idaho Fish and Game
Wildlife managers want to know how bucks are faring during hunting season
Fish and Game researchers want to learn more about mule deer buck survival during hunting seasons, including how the season structure, and hunter access and habitat types affect buck survival. Biologists are using specially designed GPS collars and ear tags to help answer those questions, and collars are being placed on mule deer during winter that will remain on bucks through the upcoming hunting season.
Researchers hope that understanding buck survival will help biologists better manage deer hunting and avoid over-harvesting bucks, as well as meeting hunters' desires for the age class of bucks and types of hunting seasons.
continued:
— — — — — — — — — —
More F&G News Releases
link:
———————————-
Crazy Critter Stuff:
Man v. Moose as Alaska resident gets trapped in shed
NY Daily News Jan 18, 2020
Things came to a head right in front of the shed.
Anchorage resident Curtis Phelps tried to take out the trash, but a moose tried to take him out. Phelps ducked into the shed for cover.
video:
————————-
Seasonal Humor:

———————