Feb 2, 2020 The Yellow Pine Times – Valley County, Idaho
Community Calendar:
Feb 3 – deadline to submit objections to South Fork Road Plan
Dec 7 thru Feb 21 Yellow Pine Tavern Holiday Closure
Feb 22 – Pie Contest 2pm at the Yellow Pine Tavern
(details below)
———-
Local Events:
Feb 22 – Pie Contest
2pm at the Yellow Pine Tavern, $1 per plate to taste the pies, money goes to the winners.
———-
Village News:
Friday Adventure
"Neither snow nor rain nor heat nor gloom of night stays these couriers from the swift completion of their appointed rounds." Or avalanches for that matter in our part of the country. We have been having a "January Thaw" after receiving nearly three times the 10 year average snowfall. Monday, January 27, Robert, our mail truck driver, was headed back to Cascade after bringing mail and supplies to Yellow Pine. Near the upper end of the South Fork road a snow slide had come down blocking the road with about 4 feet of snow. Robert got out and shoveled a path and powered his way on through, but about 25 yards ahead there was a second snow slide of about equal proportions across the road. Needless to say it was rather late by the time he got back to the airport in Cascade.
— — — —
Rock Migration Season
With the freeze thaw and lots of snow, big rocks are just waiting for a chance to "migrate" – they have waited millions of years for a chance to launch down the mountain. On Thursday, January 30, a big rock jumped onto the South Fork Road at mile marker 23.5, big enough that our local plow had to go push it off the road Friday.
— — — —
January Snow
Yellow Pine had a very snowy January, nearly 3 times the 10 year average monthly snowfall of 13″. By the end of the month we had received 38.6″ of snow. Melted snow water (and rain) totaled 3.34″. The average high temperature was 35F and the average low was 18F. The warmest day was 45F on Jan 19th and the coldest was -4F the morning of Jan 15th.
Today (Feb 2) Yellow Pine received 4 1/2″ new snow, there is 21″ total snow on the ground.

Snow on trees before sunrise on Groundhog Day.
— — — —
Biz Closures
The Corner is closed for the winter, opening again next spring. I can be reached at matt @ ypcorner.com or at 970-379-5155. Thanks, have a great winter!
– Matt
The Tavern will be closed from Saturday December 7th to Friday February 21st. UPS packages will be dropped off at Deb's porch and she will also have gasoline for emergency situations. I will be available at my cell number for any questions or situations 208 739-7086
Thanks, Lorinne N. Munn
The Yellow Pine Lodge is closed for the winter.
— — — —
Yellow Pine US Mail
The 3-day a week mail delivery started Nov 1st. The Post Office in Yellow Pine is open six days a week year around: M-F 845am-245pm Saturday 9am-245pm. Forever Stamp: 55 cents. Support our local post office and purchase your holiday stamps here.
— — — —
Yellow Pine Transfer Station
Report Friday (Jan 31) the transfer station was plowed today and the bins are about half full.
Please do not abuse our Transfer Station or we may lose it. Household trash must be placed in the bins, flattened cardboard boxes can also go into the bins. Do not stack trash in front of the doors. Woody yard debris only for the burn pile. No furniture, appliances, tires or construction debris allowed, those items must be hauled out to the Donnelly station by you.
Yellow Pine Transfer Station (aka, the dump)
The Yellow Pine Transfer Station is located approximately 3 miles south on Johnson Creek Road.
The TRANSFER STATION is for household trash and yard waste:
* Household trash must be put inside (and fit) the dumpster;
* Yard waste (limbs, pine needles, brush, et.) goes in the burn pile on the south end of the turn-around;
* Cardboard boxes should be flattened before putting the in the dumpster,
The DUMPSTERS are NOT for:
* Furniture (take to Donnelly Transfer Station);
* Appliances (take to Donnelly Transfer Station).
The BURN PILE is NOT for:
* Cardboard boxes (flatten and put in dumpster);
* Furniture and appliances (take to Donnelly Transfer Station);
* Drywall and building material (take to Donnelly Transfer Station);
* Wire or fencing (take to Donnelly Transfer Station);
* Foam Rubber (take to Donnelly Transfer Station);
* Wood with metal (like nails) attached (take to Donnelly Transfer Station.)
When closing the DOORS on the front of the dumpsters:
* Make sure the "U" brackets at the top and bottom of the door are engaged;
* The retaining bar at the middle of the door is slid into the pipe;
* And the "L" bars at the bottom of the doors dropped into place.
The Yellow Pine Transfer Station is Valley County responsibility. If it is not kept tidy, use of the Transfer Station may be revoked. That would result in residents having to take all household trash and yard waste to the Donnelly Transfer Station.
If Dumpsters Are Full, Contact Lake Shore Disposal at: 208/634-7176
———-
Local Groups:
YPWUA News:
Water rates have been increased (see letter with water bill), the 2019 fee is $400. Payment is due by Feb 15, 2020, or you can pay half and the other half is due June 15, 2020.
Boil Water Advisory Lifted November 22, 2019
The 2019 Yellow Pine Water Users Shareholders meeting was Sunday July 7th in the Community Hall.
link: 20190707YPWUAminutes
— — — —
VYPA News:
The community hall committee's goal is to have adequate heating installed in the main hall before the June VYPA meeting.
If folks have items for the community yard sale, please place them by the north wall in the community hall. If you see items you would like to purchase, you can pay Deb, Ronda, or Lynn. All funds support the community hall.
VYPA meetings for 2020 – June 13, 2pm; July 11, 2pm; August 8, 2pm; September 12, 2pm.
Village of Yellow Pine Association Meeting Minutes for September 21, 2019
link: 20190921 Village of Yellow Pine Association Meeting
— — — —
YPFD News:
YP Fire Commissioners:
Sue Holloway – District 1
Dan Stiff – District 2
Merrill Saleen – District 3
Fire Chief – Jeff Forster
Yellow Pine Fire Protection District Community Service Notice
The purpose of this letter is to show how you as a Yellow Pine Resident can help protect your structure against a wildland fire by being "Fire Wise." Click the link: to view 20190724 Yellow Pine Fire Protection mitigation
We will do another class this spring/summer [2020] depending on interest. Training will resume in the spring. -Fire Chief Jeff
——–
Biz Listings:
The Corner (208) 633-3325
Closed for the winter.
— — — —
Yellow Pine Tavern (208) 633-2233
Closed Dec 7 thru Feb 21.
— — — —
Yellow Pine Lodge (208) 633-3377
Closed for Winter.
— — — —
Buck Horn Outfitters LLC 208-633-3614
Tom & Sarah Lanham
156 Yellow Pine Ave, Yellow Pine Id 83677
website:
Facebook:
Starting June 2020 We will be doing trail rides out of Yellow Pine along with summer pack / camping trips to high mountain lakes in the area!
Wapiti Meadow Ranch – Johnson Creek (208) 633-3217
or 208-315-3554 – cabin rentals
website:
Deadwood Outfitters
website:
— — — —
Local Fuel Suppliers
Amerigas Phone: (208) 634-8181
Ed Staub & Sons Phone: (208) 634-3833
Diamond Fuel & Feed Phone: (208) 382-4430
— — — —
Outside Biz that will service Yellow Pine:
The Star-News


subscribe:
A reminder that those who live in other states can subscribe to the online edition only since the mail can take days for hard copy to reach them.
Rocky Mountain Mechanical – Plumbing – Heating – Air conditioning
(208) 365-PIPE (7473), Emmett, will service Yellow Pine
Elkhorn Heating & Cooling
(208) 906-4067 Middleton, Idaho, will service Yellow Pine
B&T Safety Solutions LLC
208-271-1600 Based out of Donnelly
Snow removal, cleaning chimneys and stoves, we do cabin staining/chinking as well
— — — —
Follow The Yellow Pine Times on Facebook (updated more often than emails)
———————–
Local Observations:
Monday (Jan 27) overnight low of 27 degrees, 1″ new heavy snow and 16″ total snow on the ground, partly clear sky. Nuthatches and a jay visiting, chickadees calling from the trees. Partly sunny at lunch time, high of 41 degrees. Mostly clear mid-afternoon and chilly breezes. The sky looked clear just before dark and temperature dropping quickly. Cloudy and starting to snow just before 11pm. Light snow all night, heavier snow between 6am and 9am, clouds down to the valley floor.
Tuesday (Jan 28) overnight low of 24 degrees, 1 1/2″ new snow and 17″ total snow on the ground, overcast and snowing lightly this morning. Jays, nuthatches and chickadees visiting. Stopped snowing before lunch time, clouds lifting but leaving fog belts mid-mountain, high of 37 degrees. Still a bit of fog across the hills and breaks in the clouds mid-afternoon. Shower of graupel then snow late afternoon into the evening and low clouds. Rain/snow mix then snow again before midnight for half the night.
Wednesday (Jan 29) overnight low of 27 degrees, measured 1/2″ new snow and 17″ total snow on the ground, and mostly cloudy with high fog on the ridges. Jays, chickadees and nuthatches visiting. Mostly clear at lunch time, high of 38 degrees. Mail truck made it in on time. Overcast by early afternoon. Overcast at sundown and above freezing, more snow sliding off flatter roofs. Snowing mid-evening and most of the night.
Thursday (Jan 30) overnight low of 24 degrees, measured 1 1/2″ new snow and 18″ total snow on the ground, partly clear sky and light breeze. Raven flew over low enough to hear the whooshing of wings, Clark's nutcracker and jays joined the chickadees and both red and white-breasted nuthatches at the feeders. Thin clouds and filtered sunshine at lunch time, high of 37 degrees. Mostly cloudy and above freezing at sundown. Mostly clear sky and crescent moon high in the sky at dark. Partly cloudy late evening and temperatures dropping into the teens. Lots of stars shining brightly before midnight. Clouds moved in and a skiff of snow fell before 6am.
Friday (Jan 31) overnight low of 14 degrees, skiff of new snow and 18″ total snow on the ground. This month we have had 38.6″ of snow fall, about 3 times the average January snowfall in the last 10 years. Lots of jays in the neighborhood visiting in pairs and trios, a couple of clark's nutcrackers, a hairy woodpecker and the usual nuthatches and chickadees. Cloudy at lunch time, then breezy by early afternoon, high of 37 degrees. Snowmobile traffic and poor air quality. Overcast, damp and chilly at sundown. Mostly cloudy at dusk, crescent moon peeking thru thin clouds overhead. Cloudy before midnight.
Saturday (Feb 1) overnight low around 32 degrees (27F on the gizmo from Friday morning) no new precipitation, estimate 18″ of snow on the ground, cloudy, damp and breezy this morning. Jays, nuthatches and chickadees visiting. Cloudy, warm and gusty after lunch time, high of 50 degrees melting snow. Cloudy and gusty at sunset too – wind in the trees was quite loud at times. Still above freezing and gusty at dark, sounds like the river is up, and small breaks in the clouds to the south. Late evening 45 degrees, cloudy, breezy and wind gusts. Raining after midnight. Snowing pretty hard at 6am and done before 930am.
Sunday (Feb 2) overnight low of 25 degrees, 4 1/2″ new snow on top of slush, 21″ total snow on the ground, overcast and calm. Jays, nuthatches, chickadees and two clark's nutcrackers visiting. Cloudy and snowing after lunch time for about 40 minutes (trace), high of 30 degrees. Cloudy and variable breezes just before sundown. Short snow flurry late afternoon (a light dusting) with low clouds. A small flock of starlings in the neighborhood and a report of a pileated woodpecker sighted today. Thinner higher clouds just before dark, fuzzy half moon high in the sky.
———————-
Idaho News:
10 adults, 15 children hospitalized after carbon monoxide leak in Donnelly
The house where the carbon monoxide leak was detected was being used as a vacation rental property, according to the fire department.
KTVB January 27, 2020
Donnelly, Idaho — More than two dozen people were taken to the hospital after a carbon monoxide leak in Donnelly.
Donnelly Assistant Fire Chief Franklin Yates told KTVB that emergency responders were called out to a home on Dawn Drive just before 6:30 a.m. Monday.
Four people were initially taken by ambulance to the emergency room at St. Luke's McCall Medical. According to St. Luke's spokeswoman Laura Crawford, doctors determined that those four people were suffering from carbon monoxide poisoning, and urged emergency responders to go back to the house and check for anyone else who might have been affected.
Twenty-one more people were then brought to the hospital, by ambulance or private car, according to St. Luke's.
continued:
— — — —
25 sickened by carbon monoxide leak in Donnelly
Detector at rental home did not sound alarm
By Drew Dodson for The Star-News Jan 30, 2020
A carbon monoxide leak in a vacation rental home near Donnelly early Monday sent 25 people from Washington state to the hospital, according officials.
It was the second case of carbon monoxide poisoning at the house, the last happening six years ago.
… Investigators were checking this week why carbon monoxide detectors installed in the home were not triggered, Bonilla said.
… All 25 people in the house were members of the same family from Puyallup, Washington, who had scheduled the home through Friday, said one of the guests, Yelena Boryshkevych.
… A December 2013 incident in the same house at 12924 Dawn Drive led to 14 guests being hospitalized for carbon monoxide exposure.
full story:
— — — —
Valley County aiming to regulate vacation rental homes
A public hearing on the proposed ordinance is scheduled for Feb. 18.
Joey Prechtl January 29, 2020 KTVB
Valley County, Idaho — More people looking for places to stay on a weekend getaway are finding short-term rentals online through businesses like Airbnb.
A near tragedy on Monday puts that issue in the spotlight in Valley County. County officials are working on new regulations for short-term rentals.
One of the things the ordinance will address is carbon monoxide detectors. This comes after a family of 25 was exposed to the deadly gas on Monday. Twenty-one of them are okay, but four had to be transported to Boise for specialized care.
Valley County Commissioner Sherry Maupin said the county has been working on the ordinance for the past six months. The primary focus of the ordinance is health and safety.
continued:
— — — — — — — — — —
Where there are wild things
Mountaintop snow sculpture earns first top prize for Brundage
By Drew Dodson for The Star-News Jan 30, 2020
A snow sculpture of Max and his fanciful friends from the children's picture book "Where the Wild Things Are" won the top prize at the 2020 McCall Winter Carnival.
The sculpture is located at the top of Brundage Mountain Resort, where wild things live, so the setting was appropriate for the sculpture to celebrate the Winter Carnival theme of "It's a Kid's World."
It was the first top prize for the resort and its builders, who are members of the National Ski Patrol.
Ice sculpture in McCall vandalized during the winter carnival
Jan 30, 2020 By Steve Dent KIVI
McCall, Idaho — Businesses in McCall spend countless hours and dollars preparing for their annual winter carnival, they build some really extravagant ice sculptures.
Rudy's Kitchen won second place for the best sculpture after putting together an ice castle that was a big hit on opening weekend.
"We have about 300 man hours into it and we start ten days before the carnival," said John Schulz who spearheaded the effort of building the castle.
However, on Sunday night people punched and kicked holes in the castle wall and the owner of Ruby's Kitchen told us there were urine stains on the wall and dog poop left on the ground near the sculpture.
continued:
— — — — — — — — — —
Boise State and USC hockey teams help local special needs non-profit score goals in McCall
Courageous Kids Climbing took to the ice with Boise State and the USC hockey teams during the McCall Winter Carnival.
Mark Johnson January 27, 2020 KTVB
Boise, Idaho — It was quite the scene over the weekend in McCall at the Manchester Ice Rink when players from both the Boise State and University of Southern California hockey teams spent an hour with kids from a local organization based in McCall called Courageous Kids Climbing.
The non-profit provides opportunities for kids of all ages with special needs to experience rock climbing and so much more.
"Hey mom!" beamed a youngster while being pushed in a chair along the ice by a Trojan hockey player.
It was hard to tell who was enjoying this day more. The kids or the players who embraced a moment they won't soon forget.
continued:
— — — — — — — — — —
Cascade annexes land under River District project
Review of development agreement for 443-unit project remains
By Max Silverson for The Star-News Jan 30, 2020
The Cascade City Council on Monday voted to annex 121 acres on which the 443-unit River District development would be located.
The annexation will not take effect until the city and developer sign a development agreement, which had not been completed as of Monday.
The five-hour hearing was marked by acrimonious exchanges between representatives of the city and the developer accusing each other of incompetence, poor communication and abuses of the public process.
The River District is proposed east of Idaho 55 and south of the North Fork of the Payette River on the southern end of Cascade. The developers are Phil and Josh Davis of Cascade.
continued:
— — — — — — — — — —
Cascade DMV offices moved after mold found from boiler leak
By Max Silverson for The Star-News Jan 30, 2020
The Department of Motor Vehicles office at the Valley County Courthouse in Cascade was closed for three days last week after mold caused by a boiler leak was found in the walls.
DMV services were shut down on Jan. 21 and moved from the office's location in the north end of the courthouse to the Valley County Clerk's office at the south end of the building. The DMV reopened on Friday in its temporary location.
The leak also forced the closure of the plat clerks' office. The employees were relocated to temporary offices in the Valley County Assessor's Office, which oversees the DMV and the plat clerks.
The entire first floor on the north end of the courthouse will be closed until the mold can be cleaned up and repairs made, Valley County Clerk Doug Miller said.
continued:
— — — — — — — — — —
Idaho 55 reopens between Boise and Horseshoe Bend after rollover
Drivers should look out for dense fog and ice in the area, according to Idaho State Police.
January 29, 2020 KTVB
Horseshoe Bend, Idaho — Idaho 55 is back open after an early-morning rollover between Boise and Horseshoe Bend Wednesday.
The crash happened before 6 a.m. near mile marker 59, just south of Horseshoe Bend.
Only one vehicle was involved in the crash, according to Idaho State Police, and no one was hurt.
Both southbound lanes and one northbound lane were shut down for about an hour as emergency crews worked.
Drivers should slow down and be aware of dense fog and ice in the area, according to Idaho State Police.
source:
———————
Scam Alert:
Idaho Attorney General warns of "FedEx" scam
Jan 27, 2020 By Steve Bertel KIVI
Boise, Idaho — Idaho Attorney General Lawrence Wasden is asking Idahoans to be on the lookout for a text-based scam connected to the worldwide shipping company FedEx.
Potential victims receive a text, purportedly from FedEx, with a tracking code and a request to "set delivery preferences." Officials say the text includes a link that, when clicked, takes the user to an Amazon listing with a customer satisfaction survey that promises a reward. If fully executed, the scam ends with customers inadvertently signing up for expensive services they'll be billed for later.
The ploy highlights an increase in text-related scams.
continued:
———————-
Mining News:
US lawmakers want answers about Idaho gold mine process
By Keith Ridler January 27, 2020 Associated Press
Boise, Idaho (AP) — Lawmakers who oversee appropriations for the U.S. Forest Service on Monday sent a letter requesting the agency revoke its decision allowing a Canadian company to write a key environmental report on proposed open-pit gold mines in central Idaho.
Democratic U.S. Rep. Betty McCollum of Minnesota chairs the House Appropriations Subcommittee. She, the vice-chair of the committee and four other House Democrats want all records leading to the Forest Service giving British Columbia-based Midas Gold authority to write the document.
The Associated Press in December reported that internal documents obtained by conservation group Earthworks showed that the Forest Service in February 2018 decided to deny Midas Gold's request to participate as what is called a non-federal representative in writing the assessment.
The Forest Service said they didn't want Midas Gold helping to write the document because the massive project would likely harm protected fish.
… "The letter is inaccurate and misleading," said Laurel Sayer, CEO of Midas Gold Idaho. "Midas Gold's non-federal representative status is not new or unusual and ultimately has already and will continue to increase collaboration."
full story:
———————–
Letter to Share:
From: Valley County Board of County Commissioners
December 10, 2019
Re: FRTA Easement, South Fork Salmon River Rd.
Dear [Boise & Payette NF] Supervisors,
The Valley County Board of Commissioners voted Dec. 9, 2019 to withdraw the FRTA request on the South Fork Salmon River Road from the Warm Lake Highway in the Boise National Forest north to the Lick Creek Road in the Payette National Forest. Based on budgeting and other concerns continuing with the request at this time would be a burden that Valley County cannot afford to take on.
It is the intent of Valley County to continue winter maintenance to maintain access to the community of Yellow Pine per the Cooperative Forest Road Agreement (17-RO·11040216·31 Boise National Forest) and (17-RO-11041200-15 Payette National Forest) that is currently in place.
Elt Hasbrouck, Chairman
Valley County Board of Commissioners
source:
—————————–
Public Lands:
Note: Comment period closes Feb 3, 2020
Opportunity to Object to the South Fork Salmon River Restoration and Access Management Plan
A new draft Decision Notice and revised Environmental Assessment for the South Fork Salmon River Restoration and Access Management Plan are now available. These documents were prepared by the Payette National Forest following a public scoping period in June 2017 and a public comment period in April 2019.
The project includes numerous actions relating to watershed restoration, motorized and nonmotorized access, and improvements of recreation facilities within the South Fork Salmon River (SFSR) watershed within a 329,000 acre project area. The selected alternative is a hybrid of the alternatives presented in the Environmental Assessment, hereafter referred to as the Selected Alternative. The selected alternative includes one project-level amendment limited to the scope and scale of this project related to the designation of existing routes as system roads for administrative purposes in the Krassel Work Center and Reed Ranch Airstrip area. It also includes the decision to issue a Federal Roads and Trails Act easement to Valley County for 30.3 miles of the South Fork Salmon River Road (Forest Road 474/674).
The project would be implemented on the Krassel and McCall Ranger Districts of the Payette National Forest and the Cascade Ranger District of the Boise National Forest. The Responsible Official is the Forest Supervisor, Payette National Forest.
The revised Environmental Assessment, Draft Decision Notice, and other project information are available for review at the project webpage at (link) and at the Krassel Ranger District 500 North Mission Street, Bldg 1, McCall, ID 83638. Hardcopy documents may be made available to interested parties upon re- quest by calling 208-634-0600.
The draft Decision Notice and revised EA are subject to the objection process pursuant to 36 CFR 218 subparts A and B.
Eligibility to File Objections
Objections will be accepted only from those who have previously submitted specific written comments regarding the proposed project either during scoping or other designated opportunity for public comment in accordance with 36 CFR § 218.5(a). Issues raised in objections must be based on previously submitted timely, specific, written comments regarding the proposed project unless based on new information arising after designated opportunities.
Individual members of organizations must have submitted their own comments to meet the requirements of eligibility as an individual. Objections received on behalf of an organization are considered as those of the organization only. If an objection is submitted on behalf of a number of individuals or organizations, each individual or organization listed must meet the eligibility requirement of having previously submitted comments on the project (36 CFR § 218.7). Names and addresses of objectors will become part of the public record.
Contents of an Objection
Incorporation of documents by reference in the objection is permitted only as provided for at 36 CFR § 218.8(b). Minimum content requirements of an objection are identified in 36 CFR § 218.8(d) include:
• Objector's name and address with a telephone number if available; with signature or other verification of authorship supplied upon request;
• Identification of the lead objector when multiple names are listed, along with verification upon request;
• Name of project, name and title of the responsible official, national forest/ranger district where project is located, and
• Sufficient narrative description of those aspects of the proposed project objected to, specific issues related to the project, how environmental law, regulation, or policy would be violated, and suggested remedies which would resolve the objection.
• Statement demonstrating the connection between prior specific written comments on this project and the content of the objection, unless the objection issue arose after the designated opportunities for comment.
Filing an Objection
Written objections, including any attachments, must be submitted within 45 days following the publication date of this legal notice in the newspaper of record. It is the responsibility of Objectors to ensure their objection is received in a timely manner (36 CFR § 218.9). The publication date in the Idaho Statesman, newspaper of record, is the exclusive means for calculating the time to file an objection to this project. Those wishing to object to this proposed project should not rely upon dates or timeframe information provided by any other source. The legal notice is expected to be published on December 18, 2019 and the official comment period would open the following day. The objection filing period is expected to be December 19, 2019 through February 3, 2020.
The Reviewing Officer is the Intermountain Regional Forester. Submit objections through the project website using the link in the right corner to "comment/object to project" or send to Objection Reviewing Officer, Intermountain Region USFS, 324 25th Street, Ogden, Utah 84401; or fax to 801-625-5277; or by email to: objections-intermtn-regional-office@fs.fed.us.
link: Project page
— — — — — — — — — —
USDA Forest Service Sloans Point Forest Resilience Project Update
The Payette National Forest is seeking public comments for the proposed Sloans Point Project on the McCall Ranger District. The scoping document provides detailed information about the project and is available on the project's webpage at (link).
To assist the Forest Service in meeting its goals of reducing our carbon footprint and to achieve a sustainable operation, we are now using a web-based electronic comment system that allows all interested parties to receive project materials (scoping documents, updates, NEPA documents, and decisions) and submit comments by e-mail.
To subscribe to receive email notifications about this project, go online to the project website listed above. On the project website, you will see a box titled "Get Connected" on the right-hand side of the page. Click on "Subscribe to Email Updates." When you click on that item, you will be prompted to provide your e-mail address and select a password in the GovDelivery program. When you have logged in, you will be able to manage your account by subscribing to projects by Forest, District, project type, or project purpose. You will also be able to change your e-mail address and password. If you no longer wish to follow the projects, simply delete your subscription. Once you are subscribed, you will receive all project information via e-mail, unless you request hard copies. Only those who subscribe to the GovDelivery mailing list or submit comments will receive future correspondence on this project.
To submit comments using the web form, select "Comment/Object on Project" under "Get Connected" on the right panel of the project website. The comment portal is only open during public comment periods, and submitted comments are available for public viewing in the Public Comment Reading Room.
Comments may also be submitted in hardcopy to Acting District Ranger Ann Hadlow at McCall District Office 102 West Lake Street, McCall, Idaho 83638 or hand delivered to the District Office during regular business hours of 8 a.m. to 4:30 p.m. Monday–Friday, excluding holidays.
To be most helpful, please submit your comments by March 2, 2020, and make your comments as specific as possible. Comments received in response to this request will be released in their entirety if requested pursuant to the Freedom of Information Act.
We anticipate the potential use of the Section 603 of the Healthy Forests Restoration Act (HFRA; 16 U.S.C.6591b) categorical exclusion (CE) for this project. If a CE is used, an additional period where written comments are solicited for the project would not occur, though some aspects of the proposed activities could change before a decision would be signed based on comments received during scoping, collaboration with the Payette Forest Coalition, tribal consultation, and additional field work and analysis conducted by resource specialists.
For further information on this project, please contact myself at 208-634-0400 or ann.hadlow@usda.gov.
Thank you for your interest in your National Forest!
Sincerely,
Ann Hadlow
Acting McCall District Ranger
— — — — — — — — — —
New Idaho program could boost timber revenue on state lands
by Keith Ridler Associated Press Friday, January 31st 2020
Boise, Idaho (AP) – Idaho's state lands manager on Friday asked a legislative committee to approve $500,000 for a pilot program that would allow specific types of timber to be separated and sold when harvested from state land.
Currently, all trees cut from a particular parcel are included in auctions.
Breaking the sales into specific types of trees could result in more competition and higher bids, bringing more money for a particular timber sale, officials said.
continued:
— — — — — — — — — —
USFS Regional Intermountain News
Volume 4 Issue 2 February 2020
In this issue:
* Fire Hire
* USDA Forest Service surpasses goals and breaks records in 2019
* Discover the Forest
* Forest News
* Boots in the Forest
* Volunteer With Us!
link: Archived Newsletters
—————–
Critter News:
McCall school children cheer on mushers at the start of the Idaho Sled Dog Challenge
Jan 30, 2020 By Steve Dent KIVI
McCall, Idaho — The Idaho Sled Dog Challenge is part of the Rocky Mountain Triple Crown and people came out to the Little Ski Hill in McCall to cheer on the teams as they began a 300-mile journey.
This year marked the third year in a row this event featuring mushers and their dogs is happening during the winter carnival.
There was a buzz at the start of this race and it was hard to tell who was more excited the school kids or the dogs.
"It's a toss up on which one is more motivated," said assistant race director Dave Looney. "But when those kids show up and they start cheering and chanting the mushers have to be amped."
continued:
— — — — — — — — — —
Pet Talk – Gallbladder disease in dogs and cats
By Dr. Karsten Fostvedt Jan 31, 2020 IME
The gallbladder is a small pouch or sac that contains bile produced by the liver. The gallbladder stores bile until it is released into the small intestine, where it helps in the digestion of fat.
In people, the most common disease of the gallbladder is gallstones. In dogs, inflammation of the gallbladder can occur, but the formation of hard stones is uncommon. The gallbladder can also become infected by bacteria, and some cancers can develop in the gallbladder. The most common problem in dogs is a condition called biliary mucocele. This condition is when the bile becomes thickened and is retained in the gallbladder, causing it to be enlarged.
The causes of most gallbladder disease, particularly biliary mucocele, is not well-defined in the dog. Most dogs with gallbladder disease have some sort of underlying metabolic or hormonal problem. Both low thyroid and high cholesterol diseases are associated with an increased risk of developing a biliary mucocele.
continued:
— — — — — — — — — —
Max number of wolf tags for Idaho hunters and trappers increases to 15
by Ryan L Morrison Wednesday, January 29th 2020
Boise, Idaho (CBS2) — The Idaho Department of Fish and Game Commission voted to increase the maximum number of wolf tags Jan. 23 for individuals.
The maximum number of wolf tags available for one person to purchase is now 15 hunting tags and 15 trapping tags for the 2020-2021 season.
The changes to the allowable tag numbers for wolves applies statewide, simplifying the wolf hunting and trapping seasons and rules.
This change is more than likely due to the new wolf estimates that came out recently in Idaho.
continued:
— — — —
Wolf debate heats up
Biologist says laws should be science based
Jan 29, 2020 By Steve Liebenthal KIVI
Boise, Idaho — Carter Niemeyer has literally written the book on wolf reintroduction. In fact he's currently writing his third. Niemeyer is a wildlife biologist, a hunter, and a self proclaimed wolf advocate. He was directly involved in the trapping and release of 35 wolves in Idaho more than twenty years ago.
Niemeyer believes recent increases in the number of wolves hunters and trappers can kill in Idaho are motivated by politics rather than science.
"I'm not gonna judge the Idaho Department of Fish and Game,"said Niemeyer. "I'm a wildlife biologist and I know many of the biologists who work for the agency, and I'm guessing they don't like what's going on, but if the legislature dictates to them that they have to do something, they're professionals, and they will respond to that. To me the biggest problem is having legislators dictate wildlife management policy. I just think that is dead wrong."
continued:
— — — — — — — — — —
Skier bitten by coyote in Yellowstone National Park
The coyote, which officials suspect was starving, is being tested for rabies.
January 29, 2020 KTVB
Yellowstone National Park, Wyo. — Yellowstone National Park is urging people to use caution around wild animals after a woman was attacked and bitten by a coyote this week.
The incident happened Tuesday morning while the 43-year-old woman was cross-country skiing on the Grand Loop Road near the South Rim Drive.
The skier suffered puncture wounds and lacerations to her head and her arm. she was taken to the Canyon Visitor Education Center, where rangers provided first-aid before transporting her to a medical facility for more treatment.
Park staff were able to identify and kill the coyote that had bitten the skier. The animal is being necropsied and tested for rabies.
continued:
— — — —
Coyote that bit skier tested negative for rabies
Jan 30, 2020 Local News 8
Mammoth Hot Springs, Wyo. (KIFI/KIDK) – Update: Yellowstone National Park officials report the coyote has tested negative for rabies.
continued:
— — — — — — — — — —
Mountain lion euthanized after being spotted in Hailey neighborhood, near schools
by CBS2 News Staff Thursday, January 30th 2020
Hailey, Idaho (CBS2) — A mountain lion is dead after Idaho Fish and Game were notified of its presence in the Woodside subdivision in Hailey on Thursday.
According to Regional Supervisor Craig White, "we became aware of the mountain lion from a Facebook video that was posted earlier today. Knowing that there was a lion in close proximity to local schools, especially as schools were releasing students this afternoon was very concerning to us."
After tracking it through many neighborhood yards, officers attempted to haze the lion using a rubber buck shot, the animal was not deterred.
Video: Cougar spotted in Woodside, Hailey, ID. Attempts to make it over the airport fence to get the riverside of the valley, instead changes its mind and runs back into the neighborhood.
— — — — — — — — — —
Idaho officials rescue large bull elk from hay tarp
by Ryan L Morrison Friday, January 31st 2020

Courtesy Brett Panting & Iver Hull IDFG
Boise, Idaho (CBS2) — Wildlife biologists from the Idaho Department of Fish and Game rushed to the rescue Thursday after a large bull elk had got caught in a hay tarp.
Out in Monteview a local landowner called IDFG to report the animal after discovering the tangled elk on his property. Clark County Sheriff's Office also called in a report.
Wildlife biologists were able to sneak up on the elk and tranquilize it to prevent injury.
"The tarp covered the elk's eyes and he could barely see," said wildlife biologist Brett Panting. "I am glad we were able to get to him before he injured himself."
continued: (see video below in Fish & Game News)
———————–
Fish & Game News:
F&G proposes changes in wolf hunting/trapping for 2020
By Roger Phillips, Public Information Supervisor
Tuesday, January 28, 2020
Deadline to comment on the proposals is Feb. 10.
The Idaho Department of Fish and Game is proposing seven extensions of the 2020 wolf hunting seasons and two proposed changes to open more areas to wolf trapping and extend trapping seasons. Public can see the proposals and comment at Fish and Game's public comment webpage. Deadline to comment is Feb. 10.
Fish and Game biologists recently published a new statewide wolf population estimate based on an improved model incorporating remote camera surveys and other monitoring efforts. The estimate indicates Idaho's wolf population remains robust through fluctuations of births and mortality over the year — an estimated peak of 1,541 wolves in summer 2019 after the annual birth cycle.
continued:
— — — — — — — — — —
F&G commission increases number of wolf tags hunters and trappers can purchase
By Brian Pearson, Conservation Public Information Specialist
Tuesday, January 28, 2020
Up to 15 hunting tags and 15 trapping tags can now be purchased by individual in a year
During their meeting in Boise on Jan. 23, the Idaho Fish and Game Commission voted to increase the maximum number of wolf tags an individual can purchase to 15 hunting tags and 15 trapping tags for the 2020-21 season.
The changes to the allowable tag numbers for wolves applies statewide, simplifying the wolf hunting and trapping seasons and rules.
continued:
— — — — — — — — — —
Video: F&G staff rescue bull elk entangled in hay tarp
By James Brower, Regional Communications Manager
Thursday, January 30, 2020
Hay tarp entangles mature bull elk in Monteview
Wildlife biologists from Idaho Fish and Game rushed to the rescue of a bull elk that had become entangled in a hay tarp in the Monteview area Thursday morning.
video:
— — — — — — — — — —
F&G wants your help to curb illegal carcass disposal
By James Brower, Regional Communications Manager
Thursday, January 30, 2020
Carcass disposal remains an issue around the state
Wildlife Management Areas, such as Market Lake in Eastern Idaho, continue to have problems with the illegal dumping of animal carcasses along roads and in public parking areas.
"Illegal dumping has been an ongoing issue," says Brett Gullett, Market Lake Biologist. "Carcass dumping can, and often does, ruin the experience of other visitors to the Wildlife Management Area."
continued:
— — — — — — — — — —
More F&G News Releases
link:
———————————-
Crazy Critter Stuff:
Teton Raptor Center helps rescue bald eagle
January 29, 2020 Local News 8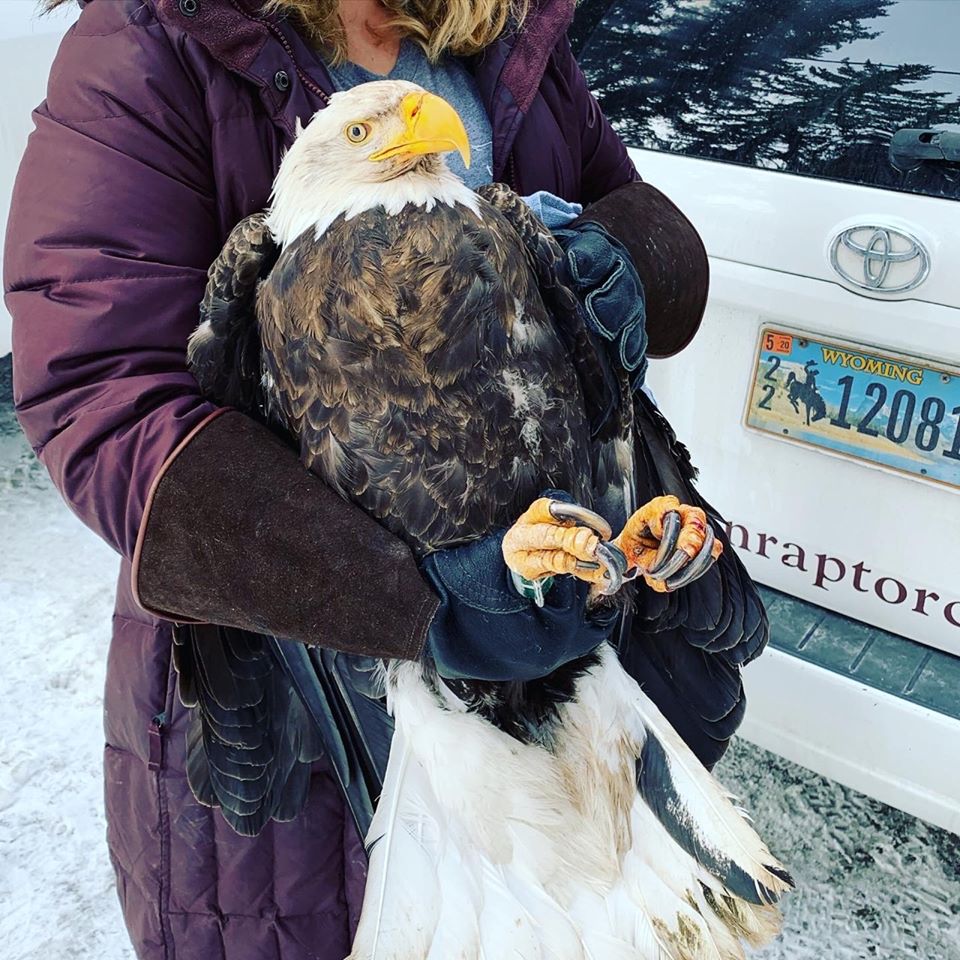 Wilson, Wyo. (KIFI/KIDK) – The Teton Raptor Center in Wilson says a 30-year-old bald eagle is recovering after crashing into a home window Tuesday.
Reed Moulton told us he was lying in his bed in Hoback, Wyoming Tuesday morning when the eagle came crashing through his double-paned window. He said he contacted Wyoming Game and Fish which, in turn, called the Teton Raptor Center.
According to the Center, the eagle survived the crash. The USGS leg bands reveal the eagle has been living in the area for 30 years. It is currently recuperating in the Center's oxygen tank with minor cuts and scrapes, head trauma and severe bruising, but no obvious broken bones.
full story:
—————————
Trivia:
For the 1st time in over 900 years, Sunday is an extra rare Palindrome Day
by Don Parker WJLA Staff Sunday, February 2nd 2020
Today (Feb. 2, 2020) some are thinking it's Super Bowl Sunday and some are focusing on Groundhog Day. But to others, it's Palindrome Day!
For the first time in more than 900 years, the full 8-digit date is a palindrome: 02022020. And it works whether you list it as month, day, year or day, month, year.
The last one was 11/11/1111.
And it will be 101 years before the next one: December 12, 2121. After that, the next one won't be until the next millennium: March 3, 3030.
source:
— — — — — — — — — —
Winter Precipitation Types
Snow is small white ice crystals formed when supercooled cloud droplets freeze. Snow crystals can have different shapes usually dictated by the temperature at which they form.
Snow pellets, also called graupel, are white, opaque ice particles round or conical in shape. They form when supercooled water collects on ice crystals or snowflakes. They typically bounce when they fall on a hard surface and often break apart.
Snow grains are very small, white opaque particles of ice, more flattened and elongated than snow pellets. Snow grains can be thought of as the solid equivalent of drizzle, or as I like to call it, "snizzle".
Ice pellets, or sleet, are small balls of ice. They form from the freezing of raindrops or the refreezing of melting snowflakes when falling through a below-freezing layer of air near the earth's surface.
Freezing rain occurs when rain occurs and the surface temperatures is below freezing. The raindrops become supercooled as they fall through the layer of cold air near the surface and freeze upon impact with surfaces below freezing.
source: CoCoRaHS
——————–
Seasonal Humor:

——————-