Feb 9, 2020 The Yellow Pine Times – Valley County, Idaho
Community Calendar:
Dec 7 thru Feb 21 Yellow Pine Tavern Holiday Closure
Feb 22 – Pie Contest 2pm at the Yellow Pine Tavern
May 2 – Firewise Meeting 2pm at the Fire Hall
(details below)
———-
Local Events:
Feb 22 – Pie Contest
2pm at the Yellow Pine Tavern, $1 per plate to taste the pies, money goes to the winners.
— — — —
May 2 Firewise Meeting
YPFD is participating in the "Wildfire Safety/National Community Preparedness Day".
There will be an open house on May 2nd at 2pm at YPFD.
There will be presentations/pamphlets regarding what YPFD and the fire district has to offer on fire safety and mitigation for our community.
———-
Village News:
Friday Power Outage
On Friday morning, Feb 7, the power went off at 557am, the outage lasted until 305pm. A report came in about trees down somewhere between Yellow Pine and Antimony Camp – probably the cause of the outage.
— — — —
February Snow
February has brought a LOT of snow to Yellow Pine so far. From Feb 1 to Feb 9: 35.3″ of snow has fallen and since January 1st 73.9″ of snow has fallen.

Photo Thursday (Feb 6) after 15″ new snow fell (34″ on the ground.)
Friday morning (Feb 7) we had 11 1/2″ new snow (40″ on the ground.)
Saturday morning (Feb 8) we had only 1/2″ new snow (34″ on the ground.)
Sunday morning (Feb 9) another 2″ new snow (33″ on the ground.)
Winter snow so far = 90.1″
October 2019: 4.6″
November 2019: 1.7″
December 2019: 9.9″
January 2020: 38.6″
Feb 2020 (1-9): 35.3″
Report from Midas Gold (McKinsey Lyon) on Feb 7: "Stibnite received 24 inches in the last 24 hours." FB report of slides on the road between YP and the mine. Photo below courtesy Midas.


— — — —
Biz Closures
The Corner is closed for the winter, opening again next spring. I can be reached at matt @ ypcorner.com or at 970-379-5155. Thanks, have a great winter!
– Matt
The Tavern will be closed from Saturday December 7th to Friday February 21st. UPS packages will be dropped off at Deb's porch and she will also have gasoline for emergency situations. I will be available at my cell number for any questions or situations 208 739-7086
Thanks, Lorinne N. Munn
The Yellow Pine Lodge is closed for the winter.
— — — —
Yellow Pine US Mail
The 3-day a week mail delivery started Nov 1st. The Post Office in Yellow Pine is open six days a week year around: M-F 845am-245pm Saturday 9am-245pm. Forever Stamp: 55 cents. Support our local post office and purchase your holiday stamps here.
— — — —
Yellow Pine Transfer Station
Report the transfer station was plowed on Thursday, Feb 7th.
Please do not abuse our Transfer Station or we may lose it. Household trash must be placed in the bins, flattened cardboard boxes can also go into the bins. Do not stack trash in front of the doors. Woody yard debris only for the burn pile. No furniture, appliances, tires or construction debris allowed, those items must be hauled out to the Donnelly station by you.
Yellow Pine Transfer Station (aka, the dump)
The Yellow Pine Transfer Station is located approximately 3 miles south on Johnson Creek Road.
The TRANSFER STATION is for household trash and yard waste:
* Household trash must be put inside (and fit) the dumpster;
* Yard waste (limbs, pine needles, brush, et.) goes in the burn pile on the south end of the turn-around;
* Cardboard boxes should be flattened before putting the in the dumpster,
The DUMPSTERS are NOT for:
* Furniture (take to Donnelly Transfer Station);
* Appliances (take to Donnelly Transfer Station).
The BURN PILE is NOT for:
* Cardboard boxes (flatten and put in dumpster);
* Furniture and appliances (take to Donnelly Transfer Station);
* Drywall and building material (take to Donnelly Transfer Station);
* Wire or fencing (take to Donnelly Transfer Station);
* Foam Rubber (take to Donnelly Transfer Station);
* Wood with metal (like nails) attached (take to Donnelly Transfer Station.)
When closing the DOORS on the front of the dumpsters:
* Make sure the "U" brackets at the top and bottom of the door are engaged;
* The retaining bar at the middle of the door is slid into the pipe;
* And the "L" bars at the bottom of the doors dropped into place.
The Yellow Pine Transfer Station is Valley County responsibility. If it is not kept tidy, use of the Transfer Station may be revoked. That would result in residents having to take all household trash and yard waste to the Donnelly Transfer Station.
If Dumpsters Are Full, Contact Lake Shore Disposal at: 208/634-7176
———-
Local Groups:
YPWUA News:
Water rates have been increased (see letter with water bill), the 2019 fee is $400. Payment is due by Feb 15, 2020, or you can pay half and the other half is due June 15, 2020.
Boil Water Advisory Lifted November 22, 2019
The 2019 Yellow Pine Water Users Shareholders meeting was Sunday July 7th in the Community Hall.
link: 20190707YPWUAminutes
— — — —
VYPA News:
The community hall committee's goal is to have adequate heating installed in the main hall before the June VYPA meeting.
If folks have items for the community yard sale, please place them by the north wall in the community hall. If you see items you would like to purchase, you can pay Deb, Ronda, or Lynn. All funds support the community hall.
VYPA meetings for 2020 – June 13, 2pm; July 11, 2pm; August 8, 2pm; September 12, 2pm.
Village of Yellow Pine Association Meeting Minutes for September 21, 2019
link: 20190921 Village of Yellow Pine Association Meeting
— — — —
YPFD News:
May 2 – Firewise Meeting 2pm at the Fire Hall
YP Fire Commissioners:
Sue Holloway – District 1
Dan Stiff – District 2
Merrill Saleen – District 3
Fire Chief – Jeff Forster
Yellow Pine Fire Protection District Community Service Notice
The purpose of this letter is to show how you as a Yellow Pine Resident can help protect your structure against a wildland fire by being "Fire Wise." Click the link: to view 20190724 Yellow Pine Fire Protection mitigation
We will do another class this spring/summer [2020] depending on interest. Training will resume in the spring. -Fire Chief Jeff
——–
Biz Listings:
The Corner (208) 633-3325
Closed for the winter.
— — — —
Yellow Pine Tavern (208) 633-2233
Closed Dec 7 thru Feb 21.
— — — —
Yellow Pine Lodge (208) 633-3377
Closed for Winter.
— — — —
Buck Horn Outfitters LLC 208-633-3614
Tom & Sarah Lanham
156 Yellow Pine Ave, Yellow Pine Id 83677
website:
Facebook:
Starting June 2020 We will be doing trail rides out of Yellow Pine along with summer pack / camping trips to high mountain lakes in the area!
Wapiti Meadow Ranch – Johnson Creek (208) 633-3217
or 208-315-3554 – cabin rentals
website:
Deadwood Outfitters
website:
— — — —
Local Fuel Suppliers
Amerigas Phone: (208) 634-8181
Ed Staub & Sons Phone: (208) 634-3833
Diamond Fuel & Feed Phone: (208) 382-4430
— — — —
Outside Biz that will service Yellow Pine:
The Star-News


subscribe:
A reminder that those who live in other states can subscribe to the online edition only since the mail can take days for hard copy to reach them.
Rocky Mountain Mechanical – Plumbing – Heating – Air conditioning
(208) 365-PIPE (7473), Emmett, will service Yellow Pine
Elkhorn Heating & Cooling
(208) 906-4067 Middleton, Idaho, will service Yellow Pine
B&T Safety Solutions LLC
208-271-1600 Based out of Donnelly
Snow removal, cleaning chimneys and stoves, we do cabin staining/chinking as well
— — — —
Follow The Yellow Pine Times on Facebook (updated more often than emails)
———————–
Local Observations:
Monday (Feb 3) clear and cold, overnight low of 2 degrees, trace of new snow and measured 19″ total snow on the ground. Jays quite vocal, nuthatches and a nutcracker visiting. At 1pm the wind kicked up and whiteout from snow blown out of the trees for about 15 minutes, then again about an hour later for a short while, high of 30 degrees. Breezy cold and clear afternoon, a few tiny clouds arrived after sundown. Partly cloudy at dusk and slight breeze, temperatures dropping quickly into the teens. Cloudy before midnight, filtered moonlight and no stars.
Tuesday (Feb 4) 24 hour low of 2 degrees (yesterday morning) and 7 degrees at sunrise around 1015am, partly cloudy sky and almost calm, no new snow and 19″ total snow on the ground. Jays calling, red-breasted nuthatches and mountain chickadees visiting. Mostly sunny at lunch time, clouds moving in by early afternoon, high of 31 degrees. Solid overcast by sundown and cold light breezes. Overcast at dark, stinky air. Started snowing around 10pm and looks like it snowed all night.
Wednesday (Feb 5) 24 hour low of 7 degrees (yesterday morning) it was 21 degrees at 10am, low overcast (top of VanMeter in the clouds) and steady fine snow falling, 1 3/4″ new snow and 20″ total snow on the ground. Clark's nutcracker, jays, red-breasted nuthatches and a chickadee visiting. Still snowing at noon, high of 27 degrees. Mail truck made it in on time, good trip. Low clouds and steady light snow early afternoon. Hairy woodpecker calling from a power pole, "squeak!" Light traffic. Still snowing steadily at sundown, low clouds and below freezing. Still snowing at dark, low clouds – almost foggy, about an inch of snow since 10am. Still snowing before midnight and stacking up. Snowed all night, buried by morning.
Thursday (Feb 6) 24 hour low of 21 degrees (yesterday morning), warmed up to 29 degrees by 10am (warmer than the high on Wednesday), measured 15″ new snow and 34″ total snow on the ground, low overcast and still snowing pretty good and accumulating. Clark's nutcracker, jays and nuthatches visiting. Still snowing big flakes at lunch time and a couple inches since last measurement, high of 36 degrees. By mid-afternoon we had 5 1/2″ new snow fall since 10am, 37″ total on the ground, low overcast and still snowing but not quite so hard. Snow changed over to light rain at 330pm. Rain snow mix late afternoon, low foggy clouds. Fine light snow and misty rain drops at dark. Wet sloppy snow by 8pm and starting to stick. Snowing pretty good before midnight. Snowed all night. Power out at 557am and snowing. Turned to rain just before 10am.
Friday (Feb 7) (power out 557am) 24 hour low of 29 degrees (yesterday morning) low clouds nearly to the valley floor and misting rain by 10am, measured 11 1/2″ new snow and 40″ total snow on the ground. Jays, chickadees and both red and white-breasted nuthatches visiting. Low clouds, 35 degrees and misting lightly at lunch time. Steep roofs sliding their snow loads in loud whooshing avalanches, high of 36 degrees. Early afternoon clouds lifted enough to see Golden Gate for about an hour, then socked in low and light rain falling. Power on at 305pm. Very low clouds and misty rain all day, stopped before dark and just above freezing. Rain with a little snow mixed in late evening turning to all rain after midnight. Rain pounding down at 1245am and 330am. Graupel then snow early morning.
Saturday (Feb 8) overnight low of 30 degrees, measured 1/2″ of slush-graupel-snow and 34″ snow on the ground (old snow is settling and slumping in big "dimples"), overcast (top of VanMeter fogged in) light snowfall and light breeze. Jays, hairy woodpecker, chickadees and nuthatches visiting. A break in the snow after lunch with thinner clouds and filtered sun for a short time, then snowed on and off the rest of the afternoon, high of 37 degrees. Below freezing and not snowing at dark (about 1″ or more of new snow.) More snow before midnight and still snowing lightly. Full moon bright enough to be seen thru the clouds.
Sunday (Feb 9) overnight low of 15 degrees, measured 2″ of new snow and 33″ total snow on the ground, partly clear sky. Fresh fox tracks all over the place this morning. Jays, clark's nutcracker, chickadees and nuthatches visiting. Partly cloudy at lunch time and strong sunshine, high of 38 degrees. Report of a red-winged blackbird in town. Mostly cloudy and breezy at sundown. Looked cloudy at dark, and had dropped below freezing with lighter breezes.
————————
Idaho News:
Next meeting on Valley [County] roads to be held Feb. 13 in Donnelly
By Max Silverson for The Star-News Feb 6, 2020
Valley County officials will hold a second town hall meeting to discuss the road and bridge department funding crisis next Thursday, Feb. 13 in Donnelly.
The meeting is scheduled to start at 6 p.m. Feb. 13 at the Donnelly Community Center at 169 Halferty Street.
Commissioners held a similar town hall meeting in McCall on Jan. 14. At least one more meeting will be held on the funding crisis in Cascade on a date still to be determined.
At the meeting, the county will again provide information and answer questions about road funding.
In November, a vote to add about $4 million in property tax funding failed at the ballot, leaving the county with a dwindling budget and little hope of undertaking any major road projects.
The county is still seeking options to fund roads, and also seeking comments from the public on what they would like to see from the road department, commissioner Sherry Maupin said.
County officials will present information about the current funding and possible future sources of funding.
Officials plan to present information on the department's funding for the past three years to show what work has been done and where the funds come from.
Future funding will also be presented, including specifics on what would happen to the department if property taxes are levied to support the department's budget, and what would happen at current funding levels.
Specific projects and timelines for their implementation as well as cost estimates per mile of work will be available at the meeting.
An informal poll of preferred options for funding is planned.
The Secure Rural Schools and Self Determination Act of 2000 was recently reauthorized for two years. The federal funding should provide about $1 million per year, but exact figures are not yet known.
Even with the additional federal funding, the department is underfunded to meet basic needs into the future, officials have said.
source: © Copyright 2009-present Central Idaho Publishing Inc.
— — — — — — — — — —
Valley approves rules for singletrack trails along county roads
Study identifies 70 miles of new routes to connect towns
By Max Silverson for The Star-News Feb 6, 2020
Valley County commissioners on Monday approved guidelines to allow for singletrack trails to be developed along county roads.
The rules detail design standards for the pathways and a legal process for their approval.
The approval of the trails is designed to connect existing non-motorized trails in the county, which are well established near McCall, Cascade and Donnelly, but sparse in between those towns.
"We realized there were some challenges with connecting the bookends of several trail systems on the valley floor," West Central Mountains Economic Development Council Executive Director Andrew Mentzer said.
Under the new rules, trails would be paid for and developed by organizations like Valley County Pathways, the Central Idaho Mountain Bike Association or a recreation district.
continued:
— — — — — — — — — —
Firewise Grant Program accepts applications until Feb. 28
The Star-News Feb 6, 2020
The Idaho Firewise Grant Program is accepting applications from fire departments and other community organizations seeking to increase wildland fire awareness through education.
The program has awarded more than $96,941 to fund projects throughout Idaho over the past six years.
A workshop to help groups complete their application will begin at 2 p.m. Tuesday, Feb. 18, at the Southern Idaho Timber Protective Association. 555 Deinhard Lane, McCall.
For more information on the program, contact Stephanie Nelson at 208-630-4201 or http://facebook.com/VCFirewise.
For more information on Idaho Firewise grant requirements or to submit a grant proposal, visit http://idahofirewise.org/grants. The deadline for submitting proposals is Friday, Feb. 28.
source:
— — — — — — — — — —
Stretch of Highway 21 closed due to avalanche danger
The section of road known as Avalanche Alley is shut down multiple times each winter.
KTVB February 6, 2020
Boise, Idaho — A section of Idaho Highway 21 closed Thursday at 5 p.m. due to "high avalanche risk," the Idaho Transportation Department announced.
In a tweet posted Thursday afternoon, the department said the planned closure affected the area between Grandjean Junction and Banner Summit.
The stretch of highway, known as Avalanche Alley, is shut down multiple times each winter due to the threat of avalanches.
continued: [Check the ITD page it may be open by now.]
— — — — — — — — — —
Boise's Ronald McDonald House celebrates its grand opening for the public
Feb 01, 2020 By: Izaak Anderson KIVI
Boise, Idaho — Boise's Ronald McDonald House celebrated its grand opening Saturday afternoon.
The project, which has been in development for roughly a year, offers families a place to stay while their children receive medical treatment at local hospitals.
In 2019, the Ronald McDonald House had to turn away 170 families in Boise due to a lack of space, but the new home will allow the organization to help three times as many families as their current facility.
continued:
— — — — — — — — — —
Original Idaho legislation showing 100 years of women's suffrage
Feb 07, 2020 By Jessica Taylor KIVI
Boise — Sifting through the original documents that tell the story of Idaho's piece in the ratification of the 19th amendment
"There's something about knowing these pieces of paper are 100 years old, and at some point, somebody who received this file thought that they were important enough to hold on to," said state historian HannaLore Hein.
Three-fourths of all states needed to approve of getting the amendment in action.
Idaho women essentially had the right to vote for 25 years, thanks to a state amendment passed. They wanted to stay on top of the suffrage conversation.
continued:
———————-
Mining News:
Midas Gold mine study delayed until at least April
Payette forest says 'additional review' needed of application
By Drew Dodson for The Star-News Feb 6, 2020
A draft environmental study of Midas Gold's Stibnite Gold Project, expected to be released by the Payette National Forest last month, will now be delayed until after April 1.
Regulators decided that the draft study needed "additional review" before it is made available to the public, Payette Public Affairs Officer Brian Harris said.
"We are continuing to refine the (draft study) to meet our collective goals of producing a quality product for public review," Harris said.
It is unclear whether the delay will result in final approval of the project being pushed back from the current March 2021 timeline provided by the Forest Service, Harris said.
An updated timeline will be released on April 1 when the Payette issues its quarterly update on the proposed gold and antimony mine near Yellow Pine.
The delay means that the draft environmental study will not be released until more than a year after the original anticipated release date of March 2019.
Harris declined to discuss specifics of why extra time is needed, but said the internal review that led to the delay is part of the normal process of drafting an environmental study.
"This is just a standard review process," he said. "It isn't above and beyond anything we ordinarily do."
The internal review was conducted by the six permitting agencies assisting the Payette in its review of the project, Harris said.
Those agencies include the U.S. Environmental Protection Agency, the U.S. Army Corp of Engineers, the Idaho Department of Lands, the Idaho Department of Environmental Quality, Valley County and the Idaho Governor's Office of Energy and Mineral Resources.
A Midas Gold spokeperson said the company was disappointed by the latest delay.
"While we want these benefits realized as soon as possible, we also want the community to be able to review and comment on the best prepared document possible that leads to a defensible decision," said Mckinsey Lyon, vice president of external affairs for Midas Gold Idaho.
"However, the delays yet again push out the environmental solutions being brought to the table, as well as the capital investment and employment," Lyon said.
The delay in releasing the draft study marks the latest in several other delays over the last two years.
In the fall of 2018, the release of the study was delayed from last March to last May amid the Payette's request for more information from Midas Gold.
The release date was then pushed back again until August 2019 to allow Midas Gold more time to submit additional water quality studies to regulatory agencies.
The Payette then moved the release to January 2020, the most recent planned release date, to allow it more time to develop project alternatives and weigh possible environmental consequences.
The draft study will weigh the environmental effects of the project as proposed and evaluate a range of alternatives to the project.
After the study is released, the Payette will hold a minimum 45-day public comment period on the draft.
Substantive comments will then be incorporated into the drafting of a final study, after which a decision on the project and which alternative, or combination of alternatives, will be made.
The final environmental study, most recently expected in November of this year, will also be subject to a minimum 45-day objection period.
Only those who submitted a valid comment to the Payette during the initial 2017 project review period or on the draft environmental study would be eligible to issue an objection.
source: © Copyright 2009-present Central Idaho Publishing Inc.
———————-
Public Lands:
Growth hits Idaho's state parks hard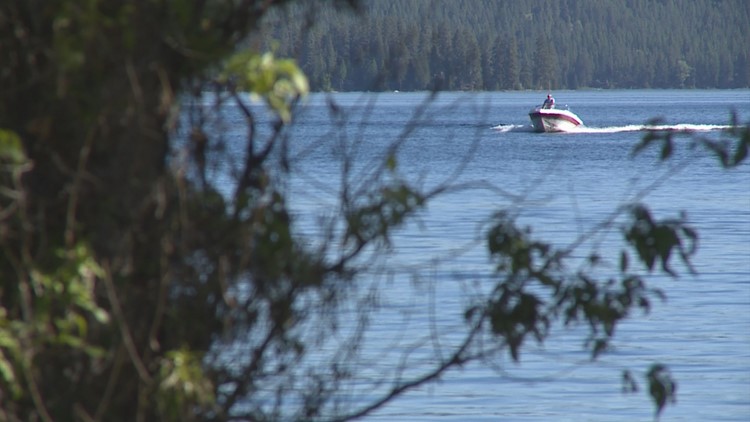 North Beach Unit of Ponderosa State Park at north end of Payette Lake in Valley County.
Betsy Russell (Idaho Press) February 7, 2020
Boise, Idaho — Idaho's state parks are so busy that they're backing off on marketing, as popular campsites sell out long in advance and folks are turned away.
At Bear Lake in southeastern Idaho, the popular North Beach can handle about 600 cars, state Parks Director David Langhorst told the Legislature's joint budget committee on Friday. "Once we get to that point, our rangers have to tell folks – imagine a ranger, in this business, saying to someone, mom and dad and the kids are in the back, and they just drove an hour or two – 'Sorry, we don't have room for you.'"
… Idaho's most popular parks are being maxed out, he said. People can't reserve campsites more than nine months in advance, and at that point, there's a big rush over the internet. At places like Priest Lake or Ponderosa State Park in McCall, "I get letters from people who say they've been trying to get in for 15 years or more, and haven't been able to get a campsite during the high season," Langhorst said. "That's the case in a lot of our parks, and growing."
full story:
— — — — — — — — — —
Last Chance Road closed while hazardous trees are removed
The Star-News Feb 6, 2020
Last Chance Road located between McCall and New Meadows has been closed to motorized public access during the Duck Duck Goose Hazardous Tree Removal Project at Last Chance Campground.
While the road is typically left open for over-snow traffic, it is not usually plowed in the winter.
This year, the road has been plowed open for logging equipment access to the site, but motorized public use is not allowed for safety reasons.
The Duck Duck Goose Hazardous Tree Removal Project is a Good Neighbor Authority project in partnership with the Idaho Department of Lands.
It is a part of the larger Little Red Goose Forest Resilience Project in the Goose Creek and Sixmile drainages.
The two drainages have been hit hard in recent years by insect and disease infestation, and the Little Red Goose Project is focused on the removal of trees killed by insects and disease.
The road closure is expected to last through early April. Road closure signs have been posted.
source:
— — — — — — — — — —
New Meadows Ranger District Seeks Volunteer Campground Host for Last Chance Campground
New Meadows, Idaho, February 4, 2020 – The Payette National Forest is looking for volunteer campground hosts who are enthusiastic about public lands! We currently have a hosting opportunity available at Last Chance Campground near McCall, Idaho. A host campsite is provided, as well as propane and a reimbursement for incidentals and mileage. Minimum 2-month commitment (the campground is open May-Sept).
Volunteer campground hosts are front-line representatives of the U.S. Forest Service and vital to the success of public land management. Typical duties include informing visitors of recreational opportunities, answering questions from visitors, monitoring campground sites for fee compliance, recording daily occupancy levels, maintaining campground facilities, and more.
About Last Chance Campground: This campground is located 9 miles from McCall, Idaho, along Goose Creek. Its close location to McCall and New Meadows, as well as its proximity to Goose Lake and the Goose Creek trail, make this a popular campground. Twenty-three campsites are available to the public on a first-come, first-served basis.
For more information about this opportunity, please contact Mike Beach, Recreation Manager, at 208-634-0440. We hope you'll consider joining our summer volunteer team on the Payette National Forest!
Brian Harris
Public Affairs Officer
Payette National Forest
— — — — — — — — — —
Public Scoping Period Open for Sloans Point Forest Resilience Good Neighbor Authority Project – Public Meeting set for February 18, 2020
McCall, ID, February 06, 2020 – The Payette National Forest is seeking public comment on the Sloans Point Forest Resilience Good Neighbor Authority Project on the McCall Ranger District of the Payette National Forest. A public meeting is scheduled for February 18, 2020 from 5:00 to 7:00p.m. at the Forest Supervisors office (500 North Mission Street, McCall, Idaho 83638). Forest Service and Idaho Department of Lands personnel will be available to share information and answer questions.
The Forest proposes to manage forest structure and species composition to recover from insect and disease disturbances, and improve forest landscape resiliency. Activities would restore species composition, stand structure and size classes, and reduce undesirable species and stand densities while favoring the retention of larger diameter, seral trees throughout the project area. Visit the project webpage at: (link)
These proposed treatments would occur on up to 2,272 acres with activities including commercial thinning, non-commercial thinning, prescribed burning, riparian treatments, and transportation system work.
For this project, the Forest Service is partnering with the Idaho Department of Lands through the Good Neighbor Authority, which enables the Forest Service to achieve restoration and resilient landscape objectives through cooperative agreements. This cooperative effort will help improve forest health in the Sloans Point project area while simultaneously creating jobs and economic benefits.
A preliminary assessment of the project has determined it falls within a Categorical Exclusion as authorized by the Healthy Forest Restoration Act, specifically section 603 regarding insect and disease to reduce the extent of, or increase resilience. This project will adhere to the specifications of that authority. As a categorical exclusion, no additional designated public comment periods for this project would occur, so this "scoping" phase is the best opportunity for public input. The scoping period for comments will close March 2, 2020.
To assist the Forest Service in meeting its goals of reducing our carbon footprint and to achieve a sustainable operation, we are now using a web-based electronic comment system that allows all interested parties to receive project materials (scoping documents, updates, NEPA documents, and decisions) and submit comments through the project website.
To subscribe to receive email notifications about this project, go online to the project website listed above. On the project website, you will see a box titled "Get Connected" on the right-hand side of the page. Click on "Subscribe to Email Updates." When you click on that item, you will be prompted to provide your e-mail address and select a password in the GovDelivery program. When you have logged in, you will be able to manage your account by subscribing to projects by Forest, District, project type, or project purpose. You will also be able to change your e-mail address and password. If you no longer wish to follow the projects, simply delete your subscription. Once you are subscribed, you will receive all project information via e-mail, unless you request hard copies. Only those who subscribe to the GovDelivery mailing list or submit comments will receive future correspondence on this project.
To submit comments using the web form, select "Comment/Object on Project" under "Get Connected" on the right panel of the project website. The comment portal is only open during public comment periods, and submitted comments are available for public viewing in the Public Comment Reading Room.
Comments may also be submitted in hardcopy to Acting District Ranger Ann Hadlow at McCall District Office (102 West Lake Street, McCall, Idaho 83638) or hand delivered to the District Office during regular business hours of 8:00 a.m. to 4:30 p.m. Monday–Friday, excluding holidays.
Comments received in response to this request will be released in their entirety if requested pursuant to the Freedom of Information Act.
Brian Harris
Public Affairs Officer
Payette National Forest
— — — — — — — — — —
Idaho lawmakers kill legislation that would've allowed civil lawsuits for blocking access to public lands
The legislation was killed in the House Resources and Conservation Committee before it was introduced.
Joey Prechtl February 5, 2020 KTVB
Boise, Idaho — A Boise lawmaker wanted to introduce a bill that would've allowed penalties against people who block access to public lands. But Rep. John Gannon's bill was shot down before it could be introduced on Wednesday.
The issue has made a lot headlines over the last few years as private land owners in Idaho have blocked roads on their property that is often the only access point to public recreation areas.
… [the] House Resources and Conservation Committee killed it because they said it infringed on private property rights and they're working to keep big government out of people's backyards.
full story:
———————
Critter News:
MCPAWS becomes the big dog in animal care
Animal shelter takes over vet clinics in Lake Fork, Donnelly
By Drew Dodson for The Star-News Feb 6, 2020
MCPAWS Regional Animal Shelter has acquired two local animal clinics as part of its quest to ensure shelter animals have adequate medical care.
MCPAWS has purchased Donnelly Veterinary Hospital in Donnelly and Long Valley Veterinary Clinic in Lake Fork.
The two clinics will be merged at the Donnelly clinic, which reopened Monday as MCPAWS Veterinary Hospital.
continued:
— — — — — — — — — —
Pet Talk – Why does my dog 'scoot'?
By Dr. Karsten Fostvedt Feb 7, 2020 IME
The anal sacs are two small pouches under the skin near the anus at the 8:00 and 4:00 positions. These sacs hold the thick fatty liquid that is strongly scented and produced by the anal glands. This liquid is used by wolves and wildcat species to mark their territories. In the domestic dog and cat, the use of anal-gland secretions for territorial marking is much reduced or completely absent; however, the glands and their associated sacs are still present. Occasionally, the anal sacs become blocked or impacted or infected. Normal emptying of the anal sacs occurs with defecation. Dogs and cats also empty their anal sacs voluntarily, but they usually only do so if they are frightened.
Failure of the anal sacs to empty during defecation can occur when animals eat low-fiber diets that produce feces that are soft and do not stretch the anus. Infection of the anal sac duct, possibly from bacteria or fungal organisms living around the anus, can cause swelling of the dog and prevent the sacs from emptying. Sometimes the infection can cause the anal sac to abscess, which can cause a severe redness and inflammation and irritation to the anal area.
Any impaction or swelling of the anal sacs can cause anal discomfort in both dogs and cats. The most common clinical sign is scooting or dragging of the animal's rear end on the floor while it is seated.
continued:
— — — — — — — — — —
Royer toughs it out to win Idaho Sled Dog Challenge
By Max Silverson for The Star-News Feb 6, 2020
Reflecting the lights at the finish line, the shimmering eyes of Jessie Royer's 12 Alaskan huskies came into view, bouncing through the night as they happily trotted to a first-place finish at the Idaho Sled Dog Challenge at 2:19 a.m. on Saturday.
The team of Royer, of Seely Lake, Montana, crossed the finish line 2 days, 15 hours, 4 minutes and over 300 miles after the race began at the Little Ski Hill on Jan. 29.
About two dozen volunteers and spectators had gathered at the finish in the early morning to cheer the team's arrival.
Royer's team was joined shortly by Josie Thyr of Olney, Montana, and her 12 dogs, crossing the finish line only seven minutes later.
Both mushers went through the ritual of individually thanking each dog for their hard work with a thorough pat and friendly, "good dog."
Warm weather and heavy snow made the sled dog race a grueling endeavor, with four of the six mushers in the 300-mile race dropping out.
continued:
— — — — — — — — — —
Dogs biting people, harassing wildlife draws ban in Tetons
by Associated Press Saturday, February 1st 2020
Jackson, Wyo. (AP) — The U.S. Forest Service is cracking down on people letting dogs run off leash along trails in Wyoming and Idaho, following a surge in reports of dogs harassing wildlife and biting people.
Officials say it's not acceptable to treat Teton Canyon like a dog park.
Teton Basin District Ranger Jay Pence says the forest service will more strictly enforce rules that say dogs must be leashed within 200 feet of trailheads and campgrounds.
The move comes after nearby Idaho communities such as the town of Driggs grew dramatically in recent years.
source:
— — — — — — — — — —
Mountain lion spotted in McCall neighborhood
By Drew Dodson for The Star-News Feb 6, 2020
A mountain lion was seen roaming the backyard of a McCall home over the weekend, according to a report received by the McCall Police Department.
A family staying in a vacation rental on Broken Rein Road near Thompson Avenue reported the sighting through the police department's website, Police Chief Justin Williams said. The exact date and time of the sighting was not reported.
Williams reported the sighting to the Idaho Department of Fish and Game, which was monitoring the situation, said Regan Berkley, F&G regional wildlife manager in McCall.
Mountain lion sightings happen in the city of McCall "probably a couple times every winter," Berkley said.
continued:
— — — — — — — — — —
Wild horse adoption a success
Feb 3, 2020 Local News 8
Challis, Idaho (KIFI/KIDK) – People from as far as Utah and Bonners Ferry, Idaho adopted 54 wild horses through the Bureau of Land Management's Challis Field Office last weekend.
Several adoptors claimed up to four horses, qualifying for the Adoption Incentive Program. Under it, adopters are eligible to receive $500 within 60 days of the adoption date and an additional $500 within 60 days of each animal's titling. That is usually about one year from the adoption date.
continued:
— — — — — — — — — —
Second group of elk ushered across highway near Sugar City
Feb 7, 2020 Local News 8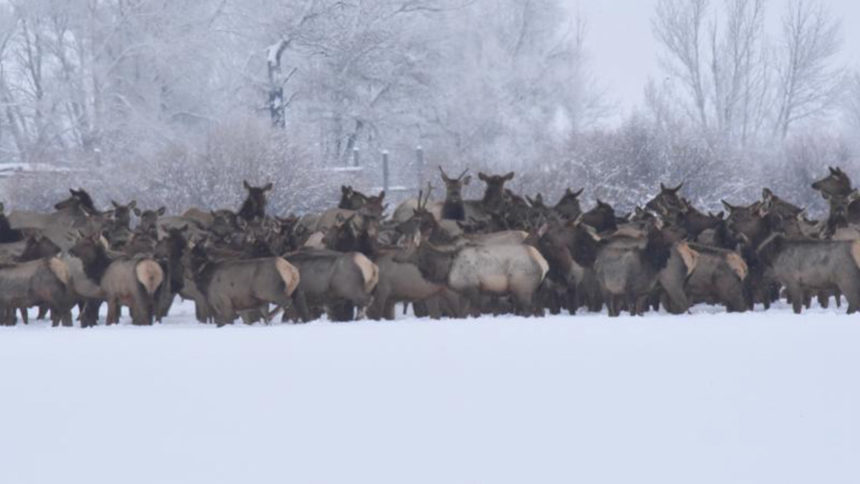 James Brower Idaho Fish and Game
Sugar City, Idaho (KIFI/KIDK) – A group of 150 elk moved out of Teton Canyon earlier this week and headed west towards Highway 20 near Sugar City, again causing concern for passing motorists.
Idaho State Police and the Idaho Transportation Department closed Highway 20 and diverted traffic for about 20 minutes Friday around 11 a.m. as Fish and Game staff gently encouraged this second group of elk to the west side of the highway where they desired to be.
A similar group of elk which moved out of the canyon in late-January.
continued:
— — — — — — — — — —
64 pronghorn killed after getting hit by train in eastern Idaho
by CBS2 News Staff Monday, February 3rd 2020
Boise, Idaho (CBS2) — A train in eastern Idaho collided with 64 pronghorn on Monday morning — killing an estimated 45 on impact and severely injuring another 19 near the small community of Hamer.
Idaho Fish and Game said they were forced to put down the other 19.
Fish and Game officers were called to the area to salvage any edible meat and put down the injured animals. The meat will be distributed to needy families and food banks in the area.
"We have had these sad situations happen before during big snow events," says Curtis Hendricks Wildlife Manager for the region. "These pronghorn are unable to cross the freeway fence as they migrate west and unfortunately they ended up on the tracks where the snow isn't as deep."
source:
— — — — — — — — — —
Pheasants Forever receives Cabela's grant
Feb 3, 2020 Local News 8
Idaho Falls, Idaho (KIFI/KIDK) – The Upper Snake River Chapter of Pheasants Forever has been awarded a grant of $4,491 from Bass Pro Shops and Cabela's Outdoor Fund.
The money will be used to support local conservation efforts, including enhanced wildlife habitat on more than 15.8 million acres across the United States and parts of Canada. Specifically, the donation will be used to improve the water delivery system at Deer Parks Wildlife Management Unit (WMA) and habitat restoration at the Mud Lake WMA.
Cabela's and Bass Pro Shops generate donations from customers who agree to "round up" their purchases to support conservation efforts.
continued:
— — — — — — — — — —
Land Trust tracking trumpeter swans
Feb 6, 2020 Local News 8
Menan, Idaho (KIFI/KIDK) – There are currently some 5,000 trumpeter swans wintering with other waterfowl at the Deer Parks Wildlife Management Unit in Jefferson County. The birds are foraging on Idaho Fish and Game food plots that were planted for them.
The Deer Park units were established as mitigation for wildlife habitat lost by construction of the Palisades Dam and Reservoir. It is mostly intended for mule deer habitat, but also provides open-water winter habitat for waterfowl.
continued:
——————–
Fish & Game News:
To protect wildlife and public safety, give moose in town space
By Kiira Siitari, Regional Communications Manager
Monday, February 3, 2020
Refrain from approaching or feeding moose to keep you and your neighbors safe
During the winter, it is not surprising to see moose within city limits in the Idaho Panhandle and in other parts of the state. Moose move to lower elevations to avoid deep snowpack and take advantage of milder weather conditions. As the largest member of the deer family, moose sightings are part of what makes living in northern Idaho so spectacular.
Moose are not normally aggressive, but they are unpredictable. A docile-looking moose browsing on shrubs one minute can quickly charge or kick if it perceives a threat to itself or offspring. Mother cows with calves in particular require extra space and caution.
continued:
— — — — — — — — — —
More F&G News Releases
link:
———————————-
Crazy Critter Stuff:
A stray cat without ears has a new set of purple ones, thanks to an animal lover who crochets
Jan 19, 2020 Local News 8
A stray cat in Wisconsin had her ears removed due to chronic and painful infections. So a helpful woman crocheted her some new ones.
The cat, named Lady in a Fur Coat, was bought into the Dane County Humane Society in December and immediately began treatment for chronic ear infections and hematomas, spokesperson Marissa DeGroot told CNN.
To alleviate her suffering, veterinarians eventually decided to remove Lady's outer ear flaps — which left her looking a little funny.
continued:
———————
Seasonal Humor:
[Note: the cliff above looks a lot like the big piles of snow in Yellow Pine after cleaning up from recent storms.]
———————-