May 31, 2020 The Yellow Pine Times – Valley County, Idaho
Community Calendar:
The Corner is Open w/reservations
Yellow Pine Tavern Closed until further notice.
April 17 – Boil water order issued
May 15 – Firewood Season starts
May 15 – Lower South Fork river open for float boating
May 18 – Work starts on South Fork road
June 1 – road work YP to Stibnite begins
Mid-June – YP Vet Clinic Canceled
June 13 – VYPA Meeting 2pm at the Community Hall
June 27 – Fest Meeting 2pm at the Community Hall
(details below)
———-
From Valley County
We need Your Help to protect the place and the people we all Love.
link:
— —
Valley County Covid-19 Response Page
link:
— —
Valley County Emergency Operations Center
link:
— —
Rebound – Idaho Governor's phasing program
link:
— —
COVID 19: Recommendations and Resources for Safe Business Practices
link: (lots of info for businesses)
——————-
Local Events:
Note: No local events have been confirmed by press time.
— — — —
June Yellow Pine Vet Clinic Canceled
In consultation with the Cascade Veterinary Clinic, we will not be hosting the June vaccination clinic in Yellow Pine this year. If you need your pet seen, please call Cascade Vet at (208) 382-4590 to arrange an appointment. Currently the protocol is to call the clinic from the parking lot when you arrive and someone will come out to your vehicle and take your pet inside. Due to space limitations they are not allowing people to accompany pets inside.
———-
Village News:
Diamond Fuel & Feed
We planning our Spring delivery up there soon, please call (208) 382-4430. We are open 830am – 5pm Monday-Friday. Closed weekends.
— — — —
Local Biz:
The Corner is open with reservations, call (208) 633-3325.
The Yellow Pine Tavern is closed, will do "to-go" orders and gas, call (208) 633-2233.
— — — —
Voting Idaho Primary Election
Don't forget to return your mail in Ballot before June 2nd.
— — — —
2020 Census
The 2020 Census Impacts All Valley County Residents
Inching closer. Each of our communities and Valley County as a whole have increased our response rate by a few percentage points over the last few weeks – but we still have a lot of room to grow! We are still ranked #42 of 44 counties in Idaho for our Census response rate. Let's get that number up! Responding to the Census takes less than 10 minutes and mean $1,483 per person in federal funding for Valley County.
It is recommended that we all fill out the census online.
If you spend 50% of your time in Valley County, you can consider it your home per the Census. Where you register with the Census is confidential and never linked to other governmental requirements such as property taxes or mailing address. The deadline for the 2020 Census has been extended until October 31st. They will probably not be sending census takers up to Yellow Pine.
Link: to online census
You do not need an ID number. Go to the link. Click on "start questionnaire". Then on the next page scroll down to "If you do not have a Census ID, click here" – when you click on that line it will start the census. (see below)

— — — —
Boil Water Order issued
Update May 15: As usual in previous years, the water plant is experiencing high water in boulder Creek which brings more debris into the sand filter.
The high demand caused by leaks in the system plugs the sand filters prematurely. We will be on a boil order at least through spring thaw.
As of April 17th 2020, Yellow Pine is under another "Boil Order"
Boil Water Advisory Notice
Boil Your Water Before Using
Bring tap water to a rolling boil, boil for one minute, and cool before using or use bottled water. Boiled or bottled water should be used for drinking, making ice, washing dishes, brushing teeth, and preparing food until further notice.
This Boil Water Advisory Notice applies to The Yellow Pine Water System
The system is being monitored and checked daily for compliance. .
You will be informed when you no longer need to boil your water.
For more information, please contact:
Warren Drake of the Yellow Pine Water System
at 208-573-6261 or wdrake@drakediversified.com
Please share this information with other people who drink this water, especially anyone who may not get this notice directly (for example, people in apartments, nursing homes, schools, and businesses).
You can do this by posting this notice in a public place or distributing copies by hand or mail.
State Water System ID#: 4430059 Date distributed: 3-22-2020
— — — —
Critters
Tick's are plentiful this spring.
Bears are out of hibernation, protect your trash and pet food.
It is getting close to calving season, watch out for aggressive mother does and cows, they will stomp your dogs.
— — — —
Road News:
Reports of people making it out via Johnson Creek road, but watch for trees down and rocks once you get out to the highway. Travel at your own risk!
There is about 5 feet of snow at Profile Gap (May 27th)


photo courtesy Chris and Lois
Midas Gold will be working with local contractors to grade the road from Yellow Pine to Stibnite on June 1 and dust abatement of the road on June 15.
Work on the South Fork Salmon River road will begin on May 18th. This year's work will be focused primarily on the Payette portions of the roadway. This initial work will not include road closures, but may cause some very short delays in traveling the road. The contractor will to begin implement the same closures as last year as soon as Lick Creek opens, which is expected to be right after the Memorial Day weekend. These closures will be from 0700 until 1600 every week day, just like last year. The Forest Service will provide weekly updates on Mile Post closures as we did last year.
The load restrictions on the South Fork Salmon River Road were lifted May 18th
— — — —
Forest Info
A report last week (May 23) of trees cut and stacked at the Yellow Pine Campground. Possibly hazard tree removal by the Boise NF.
The Krassel RD campgrounds are effectively open for use but currently with limited services – we advise all users to bring toilet paper, drinking water and strive to be as fully self-contained as possible as the District is not operating the campgrounds as open with full services. We have cleaned the restrooms in the South Fork paved road corridor, but water systems will take a little longer to bring on-line due to the need to sanitize and to receive water testing results.
All campgrounds and restroom facilities in the South Fork Corridor, Lick Creek/Secesh Corridor and along the East Fork South Fork Salmon River to Yellow Pine will begin seeing our regular restroom cleaning beginning this Friday, May 15th. Water systems will come online in the near future.
Rx Burns
All new prescribed burn ignitions have been paused across the Region in line with regional direction. The Forest will continue to prioritize keeping employees and the public safe during this time. The decision to temporarily postpone ignitions will prevent any effects from smoke that might further worsen conditions for those who are at risk in our communities while reducing exposure for Forest Service employees who might not otherwise need to travel.
We expect the pause on prescribed burn ignitions to be re-evaluated by the Regional Forester sometime in April.
– PNF
— — — —
Yellow Pine US Mail
The 6-day a week mail delivery will start soon. The Post Office in Yellow Pine is open six days a week year around: M-F 845am-245pm Saturday 9am-245pm. Forever Stamp: 55 cents. Support our local post office and purchase your holiday stamps here.
— — — —
Yellow Pine Transfer Station
May 20th – report that the trash strewn about by the bears has been cleaned up at the Transfer Station.
Lakeshore last emptied the bins on or before May 1st. Please keep the burn pile neat.
Please do not abuse our Transfer Station or we may lose it. Household trash must be placed in the bins, flattened cardboard boxes can also go into the bins. Do not stack trash in front of the doors. Woody yard debris only for the burn pile. No furniture, appliances, tires or construction debris allowed, those items must be hauled out to the Donnelly station by you.
Yellow Pine Transfer Station (aka, the dump)
The Yellow Pine Transfer Station is located approximately 3 miles south on Johnson Creek Road.
The TRANSFER STATION is for household trash and yard waste:
* Household trash must be put inside (and fit) the dumpster;
* Yard waste (limbs, pine needles, brush, etc.) goes in the burn pile on the south end of the turn-around;
* Cardboard boxes should be flattened before putting the in the dumpster,
The DUMPSTERS are NOT for:
* Furniture (take to Donnelly Transfer Station);
* Appliances (take to Donnelly Transfer Station).
The BURN PILE is NOT for:
* Cardboard boxes (flatten and put in dumpster);
* Furniture and appliances (take to Donnelly Transfer Station);
* Drywall and building material (take to Donnelly Transfer Station);
* Wire or fencing (take to Donnelly Transfer Station);
* Foam Rubber (take to Donnelly Transfer Station);
* Wood with metal (like nails) attached (take to Donnelly Transfer Station.)
When closing the DOORS on the front of the dumpsters:
* Make sure the "U" brackets at the top and bottom of the door are engaged;
* The retaining bar at the middle of the door is slid into the pipe;
* And the "L" bars at the bottom of the doors dropped into place.
The Yellow Pine Transfer Station is Valley County responsibility. If it is not kept tidy, use of the Transfer Station may be revoked. That would result in residents having to take all household trash and yard waste to the Donnelly Transfer Station.
If Dumpsters Are Full, Contact Lake Shore Disposal at: 208/634-7176
———-
Local Groups:
YPWUA News:
New Boil Water Order issued April 17, 2020. This could last until runoff is over.
Second half of the water bill is due June 15, 2020.
The last Yellow Pine Water Users Shareholders meeting was Sunday July 7, 2019.
link: 20190707YPWUAminutes
— — — —
VYPA News:
Next Village Meeting June 13
link: June 2020 VYPA Agenda-1.docx
2020 Festival Meeting May 16, 2020 Notes
Note: at each meeting we simply add to info on the topic. That way, info from all meetings is included in a single document.
link: 2020 Festival Planning Notes.pdf
Next festival planning Meeting June 27th at 2pm at the Community Hall
Heat was installed in the community hall on April 30th.
Proposed VYPA Bylaws Changes
Attached is the compiled proposed changes to the bylaws the Council has received.
The proposed changes and the proposed addendum B, are being published to give folks plenty of time to read and process the information before the first reading.
link: 2020 Proposed changes to Yellow Pine Bylaws Adopted 9-12-2015.pdf
link: 2020 Addendum B-letter of interest.pdf
link: 2018 Midas Gold Community Partnership Agreement with the Village of Yellow Pine
Deb Filler – Chairperson
Village of Yellow Pine Association
The community hall committee's goal is to have adequate heating installed in the main hall before the June VYPA meeting.
If folks have items for the community yard sale, please place them by the north wall in the community hall. If you see items you would like to purchase, you can pay Deb, Ronda, or Lynn. All funds support the community hall.
VYPA meetings for 2020 – June 13, 2pm; July 11, 2pm; August 8, 2pm; September 12, 2pm.
Village of Yellow Pine Association Meeting Minutes for September 21, 2019
link: 20190921 Village of Yellow Pine Association Meeting
— — — —
YPFD News:
YPFD COVID19 Policy
link: YPFD Covid 19 SOP.docx
The link below is for the EMS folks!
link: Covid-19 EMS.pdf (May 23)
May 10th Burn Permits – contact the YPFD
Pile burning: Dress appropriately, have enough help on hand (people, water and tools) and make a firebreak before you start. Call your local fire protection district chief to let them know you'll be conducting a debris burn. This saves them from sending emergency responders to your property if they are not needed. Do NOT burn on breezy afternoons.
Better yet, "Bring It, Don't Burn It", you can take your yard waste (limbs, pine needles, brush, etc.) to the burn pile at the Transfer Station on the south end of the turn-around. Remember, keep the pile neat. Woody debris only, no nails, no cardboard and no furniture! The Boise NF will burn the pile in the fall when it is safe and doesn't pollute our fine YP air.
YP Fire Commissioners:
Sue Holloway – District 1
Dan Stiff – District 2
Merrill Saleen – District 3
Jeff Forster – Fire Chief
Yellow Pine Fire Protection District Community Service Notice
The purpose of this letter is to show how you as a Yellow Pine Resident can help protect your structure against a wildland fire by being "Fire Wise."
Click the link: to view 20190724 Yellow Pine Fire Protection mitigation
——–
Biz Listings:
The Corner (208) 633-3325
Open 11am-8pm Closed Tuesdays
The best way to ensure we meet our social distancing guidelines is to call 208-633-3325 before dropping in but we will accommodate everyone, it just may take a bit more time. We will do breakfast on request and always have good coffee going.
— — — —
Yellow Pine Tavern (208) 633-2233
Tavern is still closed until further notice. Will have gas available as well as take out beer, pop, candy, chips, pizza. Call 208 739-7086 or go to 355 Yellow Pine Ave. House across street from the Tavern next to the Silver Dollar.
— — — —
Yellow Pine Lodge (208) 633-3377
Closed for Winter.
— — — —
Knotty Kat Crochet Works – 208-502-0940
FB page link
open Tue – Sat, 9-5
Yellow Pine eggs $3/doz
— — — —
Buck Horn Outfitters LLC 208-633-3614
Tom & Sarah Lanham
156 Yellow Pine Ave, Yellow Pine Id 83677
website:
Facebook:
Starting June 2020 We will be doing trail rides out of Yellow Pine along with summer pack / camping trips to high mountain lakes in the area!
Wapiti Meadow Ranch – Johnson Creek (208) 633-3217
or 208-315-3554 – cabin rentals
website:
Deadwood Outfitters
website:
— — — —
Local Fuel Suppliers
Amerigas Phone: (208) 634-8181
Ed Staub & Sons Phone: (208) 634-3833
Diamond Fuel & Feed Phone: (208) 382-4430 open 830am-5pm Monday-Friday, closed weekends.
— — — —
Outside Biz that will service Yellow Pine:
The Star-News


subscribe:
A reminder that those who live in other states can subscribe to the online edition only since the mail can take days for hard copy to reach them.
Rocky Mountain Mechanical – Plumbing – Heating – Air conditioning
(208) 365-PIPE (7473), Emmett, will service Yellow Pine
Elkhorn Heating & Cooling
(208) 906-4067 Middleton, Idaho, will service Yellow Pine
B&T Safety Solutions LLC
208-271-1600 Based out of Donnelly
Snow removal, cleaning chimneys and stoves, we do cabin staining/chinking as well
— — — —
Follow The Yellow Pine Times on Facebook (updated more often than emails)
———————–
Letter to Share:
Dear Yellow Pine residents:
Cascade Medical Center is here for you. When I (Tom Reinhardt) attended your community meeting in September, I mentioned that we were preparing to provide tele-video medical visits. We now have that up and running. If you want to schedule an appointment, call our clinic at 208-382-4285. Vicki or one of the MAs will ask you some questions to make sure that a tele-video visit is the right choice given your symptoms or need. If so, we will work with you to make sure you are set up on the Cascade Medical Center patient portal (with our EMR). We will also make sure that you are set up to be able to do a tele-video visit (laptop with camera, desktop with camera, or smart phone). We use the Zoom telemedicine system, which is confidential and secure (it works like Skype or Face-time). Before the appointment, we will email you a link for the tele-video visit. When it is time for your appointment, you will click on the link in the email and you will be connected with our provider and can begin your visit.
Regarding insurance coverage, the COVID legislation passed in March assures coverage of telemedicine visits for patients with Medicare, Medicaid, VA. Private insurers have also decided to provide coverage just as for regular in person visits, at least until the COVID epidemic crisis is declared over.
My advice is that if someone usually goes to the VA for care, they should call the VA and see if they can do a video visit with them. Or if they usually go to McCall St. Lukes, they should call their doctor there.
Tom Reinhardt, CEO
Cascade Medical Center
April 4, 2020


————————-
Local Observations:
Monday (May 25) overnight low of 32 degrees, mostly clear sky this morning. Lots of tree swallow and finches calling and flying around. Morning air traffic. A few grosbeaks (evening and black-headed) and a pine squirrel dodging finches at the feeders. Partly cloudy and breezy after lunch time. Seeing a few more hummingbirds. Warm, mostly cloudy and light breezes mid-afternoon, high of 74 degrees. Overcast, breezy and raining lightly mid-evening, steady rain until late evening. Overcast and breezy at dusk, hairy woodpecker calling. Cloudy before midnight.
Tuesday (May 26) overnight low of 49 degrees, low overcast and foggy ridges this morning. Finches, black-headed grosbeaks, juvenile nutcrackers and jays visiting, no tree swallows around. Air traffic at lunch time. Broken gray overcast and breezy mid-afternoon, high of 69 degrees. A little pine siskin stopped by. Mostly cloudy (dark gray) and calmer early evening. Mostly cloudy (high thin) at dusk and calm. Swallows came back and a large bird (eagle?) soaring over the village. High thin wispy clouds at dusk and robins calling. Stars out before midnight.
Wednesday (May 27) overnight low of 39 degrees, clear sky and light breeze this morning. Lots of swallows and finches, a couple of hummingbirds visiting. Air traffic buzzing the village after lunch time. Hazy wispy clouds and light breezes mid-afternoon, high of 77 degrees. Finches twittering, black-headed grosbeaks and jays visiting, all kinds of squirrels scampering about. Very thin high haze in the sky by evening and breezy. Partly hazy at dusk and robins calling. Clear before midnight, lots of stars.
Thursday (May 28) overnight low of 38 degrees, partly hazy sky and breezy this morning. Lots of swallows flying, finches and robins calling. Mostly clear and light breezes after lunch time. Quite warm, mostly clear and light breezes mid-afternoon, high of 86 degrees. Partly cloudy and slight breeze mid-evening. Raven calling from the east, swallows, finches and robins singing. Lilac blooms about to pop. At dusk it was almost clear (1 little cloud) and breezes picking up, and robins chirping. Mostly cloudy and breezy after midnight. Thunderstorm with rain after 2am.
Friday (May 29) overnight low of 50 degrees, mixed overcast sky (thin haze and thicker dark clouds) and muggy, rain total = 0.04″. Early airplane traffic. First lilac blooms, tree swallows hunting feathers for nests and robins calling. Rivers are up. Partly cloudy, warm and muggy after lunch time. Pretty warm and muggy with light breezes and partly cloudy mid-afternoon, high of 88 degrees. Female hairy woodpecker stopped by a couple of times. Partly cloudy mid-evening, folks out golfing. Mostly cloudy and breezy before midnight.
Saturday (May 30) overnight low of 47 degrees, thunder and short hard rain around 830am (0.03″) overcast sky and humid this morning. Rivers are up and lilacs blooming. Swallows hunting feathers for nests, finches and robins calling, a couple of chipmunks and 2 pine squirrels scampering about. Clouds thinning before noon, loud rumble but probably not thunder. Skinny male hairy woodpecker and a hummingbird visited. Hot and gusty breezes mid-afternoon, high of 91 degrees. Increased traffic. Dark storm clouds to the south and west, breezy, warm and humid mid-evening. Dark overcast and calmer at dusk. Cloudy, calm and humid before midnight. Rain early morning.
Sunday (May 31) overnight low of 50 degrees, early morning rain showers (0.02″) mostly cloudy and breezy this morning. Wind gusts and power blip at 902am. No swallows around this morning, a few finches and a black-headed grosbeak, a female hairy woodpecker and 1 hummingbird visited. Lilacs in full bloom and bleeding hearts putting out flowers. Mostly cloudy and breezy after lunch time. A rufous and a calliope hummingbird, a mourning dove and a clark's nutcracker visited. Mostly cloudy and lighter breezes mid-afternoon, high of 71 degrees. Several jays visiting and robins hopping about. Partly cloudy and a bit breezy mid-evening.
————————
Letter to Share:
from Valley County Sheriff's Office
PSA Saturday –
We would like to take this opportunity to educate some folks on the usage of your UTV, ATV or Dirt Bikes on County roads in Valley County.
We get several questions and complaints during the spring, summer and fall on the use of these vehicles in neighborhoods and on County maintained roads, public and private. Remember, just because a road is marked private (blue signs), it's still accessible to the public and you must still follow the rules of the road.
Use on City & County Roads (does not include private property)
The following requirements must be met on city, county, and highway district roads.
• Valid restricted vehicle license plate. [IC 49-402(4)]
• Valid IDPR OHV registration sticker affixed to restricted vehicle license plate. (IC 67-7122)
• Valid driver's license. (IC 49-301) – Parents can be cited for allowing an unlicensed minor to operate an ATV or UTV. Please keep this in mind.
• Liability insurance or alternative insurance. (IC 49-1223 or IC 49-1232)
• A helmet under age 18. (IC 49-666) Please make sure it's a DOT inspected helmet.
• Muffler and U.S. Forest Service approved spark arrestor. Your muffler has to pass 96 dB at the half-meter test, SAE J1287. The OHV cannot exceed 96dB. (IC 67-7125)
• If you are riding on a highway within city limits, you may NOT go beyond the 45 mph signs in Valley County. This may not be the case in other cities, please be sure to check city codes prior to operating an off road vehicle on state highways within other city jurisdictions, they vary.
For safe operation on roads the following equipment is recommended.
• Brake light.
• Headlight and taillight after dark/poor visibility.
• Horn audible at 200 feet.
• Mirror showing roadway 200 feet behind the OHV
License & Registration
Any OHVs being operated or transported on public lands, roads or trails of the state of Idaho must display a current IDPR OHV Registration Sticker. Idaho Code 67-7124. Registration has been extended until June 30th, due to COVID-19, however they are asking that you attempt to get this completed as soon as you can.
Non-resident Requirements
Non-residents are required to have either a valid OHV registration from their home state of residence or a valid IDPR OHV registration sticker. Nonresidents must purchase an Idaho restricted vehicle license plate with a valid IDPR OHV registration sticker if they don't have a plate and wish to operate on Idaho's local jurisdiction roads (i.e.county roads).
Please be courteous, pay attention to speed limits and remember when you are driving through neighborhoods there are lots of things going on, kids playing, family pets and people walking or biking their neighborhoods.
We are asking that if you would like to report traffic complaints in your neighborhood, to call at the time it's occurring, get a good description of the vehicle, a plate would be great and a description of the occupants, if possible.
Some of the questions the dispatcher might ask you are; Which direction did they go? Do you know where they live? When did this occur?
All of this information helps us in assisting you in better serving your needs. A lot of these vehicles look the same and disappear quickly!
As always, Stay Safe, be healthy and practice social distancing.
(via FB May 23, 2020)
—————————–
Photo to Share:
Highway 55 May 30th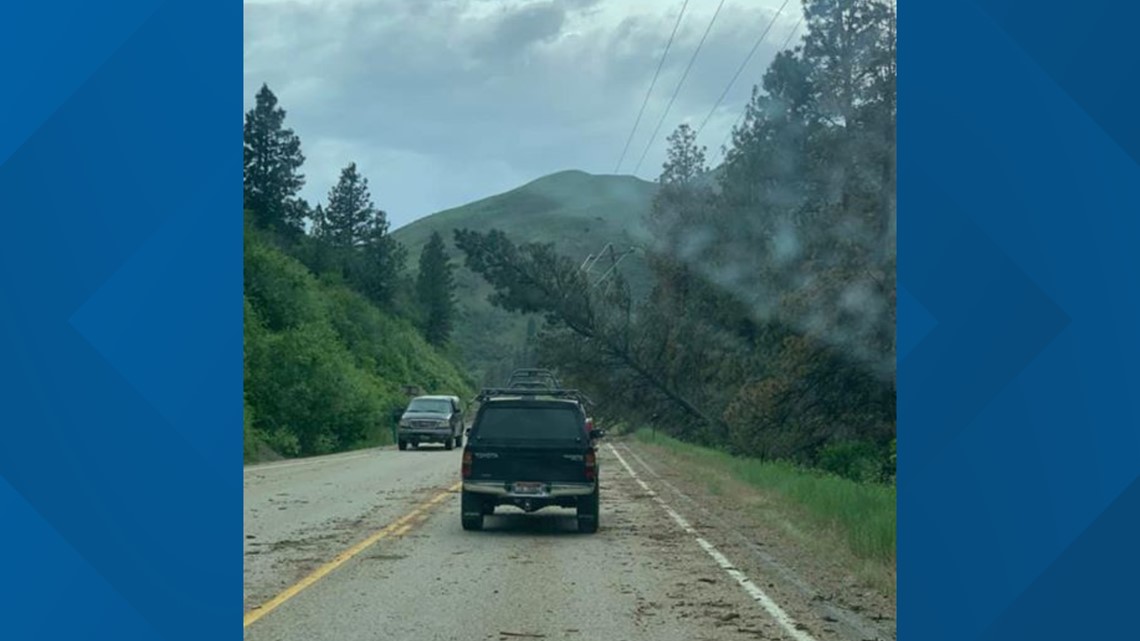 Idaho Weather Watcher Calvin Bohrer took this photo while on Highway 55, just south of Banks, and shared it with KTVB's Idaho Weather Watchers Facebook group.
According to a post on the Horseshoe Bend community FB group, traffic was stopped and not allowed to go North past HS Bend until the highway the tree was removed.
———————–
Idaho News:
Idaho to enter Stage 3 of reopening plan, movie theaters can open on Saturday
by Bryan Levin & CBS2 News Staff Thursday, May 28th 2020
Idaho is ready for the next step of re-opening up its economy.
On Thursday, Gov. Brad Little said the Gem State will transition into Stage 3 of the state's Idaho Rebounds plan beginning on Saturday.
Some of the most significant changes includes bars, which will now be allowed to open up their doors. Also on Thursday, the governor said he's allowing movie theaters will also be able to open this weekend. Those were previously designated in Stage 4.
"Due to the sacrifices Idahoans have made in the past two months and the care they have shown for their neighbors, I'm hopeful that we've past the worst of COVID-19 in our state," Little said.
continued:
— — — — — — — — — —
Valley County Transfer Site notes Clean Up Days next week
The Star-News May 28, 2020
Valley County residents can haul household and yard debris to the Transfer Site for free or reduced cost during Clean Up Days Wednesday through Saturday, June 3-6, from 8 a.m. to 5 p.m.
Most residential materials will be free to dump, but hazardous household materials will not be accepted.
Dump fees for items such as auto batteries, large tires, refrigerators, small boats, snowmobiles and watercraft will be half price. Fees for some large items, such as motorhomes and large boats, will be regular price.
Items must be separated into lumber, concrete, large metal items and woody debris and yard waste, as all will go into separate piles.
Loads of lumber, metal or woody debris must be brought to the site by 4:30 p.m. to be weighed.
The Transfer Site will accept residential yard debris for free through Tuesday, Oct. 20. This debris includes unprocessed wood products such as trees, branches, bushes, leaves, pine needles and pine cones.
Fall Clean Up Days will be Thursday through Saturday, Sept. 24-26.
The Valley County Transfer Site is located at 240 Spink Lane, off Farm to Market Road in Donnelly. For more information, visit http://co.valley.id.us and scroll down to the Transfer Site icon.
source:
— — — — — — — — — —
St. Luke's McCall resumes non-urgent services
By Tom Grote for The Star-News May 28, 2020
St. Luke's McCall will restart non-urgent services such as imaging, procedures, elective surgeries and clinic visits.
"The reopening approach is to ensure we can meet the care needs of our community while still providing safe care in a safe environment and be prepared to respond should there be a surge in COVID-19 cases," a statement from the hospital said.
St. Luke's is prepared to immediately reduce non-urgent services in the event of a surge in COVID-19 patients, the statement said.
continued:
— — — — — — — — — —
Face-Off Over Face Masks
Mandate by businesses OK with most, but not all, customers
By Drew Dodson for The Star-News May 28, 2020
The decision to require all customers and employees in May Hardware in McCall was an easy one for Scott Fereday.
"It doesn't take but one person to come in here and be infected for basically my whole staff to go down, or at least have an exposure to the point where we could have to close the store," said Fereday, co-owner of the store at 809 N 3rd St. downtown.
Starting May 15, the store mandated that anyone entering must wear a mask, with large banners and signs out front warning of the new policy designed to combat the COVID-19 virus.
Employees had been wearing masks since early April, but Fereday felt more precautions were needed as the state advances through Idaho Gov. Brad Little's four-stage plan to re-open the state and tourists return to McCall.
"It was just a no-brainer for us since we had already as a staff been wearing masks at that point for four weeks," he said.
The store sees up to 1,200 transactions on busy summer day, and Memorial Day weekend this year proved to be one of the store's busiest ever, Fereday said.
Few have complained about the new policy and many have even thanked staffers for the extra step to boost safety, he said.
"You'll get a few that grumble a little bit, and then you'll get some people that see the sign at the door and start swearing and walk away," he said. "And that's fine. That's their opinion."
Some malcontent customers have threatened to never shop at the store again and instead shop in Boise, while others have berated the policy in profanity-laced tirades.
continued:
— — — — — — — — — —
Guidance now available for safe gatherings
May 27, 2020 Local News 8
State and local public health experts created a new guidance document to assist with decisions about gatherings during the COVID-19 pandemic.
The document addresses how to plan for safe gatherings in the various stages of the Idaho Rebounds plan and after.
"Mass gatherings highly influence virus activity. It is recommended that all future plans for gatherings beyond the stages of the Rebound Idaho plan should be planned with cancellation or postponement contingencies. Idaho public health experts, DHW and all local Public Health Districts, will support any decision to postpone or cancel gatherings and public events in order to protect Idahoans and those who visit Idaho."
The Interim Guidance for Safe Gatherings and Public Events in Idaho document is available HERE.
continued:
— — — — — — — — — —
Cascade to go ahead with Fourth of July fireworks show
The decision comes one day after McCall opted to cancel their city fireworks show over Payette Lake over concerns about the spread of coronavirus.
May 28, 2020 KTVB
The annual fireworks display over Lake Cascade will proceed as normal this Fourth of July, the Cascade Chamber of Commerce announced Thursday.
"We have safety precautions put in place, and strongly encourage people to follow social distancing guidelines," the Chamber tweeted.
… Cascade's fireworks show is slated to begin at dusk on July 4.
full story:
— —
The 4th of July Fireworks ARE happening at Lake Cascade this year!
From Lake Cascade Recreation Area & Cascade Chamber of Commerce
We have safety precautions put in place, and strongly encourage people to follow social distancing guidelines according to the Idaho Rebounds Plan. Please view the fireworks at your own risk! No food vendors – Same place as last year on the Golf Course. No music vendors are scheduled to be playing before the fireworks at this time. SPACE WILL BE VERY LIMITED we ask that you police yourself and respect others space for social distancing. If you are worried please find a safe place in your cars to enjoy the fireworks (highly encouraged). If you are sick stay home please. Plan on very long wait times after the fireworks are over patience will be important – Boat Ramps, and all roads in and out of Cascade.
— — — — — — — — — —
McCall will skip its 4th of July fireworks show this year due to crowd health concerns
by CBS2 News Staff Wednesday, May 27th 2020
The widely popular 4th of July fireworks show in McCall has been canceled this year.
On Wednesday, the McCall Area Chamber of Commerce and the town cited concerns with crowd health and safety concerns due to COVID-19.
"It is really disappointing to not host the fireworks show on Payette Lake this year," said Lisa Johnson, McCall Area Chamber event committee chair. "But the health and safety of our community and guests is our primary focus."
Local officials issued a survey to gauge opinion on whether to host the show. Of the more than 830 people who took the survey, just over 47 percent said they were not in favor or unsure on hosting the fireworks.
continued:
— — — — — — — — — —
McCall council splits 3-2 to ban alcohol in parks July 3-5
By Drew Dodson for The Star-News May 28, 2020
Alcoholic beverages will be banned in lakefront parks in the City of McCall on the Independence Day holiday for the fifth year in a row, the McCall City Council voted last week.
Council members split 3-2 over whether to continue the ban on booze at Legacy Park, Brown Park, Davis Beach Park, Art Roberts Park and Rotary Park, which this year will last all weekend from July 3-5.
continued:
— — — — — — — — — —
Tamarack Resort opens summer operations
by CBS2 News Staff Wednesday, May 27th 2020
Summer Operations are up and running at Tamarack.
Here's a list of things to do at the resort:
continued:
— — — — — — — — — —
McCall Farmers' Market will not operate physical market
The Star-News May 28, 2020
For the first time in 29 years, the McCall Farmers' Market will not have a physical presence this summer, market manager Susie Marshall said.
The decision not to hold the market was due to social distancing guidelines that remain in place due to the COVID-19 pandemic, Marshall said.
"This was a very difficult and overwhelming decision to make," she said.
continued:
— — — — — — — — — —
Donnelly Farmers Market will return to city park on June 17
The Star-News May 28, 2020
The Donnelly Farmers Market will kick off its third summer season with fresh produce and other wares on Wednesday, June 17, from 3 p.m. to 6 p.m. at Donnelly City Park.
Shoppers will also find meats, goat cheese, eggs, baked goods and crafts from more than 25 local and regional vendors at the market, open every Wednesday from June 17 through Sept. 23.
The farmers market will follow the recommendations of Central District Health and the Idaho Farmers Market Association, including social distancing of vendors and customers as well as hand sanitizing stations.
continued:
— — — — — — — — — —
Central Idaho Historical Museum will not open this summer
The Star-News May 28, 2020
The Central Idaho Historical Museum in McCall will not open this summer due to restrictions caused by the COVID-19 pandemic.
The museum is located on four acres along State Street between West Lake Street (Idaho 55) and Park Street across from St. Luke's McCall.
"We felt we could not conduct tours of the Warden's House or have visitors in the museum and still keep a safe distance for people," board member Kathy Deinhardt Hill said.
continued:
— — — — — — — — — —
Up the Creek Gravel Grinder race canceled by COVID-19 worries
By Max Silverson for The Star-News May 28, 2020
The 60-mile Up the Creek Gravel Grinder bike race that was set for July 25 east of Cascade has been canceled due to precautions to prevent the spread of the COVID-19 disease.
The organizing committee decided canceling was the safest course of action, race organizer Mary Tracey of Cascade said.
The race was meant to take the place of the 4 Summit Challenge while that event's usual route on Warm Lake Road to the Reed Ranch on the South Fork Road underwent major road work.
"When we were told that South Fork Road was unavailable to us again this summer due to road construction, Mike Cooley of George's Cycles proposed doing a gravel grinder race as an alternative," Tracey said.
continued:
— — — — — — — — — —
St. John's Day picnic cancelled by COVID-19 precautions
The Star-News May 28, 2020
The annual Juhannus, or St. John's Day potluck picnic, that had been scheduled for June 28 has been canceled due to efforts to limit the spread of the COVID-19 illness.
The Finnish Ladies Aid stages the picnic, which started with Finnish immigrants who came to Valley County in the early 1900's.
Juhannus is celebrated at the point of the year with the most daylight. It is the biggest summer celebration in Finland and signals the start of the "real summer."
source:
— — — — — — — — — —
Middleton takes 'conservative approach' cancels 4th of July Parade, keeps fireworks
by Trevor Fay Tuesday, May 26th 2020
Independence Day is just six weeks away and Treasure Valley communities are already planning how to celebrate without compromising people's health.
As communities continue to recover from the first wave of the coronavirus, leaders are deciding how best to celebrate upcoming holidays.
continued:
— — — — — — — — — —
2020 National Oldtime Fiddlers' Contest and Festival Cancelled
March 26, 2020
This morning, The National Oldtime Fiddlers' Contest and Festival Board held an emergency meeting. We have come to the decision that the 2020 Contest and Festival will be canceled. We look forward to celebrating the 68th year of the Contest and Festival in June, 2021.
Our decision was not made lightly. We had to consider the current situation we are in and examine the outlook for the coming months. Additionally, we had to consider the reality of participants' ability to travel in June – both financial and physical. This is the necessary and right decision for the safety of our community and all participants.
The official 2021 dates are June 20th – 26th.
continued:
— — — — — — — — — —
Several major Treasure Valley events scheduled for summer 2020 canceled because of coronavirus
At least eight major events, including the Snake River Stampede and National Oldtime Fiddlers' Fest have already canceled and more events are still undecided.
Misty Inglet May 29, 2020 KTVB
Large events continue to fall victim to the COVID-19 pandemic. All across Idaho, events such as 4th of July celebrations, rodeos, and festivals are being canceled due to concerns over the virus.
… The Snake River Stampede isn't riding solo in being canceled. Many other major events across the Treasure Valley have also canceled their 2020 events:
Twin Falls Western Days – May 29 to 31
Emmett Cherry Festival – June 17 to 20
Magic Valley Dairy Days – June 11 to 13
Meridian Dairy Days – June 24 to 27
Boise Music Fest – June 27
God and Country Festival – July 1
full story:
— — — — — — — — — —
Bannock County 4th of July activities canceled
May 26, 2020 Local News 8
Pocatello, Idaho (KIFI/KIDK) – Bannock County Commissioners have decided to cancel county-sponsored 4th of July events this year.
Commissioners said there were several reasons for the decision. They said the financial cost of the events would have been beyond available budgets.
The event is usually paid for by sponsors so there is not money in the budget set aside for the festivities.
The commissioners said they didn't want to pull from the tax payers' dollars to "shoot $60,000 off into the sky" after asking county departments to prepare for budget cuts.
continued:
— — — — — — — — — —
Victor cancels 4th of July activities
May 28, 2020 Local News 8
Victor, Idaho (KIFI/KIDK)-The city of Victor has formally canceled this year's 4th of July events due to the COVID-19 pandemic.
Given the event size, density of the crowd, and having no effective way to reduce attendance, the Victor City Council determined it could not safely allow the events.
Mayor Will Frohlich called it a difficult decision.
continued:
— — — — — — — — — —
Dozens of workers at another Idaho meatpacking plant have tested positive for COVID-19
May 27, 2020 Idaho Statesman
Dozens of employees at yet another Idaho meatpacking facility have tested positive for COVID-19. It's the latest in a string of meat and food processing facilities to experience large coronavirus outbreaks — mostly in the rural parts of the state.
At least 44 workers at Ida-Beef, a large slaughterhouse and meatpacking facility in Burley, have tested positive for coronavirus as of Tuesday, according to the South Central Public Health District. None of those employees have been hospitalized, and there have been no fatalities linked to the outbreak at the facility.
continued:
— — — — — — — — — —
NM man, 74, charged in fatal shooting of son, 50
Fight started over discipline of children
By Drew Dodson for The Star-News May 28, 2020
A New Meadows man has been charged with fatally shooting his son last Friday night in the home they lived together in New Meadows, according to the Adams County Sheriff's Office.
Steven Walker, 74, was charged with manslaughter after Troy Walker, 50, died from a single gunshot wound through the sternum, the sheriff's office said.
Walker surrendered without incident and was booked into the Adams County Jail in Council, where he remained Wednesday.
The elder Walker told investigators that he shot his son, but said he did so in self-defense, according to court documents.
continued:
— — — — — — — — — —
Suspect in New Meadows shootout pleads not guilty
William "Bill" Pearle James, 24, is accused of trying to kill two Adams County deputies in March.
Katie Terhune May 27, 2020 KTVB
New Meadows, Idaho — A Cambridge man who was the subject of a week-long manhunt has pleaded not guilty to trying to kill two Adams County deputies in a shootout in March.
William "Bill" Pearle James, 24, pleaded not guilty to all charges May 15. He faces two counts each of attempted murder, assault on an officer, and assault with intent to commit a serious felony.
continued:
— — — — — — — — — —
Ensuring ballot security during Idaho's all absentee primary
by Haley Kramer Tuesday, May 26th 2020
You have until Tuesday, May 26 at 8 p.m. to request a ballot for the Idaho primary. You have until June 2 at 8 p.m. to actually turn in that ballot.
… Idaho's Chief Deputy Secretary of State Chad Houck says it's important to distinguish between mail-in voting being done in other states and what the state of Idaho has always done.
"Idaho never operated under a mail ballot system. We've always had some aspects of being able to move ballots by mail through what we call absentee voting," Houck said. "Absentee voting has been in statutes, it was there before COVID and it was some really good established processes."
… Houck says there have only been a handful of cases of voter fraud in Idaho over the last 30 years. That being said there is an extensive process to make sure your vote is secure.
full story:
— — — — — — — — — —
Just over 62% of Idaho responded to 2020 Census
by Ryan L Morrison Friday, May 29th 2020 CBS2
Just over 62% of Idaho responded to the 2020 Census, according to the U.S. Census Bureau.
Responses to the 2020 Census in Idaho have reached 62.6% with 53.5% responding online.
Current self-response rates nationwide have went over the 60% response rate milestone. And as of May 25, online responses are 9.2 percentage points above Census Bureau projections,
[Note: You do NOT need an ID number to fill out the online census (more info under village news.)]
— — — — — — — — — —
Three aftershocks reported near Stanley, USGS reports
USGS has reported three aftershocks in Stanley, Idaho, all under 4.0 magnitude.
Celina Van Hyning May 31, 2020 KTVB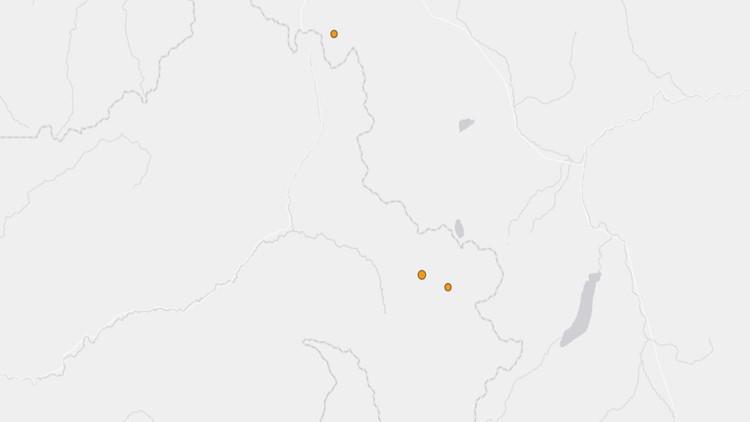 USGS is reporting three aftershock earthquakes between Saturday and Sunday morning. All of the earthquakes were under a 4.0 magnitude.
All aftershocks were within 10 kilometers of the city of Stanley, according to USGS.
The first aftershock occurred around 1 p.m. on Saturday afternoon and was reported as a 2.7 magnitude. The second occurred around 2:30 a.m. on Sunday morning and was reported as a 2.8 magnitude, followed by a 3.9 magnitude aftershock around 10 a.m.
continued:
———————-
Public Lands:
Idaho State Parks will open up campgrounds this weekend
By Steve Dent May 28, 2020 KIVI
Idaho State Parks provides people with opportunities to enjoy the outdoors, in total, 30 different parks are scattered throughout the gem state, and each has its own unique characteristics.
During the COVID-19 pandemic, the state parks remained open, however, they closed down their campgrounds to limit the spread of the coronavirus, but this spring, the parks saw a record number of people at their parks.
"On one hand, it has strained our resources, but on the other hand, it has shown that people have developed a renewed appreciation for getting outdoors," said Craig Quintana of the Idaho State Parks.
On Saturday, the Idaho State Parks will open their campgrounds for the first time in 2020.
continued:
— — — — — — — — — —
Idaho RV registration enforcement postponed again
May 29, 2020 Local News 8
Idaho has again extended its grace period to register recreational vehicles.
The Idaho Parks and Recreation Department asked law enforcement agencies to suspend enforcement of 2020 registrations until July 1. A current grace period expires May 31.
The extension will give the department more time to transition to a new registration system. Among its advantages, a system that will give customers an ability to easily buy or renew registrations online, at retail vendors, or at county motor vehicle offices.
continued:
— — — — — — — — — —
Campground use increases in pandemic, sparking bad behavior
by Jackson Wilde Herald Journal Saturday, May 30th 2020
With outdoor recreation being one of the few activities available during the COVID-19 pandemic, campsites are undergoing a large uptick in positive and negative use. Local forest rangers are encouraging folks to treat campgrounds respectfully, extinguish campfires and plan ahead for trips.
Cache National Forest Logan District Ranger Jennefer Parker said irresponsible gun shooting, garbage and trespassing are all on the rise this season. However, an increase in unattended fires is prompting the most concern. Parker said multiple citations were recently issued for people who "completely walked away" from their campfires.
continued:
— — — — — — — — — —
Poison Hemlock now present in Idaho

Photo by: Idaho Weed Awareness Campaign
May 28, 2020 KIVI
Idaho noxious weed officials are warning people to be on the lookout for Poison Hemlock, a dangerous noxious weed proven to be fatal to humans and livestock. Poison Hemlock is now in full growth around the state.
Poison Hemlock typically grows in riparian areas, stream banks, canals and ditch banks, ponds and pastures. The plant grows for two years, in the second year it flowers and then dies. The Idaho Weed Awareness Campaign has information about Poison Hemlock and what to do to control and eradicate it on their website.
continued: w/video
————————
Letter to Share:
Don't Be A Fawn Napper!
Every year, fawns are reported by the caring public as being orphaned or abandoned. Sometimes it is a case of death of the doe, leaving the fawn obviously orphaned. Sometimes it is a case of an injured fawn, causing the doe to abandon her baby. But, unfortunately, it is often a case of not being orphaned at all, but rather the mother just being out of sight.
If you come across a lone fawn, DO NOT TOUCH! Keep a distance and call Mystic Farm Wildlife Rescue or your local Idaho Department of Fish and Game officer. An assessment of the situation will be made and proper measures taken if warranted. In the event the fawn truly is orphaned and is deemed a viable candidate for rehabilitation, Mystic Farm Wildlife Rescue is available. By providing shelter, food and medical care, trained Mystic Farm staff can help orphaned and/or injured wildlife until they can be 'soft released' back into their natural habitat.
Some facts to know:
* Mother deer will leave their fawn for many hours while they go off to feed nearby. The mother does this so predators will not see a vulnerable fawn when they see her. She can be gone many hours, leaving the camouflaged and scent free fawn motionless, avoiding detection by predators.
* Is it injured? If a fawn is seen lying upright, eyes wide open, but flattened to the ground, do not touch it! This is a fawn's camouflage position to blend in with its surroundings. When the fawn is picked up, it will allow its body to become limp and dangle in your hands. The legs are not broken! Put the baby down, walk away, and leave the area.
* If a fawn is obviously ill or injured – lying on its side, kicking and crying, bleeding, etc. – gently pick it up and place in a safe, quiet place. A light cloth placed over the eyes will often calm it. Keep the fawn away from pets and other human activity. Touch, odors, and the sound of the human voice will only add to the stress of the situation and may cause additional harm. Keep the fawn free from cold drafts or keep it cool if the weather is warm. Please do not feed the fawn. Call Mystic Farm immediately.
* The fawn is on the road! Mystic Farm receives many calls regarding fawns in the middle of the road. Why are they there? Because the mom is nearby! If the fawn is in danger of being hit by cars, gently pick it up and place it about twenty feet off the side of the road and leave the area.
* Is it too late to return to the mother if the fawn has been handled by humans? Will she then reject it? NO! That is an "Old Wives Tale." Though we strongly encourage you to not touch the fawn, the mother will not abandon it if you do – she just wants her baby back. She is around human scent all the time. Her maternal instinct is much stronger than her ability to rationalize human scent on her baby.
* What happens to the fawn if a rescue is warranted? After arrival at Mystic Farm, the fawn is evaluated and checked for any injuries, dehydration, etc. Wounds are treated either on the premises or through the services of local veterinarians. The fawn is put on an appropriate diet and feeding schedule. Once the fawns gain strength and can nurse from a bottle on their own, the 'blind feeding method' is utilized using "hands off" bottle racks. Human contact is kept to a minimum. The fawns are kept in an isolated area – free from predators and forming their own little "herd." They are free to browse and live in a large, safe, enclosure. Over the course of the season, the fawns are slowly introduced back into the wild.
Mystic Farm Wildlife Rescue, Inc. is a non-profit 501 (c) 3 organization. We are a licensed facility available to provide rehabilitation and release back into the wild of orphaned and/or injured fawns. None of the caring staff or volunteers at Mystic Farm receive a salary or payment for service. Operating out of love and caring for our precious wildlife, we ask our community to do the same. "Don't Be A Fawn Napper." Help us to help the wildlife remain wild!
Mystic Farm Wildlife Rescue, Inc.
710 Sanctuary Hills
Sagle, ID 83860
208 241-7081
*Mystic Farm Wildlife Rescue, Inc. is not open for tours. The animals in our care are kept to a minimum of human contact. Thank you for your understanding and support.
————————
Critter News:
Prepare your dog: Rattlesnake, porcupine and skunk avoidance courses happening June 6
By Katie Kloppenburg May 28, 2020 KIVI
Summer is coming and people are heading out in the foothills more. It's time for hikers and trail runners to be on the lookout for rattlesnakes–and the same goes for their dogs!
A rattlesnake avoidance training course is happening on June 6 from 9 a.m. to 2 p.m. Separate training sessions will also teach dogs how to steer clear of skunks and porcupines.
The Idaho Chukar Foundation is hosting the events at Julia Davis Park. You can only register your dog for one avoidance session because experts say multiple training sessions in the same day is too much stimulation for a dog.
continued:
— — — — — — — — — —
Pet Talk – Fracture repair: casts and splints
Dr. Karsten Fostvedt May 29, 2020 IME
Casts are external devices used to treat bone fractures or temporarily immobilize a joint. Casts are used for only certain types of fractures, typically those that are simple, closed [no exposure of the bone through the skin surface] and located below the elbow or stifle [knee]. Casts are commonly made of fiberglass resin.
Splints are most often used as temporary devices to immobilize a broken bone or joint before surgery. If support for the leg after a surgical procedure is required, a padded splint may be applied. Splints are usually a combination of soft bandage materials and a strip of rigid metal or fiberglass.
Support bandages can also help reduce the pain and swelling associated with bone fractures or surgery. A type of support bandage called a Robert Jones bandage does not have a rigid splint but relies on a large amount of cotton padding to stabilize the leg. The Robert Jones bandage is commonly used if the injured area is below the elbow or knee. If the area is above those joints, a splint called a spica splint is usually applied.
continued:
— — — — — — — — — —
Bear attacks hiker near Henrys Lake Outlet
May 29, 2020 Local News 8
Fremont County, Idaho (KIFI/KIDK) – An adult male was attacked by a bear while hiking along the Outlet Overlook Trail at Henrys Lake State Park late Friday afternoon.
Idaho Department of Fish and Game reports the victim sustained injuries but was able to walk out on his own.
At around 5:30 p.m. he was transported by helicopter to Eastern Idaho Regional Medical Center
continued:
– — — — — — — — — —
Fish and Game to begin grizzly trapping in the Caribou-Targhee National Forest
Biologists will radio-collar the bears and monitor them to learn more about their reproduction, food habits, and survival rates.
May 27, 2020 KTVB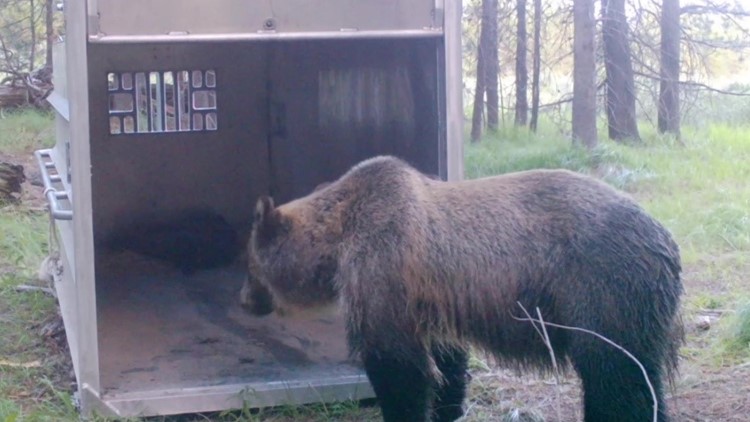 Credit: Jeremy Nicholson/Idaho Fish and Game A bear outside an IDFG trap
The Idaho Department of Fish and Game will begin its yearly trapping of grizzly bears for research purposes on Sunday.
Biologists will focus first on trapping bears in the Upper Snake Region, in areas where hunting is prohibited in order to avoid conflicts with hunters. Trapping will then expand in the Caribou-Targhee National Forest on July 1 to within the caldera in Island Park, west of Highway 20 along the Centennial Mountain Range, and in the Cave Falls and Teton areas near the Wyoming border.
continued:
— — — — — — — — — —
Grizzly bear warning issued in Boundary County
by CBS2 News Staff Tuesday, May 26th 2020
The Boundary County Sheriff's Office issued a grizzly bear warning Tuesday to its residents.
A young grizzly bear caused extensive damage to a protected beehive near Porthill, according to BCSO. Porthill is a small town on the edge of the Canada, Idaho border.
"Ensure all food attractants are secured," BCSO said. "Be bear aware!"
source:
— — — — — — — — — —
Idaho sockeye begin perilous journey
The state's most endangered species begins migration
By Steve Liebenthal May 27, 2020 KIVI
Stanley, Idaho — It's one of the most scenic places in Idaho – a lake that was named for an amazing fish.
"That's how it got it's name," said Stanley Resident Tom Stuart. "Redfish Lake is named for the red fish, the sockeye salmon that return here. In the 1890s biologists reported as many and 150 thousand sockeye salmon returning to the Stanley Basin."
But in 1909 the Sunbeam Consolidated Mining Company dumped 300 tons of concrete in the river, building the Sunbeam Dam to generate power for its mining operation on the Yankee Fork, and suddenly, the sockeye's migration to and from the Pacific Ocean was totally blocked. A year later, the mine shut down, but the barrier remained in the river.
continued:
———————-
Fish & Game News:
2020 Campground Openers/Closures at Horsethief Reservoir
By Martin Koenig, Natural Resource Program Coordinator
Tuesday, May 26, 2020
Camping at Horsethief Reservoir opens May 30
The opening of campgrounds at Horsethief Reservoir has been delayed due to the current COVID-19 situation. The opening date for overnight camping at Horsethief Reservoir Campground has been set for Saturday, May 30th. Basic sanitary measures to address COVID-19 issues for campground users are being implemented.
Horsethief Reservoir is managed cooperatively by the Idaho Department of Fish and Game and the YMCA. Fish and Game manages the popular trout fishery, while the YMCA manages the campgrounds. Several campgrounds are being renovated to improve camping facilities. Osprey Bay and Easter's Cove campgrounds will remain closed for much of the 2020 season because of construction.
continued:
— — — — — — — — — —
F&G capture and euthanize injured mountain lion near Rexburg
By James Brower, Regional Communications Manager
Sunday, May 24, 2020
On the evening of May 23, a young male mountain lion was tranquilized by Fish and Game staff on the outskirts of Rexburg. The young lion had an injury on his right flank and was held overnight for observation. It was later determined that the injury was severe and the lion was euthanized.
Over the past few weeks Fish and Game received reports of a mountain lion being spotted by Rexburg residents as the cat crossed fields and yards. More recently the young lion was photographed by a backyard trail camera on the west side of town.
continued:
— — — — — — — — — —
More F&G News Releases
link:
———————————-
Crazy Critter Stuff:
Holy gust front! Radar shows Texas bats getting blown away by distant storm
by Scott Sistek KOMONews.com Meteorologist Thursday, May 21st 2020

A gust front begins to blow away a swarm of millions of bats in south central Texas. (Photo: Chris Suchan via RadarScope Pro)
San Antonio, Texas — A swarm of bats heading out into their nightly adventures in south central Texas Wednesday night got quite the surprise from Mother Nature.
The National Weather Service's Doppler radar picked up signals of a colony of millions of Mexican free-tailed bats leaving the Frio Bat Cave in Uvalde County as a massive thunderstorm raged well to their west, according to meteorologist Chris Suchan with our sister station WOAI-TV in San Antonio.
The intense downdrafts from the thunderstorm's torrential rains created what's known as a gust front — the boundary where those downdrafts race outward from the thunderstorm.
You can see it all unfold on the radar animation — the thunderstorm in the far west; the thin line of the gust front and the expanding ring of bats leaving the cave.
continued: w/video
————————–
Seasonal Humor:

— — — —
Gatorland's Social Distancing Skunk Ape
Ladies and Gentlemen and children of all ages, we here at Gatorland take safety very seriously and we'd like to introduce you to our very own Social Distancing Skunk Ape!
————————