May 3, 2020 The Yellow Pine Times – Valley County, Idaho
Community Calendar:
Yellow Pine Tavern Closed until further notice.
April 17 – Boil water order issued
May 1 – Stage 1 Idaho Rebounds
May 5 – Cinco De Mayo 2pm at Community Hall
April 9 – Temp. Spring Restrictions on upper Stibnite Rd
March 23 – South Fork road weight restrictions
March 28-June 30 – Lower South Fork Salmon River closed to rafting
Spring Rx Burns postponed
(details below)
———-
Valley County Covid-19 Response Page
link:
— —
Valley County Emergency Operations Center
link:
— —
Rebound – Idaho Governor's phasing program
link:
— —
COVID 19: Recommendations and Resources for Safe Business Practices
link: (lots of info for businesses)
——————-
Local Events:
May 5th Cinco De Mayo
Community Hall gives back to the community – Cinco De Mayo (5/5) at 2pm at Community Hall for tacos provided by the community hall committee to thank the community for their support and volunteerism.
———-
Village News:
Wind Storm and Power Outage
Just after midnight early Sunday (May 3) the wind was very strong for about half an hour, shaking the house almost like an aftershock. Power blipped off/on at 134am. Started raining around 2am. More strong wind gusts just before 230am and power out at 234am for nearly 3 hours. No reports of damage or trees down – yet.
— — — —
A Big Thank-You to the Stibnite Foundation
April 29, 2020
The Village of Yellow Pine received $2,000 from the Stibnite Foundation to support the residents in Yellow Pine who wintered-in and sheltered-in, in response to the coronavirus pandemic. With over 90% of the Yellow Pine community being in the high-risk group for the Covid-19 virus, it was important to support the community while restaurants were closed, and no grocery store was available. Our heartfelt thanks to the Stibnite Foundation for their kindness and support during this crisis.
— — — —
Community Hall
A report on April 30th: "Heat is being installed in the community hall today."

Thank you Ed Staub & Sons
— — — —
Critters
Tick's are plentiful this spring.
Bears are out of hibernation, protect your trash and pet food.
— — — —
Yellow Pine Tavern closed due to COVID-19 fears
Tavern is still closed until further notice. Will have gas available as well as take out beer, pop, candy, chips, pizza. Call 208 739-7086 or go to 355 Yellow Pine Ave. House across street from the Tavern next to the Silver Dollar.
— — — —
Voting Idaho Primary Election May 19, 2020
For folks registered in the Yellow Pine Precinct: Update the Valley County Clerk mailed our ballots Monday April 27th. If you do not get your ballot by Friday's mail, you should call and request one. (208) 382-7103. You may also download an absentee ballot (link) request and mail to the County Clerk (must be received by May 19th at 5pm).
— — — —
2020 Census
The 2020 Census Impacts All Valley County Residents
A report April 22nd that Valley County has only had a 10% participation in the 2020 Census. Some folks with PO boxes have not received the paper census. You do not need an ID#, just your street address. It is recommended that we all fill out the census online.
If you spend 50% of your time in Valley County, you can consider it your home per the Census. Where you register with the Census is confidential and never linked to other governmental requirements such as property taxes or mailing address. The deadline for the 2020 Census has been extended until August. They will probably not be sending census takers up to Yellow Pine.
Link: to online census
You do not need an ID number. Go to the link. Click on "start questionnaire". Then on the next page scroll down to "If you do not have a Census ID, click here" – when you click on that line it will start the census. (see below)

— — — —
Boil Water Order issued April 17, 2020
As April 17th 2020, Yellow Pine is under another "Boil Order".
Boil Water Advisory Notice
Boil Your Water Before Using
Bring tap water to a rolling boil, boil for one minute, and cool before using or use bottled water. Boiled or bottled water should be used for drinking, making ice, washing dishes, brushing teeth, and preparing food until further notice.
This Boil Water Advisory Notice applies to The Yellow Pine Water System
What Happened?
Starting on 3-22-2020 the water system had the following problem: Due to high water demand, treatment requirements were not met after the completion of maintenance procedures. .
This problem indicates that harmful microbes may be present in your drinking water. Harmful microbes in drinking water can cause diarrhea, cramps, nausea, headaches, or other symptoms and may pose a special health risk for infants, some elderly, and people with severely compromised immune systems. But these symptoms are not just caused by microbes in drinking water.
If you experience any of these symptoms and they persist, you should seek medical advice.
What is being done?
The system is being monitored and checked daily for compliance. .
It is likely that you will need to boil water for the next 3 to 5 days until the problem is fixed.
You will be informed when you no longer need to boil your water.
For more information, please contact:
Warren Drake
of the Yellow Pine Water System
at 208-573-6261
or wdrake@drakediversified.com
Please share this information with other people who drink this water, especially anyone who may not get this notice directly (for example, people in apartments, nursing homes, schools, and businesses).
You can do this by posting this notice in a public place or distributing copies by hand or mail.
State Water System ID#: 4430059 Date distributed: 3-22-2020
— — — —
Forest Info
The Payette and Boise NF campgrounds in our area do not normally open until Memorial Day Weekend. Currently restrooms are locked. The Old Eastfork (Devil's Bathtubs) campground is closed. The Forest Service will send info to share when they know more. There are plans to do work on the South Fork road this summer, they said they would wait until Johnson Creek road is open, but there is no firm date set yet for the work.
— — — —
Road News:
It's Rock Migration Season. Watch for rocks on the EFSF road in the bowling alley area and some areas of the South Fork. While the earthquake and numerous aftershocks have not brought down anything big, the freeze thaw cycle along with wet weather is still bringing down some rocks.
Report that the county graded the EFSF road last week beginning on Monday, April 27th.
April 9th the temporary road restrictions on the upper Stibnite Road went into effect.
The load restrictions on the South Fork Salmon River Road started on Monday 3/23. They will stay in effect until the subgrade has dried out and the roadway can support standard loading.
The FS has plans to work on the South Fork Road again this summer, they will send info if and when the project is scheduled.
— — — —
Rx Burns
All new prescribed burn ignitions have been paused across the Region in line with regional direction. The Forest will continue to prioritize keeping employees and the public safe during this time. The decision to temporarily postpone ignitions will prevent any effects from smoke that might further worsen conditions for those who are at risk in our communities while reducing exposure for Forest Service employees who might not otherwise need to travel.
We expect the pause on prescribed burn ignitions to be re-evaluated by the Regional Forester sometime in April.
– PNF
— — — —
Yellow Pine US Mail
The 3-day a week mail delivery started Nov 1st. The Post Office in Yellow Pine is open six days a week year around: M-F 845am-245pm Saturday 9am-245pm. Forever Stamp: 55 cents. Support our local post office and purchase your holiday stamps here.
— — — —
Yellow Pine Transfer Station
Lakeshore last emptied the bins Feb 13th.
Dump Report April 22: The bins are getting pretty full, please stack bags to the side of the dumpsters if full. The road to the dump is bare now.
Please do not abuse our Transfer Station or we may lose it. Household trash must be placed in the bins, flattened cardboard boxes can also go into the bins. Do not stack trash in front of the doors. Woody yard debris only for the burn pile. No furniture, appliances, tires or construction debris allowed, those items must be hauled out to the Donnelly station by you.
Yellow Pine Transfer Station (aka, the dump)
The Yellow Pine Transfer Station is located approximately 3 miles south on Johnson Creek Road.
The TRANSFER STATION is for household trash and yard waste:
* Household trash must be put inside (and fit) the dumpster;
* Yard waste (limbs, pine needles, brush, et.) goes in the burn pile on the south end of the turn-around;
* Cardboard boxes should be flattened before putting the in the dumpster,
The DUMPSTERS are NOT for:
* Furniture (take to Donnelly Transfer Station);
* Appliances (take to Donnelly Transfer Station).
The BURN PILE is NOT for:
* Cardboard boxes (flatten and put in dumpster);
* Furniture and appliances (take to Donnelly Transfer Station);
* Drywall and building material (take to Donnelly Transfer Station);
* Wire or fencing (take to Donnelly Transfer Station);
* Foam Rubber (take to Donnelly Transfer Station);
* Wood with metal (like nails) attached (take to Donnelly Transfer Station.)
When closing the DOORS on the front of the dumpsters:
* Make sure the "U" brackets at the top and bottom of the door are engaged;
* The retaining bar at the middle of the door is slid into the pipe;
* And the "L" bars at the bottom of the doors dropped into place.
The Yellow Pine Transfer Station is Valley County responsibility. If it is not kept tidy, use of the Transfer Station may be revoked. That would result in residents having to take all household trash and yard waste to the Donnelly Transfer Station.
If Dumpsters Are Full, Contact Lake Shore Disposal at: 208/634-7176
———-
Local Groups:
YPWUA News:
New Boil Water Order issued April 17, 2020. This could last until runoff is over.
Second half of the water bill is due June 15, 2020.
The last Yellow Pine Water Users Shareholders meeting was Sunday July 7, 2019.
link: 20190707YPWUAminutes
— — — —
VYPA News:
Heat was installed in the community hall on April 30th.
Proposed VYPA Bylaws Changes
Attached is the compiled proposed changes to the bylaws the Council has received.
The proposed changes and the proposed addendum B, are being published to give folks plenty of time to read and process the information before the first reading.
link: 2020 Proposed changes to Yellow Pine Bylaws Adopted 9-12-2015.pdf
link: 2020 Addendum B-letter of interest.pdf
link: 2018 Midas Gold Community Partnership Agreement with the Village of Yellow Pine
Deb Filler – Chairperson
Village of Yellow Pine Association
The community hall committee's goal is to have adequate heating installed in the main hall before the June VYPA meeting.
If folks have items for the community yard sale, please place them by the north wall in the community hall. If you see items you would like to purchase, you can pay Deb, Ronda, or Lynn. All funds support the community hall.
VYPA meetings for 2020 – June 13, 2pm; July 11, 2pm; August 8, 2pm; September 12, 2pm.
Village of Yellow Pine Association Meeting Minutes for September 21, 2019
link: 20190921 Village of Yellow Pine Association Meeting
— — — —
YPFD News:
YP Fire Commissioners:
Sue Holloway – District 1
Dan Stiff – District 2
Merrill Saleen – District 3
Fire Chief – Jeff Forster
Yellow Pine Fire Protection District Community Service Notice
The purpose of this letter is to show how you as a Yellow Pine Resident can help protect your structure against a wildland fire by being "Fire Wise."
Click the link: to view 20190724 Yellow Pine Fire Protection mitigation
——–
Biz Listings:
The Corner (208) 633-3325
Closed for the winter.
Plan to open for Memorial Weekend with live music provided by Willie and the Singlewides.
— — — —
Yellow Pine Tavern (208) 633-2233
Closed until further notice.
— — — —
Yellow Pine Lodge (208) 633-3377
Closed for Winter.
— — — —
Knotty Kat Crochet Works – 208-502-0940
FB page link
open Tue – Sat, 9-5
Yellow Pine eggs $3/doz
— — — —
Buck Horn Outfitters LLC 208-633-3614
Tom & Sarah Lanham
156 Yellow Pine Ave, Yellow Pine Id 83677
website:
Facebook:
Starting June 2020 We will be doing trail rides out of Yellow Pine along with summer pack / camping trips to high mountain lakes in the area!
Wapiti Meadow Ranch – Johnson Creek (208) 633-3217
or 208-315-3554 – cabin rentals
website:
Deadwood Outfitters
website:
— — — —
Local Fuel Suppliers
Amerigas Phone: (208) 634-8181
Ed Staub & Sons Phone: (208) 634-3833
Diamond Fuel & Feed Phone: (208) 382-4430
— — — —
Outside Biz that will service Yellow Pine:
The Star-News


subscribe:
A reminder that those who live in other states can subscribe to the online edition only since the mail can take days for hard copy to reach them.
Rocky Mountain Mechanical – Plumbing – Heating – Air conditioning
(208) 365-PIPE (7473), Emmett, will service Yellow Pine
Elkhorn Heating & Cooling
(208) 906-4067 Middleton, Idaho, will service Yellow Pine
B&T Safety Solutions LLC
208-271-1600 Based out of Donnelly
Snow removal, cleaning chimneys and stoves, we do cabin staining/chinking as well
— — — —
Follow The Yellow Pine Times on Facebook (updated more often than emails)
———————–
Letter to Share:
Dear Yellow Pine residents:
Cascade Medical Center is here for you. When I (Tom Reinhardt) attended your community meeting in September, I mentioned that we were preparing to provide tele-video medical visits. We now have that up and running. If you want to schedule an appointment, call our clinic at 208-382-4285. Vicki or one of the MAs will ask you some questions to make sure that a tele-video visit is the right choice given your symptoms or need. If so, we will work with you to make sure you are set up on the Cascade Medical Center patient portal (with our EMR). We will also make sure that you are set up to be able to do a tele-video visit (laptop with camera, desktop with camera, or smart phone). We use the Zoom telemedicine system, which is confidential and secure (it works like Skype or Face-time). Before the appointment, we will email you a link for the tele-video visit. When it is time for your appointment, you will click on the link in the email and you will be connected with our provider and can begin your visit.
Regarding insurance coverage, the COVID legislation passed in March assures coverage of telemedicine visits for patients with Medicare, Medicaid, VA. Private insurers have also decided to provide coverage just as for regular in person visits, at least until the COVID epidemic crisis is declared over.
My advice is that if someone usually goes to the VA for care, they should call the VA and see if they can do a video visit with them. Or if they usually go to McCall St. Lukes, they should call their doctor there.
Tom Reinhardt, CEO
Cascade Medical Center
April 4, 2020


————————-
Local Observations:
Monday (Apr 27) overnight low of 35 degrees, rain early morning tapering off and ending around 10am, low overcast with foggy ridges this morning. Robins and jays calling, hairy woodpecker, juncos, finches, nuthatches and pine squirrel visiting. Cloudy at lunch time. A few male evening grosbeaks joined the finches at the feeders early afternoon. Rained for about 30 minutes mid-afternoon. Increased traffic. Mostly cloudy and breezy late afternoon, high of 58 degrees. Gusty winds and lashes of rain for almost an hour mid-evening. Broken cloud cover, chilly sharp breezes and robins calling at dusk. Partly clear before midnight.
Tuesday (Apr 28) overnight low of 33 degrees, mostly clear sky with foggy belts across the mountains and light breeze. Lots of birds calling, swallows, red-winged blackbird, robins, evening grosbeaks and finches. Pine squirrel, chipmunk and ground squirrels running about. Morning traffic. Mostly clear at lunch time with light breezes. Hummingbird finally found our feeder, lots of finches and grosbeaks visiting. A few gun shots after 330pm. Warm sunny afternoon, mostly clear with some high thin wispy clouds and light breezes, high of 68 degrees. Raven calling to the north, finches twittering and swallows calling. Partly clear at dusk (thin wispy clouds) and light breeze, robins chirping in every direction. A few stars out before midnight, more stars after midnight.
Wednesday (Apr 29) overnight low of 32 degrees, mostly high thin haze and warm this morning, very little snow remains in the shade. Helicopter buzzed over the village a little before 10am. Tiny leaves emerging on lilac bushes and bleeding hearts starting to sprout. Swallows, finches, grosbeaks, robins and nuthatches visiting. Mail truck made it in a little early. Mostly cloudy and quite warm right after lunch time. Rufous hummingbird visited. Increasing traffic. Broken cloud cover, very warm and variable breezes mid-afternoon, high of 76 degrees. Ants are out and active. At dusk dark clouds, breezy and a few drops of rain. Robins calling and elk grazing in the neighborhood. Thunderstorm started after dark, far off thunder and sprinkles on and off. Close thunder/lightning and hard rain before midnight.
Thursday (Apr 30) overnight low of 41 degrees, partly cloudy, warm and light breeze this morning. Swallows, robins and finches calling. Mostly cloudy at lunch time. Grosbeaks and finches at the feeders. Gusty short thunderstorm early afternoon. Gusty rain sprinkles mid-afternoon and temperature dropping, high of 65 degrees. Cowbirds, juncos, finches and hummingbirds visiting feeders. Low large aircraft roared over the village at 430pm. Rain continued this evening ending around dusk. Robins calling. Cloudy before midnight.
Friday (May 1) overnight low of 36 degrees, mostly clear sky – foggy ridges, and breezy. Lots of birds singing, swallows, finches, jays and robins. Increasing clouds at lunch time. First goldfinch and white-crowned sparrow sighting, hairy woodpecker, finches, juncos and hummingbirds visiting. Afternoon air traffic. Lighter breezes and mostly cloudy late afternoon, high of 61 degrees. Almost clear and nearly calm at dusk. Robins calling. A bit of haze before midnight, brighter stars shining.
Saturday (May 2) overnight low of 28 degrees, clear sky and light breeze this morning. Daffodils making flower buds, inch long leaves on the lilac bush, bleeding heart sprouts coming up through the last of the snow pile. Lots of swallows swooping around, finches, cowbirds and a couple of clark's nutcrackers visiting. Mostly cloudy at lunch time, strong wind gusts after lunch. Male and female evening grosbeaks stopped by. Helicopter flew over at 327pm. Increasing street traffic. Dark clouds and quite breezy mid-afternoon, high of 68 degrees. A couple of late afternoon rain showers. Warm and mostly clear at dusk. Robins calling and elk in the neighborhood. Mostly cloudy before midnight. Strong gusts of wind after midnight. Power blipped off/on 134am. Rain and wind during the night. Power off 234am to 528am.
Sunday (May 3) overnight low of 39 degrees, mostly cloudy (dark) and breezy this morning, fresh snow on top of VanMeter Hill. No tree swallows, a few robins and finches calling. Morning traffic. Mostly cloudy at lunch time and breezy. Finches, juncos, jays, a pine squirrel and chipmunks visiting. Mostly cloudy and cool breezes mid-afternoon, high of 56 degrees. First daffodil blooming. Partly cloudy evening and lighter breezes.
——————–
Idaho News:
Idaho Rebounds: Stage 1 begins May 1
(KIFI/KIDK) April 28, 2020
Governor Little announced his plans to reopen Idaho last Thursday.
The comprehensive plan is to open the state in a series of four stages in an ongoing effort to safely and strategically open Idaho while minimizing the spread of COVID-19.
"We all have a responsibility to protect members of our community, and each stage allows us to gradually open while keeping a close eye on the public health data to ensure the spread of disease remains contained to the greatest extent possible," Southeastern Idaho Public Health (SIPH) District Director Maggie Mann said.
Under Stage 1, which begins on May 1, certain services may open provided they can do so safely by following protocols lined out in Idaho Rebounds Guidance.
continued:
— — — — — — — — — —
Update on Valley County Facilities
May 1, 2020 (via FB)
All Valley County facilities remain closed to the public physically, but are open for online, phone and email service. We are reviewing new protocols and planning for an opening, but no date for reopen has been set.
Please visit our website at for more information on available online and telephonic services from each department. Contact information for questions you may have about specific services can be found here: (link)
— — — — — — — — — —
Teaming up with Rapid SOS
The Valley County Sheriff's Office is pleased to announce our partnership with RapidSOS.
The Rapid SOS system is a web-based program that uses GPS technology that is built into your cellphone when a caller initiates a 911 phone or text-to-911 call. This service is automatically installed on all Google and Apple products to create a more accurate pinpoint of a callers location compared to the 911 system that only uses cell phone towers. This system will be used in conjunction with the current 911 system utilized by emergency communication officers as another tool to assist in locating medical emergencies, back country events, emergency police responses and many more. This service can't be accessed for non-emergency calls.
Just one more step we are taking to continue to provide the most beneficial and up-to-date public safety services to our citizens and visitors of Valley County.
A huge shout out to the Valley County IT department for working hard in making this happen!
For more information on RapidSOS, please click here: (link)
(via FB May 1, 2020)
— — — — — — — — — —
City of McCall Advisory Response to Idaho Stay-Healthy Order
April 30, 2020
In response to Idaho Governor Brad Little's Stage One, statewide Stay-Healthy Order aimed to all Idahoans, effective, Friday, May 1st, City of McCall releases the following:
In an effort to protect our community and staff, city services will continue remotely Monday – Friday, 8am to 5pm. All offices will remain closed until Stay Healthy Stage Two is achieved. We encourage our citizens to wear masks when possible and adhere to social distancing and healthy hygiene habits.
Facility Update – Please visit (link) for updated calendar and news posts.
• All City Buildings – Closed until Stay Healthy Stage Two is achieved.
City Hall – Closed to the Public (208) 634-7142.
McCall Police Department – Closed to the Public. (208) 634-7144.
McCall Public Library – Closed to the Public. Providing curbside services (208) 634-5522.
McCall Parks and Recreation Offices – Closed to the Public. (208) 634-3006.
McCall Public Works – Closed to the Public. (208) 634-5522.
• All McCall Parks including Public Restrooms – Open to the public, social distancing and masks encouraged. Signs posted with stage appropriate public guidance.
• All McCall Golf Club Buildings – Closed to the Public.
• McCall Golf Cart Paths – Open to the Public for walking, social distancing and masks encouraged.
Gatherings Gatherings, both public and private, should be avoided during Stage One.
Non-Essential Travel
• McCall Municipal Airport – Airport remains open for business. Recognizing the 14 day recommended quarantine is in effect for travelers arriving from outside Idaho. McCall Airport NOTAMS have been updated for flight planning.
• McCall Short Term Rental Properties permitted for essential service personnel or quarantine only – Short Term Rental Property Owners are advised that non-essential travel should be minimized during Stage One and all guests should adhere to CDC guidelines and continue the 14-day self-quarantine for people entering Idaho to prevent influx of out-of-state visitors.
Enforcement
Enforcement of the State of Idaho's Stay Healthy Order is in effect. While details are offered in the Order's stages relating to social distancing, specific business closures, and non-essential social gatherings, Idahoan's movements are generally unrestricted. Enforcement FAQ's: (link)
Refer to (link) for Idaho State Updates. For City of McCall updates and information visit (link). Local Businesses will find helpful links at (link)
— — — — — — — — — —
Saint Alphonsus doctor urges Idahoans to continue social distancing during reopening
May 1, 2020 KIVI
Friday marks Stage 1 of reopening Idaho, but there is still a need to continue best practices to flatten the coronavirus curve across the Gem State.
Dr. Ryan Heyborne, Chief Medical Officer for Saint Alphonsus Regional Medical Center, says he's happy Governor Little is giving the green light to businesses. However, he says despite everyone wanting to get life back to normal, reopening the state doesn't come without risks.
"I still recommend people limit what they do, limit where they go," says Dr. Heyborne. "The same principles that remained in place previously continue, too: good hand hygiene, social distancing, wearing cloth masks in public."
continued:
— — — — — — — — — —
McCall, Cascade airports get $30,000 in federal COVID-19 funds
By Drew Dodson for The Star-News April 30, 2020
The McCall Municipal Airport and the Cascade Airport will each receive $30,000 from the federal government to help offset financial losses related to the COVID-19 virus.
The McCall City Council voted 4-1 last week to accept the funding. Mayor Bob Giles and council members Colby Nielsen, Melanie Holmes and Mike Maciaszek voted in favor while council member Thom Sowers voted to reject the funding.
Sowers said he was hesitant to accept unnecessary funds that perhaps could be better used elsewhere.
"I'm just always very leery about taking without needing, you know like the 600 rolls of toilet paper I bought," Sowers joked. "Sometimes you just don't need things."
Airport Manager Rick Stein cautioned that long-term effects remain unknown, although the airport has been largely unaffected financially by the pandemic.
"I believe this is a good use of a small amount of capital in order to help the McCall airport weather the coronavirus pandemic," Stein said.
Stein currently has no specific plans for the funds and plans to save them until a need arises, he told council members.
The money could be used to offset any effects of the COVID-19 virus or most aspects of the airport's operations, including maintenance, capital improvement and general operations.
Holmes also questioned if accepting the funds could be perceived negatively given public backlash large corporations have received after accepting the federal emergency money.
Stein said the funding is specifically set aside for airports, so rejecting the money would just re-route it to another airport or back into federal coffers.
Stein also noted that $30,000 is a small amount out of total funding airports will receive nationwide, with airports in Boise and Seattle set to receive about $19 million and $192 million, respectively.
The federal funding stems from a $2 trillion economic relief package passed on March 27 to immediately inject money into American families and businesses in response to the COVID-19 pandemic.
The Cascade City Council on Monday decided to use the $30,000 for the Cascade airport for operational costs such as payroll, utility bills or debt payments.
source: © Copyright 2009-present Central Idaho Publishing Inc.
— — — — — — — — — —
Senior centers, living facilities remain closed until mid-June amid governor's rollout
By Jessica Taylor Apr 28, 2020 KIVI
As Idaho starts reopening parts of the economy this Friday, senior living facilities will remain on lockdown for at least another month.
"All of the stages that the governor has spoken about, a top priority is going to be protecting those that are most vulnerable, particularly those in long term care and assisted living facilities," said director of IDHW Dave Jeppesen at Governor Little's press conference on Thursday.
For the past month, the Idaho Commission on Aging helped facilities change their methods of care for seniors. They closed their congregate meals and changed the meal sites to curbside delivery only. They are also offering at-home delivery for their community members who do not have transportation to get to the sites for the curbside service.
continued:
— — — — — — — — — —
The Star-News wins six awards in Idaho Press Club contest
The Star-News April 30, 2020
Staffers of The Star-News won six awards in the Idaho Press Club's "The Best of 2019 Annual Awards Contest" announced last weekend.
Five of the six awards were in the Weekly Print category while the sixth award was for photography across all print publications.
Editor and Publisher Tom Grote won first place in the Editorial category for an editorial he wrote in March 2019 criticizing the state land board for holding a closed discussion of the state's handling of a commercial lease on Payette Lake.
Publisher Tomi Grote won first place in the Page Design category for a photo essay of the 2019 McCall Winter Carnival Mardi Gras Parade.
Reporter Drew Dodson won second place for Spot News Coverage for his coverage of a March 2019 propane gas explosion in McCall that killed a man and seriously injured a teenager.
Dodson also won third place in the General News Story category for a story on the various challenging conditions under which McCall Fire & EMS conducts rescues.
Reporter Max Silverson won third place in Health/Medical Reporting for a story of a mother remembering her son, who died at age 32 from a heroin overdose.
Photographer Chelsea Tuttle won third place for Feature Photography among all print publications for the awkward poses of a couple trying to catch a ball during a game of "McCall Ball."
source: © Copyright 2009-present Central Idaho Publishing Inc.
— — — — — — — — — —
Aftershocks continue in central Idaho after historic March 31 earthquake
by CBS2 News Staff Tuesday, April 28th 2020
Central Idaho continues to rattle.
After almost a month following central Idaho's historic 6.5 magnitude earthquake that struck near Stanley, the United States Geological Survey says numerous aftershocks continue to impact the region.
On [Tuesday], the USGS says there have been 11 reported small quakes that have registered greater than 2.5 in the past 24 hours.
The largest aftershock had a magnitude of 3.0 and was located about 36 miles east of Cascade. No serious injuries were reported in the March 31 quake that was felt across the region.
source:
— — — — — — — — — —
What is a haboob? Massive wall cloud photographed during Thursday's extreme weather
Here's what formed the towering formation of dust and moisture.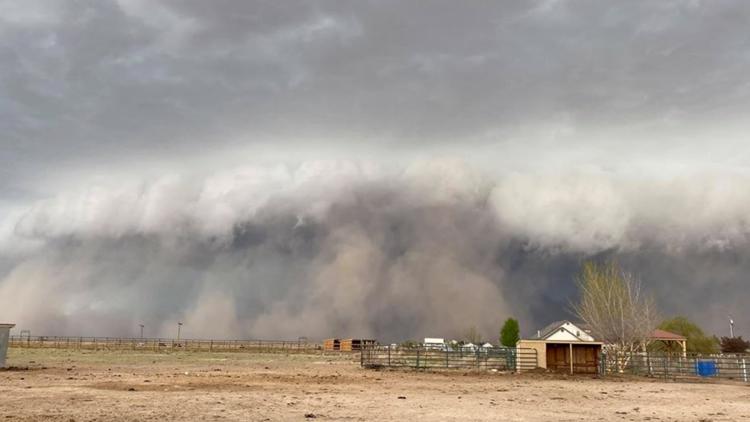 courtesy Chris N Jeremy Gaffield
Author Katie Terhune May 1, 2020 KTVB
Weather watchers who turned their eyes to the west just before Thursday afternoon's major thunderstorm caught sight of a powerful formation. This type of wall cloud, known as a haboob, is typically a massive dust storm although KTVB Meteorologist Larry Gebert said that Thursday's cloud wasn't all dirt and flying particles.
"The cloud formation was very similar, but ours had a lot of moisture not dust," he said.
A haboob forms during thunderstorms because of the amount of static electricity in the air. Heat and energy from the ground level rise, pushing up evaporated water molecules, which run into one another, forming the massive cloud.
continued:
— — — — — — — — — —
May is Wildfire Awareness Month in Idaho
April 30, 2020 KIVI
Governor Brad Little designated May as Wildfire Awareness Month and asks everyone to be extra vigilant this fire season. Preventable wildfires threaten lives, property and resources every year.
Firefighters and emergency responders are needed to keep Idahoans safe, and officials are asking you to do your part to prevent human-caused wildfires.
"It takes a team approach to battle wildfires and we need everyone to be a part of this team," said John Ruhs, BLM Idaho State Director. "It is vital that we work together to help lessen the exposure for our firefighters and first responders this fire season." The wildland fire agencies are using unique measures to ensure all wildland firefighters are trained, qualified and prepared for fire activity considering our current situation.
continued:
— — — — — — — — — —
Fire chiefs urge caution and consideration in burning
Conditions remain dry with fuel loads ready to burn
Alejandra Buitrago May 1, 2020 IME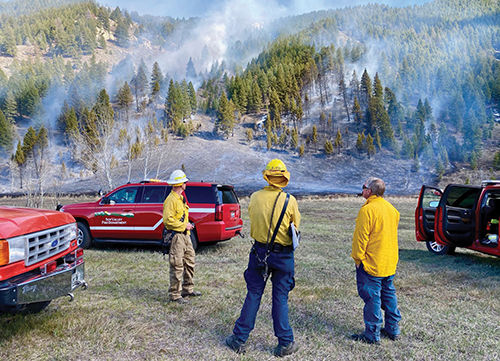 More than 50 personnel responded to a fire in East Fork last week. Hyndman Fire, burned 39.4 acres, controlled April 25. Photo courtesy of Ron Bateman
Since April 18, Wood River Fire & Rescue and the Ketchum Rural Fire Protection District have responded to about 10 wildfires, far more than what would normally be expected in April.
With the number of controlled burns gone wrong, or growth along highways being sparked inadvertently, both fire districts are taking different measures to mitigate risk, but both urge caution to residents as these fires strain resources and put firefighters at great risk.
According to Wood River Fire & Rescue Chief Ron Bateman, a lot of consideration goes into issuing burn permits. Wood River is "trying to respect that there are waterways that need to be cleared," he said, and has opted to not suspend burn permits, which he believes would harm some people due to the few who have violated the permits.
continued:
—————–
Tips & Advice:
Wildfire Community Preparedness
* Raking and removing pine needles and dry leaves within a minimum of 3 to 5 feet of a home's foundation. As time permits – continue up to a 30-foot distance around the home. Dispose of collected debris in appropriate trash receptacles.
* Cleaning pine needles from roof and gutters and paying attention to maintaining the home ignition zone.
* Getting out your measuring tape and seeing how close wood piles are located to the home. If closer than 30 feet, they need to be relocated and moved at least 30' away from structures.
* Sweeping porches and decks clearing them of leaves and pine needles. Raking under decks, porches, sheds and play structures.
* Mowing grasses to a height of four inches or less.
* Removing items stored under decks and porches and relocating them to a storage shed, garage, or basement. Gasoline cans and portable propane tanks should never be stored indoors and should be located away from the home.
excerpted from: National Fire Protection Association
———————–
Scam Alert:
BBB: research before responding to coronavirus-themed advertising
KIVI April 29, 2020
With many businesses changing their models or new businesses being created to fit coronavirus concerns, you'll likely notice a shift in advertising. The Better Business Bureau is asking you to do your research before you respond to COVID-19-themed ads.
In the Treasure Valley, BBB Northwest and Pacific's Chief Innovation Officer Dale Dixon says he recently noticed a sign along the Greenbelt, offering "ozone fumigation." The sign featured limited details but didn't include the name of the company.
"Better Business Bureau investigators went, called the business, had a conversation, and basically, the business is connecting some data points on cleaning practices and procedures about how to clean a home and applied that to coronavirus," explained Dixon. "We're still asking people to do their research, and be careful through this process."
continued:
———————–
Public Lands:
Forest Service limiting recreation group size
April 29, 2020 Local News 8
In an effort to ease the closures of National Forest recreation sites in Idaho, the US Forest Service Intermountain Region has issued an order limited the size of groups using outdoor recreation to 10 persons.
The office said the order was in alignment with current federal, state, and local guidance for social distancing and would help ensure the safety and health of employees, visitors, and volunteers.
"We greatly value the opportunity for people to use their public lands, and we fully recognize the connection people have with National Forests," said Dave Rosenkrance, Deputy Regional Forester. "Our intent in issuing this group size order is not to reduce recreation opportunities, but in fact, this may allow us to open some sites that had been closed due to COVID-19, while ensuring the safety of our employees and the public."
continued:
— —
Forest Service Intermountain Region Issues a Ten Person Group Size Limit for Outdoor Recreation Groups to Help in Easing Closures of Recreation Sites
Ogden, Utah, April 29, 2020 ­­— In alignment with current federal, state and local guidance for social distancing, and to ensure health and safety of its employees, visitors and volunteers, the Intermountain Region has issued a 10 person group size limit for outdoor recreation on National Forest System Lands in Idaho.
While this group size order may seem to place further restrictions on the recreating public, it may allow for National Forests to open some previously closed sites, and can provide an alternative to closing sites where social distancing cannot be ensured.
"We greatly value the opportunity for people to use their public lands, and we fully recognize the connection people have with National Forests," said Dave Rosenkrance, Deputy Regional Forester. "Our intent in issuing this group size order is not to reduce recreation opportunities, but in fact, this may allow us to open some sites that had been closed due to COVID-19, while ensuring the safety of our employees and the public."
Forest Service leadership is paying close attention to the current COVID-19 situation throughout the region, and working closely with other federal, state, and local officials regarding the opening of recreational facilities. With the understanding that COVID-19 impacts vary in each community, all closures are being evaluated on an ongoing basis. This order will be reviewed in accordance with statewide plans.
Many recreation opportunities remain available to the public – please contact our local Forest for the most up to date information. To protect public health and safety, all visitors are encouraged to:
* Be fully self-contained. Take everything you may need with you in order to avoid unnecessary stops at stores and gas stations.
* If an area is crowded, search for a less occupied location. Consider avoiding the forest during high-use periods.
* Avoid visiting the forest if you are sick and/or experiencing COVID-19 symptoms.
* Follow CDC guidance on personal hygiene and social distancing before and during your visit to the forest.
* Follow all local guidance regarding outdoor recreation, including guidance from local health agencies, state government and federal organizations.
* Take your trash with you when you leave. Trash overflowing the receptacles can be harmful to wildlife and attract predators.
* Make arrangements to use the restroom before or after your visit to the forest. Unmanaged waste creates a health hazard for our employees and for other visitors.
Visitors to national forests are urged to take the precautions recommended by the Centers for Disease Control and Prevention (CDC). For tips from the CDC on preventing illnesses like the coronavirus, go to:  (link). Information from the U.S. Department of Agriculture is available at: (link).
link: R4 Idaho Group Size Order COVID-19 4292020 with Map.pdf
Brian Harris
Forest Service
R4 COVID-19 Communications
Intermountain Region (R4)
— — — — — — — — — —
Camping during COVID-19
Mountain communities worry about a rush of people
By Steve Liebenthal Apr 29, 2020 KIVI
Payette National Forest — Mountain communities and the National Forest Service are preparing for the possibility that Governor Brad Little will begin a phased reopening of Idaho's economy, and hoping it won't trigger an influx of people eager to get out of their hometowns and head for the high country.
"Some of our mountain communities, like McCall, they're concerned about that," said Brian Harris, who is a spokesman for the Payette National Forest. Harris, who is now a regional spokesman regarding COVID-19. "You know seventy six percent of homes in McCall are second homes, so people flocking to McCall, are they going to bring COVID-19 with them? You know, the potential is there. We're really hoping the Payette Forest, Valley County and McCall doesn't become the next hot spot in the state for COVID-19.
And if you are thinking about packing up the tent and hitting your favorite spot, remember most are still closed, not necessarily because of Covid-19 concerns, but because they are still buried in snow.
"If a campground is closed it's not necessarily based on COVID-19. It could very well be based on the weather and snow level conditions at that location," said Harris.
A few low elevation campgrounds are actually open right now in the Payette National Forest, along the remote South Fork of the Salmon River. Then there is what the Forest Service calls dispersed camping, which is allowed in many parts of the forest. If you plan on staking out a spot, managers ask that you follow the guidelines of whatever phase of federal and state guidelines we are in at the time. And forest managers will do the same as they determine what campgrounds and other recreational facilities to open.
"Our focus and our interest is to get things open for people to use," said Harris. "But we need to follow CDC guidelines, state guidelines and directives, and federal directives as well."
continued:
— — — — — — — — — —
Campground access limited in Payette National Forest
By Katie Kloppenburg May 01, 2020 KIVI
McCall, Idaho — As people head outdoors to enjoy the warm weather, there is limited campground availability in the Payette National Forest to be aware of. Typically there are only a few low elevation campgrounds open with restroom and water services in early May.
None of the campgrounds have restrooms and potable water available. Restroom facilities outside of campgrounds are not being cleaned or maintained right now, so visitors should plan accordingly.
The coronavirus pandemic is delaying preparation for normal campground operations that normally take place in mid- to late-May. Seasonal recreation employees were not hired as early as usual and the cleaning requirements are more intense than in previous years.
continued:
— —
Access to Campgrounds is Limited on the Payette National Forest
McCall, Idaho, May 1, 2020 – As Idaho begins to Rebound from the COVID-19 situation, and people want to get into the great outdoors, they need to be aware of limited campground availability on the Payette National Forest.
In a normal year, only a few low elevation campgrounds are open with full restroom and water services this early in May. The COVID-19 situation is delaying our preparation for the normal campground openings that take place in mid-to late May as our seasonal recreation employees were not brought on-board as early as typical, and the requirements for cleaning facilities for the health and safety of employees and members of the public are more stringent than in previous years.
Greater than normal snow levels remain across the Forest due to two weeks of cold temperatures in early April that prevented normal snow melt. Despite this, snow cover is now patchy and no longer provides quality snowmobiling opportunities on the Forest.
There are no trail closures across the Payette National Forest and dispersed camping is not limited.
However, there is a 10-person group size limit in effect that matches the State of Idaho, and the Centers for Disease Control and Prevention recommendations for limiting the spread of COVID-19.
Visitation across the Forest is higher than normal for this time of year as many people want to get outdoors due to having stayed at home over the past month. "We encourage people to recreate across the Forest, but know that some limitations of overnight camping exist, and higher than normal amounts of people will be encountered," said Jascha Zeitlin, West Zone Recreation Specialist for the Forest. "For the next few weeks, when you head out and intend to camp in a certain location, it's best to have a plan A, a plan B, and even a plan C if you wish to camp overnight."
None of the campgrounds across the forest have restroom and potable water available and restroom facilities outside of campgrounds are not currently being cleaned or maintained, so visitors are advised to plan accordingly. We would like to remind visitors to recreate responsibly on their public lands and to come prepared for reduced public services.
* Plan to be fully self-contained with all supplies needed to avoid stopping at stores and gas stations.
* Recreate in areas close to your home.
* Bring your own toilet paper and a small shovel for digging a "cat hole" if nature calls. Please be courteous to other visitors and help maintain sanitary conditions by burying all solid human waste at least 6-8 inches.
* Pack-it-in/Pack-it-out: please leave with all the trash you produce during your visit.
* Tread Lightly as springtime wet and muddy conditions exist across the Forest.
* Stay up to date on state and local restrictions and follow current rules and guidelines.
As we work through an unpredictable and rapidly changing situation, health and safety is our number one priority. We are committed to continuing to support our communities and fulfill our mission as we all work together to minimize the impacts and spread of COVID-19.
The Payette National Forest continues to monitor the COVID-19 situation and evaluate potential impacts and adjustments to recreation sites. For the latest information on the status of campgrounds and other facilities, and for conditions across the Forest, we encourage phone calls to local Forest Service offices, and visiting the Payette National Forest website for further information.
Brian Harris
Forest Service
R4 COVID-19 Communications
Intermountain Region (R4)
— —
Forest Closures
Updated April 30, 2020
The Payette National Forest has closed a few recreation sites due to COVID-19 related issues, but generally the Forest is open for recreational use with access via roads that are clear of snow.
Many of our campgrounds are closed annually at this time of year as the snow levels are too high for access. Goose Lake Road, Lick Creek Road and Warren Wagon Road that serve as primary routes into the Forest are operated by the Counties, and don't open annually until closer to Memorial Day weekend, and sometimes into early June based on snow levels.
For additional information, please call the Forest Supervisor's Office at office at (208) 634-0700.
The below listed sites are closed due to COVIS-19 related issues.
April 29 – The Forest Service Intermountain Regional Office has implemented a recreation group size of 10 limitation for the state of Idaho. The intent is to come in-line with Sate of Idaho COVID-19 guidance, to ease overcrowding at some recreation sites, and to potential reduce some site closures at Forest Service facilities throughout the state. Reopening of recreation sites will be done is conjunction with the Governor's Rebound Idaho 4 phase plan, and the Federal Government Reopening Plan.
April 3 – Float boating access to the Lower South Fork of the Salmon River has been suspended. The Lower South Fork of the Salmon River corridor begins at the confluence with the Secesh River and ends at the confluence with the Salmon River. This closure will remain in effect until June 30, 2020. This closure order aligns the Payette National Forest with our neighboring Forests' closures to surrounding waterways.
March 28 – Payette National Forest campgrounds and overnight facilities
• Closed at least through May 15, 2020: Mann Creek, Spring Creek, Brownlee, Big Flat, Cabin Creek, Lafferty and Evergreen campgrounds.
• Potential Delayed Opening (These campgrounds don't open annually until snow levels allow for access): Cold Springs, Last Chance, and Huckleberry Campgrounds on the west side of the Forest; and, Lake Fork, Kennally Creek, Burgdorf, Jeannette, Grouse, Upper Payette Lake, and Hazard Lake and Chinook Campgrounds on the central and west side of the Forest.
• These Campgrounds are available for use, but restroom and water services are not available: Poverty Flat, 4-Mile, Camp Creek, Buckhorn, Ponderosa, Secesh Horse Camp, Old East Fork, and Big Creek Campgrounds on the east side of the Forest.
• Closed at least through July 1, 2020: Buck Park Cabin and Paddy Flat Guard Station Cabin.
March 25 – The following snowmobile parking areas are closed and unavailable to visitors:
• West Face Parking Area – McCall Ranger District, Adams County, Idaho
• Gordon Titus Upper Elevation Parking Area – New Meadows Ranger District, Adams County, Idaho
• Wallace Lane Parking Area – New Meadows Ranger District, Adams County, Idaho
— — — — — — — — — —
Revision of two closure orders within Boise National Forest
April 24, 2020
The Boise NF has revised the two original closures, into one closure that includes multiple recreation sites and hot springs where forest visitors gather. The purpose of the order is to provide for public safety due to hazards associated with the COVID-19 virus.
Closed sites are listed within the closure document and maps are provided. Closures include developed campgrounds and developed hot springs.
This Order will be in effect from 4-24-2020 through June 30, 2020 unless rescinded earlier by the Forest Supervisor. (0402-00-59)
Closure orders #0402-00-57 and #0402-00-58 have been TERMINATED effective 4-24-2020.
Link: View New Closure Order
Link: View Maps (there are 20 maps)
— — — — — — — — — —
Boise National Forest modifies closures for public health and safety
Boise, Idaho, April 29, 2020 — The Boise National Forest has opened most parking lots at trailheads to forest visitors for hiking and motorized recreation. All hot springs within the Forest remain closed and developed campgrounds on the Forest are closed or inaccessible because of snow.
"We are working toward reopening the Forest's developed campgrounds and facilities," said Tawnya Brummett, Boise National Forest Supervisor. "Just as Governor Little described in his "Rebound Idaho" initiative, we are focusing on visitor and employee safety, developing standard operating procedures for field operations and following social distancing guidelines recommended by the CDC. While this Closure extends to June 30, we will be evaluating if we can safely open developed sites in time for the Memorial Day weekend."
Limiting access to recreational sites or areas is a particularly difficult decision for the Forest Service, and the agency is looking forward to the day when these sites can safely reopen and are once again filled with people enjoying their public lands.
The Forest is encouraging Recreate Responsibly Idaho (link) and Idaho's reopening protocols to maintain some level of community interventions to prevent the spread of COVID-19.
Visiting public lands while facilities are closed due to the COVID-19 pandemic can leave major impacts on the environment, such as trash and human waste accumulation on the landscape. Many small actions have a magnified effect. Help protect the areas we love by following Leave No Trace principles (link)
The closures remain aligned with federal, state and local guidance for social distancing and encourages responsible recreation use of these areas as an important step in reducing impacts to local communities who may be at risk from the virus
The USDA Forest Service continues to assess and temporarily suspend access to recreation areas that attract large crowds and cannot meet social distancing guidelines recommended by the Centers for Disease Control and Prevention. For tips from the CDC on preventing illnesses like COVID-19, visit: (link)
For the latest Boise National Forest updates visit: (link)
For all Boise NF closure information visit: (link)
Boise National Forest interactive closure story map: (link)
National Forests in Idaho closure story map: (link)
As we work through an unpredictable and rapidly changing situation, health and safety is our No. 1 priority. We are committed to continuing the support of our communities and fulfilling our mission as we all work together to minimize the impacts and spread of COVID-19.
link: 0402-00-59 COVID19 Recreation Sites_Hot Springs Order SIGNED.pdf
link: Combined Boise NF public health and safety closures and list 4_29.pdf
link: 0402-00-59 COVID19 Recreation Sites_Hot Springs MAPS.pdf
— — — — — — — — — —
Boise National Forest implements prevention measures as seasonal workforce arrives
Boise, Idaho, April 27, 2020 –The Boise National Forest has developed a plan for bringing seasonal employees on board with a high priority of being mindful of local communities regarding COVID-19. The forest relies heavily on its seasonal work force to accomplish land stewardship and wildfire response. While a number of these employees are local, many of them will be arriving from various parts of the country.
"Keeping our employees and communities safe is our first priority," said Boise National Forest Supervisor Tawnya Brummett. "We are working closely with local officials and partners to assess potential risks associated with COVID-19, refine processes as needed to minimize the risk of exposure.
Firefighters, timber sale administrators, range conservationists, recreation staff, and other seasonal employees will begin work on the Boise National Forest over the next six weeks. Employees will be following the most current guidance from the Centers for Disease Control and Prevention, as well as state and local health and safety professionals in order to minimize the risks of COVID-19.
"Our seasonal employees are critical in keeping the forest-related local economy vibrant," added Brummett. "We will ensure we can do that, while providing for a safe environment in our communities, as we bring our employees back to work."
As plans proceed to bring employees to the Forest, this process is being implemented:
* Supervisors are contacting employees prior to the employee traveling to the forest. Screening questions are asked, and supervisors explain that all current guidance regarding COVID-19, such as self-isolating and social distancing, must be followed.
* Self-isolation is implemented for employees who may need to do this for two weeks prior to the individual traveling.
* Once employees arrive, they are required to self-isolate for another two weeks. During isolation, work assignments will be completed adhering to social distancing guidelines.
* To the extent possible, current employees at the forest will have minimal contact with newly arriving employees and other employee workgroups.
— — — — — — — — — —
Fuelwood Season Starts May 15 on the Payette National Forest
McCall, Idaho, May 1, 2020 – Personal use fuelwood permits for the Payette National Forest will be available beginning May 15, through November 30, 2020. Due to the COVID-19 pandemic we will be processing mail-in applications, and call-in applications for fuelwood permits until further notice.
The mail-in and call-in systems is being implemented for the safety of members of the public, and the safety of our front line employees. We will not be selling permits from our offices or local vendors until further notice. We will accept fuelwood applications starting May 4. For information about fuelwood cutting on surrounding National forests, please contact them directly.
Mail-in applications will be available in front of the McCall, News Meadows, Council and Weiser Ranger District Offices, and can be found on our Fuelwood webpage, or on our Facebook page U.S. Forest Service-Payette National Forest. The call-in system can be used by calling the Forest Service offices list below.
A new regulation for this year is no cutting of Larch (Tamarack) after November 1. Larch lose their needles every fall and appear to be dead, resulting in too many live trees being accidentally cut. This new regulation is to prevent the cutting of live Larch trees after they have lost their needles in the fall.
Fuelwood permit prices remain at $6.25 per cord with a 4-cord minimum, and a 10-cord maximum per household. Please note we cannot sell permits for only 2 cords. If you want all ten cords, permits purchased will need to be 5 cords and 5 cords, or 4 cords and 6 cord, or all 10 cords at once.
The Payette National Forest has a free-use area located in the Big Creek area. A free-use permit is required for this area, and can be obtained by calling the McCall Ranger District office. Specifics of the free-use location and requirements will be explained to people seeking free-use permits. Free-use fuelwood counts as personal use toward the 10-cord maximum per household.
Cutting fuelwood within a closure area is prohibited. Check on the Alerts & Notices pages of Forest websites for closure information.
Check this year's fuelwood brochure and current Motor Vehicle Use Maps to make sure you are cutting in an area open to fuelwood gathering, and pay special attention to closed areas and roads with restoration project areas. Regulations prohibit the cutting of dead or living Whitebark pine trees due to decline in this tree species, and their critical importance to wildlife.
Fuelwood permits are valid within the Boise, Payette and Sawtooth Forests. All motorized travel related to fuelwood gathering must be in full accordance with Forest Service travel regulations for the area as shown in the Motor Vehicle Use Map (MVUM), unless specifically exempted in the fuelwood permit.
Permit holders are encouraged to cut fuelwood early in the year because fire restrictions may impact the cutting season later in the summer. Early season fuelwood cutters are asked to use caution to avoid wet muddy roads where travel may cause resource damage. Fuelwood cutting is not allowed within riparian areas (adjacent to creeks and rivers).
For additional information, contact the local Ranger District offices, or visit the Forest website and Payette National Forest Facebook page.
Call in Applications with a Credit Card will be processed at these Payette National Forest Ranger District Offices on the days listed. These Offices will also have mail in applications available outside the front office for pick:
Weiser Ranger District, Monday & Friday 208-549-4200
Council Ranger District, Monday & Friday 208-253-0100
McCall Ranger District, Tuesday & Thursday 208-634-0400
New Meadows Ranger District, Tuesday & Wednesday 208-347-0300
Brian Harris
Forest Service
R4 COVID-19 Communications
Intermountain Region (R4)
link: Payette National Forest – Personal Use Fuelwood Program Mail-In Form
link: Fuelwood Map
link: Motorized Use Vehicle Map
— — — — — — — — — —
Lost Horse Project-Objection Filing Period
The Boise National Forest, Cascade Ranger District has completed the Environmental Assessment and Finding of No Significant Impact (EA/FONSI) and the draft Decision Notice (DN) for the Lost Horse Project. The EA/FONSI and draft DN are available on the project website at (link)
Forest Supervisor Tawnya Brummett is the Responsible Official for this project. The project area is located approximately 21 miles east and southeast of Cascade, in Valley County, Idaho.
The Forest Supervisor has selected to implement the Proposed Action as identified in the draft DN. The proposed action will conduct vegetation management treatments (commercial and noncommercial thinning, prescribed burning) and associated road management activities on approximately 10,681 acres. All treatments with commercial product removal will be followed by noncommercial tree thinning and activity fuel abatement treatments. Transportation management activities will include constructing approximately 18 miles of temporary roads that will be decommissioned after project activities and will not be added to the National Forest Transportation System. To facilitate commercial sawlog removal 66 miles of road maintenance activities will be conducted. In addition, 5.4 miles of National Forest System roads will be decommissioned. The Project will make no changes to the Motor Vehicle Use Map (MVUM).
Eligibility to File Objection
This project is subject to objection pursuant to 36 CFR 218, subparts A and B. Objections will be accepted only from those who have previously submitted specific written comments regarding the proposed project either during scoping or other designated opportunity for public comment in accordance with § 218.5(a). Issues raised in objections must be based on previously submitted timely, specific, written comments regarding the proposed project unless they are based on new information arising after designated opportunities.
Individual members of organizations must have submitted their own comments to meet the requirements of eligibility as an individual. Objections received on behalf of an organization are considered as those of the organization only. If an objection is submitted on behalf of a number of individuals or organizations, each individual or organization listed must meet the eligibility requirement of having previously submitted comments on the project (§ 218.7). Names and addresses of objectors will become part of the public record.
Content of an Objection
Incorporation of documents by reference in the objection is permitted only as provided for at § 218.8(b). Minimum content requirements of an objection identified at § 218.8(d) include:
* Objector's name and address with a telephone number if available, with signature or other verification of authorship supplied upon request;
* Identification of the lead objector when multiple names are listed, along with verification upon request;
* Name of project, name and title of the responsible official, national forest/ranger district where project is located;
* Sufficient narrative description of those aspects of the proposed project objected to, specific issues related to the project, how environmental law, regulation, or policy would be violated, and suggested remedies, which would resolve the objection; and
* Statement demonstrating the connection between prior specific written comments on this project and the content of the objection, unless the objection issue arose after the designated opportunities for comment.
Filing an Objection
The Objection Reviewing Officer is the Intermountain (R4) Regional Forester. Written, facsimile, and electronic objections will be accepted. The responsible official is not accepting hand-delivered comments at this time as there are limited office functions as part of precautions in response to the coronavirus.
Send written objections, including any attachments, to: Objection Reviewing Officer, Intermountain Region USFS, 324 25th Street, Ogden, Utah 84401; or fax to 801-625-5277; or by email to: objections-intermtn-regional-office@usda.gov, within 45 days following the publication date of this legal notice in the newspaper of record. Email objections must be submitted in a format such as an email message, portable document format (.pdf), plain text (.txt), rich text format (.rtf), and Word (.doc or .docx). It is the responsibility of Objectors to ensure their objection is received in a timely manner (§ 218.9). Objections may also be submitted through a web form on the Lost Horse Project webpage (link)
To submit an objection using the web form, select "Comment/Object on Project" under "Get Connected" on the right panel of the project's webpage.
Objections received in response to this request will be available for public inspection in the "Public Comment/Objection Reading Room" on the Project webpage. An objection, including attachments, must be filed with the appropriate reviewing officer within 45 days of the publication of this legal notice. The publication date of this legal notice is the exclusive means for calculating the time to file an objection to this project. The legal notice and project documents are available at the link provided above.
Those wishing to object to this proposed project should not rely upon dates or timeframe information provided by any other source. Additional information about this project may be obtained from Jim Bishop, Team Leader, at james.bishop@usda.gov or by phone at 208-382-7442.
— — — — — — — — — —
Honor-system entrance fees at Idaho state parks going unpaid
Even in a pandemic, entrance fees at Idaho state parks still apply.
April 29, 2020 KTVB
State parks have seen a major increase in visitors since the coronavirus outbreak spurred closures and event cancellations across Idaho. But officials with the parks department say many of those visitors are not paying the required fees to get in.
For those who do not purchase an Idaho Parks Passport – which allows for unlimited entry to all 30 state parks – the fee to enter one of the parks is $5 per car.
Because of social distancing rules, the fee kiosks are no longer manned by employees. Instead, state officials are directing park-goers to place their $5 payment in a fee tube near the entrance, relying on the honor system.
continued:
— — — — — — — — — —
Offroaders leave behind damage, junk in the Owyhees
"The majority of riders are responsible but the actions of a careless few can tarnish the experience for everyone – and put access for all at risk."
April 28, 2020 KTVB
Idaho Department of Parks and Recreation is urging off-road riders to be responsible after several recent incidents involving damaged land and left-behind trash.
Like the trail system in the Boise Foothills, the Owyhees are currently seeing a record number of people heading there to spend time outdoors, officials said. While many of offroad riders are taking care to leave no trace, the department says, others are behaving more carelessly.
In the last several weeks, visitors to the Owyhees have defaced restrooms, caused damage to private property, and tossed junk – including a full-sized couch – while riding in the backcountry.
continued:
— — — — — — — — — —
Vandals damage forest road grader
May 1, 2020 Local News 8
The Caribou Targhee National Forest says vandals caused almost $4,000 in damage to a Forest Service road grader Wednesday night.
The windows of the vehicle were smashed sometime between 4 p.m. Wednesday and 8:30 a.m. Thursday. The grader was parked at the Fullmer Boat Landing site along Snake River Road near Heise.
Forest road crews had been completing work along the river access area and hauling in gravel to improve the parking lot.
continued:
———————-
Letter to Share:
Life is great if you are a pheasant
May 3, 2020
Good morning, life is great if you are a baby pheasant chick with the Gamebird Foundation(tgbf). This Tuesday, May 5th we will start receiving our new pheasant chicks. The brooders are ready for the little day old babies. We have our members signed up to raise and release into great habitat over 5,000 for the month of May. By the end of July we will have raised and released over 10,000 pheasants. Thanks to our members and those that help sponsor with their contributions to this project. Without their and your help we could not do this. We (tgbf) is a 501c3 non-profit Corp. Every one of the members donate their time and the $20.00 family membership dues go into raising the pheasants. If you would like to help you can go to our web site, (link) and join as a member or make a tax free donation to do your share in this great project to bring back a population of wild pheasants in Idaho and the Northwest. We are very fortunate that Idaho Fish and Game is helping us pay for the babies chicks. We at the (tgbf) build brooders, buy feed, do all the labor of love for our wild birds. Please give us a helping hand by helping raise chicks or a generous donation to the (tgbf). You can mail a donation to The Gamebird Foundation at PO Box 100, Viola Idaho 83872. Remember the Donation is Tax Deducible.
We will be having a field day for the public to come see how we raise and release the pheasants. We will let the public know with a press release at a later date. Remember to keep a safe space between you and your friends.
Be Safe. God Bless all.
"The Pheasant Guy"
Jim Hagedorn
Executive Director
The Gamebird Foundation
PO Box 100, Viola, Id. 83872
208-883-3423
——————–
Critter News:
Pet Talk – Canine influenza and its control
by Dr. Karsten Fostvedt May 1, 2020 IME
Canine influenza was first reported in 2004 at a Florida greyhound track, probably imported by a dog coming from Asia. Dogs are the only known susceptible species. This strain (H3N8) is not known to infect humans. The influenza is thought to be transmitted by an infected dog sneezing or coughing on another dog, much the same way as influenza is spread among humans. It can also be transmitted via contaminated inanimate objects and by people who touch infected dogs and then touch uninfected dogs.
The incubation period is usually two to five days. Infected dogs shed the virus for seven to 10 days after clinical signs appear. Since the virus is new, all dogs are considered susceptible to infection, and most dogs exposed to canine influenza become infected. About 80 percent of infected dogs develop clinical signs. Infected dogs that do not exhibit clinical signs can still shed the virus and spread the infection.
The disease may be mild or severe. Most dogs exhibit the mild form of the disease. The most common clinical sign is a cough that lasts 10 to 30 days despite treatment with antibiotics and cough suppressants. Many dogs have a purulent nasal discharge and a low-grade fever. Some dogs are more severely affected and may develop pneumonia with a high fever and difficult breathing.
continued:
— — — — — — — — — —
MCPAWS completes purchase of Long Valley Veterinary Clinic
The Star-News April 30, 2020
MCPAWS Regional Animal Shelter was scheduled to complete its sale of Long Valley Veterinary Clinic today.
The Long Valley practice is scheduled to move on Monday to MCPAWS Veterinary Hospital north of Donnelly, where Drs. Janet Houlihan and Jennifer Koepke will see clients.
MCPAWS is searching for new veterinarians so Dr. Earnest Jacques of the former Donnelly Veterinary Hospital and Houlihan can retire, Executive Director Amber Kostoff said.
"I'm really looking forward to the opportunity to mentor the new young veterinarians that will be coming on to work," Houlihan said. "I think it's going to be a great adventure for us."
MCPAWS Veterinary Hospital is currently offering all services "curbside" due to COVID-19 restrictions. "We are starting to make plans for what the new 'normal' will look like," Kostoff said.
MCPAWS has lost "significant" revenue because of the closure of the shelter's thrift store in downtown McCall and limited services at the shelter and vet hospital due to COVID-19, she said.
"In these uncertain times we feel strongly that moving forward as planned with the purchase of Long Valley Vet Clinic will allow us to play an even greater role in maintaining veterinary access for all animals in our community while securing the future of the MCPAWS organization itself," Kostoff said.
The changes also have limited the ability of MCPAWS to continue to offer low-cost veterinary services for pets owned by low-income members of the community, she said. Those services will be restored at the Donnelly clinic as soon as practical, Kostoff said.
Clients of Long Valley Veterinary Clinic will need to call 208-325-4510 starting Monday to schedule an appointment. For more information on MCPAWS, visit (link)
source: © Copyright 2009-present Central Idaho Publishing Inc.
— — — — — — — — — —
Be bear aware
April 28, 2020 Local News 8
Back country visitors should be prepared for bear encounters.
That's the advice of Idaho Fish and Game Department conservation officers, who say the animals are beginning to emerge from their winter hibernation.
"We are definitely seeing both grizzlies and black bears coming out of their dens and becoming active across the state," says Wildlife Biologist Jeremy Nicholson. "This is a good time of year to brush up on your 'Bear Aware' skills and remember to carry your bear spray with you and have it readily accessible when you venture into the woods."
video:
——————–
Fish & Game News:
Fish and Game issues advisory on bear-proof trash containers
The Star-News April 30, 2020
McCall residents and business owners are being encouraged to bear-proof their trash cans and other easy food sources by the McCall office of the Idaho Department of Fish and Game.
Residents and business owners are encouraged to use bear-resistant trash containers properly and not prop lids open, tamper with latches or leave bags outside the containers.
Business owners are asked to not prop open dumpster lids, especially at night when bears are most likely to look for easy meals in town, Fish and Game Regional Wildlife Manager Regan Berkley said.
Bird feeders also attract bears and must be taken down, Berkley said.
"With spring here, birds can more easily find natural foods," she said. "Birdseed is a high-calorie nutrition for bears, and they'll return to your home many times if they've found that easy meal even once."
Although their food options are still limited, bears that become too accustomed to human food sources cannot be responsibly relocated, Berkley said.
"These bears can become dangerous. With particularly habituated bears, Idaho Department of Fish and Game sometimes steps in to trap and euthanize the bear," she said. "Luckily, the solution is simple: Don't allow bears to access human food in the first place."
source: © Copyright 2009-present Central Idaho Publishing Inc.
— — — — — — — — — —
Game cameras capture images of wildlife found across the Magic Valley Region
By Terry Thompson, Regional Communications Manager
Tuesday, April 28, 2020
In 2019, game cameras were systematically placed across Idaho to both document wolves, but also help count the population of wolves in the state. The cameras also opportunistically captured images of different wildlife in the Magic Valley Region.
How many wolves are on the landscape across Idaho? That's an often-asked question that Idaho Fish and Game is aiming to answer using game cameras to assist with a statewide population monitoring program.
In 2019, Fish and Game staff deployed nearly 600 game cameras statewide, many within the Magic Valley Region, in a scientifically designed, high-density grid. These cameras took about 11 million pictures over several months, of not only wolves, but opportunistically, they captured images of the amazing diversity of wildlife found throughout Idaho.
continued:
— — — — — — — — — —
Reminder to elk hunters: there's a new 5-day wait for capped elk zones if you apply for a controlled elk hunt
By Roger Phillips, Public Information Supervisor
Monday, April 27, 2020
This is a new rule for 2020 that could affect your ability to buy a capped elk zone tag
There is a five-day waiting period to purchase capped elk zone tags for any resident who applies for a controlled elk hunt regardless of whether the person draws the controlled hunt tag. Capped elk zone tags go on sale in July.
continued:
— — — — — — — — — —
During the spring wildlife baby boom, young animals are better off left alone
By Brian Pearson, Conservation Public Information Specialist
Wednesday, April 29, 2020
Spring is here, and so is the peak of baby wildlife season. People are bound to see young wildlife when they venture outdoors during the spring and early summer, and there is a pretty good chance that they will see a baby animal that appears to be alone, with mom nowhere in sight.
While a well-intentioned human's first instinct might be to rescue these cute, cuddly and seemingly helpless creatures, Fish and Game officials have a simple suggestion to people who discover baby animals that appear to be abandoned: The best thing you can do for them is to leave them be.
continued:
— — — — — — — — — —
More F&G News Releases
link:
———————————-
Crazy Critter Stuff:
35 Corgis To Get You Through Your Day
————————
Seasonal Humor:

[h/t SM]

———————-