May 10, 2020 The Yellow Pine Times – Valley County, Idaho
Community Calendar:
Yellow Pine Tavern Closed until further notice.
Spring Rx Burns postponed
March 23 – South Fork road weight restrictions
March 28-June 30 – Lower South Fork Salmon River closed to rafting
April 9 – Temp. Spring Restrictions on upper Stibnite Rd
April 17 – Boil water order issued
May 1 – Stage 1 Idaho Rebounds
May 13 & 20 – Amerigas Delivery
May 15 – Firewood Season starts
4th of July YPFD Golf Tourney Canceled
(details below)
———-
From Valley County
We need Your Help to protect the place and the people we all Love.
link:
— —
Valley County Covid-19 Response Page
link:
— —
Valley County Emergency Operations Center
link:
— —
Rebound – Idaho Governor's phasing program
link:
— —
COVID 19: Recommendations and Resources for Safe Business Practices
link: (lots of info for businesses)
——————-
Local Events:
4th of July YPFD Golf Tourney Canceled
As Idaho enters into the four-stage plan and guidelines for opening the state since the novel coronavirus pandemic, each community has its own responsibility to be vigilant in following these guidelines.
A huge debt of gratitude goes out to all the doctors, nurses, hospital employees, first responders and our state leaders for all they are doing to keep us safe and healthy. We will all be stronger when we come out on the other side of the COVID-19 Pandemic.
Phase 4 begins June 14th and "gatherings, both public and private, of more than 50 people, where appropriate physical distancing and precautionary measures are observed can occur. Large venues (e.g., movie theaters and sporting venues) can operate under limited physical distancing protocols."
The 23rd Annual July 4th Golf Tournament was scheduled for July 4th and includes visitors traveling from outside Yellow Pine. Although the tournament could officially be held, there are certain measures that could be out of our control in following the Phase 4 guidelines. Therefore, we have made the decision to cancel the event this year due to the continuing COVID-19 public health concerns and to ensure that we do not contribute to the spread of the pandemic. The health and safety of the community is our paramount concern.
It's difficult to know what decisions are the right ones to make and, in many instances, we may not know until we have the benefit of hindsight. While we are all anxious to return to events and being together again, we need to be vigilant and patient. We have been weighing the risks and benefits, are canceling the event for this year but we will host the 23th Annual Golf Tournament on July 3rd, 2021.
The July 4th Golf Tournament has been a fundraiser for the "Medical Supply & Training Fund" for Yellow Pine for the past 6 years. If you would like to donate to this fund, please contact us at aforsterrn@aol.com . Thank you for your understanding as we all continue to remain strong during these challenging times.
Stay strong! Stay healthy!
———-
Village News:
Cinco de Mayo
About 17 people (including the crew from Stibnite) attended the taco feed at the Community Hall on May 5th, tacos provided by the community hall committee to thank the community for their support and volunteerism.
"We had good tacos made by Deb, Ronda and Rhonda." – LI

photo courtesy KA
— — — —
Yellow Pine Tavern closed due to COVID-19 fears
Tavern is still closed until further notice. Will have gas available as well as take out beer, pop, candy, chips, pizza. Call 208 739-7086 or go to 355 Yellow Pine Ave. House across street from the Tavern next to the Silver Dollar.
— — — —
Voting Idaho Primary Election May 19, 2020
For folks registered in the Yellow Pine Precinct: the Valley County Clerk mailed our ballots Monday April 27th. If you did not get your ballot, you can call and request one. (208) 382-7103. You may also download an absentee ballot (link) request and mail to the County Clerk (must be received by May 19th at 5pm).
— — — —
2020 Census
The 2020 Census Impacts All Valley County Residents
A report May 3rd that Valley County has only had a 13.6% participation in the 2020 Census. Some folks with PO boxes have not received the paper census. You do not need an ID#, just your street address. It is recommended that we all fill out the census online.
If you spend 50% of your time in Valley County, you can consider it your home per the Census. Where you register with the Census is confidential and never linked to other governmental requirements such as property taxes or mailing address. The deadline for the 2020 Census has been extended until October 31st. They will probably not be sending census takers up to Yellow Pine.
Link: to online census
You do not need an ID number. Go to the link. Click on "start questionnaire". Then on the next page scroll down to "If you do not have a Census ID, click here" – when you click on that line it will start the census. (see below)

— — — —
Boil Water Order issued April 17, 2020
As April 17th 2020, Yellow Pine is under another "Boil Order".
Boil Water Advisory Notice
Boil Your Water Before Using
Bring tap water to a rolling boil, boil for one minute, and cool before using or use bottled water. Boiled or bottled water should be used for drinking, making ice, washing dishes, brushing teeth, and preparing food until further notice.
This Boil Water Advisory Notice applies to The Yellow Pine Water System
What Happened?
Starting on 3-22-2020 the water system had the following problem: Due to high water demand, treatment requirements were not met after the completion of maintenance procedures. .
This problem indicates that harmful microbes may be present in your drinking water. Harmful microbes in drinking water can cause diarrhea, cramps, nausea, headaches, or other symptoms and may pose a special health risk for infants, some elderly, and people with severely compromised immune systems. But these symptoms are not just caused by microbes in drinking water.
If you experience any of these symptoms and they persist, you should seek medical advice.
What is being done?
The system is being monitored and checked daily for compliance. .
It is likely that you will need to boil water for the next 3 to 5 days until the problem is fixed.
You will be informed when you no longer need to boil your water.
For more information, please contact:
Warren Drake
of the Yellow Pine Water System
at 208-573-6261
or wdrake@drakediversified.com
Please share this information with other people who drink this water, especially anyone who may not get this notice directly (for example, people in apartments, nursing homes, schools, and businesses).
You can do this by posting this notice in a public place or distributing copies by hand or mail.
State Water System ID#: 4430059 Date distributed: 3-22-2020
— — — —
Critters
Tick's are plentiful this spring.
Bears are out of hibernation, protect your trash and pet food.
It is getting close to calving season, watch out for aggressive mother does and cows, they will stomp your dogs.
— — — —
Forest Info:
The Payette and Boise NF campgrounds in our area do not normally open until Memorial Day Weekend. Currently restrooms are locked. The Old Eastfork (Devil's Bathtubs) campground is closed. The Forest Service will send info to share when they know more. There are plans to do work on the South Fork road this summer, they said they would wait until Johnson Creek road is open, but there is no firm date set yet for the work.
— — — —
Road News:
It's Rock Migration Season. Watch for rocks on the EFSF road in the bowling alley area and some areas of the South Fork. While the earthquake and numerous aftershocks have not brought down anything big, the freeze thaw cycle along with wet weather is still bringing down some rocks.
Report that the county graded the EFSF road last week beginning on Monday, April 27th.
April 9th the temporary road restrictions on the upper Stibnite Road went into effect.
The load restrictions on the South Fork Salmon River Road started on Monday 3/23. They will stay in effect until the subgrade has dried out and the roadway can support standard loading.
The FS has plans to work on the South Fork Road again this summer, they will send info if and when the project is scheduled.
— — — —
Rx Burns
All new prescribed burn ignitions have been paused across the Region in line with regional direction. The Forest will continue to prioritize keeping employees and the public safe during this time. The decision to temporarily postpone ignitions will prevent any effects from smoke that might further worsen conditions for those who are at risk in our communities while reducing exposure for Forest Service employees who might not otherwise need to travel.
We expect the pause on prescribed burn ignitions to be re-evaluated by the Regional Forester sometime in April.
– PNF
— — — —
Yellow Pine US Mail
The 3-day a week mail delivery started Nov 1st. The Post Office in Yellow Pine is open six days a week year around: M-F 845am-245pm Saturday 9am-245pm. Forever Stamp: 55 cents. Support our local post office and purchase your holiday stamps here.
— — — —
Yellow Pine Transfer Station
Watch out when opening the doors, they spring open with force when you unbolt. Report that the doors were damaged at some point. Lakeshore last emptied the bins on or before May 1st. Please keep the burn pile neat.
Please do not abuse our Transfer Station or we may lose it. Household trash must be placed in the bins, flattened cardboard boxes can also go into the bins. Do not stack trash in front of the doors. Woody yard debris only for the burn pile. No furniture, appliances, tires or construction debris allowed, those items must be hauled out to the Donnelly station by you.
Yellow Pine Transfer Station (aka, the dump)
The Yellow Pine Transfer Station is located approximately 3 miles south on Johnson Creek Road.
The TRANSFER STATION is for household trash and yard waste:
* Household trash must be put inside (and fit) the dumpster;
* Yard waste (limbs, pine needles, brush, etc.) goes in the burn pile on the south end of the turn-around;
* Cardboard boxes should be flattened before putting the in the dumpster,
The DUMPSTERS are NOT for:
* Furniture (take to Donnelly Transfer Station);
* Appliances (take to Donnelly Transfer Station).
The BURN PILE is NOT for:
* Cardboard boxes (flatten and put in dumpster);
* Furniture and appliances (take to Donnelly Transfer Station);
* Drywall and building material (take to Donnelly Transfer Station);
* Wire or fencing (take to Donnelly Transfer Station);
* Foam Rubber (take to Donnelly Transfer Station);
* Wood with metal (like nails) attached (take to Donnelly Transfer Station.)
When closing the DOORS on the front of the dumpsters:
* Make sure the "U" brackets at the top and bottom of the door are engaged;
* The retaining bar at the middle of the door is slid into the pipe;
* And the "L" bars at the bottom of the doors dropped into place.
The Yellow Pine Transfer Station is Valley County responsibility. If it is not kept tidy, use of the Transfer Station may be revoked. That would result in residents having to take all household trash and yard waste to the Donnelly Transfer Station.
If Dumpsters Are Full, Contact Lake Shore Disposal at: 208/634-7176
———-
Local Groups:
YPWUA News:
New Boil Water Order issued April 17, 2020. This could last until runoff is over.
Second half of the water bill is due June 15, 2020.
The last Yellow Pine Water Users Shareholders meeting was Sunday July 7, 2019.
link: 20190707YPWUAminutes
— — — —
VYPA News:
Heat was installed in the community hall on April 30th.
Proposed VYPA Bylaws Changes
Attached is the compiled proposed changes to the bylaws the Council has received.
The proposed changes and the proposed addendum B, are being published to give folks plenty of time to read and process the information before the first reading.
link: 2020 Proposed changes to Yellow Pine Bylaws Adopted 9-12-2015.pdf
link: 2020 Addendum B-letter of interest.pdf
link: 2018 Midas Gold Community Partnership Agreement with the Village of Yellow Pine
Deb Filler – Chairperson
Village of Yellow Pine Association
The community hall committee's goal is to have adequate heating installed in the main hall before the June VYPA meeting.
If folks have items for the community yard sale, please place them by the north wall in the community hall. If you see items you would like to purchase, you can pay Deb, Ronda, or Lynn. All funds support the community hall.
VYPA meetings for 2020 – June 13, 2pm; July 11, 2pm; August 8, 2pm; September 12, 2pm.
Village of Yellow Pine Association Meeting Minutes for September 21, 2019
link: 20190921 Village of Yellow Pine Association Meeting
— — — —
YPFD News:
May 10th Burn Permits – contact the YPFD
Pile burning: Dress appropriately, have enough help on hand (people, water and tools) and make a firebreak before you start. Call your local fire protection district chief to let them know you'll be conducting a debris burn. This saves them from sending emergency responders to your property if they are not needed. Do NOT burn on breezy afternoons.
Better yet, "Bring It, Don't Burn It", you can take your yard waste (limbs, pine needles, brush, etc.) to the burn pile at the Transfer Station on the south end of the turn-around. Remember, keep the pile neat. Woody debris only, no nails, no cardboard and no furniture! The Boise NF will burn the pile in the fall when it is safe and doesn't pollute our fine YP air.
YP Fire Commissioners:
Sue Holloway – District 1
Dan Stiff – District 2
Merrill Saleen – District 3
Jeff Forster – Fire Chief
Yellow Pine Fire Protection District Community Service Notice
The purpose of this letter is to show how you as a Yellow Pine Resident can help protect your structure against a wildland fire by being "Fire Wise."
Click the link: to view 20190724 Yellow Pine Fire Protection mitigation
——–
Biz Listings:
The Corner (208) 633-3325
Closed for the winter.
Plan to open for Memorial Weekend with live music provided by Willie and the Singlewides.
— — — —
Yellow Pine Tavern (208) 633-2233
Closed until further notice.
— — — —
Yellow Pine Lodge (208) 633-3377
Closed for Winter.
— — — —
Knotty Kat Crochet Works – 208-502-0940
FB page link
open Tue – Sat, 9-5
Yellow Pine eggs $3/doz
— — — —
Buck Horn Outfitters LLC 208-633-3614
Tom & Sarah Lanham
156 Yellow Pine Ave, Yellow Pine Id 83677
website:
Facebook:
Starting June 2020 We will be doing trail rides out of Yellow Pine along with summer pack / camping trips to high mountain lakes in the area!
Wapiti Meadow Ranch – Johnson Creek (208) 633-3217
or 208-315-3554 – cabin rentals
website:
Deadwood Outfitters
website:
— — — —
Local Fuel Suppliers
Amerigas Phone: (208) 634-8181
Ed Staub & Sons Phone: (208) 634-3833
Diamond Fuel & Feed Phone: (208) 382-4430
— — — —
Outside Biz that will service Yellow Pine:
The Star-News


subscribe:
A reminder that those who live in other states can subscribe to the online edition only since the mail can take days for hard copy to reach them.
Rocky Mountain Mechanical – Plumbing – Heating – Air conditioning
(208) 365-PIPE (7473), Emmett, will service Yellow Pine
Elkhorn Heating & Cooling
(208) 906-4067 Middleton, Idaho, will service Yellow Pine
B&T Safety Solutions LLC
208-271-1600 Based out of Donnelly
Snow removal, cleaning chimneys and stoves, we do cabin staining/chinking as well
— — — —
Follow The Yellow Pine Times on Facebook (updated more often than emails)
———————–
Letter to Share:
Dear Yellow Pine residents:
Cascade Medical Center is here for you. When I (Tom Reinhardt) attended your community meeting in September, I mentioned that we were preparing to provide tele-video medical visits. We now have that up and running. If you want to schedule an appointment, call our clinic at 208-382-4285. Vicki or one of the MAs will ask you some questions to make sure that a tele-video visit is the right choice given your symptoms or need. If so, we will work with you to make sure you are set up on the Cascade Medical Center patient portal (with our EMR). We will also make sure that you are set up to be able to do a tele-video visit (laptop with camera, desktop with camera, or smart phone). We use the Zoom telemedicine system, which is confidential and secure (it works like Skype or Face-time). Before the appointment, we will email you a link for the tele-video visit. When it is time for your appointment, you will click on the link in the email and you will be connected with our provider and can begin your visit.
Regarding insurance coverage, the COVID legislation passed in March assures coverage of telemedicine visits for patients with Medicare, Medicaid, VA. Private insurers have also decided to provide coverage just as for regular in person visits, at least until the COVID epidemic crisis is declared over.
My advice is that if someone usually goes to the VA for care, they should call the VA and see if they can do a video visit with them. Or if they usually go to McCall St. Lukes, they should call their doctor there.
Tom Reinhardt, CEO
Cascade Medical Center
April 4, 2020


————————-
Local Observations:
Monday (May 4) overnight low of 26 degrees, clear sky, light breeze and frost melting this morning. Air traffic. The swallows are back in full force, robins calling, one cowbird and lots of finches visiting. Mostly clear and chilly breezes at lunch time. Dozens of finches visiting early afternoon, only a few juncos and a few hummingbirds. Increased traffic. Clear mid-afternoon and chilly breezes, high of 60 degrees. Mostly cloudy (high thin haze) at dusk and lighter breezes and robins calling. Hazy sky before midnight.
Tuesday (May 5) overnight low of 29 degrees, mostly clear sky and light breeze this morning. Lots of swallows swooping around, a few robins calling, finches showed up later by the dozens. Helicopter circling over the village at 1117am. Clouds coming in and breezy after lunch time. Early afternoon traffic. Overcast, warm and breezy late afternoon, high of 71 degrees. Helicopter flew over at 628pm. At dusk a bit of a breeze and the sky had mostly high thin haze. Robins calling and three does wandering through the neighborhood. Hazy moon before midnight.
Wednesday (May 6) overnight low of 38 degrees, mostly cloudy sky and breezy this morning. No swallows around, robins calling, lots of finches, a couple of cowbirds and a rufous hummingbird visiting. Later a hawk showed up and chased the finches away. Aspen leaves are the sizes of nickels and dimes and glacier lilies are blooming. Dark clouds building up and gusty breezes late morning, followed by rain showers. A pinesiskin and a couple of juncos joined the finches before lunch time,and a black-chinned hummingbird sighted. Break in the rain at noon. Mail truck made it in on time. Calmer, cooler and short rain shower after lunch. A pair of mourning doves showed up early afternoon, breaks in the clouds, breezy and scattered sunshine. Rain and snowballs falling mid-afternoon for a few minutes, then sprinkles for less than 30 minutes. Broken dark clouds and breezy late afternoon, high of 56 degrees. Mostly clear by dusk with a cold sharp breeze. Looked mostly clear before midnight, big bright moon.
Thursday (May 7) overnight low of 25 degrees, clear sky and sharp chilly breezes this morning. Swallows are back, robins chirping and lots of cassin's finches, a few juncos and a hawk in the neighborhood. Sunny, clear and light breezes at lunch time. Small plane circling over the village at 315pm. Rufous and calliope hummingbirds visiting. Increasing street traffic. Clear sky, warm and light breezes late afternoon, high of 62 degrees. First sighting of a (male) black-headed grosbeak early evening. Clear sky at dusk, robins calling and swallows flying high. Clear sky before midnight, moon glow behind Golden Gate.
Friday (May 8) overnight low of 27 degrees, clear sky and light breeze this morning. Air and street traffic. Lots of swallows and finches calling and flying around. Very slow internet this morning, MTE says it is their provider and people are working on it (it was working much better by mid-afternoon.) Sunny and breezy at lunch time. Pine squirrel and chipmunks visiting. Sunny, warm and breezy early afternoon. Calliope and rufous hummingbirds visiting, and jays calling from the trees. Clear sky and pleasant breezes late afternoon, high of 68 degrees. Two does and a yearling wandered by late evening, and first golden mantle ground squirrel sighting. Calm and clear at dusk. Looked clear before midnight, faint moon glow behind Golden Gate.
Saturday (May 9) overnight low of 29 degrees, clear sky this morning. Lots of birdsong, swallows, finches, robins, jays and evening grosbeaks calling; male goldfinch and white-breasted nuthatch visited. Morning air traffic. Pine squirrel and chipmunks visiting. Clear and sunny at lunch time. Wonky sounding airplane to the west around 145pm. Sharp-shinned hawk chasing finches in the neighborhood this afternoon. Grass is growing and bushes have true leaves. Warm, clear and light afternoon breezes, high of 73 degrees. Report of several campers down at the Devil's Bathtubs campground. Heartleaf arnicas are starting to bloom, and caterpillars are active. Clear sky and breezy at dusk. Partly hazy before midnight.
Sunday (May 10) overnight low of 33 degrees, mostly clear sky and slight breeze this morning. Swallows, finches, robins and grosbeaks calling. Air traffic. Hawk in the neighborhood chasing finches around. Partly hazy at lunch time with light breezes. Hummingbirds and finches visiting early afternoon. A couple of golfers out enjoying the Yellow Pine Country Club this afternoon. Mostly hazy sky late afternoon with light breezes, and high of 78 degrees. Quiet evening.
——————–
Letter to Share:
Open letter from Dr. Greg Irvine
It has now been seven weeks since Gov. Brad Little's order to self-isolate was issued in response to the arrival of the novel coronavirus pandemic and COVID-19 in Idaho. At the end of April, Gov. Little announced his four-stage plan and guidelines for opening up Idaho, starting May 1.
The details of the plan can be found at rebound.idaho.gov. I encourage everyone to read and understand the plan. Following these guidelines is essential if we are going to succeed in reopening the economy and society and keeping our community healthy.
If there is a spike of cases in the next two weeks or beyond, Gov. Little will be forced to reverse the plan, something that none of us desires.
The citizens of Valley County have, thus far, done an admirable job of self-isolation and in keeping COVID-19 out of our county. To date, Valley County has no known community spread of the virus and no known active cases. This has been accomplished though self-sacrifice and substantial effort by all.
We have been assisted by thoughtful and courageous actions by Valley County government officials, McCall, Donnelly and Cascade city leaders, Forest Service and State of Idaho administrators, and many business owners and religious leaders.
The staff, nurses and physicians of our hospitals in Cascade and McCall have worked tirelessly under adverse conditions to screen for COVID-19 and care for patients.
To honor this sacrifice and effort, and continue to keep our community healthy, it is essential that we all maintain vigilance to avoid the spread of the virus. This means physical distancing, avoidance of gathering in groups other than those who live in one's home, the use of masks by everyone when in public spaces and strict hand hygiene.
Individuals should self-isolate and contact their health-care provider or call St. Luke's COVID-19 hotline at 208-634-1776 or 208-381-9500 if they are experiencing any or a combination of these symptoms: cough, shortness of breath, fever, chills, repeated shaking with chills, muscle pain, headache, sore throat and/or new loss of taste or smell.
St. Luke's McCall physicians strongly support everyone wearing a mask as an important tool in reducing the spread of COVID-19. Since we know there are potential asymptomatic or pre-symptomatic carriers of the virus in our communities, we all should be wearing masks whenever we are around people other than those who live in our homes.
Wearing a mask is an act of caring and courtesy. When we encounter others in public while wearing masks, the risk is reduced by as much as 95 percent. These can be simple hand-made fabric masks, which should be washed in a machine every day. They are being made in our communities by the angels among us. Until we have a vaccine, they should be worn as a badge of honor and responsibility.
As summer residents and guests begin to arrive in Valley County over the next weeks and months, it is essential they follow current guidance, which includes self-isolating in their homes for 14 days. This message needs to be shared with friends, neighbors and family members as they make plans to return to or visit this area.
If we, as a community, let down our collective guard, there is a substantial risk of a COVID-19 outbreak and community spread in West-Central Idaho. Infections in our small, rural communities continue to risk harming our citizens and pose the potential for loss of life and for overwhelming our hospitals.
It is critical that we reopen our economy and resume our lives while doing what is essential to reduce the spread of this viral disease. These are not mutually exclusive goals.
We need to remind ourselves that the battle is not over yet, but we are holding the line and have not been overrun. For that, I thank you all.
Gregory W. Irvine, MD
Chief of Staff, St Luke's McCall Medical Center
(via email May 6, 2020)
———————–
Idaho News:
McCall urging visitors to be 'respectful' of coronavirus protection protocols
As businesses in the tourist town begin to reopen, city leaders say there will be changes that need to be honored to keep everyone safe.
May 7, 2020 KTVB
MCCALL, Idaho — City leaders in McCall are urging visitors to be flexible, patient and respectful of COVID-19 protection protocols at local businesses.
The city is following state guidelines and advisories from the Central District Health to prevent the spread of coronavirus.
They say it is important that during the coming stages, when travel limitations are lifted, that the City of McCall and its business owners be able to adjust their service protocols as needed.
continued:
— —
McCall issues new travel advisory in accordance with the Governor's plan
By Steve Dent May 07, 2020 KIVI
McCall, Idaho — Valley County has only had two confirmed cases of the coronavirus, the county took preventive measures early asking people not to travel to Valley County while also shutting down the ski resorts, lodging and suggesting people wear masks.
We spoke with McCall Mayor Bob Giles, who told us the low number of cases has a lot to do with being in a rural area and not having access to testing. Still, he also believes the protocols they implemented and the people's cooperation helped and he also credited the advice of Dr. Gregory Irwin at St. Luke's in McCall.
… Resort communities have shown they are susceptible to the coronavirus, and McCall has a hospital, but it only has three ICU beds and one ventilator, so it's critical to stop the spread of COVID-19 as they have done so far.
full story:
— — — — — — — — — —
Rebound Idaho: Telehealth plays big role in helping Idahoans manage pressure of the pandemic
Medicare is now covering virtual doctor visits.
By Madeline White May 07, 2020 KIVI
Effects of the pandemic can be difficult on a person's health, even if they don't have the coronavirus. It's a lot to deal with.
But with new territory comes new practices, and now, telehealth is being used on a broader scale to limit exposure, free up space in the hospitals and regulate Americans' mental health, including here in Idaho.
… Telehealth isn't perfect; internet accessibility can be a problem for some people, especially in rural parts of Idaho. But it's certainly better than nothing, and may even hold unique benefits — especially in these uncertain times.
[Note: YP residents can access telehealth with Cascade Medical Center and St. Luke's McCall, give them a call to get set up.]
— — — — — — — — — —
Idaho's rural counties are behind on responding to the U.S. Census due to the coronavirus pandemic
The national survey is encountering an unprecedented challenge of reaching out to people for their census data during the COVID-19 outbreak.
Chase Biefeldt (KTVB) May 3, 2020
The 2020 Census is facing some hurdles due to the coronavirus pandemic, especially in Idaho's rural and sparsely populated counties. However, statewide, Idaho has a 59.3% response rate among citizens as of Sunday night, which is slightly above the national average.
Jayne Black, a 2020 Census spokesperson, explained to KTVB during a FaceTime interview that the pandemic has created many unique situations for census gatherers.
"Because of the coronavirus and the stay at home orders that states have had, we are so grateful that we do have the online and the phone opportunities for people to respond," she said. "That has probably made a huge difference for us as a state and a country."
continued:
— — — — — — — — — —
Work begins on another 2.2 mile section of Warren Wagon Road
By Drew Dodson for The Star-News May 7, 2020
Work rebuilding a 2.2-mile section of Warren Wagon Road north of Eastside Drive began last week, marking the next phase of a multi-year $12.6 million reconstruction of the roadway.
A $2.7 million contract for this phase of the work was awarded by the Federal Highway Administration, which is funding the bulk of the multi-year reconstruction project.
Around-the-clock closures of Warren Wagon Road north of Eastside Drive to Fisher Creek Bridge began last Friday and will continue through May 22, said Bryan Peters, a spokesperson for Crea Construction of Lewiston, the general contractor for the federally funded project.
Work during the first closure will focus on stabilizing and reinforcing the ground beneath the current roadway and improving drainage along the roadway, Peters said.
Motorcycle and ATV traffic will be re-routed around the closures via off-road trails to allow for continued access to McCall for residents living north of the closure, Peters said.
After that work is complete, closures late this month would revert to the 8 a.m. to noon and 1 p.m. to 5 p.m. schedule used the last two summers for work south of the new project zone.
Those closures are expected to last until early July as crews work to prepare the new road surface for paving, Peters said.
continued:
— — — — — — — — — —
NM gunman charged with attempted escape from Adams County Jail
By Drew Dodson for The Star-News May 7, 2020
The man accused of firing on sheriff's deputies near New Meadows in March is facing two new felony charges for an attempted escape from jail two weeks after his arrest.
William "Bill" James tried using a two-liter soda bottle filled with water to bash a hole in the ceiling of his cell in the Adams County Jail in Council at about 3:30 a.m. on April 20, according to a report from the Adams County Sheriff's Office.
Guards rushed to James' cell to stop him, but found he had wedged a toothbrush and a comb in the door frame to jam the door as he continued trying to bash through the ceiling, the report said.
That effort came after guards noticed James standing on the sink in his cell about a week earlier as he attempted to bore a hole through the ceiling.
James also referred to his escape plans in messages archived on James' jail-issued texting device, the report said.
The added felony charges for attempted escape and damage to jail property bring to eight James' total charges stemming from a March 29 incident.
Adams County Magistrate John Meienhofer told James last week during a hearing that each felony charge could add an additional five years onto his eventual sentence and up to $60,000 in fines.
source: © Copyright 2009-present Central Idaho Publishing Inc
— — — — — — — — — —
Get your fire burn permit on May 10
May 4, 2020 KIVI
Starting May 10, everyone must get a fire burn permit from the Idaho Department on Lands (IDL) before debris burning activities. Closed fire season takes place annually between May 10 and extends through October 20.
With COVID-19, the burn permit is essential to protect firefighters from false alarms and to allow crews to respond only when needed. Having a burn permit on record means fire managers can react more quickly to fires that escape. The permit can also reduce the liability of the owner if their fire escapes.
The burn permit is free and valid for ten days after it is issued. You can get one online here or by calling an IDL office. Permits issued through the self-service website are available seven days a week and are immediately issued and valid. Permits are not required for recreational campfires.
continued:
— — — — — — — — — —
Volunteer firefighters play a crucial role in stopping the spread of wildfires in Idaho
By Steve Dent May 06, 2020 KIVI
Idaho City, Idaho — The Idaho Department of Lands is preparing for the fire season; this state agency manages a large area from Boise north to Garden City in between Highway 55 & 21.
However, when a wildfire sparks up, it's the rural volunteer fire departments who usually are first on the scene, they play a significant role in stopping the spread of wildfires.
"The relationships with the local fire departments are critical to our success on the fire lines," said Casper Urbanek from the Idaho Department of Lands."
continued:
————————-
Trivia:
Cinco de Mayo
From Wikipedia

5th May 1862. Depictions of the battle showing Mexican cavalry overwhelming the French troops below the fort at Loreto. Scene recreated by Francisco P. Miranda. Oil on canvas, 1872.
Cinco de Mayo … is an annual celebration held on May 5. The date is observed to commemorate the Mexican Army's victory over the French Empire at the Battle of Puebla, on May 5, 1862, under the leadership of General Ignacio Zaragoza. The victory of the smaller Mexican force against a larger French force was a boost to morale for the Mexicans. Zaragoza died months after the battle due to illness. A year after the battle, a larger French force defeated the Mexican army at the Second Battle of Puebla, and Mexico City soon fell to the invaders.
More popularly celebrated in the United States than Mexico, the date has become associated with the celebration of Mexican-American culture. These celebrations began in California, where they have been observed annually since 1863. The day gained nationwide popularity in the 1980s thanks especially to advertising campaigns by beer and wine companies. Today, Cinco de Mayo generates beer sales on par with the Super Bowl.
In Mexico, the commemoration of the battle continues to be mostly ceremonial, such as through military parades or battle reenactments. The city of Puebla marks the event with an arts festival, a festival of local cuisine, and re-enactments of the battle.
Cinco de Mayo is sometimes mistaken for Mexico's Independence Day—the most important national holiday in Mexico—which is celebrated on September 16, commemorating the Cry of Dolores, which initiated the war of Mexican independence from Spain.
more:
——————-
Public Lands:
Payette forest advises campers that restrooms are closed
The Star-News May 7, 2020
Limited campground availability due to snow and the COVID-19 pandemic means campers need to be responsible for their own waste and plan for having no access to bathrooms, the Payette National Forest advised.
"None of the campgrounds across the forest have restroom and potable water available and restroom facilities outside of campgrounds are not currently being cleaned or maintained, so visitors are advised to plan accordingly,"a statement from the Payette said.
Because of the COVID-19 situation, campgrounds that usually start to open in mid-May have been delayed. Seasonal staff have been brought on later than usual and the requirements for cleaning facilities are more rigorous than previous years, the statement said.
With toilets closed, campers were advised to bring their own toilet paper and a shovel for digging a hole for solid waste.
The number of visits across the Payette is higher than normal for this time of year due to the number of people who have stayed at home over the past month and want to get outdoors, officials said.
"We encourage people to recreate across the forest, but know that some limitations of overnight camping exist, and higher than normal amounts of people will be encountered," Recreation Specialist Jascha Zeitlin said.
"For the next few weeks, when you head out and intend to camp in a certain location, it's best to have a plan A, a plan B, and even a plan C if you wish to camp overnight," Zeitlin said.
There are no trail closures on the Payette and dispersed camping outside of dedicated campgrounds is not limited, however there is a 10-person group size limit in effect throughout the forest, officials said.
The Payette also urged campers to recreate in areas close to home as well as plan ahead and bring all supplies and food from home to avoid stopping at stores and gas stations.
Campers are advised to leave with all the trash produced during their visit, officials said.
source: © Copyright 2009-present Central Idaho Publishing Inc
— — — — — — — — — —
Payette forest to start issuing firewood permits May 15
The Star-News May 7, 2020
The Payette National Forest will offer personal firewood permits beginning on Friday, May 15, through a mail-in or call-in application process due to COVID-19 concerns.
Applications are available online at (link) or in front of the McCall or New Meadows ranger district offices, which began accepting requests on Monday. The firewood cutting season ends on Nov. 30.
Firewood permits cost $6.25 per cord with a four-cord minimum per purchase and 10-cord maximum per household.
The McCall Ranger District also has free permits available for the Big Creek area, and firewood from that area counts against the 10-cord maximum.
A new regulation this year is no cutting of the deciduous larch, also known as tamarack, after Nov. 1. Too many live trees that have shed their needles have been mistakenly cut down in the past, the Payette said.
Call-in applications will be processed with a credit card on Tuesdays and Thursdays in McCall at 208-634-0400 and Tuesdays and Wednesdays in New Meadows at 208-347-0300.
The McCall Ranger District is located at 102 W. Lake St. and New Meadows Ranger District at 3674 U.S. 95.
More information is available online or on the Payette National Forest's Facebook page.
source: © Copyright 2009-present Central Idaho Publishing Inc
— — — — — — — — — —
Middle Fork, main Salmon River to open for float boating
by CBS2 News Staff Thursday, May 7th 2020
Float boating on the Middle Fork and main Salmon River is set to start up again mid-May.
Public float boating permits will continue on May 16 for the Middle Fork of the Salmon and Salmon Rivers.
Normal floating rules and regulations will remain, which includes camp assignments, safety considerations, heritage and culturally sensitive areas, as well as fishery guidelines.
During Stage 3 and Stage 4 of the Idaho Rebounds Path to Prosperity Plan, the Salmon-Challis National Forest will be re-evaluating opening of launches and launch campgrounds.
source:
— — — — — — — — — —
State Parks to reopen on May 30
Some restrictions will apply
By Steve Liebenthal May 06, 2020 KIVI
Idaho's 30 state parks will welcome campers back on May 30 under Gov. Brad Little's Idaho Rebounds Plan.
Camping closed in late March due to concerns over spread of COVID-19. Assuming continued progress containing the epidemic, camping will reopen with new COVID-19 precautions.
According to a news release, the State Parks Department is stocking up on personal protective equipment to conduct enhanced and more frequent cleaning of restrooms and other shared-use facilities. Campground showers will not be opened because of the difficulty cleaning them to the extent recommended by public health experts.
continued:
— — — — — — — — — —
Fundraiser started for restoration at City of Rocks after vandalism
May 6, 2020 KIVI
The Friends of Idaho State Parks started a fundraiser to pay for the restoration at City of Rocks National Reserve. In late April historic signatures of pioneers from the mid-1800s and pre-historic photographs on Camp Rock were sprayed over with black, white and pink paint.
Special agents with the National Parks Service are investigating the crime. The federal government and Idaho Department of Parks and Recreation oversee the park, a rest spot for pioneers near Almo that has become popular with rock climbers in modern times.
continued:
— — — — — — — — — —
Logging operations ongoing and numerous timber sales planned on the Emmett Ranger District
Boise, Idaho, May 8, 2020 – The Emmett Ranger District of the Boise National Forest has numerous logging operations planned this spring and summer and wants to inform visitors to be cautious when traveling in the area. Forest visitors should expect to encounter logging traffic and drive forest roads with caution. Safety signs will be in place as will be signs notifying people of the CB channel trucks will be using.
"Public safety is our No. 1 priority and we want to inform visitors so they can plan accordingly, as there will be a lot of haul activity over the next few months" said Katie Wood, Emmett District Ranger. "All of the timber sales were designed to either remove dead and dying trees that have succumbed to insect and disease, including locations that were hit hard by recent tussock moth outbreaks, or to manage for future wildfire resistance." Additional updates and information related to these operations will be provided as needed.
Operations will be underway on the following sales:
* West Scriver Stewardship Sale – located northwest of Crouch, Idaho. May 11, 2020 – Log hauling on National Forest System (NFS) road 643 begins. Average haul will be 2 loads per day. As work progresses NFS 695 and 696 will also be used to haul logs.
* Sagehen and Hollywood Campgrounds – located in the Sage Hen Recreation Area, northeast of Ola, Idaho Hazard tree removal is expected to be completed by June 30, 2020. NFS road 626 will be used to haul logs west and out through Ola, Idaho. The campgrounds are expected to be opened once work has been completed
* Shirts Timber Sale – Located about 8 miles south of High Valley. May 20, 2020 – Log hauling will be on NFS Road 643 through High Valley and Ola.
* Little Sagehen Basin Roadside Hazard Tree – Located south of Sage Hen Reservoir. Removal will occur on both sides of NFS roads 614 and 626. Log haul will be on FS Road #626 to FS Road #653 through Ola. Average haul will be 11 loads per day. (The haul might be shifting to go over Dodson Pass to Highway 95 in the near future.)
* Tripod Tussock Timber Sale – Located southeast of Sage Hen Reservoir. Logging traffic will be on NFS Roads 626, 626A, 626H, 627, and #644 out to Highway 55 at Smiths Ferry. Average haul will be 10 loads per day.
* High Forks Good Neighbor Authority Timber Sale – Located approximately 4 miles southwest of Smiths Ferry. This is a timber sale on the Boise National Forest and managed by the Idaho Department of Lands. Log hauling will begin mid-May. Hauling will be on NFS roads 601 to 644 and out to Highway 55 at Smiths Ferry.
— — — — — — — — — —
'Don't let your summer go up in smoke:' May is Wildfire Awareness Month
By Jilliana Colina May 4, 2020 Local News 8
As our winter blues melt away, more people are heading out to the great outdoors. Although there may be green already in sight, Fire Bureau Chief Josh Harvey tells us it's a perfect place for wildfires.
"It's very easy during the springtime, the green grass that's out there right now is deceiving. There's a lot of dead material underneath of it. The brush is nice and green the flowers are pretty, but there's still a lot of dead material on the ground, and that material will very readily carry fire and spread into the forest and in those fires are absolutely devastating like everybody's seen in years past," Harvey said.
'Don't let your summer go up in smoke' is this year's motto to remember fire prevention. Harvey says remembering simple steps could make a big impact.
continued:
— — — — — — — — — —
BLM announces decision for the Tri-state Fuel Breaks Project
Date: May 7, 2020
Contact: Mike Williamson mwilliamson@blm.gov 208-473-8354
Boise, Idaho – The Bureau of Land Management issued a decision for the Tri-state Fuel Breaks Project. These fuel breaks will reduce flammable vegetation alongside roadways on BLM-managed lands in southwest Idaho and provide safe anchor points for firefighters and strategic opportunities to more effectively limit the spread of wildfires.
Wildfires are the primary threat to the sagebrush-steppe habitat in this region. This landscape-level project supports both sagebrush-dependent wildlife and traditional land uses, such as ranching and recreation. This plan will align with adjacent fuel break efforts in northern Nevada and southeast Oregon.
"The Tri-state Fuel Breaks Project will attack fuels along roads and give firefighters additional opportunities to stop the spread of large wildfires, which pose one of the greatest risks to sagebrush communities in the region," said Acting Assistant Secretary of the Interior for Land and Minerals Management Casey Hammond. "These fuel breaks reflect the administration's aggressive strategy to reduce wildfire through active management."
"The Tri-state area encompasses one of the largest remaining contiguous areas of sagebrush habitat in the Great Basin. This habitat is particularly vulnerable to wildfires, which contribute to the proliferation of cheatgrass and degrade the value of these lands for native wildlife, livestock grazing, recreation and other public uses," said William Perry Pendley, BLM Deputy Director for Policy and Programs. "This project will give our wildland firefighters a critical tool, enabling them to fight wildfires strategically and contain them much more quickly."
The BLM will construct and maintain fuel breaks along 435 miles of existing roads using manual, mechanical, and chemical treatments, along with targeted grazing and prescribed fire. The BLM expects to begin implementation this fall and expects completion to take 10-15 years.
"The Tri-state Fuel Breaks Project moving forward is great news for southwest Idaho," said Congressman Russ Fulcher (R-ID). "The Bureau of Land Management's decision to maintain fuel breaks along 435 miles of existing roads will provide much-needed fire prevention to these areas and additional tools for our firefighters to use in slowing the spread of fires that do occur."
The project is part of a larger national wildfire reduction strategy guided by President Trump's Executive Order 13855 – Promoting Active Management of America's Forests, Rangelands, and Other Federal Lands to Improve Conditions and Reduce Wildfire Risk, as well as Secretary's Order 3372 – Reducing Wildfire Risks on Department of the Interior Land through Active Management.
The two orders direct the Department of the Interior and the Department of Agriculture agencies to implement policies to improve forest and rangeland management practices by reducing hazardous fuel loads, mitigating fire risk and ensuring the safety and stability of local communities through active management on forests and rangelands.
The Record of Decision and supporting information is available online at (link) (case sensitive). For more information, please contact the BLM Boise District Office at 208-384-3300.
———————
Letter to Share:
Residents can still prevent wildfires, just from six feet away
By Stephanie Nelson
While we shelter in place, the seasons continue to unfold and our landscape changes daily. Risk factors for wildfire are growing with no regard for our isolation.
Gov. Little has his hands full with COVID-19, but he still declares May as Wildfire Prevention Month. This is the time to reduce the risk of fire around your home and in your community.
Valley County has a long record of education and mitigation for wildfire risk. Residents have embraced the need for managing vegetation, clearing snow damage, and containing wild grasslands.
We know one person can make a change, lead a community, and combat the threat. We know multiple people can gather to use time and effort get flammable slash out of their neighborhood.
The goal is to create a place for fire response agencies to make a stand, when we have fire, not if we have fire. We live with fire in Valley County. We strive to become fire adapted.
The award-winning "Bring It, Don't Burn It" program demonstrates the vision our citizens possess to keep their homes resistant to wildfire. During the closed burn season from May 10 to Oct. 20 a permit is required to openly burn, even on your private property.
To encourage landowners to continue to safely remove material during this permit season, the county has used a two-prong approach to support the effort. First, the Valley County Transfer Site on Spink Lane is open to receive clean woody debris between 9 a.m. to 4 p.m. through Oct. 19 to allow time for unloading.
Your loads are weighed in, you are directed to the area for unloading your debris, you weigh out and you pay nothing. The debris is managed by the Donnelly Rural Fire Protection District.
Second, the three Long Valley fire stations will host clean woody debris bins onsite from May 22 to June 3. Feedback from residents support the importance of these convenient locations. The program will repeat in October.
This year a third prong will add to the effort. Qualifying communities can take advantage of a cost-share program to support the rental of a debris bin.
This opportunity requires cohesive resident planning, which can be done with online, and willingness to monitor bins for appropriate material.
Communities are encouraged to plan for cleanup dates that support social distancing and allow for effort that culminates in a neighborhood with reduced hazard fuels. Even while following all guidelines for staying safe during COVID-19, homeowners can take measures to reduce wildfire risk.
Valley County continues to employ fuels reduction efforts in the Bear Basin area. We will add the Jug Mountain Ranch area to the program in 2021.
The work completed in the woods is essential. To date many landowners have cooperated in the effort and many more are being recruited to take advantage of this program.
By creating a landscape scale effort, the entire area converts to a fire-adapted community, better prepared to withstand a wildfire. Cooperation from the entire neighborhood will make a difference. If you are interested, we need to talk.
As we navigate uncertain COVID-19 impacts on our community, we are even more concerned over the impact of fire. Smoke, miserable anytime, could be deadly with a threatening respiratory virus. Evacuation could be chaotic and dangerous.
Loss of homes, property and possessions would greatly increase the turmoil so many already experience. The health of our firefighters is at heightened risk.
Preparations are being implemented across all response agencies to implement policies and procedures to limit exposure. The county wants you to assist by reducing flammable material around your home.
"Don't Let Your Summer Go Up in Smoke" is the Idaho Prevention and Education slogan for this year. Perhaps more than ever, it becomes important to rely on personal responsibility.
Remove fuels from your property, take care not to cause a human start, be a good socially distanced neighbor. Be a leader in your community to reduce the threat of wildfire.
The Valley County Fire Working Group continues to drive the effort to educate our community and you will find tips on how to make a difference, every day in May, at Facebook/VCFWG.
We all can learn more about living with fire in Valley County. We just need to do it from six feet away.
source: The Star-News May 7, 2020
————————
Tips & Advice:
Trail Etiquette for hikers, bikers, and horse riders on the National Forest
———————–
Critter News:
Pet Talk – hemorrhagic gastroenteritis
By Dr. Allani Delis May 8, 2020 IME
Bloody diarrhea, otherwise known as hemorrhagic gastroenteritis, can be life-threatening in dogs. This syndrome, HGE, is defined as a sudden and severe diarrhea that is notably bright red with fresh blood. Most cases occur without warning in otherwise healthy dogs. The diarrhea causes large amounts of water to be lost from the body, which makes this a potentially deadly syndrome if not treated appropriately.
The cause of HGE is not well defined. Previous studies propose causes such as dietary indiscretion (ingesting nonfood items or different foods), immune-mediated disease, toxins or pancreatitis. Some studies have found that middle-age, small-breed dogs are at a higher risk, but any dog at any age could develop HGE. Clinical signs include bloody diarrhea that develops very quickly, shivering, dehydration and dark red gums.
continued:
— — — — — — — — — —
Grizzly confirmed near Grangeville
Agencies advise recreationalists
By Steve Liebenthal May 06, 2020 KIVI
Grangeville, Idaho — If you are planning a trip to the high country, remember many campgrounds are not open, and your best bet is dispersed camping. But recreating in remote places has risk, like in the Nez Perce-Clearwater National Forest, where a Fish and Game officer confirmed fresh grizzly bear tracks less than ten miles from Grangeville in April.
Nez Perce-Clearwater National Forest Supervisor Cheryl Probert says that, and the potential spread of a new pandemic are just additional risks outdoor enthusiasts face.
"In some respects COVID-19 and bears, be them black bears or grizzlies, are just another one of the risks people need to be aware of out in their surroundings as they're recreating," said Pobert.
So what do you do if you see a grizzly or black bear? Your instinct might be to run, but that may be the worst thing you can do.
continued:
— — — — — — — — — —
Judge allows lawsuit to ban bear baiting in Idaho, Wyoming
May 8, 2020 Associated Press
A lawsuit seeking to ban using bait for hunting black bears in national forests in Idaho and Wyoming can continue, a federal judge has ruled.
U.S. Magistrate Judge Candy Dale ruled Thursday in favor of three environmental groups who contend the practice has led to hunters killing federally protected grizzly bears.
The 1995 policy approved by the U.S Forest Service and U.S. Fish and Wildlife Service allows no inadvertent killing of grizzly bears.
continued:
— — — — — — — — — —
Lawsuit filed to stop US from killing coyotes in Idaho
Associated Press May 8, 2020
Three environmental groups have filed a lawsuit seeking to stop the U.S. government from killing coyotes to protect livestock in Idaho until environmental studies are carried out.
Western Watersheds Project and two other groups are also asking a federal court to rule that an eastern Idaho facility in Pocatello that manufactures poison to kill predators is operating in violation of environmental laws. The groups say the public health risks to the community also need to be examined.
The U.S. Department of Agriculture, Forest Service and Bureau of Land Management are named in the lawsuit. The U.S. Department of Justice, which defends federal agencies in lawsuits, didn't respond to an inquiry.
source:
— — — — — — — — — —
Leave baby animals alone, Idaho Fish and Game warns
Anyone who stumbles on a young elk, fawn, or baby bird on its own in the springtime should not assume the creature has been abandoned by its mother.
KTVB May 5, 2020
This time of year means a wildlife baby boom in Idaho, and those heading outdoors during the spring or early summer months will at some point likely spot a young animal or bird that appears to have been abandoned.
For many people, their first instinct is to intervene to "save" the critter. But the Idaho Department of Fish and Game is offering a warning to everyone who comes across a baby animal in the wild: Just leave it alone.
The best thing Idahoans can do for these animals is to walk away without touching or moving them, conservation officers say.
continued:
— — — — — — — — — —
Game cameras capture millions of pictures of wildlife
May 5, 2020 Local News 8
Idaho Department of Fish and Game staff systematically placed nearly 600 game cameras across Idaho to document and count the population of wolves in the state in 2019.
These cameras took about 11 million pictures over several months of not only wolves. They captured images of the amazing diversity of wildlife found throughout Idaho.
Using game cam images collected across the Magic Valley Region, a short video has been produced to provide a sampling of the wildlife that can be found throughout the region.
continued:
— — — — — — — — — —
Lewiston man sets new catch/release record with 22.75-inch smallmouth bass
by Ryan L Morrison Monday, May 4th 2020 CBS2

Photo Taken by Dustin Shepherd Courtesy of Idaho Department of Fish and Game
The Idaho Department of Fish and Game congratulated Dustin Shepherd in early May after he set the new Idaho catch-and-release record for smallmouth bass.
Shepherd caught the monster at Dworshak Reservoir. It measured in at 22.75 inches, barely enough to beat the 22 inch record previously held by Rick Poedtke (set in 2018).
Dan Steigers still holds the state's current certified weight record of 9.72 pounds, which he also caught at Dworshak. He's held the record for 14 years.
continued:
———————–
Fish & Game News:
Yes, nonresident hunters can apply for big game controlled hunts
By Roger Phillips, Public Information Supervisor
Tuesday, May 5, 2020
Sales of some nonresident licenses, tags and permits are temporarily suspended
Fish and Game staff have gotten some questions about this topic, so here's a quick reminder regarding the temporary suspension of some nonresident licenses and tags.
continued:
— — — — — — — — — —
F&G offices remain closed except by appointment until at least May 15
By Roger Phillips, Public Information Supervisor
Monday, May 4, 2020
Offices may be able to reopen for some services after May 15
Under direction from the Governor Brad Little, F&G offices will remain closed except by appointment until at least May 15, but may be reopened afterward in accordance with the Rebound Idaho guidelines.
Currently, some F&G services not available online or through telephone sales can done by appointment Monday through Friday, 8 a.m. to 5 p.m. Offices currently do not accept cash payments; only debit cards and checks will be accepted. Contact an F&G office to schedule an appointment for the following:
* Buy bear bait permits and outfitter tags
* Check in harvested black bears, mountain lions, and wolves per big game regulations
source:
— — — — — — — — — —
Anglers, transporting live fish is illegal
By Terry Thompson, Regional Communications Manager
Monday, May 4, 2020
Transporting live fish in Idaho is illegal without the required permits. Illegal stocking of fish, even from your aquarium, into a lake or reservoir can cause serious ecological consequences to Idaho's fishery resources.
During the spring fishing season is a good time to remind anglers that transporting or stocking any live fish in Idaho without a permit is both illegal and potentially damaging to ecosystems that support fish populations. Illegal introductions into any waterbody can cause significant short- and long-term damage to local fisheries, potentially limiting the quality, quantity, and availability of fishing opportunity for everyone.
Home aquarium owners are also warned that putting aquarium fish into rivers, lakes or reservoirs is also illegal and can cause ecological harm to Idaho's waterbodies.
continued:
— — — — — — — — — —
More F&G News Releases
link:
———————————-
Crazy Critter Stuff:
'Fowl' play: Alabama police search for 'aggressive chicken'
by The Associated Press Monday, May 4th 2020
Police are searching for an "aggressive chicken" accused of engaging in fowl play at an Alabama bank.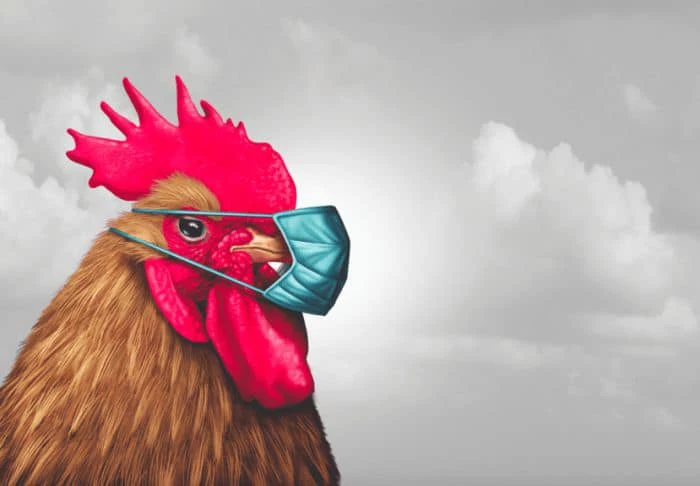 The Walker Police Department responded to a complaint about the brazen animal Friday, the agency said in a social media post over the weekend.
"The Walker Police Department is asking for the public's assistance in connection with an incident occurring Friday in Walker. At approximately 4 pm, Walker Police were dispatched to a bank on Walker South Road in response to a complaint of an aggressive chicken. Although police reached the bank with a couple of minutes of the call, the chicken apparently anticipated the imminent arrival of law enforcement and fled on foot from the scene. According to the complaint, the chicken had been terrorizing bank customers all week, at both the walk-up ATM and the drive-thru. Bank officials told officers that the chicken chased customers, attempted to enter customer vehicles and on a number of occasions, failed to engage in proper social distancing. Despite patrols of the area, including the kitchen of a nearby restaurant, the chicken could not be located. Police are looking for a reddish-tan chicken, approximately 18" tall and 6-8 lbs in weight. The chicken is wanted on charges of assault, attempted battery, attempted burglary, terrorizing and ignoring an order of the Governor. Given the chicken's history of aggressive behavior, the public is urged to avoid confronting the fowl and to instead, contact Walker Police if seen. Thank you!"
source:
——————
Seasonal Humor:

————-