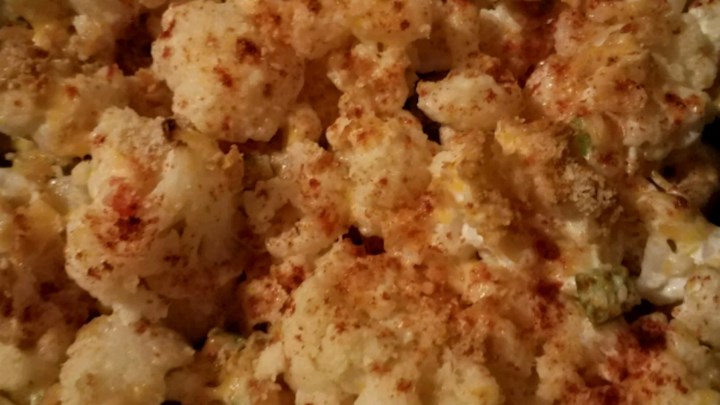 8 servings
It's a delicious dish of delightful cheesy sauce. Bright red and green bell pepper pieces and crushed corn flakes.
Ingredients
1 head cauliflower, separated into florets
1 cup sour cream
1 cup shredded Cheddar cheese
1/2 cup crushed corn flakes
1/4 cup finely chopped green bell pepper
1/4 cup finely chopped red bell pepper
1 teaspoon salt
1/4 cup grated Parmesan cheese
paprika (optional)
Directions
Preheat oven to 325 degrees F. Grease a 2 quart baking dish.
Place a steamer insert into a saucepan, and fill with water to just below the bottom of the steamer. Cover, and bring the water to a boil over high heat. Add the cauliflower, and steam until crisp-tender, about 5 minutes. Drain, and set aside.
Combine sour cream, Cheddar cheese, bell peppers, and salt in a medium bowl. Stir in the cauliflower, and transfer to the prepared baking dish. Sprinkle Parmesan cheese, corn flakes and paprika over the top of the dish.
Bake uncovered until heated through, 30 to 35 minutes.
Reviewer's note: mix the Parmesan cheese with the corn flakes to sprinkle on top. (Mixing the corn flakes with sour cream and baking them in the casserole rendered them unrecognizable blobs of mush.)
– Allrecipes
—————————-