June 7, 2020 The Yellow Pine Times – Valley County, Idaho
Community Calendar:
The Corner is Open w/reservations
Yellow Pine Tavern is open for outside dining.
April 17 – Boil water order issued
May 15 – Firewood Season starts
May 15 – Lower South Fork river open for float boating
May 18 – Work starts on South Fork road
June 1 – road work YP to Stibnite begins
June 10 – Diamond Fuel delivery
June 11 – Ed Staub Propane delivery
Mid-June – YP Vet Clinic Canceled
June 13 – VYPA Meeting 2pm at the Community Hall
June 27 – YP Fire Commissioner meeting 10am Fire Hall
June 27 – Fest Meeting 2pm at the Community Hall
(details below)
———-
From Valley County
We need Your Help to protect the place and the people we all Love.
link:
— —
Valley County Covid-19 Response Page
link:
— —
Valley County Emergency Operations Center
link:
— —
Rebound – Idaho Governor's phasing program
link:
— —
COVID 19: Recommendations and Resources for Safe Business Practices
link: (lots of info for businesses)
——————-
Local Events:
No events scheduled at press time.
— — — —
Diamond Fuel Delivery June 10
Diamond Fuel & Feed sent a message they are coming to Yellow Pine to deliver fuel on June 10th. (208) 382-4430
— — — —
Ed Staub Propane delivery June 11
They will be in Yellow Pine on June 11th for topping off. (208) 634-3833
———-
Village News:
Sunday Snow Storm and Power Outage
Sunday, (June 7) we had below normal temperatures, low clouds socked in nearly to the valley floor and rain showers before noon. Gusty winds, temperature near freezing and rain turned to big flakes of snow just before the power went out at 230pm. The power was off 1 hour and 25 minutes and came back on at 355pm. Snowed all afternoon into early evening. Measured 2 1/2″ new snow at 845pm (bushes are prostrate under the weight of the snow) and still snowing.
— — — —
History: 1st week of June, 1989
Students at Yellow Pine leaving for a three day visit to Boise.

photo courtesy of Lynn I.
— — — —
Food Donated to YP
On Friday, June 5th, the mail truck brought in about 20 boxes of food for Yellow Pine residents from Grasmick Produce. Boxes contained fresh produce, dairy (milk butter and cheese) and meat. Very nice!
— — — —
YPFD Updates 06/07/2020
Yellow Pine Fire has taken delivery of a Custom built Can-Am 6×6 Side-by-side. The 6×6 (Rescue 1) will be able to provide Paramedic level care, Fire Fighting, light rescue and Search-and-Rescue to those in need of these services. A large portion of the of the funds to purchase the 6×6 (YPFD Rescue 1) was generously donated by Nancy Manthos in memory of her husband prior to her passing. We all would like to thank the family for her charitable donation and support of the Yellow Pine Fire Protection District. Nancy was Nikki Saleen's mother.
Partial equipment list;
* 75 gallons of water
* 5 gallons of Firefighting Foam that is automatically mixed with the water when activated
* 700′ of 1" house
* 200′ of 3/4″ hose
* 20′ of Draft hose
* ABC Fire Extinguisher
* Fire Fighting Tools (Polaski, Multi Shovel, McCloud, Fire Rake)
* Drip Torch
* Chain Saw
* Thermal Imaging Camera (TIC)
* Portable Grinder with Cut-off blade for locks and chains
* Rescue Over-the-Side bag. 150′ of climbing rope with full harness and climbing gear.
* Paramedic ALS Bag,
* 4 sets of full PPE
* Oxygen
* Rescue Litter
* Back Board
* SKED Stretcher
* Portable Radio Repeater for Search and Rescue and Back Country calls

"Rescue 1"
Rescue-1 was put into service Friday and was driven to the water works fully loaded (~ 1,350 pounds), and put through some tests, it passed like a sure footed Yeti.
The Polaris (Rescue-2) was too small and too short a wheel base to manage 1,300 pounds of water and rescue equipment and was too much for the 700cc engine. It would slide backward when stopped on a steep incline and too tippy on slide slopes. For safety reasons the Polaris was pulled and placed in other roles; a smaller 35 gallon H2o tank can fit easily in the bed, which we currently have, this will be much safer for our personnel and will also pull the Rescue trailer, which will be attached when at the Fire Station. Rescue 2 will be housed at the Fire Station between the Ambulance and the Engine. This change will be much safer for our personnel.
Cascade Fire will be transferring a full size 4×4 Engine to us this summer/fall. The water tank will hold 1,100 gallons and will be better suited for our District's needs. The Engine went through a complete inspection and was certified in 2019. The odometer shows 20,000 miles. This transfer was provided by Jeff F. and the Chief of Cascade Rural Fire/EMS District. When the newer engine arrives we will take the Army Water Tender out of service.
We received 9 Motorola emergency hand held radios by a private donation, replacing our cheaper non-compliant handheld radios. This will allow the FD to use the same radios that are used by all the other Emergency Services operators in Valley County. These radios cost about $2,000,00 a piece and came with portable mics and extra batteries/chargers.This was all donated to the YPFD from a family member of a patient Ann and I treated a few years ago. Such a wonderful donation to our Fire District. Numerous other medical supplies and equipment was also donated by this individual for Search and Rescue and for the Cascade Fire/EMS Ambulance stationed here in Yellow Pine.
The money earmarked for radios and a newer fire engine off-setted the purchase of the 6×6. Thanks for some very large donations, YPFD has increased our ability to have better communications with Valley County 9-1-1 and a better and safer approach for responding to emergencies.
The Yellow Pine Helispot is completed and is in-service for those that might need rapid medical transport from our area.
Please call 9-1-1 for all emergencies.
4th of July: The Fire Commissioners and the Fire Chief will continue to try and keep the Village safe and free from personal Fire Works. The Fire District will be placing signs saying "No Fireworks Allowed in Yellow Pine". This does not preclude the Village of having their Fireworks display on the evening of the 4th. We ask that the town help keep the 4th of July safe and help monitor the independent fire works on the streets.
Fire mitigation tools are available from the YPFD. We have large weed eaters, a gas powered hedge trimmer, back pack blower and a 14′ powered limb cutter. Please allow 24 hours to prep the units and get them ready for use if you need one. Call Jeff F. if you need to utilize any of this equipment.
Alex and Adam P. have joined the ranks of the YPFD along with members, Dayle B., Gary N., Ann F., Joel F., Willy S., and Candy S.. Alex will be a Cadet in our program. Both Alex and Adam are also joining the Valley County Search and Rescue (SAR) Team as well. Yellow Pine Fire will have 6 members on the VCSAR Team. Jeff Forster is the East Lieutenant for VCSAR.
On June 20th a team from Valley County will be installing a HAM Radio system at the Yellow Pine Fire Station. This HAM radio system was designed to be used in the event of an emergency and our normal channel of Emergency Communications system fails. Both Adam and Alex have shown interest in the emergency radio systems and both being HAM operators will help set up an Emergency Communication Plan for YPFD.
Sunday Trainings have resumed at the Fire Station but at a different time. We now will begin trainings at 3:00 PM. Please contact Jeff F. if interested in coming to trainings. If interested in personal trainings, they can be scheduled as well by contacting Jeff F.
Anyone interested in joining the YPFD as a volunteer please contact Jeff or Ann F. for information and or a membership application.
Reminder that it's the time of year to shake up your Fire Extinguishers this keeps the aggregate from clumping up.
Thank you,
Jeff F.
— — — —
2020 Census
The 2020 Census Impacts All Valley County Residents
Inching closer. Each of our communities and Valley County as a whole have increased our response rate by a few percentage points over the last few weeks – but we still have a lot of room to grow! We are still ranked #42 of 44 counties in Idaho for our Census response rate. Let's get that number up! Responding to the Census takes less than 10 minutes and mean $1,483 per person in federal funding for Valley County.
It is recommended that we all fill out the census online.
If you spend 50% of your time in Valley County, you can consider it your home per the Census. Where you register with the Census is confidential and never linked to other governmental requirements such as property taxes or mailing address. The deadline for the 2020 Census has been extended until October 31st. They will probably not be sending census takers up to Yellow Pine.
Link: to online census
You do not need an ID number. Go to the link. Click on "start questionnaire". Then on the next page scroll down to "If you do not have a Census ID, click here" – when you click on that line it will start the census. (see below)

— — — —
Boil Water Order issued
Update June 2: The water plant is experiencing high water in Boulder Creek which brings more debris into the sand filter.
The high demand caused by leaks in the system plugs the sand filters prematurely. We will be on a boil order until further notice.
As of April 17th 2020, Yellow Pine is under another "Boil Order"
Boil Water Advisory Notice
Boil Your Water Before Using
Bring tap water to a rolling boil, boil for one minute, and cool before using or use bottled water. Boiled or bottled water should be used for drinking, making ice, washing dishes, brushing teeth, and preparing food until further notice.
This Boil Water Advisory Notice applies to The Yellow Pine Water System
The system is being monitored and checked daily for compliance. .
You will be informed when you no longer need to boil your water.
For more information, please contact:
Warren Drake of the Yellow Pine Water System
at 208-573-6261 or wdrake@drakediversified.com
Please share this information with other people who drink this water, especially anyone who may not get this notice directly (for example, people in apartments, nursing homes, schools, and businesses).
You can do this by posting this notice in a public place or distributing copies by hand or mail.
State Water System ID#: 4430059 Date distributed: 3-22-2020
— — — —
Critters
Tick's are plentiful this spring.
Bears are out of hibernation, protect your trash and pet food.
It is getting close to calving season, watch out for aggressive mother does and cows, they will stomp your dogs.
— — — —
Road News:
Reports of people making it out via Johnson Creek road, but watch for snow, trees and rocks. Travel at your own risk!
There is about 5 feet of snow at Profile Gap (May 27th)


photo courtesy Chris and Lois
Midas Gold will be working with local contractors to grade the road from Yellow Pine to Stibnite on June 1 and dust abatement of the road on June 15.
Work on the South Fork Salmon River road will begin on May 18th. This year's work will be focused primarily on the Payette portions of the roadway. This initial work will not include road closures, but may cause some very short delays in traveling the road. The contractor will to begin implement the same closures as last year as soon as Lick Creek opens, which is expected to be right after the Memorial Day weekend. These closures will be from 0700 until 1600 every week day, just like last year. The Forest Service will provide weekly updates on Mile Post closures as we did last year.
The load restrictions on the South Fork Salmon River Road were lifted May 18th
— — — —
Forest Info
A report Saturday (May 23) of trees cut and stacked at the Yellow Pine Campground. Possibly hazard tree removal by the Boise NF.
The Krassel RD campgrounds are effectively open for use but currently with limited services – we advise all users to bring toilet paper, drinking water and strive to be as fully self-contained as possible as the District is not operating the campgrounds as open with full services. We have cleaned the restrooms in the South Fork paved road corridor, but water systems will take a little longer to bring on-line due to the need to sanitize and to receive water testing results.
All campgrounds and restroom facilities in the South Fork Corridor, Lick Creek/Secesh Corridor and along the East Fork South Fork Salmon River to Yellow Pine will begin seeing our regular restroom cleaning beginning this Friday, May 15th. Water systems will come online in the near future.
Rx Burns
All new prescribed burn ignitions have been paused across the Region in line with regional direction. The Forest will continue to prioritize keeping employees and the public safe during this time. The decision to temporarily postpone ignitions will prevent any effects from smoke that might further worsen conditions for those who are at risk in our communities while reducing exposure for Forest Service employees who might not otherwise need to travel.
We expect the pause on prescribed burn ignitions to be re-evaluated by the Regional Forester sometime in April.
– PNF
— — — —
Yellow Pine US Mail
The 6-day a week mail delivery started June 1st. The Post Office in Yellow Pine is open six days a week year around: M-F 845am-245pm Saturday 9am-245pm. Forever Stamp: 55 cents. Support our local post office and purchase your holiday stamps here.
— — — —
Yellow Pine Transfer Station
Report June 6 – with community support more repairs have been made to the doors, and cement has been poured to stop the bear from digging under the building. A brave volunteer also climbed up on the roof and secured the loose roofing. The burn pile has been sorted as people have been dumping inappropriate items.
Report June 1 – the bins have been emptied. South doors are a bit stiff. The road from YP to the dump is really good.
Please do not abuse our Transfer Station or we may lose it. Household trash must be placed in the bins, flattened cardboard boxes can also go into the bins. Do not stack trash in front of the doors. Woody yard debris only for the burn pile. No furniture, appliances, tires or construction debris allowed, those items must be hauled out to the Donnelly station by you.
Yellow Pine Transfer Station (aka, the dump)
The Yellow Pine Transfer Station is located approximately 3 miles south on Johnson Creek Road.
The TRANSFER STATION is for household trash and yard waste:
* Household trash must be put inside (and fit) the dumpster;
* Yard waste (limbs, pine needles, brush, etc.) goes in the burn pile on the south end of the turn-around;
* Cardboard boxes should be flattened before putting the in the dumpster,
The DUMPSTERS are NOT for:
* Furniture (take to Donnelly Transfer Station);
* Appliances (take to Donnelly Transfer Station).
The BURN PILE is NOT for:
* Cardboard boxes (flatten and put in dumpster);
* Furniture and appliances (take to Donnelly Transfer Station);
* Drywall and building material (take to Donnelly Transfer Station);
* Wire or fencing (take to Donnelly Transfer Station);
* Foam Rubber (take to Donnelly Transfer Station);
* Wood with metal (like nails) attached (take to Donnelly Transfer Station.)
When closing the DOORS on the front of the dumpsters:
* Make sure the "U" brackets at the top and bottom of the door are engaged;
* The retaining bar at the middle of the door is slid into the pipe;
* And the "L" bars at the bottom of the doors dropped into place.
The Yellow Pine Transfer Station is Valley County responsibility. If it is not kept tidy, use of the Transfer Station may be revoked. That would result in residents having to take all household trash and yard waste to the Donnelly Transfer Station.
If Dumpsters Are Full, Contact Lake Shore Disposal at: 208/634-7176
———-
Local Groups:
YPWUA News:
New Boil Water Order issued April 17, 2020. This could last until runoff is over.
Second half of the water bill is due June 15, 2020.
The last Yellow Pine Water Users Shareholders meeting was Sunday July 7, 2019.
link: 20190707YPWUAminutes
— — — —
VYPA News:
Next Village Meeting June 13
link: June 2020 VYPA Agenda-1.docx
https://drive.google.com/file/d/1fXnlotGfbWGk66dPsCT3cz-88f5bCftV/view
2020 Festival Meeting May 16, 2020 Notes
Note: at each meeting we simply add to info on the topic. That way, info from all meetings is included in a single document.
link: 2020 Festival Planning Notes.pdf
https://drive.google.com/file/d/1avM8vYvIc2yq–uQ7GJOyCUE0BJPKhLy/view
Next festival planning Meeting June 27th at 2pm at the Community Hall
Heat was installed in the community hall on April 30th.
Proposed VYPA Bylaws Changes
Attached is the compiled proposed changes to the bylaws the Council has received.
The proposed changes and the proposed addendum B, are being published to give folks plenty of time to read and process the information before the first reading.
link: 2020 Proposed changes to Yellow Pine Bylaws Adopted 9-12-2015.pdf
link: 2020 Addendum B-letter of interest.pdf
link: 2018 Midas Gold Community Partnership Agreement with the Village of Yellow Pine
Deb Filler – Chairperson
Village of Yellow Pine Association
The community hall committee's goal is to have adequate heating installed in the main hall before the June VYPA meeting.
If folks have items for the community yard sale, please place them by the north wall in the community hall. If you see items you would like to purchase, you can pay Deb, Ronda, or Lynn. All funds support the community hall.
VYPA meetings for 2020 – June 13, 2pm; July 11, 2pm; August 8, 2pm; September 12, 2pm.
Village of Yellow Pine Association Meeting Minutes for September 21, 2019
link: 20190921 Village of Yellow Pine Association Meeting
— — — —
YPFD News:
The next YP Fire Commissioner meeting will be held on June 27, 2020 at 10am at the Fire Station.
YPFD COVID19 Policy
link: YPFD Covid 19 SOP.docx
link: Covid-19 EMS.pdf
May 10th Burn Permits – contact the YPFD
Pile burning: Dress appropriately, have enough help on hand (people, water and tools) and make a firebreak before you start. Call your local fire protection district chief to let them know you'll be conducting a debris burn. This saves them from sending emergency responders to your property if they are not needed. Do NOT burn on breezy afternoons.
Better yet, "Bring It, Don't Burn It", you can take your yard waste (limbs, pine needles, brush, etc.) to the burn pile at the Transfer Station on the south end of the turn-around. Remember, keep the pile neat. Woody debris only, no nails, no cardboard and no furniture! The Boise NF will burn the pile in the fall when it is safe and doesn't pollute our fine YP air.
YP Fire Commissioners:
Sue Holloway – District 1
Dan Stiff – District 2
Merrill Saleen – District 3
Jeff Forster – Fire Chief
Yellow Pine Fire Protection District Community Service Notice
The purpose of this letter is to show how you as a Yellow Pine Resident can help protect your structure against a wildland fire by being "Fire Wise."
Click the link: to view 20190724 Yellow Pine Fire Protection mitigation
——–
Biz Listings:
The Corner (208) 633-3325
Open 11am-8pm Closed Tuesdays
The best way to ensure we meet our social distancing guidelines is to call 208-633-3325 before dropping in but we will accommodate everyone, it just may take a bit more time. We will do breakfast on request and always have good coffee going.
— — — —
Yellow Pine Tavern (208) 633-2233
Yellow Pine Tavern Reopening, Open Daily 8am to 10pm. Outside Dining and Bar. Breakfast and Bar Food.
— — — —
Yellow Pine Lodge (208) 633-3377
Closed for Winter.
— — — —
Murph's RV Park & Mary's Cabins (208) 633-6677
Cabins are not available in 2020. RV Spaces $25/night; $150/week; $300/month. Tent spaces $10/night. Shower house is closed for 2020.
— — — —
Knotty Kat Crochet Works – 208-502-0940
FB page link
open Tue – Sat, 9-5
Yellow Pine eggs $3/doz
— — — —
Buck Horn Outfitters LLC 208-633-3614
Tom & Sarah Lanham
156 Yellow Pine Ave, Yellow Pine Id 83677
website:
Facebook:
Starting June 2020 We will be doing trail rides out of Yellow Pine along with summer pack / camping trips to high mountain lakes in the area!
Wapiti Meadow Ranch – Johnson Creek (208) 633-3217
or 208-315-3554 – cabin rentals
website:
Deadwood Outfitters
website:
— — — —
Local Fuel Suppliers
Amerigas Phone: (208) 634-8181
Ed Staub & Sons Phone: (208) 634-3833
Diamond Fuel & Feed Phone: (208) 382-4430 open 830am-5pm Monday-Friday, closed weekends.
— — — —
Outside Biz that will service Yellow Pine:
The Star-News


subscribe:
A reminder that those who live in other states can subscribe to the online edition only since the mail can take days for hard copy to reach them.
Rocky Mountain Mechanical – Plumbing – Heating – Air conditioning
(208) 365-PIPE (7473), Emmett, will service Yellow Pine
Elkhorn Heating & Cooling
(208) 906-4067 Middleton, Idaho, will service Yellow Pine
B&T Safety Solutions LLC
208-271-1600 Based out of Donnelly
Snow removal, cleaning chimneys and stoves, we do cabin staining/chinking as well
— — — —
Follow The Yellow Pine Times on Facebook (updated more often than emails)
———————–
Letters to Share:
Telehealth
Cascade Medical Center is set up for Telehealth.
If you want to schedule an appointment, call our clinic at 208-382-4285. Vicki or one of the MAs will ask you some questions to make sure that a tele-video visit is the right choice given your symptoms or need. If so, we will work with you to make sure you are set up on the Cascade Medical Center patient portal (with our EMR). We will also make sure that you are set up to be able to do a tele-video visit (laptop with camera, desktop with camera, or smart phone). We use the Zoom telemedicine system, which is confidential and secure (it works like Skype or Face-time). Before the appointment, we will email you a link for the tele-video visit. When it is time for your appointment, you will click on the link in the email and you will be connected with our provider and can begin your visit.
Regarding insurance coverage, the COVID legislation passed in March assures coverage of telemedicine visits for patients with Medicare, Medicaid, VA. Private insurers have also decided to provide coverage just as for regular in person visits, at least until the COVID epidemic crisis is declared over.
Today (June 3rd) Blue Cross extended telehealth services and reimbursement through the end of the year.
Tom Reinhardt, CEO
Cascade Medical Center

— — — —
Cascade Medical Center needs your opinion!
Dear neighbor – as we plan for the future of healthcare in Cascade and the surrounding area, we need your input. Would you be so kind as to click on the link below and take this survey for us? We want to make sure we are meeting your needs now and long into the future. (link)
We want input from you whether you are a permanent resident, weekender, or occasional visitor. Please feel free to forward this survey link on to others as well.
Thank you, and stay healthy!
Tom Reinhardt, CEO
Cascade Medical Center
———————-
Local Observations:
Monday (June 1) overnight low of 42 degrees, no precipitation in the last 24 hours, gray overcast sky this morning. Tree swallows are back, a few evening grosbeaks and finches visiting, robins calling and a raven flew over. Cloudy and still at lunch time. No swallows around. Medium-small solid gray kitty hanging around, wonder who it belongs to? A few drops of rain, cloudy and slight breeze early afternoon, high of 66 degrees. First western tanager visit. Cool, cloudy and breezy early evening. Thin wispy hazy clouds at dusk and calmer. Robins calling, no swallows around. Partly to mostly clear and stars shining before midnight.
Tuesday (June 2) overnight low of 37 degrees, roofs wet with dew, clear sky and light breeze this morning. Tree swallows are back, hunting bugs and feathers for nests. Lots of finches and several evening grosbeaks visiting. Mostly clear and a little breezy after lunch time. Rufus hummingbird, a little pine siskin, a juvenile clark's nutcracker and a pine squirrel also visited. Mild temperatures, almost clear sky and a little breezy by mid-afternoon, high of 77 degrees. High thin wispy clouds by early evening and light breezes. Mostly cloudy (thicker) at dusk and calmer. Cloudy and calm before midnight.
Wednesday (June 3) overnight low of 44 degrees, partly hazy sky this morning. Airplane buzzed the village before sunrise. Swallows, finches, robins and evening grosbeaks calling. Increasing clouds and light breezes by lunch time. Mail truck came in Johnson Creek, just a little late today but had no problems. A little pine siskin joined the finches, jays and evening grosbeaks at the feeders. Mild temperatures, cloudy and light breezes early afternoon, high of 77 degrees. Overcast and slight breeze by early evening. Calm and mostly cloudy at dusk, golden hue after sundown. A few stars out at midnight, moon behind the clouds.
Thursday (June 4) overnight low of 46 degrees, mostly clear sky this morning and a little breezy. Lots of swallows, a few finches, a couple of jays and a clark's nutcracker visiting. A few clouds but mostly clear and light breezes at lunch time. Power blipped off and on at 1240pm. Light street traffic. High thin haze across most of the sky and pleasant breezes mid-afternoon, high of 76 degrees. Little pine siskins mixed in with the larger finches and grosbeaks at the feeders. Mostly cloudy mid-evening and a slight breeze. Partly clear before midnight, nearly full moon up over Antimony ridge.
Friday (June 5) overnight low of 40 degrees, mostly high thin haze in the sky and light breezes this morning. Tree swallows swooping, finches, jays and robins calling. Partly cloudy and breezy at lunch time. Getting a bit windy by 1pm and humid. Increasing street traffic. Mostly cloudy, warm and windy mid-afternoon, high of 85 degrees. A mourning dove, a black-chinned hummingbird and a few evening grosbeaks visiting. Mostly cloudy, muggy and much calmer by early evening. It was mostly cloudy with light breezes at dusk, and lots of robins calling. Gunshots started at 912pm. Gusty breezes before midnight, and rain after midnight. Looks like it rained all night.
Saturday (June 6) overnight low of 49 degrees, rain total = 0.21″ and still raining this morning under thick low clouds – ridges socked in. No swallows, a few finches, jays and grosbeaks around, and very happy robins. Still raining at lunch time and low foggy clouds. Western tanager stopped by a couple of times. Rained until mid-afternoon, calmer and cloudy, high of 56 degrees. Increasing traffic. Another shower late afternoon, dark clouds and slight breeze. Overcast at dusk and robins chirping. Cloudy before midnight. Rained all night.
Sunday (June 7) overnight low of 37 degrees, 24 hour rain total = 0.60″, low overcast – peaks socked in. No swallows around, some jays, evening grosbeaks, robins and cassin's finches calling and visiting. Started raining around 1030am, high of 41 degrees. Blustery, raining (sometimes snow mixed in) and socked in nearly to the valley floor after lunch time. Big flakes of snow early afternoon and gusty breezes, temperature near freezing. Power out 230pm-355pm. Snowed all afternoon and accumulating. Western tanager and hairy woodpecker on the suet feeder, and a little hummingbird dodging snow flakes looking a bit lost. Measured 2″ of snow at 7pm and still snowing.
———————
Letters to Share:
What's Happening In Valley County
From the Commissioners:
Thank you for your patience as we have moved to a new email platform that will make it more efficient to inform you all about what is happening at the County.
It has been an interesting few months in Valley County. We know that we are all overwhelmed with online meetings and working from home as well as teaching our children and grandchildren. These are truly times for our Country and we are trying to find balance here in Valley County between protecting our employees and protecting our business community and economy.
This is a new newsletter format and we will try and send out each month so you can see what is happening at the County and also see upcoming Public Hearings and meetings that you might be interested in. If there are topics you'd like to see addressed please send an email to commissioners@co.valley.id.us
All Commissioner meetings are being recorded and allow you to participate from your home. The COVID-19 has allowed us to quickly learn and improve our online resources for the community and is 1 positive that has come from the closing of Public Buildings. We have been open for online services the entire time with employees available but no entry into Public buildings.
continued: with lots of info
— — — — — — — — — —
May 29, 2020 Valley County Recycling:
Mixed Paper: Newspaper, magazines, junk mail, paperboard boxes (cereal, cracker, tissue, paper towels and TP rolls, etc.), all office paper (NO neon colors), brown paper bags.
NO wrapping paper with plastic or foil
NO beverage cartons (milk, juice)
NO shredded paper
NO plastic or magnets
Remove all plastic from mail envelopes, tissue boxes, etc. NO plastic or paper bags are allowed.
Aluminum Cans: Aluminum cans only, no foil or trays. Must be clean/rinsed.
NO steel cans.
Steel Cans (tin): Steel cans only (can test with magnet). Must be clean/rinsed.
Aerosols are okay with NO lid.
NO propane bottles.
Plastics: Mixed #1-#7 only. Any and all rigid containers/bottles (NO lids) with a symbol and numbered 1-7 are acceptable. They must be clean and dry. Plastics cannot contain any food or drink residue.
NO plastic wraps, baggies or bags of any kind
NO toys, pipe, buckets
NO plastic with anything metal
NO PVC's (includes credit cards and hotel key cards).
Please DO NOT put your #1-#7 plastics in a paper or plastic bag and throw the bag in the bin.
Cardboard OCC: Brown corrugated boxes only. They must be clean and broken down so they are flat.
NO wax coated cardboard, cardboard cores or tubes,
NO chip board (soda boxes)
Please, NO styrofoam or plastic in the cardboard.
Remember, paperboard (cereal/tissue/TP rolls) goes in the mixed paper.
NOTE: All styrofoam, plastic bags and sacks, and plastic wrap are trash.
———————–
Idaho News:
Mail-in balloting sees increase in voters in Valley, Adams
By Max Silverson for The Star-News June 4, 2020
Idaho's pivot to mail in voting amid the COVID-19 pandemic caused an increase in the number of ballots requested typical of primary elections in Adams and Valley counties.
Both counties saw about a 10% increase in the number of votes cast compared to recent primary elections.
Valley County issued 4,438 mail-in ballots requested from among the county's 7,364 registered voters, Valley County Clerk Douglas Miller said.
A total of 3,612 ballots were returned, putting voter turnout at about 50%, Miller said.
"Typically, other primaries we get between 30% and 45% turnout," he said.
continued:
— — — — — — — — — —
Valley County Facilities are currently open to the public by appointment only.
Starting Monday, June 8th, facilities will be open to the public without requiring an appointment. We expect high traffic in our facilities during this time as we catch up on in-person business and maintain online/electronic services.
* Appointments are not required, but they are still highly encouraged. We will be meeting with those who have scheduled appointment times first and fitting in walk-in service as we are able.
* Commissioner meetings will continue to be live-streamed and we encourage you to participate electronically if possible.
Public Hearings will also open to the public on June 8th.
* Limit to approximately 15 people at one time in the hearing room.
* Once your testimony has been given, you will be asked to leave the room so others may give their testimony (if more than we can safely accommodate in the room are present).
* Written or call-in testimony is strongly encouraged. Hearings will continue to be live-streamed and you can watch the entire proceedings virtually and call-in to present testimony.
Thank you for your patience as we navigate these reopening protocols.
(from their FB page June 1)
— — —
Valley County Courthouse to fully open but with restrictions
By Max Silverson for The Star-News June 4, 2020
Valley County Commissioners voted on Monday to fully reopen the Valley County Courthouse in Cascade as long as visitors practice social distancing and wear face masks at all times.
"My feeling is let's get back to normal and have everything opened back up," commission Chair Elt Hasbrouck said.
The courthouse has been open by appointment only since May 18.
Starting Monday, the courthouse at 219 N. Main St. will again be open regular hours, which are Monday through Friday from 8 a.m. to 5 p.m.
"I think that the longer we stay closed, the more anxiety we're going to have with people coming in after that," Commissioner Sherry Maupin said. "I think people are starting to get very anxious about being able to come in and take care of business."
Commissioners felt the healthcare constraints that motivated the decision to close the courthouse were less pressing than they had been previously.
continued:
— — — — — — — — — —
Cascade City Council moves meetings to American Legion Hall
The Star-News June 4, 2020
The Cascade City Council will hold its meetings at the American Legion in June, July and August in order to be able to hold live meetings with appropriate social distancing.
The council's meetings have not been held at Cascade City Hall, but remotely since March 24. The public will still have an option to attend the summer meetings via video conference in addition to attending in person.
The Legion Hall is located at 105 East Mill Street in Cascade.
source:
— — — — — — — — — —
June 22 deadline noted to pay Adams, Valley property taxes
The Star-News June 4, 2020
June 22 at 5 p.m. is the deadline for property owners in Adams and Valley counties to pay the second half of their yearly property taxes.
Late charges and interest will begin on June 23, with interest retroactive from Jan. 1, so mailed payments should be correctly stamped by date.
The treasurers' offices in both counties are open during the lunch hour Mondays through Fridays.
Valley County accepts credit card payments at (link) or by calling 208-382-7110.
source:
— — — — — — — — — —
Valley County Property Assessment Notices
The Valley County Assessor mailed out yearly assessment notices on Friday – you should start seeing yours in the mail this week.
If you have any questions or concerns regarding your property value, please contact the Assessors office. As a reminder, County facilities are accessible by appointment only at this time, but appraisers are happy to discuss your questions over the phone or by email without an appointment.
Questions/Concerns? (208) 382-7126 email: assessor@co.valley.id.us
The deadline to appeal your assessment is Monday, June 22nd.
— — — — — — — — — —
Valley County property values rise by $500 million for 2020
By Max Silverson for The Star-News June 4, 2020
Valley County property values increased by more than $500 million for the second year in a row, according to a report presented on Monday to Valley County Commissioners.
The total value of property in the county has reach $5.1 billion, Valley County Assessor June Fullmer told commissioners.
The preliminary numbers were close to the $5.1 billion assessed in 2007, but shy of the record $5.5 billion in total value seen in 2008, before values plummeted as part of the worldwide financial crisis.
The value of new construction in 2020 was about $92.9 million, up from about $74.6 million last year.
The largest increases in property value were county-wide, but most pronounced in the Donnelly and Cascade areas, Fullmer said.
continued:
— — — — — — — — — —
Valley P&Z to air proposed Lake Fork recycling center June 11
By Max Silverson for The Star-News June 4, 2020
The Valley County Planning and Zoning Commission will hold a public hearing on Thursday, June 11, to consider a permit for a new, centralized recycling center in Lake Fork.
Valley County already owns the land on which the new recycling center would be located, but is still required to obtain a permit to operate. The site is located at 50 East Lake Fork Road.
The hearing, which begins at 6 p.m. June 11, can be viewed online on the county's YouTube channel. Visit (link) and follow the "watch commissioner meetings live" link to view the hearing.
Comments can be submitted to the county in advance, or called in to Planning and Zoning Administrator Cynda Herrick at 208-382-7115.
The county is seeking to close all three recycling depots in McCall, Donnelly and Cascade and establish one centralized facility in Lake Fork.
The new facility would be staffed and only open to the public during specified hours.
continued:
— — — — — — — — — —
City of Donnelly to hold July 4 fireworks at boat docks
The Star-News June 4, 2020
The City of Donnelly will hold its annual fireworks display over Lake Cascade at dusk on Saturday, July 4, Mayor Susan Dorris said. The designated viewing place for the fireworks is at the Donnelly Boat Docks, located off Dawn Drive about one-half mile south of West Roseberry Road.
Those attending are asked to exercise personal responsibility for social distancing, Dorris said. For questions, contact Donnelly City Hall at 208-325-8859 or lclemens@cityofdonnelly.org
continued:
— — — — — — — — — —
Roseberry Summer Music Festival Canceled
After much discussion, feedback, and with the concern of Covid-19 still looming over us, we feel that it would be in the best interest regarding the safety of the community to postpone the festival until 2021. We know that there is support for both continuing and cancelling, and we are very sorry to anybody that was looking forward to this year's event. The McCall Folklore Society is dedicated to bringing live music and events to the community and we are very bummed that we are unable to provide that for this year. Though we love putting on this festival, we felt that it would be safer to wait one year before inviting our friends, family, and guests from beyond out to Roseberry, for obvious concerns. As members of this small community, we are dedicated to the health and safety of the mountain towns that we serve and love. We are looking forward to a enjoying a fantastic festive with you next year. Thank you for your continued support.
* Ticket refunds will be issued to those who have purchased them in advance in the next few weeks electronically, minus any fees or donations. *
PS. We are still going forward with this summer's Kids Mountain Music Camp. Look for more updates on this coming soon.
If you have any questions please feel free to email us at info@thesummermusicfestival.com
— — — — — — — — — —
Cascade cancels July 4 parade, but fireworks will go on
The Star-News June 4, 2020
The Thunder Mountain Days parade in Cascade on July 4 has been canceled but fireworks over Lake Cascade will go on, the Cascade Chamber of Commerce said.
It will be the first time in memory that the parade along Main Street in downtown Cascade has not been held, chamber President Jenni Hart said.
"With the surrounding areas canceling their celebrations, we knew we would be overwhelmed with crowds," Hart said.
… The usual Buckaroo Breakfast at the Masonic Lodge and Rubber Duck Race on the North Fork of the Payette River have been canceled, but Remington's restaurant will again hold a crawfish feed in its parking lot.
… There will be no food vendors and no live music as in past years, she said.
full story:
— — — — — — — — — —
Roseberry arts and craft fair canceled by organizers
The Star-News June 4, 2020
The 31th Roseberry Arts & Crafts Fair scheduled for July 4-5 will not be held, according to an announcement Tuesday by the Long Valley Historic Preservation Society.
The fair was canceled because of the inability to maintain safe social distancing among fair vendors and visitors, the announcement by the society said.
The fair normally takes place in the historic Roseberry townsite located one mile east of Donnelly on East Roseberry Road.
continued:
— — — — — — — — — —
City of Caldwell cancels 4th of July celebrations except fireworks show
By Benjamin Harris Jun 02, 2020 KIVI
The City of Caldwell will not be holding its usual 4th of July celebrations this year, with the exception of the fireworks show.
City officials say this includes the 4th of July Parade, Memorial Park events, live music and kid-friendly activities.
While the fireworks show will still be held at dusk, the city encourages people to social distance.
Parks will remain open, but city officials encourage residents to enjoy the display from their homes or an area conducive to social distancing.
source:
— — — — — — — — — —
Ola School Needs Help
The town of Ola is currently fighting hard to keep this historic school active. It is the last two-room schoolhouse in Idaho and has been educating the children of Ola for 110 years.
Currently, there are a lot of repairs that need to be made to the building in order to get it back up to code so that the school can remain open. Should the repairs not be made, the school will close and the town's children will be bused 18 miles to Sweet and a piece of Idaho history will be lost.
Ola PTO
PO Box 29
Ola, ID 83657
Link: Squaw Creek News
— — — — — — — — — —
Treasure Valley Family YMCA teams up with Grasmick Produce for free box food giveaway
The giveaway happens through June 30. It's first-come, first-serve.
Shirah Matsuzawa June 6, 2020 KTVB
Volunteers and workers at the Treasure Valley Family YMCA woke up early Saturday to hand out 25-pound boxes of food to those in need.
"We are rollin," said Treasure Valley Family YMCA President and CEO David Duro. "Over 300 cars that are coming to the Y to pick up boxes of free food."
The non-profit organization partnered with Grasmick Produce to give food to families hit hard by Covid-19.
Note: the boxes of food delivered to Yellow Pine on Friday's mail truck were in Grasmick boxes.
———————
Letter to Share:
from Valley County Sheriff's Office
PSA Saturday –
We would like to take this opportunity to educate some folks on the usage of your UTV, ATV or Dirt Bikes on County roads in Valley County.
We get several questions and complaints during the spring, summer and fall on the use of these vehicles in neighborhoods and on County maintained roads, public and private. Remember, just because a road is marked private (blue signs), it's still accessible to the public and you must still follow the rules of the road.
Use on City & County Roads (does not include private property)
The following requirements must be met on city, county, and highway district roads.
• Valid restricted vehicle license plate. [IC 49-402(4)]
• Valid IDPR OHV registration sticker affixed to restricted vehicle license plate. (IC 67-7122)
• Valid driver's license. (IC 49-301) – Parents can be cited for allowing an unlicensed minor to operate an ATV or UTV. Please keep this in mind.
• Liability insurance or alternative insurance. (IC 49-1223 or IC 49-1232)
• A helmet under age 18. (IC 49-666) Please make sure it's a DOT inspected helmet.
• Muffler and U.S. Forest Service approved spark arrestor. Your muffler has to pass 96 dB at the half-meter test, SAE J1287. The OHV cannot exceed 96dB. (IC 67-7125)
• If you are riding on a highway within city limits, you may NOT go beyond the 45 mph signs in Valley County. This may not be the case in other cities, please be sure to check city codes prior to operating an off road vehicle on state highways within other city jurisdictions, they vary.
For safe operation on roads the following equipment is recommended.
• Brake light.
• Headlight and taillight after dark/poor visibility.
• Horn audible at 200 feet.
• Mirror showing roadway 200 feet behind the OHV
License & Registration
Any OHVs being operated or transported on public lands, roads or trails of the state of Idaho must display a current IDPR OHV Registration Sticker. Idaho Code 67-7124. Registration has been extended until June 30th, due to COVID-19, however they are asking that you attempt to get this completed as soon as you can.
Non-resident Requirements
Non-residents are required to have either a valid OHV registration from their home state of residence or a valid IDPR OHV registration sticker. Nonresidents must purchase an Idaho restricted vehicle license plate with a valid IDPR OHV registration sticker if they don't have a plate and wish to operate on Idaho's local jurisdiction roads (i.e.county roads).
Please be courteous, pay attention to speed limits and remember when you are driving through neighborhoods there are lots of things going on, kids playing, family pets and people walking or biking their neighborhoods.
We are asking that if you would like to report traffic complaints in your neighborhood, to call at the time it's occurring, get a good description of the vehicle, a plate would be great and a description of the occupants, if possible.
Some of the questions the dispatcher might ask you are; Which direction did they go? Do you know where they live? When did this occur?
All of this information helps us in assisting you in better serving your needs. A lot of these vehicles look the same and disappear quickly!
As always, Stay Safe, be healthy and practice social distancing.
(via FB May 23, 2020)
— — — — — — — — — —
Confused about where to get your recreation stickers and registration?

—————————–
Public Lands:
Stay safe and recreate responsibly
Stay safe when you recreate. Follow Centers for Disease Control and Prevention and state and local government health and safety orders.
Recreation Guidance Plans: Stay safe
During these challenging times, people are comforted by the peace, serenity and freedom the outdoors offer. However, it is important to remain vigilant on social distancing guidelines and preventing exposure to yourself, your family, your neighbors and the communities surrounding National Forest System lands.
Many national forests and grasslands are open and available for public use. The Forest Service is making every effort to increase access while following the guidance by the Centers for Disease Control and Prevention and state and local government health and safety orders for residents. We need everyone's help to keep the outdoors safe for everyone.
Please ask yourselves these questions before you head outdoors. Have you considered the impacts on the surrounding communities that you are recreating near? Could your activity impact limited resources such as hospitals, search and rescue, or food, water and fuel supplies? Are you able to maintain your hygiene and clean up your own garbage? Are you contributing to overuse, not following parking rules or blocking access for emergency vehicles? Are you using muddy trails and adding impacts to repair and maintenance? Are you prepared for emergencies? Are you able to maintain social distancing?
While you are enjoying your public lands, take care to stay within your limits. Be mindful of the route you take, stay on well-established trails, tell someone your plan for the day and stick to it–and don't go out alone.
As states lift their shelter-at-home orders, we are revisiting our decisions. Together with our state and local partners, we are determining the best path forward for safely reopening sites that were closed in response to the pandemic.
Continuing our service to the public is very important during this time. We are doing everything possible to ensure connection and service to the public and are committed to providing customer service and advancing recreation opportunities in a flexible manner, while monitoring health data and state orders.
For frequently asked questions, visit (link). The Centers for Disease Control and Prevention published its "Visiting Parks and Recreational Faculties: Protect Yourself and Others from COVID-19." (link) The key is to know before you go and to follow safety and health guidelines from reputable sources.
Please do your part
— — — — — — — — — —
Logging operations happening around Bogus Basin
By Katie Kloppenburg Jun 05, 2020 KIVI

Photo by: Idaho Department of Lands
Visitors to the Boise National Forest should be aware of logging contractors removing dead trees with Douglas-fir dwarf milestone is happening now. The contractors are working along Bogus Basin Road north of the resort and areas around Bogus Basin.
Hikers and bikers may see delays up to one hour along National Forest System (NFS) roads 297, 374 and 374E. Trails may be closed temporarily while the contractor is working in the area. One to two logging trucks are expected on the roads per day with operations taking place Monday through Friday, 6 a.m. to 5 p.m.
continued:
—————————-
Fire Season:
Steck Fire
To prevent fires on the Payette National Forest please ensure that when you leave your campsite to always extinguish your campfire.
Last night, Forest Service firefighters responded to a fire northwest of Weiser past Steck Park. Two engines and an incident commander were on scene. Four acres of grass and brush were burned. The fire was contained last night and is anticipated to be controlled by this morning. Resources will be on the scene until this afternoon.
source: w/map
— — — — — — — — — —
Dry brush, juniper fuels southern Idaho Rock Creek Fire
by CBS2 News Staff Friday, June 5th 2020
The Bureau of Land Management is responding to Rock Creek Fire in Southern Idaho that was fueled by dry brush and juniper.
The fire grew to an estimated 70 acres. The agencies responding are experiencing dry lighting and expect thunderstorms and gusty winds.
The fire, about 12 miles south of Hansen, is now mostly contained and controlled.
source:
— — — — — — — — — —
Sharps Fire restitution set at more than $300,000
Ryan Jensen expected to plead guilty this month
Gretel Kauffman June 5, 2020 IME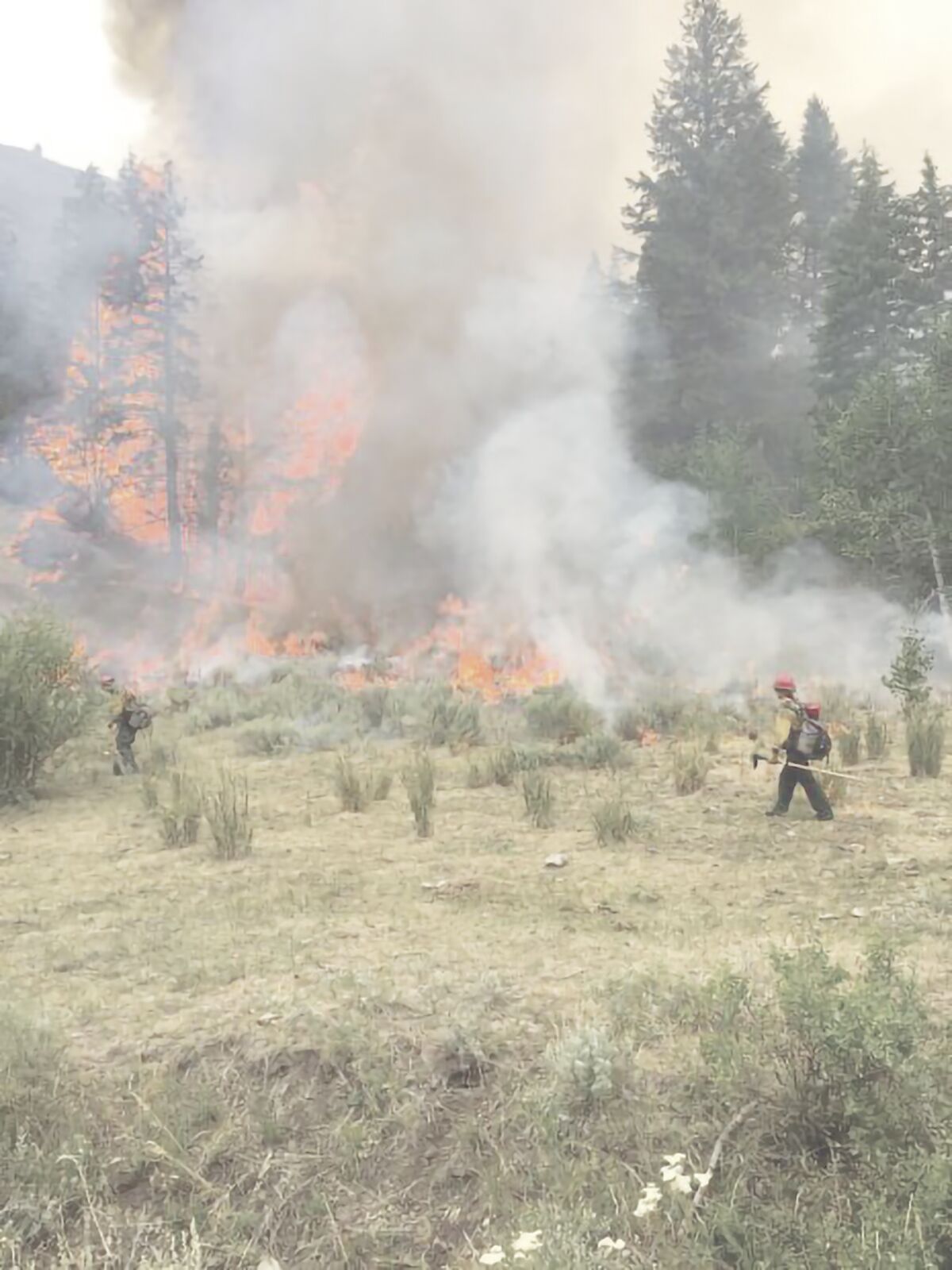 Sparked six miles east of Bellevue, the Sharps Fire burned 65,000 acres in 2018. Photo via InciWeb
The Bellevue man charged with starting the Sharps Fire, which burned some 65,000 acres in the summer of 2018, will face more than $300,000 in restitution if he pleads guilty to the crime, court documents show.
Ryan Jensen previously pleaded not guilty to the misdemeanor charge of firing timber or prairie land. He was first charged in August 2018 after he reportedly went to the Blaine County Sheriff's Office and admitted starting the fire by using an exploding target.
continued:
————————-
Critter News:
Fish and Game says baby birds, animals should be left alone
The Star-News June 4, 2020
The Idaho Department of Fish and Game is asking those heading to the woods to leave baby birds and other seemingly abandoned animals alone.
"We have people calling us or bringing baby animals to the office every year," said Regan Berkley, Fish and Game Regional Wildlife Manager in McCall. "Even though their intentions are good, it isn't the best thing for the animals."
Mother animals often leave their young as they forage, and are sometimes absent for extended periods of time, Berkley said.
"If they return to their young to find people milling around, they will often leave the area and come back when the people have left," she said. "If people have taken the baby animal, the mother will return to find their baby gone."
There are few options for baby animals brought in from the wild, Berkley said.
continued:
— — — — — — — — — —
Pet Talk – Chronic hepatitis in dogs
By Dr. Karsten Fostvedt June 5, 2020 IME
Hepatitis is inflammation of the liver, a very large organ found in the front part of the abdomen. Hepatitis comes in two forms, acute and chronic. Inflammation leads to a loss of function and, over time, loss of liver tissue from necrosis (death of liver cells) and fibrosis/cirrhosis, which is scarring and shrinkage of the liver. Several potential causes of chronic hepatitis exist in the dog, but often no specific cause is found. This disease is most common in middle-age to older dogs.
Some of the causes of chronic hepatitis in dogs is the canine adenovirus, some bacterial diseases such as leptospirosis and long-term treatment with certain drugs such as anticonvulsants or antifungal medications. Some forms of chronic hepatitis are immune-mediated; that is, the dog's immune system attacks liver tissue for reasons that are unclear. In some cases, there is a fatty infiltration of the liver that prevents the liver from doing its job—taking care of many of the toxins that are produced by the body and producing various proteins and carbohydrates used in metabolism. There are rare instances when cancer cells are produced by the liver or are metastasized to the liver from other organs. These cancer cells also show signs of chronic hepatitis.
The main clinical signs of chronic hepatitis are lethargy, loss of appetite, weight loss and vomiting. With marked reduction in liver function, jaundice, which is yellowing of the skin, gums, and whites of the eyes, can occur.
continued:
— — — — — — — — — —
Experts say you should always be 'bear aware'
By Jilliana Colina June 1, 2020 Local News 8
Pretty much everywhere in Idaho is bear country according to Idaho Fish and Game's regional communications manager James Brower. He says a possible bear encounter should always be in the back of your mind.
"Even if you're doing everything right, you know, things can happen. But there's a lot of things you can do to sort of increase your odds of coming out safely and having a successful trip and avoiding a bear encounter," Brower said.
For starters, Brower says you should always carry bear spray where it's easily accessible like strapped to your hip, and make sure you know how to use it.
continued:
— — — — — — — — — —
Advocates question investigations used to target wolves
The Western Watersheds Project says numerous cases ruled "confirmed" wolf kills were based on logical leaps and a stunning lack of evidence.
Associated Press June 1, 2020
An environmental group is raising questions about investigations into livestock kills by Mexican gray wolves in the southwestern U.S.
The Western Watersheds Project has documented oddities, errors or conflicting details in more than two-thirds of the 117 investigations it reviewed from 2019. The investigations are used to compensate ranchers for cattle that are killed in Arizona and New Mexico.
continued:
— — — — — — — — — —
Free Fishing Day to go on, but not scheduled events
The Star-News June 4, 2020
Free Fishing Day in Idaho will happen as scheduled on Saturday, June 13, but without sponsored events by the Idaho Department of Fish and Game.
Anyone can enjoy a day of fishing without a fishing license on June 13, but all other rules still apply.
Free Fishing Day is an Idaho tradition that usually includes Fish and Game employees and volunteers bringing fishing gear to various fishing spots and loaning rods, reels and tackle and helping people learn to fish.
Those events will not occur this year due to precautions from the COVID-19 pandemic, a Fish and Game news release said.
In past years, local events have been staged at Northwest Passage Campground at Ponderosa State Park in McCall, Fischer Pond in Cascade and MeadowCreek Pond near New Meadows,
continued:
— — — — — — — — — —
IDFG to replace lake trout with sterile fish in Stanley Lake to protect sockeye salmon
by CBS2 News Staff Friday, June 5th 2020
The Idaho Department of Fish and Game plan to start replacing lake trout in Stanley Lake with sterile fish to protect endangered sockeye salmon populations.
IDFG has contracted a company to net lake trout in Stanley Lake for two weeks in June to reduce their population and take away risks to sockeye salmon. The department is replacing those netted fish with sterile fish to maintain fishing opportunities.
Lake trout are predatory and feed on smaller fish like kokanee salmon and young sockeye, according to IDFG.
Lake trout have maneuvered long distances to colonize connecting lakes and they are reproducing fast enough to pose risks to establishing populations in nearby waters.
But don't worry, sterile adult fish will be transplanted from Bear Lake to maintain trophy-sized fish.
source:
— — — — — — — — — —
Boise fisherman catches 32-inch channel catfish, sets state record
by Ryan L Morrison Wednesday, June 3rd 2020 CBS2

Photo by Scott Turner Courtesy of IDFG
A Boise fisherman caught a 32-inch channel catfish May 16 out of the Snake River.
Scott Turner was fishing the Snake River in Canyon county when he caught this monster 32-inch catfish.
It barely passed the previous 31-inch record set in 2018 by James Stackhouse.
continued:
———————–
Fish & Game News:
Fish and Game seeks comments on several proposed rule changes
By Brian Pearson, Conservation Public Information Specialist
Wednesday, June 3, 2020
Idaho Fish and Game is launching a negotiated rulemaking process and wants to hear from the public concerning nine proposed rule changes. The comment period opened on June 3, and runs through June 26.
For more information about the rulemaking process, visit (link)
People can view and comment on each of the rulemaking proposals by visiting Fish and Game's public comment page, or by following the respective links below. Summaries of the rule proposals include:
continued:
— — — — — — — — — —
Public's Help Sought in Pronghorn Poaching Case
By Evin Oneale, Regional Communications Manager
Wednesday, June 3, 2020
Fish and Game is asking the public for information regarding the recent poaching of a female pronghorn in hunt unit 38, just off of Cinder Butte Road in Elmore County. The doe was shot closed season during the last week of May, and no meat was taken. The doe recently gave birth to a fawn which was found alive in the immediate area.
Citizens Against Poaching (CAP) is offering a reward for information in the case and callers can remain anonymous. Contact CAP at 1-800-632-5999 twenty four hours a day.
Fish and Game conservation officer Jeremy Gaffield is investigating the incident. Gaffield hopes to learn more about the case from an eyewitness or others who have knowledge of the poaching incident. "The doe pronghorn recently gave birth to a fawn, just one reason there is no spring hunt for pronghorn. I am very interested in visiting with anyone who may have information regarding this case," Gaffield noted.
continued:
— — — — — — — — — —
Fish and Game relocates two yearling moose who visited two southern Idaho communities
By Terry Thompson, Regional Communications Manager
Monday, June 1, 2020
Two yearling moose were recently relocated back to southern Idaho moose habitat after wandering into Twin Falls and Heyburn neighborhoods.
Over the last weekend of May, local Fish and Game officials were kept busy when two yearling moose, one in Twin Falls and the other in Heyburn were found roaming in city neighborhoods. Local residents began reporting moose to area law enforcement, who worked alongside Fish and Game to locate and secure the areas to ensure public safety. Moose, even yearlings, are very large animals, and when stressed can be quite unpredictable.
Initial reports of a young bull moose in the Twin Falls area began to come in on Thursday, May 28. Fish and Game began to monitor the moose, as it moved north through agricultural lands. On Saturday evening May 30, the moose quickly moved into a residential neighborhood on the east-side of Twin Falls where Fish and Game made the determination to dart the young bull and move it back to the South Hills, where it probably began its cross-country journey.
continued:
— — — — — — — — — —
Free Fishing Day is June 13, and here's what you need to know for a fun day of fishing
By Roger Phillips, Public Information Supervisor
Monday, June 1, 2020
F&G will not host events due to COVID-19 concerns, but otherwise, Free Fishing Day will mostly be the same
Free Fishing Day is June 13, and anyone can enjoy a day of fishing without a fishing license, but all other rules still apply.
Free Fishing Day is an Idaho tradition that usually includes Fish and Game employees and volunteers bringing fishing gear to various fishing spots and loaning rods, reels and tackle and helping people learn to fish. While that's not an option because of COVID-19, it's still a great opportunity for novice anglers to experience some of the wonderful fishing opportunities Idaho has to offer. Be sure to practice appropriate social distancing and be safe when you're enjoying your time outdoors.
continued:
— — — — — — — — — —
More F&G News Releases
link:
———————————-
Crazy Critter Stuff:
Video shows mama bear nursing her cubs on side of road in Tennessee
by WTVC Staff Thursday, May 28th 2020

Bear nurses cubs – via TWRA Facebook
Cobbly Knob, Tenn. (WTVC) — As every mom on the road knows, sometimes you just have to make a pit stop to feed your kids… even if it's on the side of the road.
That's just what happened for a mama bear and her three cubs near Gatlinburg, Tennessee earlier this week.
The video's caption says, "When you're on the road and the kids are hungry, you feed 'em! Richard Watts of Gatlinburg sent this amazing video of a sow black bear feeding her three cubs along the roadway in the Cobbly Knob area near Cocke Co. This is a great example of a wild, un-habituated bear naturally feeding her young away from the heavily populated and more visited areas of Gatlinburg."
continued: w/video
————————-
Seasonal Humor:

————————