June 28, 2020 The Yellow Pine Times – Valley County, Idaho
Reminder: We are still under a boil water order until further notice.
The 2020 Harmonica Festival has been canceled.
Community Calendar:
The Corner is Open w/reservations
Yellow Pine Tavern is open for outside dining.
The General Store is open Tues-Sat
Yellow Pine Lodge Open
Murph's RV park open (no cabins or showers)
April 17 – Boil water order issued
May 15 – Firewood Season starts
June 16 – Hard closure of South Fork Road (weekdays)
July 1 – Post Harmonica Meeting 2pm Community Hall
July 2 & 5 – Richter estate sale
July 4 – Yellow Pine Golf Gathering (1045am)
July 4 – Live Music at The Corner
July 5 – Annual YPWUA meeting 2pm Community Hall
2020 Harmonica Festival Canceled
(details below)
———-
From Valley County
We need Your Help to protect the place and the people we all Love.
link:
— —
Valley County Covid-19 Response Page
link:
— —
Valley County Emergency Operations Center
link:
— —
Rebound – Idaho Governor's phasing program
link:
— —
COVID 19: Recommendations and Resources for Safe Business Practices
link: (lots of info for businesses)
——————-
Local Events:

— — — —
Post Harmonica Meeting July 1 at 2pm in the Community Hall
The 2020 Harmonica Festival has been postponed until 2021 to be held August 5,6,7 2021. Now comes the process of un-scheduling all what has been scheduled, as we waited to see if we would proceed or not. Also to be considered are ideas to make up the shortfall in our Community Budget this year. Please help us with ideas by email or plan to attend our Post Harmonica Meeting to be held Wednesday July 1,2020 at 2pm in the Community Hall in Yellow Pine. There we will discuss all that must be done to close out this year and plan for next year. Also ideas and plans for Village fundraising for our Budget Items.
Thanks,
Lorinne N. Munn
— — — —
Richter Estate Sale
Nancy is planning to have an estate sale from 10am to 2pm on the 2nd and the [*correction] 5th of July from 11am to 2pm. The address is 980 Boulder Creek Rd.
— — — —
4th of July Yellow Pine Golf Gathering
Although the official YP Golf Tournament was called off, a few of us are hosting an "unofficial" Yellow Pine Golf Gathering. No entrance fees, just asking for donations (which we are already getting.) All proceeds will go to the Community Hall. There will be fun, funky trophies and prizes. We will provide bottled water and score cards. Tee time is 11am on Saturday the 4th so we're asking people to show up about 10:45am.
Hope to see you all there enjoying the fresh air and the spectacular 18 holes.
— — — —
4th at The Corner
Live Music on the Fourth of July with Braid, local band from McCall playing 2-6 pm followed by Willie and the Singlewides till we shut the doors.
— — — —
Yellow Pine Water Users Association
Meeting July 5 at 2pm in the Community Hall. See agenda below under YPWUA News.
— — — —
2020 Festival is Cancelled
We have come to the decision that the 2020 Festival will be cancelled. We look forward to celebrating the 32nd year of the Festival August 5, 6, & 7, 2021.
Our decision was not made lightly. We had to consider the current situation we are in and examine the outlook for the coming months. This is the necessary and right decision for the safety of our community and all participants.
We all look forward to one big reunion with all of you in August 2021.
– DF
———-
Village News:
Please Return Borrowed Measuring Wheel
Would the person who borrowed the Village's measuring wheel please return it to the Community Hall or one of the Council members? Thank you
— — — —
Village of Yellow Pine Association Minutes June 13, 2020
Called to order at 2:02.
Officers present: Deb Filler, Chr.; Ronda Rogers, Vice Chr.; Rhonda Egbert, Acting Treas.; Lynn Imel, Sec.
Absent: Ron Noel, Mem. At Large.
Residents: 11, Guests: 2
Temporary Acting Treasurer: Due to the resignation of elected Treasurer, Lorraine McIntosh, the VYPA officers met January 22, 2020 and voted to have Rhonda Egbert serve as Acting Treasurer until elections at the July, 2020 meeting.
Approval of Minutes: There being no objections the Minutes of the September 21, 2019 meeting were approved as posted.
Treasurer's Report: Rhonda Egbert provided written copies of the financial status. Report was approved. (see attached)
Community Hall: Ronda Rogers reported that the propane heater has been installed, a larger propane tank has been installed to serve the kitchen and the heater, work has been done to improve the kitchen floor, ceiling panels are being replaced to mitigate mold damage.
Composting Toilets: Willie Sullivan reported that no action has occurred on this project since the last report. Volunteers will be used for construction. A concrete floor will be installed, hopefully this summer. Cecil Dallman should be consulted soon if backhoe work is needed.
Cemetery: Carey Belsher reported the kiosk with information identifying grave locations was donated by Linda Welch and was vandalized years ago. Willie Sullivan, previous Cemetery Commissioner, removed it to make repairs. The present Cemetery committee is planning to make the repairs and suggested that it be re-located into Yellow Pine to prevent vandalism. Discussion of that proposal indicated that it should be repaired and placed at the previous location outside the cemetery gate. Candy Sullivan offered to contact Linda Welch and convey her comments to the committee.
Music & Harmonica Festival: Dawn Brown reported that at the open Committee meeting June 27th at the Community Hall, 2:00, all comments will be considered in making a decision regarding possible cancellation of the Festival. No vendors have cancelled. Idaho has begun Phase 4. The Committee has consulted with Valley County Sheriff and the National Forests as part of the planning. Jeff and Anne Forster, speaking as emergency response personnel for Yellow Pine area, conveyed their concern that they should be included in the Festival planning. They have consulted with Valley County authorities regarding Covid 19 impact by Forest/Yellow Pine visitors and plans for the Valley Co. Fair & Rodeo. The County has limited ambulances for Covid 19 transport and the local ambulance does not qualify for that use. The consensus of the membership present and the Committee is that people will come to Yellow Pine even if the event is cancelled; in that situation the Festival committee should advertise the closure and not provide a stage, electricity, or encourage the crowd to gather in Yellow Pine. Bill McIntosh is prepared to advertise a cancellation.
Election VYPA Treasurer, Secretary, Vice Chairman: Deb Filler explained that the Treasurer position is presently filled by an Acting Treasurer and the elected Treasurer will complete the term ending in one year. Rhonda Egbert expressed her opinion that that person should be available in Yellow Pine all year. Candidates should contact Rhonda Egbert, 208-633-1976 Iamcreative@hotmail.com . Nominations may also be made from the floor at the July 11th meeting. Members must be present to vote.
Proposed By-Laws Changes – First Reading: All proposed changes to the By-Laws submitted by the review committee were read aloud and discussed. See the copies posted on bulletin boards and websites or request a copy from the Council. Items of most concern included: 2.1.d use of Robert's Rules of Order and use of a parliamentarian to insure order; 7.7 Selection of representatives to serve on Stibnite Advisory Board and Stibnite Foundation. Motion was made and approved that those representatives will be elected annually by the membership at the September meeting.
Dust Abatement: Dust abatement on local roads will take place June 22. Contact Deb Filler.
Community Agreement/Midas Gold Payment: Comments regarding the use of the $10,000 donation included: (1) Valley County Road Supervisor, Jeff McFadden, recently visited and assessed the roads within the Yellow Pine Township. Valley County property tax money is not used for road, ditch and alley maintenance. Valley County has ownership of all roads and alleys within the Township. All work on those roads, ditches and alleys must be pre-approved by the Valley County Road Dept.
(2) The Yellow Pine Water User's Assoc. is applying for grants to cover the expenses for repairs to the water facilities.
(3) The committee that negotiated the Community Agreement with Midas Gold prioritized uses for the $30,000 donation. Those uses were the YP Water Users, the helicopter landing area, and the YP roads and ditches located on public property. Motion was made and approved that the 2020 grant of $10,000 be used for infrastructure maintenance of public access roads, alleys and ditches. That work will be organized by the Infrastructure Standing Committee headed by Clayton Egbert and Tim Rogers.
Yellow Pine Water Users: Willie Sullivan reported that recent earthquake activity has impacted the facilities and lines. The engineering firm has been replaced by Mountain Water Engineering and they are studying the conditions so grant applications can be written. Present water use is about 30,000 gal. per day and it should be approximately 5,000 per day. No timeline has been established for grant writing; a notice of intent to apply for grants has been filed. Water users can make arrangements for monthly payments. Each property in the Yellow Pine area is allowed one, $100, share which entitles the owner to one vote at meetings. Presently 55 shares are owned. Contact Willie Sullivan prior to the July YPWUA meeting to discuss payments and purchase of a share.
Stibnite Advisory Council: Lynn Imel reported that the representatives of the eight Valley County towns have met monthly to discuss potential impacts that could develop with the opening of Stibnite mine by Midas Gold. Water quality, hospital, school, traffic, housing, and employment are some of the topics addressed. Meetings are now moved to bi-monthly, second Thursdays, with Zoom access.
Stibnite Foundation: Ronda Rogers reported that the eight community representatives are reviewing the grant applications received and will be announcing the grants in August. The Foundation gave each community a donation to assist with food purchase for residents. In Yellow Pine, there being no agency for food distribution, each winter resident was given a one-hundred dollar gift card for use at a grocery store.
Midas Gold: Kyle Fend, Midas employee, answered questions regarding the Stibnite road and the status of the mine operation plans. The Environmental Impact Statement (EIS) results are expected in August and that will open a period of time for public comment. Midas currently rents three houses in the community for their employees and contractors and they are complying with all Covid 19 prevention plans.
Museum: Rhonda Egbert reported that the Yellow Pine Backcountry Museum has forms for each donor to complete if that have loaned or donated artifacts. The old fire truck, owned by the VYPA has been purchased by the Museum for $37.40. The plan is to repair the tires and move it to the Museum area. A volunteer is needed to cut wood plaques to be awarded to Festival winners. Festival promotion face masks are available at local businesses, $5. Supplies are needed for silent-auction baskets, particularly wine which enhances the sales.
Yard Sale Donations for the July 4th yard sale can be placed in the Community Hall.
Adjournment: 4:00
— — — —
Yellow Pine Dust Abatement
Dust Abatement in Yellow Pine was applied June 22nd.
— — — —
Idaho Power Tree Trimming
Idaho Power contract crews with Asplundh have been in Yellow Pine trimming trees under power lines this week.

— — — —
Aftershock 1120pm June 24
Did anyone else feel the aftershock? M 4.6 – 27 km NW of Stanley, Idaho (South east of Cape Horn Mtn near Hwy 21.)
link:
— — — —
June 27 Meetings
There was a YPFD meeting at 10am at the Fire Hall and a Festival Meeting at 2pm at the Community Hall. Will post minutes when received.
— — — —
From the YPFD Fire Commissioners;
On June 27, 2020, the Yellow Pine Fire District (YPFD) – Fire Commissioner's meeting took place. Minutes will be forthcoming. Jeff Forster, Volunteer Fire Chief and Paramedic resigned as Volunteer Fire Chief from YPFD. His resignation was accepted by the Commissioners. Jeff plans to finally enjoy his retirement here in Yellow Pine. The YPFD will be in a restructuring period and will have limited, if any, availability or response during this time.
The Commissioners will be putting out an announcement for the Volunteer Fire Chief position along with requirements soon. Anyone interested in this position or in becoming a volunteer can request an application from one of your YPFD Fire Commissioners.
Jeff's resignation includes a resignation as Paramedic from Cascade Fire/EMS. Therefore, the Cascade Fire/EMS ambulance stationed in Yellow Pine will be out of service indefinitely. The EMS providers in Yellow Pine affiliated with this service are also resigning their positions. Yellow Pine will continue to be covered, in case of emergencies, through Cascade Rural Fire/EMS with the ambulance stationed in Cascade. Should you have an emergency or need medical assistance, please dial 911.
— — — —
4th of July No Personal Fireworks
courtesy YPFD
Still waiting for confirmation, but it sounds like the fireworks show has been canceled.
— — — —
2020 Census
The 2020 Census Impacts All Valley County Residents
Inching closer. Each of our communities and Valley County as a whole have increased our response rate by a few percentage points over the last few weeks – but we still have a lot of room to grow! We are still ranked #42 of 44 counties in Idaho for our Census response rate. Let's get that number up! Responding to the Census takes less than 10 minutes and mean $1,483 per person in federal funding for Valley County.
It is recommended that we all fill out the census online.
If you spend 50% of your time in Valley County, you can consider it your home per the Census. Where you register with the Census is confidential and never linked to other governmental requirements such as property taxes or mailing address. The deadline for the 2020 Census has been extended until October 31st. They will probably not be sending census takers up to Yellow Pine.
Link: to online census
You do not need an ID number. Go to the link. Click on "start questionnaire". Then on the next page scroll down to "If you do not have a Census ID, click here" – when you click on that line it will start the census. (see below)

— — — —
Boil Water Order issued
Update June 12: The boil order is still on. We still are experiencing excessive water use because of leaks. Not sure when this will be lifted. We are applying for grants to repair the system.
Update June 2: The water plant is experiencing high water in Boulder Creek which brings more debris into the sand filter.
The high demand caused by leaks in the system plugs the sand filters prematurely. We will be on a boil order until further notice.
As of April 17th 2020, Yellow Pine is under another "Boil Order"
Boil Water Advisory Notice
Boil Your Water Before Using
Bring tap water to a rolling boil, boil for one minute, and cool before using or use bottled water. Boiled or bottled water should be used for drinking, making ice, washing dishes, brushing teeth, and preparing food until further notice.
This Boil Water Advisory Notice applies to The Yellow Pine Water System
The system is being monitored and checked daily for compliance. .
You will be informed when you no longer need to boil your water.
Please share this information with other people who drink this water, especially anyone who may not get this notice directly (for example, people in apartments, nursing homes, schools, and businesses).
You can do this by posting this notice in a public place or distributing copies by hand or mail.
State Water System ID#: 4430059 Date distributed: 3-22-2020
— — — —
Critters
Tick's are still very plentiful in June.
Bears are out of hibernation, protect your trash and pet food.
Watch out for aggressive mother does and cows, they will stomp your dogs – and you too.
— — — —
Road News
Johnson Creek road is open, not graded yet. Report June 10th of people having to cut trees on Johnson Creek road, and a large pot hole somewhere – it was marked for a while but by Wednesday the sticks and flagging were gone. Travel at your own risk and carry a saw.
YP to Stibnite: June 12 – Yesterday, OK Gravel completed grading the Stibnite road and North American Dust Control will be spraying it June 23rd, 24th and 25th.
South Fork: Hard closure will begin on Tuesday, June 16; 7am to 4pm daily with no closures on weekends.
Access to Yellow Pine during closure hours will only be via Johnson Creek. With the delay of the opening of Lick Creek Road, the contractor needs to start work that requires closures in order to keep his crews working.
The closure sites will change on a weekly basis, and will not always be adjacent to the last closure site. Refer to the current weekly newsletter or the project website to determine the closure point and access for each week.
Road project link:
Lick Creek is open, the county bladed the last of the snow drifts and pushed downed trees off the road June 24th. Grading started on the lower end on the McCall side. Reported to be very rough over there.
Profile Report June 28: "Big Creek Road is snow-free over Profile Summit. " – SA
Monumental Report Semi-open to the adventurous ATV riders. Travel at your own risk.
June 26: "Lots of rocks and trees. One little patch of snow 20 ft long. But otherwise Thunder Mountain is open for 4×4 vehicles … we cut over 30 trees. The other guy with me didn't cut them full width for a car, just for his ATV. So any trees I didn't cut will need to be trimmed to get full-size vehicles through." – SA


June 26, 2020
Elk Summit Report June 27: "Elk Summit Road is still severely blocked by snow, but we rode ATVs over the top of the snow across Goldman's Cut and down through Smith Creek. There were severe avalanches and we barely made it through." SA


Trees down from Avalanche on Smith Creek


— — — —
Forest Info
All campgrounds and restroom facilities in the South Fork Corridor, Lick Creek/Secesh Corridor and along the East Fork South Fork Salmon River to Yellow Pine will begin seeing our regular restroom cleaning beginning this Friday, May 15th. Water systems will come online in the near future. The Krassel RD
— — — —
Yellow Pine US Mail
The 6-day a week mail delivery started June 1st. The Post Office in Yellow Pine is open six days a week year around: M-F 845am-245pm Saturday 9am-245pm. Forever Stamp: 55 cents. Support our local post office and purchase your holiday stamps here.
— — — —
Yellow Pine Transfer Station
Report June 6 – with community support more repairs have been made to the doors, and cement has been poured to stop the bear from digging under the building. A brave volunteer also climbed up on the roof and secured the loose roofing. The burn pile has been sorted as people have been dumping inappropriate items.
Report June 1 – the bins have been emptied. South doors are a bit stiff. The road from YP to the dump is really good.
Please do not abuse our Transfer Station or we may lose it. Household trash must be placed in the bins, flattened cardboard boxes can also go into the bins. Do not stack trash in front of the doors. Woody yard debris only for the burn pile. No furniture, appliances, tires or construction debris allowed, those items must be hauled out to the Donnelly station by you.
Yellow Pine Transfer Station (aka, the dump)
The Yellow Pine Transfer Station is located approximately 3 miles south on Johnson Creek Road.
The TRANSFER STATION is for household trash and yard waste:
* Household trash must be put inside (and fit) the dumpster;
* Yard waste (limbs, pine needles, brush, etc.) goes in the burn pile on the south end of the turn-around;
* Cardboard boxes should be flattened before putting the in the dumpster,
The DUMPSTERS are NOT for:
* Furniture (take to Donnelly Transfer Station);
* Appliances (take to Donnelly Transfer Station).
The BURN PILE is NOT for:
* Cardboard boxes (flatten and put in dumpster);
* Furniture and appliances (take to Donnelly Transfer Station);
* Drywall and building material (take to Donnelly Transfer Station);
* Wire or fencing (take to Donnelly Transfer Station);
* Foam Rubber (take to Donnelly Transfer Station);
* Wood with metal (like nails) attached (take to Donnelly Transfer Station.)
When closing the DOORS on the front of the dumpsters:
* Make sure the "U" brackets at the top and bottom of the door are engaged;
* The retaining bar at the middle of the door is slid into the pipe;
* And the "L" bars at the bottom of the doors dropped into place.
The Yellow Pine Transfer Station is Valley County responsibility. If it is not kept tidy, use of the Transfer Station may be revoked. That would result in residents having to take all household trash and yard waste to the Donnelly Transfer Station.
If Dumpsters Are Full, Contact Lake Shore Disposal at: 208/634-7176
———-
Local Groups
YPWUA News:
July 5th 2020 meeting at the Community Hall 2pm
Agenda
1. Financial Report Willie
A. Current Balance
B. Delinquent Accounts
2. Operations Warren
A. Current Boil Order
B. Current condition of system
– Leaks
– Earthquake Damage
3. Grants Steve and Willie
A. Current awarded grant status
B. Discontinued use of SPF Engineering
C. New Engineering Company Mountain Water Works
D. By-law update terms of office, agent
4. Final Issues
A. Future rate increases
B. Summer lawn watering
C. Election of Board Members: Steve Holloway and Willie Sullivan positions
—
New Boil Water Order issued April 17, 2020. This could last until runoff is over.
Notice of Intent to File an Application with USDA, Rural Development
The Yellow Pine Water Users Association, Yellow Pine, Idaho intends to file an Application with USDA, Rural Development to obtain a drinking water system facility Emergency Community Water Assistance Grant (ECWAG). Emergency Community Water Assistance Grant (ECWAG).
If any additional information is needed, please contact:
Willie Sullivan
Treasurer
ypwater@gmail.com
Distributed to Yellow Pine Water Users Association customers via Yellow Pine Times on June 12, 2020.
The last Yellow Pine Water Users Shareholders meeting was Sunday July 7, 2019.
link: 20190707YPWUAminutes
— — — —
VYPA News:
Last Village Meeting was June 13th, next meeting July 11th
Minutes from June 13, 2020 meeting
link: 20200613 VYPA Minutes.pdf
2020 Festival Meeting May 16, 2020 Notes
Note: at each meeting we simply add to info on the topic. That way, info from all meetings is included in a single document.
link: 2020 Festival Planning Notes.pdf
July 1 – Post Harmonica Meeting 2pm Community Hall
Heat was installed in the community hall on April 30th.
If folks have items for the community yard sale, please place them by the north wall in the community hall. If you see items you would like to purchase, you can pay Deb, Ronda, or Lynn. All funds support the community hall.
VYPA meetings for 2020 – June 13, 2pm; July 11, 2pm; August 8, 2pm; September 12, 2pm.
— — — —
YPFD News:
There was a YP Fire Commissioner meeting on June 27, 2020 at 10 AM at the Fire Station, minutes forthcoming.
YPFD COVID19 Policy
link: YPFD Covid 19 SOP.docx
link: Covid-19 EMS.pdf (May 23)
May 10th Burn Permits – contact the YPFD
Pile burning: Dress appropriately, have enough help on hand (people, water and tools) and make a firebreak before you start. Call your local fire protection district chief to let them know you'll be conducting a debris burn. This saves them from sending emergency responders to your property if they are not needed. Do NOT burn on breezy afternoons.
Better yet, "Bring It, Don't Burn It", you can take your yard waste (limbs, pine needles, brush, etc.) to the burn pile at the Transfer Station on the south end of the turn-around. Remember, keep the pile neat. Woody debris only, no nails, no cardboard and no furniture! The Boise NF will burn the pile in the fall when it is safe and doesn't pollute our fine YP air.
YP Fire Commissioners:
Sue Holloway – District 1
Dan Stiff – District 2
Merrill Saleen – District 3
(TBA) – Fire Chief
Yellow Pine Fire Protection District Community Service Notice
The purpose of this letter is to show how you as a Yellow Pine Resident can help protect your structure against a wildland fire by being "Fire Wise."
Click the link: to view 20190724 Yellow Pine Fire Protection mitigation
——–
Biz Listings:
The Corner (208) 633-3325
Open 11am-8pm Closed Tuesdays
Calling ahead works best but not a huge deal. Groceries, Ice Cream, Beer and Soda. Our menu fluctuates but typically have Smoked Brisket, Tri Tip, Chicken, Burgers and Wings on hand. Live Music on the Fourth of July with Braid, local band from McCall playing 2-6 pm followed by Willie and the Singlewides till we shut the doors.
— — — —
Yellow Pine Tavern (208) 633-2233
Open Daily 8am to 10pm. Outside Dining and Bar. Breakfast and Bar Food.


— — — —
Yellow Pine Lodge (208) 633-3377
Open.
— — — —
Yellow Pine General Store (208) 633-3300
The store is open now and will be open into October. Hours are 9 am to 6 pm Tuesday through Saturday. Closed Sunday and Monday.
— — — —
Murph's RV Park & Mary's Cabins (208) 633-6677
Cabins are not available in 2020. RV Spaces $25/night; $150/week; $300/month. Tent spaces $10/night. Shower house is closed for 2020.
— — — —
Knotty Kat Crochet Works – 208-502-0940
FB page link
open Tue – Sat, 9-5
Yellow Pine eggs $3/doz
— — — —
Buck Horn Outfitters LLC 208-633-3614
Tom & Sarah Lanham
156 Yellow Pine Ave, Yellow Pine Id 83677
website:
Facebook:
Starting June 2020 We will be doing trail rides out of Yellow Pine along with summer pack / camping trips to high mountain lakes in the area!
Wapiti Meadow Ranch – Johnson Creek (208) 633-3217
or 208-315-3554 – cabin rentals
website:
Deadwood Outfitters
website:
— — — —
Local Fuel Suppliers
Amerigas Phone: (208) 634-8181
Ed Staub & Sons Phone: (208) 634-3833
Diamond Fuel & Feed Phone: (208) 382-4430 open 830am-5pm Monday-Friday, closed weekends.
— — — —
Outside Biz that will service Yellow Pine:
The Star-News


subscribe:
A reminder that those who live in other states can subscribe to the online edition only since the mail can take days for hard copy to reach them.
Rocky Mountain Mechanical – Plumbing – Heating – Air conditioning
(208) 365-PIPE (7473), Emmett, will service Yellow Pine
Elkhorn Heating & Cooling
(208) 906-4067 Middleton, Idaho, will service Yellow Pine
B&T Safety Solutions LLC
208-271-1600 Based out of Donnelly
Snow removal, cleaning chimneys and stoves, we do cabin staining/chinking as well
— — — —
Follow The Yellow Pine Times on Facebook (updated more often than emails)
———————–
Telehealth
Cascade Medical Center is set up for Telehealth.
If you want to schedule an appointment, call our clinic at 208-382-4285. Vicki or one of the MAs will ask you some questions to make sure that a tele-video visit is the right choice given your symptoms or need. If so, we will work with you to make sure you are set up on the Cascade Medical Center patient portal (with our EMR). We will also make sure that you are set up to be able to do a tele-video visit (laptop with camera, desktop with camera, or smart phone). We use the Zoom telemedicine system, which is confidential and secure (it works like Skype or Face-time). Before the appointment, we will email you a link for the tele-video visit. When it is time for your appointment, you will click on the link in the email and you will be connected with our provider and can begin your visit.
Regarding insurance coverage, the COVID legislation passed in March assures coverage of telemedicine visits for patients with Medicare, Medicaid, VA. Private insurers have also decided to provide coverage just as for regular in person visits, at least until the COVID epidemic crisis is declared over.
Today (June 3rd) Blue Cross extended telehealth services and reimbursement through the end of the year.
Tom Reinhardt, CEO
Cascade Medical Center

———————-
Local Observations:
Monday (June 22) overnight low of 42 degrees, clear sky this morning. Group of airplanes buzzed over early. Grosbeaks, robins, swallows and finches calling. Loud gun shots started at 1045am for about 20 minutes, then started up again at 1142am for about 20 minutes. Clear sky and light breezes just before lunch time. Tree trimming crews for Idaho Power in the village. Clear sky, light breezes and warm afternoon, high of 83 degrees. Dust abatement truck spraying roads. Cooling off a little under clear sky mid-evening and slight breeze. Mama doe on the golf course before sundown. Clear before midnight.
Tuesday (June 23) overnight low of 44 degrees, clear sky this morning. Early air traffic. Robins, finches and swallows singing, evening grosbeaks and a pine squirrel visiting. Clear and warm at lunch time. A little high haze in the sky and hot by mid-afternoon, high of 89 degrees. Still pretty warm mid-evening and partly cloudy. Partly cloudy and warm at dusk. Airplanes flew over at 945pm, almost dark. Some high haze before midnight.
Wednesday (June 24) overnight low of 47 degrees, almost clear sky this morning and slight breeze. Early air traffic, extra loud one around 905am. Lots of swallows swooping, a few finches and robins calling. Partly cloudy and quite warm at lunch time. Mail truck made it in a little early. Rufus hummingbird stopped by. Windy, hot and mostly cloudy early afternoon, high of 90 degrees. Mid-afternoon loud thunder, dark clouds and big drops of rain for a minute or two. Overcast, muggy and calm mid-evening. Mostly clear at dusk, quiet and calm. Robins chirping at dark.
Thursday (June 25) overnight low of 52 degrees, partly cloudy sky and light breeze this morning. Early air traffic (and some loud ones mid-morning.) Swallows swooping around, a few jays and robins calling. Partly cloudy after lunch time and light breezes. Increased street traffic and getting a bit dusty. Heating up by mid-afternoon, light breezes and about half cloudy, high of 86 degrees. Tree trimming crew for Idaho Power still working in the village. Warm and clear sky mid-evening, starting to cool off a little. Barrage of gunfire (fireworks?) started at 850pm for about 20 minutes. Sounded like a big party up town. Clear at dusk.
Friday (June 26) overnight low of 46 degrees, mostly hazy sky this morning. Lots of early loud air traffic. Swallows, robins and finches calling. Pretty warm at lunch time, partly cloudy and some haze. Jays and a chipmunk visiting. Rather hot by mid-afternoon and partly hazy sky, high of 87 degrees. Very warm and mostly clear mid-evening. Female hairy woodpecker stopped by for a bite of suet. Mostly clear before dusk.
Saturday (June 27) overnight low of 49 degrees, mostly cloudy sky this morning. Early morning air traffic, some quite loud right over the village. Swallows, a few finches, pine siskins and grosbeaks hanging around. Mostly cloudy at lunch time and mild temperatures. Dark clouds mid-afternoon, high of 78 degrees. One hummingbird sighted. Breezy early evening, lighter by mid-evening and thinner overcast. Opinionated pine squirrel yelling from the trees. Shooting started at 828pm for about 20-30 minutes. Partly cloudy just before dusk.
Sunday (June 28) overnight low of 43 degrees, overcast sky this morning. Air traffic early this morning. Not many swallows flying around, females are setting on eggs. A few finches and a couple of pine siskins visiting. Cloudy and chilly breezes at lunch time. Mostly cloudy and chilly light breezes mid-afternoon. A few sprinkles late afternoon and overcast, high of 62 degrees. Female hairy woodpecker and a male rufus hummingbird dropped by. Overcast and chilly light breeze mid-evening.
————————-
Letters to Share:
A Sad Loss to Yellow Pine
To whom it may concern.
Be careful of what you wish for because it just might happen.
With the resignation of both Jeff and Ann Forster from the Fire and EMS departments of Yellow Pine, the residents and visitors have lost one of the great benefits we have enjoyed in our area.
My wife and I have been loyal and avid supporters of Yellow Pine since Chris' father, Idaho artist Robert Auth, first came here decades ago, served on the town council, helped initiate the first Harmonica Festival, and designed and helped create and construct the Yellow Pine Veterans' Memorial. Our family has supported the Harmonica Contest/Festival since day one. I helped cook breakfast every year but the last three. I have tried to help with anything that would enhance the YP community. I have helped in building the helipad, putting doors on dumpsters at the transfer station with Cecil, Tom, and Tim, and cleaning up the golf course for fundraising for community needs, along with any other volunteer needs for the community.
Four years ago I had the opportunity — and saw the need for — continuing the EMS and Fire Departments following Dave's retirement. I, along with several others, took the time and effort to get our EMR licenses. We took classes on extrication from vehicles. We have also been trained in over the edge ropes (taught by Jeff) on how to access the victim, using the equipment we now have, to treat and get the person out to the ambulance in minutes instead of hours. I am NOT trying to toot my own horn by bringing up what I and others have done to improve the the health and safety of both residents and visitors. We have done these things because of our love and respect for the wonderful area we have all been drawn to. We have always appreciated those in the community who tried to enhance our lifestyles here, from Dave McClintock who, for years, was our "Jack of All Trades," to Railroad Sue who works to keep us updated on news, to Willy Sullivan, Steve Holloway, Dawn Brown, Stu Edwards, and Dave Prouty who are currently wrestling with our tired water system. Yellow Pine has been blessed with other generous people who have contributed positively to enhance our community. Now, it appears, we are losing a service that could jeopardize lives and homes.
With the resignation of Jeff and Ann, Yellow Pine stands to lose a great deal:
1. Quick EMS response and treatment within minutes instead of hours. Cascade medical response time will be now be about 2 and 1/2 hours under ideal conditions. EMS equipment will be taken out of service and mothballed.
2. A fully-equipped fire truck still in service, but no trained people on ropes for over the edge rescue. To my knowledge, no one other than a select few, has been trained on the jaws of life or cutters that remove victims from wrecked vehicles.
3. Firefighting and life-saving equipment that can quickly access sites. Only a few have been trained on this equipment, which has been at our disposal. Should anyone have an ATV wheeler accident, fall off a roof and break a leg, or experience a heart attack or stroke, he or she may have lost the golden hour needed for survival.
I could go on and on about what YP is losing. I do know that data indicate hundreds of cases where the Yellow Pine Team has responded. Anyone who had questions or issues regarding the equipment, donations for that equipment, training, and education should, certainly, have volunteered themselves, contacted any of the members of those departments, or taken the time to read updates posted by rrSue.
The tragic ending to this sad story is that Yellow Pine and its visitors are losing the value of all of the many training hours, educational classes, knowledge, and experience so sorely needed to protect everyone. In closing, Jeff and Ann's departure means there will be no EMS services available to locals or visitors except Cascade Medical, which will result in a 2 and 1/2 hour response instead of in minutes. A person lying in pain for hours or dying is no one's wish.
I wish to thank Jeff and Ann for all that I have learned. They have enhanced my life by giving me the opportunity to learn life-saving techniques that will be with me until I die. I am proud to have served next to both of them. Thank you, Jeff and Ann.
Gary Niebrand
— — — — — — — — — —
Keep the virus away rather than chase it after it has spread
You're sick of it. The isolation, the mask wearing, the endless hand washing. We get it. We'd like to go to the store after working a 10-hour day and finally get to take off our masks too.
But here's the deal. COVID is real. COVID is dangerous. COVID is here.
We can't live under a rock until this thing is over. We want everyone to get out and be human and socialize and be mentally well. We want our businesses to start making money again. The best way to assure that is to honor the governor's recommended guidelines for wearing a mask and social distancing.
Do you want another stay-at-home order that kills the economy right in the middle of tourist season? The best way to prevent COVID spread is to wear your mask when at stores and bars and other places you can't socially distance.
We only need to look at Boise's experience last week when COVID cases rose again, largely from people going out to bars and stores without masks. Now those same businesses in Boise are turning to masks to protect employees and patrons.
Why wait until the genie is out of the bottle? It's easier to keep the virus away than to chase it after it has spread. Please wear your mask when at stores, bars, the library, the post office, the doctor's office, etc.
If you're outside and socially distanced, taking off your mask in the fresh air is relatively safe. Fifty people in a park are safer than two people in a phone booth.
We actually encourage people to get outside and get a break from the mask. Walk, fish, ride, garden, row, float, golf or sit on the beach and dig your toes in the sand. But when we're inside public buildings and businesses, we're going to wear our masks to protect you and we hope you'll do the same for us.
Here are some misunderstandings we've personally heard from people (smart, good, caring people) who refuse to wear masks inside:
• "I'm healthy – I have a strong immune system." Fact: "Healthy" people are the ones who are unknowingly and innocently spreading the virus.
People are spreading the virus even when they aren't feeling ill themselves. Or they think their runny nose is just allergies. Why take the risk? Wearing a mask at the store is a minor inconvenience compared to your neighbor getting a deadly disease.
• "Wearing a mask is antisocial." Fact: Giving someone an infectious disease is really antisocial
• "Christ my Savior will protect me." Fact: We pray that you will wear a mask to help Him succeed. Wearing a mask is an act of love.
• "The media is making this stuff up." Fact: Nope. Hospitals across the country are filled with actual people sick from COVID.
• "The people who have died from COVID were going to die anyway." True: We're all going to die anyway, eventually. Why rush it? Wear a mask to push that day off as long as possible.
Hang in there everyone. Wear a mask for each other. We're all in this together.
Tom Reinhardt, CEO, Dr. Ron Ellsworth, Medical Director, Cascade Medical Center
— — — —
Virus spread precautions need to be followed by everyone
Last week, Gov. Little moved Idaho into Stage 4 of the plan to re-open Idaho, stating that the criteria for doing so were barely met. This week, Central District Health has downgraded Ada County to Stage 3 due to a large outbreak of new cases that are associated with large, ill-advised gatherings in bars, nightclubs and other public venues.
In Valley county, businesses have, thankfully, re-opened and most are following the advice and taking the precautions that have been proven to reduce the risk of viral transmission.
If we are going to keep businesses open through this summer, we must redouble our efforts at reducing risk. If we do not, we will likely experience a surge of cases and serious illness in Valley County. This could lead to community spread of the coronavirus, putting our county at risk for another shutdown.
I am confident that with common-purpose and resolve, the citizens and visitors of our communities can both support local businesses, allowing them to remain open, and prevent the spread of the novel coronavirus.
It is important to remember that, without effective treatment or a vaccine, prevention of the spread of the virus is all that we currently have at our disposal to fight it.
There are new documented cases of COVID19 in our local communities and Idaho, overall, is seeing a large increase in cases. This means that SARS CoV-2 is among us and risks creating an outbreak and community spread here.
Asymptomatic and pre-symptomatic shedders of the virus remain a substantial issue with this illness. None of us knows if an individual with whom we are interacting might be exposing us to the virus.
The techniques for reducing the risk of spread are, at this juncture, well-known to everyone. Wear a mask in public, physical distance yourself at least six feet from others and wash your hands frequently. To be effective, these precautions need to be followed by everyone.
The coronavirus lives by the rules of nature and biology, not by our rules. This is not a political issue, as it, unfortunately, has become. The virus is neither Republican nor Democrat. It is neither conservative nor liberal. All of us, regardless of our political philosophy, disobey the rules of biology and infectious disease transmission at our peril.
SARS CoV-2 is primarily spread by microscopic droplets from the respiratory tract of an infected individual. The guidelines are all designed to prevent this transmission of droplets from one person to another.
The infectious drops comes forth when a person breaths, talks, sings, shouts, coughs or sneezes. Keeping distance from others reduces exposure to another person's droplets.
Wearing a mask, double-layer cloth, surgical, or N-95 has been unequivocally shown to reduce the spread of respiratory droplets by up to 90 percent. This statistic only applies if both members of an interaction are masked. I personally will not talk to anyone from outside my home within 15 feet who is not wearing a mask, and they should hold me to the same standard.
Indoor environments create a greater risk of exposure than outdoors settings. We need to respectfully and kindly request that all indoor businesses require masks on all staff and customers. Masks should be worn in outdoor settings where physical distancing cannot be strictly maintained.
The infectious droplets from the novel coronavirus are transmitted to each of us through our mouth, nose and eyes. Large group gatherings must be avoided as one infected individual in the crowd can infect many others leading to rapid spread of infection and illness.
Most of the citizens of Valley County have been phenomenal examples of citizenship and caring at reducing the spread of the novel coronavirus. Our success at delaying its arrival has not been accidental.
With the aforementioned measures, we can keep our economy open and reduce disease transmission. It is up to all of us to care enough to persist. We are truly, in this pandemic, our brothers' keepers.
Gregory Irvine, MD, Chief of Staff, St. Luke's McCall Medical Center
published in the Star-News June 25, 2020
———————-
Idaho News:
COVID-19 community transmission identified in Valley County; case count increases
Valley County (June 26) –This week, Central District Health (CDH) has confirmed that three additional Valley County residents have tested positive for COVID-19, bringing the total number of cases at six. One of the recent cases was confirmed on Wednesday, June 24; the other two were confirmed today, June 25. Through follow-up case investigations, CDH has identified evidence of community transmission. Community transmission is determined when an individual has not had contact with a known infected person or recently traveled.
One of the infected individuals confirmed this week has required hospitalization. Case follow-up work is ongoing.
With community transmission identified in many counties throughout Idaho, and given Valley County's robust tourism, which brings in Idahoans from other counties, and residents of other states, it is more important than ever that people follow public health recommendations to prevent the spread of COVID-19.
"Valley County sees a considerable amount of tourism with people coming to enjoy our communities. We want to urge both members of our community and those visiting to protect one another. Wear face coverings in public and practice physical distancing. Let's look out for one another so we don't see continued spread and potentially harmful impacts to the health of our residents and local economy," said Elt Hasbrouck, Valley County Commissioner and CDH Board of Health member.
CDH recommends that everyone:
· Follow statewide orders and any local orders in place
· Practice social distancing: avoid crowds, maintain at least 6 feet from others
· Wear face coverings in public or environments where physical distancing
· Stay home if you are sick, even if symptoms are mild
· Limit your trips in public
· Wash your hands frequently and disinfect high-touch surfaces
· Limit unnecessary travel
· Create a plan for how to safely care for a household member if they become ill
COVID-19 case counts for CDH's four-county jurisdiction of Ada, Boise, Elmore and Valley counties are updated weekdays by 5 pm, unless otherwise indicated; weekly data is updated Mondays and Thursdays by noon at (link).
Community COVID-19 Resources
Central District Health continues to offer a COVID-19 call center Monday through Friday from 8:30 a.m. to 4:30 p.m. and will operate Saturday, June 27 from 10 a.m. to 2 p.m. Call 208-321-2222. Find statewide data at (link)
Idaho Department of Health and Welfare offers a resource hotline for people feeling overwhelmed, isolated, or distress because of COVID-19. The hotline is available 24/7 at 888-330-3010.
[Note: Report Saturday that the case count in Valley County has risen to 11, the count doesn't include visitors.]
— — —
CDH confirms community spread in Valley County
Thursday, June 25, 2020
Central District Health confirmed that three additional Valley County residents have tested positive for COVID-19, bringing the total number of cases in the county to six. One of the recent cases was confirmed on Wednesday, while the other two were confirmed on Thursday.
The health district said it has confirmed evidence of community transmission, which is determined when an individual has not had contact with a known infected person or recently traveled.
One of the infected individuals confirmed this week required hospitalization, CDH said.
With community transmission identified in many counties throughout Idaho, and given Valley County's robust tourism, which brings in Idahoans from other counties, and residents of other states, officials said it is more important than ever that people follow public health recommendations to prevent the spread of COVID-19.
"Valley County sees a considerable amount of tourism with people coming to enjoy our communities," said Elt Hasbrouck, Valley County commissioner and CDH Board of Health member. "We want to urge both members of our community and those visiting to protect one another. Wear face coverings in public and practice physical distancing. Let's look out for one another so we don't see continued spread and potentially harmful impacts to the health of our residents and local economy,"
source: KTVB
— — — — — — — — — —
Valley County DMV
The Valley County driver's license services in now open without an appointment. Please be advised that a mask is required upon entry into the DMV services at the Sheriff's Office. If you have any information regarding DMV (driver's license services, concealed weapons or sex offender registry) please contact them at 208-382-7158.
(via FB 6/22/2020)
— — — — — — — — — —
Adams County COVID-19 cases expose two McCall workers
By Tom Grote for The Star-News June 25, 2020
A shared workplace and a social gathering has led to a surge in coronavirus cases in Adams County from one to nine, according to Southwest District Health.
Two Adams County residents who work in McCall were exposed to someone with the virus, but later tested negative. Their work places were briefly closed.
"The Adams County cases have been linked to a shared workplace and a social gathering," said Katrina Williams, spokesperson for Southwest District Health, which covers Adams, Canyon, Gem, Owyhee, Payette and Washington counties.
"All cases know their source of exposure and are isolating at home," said Williams, who declined to provide further details.
One person exposed to someone who tested positive for the virus works at the MCPAWS Thrift Store in downtown McCall, MCPAWS Regional Animal Shelter Executive Director Amber Kostoff said.
The store was closed Friday, June 12, and Monday, June 15, until the employee could be tested and was determined to be free of the virus, Kostoff said.
The employee volunteered to go into self-quarantine for two weeks and has not been at the store since being informed she was exposed to the virus, Kostoff said.
All MCPAWS staff members were tested for COVID-19 on Monday as a precaution, she said.
A male Council resident exposed to the virus works at True North Construction in McCall, company representative Carrie Potter said.
The crew on which the employee worked was shut down until they could be tested, Potter said. All tests showed no signs of the virus, she said.
An employee of M&W Market in Council tested positive for COVID-19 on June 13, said Jim Tate, general manager of M&W Markets.
"We sanitized the areas this person might have touched in addition to the check stands, shopping carts, doors and other areas we are constantly sanitizing on a regular basis," Tate said.
"All employees were tested for COVID-19 and they have come back negative," he said.
Only one confirmed case of COVID-19 had been reported before the latest cases. A Council man was admitted to a hospital suffering symptoms, but recovered.
source: Copyright 2009-present Central Idaho Publishing Inc.
— — — — — — — — — —
Idaho coronavirus updates: 310 new cases reported, sets new record for cases in a single day
June 26, 2020 KTVB
310 new confirmed and probable cases announced, continuing the state's spike
The Gem State added 290 confirmed and 20 probable cases of the coronavirus on Friday, according to data from the Idaho Department of Health and Welfare and the state's health districts. This brings Idaho's total of confirmed cases to 4,690 and to 5,148 confirmed and probable cases.
continued:
— — — — — — — — — —
Ada County rolled back to Stage 3, all bars will be forced to close
Health officials in the district say there have been "daily significant increases" in Ada County over the past week
June 22, 2020 KTVB
Ada County will be rolled back to Stage 3 of the reopening plan and all bars will be ordered to close after a spike in coronavirus cases.
The return to higher restrictions was announced Monday afternoon by Central District Health.
Bars must close down by 12:01 a.m. Wednesday morning, according to the health district. The rest of the state will continue to remain in Stage 4.
continued:
— — — — — — — — — —
'We're tapping on the brakes:' Gov. Little extending Stage 4 across Idaho
Idaho did not meet the metrics to move forward to fewer restrictions, the governor said.
Katie Terhune June 25, 2020 KTVB
Most of Idaho will remain in Stage 4 for at least two more weeks after the state failed to meet the benchmarks necessary to move forward, Gov. Brad Little announced Thursday.
The announcement came Thursday during a press conference Little called to address the state's Idaho Rebounds plan.
"The statewide approach to mitigating the spread of COVID-19 three months ago was the right thing to do. Three months ago, testing and contact tracing was limited, some areas of Idaho faced alarming healthcare capacity restraints, and there wasn't enough personal protective equipment on hand for businesses and healthcare workers," Little said. "But from the start, our plan was to eventually transition to a more regional approach in our response and that's what we've begun.
continued:
— — — — — — — — — —
Idaho hoping residents, business take pledge to keep state open, safe
by CBS2 News Staff Wednesday, June 24th 2020
Earlier this month, the state launched a new campaign to encourage the people and businesses to do their part in keeping the state safe and its economy open.
One Idaho launched June 9.
"Idaho's economy will rebound strongly when 1.7 million Idahoans unite around one common goal – keeping our state's economy open and making Idaho a safe and healthy place for all through hard work, shared sacrifice, and care for our communities," Little said in a news release earlier this month. "Our actions moving forward will help preserve the sacrifices we all made early on to slow the spread of coronavirus in our state."
By taking the pledge, folks promise to practice good social distancing and hygiene practices and businesses work to maintain distance among customers as well as adhere to stepped up cleaning efforts.
Take the ONE Idaho Pledge
link:
— — — — — — — — — —
Gov. Brad Little news conference on red tape during pandemic
by CBS2 News Staff Monday, June 22nd 2020
Governor Brad Little hosted a news conference on Monday to discuss red tape amid the coronavirus pandemic.
"Our loosening of healthcare rules since March helped to increase the use of telehealth services, made licensing easier, and strengthened the capacity of our healthcare workforce – all necessary to help our citizens during the global pandemic. We proved we could do it without compromising safety. Now it's time to make those healthcare advances permanent moving forward," Governor Little said.
The state identified 150 rules that help increase the state's healthcare provider capacity and to reduce barriers to access for residents. Monday's executive order makes those permanent "by asking the agencies to finalize the rule changes for presentation to the Idaho Legislature in January of 2021."
continued:
— — — — — — — — — —
Brundage Mountain Resort
An Important Message from General Manager, Ken Rider:
Brundage Mountain has canceled the Fourth of July Music Fest and the TGIF Concert scheduled for July 10, out of an abundance of caution and concern for the well-being of our staff and community,
This has not been an easy decision to make on one hand, but a very easy decision to make on the other. With confirmed community spread in our area and a rise in cases in the Treasure Valley, we are taking the safe route and canceling events that have the potential to draw sizable crowds.
Brundage Mountain remains open Wednesdays through Sundays for Scenic Chairlift Rides, Mountain Biking, Hiking, Disc Golf and Dining at Smoky's Bar & Grill. The Brundage team has put countless hours into designing and executing new protocols to reduce hazards during those primary summer operations.
Interested parties can view those detailed protocols at (link)
The free TGIF Concerts scheduled later in July and August will be continually assessed as conditions change and evolve. We are taking an optimistic, but informed approach. We've been monitoring the COVID-19 situation constantly since early March and will continue to do so as we move forward.
Future considerations will include case trends and community spread in the local area, as well as the behavior of visitors observed in other situations.
The more people we see engaging in social distancing and mask wearing protocols, the better we will feel about hosting larger events. As much as we enjoy providing these outdoor activities, safety will always come first at Brundage Mountain.
(via FB June 27, 2020)
— — — — — — — — — —
Boise Fourth of July fireworks show called off due to COVID-19
by Deni Hawkins Wednesday, June 24th 2020 CBS2
The City of Boise's annual Fourth of July fireworks celebration will not happen in 2020.
The culprit? COVID-19…and the city's new public health order, which went into effect Wednesday, June 24 at 12:01 a.m.
It will remain in effect for the next 30 days.
Under the order, groups or gatherings of more than 50 people will not be allowed in the city. Further, the order specifically mentions the cancellation of the fireworks show and celebration.
continued:
— — — — — — — — — —
Shoshone-Bannock cancels fireworks
June 22, 2020 Local News 8
Shoshone-Bannock Casino Hotel has canceled the Annual Treaty Day Fireworks on July 3, 2020.
Officials say there are concerns due to the coronavirus and other circumstances. Holding a large public gathering safely and responsibly would make this event difficult, the hotel said in a release.
"Shoshone-Bannock Casino Hotel will work to respect and honor the spirit and idea of the Fort Bridger Treaty."
source:
— — — — — — — — — —
Ski & Mountain Trauma Conference Canceled
We are always excited and proud to host the Ski & Mountain Trauma Conference for all our first responder partners. However, the health and well-being of our attendees, their families, our colleagues and the communities we serve is our top priority. We are following the most recent Centers for Disease Control and Prevention's (CDC) COVID-19 (Coronavirus Disease) recommendations and are acting with an abundance of caution to ensure we do not elevate the risk of exposure to the virus for anyone we serve.
With that in mind, Saint Alphonsus will be canceling the 2020 Ski & Mountain Trauma Conference scheduled November 5-7.
We apologize for any inconvenience this may cause you and appreciate your support as we work together, to ensure the safety of our community at large. We look forward to a successful conference in 2021 and encourage you all to stay safe.
Sincerely,
Ski & Mountain Trauma Conference
— — — — — — — — — —
Local miners and dairy farmers partnering to deliver cheese and butter to food banks
By Lynsey Amundson Jun 25, 2020 KIVI
Three local mining companies are working together to support dairy farmers by helping turn their milk into butter and cheese to give to local food banks.
The three mines, Midas Gold, Integra Resources and Itafos Conda are joining Dairy West's Curds + Kindness initiative. This initiative started in May to help donate leftover dairy products to food banks.
"Hearing that the dairy industry was actually throwing product away, we started having some dialogue about how we bring that product to our communities and share it with those that have food insecurity," said Midas Gold Community Relations Manager, Belinda Provancher.
continued:
— — — — — — — — — —
4.6-magnitude earthquake hits near Stanley
The shaking could be felt as far away as the Treasure Valley.
June 25, 2020 KTVB
Another earthquake struck late Wednesday night, rattling the Idaho mountains.
The 4.6-magnitude quake happened at about 11:20 p.m., followed by a second smaller aftershock registering at 3.0-magnitude not long after.
The earthquakes' epicenter was about 17 miles northwest of Stanley, but the shaking could be felt as far away as the Treasure Valley for some.
continued:
— — — — — — — — — —
Census Bureau sending postcard reminders to P.O. Boxes
By Kristen Bolden Jun 25, 2020 KIVI
The U.S. Census Bureau is sending postcards between June 24 and July 3 to an estimated 1.3 million post office boxes in communities where P.O. boxes are the only mailing address available.
The postcards alert households that a census taker may drop off census invitations soon or will visit later to interview them. The postcards also provide information on how to respond to the 2020 Census online or by phone.
Households are encouraged to respond to the 2020 Census as soon as they receive their invitation packet. Households that receive mail in P.O. boxes should provide their street address (not their P.O. box number) when responding to ensure their response is associated with the physical location where they live, not where they receive mail.
continued:
———————-
Health & Safety:

— — — — — — — — — —
FDA warns 9 brands of hand sanitizer may be toxic
June 24, 2020 KTVB
The coronavirus pandemic has led to a surge in hand sanitizer purchases, but now the U.S. Food and Drug Administration has issued a warning that nine brands may be potentially toxic.
The FDA said Friday that consumers should stop using any hand sanitizer from Mexico-based manufacturer Eskbiochem SA de CV, due to the potential presence of methanol, or wood alcohol, in its products. The FDA warned that methanol can be toxic when ingested or absorbed through the skin.
The agency said that it contacted Eskbiochem last week to recommend the company remove its hand sanitizer from the U.S. market, but it has yet to do so.
"Therefore, FDA recommends consumers stop using these hand sanitizers and dispose of them immediately in appropriate hazardous waste containers. Do not flush or pour these products down the drain," the agency warned.
continued:
————————-
Idaho History:
Masks were questioned during the Spanish Flu pandemic too but wearing them was required in parts of Idaho
The Spanish Flu hit the U.S. in 1918, with some of those lessons coming back during the coronavirus pandemic.
Brian Holmes June 26, 2020 KTVB
To mask or not to mask? Not only is that the question now, but it was also a question people asked before more than a century ago during the Spanish flu of 1918.
Back then, the answer was handed to Idahoans. Masks weren't 'strongly' recommended, but wearing a mask was actually required in cities and small towns across the Gem State.
In the fall of 1918, newspapers of record from across Idaho were filled headlines and countless columns about the ongoing Spanish Flu pandemic.
[See also the 1918 Influenza history series in the Yellow Pine Times.]
— — — — — — — — — —
From Beer Springs to Soda Springs: How this tiny Idaho town became known for its carbonated water
Fur traders first referred to the area as 'Beer Springs' after tasting the water and reportedly said that one of the springs "tasted like beer… flat beer."
June 22, 2020 KTVB
Soda Springs, Idaho — It was a pit stop for Oregon Trail pioneers and fur traders while traveling through Eastern Idaho. Often referred to as the 'Oregon Trail Oasis,' it's now known as Soda Springs, a town of just over 3,000 people in Caribou County.
As one of the main water sites along the Oregon Trail, travelers would often stop to try the water at the sulfurous springs, which bubbles like boiling water on the surface and emits a destructive, rotten egg smell when the wind is blowing just right.
continued:
———————-
Letter to Share:
from Valley County Sheriff's Office
PSA Saturday –
We would like to take this opportunity to educate some folks on the usage of your UTV, ATV or Dirt Bikes on County roads in Valley County.
We get several questions and complaints during the spring, summer and fall on the use of these vehicles in neighborhoods and on County maintained roads, public and private. Remember, just because a road is marked private (blue signs), it's still accessible to the public and you must still follow the rules of the road.
Use on City & County Roads (does not include private property)
The following requirements must be met on city, county, and highway district roads.
• Valid restricted vehicle license plate. [IC 49-402(4)]
• Valid IDPR OHV registration sticker affixed to restricted vehicle license plate. (IC 67-7122)
• Valid driver's license. (IC 49-301) – Parents can be cited for allowing an unlicensed minor to operate an ATV or UTV. Please keep this in mind.
• Liability insurance or alternative insurance. (IC 49-1223 or IC 49-1232)
• A helmet under age 18. (IC 49-666) Please make sure it's a DOT inspected helmet.
• Muffler and U.S. Forest Service approved spark arrestor. Your muffler has to pass 96 dB at the half-meter test, SAE J1287. The OHV cannot exceed 96dB. (IC 67-7125)
• If you are riding on a highway within city limits, you may NOT go beyond the 45 mph signs in Valley County. This may not be the case in other cities, please be sure to check city codes prior to operating an off road vehicle on state highways within other city jurisdictions, they vary.
For safe operation on roads the following equipment is recommended.
• Brake light.
• Headlight and taillight after dark/poor visibility.
• Horn audible at 200 feet.
• Mirror showing roadway 200 feet behind the OHV
License & Registration
Any OHVs being operated or transported on public lands, roads or trails of the state of Idaho must display a current IDPR OHV Registration Sticker. Idaho Code 67-7124. Registration has been extended until June 30th, due to COVID-19, however they are asking that you attempt to get this completed as soon as you can.
Non-resident Requirements
Non-residents are required to have either a valid OHV registration from their home state of residence or a valid IDPR OHV registration sticker. Nonresidents must purchase an Idaho restricted vehicle license plate with a valid IDPR OHV registration sticker if they don't have a plate and wish to operate on Idaho's local jurisdiction roads (i.e.county roads).
Please be courteous, pay attention to speed limits and remember when you are driving through neighborhoods there are lots of things going on, kids playing, family pets and people walking or biking their neighborhoods.
We are asking that if you would like to report traffic complaints in your neighborhood, to call at the time it's occurring, get a good description of the vehicle, a plate would be great and a description of the occupants, if possible.
Some of the questions the dispatcher might ask you are; Which direction did they go? Do you know where they live? When did this occur?
All of this information helps us in assisting you in better serving your needs. A lot of these vehicles look the same and disappear quickly!
As always, Stay Safe, be healthy and practice social distancing.
(via FB May 23, 2020)
— — — — — — — — — —
Confused about where to get your recreation stickers and registration?

—————————–
Public Lands:

— — — — — — — — — —
New Frank Church-River of No Return Wilderness Trail Map Released
McCall, Idaho, June 23, 2020 – Building on the success of the Payette National Forest Trail Maintenance Status Map, and in partnership with the Salmon-Challis, Bitterroot and Nez-Perce-Clearwater National Forests, the Payette National Forest announces the release of the Frank Church-River of No Return Wilderness Trail Maintenance Status Map.
"This map is easy to use," said Joshua Simpson, Krassel District Wilderness Manager and Recreation Specialist, "Just simply navigate to the area of interest, zoom in to the desired scale and click on your trail of interest." A box will pop-up and display the following: Trail Name, Trail Number, Status, Maintainer (USFS, Idaho Trails Association, Selway-Bitterroot Frank Church Foundation, Montana Conservation Corps. etc), Comment, Date Last Maintained and Miles. You can also click on a link in this pop-up to zoom into the trail. Trails status is color coded based upon the Maintenance Status. Yellow is scheduled for maintenance, purple is not scheduled for maintenance, black is not maintained, red is closed and green denotes that maintenance has been completed this year.
As USFS trail crews and partner groups conduct maintenance throughout the main use-season, the Forest will provide updates to this map. You will know when your favorite trail has been maintained as it will change color from Yellow (Scheduled for Maintenance) to Green (Maintained).
This map works best when opened in Google Chrome or Firefox web browsers – a few glitches are noted when using Internet Explorer.
This map differs from the original format that the Payette Trail Maintenance Status map delivers in that users can now submit comments on what they have seen or experienced on a given trail or attach photos that pertain to conditions on the ground from personal experience or of anything awesome that they encountered on a given trail such as, rock slides, downed trees or failing trail tread, while exploring the vast FCRONRW.
The Forest Service asks that users keep their comments relevant and positive to make this tool the best it can be. The comments will be monitored and managed for content. Please read all disclaimers when using this information tool before submitting comments or photos.
Access the map here (link). This map is likely to undergo changes throughout the first year of use, and with any new technology there may be room for improvement. The public is encouraged to provide feedback on their experience to Joshua Simpson at Joshua.simpson@usda.gov
— — — — — — — — — —
Emmett Ranger District extends temporary closure orders around Sage Hen and Tripod areas for public safety
Boise, Idaho, June 23, 2020 –The Emmett Ranger District of the Boise National Forest is extending two closures for public safety through the summer , while numerous logging operations continue to remove dead and diseased trees around the Sage Hen Recreation Area and National Forest System road 626H (Tripod area).
"Our intent is to open up the area as soon as possible, yet public safety is our primary objective for this project. Unfortunately, due to uncharacteristic weather conditions including rain and snow, our timelines for completion have been moved back. Our contractors are working as quickly as possible," said Katie Wood Emmett District Ranger.
These timber sales, which are located in developed campgrounds and along the roads, were implemented to remove dead and dying trees that have succumbed to tussock moth and beetles outbreaks. Timing is critical to remove hazardous fuels before wildfire season starts and to decrease the impact to the public. Once the projects are completed, visitors should be prepared to see a different landscape with fewer trees and less shade.
"We understand how important this area is to the public and while the closure is extended most likely through August, our goal is to reopen the area as quickly and as safely as possible," said Wood.
To view all Boise National Forest closures visit the interactive closure map: (link)
To view the official Closure Orders and maps visit: (link)
To view related video visit: (link)
— — — — — — — — — —
Updated Map for Little Weiser Forest Resilience Project
Dear Interested Parties,
An updated map has been added to the Project webpage here. The proposed action document was missing the map at Figure 1. This document has also been updated to include the same map.
The Project webpage is located at (link). It includes a copy of the legal notice, the scoping letter, a map, the proposed action document, and vegetation treatment descriptions for the Project.
Thank you for your continued interest in natural resource management on the Payette National Forest.
— — — — — — — — — —
Justice Department: Helicopter hounded trail building crew near Red Fish Lake, Stanley
by Keith Ridler Associated Press Thursday, June 25th 2020
A low-flying helicopter last weekend harassed a work crew building a public trail on an easement crossing private land that connects the popular tourist destinations of Redfish Lake and Stanley in central Idaho, the U.S. Department of Justice said.
The department on Wednesday asked a federal judge to issue an order prohibiting future harassment during work on the trail that's at the center of a federal lawsuit.
Workers said the helicopter flew within 10 feet (3 meters) of the ground and within 50 feet (15 meters) of them, kicking up debris and blowing off one person's hat last Saturday.
continued:
— — — — — — — — — —
History comes alive at the Canyon Creek Stage Station
Date: June 23, 2020
Contact: Mike Williamson mwilliamson@blm.gov 208-384-3393
The historic Canyon Creek Stage Station offers a unique glimpse into Idaho's past. One of only two remaining stage stops on the Oregon Trail, the Canyon Creek Stage Station is a fascinating piece of Idaho and American history.
Located 7 miles northwest of Mountain Home, the Canyon Creek Stage Station was built in 1874 by homesteader Archibald Daniel using native basalt stone. The station served emigrants and travelers in the final years of the Oregon Trail era, then became a stage stop on the Kelton Freight Road and Overland Stage Route. Archaeologists estimate that 30,000 to 35,000 Oregon Trail travelers passed through the site.
The site's owners renovated the historic buildings in the mid-1960s, but a fire in 1976 reduced the buildings to stone walls. Deeded to the BLM in 2015, the station is slowly being restored. The BLM accepted the role as caretaker of the Canyon Creek Stage Station as part of a partnership that included the Norstebon family, the Idaho Chapter of the Oregon-California Trails Association, the Idaho Heritage Trust and the National Park Service.
Today, visitors can stand in the shade of the stone buildings and feel the rough rock, realizing the original stones were dressed and mortared in place nearly 150 years ago, when much of the West was still wild. Visitors to the site can also see the historic Canyon Creek Stage Station cemetery, located a few hundred feet west of the stage station.
To visit the Canyon Creek Stage Station, take Canyon Creek Road in Mountain Home from where it crosses under Interstate 84 and drive 7.3 miles north. When you visit, please keep your safety in mind. Stay clear of stone piles, stay off structures and watch out for snakes. Public land at the station includes the buildings and the lawn in their immediate vicinity. Please respect nearby private property and stay within the fenced area around the buildings.
———————–
Fire Season:
Officials ask for help preventing wildfires
By Mike Sharp Jun 22, 2020 KIVI
With the official arrival of summer and warmer weather on its way, the Bureau of Land Management (BLM) is asking for the public's help in preventing human-caused wildfires.
According to BLM officials, fire activity is currently affecting the American Southwest and Alaska, but Idaho could be in the next group of states hit by fire season in the coming months.
"Every year, human-caused wildfires comprise approximately 87% of all wildfire ignitions across the country, posing a considerable threat to public and firefighter safety," said William Perry Pendley, BLM Deputy Director for Policy and Programs in a BLM release. "These wildfires are preventable and this year, more than ever, our wildland firefighters need the public's help in reducing human-caused wildfire risk."
continued:
— — — — — — — — — —
Range fire contained near Pocatello
June 28, 2020 Local News 8
Bureau of Land Management fire crews fully contained the Lead Draw Fire, 3 miles south of Pocatello, at 5:30 p.m. Saturday.
The fire started on Forest Service land at around 2 p.m. Eight BLM, Forest Service, and Pocatello Valley fire engines were sent to the fire, along with a helicopter.
The fire was mapped at about 18 acres.
The exact cause of the fire is under investigation.
source:
—————————-
Critter News:

— — — — — — — — — —
Program helps dogs recognize rattlesnakes
By Linda Larsen June 26, 2020 Local News 8
link: to video
— — — — — — — — — —
FDA warns pet owners to keep your dog socially distanced
By Ariel Schroeder June 22, 2020 Local News 8
The FDA is warning pet owners to keep your dog socially distanced six feet from other pets and owners to avoid catching the coronavirus.
Local Veterinarian Adam Peterson says you don't need to take it to that extreme.
According to the CDC, a small number of pets worldwide, including cats and dogs, have been reported to be infected with the virus that causes COVID-19.
Dr. Peterson and the FDA both explain it is not clear if you can catch COVID-19 from your pet, but they can catch it from you.
continued:
— — — — — — — — — —
Pet talk – Ruptured salivary glands in dogs
By Dr. Karsten Fostvedt Jun 19, 2020 IME
Ruptured salivary glands are called a salivary mucocele. This is an accumulation of saliva under the skin in a saclike swelling. Several sets of salivary glands are present on both sides of the mouth and head. Mucocele swellings are usually under or behind the lower jaw, alongside the face or occasionally under the tongue.
Salivary mucoceles develop when saliva leaks from a salivary duct or portion of a salivary gland. The specific cause of the salivary mucocele is often unclear. Blunt trauma or penetrating trauma to the jaw or side of the head and face can lead to rupture of a salivary duct and leakage of saliva into the surrounding soft tissues. When saliva leaks into the soft tissues, it stimulates a strong inflammatory reaction. Eventually, a saclike structure forms that keeps the saliva collected in one area.
continued:
— — — — — — — — — —
Moose seen enjoying the grass near Warm Lake
A KTVB viewer spotted the moose while camping in the area.
June 23, 2020 KTVB
Warm Lake, Idaho — Wendy Magnuson sent us this video from Warm Lake, which is east of Cascade.
She was camping when she spotted a moose enjoying the nice tall summer grass and a creek. It looks like it was enjoying the sunshine too.
source: w/video
— — — — — — — — — —
Wayward elk captured in Idaho Falls
June 28, 2020 Local News 8
A young bull elk was tranquilized and moved back to the forest after wandering into an Idaho Falls neighborhood Saturday.
Idaho Falls Police were called around 6 a.m. after people saw the elk moving through neighborhoods near the Idaho Falls Airport. It was first reported on Carmel Street then Broadway and Grandview.
Police tracked the animal to N. Skyline and Federal Way, near the Fed Ex office at the airport. They called in Idaho Fish and Game personnel, who tranquilized and moved the elk.
source:
— — — — — — — — — —
Bobcat spotted on Boise Greenbelt
A small bobcat was seen near Warm Springs Golf Course and on the Boise Greenbelt on Sunday morning.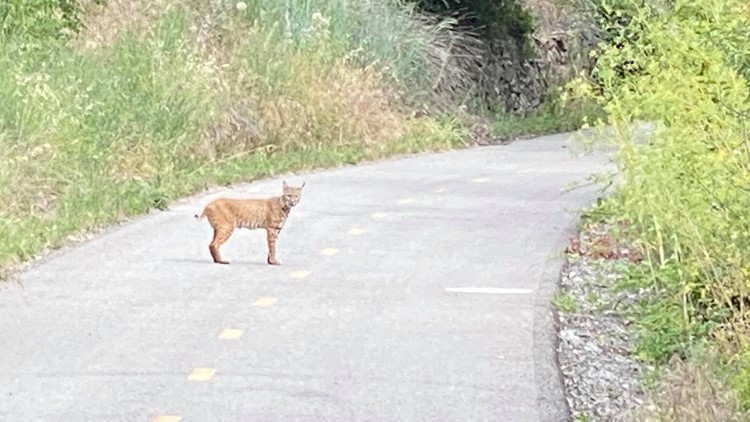 A KTVB viewer sent in photos of a small bobcat that was spotted on the Boise Greenbelt.
June 28, 2020 KTVB
Boise, Idaho — A KTVB viewer spotted a small bobcat near the Warm Springs Golf Course on Sunday morning. Shortly after, the bobcat was spotted again on the Boise Greenbelt.
The viewer said they were heading to Lucky Peak when they spotted the bobcat. The cat ran away after being seen, but was spotted again by the same person on the Greenbelt.
"On the way back it was laying next to the greenbelt, so I took a quick video and pics, and headed home," the viewer said. "I called non-emergency dispatch and described the location. The police said they would send some bike-mounted officers to investigate since the Fish and Game offices are closed on the weekends. I don't know what else happened after that "
source:
— — — — — — — — — —
Two rabid bats found in separate Ada County homes
by CBS2 News Staff Monday, June 22nd 2020
Bats that tested positive for rabies were found in two separate homes in Ada County.
These were the first rabid bats found in Idaho this year, according to the Idaho Department of Health and Welfare.
"Rabies is a fatal viral illness without proper medical management. People should call their healthcare providers promptly if they believe they may have been bitten or scratched by a bat," said Dr. Leslie Tengelsen. "It is extremely important for people to avoid all bats and other wild animals, particularly if they appear sick or are acting aggressively or abnormally."
continued:
— — — — — — — — — —
Fish & Game drops 400,000 kokanee into Payette Lake
Planting hopes to restore population decimated by lake trout
By Max Silverson for The Star-News June 25, 2020
Payette Lake took on 400,000 new residents last Thursday when the Idaho Department of Fish and Game rocketed a throng of young, hatchery-raised kokanee salmon through a hose into the lake from a specialized tanker truck.
Assistant McCall Fish Hatchery manager Malia Gallagher opened the valve on the tanker truck at the North Beach boat launch to let the juvenile fish free into their new home.
It was the first time since 2014 that kokanee have been stocked in Payette Lake.
The 400,000 kokanee were raised in the Cabinet Gorge Fish Hatchery in Clark Fork before being transported to Payette Lake last week.
continued:
— — — — — — — — — —
Coeur d'Alene man sets Idaho state record with 21-inch cutthroat
by Ryan L Morrison Monday, June 22nd 2020

Coeur d'Alene man sets Idaho state record with 21-inch cutthroat (Photo by Tom Weadick Courtesy of IDFG)
A Coeur d'Alene man is celebrating a win this week after setting the state record with 21-inch Westslope cutthroat trout.
Tom Weadick caught the Westslope while flyfishing in the North Fork of the Coeur d'Alene River, earning a new catch/release state record.
Weadick beat the previous record of 19.5 inches held by Dwaine Hasenoehrl set in 2016.
continued:
————————–
Fish & Game News:
Sorry folks: No Chinook fishing season on the South Fork of the Salmon River for 2020
By Roger Phillips, Public Information Supervisor
Tuesday, June 23, 2020
Not enough fish are returning to provide a fishing season
There will be no open fishery on the South Fork of the Salmon River in 2020 because hatchery returns are not projected to meet broodstock needs.
For information about where salmon fishing is available see the Chinook seasons and rules page.
source:
— — — — — — — — — —
Wandering bull trout makes Idaho its summer stop over
By Jordan Messner, Fisheries Regional Manager
Friday, June 26, 2020
Fish travels nearly 200 miles annually between Hells Canyon and Central Idaho
Salmon and steelhead are famous for their amazing migrations, but trout and char can pull off some pretty impressive migrations as well.
In the fish business, the term "fluvial" refers to a unique life-history where fish migrate between larger river systems where they spend winters and smaller streams where they spawn. Sometimes these migrations are quite extraordinary.
continued:
— — — — — — — — — —
More F&G News Releases
link:
———————————-
Crazy Critter Stuff:
Louisiana police warn of 'aggressive chicken' stalking bank customers
By Ben Hooper May 5, 2020 UPI
A Louisiana police department is warning residents to beware of an "aggressive chicken" that has been "terrorizing bank customers" at a drive-through and walk-up ATM.
The Walker Police Department said officers who responded to a report of a chicken attack at a bank on Walker South Road were told by employees that the foul fowl has been chasing customers and attempting to get into their cars for several days.
The department's Facebook post said the chicken has also "failed to engage in proper social distancing."
Officers were unable to locate the chicken, which the department said "apparently anticipated the imminent arrival of law enforcement and fled on foot from the scene."
"The chicken is wanted on charges of assault, attempted battery, attempted burglary, terrorizing and ignoring an order of the governor," the post said.
source:
——————-
Seasonal Humor:

——————————