July 5, 2020 The Yellow Pine Times – Valley County, Idaho
Reminder: We are still under a boil water order until further notice.
The 2020 Harmonica Festival has been canceled.
Community Calendar:
The Corner is Open w/reservations
Yellow Pine Tavern is open for outside dining.
The General Store is open Tues-Sat
Yellow Pine Lodge Open
Murph's RV park open (no cabins or showers)
April 17 – Boil water order issued
May 15 – Firewood Season starts
June 16 – Hard closure of South Fork Road (weekdays)
Community Hall Yard Sale ongoing
July 2 & 5 – Richter estate sale
July 5 – Annual YPWUA meeting 2pm Community Hall
2020 Harmonica Festival Canceled
(details below)
———-
From Valley County
We need Your Help to protect the place and the people we all Love.
link:
— —
Valley County Covid-19 Response Page
link:
— —
Valley County Emergency Operations Center
link:
— —
Rebound – Idaho Governor's phasing program
link:
— —
COVID 19: Recommendations and Resources for Safe Business Practices
link: (lots of info for businesses)
——————-
Local Events:
Community Yard Sale
The community yard sale is now open in the community hall. Feel free to bring more items if you have them. Shop early and often. Pay Deb, Lynn or Ronda.
— — — —
Richter Estate Sale
Nancy is planning to have an estate sale from 11am to 2pm on the 2nd and the 5th of July. The address is 980 Boulder Creek Rd.
— — — —
Yellow Pine Water Users Association
Meeting July 5 at 2pm in the Community Hall. See agenda below under YPWUA News.
— — — —
2020 Festival is Cancelled
We have come to the decision that the 2020 Festival will be cancelled. We look forward to celebrating the 32nd year of the Festival August 5, 6, & 7, 2021.
Our decision was not made lightly. We had to consider the current situation we are in and examine the outlook for the coming months. This is the necessary and right decision for the safety of our community and all participants.
We all look forward to one big reunion with all of you in August 2021.
– DF
———-
Village News:
The Twins
She comes around 9pm nightly. We just started seeing the twins with her over the last few days.

courtesy JF
— — — —
Please Return Borrowed Measuring Wheel
Would the person who borrowed the Village's measuring wheel please return it to the Community Hall or one of the Council members? Thank you
— — — —
4th of July Golf
The Golf Gathering started at 11am, Saturday, July 4th at the Yellow Pine Country Club. Donations to benefit the Community Hall. At press time a report that $600 in donations have come in.
— — — —
4th of July Parade
The parade started at 4pm at the Fire Hall and proceeded north up Yellow Pine Ave. (main street.) The town bell led the way followed by various ATVs, UTVs and SUVs, Valley County Deputies, 3 horses and a mule.
Grand Marshals the newlyweds Joe & Denise Ross from Keuterville, ID; Miss Yellow Pine Christy Petersen. Corey Phillips was ringing the town bell.
The basket raffle raised $327 for the village.
YP Tavern FB photo gallery link:
— — — —
Village of Yellow Pine Association Minutes June 13, 2020
Called to order at 2:02.
Officers present: Deb Filler, Chr.; Ronda Rogers, Vice Chr.; Rhonda Egbert, Acting Treas.; Lynn Imel, Sec.
Absent: Ron Noel, Mem. At Large.
Residents: 11, Guests: 2
Temporary Acting Treasurer: Due to the resignation of elected Treasurer, Lorraine McIntosh, the YPVA officers met January 22, 2020 and voted to have Rhonda Egbert serve as Acting Treasurer until elections at the July, 2020 meeting.
Approval of Minutes: There being no objections the Minutes of the September 21, 2019 meeting were approved as posted.
Treasurer's Report: Rhonda Egbert provided written copies of the financial status. Report was approved. (see attached)
Community Hall: Ronda Rogers reported that the propane heater has been installed, a larger propane tank has been installed to serve the kitchen and the heater, work has been done to improve the kitchen floor, ceiling panels are being replaced to mitigate mold damage.
Composting Toilets: Willie Sullivan reported that no action has occurred on this project since the last report. Volunteers will be used for construction. A concrete floor will be installed, hopefully this summer. Cecil Dallman should be consulted soon if backhoe work is needed.
Cemetery: Carey Belsher reported the kiosk with information identifying grave locations was donated by Linda Welch and was vandalized years ago. Willie Sullivan, previous Cemetery Commissioner, removed it to make repairs. The present Cemetery committee is planning to make the repairs and suggested that it be re-located into Yellow Pine to prevent vandalism. Discussion of that proposal indicated that it should be repaired and placed at the previous location outside the cemetery gate. Candy Sullivan offered to contact Linda Welch and convey her comments to the committee.
Music & Harmonica Festival: Dawn Brown reported that at the open Committee meeting June 27th at the Community Hall, 2:00, all comments will be considered in making a decision regarding possible cancellation of the Festival. No vendors have cancelled. Idaho has begun Phase 4. The Committee has consulted with Valley County Sheriff and the National Forests as part of the planning. Jeff and Anne Forster, speaking as emergency response personnel for Yellow Pine area, conveyed their concern that they should be included in the Festival planning. They have consulted with Valley County authorities regarding Covid 19 impact by Forest/Yellow Pine visitors and plans for the Valley Co. Fair & Rodeo. The County has limited ambulances for Covid 19 transport and the local ambulance does not qualify for that use. The consensus of the membership present and the Committee is that people will come to Yellow Pine even if the event is cancelled; in that situation the Festival committee should advertise the closure and not provide a stage, electricity, or encourage the crowd to gather in Yellow Pine. Bill McIntosh is prepared to advertise a cancellation.
Election YPVA Treasurer, Secretary, Vice Chairman: Deb Filler explained that the Treasurer position is presently filled by an Acting Treasurer and the elected Treasurer will complete the term ending in one year. Rhonda Egbert expressed her opinion that that person should be available in Yellow Pine all year. Candidates should contact Rhonda Egbert, 208-633-1976 Iamcreative@hotmail.com . Nominations may also be made from the floor at the July 11th meeting. Members must be present to vote.
Proposed By-Laws Changes – First Reading: All proposed changes to the By-Laws submitted by the review committee were read aloud and discussed. See the copies posted on bulletin boards and websites or request a copy from the Council. Items of most concern included: 2.1.d use of Robert's Rules of Order and use of a parliamentarian to insure order; 7.7 Selection of representatives to serve on Stibnite Advisory Board and Stibnite Foundation. Motion was made and approved that those representatives will be elected annually by the membership at the September meeting.
Dust Abatement: Dust abatement on local roads will take place June 22. Contact Deb Filler.
Community Agreement/Midas Gold Payment: Comments regarding the use of the $10,000 donation included: (1) Valley County Road Supervisor, Jeff McFadden, recently visited and assessed the roads within the Yellow Pine Township. Valley County property tax money is not used for road, ditch and alley maintenance. Valley County has ownership of all roads and alleys within the Township. All work on those roads, ditches and alleys must be pre-approved by the Valley County Road Dept.
(2) The Yellow Pine Water User's Assoc. is applying for grants to cover the expenses for repairs to the water facilities.
(3) The committee that negotiated the Community Agreement with Midas Gold prioritized uses for the $30,000 donation. Those uses were the YP Water Users, the helicopter landing area, and the YP roads and ditches located on public property. Motion was made and approved that the 2020 grant of $10,000 be used for infrastructure maintenance of public access roads, alleys and ditches. That work will be organized by the Infrastructure Standing Committee headed by Clayton Egbert and Tim Rogers.
Yellow Pine Water Users: Willie Sullivan reported that recent earthquake activity has impacted the facilities and lines. The engineering firm has been replaced by Mountain Water Engineering and they are studying the conditions so grant applications can be written. Present water use is about 30,000 gal. per day and it should be approximately 5,000 per day. No timeline has been established for grant writing; a notice of intent to apply for grants has been filed. Water users can make arrangements for monthly payments. Each property in the Yellow Pine area is allowed one, $100, share which entitles the owner to one vote at meetings. Presently 55 shares are owned. Contact Willie Sullivan prior to the July YPWUA meeting to discuss payments and purchase of a share.
Stibnite Advisory Council: Lynn Imel reported that the representatives of the eight Valley County towns have met monthly to discuss potential impacts that could develop with the opening of Stibnite mine by Midas Gold. Water quality, hospital, school, traffic, housing, and employment are some of the topics addressed. Meetings are now moved to bi-monthly, second Thursdays, with Zoom access.
Stibnite Foundation: Ronda Rogers reported that the eight community representatives are reviewing the grant applications received and will be announcing the grants in August. The Foundation gave each community a donation to assist with food purchase for residents. In Yellow Pine, there being no agency for food distribution, each winter resident was given a one-hundred dollar gift card for use at a grocery store.
Midas Gold: Kyle Fend, Midas employee, answered questions regarding the Stibnite road and the status of the mine operation plans. The Environmental Impact Statement (EIS) results are expected in August and that will open a period of time for public comment. Midas currently rents three houses in the community for their employees and contractors and they are complying with all Covid 19 prevention plans.
Museum: Rhonda Egbert reported that the Yellow Pine Backcountry Museum has forms for each donor to complete if that have loaned or donated artifacts. The old fire truck, owned by the YPVA has been purchased by the Museum for $37.40. The plan is to repair the tires and move it to the Museum area. A volunteer is needed to cut wood plaques to be awarded to Festival winners. Festival promotion face masks are available at local businesses, $5. Supplies are needed for silent-auction baskets, particularly wine which enhances the sales.
Yard Sale Donations for the July 4th yard sale can be placed in the Community Hall.
Adjournment: 4:00
— — — —
From the YPFD Fire Commissioners;
On June 27, 2020, the Yellow Pine Fire District (YPFD) – Fire Commissioner's meeting took place. Minutes will be forthcoming. Jeff Forster, Volunteer Fire Chief and Paramedic resigned as Volunteer Fire Chief from YPFD. His resignation was accepted by the Commissioners. Jeff plans to finally enjoy his retirement here in Yellow Pine. The YPFD will be in a restructuring period and will have limited, if any, availability or response during this time.
The Commissioners will be putting out an announcement for the Volunteer Fire Chief position along with requirements soon. Anyone interested in this position or in becoming a volunteer can request an application from one of your YPFD Fire Commissioners.
Sue Holloway District 1
Dan Stiff, District 2
Merrill Saleen, District 3
Secretary/Treasurer Nikki Saleen
Jeff's resignation includes a resignation as Paramedic from Cascade Fire/EMS. Therefore, the Cascade Fire/EMS ambulance stationed in Yellow Pine will be out of service indefinitely. The EMS providers in Yellow Pine affiliated with this service are also resigning their positions. Yellow Pine will continue to be covered, in case of emergencies, through Cascade Rural Fire/EMS with the ambulance stationed in Cascade. Should you have an emergency or need medical assistance, please dial 911.
— — — —
2020 Census
The 2020 Census Impacts All Valley County Residents
Inching closer. Each of our communities and Valley County as a whole have increased our response rate by a few percentage points over the last few weeks – but we still have a lot of room to grow! We are still ranked #42 of 44 counties in Idaho for our Census response rate. Let's get that number up! Responding to the Census takes less than 10 minutes and mean $1,483 per person in federal funding for Valley County.
It is recommended that we all fill out the census online.
If you spend 50% of your time in Valley County, you can consider it your home per the Census. Where you register with the Census is confidential and never linked to other governmental requirements such as property taxes or mailing address. The deadline for the 2020 Census has been extended until October 31st. They will probably not be sending census takers up to Yellow Pine.
Link: to online census
You do not need an ID number. Go to the link. Click on "start questionnaire". Then on the next page scroll down to "If you do not have a Census ID, click here" – when you click on that line it will start the census. (see below)

— — — —
Boil Water Order issued
Update June 12: The boil order is still on. We still are experiencing excessive water use because of leaks. Not sure when this will be lifted. We are applying for grants to repair the system.
Update June 2: The water plant is experiencing high water in Boulder Creek which brings more debris into the sand filter.
The high demand caused by leaks in the system plugs the sand filters prematurely. We will be on a boil order until further notice.
As of April 17th 2020, Yellow Pine is under another "Boil Order"
Boil Water Advisory Notice
Boil Your Water Before Using
Bring tap water to a rolling boil, boil for one minute, and cool before using or use bottled water. Boiled or bottled water should be used for drinking, making ice, washing dishes, brushing teeth, and preparing food until further notice.
This Boil Water Advisory Notice applies to The Yellow Pine Water System
The system is being monitored and checked daily for compliance. .
You will be informed when you no longer need to boil your water.
Please share this information with other people who drink this water, especially anyone who may not get this notice directly (for example, people in apartments, nursing homes, schools, and businesses).
You can do this by posting this notice in a public place or distributing copies by hand or mail.
State Water System ID#: 4430059 Date distributed: 3-22-2020
— — — —
Critters
Tick's are still very plentiful in early July.
Bears are out of hibernation, protect your trash and pet food.
Watch out for aggressive mother does and cows, they will stomp your dogs – and you too.
— — — —
Road News
Highway 55 was closed for several hours Friday due to a wreck, and closed again this (Sunday) afternoon by Banks for another wreck. Flaggers at the Banks/Lowman intersection.
Highway 95 rockslide, closed near Riggins. Pollock Road is closed. Do not use French Creek road for a detour, Saturday reports of 10 vehicles off the road. (See news under Public Lands.)
South Fork: Hard closure will begin on Tuesday, June 16; 7am to 4pm daily with no closures on weekends.
Access to Yellow Pine during closure hours will only be via Johnson Creek. With the delay of the opening of Lick Creek Road, the contractor needs to start work that requires closures in order to keep his crews working.
The closure sites will change on a weekly basis, and will not always be adjacent to the last closure site. Refer to the current weekly newsletter or the project website to determine the closure point and access for each week. Road project link:
Lick Creek is open, the county bladed the last of the snow drifts and pushed downed trees off the road June 24th. Grading started on the lower end on the McCall side. Reported to be very rough over there.
Profile Report June 28: "Big Creek Road is snow-free over Profile Summit. " – SA
Monumental Report Semi-open to the adventurous ATV riders. Travel at your own risk.
June 26: "Lots of rocks and trees. One little patch of snow 20 ft long. But otherwise Thunder Mountain is open for 4×4 vehicles … we cut over 30 trees. The other guy with me didn't cut them full width for a car, just for his ATV. So any trees I didn't cut will need to be trimmed to get full size vehicles through." – SA


June 26, 2020
Elk Summit Report July 3rd: "Goldman's Cut is passable for highly motivated motorcycles… but it's still going to be a good week or two before regular traffic can make it." SA


Trees down from Avalanche Smith Creek


— — — —
Forest Info
All campgrounds and restroom facilities in the South Fork Corridor, Lick Creek/Secesh Corridor and along the East Fork South Fork Salmon River are open. -Krassel RD
— — — —
Yellow Pine US Mail
The 6-day a week mail delivery started June 1st. The Post Office in Yellow Pine is open six days a week year around: M-F 845am-245pm Saturday 9am-245pm. Forever Stamp: 55 cents. Support our local post office and purchase your holiday stamps here.
— — — —
Yellow Pine Transfer Station
Report June 6 – with community support more repairs have been made to the doors, and cement has been poured to stop the bear from digging under the building. A brave volunteer also climbed up on the roof and secured the loose roofing. The burn pile has been sorted as people have been dumping inappropriate items.
Report June 1 – the bins have been emptied. South doors are a bit stiff. The road from YP to the dump is really good.
Please do not abuse our Transfer Station or we may lose it. Household trash must be placed in the bins, flattened cardboard boxes can also go into the bins. Do not stack trash in front of the doors. Woody yard debris only for the burn pile. No furniture, appliances, tires or construction debris allowed, those items must be hauled out to the Donnelly station by you.
Yellow Pine Transfer Station (aka, the dump)
The Yellow Pine Transfer Station is located approximately 3 miles south on Johnson Creek Road.
The TRANSFER STATION is for household trash and yard waste:
* Household trash must be put inside (and fit) the dumpster;
* Yard waste (limbs, pine needles, brush, etc.) goes in the burn pile on the south end of the turn-around;
* Cardboard boxes should be flattened before putting the in the dumpster,
The DUMPSTERS are NOT for:
* Furniture (take to Donnelly Transfer Station);
* Appliances (take to Donnelly Transfer Station).
The BURN PILE is NOT for:
* Cardboard boxes (flatten and put in dumpster);
* Furniture and appliances (take to Donnelly Transfer Station);
* Drywall and building material (take to Donnelly Transfer Station);
* Wire or fencing (take to Donnelly Transfer Station);
* Foam Rubber (take to Donnelly Transfer Station);
* Wood with metal (like nails) attached (take to Donnelly Transfer Station.)
When closing the DOORS on the front of the dumpsters:
* Make sure the "U" brackets at the top and bottom of the door are engaged;
* The retaining bar at the middle of the door is slid into the pipe;
* And the "L" bars at the bottom of the doors dropped into place.
The Yellow Pine Transfer Station is Valley County responsibility. If it is not kept tidy, use of the Transfer Station may be revoked. That would result in residents having to take all household trash and yard waste to the Donnelly Transfer Station.
If Dumpsters Are Full, Contact Lake Shore Disposal at: 208/634-7176
———-
Local Groups
YPWUA News:
July 5th 2020 meeting at the Community Hall 2pm
Agenda
1. Financial Report Willie
A. Current Balance
B. Delinquent Accounts
2. Operations Warren
A. Current Boil Order
B. Current condition of system
– Leaks
– Earthquake Damage
3. Grants Steve and Willie
A. Current awarded grant status
B. Discontinued use of SPF Engineering
C. New Engineering Company Mountain Water Works
D. By-law update terms of office, agent
4. Final Issues
A. Future rate increases
B. Summer lawn watering
C. Election of Board Members: Steve Holloway and Willie Sullivan positions
—
New Boil Water Order issued April 17, 2020. This could last until runoff is over.
Notice of Intent to File an Application with USDA, Rural Development
The Yellow Pine Water Users Association, Yellow Pine, Idaho intends to file an Application with USDA, Rural Development to obtain a drinking water system facility Emergency Community Water Assistance Grant (ECWAG). Emergency Community Water Assistance Grant (ECWAG).
If any additional information is needed, please contact:
Willie Sullivan
Treasurer
ypwater@gmail.com
Distributed to Yellow Pine Water Users Association customers via Yellow Pine Times on June 12, 2020.
The last Yellow Pine Water Users Shareholders meeting was Sunday July 7, 2019.
link: 20190707YPWUAminutes
— — — —
VYPA News:
Last Village Meeting was June 13th, next meeting July 11th
Minutes from June 13, 2020 VYPA meeting
link: 20200613 VYPA Minutes.pdf
2020 Festival Meeting May 16, 2020 Notes
Note: at each meeting we simply add to info on the topic. That way, info from all meetings is included in a single document.
link: 2020 Festival Planning Notes.pdf
July 1 – Post Harmonica Meeting was 2pm Community Hall
Heat was installed in the community hall on April 30th.
If folks have items for the community yard sale, please place them by the north wall in the community hall. If you see items you would like to purchase, you can pay Deb, Ronda, or Lynn. All funds support the community hall.
VYPA meetings for 2020 – June 13, 2pm; July 11, 2pm; August 8, 2pm; September 12, 2pm.
— — — —
YPFD News:
There was a YP Fire Commissioner meeting on June 27, 2020 at 10am at the Fire Station, minutes forthcoming.
YPFD COVID19 Policy
link: YPFD Covid 19 SOP.docx
link: Covid-19 EMS.pdf (May 23)
May 10th Burn Permits – contact the YPFD
Pile burning: Dress appropriately, have enough help on hand (people, water and tools) and make a firebreak before you start. Call your local fire protection district chief to let them know you'll be conducting a debris burn. This saves them from sending emergency responders to your property if they are not needed. Do NOT burn on breezy afternoons.
Better yet, "Bring It, Don't Burn It", you can take your yard waste (limbs, pine needles, brush, etc.) to the burn pile at the Transfer Station on the south end of the turn-around. Remember, keep the pile neat. Woody debris only, no nails, no cardboard and no furniture! The Boise NF will burn the pile in the fall when it is safe and doesn't pollute our fine YP air.
YP Fire Commissioners:
Sue Holloway – District 1
Dan Stiff – District 2
Merrill Saleen – District 3
(TBA) – Fire Chief
Yellow Pine Fire Protection District Community Service Notice
The purpose of this letter is to show how you as a Yellow Pine Resident can help protect your structure against a wildland fire by being "Fire Wise." Click the link: to view 20190724 Yellow Pine Fire Protection mitigation
——–
Biz Listings:
The Corner (208) 633-3325
Open 11am-8pm Closed Tuesdays
Calling ahead works best but not a huge deal. Groceries, Ice Cream, Beer and Soda. Our menu fluctuates but typically have Smoked Brisket, Tri Tip, Chicken, Burgers and Wings on hand.
— — — —
Yellow Pine Tavern (208) 633-2233
Open Daily 8am to 10pm. Outside Dining and Bar. Breakfast and Bar Food.


— — — —
Yellow Pine Lodge (208) 633-3377
Open.
— — — —
Yellow Pine General Store (208) 633-3300
The store is open now and will be open into October. Hours are 9 am to 6 pm Tuesday through Saturday. Closed Sunday and Monday.
— — — —
Murph's RV Park & Mary's Cabins (208) 633-6677
Cabins are not available in 2020. RV Spaces $25/night; $150/week; $300/month. Tent spaces $10/night. Shower house is closed for 2020.
— — — —
Knotty Kat Crochet Works – 208-502-0940
FB page link
open Tue – Sat, 9-5
Yellow Pine eggs $3/doz
— — — —
Buck Horn Outfitters LLC 208-633-3614
Tom & Sarah Lanham
156 Yellow Pine Ave, Yellow Pine Id 83677
website:
Facebook:
Starting June 2020 We will be doing trail rides out of Yellow Pine along with summer pack / camping trips to high mountain lakes in the area!
Wapiti Meadow Ranch – Johnson Creek (208) 633-3217
or 208-315-3554 – cabin rentals
website:
Deadwood Outfitters
website:
— — — —
Local Fuel Suppliers
Amerigas Phone: (208) 634-8181
Ed Staub & Sons Phone: (208) 634-3833
Diamond Fuel & Feed Phone: (208) 382-4430 open 830am-5pm Monday-Friday, closed weekends.
— — — —
Outside Biz that will service Yellow Pine:
The Star-News


subscribe:
A reminder that those who live in other states can subscribe to the online edition only since the mail can take days for hard copy to reach them.
Rocky Mountain Mechanical – Plumbing – Heating – Air conditioning
(208) 365-PIPE (7473), Emmett, will service Yellow Pine
Elkhorn Heating & Cooling
(208) 906-4067 Middleton, Idaho, will service Yellow Pine
B&T Safety Solutions LLC
208-271-1600 Based out of Donnelly
Snow removal, cleaning chimneys and stoves, we do cabin staining/chinking as well
— — — —
Follow The Yellow Pine Times on Facebook (updated more often than emails)
———————–
Telehealth
Cascade Medical Center is set up for Telehealth.
If you want to schedule an appointment, call our clinic at 208-382-4285. Vicki or one of the MAs will ask you some questions to make sure that a tele-video visit is the right choice given your symptoms or need. If so, we will work with you to make sure you are set up on the Cascade Medical Center patient portal (with our EMR). We will also make sure that you are set up to be able to do a tele-video visit (laptop with camera, desktop with camera, or smart phone). We use the Zoom telemedicine system, which is confidential and secure (it works like Skype or Face-time). Before the appointment, we will email you a link for the tele-video visit. When it is time for your appointment, you will click on the link in the email and you will be connected with our provider and can begin your visit.
Regarding insurance coverage, the COVID legislation passed in March assures coverage of telemedicine visits for patients with Medicare, Medicaid, VA. Private insurers have also decided to provide coverage just as for regular in person visits, at least until the COVID epidemic crisis is declared over.
June 3rd Blue Cross extended telehealth services and reimbursement through the end of the year.
Tom Reinhardt, CEO
Cascade Medical Center

———————-
Local Observations:
Monday (June 29) overnight low of 41 degrees, low overcast and light rain since early morning. No swallows flying in the rain, a few robins calling. Still raining at lunch time. A few finches visited. Break in the rain early afternoon for an hour or so, then another shower mid afternoon, high of 53 degrees. More rain late afternoon, low clouds and cool temperatures. A break in the rain early evening and a few sucker holes letting in a spot of sunshine. Cassin's finches visiting. 1st Swallow egg hatched today. Male rufus hummingbird hanging around. Dark clouds just before dusk and robins singing. Stars out before midnight. Rain during the night and early morning.
Tuesday (June 30) overnight low of 40 degrees, overcast with fog belts mid-mountain, 24 hour rain total = 0.38″. Finches and a few swallows singing, flicker calling. Small breaks in the clouds at lunch time, then short little rain shower early afternoon. Breezy, a tiny shower then partly cloudy mid-afternoon, high of 65 degrees. Female hairy woodpecker and finches visiting. Mostly cloudy and breezy mid-evening. Calmer and mostly cloudy before dusk. Local doe wandered by before dark, a few swallows hunting bugs and robins singing. A few stars out before midnight.
Wednesday (July 1) overnight low of 42 degrees and mostly cloudy this morning, 24 hour rain total = trace. Not many swallows flying this morning, a few finches and a pine squirrel visiting. Getting windy before lunch time and mostly cloudy. Mail truck made it in on time. Blustery early afternoon. Partly cloudy and gusty cool breezes mid-afternoon, high of 69 degrees. Partly clear to mostly cloudy mid-evening and light cool breezes. It was partly cloudy before dusk, a lone robin calling. Bright moon and partly cloudy before midnight.
Thursday (July 2) overnight low of 35 degrees, mostly clear and light breeze this morning. A couple of airplanes buzzed over and some street traffic this morning. Male swallows are back and taking feathers to nests. Wind gusting up before lunch time. Blustery and mostly clear mid-afternoon, high of 75 degrees. Almost clear and lighter breezes by early evening. Clear sky and cooling off quickly before dusk. Local population has increased steadily today. Bright almost full moon and clear sky before midnight.
Friday (July 3) overnight low of 37 degrees, mostly high very thin haze in the sky this morning. A few loud airplanes and some street traffic. Tree swallows swooping, a few finches and evening grosbeaks calling. Poofy clouds, light breeze and warm at lunch time. Increasing traffic. Gusty breezes early afternoon. Some big clouds and gusty mid-afternoon, high of 86 degrees. Partly cloudy and gusty breezes mid-evening. Barrage of gunfire started at 826pm, quiet at 845pm. Cooling off under clear skies before dusk. Appeared clear before midnight.
Saturday (July 4) overnight low of 41 degrees, wispy clouds covered most of the sky this morning. Several loud airplanes buzzed over early and street traffic. A few swallows and a robin calling. A few finches visiting before lunch time. Golfer out in the forest. Mostly cloudy and breezy early afternoon. Parade at 4pm. Mostly cloudy, warm and breezy mid-afternoon, high of 82 degrees. Holiday weekend traffic is a bit down from normal. Partly cloudy and milder breezes mid-evening. Firecrackers (gunfire?) at 935pm, bottle rockets started around 1005pm, followed by large mortars. Quiet at 1115pm, clear sky but poor air quality. Clear and ruddy full moon after midnight.
Sunday (July 5) overnight low of 42 degrees, clear sky and light breeze this morning. Swallows catching bugs, finches and a couple of pine siskins visiting. A few noisy morning airplanes. Clouds coming in at lunch time. Partly cloudy, warm and light breezes mid-afternoon, high of 82 degrees. Mostly clear, warm and breezy mid-evening.
———————
Idaho News:
Yellow Pine music festival canceled due to COVID-19 worries
The Star-News July 2, 2020
The 2020 Yellow Pine Music and Harmonica Festival scheduled for Aug. 5-7 has been canceled due to worries over the COVID-19 virus.
"We had to consider the current situation we are in and examine the outlook for the coming months," said Deb Filler of the organizing committee. "This is the necessary and right decision for the safety of our community and all participants."
The backcountry hamlet of Yellow Pine east of McCall has hosted the festival for the last 30 years.
continued:
— — — — — — — — — —
Hwy 55 Closed July 5th South of Banks due to a wreck.
ITD link:
— —
Highway 55 near Smiths Ferry reopens after tractor-trailer crashed into Payette River
The crash is "a tricky one for two crews" to clear, as the truck and trailer are partially in the river.
July 4, 2020 KTVB
Smiths Ferry, Idaho — Update 6:16 p.m. July 4: Both lanes of the highway have reopened. The original story follows:
Idaho State Police are responding to a tractor-trailer after it crashed into the Payette River, causing Highway 55 north of Smiths Ferry to close down.
ISP says truck crashed into the river just before 8 a.m. and the crash sent two people – the truck driver and the passenger – to the hospital with non-life-threatening injuries. They were transported by air ambulance due to the remoteness of the area.
continued:
— — — — — — — — — —
Highway 95 near Riggins will not reopen Sunday after 120-foot rock slide
ITD announced on Sunday that Highway 95 will remain closed due to a visible crack in the roadway.
Misty Inglet, KTVB July 5, 2020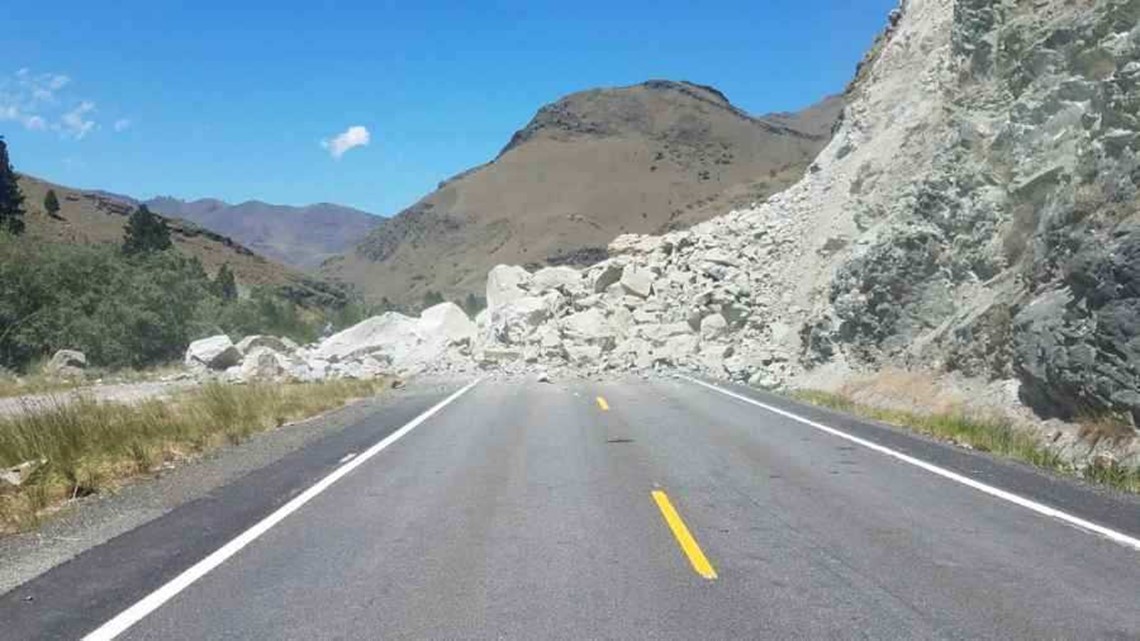 Idaho Department of Transportation
Riggins, Idaho — Update for 10 a.m. July 5: ITD announced that Highway 95 will not be opening Sunday due to concerns regarding the slide. Crews left the site on Saturday around 4:30 p.m. when a crack became visible in the roadway.
Anyone planning to travel US-95 near Riggins this weekend will have to find an alternate route.
The road is currently blocked in both directions from Milepost 186 near Pollock to MP 189 near Riggins. The Idaho Transportation Department is unsure when the road will be able to reopen.
Note: there is a video of the slide coming down posted to FB (link)
— —
Pollock Road Closure
From Idaho County Sheriff
Pollock road is not suitable to be used as a detour for hwy 95 traffic.
Pollock Road has been closed for years and is not suitable for travel. There are barricades and signs up advising of this.
Anyone caught driving on Pollock Road will be charged with failure to obey traffic control device and inattentive driving.
FB link:
— — — — — — — — — —
Valley County dispatch adds GPS locator for cellphones
System will help find those who cannot tell location
By Max Silverson for The Star-News July 2, 2020
Valley County Dispatch has a new tool to help locate 911 callers that are lost, incapacitated or otherwise don't know their location.
Valley County recently added a GPS program called RapidSOS that uses technology already built into smartphones to pinpoint the location of someone calling or texting 911.
continued:
— — — — — — — — — —
McCall warns of COVID-19 community spread: 'Cases have more than tripled in two weeks'
by Deni Hawkins Wednesday, July 1st 2020
McCall, Idaho (CBS2) — If you look at the coronavirus data for Valley County, Idaho, it would be easy to assume that the virus was essentially non-existent there. But the city of McCall is warning that the virus has in fact reached the small tourist community often labeled as a 'safe haven.'
In fact, a city spokeswoman says cases have more than tripled there in the last two weeks.
Community spread was confirmed in Valley County back on June 25, but health officials have since confirmed that case totals there are not accurately represented, largely because of the city's tourist nature.
Note: This weekend they show 17 confirmed cases in Valley County residents.
— — —
McCall issues mandatory mask order with $100 fine for excessive violators
by CBS2 News Staff Wednesday, July 1st 2020

McCall Town Sign. (CBS2 News Staff)
McCall City Council passed an order Wednesday requiring masks be worn in public starting at midnight.
During the meeting, McCall's chief of police suggested adding a $100 fine so his officers could first educate and then enforce if necessary.
"We are told to assume that everyone has the virus and to protect ourselves accordingly, said Mayor Bob Giles, "and we are advised by leading medical professionals that in addition to proper hygiene, masks are the single most effective way for everyone to stay safe and stop the spread of Coronavirus."
continued:
— — — — — — — — — —
McCall council seeks answers on COVID-19 cases
St. Luke's, health department says data hard to pinpoint
By Drew Dodson for The Star-News July 2, 2020
Members of the McCall City Council grilled local public health officials about the spread of the COVID-19 virus during an emergency meeting on Tuesday.
"We are feeling like we're in the dark," McCall Mayor Bob Giles told officials from Central District Health, which oversees virus data for Ada, Boise, Elmore and Valley counties.
"We don't know very much from the data that you have shared," Giles said. "Is it really 10 people, or is it 150 (who tested positive)?"
Of particular worry for council members was how tourists, seasonal workers and part-time residents who test positive for the virus factor into case totals for Valley County.
As of Wednesday, the health department said it counted 13 confirmed cases of COVID-19 among Valley County residents.
During the online meeting, Central District Health Director Russell Duke told council members the only cases added to Valley County's case total are that of full-time residents who test positive.
Everyone else who tests positive in the county is counted toward case counts for their home county, but health officials still do contact tracing work to alert local residents who may have been exposed, Duke said.
"I think we need to figure out how we can get beyond this because what I'm hearing from you is you will know how many true cases are in our county, but we will not," council member Melanie Holmes said.
Duke called that a "fair request," but said testing labs, not the health district, are the ones who report the positive cases to the patient's home county.
The health district only receives word of those cases if health districts in other jurisdictions and even other states contact them for local contact tracing, Duke said.
"I think the only mechanism that I can see would be for the healthcare systems to report out positive tests from their facilities," he said.
Holmes asked St. Luke's McCall Chief Operating Officer Amber Green for that number, which she said she did not know.
"The real time numbers as far as positive tests aren't even a great indicator of who now has been exposed and has the potential to be symptomatic and expose others," Green said.
"If you are relying on the positive tests today, we're already behind the curve as to how many people those positive tests may have exposed and spread amongst our community," she said.
Council member Colby Nielsen also questioned why some local residents are driving to Boise to get tested if St. Luke's has an adequate supply of tests.
"We cannot simply test anyone that comes into our building that feels that they may have been exposed, but does not have signs or symptoms," Green said.
Green cautioned that testing anyone also could lead to a "false sense of security" since it is unknown at what point someone who has contracted the virus will test positive.
That testing policy is consistent among each St. Luke's location, but organizations like Crush the Curve Idaho offer tests more readily for anyone.
source: © Copyright 2009-present Central Idaho Publishing Inc.
— — — — — — — — — —
More Shore Lodge workers test positive for COVID-19
Valley County cases rise from 3 to 13 in one week
By Tom Grote for The Star-News July 2, 2020
More employees at Shore Lodge and Whitetail Club in McCall have tested positive for COVID-19, resort President Tom Garcia said Monday.
The employees contracted the virus after being tested by Shore Lodge and Whitetail earlier this spring and found not to have the virus, Garcia said.
The number of confirmed COVID-19 cases in Valley County surged from three last week to 13 as of Wednesday, according to Central District Health.
The new cases were the first in Valley County to be caused by community transmission, which is when the person who falls ill has not traveled recently or had contact with a known infected person, the health department said.
continued:
— — — — — — — — — —
McCall physician's task force outline COVID-19 protocols
Marcia Witte guides policy on ventilators, other equipment
By Max Silverson for The Star-News July 2, 2020
Idaho doctors will have written guidance if life saving ventilators to treat COVID-19 come into short supply thanks to a task force led by a McCall physician.
Dr. Marcia Witte of McCall co-led a team at the Idaho Department of Health and Welfare in drafting a "crisis standards of care" plan that will help hospitals decide how to allocate scarce resources during a public health emergency.
The plan, approved mid-June, would be implemented during a state or federal emergency declaration, a lack of healthcare supplies or a disruption to the healthcare supply chain.
The protocols also can be used if trained staff become unavailable or overwhelmed and if patient transfers become impossible.
… The plan details rules for allocating services like oxygen, protective equipment, dialysis, emergency medical services and medication in addition to ventilators, Witte said.
… Patients would not be given a ventilator who are unlikely to survive even with immediate and aggressive medical attention, under the guidelines.
Factors like cardiac arrest, severe trauma and other conditions that could prove fatal also make a patient less likely to receive a ventilator under crisis conditions.
full story:
— — — — — — — — — —
St. Luke's McCall offers COVID-19 testing for some patients
The Star-News July 2, 2020
St. Luke's McCall said it will offer COVID-19 testing by appointment to the following high-priority patients using recommendations from the Idaho State Testing Taskforce:
• Patients with COVID-19 symptoms, as confirmed through MyChart self-triage, nurse triage by phone, or clinical evaluation.
• Asymptomatic for those with a planned surgery or procedure that meets criteria for COVID-19 testing.
• Discharge or transfer from a St. Luke's hospital to a long-term care or skilled nursing facility.
St. Luke's is unable to accommodate asymptomatic testing under any other circumstances due to limited testing capacity and supplies, a news release said.
This includes common requests from asymptomatic patients for pre-employment, return-to-work or travel purposes.
Call the St. Luke's McCall COVID-19 hotline at 208-634-1776 for questions.
source: © Copyright 2009-present Central Idaho Publishing Inc.
— — — — — — — — — —
New Meadows Community Farmers Market postponed
The Star-News July 2, 2020
The New Meadows Community Farmers Market has been postponed due to the recent spike in coronavirus infections in Idaho.
The market had been scheduled to make its debut on Saturday, but will be rescheduled later this summer if possible, organizers aid. For updates, check the market's Facebook page (search "New Meadows Community Farmers Market").
continued:
— — — — — — — — — —
Placerville Cancels Events
Boise Basin Boosters (in Placerville) reviewed all the available information and with the input from local authorities the decision was made to cancel the breakfast and kids games on the 4th. This means that all of our fundraisers for the year have been canceled. With no funds coming in from any events this means all future community events such as, Hot August Night, Children's Christmas Party, Christmas Food Baskets, Support of Idaho City Schools and assistance to needy families in the Boise Basin are in jeopardy. In order to continue with some or all of these we will need to raise $3000. If you can contribute mail to Boise Basin Boosters, 115 Ranft Rd, Placerville, id 83666. So far we have received $250.
(6/30 via FB)
— — — — — — — — — —
Idaho breaks state record for most new COVID-19 cases in one day: 401
by CBS2 News Staff Friday, July 3rd 2020
Idaho is reporting a total of 6,994 confirmed and probable COVID-19 cases.
According to the state's COVID-19 website, there were 401 new cases on Friday; 398 new cases were confirmed and three were probable.
On Tuesday, Idaho last set the state record for most new cases in a single day with 365. The state has reported a 430% increase compared to two weeks ago.
The state has reported over 200 cases every day for over a week
continued:
— — — — — — — — — —
Boise Mayor to sign public health order mandating face coverings
By Katie Kloppenburg Jul 02, 2020 KIVI
Boise Mayor Lauren McLean is going to sign a public health emergency order, effective July 4 at 12:01 a.m. requiring everyone to use face coverings in the city. The face coverings must completely cover the nose and mouth and are required in all indoor and outdoor public places. There will be some exceptions for children under five, on-duty first responders or those with health or communication concerns.
A recent study by Goldman Sachs shows mask mandates lower the infection growth rate relative to the average infection growth rate prior and suggests the economic benefit from a face mask mandate and increased face mask usage could be sizable. States that do not mandate face coverings account for 40 percent of total confirmed cases in the United States.
continued:
———————-
Local History:
Fourth of July in Yellow Pine
By Ted Abstein
It really started about a week before when Sim Willey and his family would start for Yellow Pine from the Willey Ranch down the South Fork driving a steer for the old-fashioned barbecue. Then on the morning of the 3rd a couple of men with large canvas backpacks would go up Quartz Creek to the north cliffs where packed icy snow still lingered – they would overnite and then start back with a hundred pounds or so of ice for the once-a-year ice cream we enjoyed so. In the meantime the steer was spitted over a large barbecue pit in which there was a deep bed of glowing coals; men worked in shifts through the night, turning the spit and feeding the fire and basting the carcass.
About daybreak, or a bit before, the celebration began with a literal "bang". Typical was Dad's "alarm clock": a quarter of a stick of dynamite on top of an anvil with another anvil inverted over it! The resultant bang-clang would be heard for miles.
The feast was something to behold on a long community picnic table near the barbecue pit. The ladies of the community vied mightily in a sort of gustatory Olympics of male approbation – that's probably a very poor choice of words since the contest wasn't all sportsmanlike; in fact, there were several resulting, long-lasting feuds which arose!
After the sumptuous repast and a few naps there would be the usual contests: sack races, three-legged races, etc. with a few coins to winning children – returns to the picnic table for snacks – and a makeshift local rodeo or ball game at the field below town. In those days it was a yearly highlight with attendance by many people from miles around. Looking back it doesn't appear all that much – I guess it was easier to entertain us then!
pg 68 of the "Yellow Pine" book compiled by Nancy Sumner (available only in Yellow Pine. $15 – contact Marj)
source: Yellow Pine Holiday History
— — — — — — — — — —
4th of July in Roosevelt, Idaho
4th of July Roosevelt 1915
The citizens of Roosevelt are not only offering the people that visit this city a rare treat and a good time on the glorious Fourth but are spending more money to make it a financial success than any other town of its age in the State. There is no town offering more inducements for a good time than you will get here in the heart of the mountains.
— —
Glove Contests.
I challenge the "Terrible Swede" for a 15 round glove contest to a finish. Fight for a $100 purse, $50 a side on the 4th of July. Will come to an agreement at NEWS office.
– WM. Roe, of Boise.
I will challenge Jim Hoffman for a 10 round glove contest for $100 a side. Fight to take place in Roosevelt, if this challenge is accepted. I will meet you July 2nd at THUNDER MOUNTAIN NEWS office.
– Nick Dorsey, of Roosevelt.
— —
Grand 4th of July dinner at the Overland Cafe.
source: The Prospector and Thunder Mountain News July 1, 1905
———————-
Letter to Share:
PSA Saturday
from Valley County Sheriff's Office
We would like to take this opportunity to educate some folks on the usage of your UTV, ATV or Dirt Bikes on County roads in Valley County.
We get several questions and complaints during the spring, summer and fall on the use of these vehicles in neighborhoods and on County maintained roads, public and private. Remember, just because a road is marked private (blue signs), it's still accessible to the public and you must still follow the rules of the road.
Use on City & County Roads (does not include private property)
The following requirements must be met on city, county, and highway district roads.
• Valid restricted vehicle license plate. [IC 49-402(4)]
• Valid IDPR OHV registration sticker affixed to restricted vehicle license plate. (IC 67-7122)
• Valid driver's license. (IC 49-301) – Parents can be cited for allowing an unlicensed minor to operate an ATV or UTV. Please keep this in mind.
• Liability insurance or alternative insurance. (IC 49-1223 or IC 49-1232)
• A helmet under age 18. (IC 49-666) Please make sure it's a DOT inspected helmet.
• Muffler and U.S. Forest Service approved spark arrestor. Your muffler has to pass 96 dB at the half-meter test, SAE J1287. The OHV cannot exceed 96dB. (IC 67-7125)
• If you are riding on a highway within city limits, you may NOT go beyond the 45 mph signs in Valley County. This may not be the case in other cities, please be sure to check city codes prior to operating an off road vehicle on state highways within other city jurisdictions, they vary.
For safe operation on roads the following equipment is recommended.
• Brake light.
• Headlight and taillight after dark/poor visibility.
• Horn audible at 200 feet.
• Mirror showing roadway 200 feet behind the OHV
License & Registration
Any OHVs being operated or transported on public lands, roads or trails of the state of Idaho must display a current IDPR OHV Registration Sticker. Idaho Code 67-7124. Registration has been extended until June 30th, due to COVID-19, however they are asking that you attempt to get this completed as soon as you can.
Non-resident Requirements
Non-residents are required to have either a valid OHV registration from their home state of residence or a valid IDPR OHV registration sticker. Nonresidents must purchase an Idaho restricted vehicle license plate with a valid IDPR OHV registration sticker if they don't have a plate and wish to operate on Idaho's local jurisdiction roads (i.e.county roads).
Please be courteous, pay attention to speed limits and remember when you are driving through neighborhoods there are lots of things going on, kids playing, family pets and people walking or biking their neighborhoods.
We are asking that if you would like to report traffic complaints in your neighborhood, to call at the time it's occurring, get a good description of the vehicle, a plate would be great and a description of the occupants, if possible.
Some of the questions the dispatcher might ask you are; Which direction did they go? Do you know where they live? When did this occur?
All of this information helps us in assisting you in better serving your needs. A lot of these vehicles look the same and disappear quickly!
As always, Stay Safe, be healthy and practice social distancing.
(via FB May 23, 2020)
— — — — — — — — — —
Confused about where to get your recreation stickers and registration?

—————————–
Public Lands:
French Creek Road is NOT a recommended, nor an official detour for Highway 95!
July 4, 2020 Payette NF
French Creek Road is a high clearance road (not for two wheel drive vehicles) that is not recommended for travel by inexperienced mountain road drivers. Reports of at least ten cars off the road have been recorded already. Trailers are not recommended as the switchbacks do not have room for trailers to maneuver.
It is a single lane, dirt road that has not been graded, and has only a few pull outs. The road is rough with long drop offs of 1000+ feet. If you do not have experience driving high mountain roads, or are an inexperienced driver, the Forest Service advises you to not use this road.
Travel at your own risk, and again, French Creek Road is not an official, nor a recommended detour for highway 95.
Brian Harris
Payette NF
— — — — — — — — — —
Backer of Payette Lake land trade to make pitch to McCall council
Alec Williams wants to trade for 28,000 acres of state land
By Drew Dodson for The Star-News July 2, 2020
A proposal for a land exchange encompassing 28,000 acres of state land around Payette Lake and the City of McCall will be presented to the McCall City Council next week.
Alec Williams of Trident Holdings, a Boise real estate firm, will air the proposal during the council's regular meeting next Thursday, July 9, at 5:30 p.m.
The meeting had been planned to be held at the McCall-Donnelly High School Commons but instead will be held via video conference.
Instructions on how to view the meeting can be found at (link)
continued:
— — — — — — — — — —
Horsethief Reservoir campgrounds to close July 7 for renovation
The Star-News July 2, 2020
Osprey Bay and Easter's Cove camping loops at Horsethief Reservoir east of Cascade will be closed for the season starting Tuesday for renovation, according to the Idaho Department of Fish and Game.
The Osprey Bay loop, including the popular day-use fishing area, will be paved to help alleviate erosion caused by improper drainage during runoff, a Fish and Game news release said.
Easter's Cove improvements will include re-graded roads and sites, but no pavement. All sites at both camping areas will be outfitted with spacious living pads, new picnic tables and fire rings.
Bear Knob and Timber Bay camping loops will receive improvements of their own in 2021. All improvements are funded by the Idaho Department of Parks and Recreation RV Fund, a fund generated from recreational vehicle registration fees.
Horsethief Reservoir is managed by Fish and Game and the campgrounds are managed by the Treasure Valley YMCA.
continued:
— — — — — — — — — —
Personal use fuelwood season starts July 1 on the Boise National Forest
Boise, Idaho, June 29, 2020 -– Personal use fuelwood permits for the Boise National Forest will be available for sale beginning July 1, through Nov. 30, 2020. To reduce the risk of COVID-19 exposure to the public and employees the Boise National Forest is offering multiple choices to purchase personal fuelwood permits. Fuelwood permits are valid within the Boise, Payette and Sawtooth Forests.
1. Vendors in surrounding communities will be selling personal use fuelwood permits.
2. All mail-in applications will be processed at the Cascade Ranger District
3. Call-in applications will be processed at all Ranger District offices
4. Visitor Information Center/BLM Public Room, 1387 S. Vinnell Way, Boise, Idaho
The mail-in and call-in methods are innovative ways to provide customer service and continue social distancing guidelines without exposing people to additional risk. We will not be selling permits in Ranger District offices until further notice. We will be accepting fuelwood applications starting June 29. For information about fuelwood cutting on surrounding National Forests, please contact them directly.
Mail-in applications are available to print (link), or can be picked up outside Ranger District offices and mailed to the Cascade Ranger District.
Mail-in applications with check or money order payable to UDSA (No Cash) to:
Cascade Ranger District
Attn: Fuelwood Program
P.O. Box 696
Cascade, ID 83611
Call-in applications with a credit card will be processed at these Ranger District Offices.
Mountain Home Ranger District 208-587-7961
Idaho City Ranger District 208-392-6681
Cascade Ranger District 208-382-7400
Lowman Ranger District 208-259-3361
Emmett Ranger District 208-365-7000
Visit these links to preview:
This year's fuelwood brochure (link)
Motor Vehicle Use Maps to ensure you are cutting in areas open to motor vehicle use. (link)
To see current forest closures visit the interactive Forest Closure story map. (link)
Cutting fuelwood within a closed area is prohibited.
Fuelwood permit prices remain at $6.25 per cord with a 4-cord minimum, and a 10-cord maximum per household. Please note we cannot sell permits for only 2 cords. If you want all 10 cords, permits purchased will need to be 5 cords and 5 cords, or 4 cords and 6 cord, or all 10 cords at once.
The Boise National Forest offered Free -use Fuelwood Permits from May 15 thru June 30. Free-use fuelwood collected, counts as personal use toward the 10-cord maximum per household per year.
Permit holders are encouraged to cut fuelwood early in the year because fire restrictions may impact the cutting season later in the summer. Early season fuelwood cutters are asked to use caution to avoid wet muddy roads where travel may cause resource damage. Fuelwood cutting is not allowed within riparian areas (adjacent to creeks and rivers).
A new regulation for this year is no cutting of Larch (Tamarack) after Nov. 1. Larch lose their needles every fall and appear to be dead, resulting in too many live trees being accidentally cut. This new regulation is to prevent the cutting of live Larch trees after they have lost their needles in the fall.
— — — — — — — — — —
Earthquakes leave their mark in the Sawtooths
Old-growth trees pushed into Redfish Lake, boulders take out trail
Tony Evans Jul 3, 2020 IME
The impacts of a 6.5-magnitude earthquake that struck northwest of Stanley on March 31, and its aftershocks, are still being uncovered in the Sawtooth Mountains north of Ketchum. For geologists, though, the near-daily tremors offer a rare chance to measure seismic activity in the area—and, hopefully, to help predict long-term risks.
"Idaho has very little knowledge of its seismic hazard and the current state of tectonic stress that mountain ranges are experiencing," said Claudio Berti, director and state geologist of the Idaho Geological Survey. "Nature doesn't make big mountains without associated big geologic hazards, and there are very big mountains in central and southeast Idaho."
The iconic Sawtooth Range saw some noticeable changes by April when backcountry guides noticed that blocks had toppled from the top of the Finger of Fate, a spire popular with rock climbers. The nearby Arrowhead rock formation had fallen completely.
continued:
— — — — — — — — — —
USDA Forest Service Payette National Forest SOPA Update
You are subscribed to Payette National Forest SOPA for USDA Forest Service. This information has recently been updated, and is now available.
The quarterly schedule of proposed action for the Payette National Forest has been published. It is available online at: (link)
Thank you for your interest in your National Forest.
———————
Critter News:
Pet Talk – Melanoma
By Dr. Allani Delis Jul 3, 2020 IME
Melanoma is a cancer that comes from cells on the body that produce a dark brown pigment. That dark brown color is called melanin in scientific terminology. Dogs can get melanoma on the toenail, skin and, most commonly, the mouth (oral melanoma). While oral melanoma is not common in cats, it is one of the most common oral cancers in dogs.
No direct cause of oral melanoma has been found. Dogs with black or dark brown gums and black hair coats may be at a higher risk. This cancer can be found in any breed, but it is more common in the cocker spaniel, German shepherd, poodle, dachshund and golden retriever. Middle-age or older dogs (average age 10-12) are at a greater risk.
With oral melanoma, the main finding is a tumor inside the mouth. The tumor may be black or pink. Bad breath, bleeding from the mouth, face rubbing, lack of appetite and trouble chewing or swallowing are the most common signs.
continued:
— — — — — — — — — —
6 plead guilty, sentenced in 2018 poaching case in Franklin County
June 29, 2020 Local News 8
Franklin County, Idaho (KIFI/KIDK) – Six men all reached plea agreements in a Franklin County court for the illegal killing and possession of three mule deer and 16 elk, including several trophy class animals in the fall of 2018 near Preston.
Through an investigation conducted around that time, Fish and Game conservation officers learned over course of several months, multiple poaching incidents took place on the "Reeder Ranch" and surrounding private property northwest of Preston, with complete disregard for season and weapon restrictions or tagging requirements.
The individuals involved left most of the elk carcasses to waste and recovered only the antlers and choice cuts of meat from others.
continued:
— — — — — — — — — —
US sets Aug. 31 deadline for wolverines protection decision
by Associated Press Thursday, July 2nd 2020
U.S. wildlife officials have agreed to decide by the end of August whether climate change and other threats are pushing the rare wolverine closer to extinction in the mountains of the West.
Government attorneys and conservation groups that had sued to force a decision filed court documents Thursday settling the lawsuit and agreeing to the deadline.
That came more than four years after a federal judge chastised government officials for rejecting the views of many of its own scientists when it decided against protecting wolverines in 2014.
continued:
— — — — — — — — — —
Bass make trip from Oxbow Reservoir to Little Payette Lake
Fish and Game transplants 600 fish to bolster numbers
By Max Silverson for The Star-News July 2, 2020
Staff from the Idaho Department of Fish and Game staff captured about 600 small mouth bass from the Oxbow Reservoir on the Idaho border and transported them to Little Payette Lake last month.
The fish are routinely restocked in the lake because most of the small mouth bass that hatch typically do not grow large enough to survive through the winter months, said Jordan Messner, Fish and Game's Southwest Regional Fisheries Manager for McCall.
continued:
————————-
Fish & Game News:
New Disabled American Veteran discounts for muzzleloader and archery permits take effect July 1
By Brian Pearson, Conservation Public Information Specialist
Tuesday, June 30, 2020
The new fees for both permit types are $3.75 for resident and $5.75 for nonresident DAV license holders
A new law that takes effect July 1 reduces the archery and muzzleloader permit fees specifically for Disabled American Veterans. Only holders of Disabled American Veteran licenses are eligible for the discounted permits.
The new fees for both permit types are $3.75 for resident and $5.75 for nonresident Disabled American Veterans. DAV license holders previously had to pay the regular resident or nonresident price for these permits.
continued:
— — — — — — — — — —
White-tailed deer collar data picks up migrations prior to fawning
By Kiira Siitari, Regional Communications Manager
Monday, June 29, 2020
Does seek high-quality habitat to have their young
For the first time since the early 1990's, Fish and Game has collars on white-tailed deer in game management unit 1 in northern Idaho. Biologists use GPS collars to better understand deer movement and survival, answering the call from hunters for more data on one of the Panhandle's most popular and accessible big game species.
Early collar data revealed the movements of does getting ready to give birth. While most does in the study stayed close to where they were collared, some traveled many miles to have their fawns, often within a few days of one another during May.
continued:
— — — — — — — — — —
Upper Salmon River Chinook Salmon Fishing Report
By Brent Beller, Fisheries Technician
Tuesday, June 30, 2020
The 2020 Upper Salmon River Chinook fishery opened this past Friday, June 26.
Angler effort on opening day was high with anglers spread out throughout the fishery area. Over the weekend, the majority of anglers were observed fishing downstream of the Yankee Fork Salmon River, and poor weather on Sunday resulted in a drop in angler effort. Salmon were caught each day, and an estimated 21 hatchery Chinook (16 adults and 5 jacks) were harvested between Friday and Sunday. Anglers averaged an estimated 65 hours per Chinook caught and 95 hours per Chinook kept.
Conditions on the upper Salmon River were good throughout the weekend. Currently the Salmon River downstream of the Yankee Fork is flowing at 1,740 cfs which is 75 percent of average for today's date. The river's visibility was clear, and water temperatures were in the mid to upper 50s.
continued:
— — — — — — — — — —
More F&G News Releases
link:
———————————-
Crazy Critter Stuff:
Orphaned, now plump cub returned to the wild
Wildlife managers debut rehabilitate-and-release technique to save life of Jackson Hole black bear.
By Mike Koshmrl Jun 24, 2020 Jackson Hole News and Guide
When Taz McBride first laid eyes on "Hissy" he was up close with the tiny black bear in his Melody Ranch backyard.
Hissy wasn't exactly menacing, as far as black bears go. The gaunt, housecat-size animal appeared to be out on its own when it circled around a hot tub last October, encountered McBride — and hissed. The name came naturally to the then 10-year-old, who went on to spot the orphaned black bear cub more than once last fall.
Last Thursday afternoon McBride and Hissy were face-to-face again, this time in a more suitable spot for a black bear. They encountered each other at Jackass Meadows, well into the backcountry west of the northern Teton Range. It was just before Hissy was let loose to go live his black bear life.
"Hello there," McBride told the bear. "Hello."
Hissy, now a healthy 110-pound yearling bruin, had an odyssey of eight months.
continued: (with video)
—————-
Seasonal Humor:

————————