July 12, 2020 The Yellow Pine Times – Valley County, Idaho
Reminder: We are still under a boil water order until further notice.
The 2020 Harmonica Festival has been canceled.
Community Calendar:
April 17 – Boil water order issued
May 15 – Firewood Season starts
June 16 – Hard closure of South Fork Road (weekdays)
Community Hall Yard Sale ongoing
2020 Harmonica Festival Canceled
(details below)
———-
From Valley County
We need Your Help to protect the place and the people we all Love.
link:
— —
Valley County Covid-19 Response Page
link:
— —
Valley County Emergency Operations Center
link:
— —
Rebound – Idaho Governor's phasing program
link:
— —
COVID 19: Recommendations and Resources for Safe Business Practices
link: (lots of info for businesses)
——————-
Local Events:
Community Yard Sale
The community yard sale is now open in the community hall. Feel free to bring more items if you have them. Shop early and often. Pay Deb, Lynn or Ronda.
— — — —
2020 Festival is Cancelled
We have come to the decision that the 2020 Festival will be cancelled. We look forward to celebrating the 32nd year of the Festival August 5, 6, & 7, 2021.
Our decision was not made lightly. We had to consider the current situation we are in and examine the outlook for the coming months. This is the necessary and right decision for the safety of our community and all participants.
We all look forward to one big reunion with all of you in August 2021.
– DF
———-
Village News:
Please Return Borrowed Measuring Wheel
Would the person who borrowed the Village's measuring wheel please return it to the Community Hall or one of the Council members? Thank you
— — — —
Update on the Golf Gathering
We have raised $916 so far and random donations are still coming in.
We had over 50 golfers at the gathering.
Everyone had an awesome time and were so happy to be able to give to the community.
Prizes were donated and consisted of hand painted rocks and antique golf clubs.
We didn't keep the names of winners after (board got erased) so… everyone was a winner just for showing up.
– Dawn Brown
— — — —
Boil Water Order issued
Update June 12: The boil order is still on. We still are experiencing excessive water use because of leaks. Not sure when this will be lifted. We are applying for grants to repair the system.
Update June 2: The water plant is experiencing high water in Boulder Creek which brings more debris into the sand filter.
The high demand caused by leaks in the system plugs the sand filters prematurely. We will be on a boil order until further notice.
As of April 17th 2020, Yellow Pine is under another "Boil Order"
Boil Water Advisory Notice
Boil Your Water Before Using
Bring tap water to a rolling boil, boil for one minute, and cool before using or use bottled water. Boiled or bottled water should be used for drinking, making ice, washing dishes, brushing teeth, and preparing food until further notice.
This Boil Water Advisory Notice applies to The Yellow Pine Water System
The system is being monitored and checked daily for compliance. .
You will be informed when you no longer need to boil your water.
Please share this information with other people who drink this water, especially anyone who may not get this notice directly (for example, people in apartments, nursing homes, schools, and businesses).
You can do this by posting this notice in a public place or distributing copies by hand or mail.
State Water System ID#: 4430059 Date distributed: 3-22-2020
— — — —
2020 Census
The 2020 Census Impacts All Valley County Residents
Inching closer. Each of our communities and Valley County as a whole have increased our response rate by a few percentage points over the last few weeks – but we still have a lot of room to grow! We are still ranked #42 of 44 counties in Idaho for our Census response rate. Let's get that number up! Responding to the Census takes less than 10 minutes and mean $1,483 per person in federal funding for Valley County.
It is recommended that we all fill out the census online.
If you spend 50% of your time in Valley County, you can consider it your home per the Census. Where you register with the Census is confidential and never linked to other governmental requirements such as property taxes or mailing address. The deadline for the 2020 Census has been extended until October 31st. They will probably not be sending census takers up to Yellow Pine.
Link: to online census
You do not need an ID number. Go to the link. Click on "start questionnaire". Then on the next page scroll down to "If you do not have a Census ID, click here" – when you click on that line it will start the census. (see below)

— — — —
Critters
Tick's are still very plentiful in early July.
Mosquitoes and no-see-ums are hungry.
Bears are out of hibernation, protect your trash and pet food.
Watch out for aggressive mother does and cows, they will stomp your dogs – and you too.
— — — —
Road News
Link: to current road reports.
— — — —
Forest Info
All campgrounds and restroom facilities in the South Fork Corridor, Lick Creek/Secesh Corridor and along the East Fork South Fork Salmon River are open. -Krassel RD
— — — —
Yellow Pine US Mail
The 6-day a week mail delivery started June 1st. The Post Office in Yellow Pine is open six days a week year around: M-F 845am-245pm Saturday 9am-245pm. Forever Stamp: 55 cents. Support our local post office and purchase your stamps here.
— — — —
Yellow Pine Transfer Station
Please do not abuse our Transfer Station or we may lose it. Household trash must be placed in the bins, flattened cardboard boxes can also go into the bins. Do not stack trash in front of the doors. Woody yard debris only for the burn pile. No furniture, appliances, tires or construction debris allowed, those items must be hauled out to the Donnelly station by you.
Yellow Pine Transfer Station (aka, the dump)
The Yellow Pine Transfer Station is located approximately 3 miles south on Johnson Creek Road.
The TRANSFER STATION is for household trash and yard waste:
* Household trash must be put inside (and fit) the dumpster;
* Yard waste (limbs, pine needles, brush, etc.) goes in the burn pile on the south end of the turn-around;
* Cardboard boxes should be flattened before putting the in the dumpster,
The DUMPSTERS are NOT for:
* Furniture (take to Donnelly Transfer Station);
* Appliances (take to Donnelly Transfer Station).
The BURN PILE is NOT for:
* Cardboard boxes (flatten and put in dumpster);
* Furniture and appliances (take to Donnelly Transfer Station);
* Drywall and building material (take to Donnelly Transfer Station);
* Wire or fencing (take to Donnelly Transfer Station);
* Foam Rubber (take to Donnelly Transfer Station);
* Wood with metal (like nails) attached (take to Donnelly Transfer Station.)
When closing the DOORS on the front of the dumpsters:
* Make sure the "U" brackets at the top and bottom of the door are engaged;
* The retaining bar at the middle of the door is slid into the pipe;
* And the "L" bars at the bottom of the doors dropped into place.
The Yellow Pine Transfer Station is Valley County responsibility. If it is not kept tidy, use of the Transfer Station may be revoked. That would result in residents having to take all household trash and yard waste to the Donnelly Transfer Station.
If Dumpsters Are Full, Contact Lake Shore Disposal at: 208/634-7176
———-
Local Groups
YPWUA News:
The annual Water meeting for 2020 was held July 5th at the Community Hall 2pm (minutes forthcoming.)
New Boil Water Order issued April 17, 2020. This could last until runoff is over.
Notice of Intent to File an Application with USDA, Rural Development
The Yellow Pine Water Users Association, Yellow Pine, Idaho intends to file an Application with USDA, Rural Development to obtain a drinking water system facility Emergency Community Water Assistance Grant (ECWAG). Emergency Community Water Assistance Grant (ECWAG).
If any additional information is needed, please contact:
Willie Sullivan
Treasurer
ypwater@gmail.com
Distributed to Yellow Pine Water Users Association customers via Yellow Pine Times on June 12, 2020.
The last Yellow Pine Water Users Shareholders meeting was Sunday July 7, 2019.
link: 20190707YPWUAminutes
— — — —
VYPA News:
2020 Festival has been canceled.
Yard Sale at Community Hall ongoing
If folks have items for the community yard sale, please place them by the north wall in the community hall. If you see items you would like to purchase, you can pay Deb, Ronda, or Lynn. All funds support the community hall.
Next VYPA meeting July 11th
Village of Yellow Pine Association Meeting Agenda
July 11, 2020 2pm; at the Community Hall
As requested by VYPA members, this meeting will be recorded and kept to a 1-hour timeframe.
Agenda Item: Presenter Time Comments
Call to Order: Deb Filler 1 minute
Approval of Prior Meeting Minutes: Deb Filler 2 minutes Please read the June 2020 minutes before the meeting to expedite approval
Treasurer's Report: Rhonda Egbert 2 minutes
Cemetery Written Report: Tim Rogers 2 minutes Please include progress since September and expected 2020 projects.
Community Hall Oral Report: Ronda Rogers 2 minutes Please include progress since September and expected 2020 projects.
Community Hall Toilets: Willy Sullivan 2 minutes Please include progress and expected completion date.
Infrastructure Oral Report: Clayton Egbert 2 minutes Please include progress and expected completion date.
Festival Oral Report: Dawn Brown 2 minutes
Stibnite Advisory Council Update: Ronda Rogers 2 minutes
Stibnite Foundation Update: Ronda Rogers 2 minutes
Nominations List Presentation: Rhonda Egbert 2 minutes Positions open for election: Vice Chairman, Secretary, Treasurer
Nominations from the Floor: Deb Filler 2 minutes
Election of New Council Members: Deb Filler 10 minutes
Old Business:
Update from Midas Gold Kyle Fend 3 minutes
Update from YPWA Steve Holloway (if available) 3 minutes
2nd Reading of Proposed Bylaws Changes Deb Filler 30 minutes
New Business:
Adjournment
Minutes from June 13, 2020 VYPA meeting
link: 20200613 VYPA Minutes.pdf
July 1 – Post Harmonica Meeting 2pm Community Hall
Note: at each meeting we simply add to info on the topic. That way, info from all meetings is included in a single document.
Linkto notes:
Heat was installed in the community hall on April 30th.
VYPA meeting schedule for 2020 – June 13, 2pm; July 11, 2pm; August 8, 2pm; September 12, 2pm.
— — — —
YPFD News:
There was a YP Fire Commissioner meeting on June 27, 2020 at 10am at the Fire Station, minutes forthcoming.
YPFD COVID19 Policy
link: YPFD Covid 19 SOP.docx
link: Covid-19 EMS.pdf (May 23)
May 10th Burn Permits – contact the YPFD
Pile burning: Dress appropriately, have enough help on hand (people, water and tools) and make a firebreak before you start. Call your local fire protection district chief to let them know you'll be conducting a debris burn. This saves them from sending emergency responders to your property if they are not needed. Do NOT burn on breezy afternoons.
Better yet, "Bring It, Don't Burn It", you can take your yard waste (limbs, pine needles, brush, etc.) to the burn pile at the Transfer Station on the south end of the turn-around. Remember, keep the pile neat. Woody debris only, no nails, no cardboard and no furniture! The Boise NF will burn the pile in the fall when it is safe and doesn't pollute our fine YP air.
YP Fire Commissioners:
Sue Holloway – District 1
Dan Stiff – District 2
Merrill Saleen – District 3
(TBA) – Fire Chief
Yellow Pine Fire Protection District Community Service Notice
The purpose of this letter is to show how you as a Yellow Pine Resident can help protect your structure against a wildland fire by being "Fire Wise." Click the link: to view 20190724 Yellow Pine Fire Protection mitigation
——–
Biz Listings:
The Corner (208) 633-3325
Open 11am-8pm Closed Tuesdays
Calling ahead works best but not a huge deal. Groceries, Ice Cream, Beer and Soda. Our menu fluctuates but typically have Smoked Brisket, Tri Tip, Chicken, Burgers and Wings on hand.
— — — —
Yellow Pine Tavern (208) 633-2233
Open Daily 8am to 10pm. Outside Dining and Bar. Breakfast and Bar Food.


— — — —
Yellow Pine Lodge (208) 633-3377
Open.
— — — —
Yellow Pine General Store (208) 633-3300
The store is open now and will be open into October. Hours are 9 am to 6 pm Tuesday through Saturday. Closed Sunday and Monday.
— — — —
Murph's RV Park & Mary's Cabins (208) 633-6677
Cabins are not available in 2020. RV Spaces $25/night; $150/week; $300/month. Tent spaces $10/night. Shower house is closed for 2020.
— — — —
Knotty Kat Crochet Works – 208-502-0940
FB page link
open Tue – Sat, 9-5
Yellow Pine eggs $3/doz
— — — —
Buck Horn Outfitters LLC 208-633-3614
Tom & Sarah Lanham
156 Yellow Pine Ave, Yellow Pine Id 83677
website:
Facebook:
Starting June 2020 We will be doing trail rides out of Yellow Pine along with summer pack / camping trips to high mountain lakes in the area!
Wapiti Meadow Ranch – Johnson Creek (208) 633-3217
or 208-315-3554 – cabin rentals
website:
Deadwood Outfitters
website:
— — — —
Local Fuel Suppliers
Amerigas Phone: (208) 634-8181
Ed Staub & Sons Phone: (208) 634-3833
Diamond Fuel & Feed Phone: (208) 382-4430 open 830am-5pm Monday-Friday, closed weekends.
— — — —
Outside Biz that will service Yellow Pine:
The Star-News


subscribe:
A reminder that those who live in other states can subscribe to the online edition only since the mail can take days for hard copy to reach them.
Rocky Mountain Mechanical – Plumbing – Heating – Air conditioning
(208) 365-PIPE (7473), Emmett, will service Yellow Pine
Elkhorn Heating & Cooling
(208) 906-4067 Middleton, Idaho, will service Yellow Pine
B&T Safety Solutions LLC
208-271-1600 Based out of Donnelly
Snow removal, cleaning chimneys and stoves, we do cabin staining/chinking as well
— — — —
Follow The Yellow Pine Times on Facebook (updated more often than emails)
———————–
Local Observations:
Monday (July 6) overnight low of 41 degrees, clear sky and light breeze this morning. A few early airplanes buzzed the village. Tree swallows hunting bugs, a few finches visiting and fat ground squirrels running about. Some clouds building up at lunch time and breezy. Pretty warm and gusty breezes early afternoon and partly cloudy, high of 87 degrees. Mostly clear, warm and a bit breezy early evening. Female hairy woodpecker visiting. Cooling off, mostly clear and slight breeze late evening before dusk. Skeeters are getting bad. Wind gusting up at midnight.
Tuesday (July 7) overnight low of 44 degrees, mostly cloudy, light breeze and a few drops of rain this morning. A couple of early loud airplanes. Swallows hunting and a few finches visiting. Mostly cloudy and light breezes at lunch time. Very nice, mostly cloudy and breezy early afternoon, high of 78 degrees. More cassin's finches visiting. Partly cloudy/clear early evening, pleasant light breezes. Our local female hairy woodpecker paid a visit. It was mostly clear before dusk, swallows and a robin calling. Looked clear before midnight.
Wednesday (July 8) overnight low of 39 degrees, mostly clear sky and light breezes this morning. Several airplanes short-cutting right over the village. Swallows swooping and several jays calling, a few finches visiting. Mostly clear and light breeze at lunch time. Mail truck made it in on time, local streets are getting very dusty. Mostly clear, warm and light breezes mid-afternoon, high of 79 degrees. Swallows, finches and robins calling. Mostly clear and light breeze mid-evening. A hummingbird was hunting gnats this evening. Cooling off and clear before dusk, robins and swallows calling. Lots of stars out before midnight.
Thursday (July 9) overnight low of 39 degrees, clear sky this morning. For a short time is was quiet enough to hear the river before the airplanes started buzzing over. Swallows and a flicker calling. Mostly clear and breezy after lunch time. Warm and mostly clear mid-afternoon with lighter breezes, high of 84 degrees. Clouds building up by mid-evening, warm and breezy. Clear sky before dark and almost calm. Swallows flying high or perched on power lines. Clear and lots of stars before midnight. Thunderstorm passed by with wind and rain early morning.
Friday (July 10) overnight low of 48 degrees, almost clear sky this morning and light breeze, rain total = 0.02″ from early morning thunderstorm. Airplanes started in early buzzing over the village. Swallows swooping for bugs to feed the hungry growing broods of helpless bling chicks in the nests. A few clouds at lunch time and a little breezy. Mostly clear and warm with light breezes mid-afternoon, high of 82 degrees. Quite a bit of OHV traffic on main street. Clear sky and slight breeze mid-evening, and air traffic, a few really loud ones. Clear sky and almost calm before dusk, a few robins calling and swallows busy hunting bugs. Clear before midnight, lots of stars.
Saturday (July 11) overnight low of 40 degrees, clear sky and light breezes this morning. A few early airplanes and a large truck raising dust around the neighborhood. Swallows hunting bugs and feeding growing hungry chicks, a lone robin hopping about. A few clouds coming in after lunch time and breezy. Higher than normal weekend street traffic, very dusty. Hot, blustery and sunny afternoon, high of 91 degrees. Still pretty warm mid-evening, 1 small cloud in the sky and lighter breezes. Clear sky, almost calm and cooling off slowly before dusk. Robins calling and swallows hunting bugs, no sign of the doe with twins lately. Looked clear before midnight.
Sunday (July 12) overnight low of 45 degrees, clear sky and light breeze this morning. Early air and road traffic, some rather loud. Swallows hunting, flicker and robins calling, pine siskins and cassin's finches visiting. Mostly hazy, warm and a little breezy at lunch time. Warm and dark clouds over most of the sky mid-afternoon and a bit muggy, high of 83 degrees. A couple of ground squirrels chasing each other. Cooler mid-evening, overcast and light breezes.
———————
Idaho News:
The 2020 Yellow Pine Music Festival Has Been Cancelled for this year.
We are sharing this information on behalf of the Village of Yellow Pine.
Our decision was not made lightly. We had to consider the current situation we are in and examine the outlook for the coming months. This is the necessary and right decision for the safety of our community and all participants.
Yellow Pine is changing into more of a retirement community and due to the potential impacts of COVID19 on the residents – and with the historic annual attendance of 2,000+ people for the festival, it just wasn't a wise thing to try and host this event this year.
Please respect the needs of the community and help us avoid a community spread situation. As far as I know there will be NO vendors, bands, or other events to entice people into town for the traditional music festival weekend.
However there will be other smaller events planned throughout the summer to assist in raising money to support the Village. Stay tuned!
Thanks, the Village of Yellow Pine.
— — — — — — — — — —
Donnelly Huckleberry Festival Canceled
It is with heavy hearts that The Donnelly Area Chamber of Commerce has decided to cancel this year's Huckleberry Festival. We want to thank all of you who participated in meetings and/or shared your input concerning the 2020 Huckleberry Festival. The decision was incredibly difficult to make, however, we felt it would be almost impossible to follow Central District Health's protocols for a festival that typically sees 8,000 to 10,000 people visiting Donnelly in a single weekend. We knew that whatever decision was made some people/businesses would be happy and some upset, and we are truly sorry for that. This situation does not create a win for anyone unless it keeps the spread of COVID at bay.
We would all like to keep the spirit of Huckleberry Festival alive and well, so if you would participate at the business level and decorate your store front so that the community is purple during the month of August that would be awesome! In addition, we are working on plans to promote Donnelly later in the year when things have calmed!
Enjoy this beautiful weather in our little slice of paradise. Be safe. Be kind.
(7/6 via FB) link:
— — — — — — — — — —
Watkins Pharmacy in Cascade Closed
July 9, 2020
Due to staff exposure of COVID-19, Watkins Pharmacy and store will be closed until further notice. We apologize for the inconvenience and short notice. Our staff and customer health is a top priority for us. If you have any questions about prescriptions, our pharmacist is accepting calls between 9-6pm Mon-Fri and 9-3 Sat @ +1 (208) 540-2223 to transfer prescriptions to the next most convenient pharmacy to you.
There will be an update on Monday, the 13th.
Thank you all and stay safe!
(from their FB page)
Update from Watkins Pharmacy 7/11:
We are working around the clock to keep you all informed. As we know you have many questions, our staff is very busy transferring prescriptions while also recovering.
Here are of few of the FAQs
Q: How do I get my prescription?
A: If you have a prescription that has already been filled or needs to be filled, you will need to transfer it to another pharmacy. Choose the pharmacy you would like to transfer to and give them a call. Please let them know the number to call for transfers is 1(208)-540-2223.
Q: What if I have pain meds or other controls that are at Watkins pharmacy?
A: These prescriptions CANNOT be transferred. Please contact your PCP (doctor) and inform them they must send a new copy to a pharmacy of your choosing.
Q: I was in there recently, should I be concerned that I am now exposed?
A: If you were in the store in the last two weeks, we recommend you follow the CDC guidelines for community exposure. Wear safety gear and refrain from excess exposure.
If you have any other questions on how this process works, please feel free to message us here directly or comment your concerns and we will try to reach you in a timely matter.
We hope to reduce the wait time for phone transfers and give our staff a little more time to heal.
— — —
Thunder Mountain Burgers – Cascade
Due to possible covid exposure, we will be closing until next Friday. We will be assessing our staff during the week to assure they are healthy when they return. We want to make sure our team and customers are safe when they are with us. Thank you for understanding.
(7/11 via their FB)
— — —
REO's Pizza and Arcade – Cascade
Due to possible covid exposure, we will be closing until next Friday. We will be assessing our staff during the week to assure they are healthy when they return. We want to make sure our team and customers are safe when they are with us. Thank you for understanding.
(7/11 via their FB)
— — — — — — — — — —
Valley County hospitals report 37 COVID-19 cases
Health department lists 22 as county residents
By Tom Grote for The Star-News July 9, 2020
A total of 37 people have tested positive for COVID-19 at Valley County's two hospitals, information from the hospitals said.
Central District Health on Tuesday listed 22 of those cases as Valley County residents, up from the 13 confirmed cases a week ago.
Some of those who tested positive but did not declare Valley County their primary residence could still be in Valley County under quarantine, spokespersons for both hospitals said.
As of last Friday, St. Luke's McCall had tested 751 people since late March with 32 testing positive, figures from the hospital said.
Thirty of those positive tests were recorded after June 11, which is the same time as the phased reopening of the state as well as the return of summer visitors to the region, St. Luke's McCall Chief Operating Officer/CNO Amber Green said.
Cascade Medical Center conducted 136 COVID-19 tests as of Monday, of which five were found to test positive for the virus, CEO Tom Reinhardt said.
Reinhardt noted that testing has been limited. "We know that there are asymptomatic people walking around, without masks, infecting others including those who may be immunocompromised and vulnerable," he said.
A statement from St. Luke's Health System, which operates St. Luke's McCall, said the decision to disclose the testing information was made to help local leaders make informed decisions.
"Since Idaho's first case of COVID-19 was diagnosed, St. Luke's has been learning, evolving and adapting to respond to the disease in the communities we serve," the statement said.
The test results from the two hospitals does not include testing done by Crush the Curve, a private initiative that offers testing to employees of local businesses.
A request sent by The Star-News to Crush the Curve for Valley County information was not returned as of Wednesday.
St. Luke's McCall processes most of its tests at a health system laboratory in Boise. Results typically take 24 to 48 hours, Green said.
When a positive case is found, the provider that ordered the test contacts the patient with the results and provides instructions on isolation and quarantine, she said. Results also are sent to the health department where the patient lives.
St. Luke's counsels each patient on emergency precautions and gives instructions on what to do should symptoms worsen.
At Central District Health, based in Boise, each patient who tests positive is interviewed and asked about travel history and contact exposure to other individuals while infectious, Program Manager Brandon Atkins said.
Anyone at risk of exposure to a known infected person is contacted by the health department and advised to be tested and go into self-quarantine for 14 days, Atkins said.
Exposure is defined as being within six feet of an infected person for more that 15 minutes.
"We have not issued a specific health advisory but rather noted that community transmission is actively occurring in Valley County," he said.
"Community spread" is defined as transmission among individuals in a specific community without direct, known contact to an identified positive case.
"It suggests illness existing in a much larger portion of the population and potentially in any location," Atkins said.
source: © Copyright 2009-present Central Idaho Publishing Inc.
— — — — — — — — — —
McCall council orders masks in public places
Emergency decree continues until at least Aug. 1
By Drew Dodson for The Star-News July 9, 2020
The use of face masks to reduce the spread of COVID-19 virus is now mandatory in the City of McCall after an emergency order was adopted by the McCall City Council last week.
The order, which is tentatively set to expire Aug. 1, means masks are required in all indoor public spaces and in outdoor public spaces where social distancing cannot be practiced.
… For more information on the mask order, visit (link)
continued:
— — — — — — — — — —
Mask Force revs up sewing machines following McCall order
Home-made, surgical masks distributed around Valley County
By Drew Dodson for The Star-News July 9, 2020
Colby Rampton could almost hear the dull drone of sewing machines last week when the City of McCall moved to make wearing face masks in public mandatory.
"We've reached out to our mask force sewers and several of them have responded that they are revving their sewing machines back up," said Rampton, part of the volunteer leadership team for the Valley County Mask Force
Last week the mask force disbursed 1,500 surgical masks for the public at drop-off bins staged at local fire stations in McCall, Donnelly, Cascade and New Meadows.
Another 500 surgical masks went to community food banks to give to people who may not have money to purchase a mask, said Rampton, of McCall.
The 2,000 surgical masks, along with a few hundred sewn by volunteers over the last two months, brings the mask force's total to about 9,000 masks distributed into the community since it launched in April.
… Anyone who wants to donate to the mask force's effort can do so at (link)
continued:
— — — — — — — — — —
Jars of Joy: Donnelly woman delivers gift cards, samples to non-medical essential workers
By Drew Dodson for The Star-News July 9, 2020
As an X-ray technician at St. Luke's McCall, Rene Birkinbine knew she had to do something when she saw customers berating workers at the Donnelly Post Office in March.
"I don't know how many times I went there at the very beginning of the shutdown that these ladies were in tears," said Birkinbine, 56, of Donnelly..
"People were yelling at them, throwing things at them and accusing them of stealing their toilet paper that was in a box," she said.
That led Birkinbine to join with 16 local businesses to fill jars with gift cards, coupons and sample products to give to non-medical essential workers who many people may not think to thank.
When she saw the abuse endured by the postal workers, it reminded her of the mistreatment she has taken from patients over the years and since the COVID-19 pandemic took root in Idaho in March.
"It's just wrong when we mistreat others that serve us, when we mistreat them so badly that they have to go out and cry," she said.
continued:
— — — — — — — — — —
500 new COVID-19 cases in Idaho reported Friday; 101 deaths
by CBS2 News Staff Friday, July 10th 2020
The state of Idaho again broke a record in the number of new confirmed and probable cases of COVID-19 on Friday: 500.
In total, the state has seen 9,928 confirmed and probable cases since the pandemic began in March.
There are 91 people in Idaho hospitals with confirmed or suspected COVID-19 as of July 6th, the most recent day where numbers are available. Of those 91, 22 are in an intensive care unit.
Since the pandemic began, 432 people have been hospitalized with the virus, and 137 of them have been in an ICU, according to the state's data.
source:
— — —
Saturday, July 11
Idaho adds a record 505 confirmed cases, Canyon County reports another death
Idaho added 505 confirmed cases on Saturday, according to state health officials. Idaho's statewide total number of confirmed and probable cases is now 10,505 cases.
The 505 confirmed cases on Saturday is now the most cases reported in a single day in Idaho since the pandemic began. It just beat Thursday's record of 499 confirmed cases.
Hospitalizations ticked up, with 768 people hospitalized, up from 449 on Friday.
Canyon County reported a new death, bringing the statewide COVID-19 death toll to 102.
Recoveries increased slightly to 3,114, up from 3,066 on Friday.
source: KTVB
— — — — — — — — — —
Can Boise businesses refuse service if someone doesn't wear a mask?
"It's not much of an extension to include "no mask, no service" in Boise, and that is lawful," former Idaho Attorney General David Leroy explained.
Chase Biefeldt (KTVB) July 10, 2020
Many Boise businesses have put signs on their storefronts requiring facemasks to be worn to comply with Boise Mayor Lauren McLean's public health order issued on July 2.
The order states that people must wear masks indoors and outdoors in "public places" where social distancing cannot be maintained.
A "public place", as defined in the order, is "any place open to all members of the public without specific invitation, including but not necessarily limited to, retail business establishments."
… It is similar to the common business refusal of service, "no shirt, no shoes, no service."
continued:
— — — — — — — — — —
Massive boulders crash down on highway overnight near earlier rockslide
The Idaho Transportation Department says the area on US-95 is still unstable and unsafe for traffic as well as rock removal crews.
July 10, 2020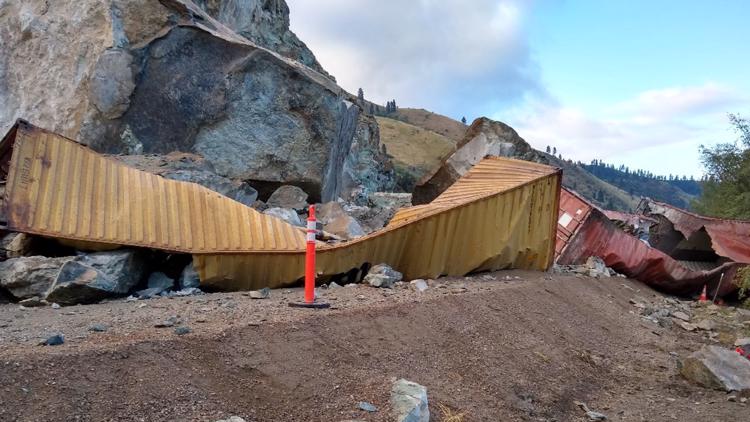 US Highway 95 will be closed for even longer after huge boulders broke off of the hillside above and crashed down on the roadway south of Riggins, the Idaho Transportation Department said.
The rockfall happened in the same location as a major rockslide that blocked the road earlier this week, burying the highway in a debris field 120 feet long and 40 feet deep.
ITD says the new slide happened sometime overnight Thursday into Friday morning. It's unclear whether a series of overnight earthquakes – the strongest of which hit near Stanley shortly after 2 a.m. Friday – had any effect on the latest movement.
continued:
— — — — — — — — — —
More earthquakes hit mountains near Stanley
The two strongest quakes, at 4.0 magnitudes, came just seconds apart Friday morning.
July 10, 2020 KTVB
Stanley, Idaho — Four earthquakes shook the ground near Stanley Thursday night and early Friday morning, as aftershocks continue months after a major quake hit Idaho.
The first earthquake, measured at a 3.0 magnitude, happened about six miles northwest of Stanley along Idaho 21 at about 8:04 p.m. Thursday.
It was followed by two stronger earthquakes – at 4.0 each – which came seconds apart at about 2:15 a.m. Friday. The 4.0 quakes were recorded about eight miles southwest of Stanley in the area of Baron Peak.
The final earthquake, another 3.0 magnitude, also shook the same area southwest of Stanley a few minutes later.
continued:
——————–
Scam Alert:
Tech support scams on the rise in Idaho, Attorney General says
by CBS2 News Staff Thursday, July 9th 2020
The Attorney General's Office is joining the Boise Police Department in issuing a warning, after seeing a spike in scams related to technical support, especially among seniors.
Idaho Attorney General Lawrence Wasden says three seniors lost a total of $14,700 in the past several weeks due to the scams. The office says local cashiers prevented another $6,000 in losses by stopping potential victims who went to purchase gift cards.
Here's how these types of scams work: it starts with a pop-up window on a computer, or a phone call, text, or email. The message says your computer has a virus or your account has been compromised. The scammer offers to fix the "issue" after you pay them. They ask for your bank account information and access to your computer in order to pay the initial fee, typically between $300 and $500, the Attorney General says.
continued:
————————-
Mining News:
Midas Gold logistics facility faces July 16 P&Z hearing
By Drew Dodson for The Star-News July 9, 2020
Midas Gold Idaho will air plans for a logistics facility on Warm Lake Road during a public hearing at the Valley County Planning and Zoning Commission's meeting next Thursday at 6 p.m.
Anyone who wants to comment on the application in person or via telephone should call (208) 382-7115 or email P&Z Administrator Cynda Herrick at cherrick@co.valley.id.us before 4 p.m. on Thursday.
Written comments over one page long should be submitted to Herrick by 5 p.m. today, while written comments under one page long will be accepted until Wednesday at 5 p.m.
Plans for the Midas Gold's Stibnite Logistics Facility call for four buildings that would serve the company's proposed gold and antimony mine near Yellow Pine.
However, the facility would only be built if the mine is granted approval from local, state and federal regulatory agencies, Midas Gold officials said.
The four buildings would total about 64,000 square feet on a 25-acre site about 8.5 miles east of Idaho 55 on Warm Lake Road.
One building would serve as administrative offices and an assay laboratory to study mineral compositions, which would provide normal five-day workweek jobs for local residents, according to the application.
Other buildings would include a warehouse for supplies needed at the mine site, a hazardous materials storage building and another storage building for rock core samples and other items.
The purpose of the facility is to reduce traffic to and from Stibnite by maximizing freight efficiency and providing a shuttling point for the operations workforce of about 600 employees, the application said.
The parking area at the facility would include about 350 parking spaces for employee vehicles, which would remain on the site for the duration of employees' two-week shifts.
However, a traffic study showed intersections on Idaho 55 at Warm Lake Road in Cascade and Deinhard Lane and Boydstun Street in McCall would need to be improved whether the logistics facility is built or not.
Midas Gold is currently working with the Idaho Transportation Department on designs to add turn lanes and expand the intersections to accommodate increased traffic.
Under Midas Gold's updated plan submitted to the Payette National Forest last May, daily traffic associated with the project would be about 53 vehicles per day, or less than a 1% increase over current Idaho 55 traffic.
The study estimates that about a third of that traffic, or 18 vehicles, would travel north from Warm Lake Road, while the other two thirds, or 35 vehicles, would travel south toward Boise.
Mine traffic would be a mix of semitrucks and ordinary vehicles, all of which would only operate Monday through Friday.
Midas Gold says mining operations could end in 2037 and clean-up work could end by 2040, but it plans to keep the building beyond the life of the mine, the application said.
Currently, the company remains in the permitting process for the mine, with the next action expected to be the release of a draft environmental study in August.
Once the draft study is released, a final decision on the project would be expected about a year later, at which point Midas Gold could begin construction on its proposed gold and antimony mine, including the logistics facility.
source: © Copyright 2009-present Central Idaho Publishing Inc.
————————–
Public Lands:
Safety Alert: French Creek Road is not an official, nor a recommended detour for Highway 95.
July 10, 2020
Contrary to an evening news report from a Boise TV station, French Creek Road on the Payette National Forest is not a recommend, nor an official detour route for highway 95.
French Creek Road is a high clearance road (not for two wheel drive vehicles) that is not recommended for travel by inexperienced mountain road drivers. Many drivers have had a difficult time traversing this road and have placed themselves in peril. Many vehicles have been driven off the road, and fortunately have been able to be recovered before a serious accident took place.
The road is rough with drop offs of 1000+ feet. If you do not have experience driving high mountain roads, or are an inexperienced driver, the Forest Service advises you to not use this road.
Trailers are not recommended as the switchbacks do not have room for trailers to maneuver.
It is a single lane, dirt road that has not been graded, and has limited pull outs. Two way traffic is taking place on this road and the limited number of pull outs makes it challenging for drivers to pass each other.
Travel at your own risk, and again, French Creek Road is not an official, nor a recommended detour for highway 95.
Brian Harris
Public Affairs Officer
Payette National Forest
— — — — — — — — — —
Proposed plan would privatize public lands around McCall and Payette Lake
The investment firm said they plan to keep the access open to the public forever, while working on smart growth.
Joey Prechtl July 6, 2020 KTVB
Payette Lake is a getaway destination for many Idahoans and people from throughout the Northwest.
But the future of the land surrounding the lake could soon look different.
A private investment company wants to swap land with the state. If approved, the company would get 28,000 acres in Valley County and the state would more profitable timberland up in North Idaho.
continued:
— — — — — — — — — —
Domestic Sheep Grazing to Take Place in Bear Basin Area
McCall, Idaho, July 8, 2020 – Although Bear Basin, located on the McCall Ranger District, is a popular recreation area today, it has historically been, and continues to be a place for sheep grazing and trailing. On Friday, July 10, Sunday, July 12 and Tuesday, July 14 over 3,000 ewes accompanied with lambs, will arrive in Bear Basin and the surrounding area to using those historic sheep trails, and continuing the tradition.
The sheep will use these trails to arrive at their designated allotments. Three bands of sheep will make their way northwest of the Little Ski Hill, through the stock driveway to Bear Basin. One of the bands will stay in the area for two weeks grazing on the Brundage allotment, another will move to the Cougar Creek allotment, and a third band will make its way to the Slab Butte allotment. A fourth band of sheep will trail through the south end of McCall on their way towards the south side of Jughandle Mountain on July 10 and move onto the Forest. When the sheep move to these locations, and arrive in those areas, they will be accompanied by guard dogs, herder dogs and herders leading pack strings.
As these dogs have been trained to protect these sheep, it is important that when near the location of the sheep to remain cautious and vigilant. If you encounter domestic sheep or cattle while on National Forest lands, make the animals aware of your presence and pass by without startling them. As a Forest visitor, it is up to you to maintain control of your own dogs in these areas and keep them on a leash. Bicyclists are cautioned to dismount their bikes and to move slowly around guard dogs. Motorcyclists are also encouraged to travel at very slow speeds while passing the bands.
Under no circumstances should Forest users attempt to pet stock or guard dog. These are working animals, not pets and their first duty is to protect their livestock from predators which can include human beings and other dogs. See a list of tips from the Idaho Rangeland Resources Commission for what to do if you encounter sheep here.
Grazing sheep on National Forest land is an Important part of our local economy and can also be beneficial for fuels reduction, thus preventing the spread of wildfires.
If you have any questions or want to know if grazing occurs at your forest destination, please call your local Ranger District Office. If you have concerns about the grazing occurring in Bear Basin, call the McCall Ranger District office at (208) 634-0400.
Brian Harris
Public Affairs Officer
Payette National Forest
— — — — — — — — — —
U.S. ends sheep grazing in parts of Idaho wilderness areas
The 140 squares miles contained in the allotments are northeast of Ketchum in the Sawtooth National Forest and Salmon-Challis National Forest.
Keith Ridler (AP) July 9, 2020
Ketchum, Idaho — U.S. officials have permanently closed four sheep and goat grazing allotments in and near central Idaho wilderness areas that are important habitat for wolves, bighorn sheep and other wildlife.
The 140 squares miles contained in the allotments are northeast of Ketchum in the Sawtooth National Forest and Salmon-Challis National Forest. The area is also a big draw for backcountry enthusiasts.
The Sagebrush Habitat Conservation Fund and Lava Lake Land & Livestock announced the agreement last week. The deal involved a negotiated payment from the conservation group to the sheep grower to end the grazing, but terms weren't released. The U.S. Forest Service has signed off on the deal as well to permanently close the grazing allotments.
continued:
——————
Critter News:
Pet Talk – Heat stroke in dogs
By Dr. Karsten Fostvedt Jul 10, 2020 IME
Heat stroke can occur when canine body temperatures rise to 104-106 degrees. As dogs cannot rely on sweat glands to dissipate heat, they can be prone to heat stroke when exposed to high environmental temperatures. Any temperatures above 70 degrees combined with exercise and poor access to water can facilitate heat stroke. Exertional heat stroke occurs when internal heat generated by strenuous exercise is not adequately dissipated and body temperatures rise to dangerous levels.
Signs vary depending on the degree and duration of temperature elevation. Panting and hyperthermia are the most common signs. The animal may be dull, weak and wobbly, collapsed, convulsing or in a coma. Respiratory and heart rates are usually high. Gums of the mouth may be bright red. Pulses may be weak. Vomiting and diarrhea may occur. Decreased urine production (kidney failure) and jaundice (liver failure), infection and widespread bleeding can also occur. Diagnosis is based on finding an extremely high body temperature, a history of exposure to heat and compatible clinical signs.
Common laboratory changes caused by heat stroke include dehydration, prolonged blood clotting, abnormal kidney and liver tests and electrolyte abnormalities.
Heat prostration is an emergency!
continued:
— — — — — — — — — —
Dog rescued from river
July 9, 2020 Local News 8
Idaho Falls, Idaho (KIFI/KIDK) – The King family witnessed a rescue in the works on the Greenbelt Wednesday afternoon. You can watch the rescue in the video above.
"It was pretty amazing," Dan King said as he described the rescue to us.
continued: w/video
— — — — — — — — — —
IDFG: Be on the lookout for wildlife while you're recreating
By Natasha Williams Jul 09, 2020 KIVI
Idaho Fish and Game has been getting reports of black bears and mountain lions along trails in the Wood River Valley area.
Fish and Game says there have been no negative interactions with the wildlife, but say it's a good reminder to be alert when you're outside recreating.
Over the past several weeks a non-aggressive black bear has been seen several times by hikers on the Adams Gulch Trail north of Ketchum, Fish and Game says. While this bear is reported to be non-aggressive, black bears can be unpredictable and should never be approached.
continued:
— — — — — — — — — —
9th Circuit upholds endangered species protections for Yellowstone grizzlies
July 8, 2020 KIVI
The 9th Circuit Court of Appeals today upheld the Montana District Court's opinion that reinstated Endangered Species Act protections for the Yellowstone region's grizzly bear population. The decision spares the grizzlies from plans for trophy hunts in the states of Wyoming and Idaho.
Earthjustice, representing the Northern Cheyenne Tribe, Sierra Club, Center for Biological Diversity and National Parks Conservation Association, argued for restoring protections to Yellowstone grizzly bears.
"This is a tremendous victory for those who care about Yellowstone and its grizzly bears," said Tim Preso, Earthjustice attorney.
continued:
— — — — — — — — — —
Mountain goats create traffic jam on Idaho highway
The goats decided to step off the mountain and stop in the middle of Highway 21 between Grandjean and Stanley.
Brian Holmes July 8, 2020 KTVB
Boise County, Idaho — Holiday weekends aside, traffic jams in Idaho's mountains are rare but they do happen, and usually naturally.
Avalanches, landslides, fires — they've all been known to shut down roads. And so, too, have animals, something that is so Idaho.
It happened Tuesday about four in the afternoon when these greatest of all time mountain beasts decided to step off the mountain and stop in the middle of Highway 21.
continued: w/more photos
— — — — — — — — — —
Peregrine falcon hitches a ride in downtown Boise
"It made eye contact with me then flew to the hood of my car. I sat through a green light as we checked each other out."
July 10, 2020 KTVB
BOISE, Idaho — "Excuse me, are you my Uber?" one peregrine falcon probably said after it landed and stood on a car in downtown Boise on Thursday.
The incredible moment was shared in a now-viral Facebook post by Boise-based jeweler Zealandia Designs.
The post, which now has nearly 2,000 shares and over 1,500 reactions as of 3:30 p.m. Friday, was written by Jenny Byrne.
continued: w/more photos
———————-
Fish & Game News:
After promising early results from lake trout suppression, kokanee stocking resumes in Payette Lake
By Brian Pearson, Conservation Public Information Specialist
Tuesday, July 7, 2020

All rights reserved. Dylan Smith
F&G biologists are working to bring Payette Lake back into balance and provide quality fishing for both species
For the first time since 2014, Idaho Fish and Game has stocked kokanee salmon into Payette Lake in McCall. Hatchery staff stocked a total of about 400,000 kokanee into the lake in late June, and will continue to stock that many kokanee every year until at least 2024.
Resuming kokanee stocking follows two years of successful lake trout suppression efforts, which Fish and Game fishery managers are using to restore Payette Lake's status as both a trophy lake trout fishery and kokanee destination. Managing the Payette Lake fishery is a challenge that Idaho Fish and Game fisheries managers have been wrestling with for some time.
continued:
— — — — — — — — — —
Boise man catches new catch/release state record grayling from mountain lake in the Sawtooths
By Martin Koenig, Natural Resource Program Coordinator
Wednesday, July 8, 2020
Fish topped old record by more than 2 inches
Brian Brooks released this 16.2-inch Arctic grayling over the July 4 holiday to earn a new catch/release state record!
continued:
— — — — — — — — — —
More F&G News Releases
link:
———————————-
Crazy Critter Stuff:
Oh shell! 65-pound alligator snapping turtle captured in Virginia
https://pbs.twimg.com/media/EalBMC3WkAEjCGt?format=jpg
Fairfax County Police
by Samantha Mitchell, WJLA Staff Tuesday, June 16th 2020
Fairfax County, Va. (WJLA) — Virginia Department of Game and Inland Fisheries reflected on the moment it says its staff captured one "shell" of an animal.
According to the Fairfax County Police Department, animal protection was called to respond to a large turtle in a residential area of Alexandria.
That's when they say they came across, to their surprise, a 65-pound alligator snapping turtle.
continued:
————————-
Seasonal Humor:

——————-